Newspapers on Tuesday covered the upcoming visits of President Hassan Rouhani to Caracas and New York City.
They also covered the letter of apology by Saeid Mortazavi, the former prosecutor-general of Tehran who allegedly had a role in the deaths of three Iranian protesters during the 2009 Iranian election protests. Mortazavi is now being tried for what he did at that time.
The health conditions of US Presidential Candidate Hillary Clinton also received great coverage in Iranian newspapers today.
The above issues, as well as many more, are highlighted in the following headlines:
Abrar:
1- Hamoun Wetland Completely Dries Up
2- President's Visit to New York and Venezuela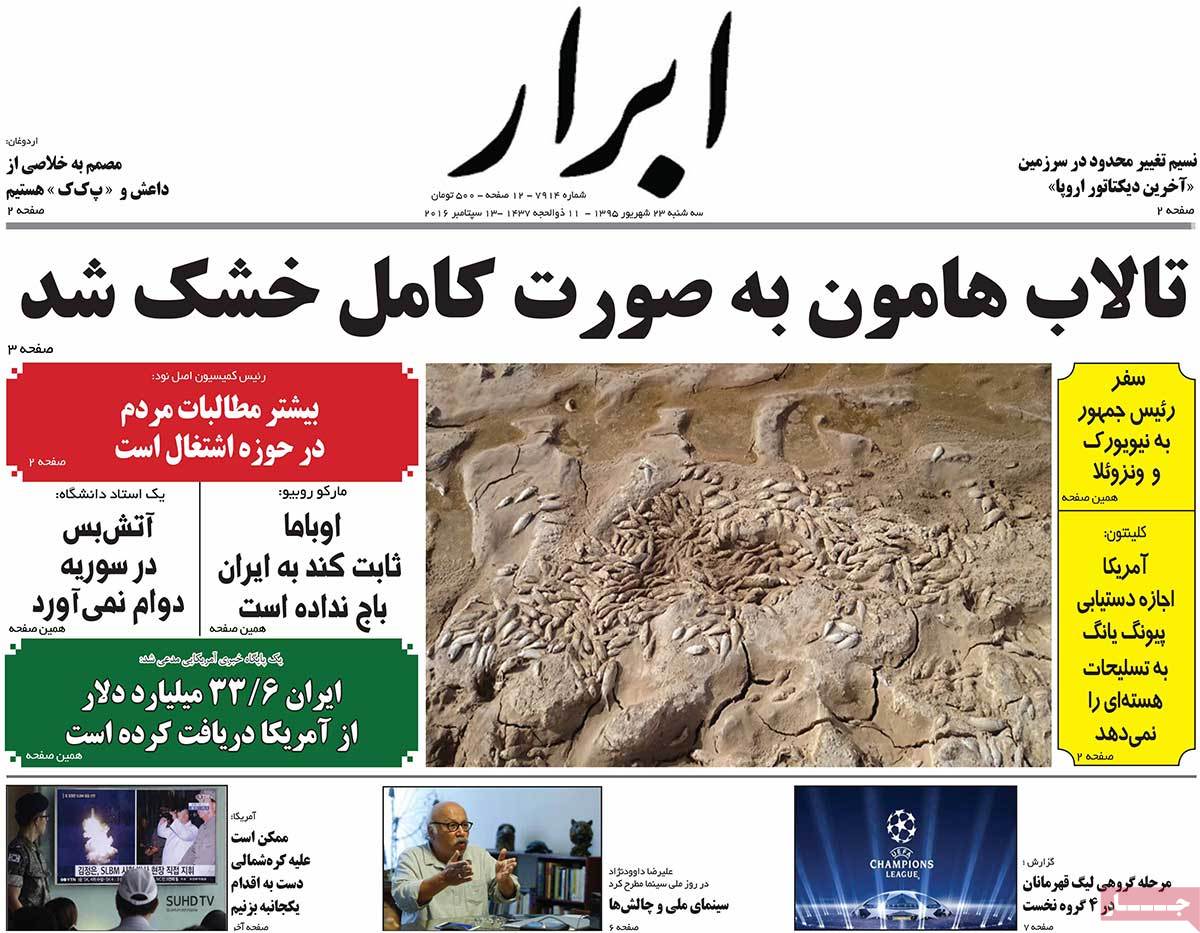 ---
Abrar-e Eqtesadi:
1- Russian Market, a Priority for Iran's Non-Oil Exports
2- 54% Increase in Iran's Imports from US
---
Afkar:
1- Nuclear Chief: US Political Credit Hinges on Its Commitment to JCPOA
2- Amir Abdollahian: Saudi Arabia Should Accept the Responsibility of Mina Tragedy and Pay Blood Money of Its Victims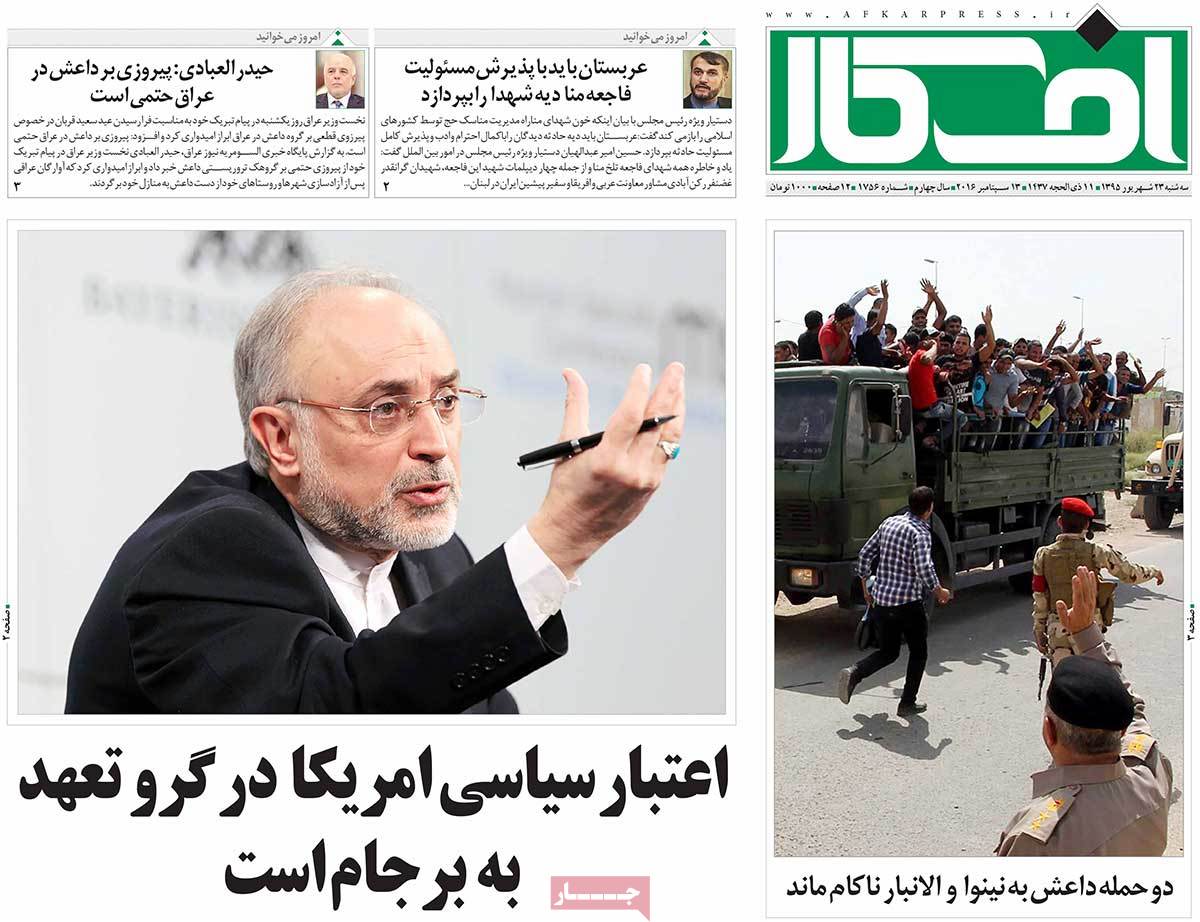 ---
Aftab-e Yazd:
1- Rouhani's Special Visit to the US: Will President Personally Pursue West's Violation of Its JCPOA Commitments?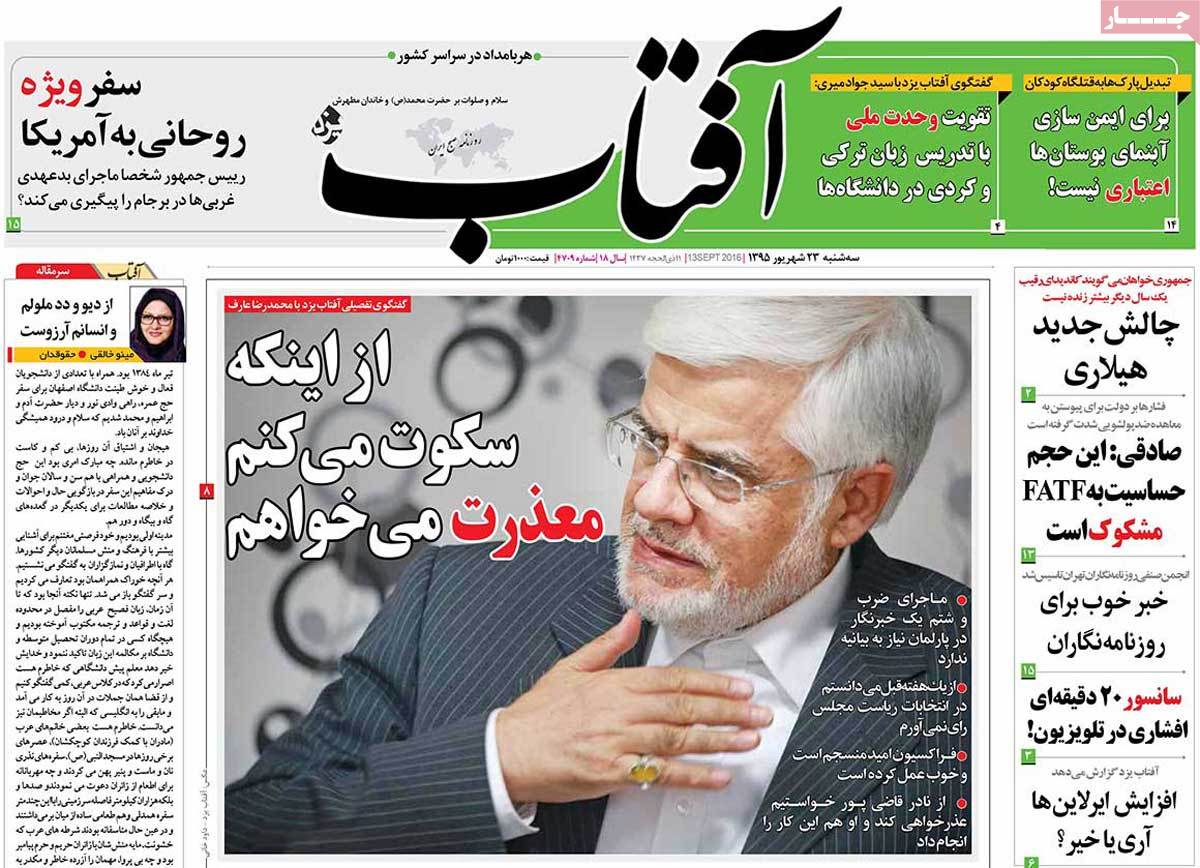 ---
Arman-e Emrooz:
1- Saeid Mortazavi: I'm Embarrassed; Apology for Kahrizak Tragedy after 7 Years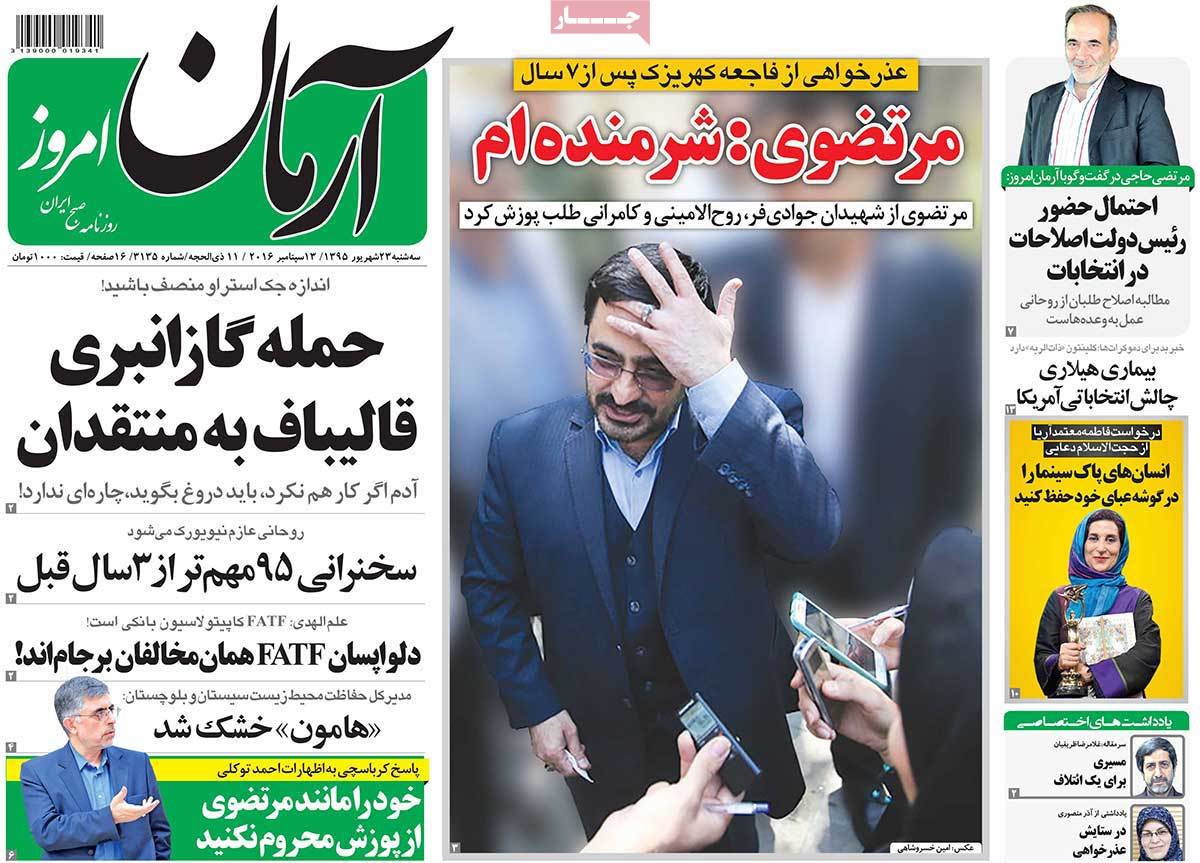 ---
Asrar:
1- Nuclear Chief Salehi: No Secret Deal between Iran and Group 5+1
2- Culture Minister in National Day of Cinema: Today, There's No Gap between Government and Artists Anymore
3- Foreign Ministry Spokesman: Iran Welcomes Establishment of Ceasefire in Syria
4- Assad: We'll Reclaim All Lost Territories from Terrorists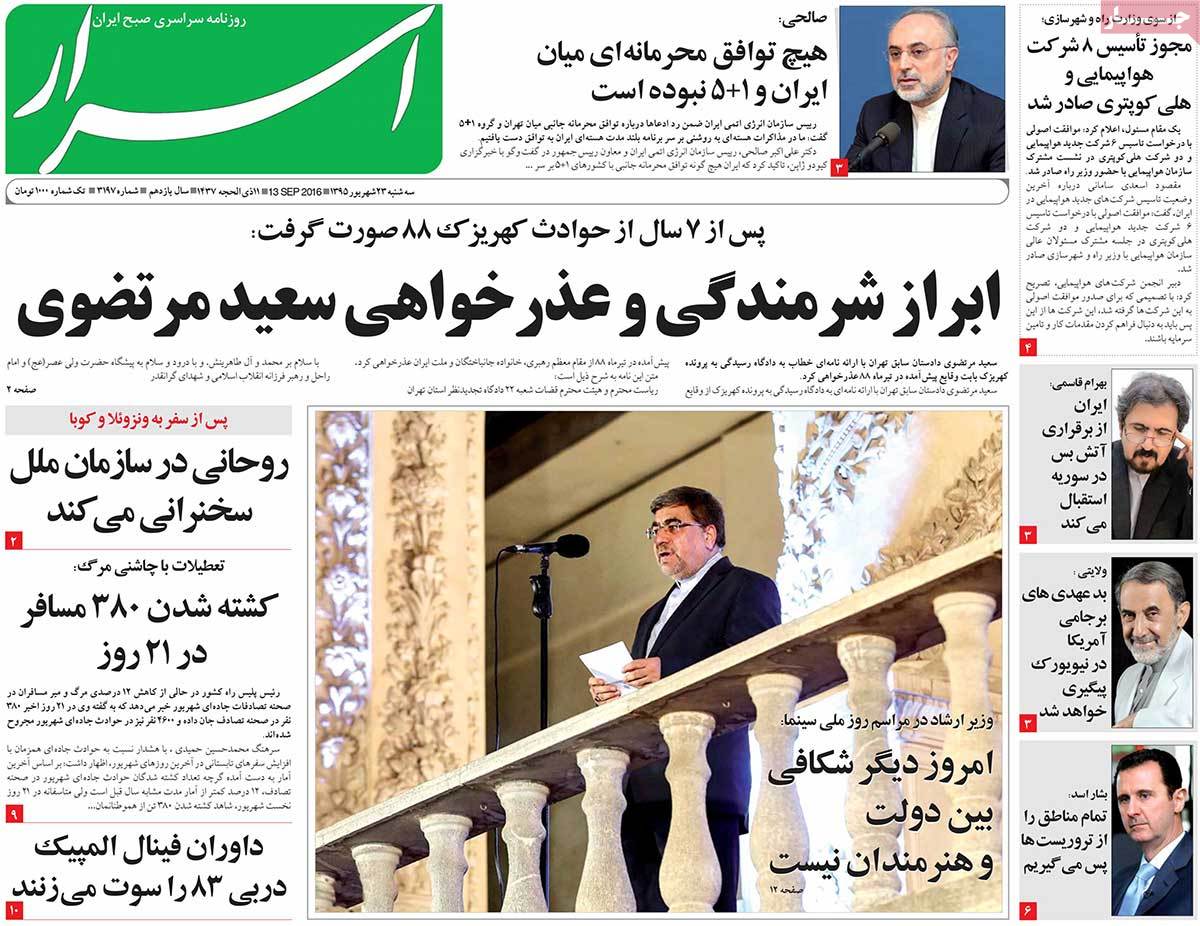 ---
Ebtekar:
1- Reformist Figure: Inspection Bodies Should Prevent Abusing Public Tribunes
2- Iranian Mountaineer Trying to Win "Snow Leopard" Award: Saeid Khashaki Climbed 2 Peaks of over 7,000m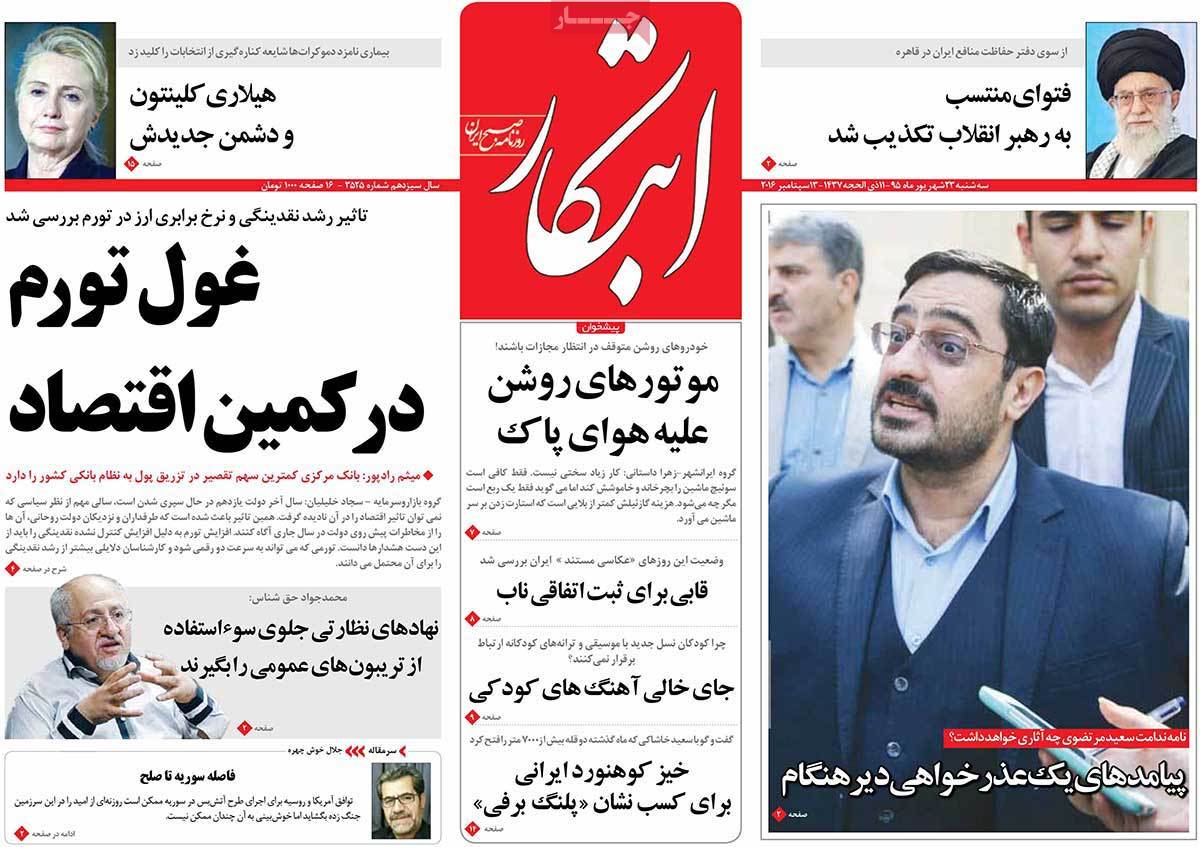 ---
Ettela'at:
1- Tehran Friday Prayers Leader: Al Saud Criminals Should Be Tried in Islamic Court
2- Plan for Increase in Production and Export of Crude Oil
3- Ansarullah Leader: Saudi Regime Implementing Zionists' Policies against Islam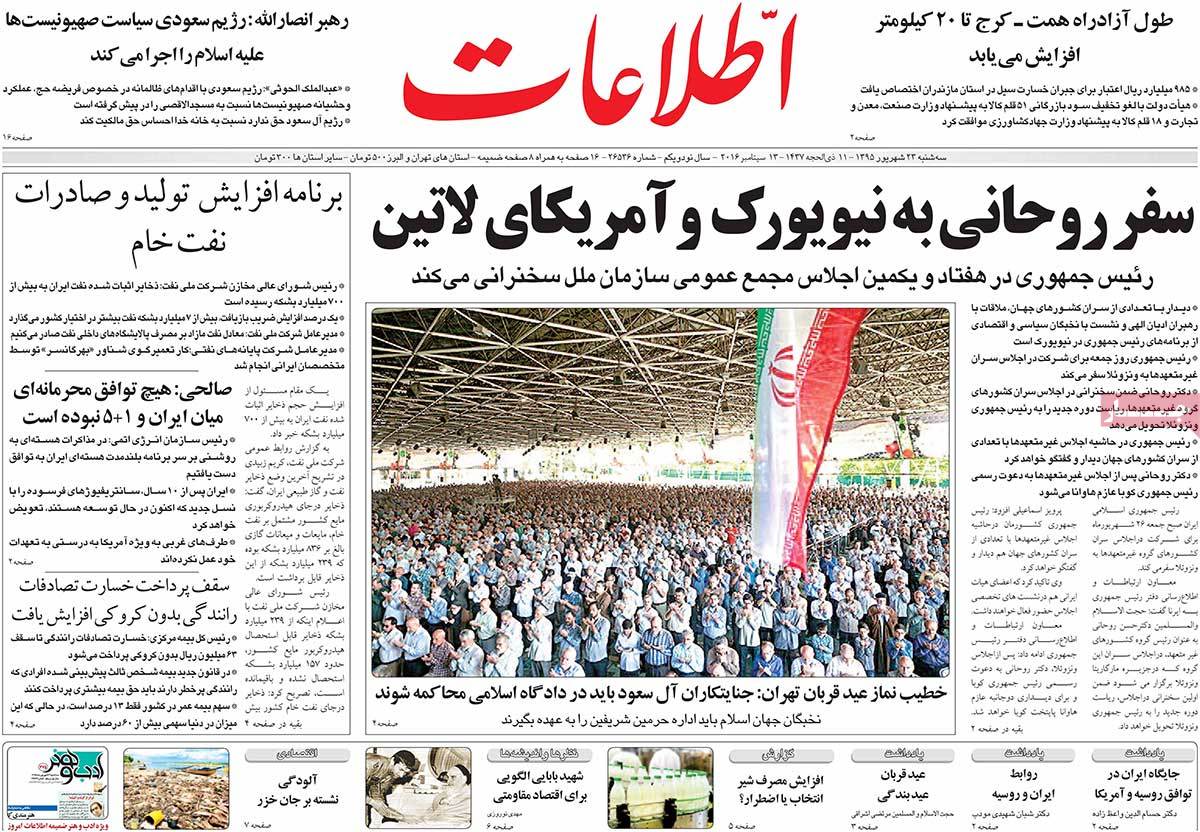 ---
Emtiaz:
1- Amount of Iran's Petchem Products Exceeds 23 Million Tons
2- 77 Major Dams in Iran Don't Have Water
3- Vacation Flavoured with Death: 380 Passengers Dead in Car Accidents in Past 21 Days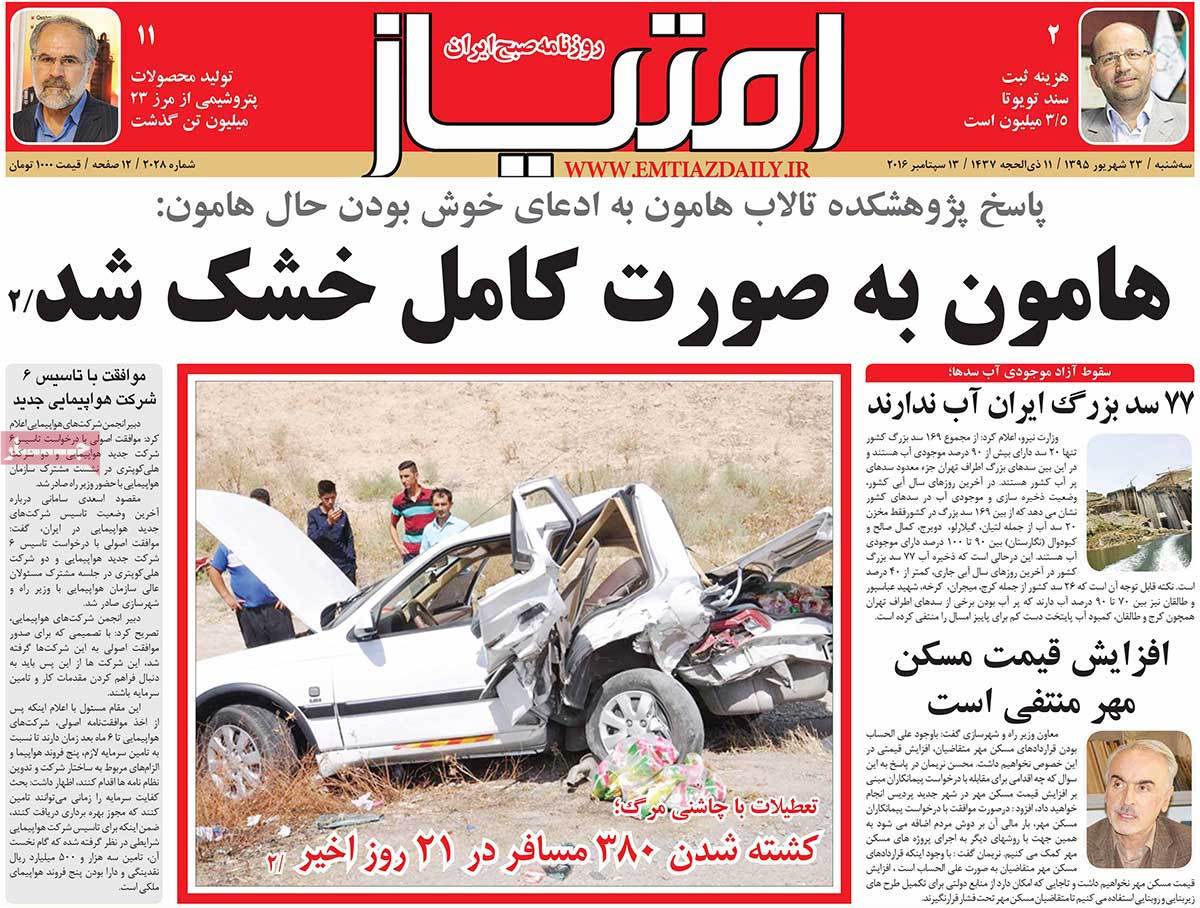 ---
Iran:
1- Iran and Africa Have Yet to Know Each Other: Foreign Ministry Official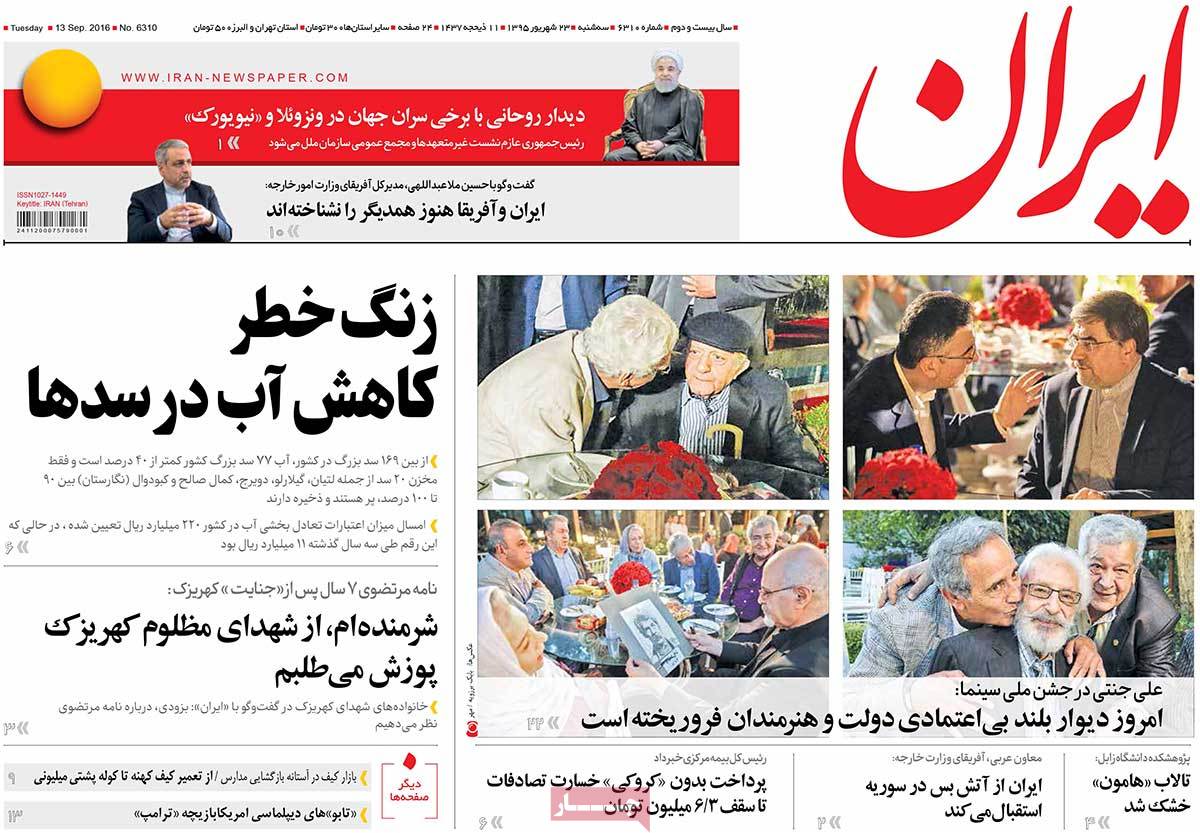 ---
Javan:
1- Pneumonia Attacks Democrats' Campaign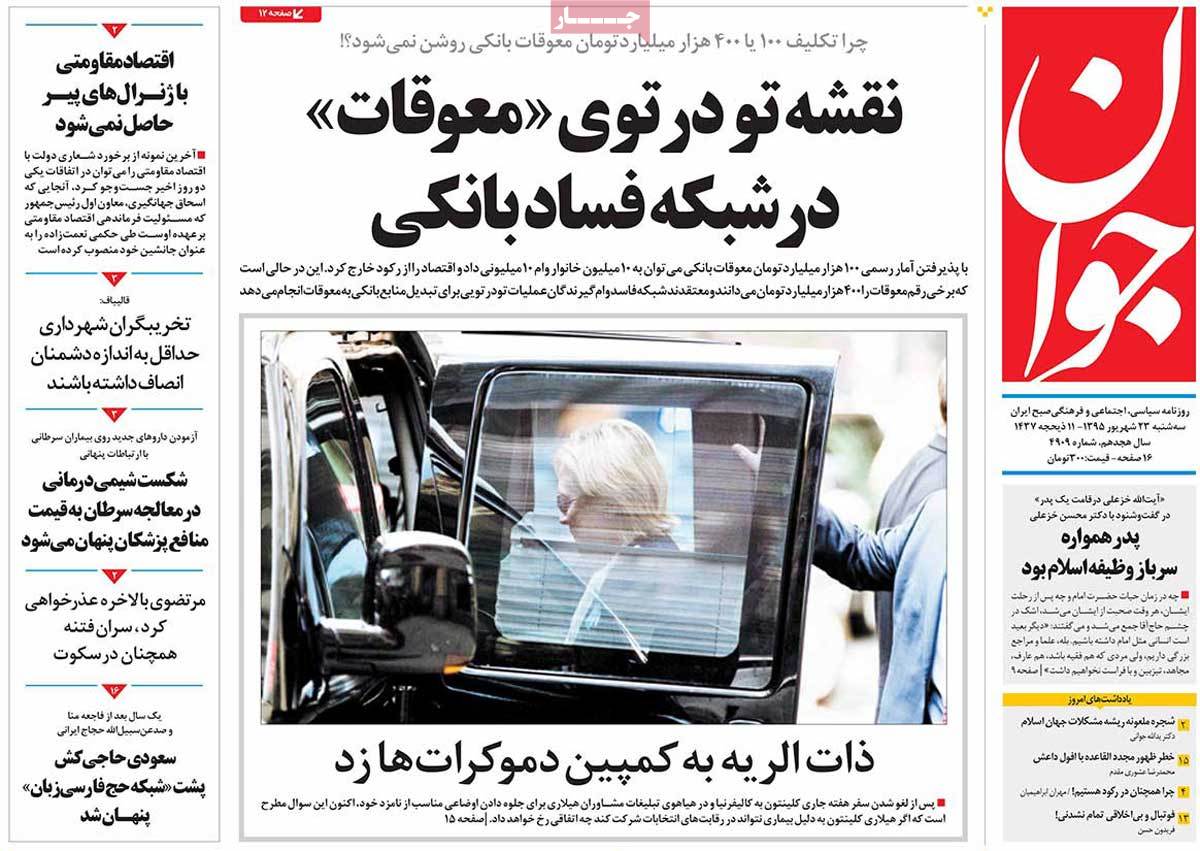 ---
Jomhouri Eslami:
1- Nuclear Chief Salehi: Continued Implementation of JCPOA Is to the Benefit of World and Region; Iran to Build Small and Large Nuclear Power Plants
2- JCPOA Revived Copper Industry: Official
3- New Anti-Syria Front Opened for Terrorists and Israel in Golan Heights as Ceasefire Takes Effect
---
Ka'enat:
1- IRGC Quds Force Units Smash Terrorist Outfit Linked with Al Saud in Saravan [southeastern Iran]
2- 170 Oil and Gas Fields Explored in Iran: Iran's Oil Reserves Increased to 700 Billion Barrels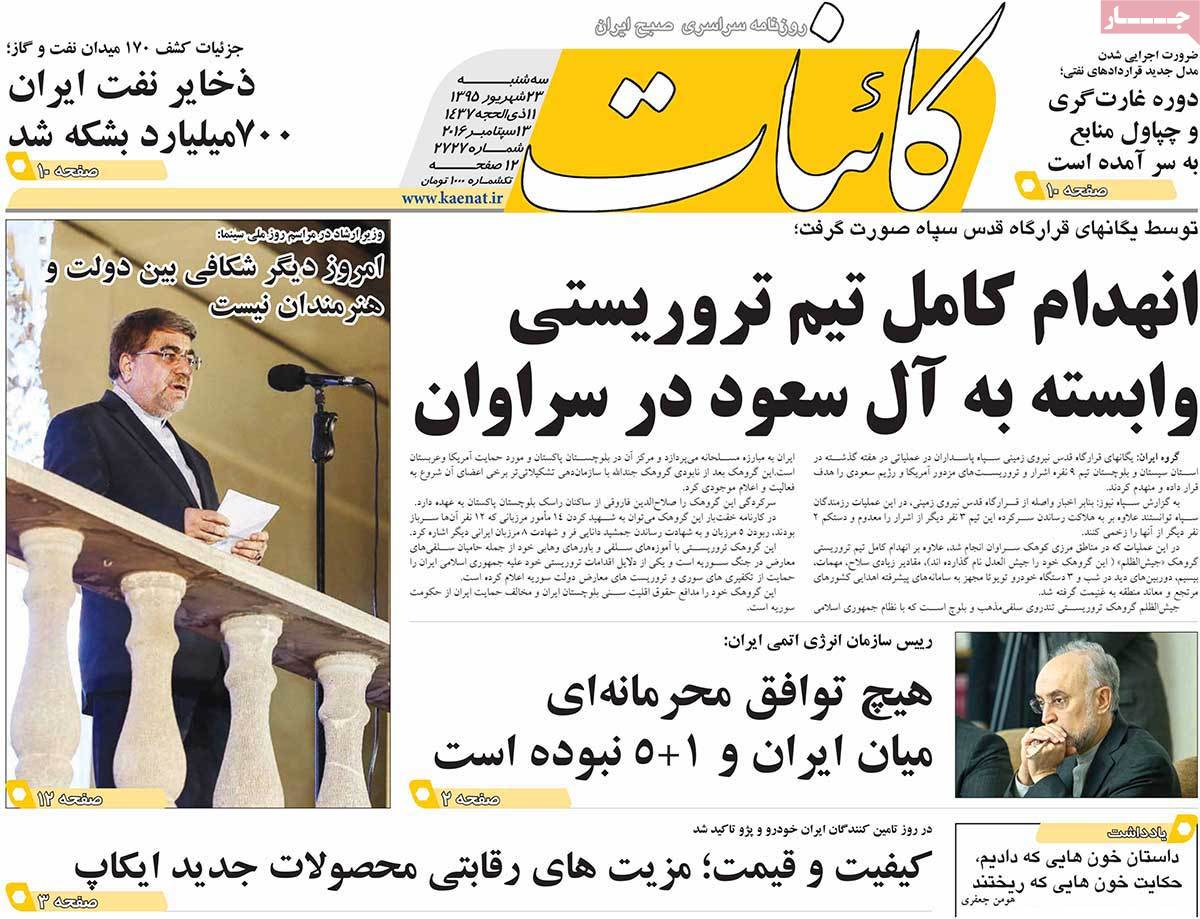 ---
Kayhan:
1- 'Mother of ISIS' Likely to Be Removed from US Elections after Clinton's Pneumonia Is Confirmed
2- Eight Wrong Marriage Traditions from Ayatollah Khamenei's Point of View
3- Ayatollah Khatami: Al Saud Is Not Just Accused, It Is Criminal and Should Be Tried
---
Payam-e Zaman:
1- Education Minister: Number of Students in Iranian Schools Up by 200,000 in New Year
2- Nuclear Chief Salehi: Iran's Nuclear Industry Not Stopped at All
3- Alarming Threat of Land Subsidence in Tehran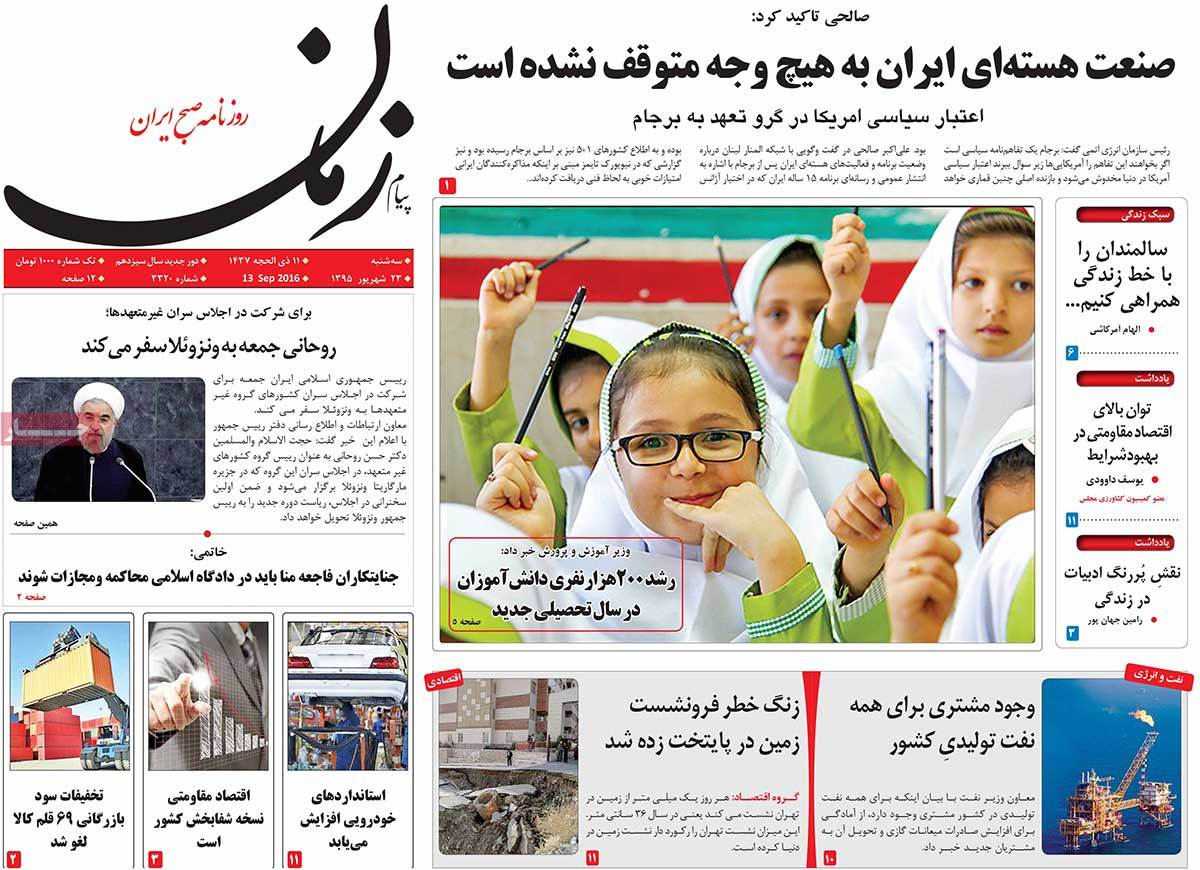 ---
Resalat:
1- Ayatollah Alamolhoda: FATF Is US Hegemony over Iran's Banking System
2- Zarif: Stubbornness and Ignorance of Al Saud Has Made It an Illogical Regime
3- Muslim World Waiting for Al Saud's Collapse: Saudi Arabia's Role Is Felt in All Regional Crises
4- Leader's Advisor Urges President Rouhani to Pursue US Violation of Its Commitments in New York Visit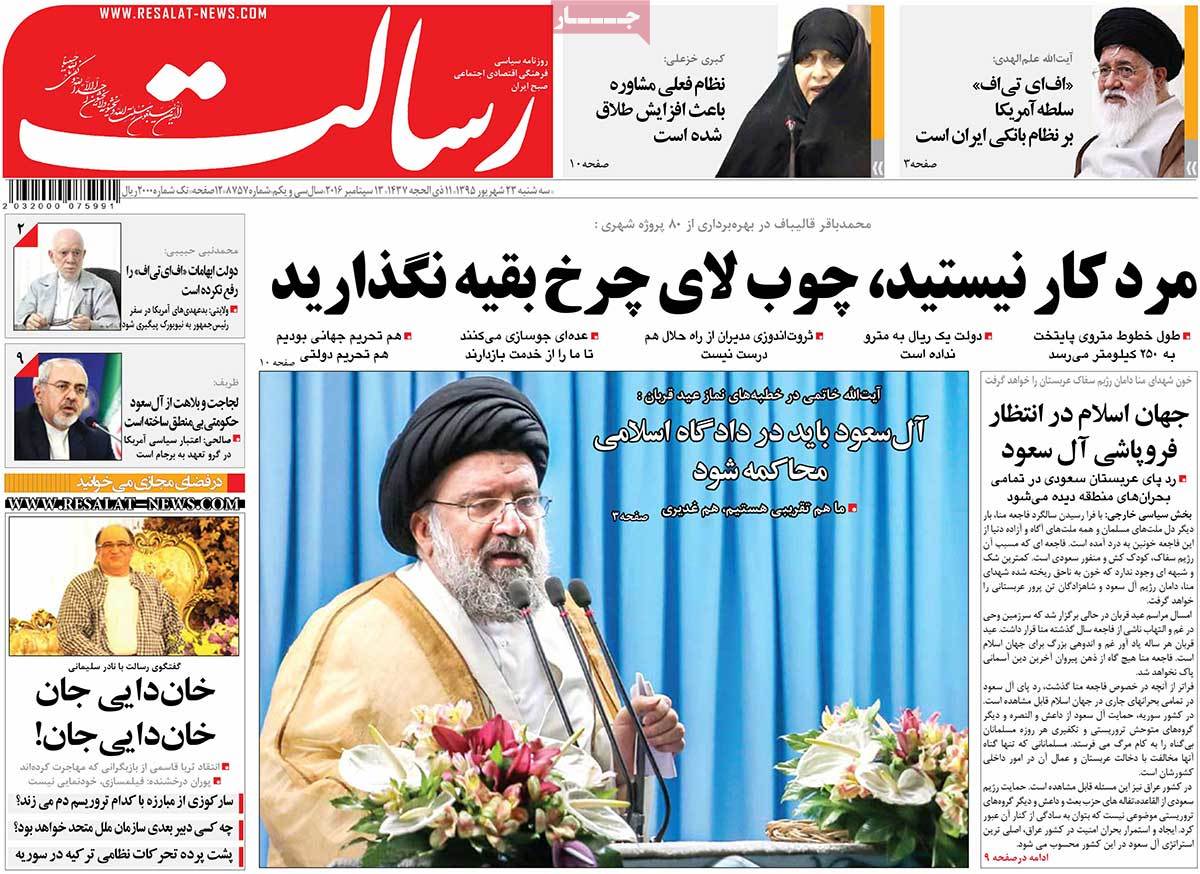 ---
Roozan:
1- Cinema Official: Good Days to Come for Iran's Cinema
2- Hillary Falls Down in September 11 Commemoration Ceremony: Clinton's Physical Weakness Discussed in Media
3- Rouhani's Emphasis on Dialogue and Constructive Interaction with the World, Most Important Feature that Distinguishes Him from Ahmadinejad
4- Women Are Going to Take Lots of City Council Seats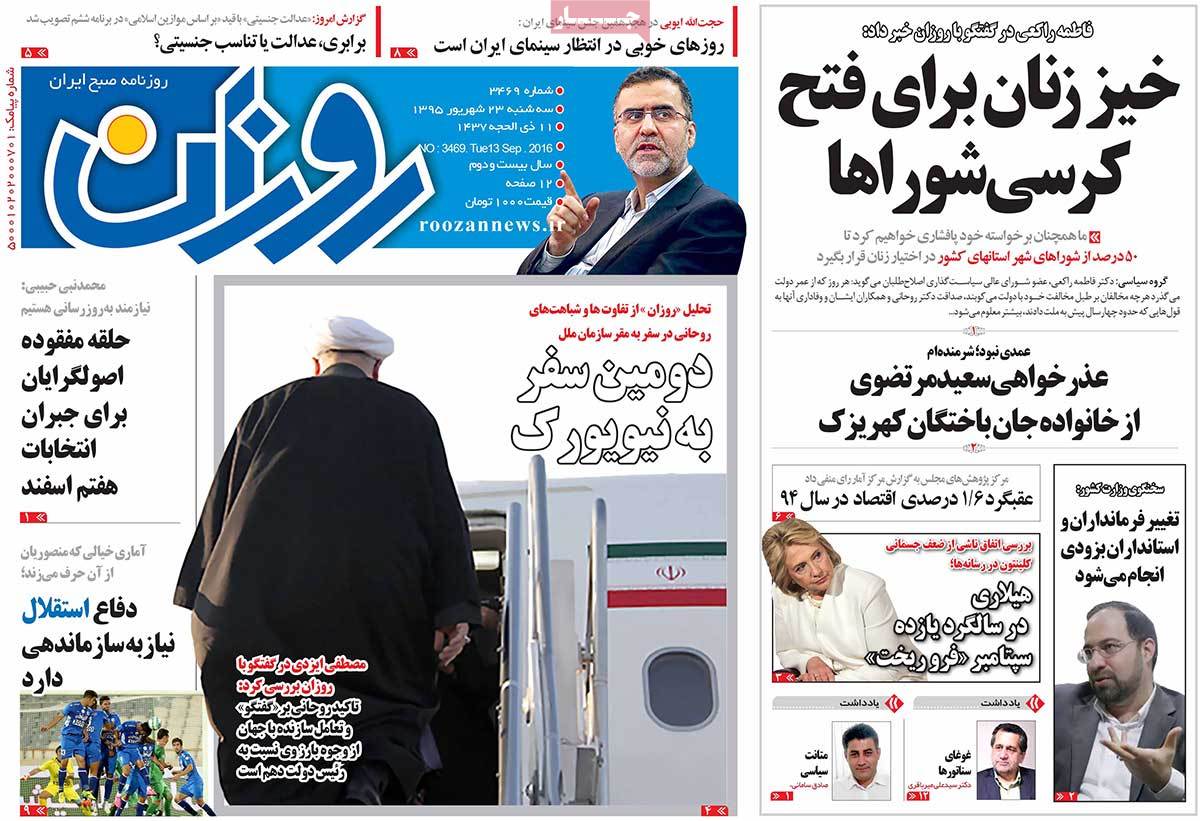 ---
Sayeh:
1- Iran's Nuclear Organization Chief: US and China Are Re-Designing Arak Heavywater Reactor
2- Iran's Mixed Archery Team Wins Gold in Paralympics
3- The Period of Time between One's Graduation and Beginning of First Job Has Increased: Costs of Excessive Focus on University Degrees for Iran's Economy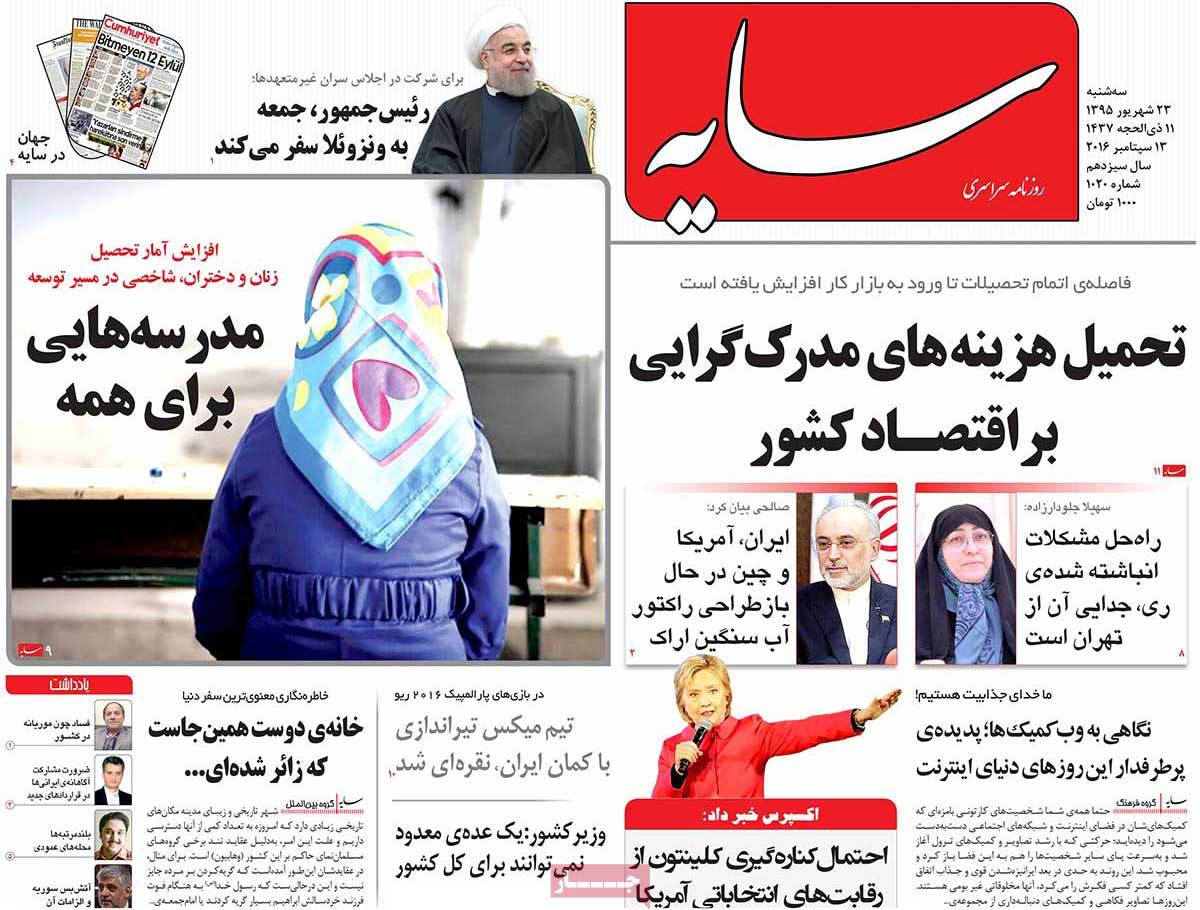 ---
Setareh Sobh:
1- Alamolhoda: FATF Is Capitulation of Banking
2- If We Don't Cooperate with FATF, We Should Stay in Isolation: Former CBI Official
---
Ta'adol:
1- Iranian Tourists Victims of Explosion in Turkey's Van
2- Iran's Auto Manufacturer SAIPA Receives $1bn Finance Offer
3- Deputy FM: Saudis Trying to Reverse Everything