The plight of Rohingya Muslims who are being massacred by the Myanmar army remained a top story in today's newspapers.
Another top story was a report by the International Atomic Energy Agency to the IAEA Board of Governors in which Iran's compliance with the nuclear deal was once again confirmed. Several papers hailed the report as an example of the IAEA's independence from the US.
Newspapers also covered a secret visit by Saudi Crown Prince Mohammed bin Salman to Tel Aviv, which was revealed by Israeli media.
The above issues, as well as many more, are highlighted in the following headlines and top stories:
Aftab-e Yazd:
1- Construction of 100,000 Houses for Low-Income People without Budget!
2- District Mayors Appointed by Tehran Mayor Spark Controversy
Qalibaf's Managers Promoted under Reformist Najafi
---
Arman-e Emrooz:
1- Nuclear War Threatening World
2- Cosmetics Account for 50% of Contraband Goods in Iran
3- Gov't Should Make Urgent Decision about Porters of Contraband Goods in Border Areas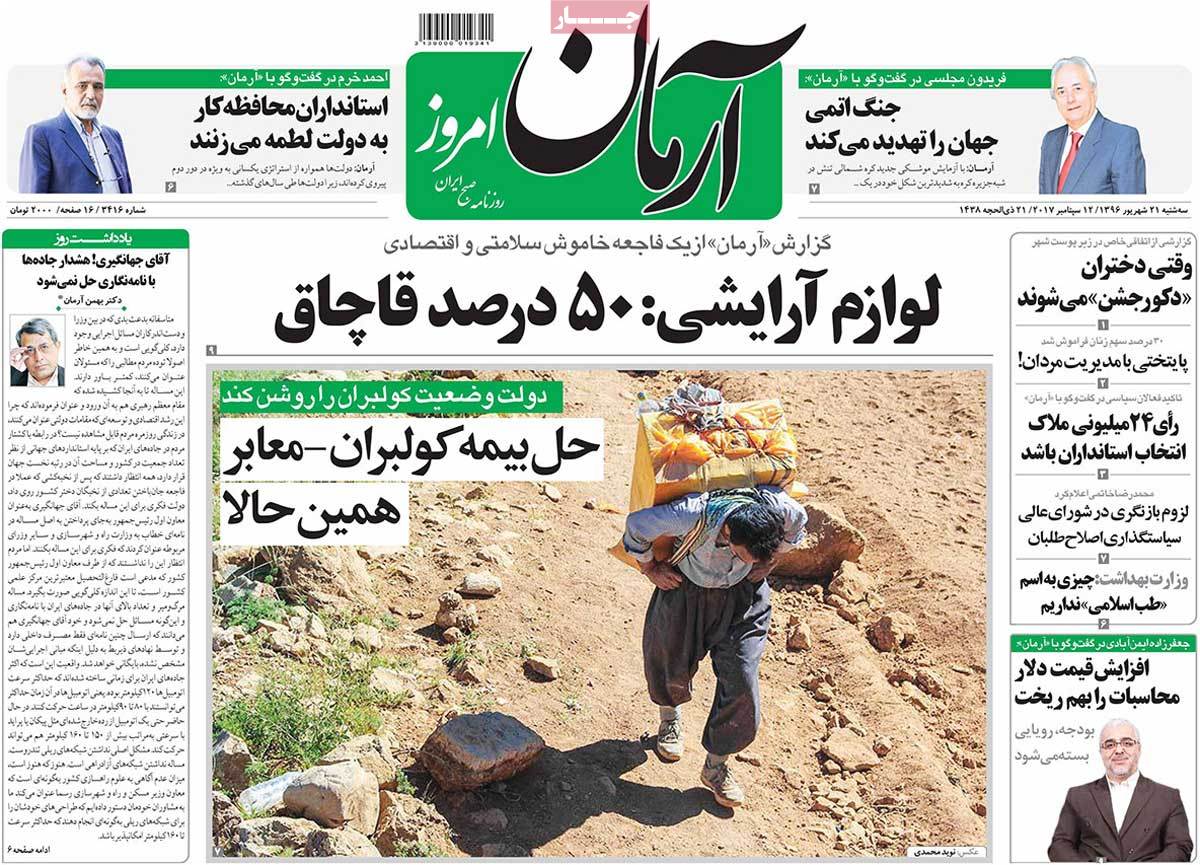 ---
Bahar:
1- Rouhani: Regional Problems Have Regional Solutions
2- Zarif: Iran Opposed to Pressure, Threat against Neighbours
3- Cinema Is Now beyond Cinema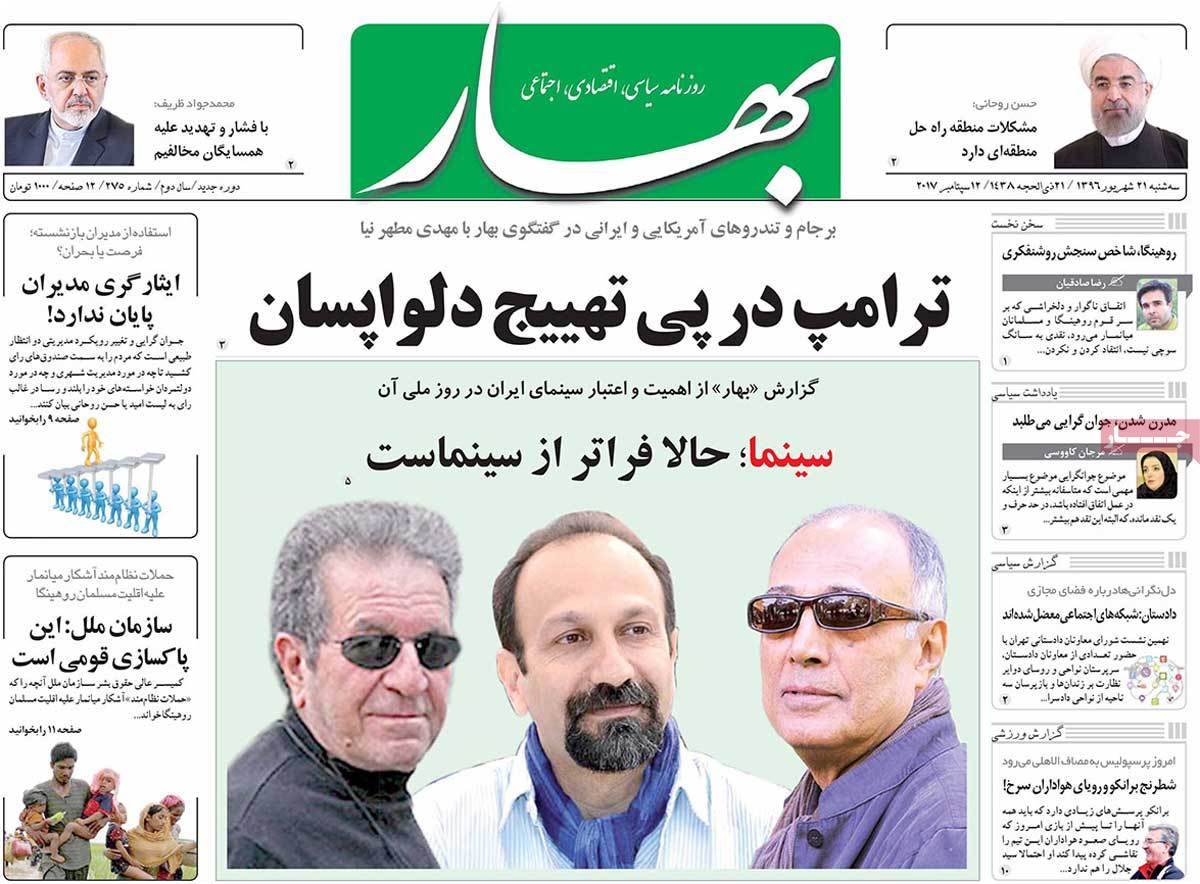 ---
Donya-ye Eqtesad:
1- Israeli Media Reveal Saudi Crown Prince's Secret Visit to Tel Aviv
---
Ebtekar:
1- Rouhani: Iran Ready for Cooperation in Fight against Terror, Promotion of Peace
2- IAEA Declining to Meet US Demands
3- Governments Challenged by Unfinished Construction Projects
---
Etemad:
1- Qassemi: All Parties to Nuclear Deal Should Remain Committed
---
Ettela'at:
1- Prosecutor: Encroaching into National Resources Turns into Iran's Biggest Problem
2- Rouhani: Iran Ready to Work with Regional States in Fight against Terror
3- Iran Has No Nuclear Cooperation with North Korea: Foreign Ministry
4- CIA, Saudi Arabia Urge Syrian Free Army to Stop Fighting Syrian Gov't
---
Ghanoon:
1- Iran Waiting for Return of Martyr Hojaji's Body
2- Politicians' Mentality, Main Cause of Ethnicities' Deprivation
3- Amano Stands by Iran against US
---
Iran:
1- Social Media Reveal Saudi Crown Prince's Secret Visit to Tel Aviv
2- Narrators of Hope in Iran's Cinema Praised
---
Jahan-e San'at:
1- Instability in Iran's Forex, Commodity Markets
2- US Lobby in IAEA Fails: Iran's Compliance with JCPOA Confirmed
---
Javan:
1- Iran Nuclear Deal Breaks Record of Unannounced Inspections
IAEA Has Inspected Iran's Sites Once in Every 2 Months
2- UN: Mass Killing of People in Myanmar Is Ethnic Genocide
3- ICT Minister: Iran Moving towards Cyber Independence
---
Jomhouri Eslami:
1- 3,000 Muslims Massacred by Myanmar Army
Thousands of Displaced Rohingyas Waiting for Help
2- Kirkuk's Arab Parties: Kurdistan Referendum Illega
3- WHO Warns: Yemen Situation Critical
4- First VP: Government Resolved to Implement Resistance Economy Plans
---
Kayhan:
1- 7m Families Living in Rented Houses
2- Florida Drowns
3- Head of Iraqi Kurdistan's Parliament Strongly Opposed to Referendum
4- Transport Minister: Arrival of Post-JCPOA Airplanes Faced with 3 Challenges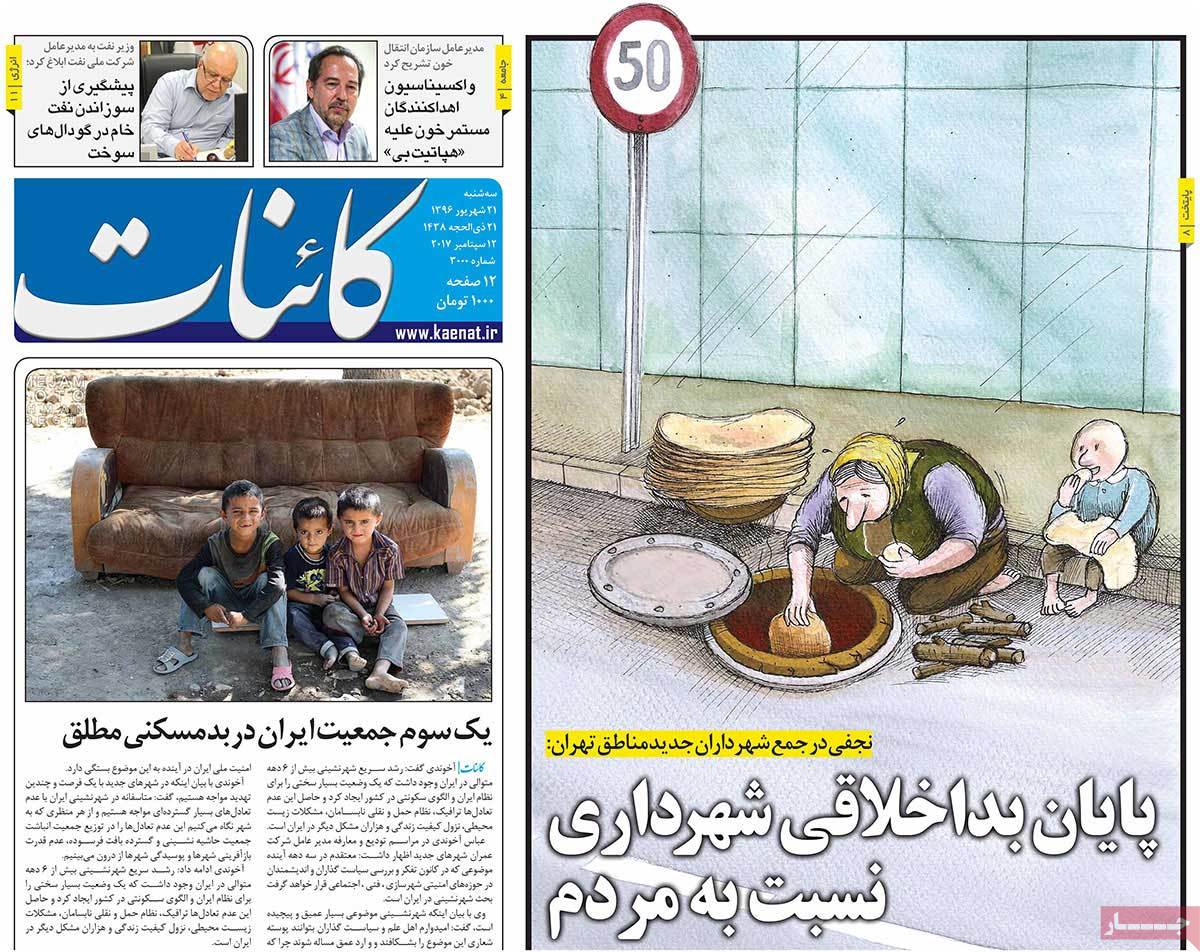 ---
Kelid:
1- Iran's Top Handicraft Official: 80,000 Jobs to Be Created in Handicrafts Sector
2- President: Member States of OIC Agree on Putting Myanmar under Pressure
3- Military Sites among Red Lines of Iran's Security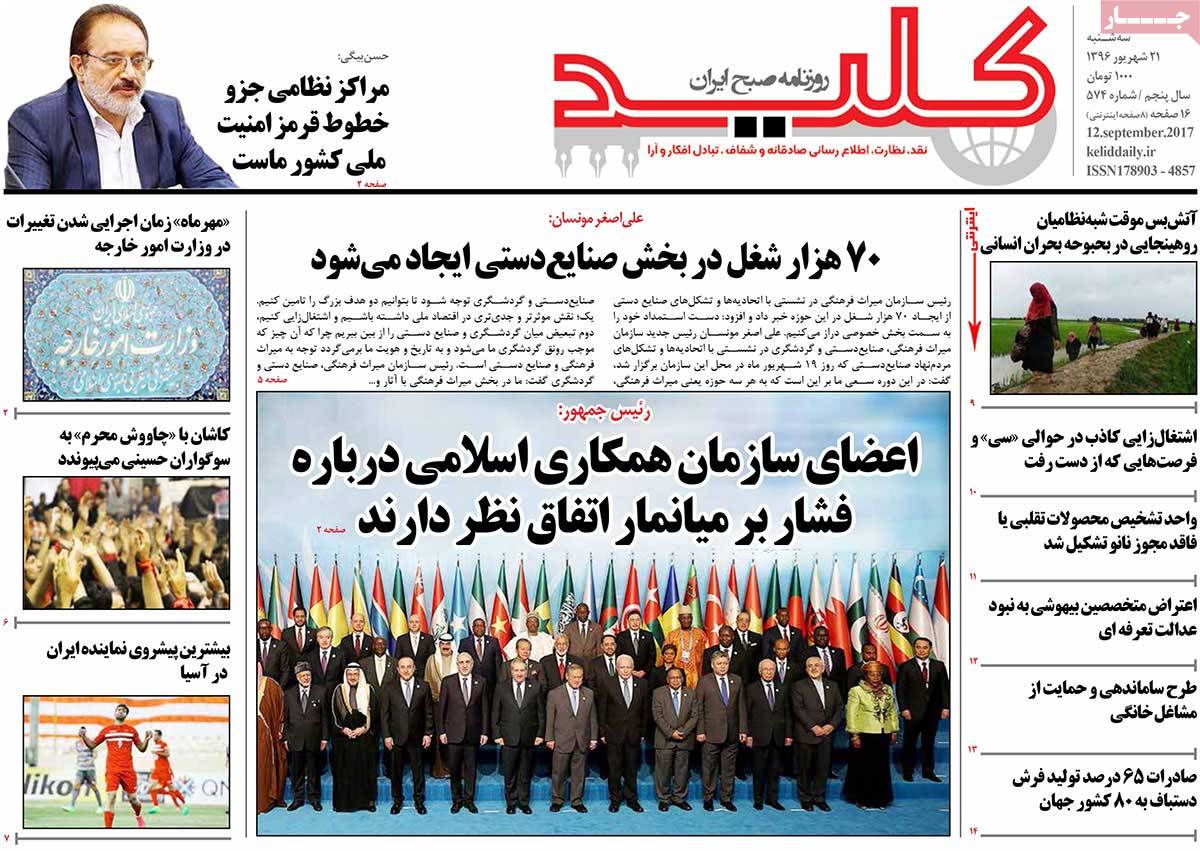 ---
Khorasan:
1- New Details of IAEA's Unannounced Inspections of Iran
2- 70% Import of Stationary Is Disaster
---
Shargh:
1- Ultimatum to Five European Countries
Deputy Transport Minister Declares Changes in Plane Purchase Plans
2- Amano's Report to Board of Governors: Iran's Compliance Once Again Confirmed
3- Prosecutor-General: Iranian Fugitive Banker to Be Tried in Absentia