Newspapers on Saturday covered the anti-FATF remarks made by various Imams of Friday Prayers in different Iranian cities, particularly Ayatollah Ahmad Jannati, the Imam of Tehran. The clerics in various cities of Iran slammed the government's deal with the Financial Action Task Force.
Newspapers also highlighted the first anniversary of the deadly Mina stampede, which killed thousands of pilgrims, including 464 Iranians. Among the reports in this regard was Kayhan's coverage of Al-Akhbar documents, which reveal the exact number of pilgrims killed during Hajj pilgrimage because of Saudi mismanagement.
The above issues, as well as many more, are covered in the following headlines:
Abrar:
1- Anti-ISIS Coalition Planning for Siege of Raqqa and Mosul
2- UN Worried about All-Out War in Western Sahara
3- US State Dept.: Iran Has Remain Loyal to Its Commitments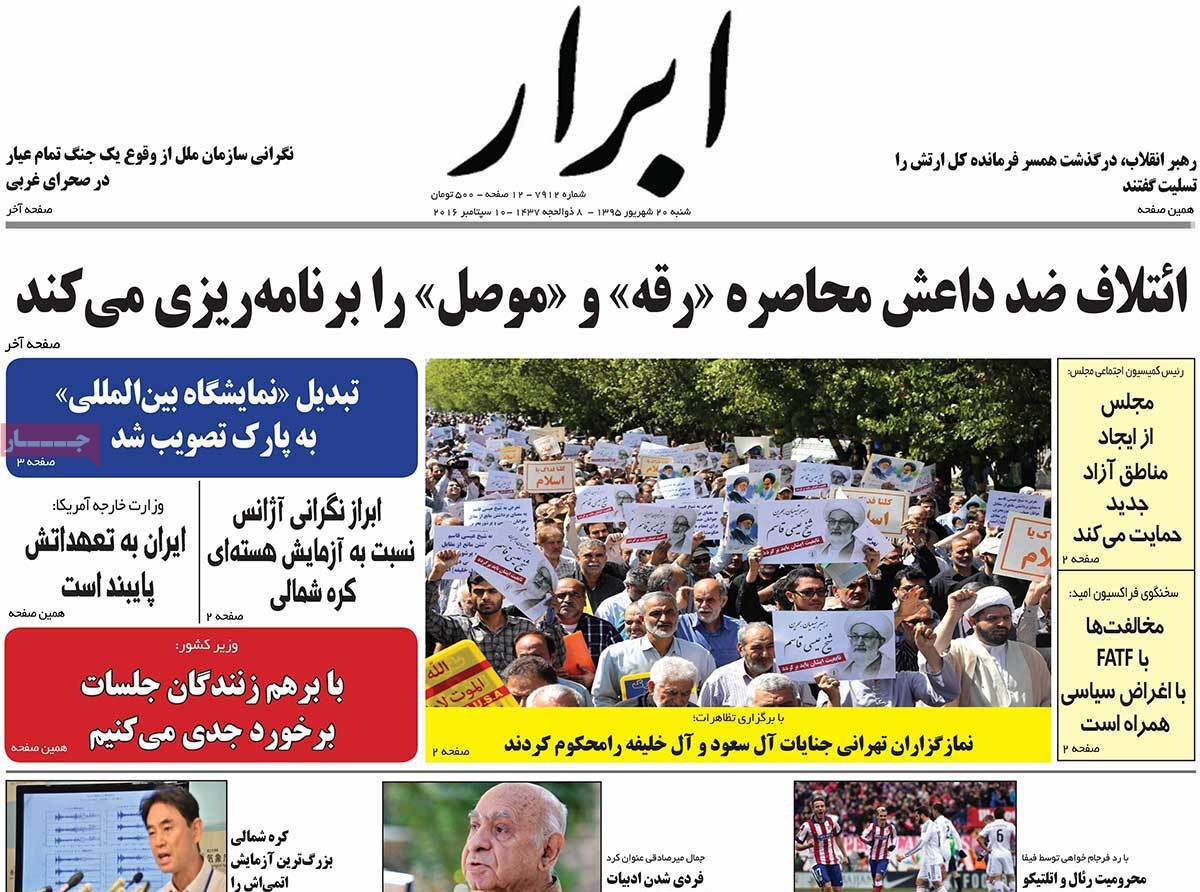 ---
Abrar-e Eqtesadi:
1- Great Influence of Global Market on Iran's Gold Coin Prices
2- Poland to Sign Long-Term Oil Contract with Iran
3- Iran and France Deal for Crude Oil Swap: Switzerland and Britain Also Join Iran's Swap Contracts
4- Oil Price Stands Close to $50
5- Ban on Sale of Fuel to European Airlines Lifted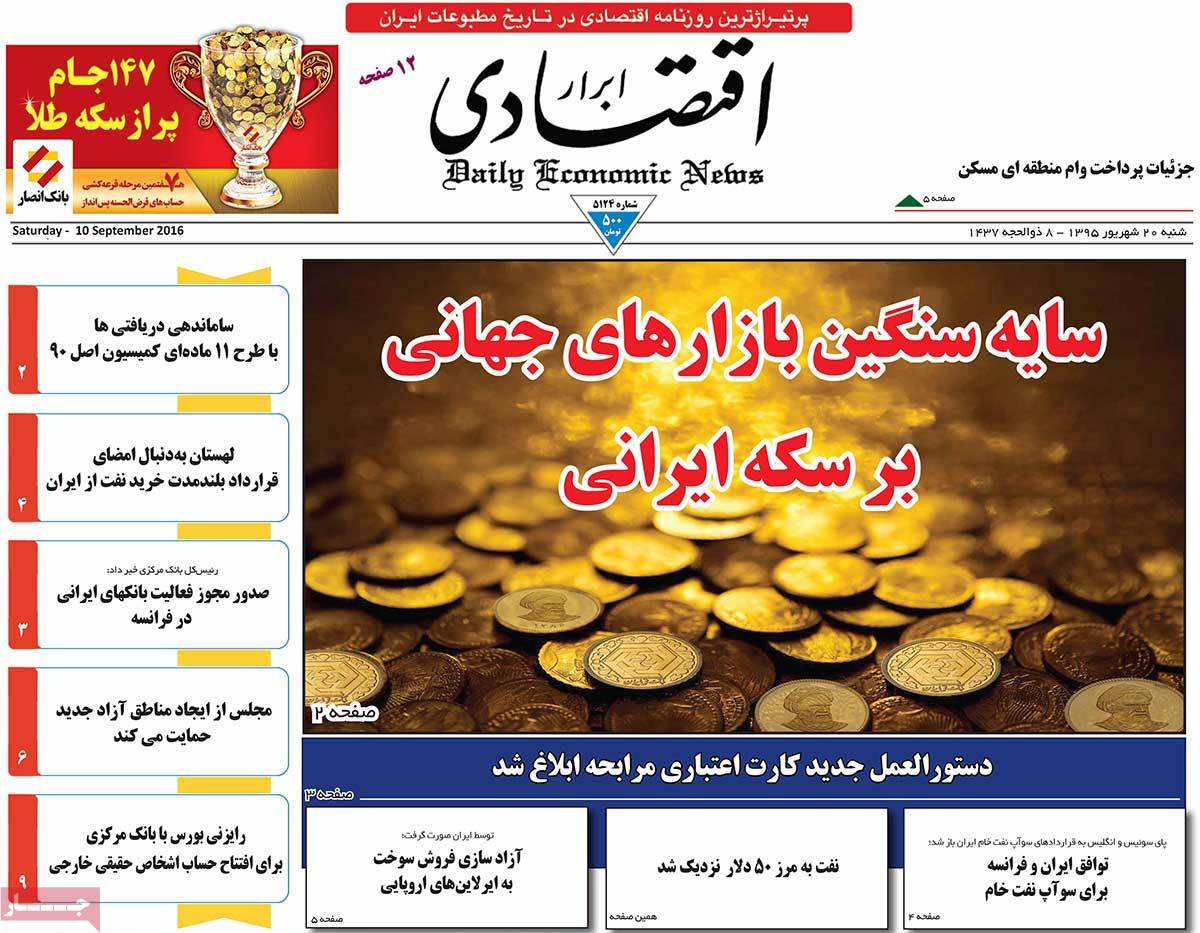 ---
Afarinesh:
1- In Reaction to Arab League Statement, Iranian Spokesman Urges AL to Ask Saudi Arabia to Sop Supporting Self-Created Terrorist Groups
2- Iranian Opposition Group Trained by US in Kurdistan Region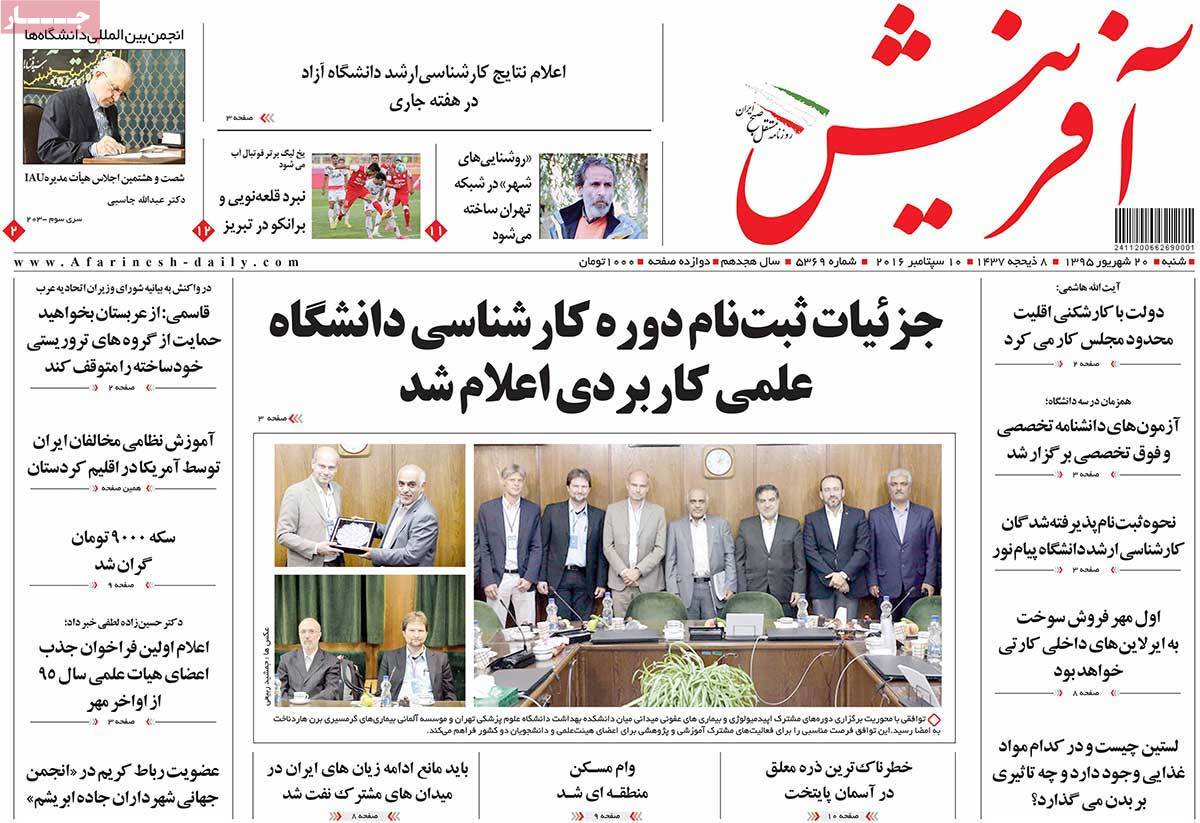 ---
Afkar:
1- Senior Lawmaker: Tehran-London Consular Problems Yet to Be Resolved
2- Iran and South Africa Stress Expansion of Cultural Cooperation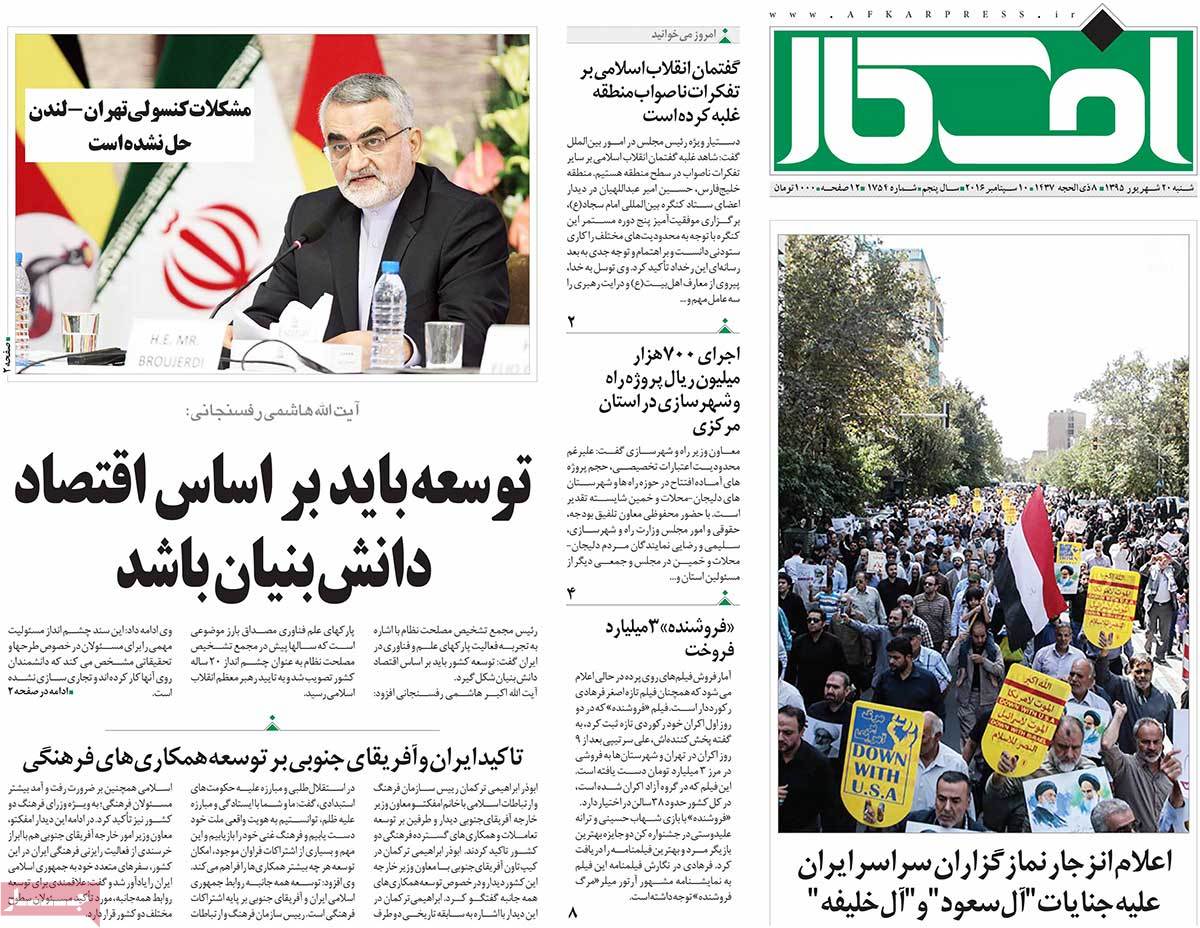 ---
Aftab-e Yazd:
1- Mr. Rouhani! Don't Doubt to Run for Presidential Elections: Aftab-e Yazd's Poll of Political, Social, and Economic Activists about Necessity for Rouhani's Candidacy
2- Ayatollah Jannati's Strong Criticism of FATF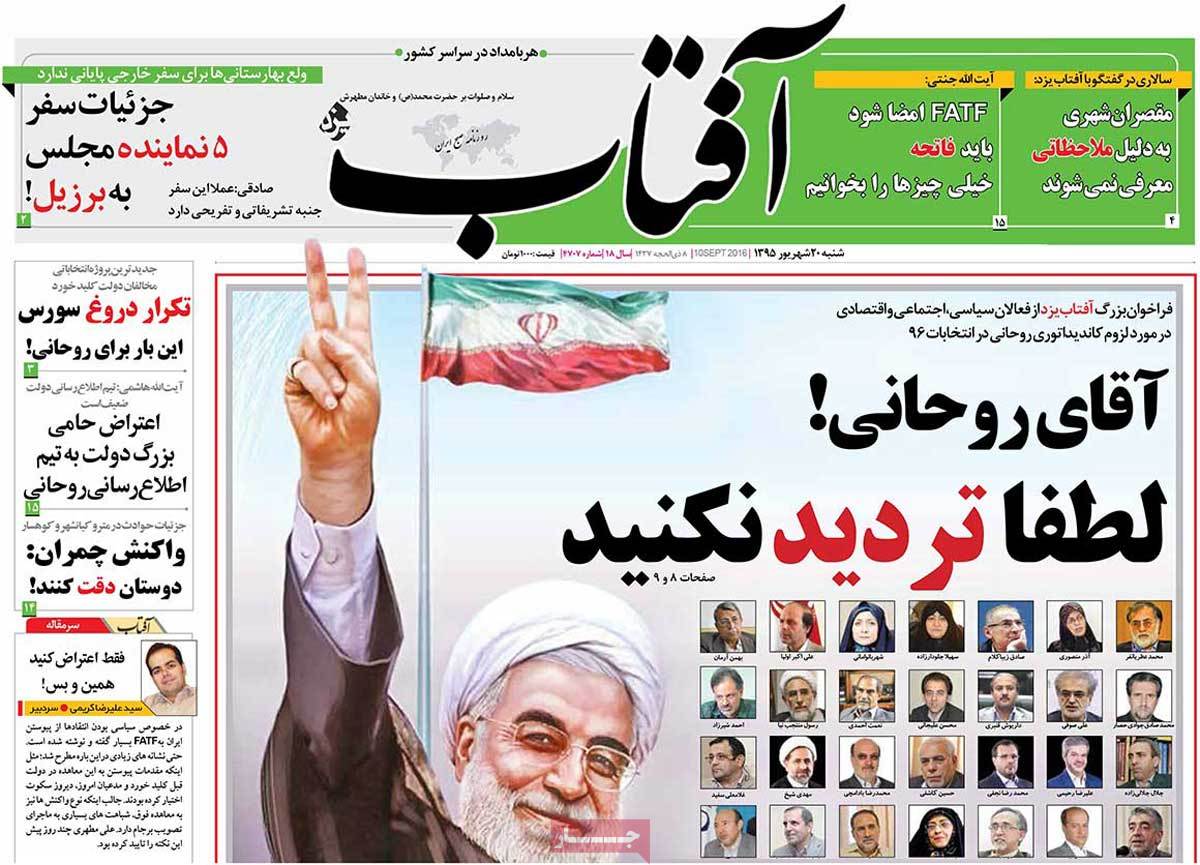 ---
Arman-e Emrooz:
1- Installation of Missile Defence System in 3700 Parts of Iran
2- Iranian Muslims Hold Protest Rally against Al Saud's Incompetence on First Anniversary of Hajj Stampede
---
Asrar:
1- IAEA Once Again Confirms Iran's Nuclear Program
2- Chief of Leader's Office: Sea of Blood Flowing between Iran and Al Saud Today
3- CBI Governor: Beginning of Italian, Austrian, and Germany Banks' Cooperation with Iran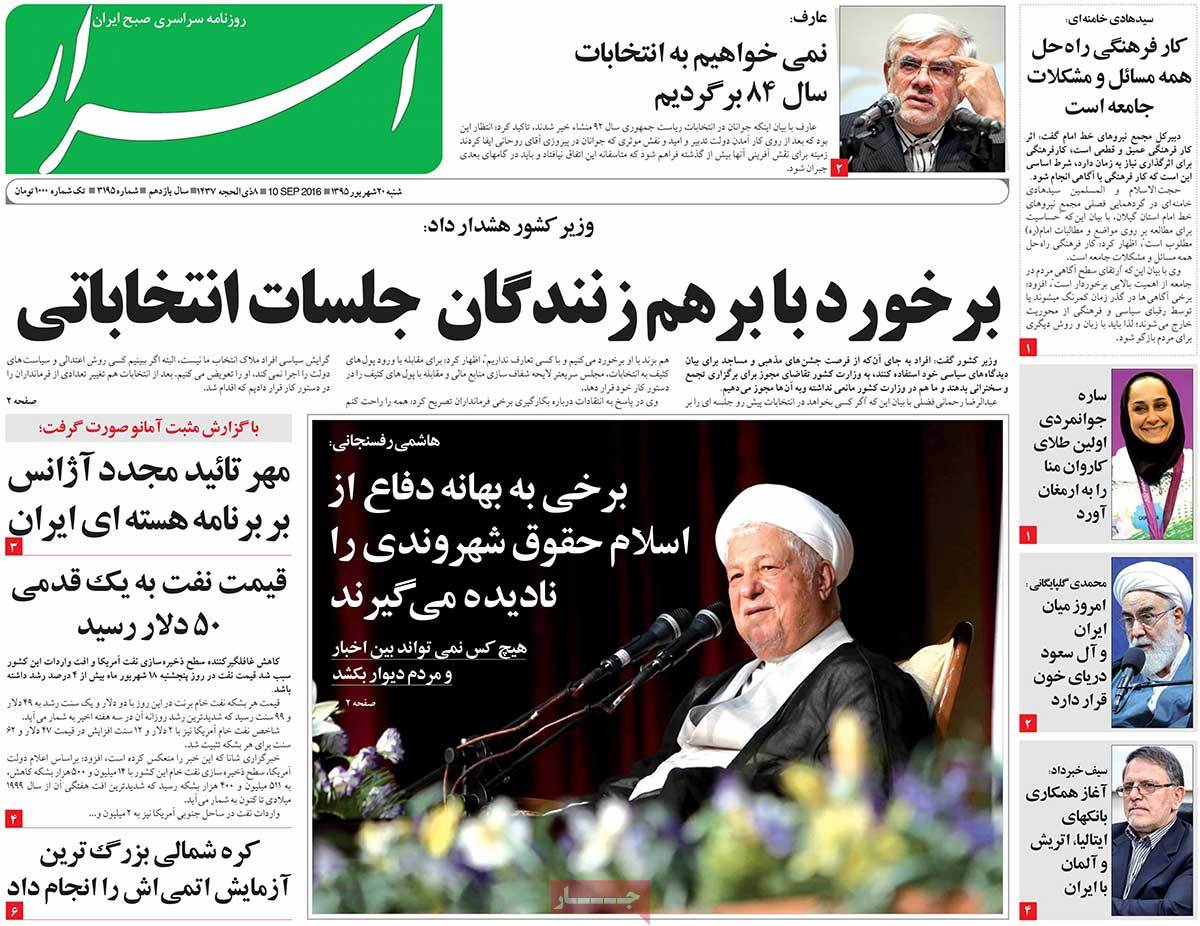 ---
Ebtekar:
1- Environment Chief Urges UN to Assist Iran in Realization of Sustainable Development
2- A Trip under Threat of Terrorism: Iranians Flock to Turkish Borders for Autumn Shopping
3- Iranian Female Athlete Sareh Javanmardi Breaks the Records and Wins First Gold Medal for Iran's Paralympics Team
---
Etemad:
1- World Shocked by North Korea's Atomic Earthquake: Pyongyang's Biggest Nuclear Test Leads to 5-Magnitude Quake in Northern Korea and a Political Earthquake in the World
2- Iranian Diplomat: Military Conflict with the US in Persian Gulf Is Unlikely
3- Diplomacy Restored Part of Iran's Lost Face: Hadi Khamenei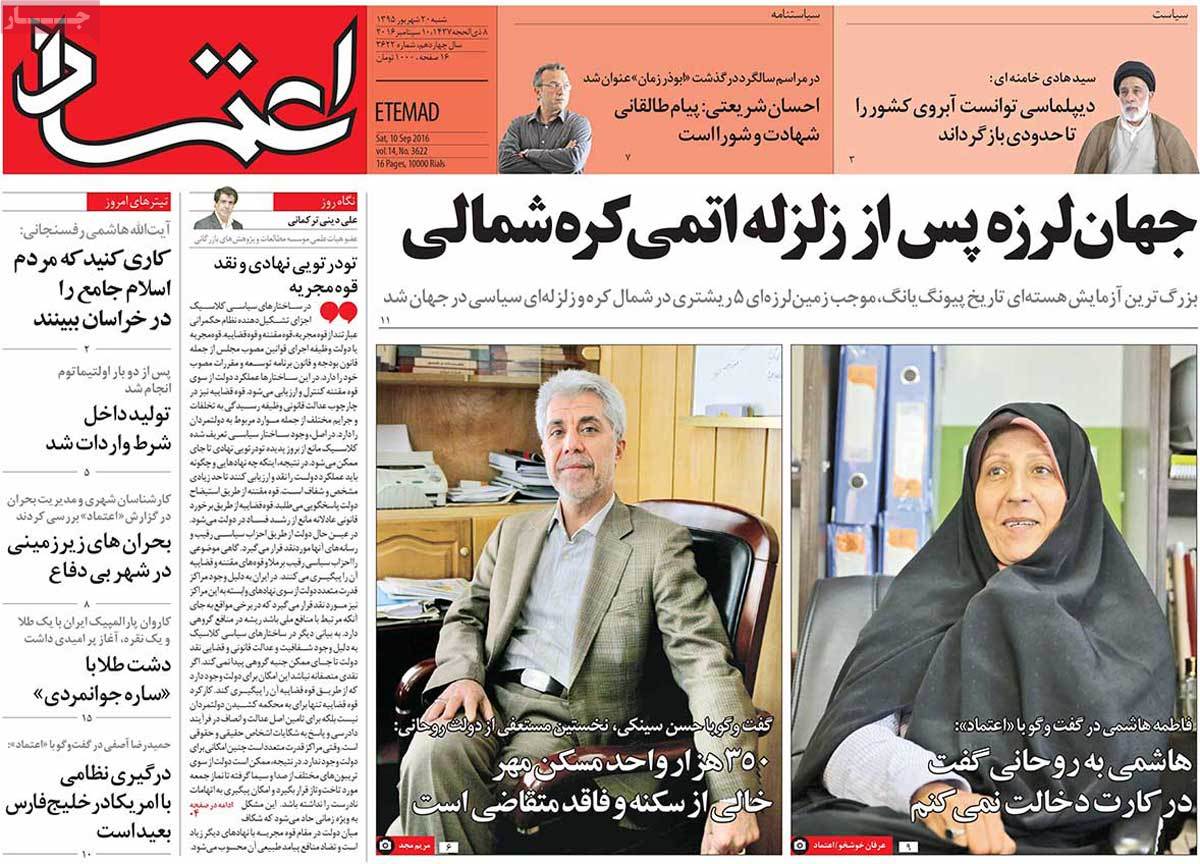 ---
Ettela'at:
1- Leader's Message Is an Introduction to Collapse of Al Saud
2- Hamas: Saudi Arabia No Longer Has Any Credit for Palestinians
3- North Korea Carries Out Biggest Nuke Test of Its History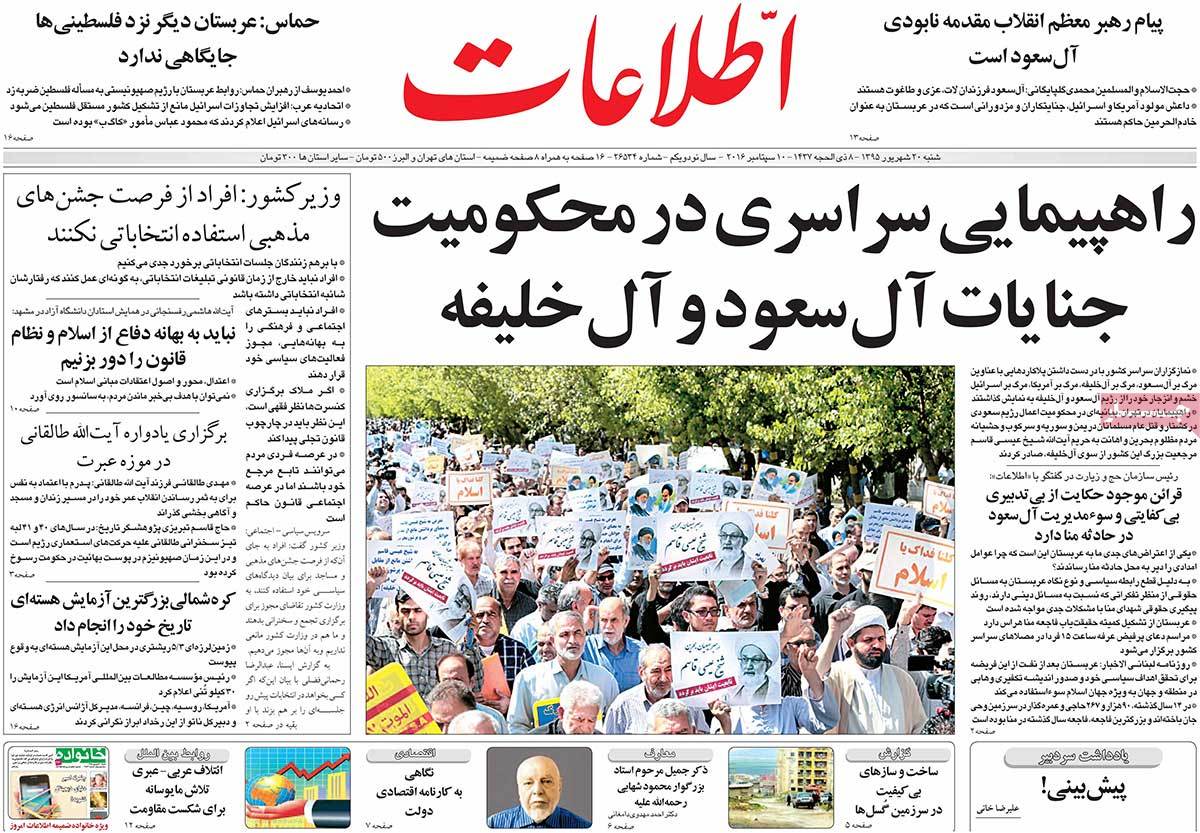 ---
Haft-e Sobh:
1- 7 Reasons Why Ahmadinejad Won't Run for Presidential Votes: It Seems that All Political Groups, Including Ahmadinejad Himself, Have Reached the Conclusion that He Shouldn't Run for Next Year's Presidential Elections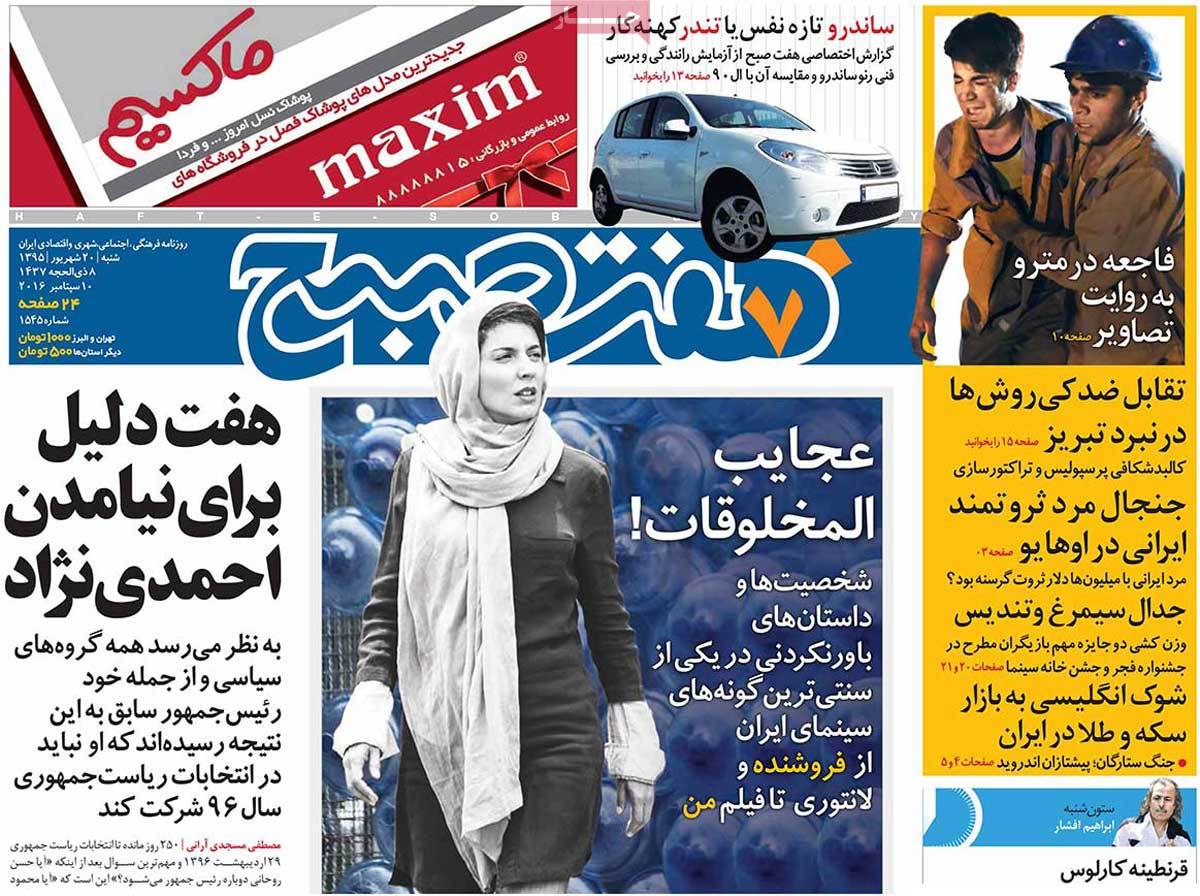 ---
Iran:
1- 2 Medals for Iran's Paralympics Team at the Beginning of Games: Javanmardi Wins Gold and Pakbaz Wins Silver Medals
2- US Congress Permits Victims of 9/11 Attacks to Sue Saudi Arabia
---
Jame Jam:
1- Economic Dependencies and Financial Interests Are Main Reason for Silence of Muslim Countries over Saudi Arabia, Experts Say
2- Leader's Representative in Hajj Affairs: Muslim Clerics Should Be Consulted in Different Countries for Hajj Management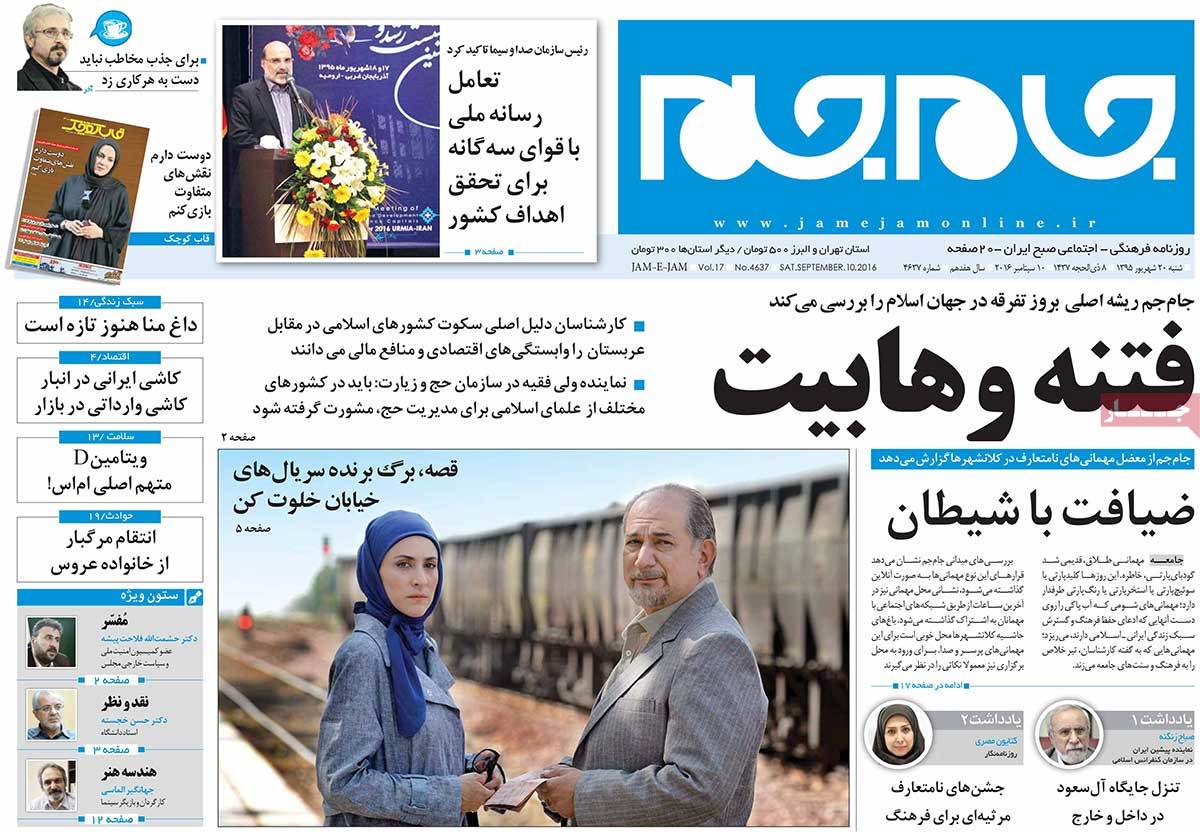 ---
Javan:
1- Iran Looking for Non-American Order in Persian Gulf: PG Security Should Be Localized
2- North Korea's Nuclear Reaction to US Evasion of Multilateral Talks
3- Iranian Nation's Rally in Anniversary of Mina Tragedy: We Won't Forget the Crimes Committed by the 'Evil Progeny' [Al Saud]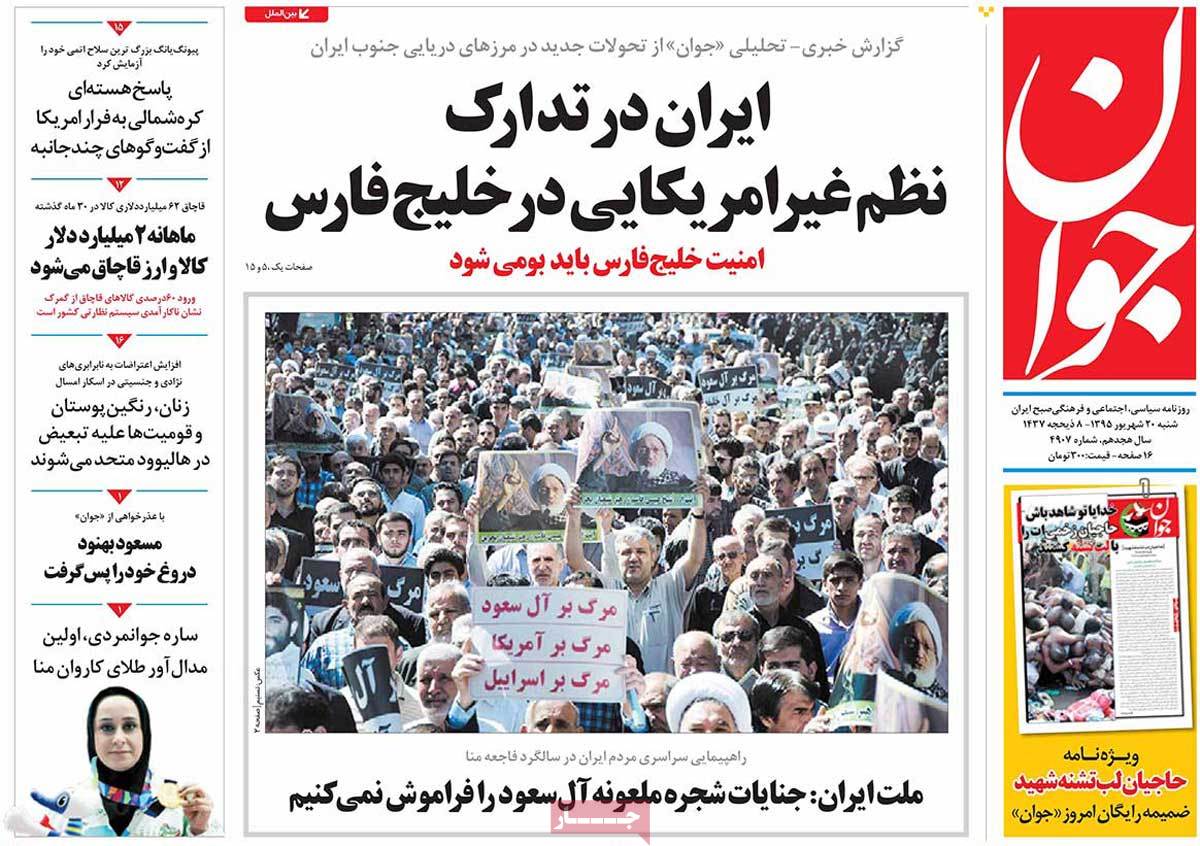 ---
Jomhouri Eslami:
1- Iran Banks Receive Permission for Activity in France
2- Obama: With His 'Wacky Ideas', Trump Doesn't Deserve to Become US President
3- Former Arab League Secretary General: Attack on Yemen Was a Stupid Decision
4- Western Intelligence Sources: Saudi Arabia Had a Role in Turkey Coup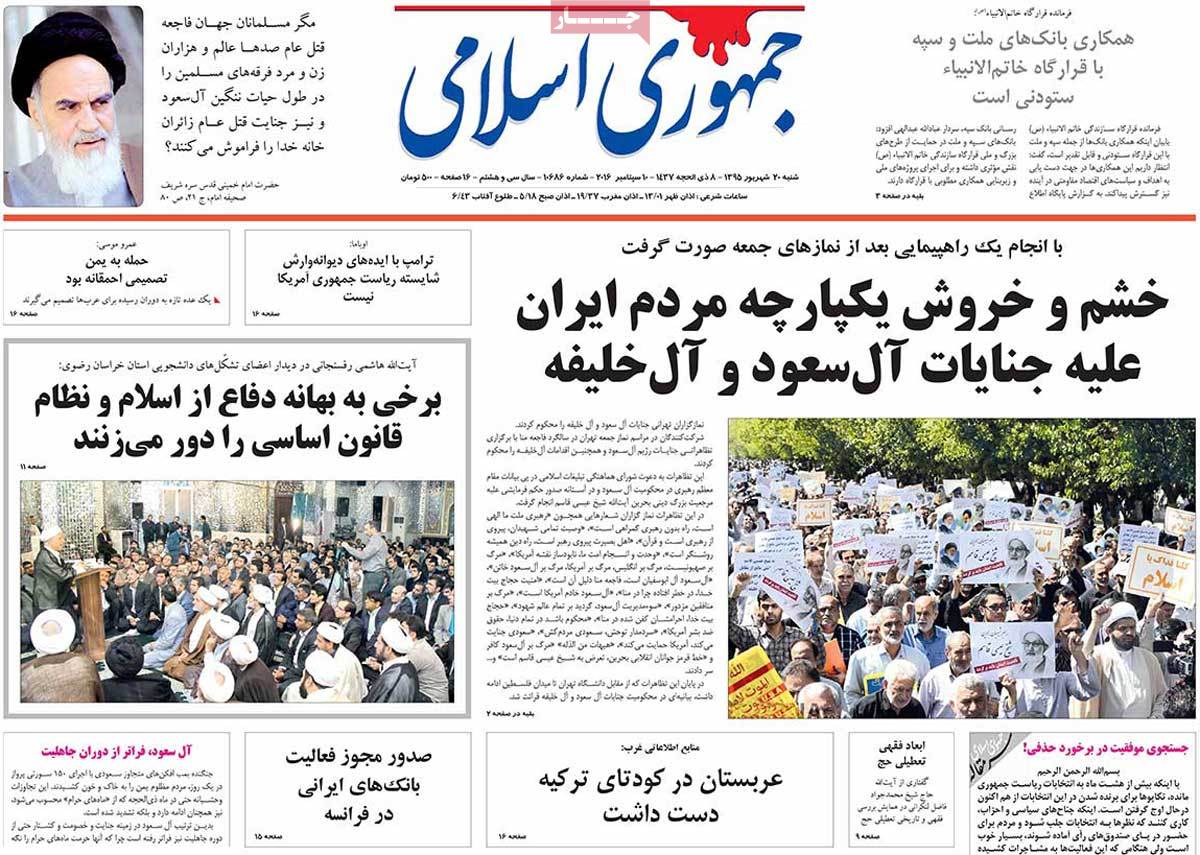 ---
Kayhan:
1- Documents Revealed by Al-Akhbar Shows Incompetence of Al Saud Has Killed and Wounded Tens of Thousands over Past 14 Years
2- Al-Azhar Mufti: Terrorism Cannot Be Eradicated Unless Roots of Wahhabism Are Eradicated
3- Ankara Security Sources Say 61 Vehicles Full of Explosives Have Arrived in Turkey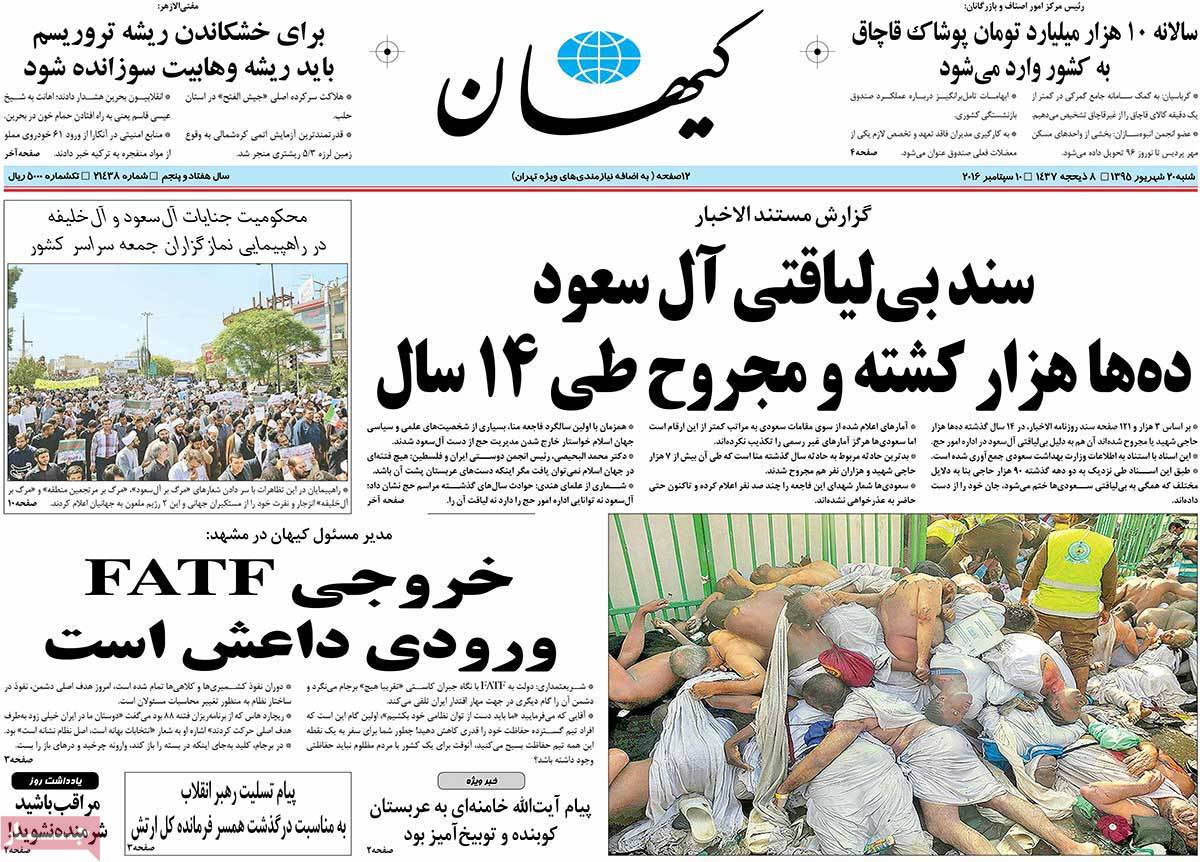 ---
Khorasan:
1- Marriage Rates in Iran Decline for 5th Consecutive Year
2- UNSC's Extraordinary Session and Vows for New US Sanctions against North Korea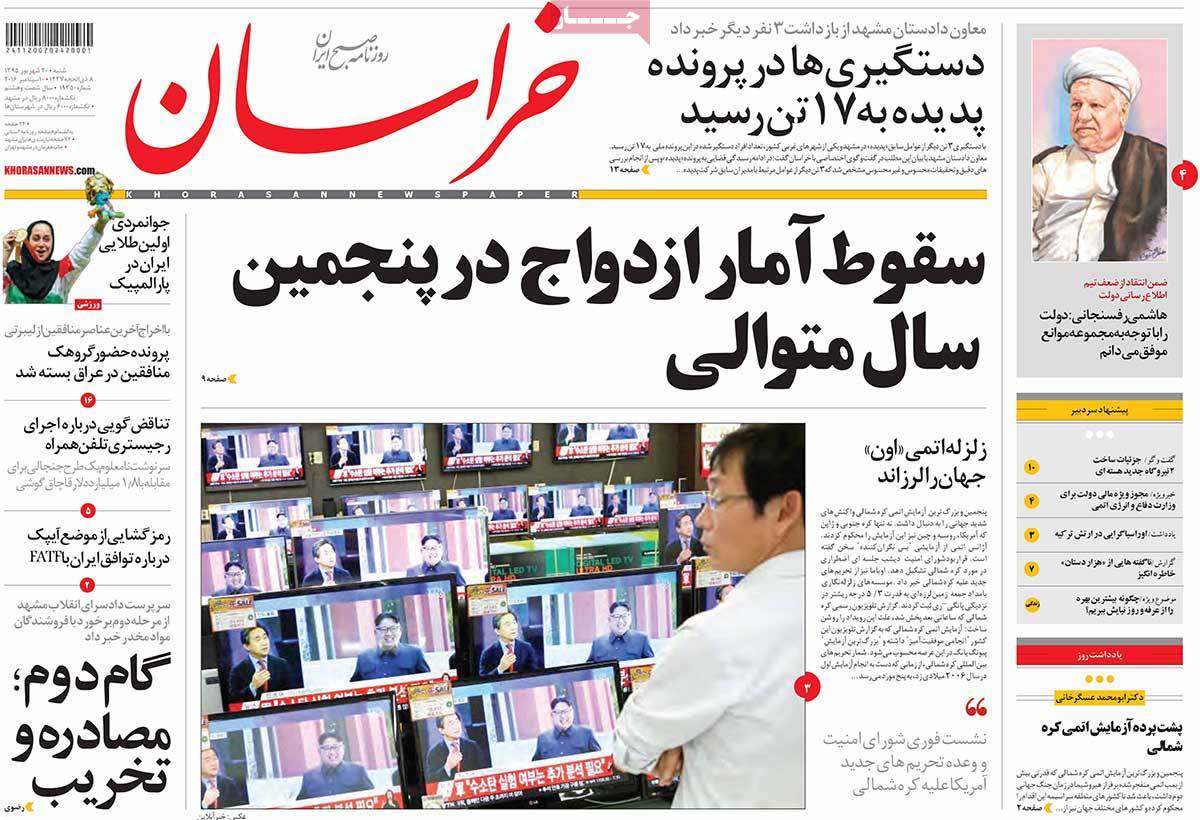 ---
Payam-e Zaman:
1- Leader's Representative: No One Can Claim Ownership of Kaaba [in Mecca]
2- 140mcm Increase in Iran's Gas Production Capacity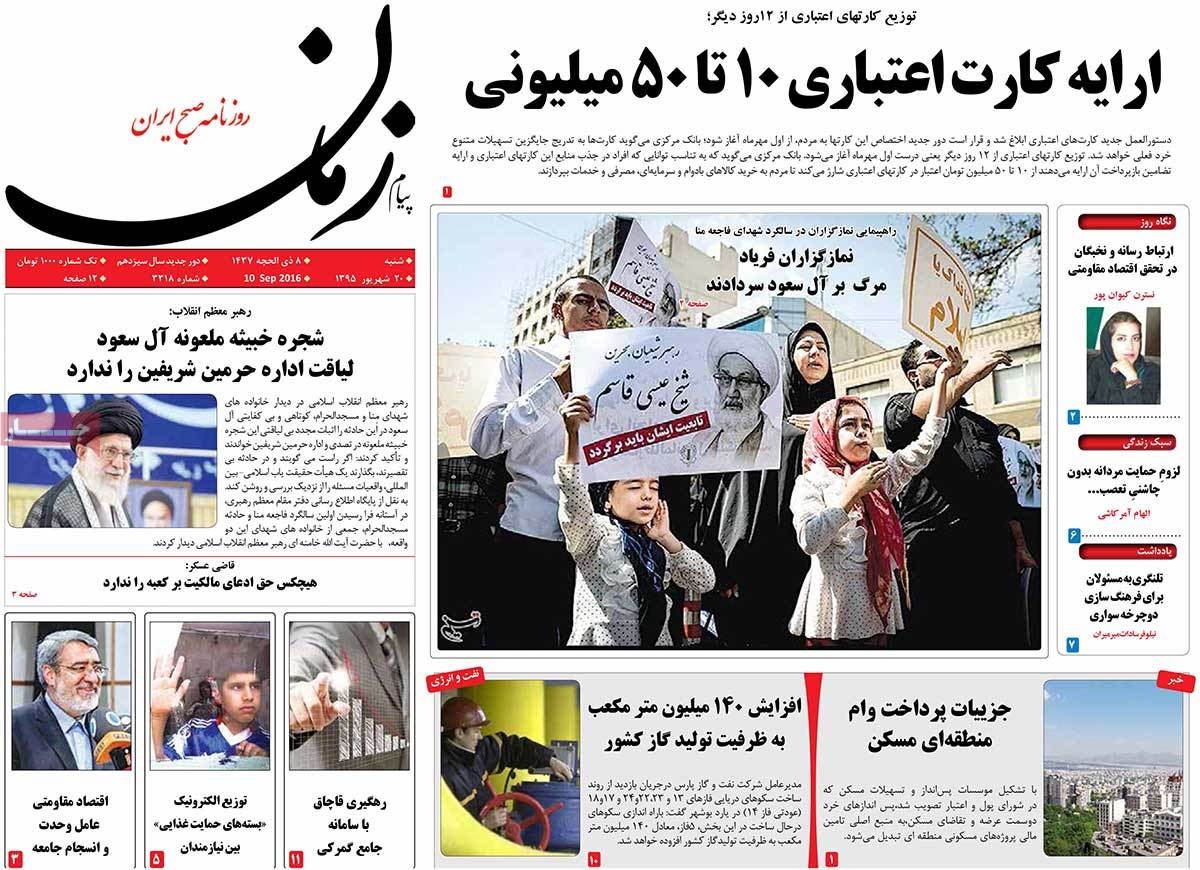 ---
Resalat:
1- Chief of Leader's Office: Criminals Can't Be Custodians of Holy Sites
2- MKO Terrorists Are Now Supported by France and Britain: Chairman of Assembly of Experts
3- Senior Cleric: Iran's Long-Range Missiles Have Scared Away Enemies
4- Amir Abdollahian: Leader's Prudence Prevented Iran from Getting Engaged in Two Wars
---
Rooyesh-e Mellat:
1- Amano's New Report Confirms JCPOA Implementation
2- Ayatollah Jannati Urges FATF Signatories to Take Back Their Signatures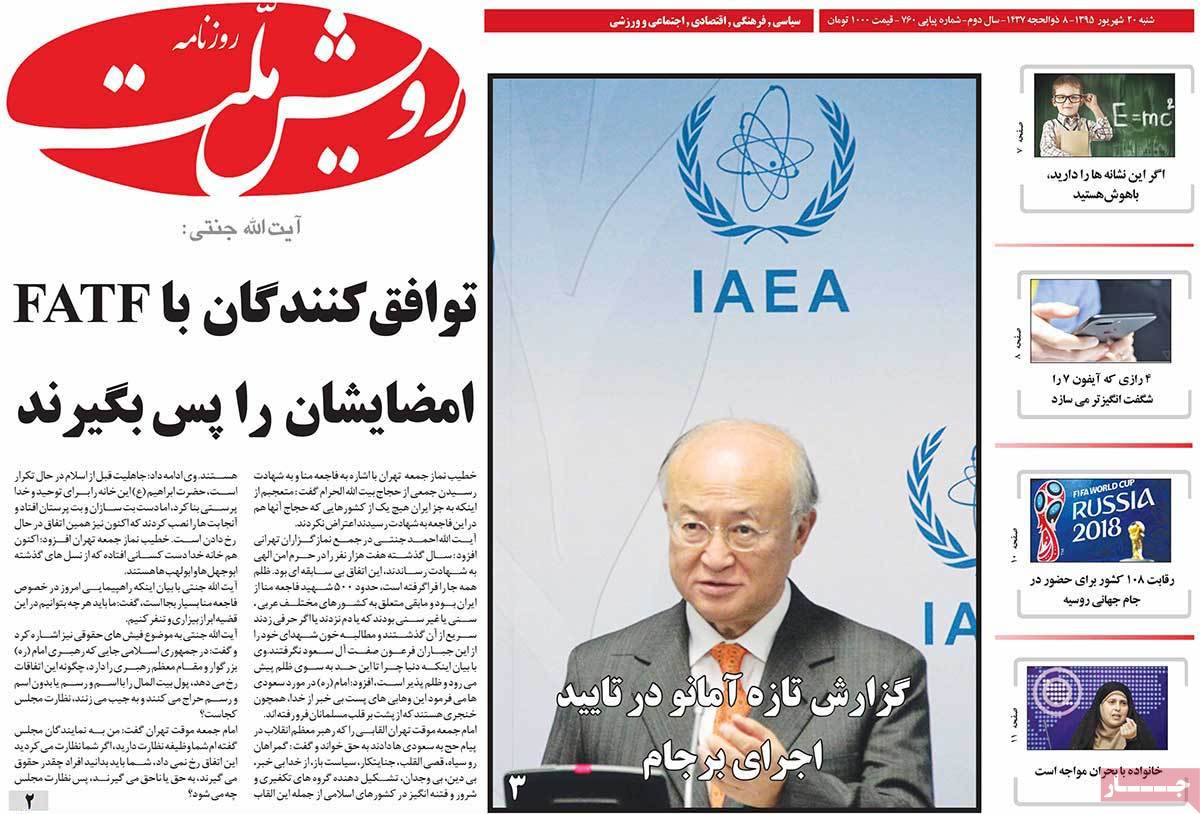 ---
Roozan:
1- Rafsanjani: Saudi Arabia's Crimes Worse than Those of Israel
---
Shahrvand:
1- Latest World Bank Statistics Indicate Air Pollution Causes Early Death of 21,000 Iranians
---
Shargh:
1- Rafsanjani: Iran's Constitution Has Left Everything to People's Vote
2- Aref: Some Consider Themselves above the Law
3- Friday Prayer Imams Compare FATF with Capitulation Deal
4- Deputy Secretary General of UN Urges Iran to Report Saudi Arabia's Violation of Iranians' Rights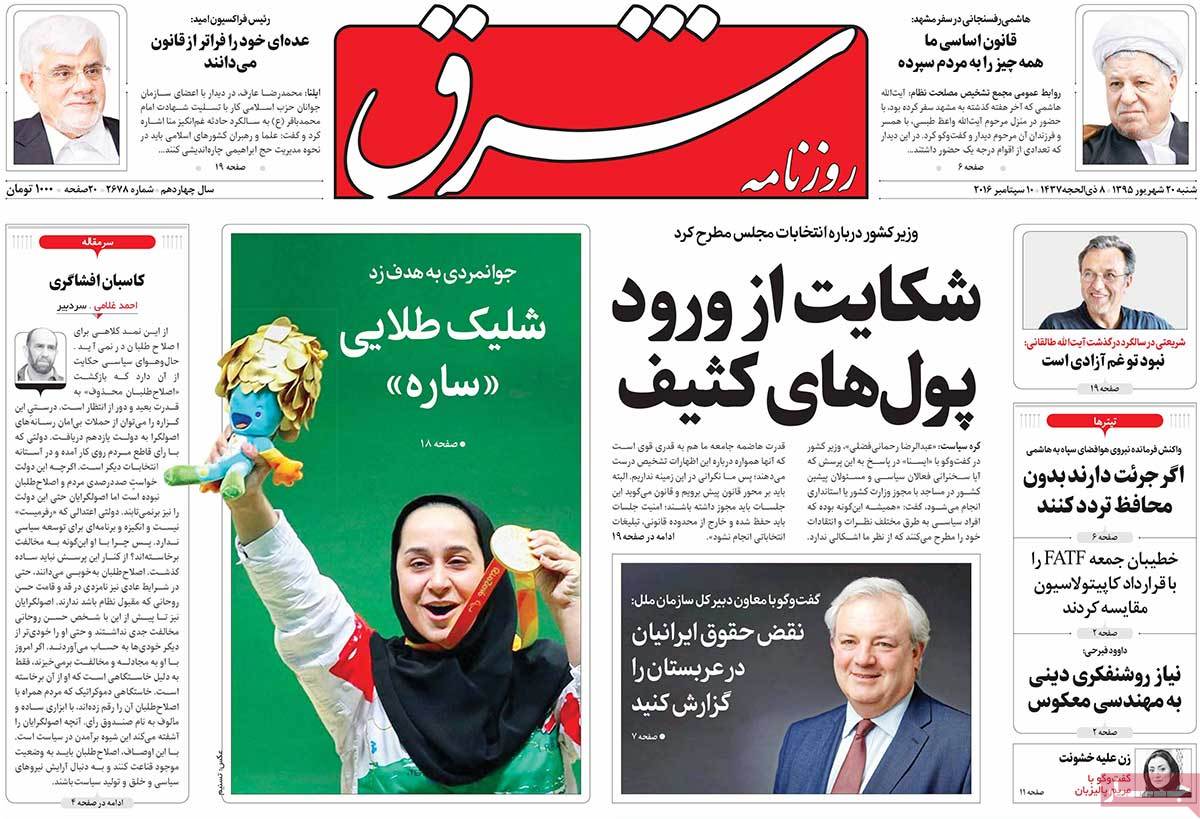 ---
Vaghaye Ettefaghieh:
1- Khatami: We're Very Hopeful about a Deal between Reformists and Conservatives
2- Government Executives' Interference in Selection of Iran's Representative in Academy Awards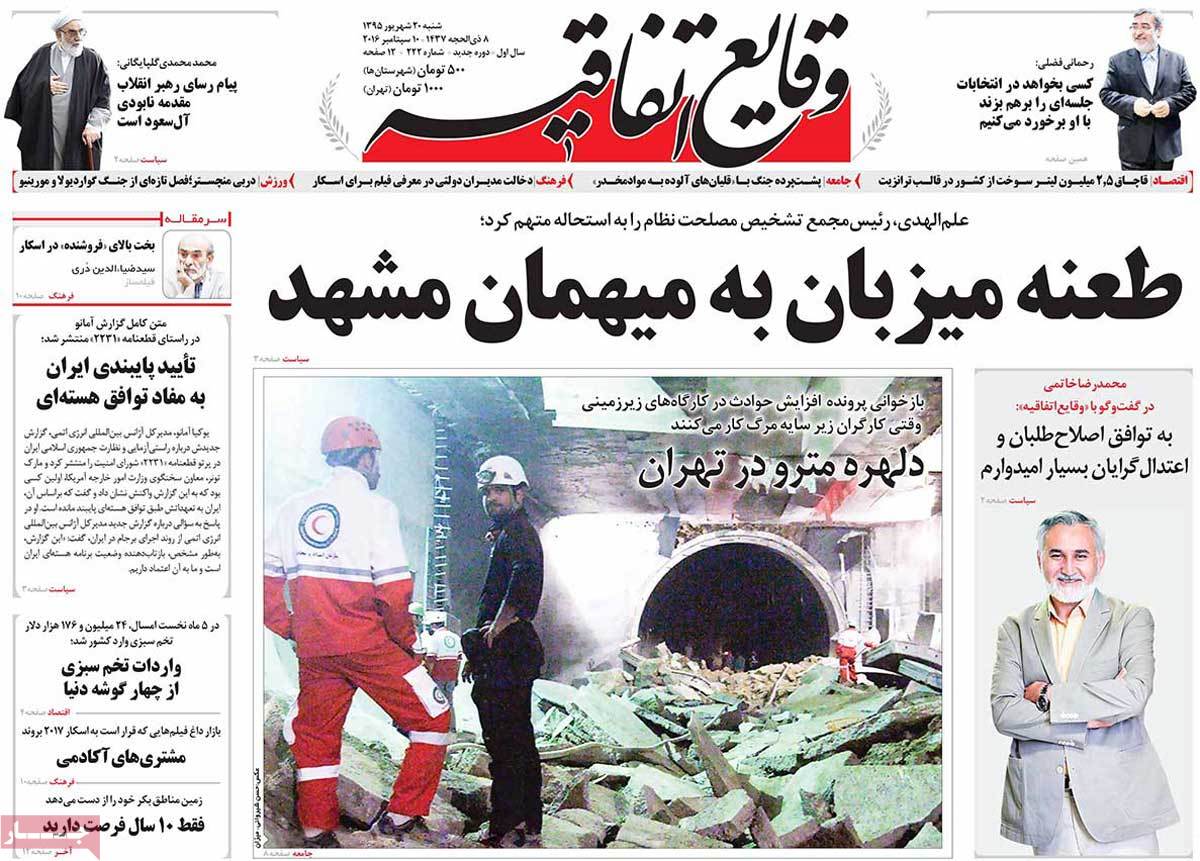 ---
Vatan-e Emrooz:
1- Deputy FM: We Can't File Lawsuit against Saudi Arabia!
2- Commander of Jaish al-Fath Killed