Newspapers on Thursday covered the remarks made by the Leader of the Islamic Revolution Ayatollah Seyyed Ali Khamenei about the need for enhancement of the country's defensive capabilities.
The reactions to the recent arrest [and release] of Abdol-Rasool Dorri Esfahani, a member of Iranian nuclear negotiating team, on charge of espionage also received great coverage.
The World Cup Qualifier match between Iran and Qatar, slated to be held on Thursday night, was also a top story today. Newspapers particularly covered the fact that Qatar National Football Team is composed of many dual nationals.
The above issues as well as many more are highlighted in the following headlines:
Abrar:
1- Dorri Esfahani Is Not a British National: Official
2- Time of Ahmadinejad Is Over: Cleric
3- MPs Call for Probe into Municipality
4- ISIS Spokesman Killed
5- Russia: Putin Will Not Visit Turkey
6- Daily Mail's Claim about Iran's Activity in Syria
---
Abrar-e Eqtesadi:
1- Asia and Europe Competing with Each Other for Export of Steel to Iran
2- 43% Jump in Iran-Europe Trade Exchanges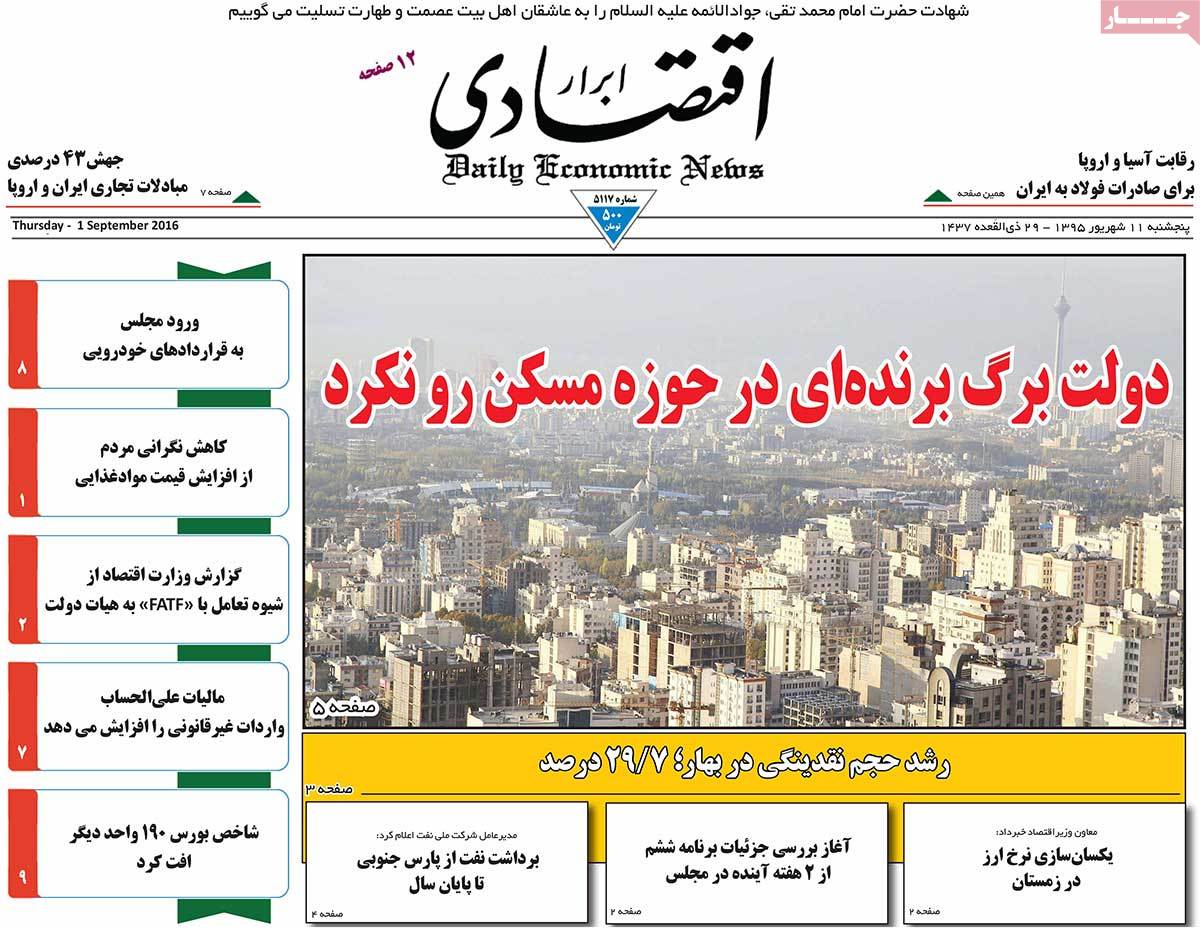 ---
Aftab-e Yazd:
1- Enhance the Country's Defensive and Offensive Power So that Bullies Would Feel Threatened: Leader
2- Creating New Crises, the New Job for Those Who Used to Make Money through Anti-Iran Sanctions
3- FM Zarif Will Go to New York; Rouhani's Visit Still Not Decided
4- Iran and Pakistan Ditch US Dollar in Bilateral Trade: Dealing with Dollar Based on Slogans
5- They [Ahmadinejad's Government] Transferred $23bn to Dubai and Istanbul: First VP
6- Modern Slum Lives in Mehr Mass Housing: Deputy Governor of Tehran
7- 3 Politicians: Candidates of Next Year's Presidential Elections Should Better Introduce Their First VP in Campaigns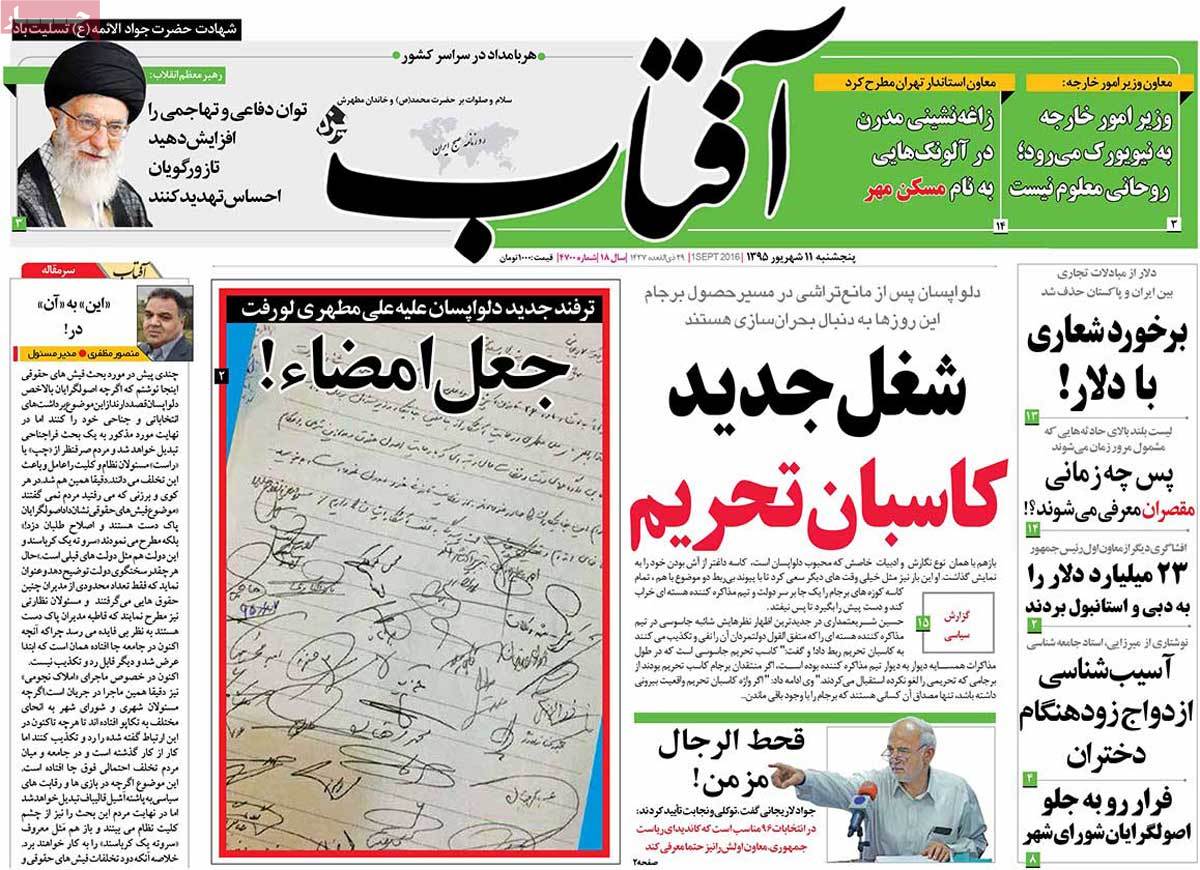 ---
Arman-e Emrooz:
1- Mayor of Tehran Pens Letter to Prosecutor-General about Controversial House Sales: We Gave Properties to Poor and Hard-Working Personnel!
2- Parliament Goes on Leave for 25 Days: Do These Newly-Elected MPs Need Such a Leave?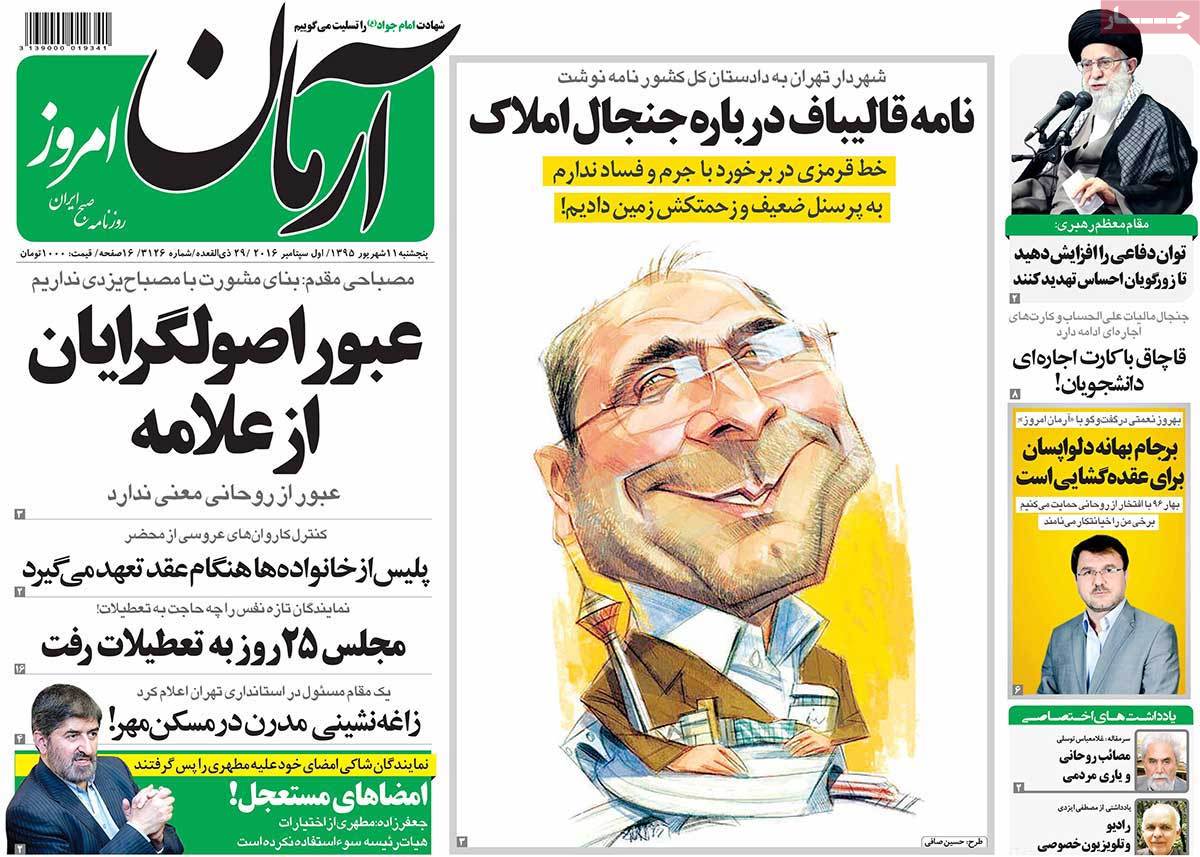 ---
Asrar:
1- Iran Mulling over Rouhani's Visit to New York: Deputy FM
2- Any Move Justified for Hungry and Unemployed People: Rafsanjani
---
Emtiaz:
1- Iran and South Korea to Develop Mutual ICT Cooperation
2- $10bn Decrease in Smuggling of Goods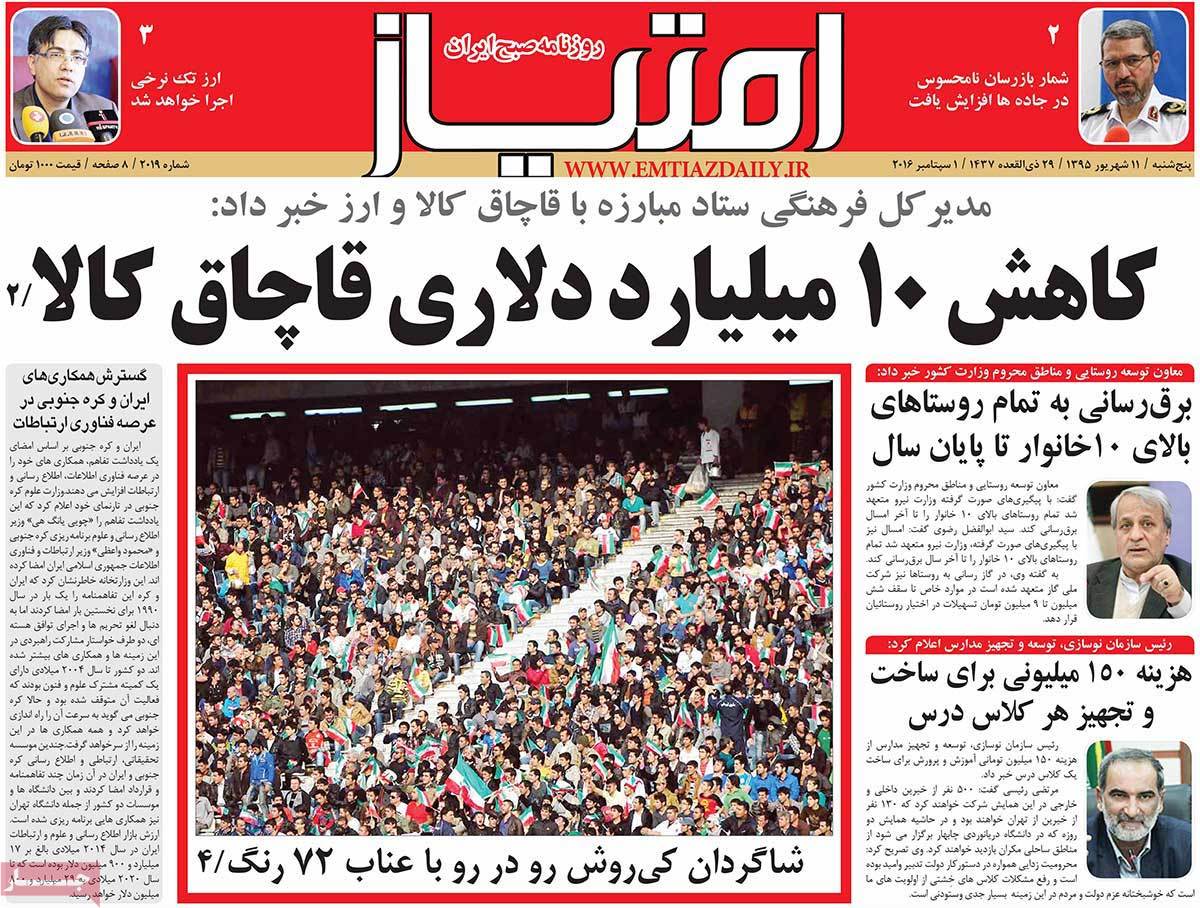 ---
Etemad:
1- Except for Chemical and Nuclear Weapons, We Have No Limitation in Development of Defensive Industries: Leader
2- Staying Awake to Watch Asghar Farhadi's 'The Salesman': Record-Breaking Number of Tickets Sold in First Day
3- OPEC Secretary-General's Mission in Tehran
4- Inauspicious Day for Dilma: Brazil's Socialist President Impeached by Parliament
---
Ettela'at:
1- Number 2 ISIS Commander Killed in Syria's Aleppo
2- UN Warns of a New War between Lebanon and Israel
3- Iran's Bank Sarmayeh Volleyball Team Claims Asian Club Title
---
Haft-e Sobh:
1- Valuable Replacements for Ali Daei and Karim Bagheri in Team Melli
2- Totally Legal! No Violation of Law in Alleged Scandal of Municipality
3- 'The Salesman': Reactions to First Day of Screening in Iranian Cinemas
4- From A to Z of Legal Case of Dorri Esfahani, the Member of Iran's Nuclear Negotiating Team Charged with Espionage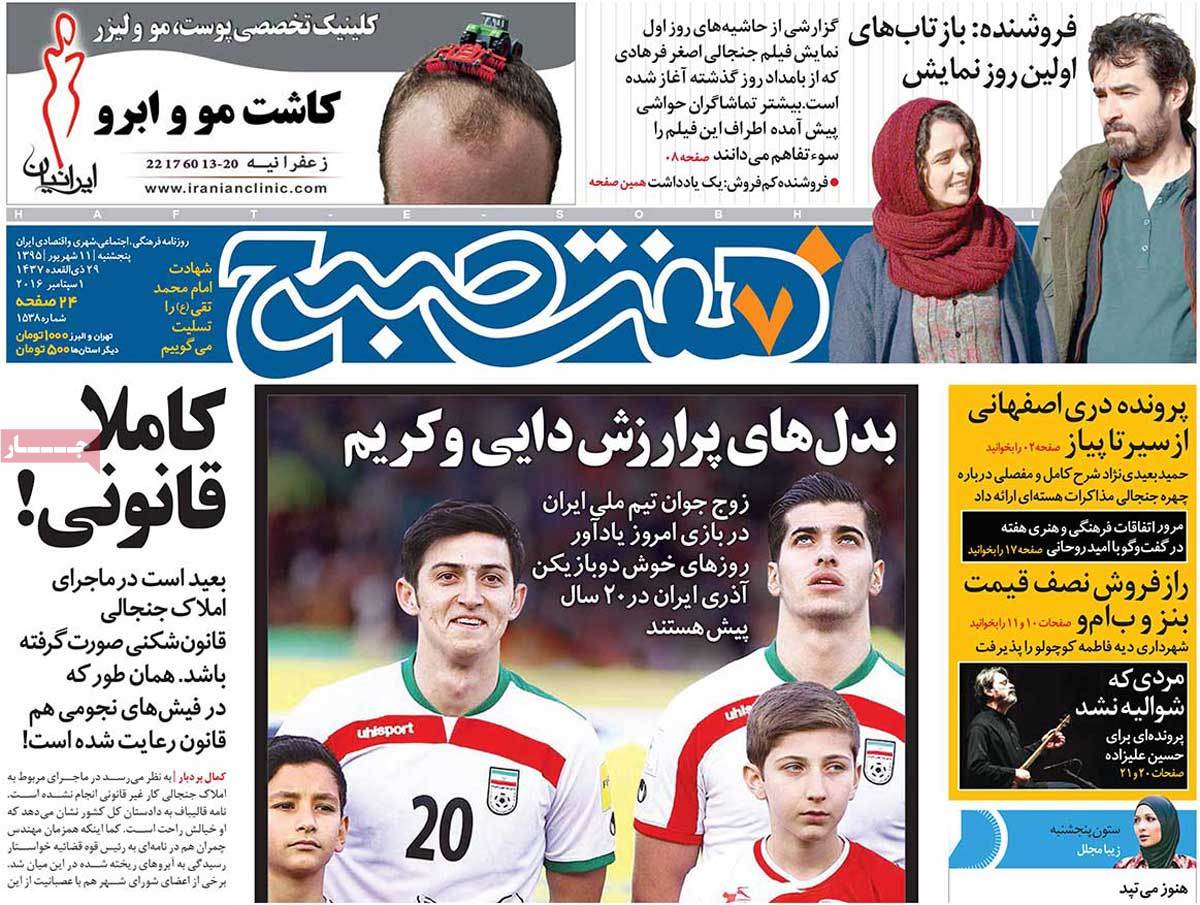 ---
Hamshahri:
1- Largest Iran Flag to Be Raised Today in Azadi Stadium in Iran-Qatar WQC Match
2- Parliament to Discuss Giving Citizenship to Children of Non-Iranian Fathers
3- Shiite-Sunni Fight in Washington
---
Iran:
1- Everyone Surprised by People's Reception of Asghar Farhadi's 'The Salesman': Special Screening at 6:45 a.m.
2- First Female President of Brazil Dismissed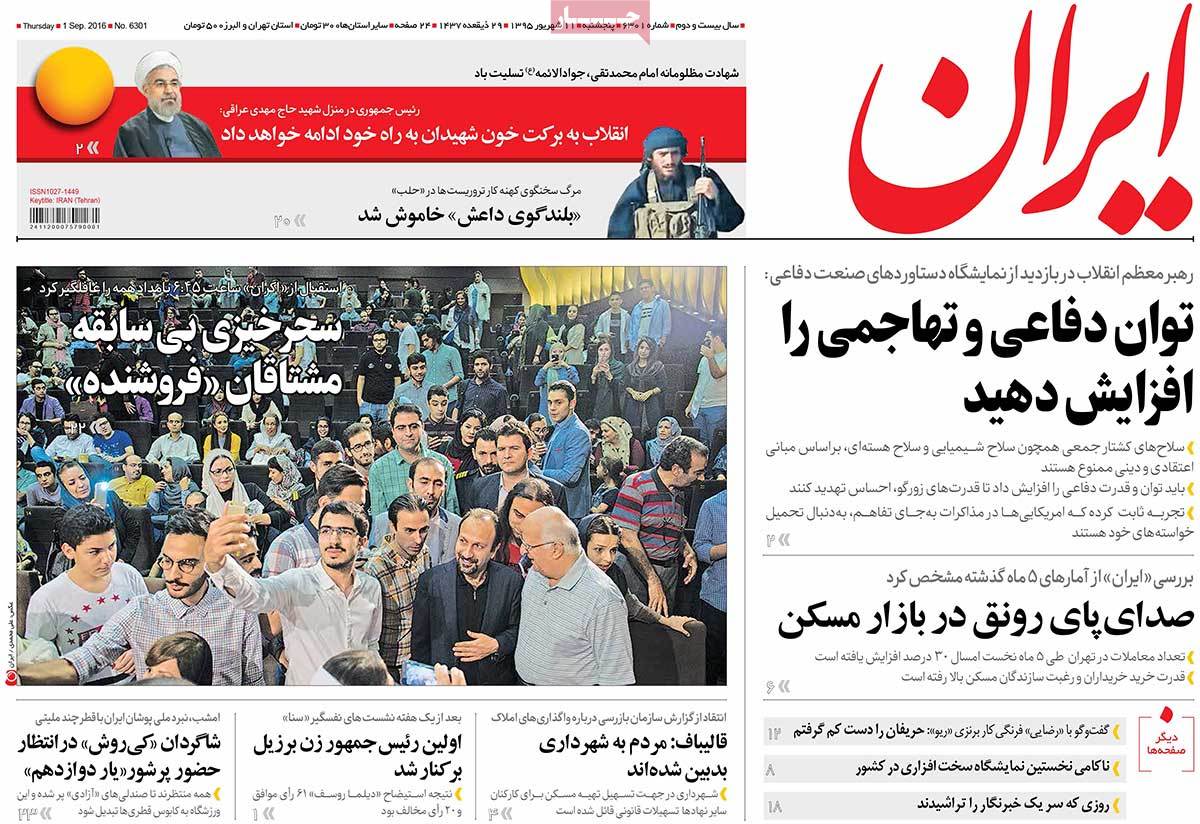 ---
Jame Jam:
1- Leader Call for Enhancement of Iran's Defensive and Offensive Power
2- Management of Hajj Pilgrimage: A Responsibility Saudis Can't Handle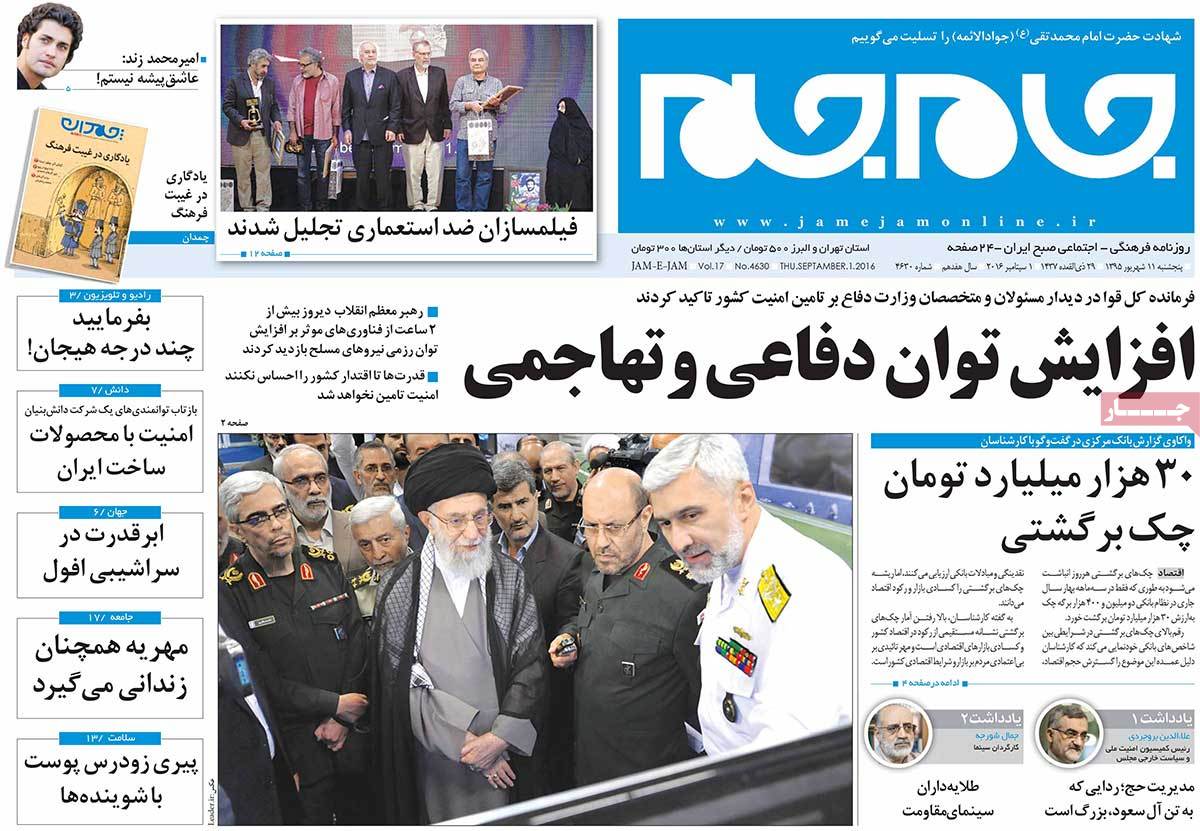 ---
Javan:
1- Mayor of Tehran Urges Prosecutor-General to Prosecute Any Possible Crime
2- MKO Petrodollars against Iran: Al-Monitor
3- JCPOA Is the Day of "US Violation of Its Commitments", Not the Day of "Constructive Interaction with the World"
4- Iran National Football Team to Play against Qatar's Team of World Stars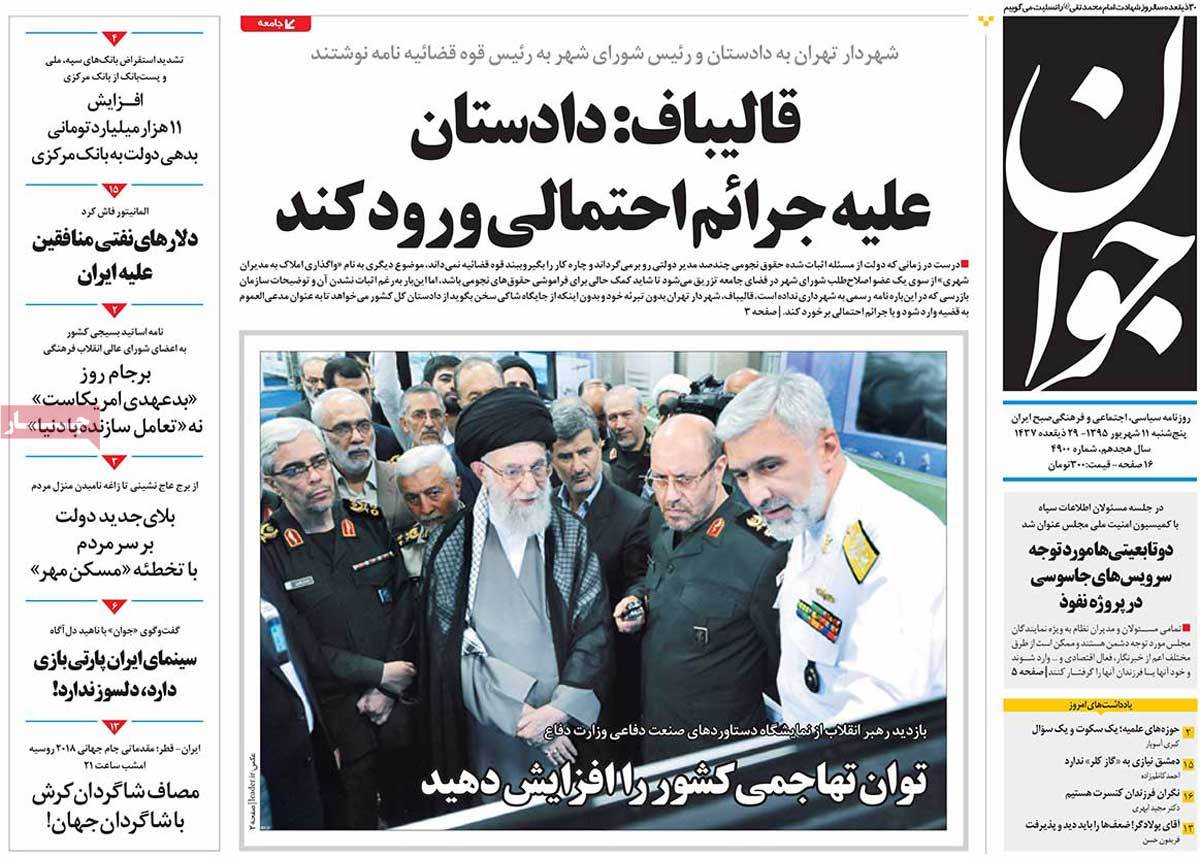 ---
Jomhouri Eslami:
1- 3.5 Time Increase in Europe's Imports from Iran
2- Indian Company Settles $510m of Its Oil Debts to Iran
3- $1.7bn Foreign Investment Attracted in 5 Months
4- Iran's Foreign Ministry Urges Turkey to Stop Its Military Operation in Syria as Soon as Possible
5- Moscow and Damascus Warn of West's Plot to Accuse Syria of Using Chemical Weapons
---
Kayhan:
1- Both US Parties Are Criminals, None of Them Preferred to the Other: Leader
2- Zionist Newspaper Worried about Leaders of 2009 Sedition [Post-Election Protests]
3- Defending the One Charged with Espionage in a Bid to Protect JCPOA!
4- No One Can Prevent Popular Forces from Taking Part in Mosul Operation: Ameri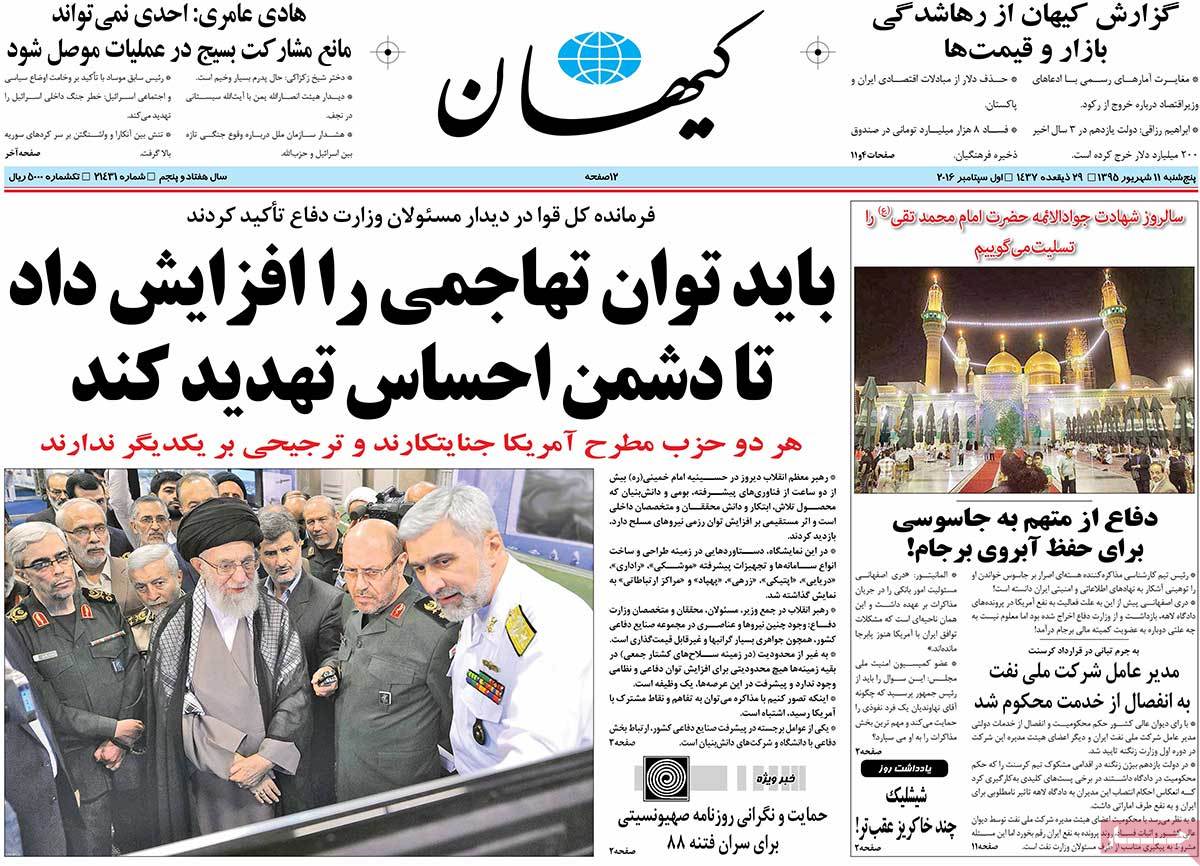 ---
Khorasan:
1- Will Northern Syria Get Ankara and Damascus Close to Each Other?
2- People Are 50% Hopeful about Future of JCPOA
3- End of 13 Years of Leftism in Brazil
4- Clerics Refuse to Give Green Light to Ahmadinejad's Candidacy
---
Resalat:
1- Western Culture Dominating Iranian Universities: Ayatollah Makarem Shirazi
2- I Have No Red Line in Fight against Corruption
3- Astronomical Salaries Not Acceptable in Islamic Government
4- Siege on Terrorists in Aleppo Is Completed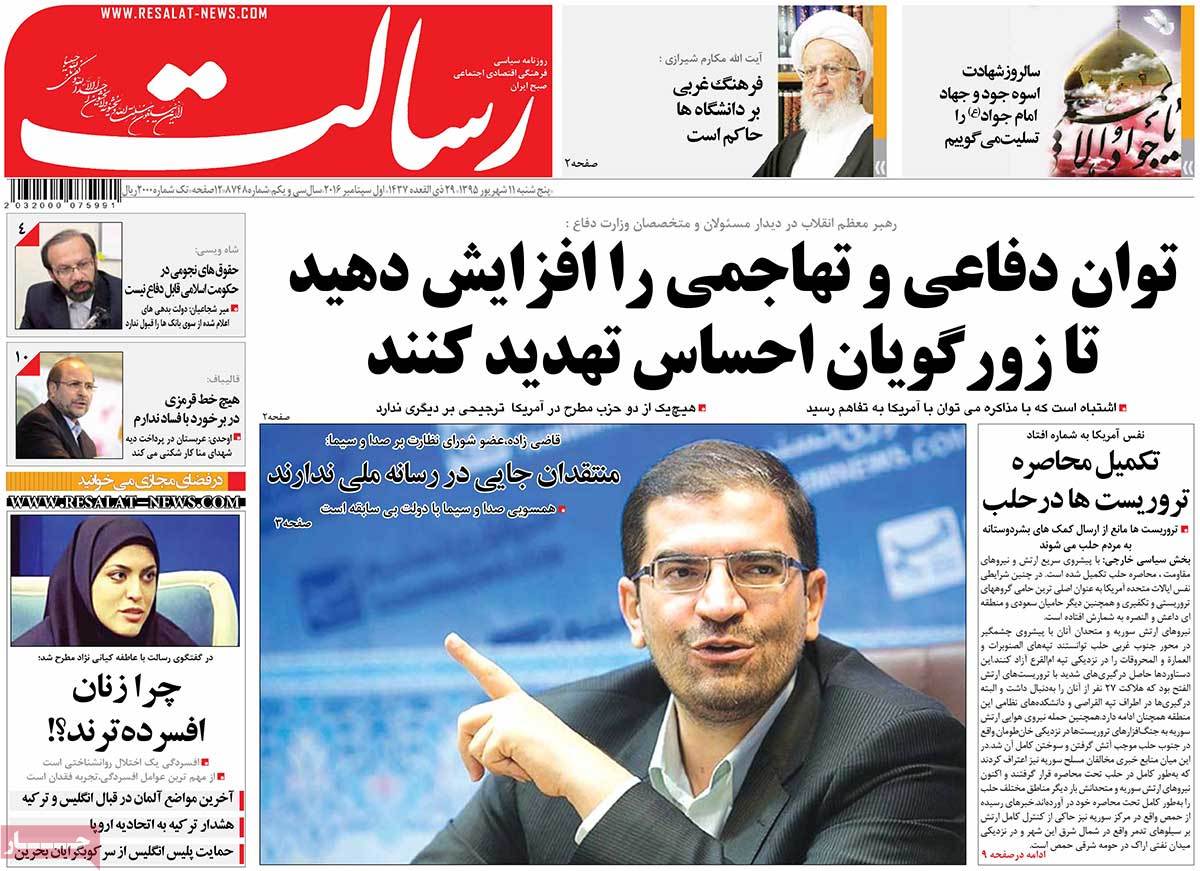 ---
Roozan:
1- Production of Chemical and Nuclear Weapons Illegal: Leader
2- Tehran-Moscow Ties Are Not Strategic: Analyst
3- If Allegations against [Mayor of Tehran] Qalibaf Are Confirmed, Conservatives Won't Support Him Anymore
4- Increase of Drug Addiction with Growth of Unemployment in Villages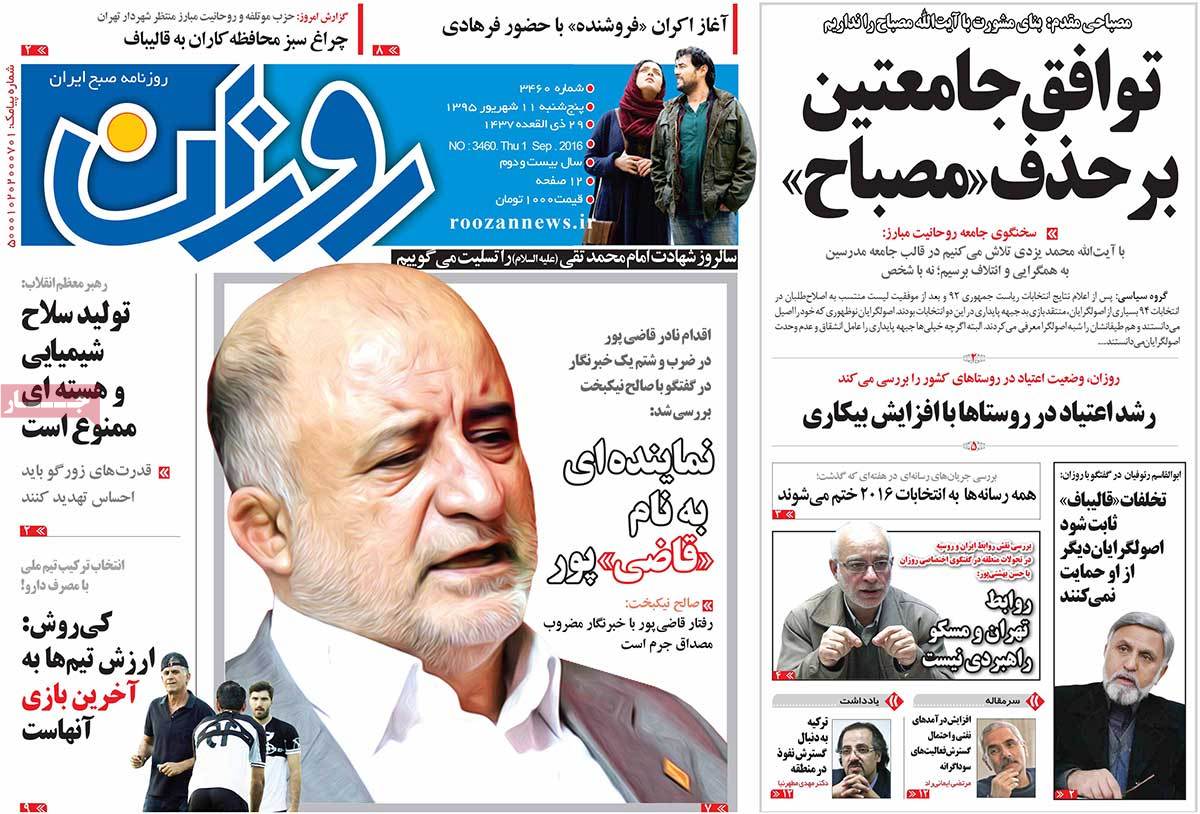 ---
Shahrvand:
1- Global Cooperation to Save Iranian Lake: 11 Countries Trying to Save Lake Urmia
2- Iran Moves Up 34 Ranks in Global Business Ranking
---
Shargh:
1- Calling Dorri Esfahani a Spy Is an Insult to Iran's Intelligence and Security Bodies: Offical
2- Municipality under Investigation: The Whistle-Blower Website Blocked Based on Legal Order
3- What Happened in Parliamentarians' Morning Session with IRGC intelligence?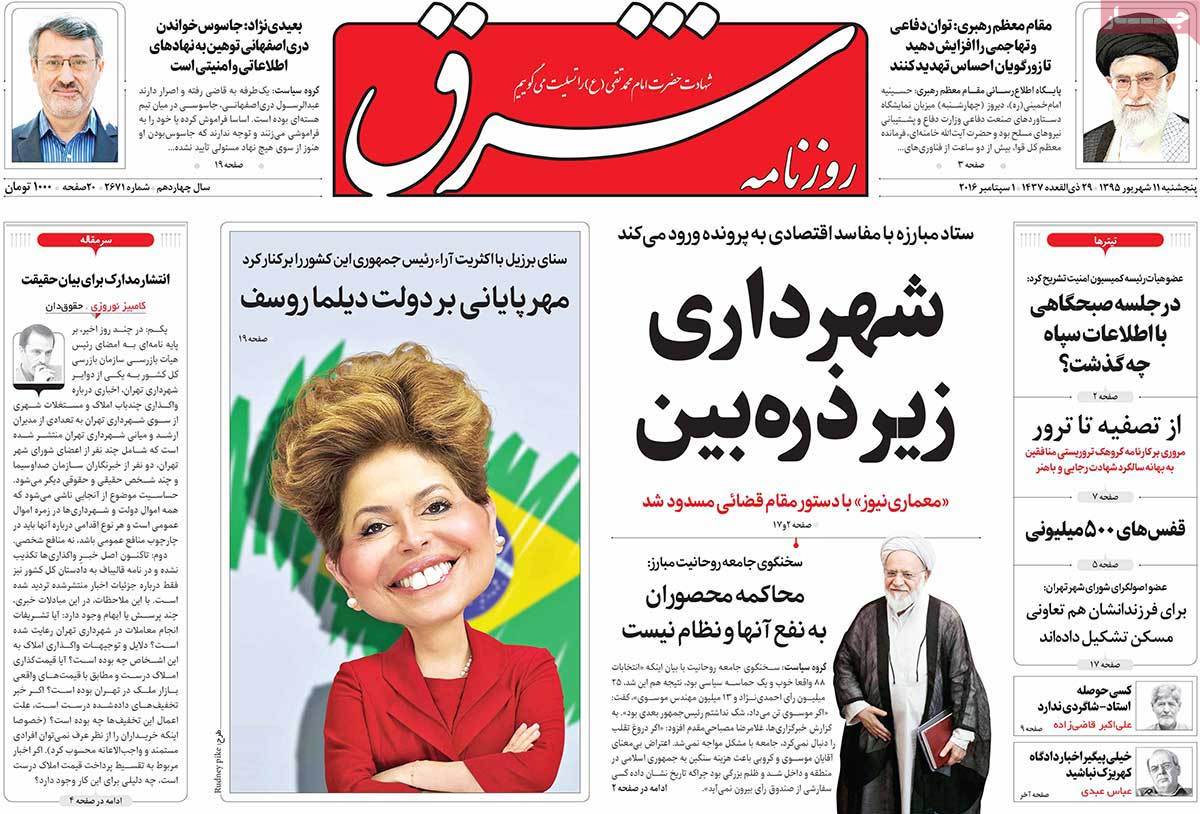 ---
Vatan-e Emrooz:
1- Suicide: Will Rouhani's Gov't Become Enforcer of US Sanctions in Iran's Territory by Implementing FATF?
2- Ansarullah Delegation Meets with Ayatollah al-Sistani