The majority of newspapers today covered the European Union's Foreign Policy Chief Federica Mogherini's visit to Tehran and her talks with President Hassan Rouhani and Foreign Minister Mohammad Javad Zarif.
The US move to halt the Mosul operation was also a top story today.
The reports about a Saudi plot to create an explosion in Mecca and pin the blame on Yemen's Houthis also received great coverage.
The above issues, as well as many more, are highlighted in the following headlines:
Abrar:
1- Sustainability of JCPOA Hinges on Other Side's Implementation of Its Commitments: Rouhani
2- Head of Iran Prisons Organization Call for Decrease in Number of Prisoners
3- 44th Flotilla of Iranian Navy Docks at Tanzania
4- White House Sources: Obama May Refuse to Veto the Law that Extends Anti-Iran Sanctions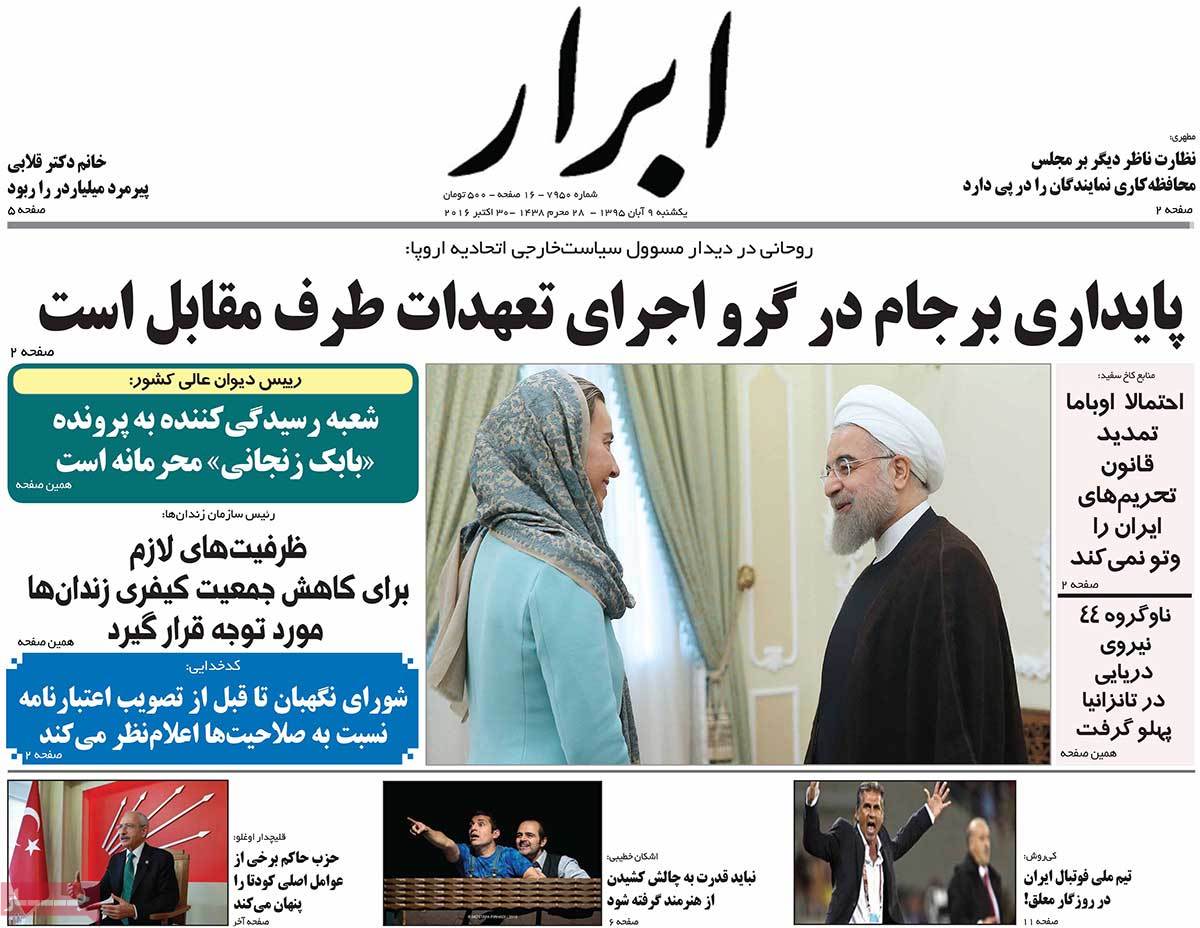 ---
Afkar:
1- White House Agrees with Extension of Anti-Iran Sanctions
2- Transport Minister: Airbus and Boeing Have Given Iran the Licence to Manufacture Plane Parts
---
Aftab-e Yazd:
1- From JCPOA to Syria in Mogherini's Meetings
2- Hardliners Worried about Re-Opening of EU Office in Tehran
---
Asrar:
1- Larijani's Offer for Iran's Success: Entire Nation Should Back Government
2- Economy Minister: Continued Economic Growth by Year End
3- Washington Halts Mosul Operation
4- Rouhani: Some Regional Countries Have Not Experienced Elections Yet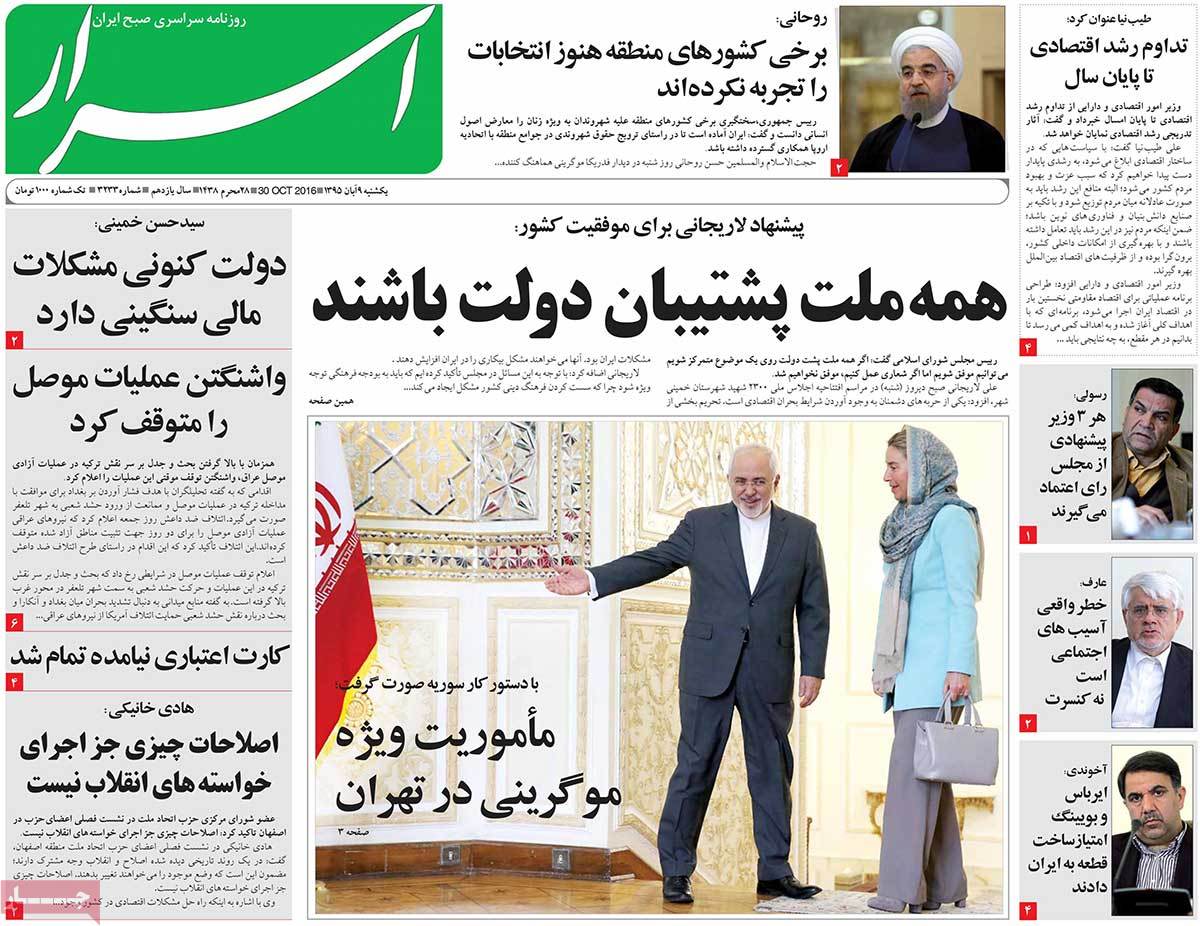 ---
Besharat-e Now:
1- Aref: MPs Should Pursue People's Demands with Full Freedom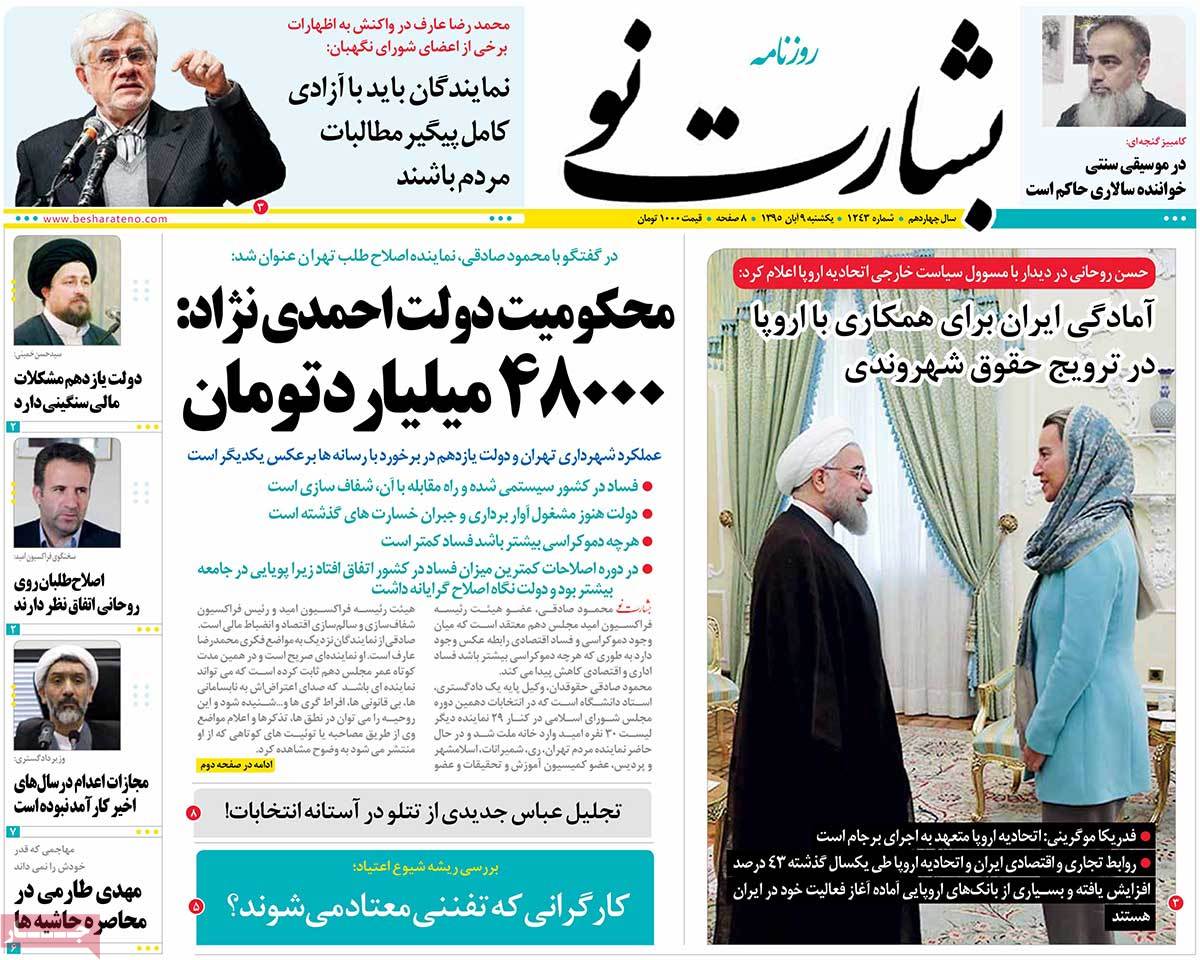 ---
Donya-ye Eqtesad:
1- Future of Iran's Stock Market Discussed by Six Experts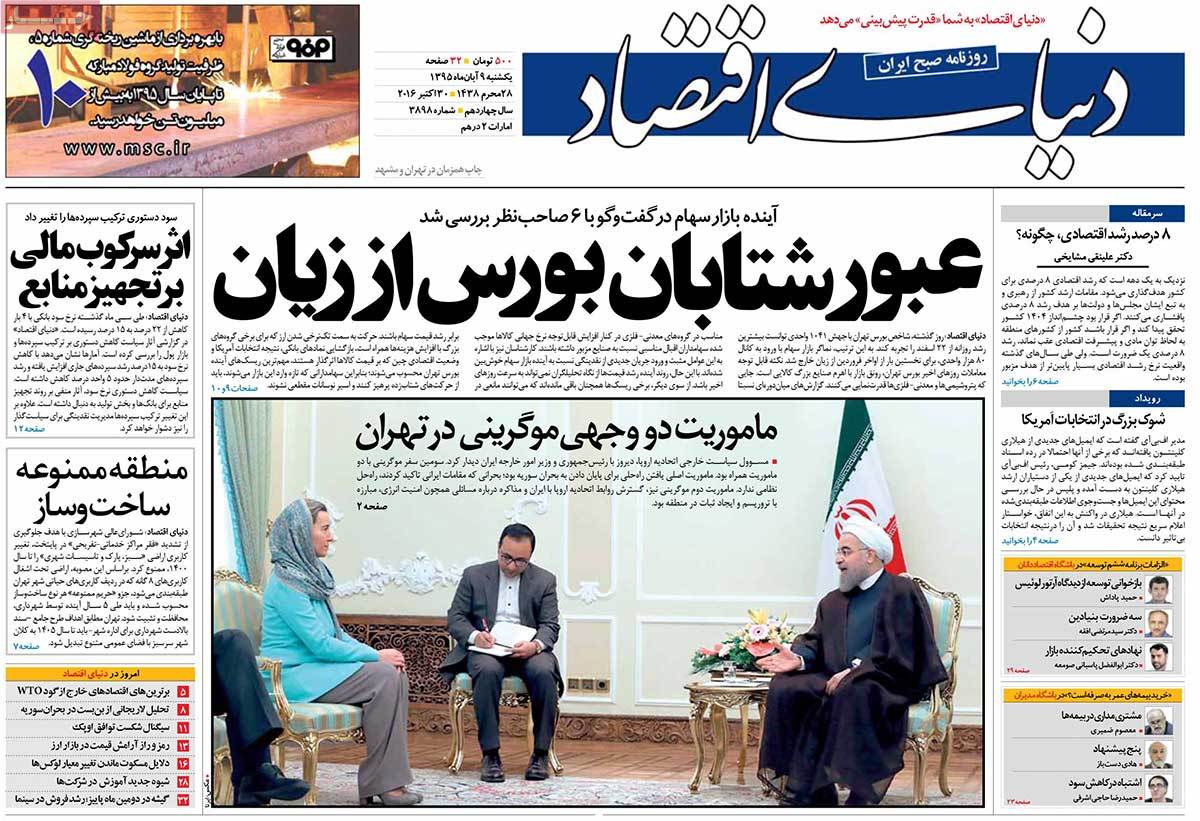 ---
Emtiaz:
1- Plan for Prevention of Narcotics in Schools
2- Number of Cars in Tehran Are Four Times More than Its Capacity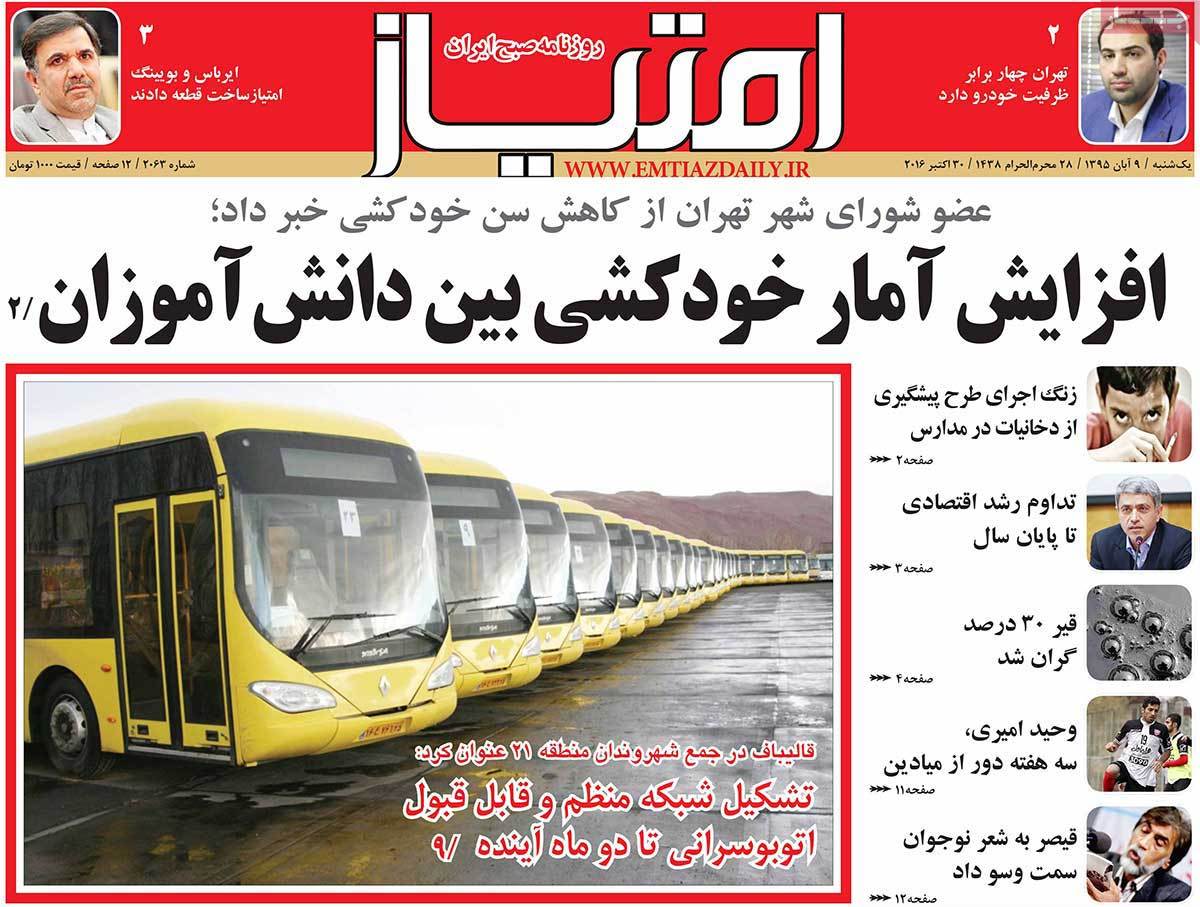 ---
Etemad:
1- Mogherini: We Need Cooperation with Iran
2- Airbus and Boeing Give Iran the Licence to Manufacture Plane Parts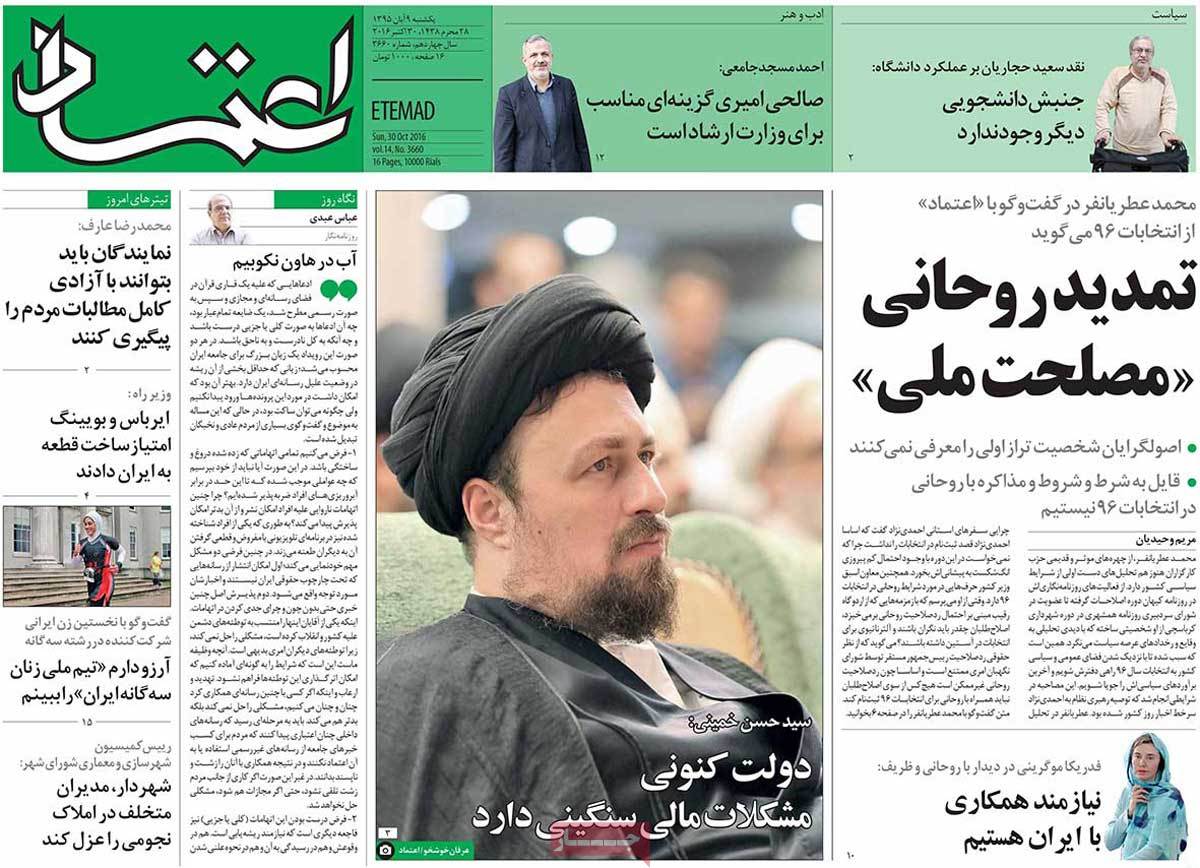 ---
Ettela'at:
1- Science Minister: There Are 600,000 Empty Seats in Iranian Universities
2- Leader of Jaish al-Fatah Terrorists Admits It Has Received Arms from Saudi Arabia
3- EU in Talks with Iran over Regional Crisis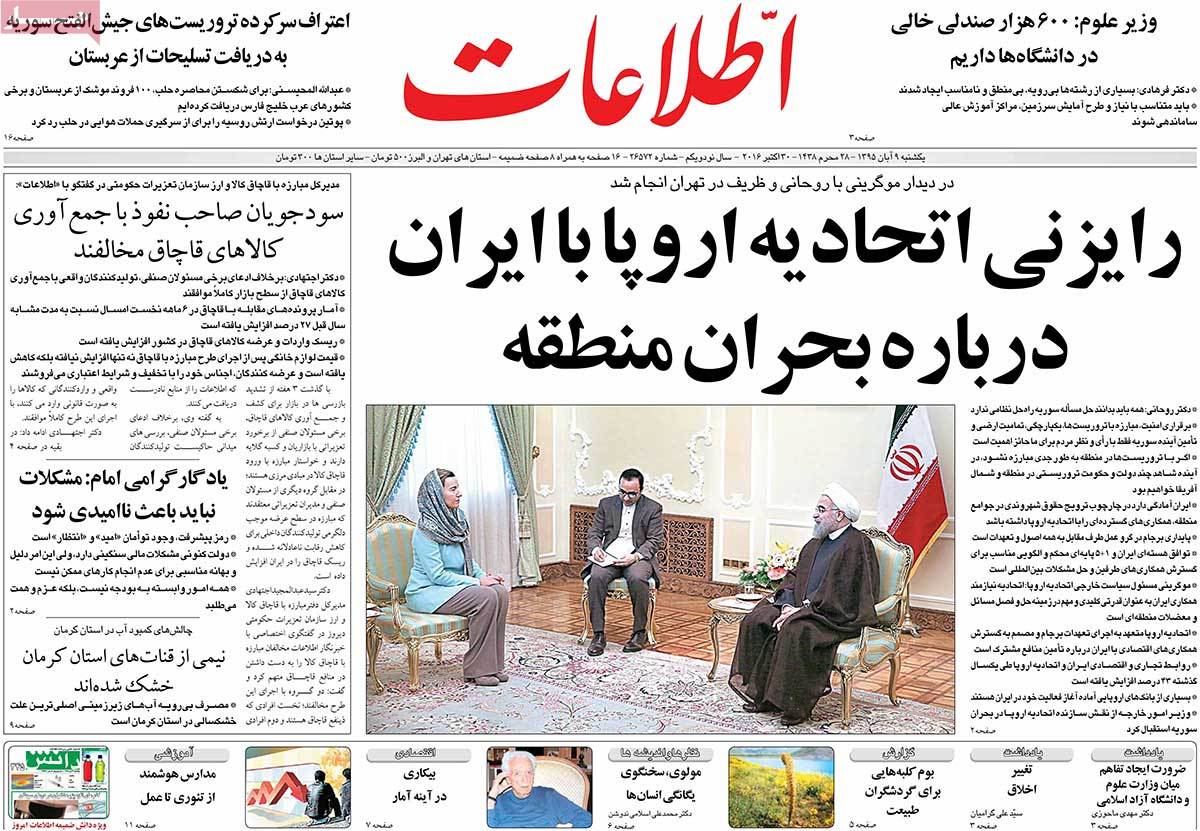 ---
Hamshahri:
1- Europe's Eye Is on Iran for Resolution of Syria Crisis
2- Secret Emails, the Last Barrier in Clinton's Path to White House
3- Shortage of Water Kills Gavkhouni Marsh [in central Iran]
---
Hemayat:
1- Parliament Speaker: West Is Not Willing to See Eradication of ISIS
2- War Criminals Have Turned to Advocates of Human Rights
3- Other Side of JCPOA Should Implement All of Its Commitments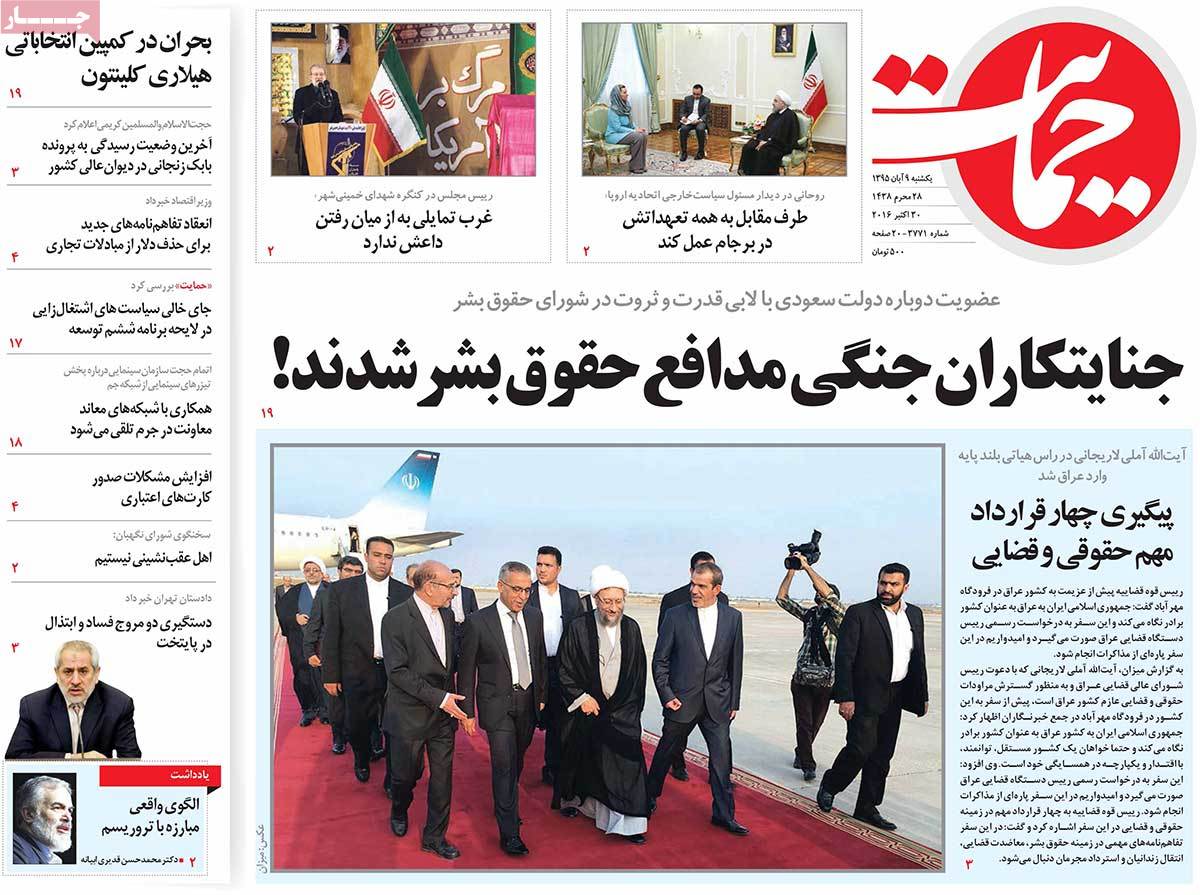 ---
Hosban:
1- Rouhani: We're Ready to Expand Our Cooperation with Europe for Promotion of Civil Rights in Region
---
Iran:
1- Iranian President and EU Foreign Policy Chief Call for Promotion of Iran-EU Ties
2- Rouhani Has Avoided Political Motivation in Offering Ministers to Parliament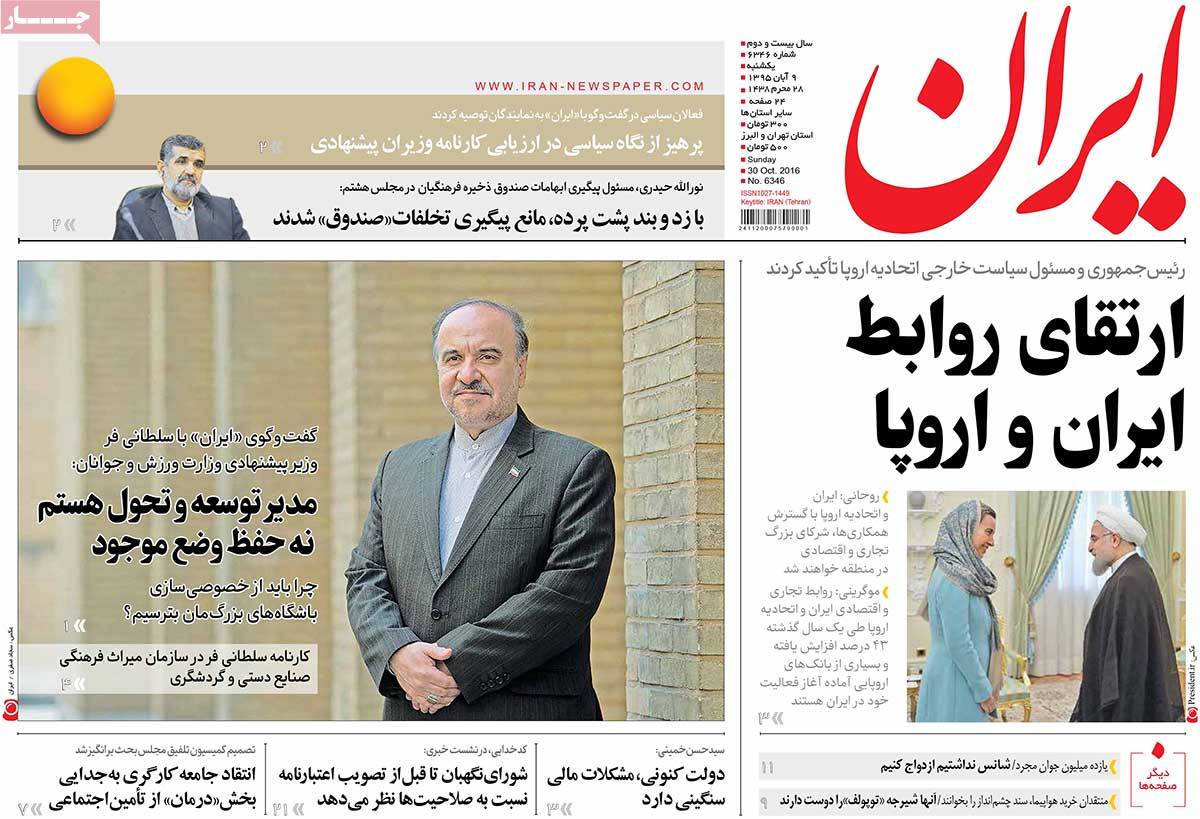 ---
Jame Jam:
1- Iran, Centre of Regional Peace Talks
2- Child-Killer Regime in UN Human Rights Council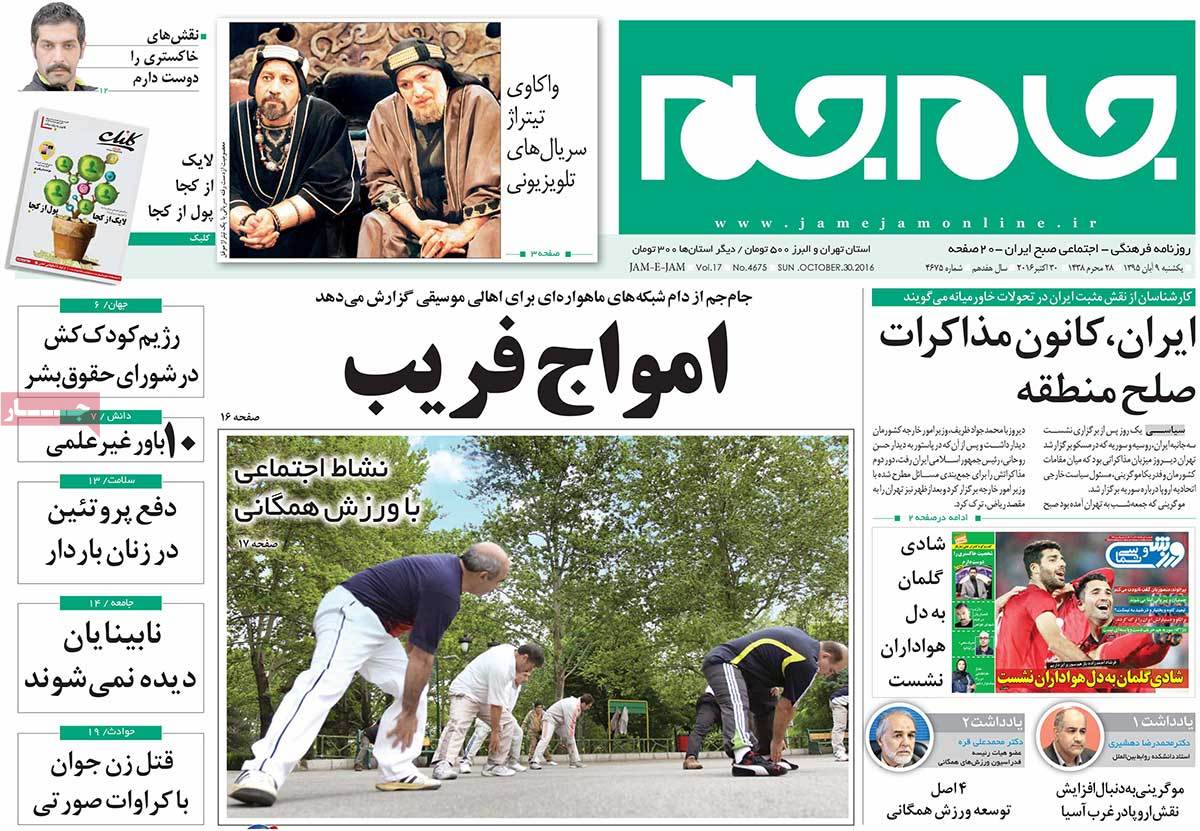 ---
Javan:
1- Putin: West Rings Church Bells for Yemeni Victims; Why Do They Just Talk about Aleppo?
2- Washington's Pause in Mosul Operation Aimed at Letting Terrorists Escape
---
Jomhouri Eslami:
1- Austria's $1bn LC for Trade with Iran
2- Britain to Open Large Marine Base in Bahrain Next Month
3- Yemen's Ansarullah Spokesman: Saudis Want to Cause Explosion in Mecca and Pin the Blame on Yemenis
4- Beginning of Popular Mobilisation Forces' Operation to Retake Mosul
5- Over 90% Increase in Iran's Oil Exports to Asia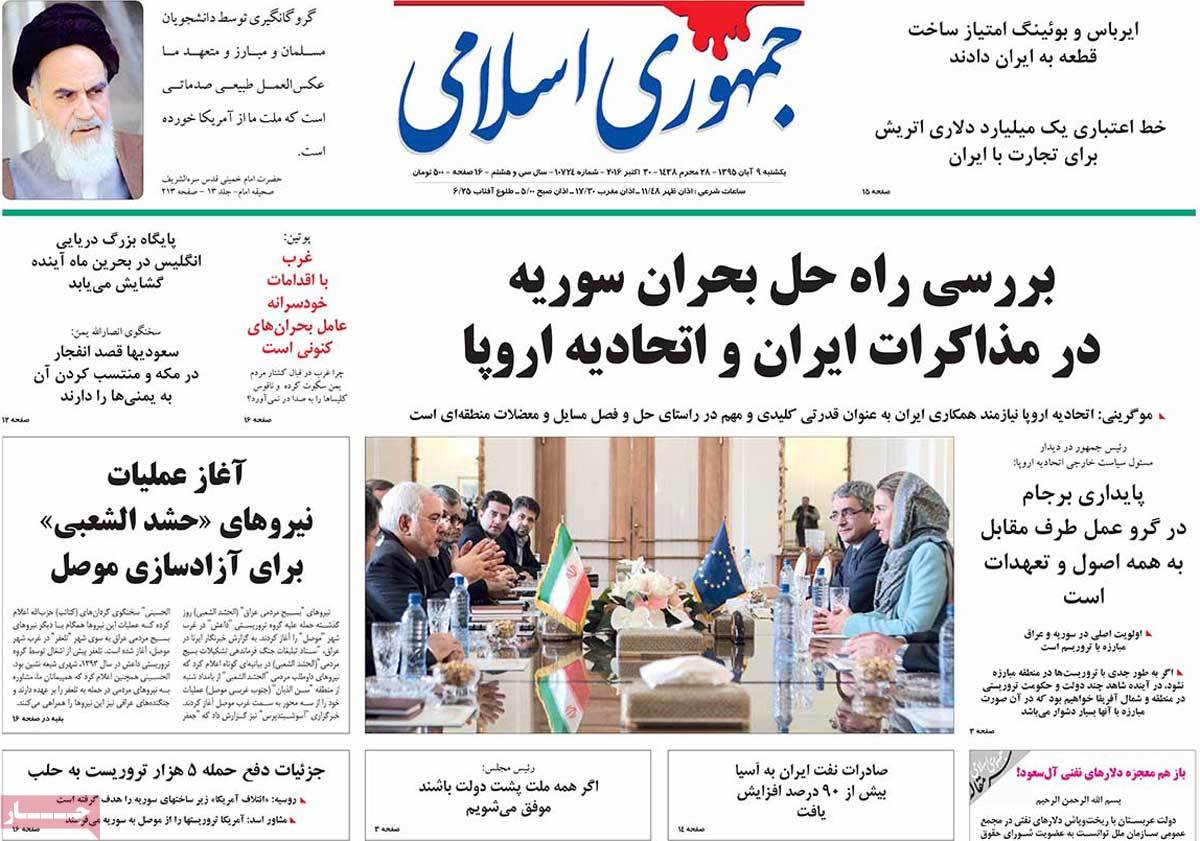 ---
Kayhan:
1- Grandfather of Takfiris [Extremist] Elected as Member of UN Human Rights Council!
2- Trump's Possible Reactions in Case of a Failure in US Elections: Kevin Barret's Comment for Kayhan
3- Resistance Front's Victory in Region Brings Mogherini to Tehran
4- Al Saud and Israel's Joint Plan to Attack Mecca: Western Sources Revealed!
5- UN: Death Toll of Asylum-Seekers in Current Year Exceeds 5,200
6- Speculations about Merkel's Ouster in One Week
---
Khorasan:
1- Clinton's Lead over Trump Decreased to 2%
2- Significant Move in Stock Exchange Market
---
Mardom Salari:
1- Trump's Hope in Clinton's Emails
2- Regional Insecurities Are to the Benefit of Zionists: Shamkhani
---
Rah-e Mardom:
1- Professor Behnam Shakibaie, the Genius in Microdentistry: I Wish to Meet with Leader of Islamic Revolution
2- Child Street Vendors in Tehran Subway to Be Supported by Donors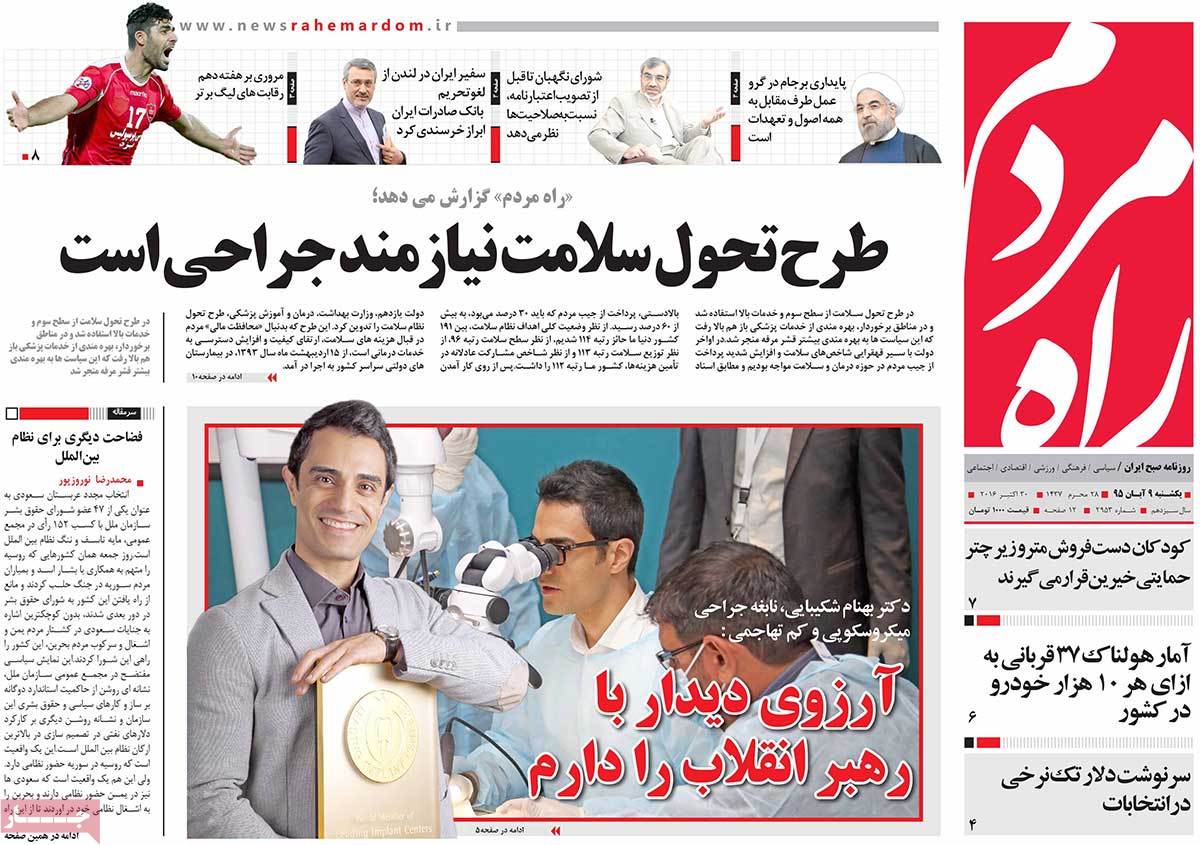 ---
Resalat:
1- West's Fear of Moscow Meeting: The Alliance that Made White House Intimidated
2- Message of Moscow Meeting: US Has No Resolve for Settling Syrian Crisis
3- Parliament Speaker: Israel Doesn't Want Regional Terrorism Crisis Be Ended
---
Saheb Qalam:
1- Iran's Oil Presold to the Swiss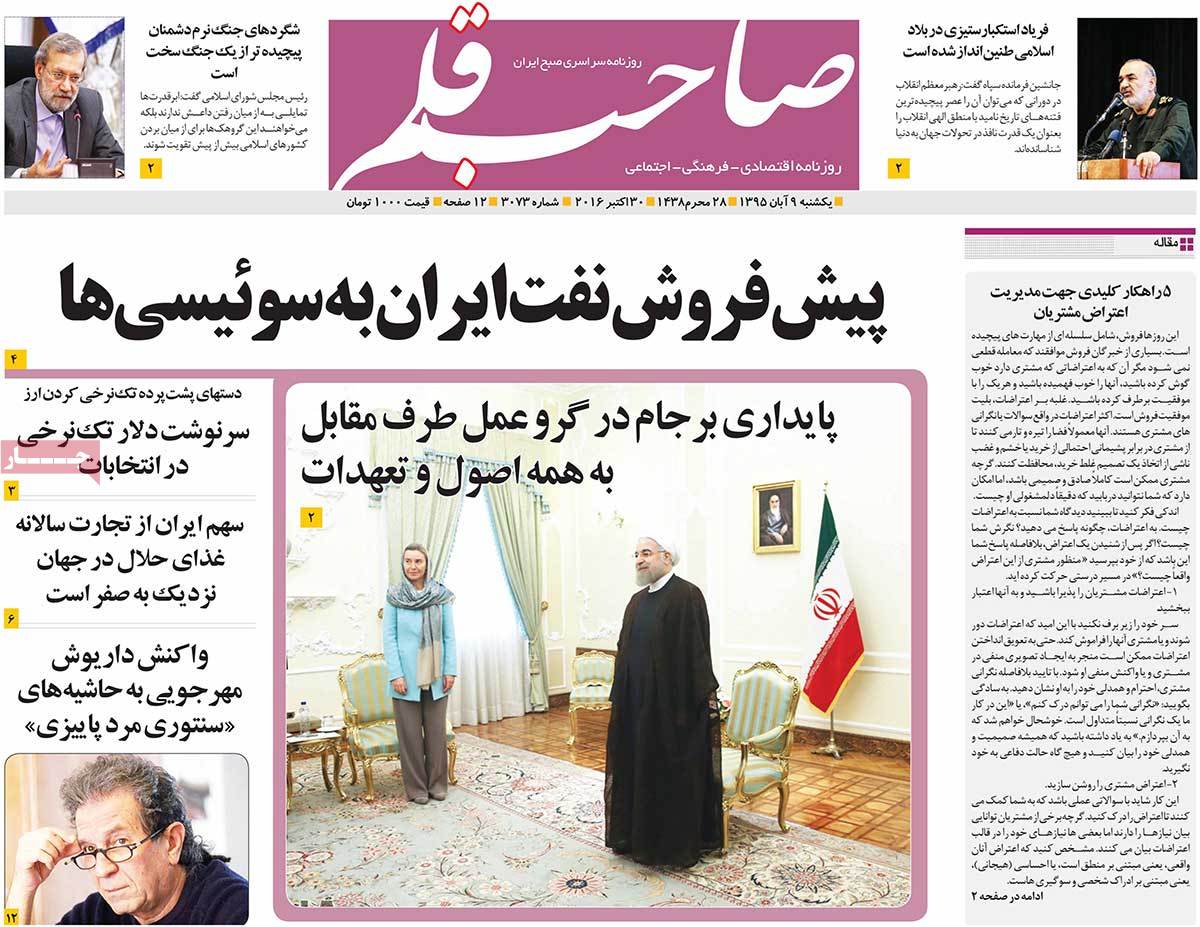 ---
Setareh Sobh:
1- MP Explains about Democracy's Relation with Decrease of Corruption
12- FBI's Latest Card against Clinton Is Now Flipped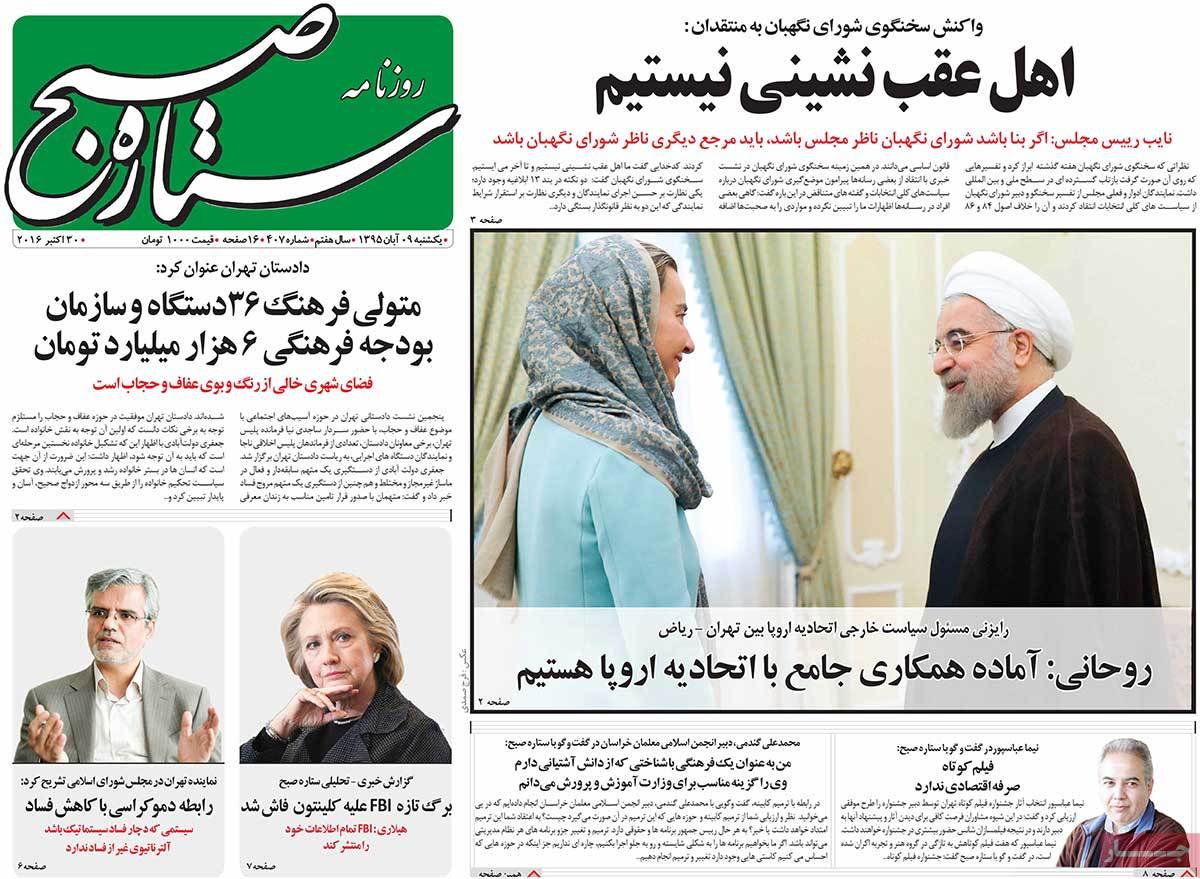 ---
Shahrvand:
1- Syria's Survival through Iran
2- Mogherini: European Banks Are Ready to Do Business in Iran
3- Iranian Girl Who Finished World's Most Difficult Running Competition: I Wish to Receive World Title with Iran's Flag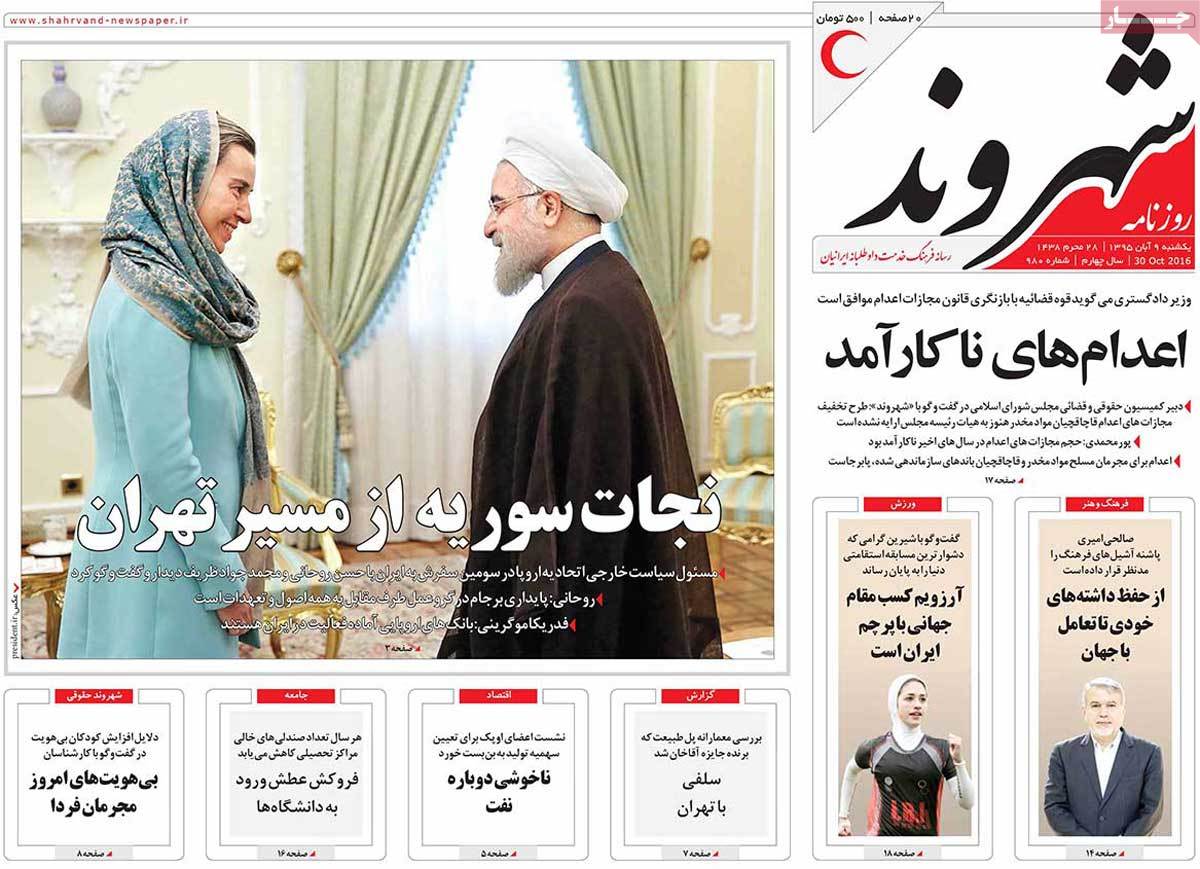 ---
Shargh:
1- Obama Will Go On: A Round Table on US Elections Attended by Three Experts
---
Sobh-e Now:
1- Iraq Launches Operation in Western Mosul
2- Walls Built to Prevent Terrorist's from Fleeing to Syria
3- Iran's Insistence on Oil Production Makes Westerners Complain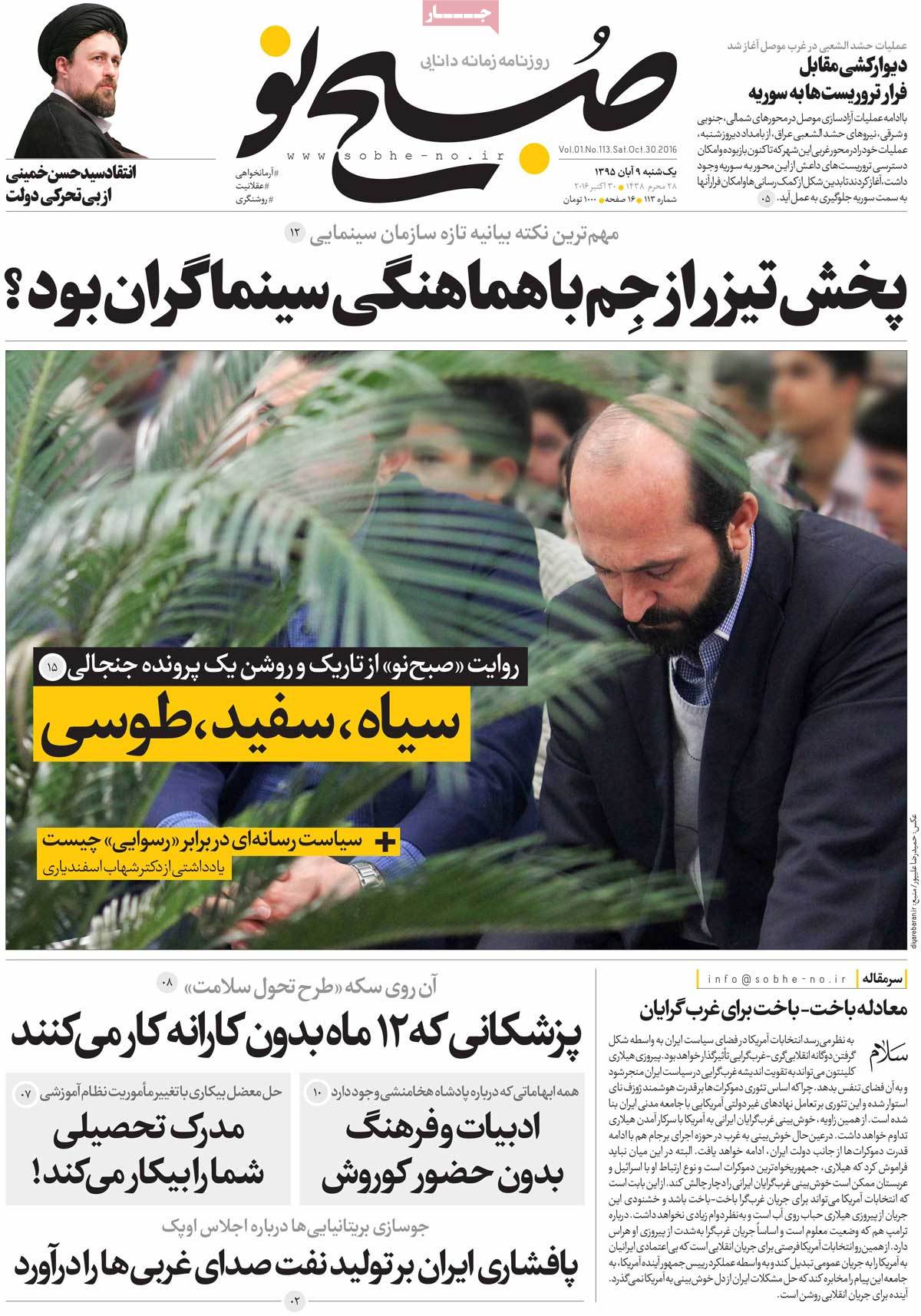 ---
Vaghaye Ettefaghieh:
1- Backpacks Full of Books, a Remedy for Deprived Children: A Report on a Campaign that Provides Books for Poor Children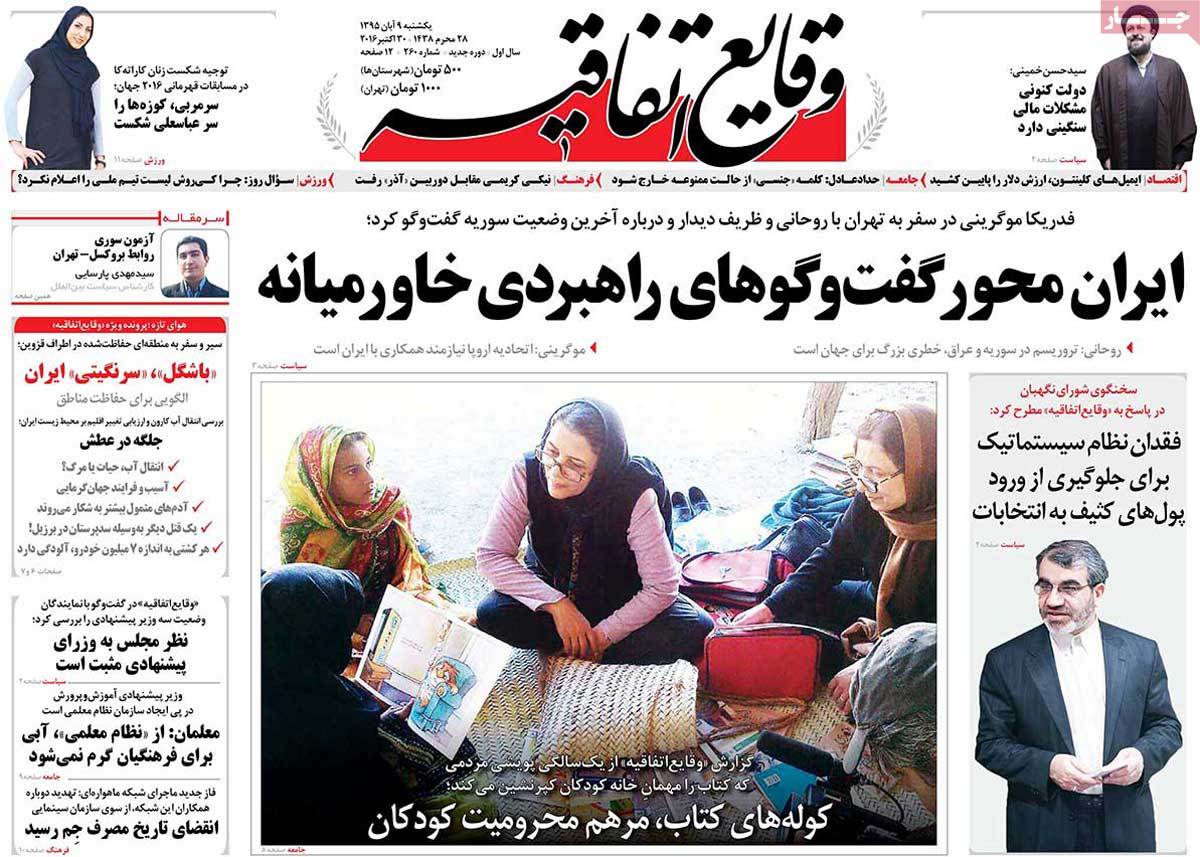 ---
Vatan-e Emrooz:
1- Saudi Arabia Seeks to Provoke Muslim World against Yemen's Ansarullah: Plot against Mecca