Newspapers on Monday covered the remarks made by the Leader of the Islamic Revolution Ayatollah Seyyed Ali Khamenei in a meeting with seminary scholars.
They also talked about Foreign Minister Mohammad Javad Zarif's address to the Iranian Parliament and his responses to a hard-line MP.
The upcoming FIFA World Cup Qualification Match between Iran and South Korea also received great coverage. The match is scheduled to be held in Tehran on the night before Ashura, the martyrdom anniversary of third Shiite Imam. Senior cleric Ayatollah Mohammad Yazdi has urged Sports Ministry to cancel the game because people are supposed to mourn at that night.
The above issues, as well as many more, are highlighted in the following headlines:
Abrar:
1- Leader: If Islamic Establishment Makes a Mistake, Seminary Should Warn
2- Residents of Syria's Raqqa Break Their TV Sets in Fear of ISIS Terrorists
3- US Threatens to Impose Sanctions on Russia about Syria
4- Gulen's Brother Arrested
5- Erdogan: ISIS Is the Result of Syrian Crisis
6- Abadi: ISIS Has Caused $35bn Damage to Iraq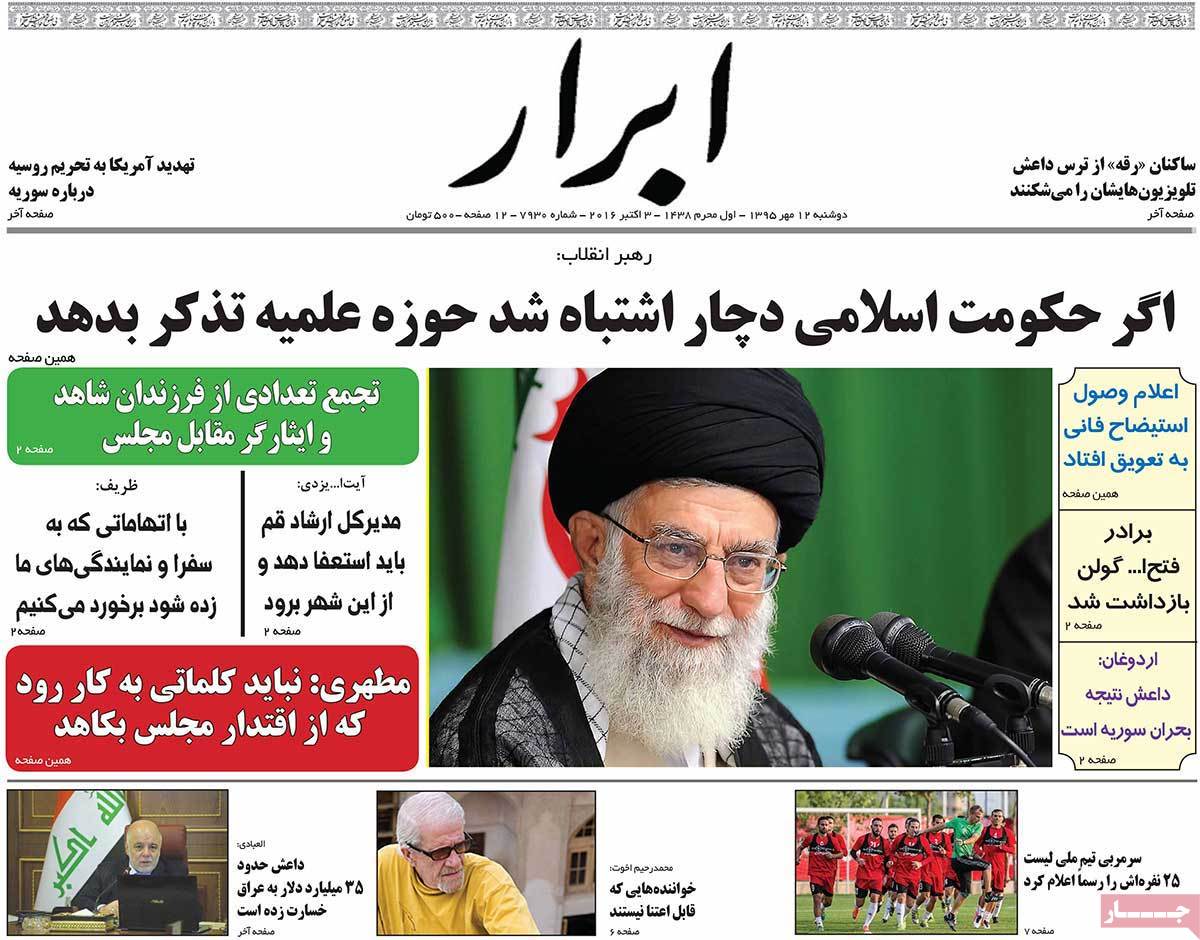 ---
Abrar-e Eqtesadi:
1- 150,000-Barrel Increase in Iran's Oil Exports
2- Germans' $3bn Investment in Iran
3- 15 Foreign Requests for Investment in Iran's Oil Fields
4- Iran Ready for Cooperation with Norway in Carrying LNG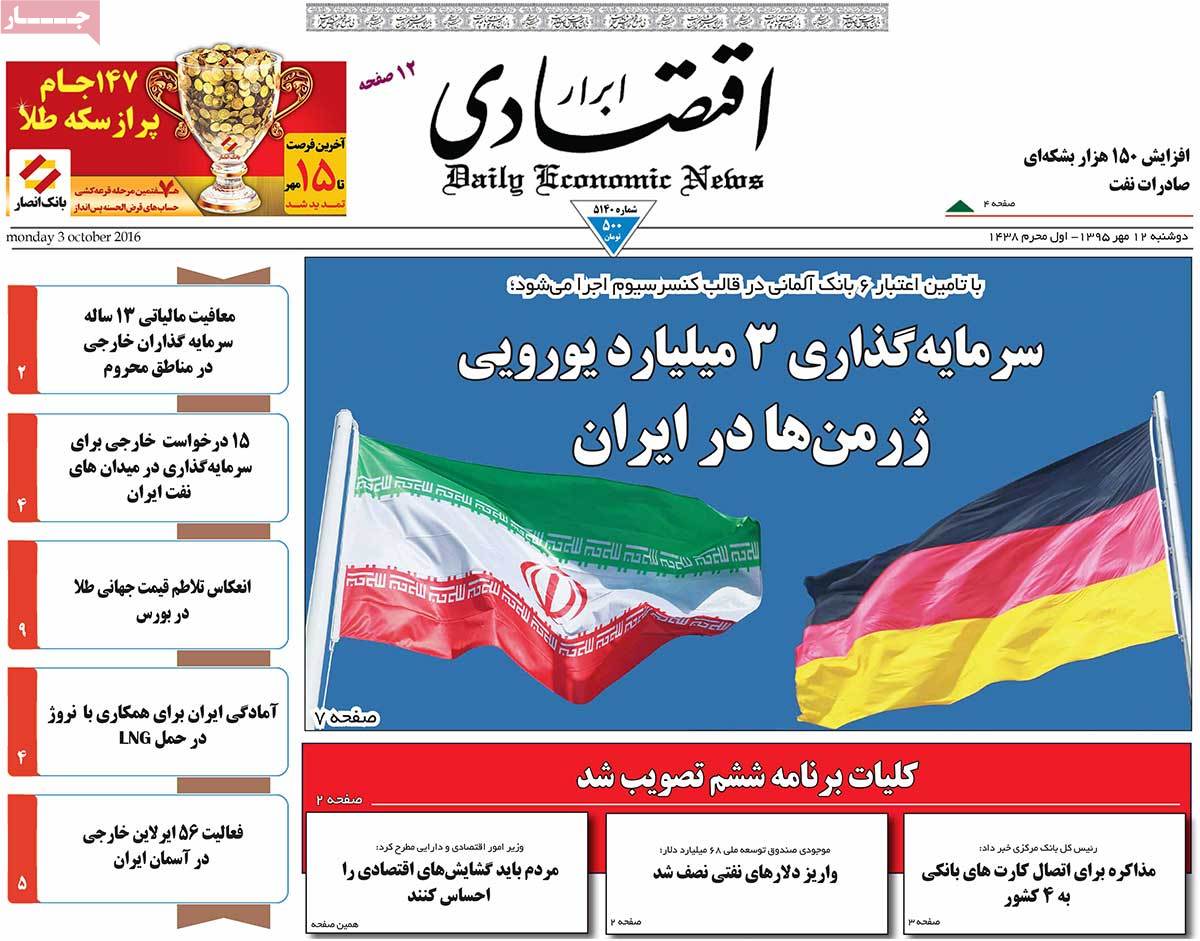 ---
Afarinesh:
1- Larijani: US Lacks Required Resolve for Destroying Inauspicious Phenomenon of Terrorism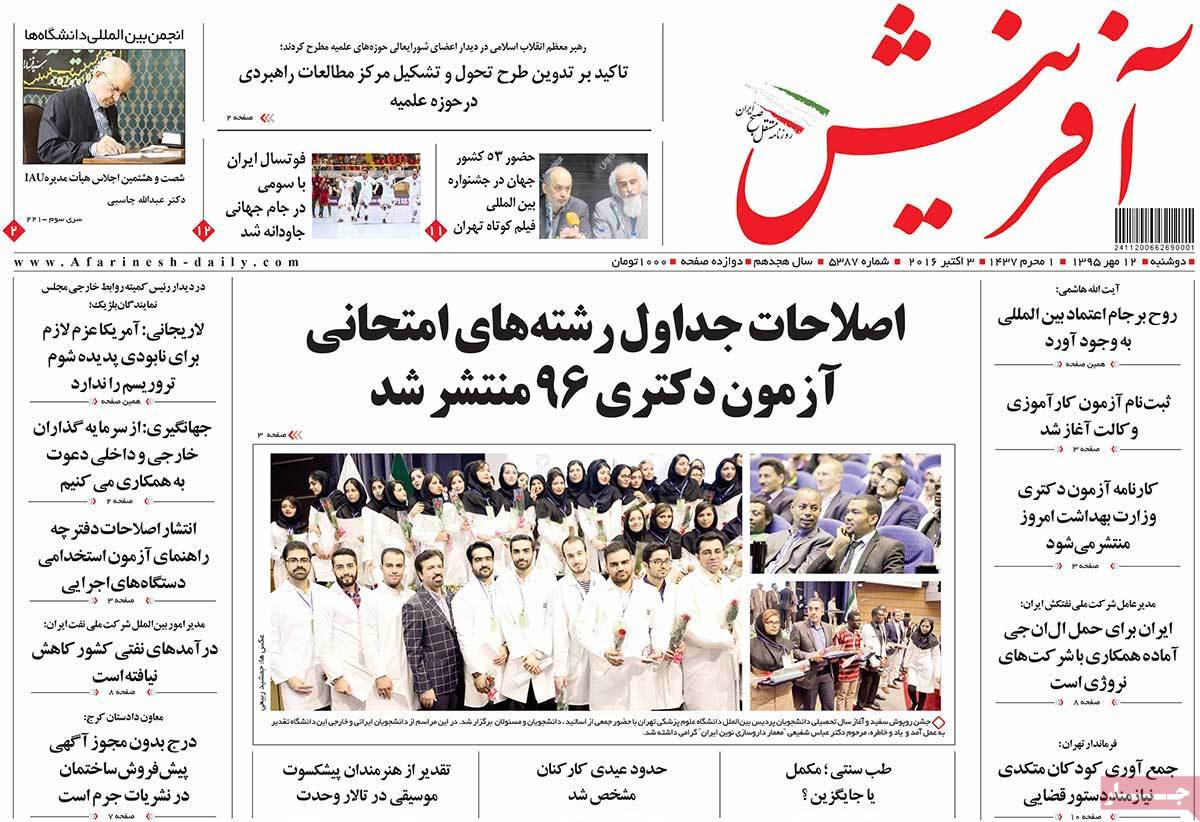 ---
Afkar:
1- Export of Nano Products to 18 Countries
---
Aftab-e Yazd:
1- Rouhani Reminds Opponents of Government: How Centrifuges Were Imported to Iran
2- Political Corruption Fosters Other Types of Corruption; Reformists Not Forced to Support Rouhani; We're Rather Willing to Support Him: Reformist Theorist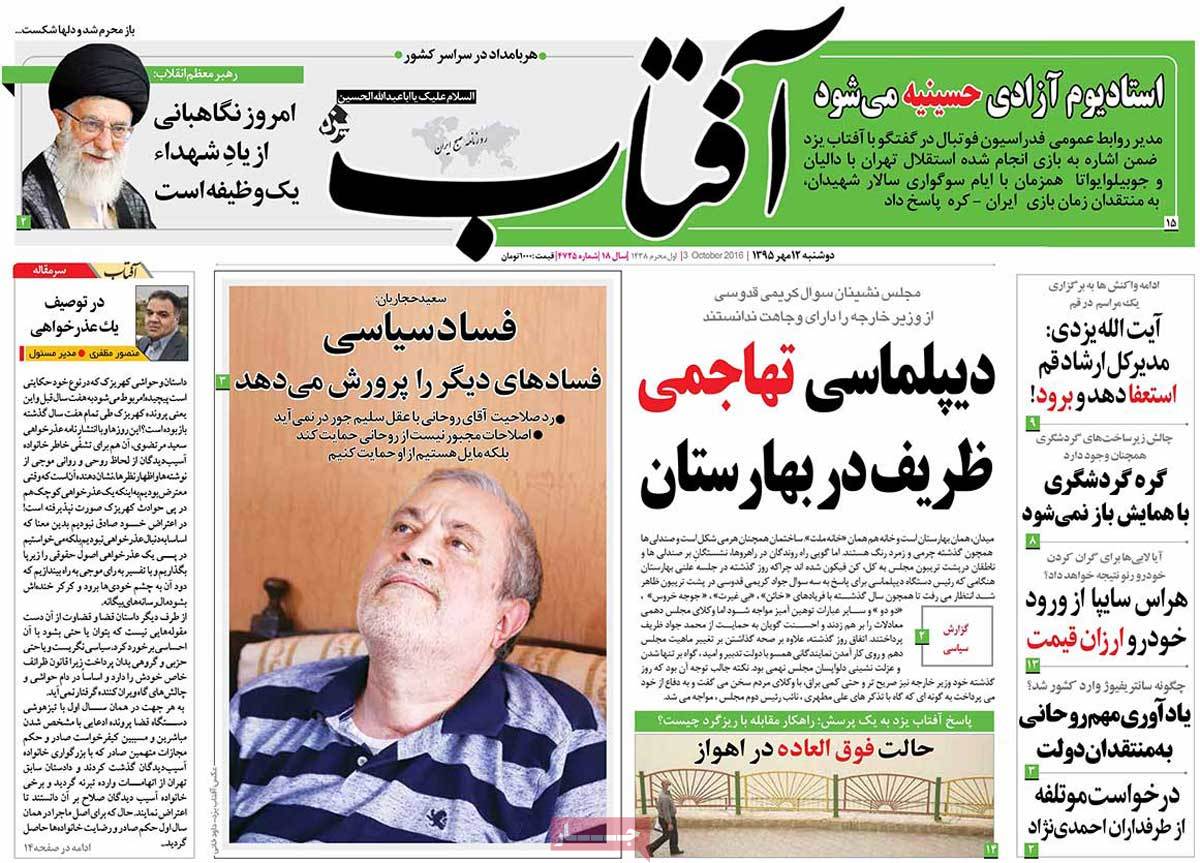 ---
Arman-e Emrooz:
1- Zarif's Response to Hard-Line MP: How Dare You Lie?
2- Senior Cleric to Sports Minister: Cancel the FIFA World Cup Qualifying Match between Iran and South Korea! [as it coincides with the night before Ashura, the day to mourn the martyrdom of Imam Hussein]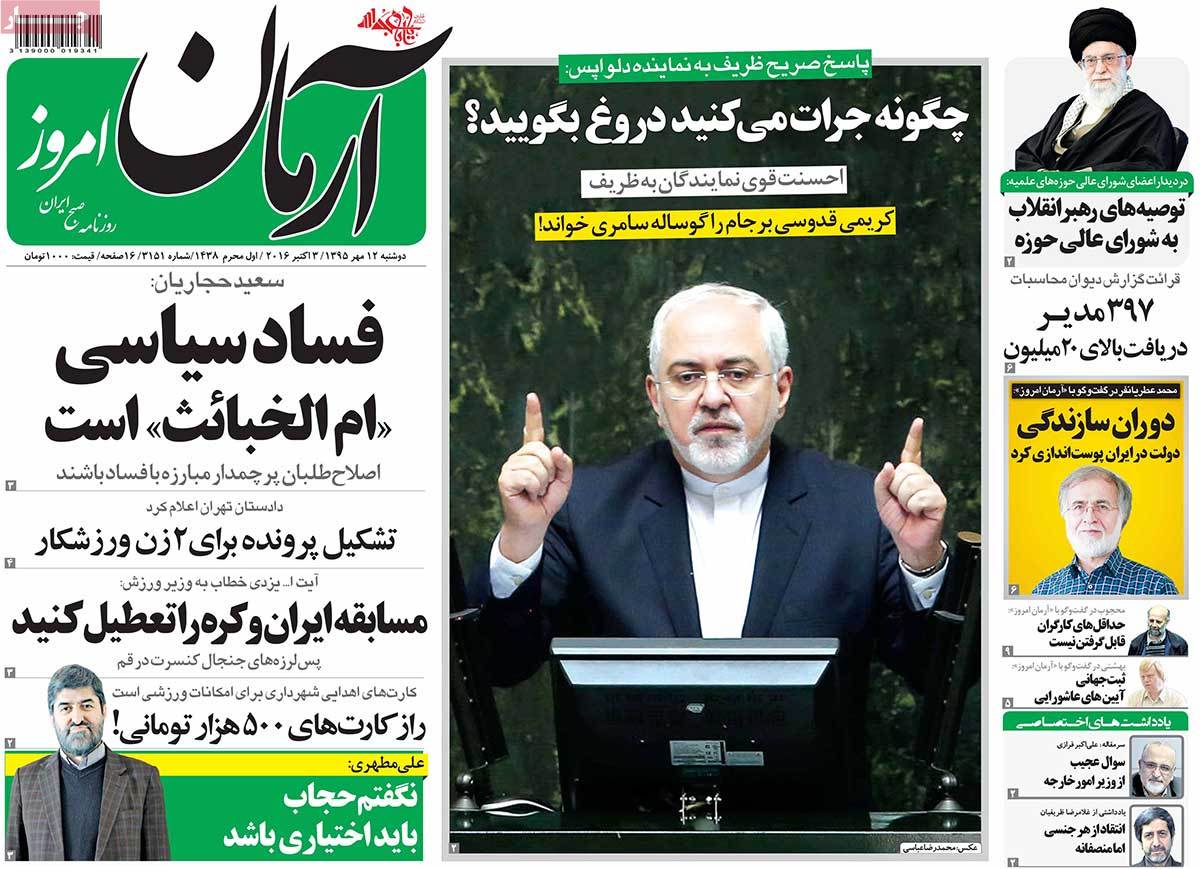 ---
Asrar:
1- Senior MP: Iran Doesn't Recognize German Official's Pre-Condition
2- Iranian Tourist Murdered in Istanbul
3- Saudi Arabia Turns to Gregorian Calendar in Its Administrations
4- Iran's Central Bank Looking for Connection to Int'l Credit Cards: Chief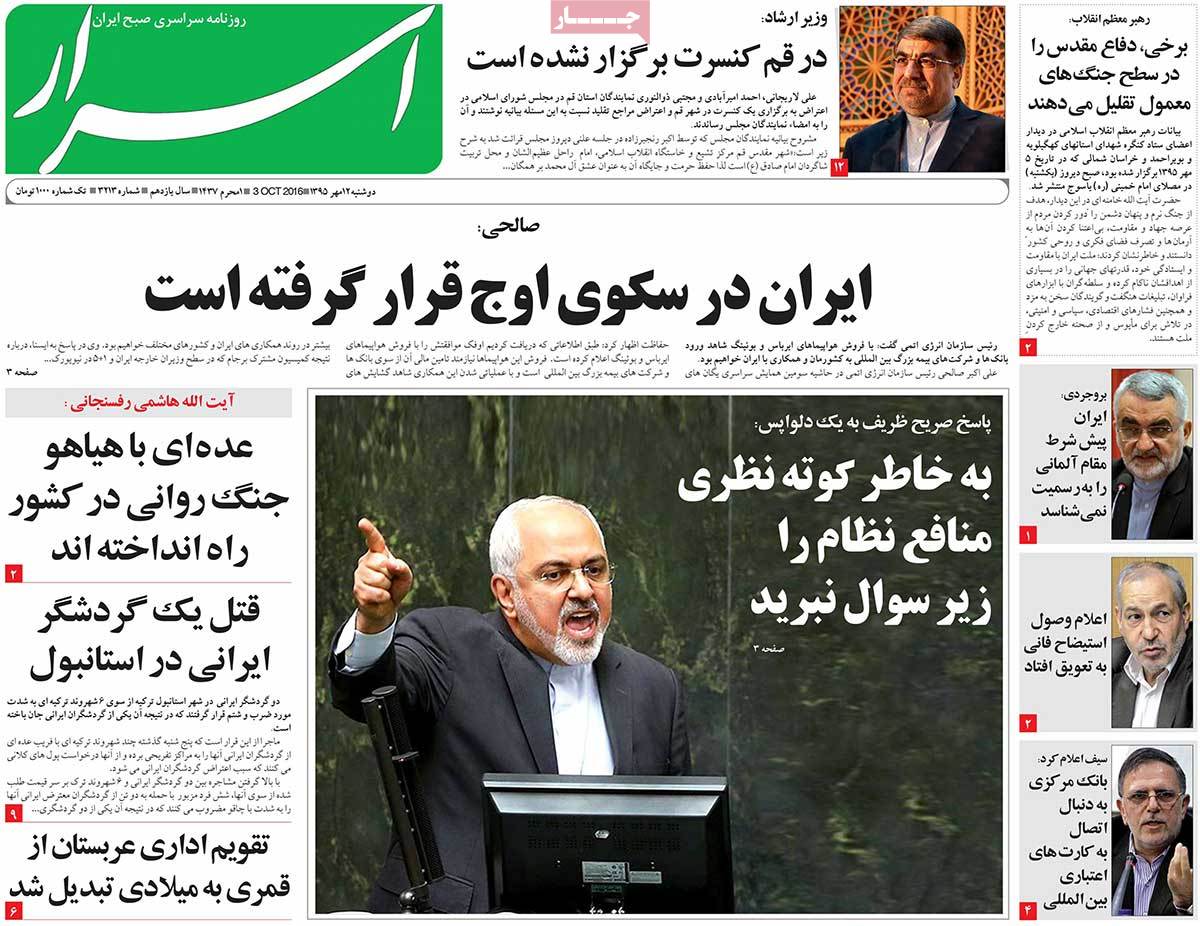 ---
Ebtekar:
1- Nuclear Chief: Airbus and Boeing Will Pave the Way for Entry of Major Banks and Insurances to Iran
2- Zarif's Storm: Hard-Line MP Continue Attacking the Laughing Minister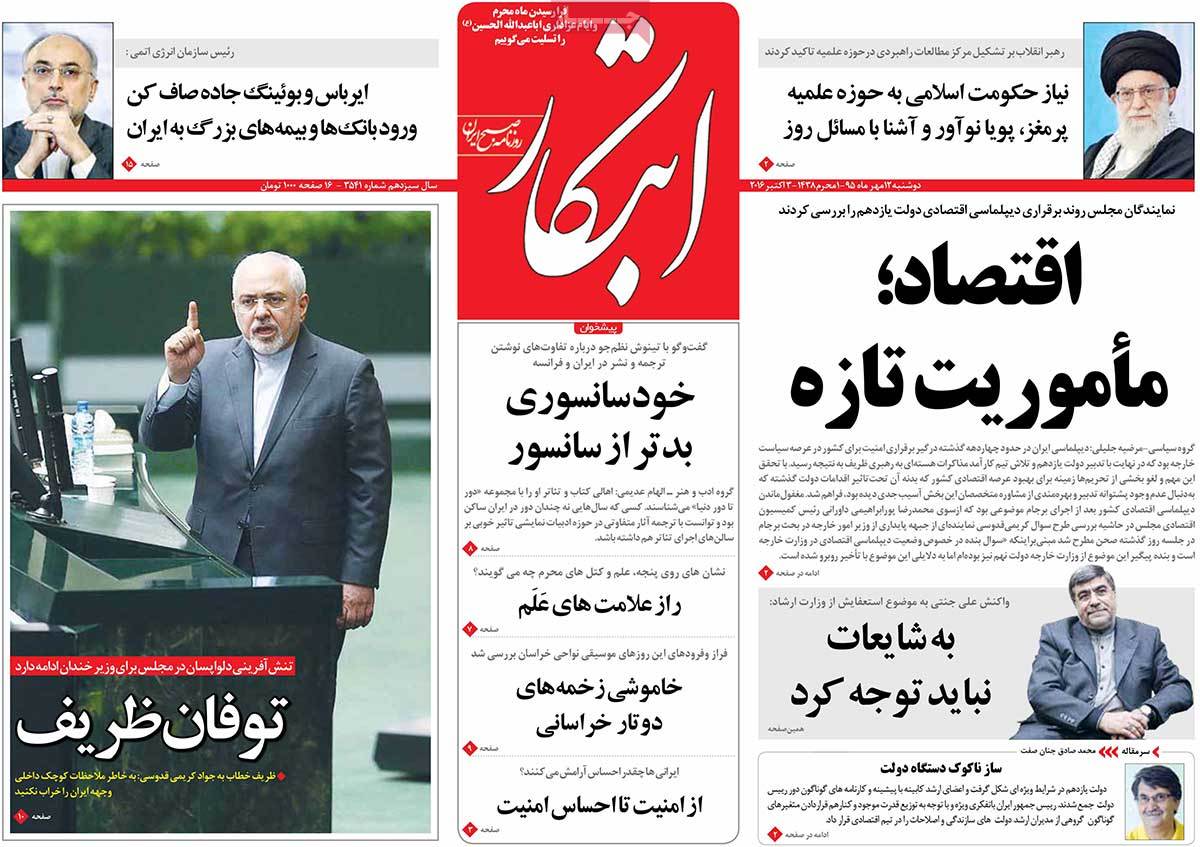 ---
Etemad:
1- Senior Cleric Calls for Cancellation of Iran-South Korea Match Coinciding with Muharram Mourning: Can You Prevent Spectators from Applauding after a Possible Goal Scored in the Game?
2- Government's Promise in Tourism Conference: We'll Guarantee Foreigners' Investment for Building Hotels in Iran
3- Shouting the Wrath of Diplomacy in Reaction to an MP's 'Politically-Motivated' Remarks; Zarif: Don't Spoil the Establishment's Image
---
Ettela'at:
1- Zarif: We'll Strongly Stand against Greed; People and Leadership Are Pillars of Our Power
2- Current Regional Conflicts Have Nothing to Do with Ethnical or Religious Issues: Deputy FM
3- US Army: Creating a No-Fly Zone in Syria Would Lead to World War
---
Iran:
1- Zarif's Reaction to Ambiguities and Accusations: I'm Proud that My Brothers Qassem Soleimani, Hassan Nasrallah, and Ramadan Shalah Are in Contact with Me and Thank for Iran's Policies Every Day
2- NY Times: Trump Have Been Evading Taxes for 2 Decades on Pretext of Bankruptcy
3- Dust Pollution in Khuzestan and Sistan and Baluchestan Provinces: Level of Pollution 6 Times Higher than Critical Level
---
Javan:
1- Larijani: Astronomical Salaries, a Stain on Iran's Management System
2- Zarif: We'll Counter Violation of Promises
---
Jomhouri Eslami:
1- FM Zarif: Current JCPOA Status Approved by Board that Monitors JCPOA Implementation
2- Mossad Chief: Israel Unable to Counter Intifada
---
Kayhan:
1- In Spite of Domestic Capabilities, Power Ministry Assigns the Construction of a Plant to a Foreign Company
2- 22 Emirati Troopers Killed and Their Warship Is Totally Destroyed by Yemeni Forces
---
Khorasan:
1- Explicit Questions and Zarif's Harsh Responses in Parliament
2- Marine Shock to Saudi Coalition: How Emirati Warship Was Annihilated by Ansarullah Missile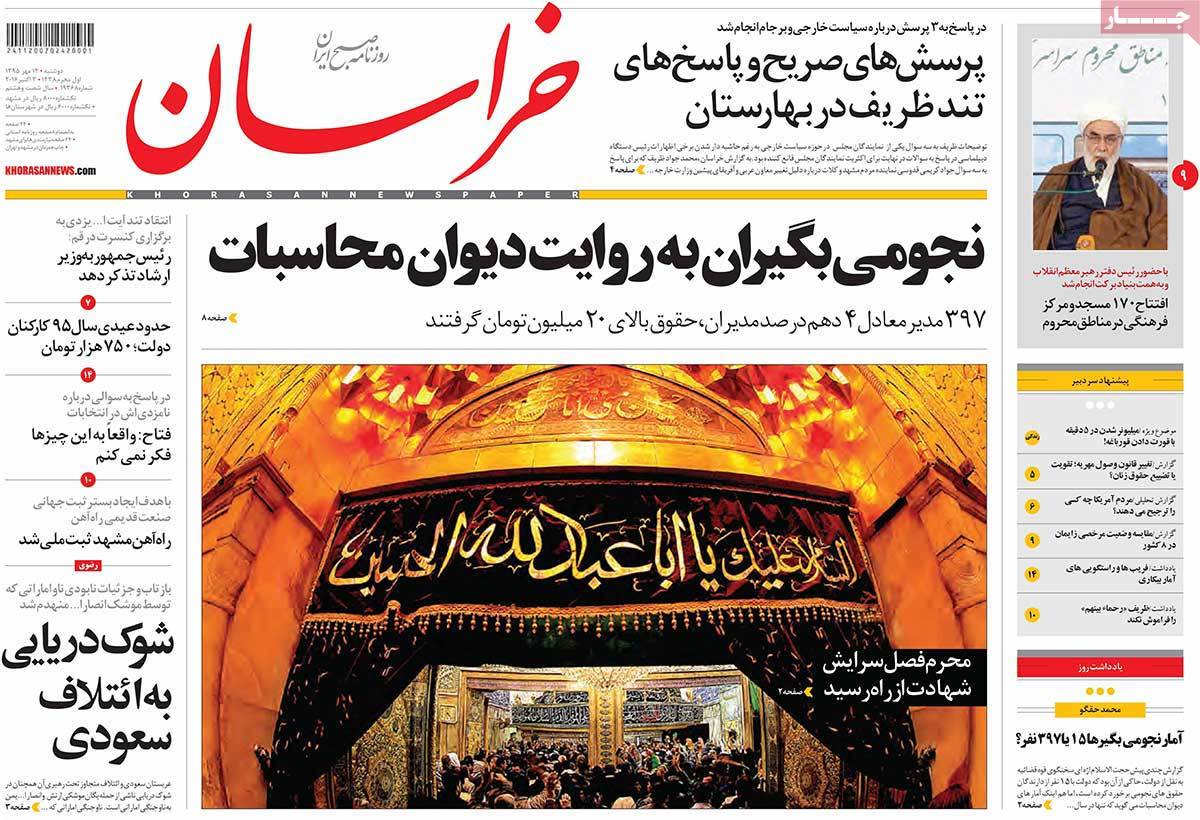 ---
Resalat:
1- Ayatollah Khamenei: Through Soft War, They Intend to Distance People from Jihad and Resistance
2- Those Who Received Unconventional Salaries Will Be Deprived from Government Posts
---
Shargh:
1- Zarif's Eight Stormy Minutes in Parliament
2- First VP: Iran Invites Iranian and Foreign Investors to Cooperation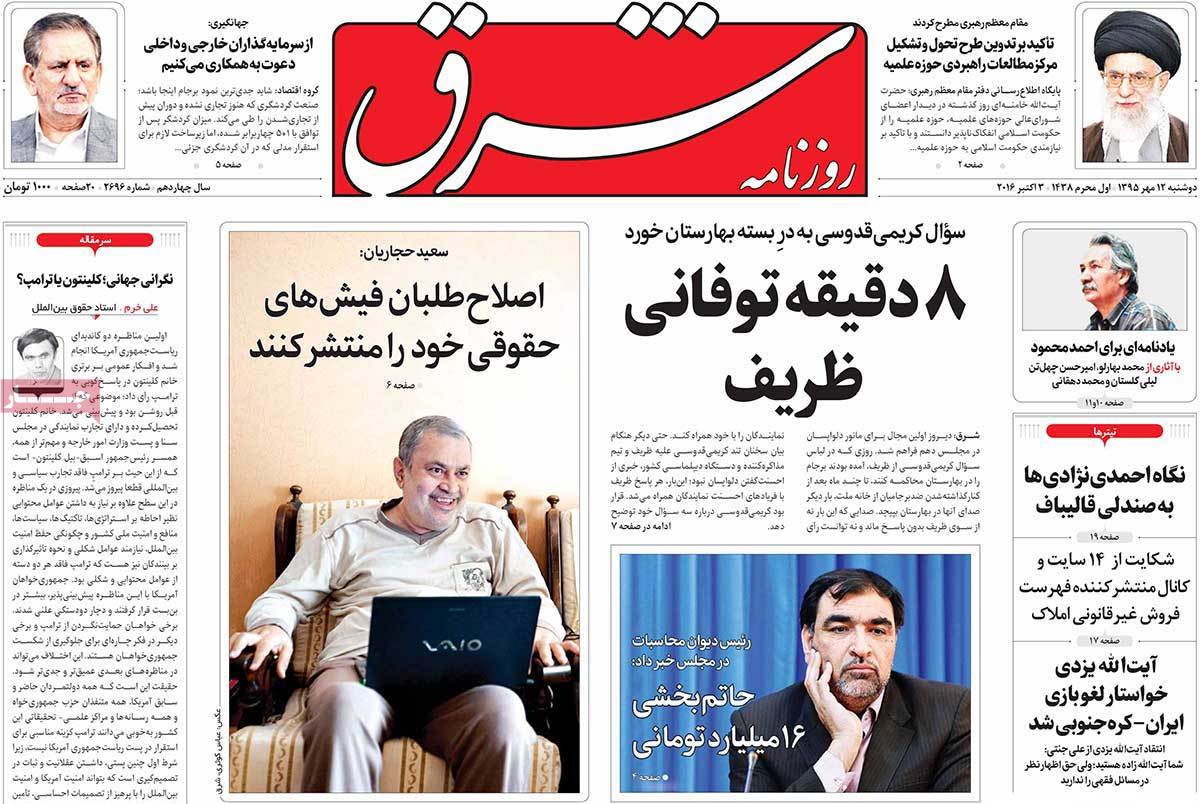 ---
Vaghaye Ettefaghieh:
1- Leader's Advisor: Russia Will Never Be Disintegrated
2- Through Dominating the Power and Interaction with Saudis and Zionist Regime of Israel, Russia Wants to Decrease Iran's Influence in Syria
3- More than 70% of HIV Patients Yet to Be Identified