The majority of newspapers on Monday covered the upcoming presidential elections in the US, where the GOP candidate Donald Trump's chance has sharply increased in recent days.
Another top story today was the ongoing battle to retake the Iraqi city of Mosul and the beginning of an operation to liberate the city of Raqqa in Syria, two of the last ISIS strongholds in the Middle East.
The recent suicide attacks in Iraq, in which several Iranian pilgrims were killed and dozens were wounded, also received great coverage.
The above issues, as well as many more, are highlighted in the following headlines:
Abrar:
1- Russian PM: Moscow Has Good Ties Both with Iran and Israel!
2- Deputy Commander of Iraqi Popular Mobilisation Forces: We Benefit from Iran's Direct Support
3- Austrian Chancellor: If Turkey Fails to Fulfil Its Commitments, It'll Receive No Money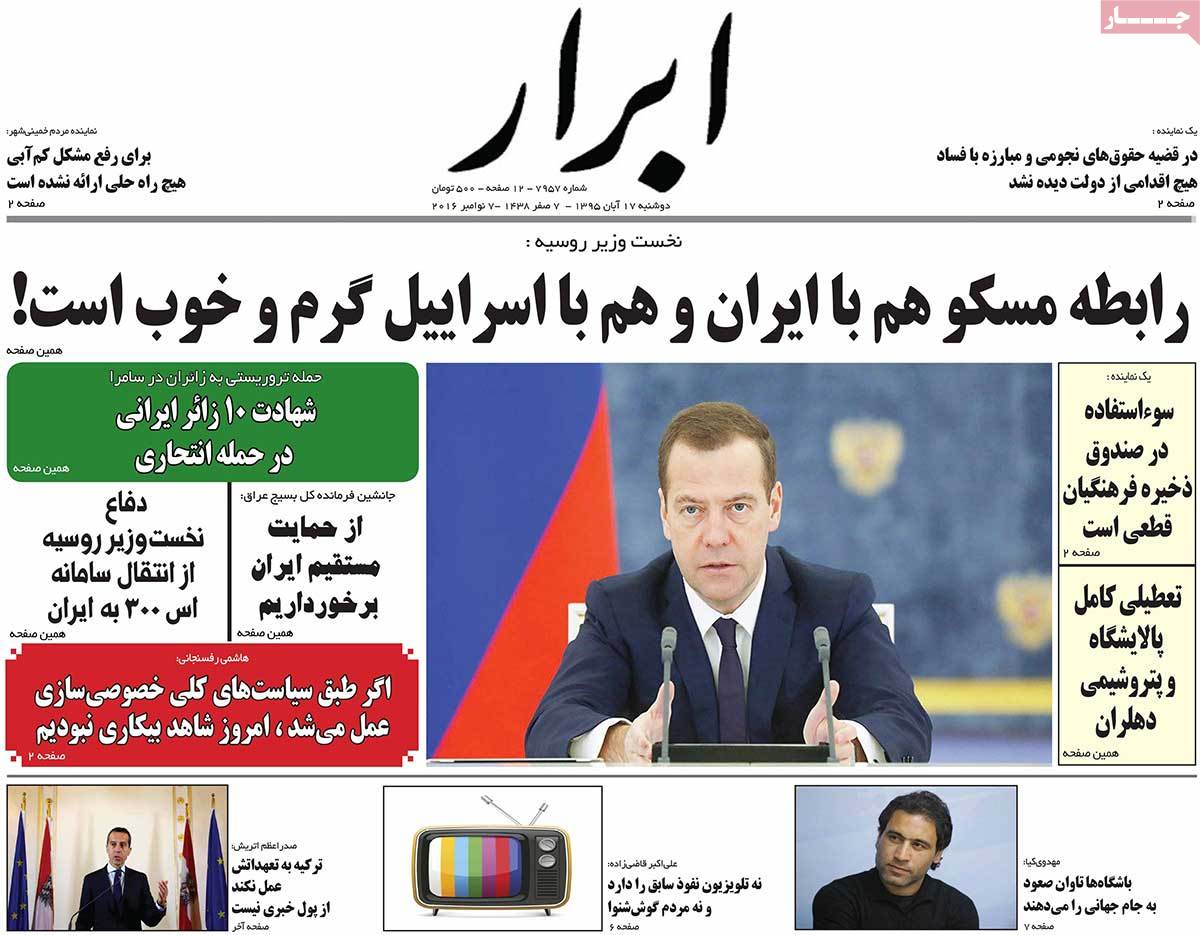 ---
Abrar-e Eqtesadi:
1- Half of Iran's Oil Is Sold to India and China
2- South Africa Backs Off from Making Investment in Petchem Industry
3- Omanis Facilitate Issuance of Visa for Iranian Businesspeople
4- Spanish Trade-Industrial Delegation Visits Iran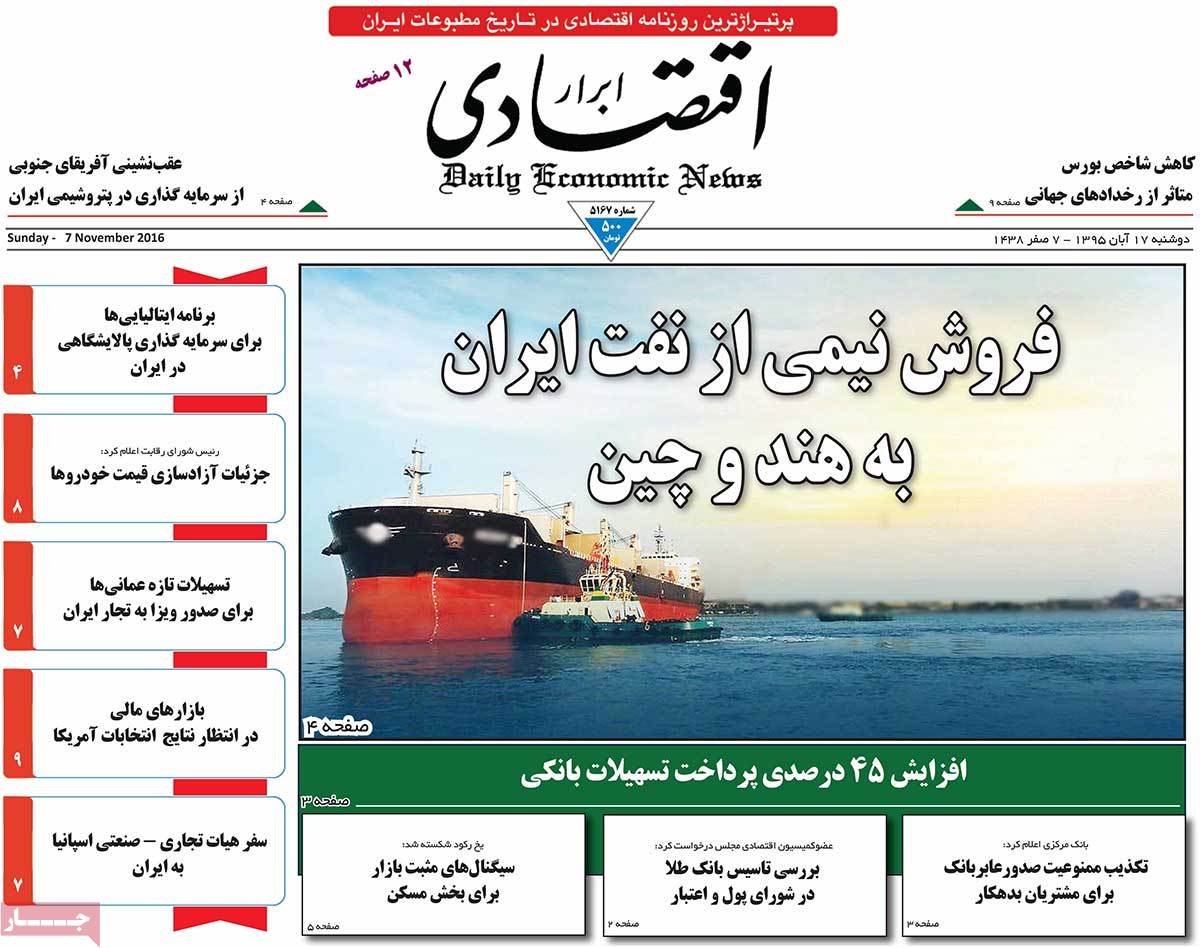 ---
Afarinesh:
1- Russian PM Defends Transfer of S-300 Defence System to Iran
2- Isfahan's Esteqlal (Independence) Square Receives Global Adobe Award in Competition with 23 Top Urban Sites
3- We'll Stand by Iraqi Nation and Gov't until Full Defeat of Terrorism: Foreign Ministry Spokesman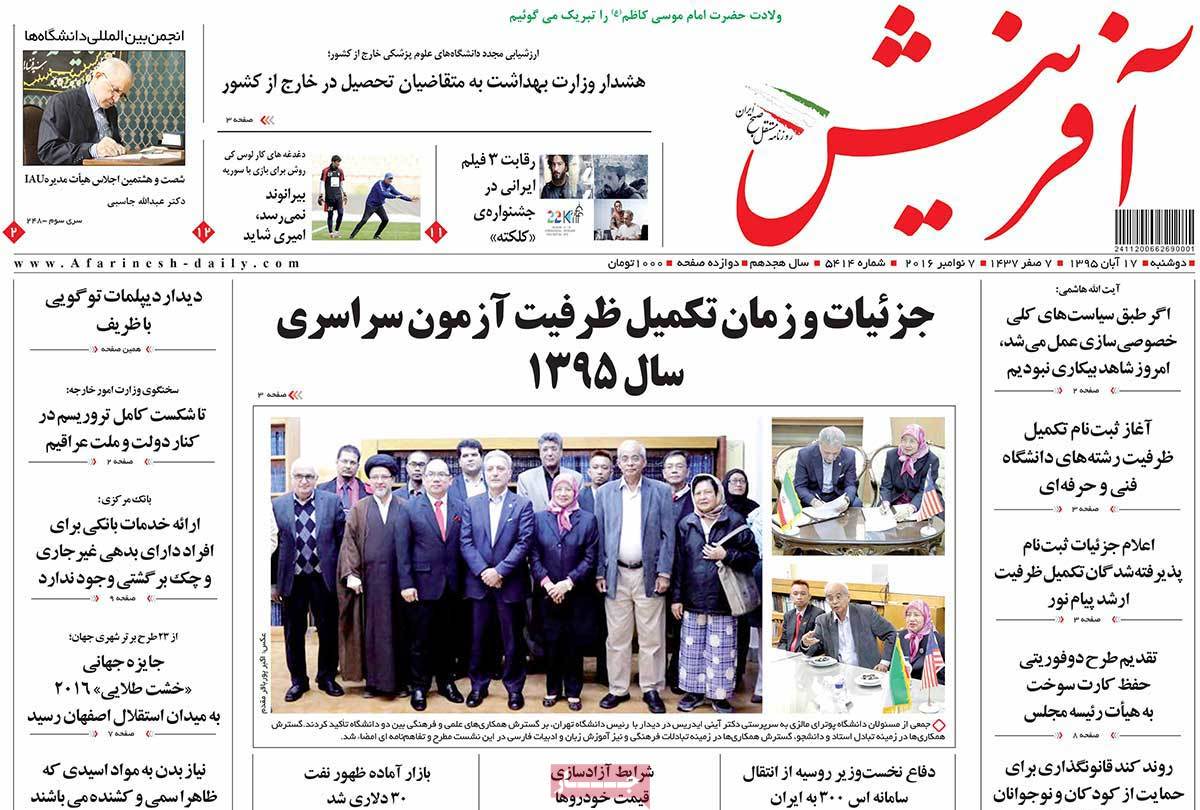 ---
Afkar:
1- Iran Ranks Fourth in Cancer Incidence
2- 61 Iranian Pilgrims Wounded in Samarra Suicide Attack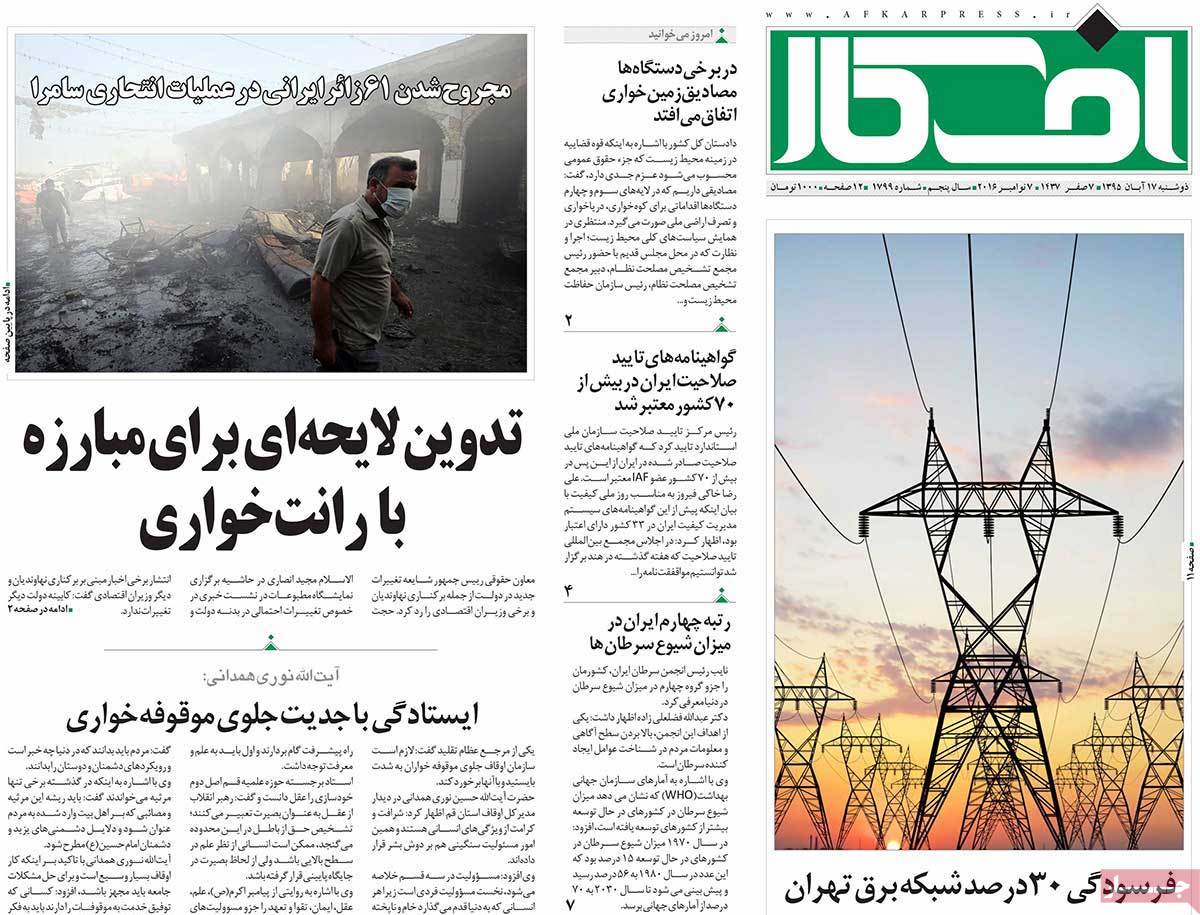 ---
Aftab-e Yazd:
1- Ahmadinejad's Second Prediction: Conservatives Will Once Again Fail in 2017 Presidential Elections [He had earlier predicted the defeat of conservatives in Parliamentary polls as well]
2- Rouhani's Account of Government's Economic Difficulties in Past Year: We Didn't Have Enough Money to Pay Wages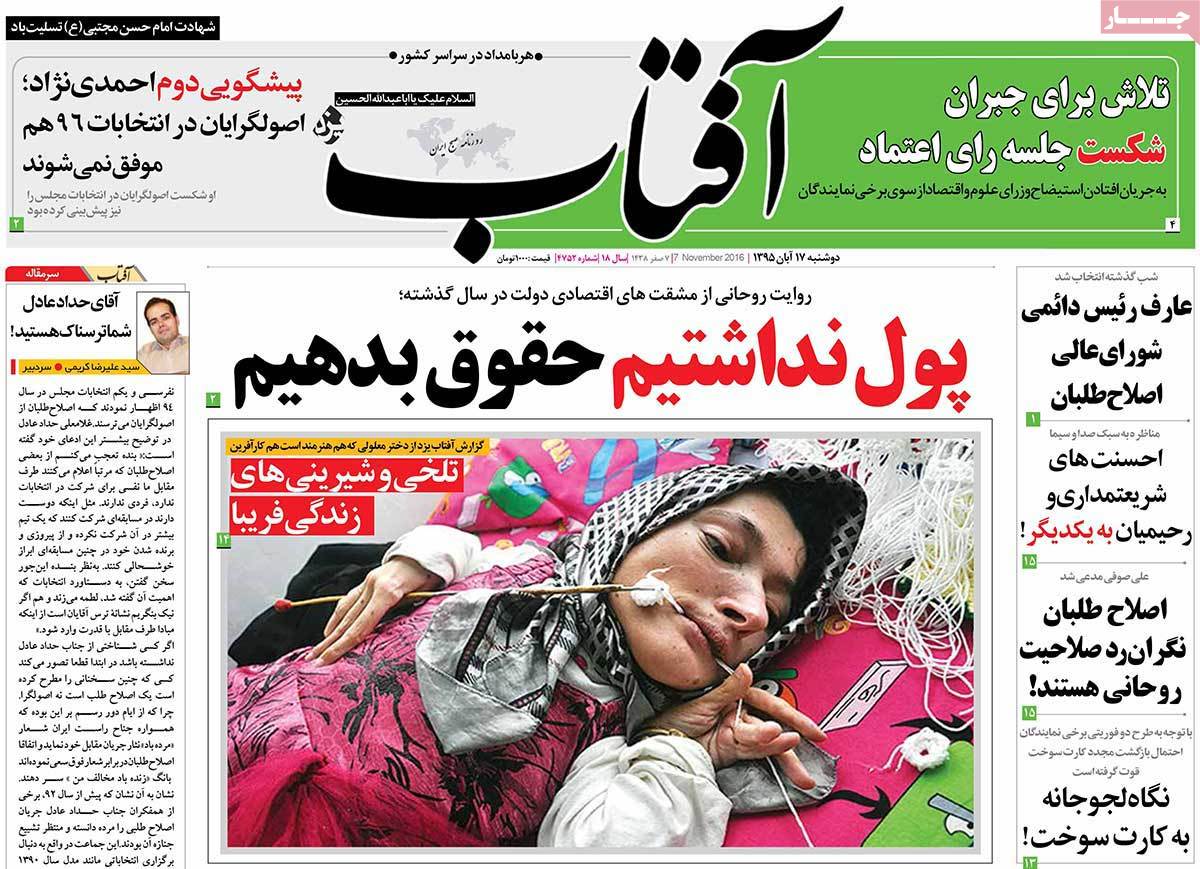 ---
Amin:
1- Reformists Are Worried about Temptations to Disqualify Rouhani
2- 12 Questions Turkish Journalists Didn't Dare to Ask from Erdogan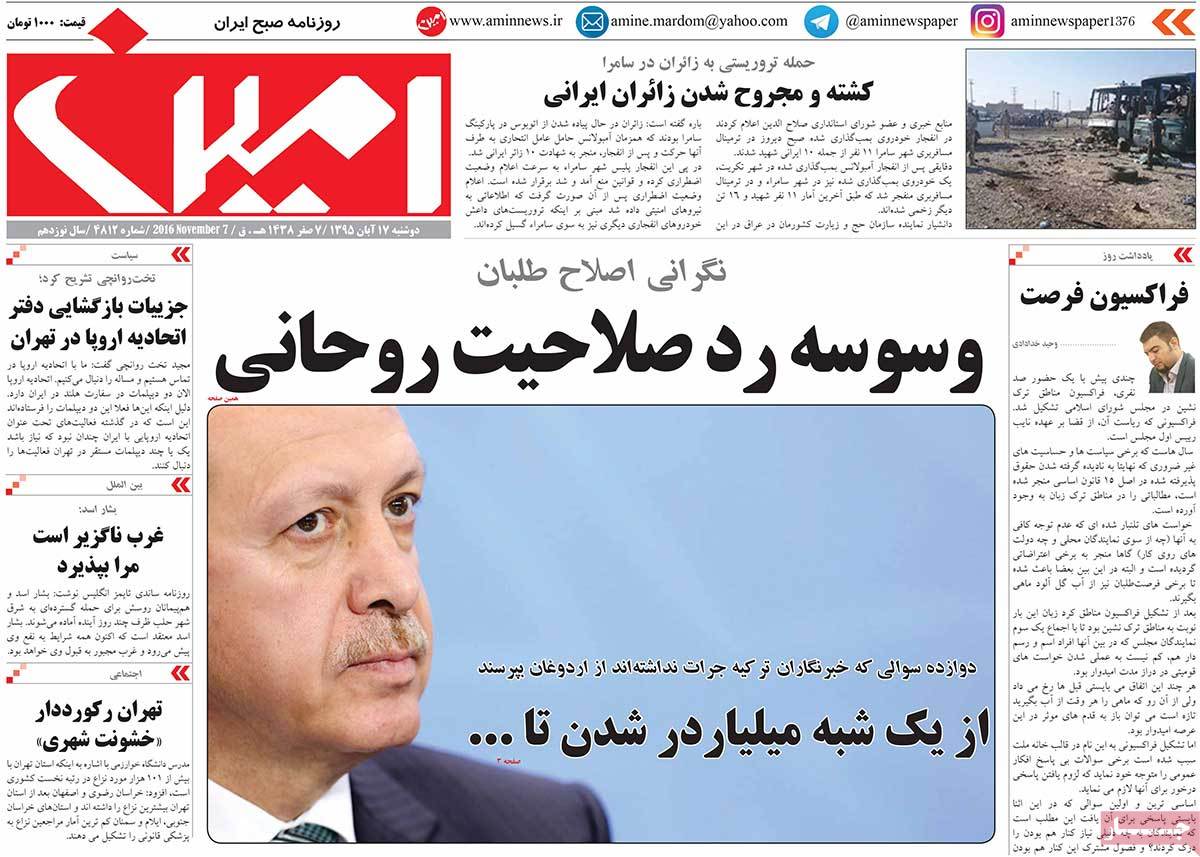 ---
Arman-e Emrooz:
1- Deputy FM Explains about the Opening of EU Office in Tehran
2- 10 Iranians Martyred in Samarra Suicide Attack
3- Trump Can Be the Surprise of History: Analyst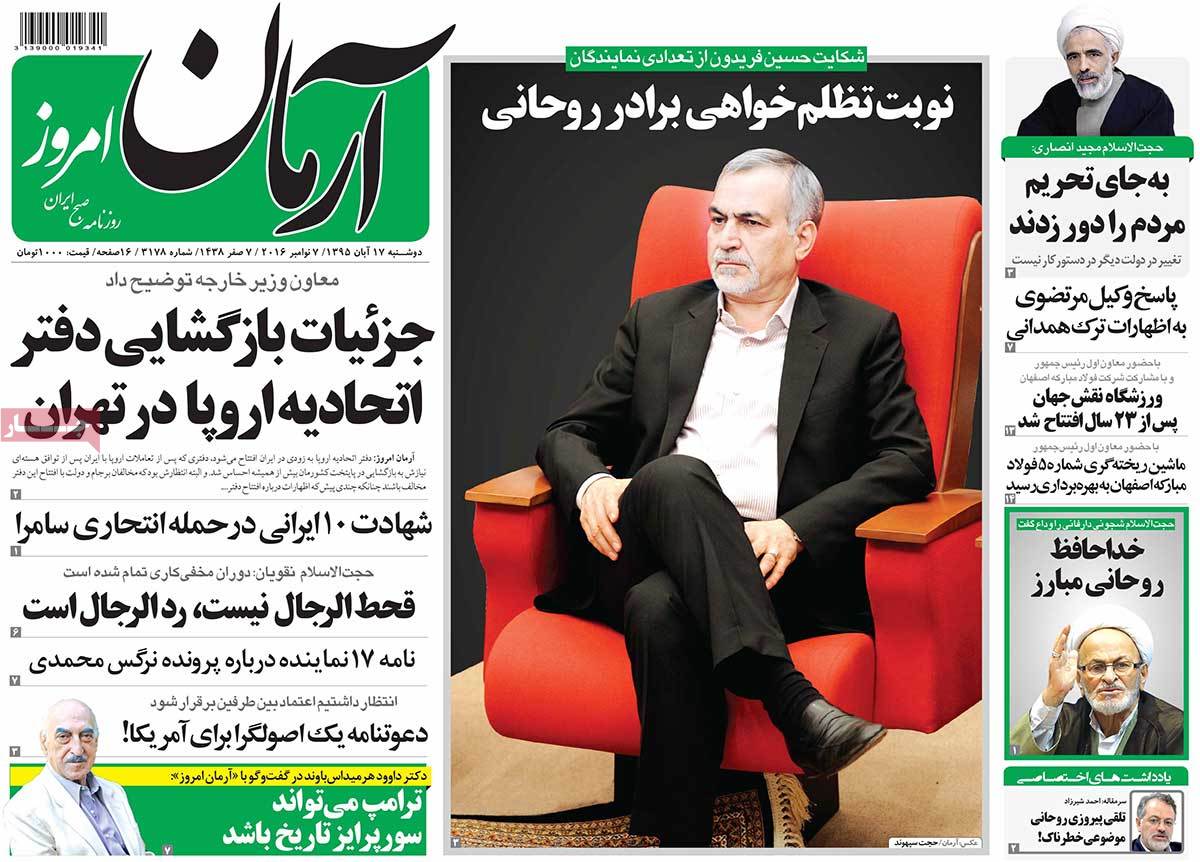 ---
Asrar:
1- Iran's Wushu Athletes Claim Second Title in World Cup
2- Operation to Liberate Raqqa Kicks Off
3- $14m Smuggled Goods Confiscated in Tehran
4- VP: Some Consider It as Their Mission to Taint Image of President and Government
---
Asr-e Iranian:
1- VP Admits US Is a Disloyal Country Which Is Not at All Interested in Iran's Growth and Development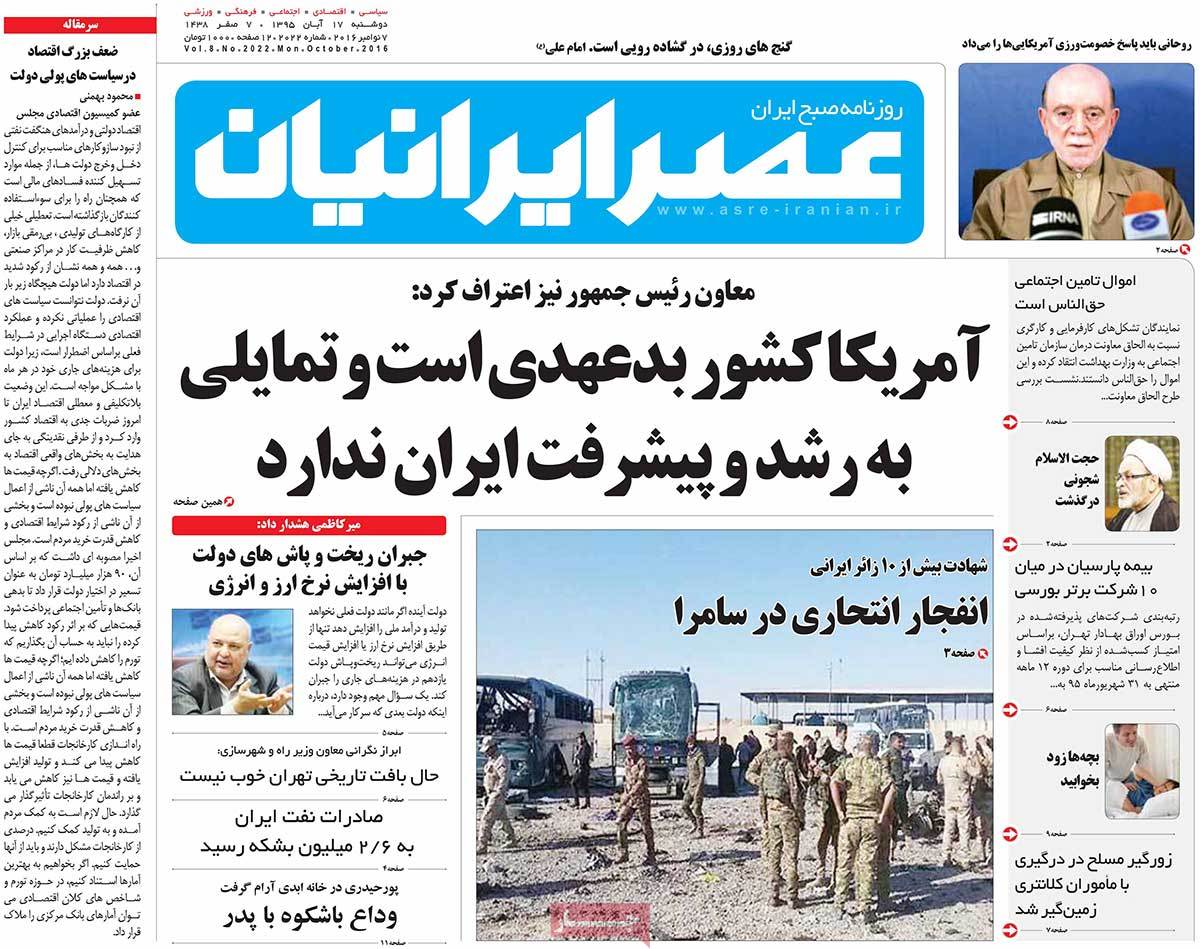 ---
Ebtekar:
1- VP for Legal Affairs: We'll Stand against Those Who Limit Media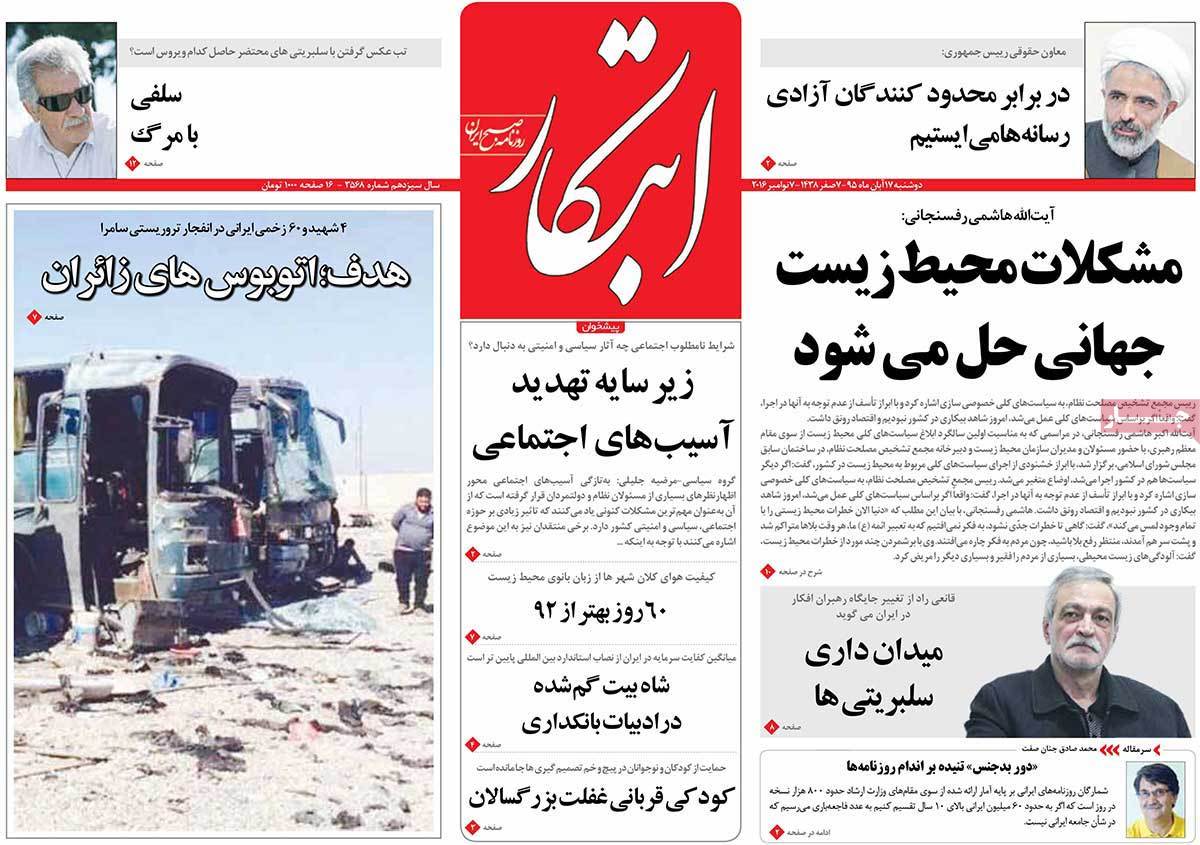 ---
Etemad:
1- Ambulance of Death: Iranian Pilgrims Fall Victim to ISIS' Vengeance in Samarra
2- Iran's Oil Industry to Be Renovated by Old Partners: Italians to Make Investment in Iran's Petchem Industry
3- It Was a Great Mistake by Turkey to Meddle in Iran-Arab Issue: Expert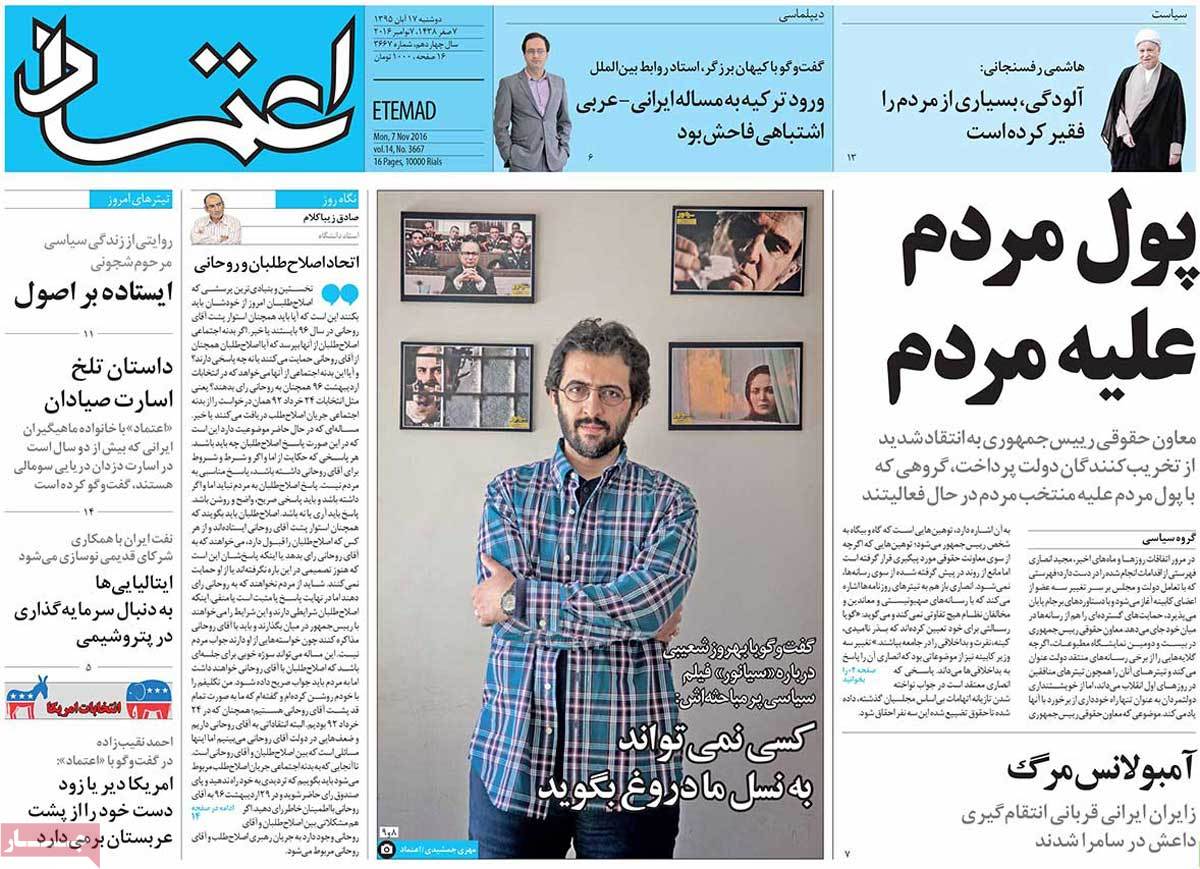 ---
Ettela'at:
1- Ayatollah Rafsanjani: We Could Have No Unemployment and Economic Downturn If Privatization Was Implemented Properly
2- Amazing Advancements in Genetic Science in Iran and the World
3- Syrian Democratic Forces Announce Beginning of Raqqa Operation in Coordination with US-Led Anti-ISIS Coalition
---
Hemayat:
1- Prosecutor-General: 450 Prosecutors in Iran Ready to Counter Offences against Environment
---
Iran:
1- Rouhani: Women's Presence in Administrative Roles Is a Must
2- Dark Competition for White House: Trump and Clinton Turned 2016 US Elections into the Strangest One in History
3- JCPOA Saved Iran's Environment: Ayatollah Rafsanjani
---
Javan:
1- New York Times: US Was Humiliated in Iran Thanks to Hillary and Trump; Iranians Say Democracy in the US Has Turned to a Disaster with These Debates and Elections
2- Suicide Revenge from Mosul Defeat in Samarra
3- Siamand Rahman, Rio Paralympic Champion: I Hope an Iranian Breaks My Record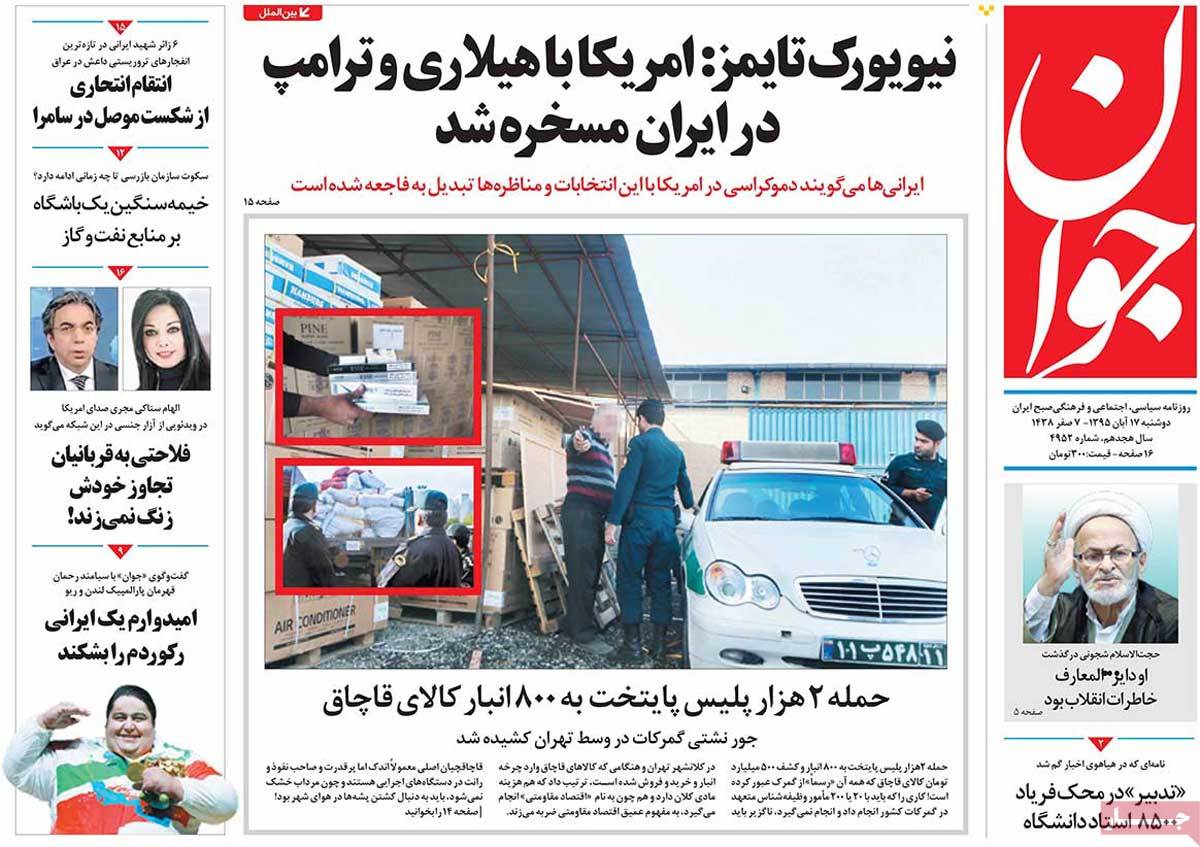 ---
Jomhouri Eslami:
1- Street Fight in Mosul
2- Advisor to Trade Minister: 230,000 Jobs to Be Created by End of the Year with Inauguration of 50 Major National Projects
3- American News Channel: Saudi Arabia Moving towards Bloody Fight inside Ruling System
---
Kayhan:
1- A Report by Government Proponents: Economy's Condition Is Good, But Only on Paper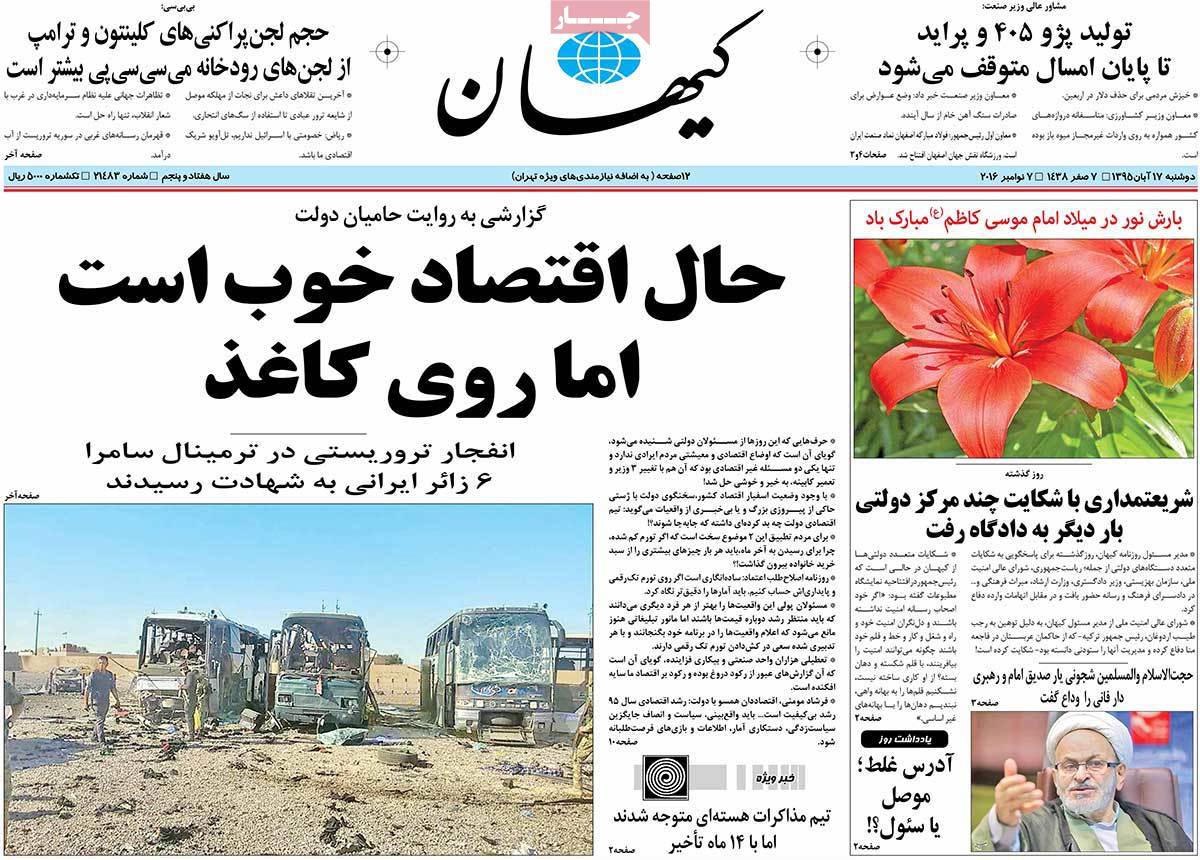 ---
Khorasan:
1- Fear and Dance in Final Hours of US Elections: From Hillary Concerts to Security Situation in Trump's Speech
2- Mosul Residents Escaping from ISIS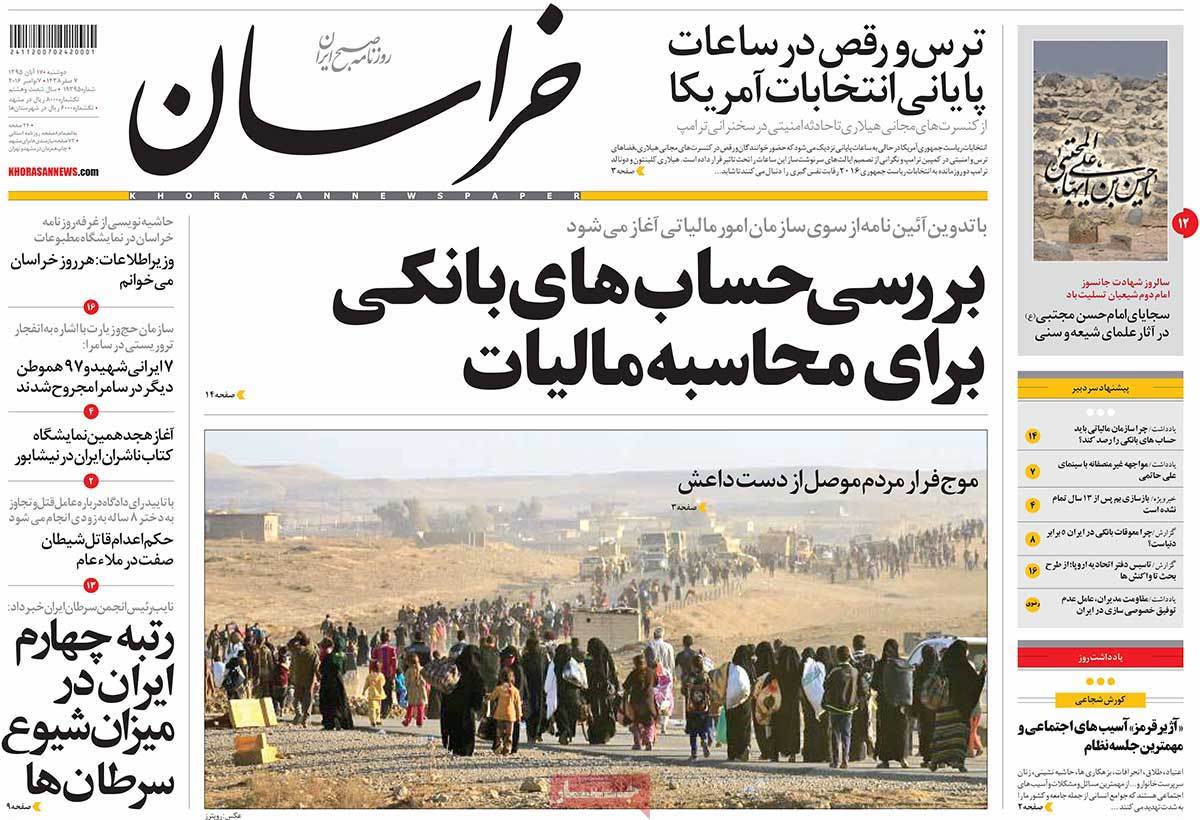 ---
Mardom Salari:
1- A Look at Realities in Iran-Russia Ties: Moscow Playing with Iran's Card in Tel Aviv
2- Reformist Figure: Renowned Conservatives Will Support Rouhani
3- Trump's Attack on Heart of Hillary's Fans: GOP Candidate Goes to Democrat States
---
Payam-e Zaman:
1- Rouhani: Decrease in Oil Prices a Major Problem for Government
2- Larijani: Expansion of Terrorism Is Tel Aviv's Plot to Undermine Islamic Ummah (Society)
3- Iran's Beach Soccer Team at 2nd Place in Intercontinental Cup
---
Rah-e Mardom:
1- Population of Iranian Villages Rapidly Decreasing: Increase in Migration of Villagers to Urban Areas
2- Human Rights Council Gives in to Western Interests [Editorial]
---
Resalat:
1- Protest against Capitalist System in London: Protesters Say Street Is the Only Way to Revolution
2- Clinton Seeks to Absorb the Votes of Those Who Are Still Undecided: Emergency Conditions in Democrat Camp
3- One Day Left to US Elections: Democracy Mixed with Insult and Cheating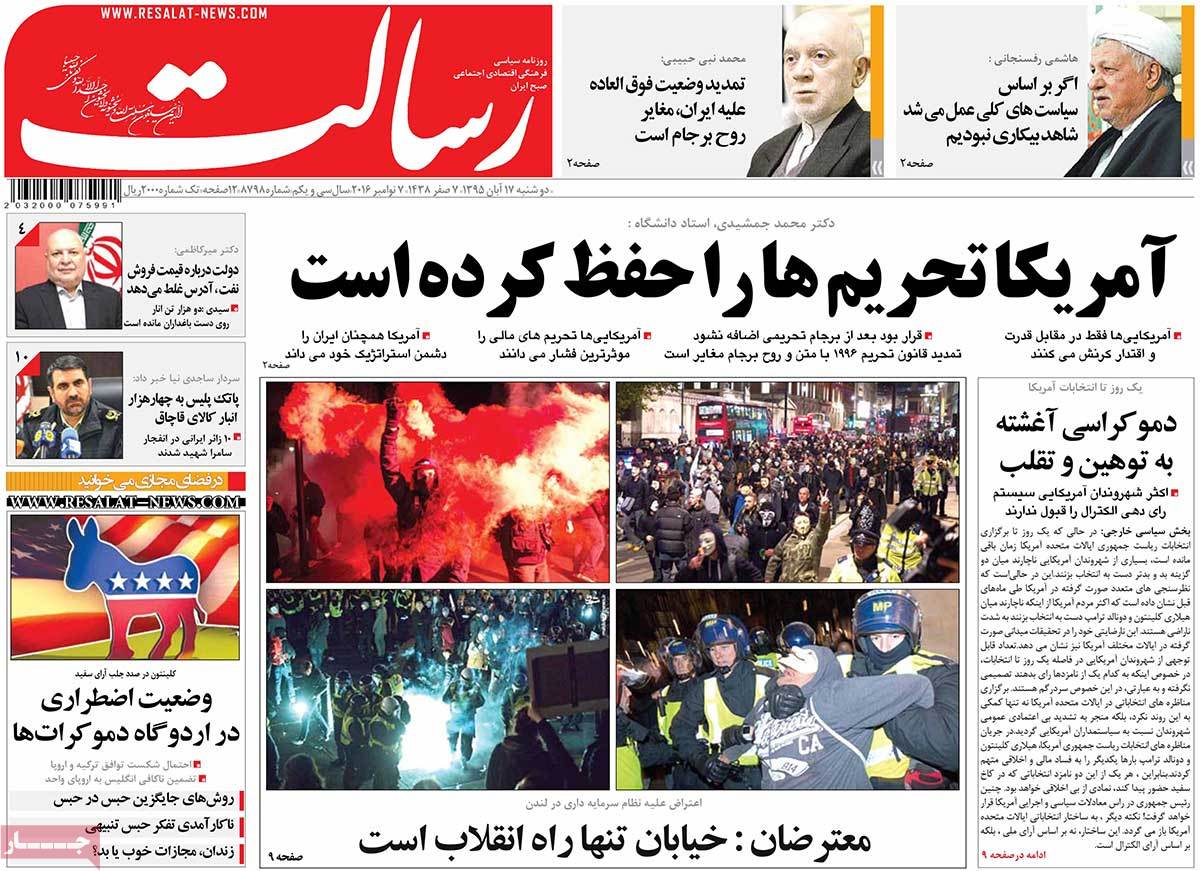 ---
Rooyesh-e Mellat:
1- Iran Condemns Explosion in Iraq's Samarra
2- Velayati: Terrorists Are Americans' Hirelings in Region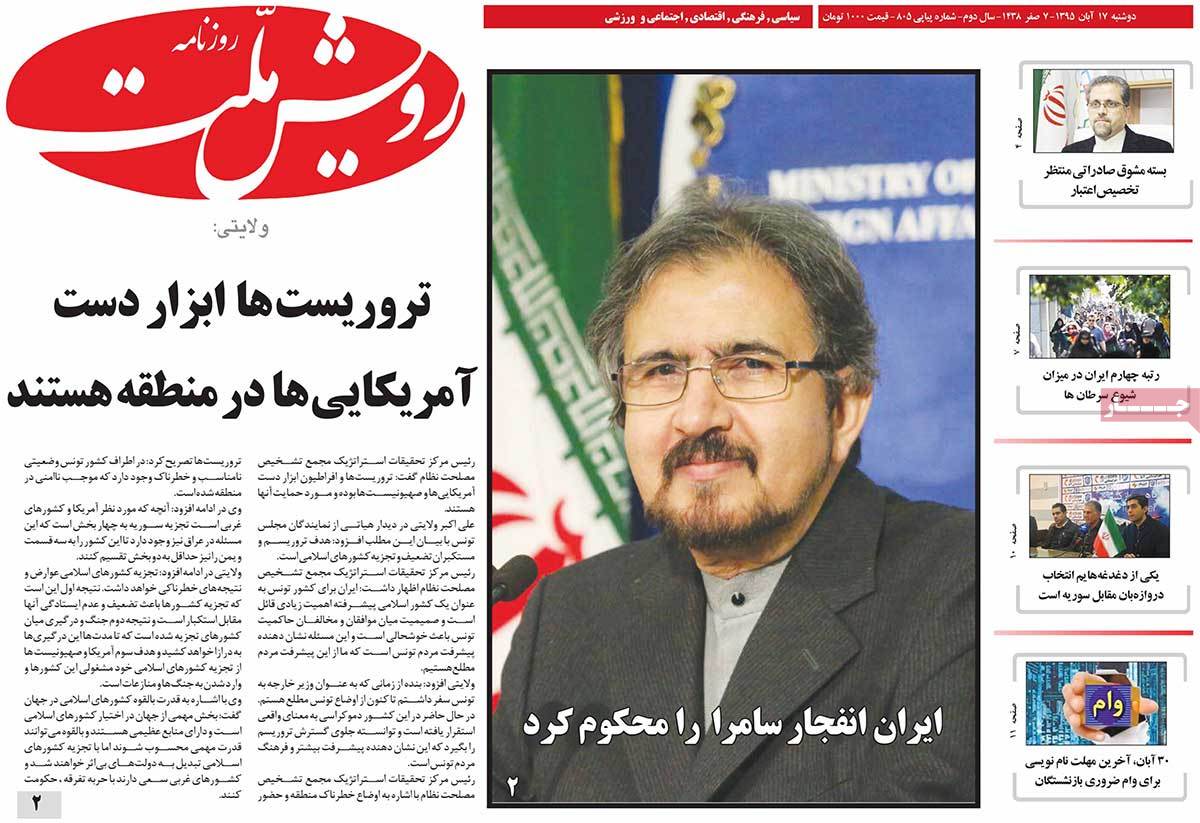 ---
Sepid:
1- Deputy Health Minister: We Should Prepare Ourselves to Counter Tsunami of Non-Communicable Diseases
2- VP: The Majority of Iran's Frozen Assets Returned to the Country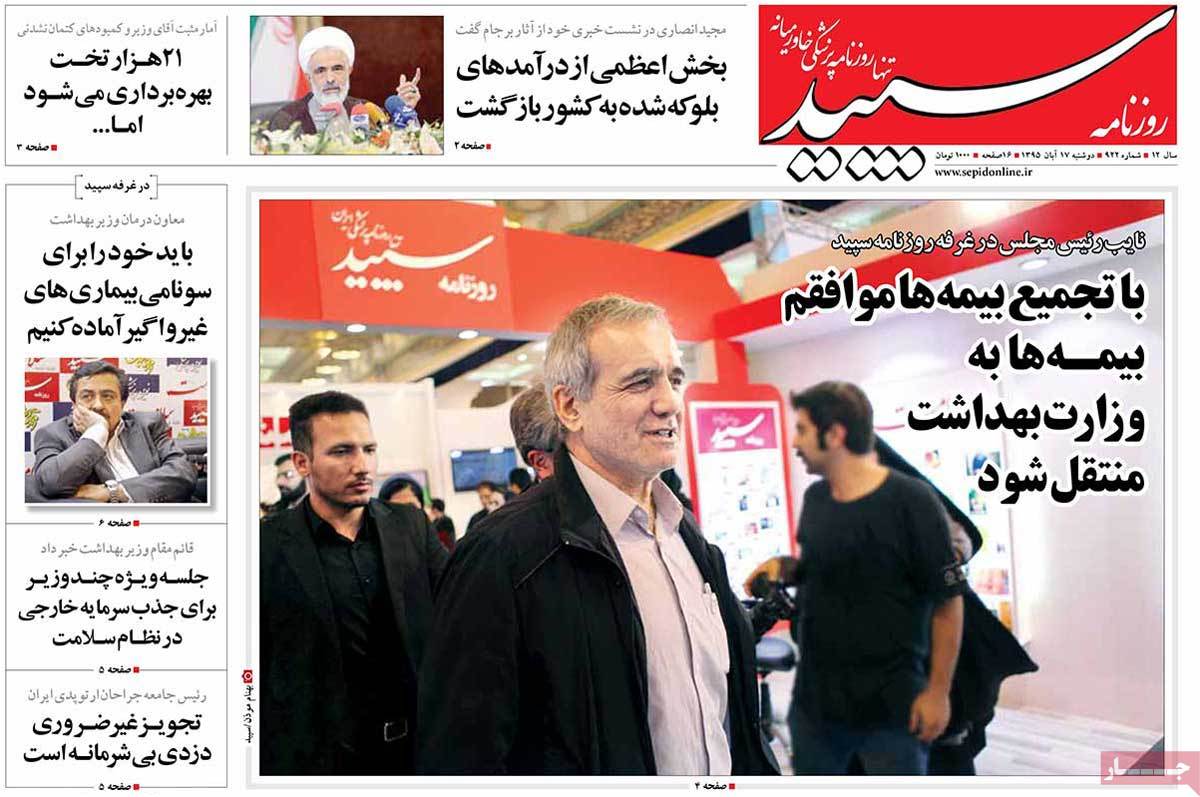 ---
Setareh Sobh:
1- Close Competition: Trump's Voice Heard More than Ever
---
Shahrvand:
1- When Iran's Intelligence Minister Becomes a Painter: Alavi Stood by Kids and Drew a Painting in Press Exhibition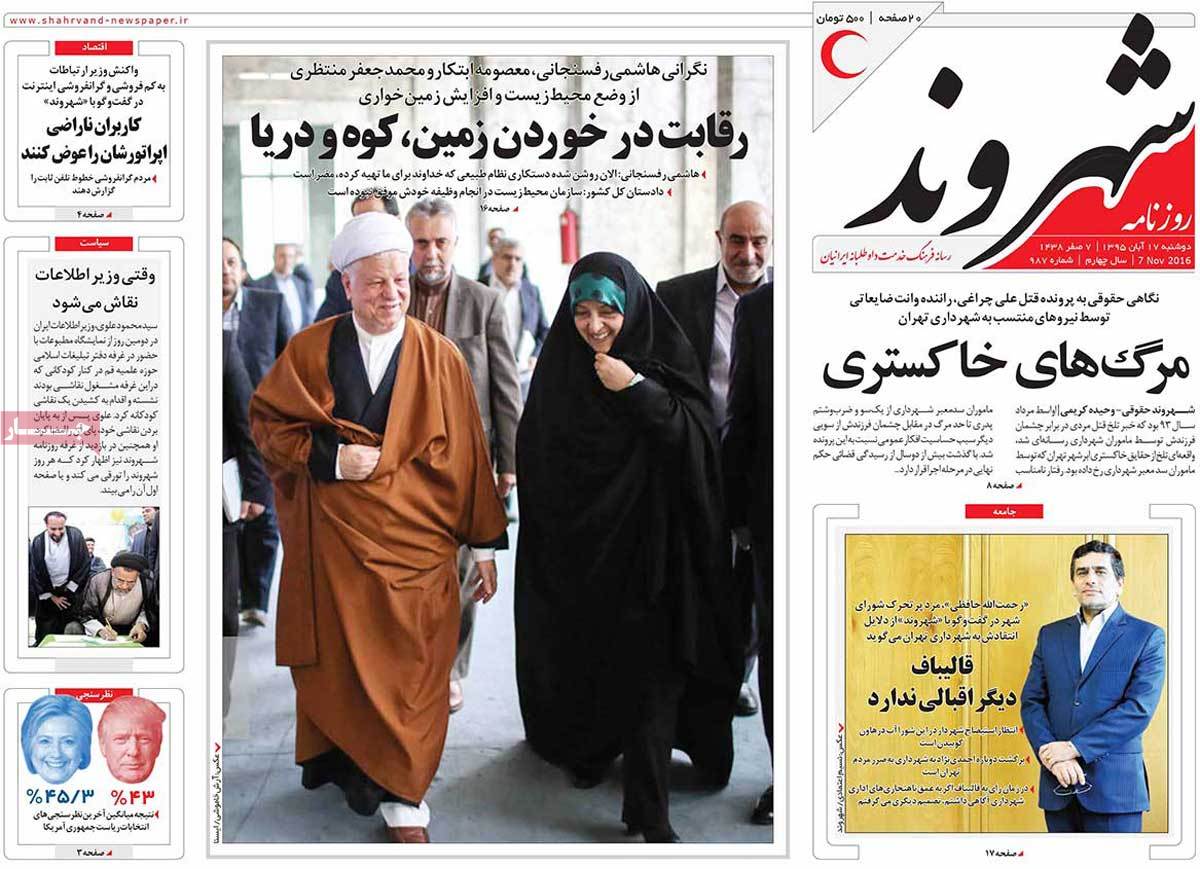 ---
Shargh:
1- Green Light for Opening of EU Office in Tehran
2- Unpublished Remarks by IRGC General Hamedani [who was killed in Syria]: Assad's Letter to Ayatollah Khamenei Was Like a Soldier Writing to His Commander
3- First World Medal in Iran's Fencing History
4- Taboo of Being against US Is Getting Broken
---
Siasat-e Rooz:
1- Rebellion against Capitalism: Anti-Government Protest Rallies in Britain, Italy, France, and the US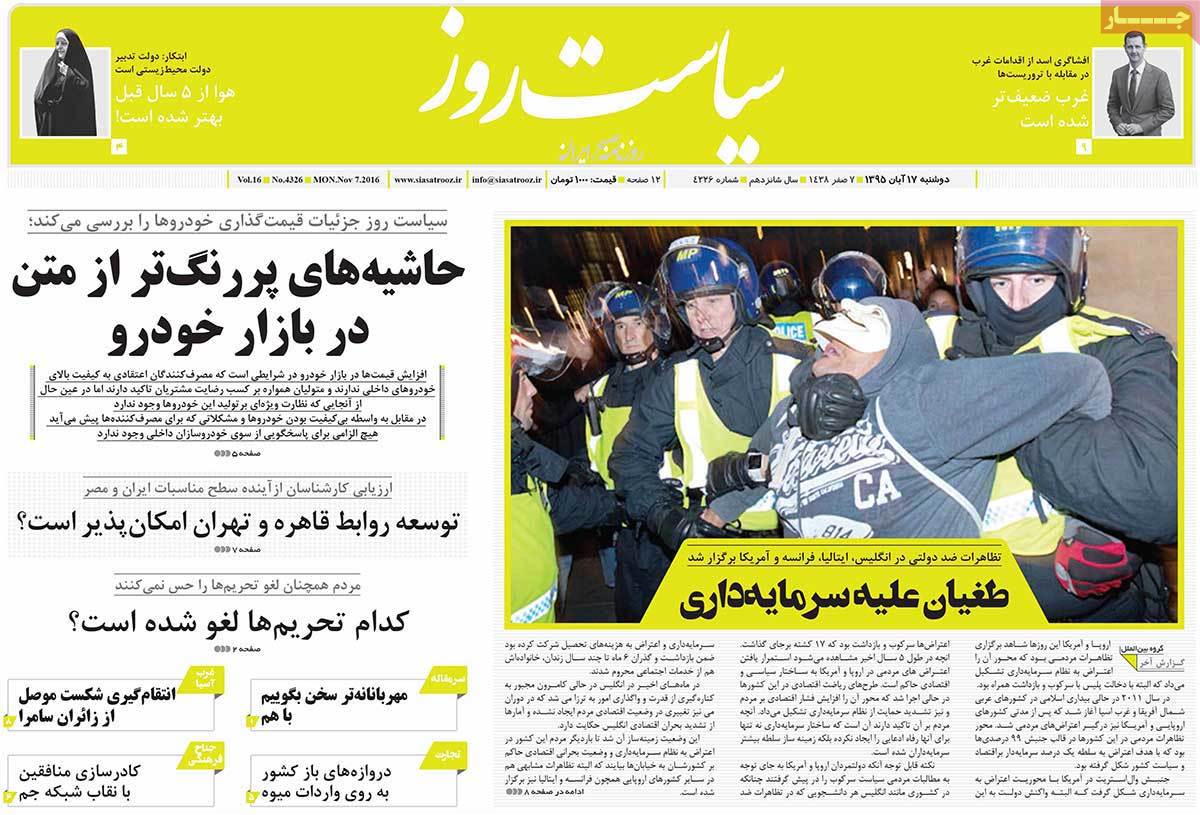 ---
Vatan-e Emrooz:
1- Trump's Chance Suddenly Increases