Newspapers today covered the continued air pollution in Tehran and other big cities of Iran, which has made it difficult for many people to breathe outdoors.
The visits of Chinese Defence Minister General Chang Wanquan and Chairwoman of the Federation Council of Russia Valentina Ivanovna Matviyenko to Iran also received great coverage.
Other top stories today include President Hassan Rouhani's remarks about the great progress in Iran's oil industry after the nuclear deal's implementation, and also the ongoing protest rallies in the US against president-elect Donald Trump.
The above issues, as well as many more, are highlighted in the following headlines:
Abrar:
1- Oil Industry Made the Most Benefit of JCPOA: Rouhani
2- Trump's Advisor: We Don't Accept the Nuclear Deal as It Is Now
3- Erdogan: Trump's Policy on Iraq and Syria Is Close to that of Turkey
4- ISIS Launches Chlorine Gas Attack on a Village in Iraq's Shirqat
---
Afkar:
1- Iran Wants a Stable and Secure Iraq: Larijani
2- Iran Has the World's 9th Rank in Emission of Greenhouse Gases: Environment Chief
3- 100 New Iranian Pharmaceuticals Released to Market in Rouhani's Government: Health Minister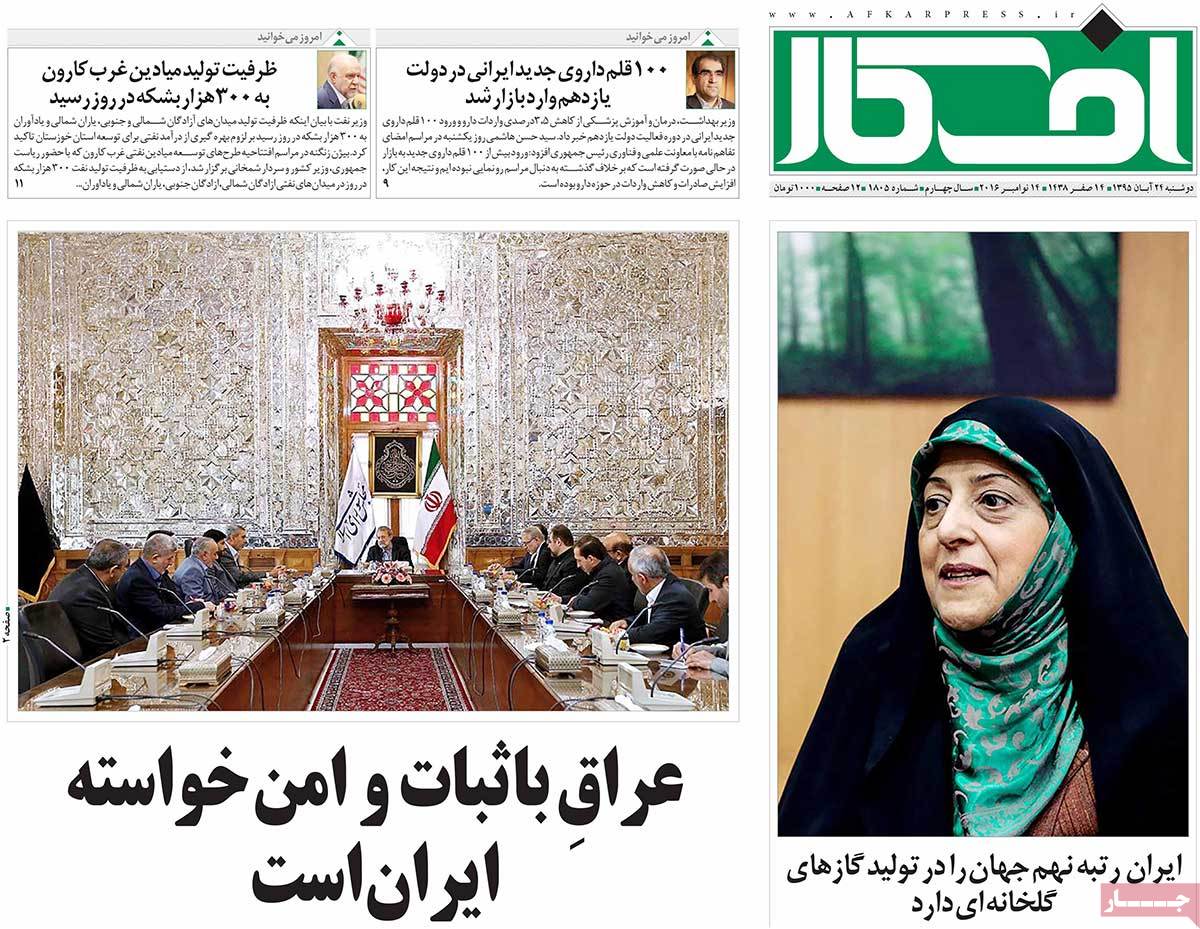 ---
Aftab-e Yazd:
1- Frequency Pollution in All Parts of Tehran
2- Will Trump Be Impeached? Demonstrations in US Will Continue as Long as Trump Takes Back His Rhetoric during Campaigns
3- Basij Commander: US Will Collapse before 2035
4- Conservatives Badly Frustrated; Ultra-Conservative Media Criticize Senior Conservative Figure Haddad Adel for His Remarks: Why Were We Defeated by Unknown Reformists 30 to 0 [in Parliamentary elections]?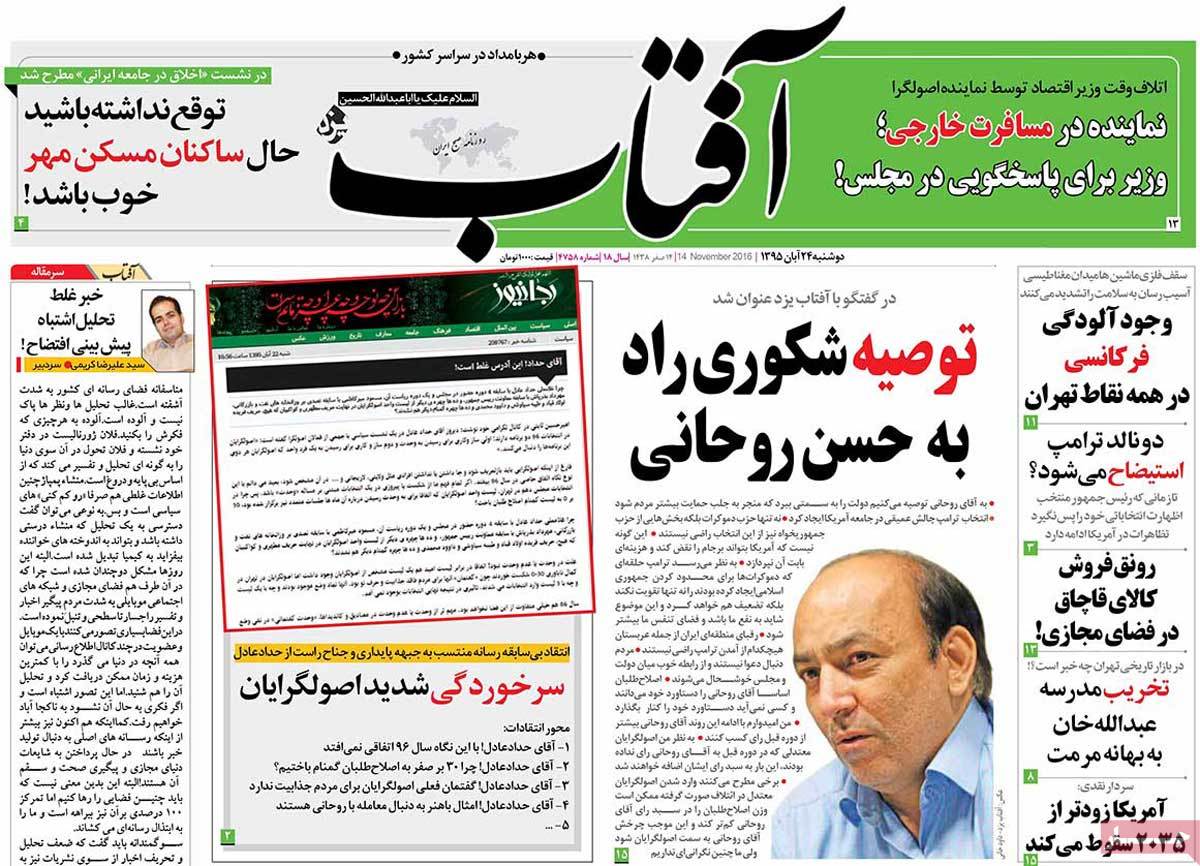 ---
Amin:
1- Project to Revive Lake Urmia Stopped Because of Shortage of Money
2- 1 Million Arbaeen Pilgrims Cross Iran's Official Borders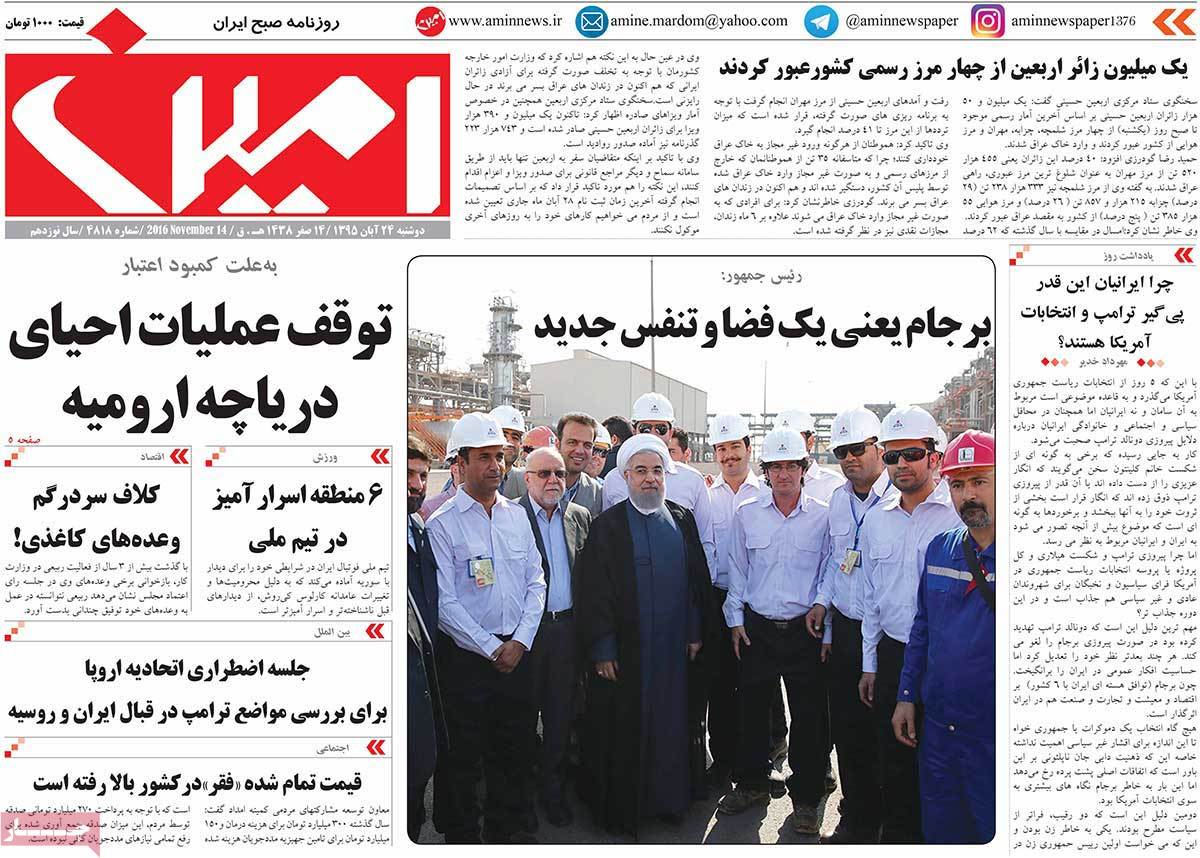 ---
Arman-e Emrooz:
1- I Consider Rouhani as the Better [Candidate] One: Rafsanjani
2- Imam Khomeini's Grandson: If People Are Not Made Aware of Services They Receive, They'll Get Frustrated
3- Tehran Is Coughing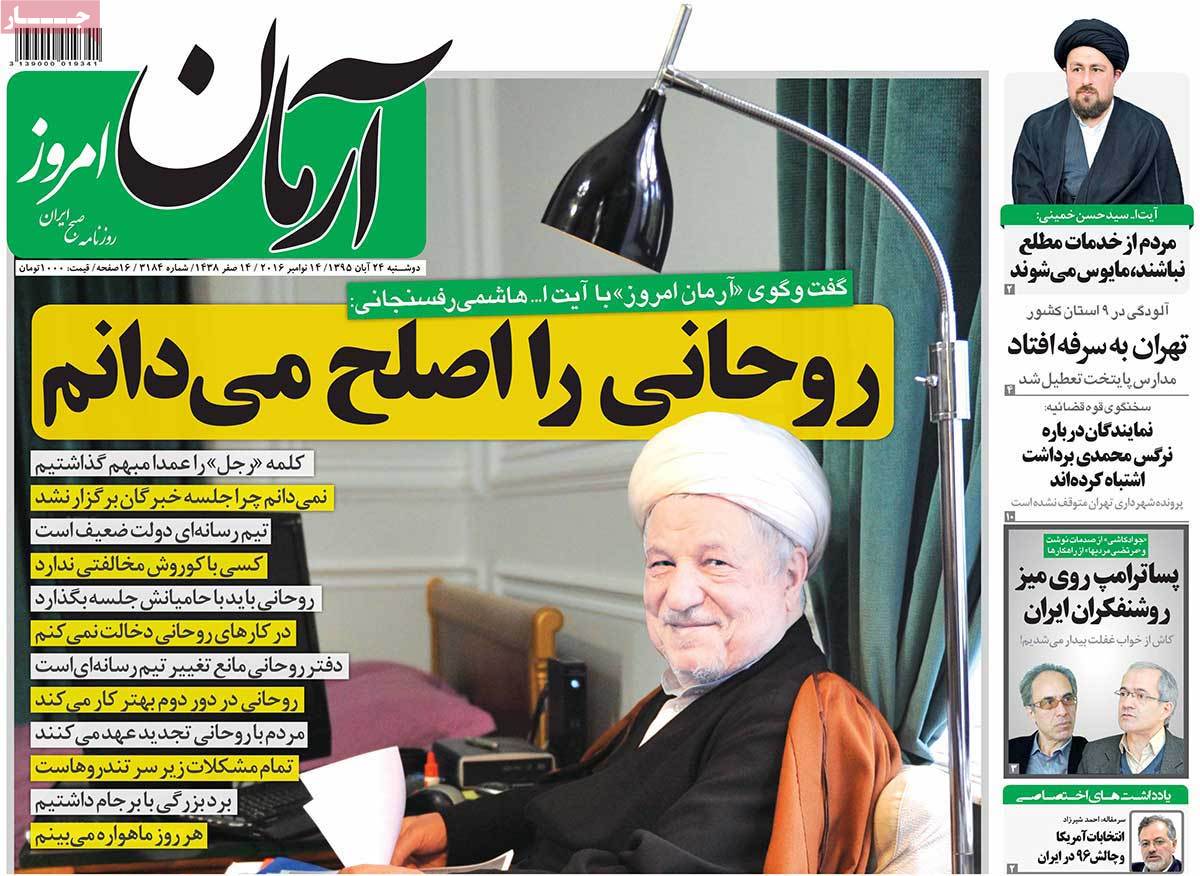 ---
Asrar:
1- Autumn Headline: Capital City Can't Breathe
2- Iran Boycotts AFC's Annual Awards Ceremony: Official Protest at AFC's Choices
---
Donya-ye Eqtesad:
1- Who Is the Winner of JCPOA Cancellation: Kissinger Answers
---
Ebtekar:
1- If Lake Hamoun [in eastern Iran] Dies …
2- Trump, the Keyword for Attacking Rouhani
3- Parliament Speaker Urges MPs to Avoid Precipitate Comments about Trump
4- Role of Air Pollution in Increased Death Rate of Tehran Residents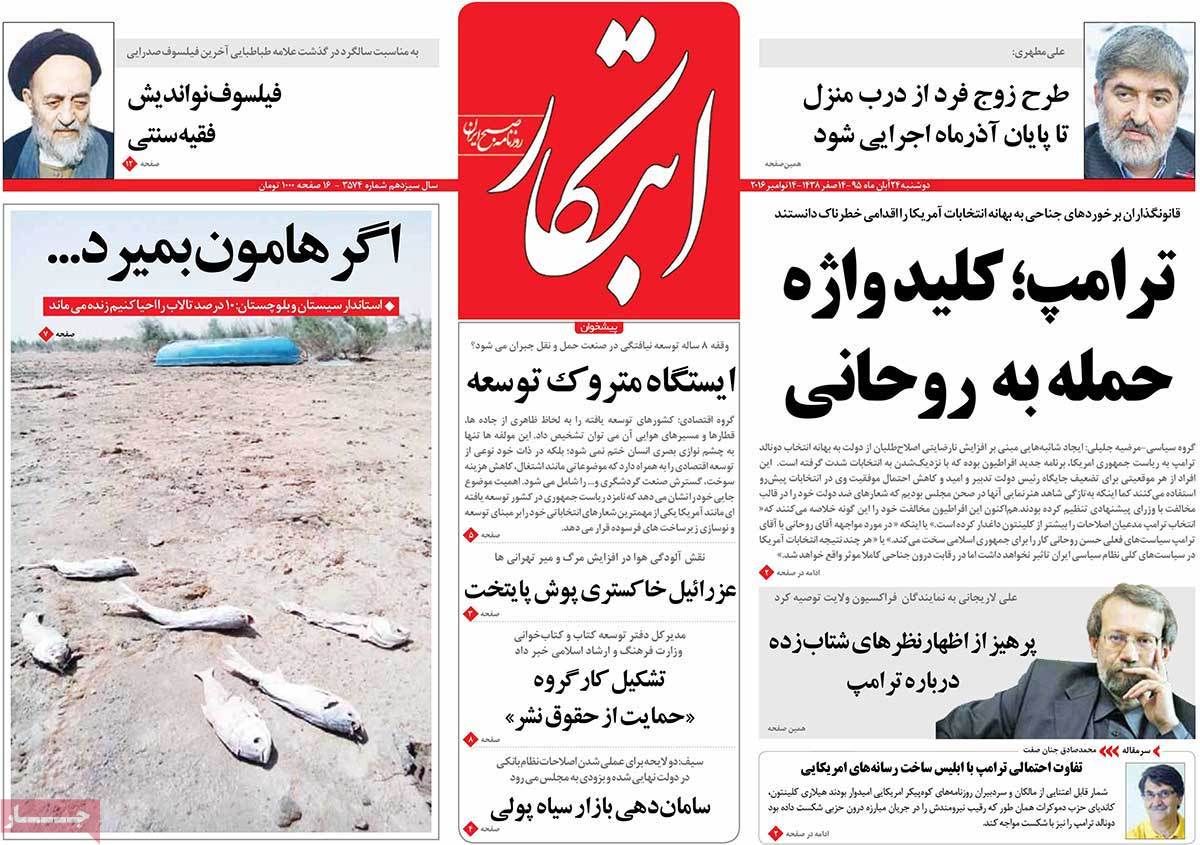 ---
Etemad:
1- Qalibaf, the Most Serious Option of Conservatives for 2017 Presidential Elections
2- Oil Eruption in Khuzestan Province, Southeastern Iran: 300,000 Barrels of Oil per Day Can Be Produced in Future
3- Trump and JCPOA, the Focus of European Dinner
---
Ettela'at:
1- Now It's Time for Investment and Transfer of Technology: Rouhani
2- Women Are New Opportunities in Executive Management of Iran: First VP
3- Russian Aircraft Carrier Starts Military Operation against Terrorists in Syria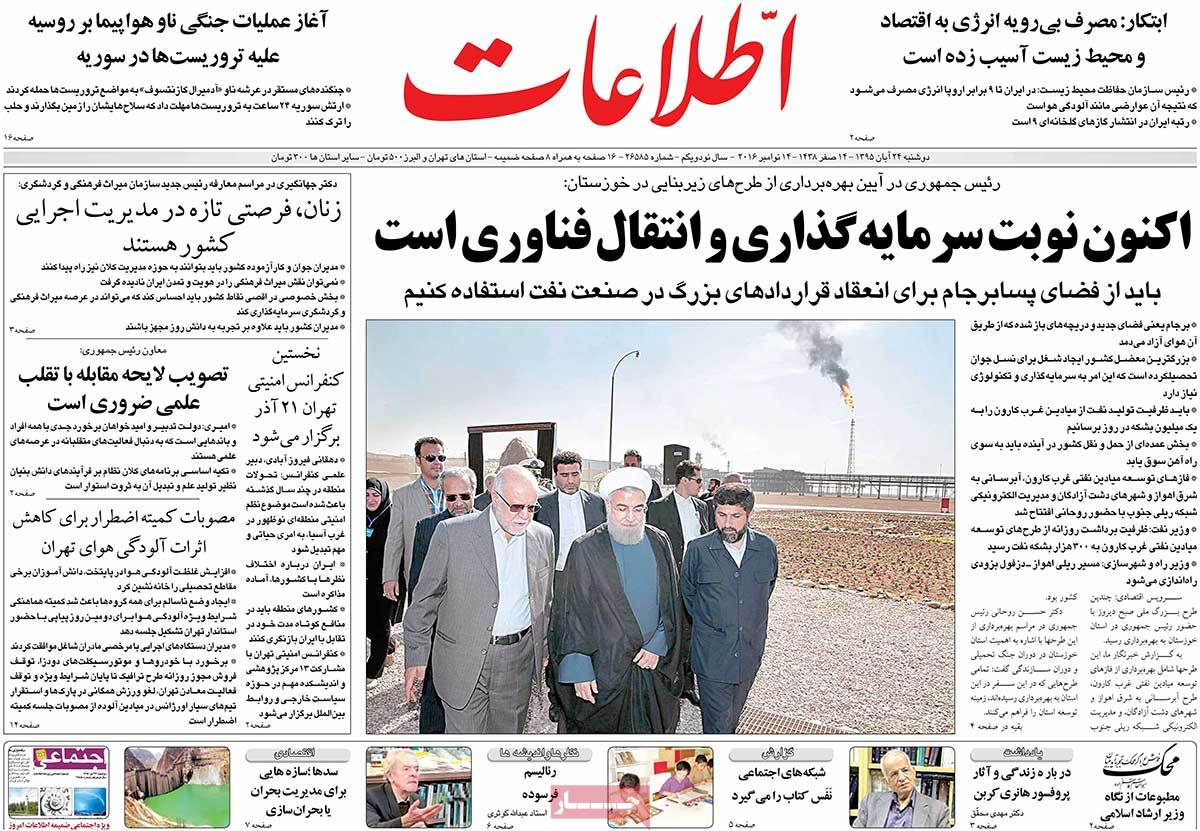 ---
Haft-e Sobh:
1- Mayor of Tehran vs. Head of Environment Department: Tehran's Air Pollution Has Turned to a Field for Political Fights between Government and Municipality
2- Arab Advisor in Trump's Cabinet Keeps Talking against Iran
---
Hamshahri:
1- Car Cancer Stops Cities' Breath
2- Nimrud in Mosul Retaken from ISIS
3- Europe Plans to Boycott Turkey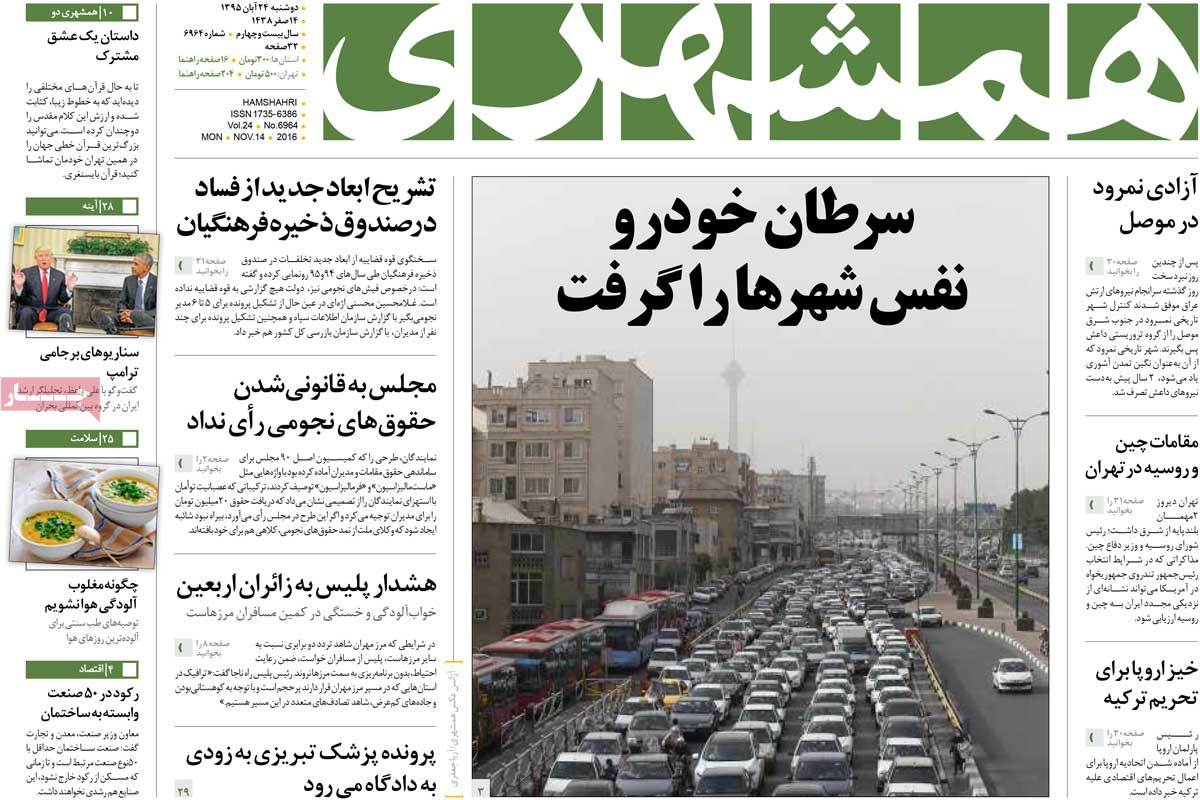 ---
Hemayat:
1- California Seeks to Hold Independence Referendum in 2019
2- Arbaeen Congregation Shows the Power of Muslims
3- 400 Muslim Houses in Western Myanmar Set on Fire
4- US Presidents Are Trapped in Zionist Regime's Spider Web
---
Iran:
1- Terrorists' Shot in Heart of Journalism: In Memory of Mohsen Khazaei, the Reporter Martyred in Aleppo
2- First VP: Improving the Level of Women's Management Is a Natural Expectation
3- Residents of Oil-Rich Regions Should Benefit from Outcomes of Oil Industry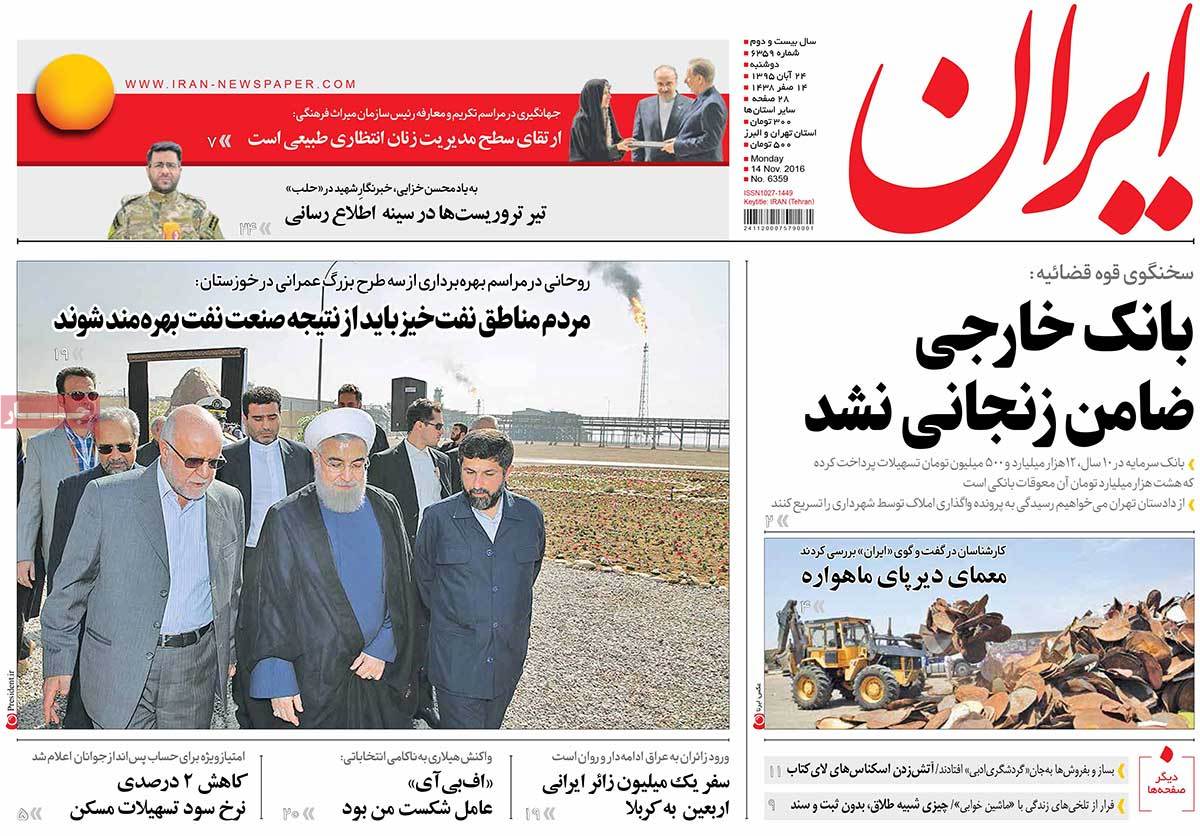 ---
Jame Jam:
1- The Reporter's Flight to Sky: Mohsen Khazaei, the IRIB Correspondent Who Was Martyred in Syria's Aleppo
2- Megacities in Iran Can't Breathe
3- Western Media Fail to Cover Anti-Trump Demonstrations
---
Javan:
1- Rouhani: JCPOA Brought Fresh Air to Iran: The Sentence Censured in President's Website
2- Gradual Death of Citizens in Polluted Air
3- Iranian Passport Loses Its Credit in Rouhani's Government
---
Jomhouri Eslami:
1- Trump Can't Abandon JCPOA: Former Advisor to US President
2- Facilities Up to $30,000 to Be Given to Young Iranians for Buying a House
---
Ka'enat:
1- Warning to Obama!
2- Facebook's Treason: Why US Polls Proved Wrong?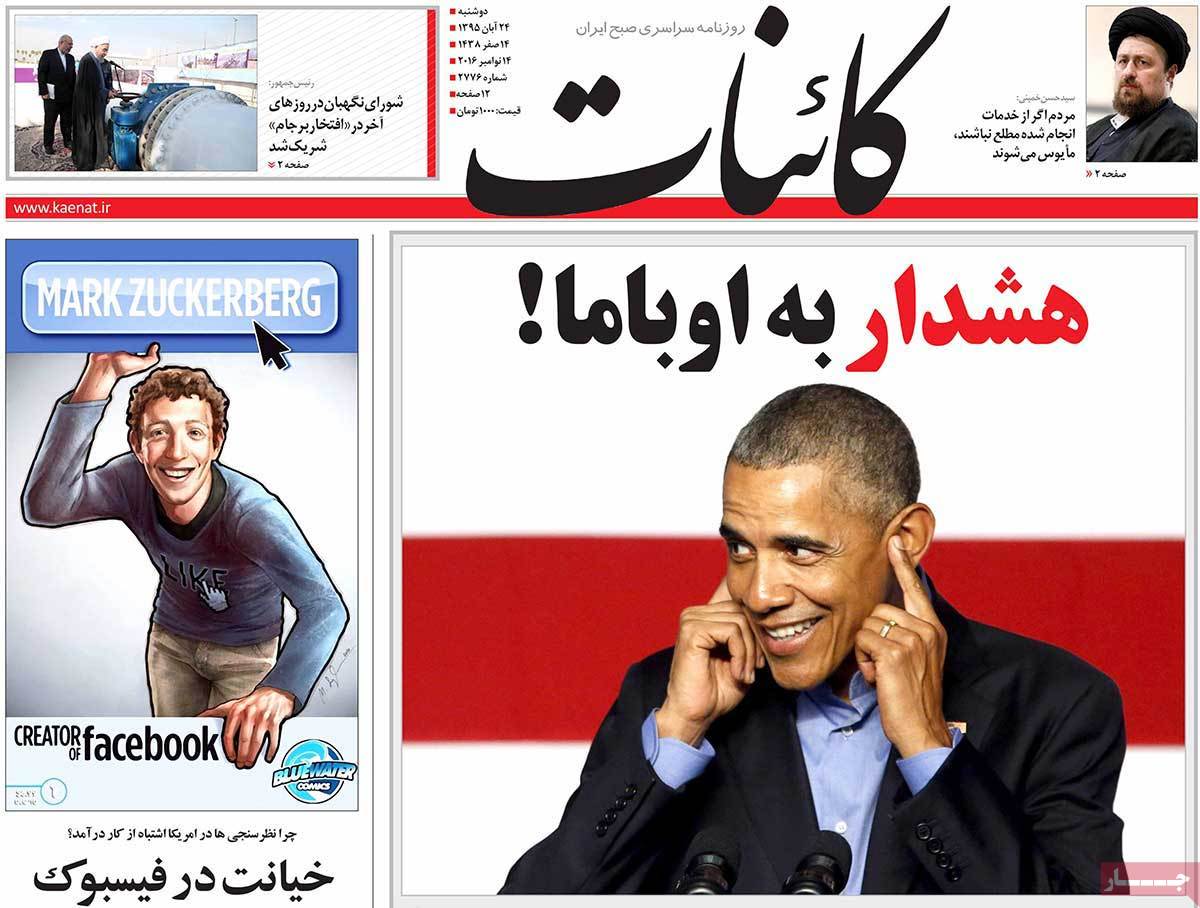 ---
Kayhan:
1- US in Chaos: Iranian Liberals Become Worried!
2- Smallest Host of Imam Hussein Pilgrims during Arbaeen Days
3- US Crisis Extended to Europe: EU Holds Emergency Meeting
4- Al Jazeera TV Is the Only Channel ISIS Elements Are Allowed to Watch!
---
Khorasan:
1- Political and Military Talks between Eastern Allies: Chinese Defence Minister and Head of Russian Federation Council Arrive in Tehran
---
Rah-e Mardom:
1- Here Is Tehran: Capital of Air Pollution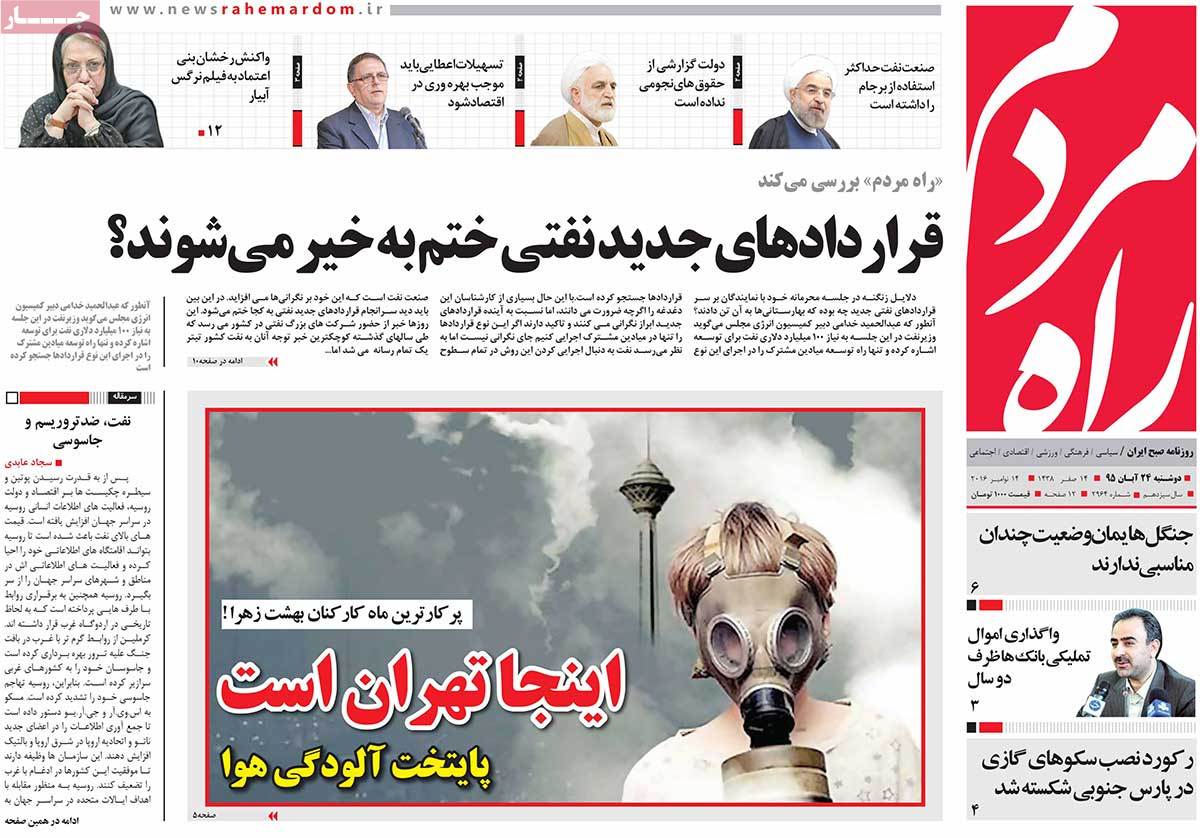 ---
Resalat:
1- International Institutions Have Nothing to Say: Ayatollah Javadi Amoli
2- Rouhani: Employment of Young People Is the Biggest Problem ahead of Us
3- Anti-Trump Demonstrations Extended to Europe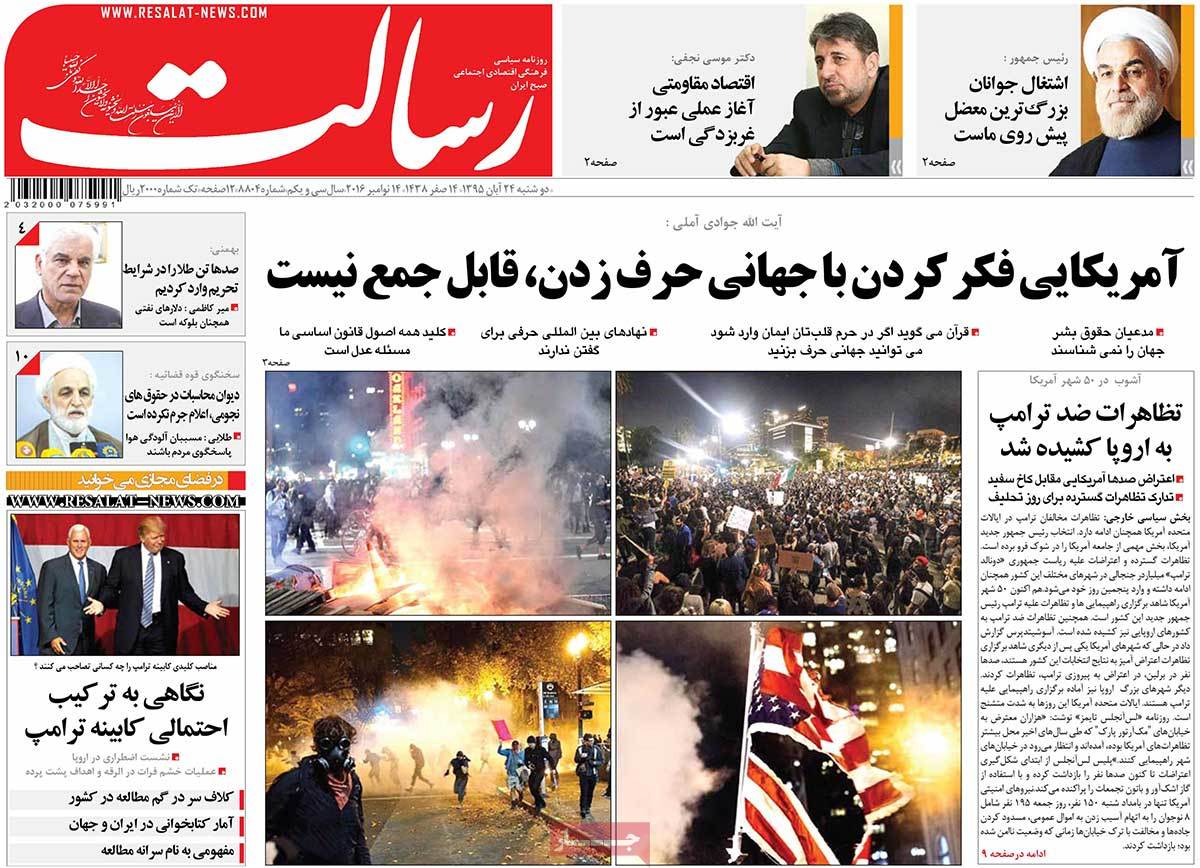 ---
Roozan:
1- Tehran-Moscow-Beijing Triangle: Russian Diplomat and Chinese Defence Minister in Tehran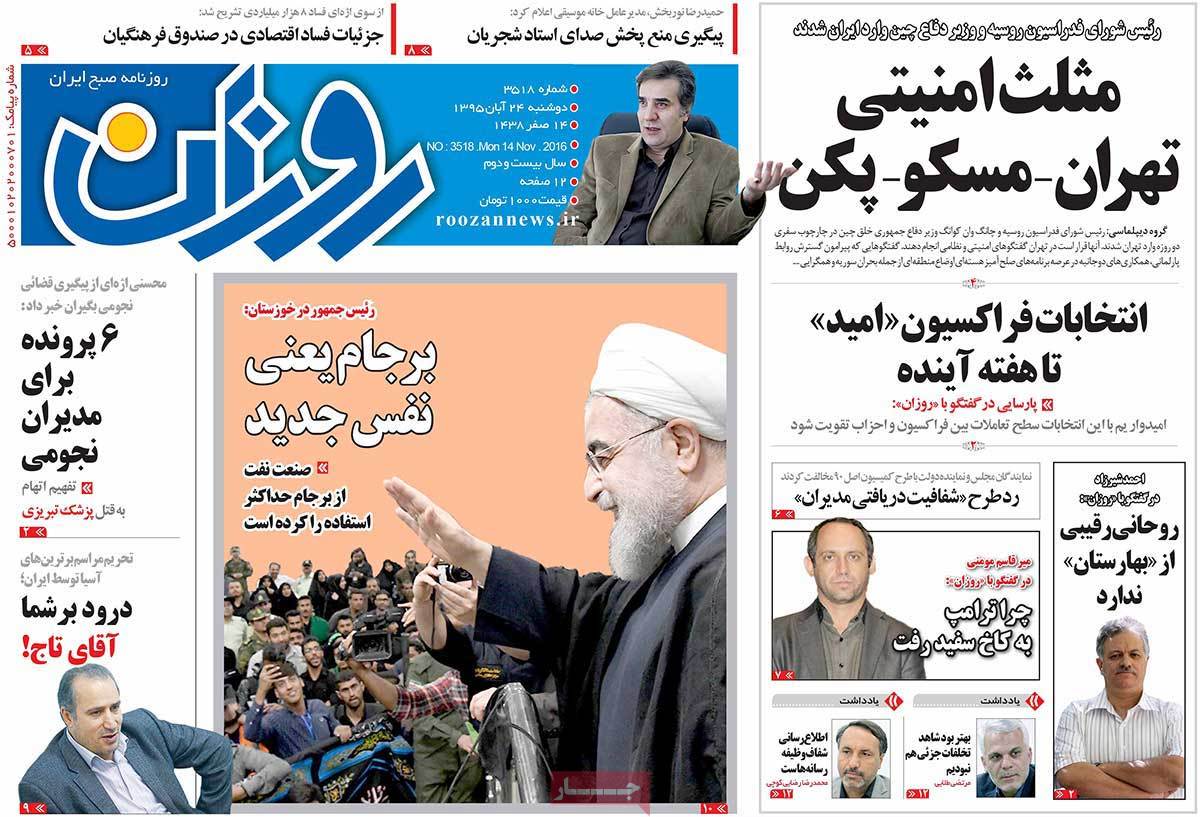 ---
Seda-ye Eslahat:
1- The Pilot [Qalibaf, current mayor of Tehran, is also a passenger plane pilot] Dreams about Flying over President's Office
2- Erdogan and Fear of Political Isolation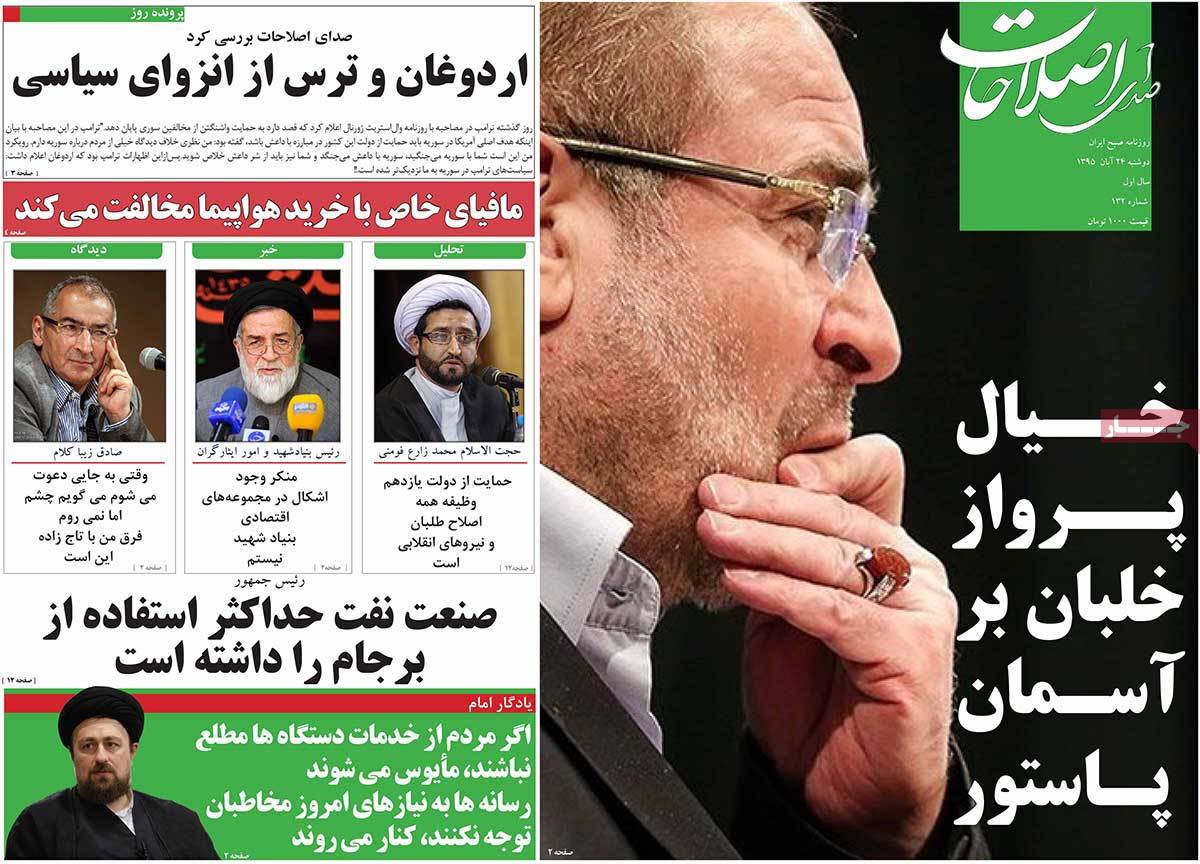 ---
Shahrvand:
1- Oil Jump: Rouhani Says Rapid Development of Iran's Oil Industry in Post-JCPOA Era Surprised Everyone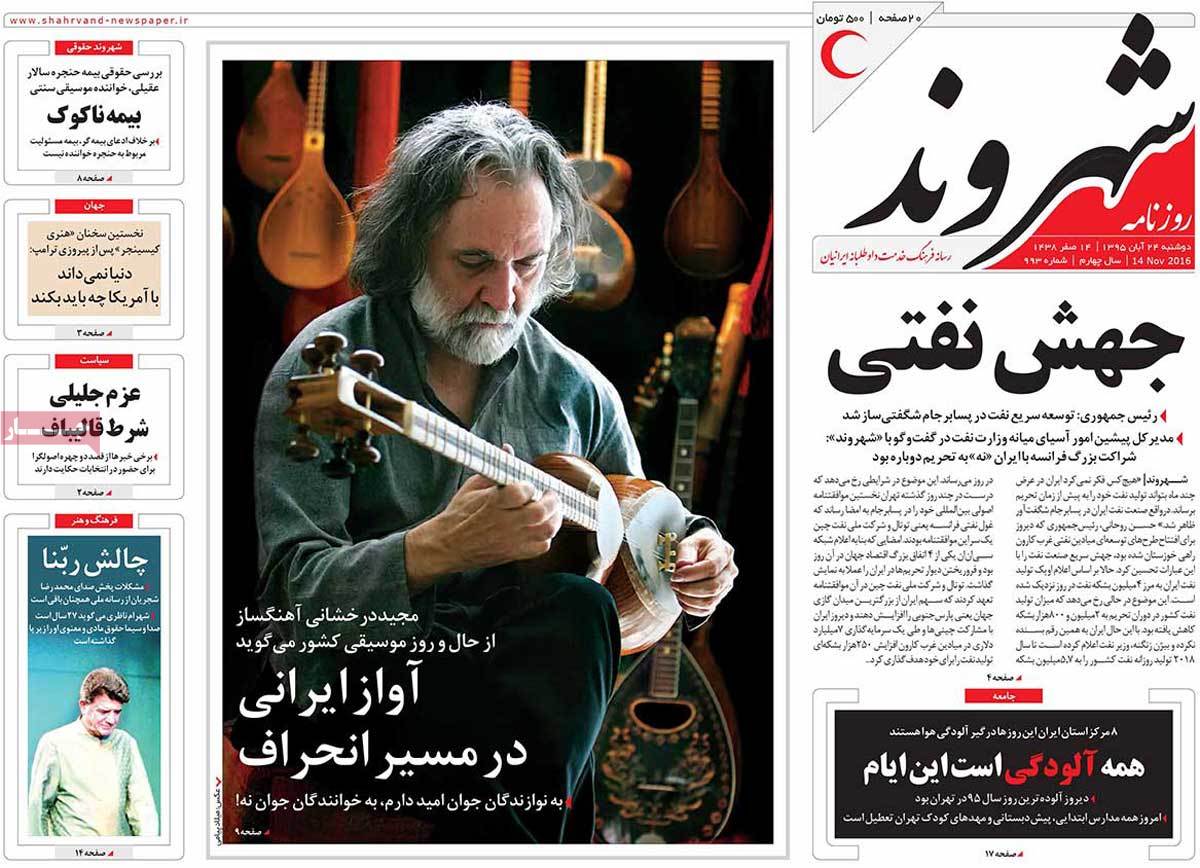 ---
Shakhe-ye Sabz:
1- Rouhani Bids Farewell to Arbaeen Pilgrims
2- NATO Secretary General Warns Trump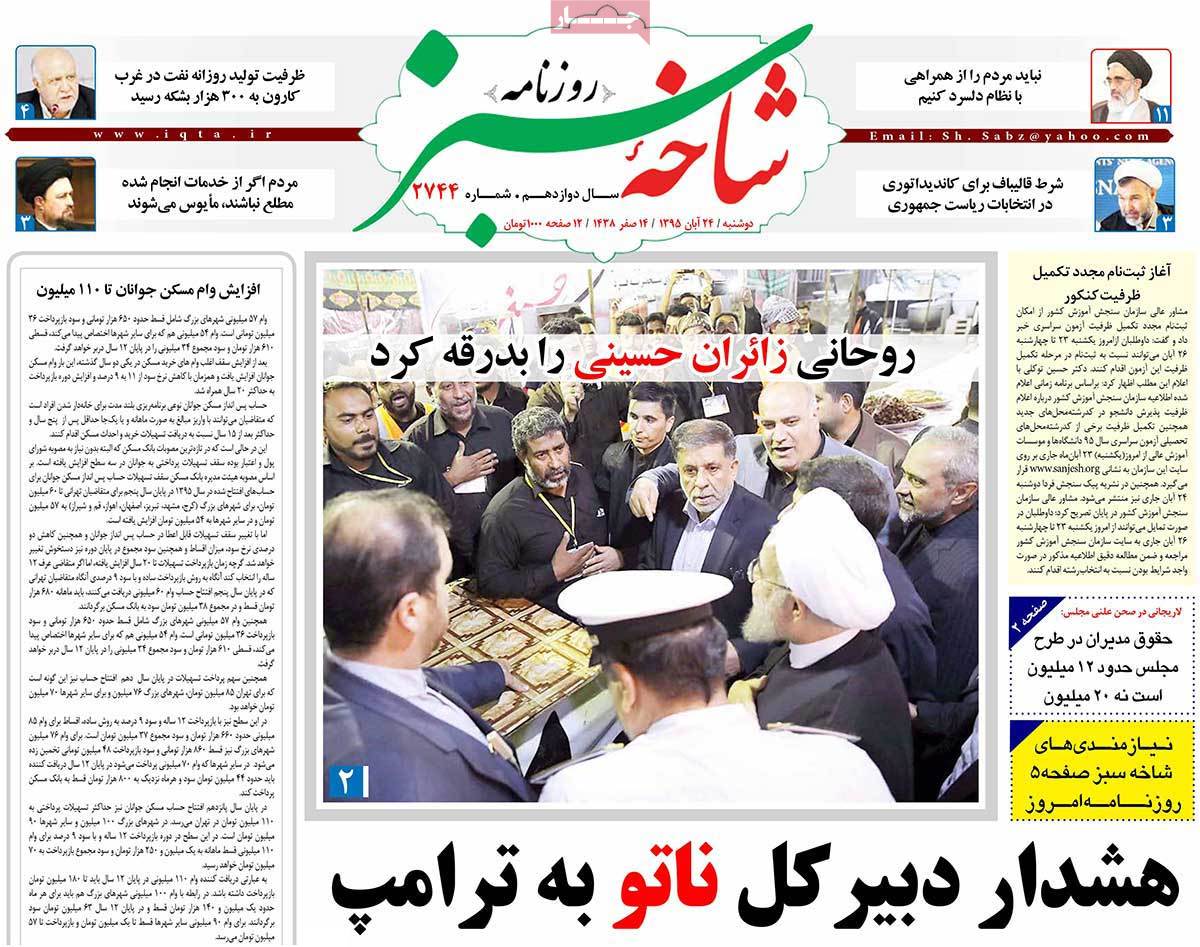 ---
Siasat-e Rooz:
1- Developers of Coloured Revolutions against Trump: Fingerprints of Clinton, Obama, and Soros in US Riots
2- Right to Breathe: People Are Mad at the Officials Who Are Not There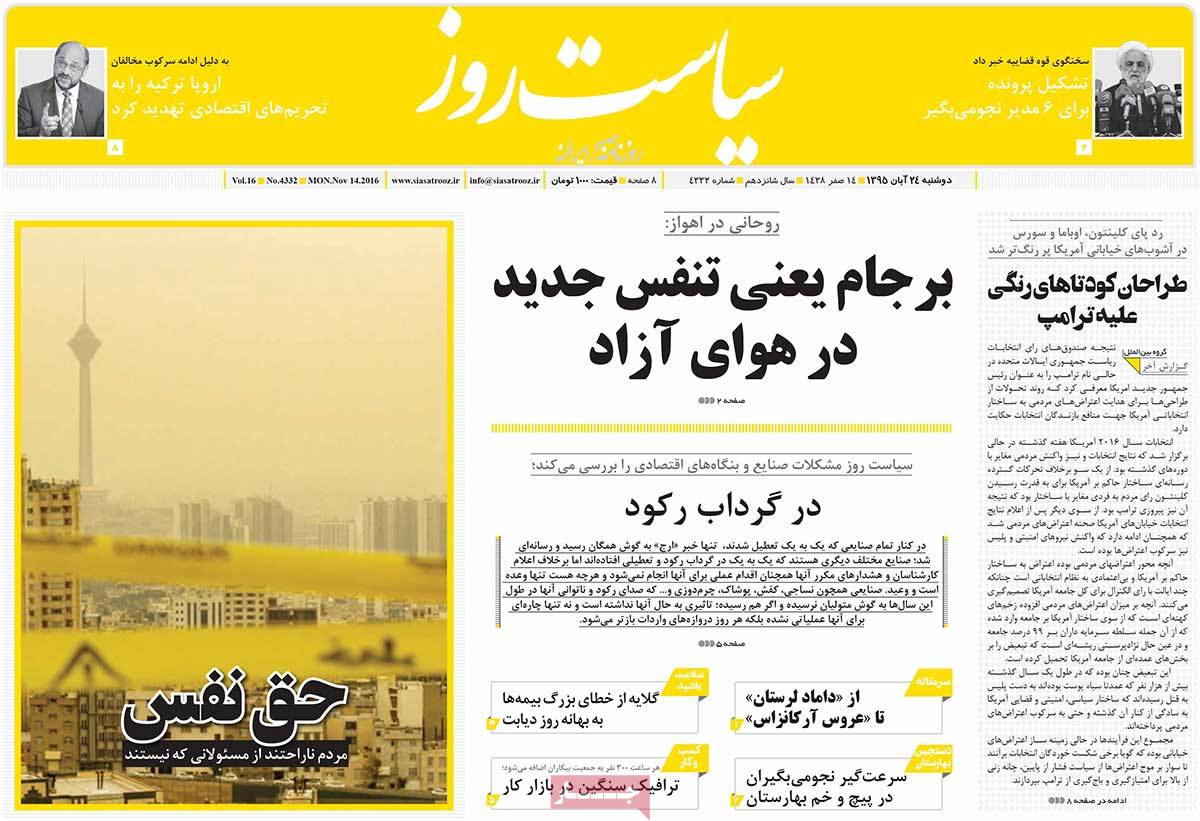 ---
Vaghaye Ettefaghieh:
1- Women in My Films Are Braver than Men: Asghar Farhadi
2- Particles Make Everyone Annoyed