The ongoing riots and demonstrations against the US president-elect Donald Trump in different US cities, and the alleged death of a protester, were widely covered today by Iranian newspapers.
They also continued publishing comments and interviews about Trump's victory in the US elections and the possible consequences and decisions. Trump's decision about the nuclear deal with Iran is the topic of discussion in many news outlets these days.
The highly-polluted air condition in Tehran was also a top story today.
The above issues, as well as many more, are highlighted in the following headlines:
Abrar:
1- Hollande and Trump Agree on JCPOA
2- Saudi Prince: Trump Should Not Scrap Iran Deal
3- Anti-Government Demonstrations in Seoul Urge President to Resign
4- Syrian Officials and ISIS Have Used Chemical Weapons
5- Rouhani in Meeting with Hungarian Parliament Speaker: Tehran-Budapest Cooperation in Nuclear Industry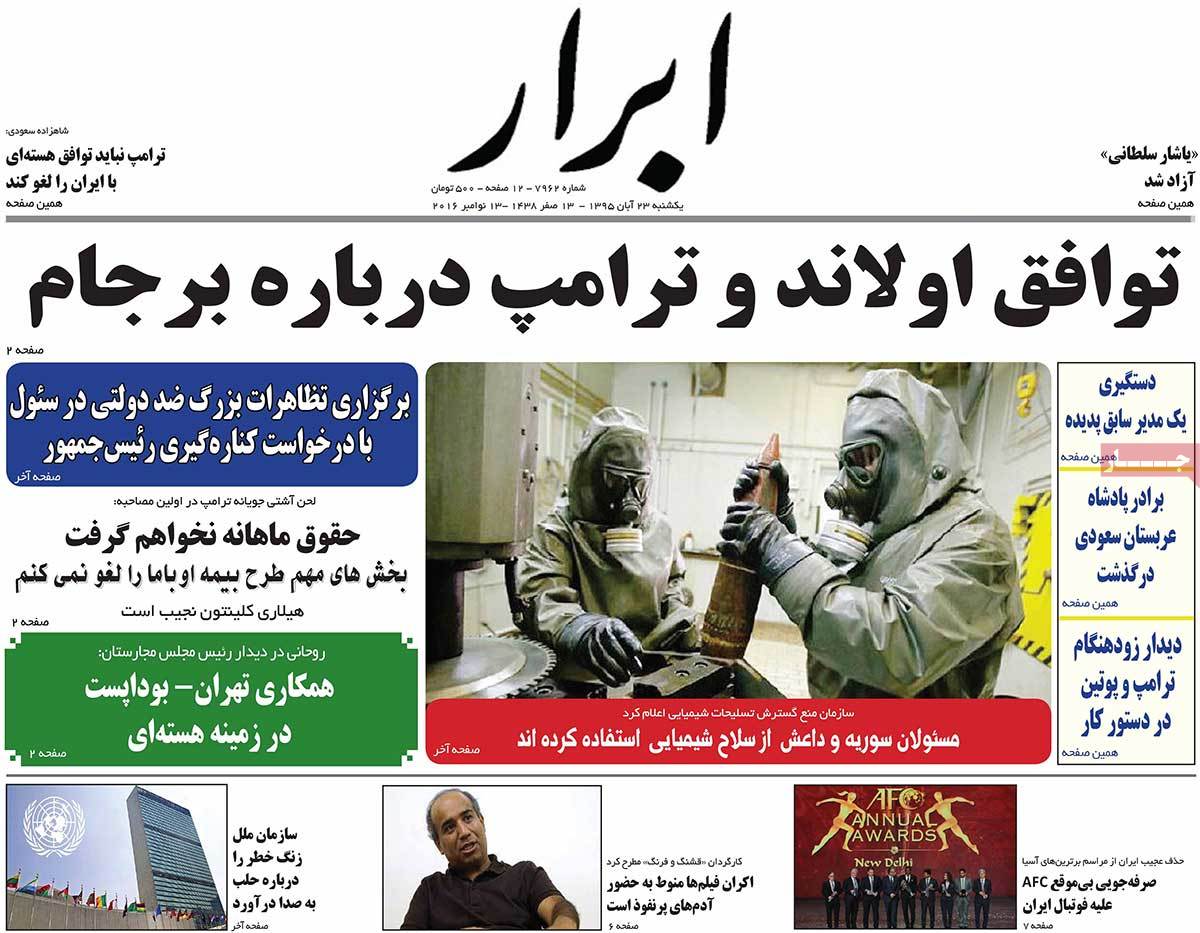 ---
Abrar-e Eqtesadi:
1- Earning Money in Gangsters' Style: Ahmadinejad Decreased Job Opportunities
2- Iranian Car Part Manufacturers Set Conditions for Peugeot and Renault
---
Afarinesh:
1- Trump Will Be Focused on Eradication of ISIS in Syria, Not Overthrow of Assad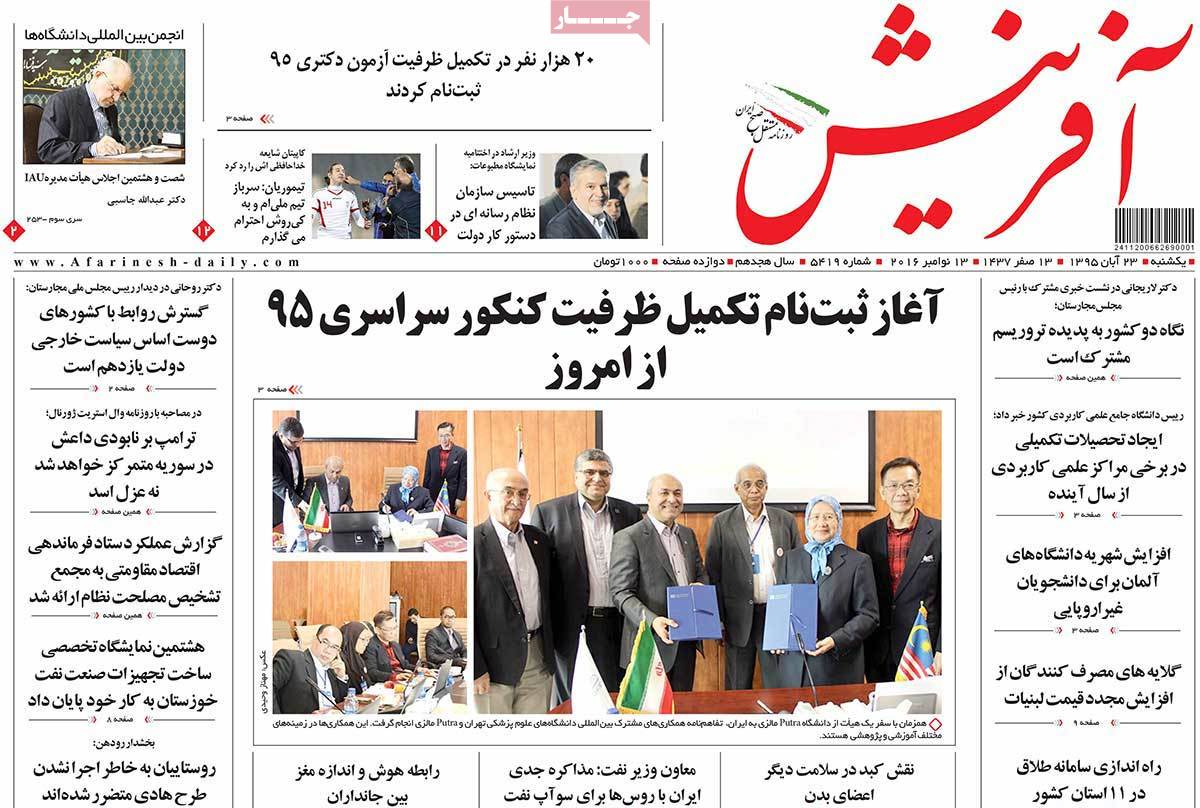 ---
Aftab-e Yazd:
1- People of Tehran Are Living in a Big Workshop; We Value Cars More than Humans: Reformist Figure
2- Expert Says Iran and US May Improve Ties under Trump's Presidency
3- Kayhan Once Again Predicts: Trump Won't Reject JCPOA, Because It's in US Favour!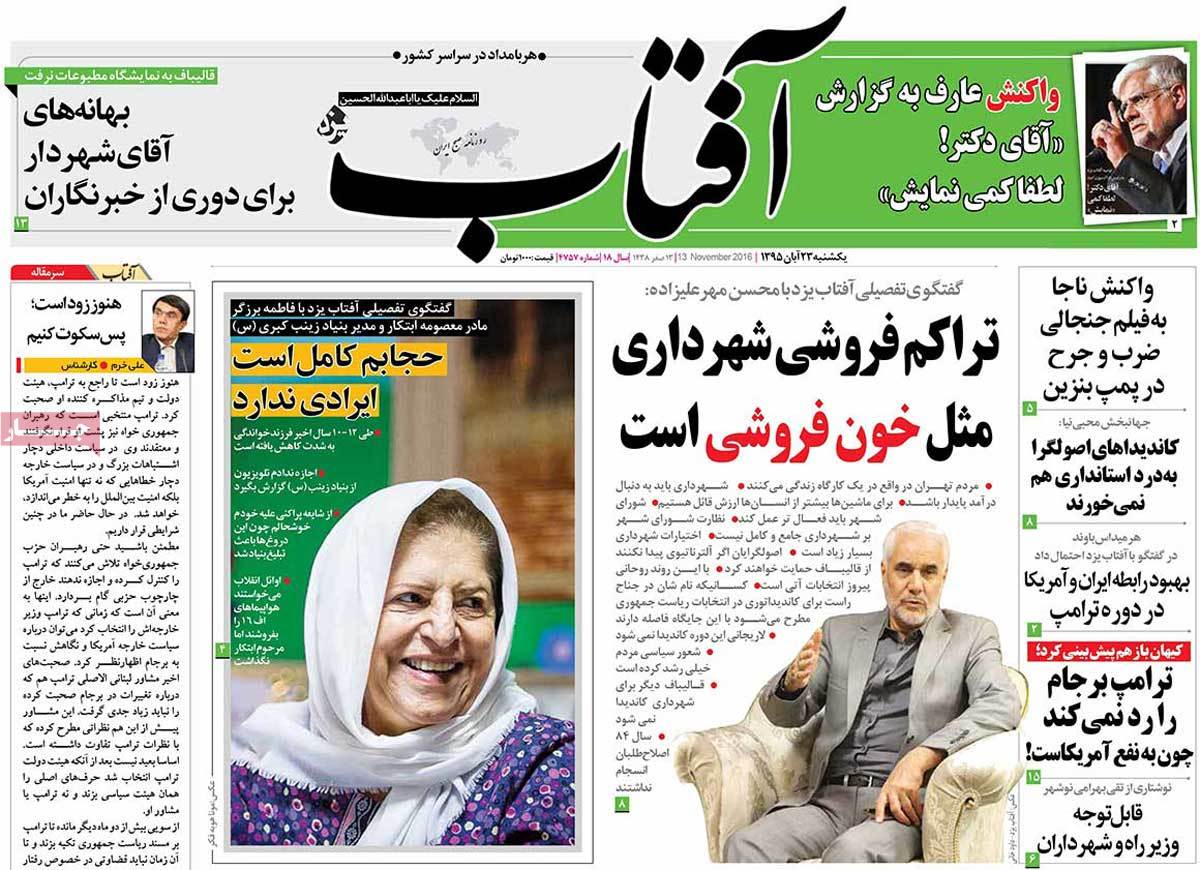 ---
Arman-e Emrooz:
1- Iran's Vice-Speaker Says We Shouldn't Be Afraid of EU's Office in Tehran; If Europe Raises Valid Criticisms, We Should Accept It
2- American Tourists to Visit Iran in a Tour: Ticket to Tehran with US Stamp
3- Export of Abgoosht [Iranian dish] to Germany and Britain!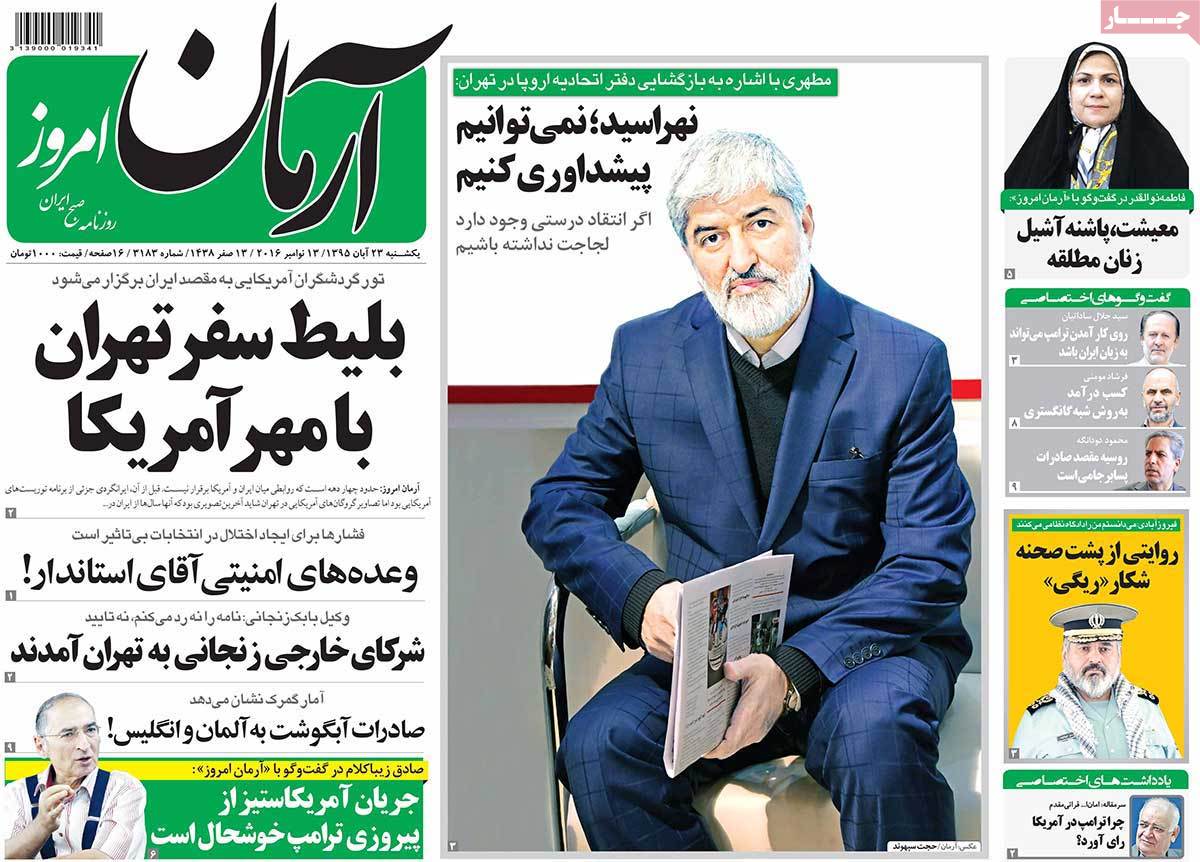 ---
Asrar:
1- Trump: I Won't Receive President's Monthly Salary
2- Science Minister: Iran Probing into Reasons for Removal of 58 Iranian Scientific Articles over Plagiarism
---
Besharat-e Now:
1- UN Secretary General: Scrapping Nuclear Deal Was Trump's Political Rhetoric
2- 6 Million People Die of Smoking Each Year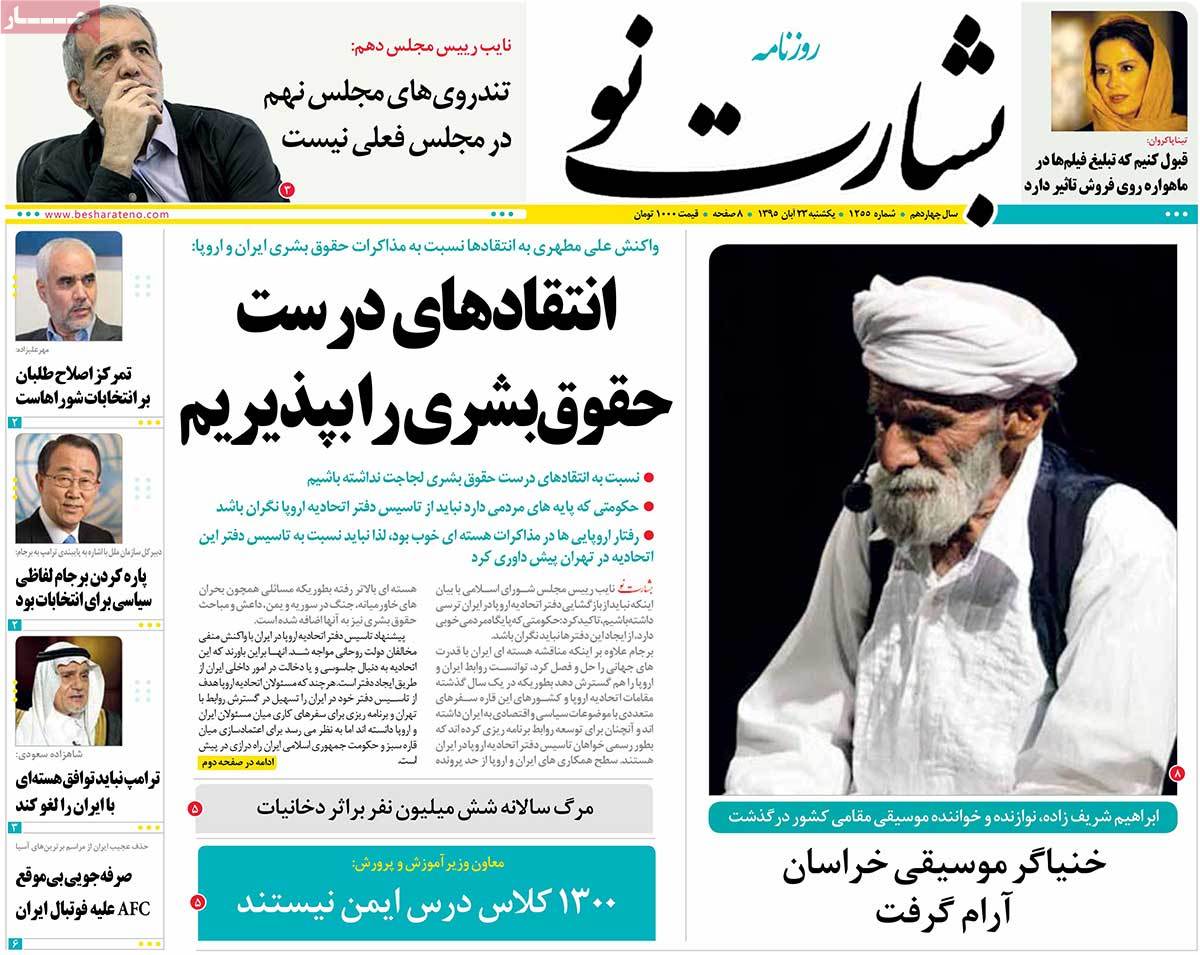 ---
Donya-ye Eqtesad:
1- Double Effect of Trump on Stock Exchange Market
2- Anti-Corruption Demonstrations in Seoul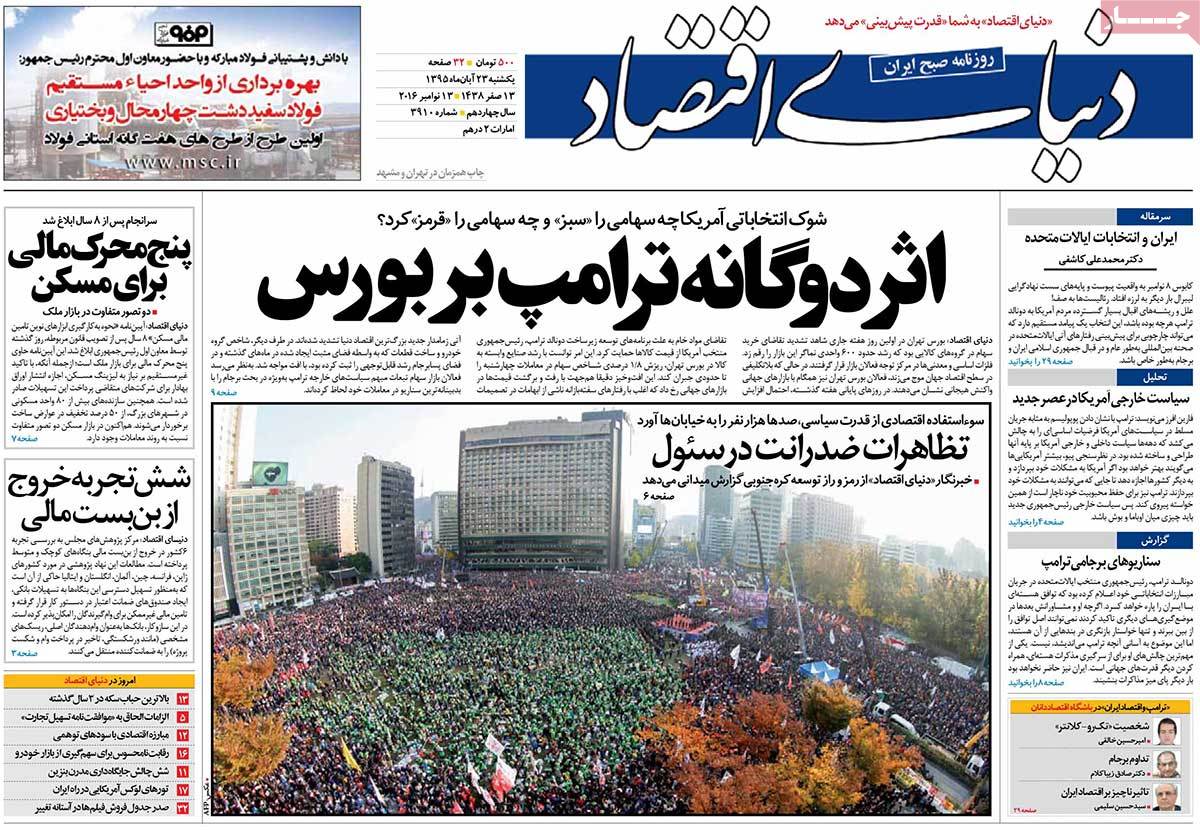 ---
Ebtekar:
1- Rouhani Calls for Expansion of Ties with Friendly States
2- The Lesson We Learn from Trump's Election [Editorial]
---
Etemad:
1- Tehran Becomes Polluted Once Again: Sports Classes in Tehran's Schools Are Cancelled
2- Iranian Reporter Killed in Syria's Aleppo
3- Massive Protests in US
4- Those Who Attacked Saudi Embassy Are Trying to Exonerate Themselves: Governor-General of Tehran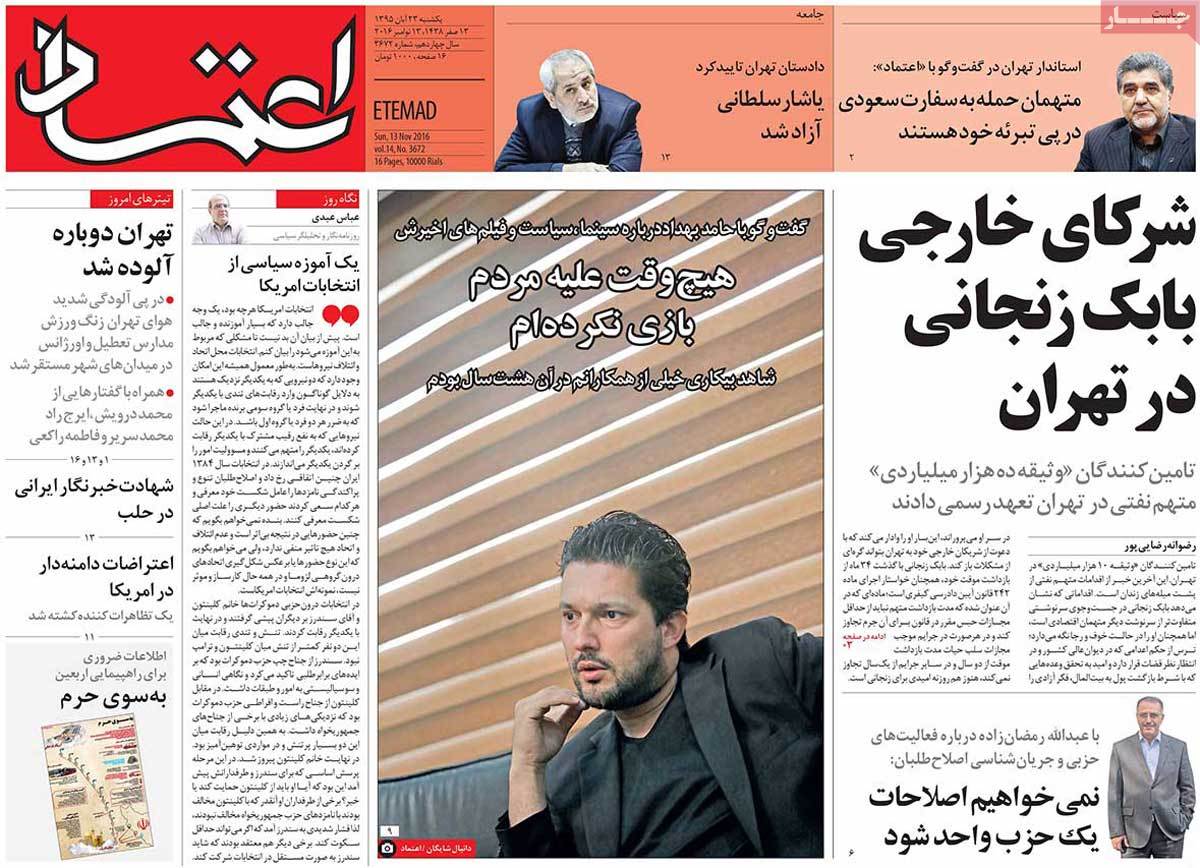 ---
Ettela'at:
1- Senior Chinese and Russian Military Officials in Tehran
2- Taliban's Attack on US Military Base in Afghanistan Kills 4
3- Inauguration of Oilfields in Iran-Iraq Border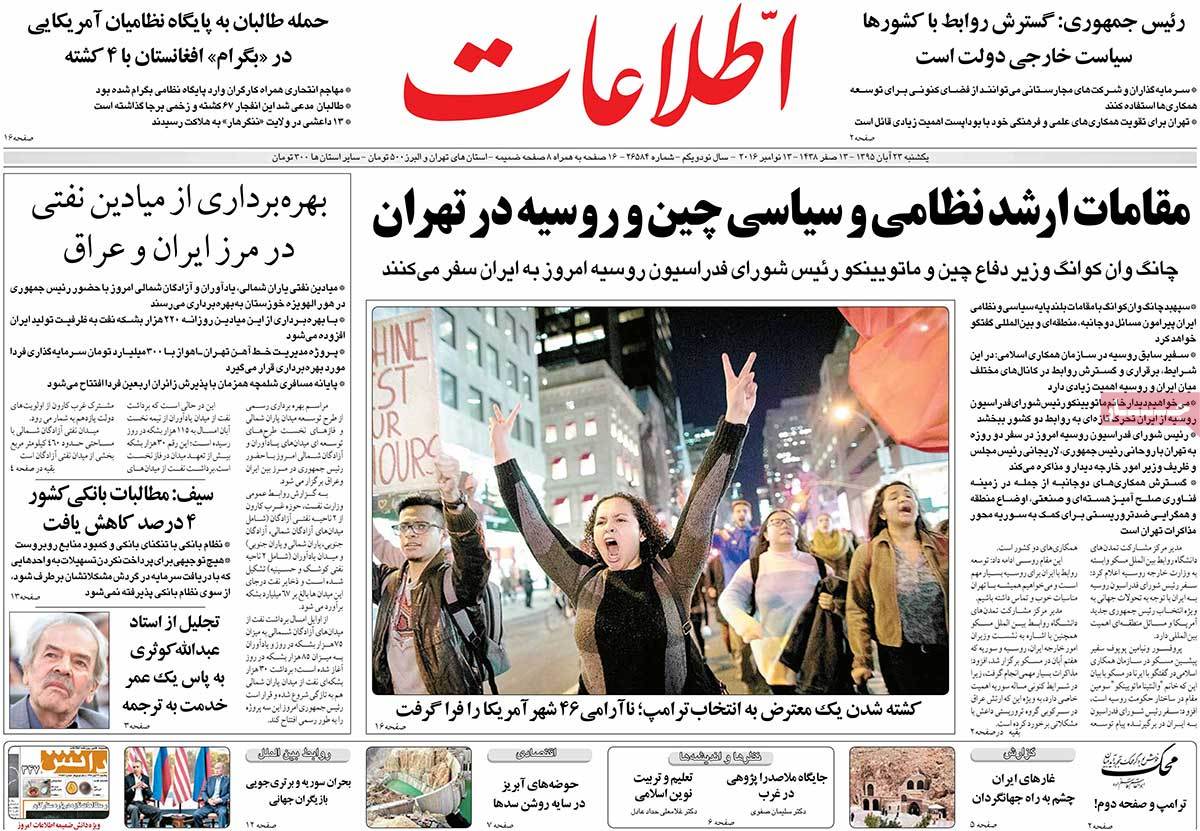 ---
Haft-e Sobh:
1- Three Ideas for Iran after Trump: Will Iran Move towards Europe?
2- Handsome Vikings Challenge Porsche in Iran: Best-Selling Volvos in Iran
---
Iran:
1- UN's Support for JCPOA
2- Trump's Shadow Expelled from Iranian Markets: Conditions in Gold and Stock Exchange Markets Become Normal
3- Beginning of National 'Book Week' in Iran's Neyshabour
---
Jame Jam:
1- Increased Protests Leaves 1 Dead in US
2- Localisation, the Missing Part of New Car Contracts
---
Javan:
1- A Report on Strange Goods Imported to Iran after Nuclear Talks: Hundreds of Tons of Pins, Cat Litter, Gravestone, Animal's Blood in Recent Two Years
2- First Blood: US Police Kills a Protester in Portland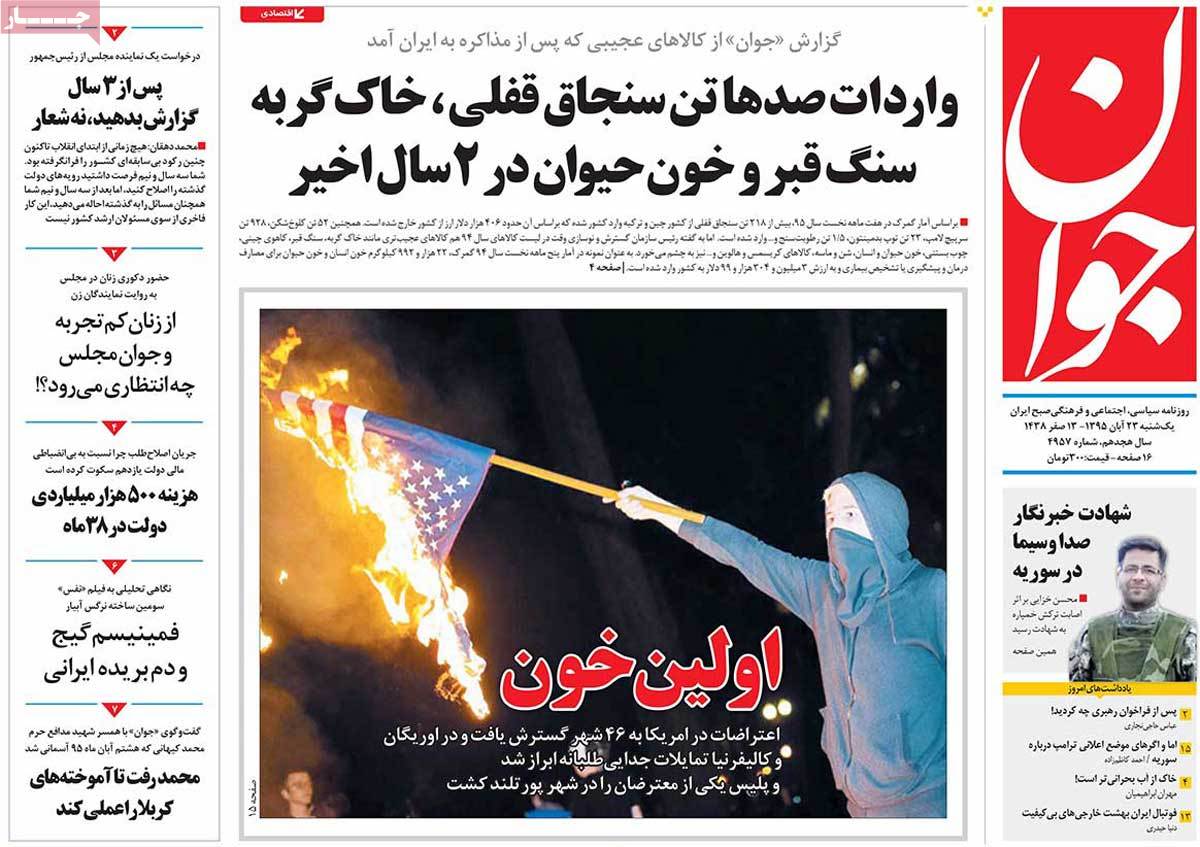 ---
Jomhouri Eslami:
1- Britain Opens Huge Military Base in Bahrain
2- Opponents of Trump Hold Protest Rallies in 46 American Megacities
3- 16,000 Production and Industrial Units Revived in Iran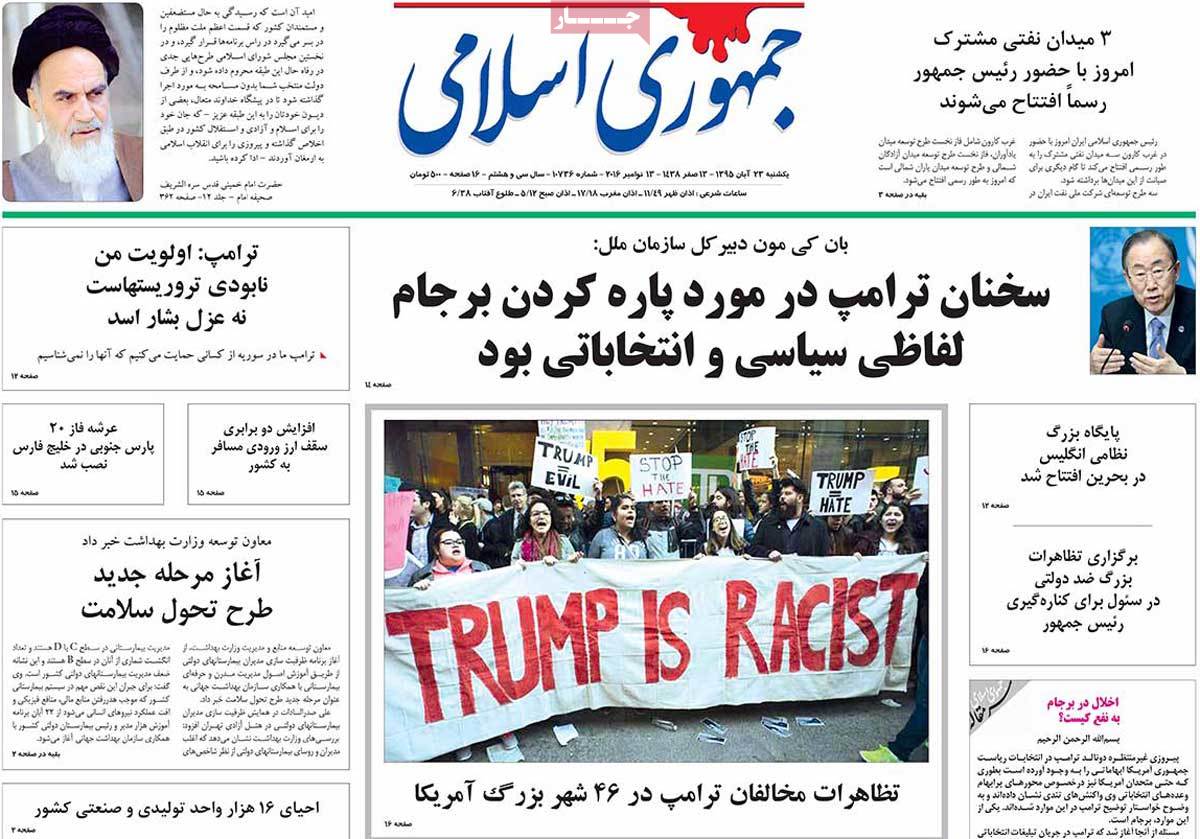 ---
Kayhan:
1- Riot and Chaos Becomes Nationwide in US
2- Rouhani's Government Wealthier than Previous Administration
3- US Jet Fighters Massacre Residents of 2 Villages North of Raqqa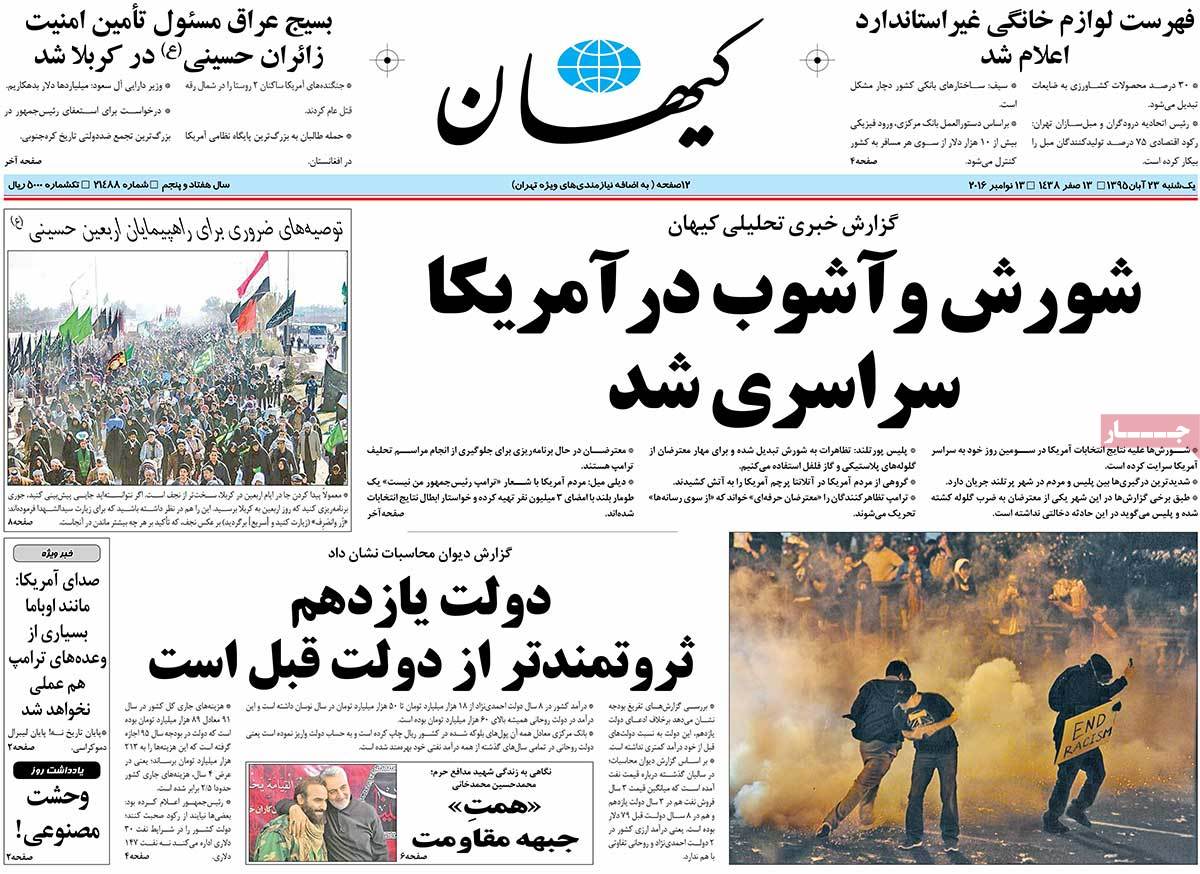 ---
Khorasan:
1- Deputy Oil Minister: Trump Won't Have Any Impact on Iran's Oil Industry; $130bn Oil Talks
2- End of Washington's Double Policies in Syria: Trump Says His Focus Will Be on Eradication of ISIS
3- Wave of Arbaeen Pilgrims in Mehran Border Point
---
Payam-e Zaman:
1- 3 Joint Oilfields to Be Inaugurated by President
2- Warning about Increase of Air Pollutants
---
Resalat:
1- CNN: US Flag Set on Fire in Atlanta
2- Iran Leader's Advisor: JCPOA Proved Americans Are Lying
3- New Claim by Trump's Election Team: JCPOA Won't Be Scrapped, It'll Be Changed!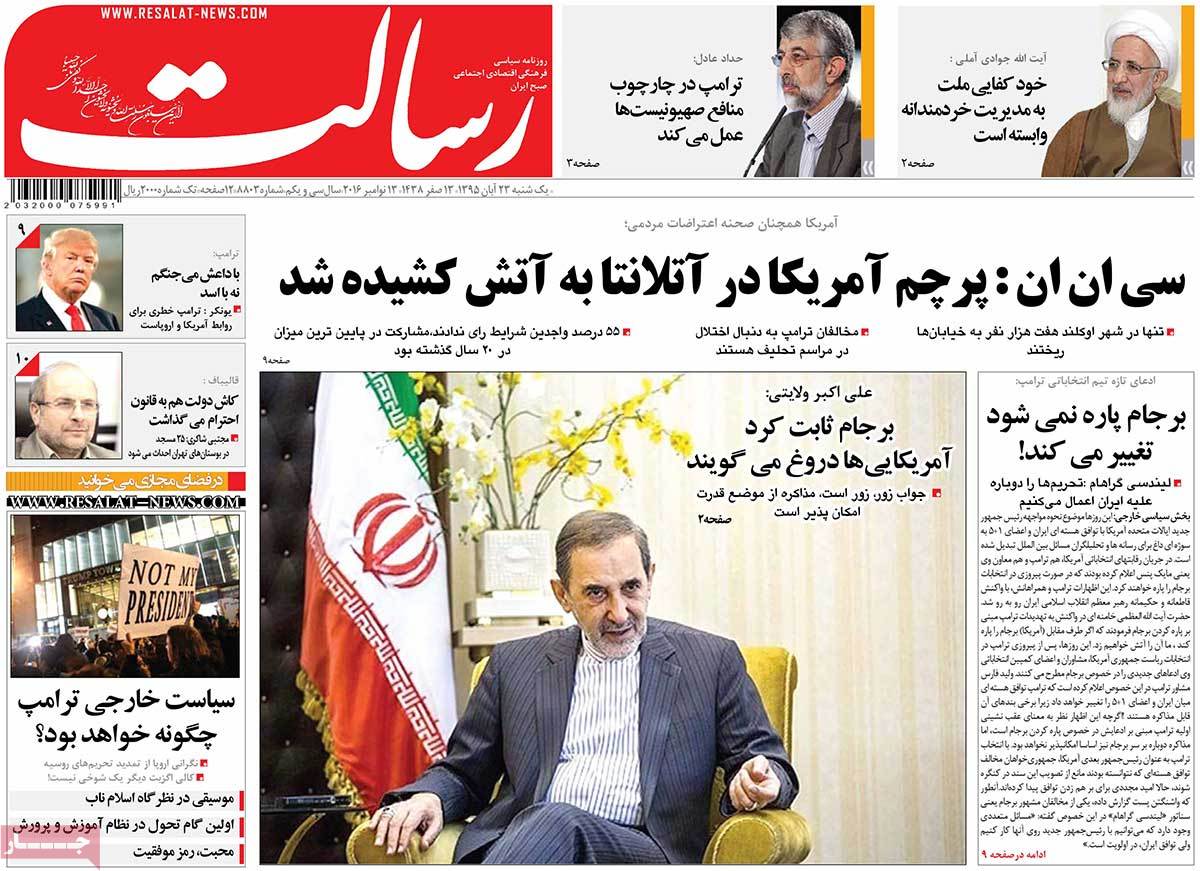 ---
Rooyesh-e Mellat:
1- 11 Arab Countries Write Anti-Iran Letter to UN
2- Street War Starts in Eastern Mosul, Iraq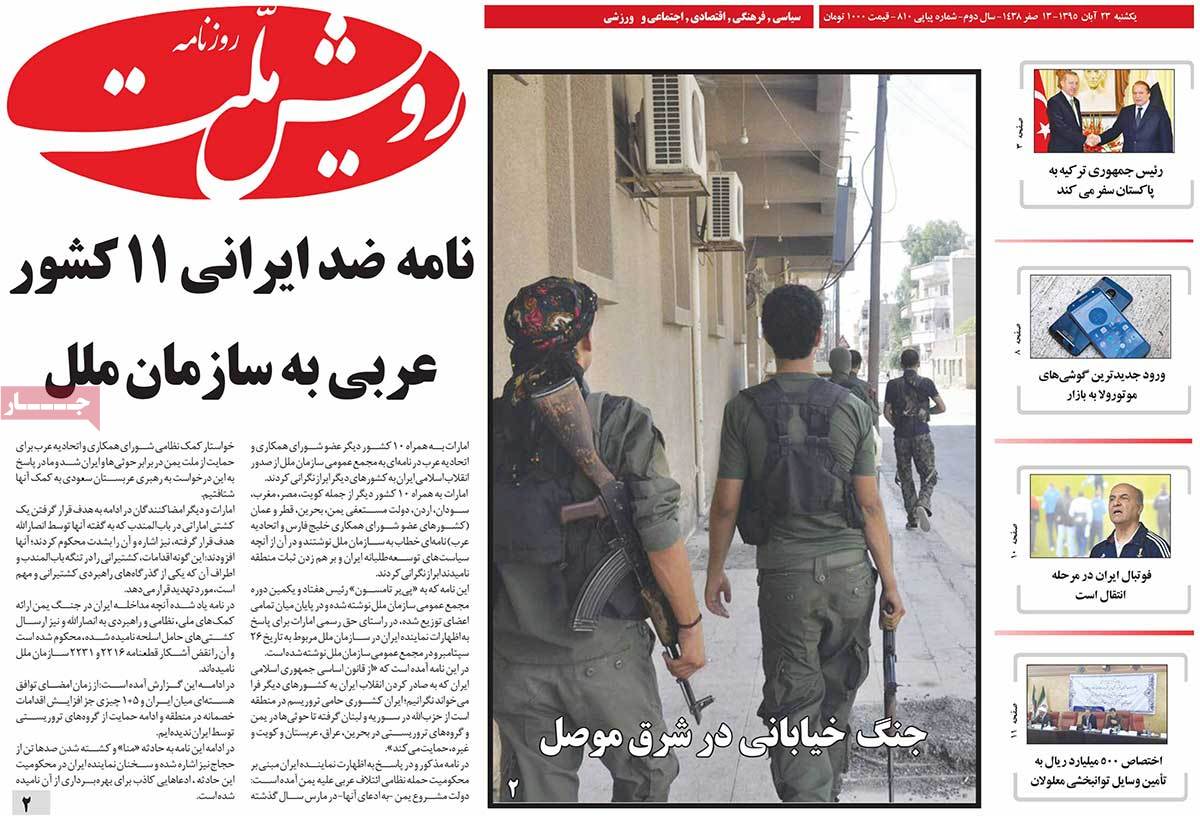 ---
Setareh Sobh:
1- Tehran's Air in Emergency Condition!
2- Anti-Trump Protestors on the Streets
3- Former Iranian Diplomat: I'm Worried about Next US Treasury Secretary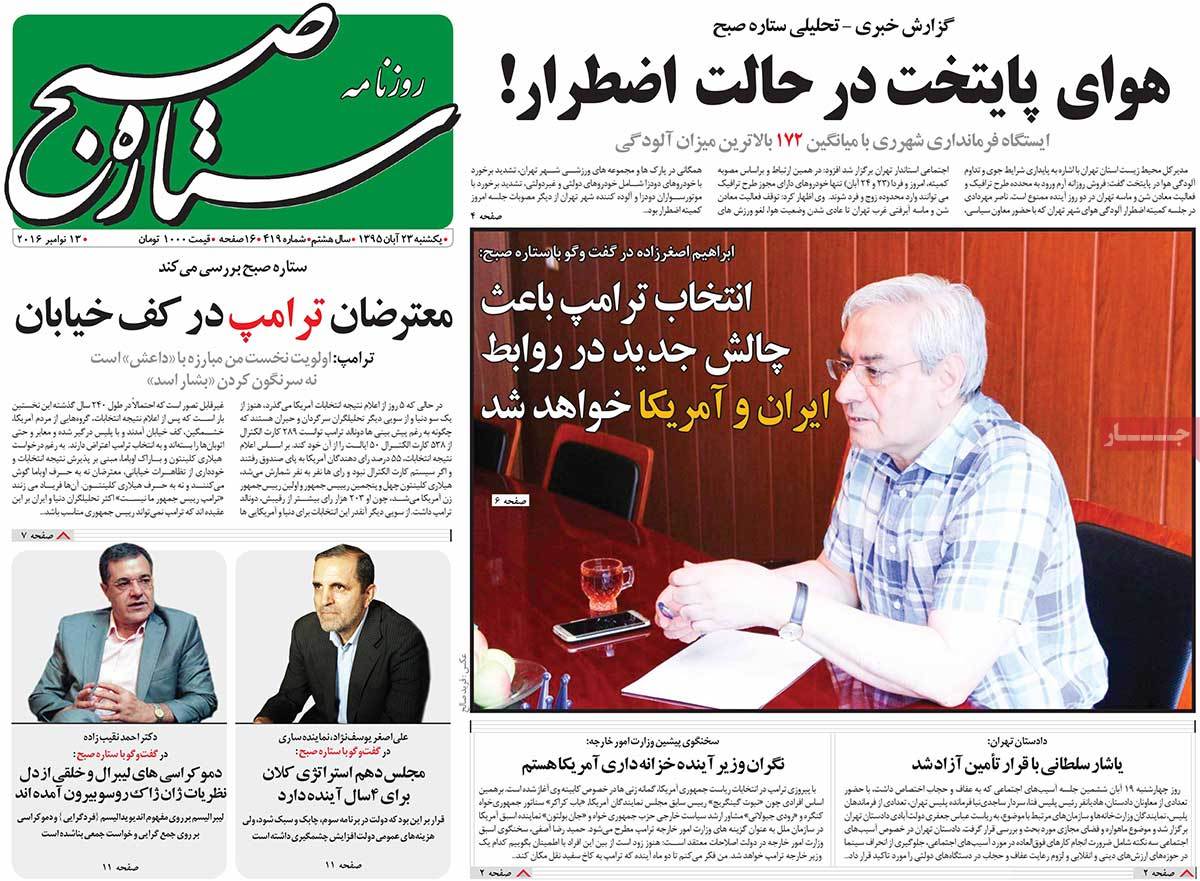 ---
Shargh:
1- Can Women Be 'Statesmen'? Experts Discuss the Definition of 'Political Statesman' in Iran's Constitution
2- Another Iranian Boat Captured by Pirates
3- Trump's Oil Confusion: Interview with Iranian Oil Ministry Official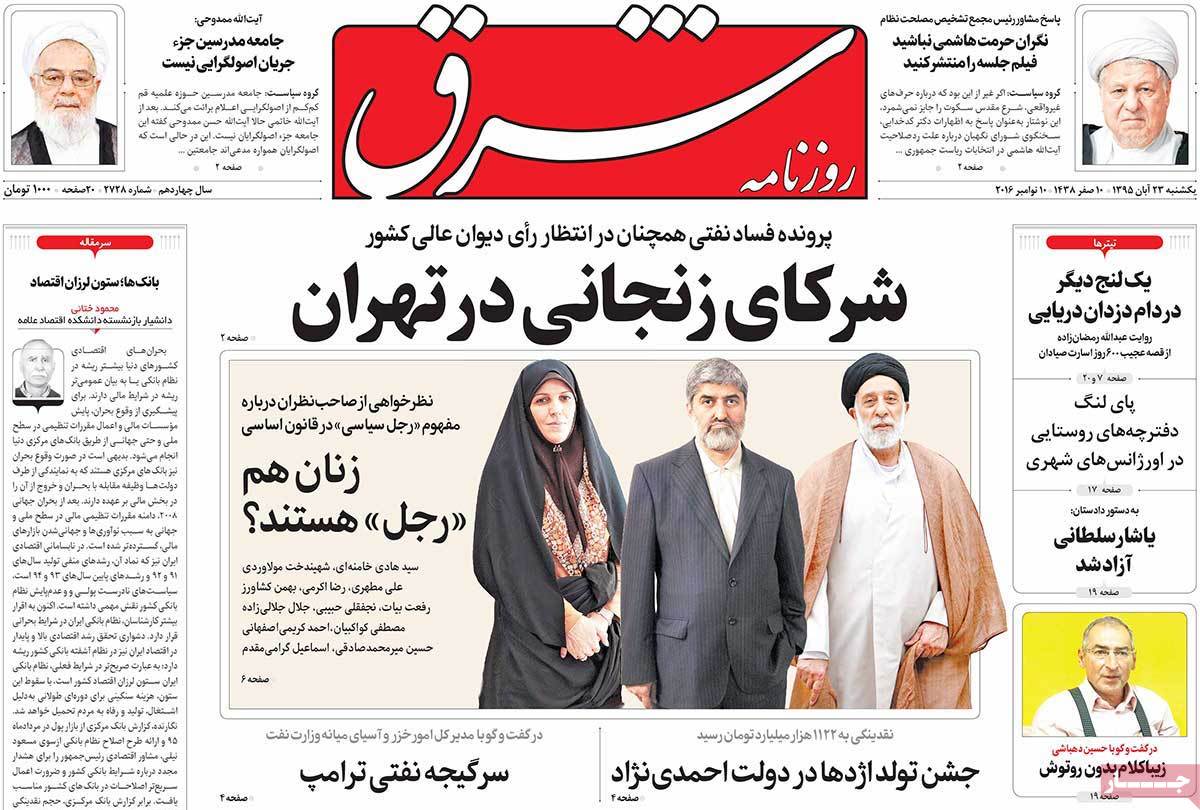 ---
Sobh-e Now:
1- Inversion Stops Tehran from Breathing
2- US: Violence, Civil War, or Revolution? Trump and New US Order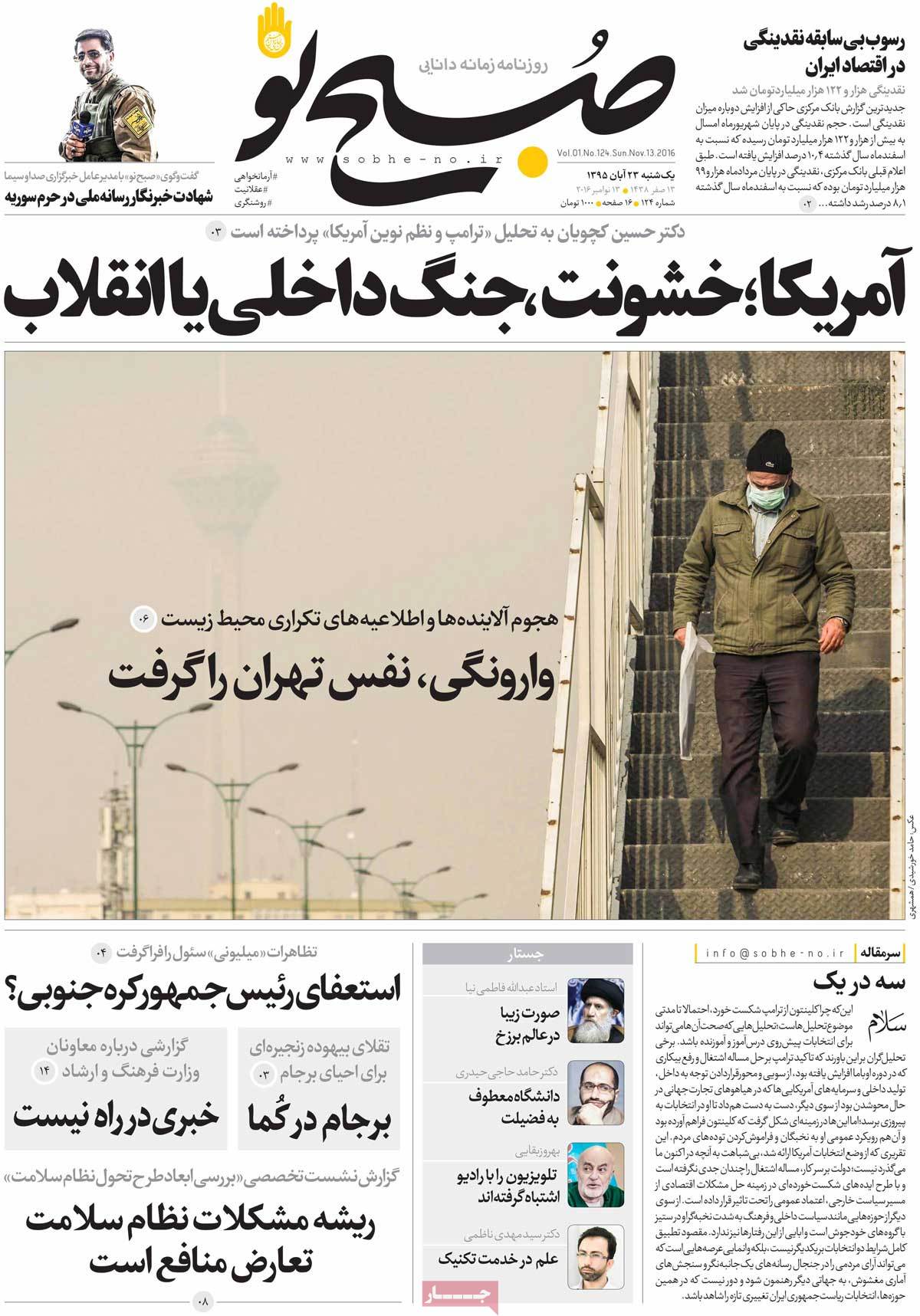 ---
Vaghaye Ettefaghieh:
1- Emergency Dinner for JCPOA
2- Destruction of 10 Historical Houses in Shiraz on Pretext of Handicrafts Bazaar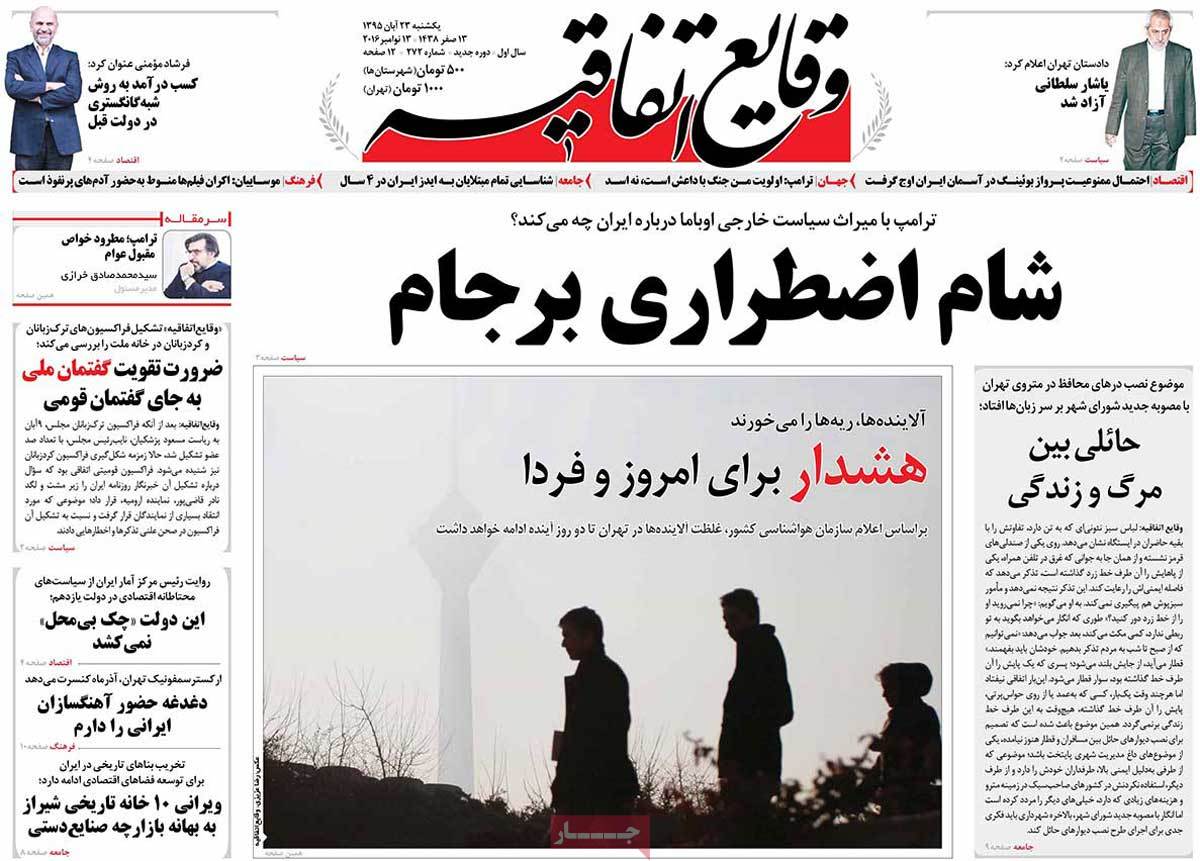 ---
Vatan-e Emrooz:
1- Why Nothing Happens? Unhealthy Air Conditions in Capital City
2- Crisis in Both Sides of Atlantic Ocean