The strong earthquake that hit Iran-Iraq border was a top story in several Iranian newspapers today. Since the magnitude 7.3 quake took place late on Sunday night, only a number of papers managed to include the deadly incident in their front pages.
Many papers also covered French President Emmanuel Macron's visit to Saudi Arabia and his plan to save Riyadh from the quagmire of Lebanon, as termed by Iranian media.
Lebanese Prime Minister Saad Hariri's televised interview, which was aired from Saudi Arabia on Sunday night, also received great coverage today.
The above issues, as well as many more, are highlighted in the following headlines and top stories:
Abrar:
1- France's Solution for Saudi Arabia: Temporary Transfer of Hariri to Paris
2- Trump: Accusation of Interfering in US Elections an Insult to Putin!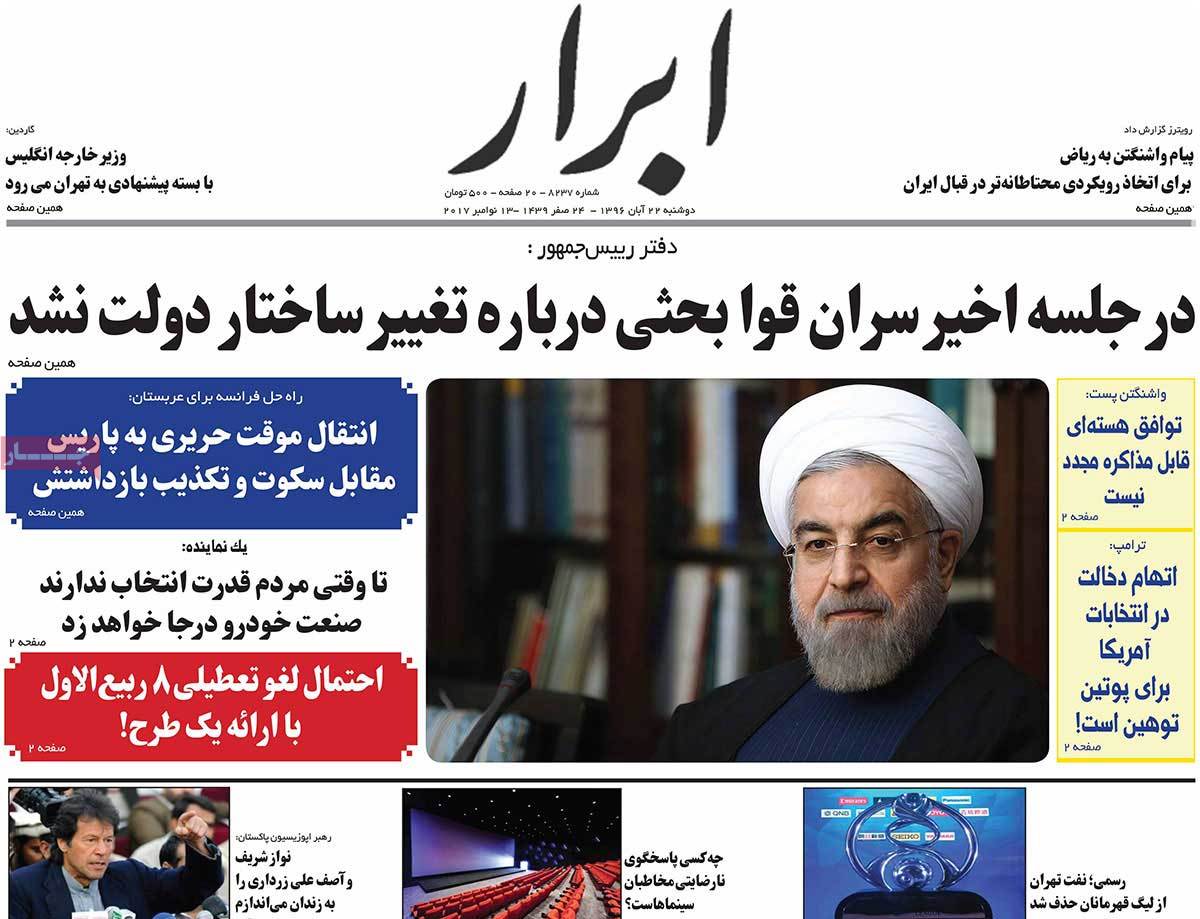 ---
Abrar-e Eqtesadi:
1- MP Criticizes Gov't for Its Excessive Role in Iranian Economy
---
Arman-e Emrooz:
1- 15 Iranian Provinces Jolted: Magnitude 7.3 Quake in Kermanshah
2- Sources Close to Lebanese PM: Saudi Arabia Angry at Hariri's Compromise with Hezbollah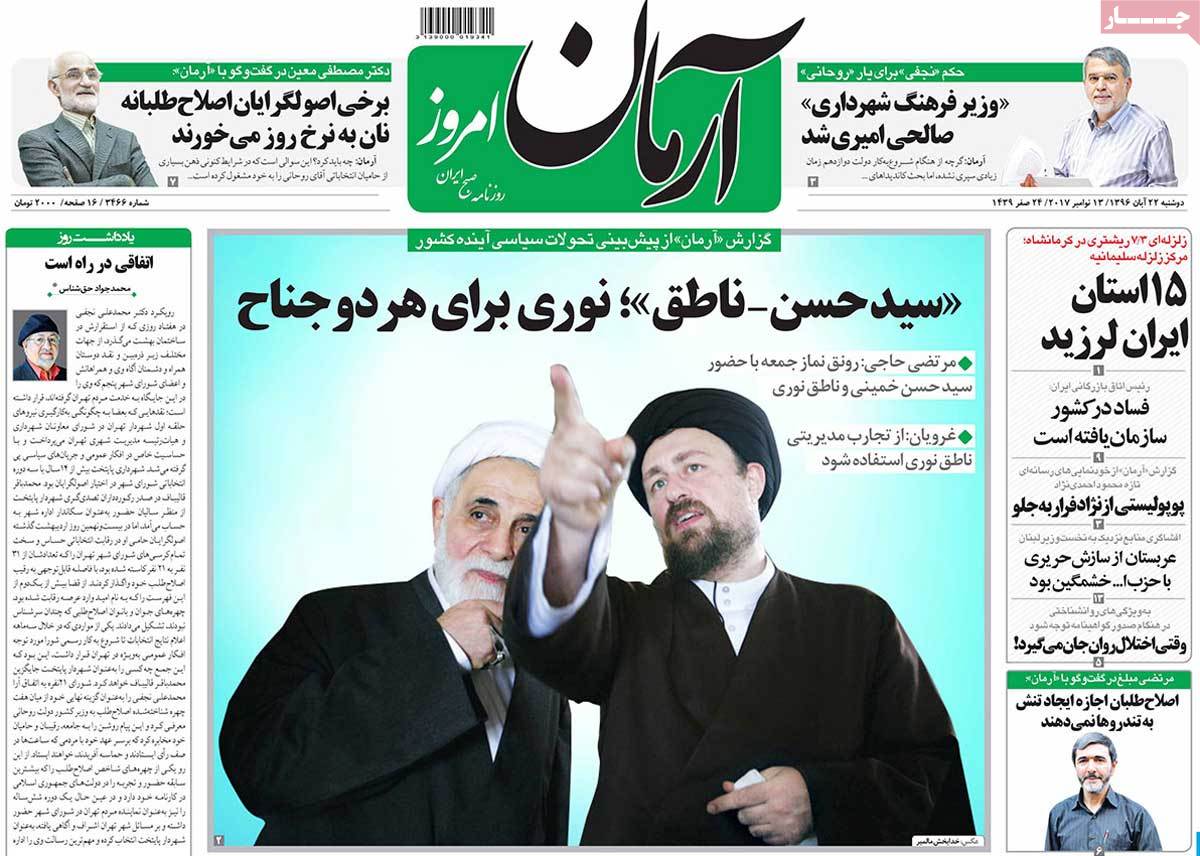 ---
Ebtekar:
1- Lebanon, Hariri Fifth Nightmare of Bin Salman
2- Iran Nuclear Chief Warns World Powers Will Be Stunned If Violate JCPOA
---
Etemad:
1- Big Quake: 180 Million People Felt Magnitude 7.2 Earthquake in Iraq's Sulaymaniyah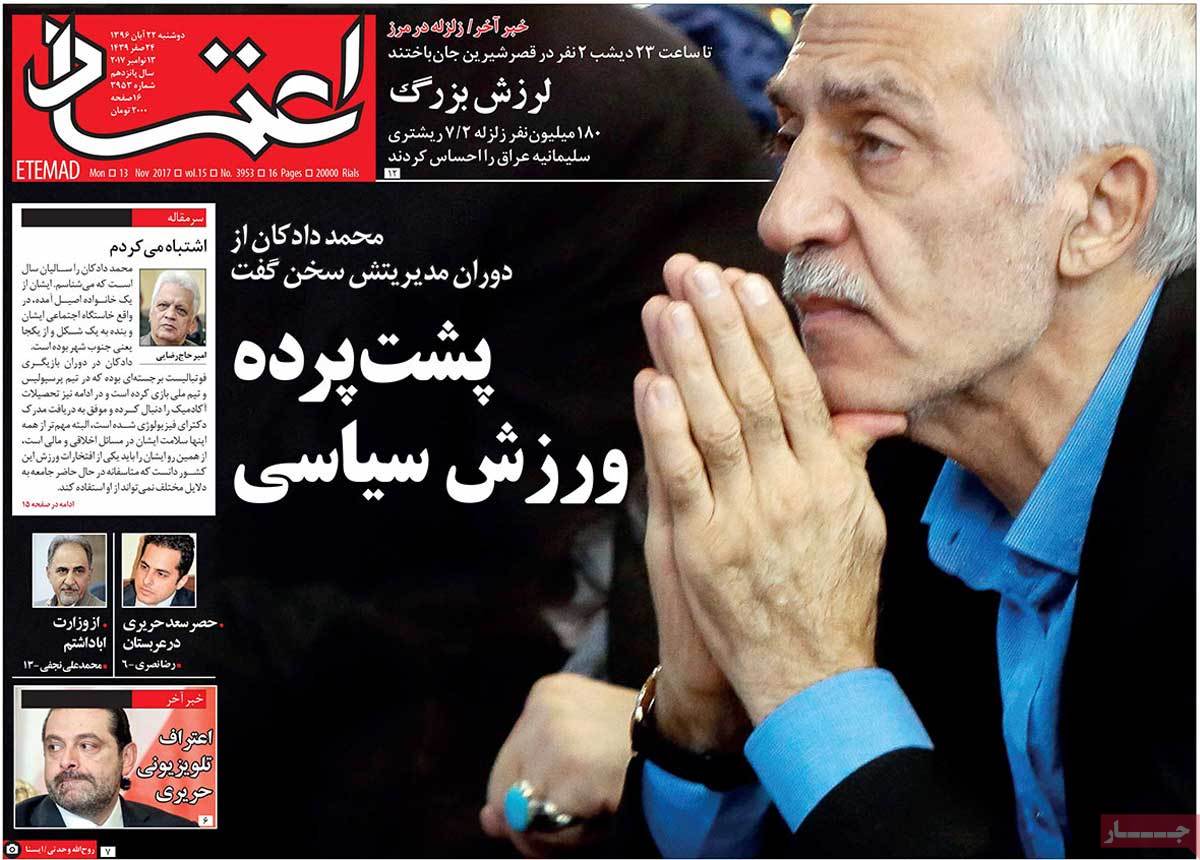 ---
Ettela'at:
1- ISIS at End Point in Iraq: Iraqi Forces Arrive in Syrian Borders
2- UN: War Has Killed Parents of One Million Syrian Kids
3- Larijani Calls for Expedition of Foreign Investment Attraction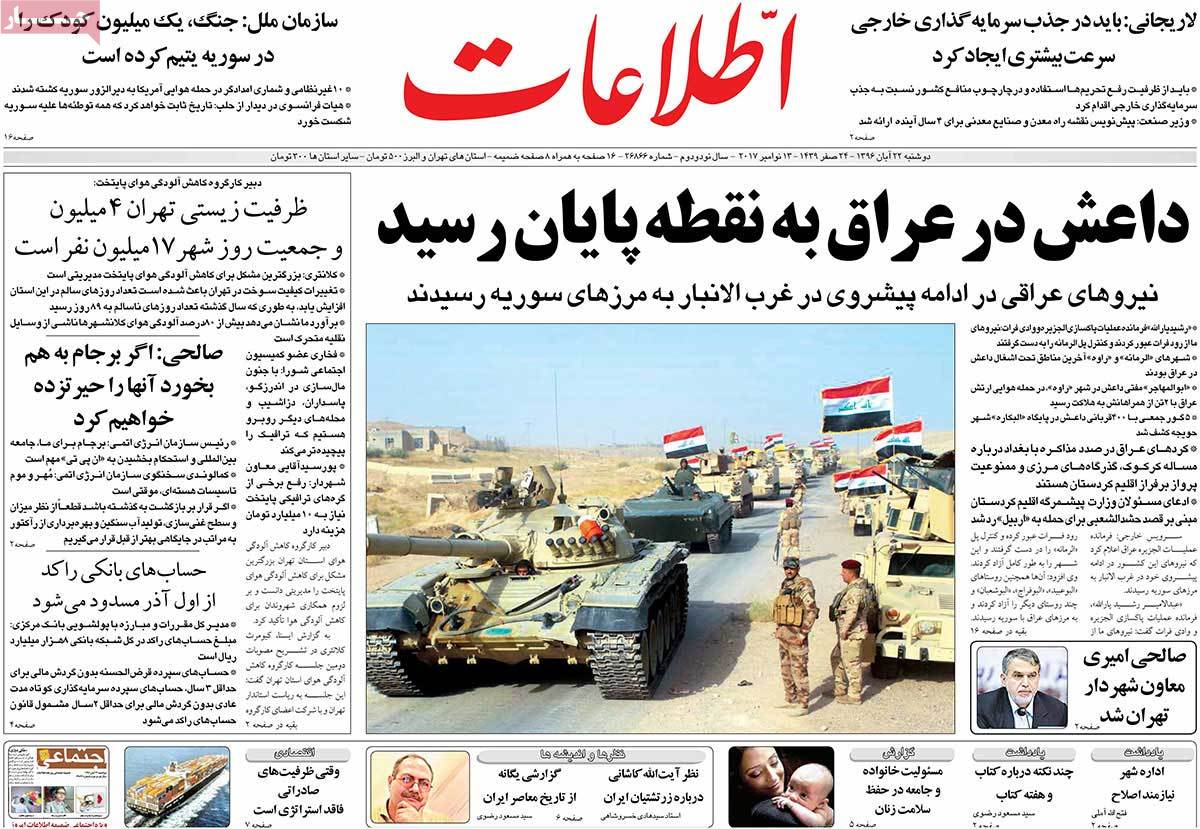 ---
Farhikhtegan:
1- Myth of Seoul: Shareholders of Major Korean Companies Are Foreigners
2- Saudi Arabia's Measures in Favour of Hezbollah, Iran: Analyst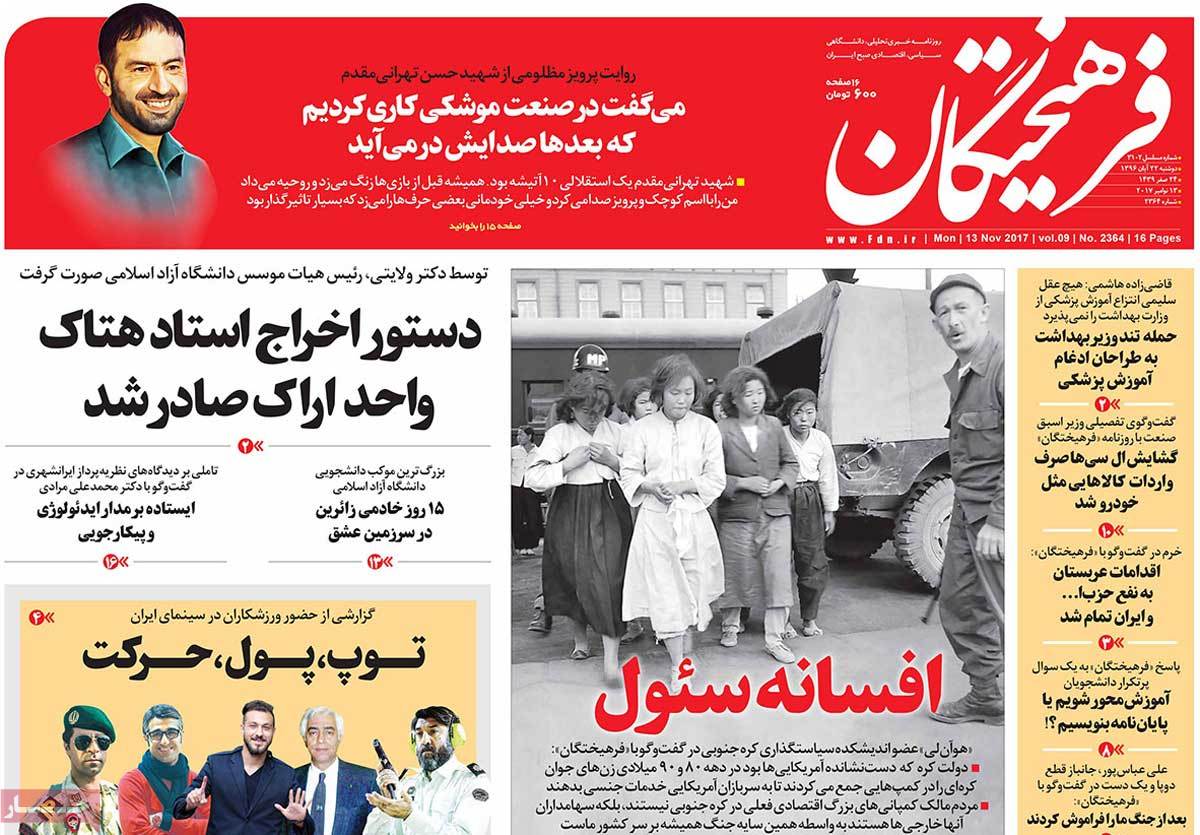 ---
Iran:
1- Saudi Arabia under Global Pressure
Int'l Follow-up on Hariri's Situation in Riyadh
2- Sunni Woman Appointed Village Chief in North Khorasan Province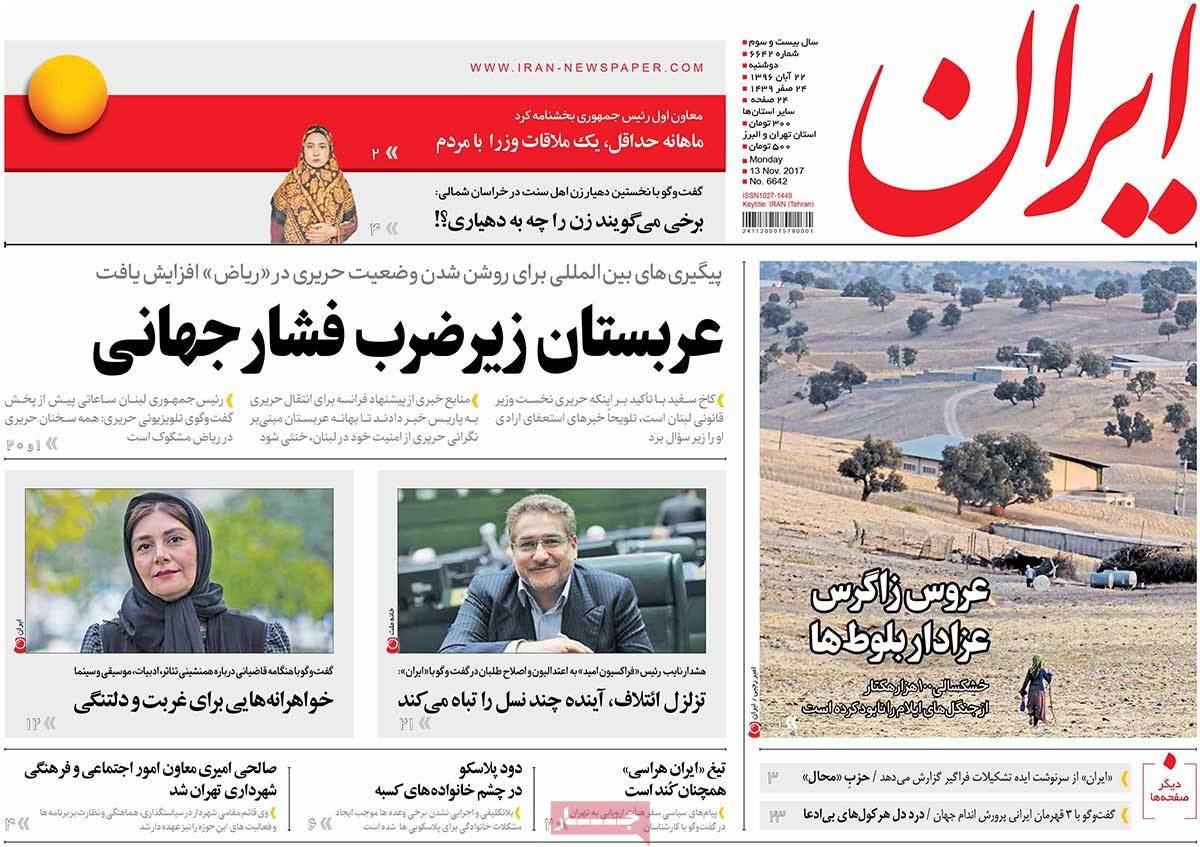 ---
Jame'eh Farda:
1- Oil Price Expected to Rise in Future
Tension in Mideast, Surge in Oil Price, Budget Crisis
2- Big Earthquake in Iran-Iraq Border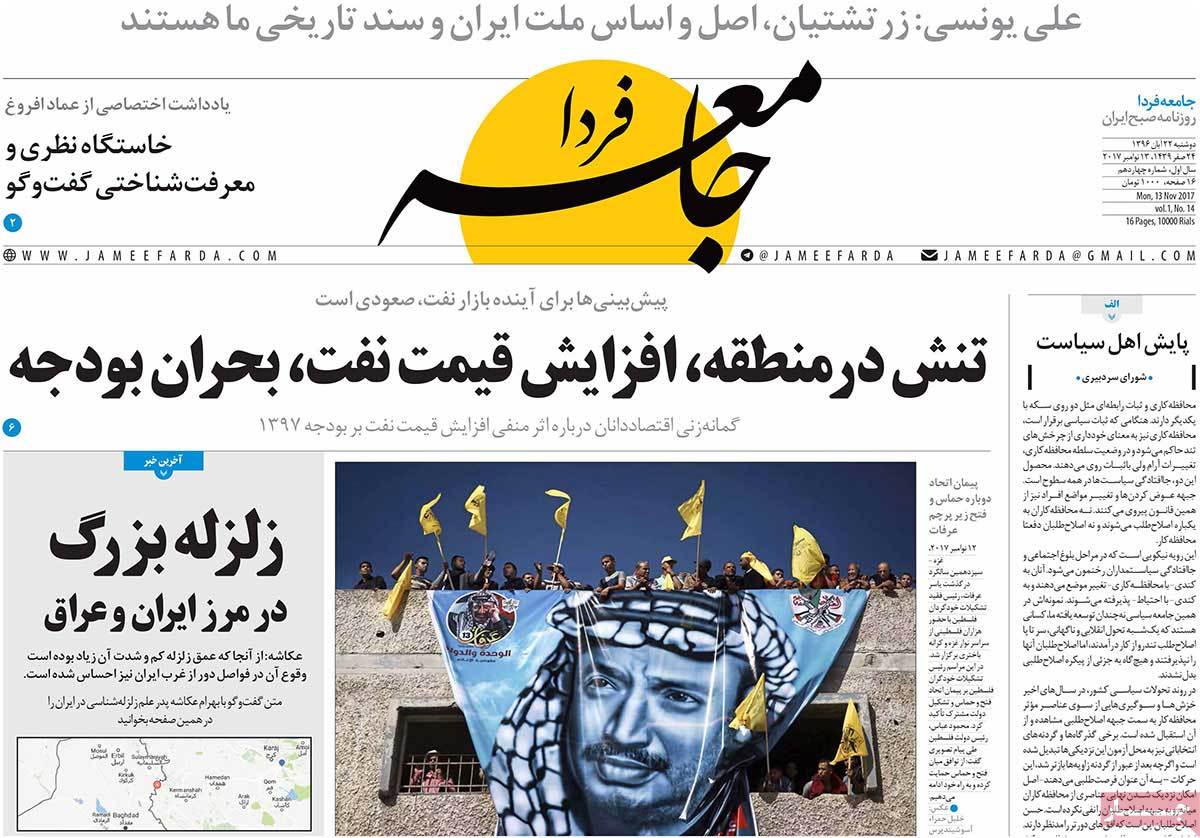 ---
Javan:
1- French Plan to Save Saudi Arabia from Lebanon Quagmire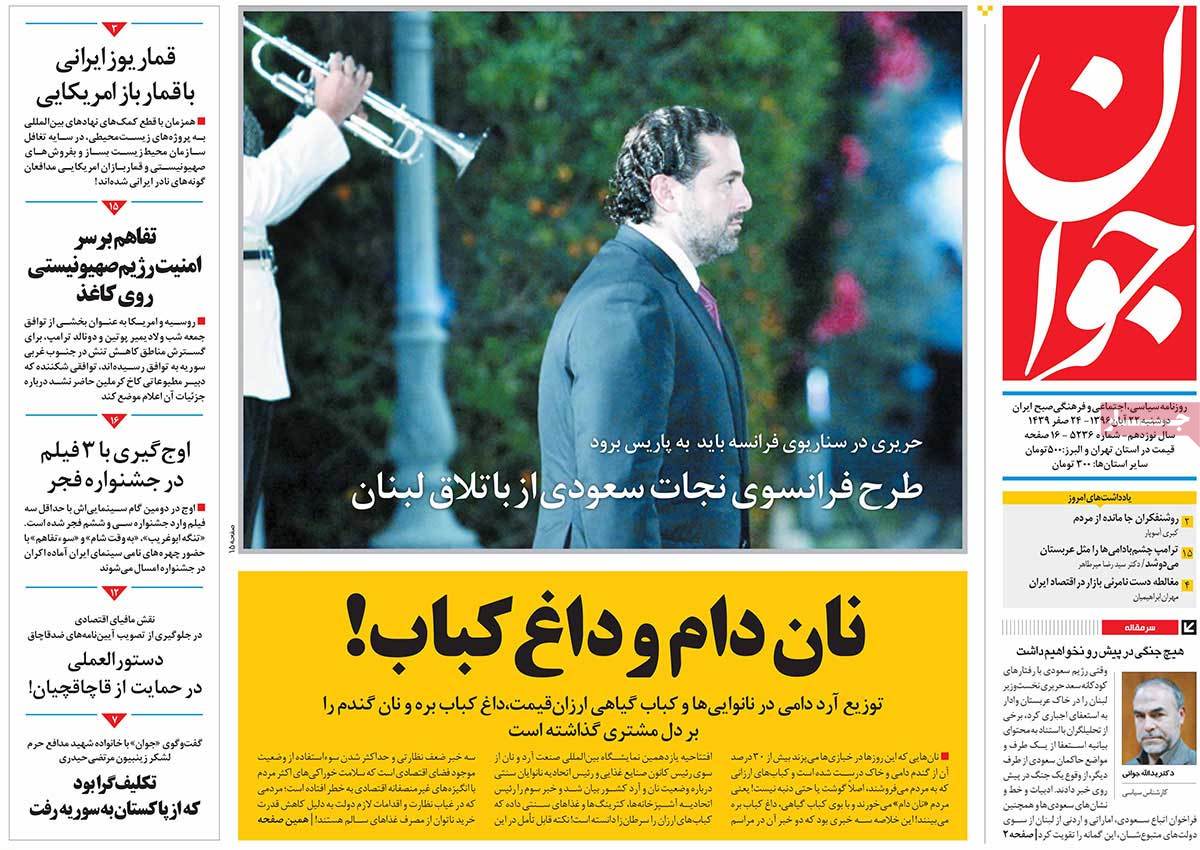 ---
Jomhouri Eslami:
1- Anti-US Protest Rallies in Philippines amid Trump's Visit
2- Washington Post: Iran Nuclear Deal Not Renegotiable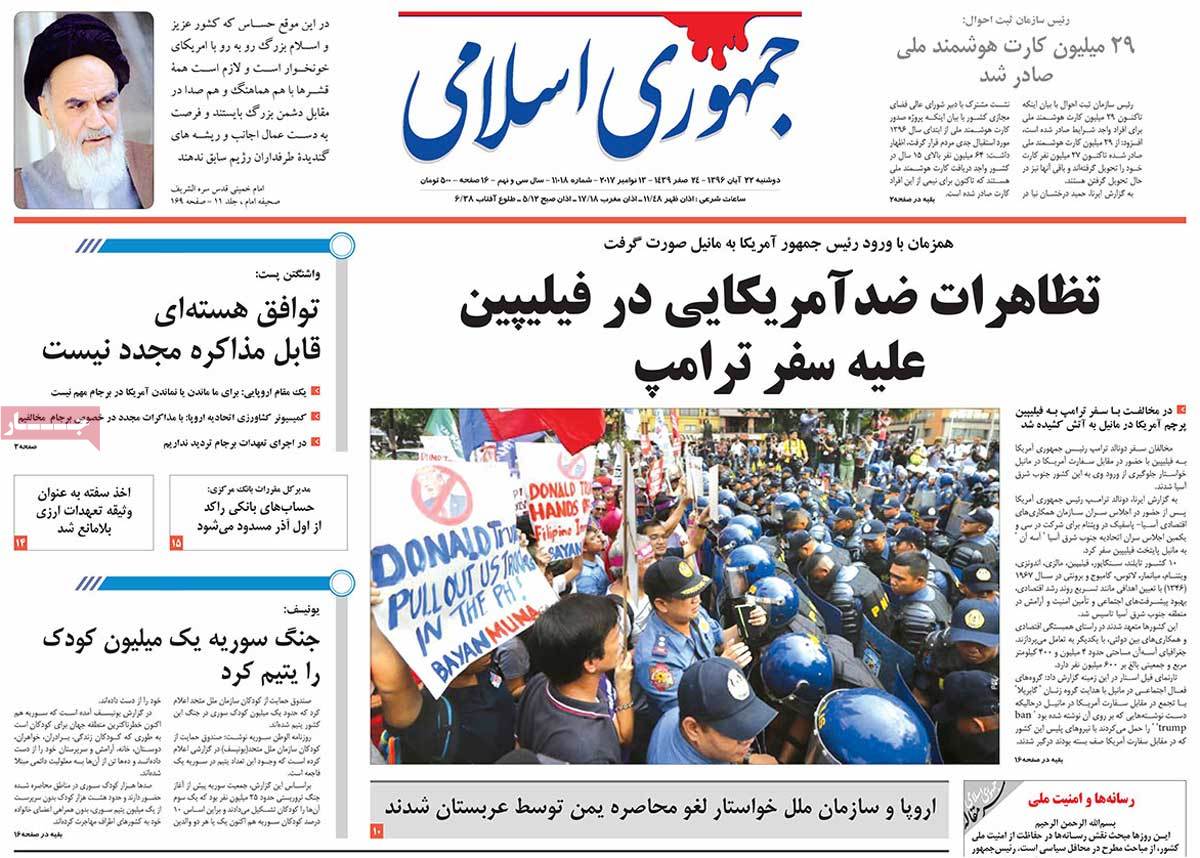 ---
Kayhan:
1- Why Kayhan Was Suspended; Blind Revenge from Kayhan's Illuminating Articles
2- Rouhani's Gov't Proved It Is Not Capable of Discerning National Interests
3- Yemeni Revolutionaries: We'll Target All Saudi Oil Tankers
---
Khorasan:
1- Inclusive Magnitude-7.3 Earthquake: Centre, West of Iran, Kuwait, Lebanon Affected
2- BBC: Saudi Arabia's Lebanon Plan Failed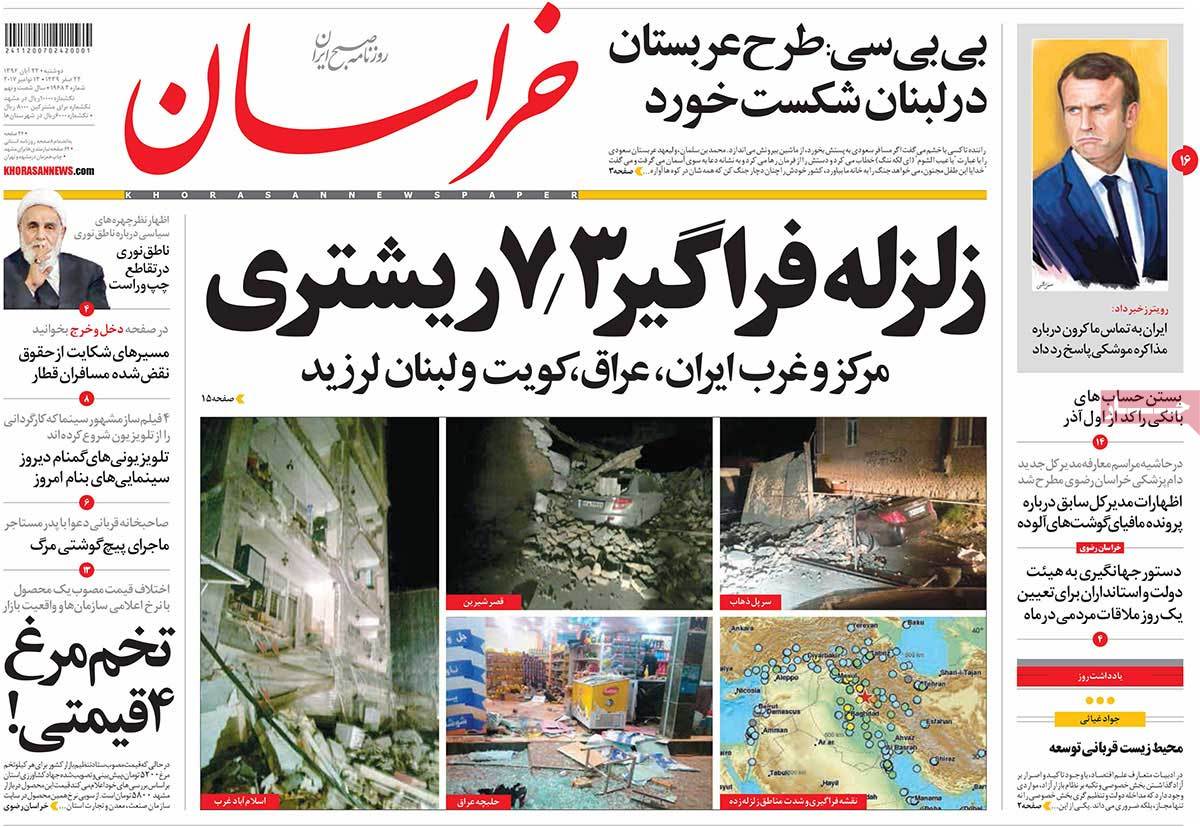 ---
Resalat:
1- Iraqi PM: ISIS Caused $100 Billion in Damage to Iraq
---
Shahrvand:
1- Gordian Knot of Hariri's Arrest
2- Middle East Shocked by Earthquake
3- Humanity Victim of Politics: Yemen on Verge of World's Biggest Political Drought
---
Shargh:
1- Iraq's Earthquake Shakes Iran
2- Hariri's First TV Interview in Saudi Arabia: I Wasn't Threatened by Velayati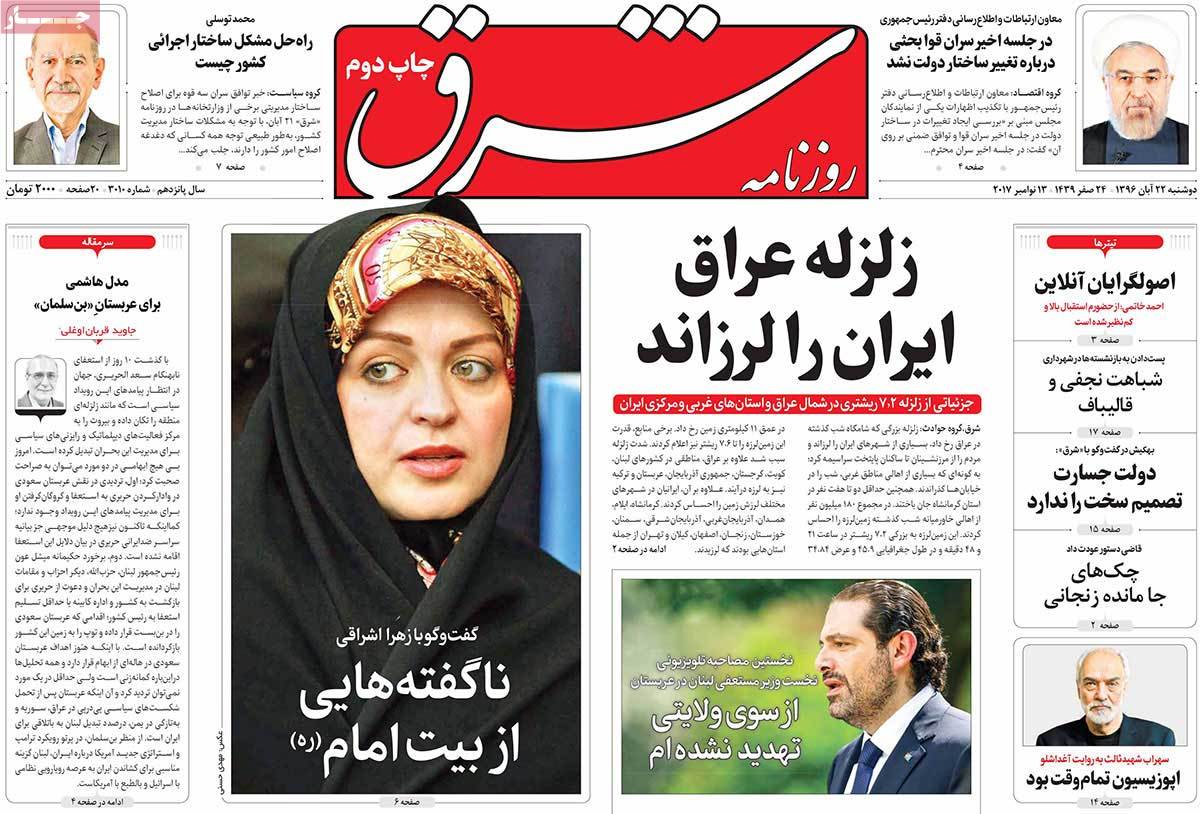 ---
Siasat-e Rooz:
1- Is Revolutionarism Main Component of Emerging Political Movement?
Trio of Nateq Noori, Larijani
2- A Look at Consequences of Negotiation without Achievement
First Illusion of Win-Win in Talks with US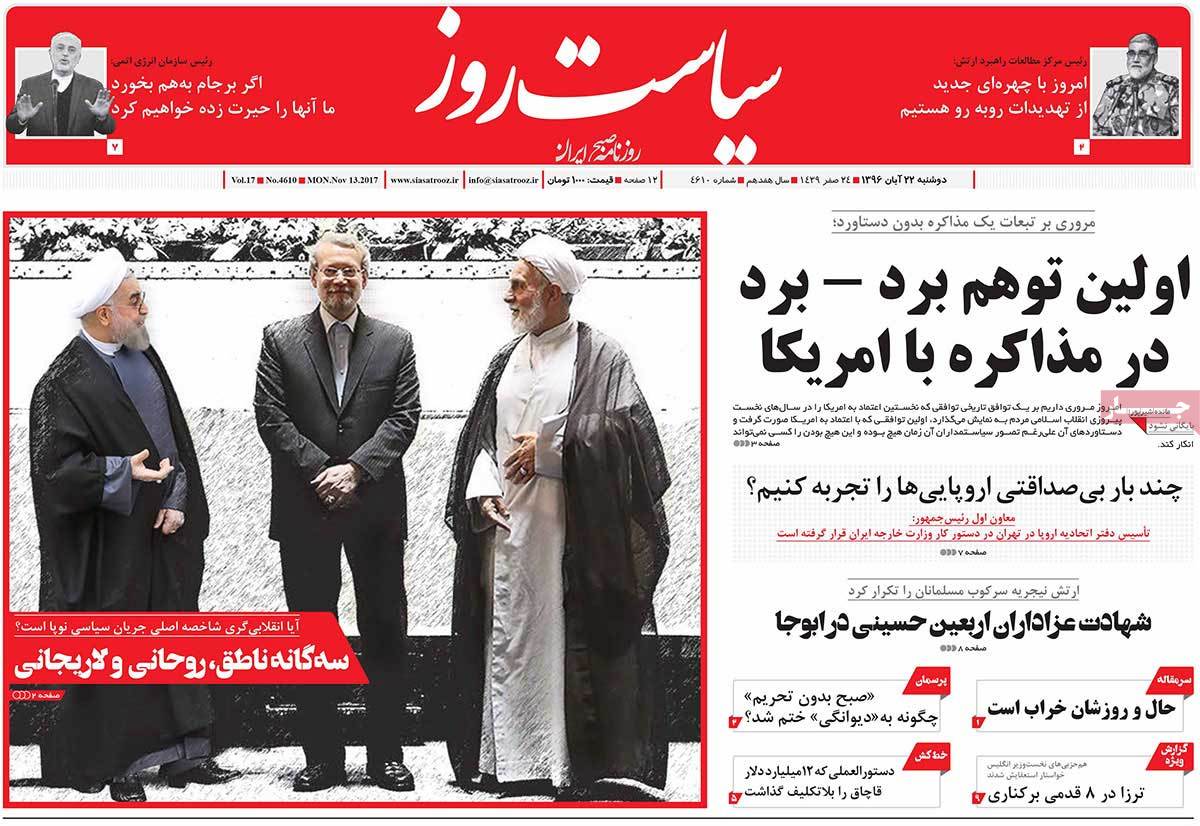 ---
Sobh-e Now:
1- Barzani's Regret
Kurdistan Representative in Tehran: Erbil Waiting for Baghdad's Invitation