The top story today was the presidential candidates' trips to various cities and the remarks they made in their stump speeches.
Hassan Rouhani's trip to Isfahan was particularly highlighted in today's media, where reformist and pro-government papers released photos of the 'huge' number of people who welcomed Rouhani, and conservative papers published photos of the same ceremony from another point of view to show the 'weak' reception.
Conservative media also blasted Rouhani's government for an alleged resumption of paying cash subsidies to those whose payments had been earlier cut. They criticized Rouhani for making such moves ahead of the Friday election in a bid to buy votes.
The above issues, as well as many more, are highlighted in the following headlines and top stories:
19 Dey:
1- Rouhani: We'll Remove Other Sanctions with Zarif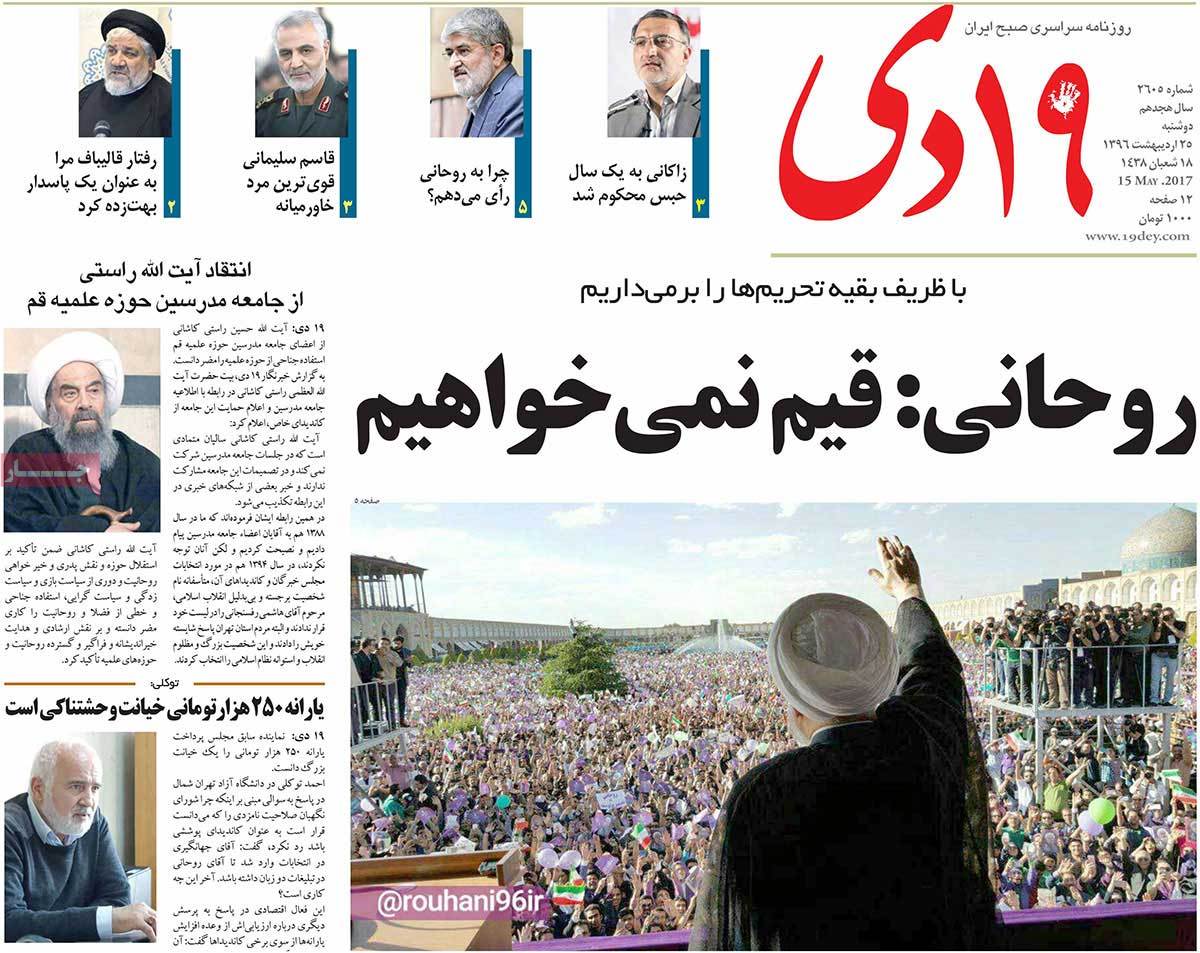 ---
Abrar:
1- Iran, Austria Start Construction of Nuclear Hospital
2- 40 Million Iranians Expected to Cast Votes in Iran Elections: Officials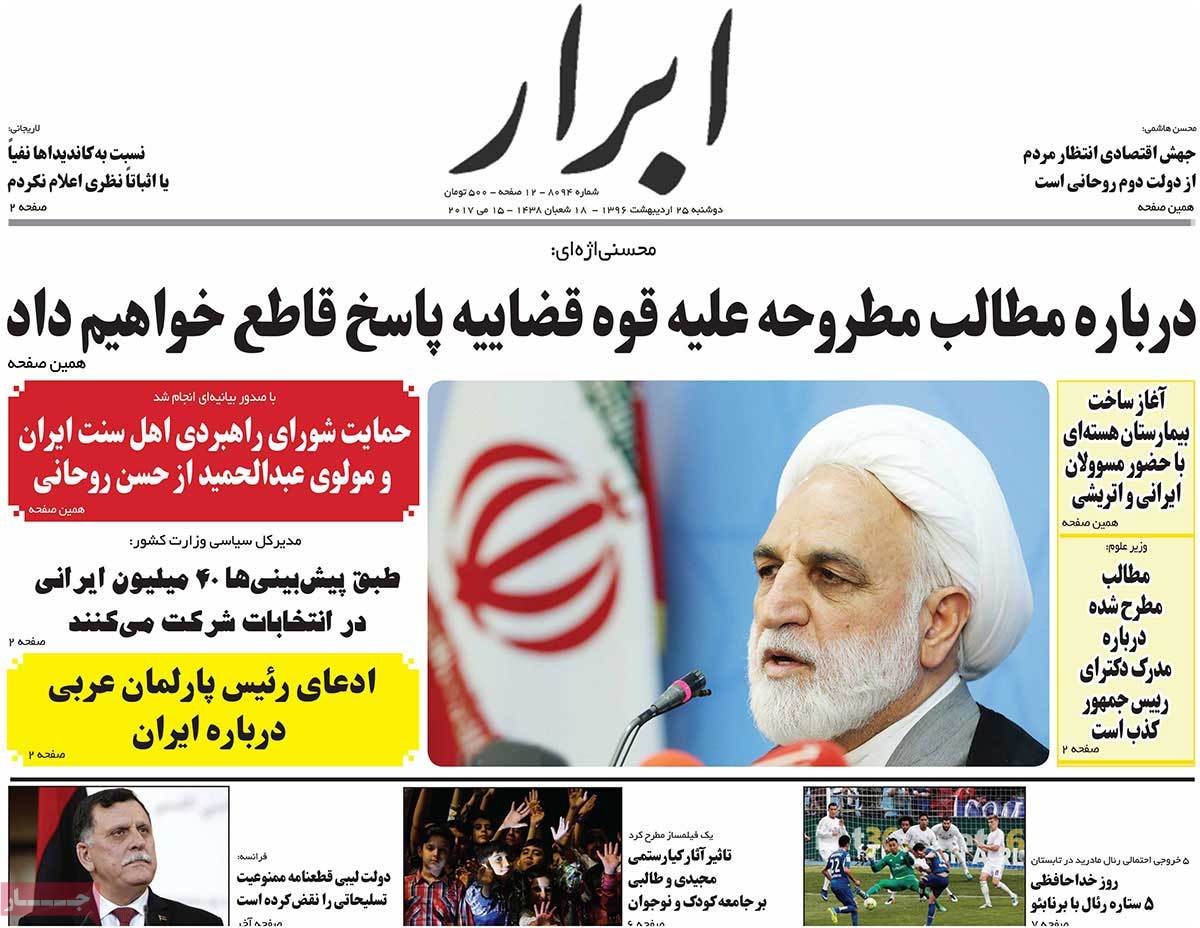 ---
Afkar:
1- Don't Forget Our Deal: 4-Percenters Should Go
2- People in Varamin, Shiraz Warmly Receive Qalibaf
3- Qalibaf: A Government Engaged in Real Estate Business Can't Know Workers' Pains
4- Raisi: Rouhani's Gov't Not Capable of Fighting Corruption
5- Living Conditions of Artists Deteriorated during Rouhani's Term: Actor
---
Aftab-e Yazd:
1- Meeting with Fans under Open Sky
2- Rouhani in Isfahan: They Say We Accept Nuclear Deal, Should We Believe It?
3- I'll Vote for Rouhani Because of Iranian Children
---
Arman-e Melli:
1- Glorious Reception of Rouhani in Isfahan, Lorestan
2- People Should Know Even One Single Vote Counts: Reformist Figure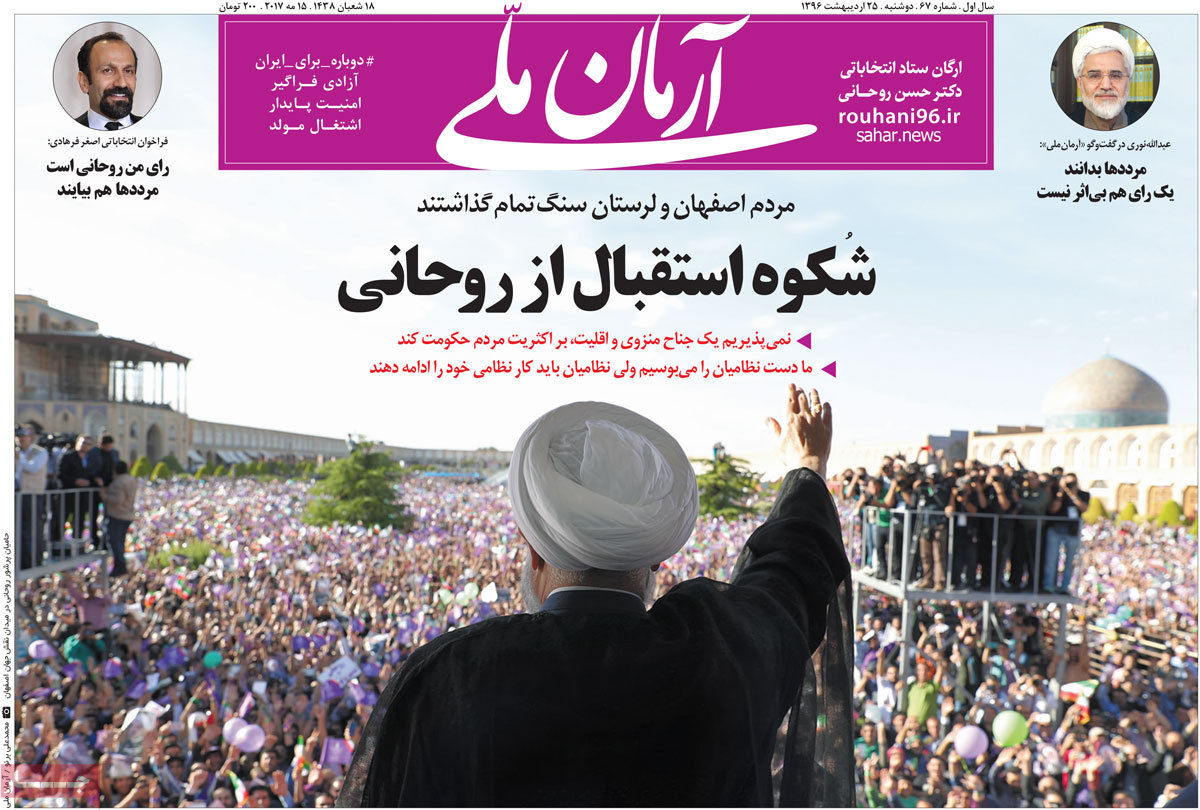 ---
Asr-e Iranian:
1- Raisi: Everything Will Change If I Open My Mouth
2- Government Distributes Money ahead of Election
Rouhani's Gov't Resumes Payment of Previously-Cut Cash Subsidies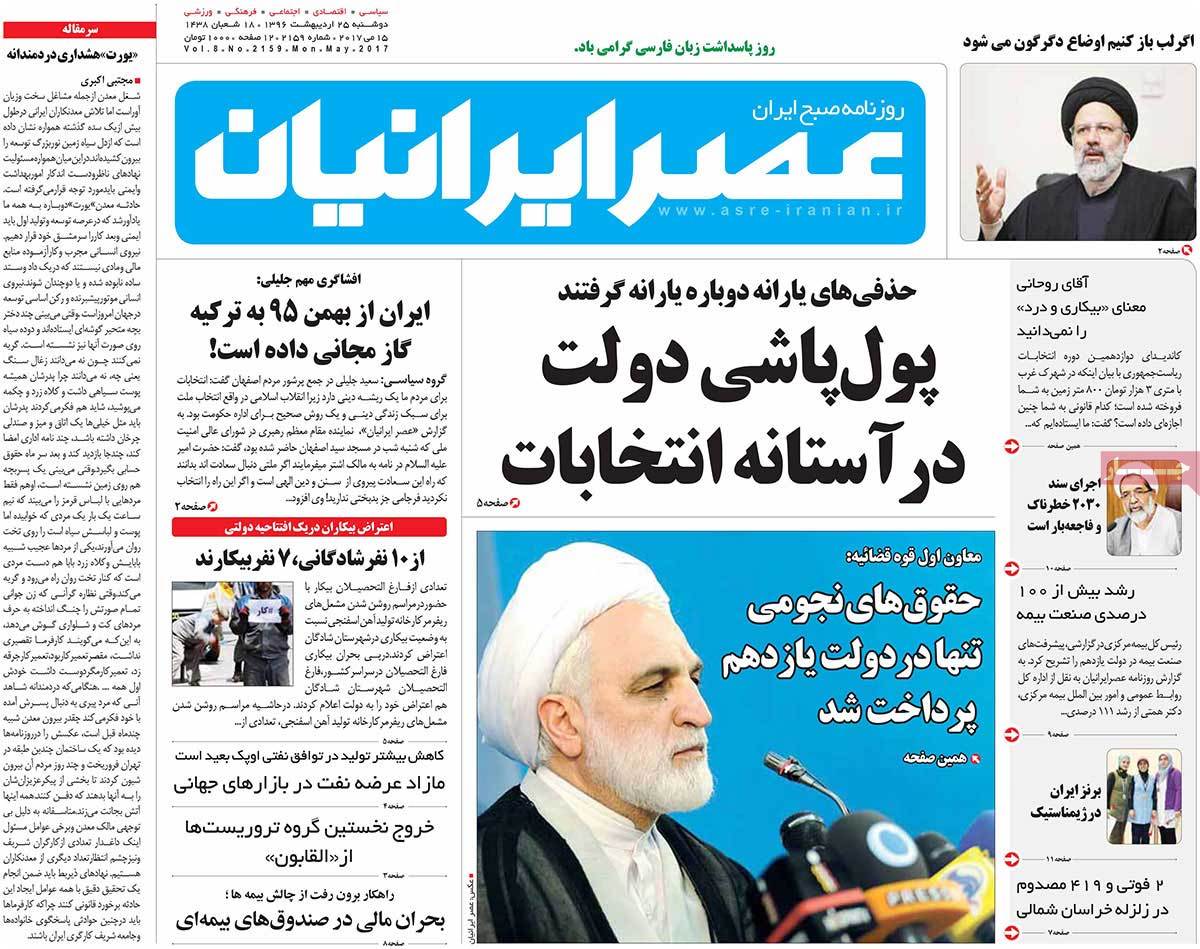 ---
Ebtekar:
1- Parliament Speaker: People's Turnout Serves as a Shield for Iran
2- Purple Flood
---
Etemad:
1- People in Isfahan Chant 'We Won't Come Back to the Past'
2- Rouhani Warmly Received in Khorramabad, Isfahan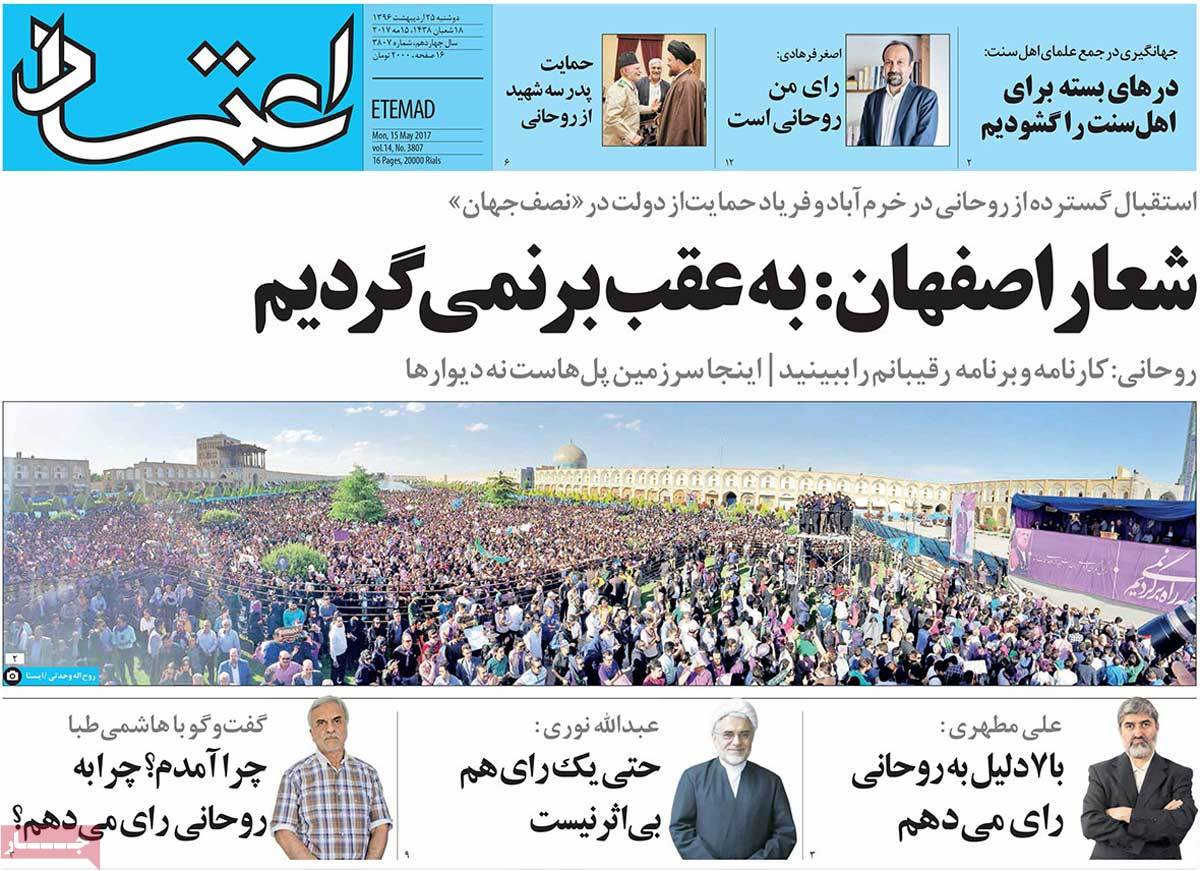 ---
Ettela'at:
1- 70-Fold Increase in Budget Allocated to Youths: Sports Minister
2- Biggest Deal Signed for Construction of Ocean Liners in Iran
3- Syrian Army Liberates New Area near Damascus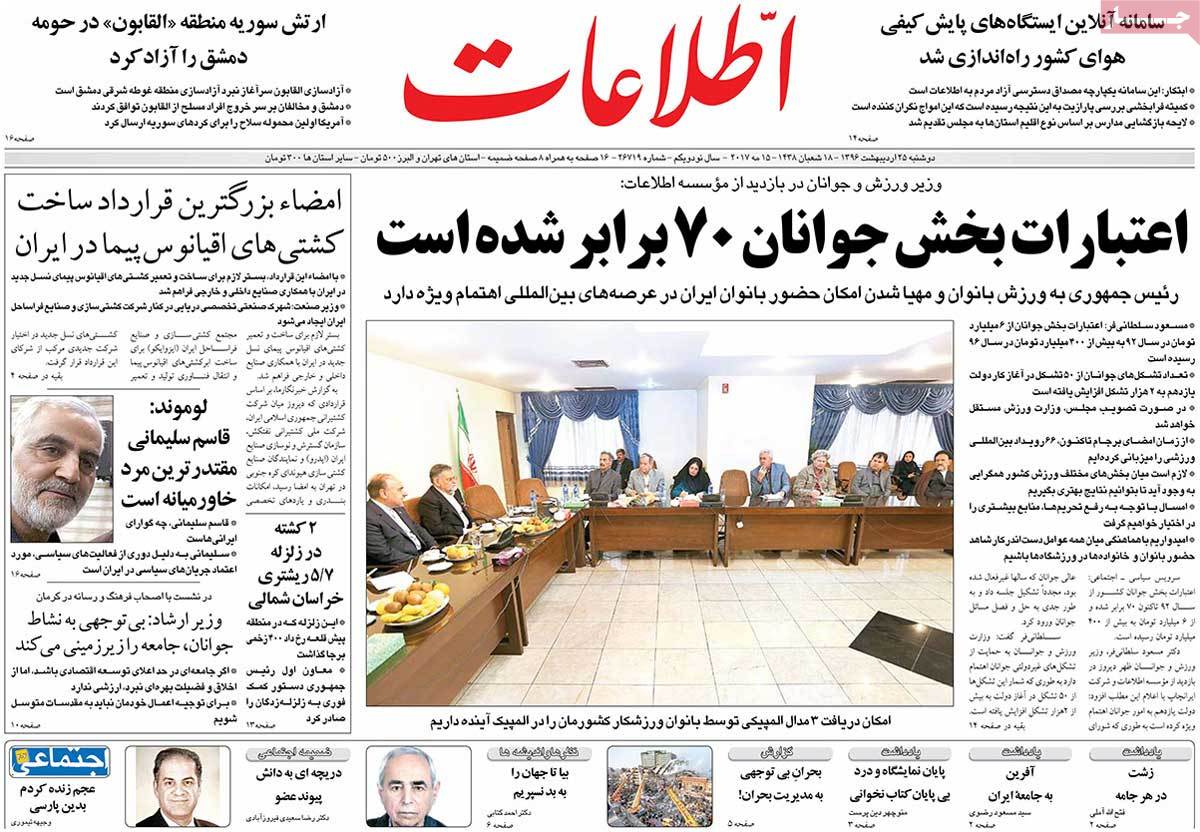 ---
Ghanoon:
1- Caption Lies in the Photo
2- If Qalibaf Refuses to Withdraw, Conservatives Will Be Defeated
---
Haft-e Sobh:
1- Fate of Tehran to Be Decided Friday: Different Parties Battling for City Council
2- Female Truck Driver Who Transfers Cargos to Europe with Husband
3- Architects of New World
Macron Begins New Era for French People
Eastern Superpowers Cooperating to Revive Silk Road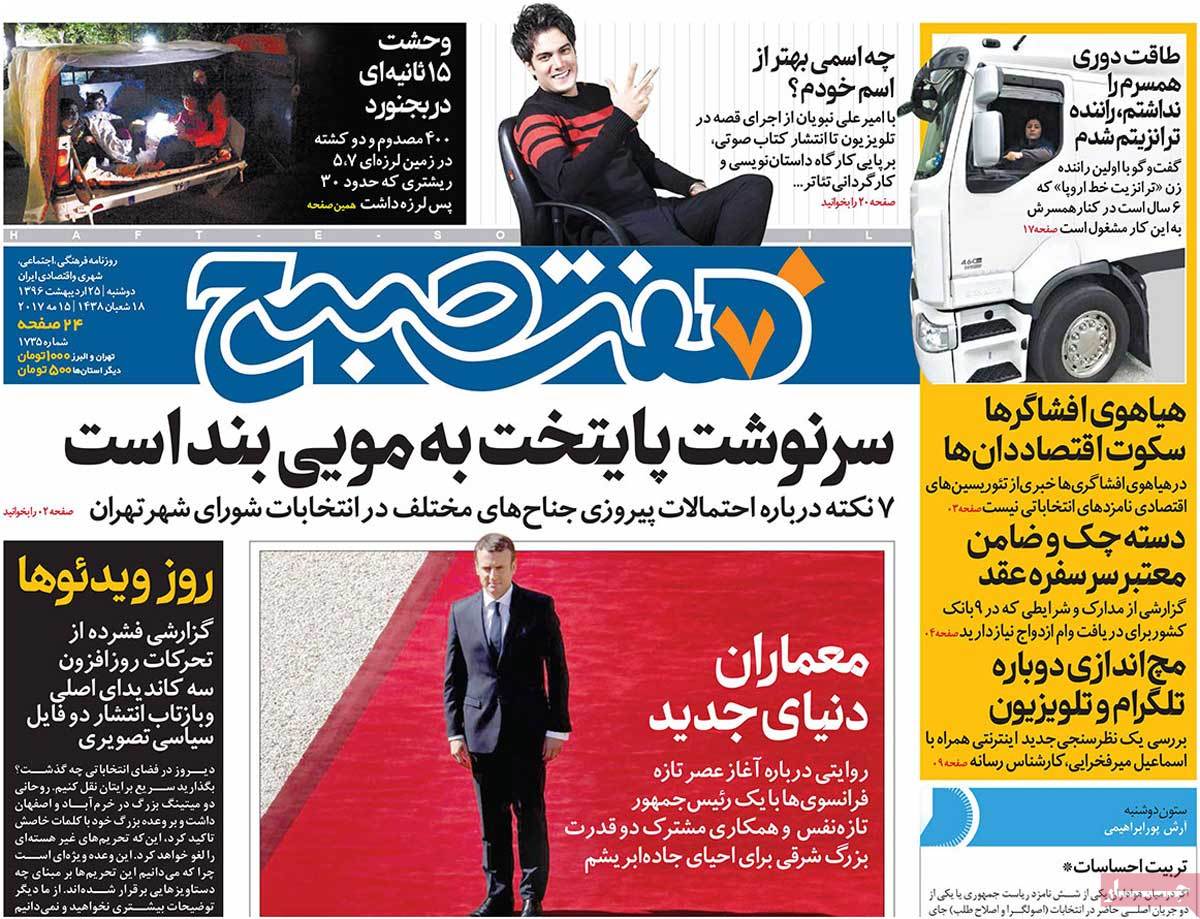 ---
Hemayat:
1- Judiciary Proud of Fighting Corruption for 38 Years: Spokesman
2- 2 Killed, 400 Injured in 5.7-Magnitude Quake in NE Iran
3- Prosecutor General Urges Executives Not to Support Candidates
4- Le Monde: Major General Soleimani, Most Powerful Man in Middle East
5- Implementation of UNESCO 2030 Document is Cultural Infiltration: Clerics
6- World Media Worried about Similarities between Bin Salman, Trump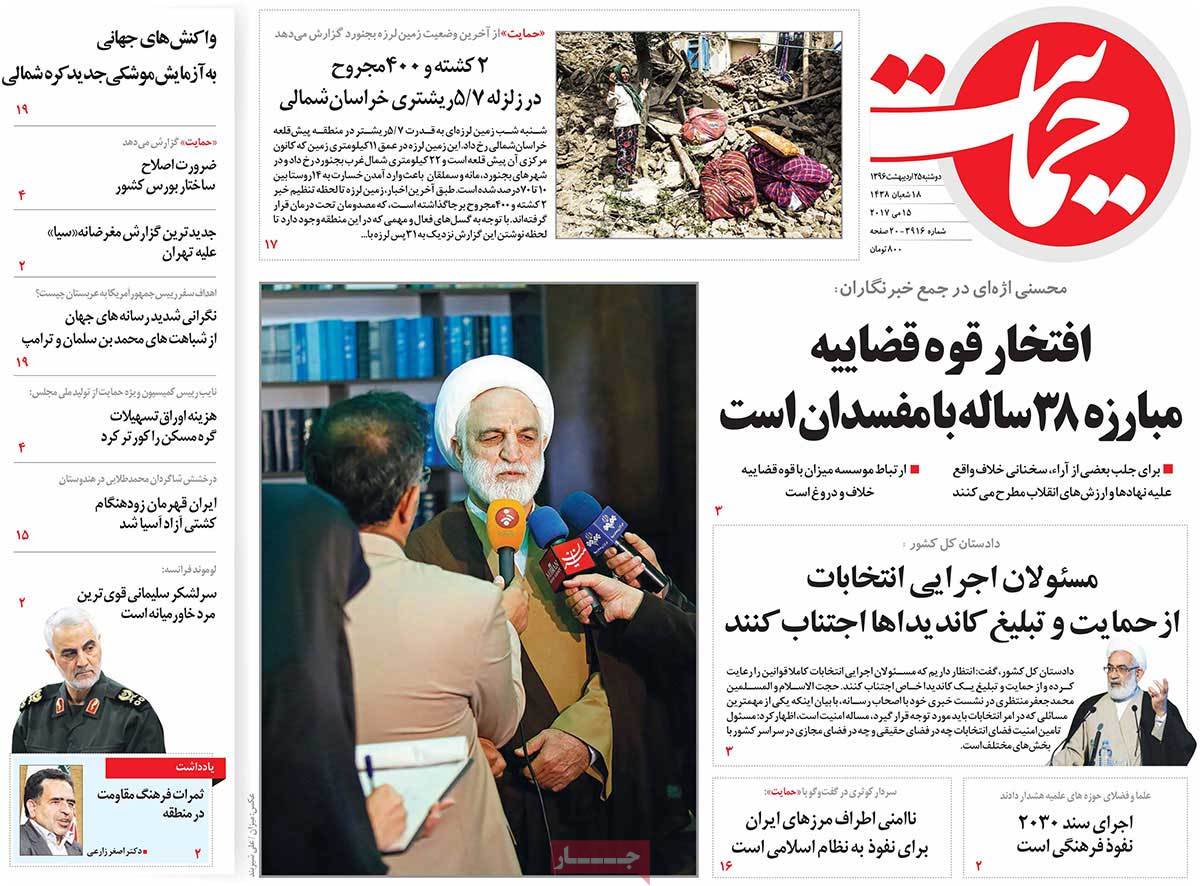 ---
Iran:
1- Political Passion for a Big Choice
2- Candidates Making Stump Speeches across Iran in Run-up to Election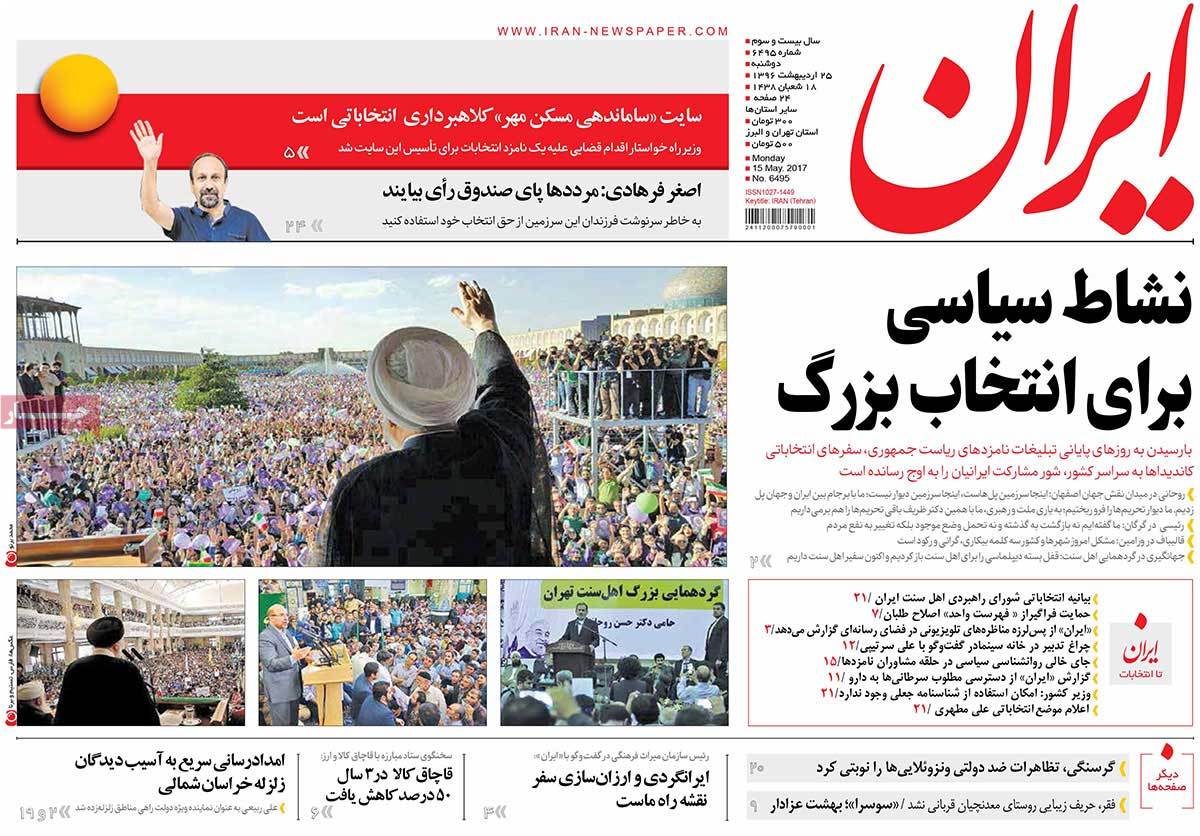 ---
Jame Jam:
1- Social Vitality, Electoral Passion
2- Iran's Wrestling Team Wins Asian Title
3- Spokesman: Judiciary to Counter All High-Ranking Corrupt People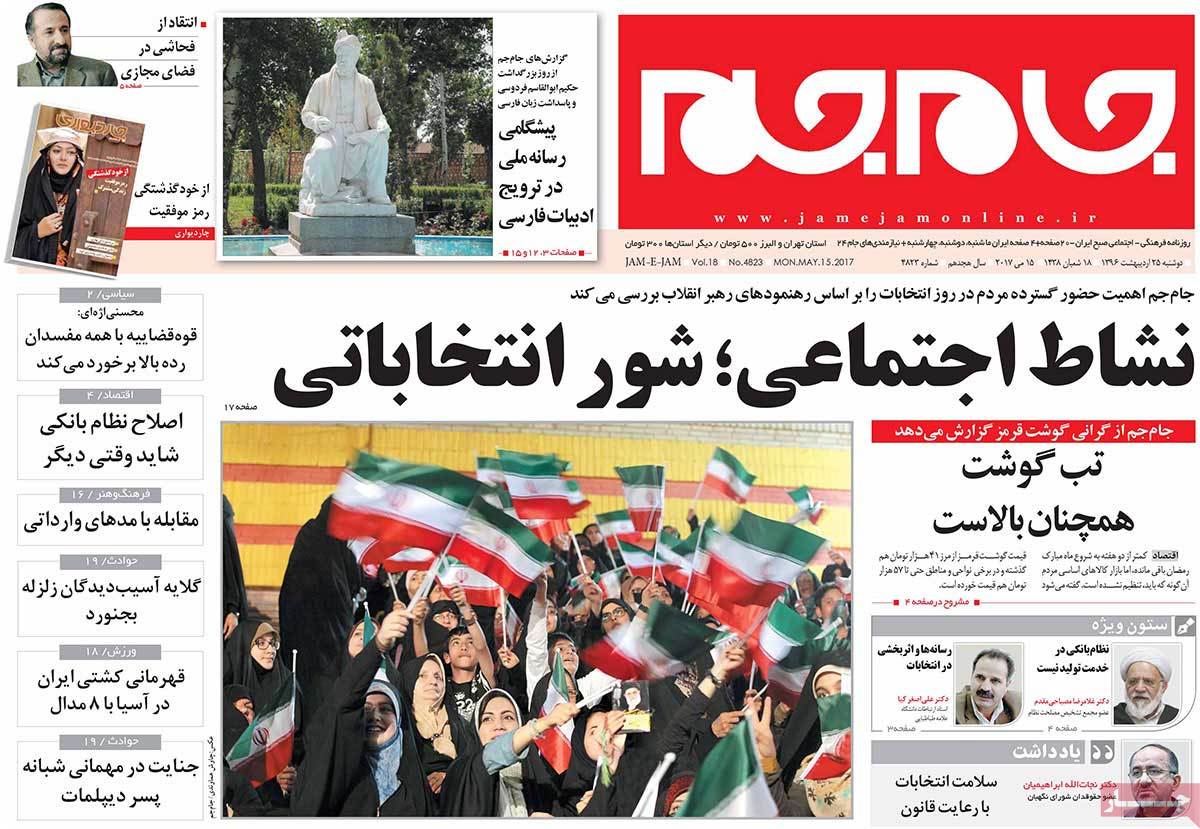 ---
Javan:
1- Moderate Approach Turning to Radicalism
2- Senior Conservative Bahonar: Presidential Votes Will Head to Run-Off
3- Ahead of Election, Gov't Resumes Paying Cash Subsidies to Those Who Weren't Eligible
4- Oil Minister Neglecting Crescent Company's Blackmail against Iran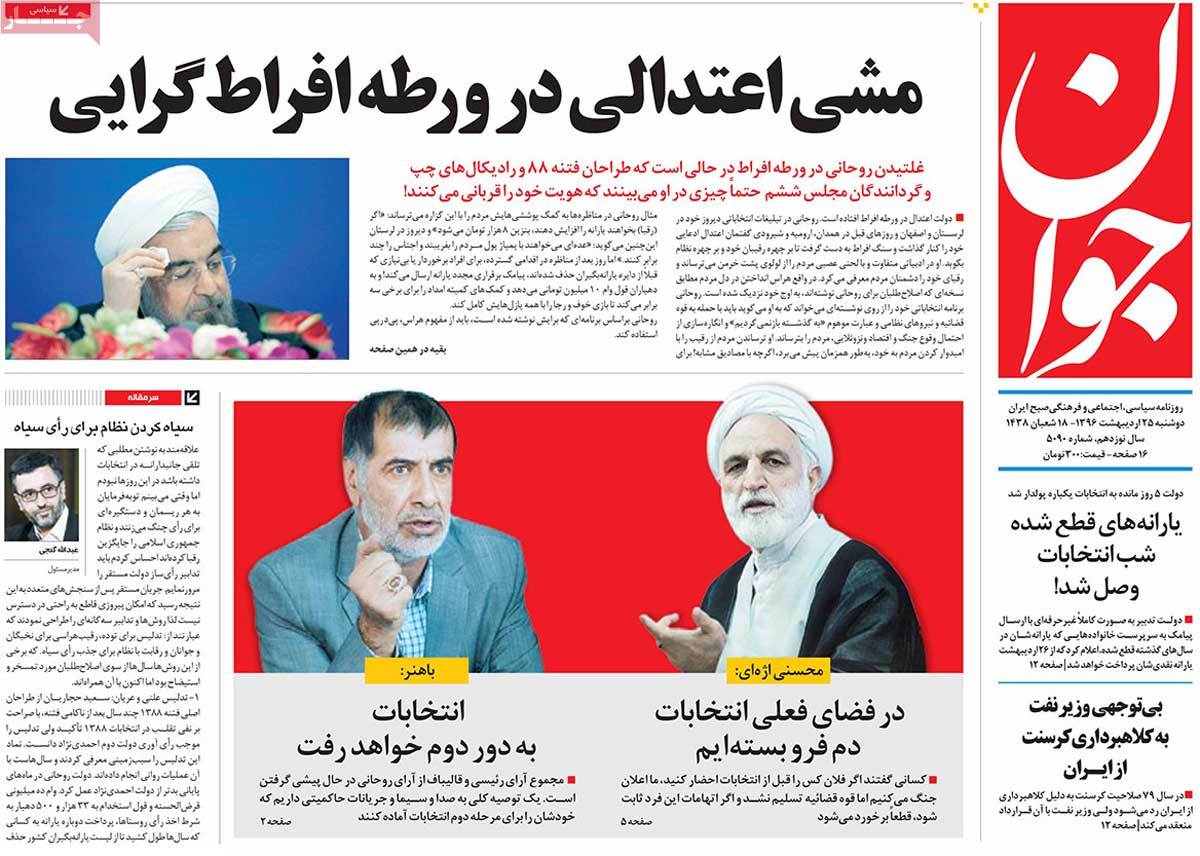 ---
Kayhan:
1- Public Organizations Have Turned to Rouhani's Campaign HQ
2- US-North Korea War Will Have No Winner, Both Will Be Destructed: American Analyst
3- Gov't Resumes Paying Previously-Cut Cash Subsidies While it Had Called it Great Disaster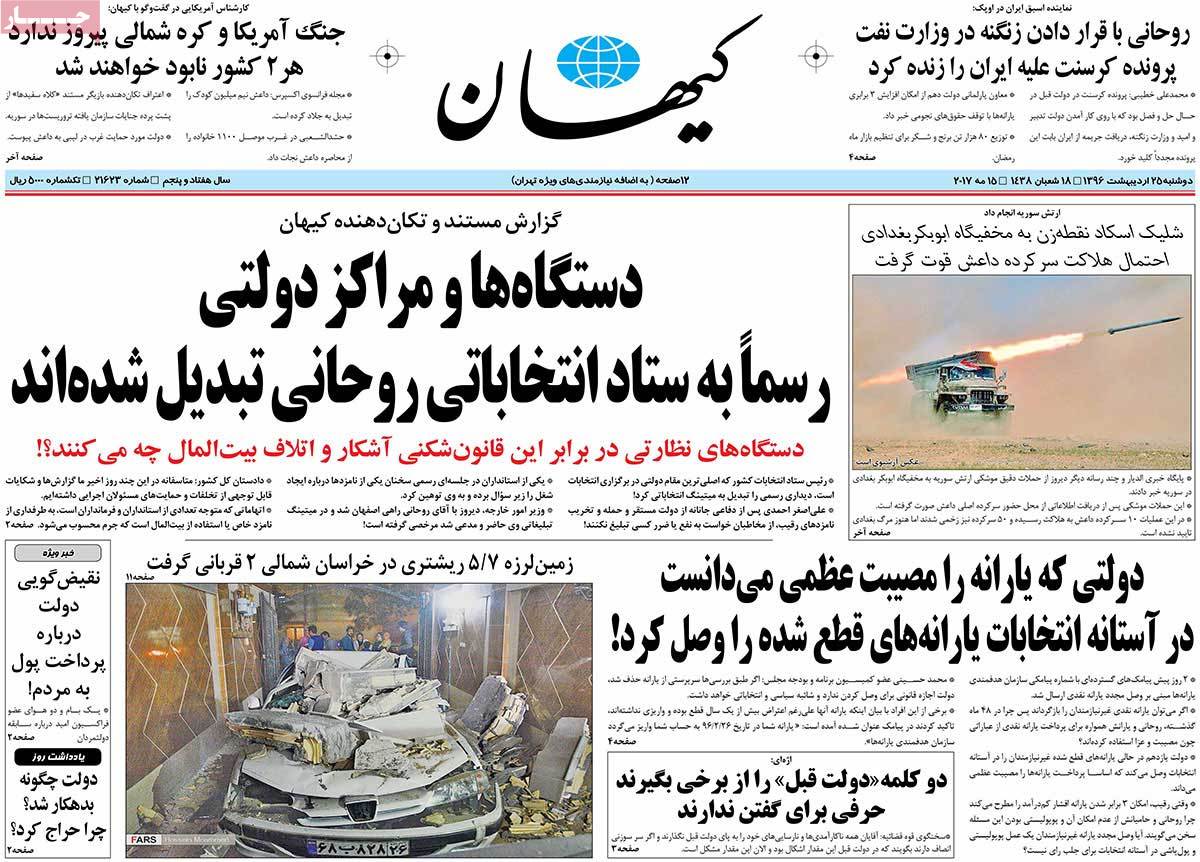 ---
Kelid:
1- Raisi: Improving Ties with Neighbours Top Priority of My Gov't
2- Rouhani Cancels Trip to Chaharmahal-Bakhtiari Province due to Cold Welcome
3- Judiciary Spokesman: Some Candidates Keep Blaming Previous Gov't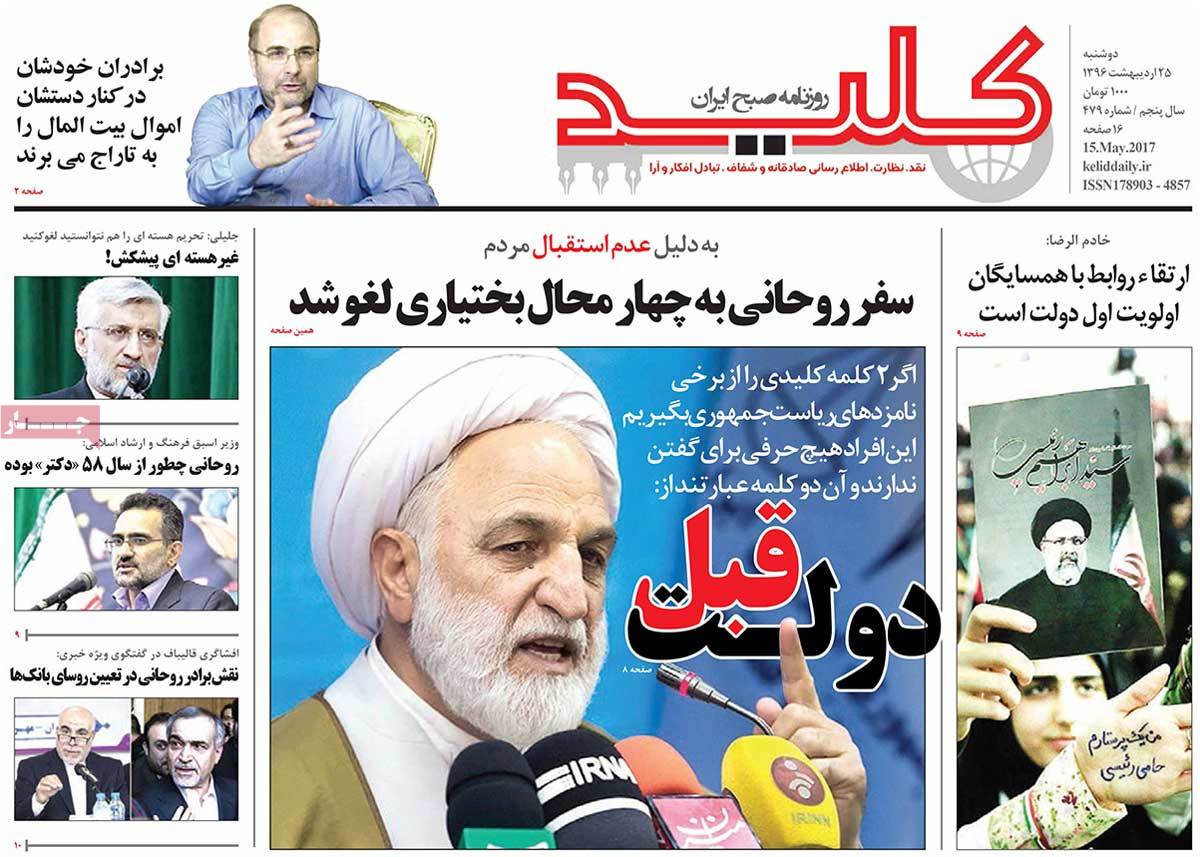 ---
Khorasan:
1- Reports Show Gov't Is Resuming Payment of Cash Subsidies to Those Whose Payment Was Cut
2- 2 Killed, 400 Wounded in Bojnourd Quake; 40% Damage to Some Villages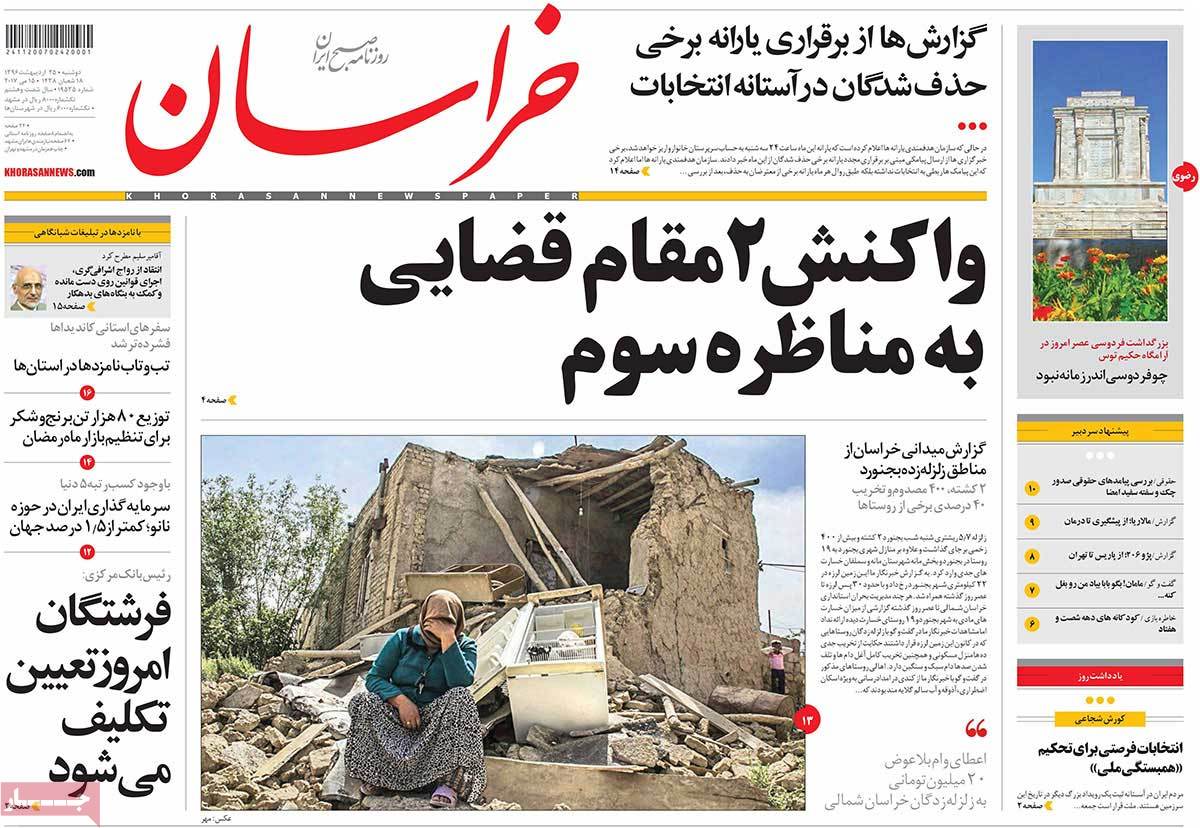 ---
Quds:
1- Face-to-Face Promotion: Supporters of Candidates Convincing People in Streets
2- Bahonar: Raisi, Qalibaf's Votes in Sum More than that of Rouhani, Jahangiri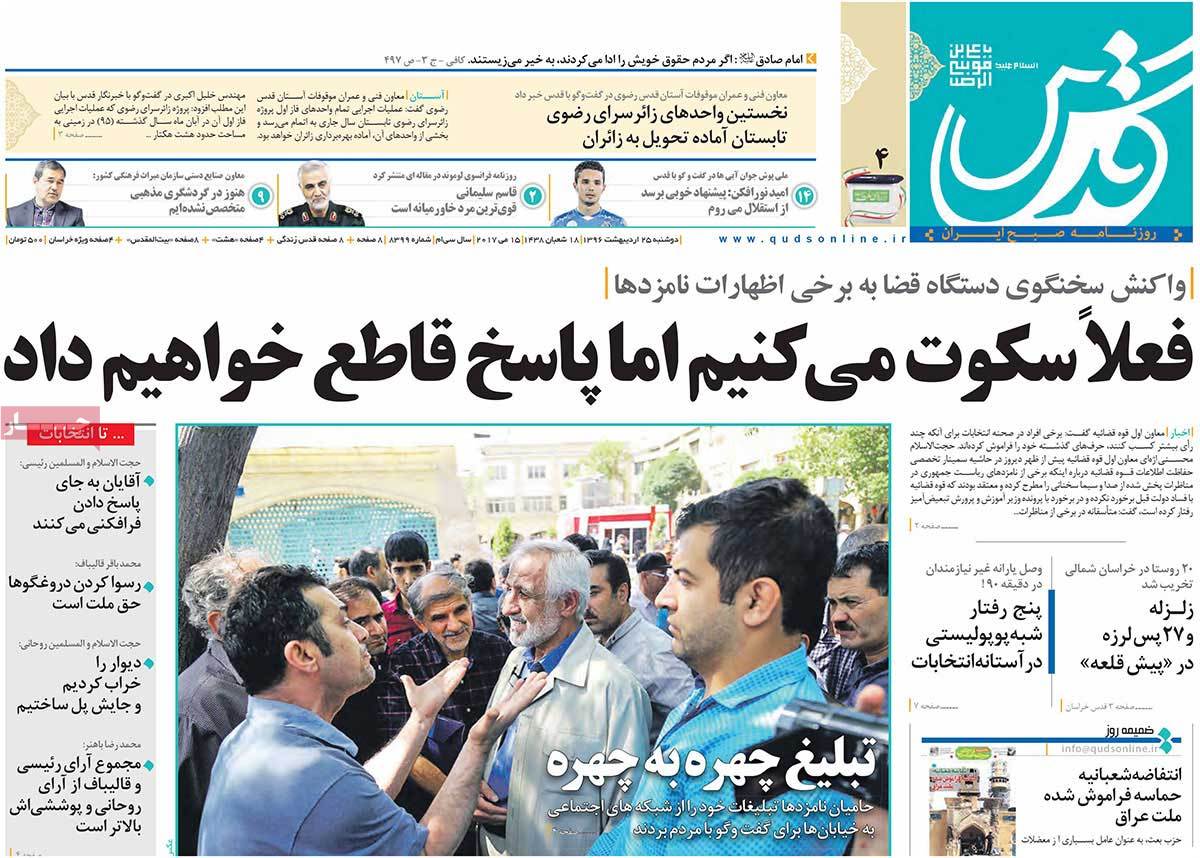 ---
Resalat:
1- Qalibaf: The Four-Percenters Created Economic Downturn
2- Raisi: I Don't Know the Diplomacy Where We're Helped by Foreigners in Election
3- Lie-Detector Should Be Used for Certain Candidates in Debate: Bahonar
4- Mirsalim: Rouhani's Gov't Is Government of Rejection, Not Prudence
5- We Should Choose between Supporters of Poor People, Aristocrats in Friday Election
6- Rouhani's Gov't Has Failed to Attract Foreign Investment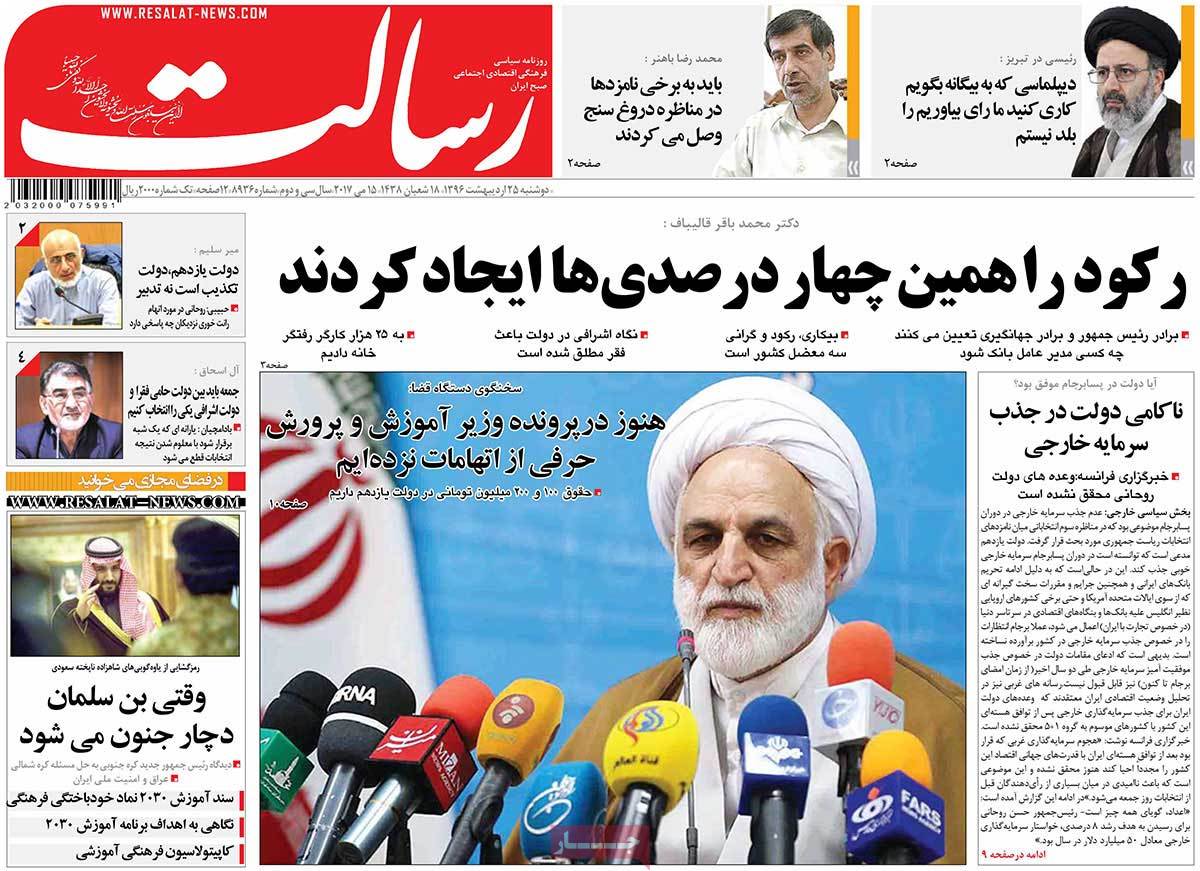 ---
Rooyesh-e Mellat:
1- Qalibaf: Iran's Problem is Incompetence of Incumbent Executives
2- Raisi: Ties with Europe Can Be Improved
---
Shargh:
1- You Stabbed us in the Back, Now You're Supporting JCPOA: Rouhani
---
Siasat-e Rooz:
1- Judiciary Spokesman Vows to Respond to Rouhani's Claims after Elections
2- Experts' Evaluation of Iran's Religious Democracy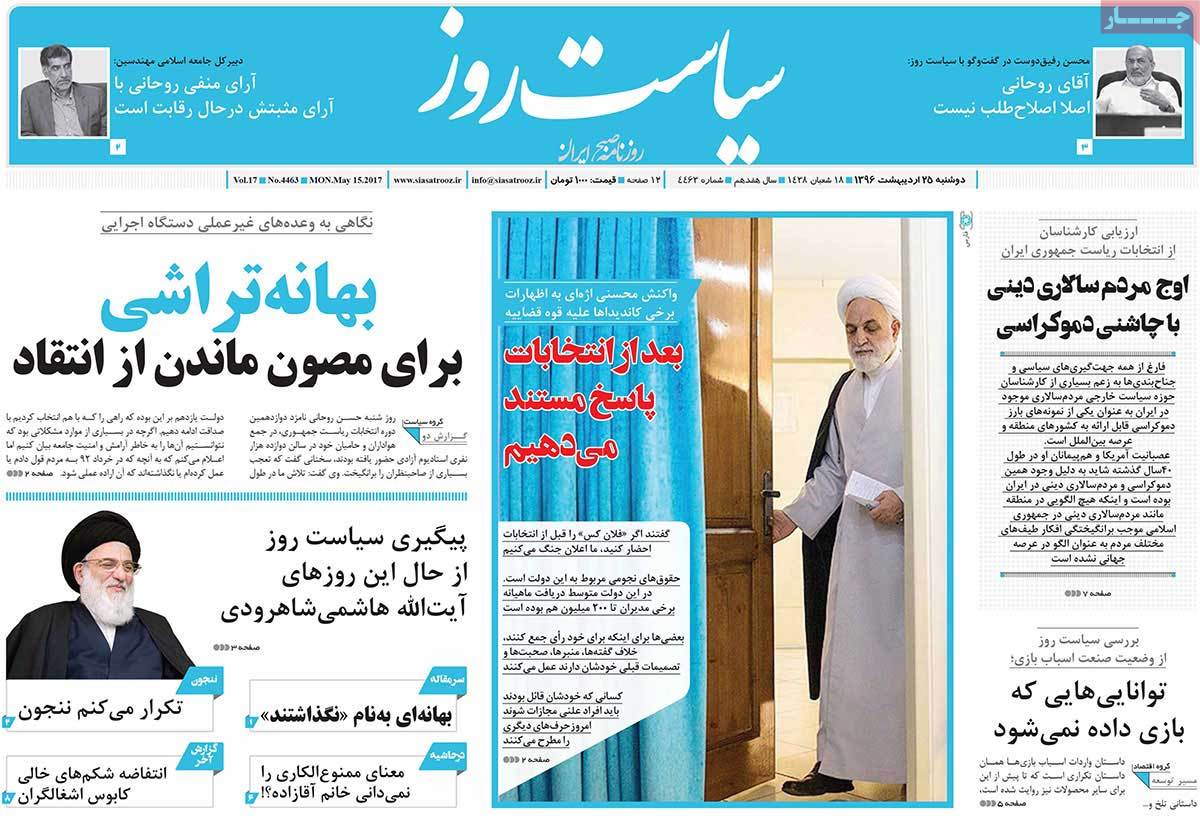 ---
Sobh-e Now:
1- 70 Lawsuits Filed against Critical Media Outlets in 10 Days: Rouhani Breaks Records