IFP has taken a look at the front pages of Iranian newspapers on Sunday and picked headlines from 14 of them. IFP has simply translated the headlines and does not vouch for their accuracy.
The stump speeches by Iranian presidential candidates Ebrahim Raisi and Hassan Rouhani were widely covered by Iranian newspapers today.
Many papers highlighted Rouhani's address to the gathering of his fans and celebrities in Azadi Stadium in Tehran, and Raisi's speech in the gathering of his fans in Ardabil.
Another top story was the remarks made by presidential candidate Mostafa Hashemitaba in support for Rouhani. Hashemitaba clearly stated that he will vote for Rouhani in May 19 elections, but stressed that he won't withdraw.
The above issues, as well as many more, are highlighted in the following headlines and top stories:
19 Dey:
1- Rouhani: Some Stabbed Us in the Back; I'm Sacrificing My Reputation for People
2- Jahangiri: Dialogue for Coalition Has Started between Candidates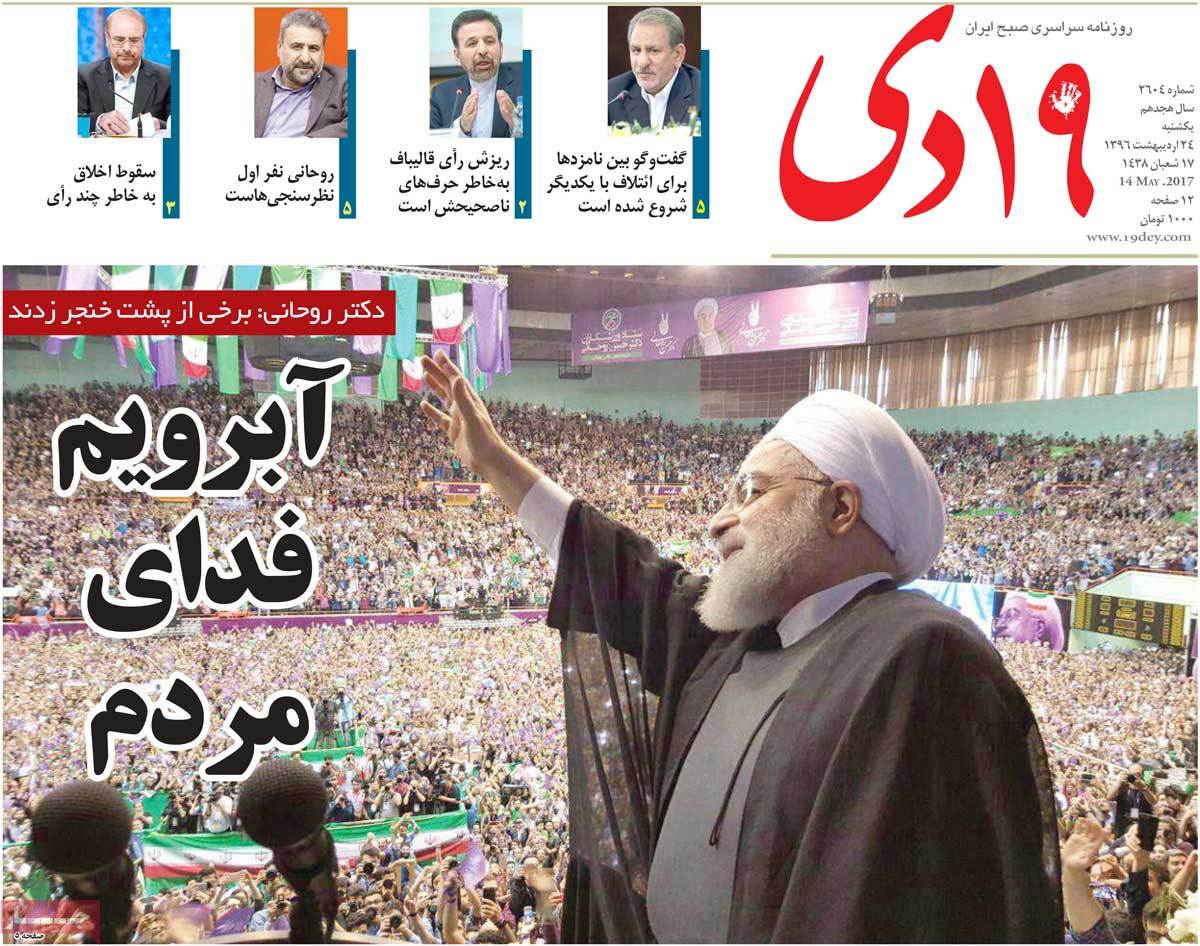 ---
Abrar:
1- Rouhani: We'll Double Non-Oil Exports, Eradicate Poverty in Next 4 Years
2- IRGC Navy Commander: Iran's Deterrent Power Incomparable with Past
3- Raisi: We Can Save the Country under Current Circumstances
---
Aftab-e Yazd:
1- Hello to Reformists
Rouhani Attends Huge Gathering of Fans, Celebrities
2- Rouhani: I'll Make People Needless of State TV
3- Actor Shahab Hosseini: I'll Vote to Support Rouhani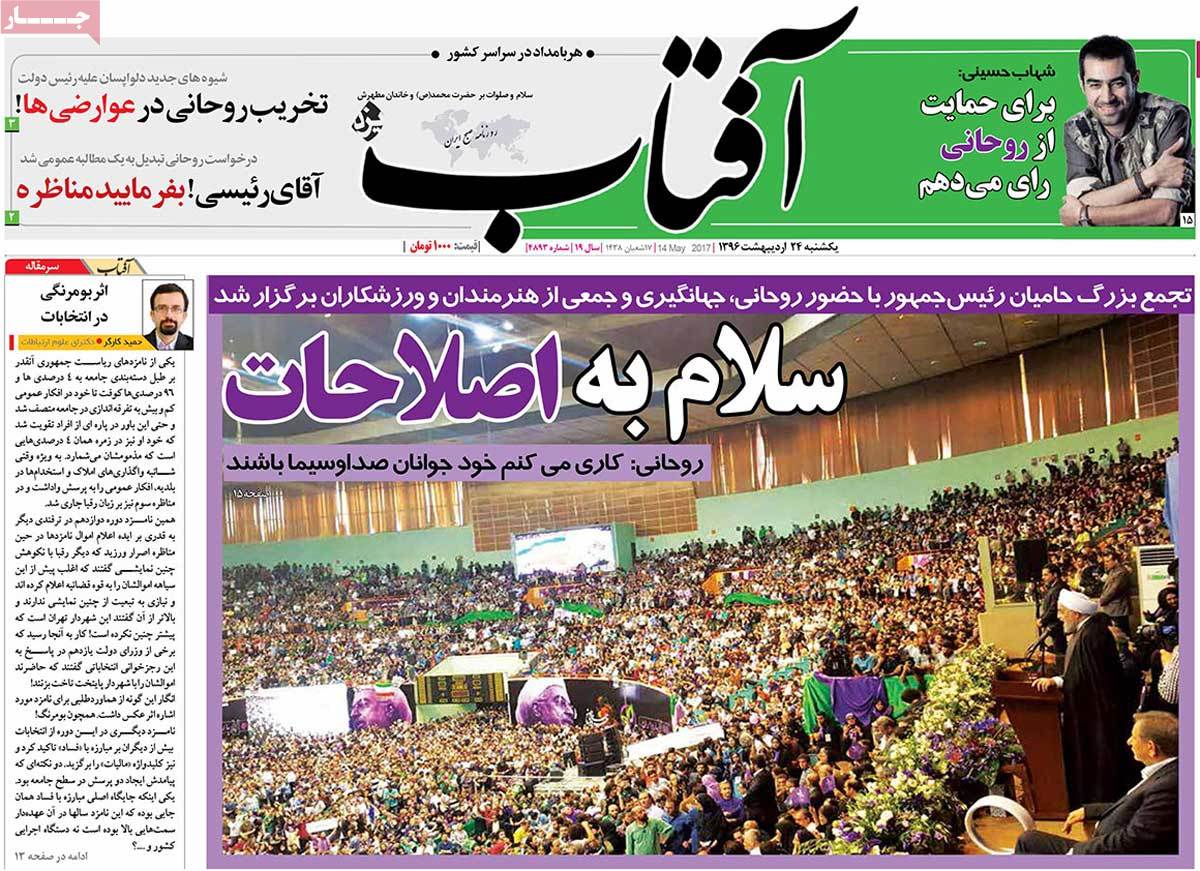 ---
Asrar:
1- Jahangiri: Reformism Movement is within Establishment
2- Raisi: We Should Work Honestly for People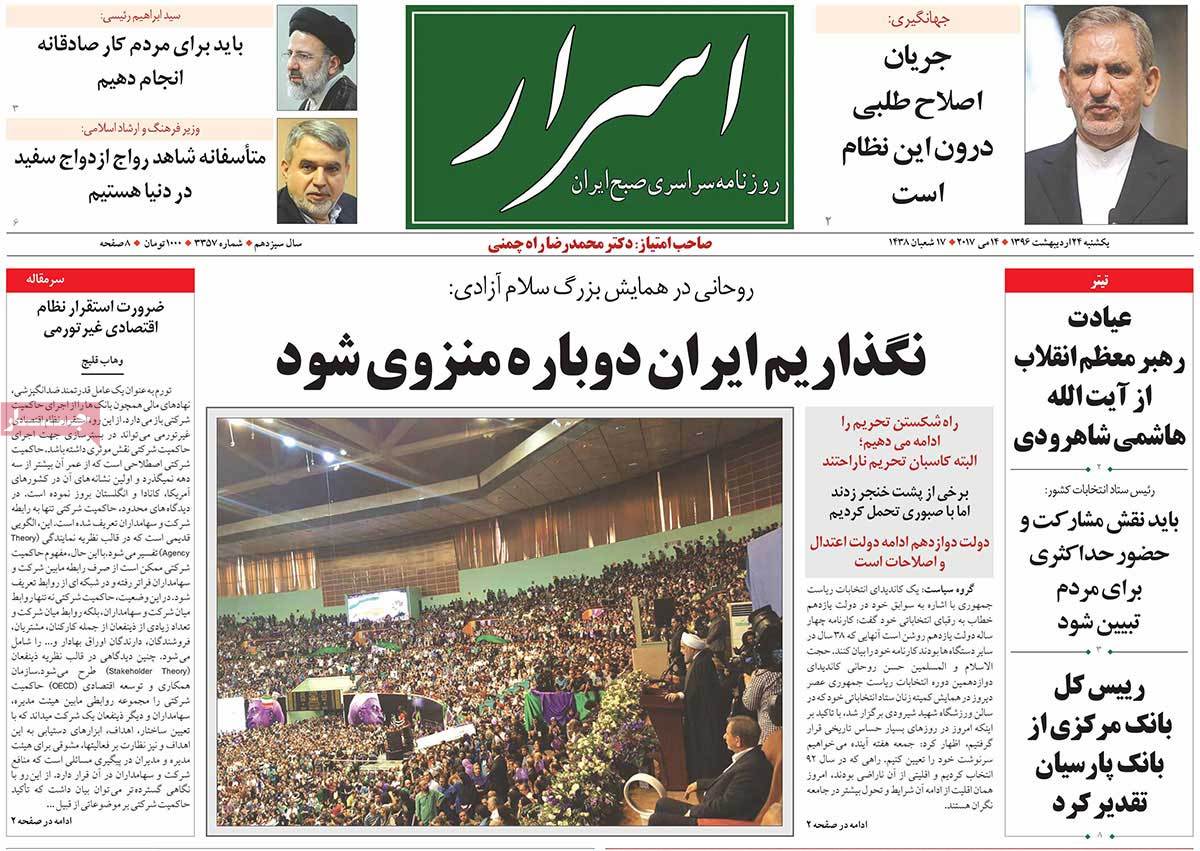 ---
Ebtekar:
1- Hashemitaba: I'll Vote for Rouhani, but I Won't Withdraw
2- Rouhani Fans Shout: We'll Never Return to the Past
3- Iran Leader Pays Visit to Former Judiciary Chief in Hospital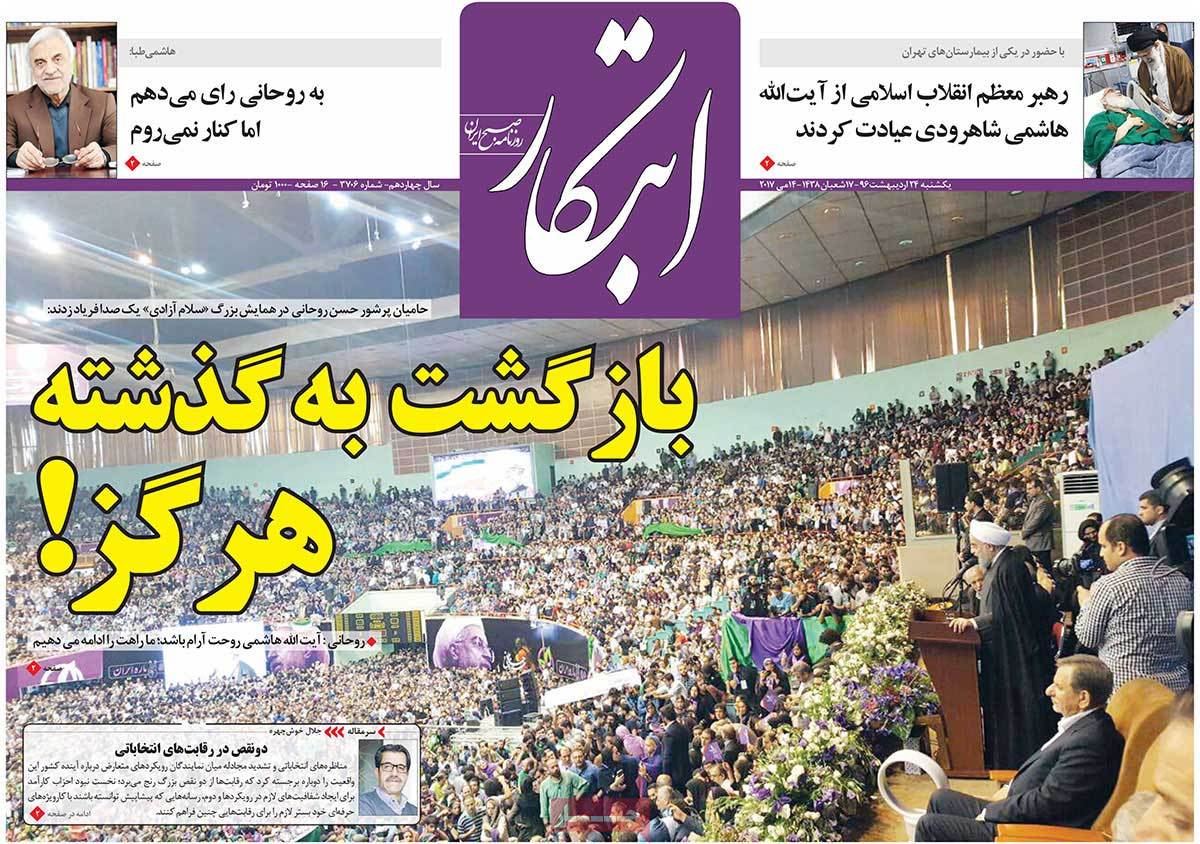 ---
Ettela'at:
1- Fight against Contrabands Needs Cooperation of All Bodies: Official
2- MP: Tripling Cash Handouts Only Possible by 10-Fold Increase in Fuel Price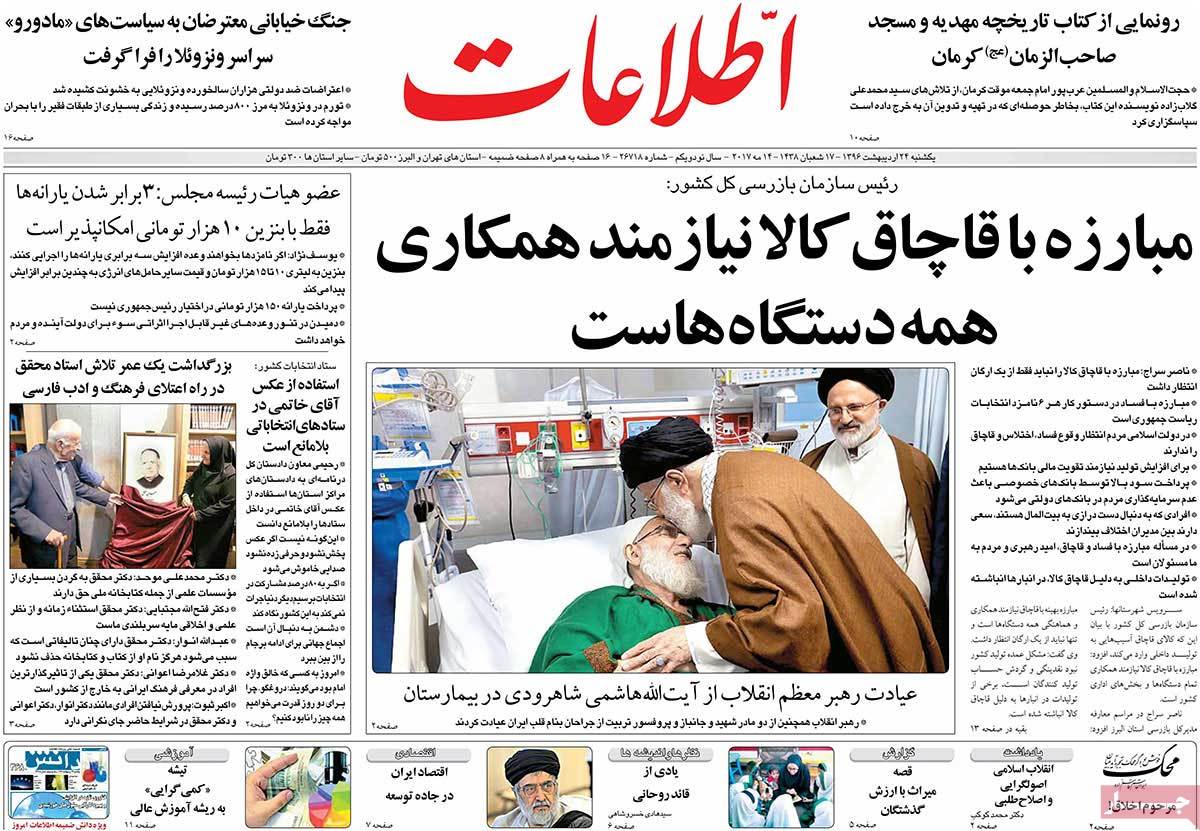 ---
Haft-e Sobh:
1- Main Rivals
Amid Recession in Qalibaf's Camp, Rouhani Addressed Huge Gathering of Fans
Raisi Also Became Rouhani's Main Rival by Appearing in 3 Cities within Hours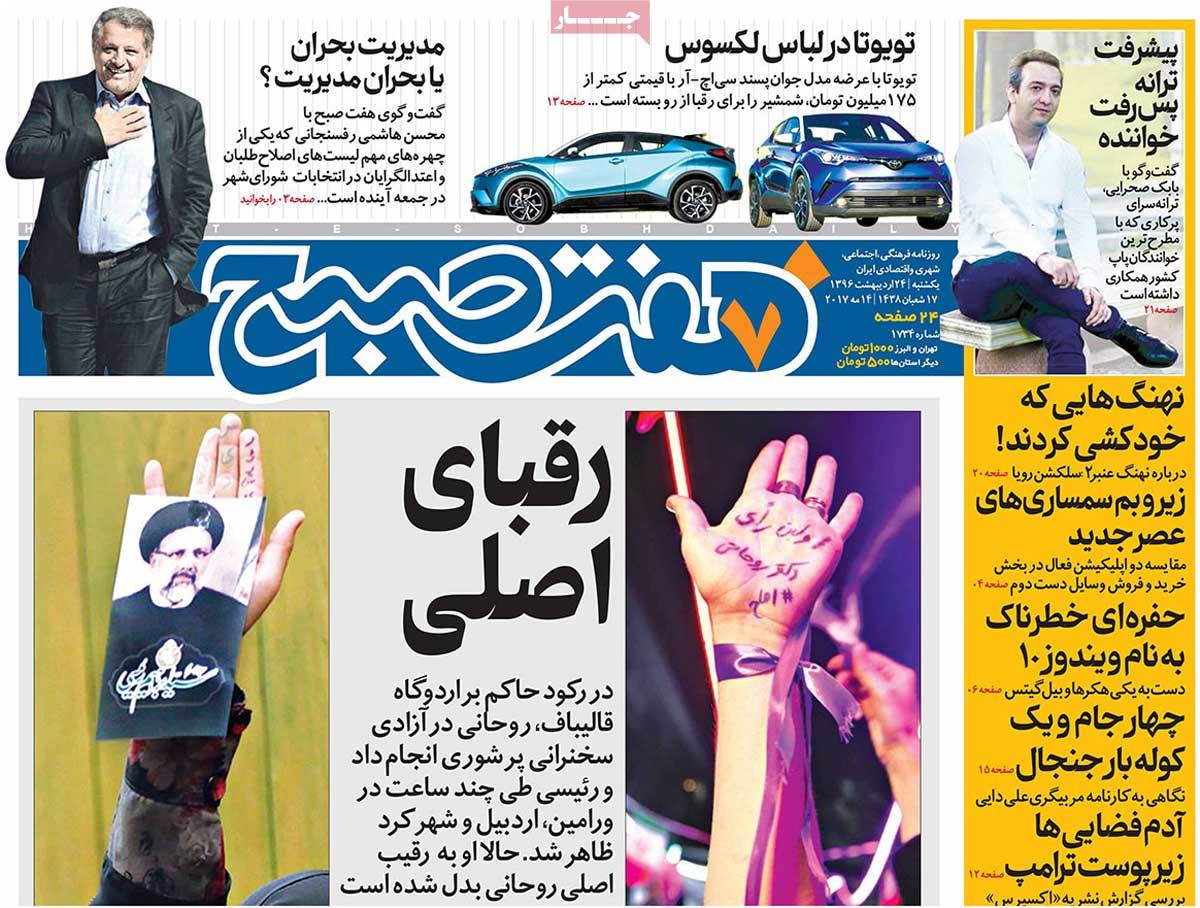 ---
Hemayat:
1- Former US Treasure Official Admits Iran New Sanctions Violate JCPOA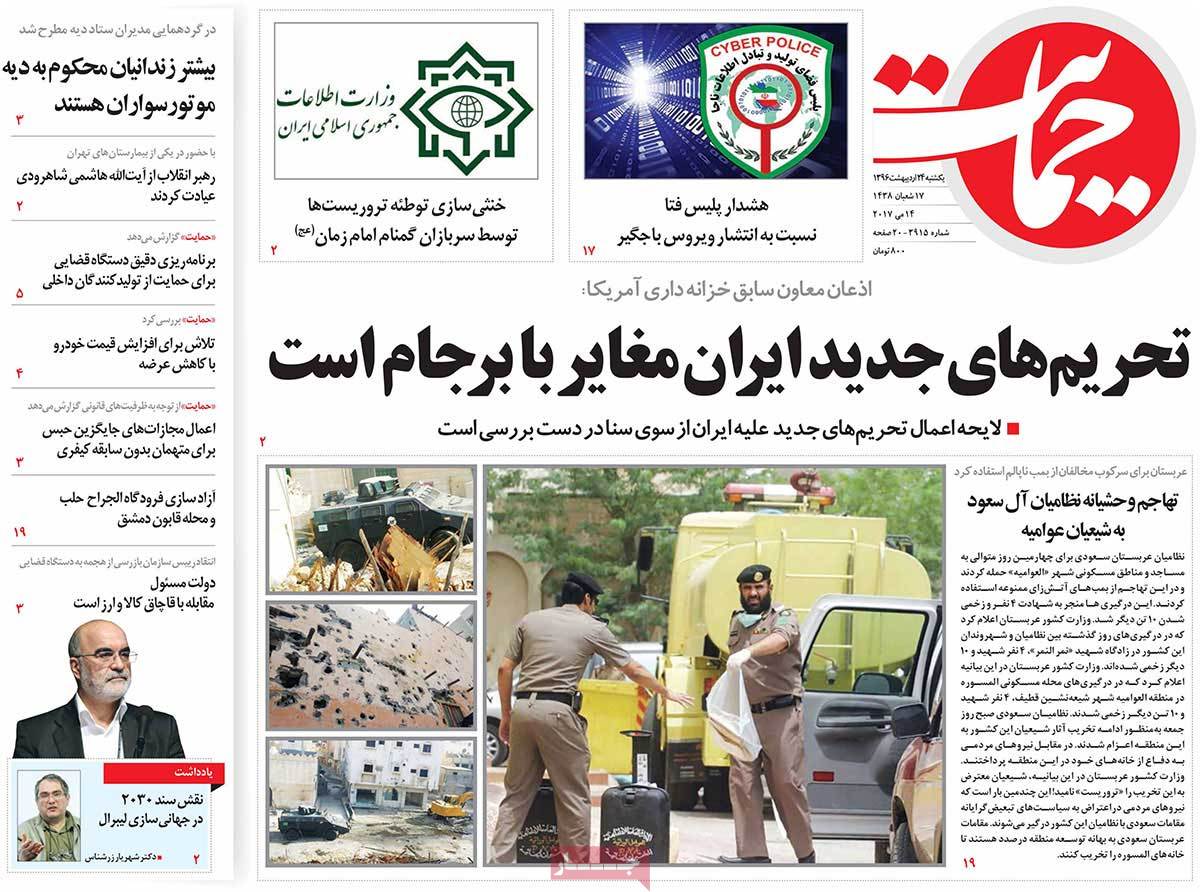 ---
Iran:
1- Top Sunni Cleric: Rouhani's Gov't Facilitated Sunnis' Greater Role in Iran
2- End of Annual Book Festival: Tehran Book Fair Wrapped up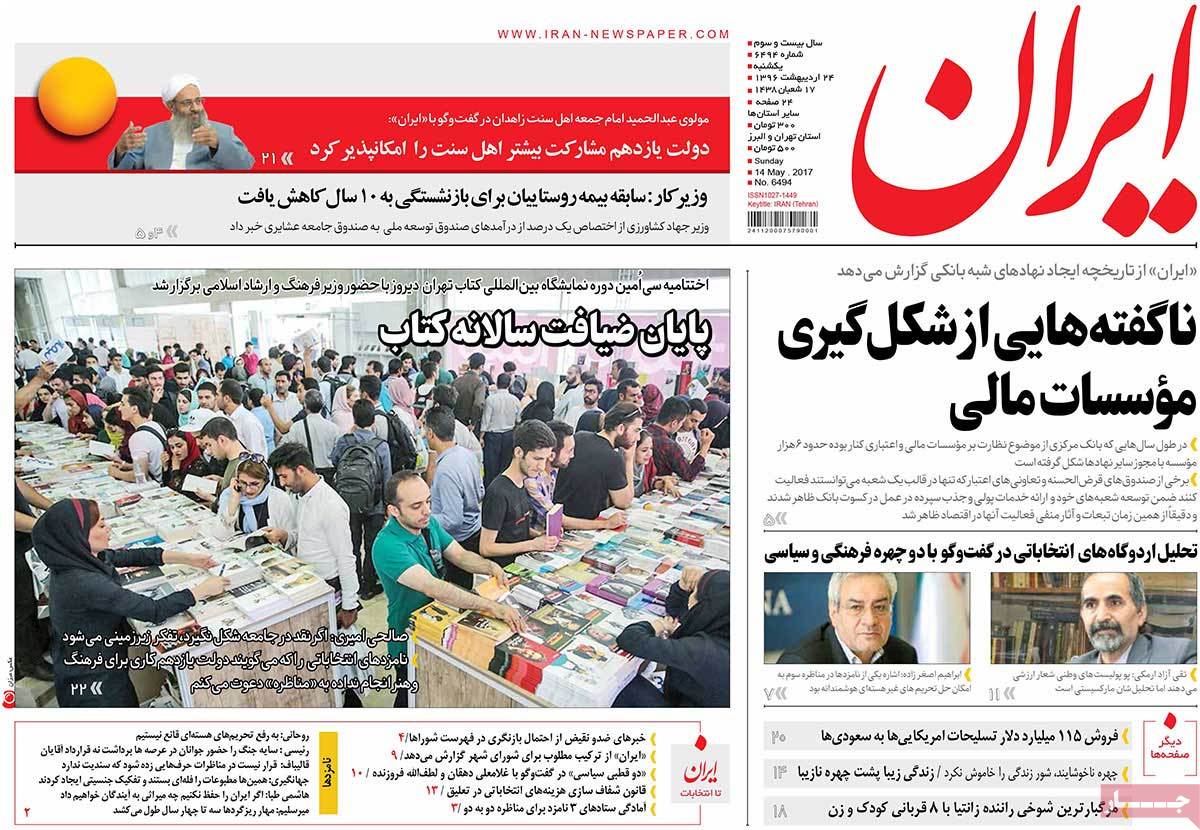 ---
Javan:
1- Rouhani Invited to Head-to-Head Debates
2- Leader's Representative in IRGC: IRGC Won't Interfere in Elections
3- IMF Statistics Show Rouhani Gov't Has Spent More Money than Previous Gov'ts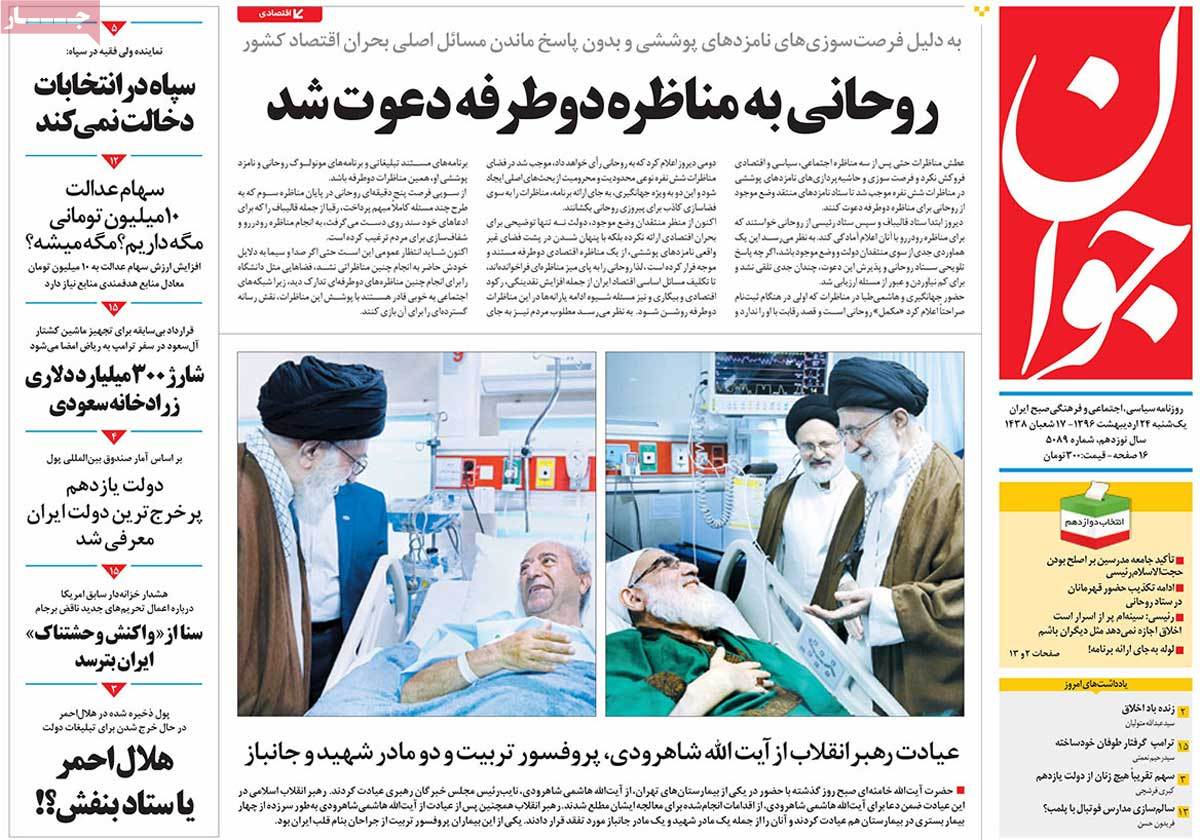 ---
Jomhouri Eslami:
1- Rouhani: We'll Continue Path of Respecting Entire Nation's Rights
2- Iran to Receive 4 ATR Planes This Week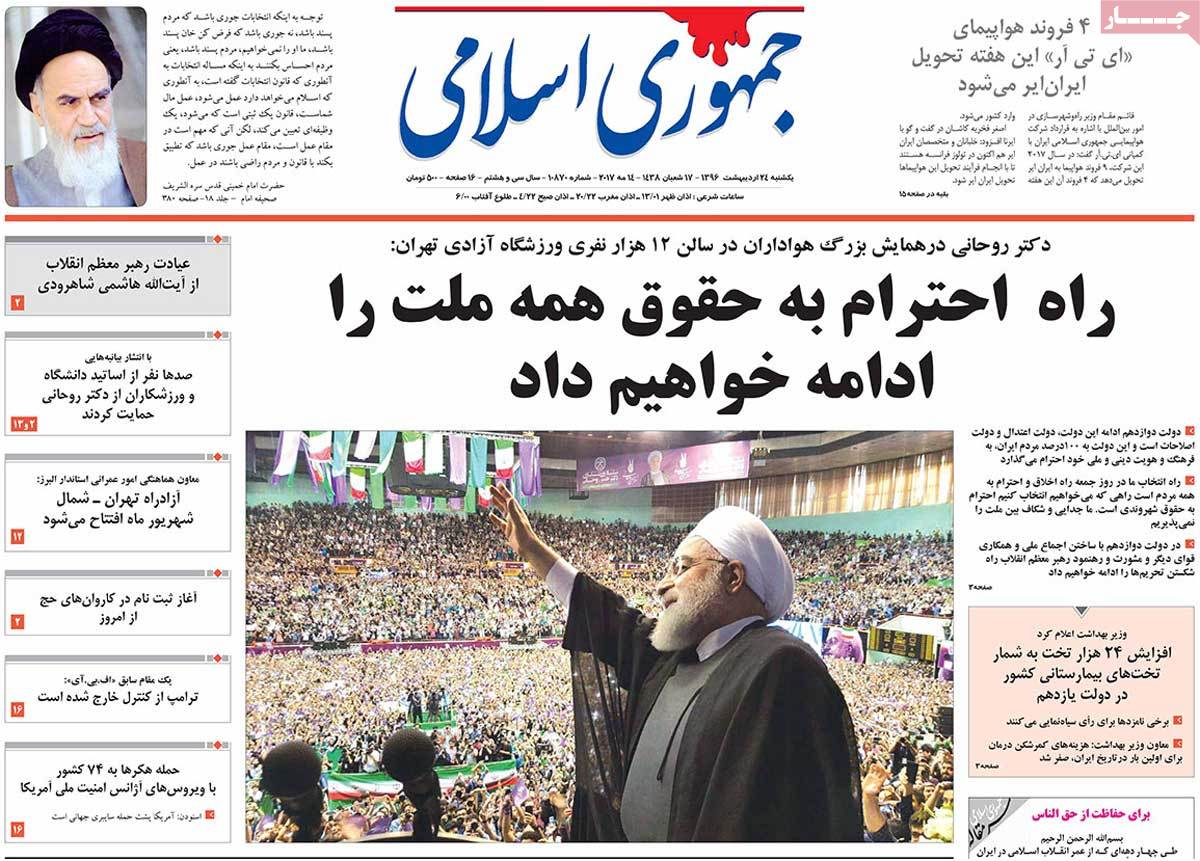 ---
Kayhan:
1- Government Fails in Test of Honesty, Accountability Due to Its Blatant Lies
2- Fear of People's Awareness: 60 Lawsuits Filed against Kayhan in 10 Days
Rouhani's Gov't Moves Borders of Freedom of Speech
---
Resalat:
1- Raisi: Four Years Were Wasted Because of Dependence on Foreigners
2- Mirsalim: Rouhani Administration's Look Only on US
3- Nasrallah: Bin Salman Should Know Imam Mahdi Will Definitely Reappear in Mecca
---
Shahrvand:
1- MPs Working on a Plan that Prevents Officials from Telling Lies