One of the top stories today was the promise made by Iranian President Hassan Rouhani to report about his administration's performance by the next week.
According to today's newspapers, his report will be particularly focused on how much the government has pursued the Resistance Economy principles outlined by Iran's Leader. This was a question raised in the Tuesday meeting of Assembly of Experts, where Rouhani was urged to apologise if he has failed to comply with the principles of Resistance Economy.
Rouhani's criticism of the US report on Iran election also received great coverage. The Iranian president referred to the controversies over the US presidential votes, and urged them to take care of their own election instead of interfering in other countries' affairs.
The above issues, as well as many more, are highlighted in the following headlines and top stories:
19 Dey:
1- Intelligence Minister: Ministry's Mission Is to Silence Bullets, Not Voices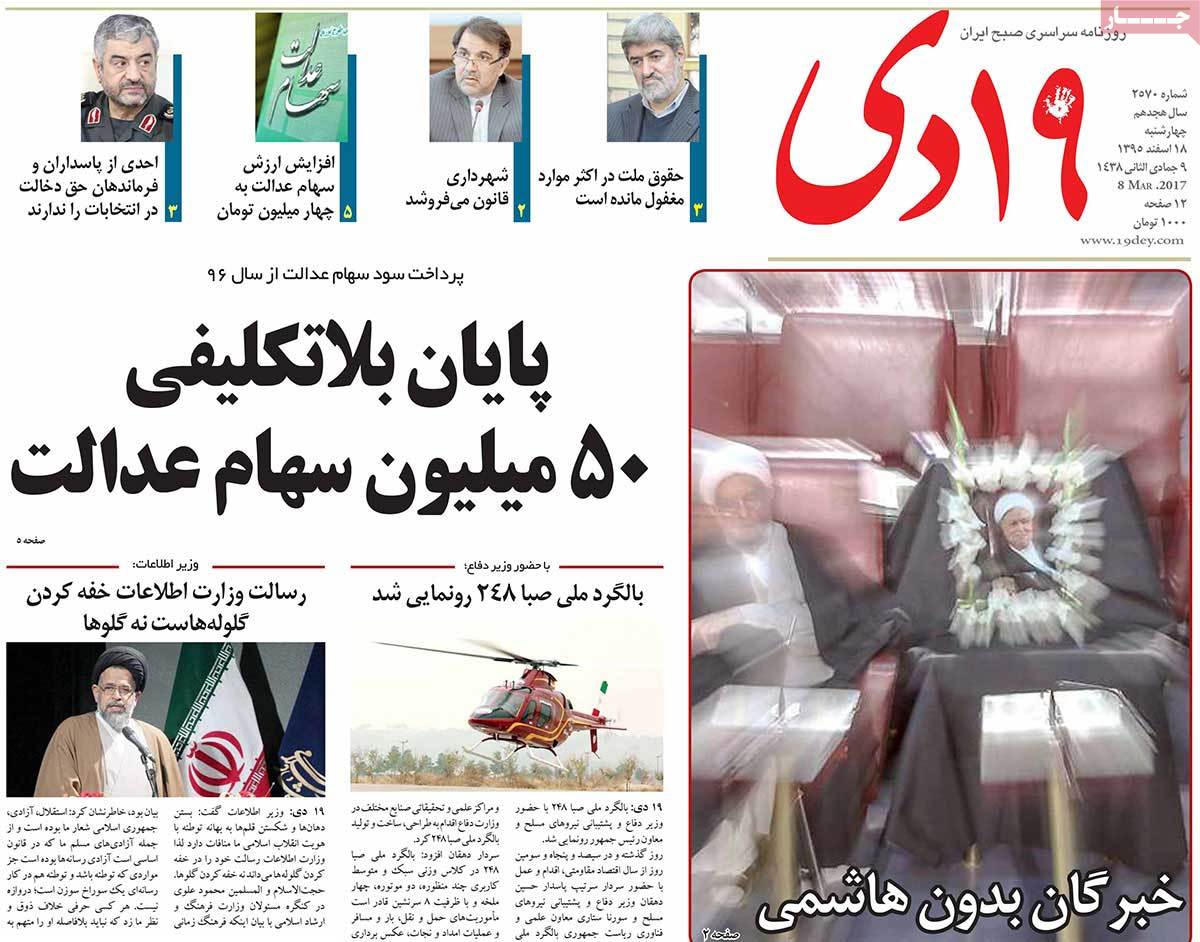 ---
Abrar:
1- Iran's Police Has Debts of Nearly $200 Million Thanks to Ahmadinejad's Permit!
2- Zarif: I've Had No Contact with Tillerson
3- Rouhani: Government to Report on Its Performance Next Week
4- Deputy FM: It's Too Early to Judge Trump Era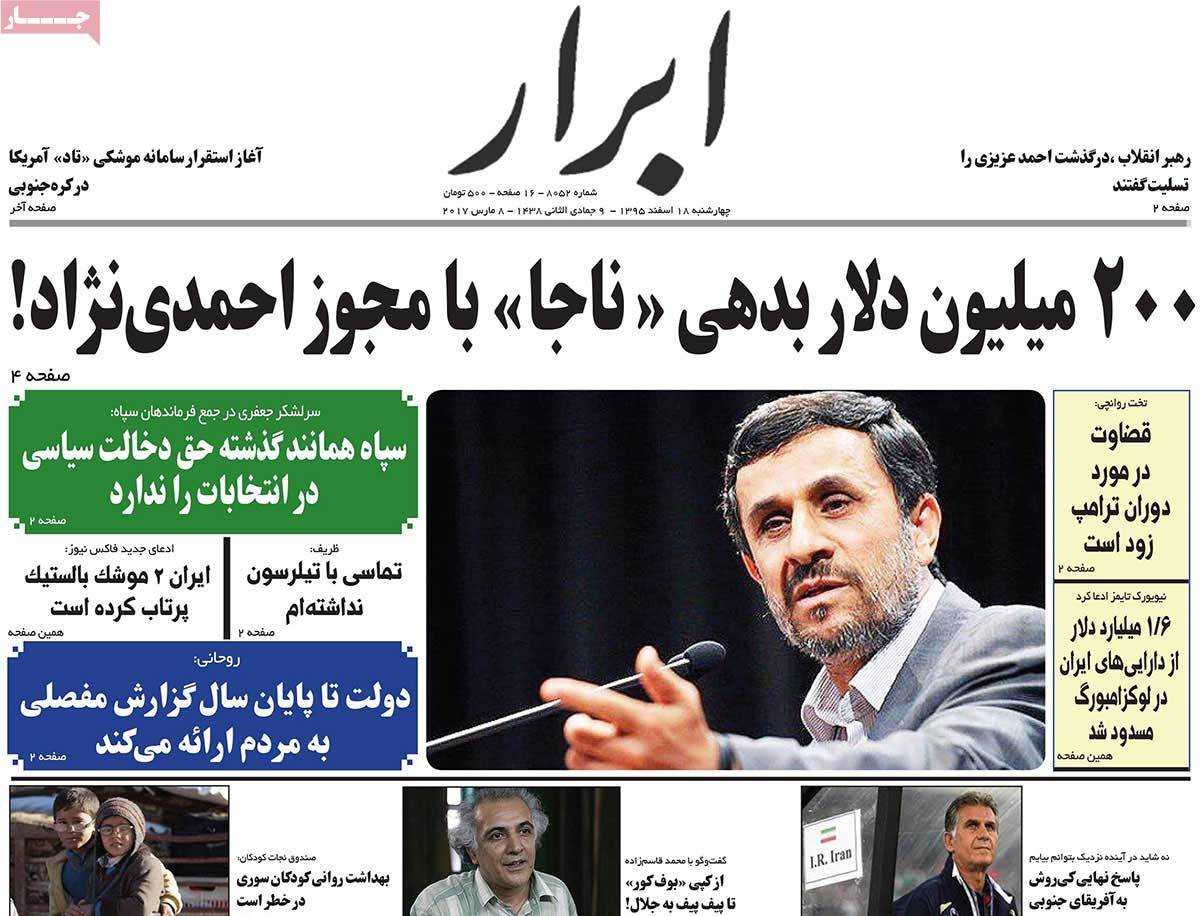 ---
Aftab-e Yazd:
1- Assembly of Experts without Ayatollah Rafsanjani: Tangible Absence
2- Commander: IRGC Staff Not Allowed to Interfere in Election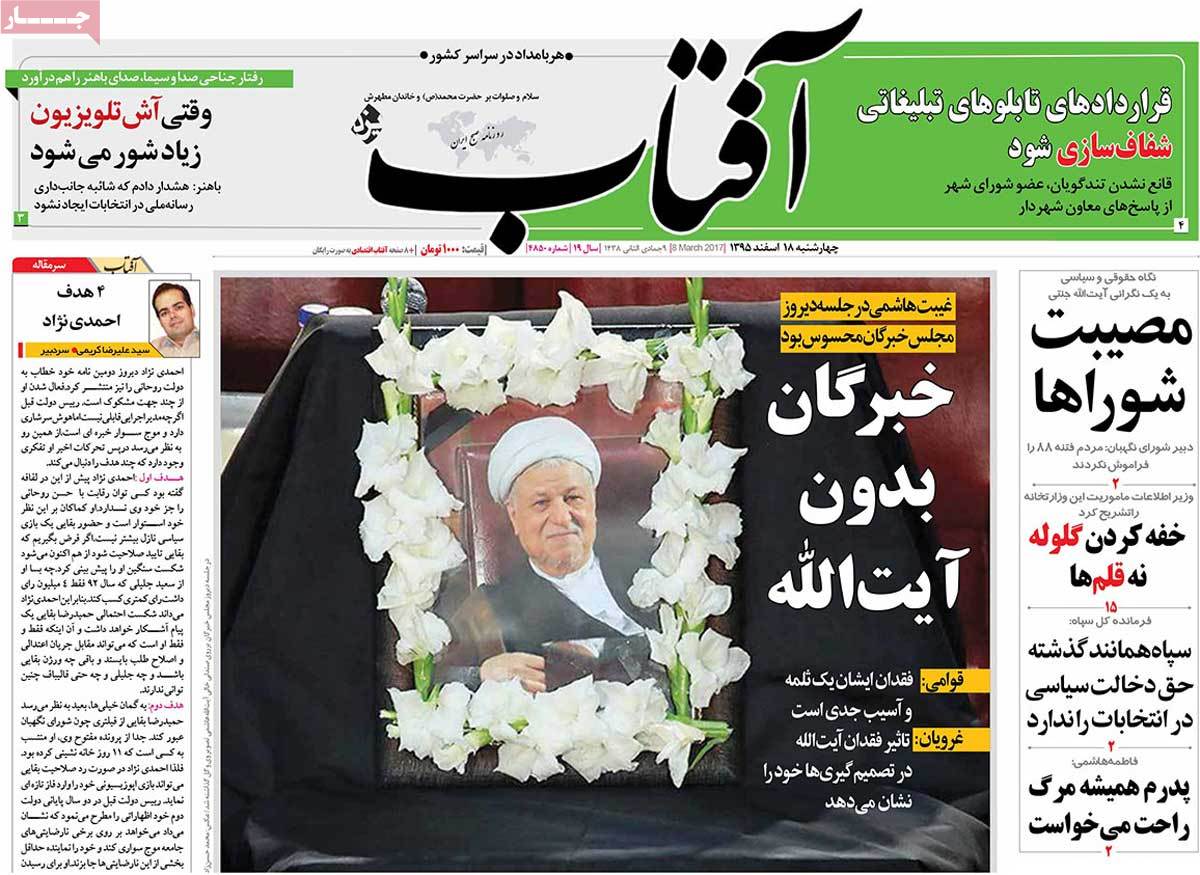 ---
Amin:
1- First Signs of Trump's Flexibility towards JCPOA: Americans can now open bank accounts in Iran after the ban was lifted by Trump administration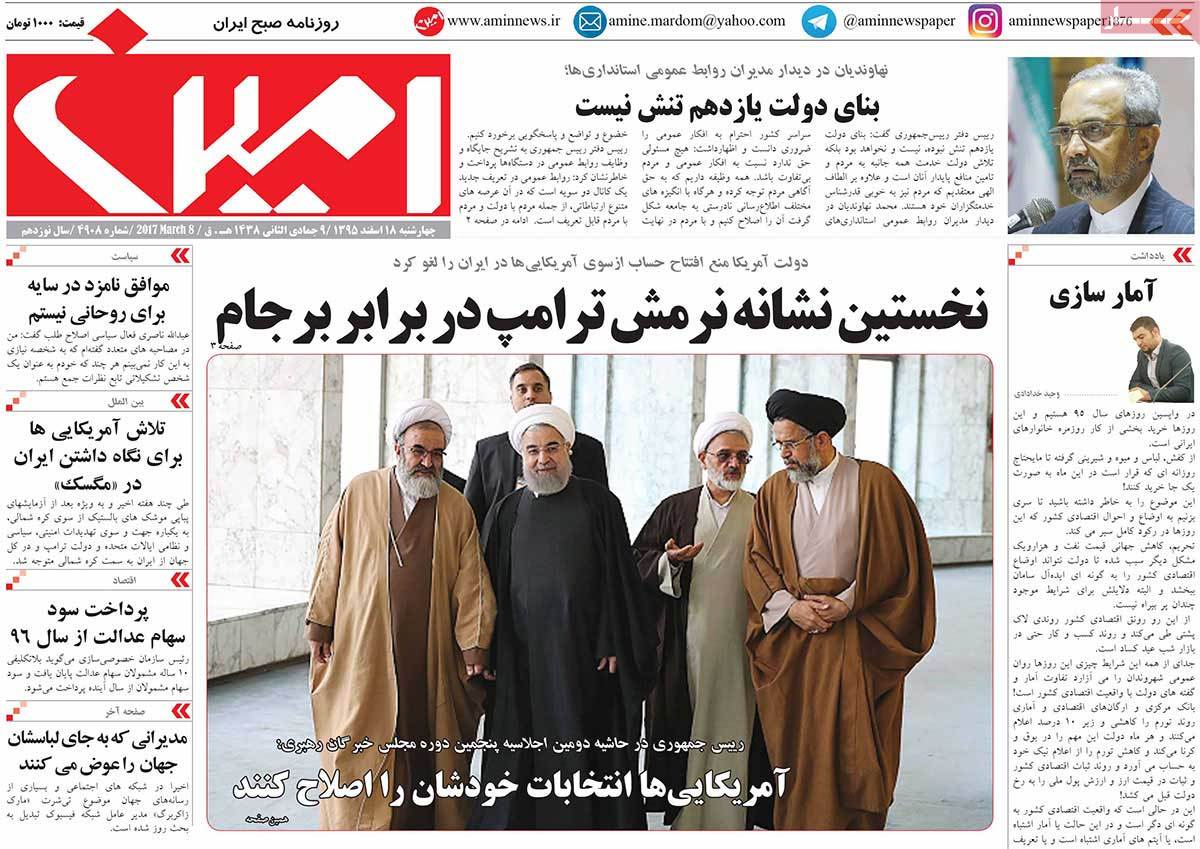 ---
Arman-e Emrooz:
1- President: We Don't Have Right to Inspect People's Lives
2- Rouhani: Lawyers Should Have Independence Just Like Judges
3- 7,000 Factories Shut Down in Ahmadinejad Era
---
Asrar:
1- Rouhani: Americans Had Better Take Care of Their Own Election
2- Oil Minister: 35,000 bpd Produced from Oil Layers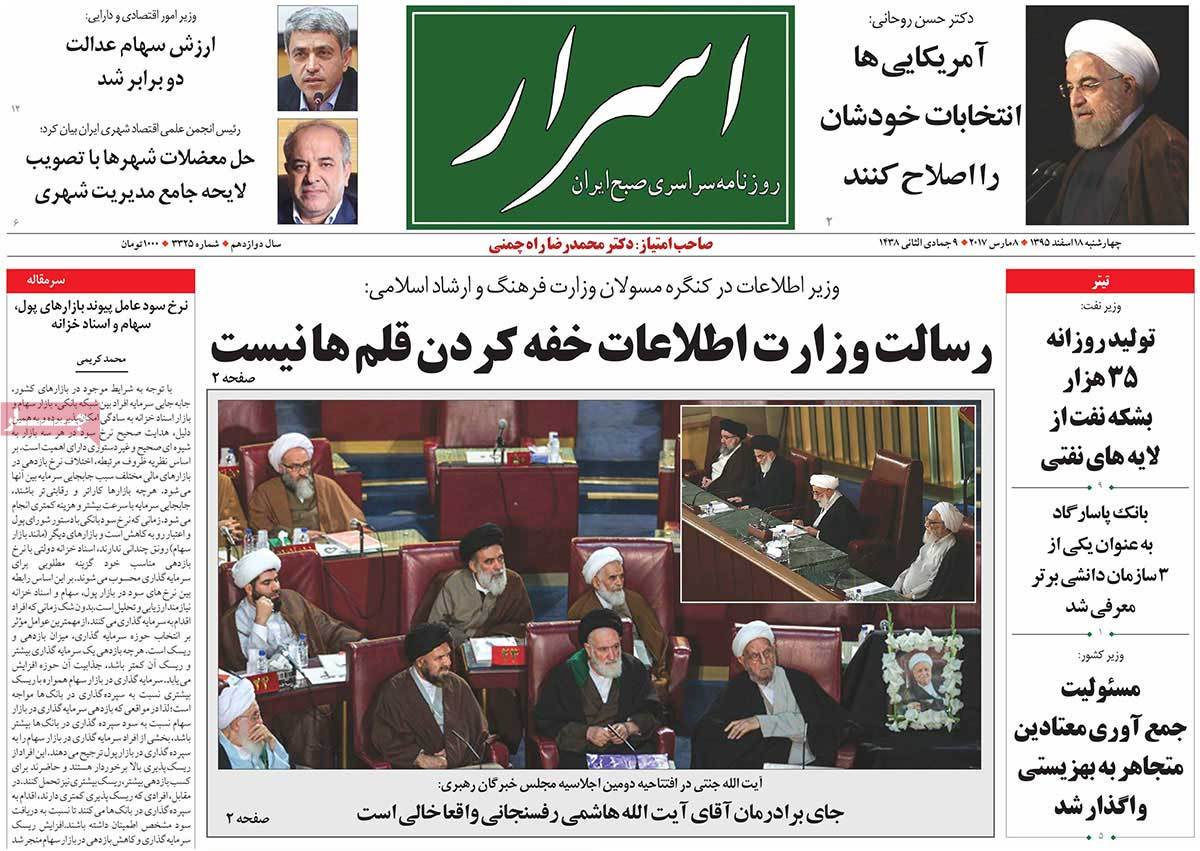 ---
Ettela'at:
1- Rouhani: Government Trying to Restore Nation's Lost Rights
2- Deputy FM: Nuclear Deal Will Be Broken If It Doesn't Meet Our Interests
3- Transport Minister: Horrible to See 1.2m Cars Moving in Tehran Everyday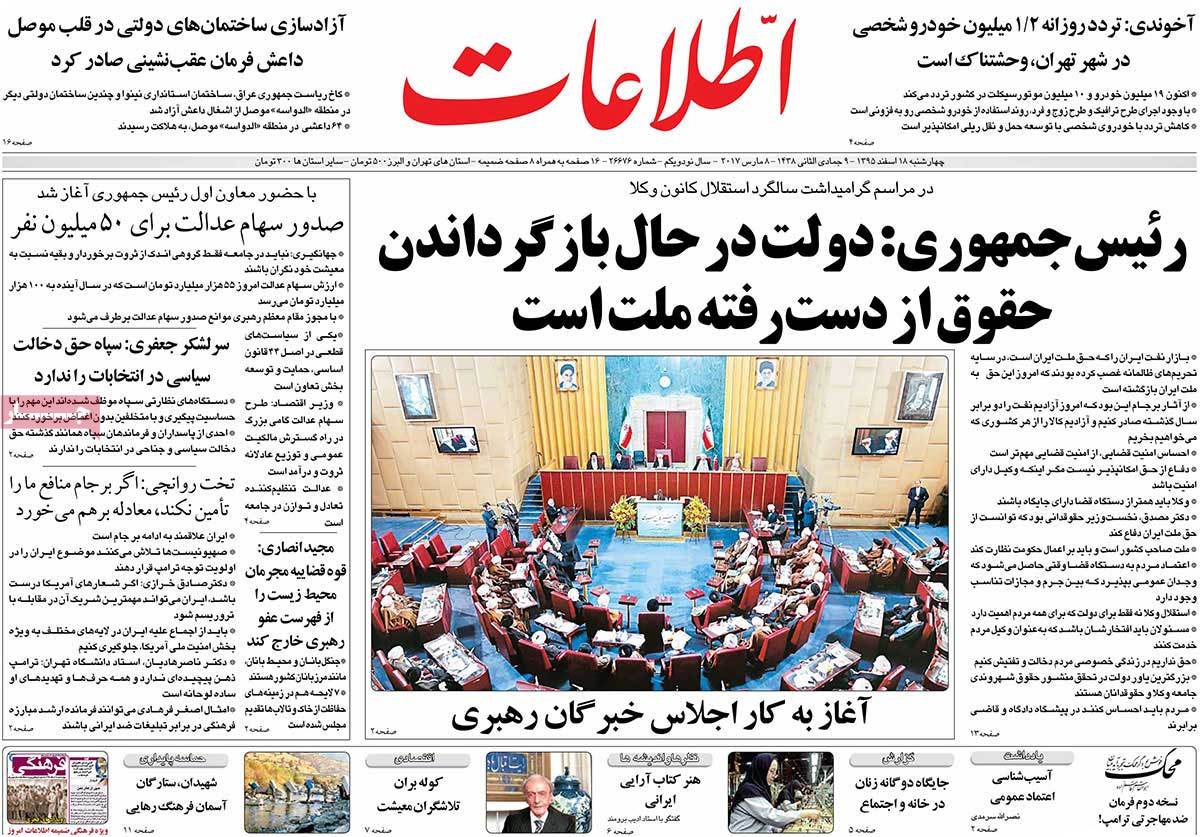 ---
Hemayat:
1- Deputy FM: Iran to Stop Issuing Visa for Americans
2- Deputy Prosecutor General: Waze Navigation App Filtered in Iran
---
Iran:
1- 50 Million Iranians Given Shares in Stock Exchange Market: First VP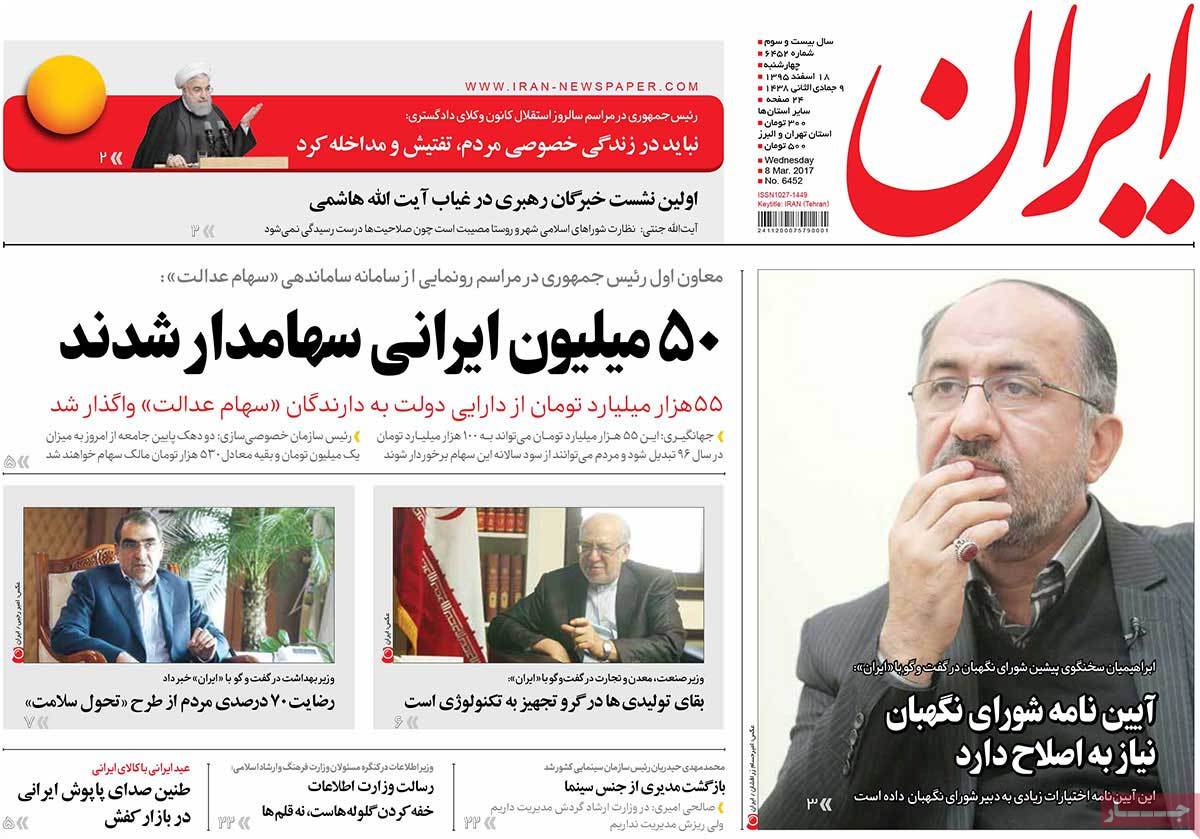 ---
Javan:
1- Assembly of Experts Calls for Gov't Report on What It's Done for Resistance Economy
2- Washington's Dagger in Heart of JCPOA: Luxembourg court to seize Iran assets worth $1.6bn
---
Jomhouri Eslami:
1- Deputy Transport Minister: 2 Airbus Planes to Be Delivered to Iran Next Week
2- Parliament Speaker: Rouhani Will Be Re-Elected in May Elections
---
Kayhan:
1- Latest Fruit of Inaction Diplomacy: Even Luxembourg Is Seizing Iran Assets!
2- Trump Starts Demanding Money from Arab Sheikhs! 'We rid Kuwait of Saddam, you should pay $9 billion!'
3- Mosul: One Step to Full Liberation; Iraqi PM Arrives in City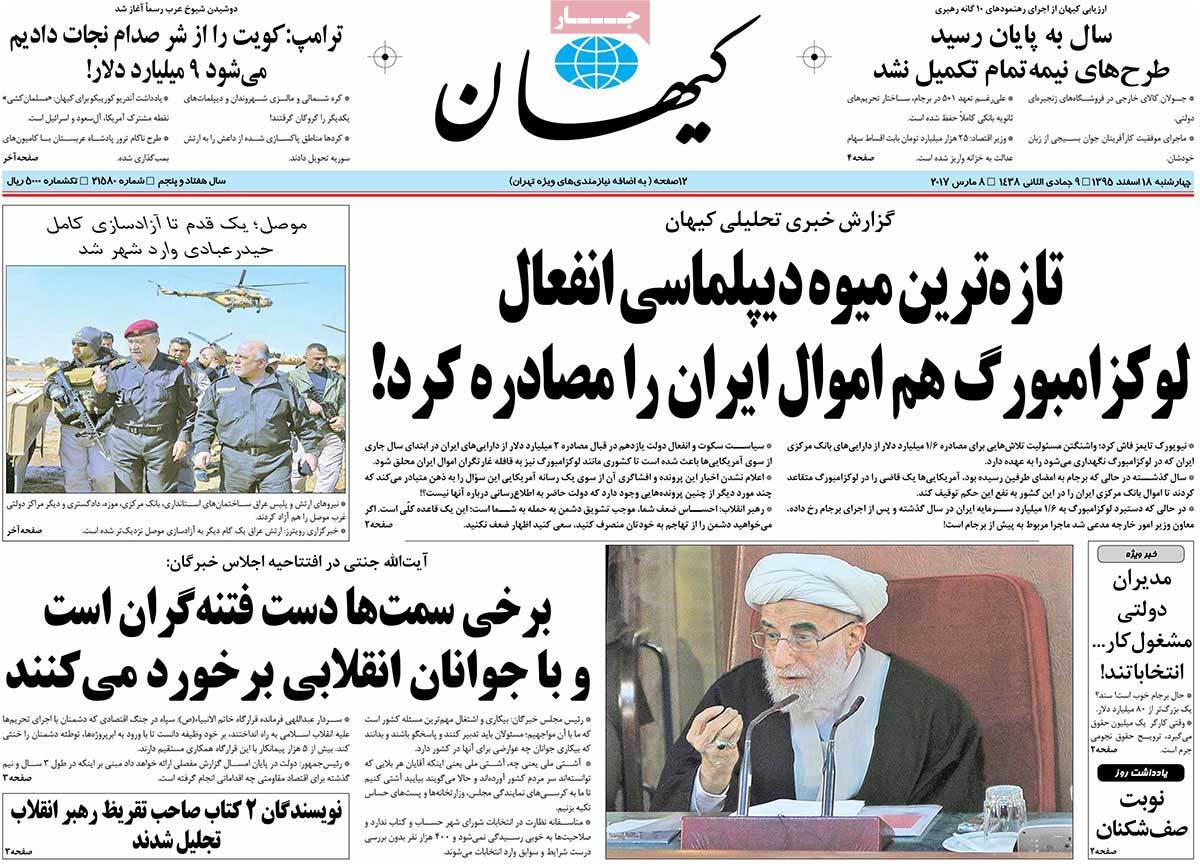 ---
Resalat:
1- Homegrown Chopper Saba 248 Unveiled by DM
2- Head of Assembly of Experts urges Rouhani to apologize if he's failed to implement resistance economy
3- President: Iran's Election Is Democratic, Americans Had Better Correct Their Own Election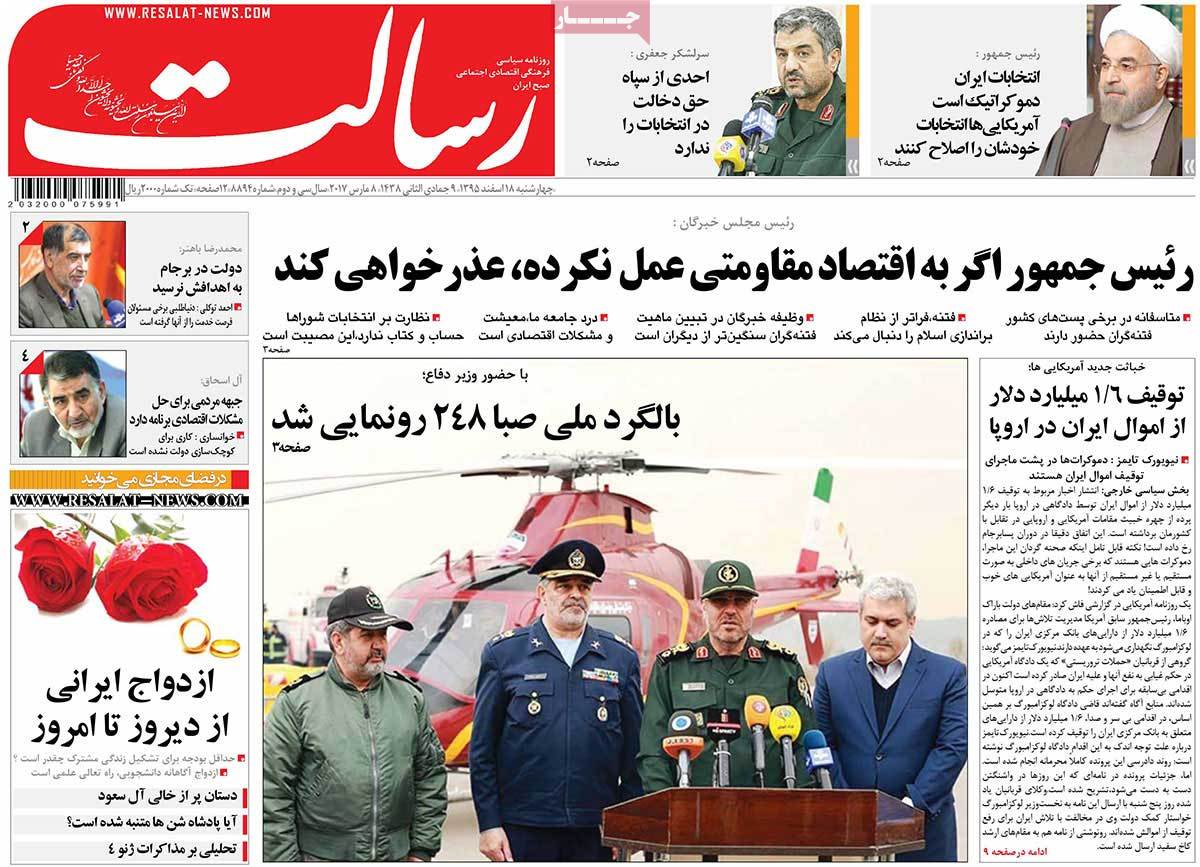 ---
Sayeh:
1- Official: 3% of Oil Deals Revenues to Be Allocated to Environment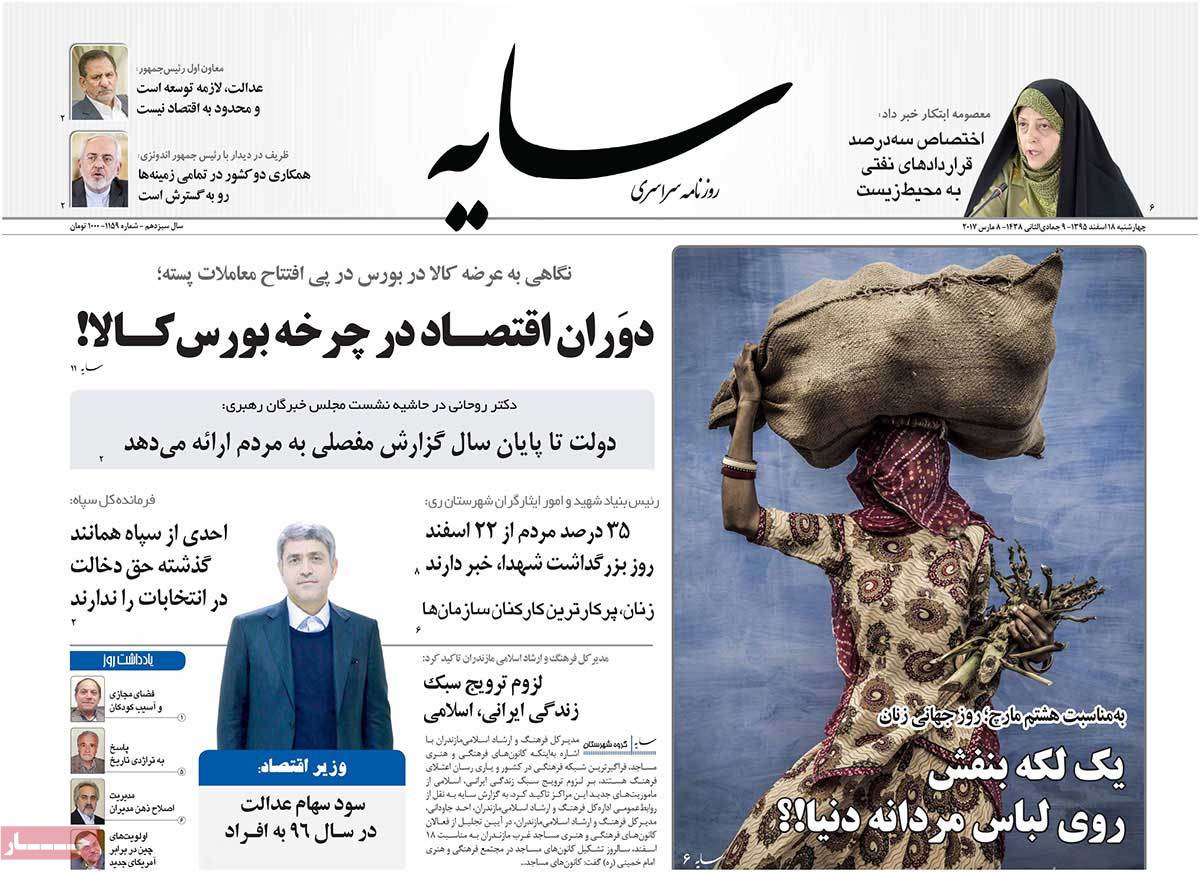 ---
Seda-ye Eslahat:
1- Turkey's Abnormal Behaviour towards Iran: When Iranians are harassed in borders
2- Senior Conservative: Rouhani Indebted to Reformists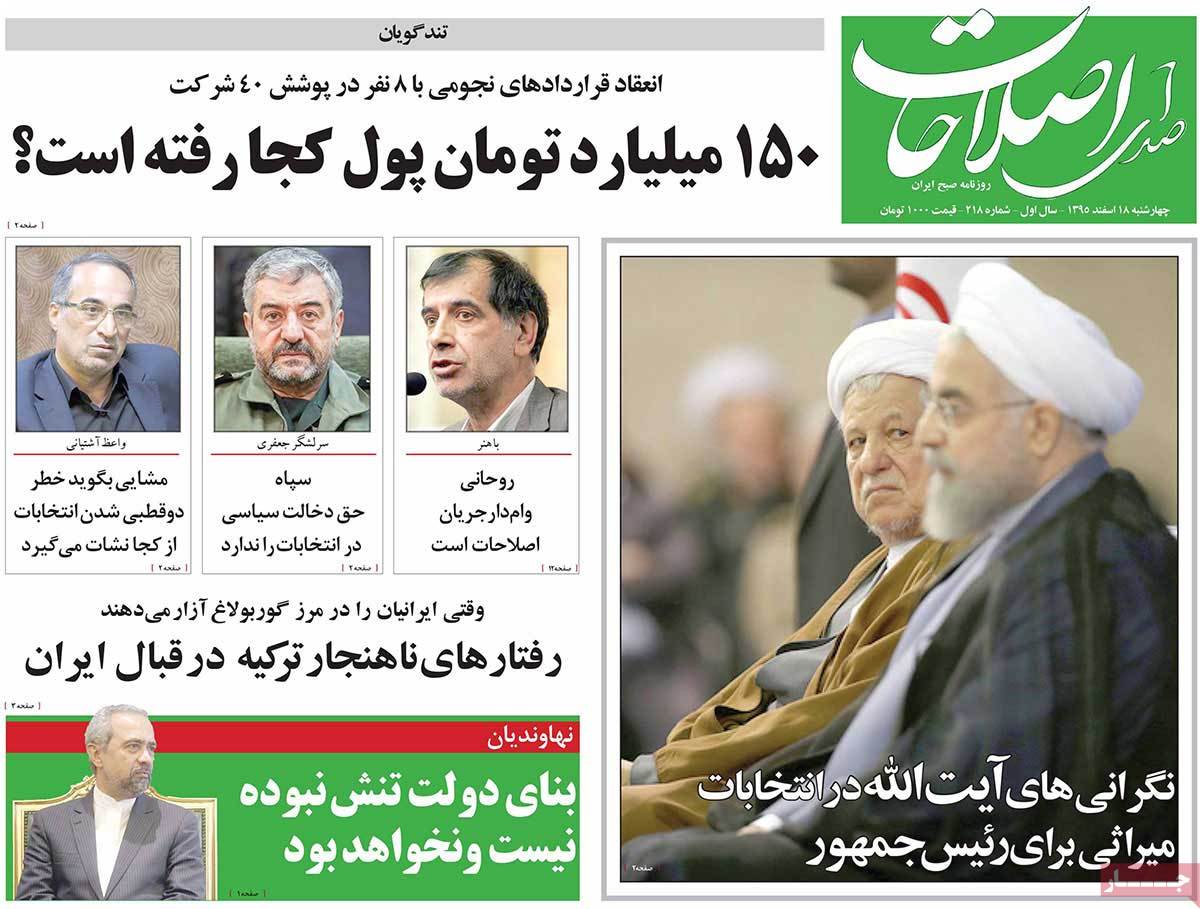 ---
Shargh:
1- It's against Constitution to Charge Money for Education: Minister
2- President: Feel Free to Criticise Government