The remarks made by Iran's Leader Ayatollah Seyyed Ali Khamenei in a meeting with members of the Assembly of Experts, and his criticism of President Hassan Rouhani's administration received great coverage today.
Another top story today was the letter penned by First Vice-President Es'haq Jahangiri to the chairman of Assembly of Experts Ayatollah Ahmad Jannati about the government's measures to implement the principles of Resistance Economy outlined by Ayatollah Khamenei.
The arrival of the new Airbus plane purchased by Iran Air in Mehrabad Airport was also a top story. This is the second brand-new plane landing in Iran following the nuclear deal between Tehran and world powers.
The above issues, as well as many more, are highlighted in the following headlines and top stories:
Abrar:
1- Iranian Warship Docks at Russia, Welcomed by Russian Officials
2- Saudi Arabia Rejects China's Mediation in Tehran-Riyadh Ties
3- Merkel: Erdogan's Remarks Intolerable
---
Abrar-e Eqtesadi:
1- Second Airbus Lands in Mehrabad Airport in Post-JCOA Era
2- Czech Republic Ready to Enter Iran's Car Market
3- Iran's 56-Percent Share of Internet in Middle East
4- White House Not Capable of Stopping Iran-Europe Trade Ties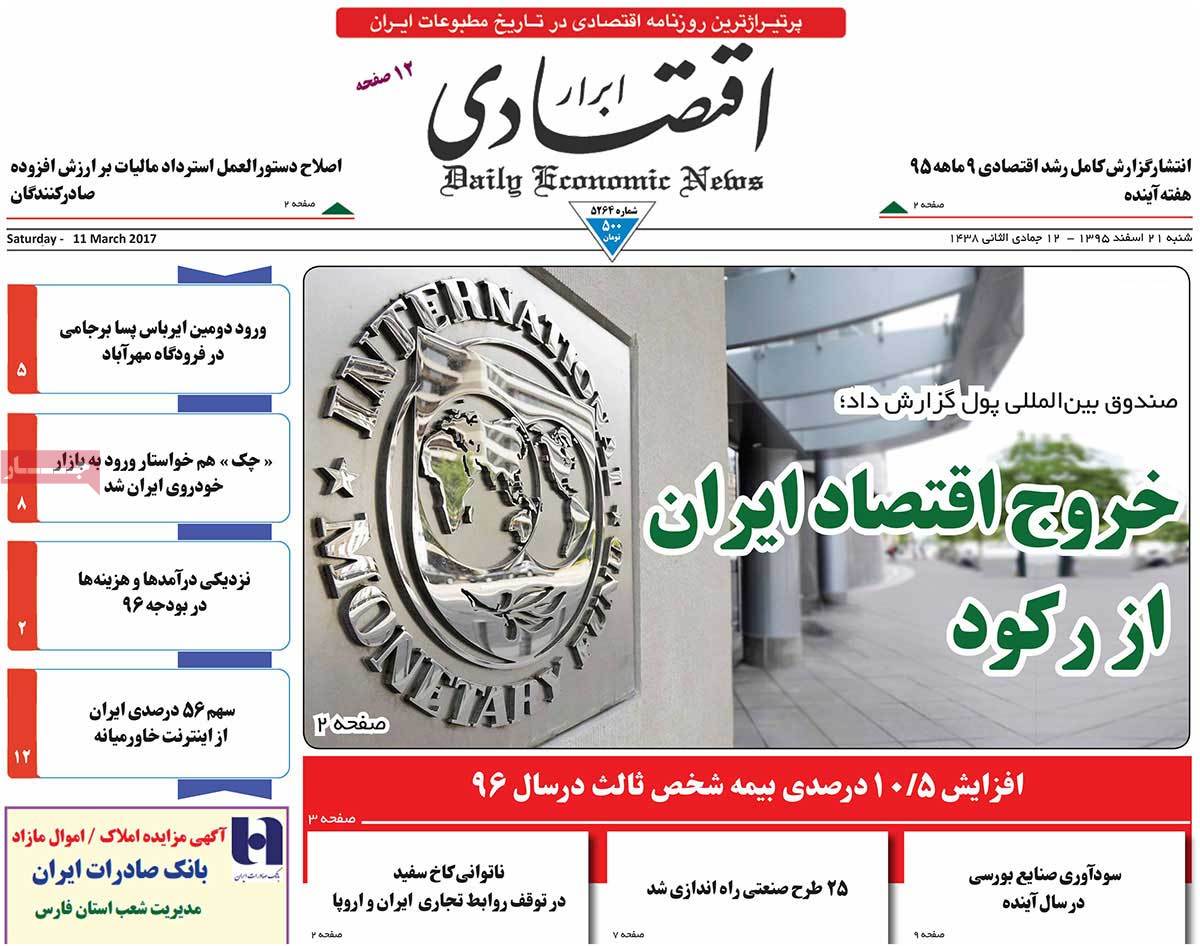 ---
Aftab-e Yazd:
1- Iran's Leader: People Should See Results of Resistance Economy in Their Lives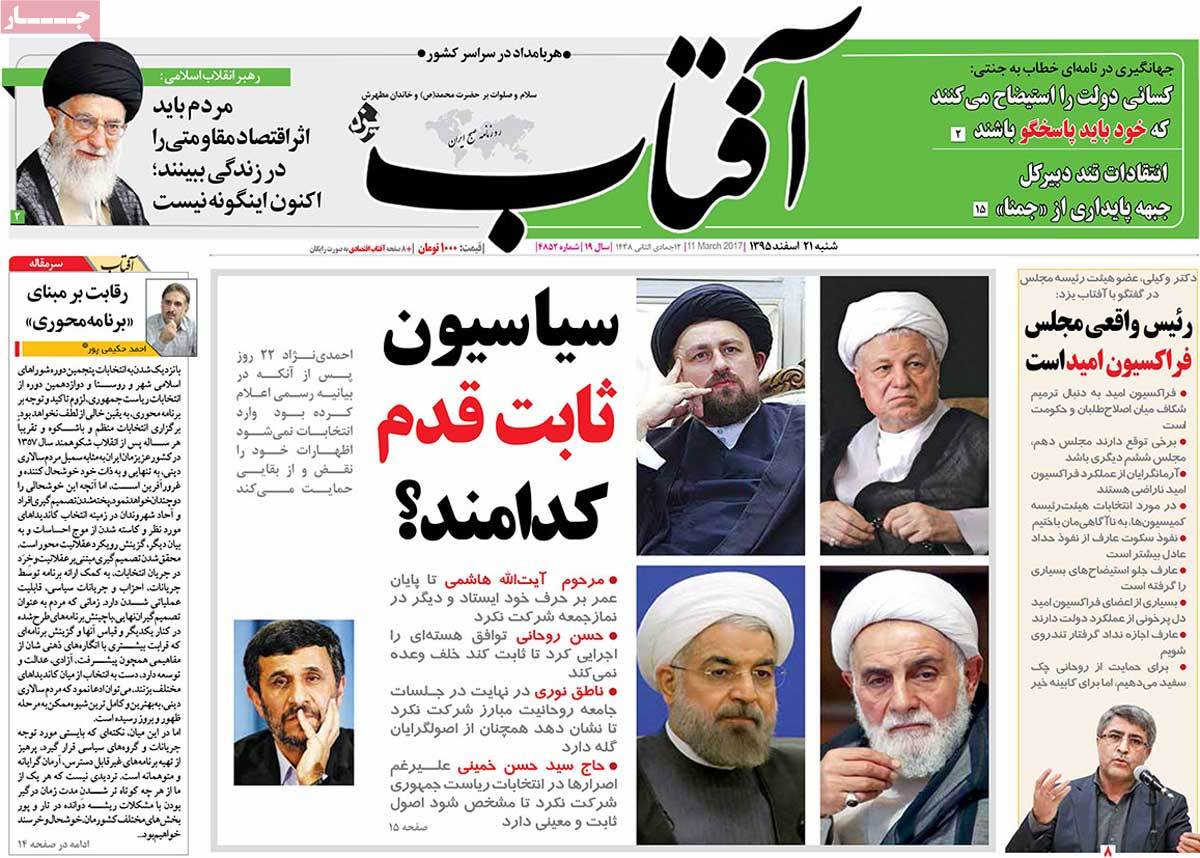 ---
Arman-e Emrooz:
1- Parliament Vice-Speaker Warns about Body Organ Business by Mafia
2- Larijani: Rouhani Ends Political Conflict
---
Ebtekar:
1- Leader: We're Highly Responsible towards People's Livelihood
2- First VP Writes Letter to Guardian Council on Resistance Economy
---
Etemad:
1- Aref: Reformist Candidates to Become President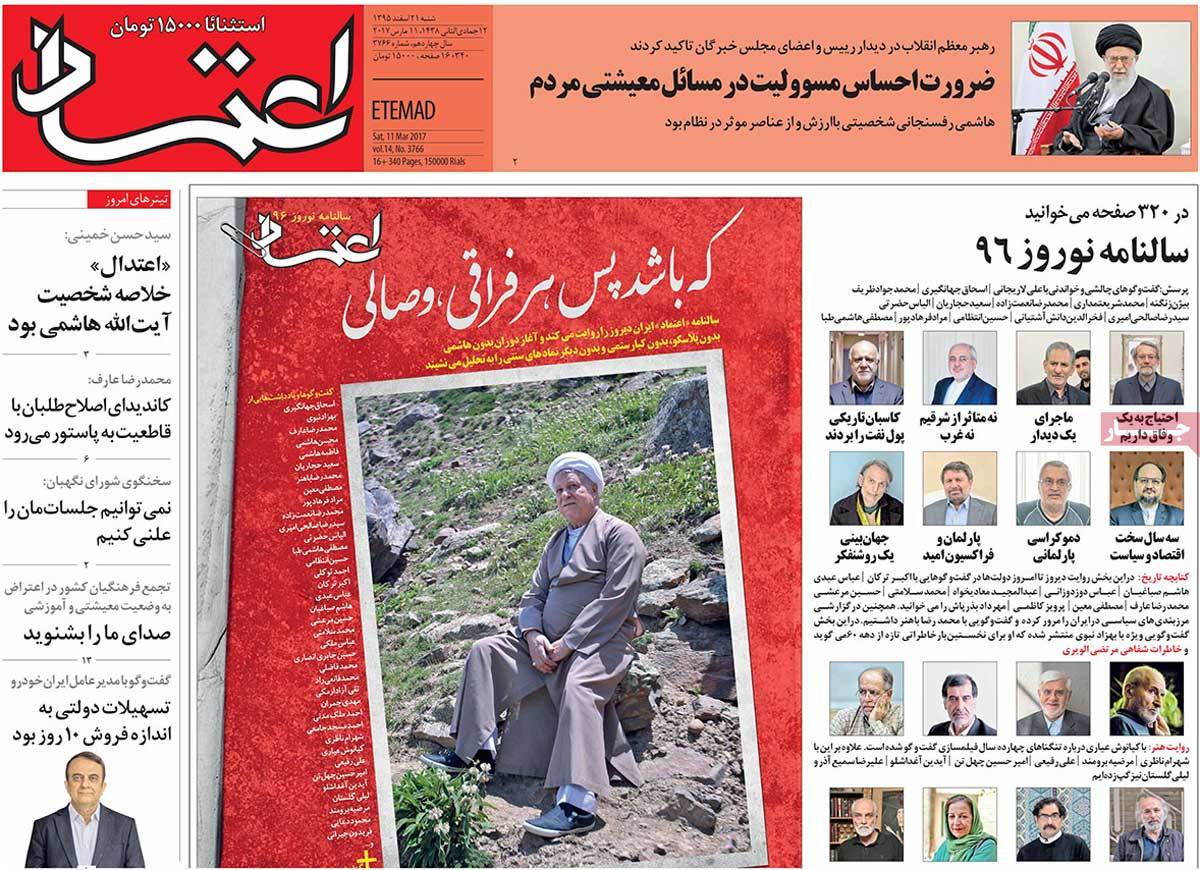 ---
Ettela'at:
1- All Bodies in Iran Should Implement Resistance Economy Principles: First VP
2- Huffington Post: Al-Qaeda, ISIS Leaders Can Enter US, Iranian Students Can't!
3- We Can Stand on Our Feet despite Pressures: General Soleimani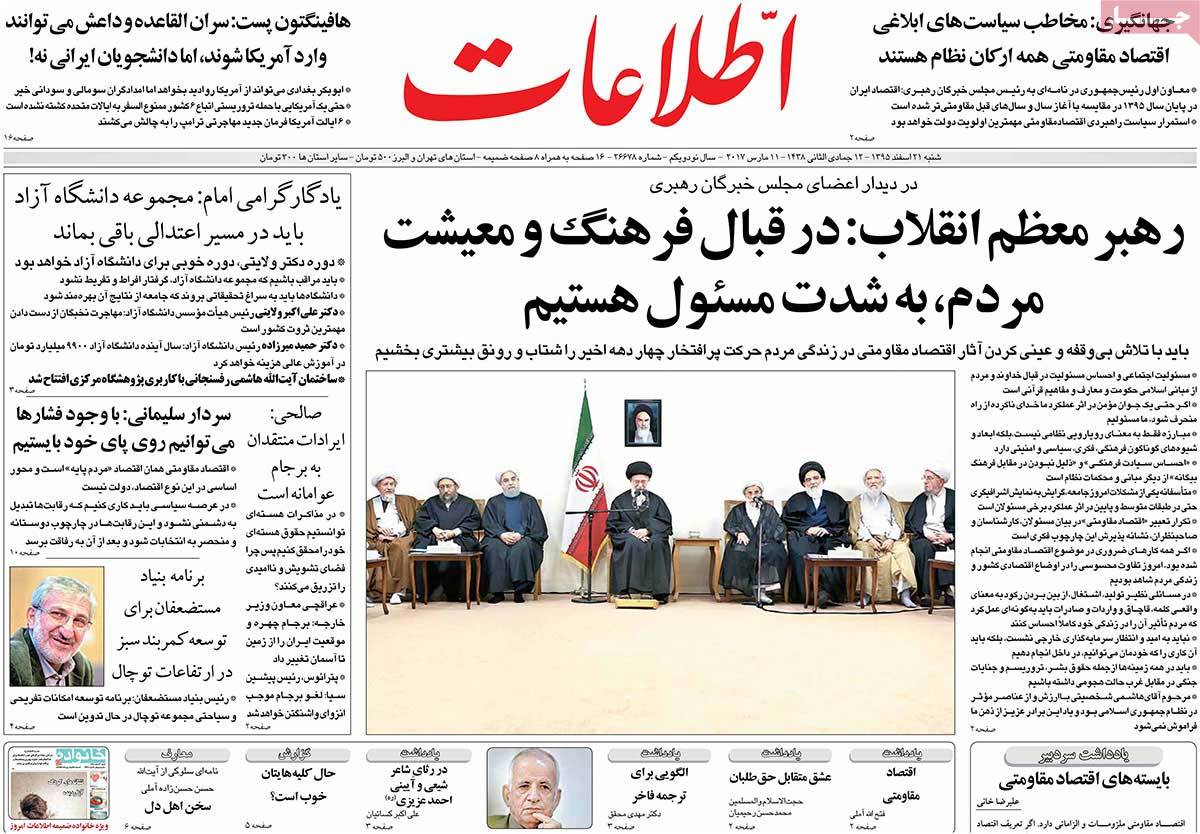 ---
Hamdeli:
1- Putin Reacts to Israeli PM's Remarks: Netanyahu's Account of Iran History Ridiculed
---
Iran:
1- Iran's Leader: Resistance Economy Only Way to Resolve Problems
2- Trump's Goal is to Transfer Diplomacy from State Dept. to White House: Analyst
---
Javan:
1- Army Deployment amid Power Transition in South Korea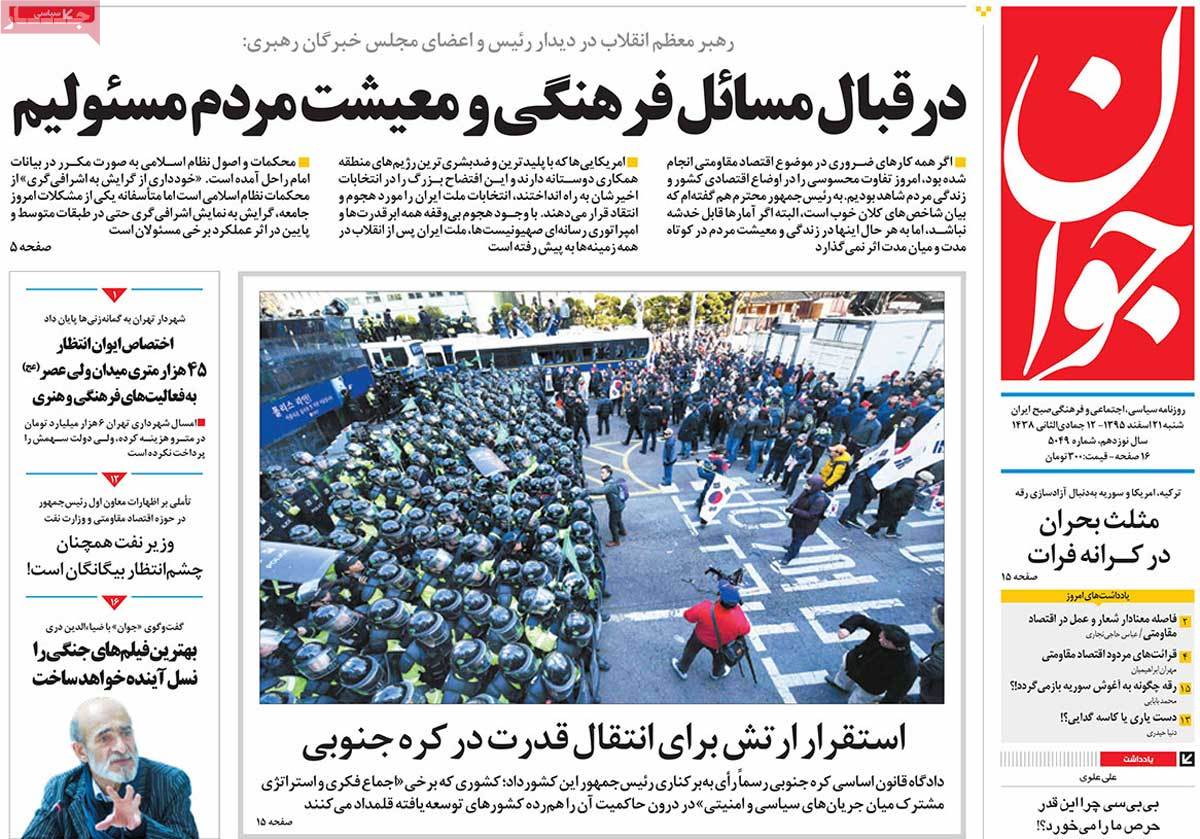 ---
Jomhouri Eslami:
1- South Korean President Officially Dismissed
2- Pope Warns against Growth of Populism in World
3- American Marines Arrive in Northern Syria on Pretext of ISIS Fight
4- New Round of Disobedience against Trump's Travel Ban
5- Those Who Impeach Gov't Should Be Held Accountable for Their Measures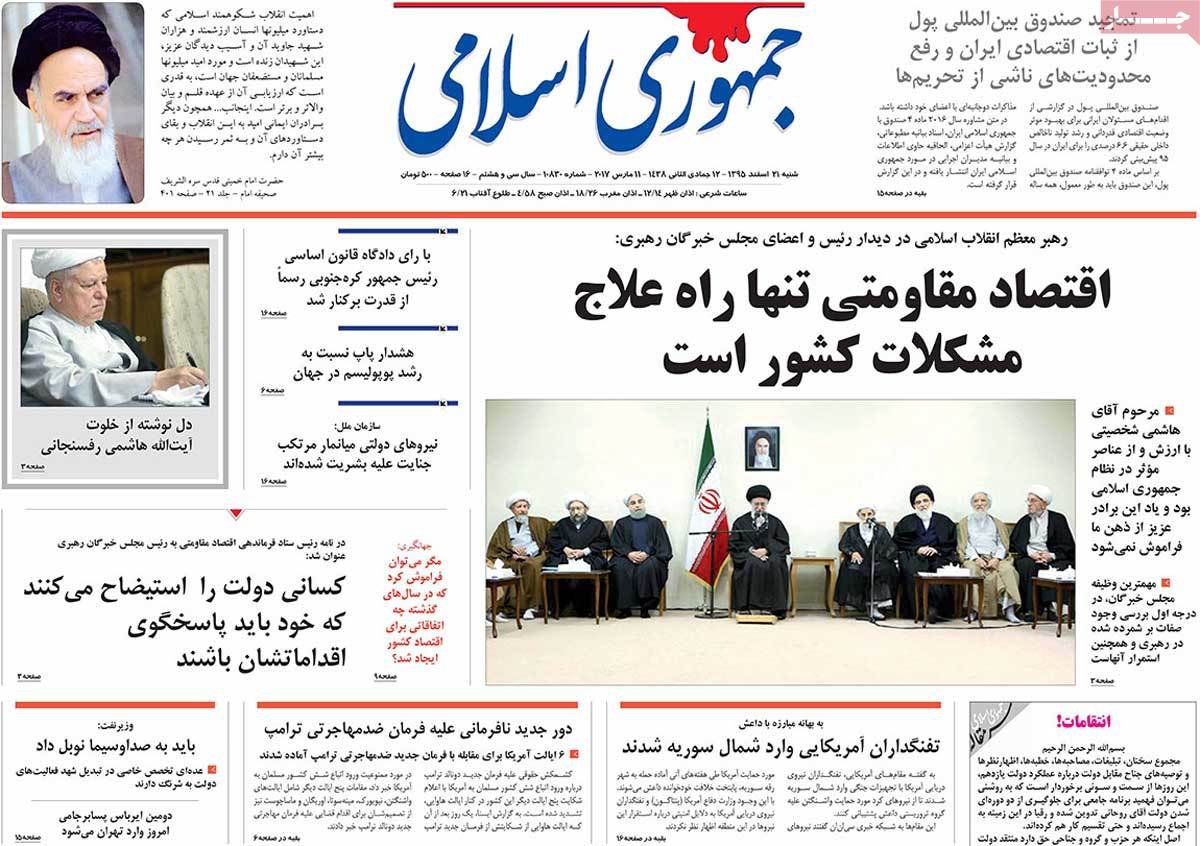 ---
Ka'enat:
1- Gov't Taking Action against Those Who Spread Rumours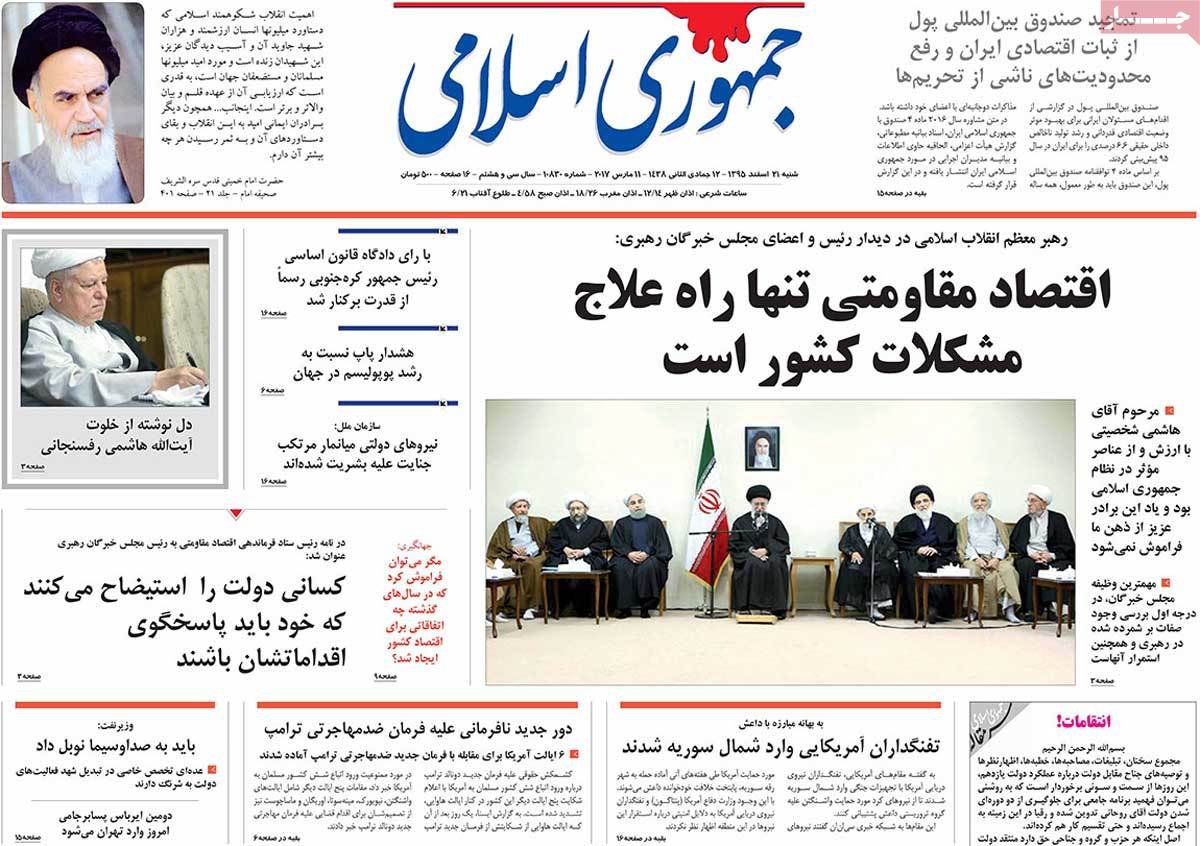 ---
Kayhan:
1- Iran's Leader Calls for Aggressive Stances against West in All Fields [including human rights, terrorism, and war crimes]
2- Erdogan Stops Flow of Euphrates' Water to Syrian People
3- Saudi Arabia Still Pouring Cluster Bombs on Yemenis: Amnesty Int'l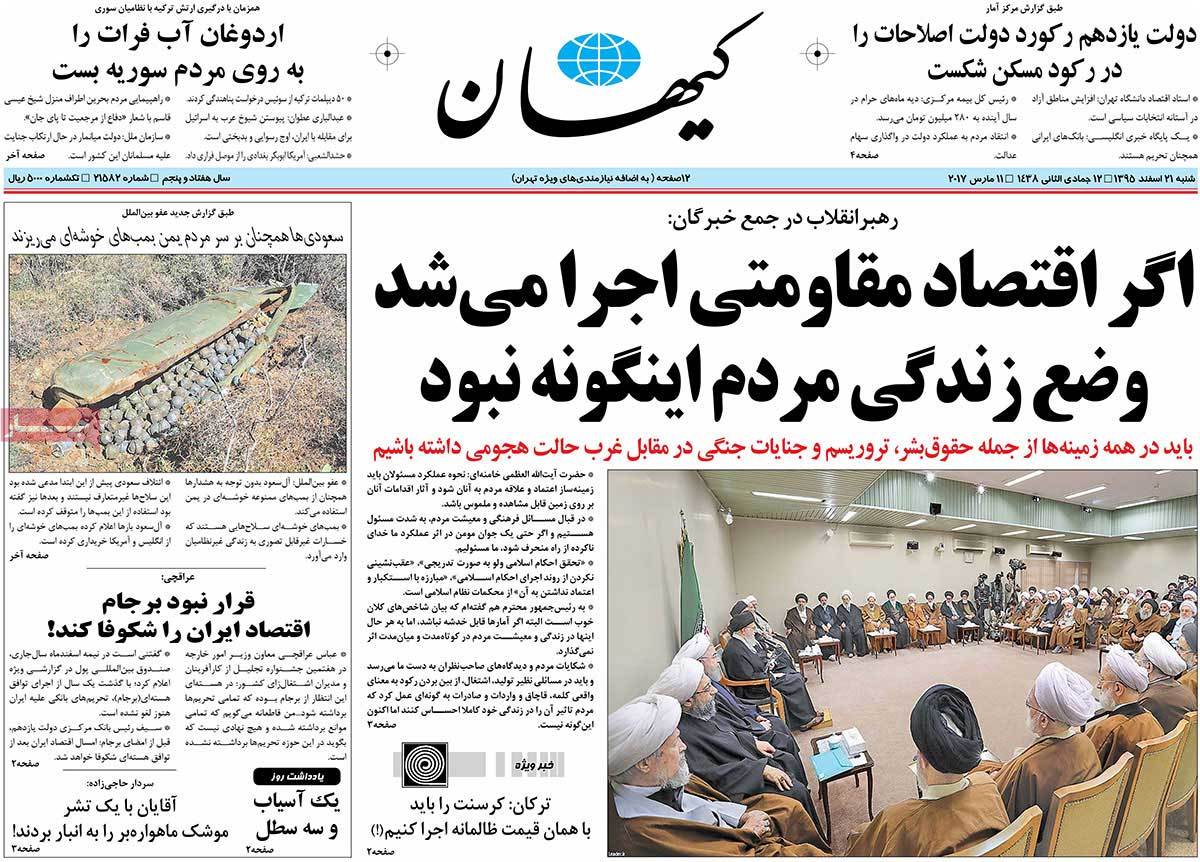 ---
Rooyesh-e Mellat:
1- Foreign Ministry Spokesman: Iran's Sovereignty over Trio Islands Eternal
2- US Congress Trying to Impose Fresh Anti-Iran Sanctions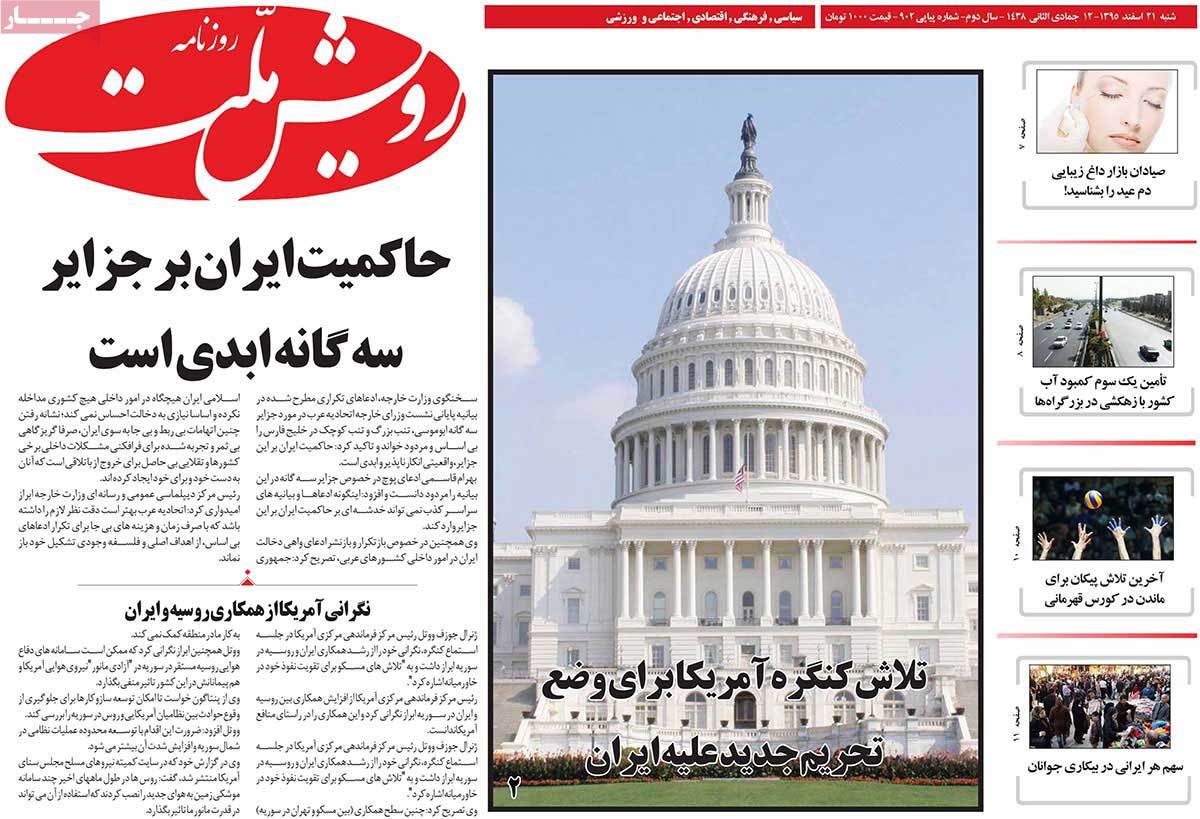 ---
Setareh Sobh:
1- Iran's Economy Gets out of Downturn: IMF
2- Barrier to Banking Ties with World Not Related to Nuclear Deal
3- Iran's Economy in Past Year Became More Resilient: First VP
---
Shahrvand:
1- Iran's Leader: Inclination towards Show of Aristocracy is a Problem Today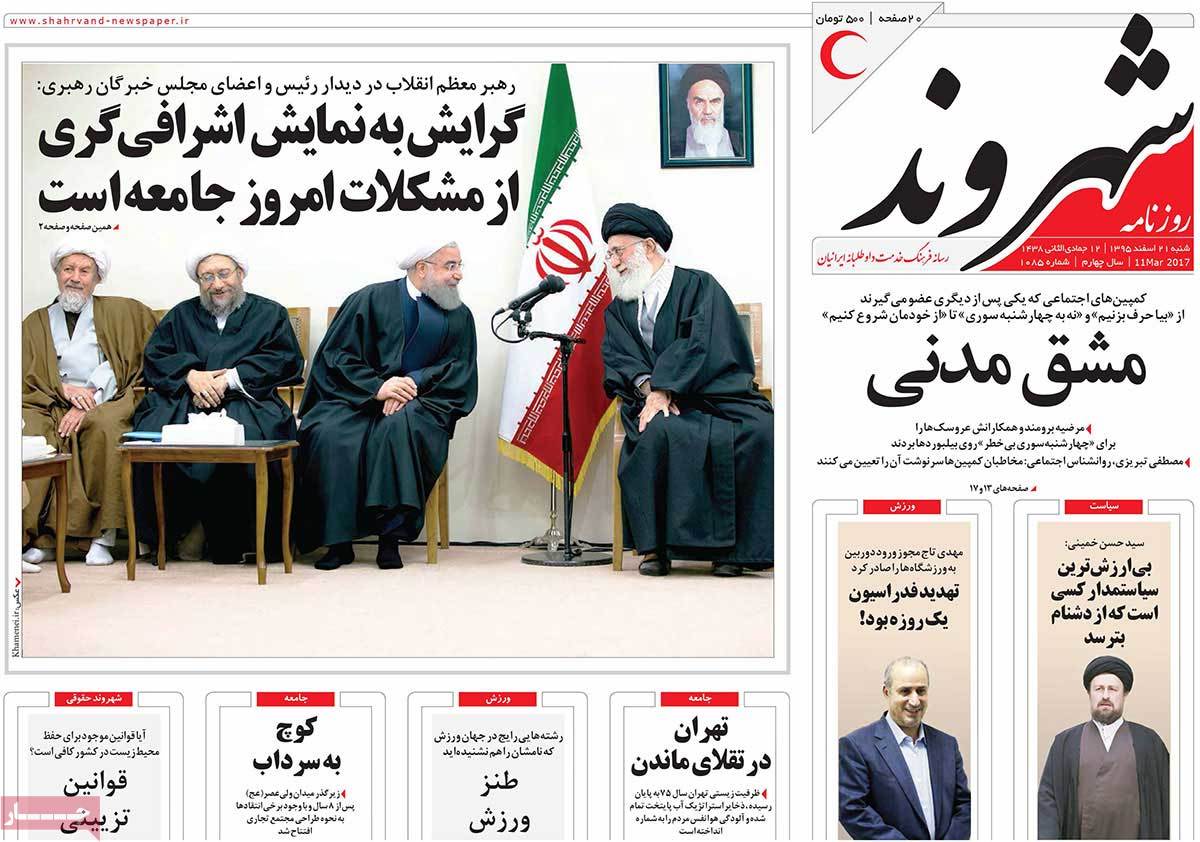 ---
Shargh:
1- Korean President Dismissed on Charge of Corruption
2- Cherry Seedling Planted to Commemorate Kiarostami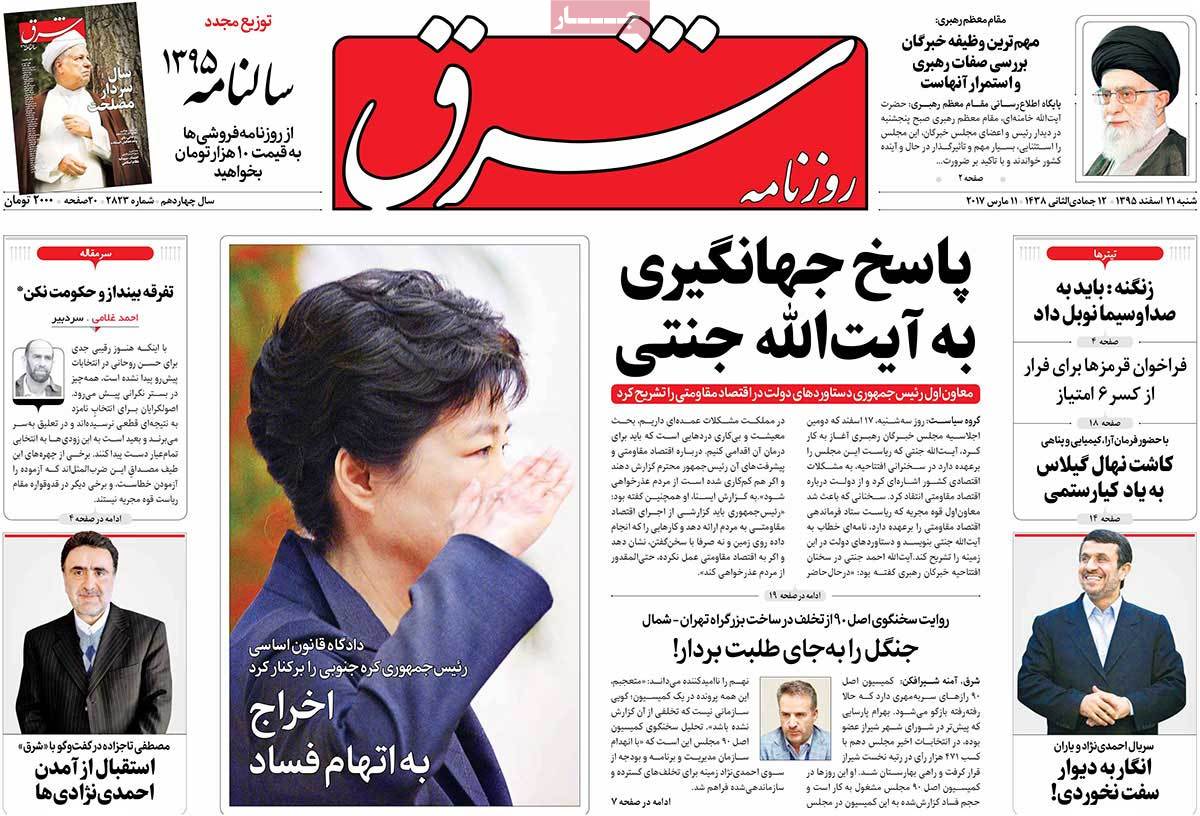 ---
Vaghaye Ettefaghieh:
1- UAE Making Investment in Iranian Start-ups
2- China Ignores Trump's Hype [Editorial]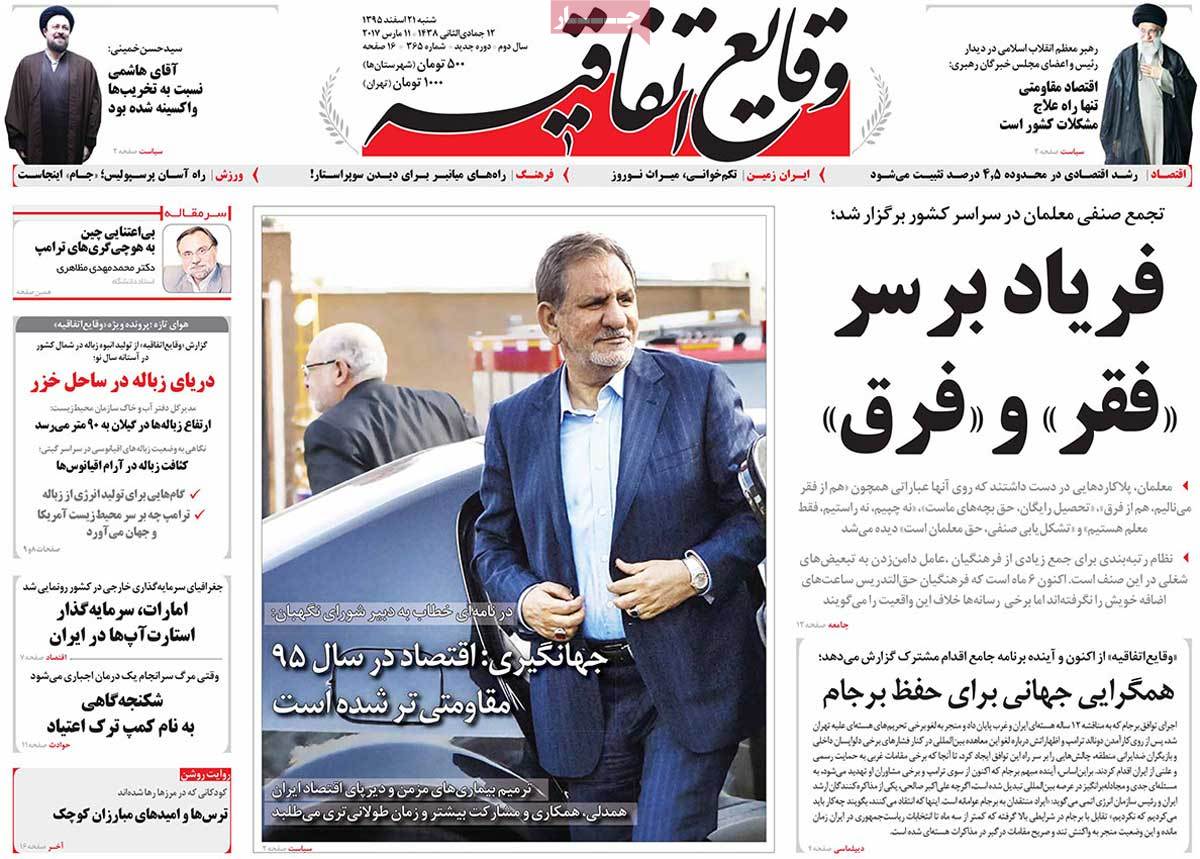 ---
Vatan-e Emrooz:
1- Iran's Leader: We're Receiving People's Complaints [about their livelihood]