Newspapers on Wednesday covered the response by the office of Foreign Minister Mohammad Javad Zarif to a number of US congressmen who had asked for visas to visit Iran, reminding them that members of Congress do not get to dictate the policies of other sovereign countries.
An address by Trade Minister Mohammad Reza Nematzadeh to the Parliament was also a top story. During his speech, he criticized the country's bureaucracy and economic regulations, which discourage foreign investors.
A fresh wave of dust pollution all over the country was also focused on by many sources.
Abrar:
1- No Letter Sent to Zarif on Iran's Financial Problems in JCPOA: EU Spokesman
2- BBC Sought to Create Suspicion about Authenticity of Imam Khomeini's Struggles: Larijani
3- It's Concerning that Few MPs Run for Parliament's Cultural Commission
4- Once Again, Chinese Gov't Bans Fasting This Year
---
Abrar-e Eqtesadi:
1- Iran World's 16th Most-Closed Economy: A Disaster Resulting from Lack of Industrial Investment
2- European Cooperation to Diversify Export of Iran's Crude Oil
3- Iran-China Trade Balance Becomes Negative
4- Spain Ready to Compete in Iran's Market
5- Ban on Export of Dairy Products to Iraq Lifted
6- High Risk of Investment in Iran Because of Administrative Corruption
---
Aftab-e Yazd:
1- Tensions in Parliament and City Council
2- Blast in Istanbul Leaves 11 Dead and 36 Wounded
3- Googoosh's Photo on Front Page of Conservative Newspaper!
4- I Have 3 Unemployed M.A. Graduates in My Own Home: Interior Minister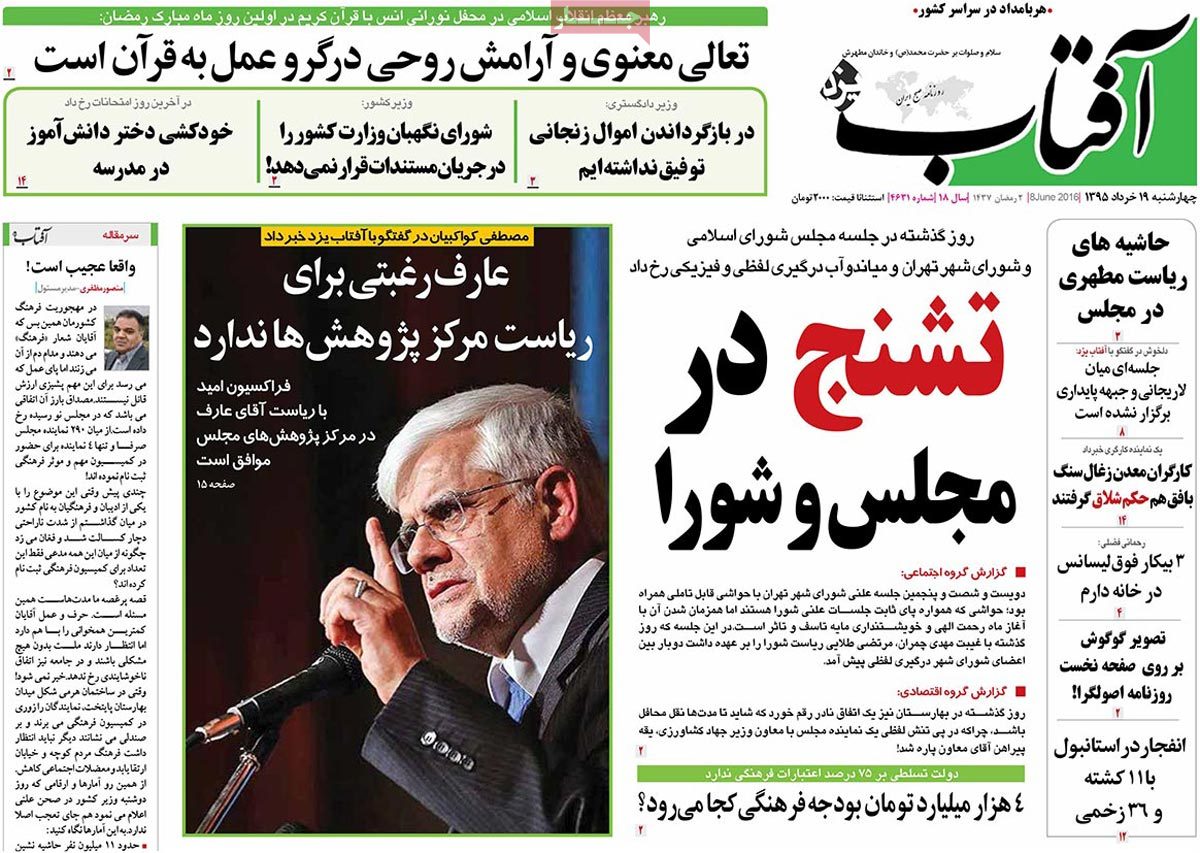 ---
Arman-e Emrooz:
1- Deputy Minister's Collar Torn Open: Clash in Parliament
2- Emergence of "Robin Hoods" Threatens Rouhani
3- New Details of Contact between Obama and Rouhani
4- Conservatives to Complete 2013 Reformist Puzzle: Cons to Support Rouhani in 2017 Elections!
5- Parliament's Presidency Dominated by Moderates: Motahari Became [Temporary] Speaker
---
Asia:
1- Economic Freedom Is Very Low in Iran: Trade Minister
2- EU Wants to Ensure Iranian People Will Enjoy Benefits of Nuclear Deal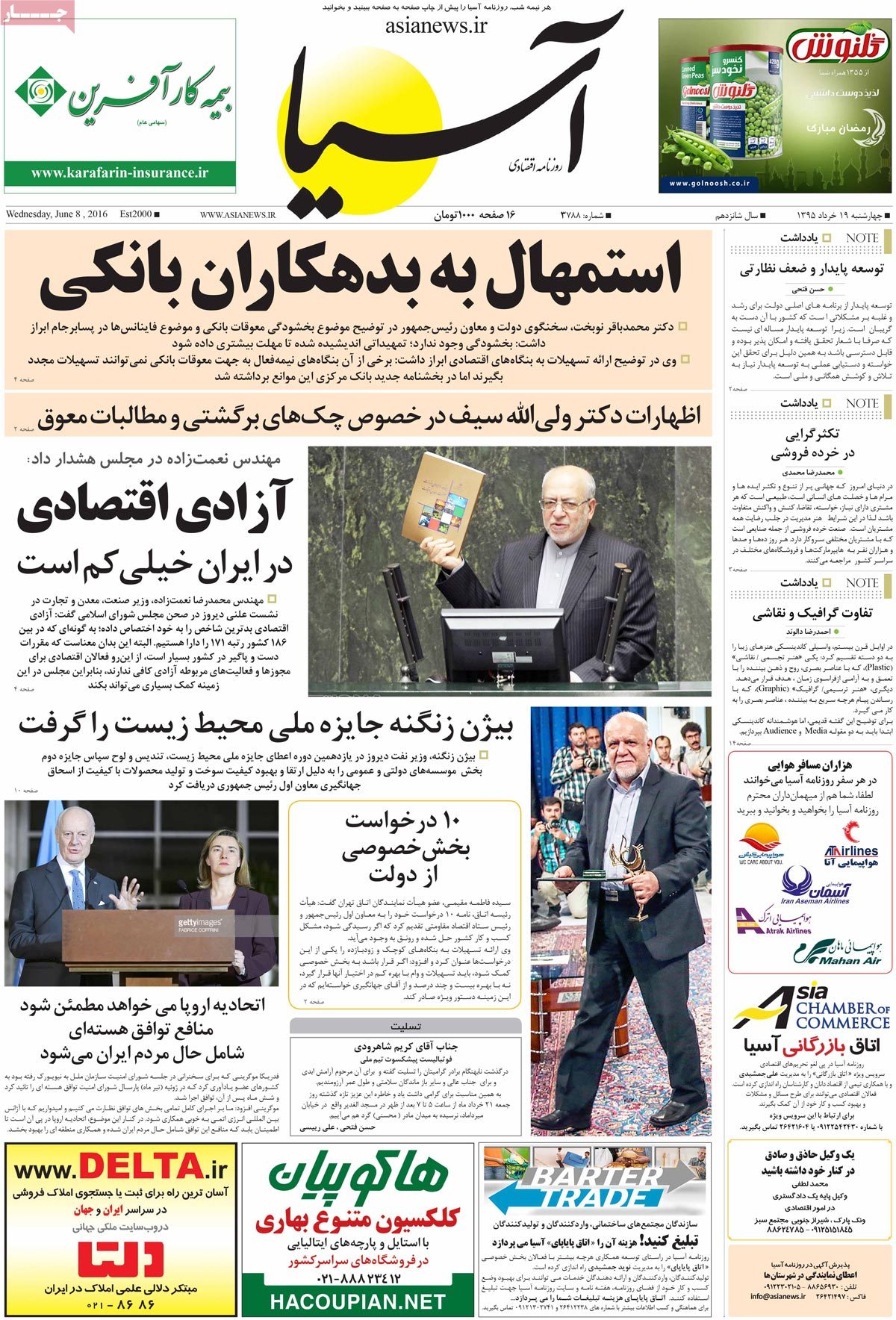 ---
Asrar:
1- We're Handicapped by Previous Government's Measures: Gov't Spokesman
2- No Parliament [in previous terms] Has Yet Managed to Probe into IRIB: MP
3- 6-Fold Growth in Lake Urmia's Area: Head of Environment Department
4- Gen. Soleimani Is Advisor to Iraqi Gov't: FM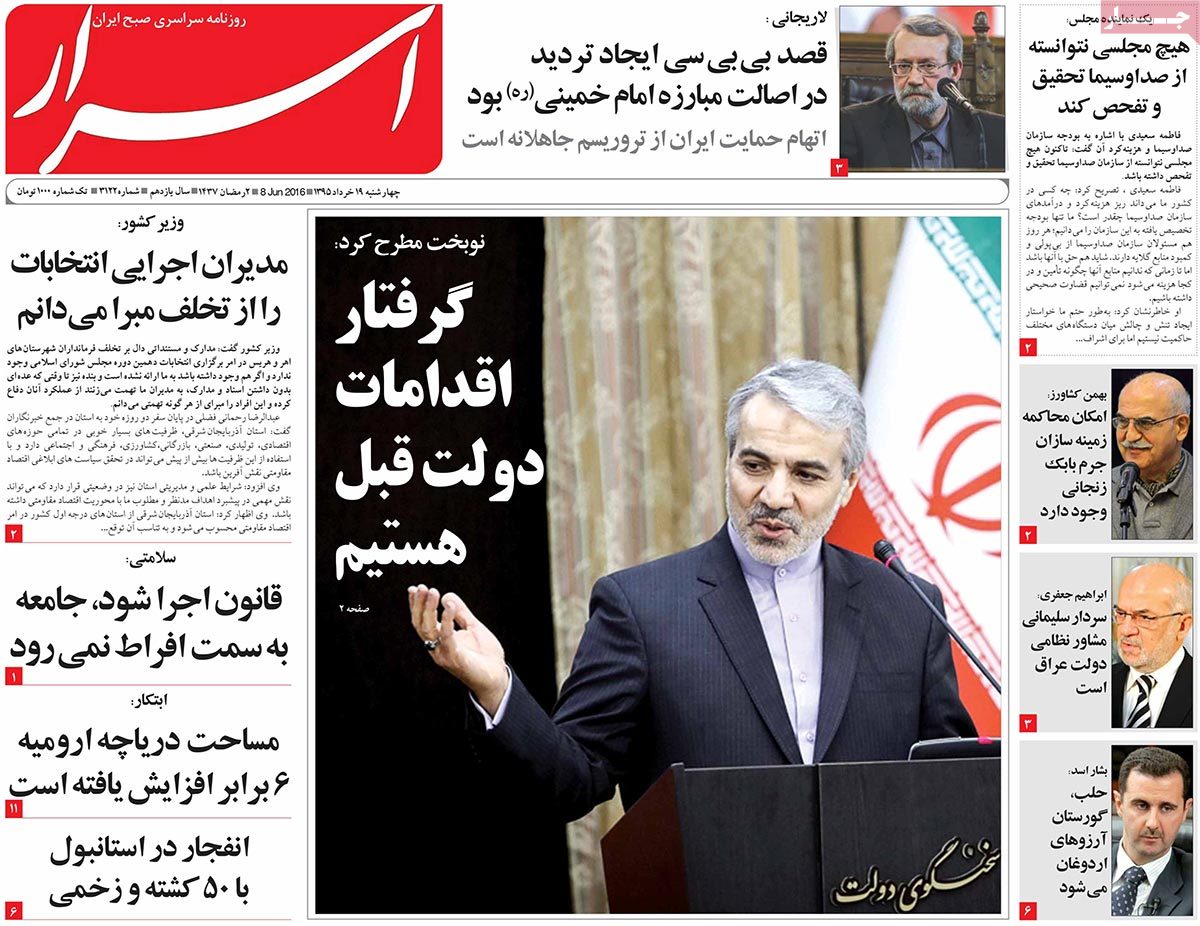 ---
Ebtekar:
1- Kiarostami Is Back Home
2- Impossible to Hold Referendum on People's Living Issues without Legislature's Permission: Gov't Spokesman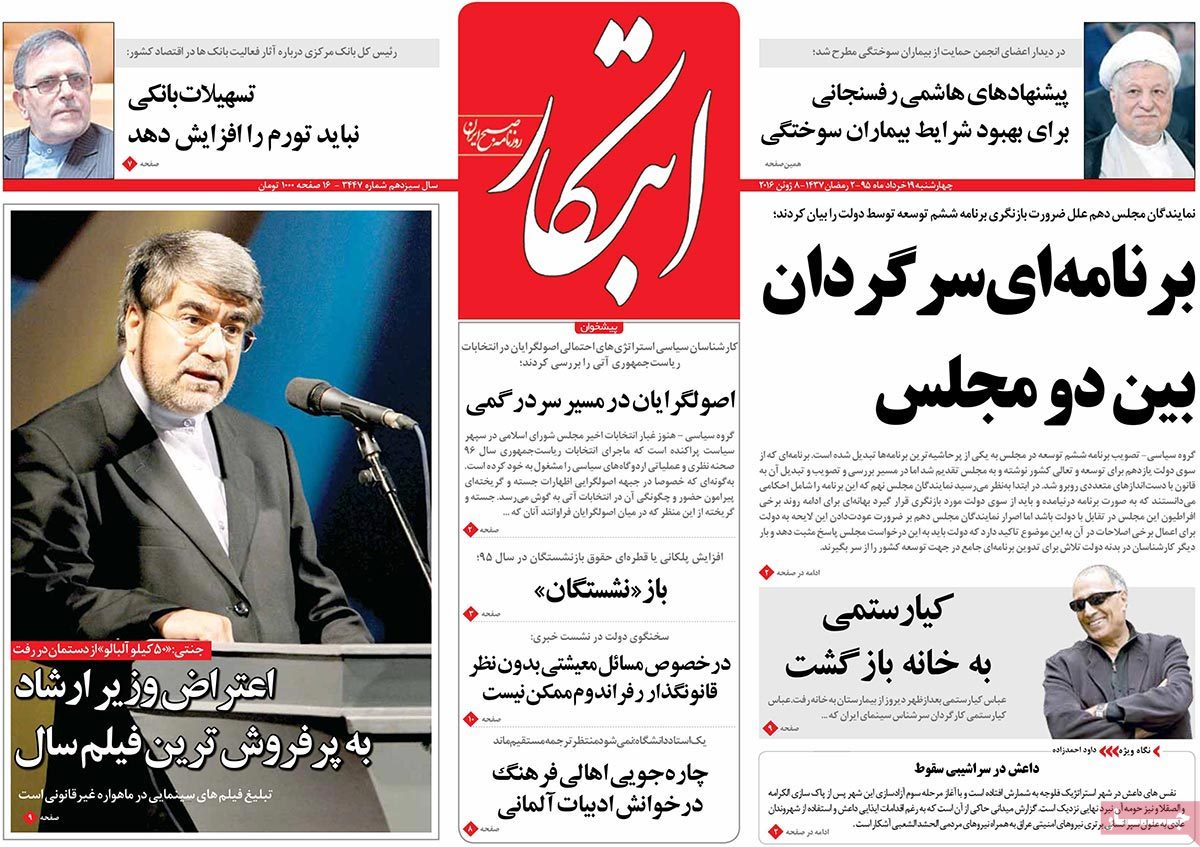 ---
Emtiaz:
1- Illegal to Advertise Movies on Satellite Channels: Culture Minister
2- 300 Clerics Start Cooperating with Police
3- An Iranian Might Run for Germany's Presidential Elections
4- Oil Minister Receives National Environment Award
---
Etemad:
1- They Want to Shut Down Iranian Cinema: Director
2- American Applications for Iran Visas Denied: FM Describes Congressmen's Requests as Publicity Stunt
3- Clinton Will Be Trump's Final Rival
4- High-School Girl Commits Suicide in School Bathroom
5- We Cannot Hold Cash Subsidy Referendum Like Switzerland: Gov't Spokesman
---
Ettela'at:
1- Honour, Power, Welfare, Salvation, and Spiritual Peace All Hinge on Following Qur'an: Leader
2- Considerable Increase of Foreign Investment in Iran
3- Development Only Achieved by Paying Attention to Environment: First VP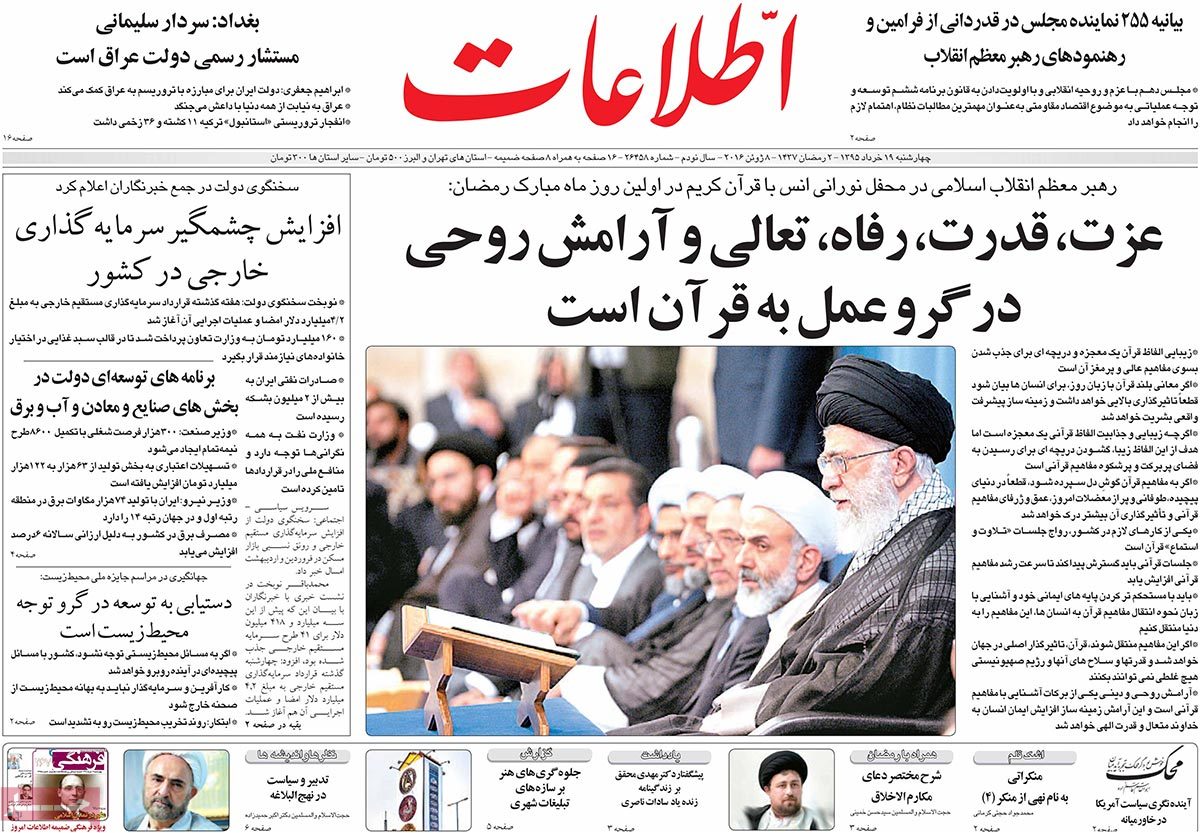 ---
Ghanoon:
1- Iranian Football, Ottoman Dialect: A Report on Political and Racist Views on the Transfer of a [Armenian] Player [to Tractor Sazi of Tabriz]
2- Iran Reclaims Its Market Share without Selling Its Oil at Low Prices: Minister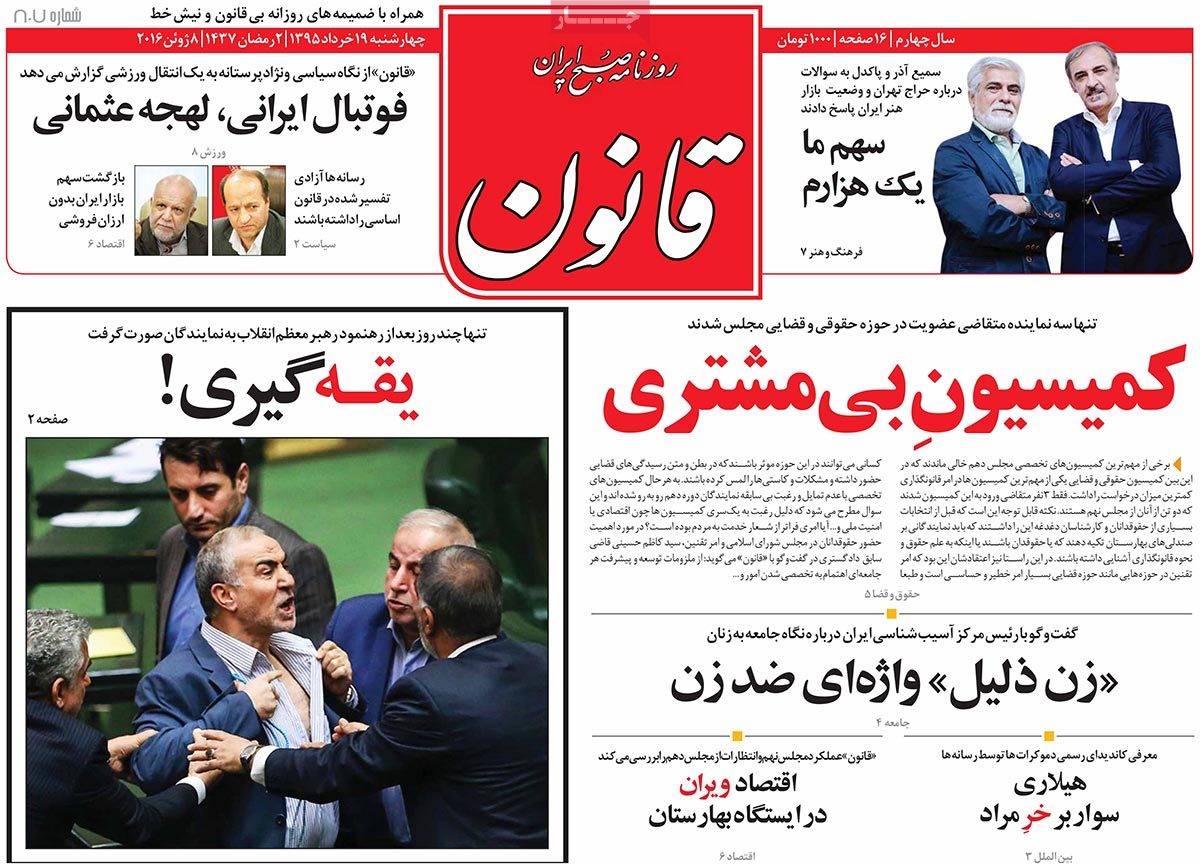 ---
Haft-e Sobh:
1- As Tasteless as It Seems: DiCaprio as Rumi, Robert Downey, Jr. as Shams!
2- Chinese, French, and Iranian Auto Manufacturers Trying Hard to Juice Up Iran's Market
3- Dream of $10,000 Income: Trade Minister Declares Plans to Double Iranians' per Capita Income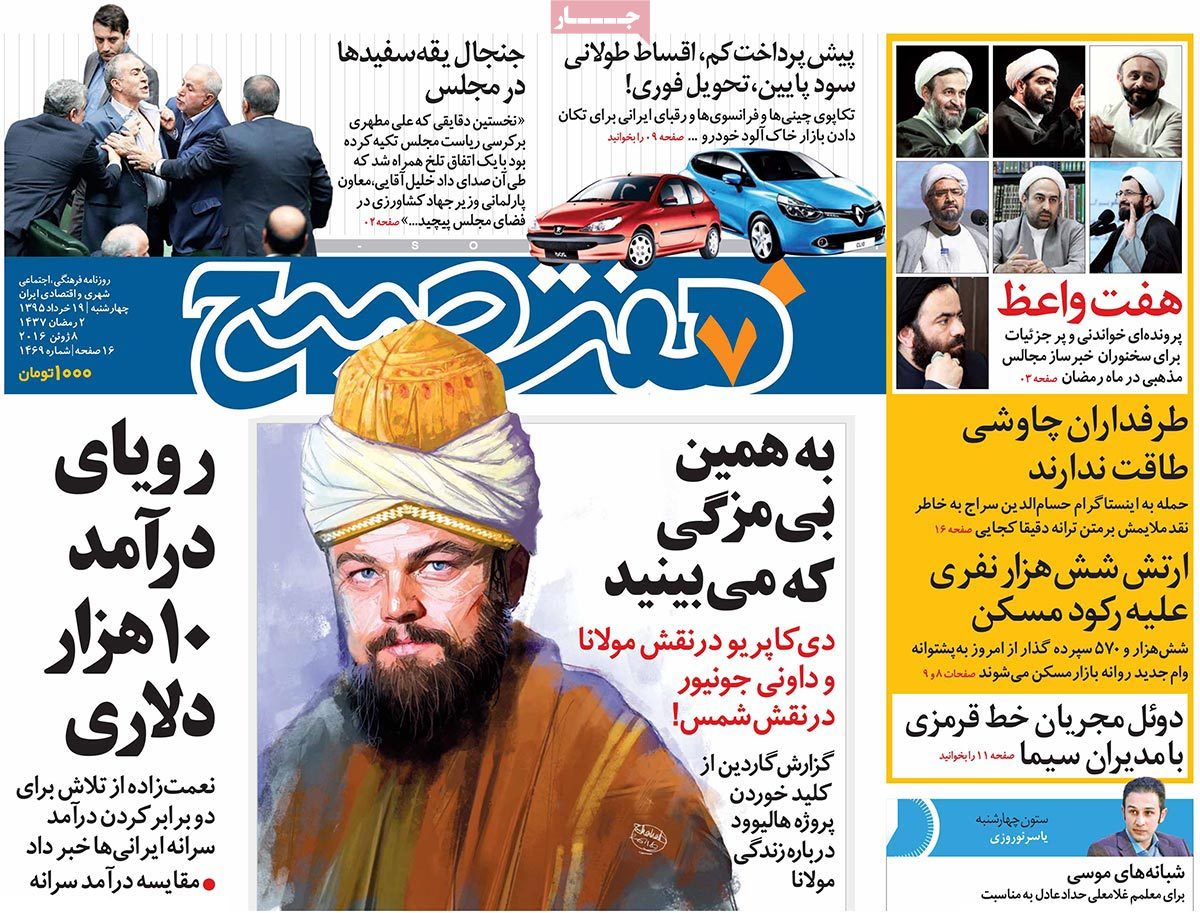 ---
Iran:
1- Drug Injection Room to Be Pilot Tested for Addicts in 3 Provinces
2- Trade and Power Ministers Brief Parliament on JCPOA Achievements: 187 Contracts Signed with Foreigners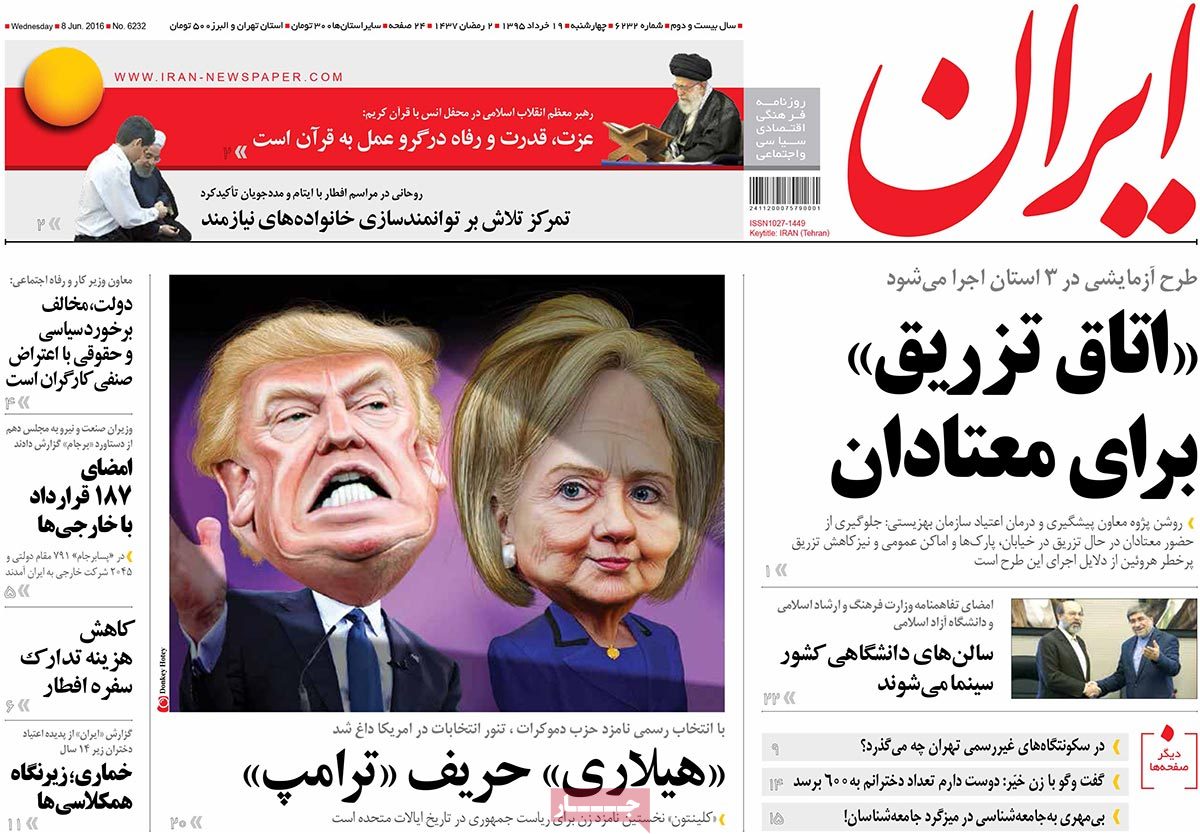 ---
Jame Jam:
1- Cyberspace, a Tool for Cultural Infiltration
2- Muhammad Ali Had a Great Respect for [Shiite] Imams: Iranian Actor
3- Al Saud Purchased UN's Report
4- Tribal Popular Forces, an Initiative to Avoid Division in Fallujah
5- Fashion: Good, Bad, Ugly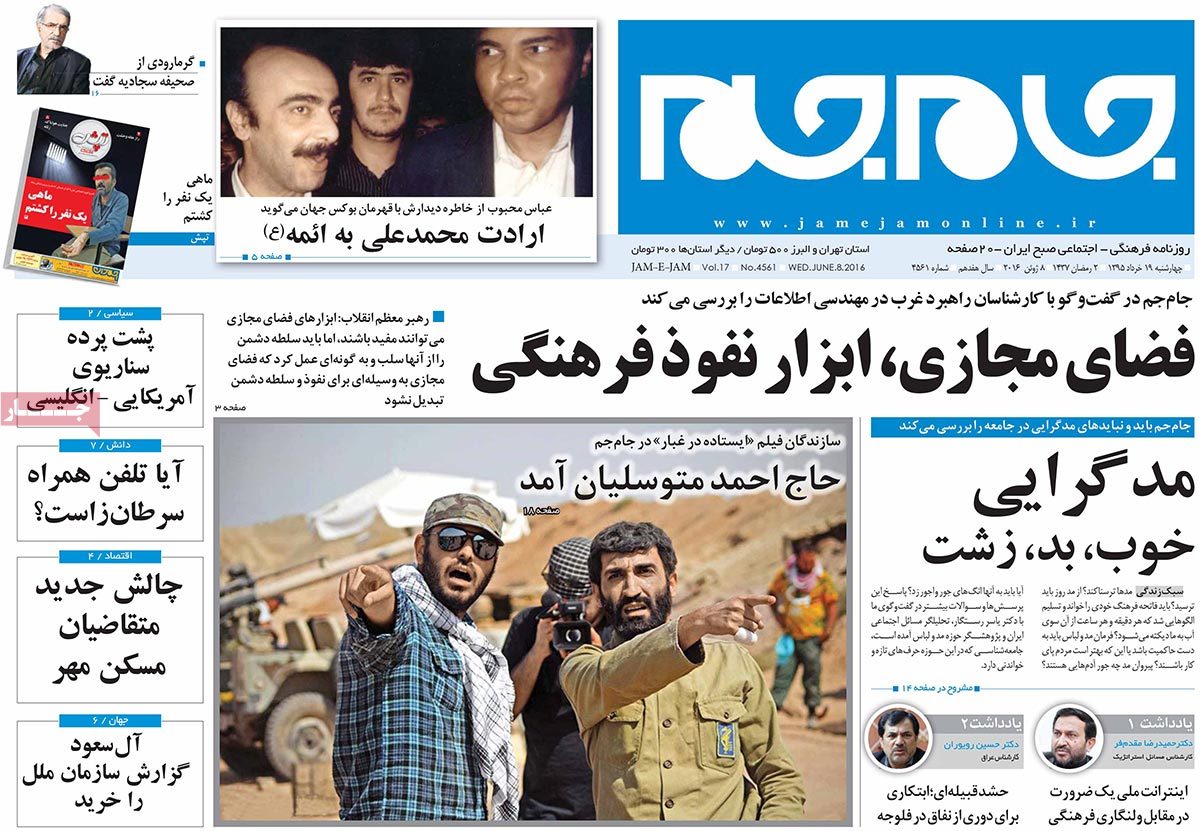 ---
Javan:
1- We're Facing an Industrial Disaster: Minister
2- Al Saud Exonerated from Killing Children in 72 Hours!
3- Assad: We'll Bury the Dreams of Bloodthirsty Erdogan in Aleppo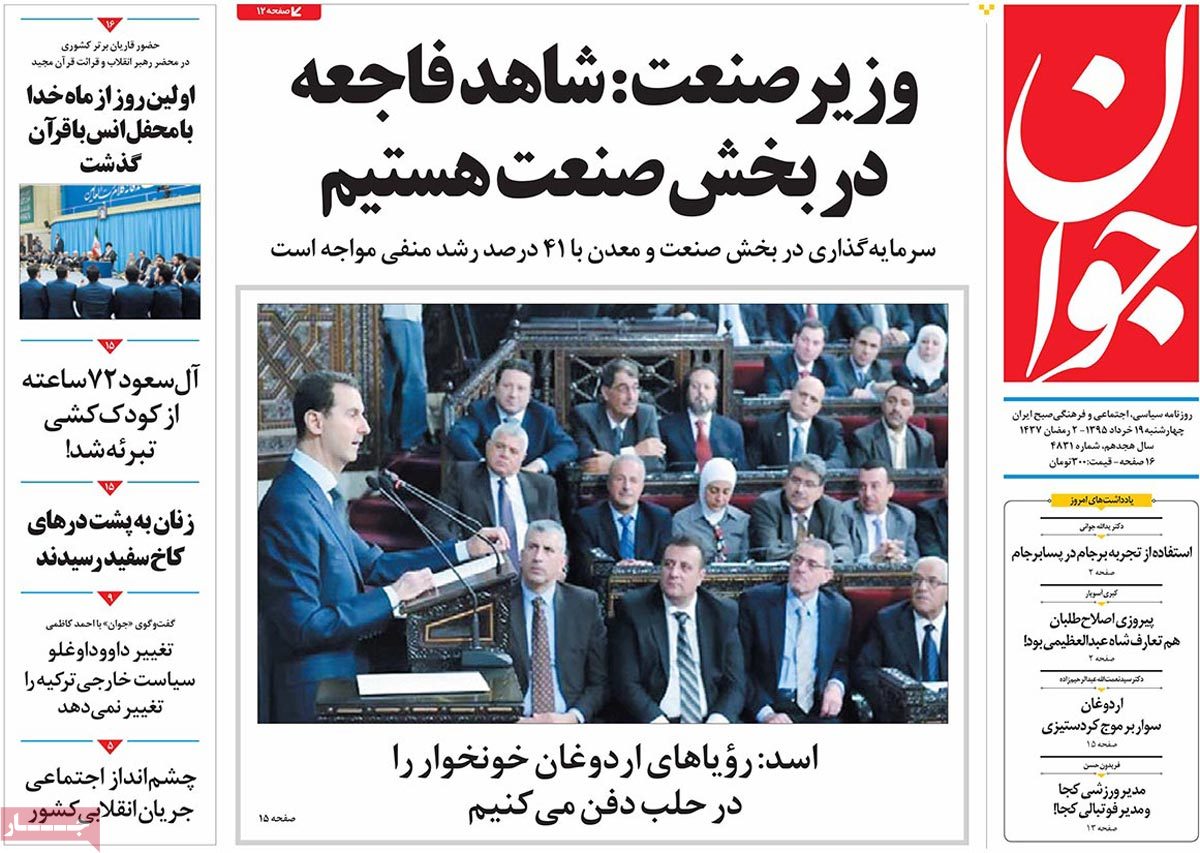 ---
Jomhouri Eslami:
1- You're Not a Global Authority: Zarif Told US Congressmen
2- UN Secretary General Backs Off in Favour of War Criminals
3- Saudis Outraged over Recognition of Ansarullah by UN
4- ISIS under Pressure of Resistance Front in Iraq and Syria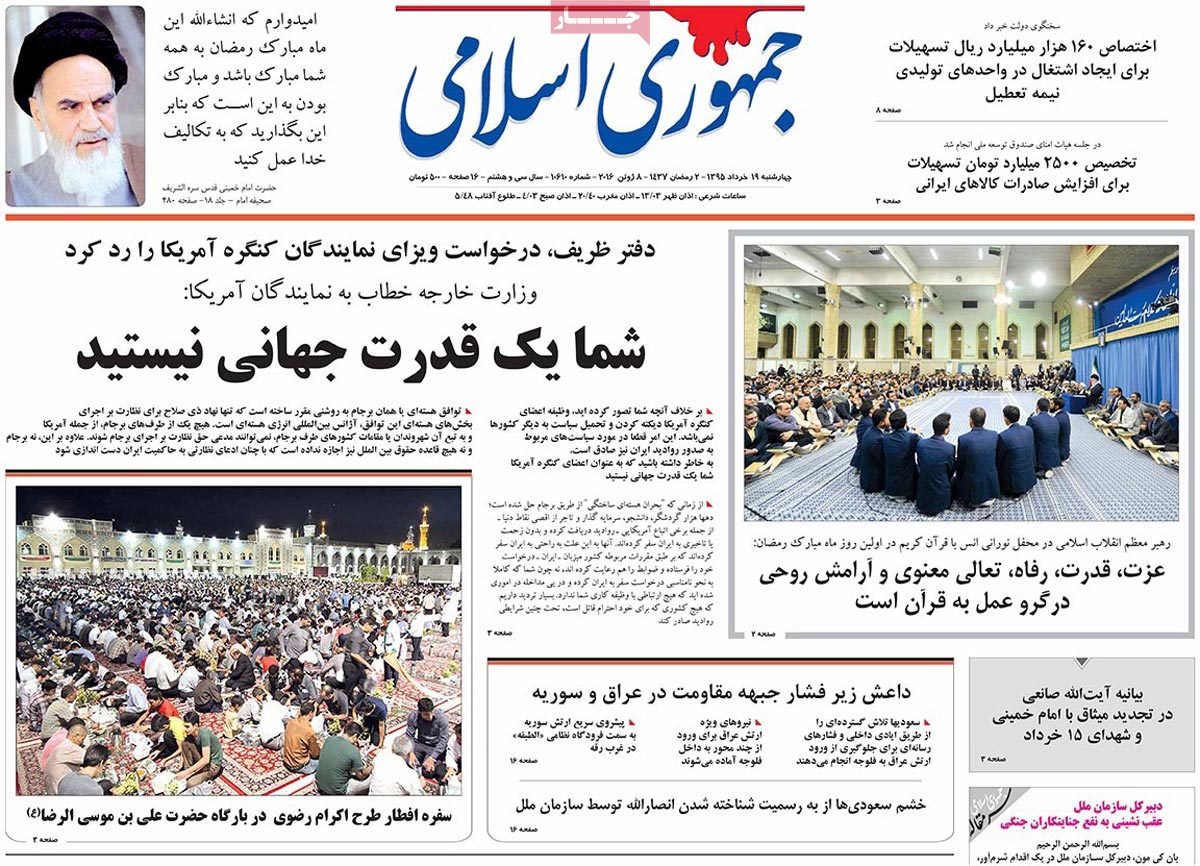 ---
Kayhan:
1- 150 Foreign Delegations Visit Iran, But Not a Single Real Contract Was Signed
2- Culture Minister Should Be Held Accountable for Iran Newspaper's Support for the Corrupt Singer [Shajarian]
3- Iranian Shiites Honestly Seeking Unity among Muslims: Academic
4- Under Heavy Pressure from Saudi and Zionist [Israeli] Lobbies, UN Removes Saudi Arabia from Blacklist of Killing Yemeni Children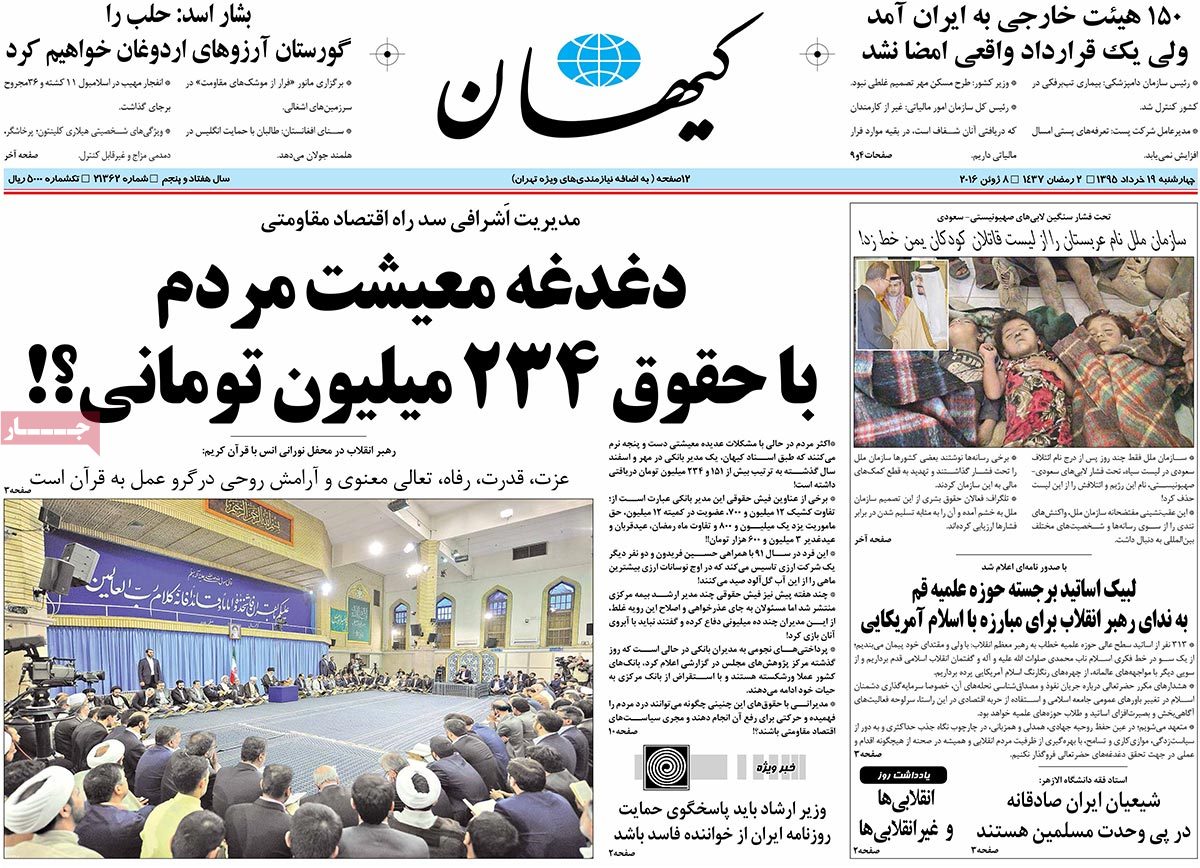 ---
Khorasan:
1- Population Control Continues under Different Name
---
Shahrvand:
1- 15 Iranian Provinces Suffering from Dust Pollution Coming from Iraq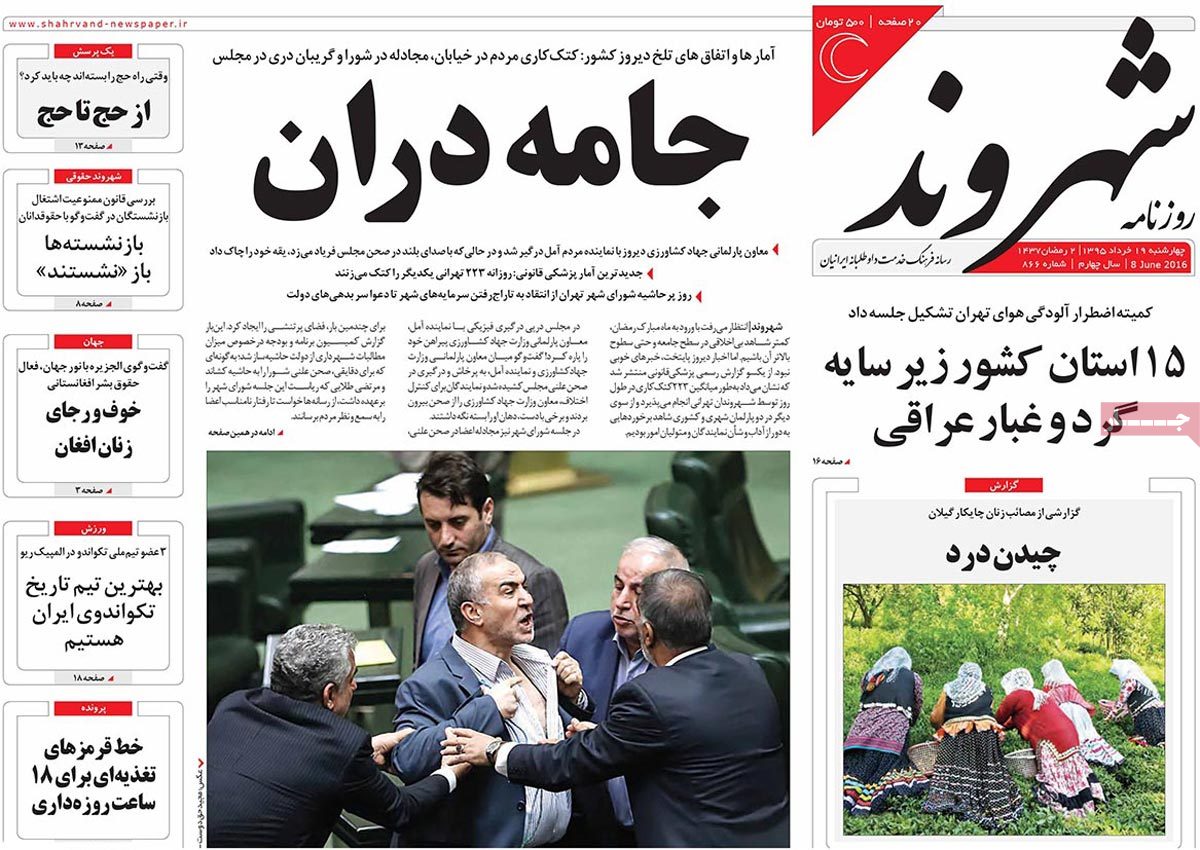 ---
Shargh:
1- Suspended Step of Democrats: Clinton Named as Final Candidate
2- Kayhan Publishes Female Pop Singer's Photo on Front Page to Taint Government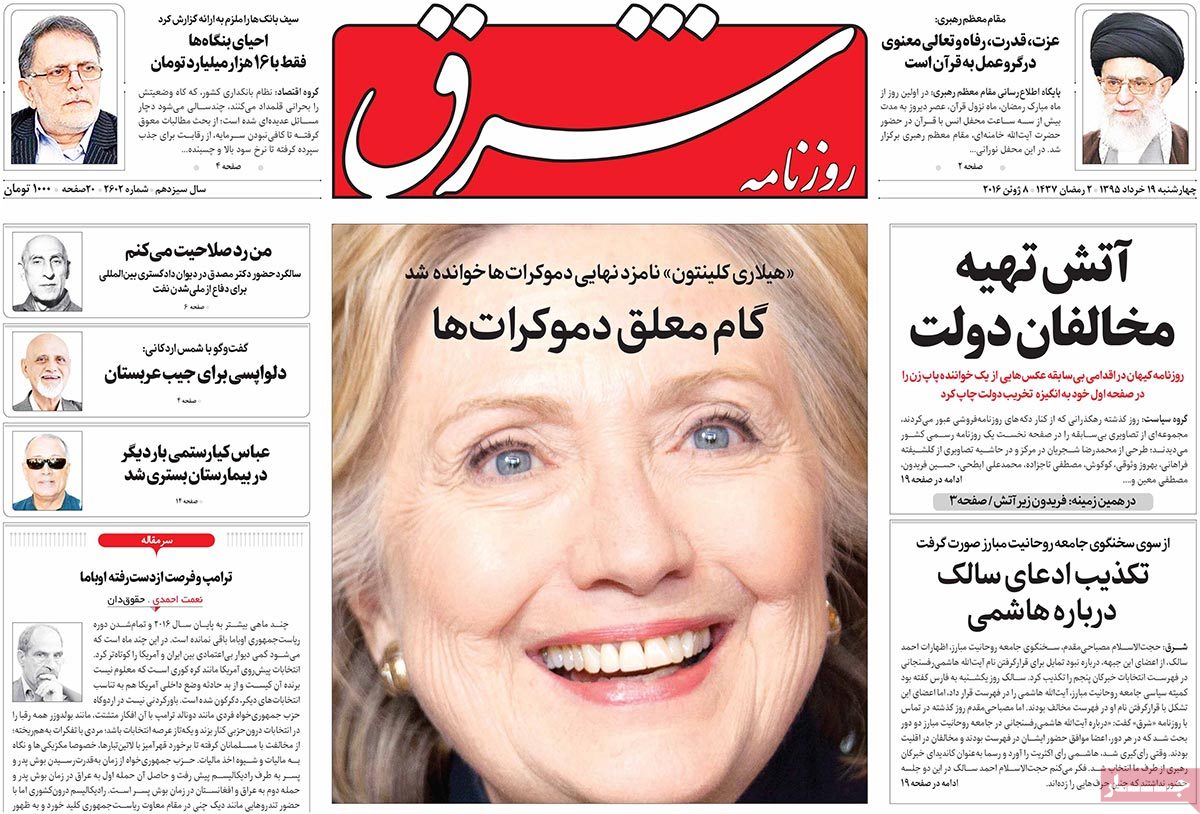 ---
Vaghaye Ettefaghieh:
1- BBC Fabricating Documents to Make Iran-US Relations Seem Normal: Larijani
2- Dust Rebellion across Iran: 22 Provinces Faced with Dust Crisis
3- Total Turnover of Tehran's Art Auction Less than Price of a House in North Tehran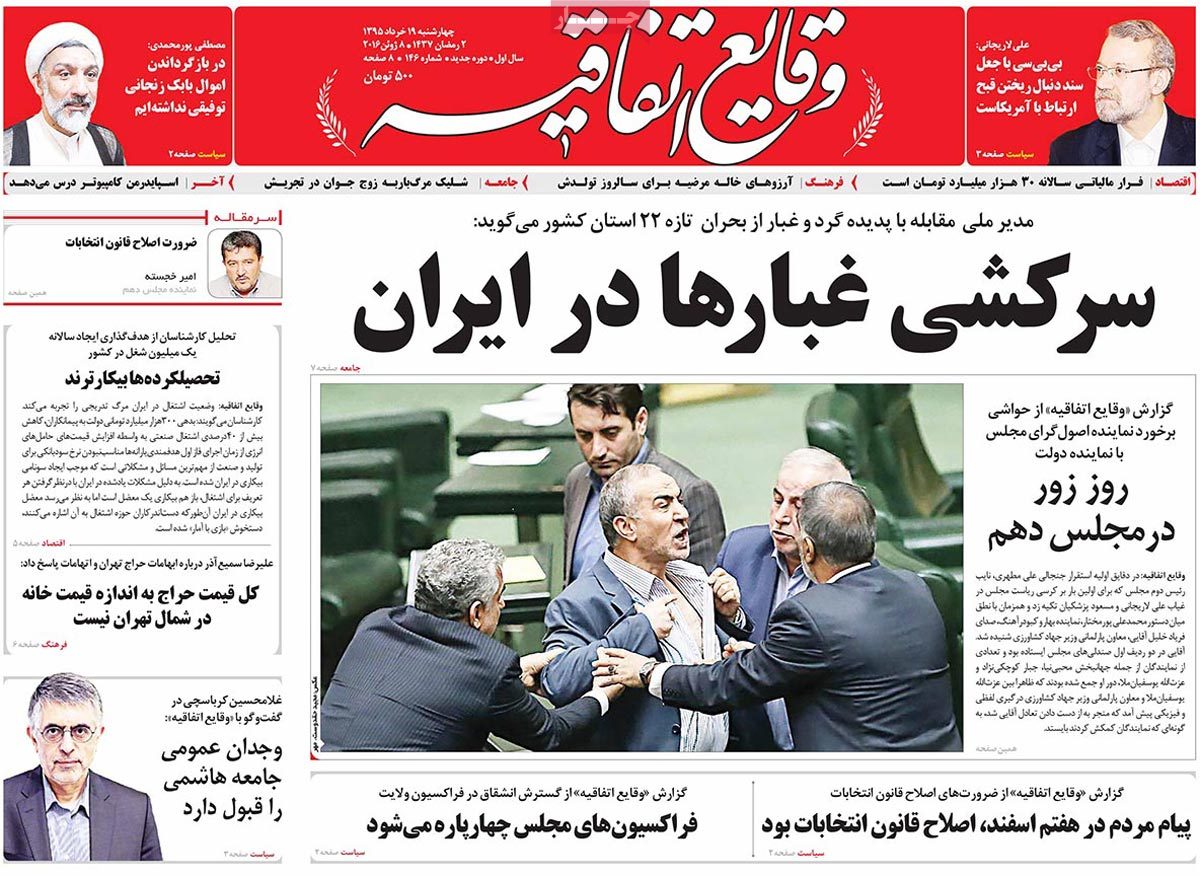 ---
Vatan-e Emrooz:
1- Will Al Saud Rise against King Salman and His Son?