Newspapers on Tuesday focused on the recent deal between Turkey and Israel to normalize their bilateral relations after five years. Many editorials and articles criticized the move, and discussed the repercussions of the move for Ankara.
The issues of astronomical salaries paid to certain Iranian executives and also the death of three Iranian rangers and the subsequent measures to improve rangers' conditions were also covered by several papers.
Abrar:
1- Iran and Syria Should Cut Their Ties with North Korea: US Official
2- Plan to Transfer Water from Caspian Sea to Central Iran Lacks Scientific Bases: MP
3- Rouhani's Gov't Decreases Inflation Rate at Price of Creating Economic Downturn in Market: MP
4- Iraqi PM in Fallujah Vows to Liberate Mosul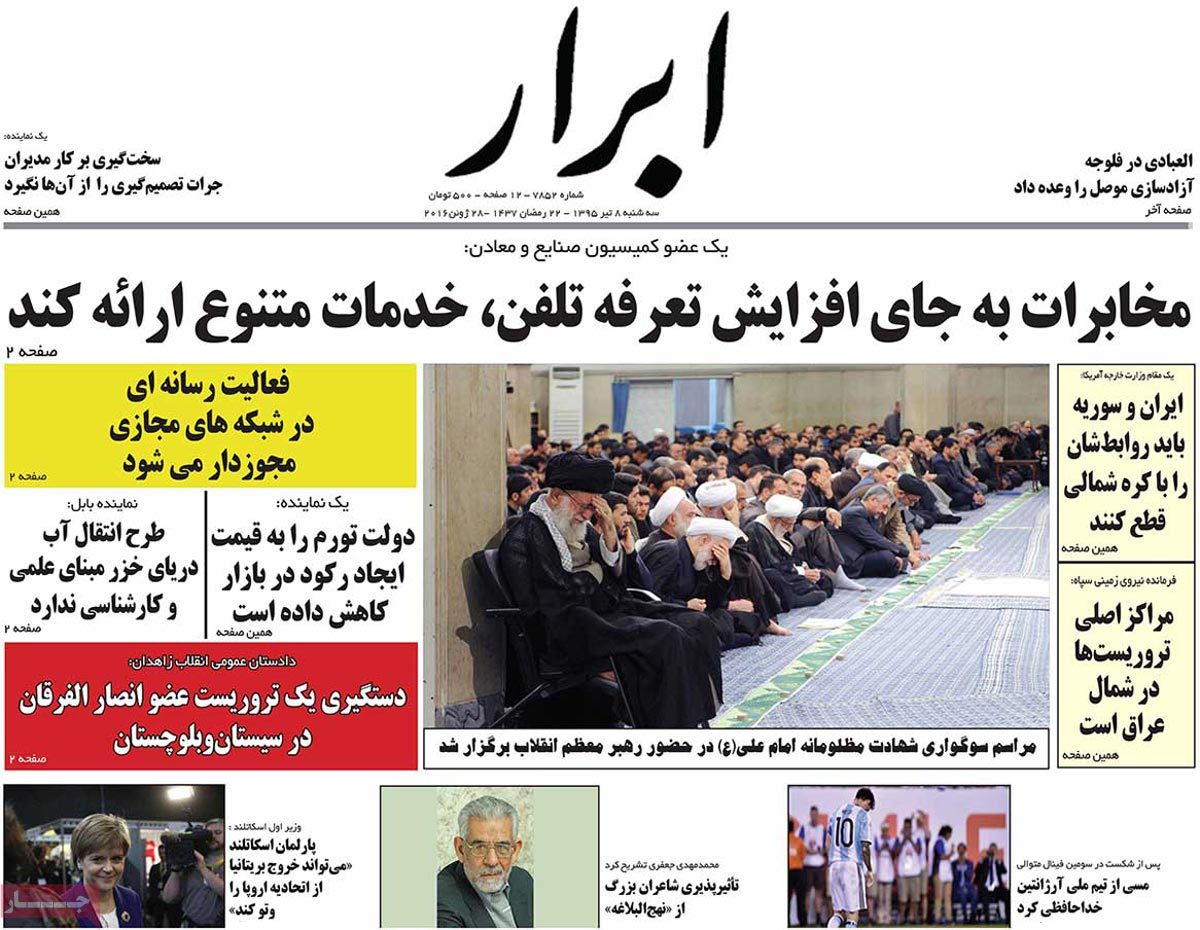 ---
Abrar-e Eqtesadi:
1- Iran's Oil Exchanged with Turkey's Railway Lines Based on €80m Contract
2- South Korea's Stock Exchange Market Ready to Sell Iran's Bonds
3- Iraq Bans Imports of 5 Agricultural Products from Iran
4- Kuwait's Port of Doha to Become Iran's Free Market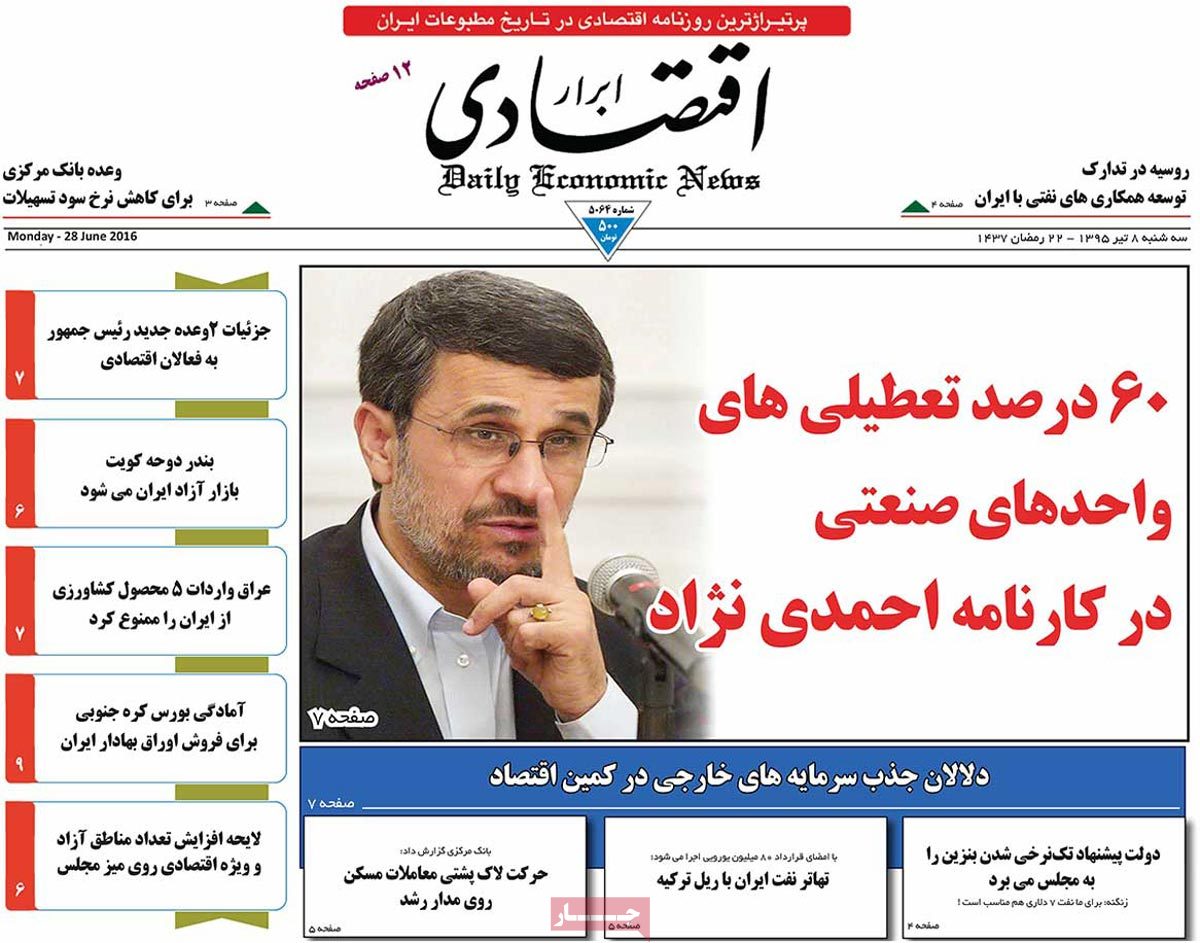 ---
Afkar:
1- Nationality of Bahrain's Al Khalifa Rulers Should Be Revoked: Rouhani
2- Rangers on Frontlines of Protecting Iran's Natural Resources: President
---
Aftab-e Yazd:
1- Several Foreign Banks Withdraw from Cooperation with Iran after Attack on Saudi Embassy: Politician
2- [Drug] Addiction Age in Iran Decreased to 11: MP
3- Iran Outpaces China in Free Trade Zones
4- Why Ankara Decided to Restore Ties with Tel Aviv [Editorial]
5- Some Republicans Start Supporting Clinton: 2 American Parties Get Closer Because of Trump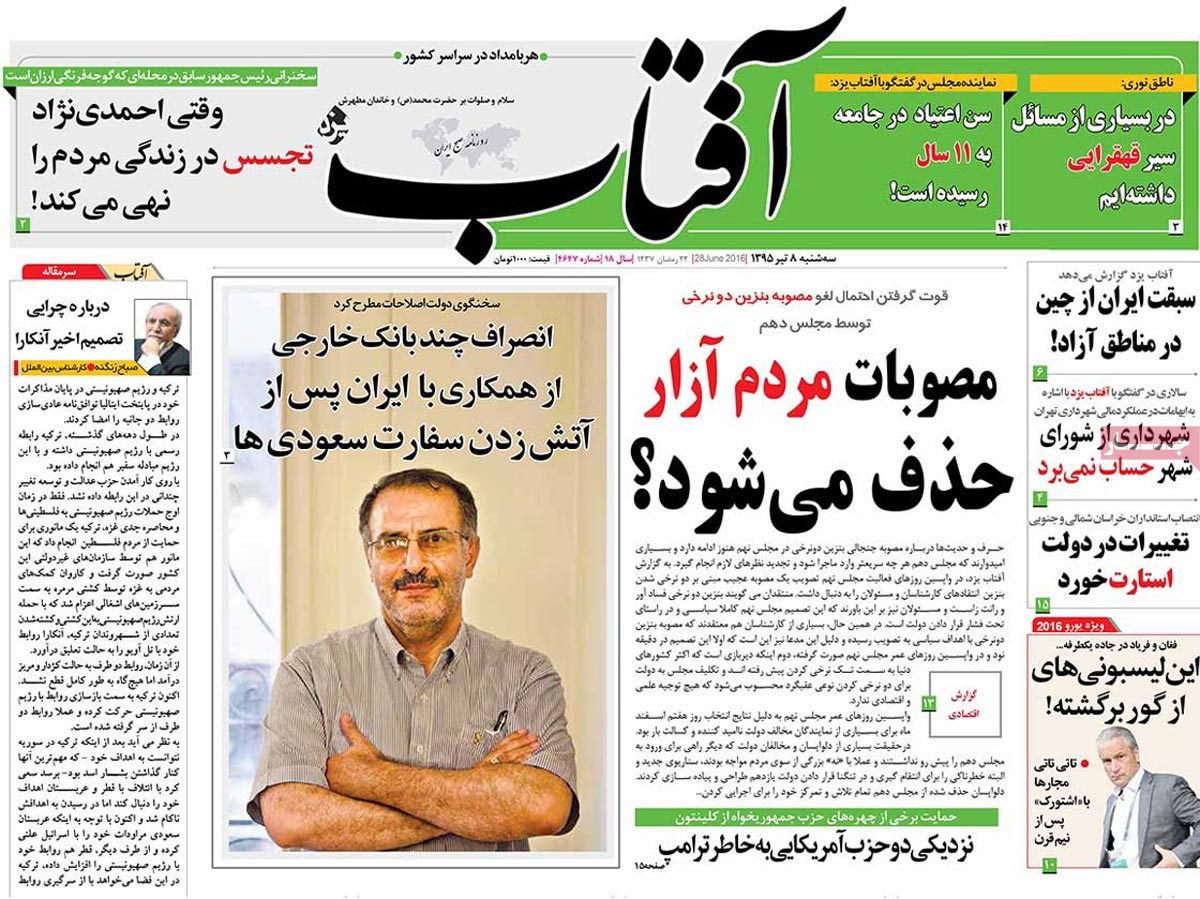 ---
Asrar:
1- Saudi Arabia Seeks to Taint Kind Image of Islam: IRGC General
2- First VP: Payment of Unconventional Salaries to Be Made Impossible
3- I Won't Leave Bahrain: Sheikh Qassim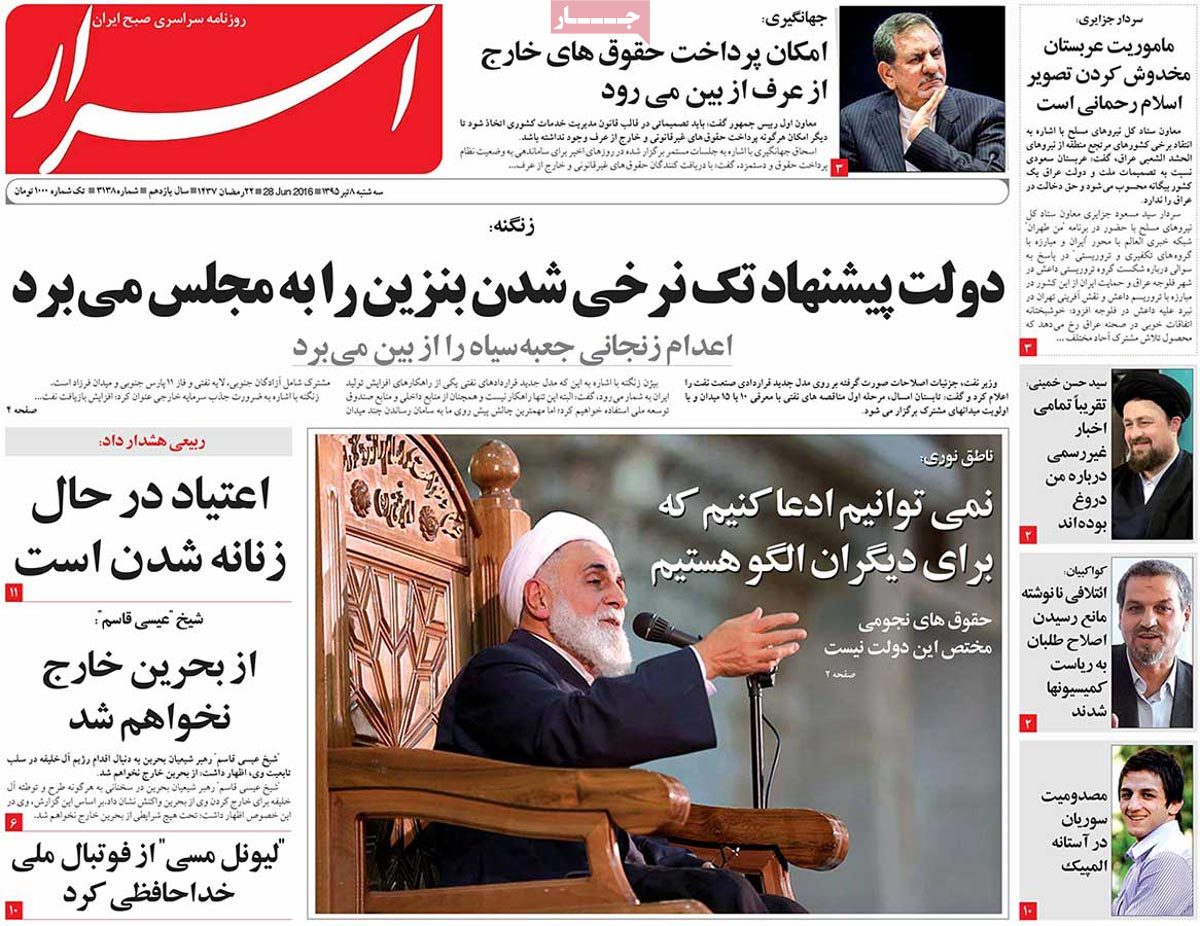 ---
Ebtekar:
1- New Change in Ankara's Foreign Policy: Turkey and Israel Sign Deal on Normalization of Ties
2- We Can't Claim to Be a Role Model after 37 Years: Senior Moderate Cleric Nateq Noori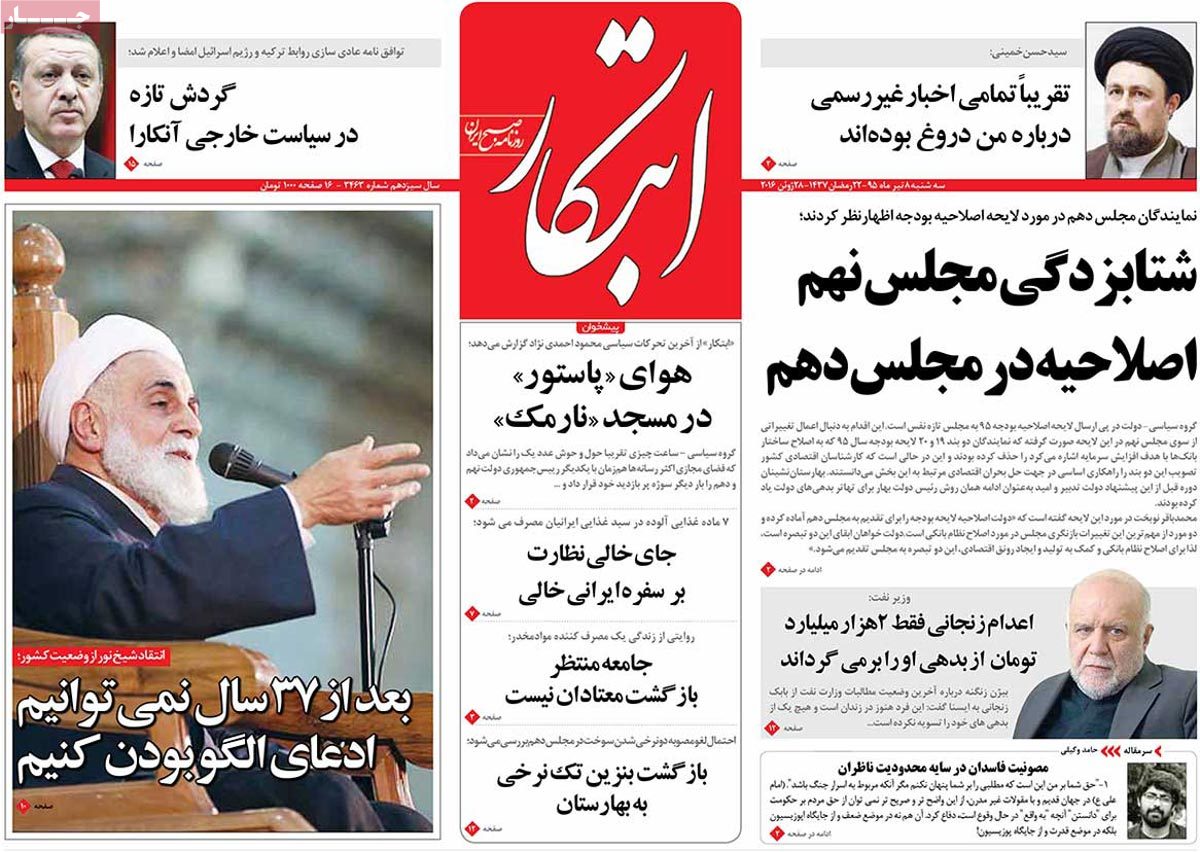 ---
Emtiaz:
1- 3 Iranian Social Networks to Be Launched
2- Iran's Visa to Be Issued in Five Days
3- 26% of Drug Addicts Use Methamphetamine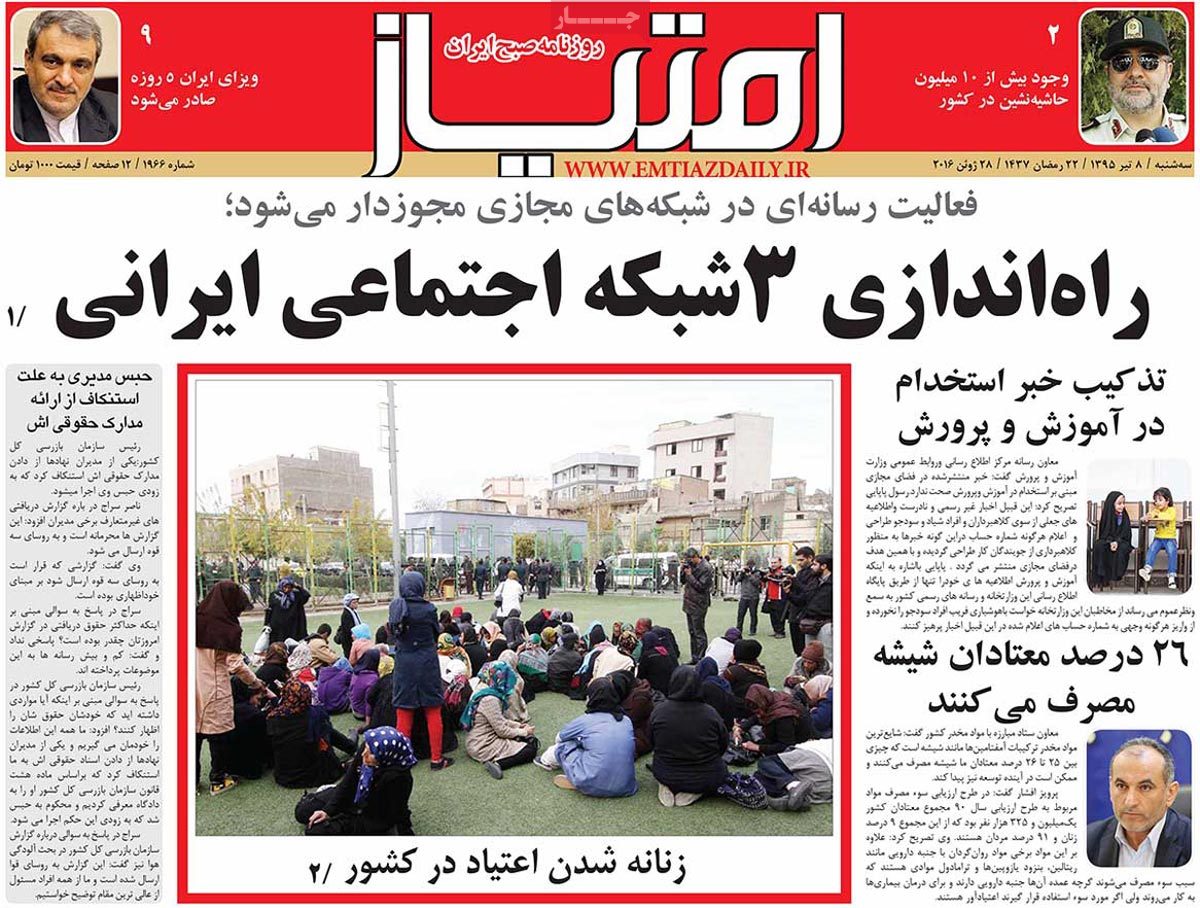 ---
Ettela'at:
1- Government's Important Decisions to Fight Smuggling
2- Iran's Oil Output Increased to 3.8m Barrels per Day in 3 Months: Minister
3- Zionist Troopers Stage Massive Raid against Aqsa Mosque a Few Days before Int'l Quds Day
---
Haft-e Sobh:
1- Boeing Succeeds, Chevrolet Fails: How American Giant Plane-Maker Signed $25bn Contract with Iran
2- Goodbye King Leo! Messi Loses His Third Consecutive Finale: Don't Underestimate Higuaín's Role
---
Hamshahri:
1- Special Permissions for Astronomical Salaries
2- Europe's Civil War behind Ballot Boxes
---
Iran:
1- Negotiations for JCPOA Implementation Should Continue: Leader's Advisor
2- Turkey's Regional Isolation Forces Erdoğan to Restore Ties with Israel and Officially Apologize to Putin
3- US VP Harshly Criticizes Saudi Arabia
---
Jame Jam:
1- Disgraceful Deal: Turkey Normalizes Its Ties with Israel
2- Prices to Be Paid for Agreement with the Illegitimate Regime [Editorial on Turkey-Israel ties]
3- Cyberspace under Umbrella of Law: Permissions Should Be Obtained for Every Activity in Social Media
---
Javan:
1- Deal on Blood of Marmara and Gaza Victims: Turkey Normalizes Ties with Israel after 5 Years
2- Giant Trade Companies behind Iran Nuclear Deal: JCPOA Has a Political-Economic Appendix
3- Drug Addiction among Women Increased from 4% to 10% When Everyone Was Asleep
---
Jomhouri Eslami:
1- Erdoğan's Utmost Deception Revealed [Editorial]
2- Bahraini People Continue Their Sit in Front of Sheikh Qassim's House
3- BBC, the Propaganda Mouthpiece of Terrorists
4- A Few Steps More to Final Solution: Yemen's Ansarullah Movement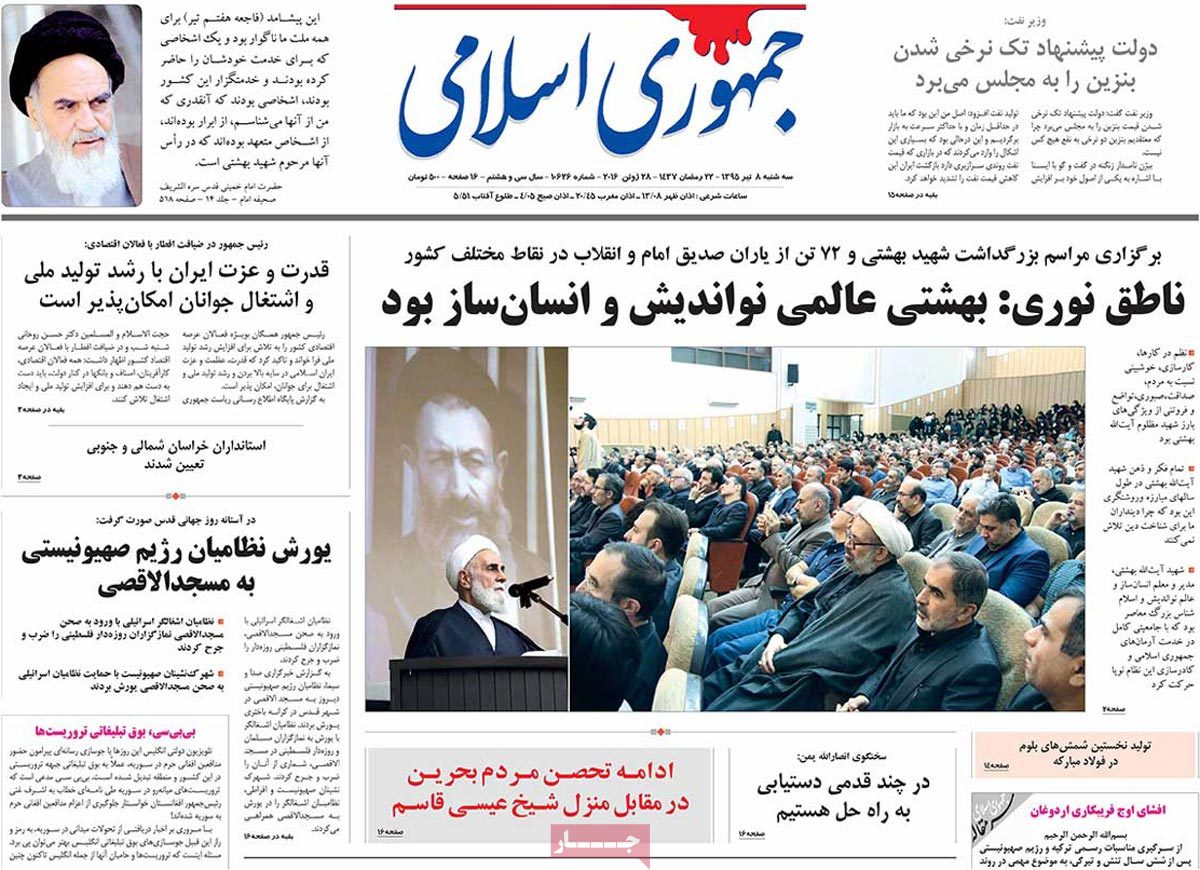 ---
Kayhan:
1- From Pope to Soros, Everyone Talks about EU Collapse
2- Assad Can't Be Ousted by Force: Biden Admits
3- Even Prison Couldn't Prevent Zakzaky from Giving Away Food to Fasting Neighbours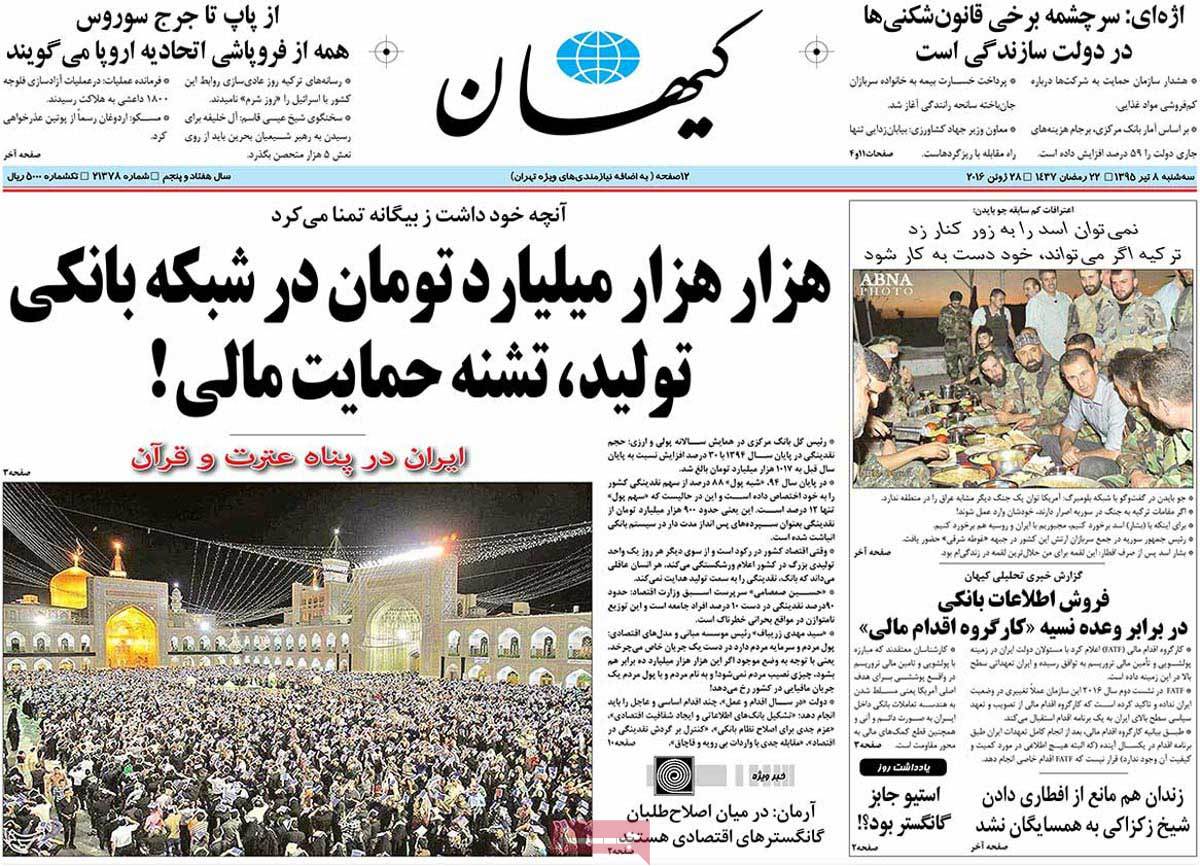 ---
Khorasan:
1- Practical Measures against Astronomical Salaries: Dismissal and Prison for 2 Executives
2- 7% Decrease in Quarrels and 40% Decline in Domestic Violence
3- Alliance with the Murderer: Turkey Officially Declares Resumption of Ties with Israel
4- Erdoğan's New Gamble with Gaza Card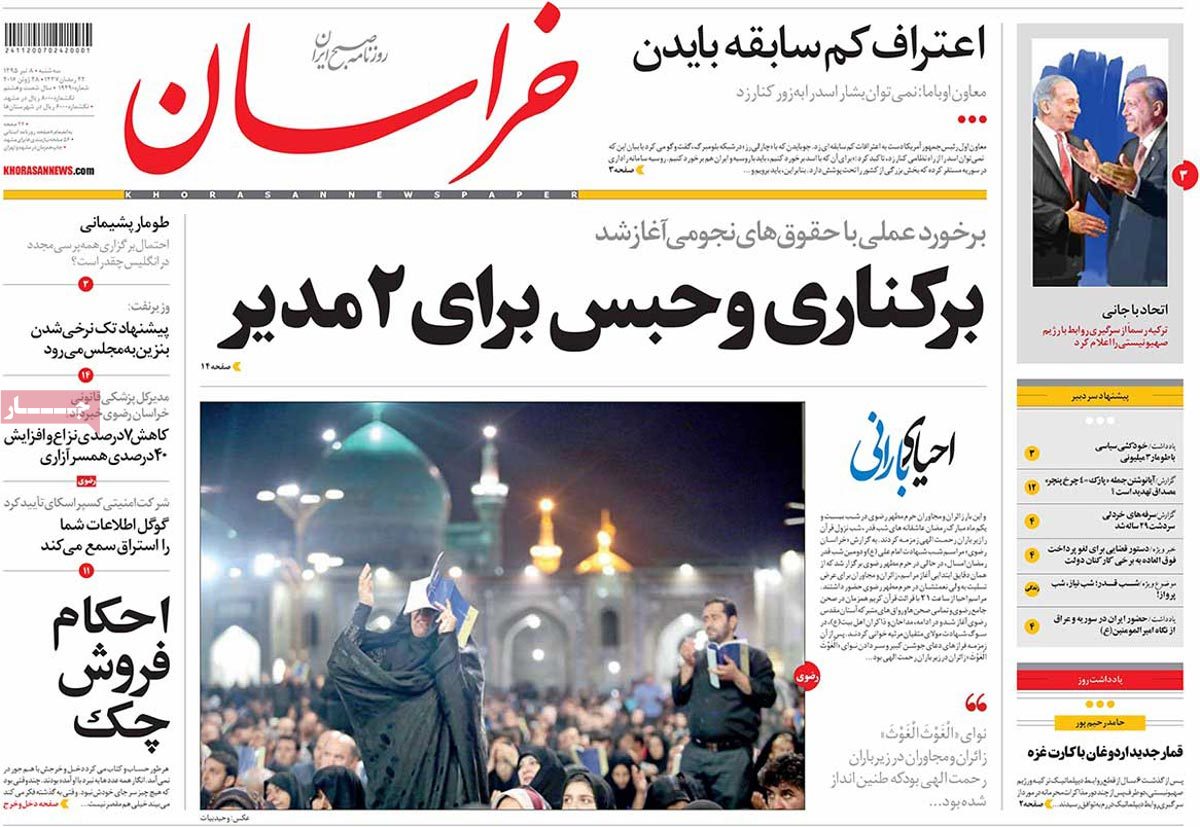 ---
Resalat:
1- US Strategy Is to Prevent Iran's Influence in Region and the World: Politician
2- Al Khalifa Nightmare in Manama: Fire of Bahrain Revolution Flares Up
3- Al Khalifa Family Comes from Saudi Arabia's Najd; Their Bahraini Nationality Should Be Revoked: Senior Cleric
4- We'll Stand against Iran Wherever We Can: Biden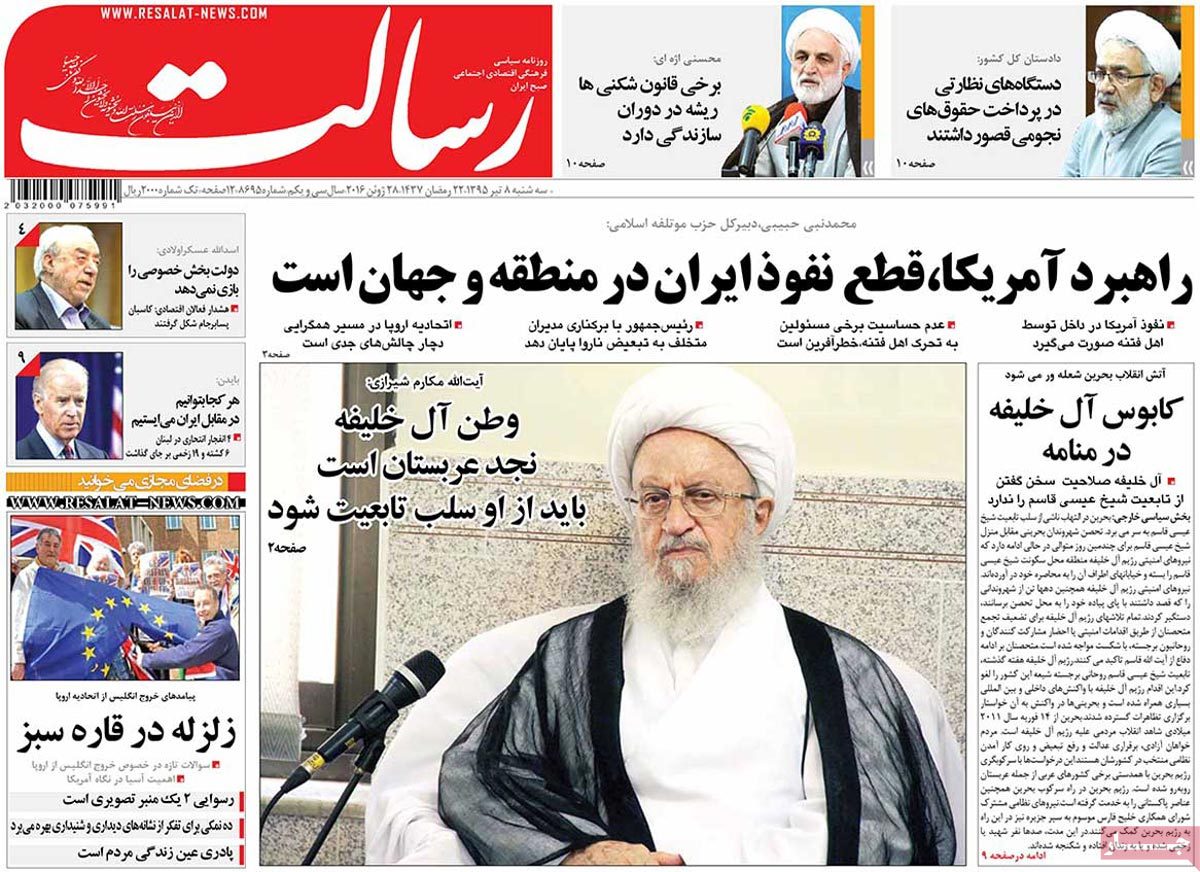 ---
Setareh Sobh:
1- Stephan King and George R. R. Martin Discuss Gun Control
2- Brexit Incurs $2tr Damage to World's Markets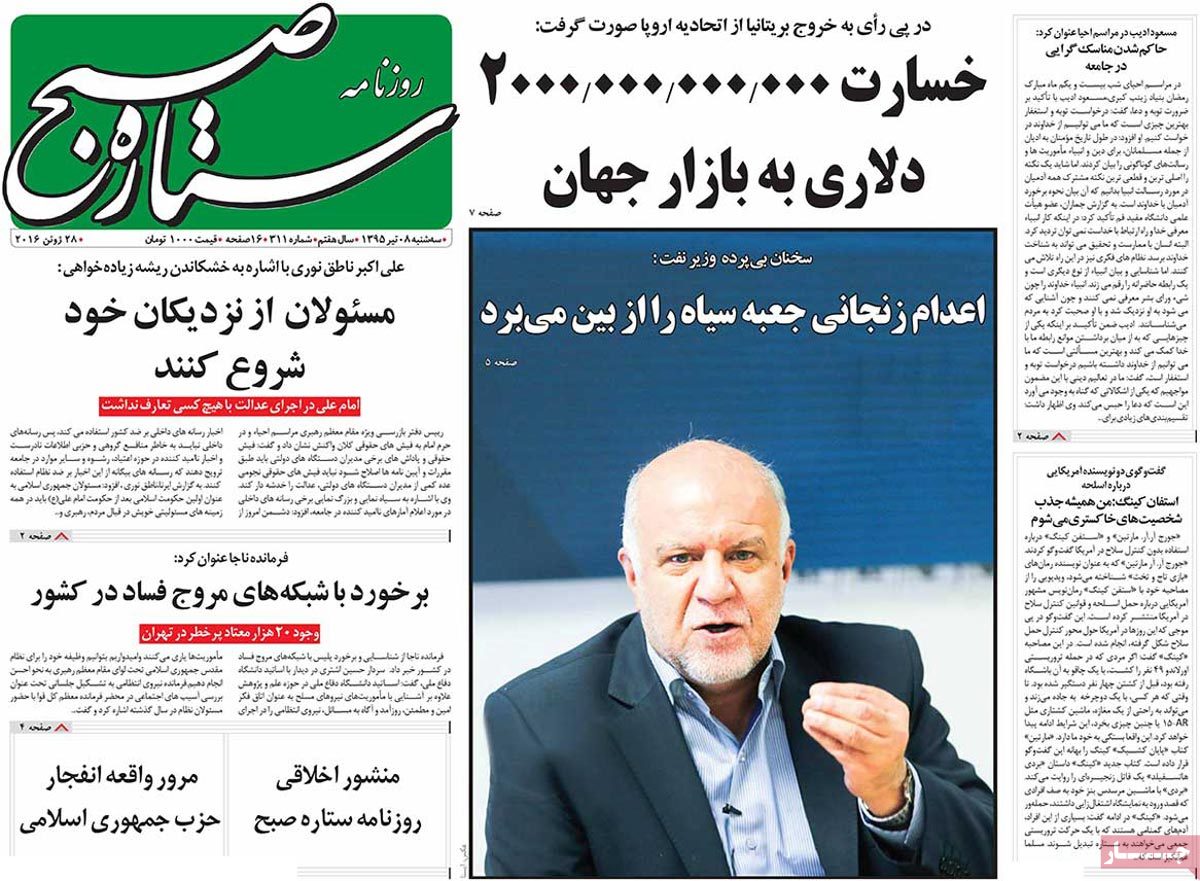 ---
Shahrvand:
1- Americans Love Persian Rugs: Iran's Carpet Market on Amazon
2- Bill to Protect Forest Rangers Submitted to Parliament: Department Chief
---
Shargh:
1- Simultaneous Consultations in Beirut and Moscow about Syria: [Leader's Advisor] Velayati in Russia, [Deputy FM] Jaberi Ansari in Lebanon
2- Transfer of Caspian Sea's Water Not a Democratic Process: Experts
3- President Underlines Necessity for Countering Those Who Harm and Aggress Environment
---
Sobh-e Now:
1- Airplane's Share in Iran's Transportation Company Is Just 3%, But It's the Top Priority of Authorities
2- A Campaign for Breathing: Car-Free Tuesdays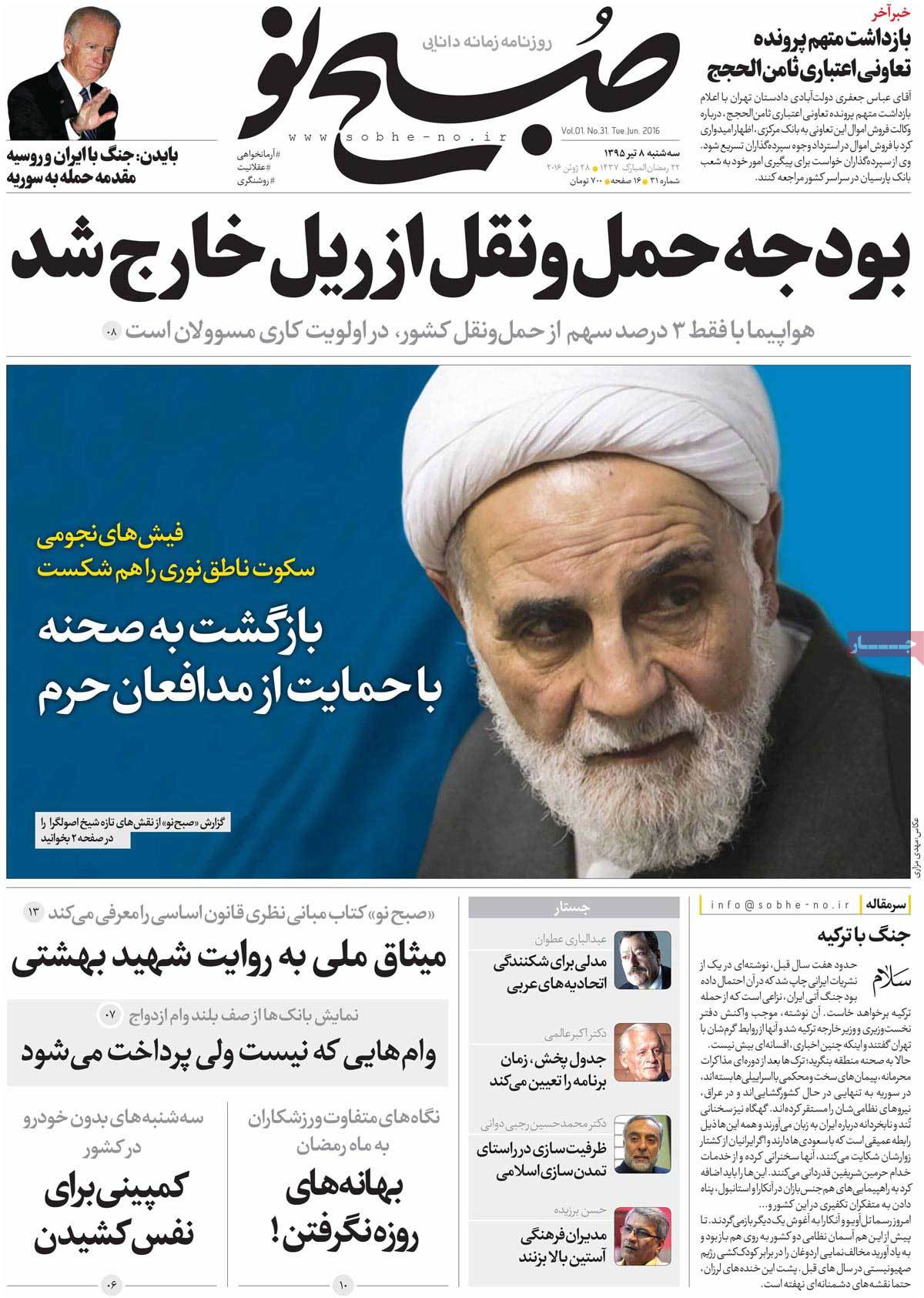 ---
Vatan-e Emrooz:
1- Minister: Even 7-Dollar Oil Brings Profits for Iran!
2- Security Risks of Agreement with FATF [Editorial]
3- Beginning of Britain's Disintegration