Iranian papers on Sunday focused on the recent remarks by the Leader of the Islamic Revolution Ayatollah Seyyed Ali Khamenei about Sheikh Isa Qassim, the Bahraini cleric, and the ongoing uprising in Bahrain. The Leader also pointed to the fight against terrorism in Iraq and Syria, stressing that the ISIS was created as the first phase of a failed project to paralyse Iran.
The repercussions of Britain's withdrawal from the European Union, known as Brexit, also remained a top story in many Iranian newspapers. The major changes in oil and gold prices as well as the shocks to global markets are covered in today's front pages.
The death of three Iranian rangers in the past two days in their fight against illegal hunters is another story covered by many Iranian media. There ongoing debates over the laws and regulations that should be passed to protect the lives of rangers.
Here are the abovementioned topics as well as several other issues covered by Iranian press on Sunday:
Abrar:
1- Fallen Soldiers and Negligence of Authorities
2- Boeing Deal Indicates the Road for Trade with Iran Is Open: US Diplomat
3- Brexit Not to Change Iran's Approach: Foreign Ministry
---
Abrar-e Eqtesadi:
1- Gold Coin Price Stands at Highest Price in 2 Years
2- Iran's Daily Oil Income Down by $4m
3- Iran's Stock Exchange Market Waiting for Reactions to Brexit
4- Sale of 1m Barrels of Oil to Spain: Iran's Oil Exports to Europe Will Increase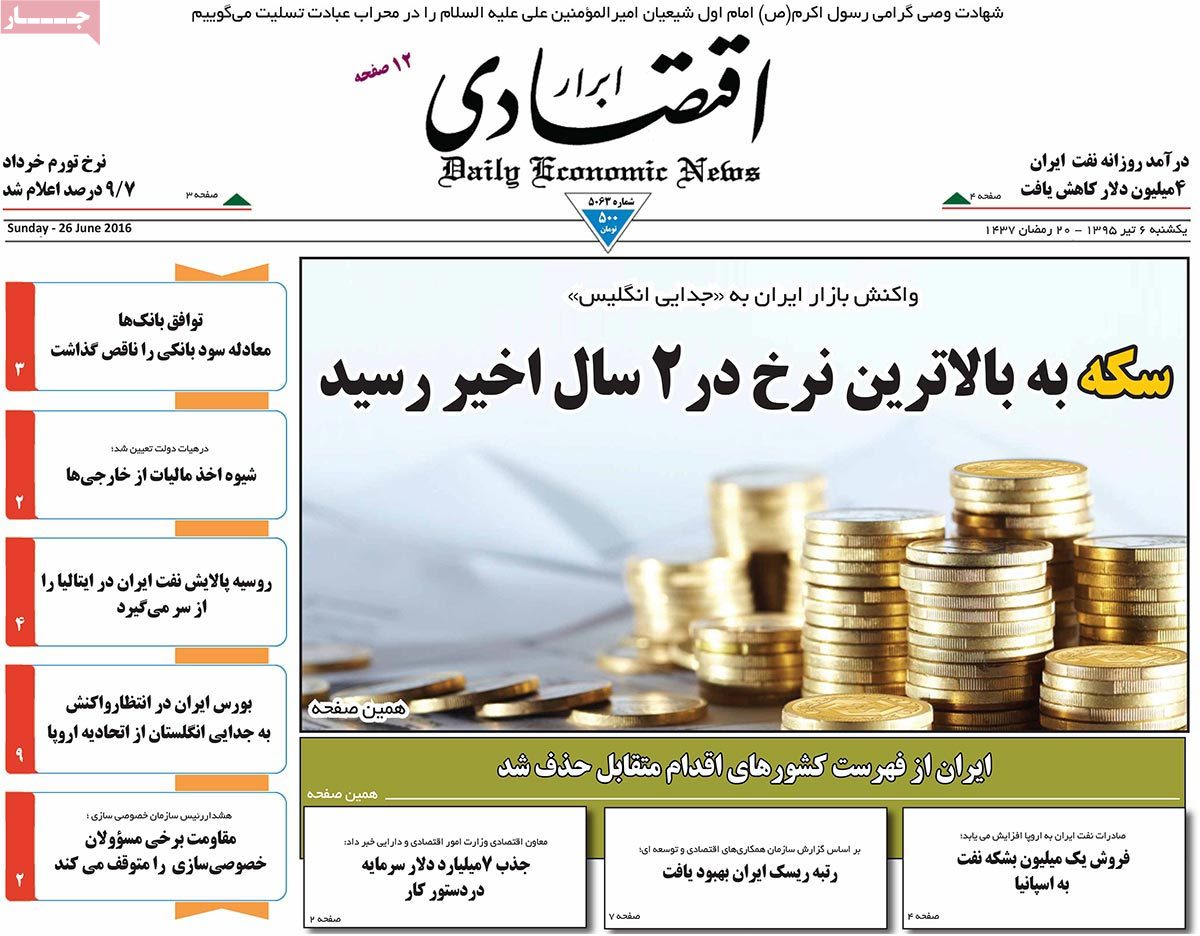 ---
Aftab-e Yazd:
1- Who Runs the Anti-Gov't Think-Thanks?
2- Rouhani's Advisor: Ahmadinejad's Associates Are Terrified
3- It's Not Appropriate to Say All Executives Are Thieves: Imam Khomeini's Grandson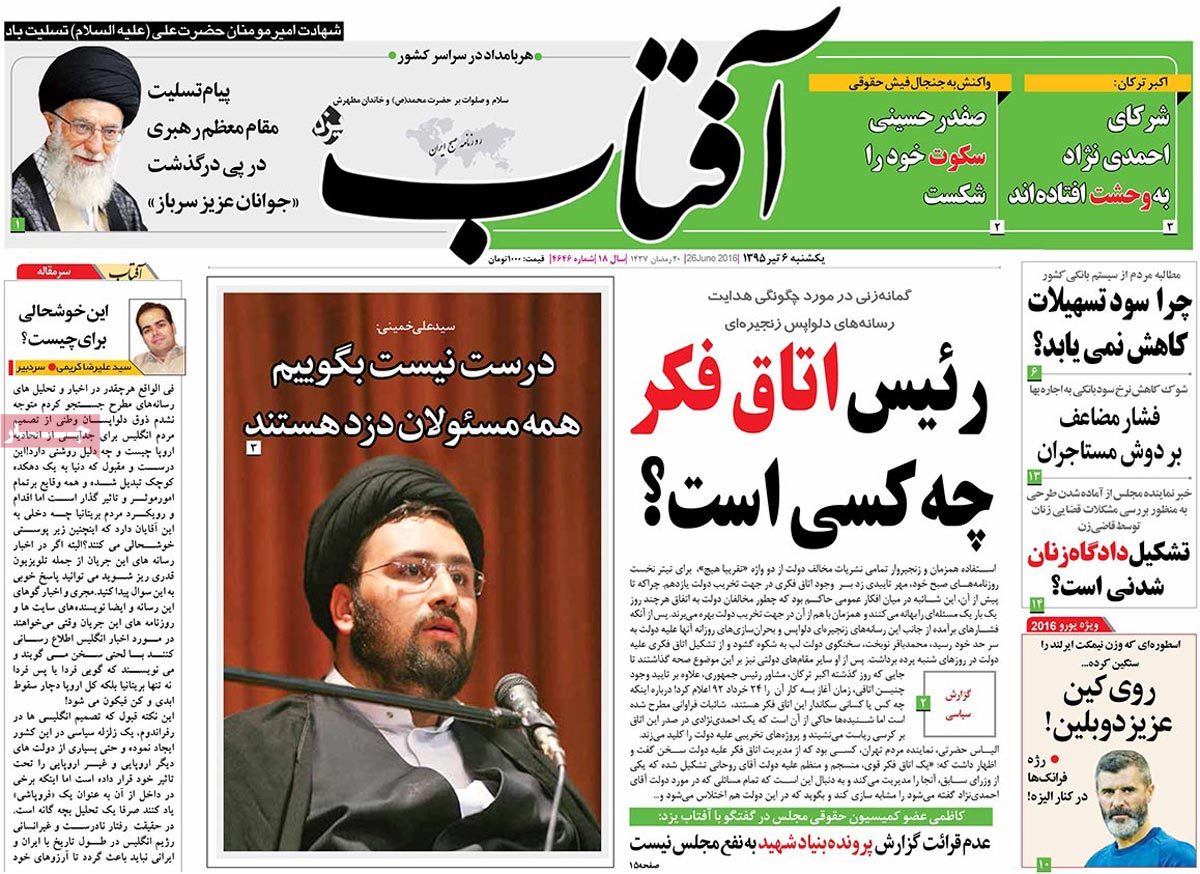 ---
Arman-e Emrooz:
1- They Created ISIS to Defeat Iran: Leader
2- Rouhani Is Alone: No One in Rouhani's Cabinet Defends Him, Reformist Politician Says
3- Women Want to Become Judges! Parliament to Discuss a Plan Which Allows Appointment of Women as Judges of Cases Related to Women Issues
4- Democracy and Centre of Power in Britain [Editorial by Zibakalam]
5- Parliament to Deal with Issue of 3 Rangers Killed in Past Two Days
6- Consequences of Brexit for Iran: Decrease in Oil Price or Removal of Communication Barriers?
---
Asia:
1- EU Founders in a Statement: What a Mistake Britons Made!
2- JCPOA Has Potential to Reduce Iran-US Hostility: Lesli Tsou
3- Sweden Opens Trade Office in Iran
---
Asrar:
1- Bioterrorism Threat Should Be Taken Seriously: Senior MP
2- Leaders of Shanghai Cooperation Organization Emphasize Iran's Accession to SCO
3- Anti-Gov't Think-Tanks Have Been Formed Since 2013: Advisor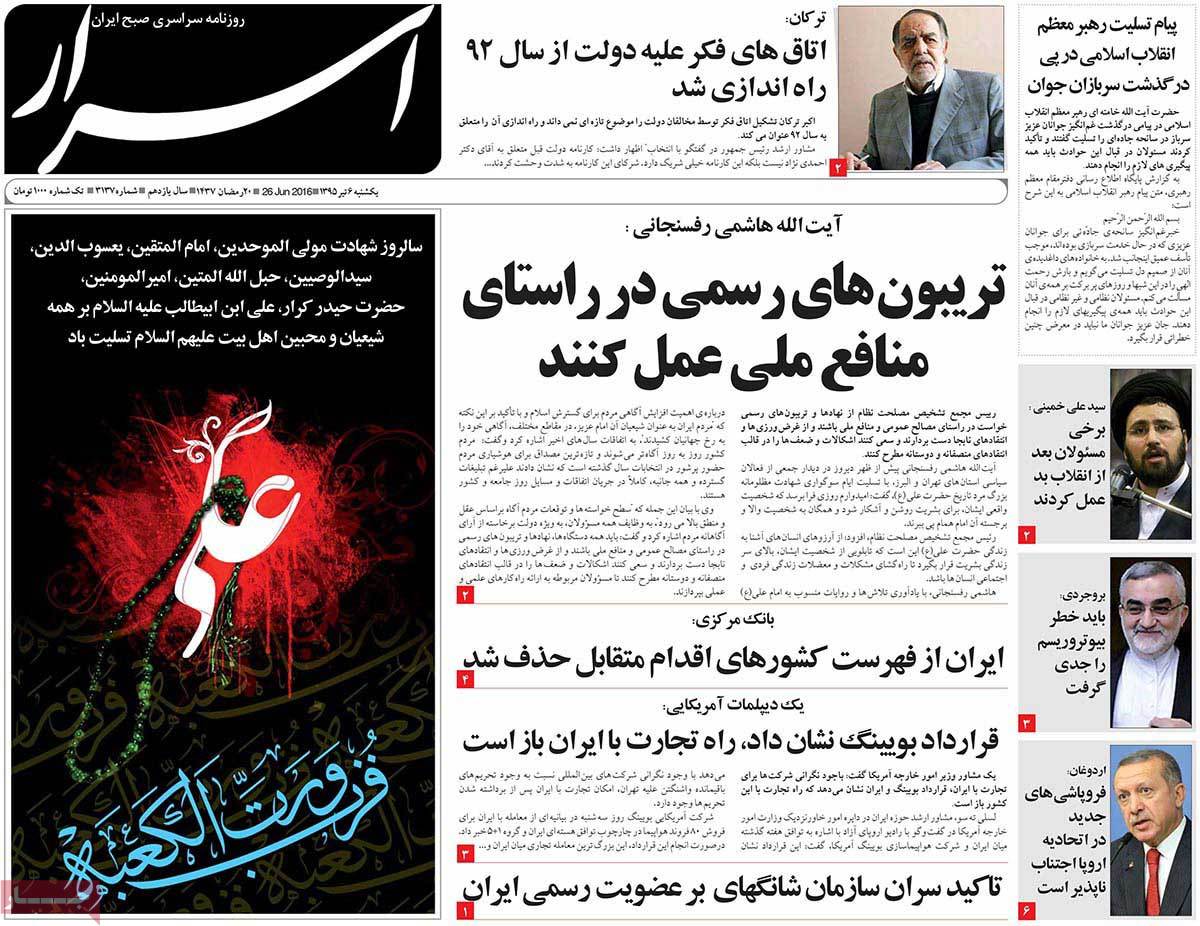 ---
Ebtekar:
1- Lives of Our Dear Youth Should Not Be Endangered by Such Threats: Leader on Recent Bus Crash that Killed Several Soldiers
2- Our Budget Comes from Iran, So Do the Rockets by Which We Threaten Israel: Nasrallah
3- Extinction of Rangers! There's No Law for Protecting Rangers' Lives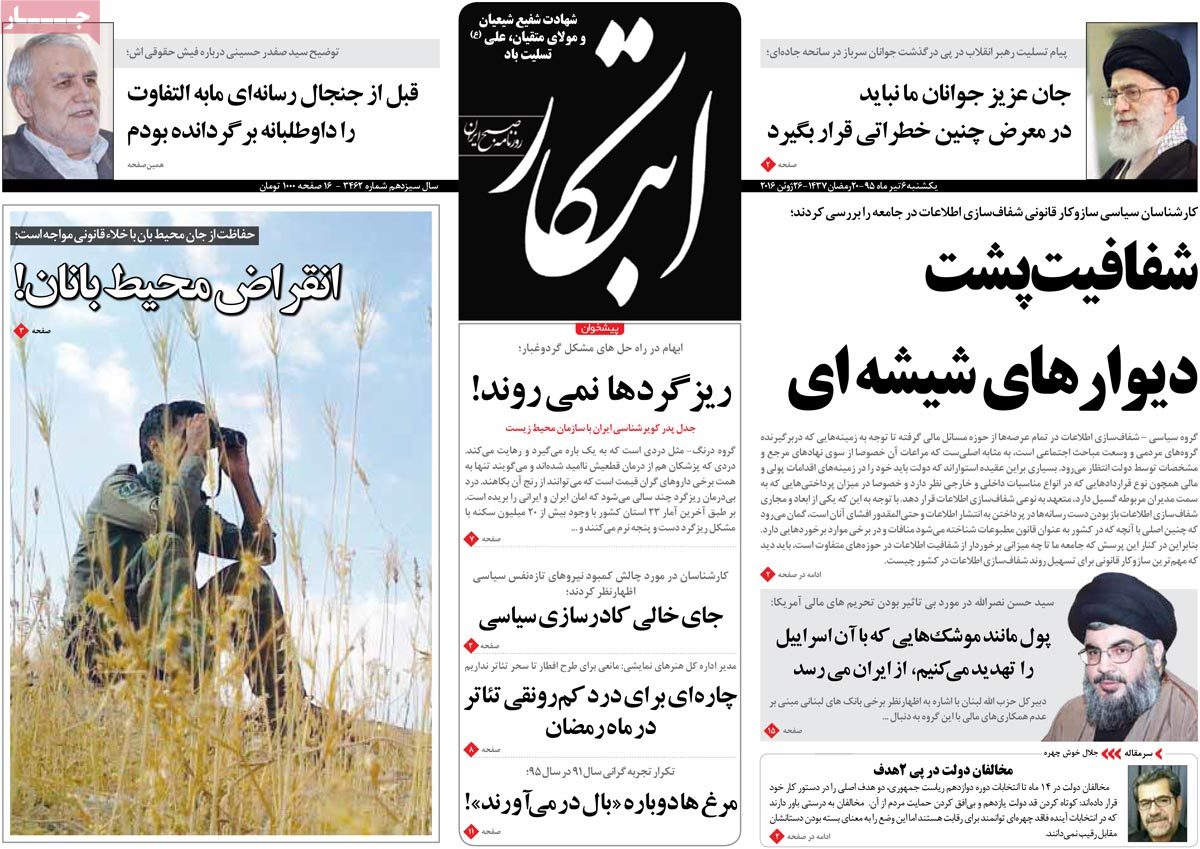 ---
Etemad:
1- I Don't Claim What Revolutionary Forces Did [in early years after 1979 Revolution] Was 100% Correct: Imam Khomeini's Grandson
2- On Anniversary of Saddam Hussein's Chemical Attack on Sardasht: Our Responsibilities and Those of Chemical Attack Survivors [Editorial]
---
Ettela'at:
1- Wave of Divergence in EU: Right-Wingers of France, Germany and Italy Keen to Exit from EU
2- Brexit Decreases Value of World's Capital Markets by $2.1tr
3- Bill Being Prepared to Protect Rangers: Environment Dept. Chief
4- Lives of Billionaires in Iran
---
Haft-e Sobh:
1- What Hunters Want from Us? Murder of 3 Rangers in Past 48 Hours
2- British Storm in Iran's Gold and Foreign Exchange Markets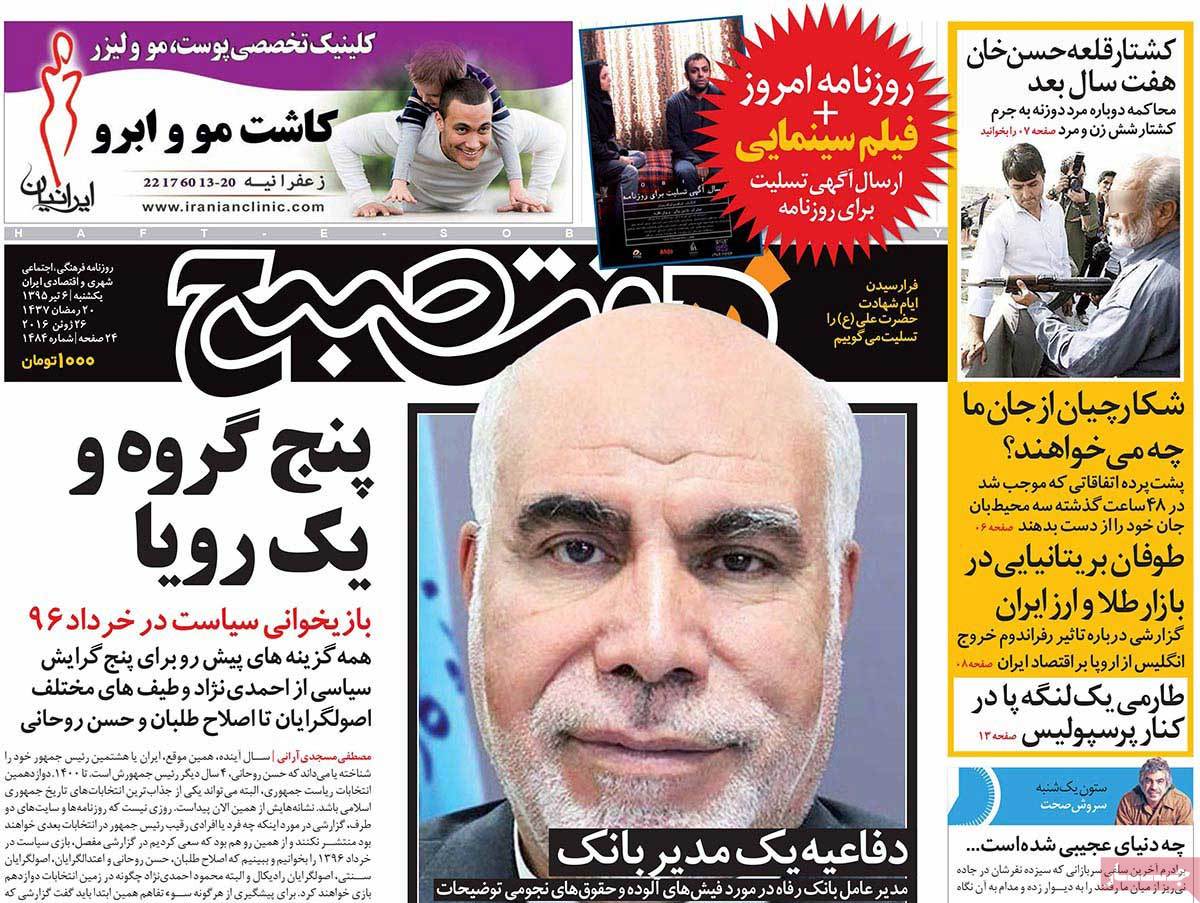 ---
Iran:
1- British Shock to Iranian and Global Markets: Repercussions of Brexit
2- Iran's Oil Extraction from South Pars Field to Equal Qatar's by Year-End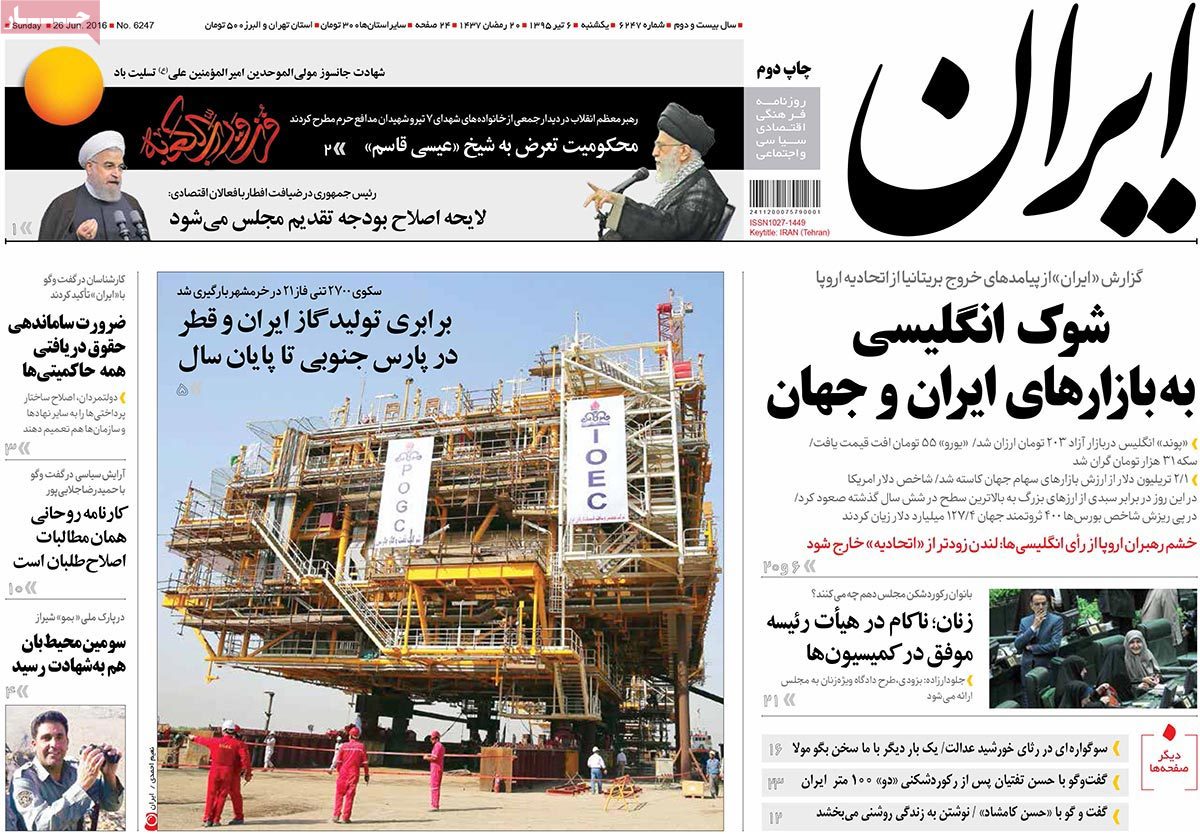 ---
Jame Jam:
1- Britons Regret Voting in Favour of Brexit
2- Palestine, the Main Issue of Muslim World
---
Javan:
1- Defending the Shrines of Ahl-ul-Bayt [Prophet Muhammad's Family] Is Defending Iran: Leader
2- US Lawmakers Seeking to Reopen Iran's PMD Case
3- Shadow of Autonomy from Europe to US: Repercussions of Brexit
4- Iran's Central Bank Commits Itself to FATF Obligations, Which Are beyond Scope of JCPOA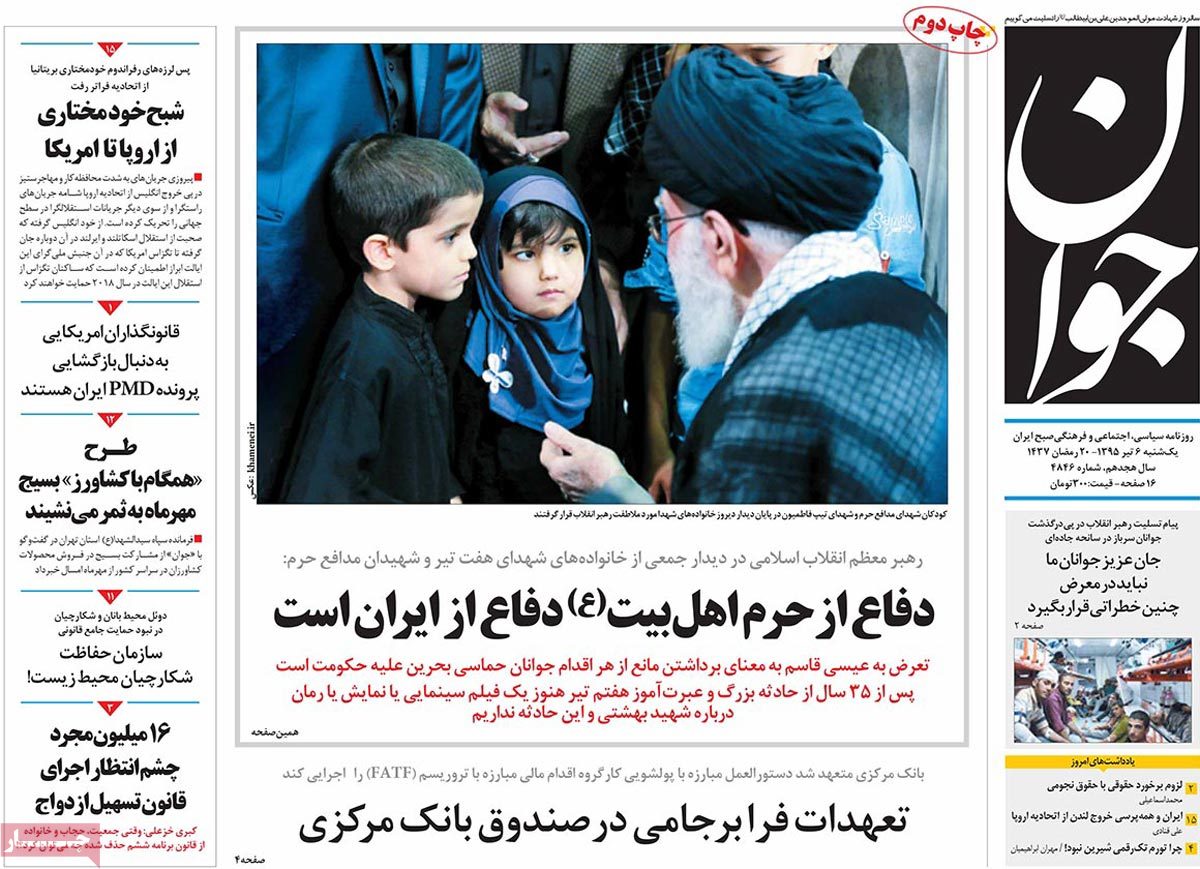 ---
Jomhouri Eslami:
1- Island of Britain Exposed to Waves of Disintegration
2- Iraqi Forces Continue Their Progress in Northern Salahuddin and Southern Mosul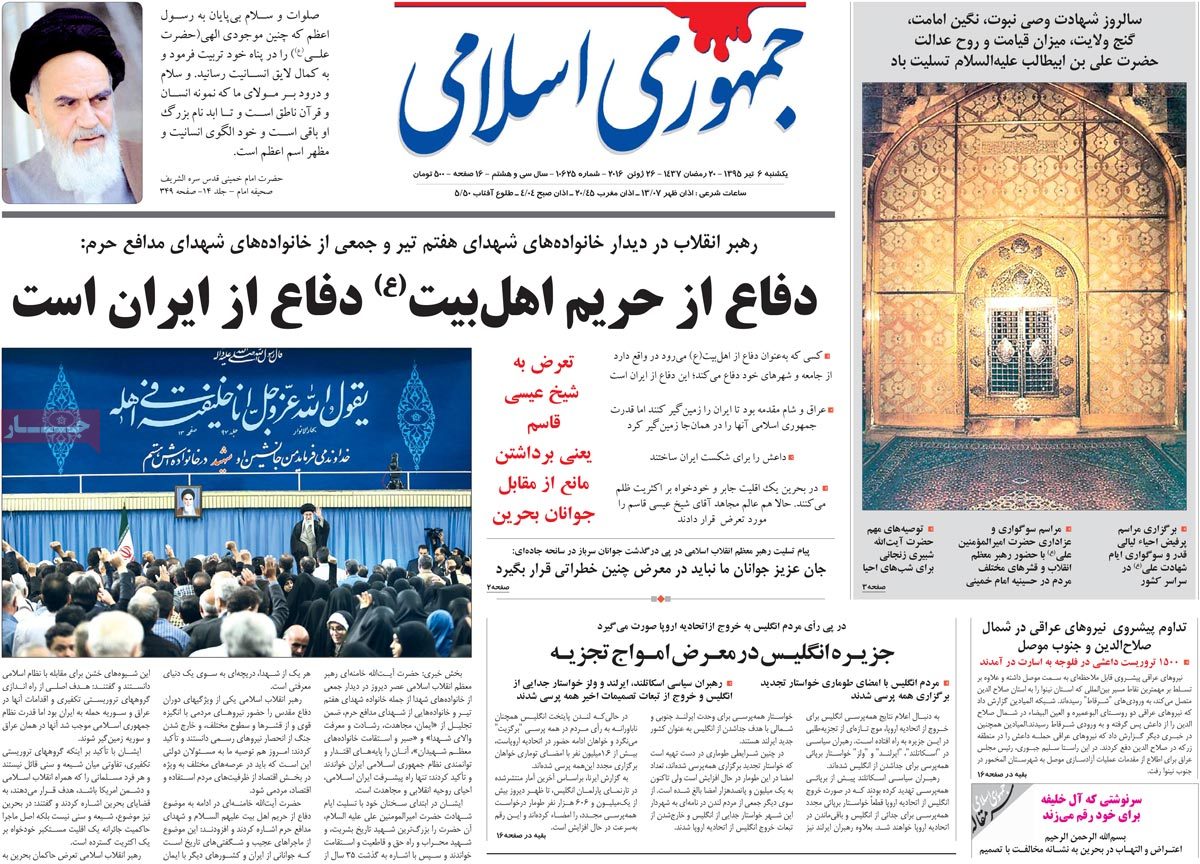 ---
Kayhan:
1- Attacks on Sheikh Qassim Unleashes Bahraini Youth's Ire [at Al Khalifa rulers]: Ayatollah Khamenei
2- 7 Other European Countries Ready to Exit EU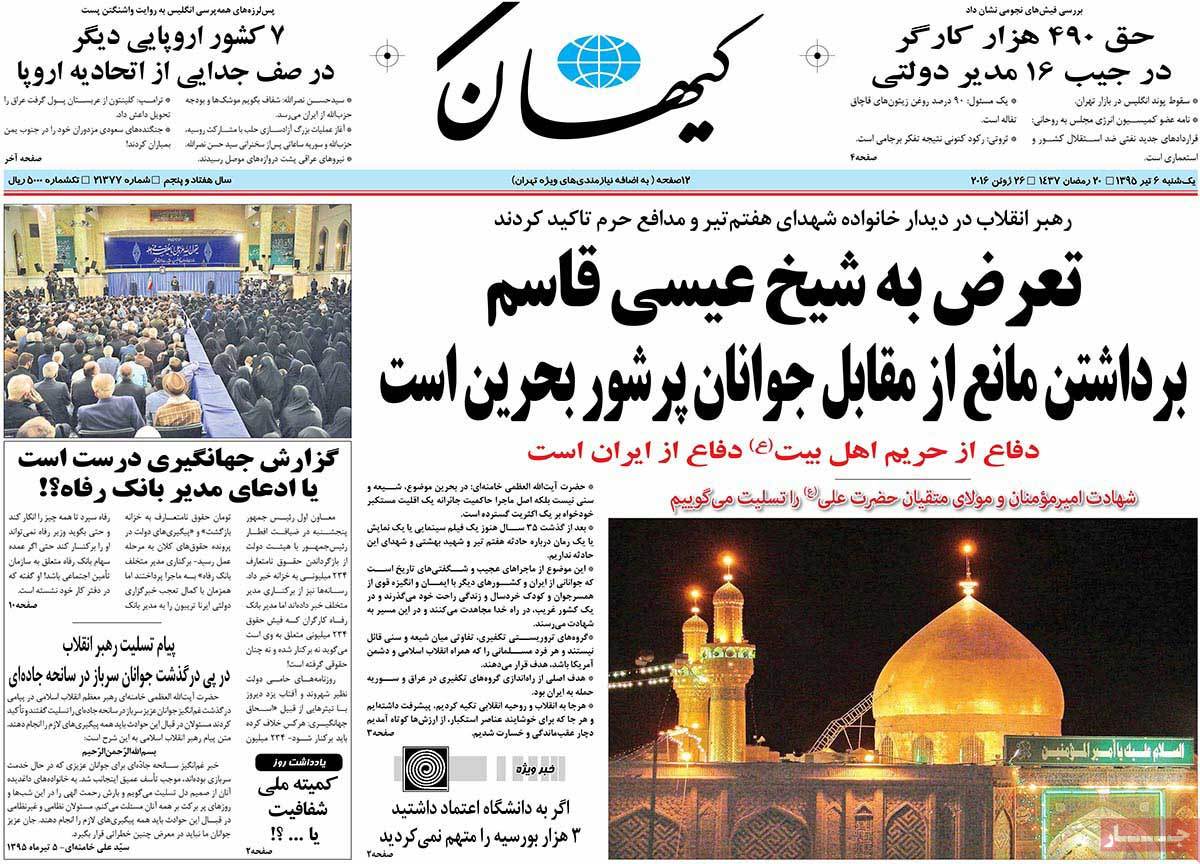 ---
Khorasan:
1- Iran Was Their Target, But They Were Paralysed in Iraq and Syria: Leader
2- Iran's Central Bank Welcomes FATF Move: Opponents Worried about Beginning of JCPOA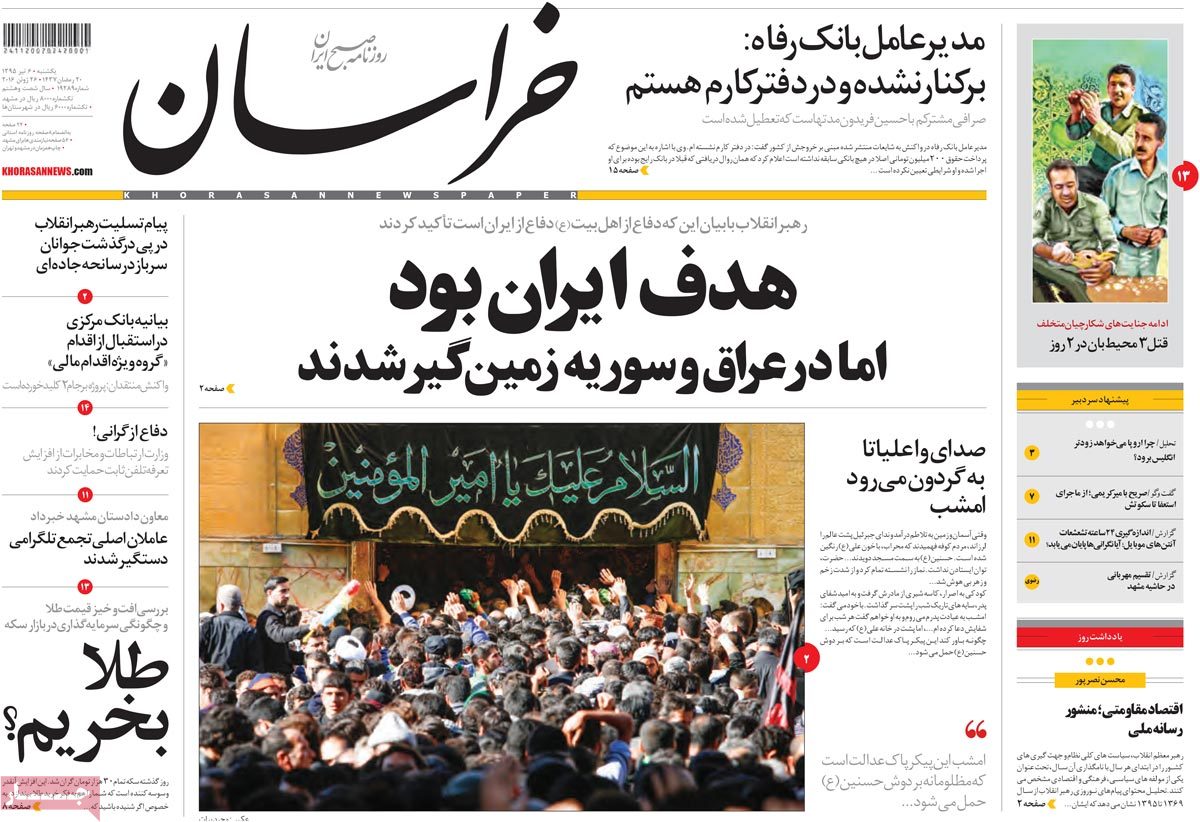 ---
Resalat:
1- A Cruel Minority Is Ruling the Majority in Bahrain: Ayatollah Khamenei
2- Beginning of a Domino for Exiting the EU
---
Sayeh:
1- We Don't Want Turkization: Zarif's Timely Move to Leave SCO's Tashkent Summit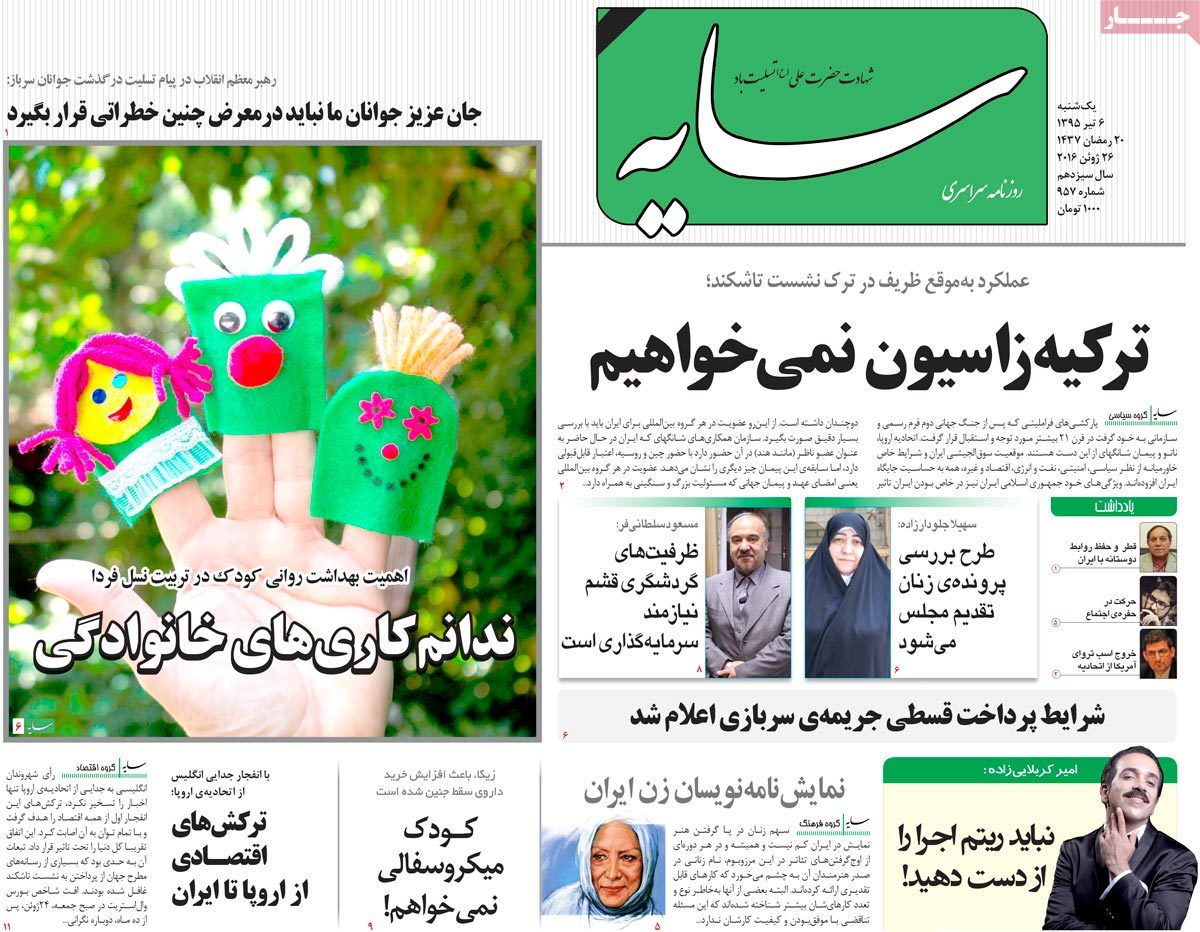 ---
Sepid:
1- 33 Iranians among World's Top 1% Highly-Cited Scientists
2- A Report on Infants Who Are Addicted to Drugs since Their Birth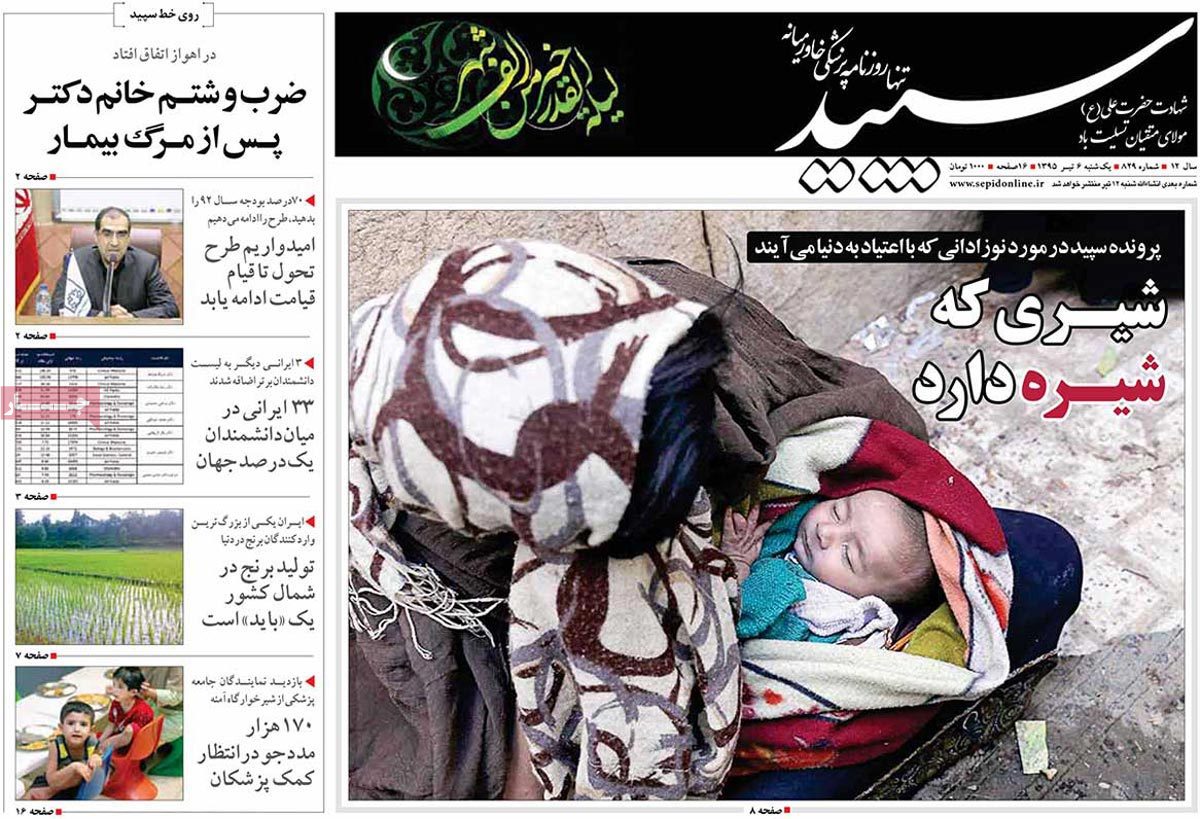 ---
Shahrvand:
1- Hard Days of Soldiers of Nature: Another Ranger Killed by Illegal Hunters
2- British People Sign Petition, Calling for a Second Referendum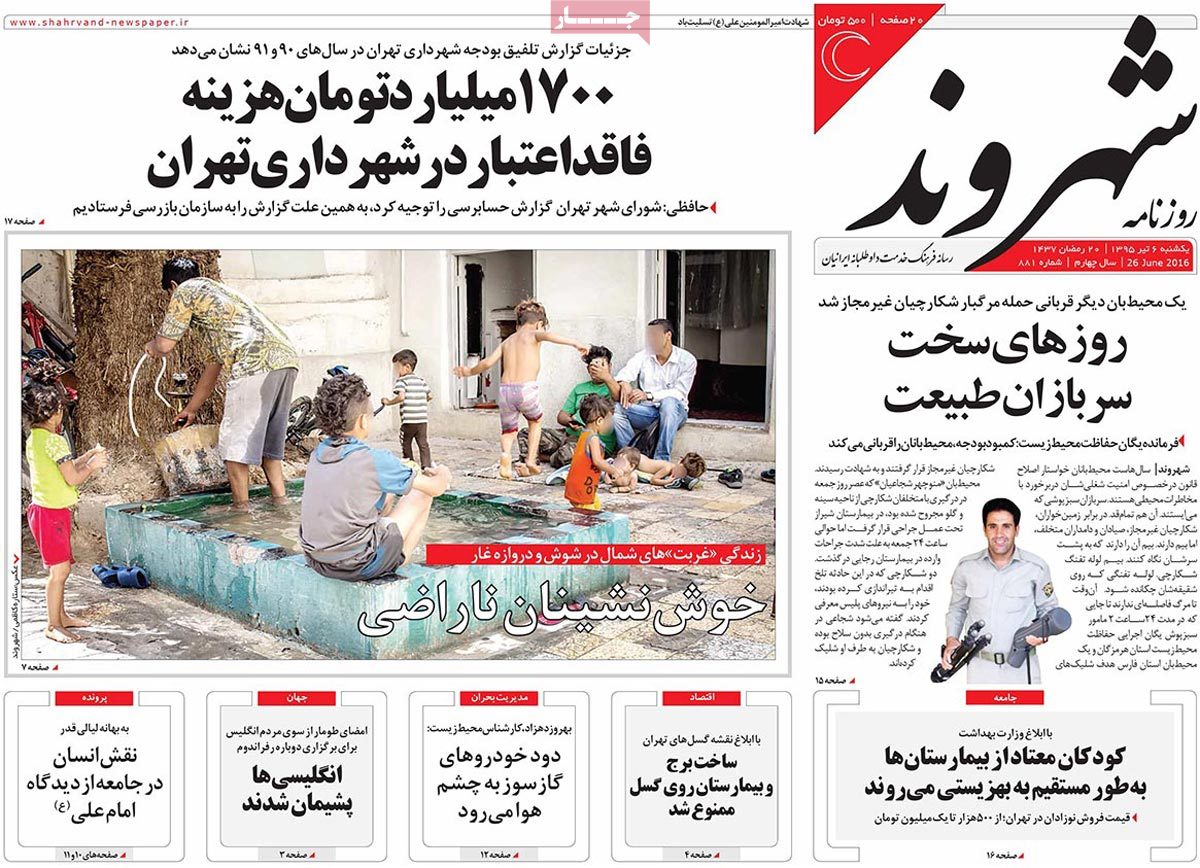 ---
Shargh:
1- IRGC Dismisses Reports on Huge Salaries of Its Commanders
2- Transparency Is the Way to Prevent Corruption: Politician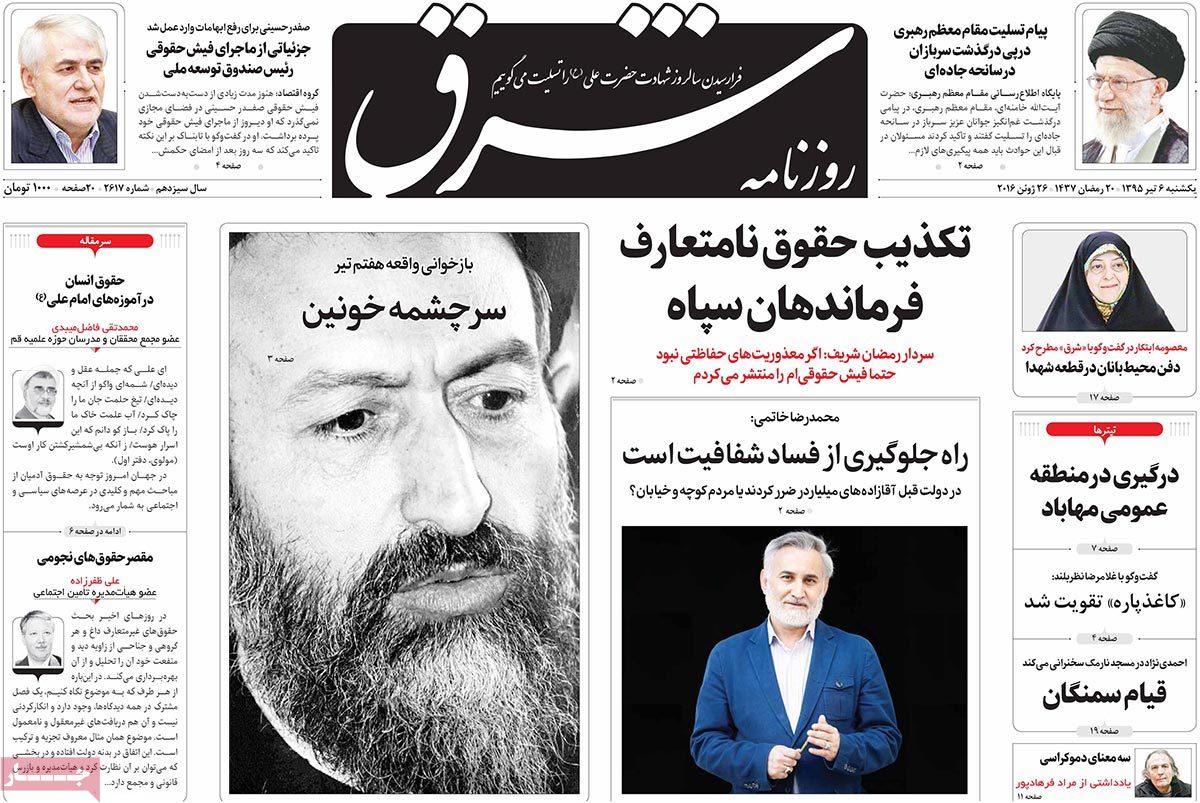 ---
Vaghaye Ettefaghieh:
1- Europe on Verge of Collapse: Germany to Replace Britain
2- Rafsanjani Urges Official Tribunes to Stop Unfair Criticism
3- The Rocky Road ahead of Britain [Editorial]
---
Vatan-e Emrooz:
1- They Can't Prevent Movement of Bahraini Youth Anymore: Iran's Leader
2- Bank Refah Chief Who Received a Monthly Salary of over $67,000: I've Not Committed Any Crime, Why Should I Be Dismissed? I'm at My Office, I Won't Go Anywhere!
3- Terrorists and Saud Arabia Are Hand in Hand in West of Iran
4- Europe is Dead: Brexit Will Cleanse EU of US Power and Influence