Almost all Iranian newspapers dedicated their front pages to the issue of Brexit and its repercussions. In a separate article, IFP will cover the numerous headlines and editorials which focused on the issue.
The recent bus crash in Fars province, which killed several soldiers, remained a top story today. Conservative media are using the incident to criticize the government's transportation policies, and some reformist ones are renewing their call for major changes in military service policies.
Many newspapers also covered President Hassan Rouhani's ongoing actions against the issues of huge salaries paid to certain executives.
Another top story was a recent Shanghai Cooperation Organization [SCO] Summit in Tashkent and the issue of Iran's accession to the body.
Below, you can find these stories as well as a number of others appearing on front pages of Iranian newspapers on Saturday.
Abrar-e Eqtesadi:
1- Fall of Global Financial Markets after Brexit Shock
2- Details of Biggest Economic Deal between Iran and US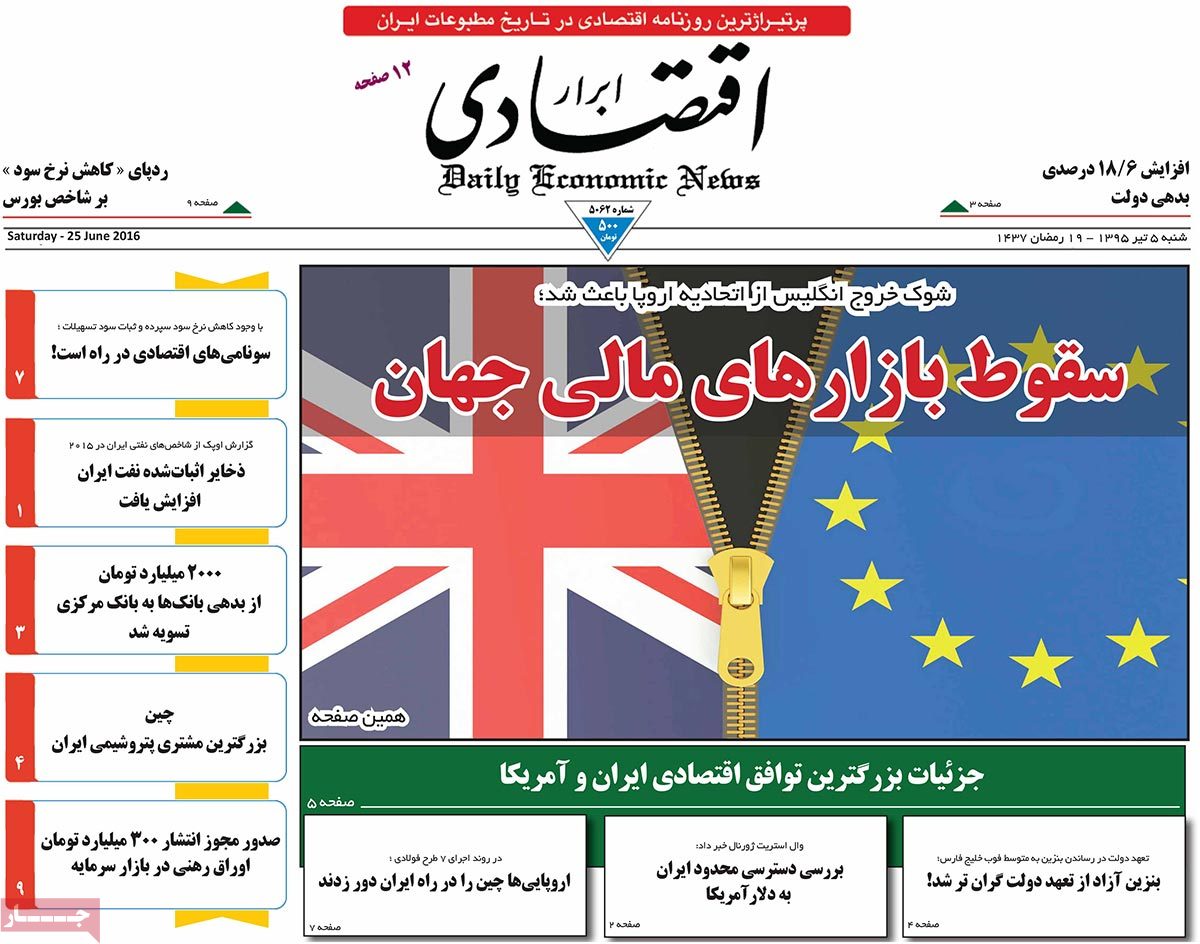 ---
Aftab-e Yazd:
1- Goodbye My Brother: Iranian People Show Sympathy with Bereaved Families of Soldiers Killed in Bus Crash
2- Zarif: I Talk to General Soleimani; The Second Amir Kabir [the Persian PM known as Iran's first reformer; a title given to FM Zarif] and Saviour of Middle East [a title given to IRGC Quds Force Commander General Soleimani] Have No Conflict
3- 4 Dead Sparrows Sold for $1160! [A young man asked a fortune-teller to help him marry his beloved girl, and the fake fortune-teller sold him four sparrows for more than $1100, saying that he should hang them outside the girl's house to convince the girl into marriage!]
4- Which Historic Opportunity? Does Brexit Have Any Influence on Iran?
5- Britain on Path of Isolation
6- Offending Executive Dismissed: Government's Serious Action against Astronomical Salaries
---
Arman-e Emrooz:
1- Shock to the World: 52% of Britons Vote for Brexit
2- Repercussions of Brexit [Editorial]
3- New Scandals Revealed by First VP: Previous Gov't Had Secretly Given Top Medals to 27 People
---
Asia:
1- The Lonely Island: Great Britain Losing Its Greatness
2- Obama Trying to Help Iran Join WTO and Have Access to US Dollar
3- Unprecedented Sit of US Congressmen in House of Representatives
4- Consequences of Google and Amazon's Presence in Iran
5- Iran to Become Regional Air Hub: Bloomberg
---
Asrar:
1- Daily Schedule of Opponents to Make Government Deviate [from Its Path]: Rouhani
2- Zarif Urges Europe to Ease the Atmosphere for Those Who Still Worry about Anti-Iran Sanctions
3- Putin: No Barrier to Iran's Accession to Shanghai Cooperation Organization
4- China Becomes Biggest Client of Iran's Petchem Products
5- 140,000 Job Opportunities to Be Created in Tourism Field: VP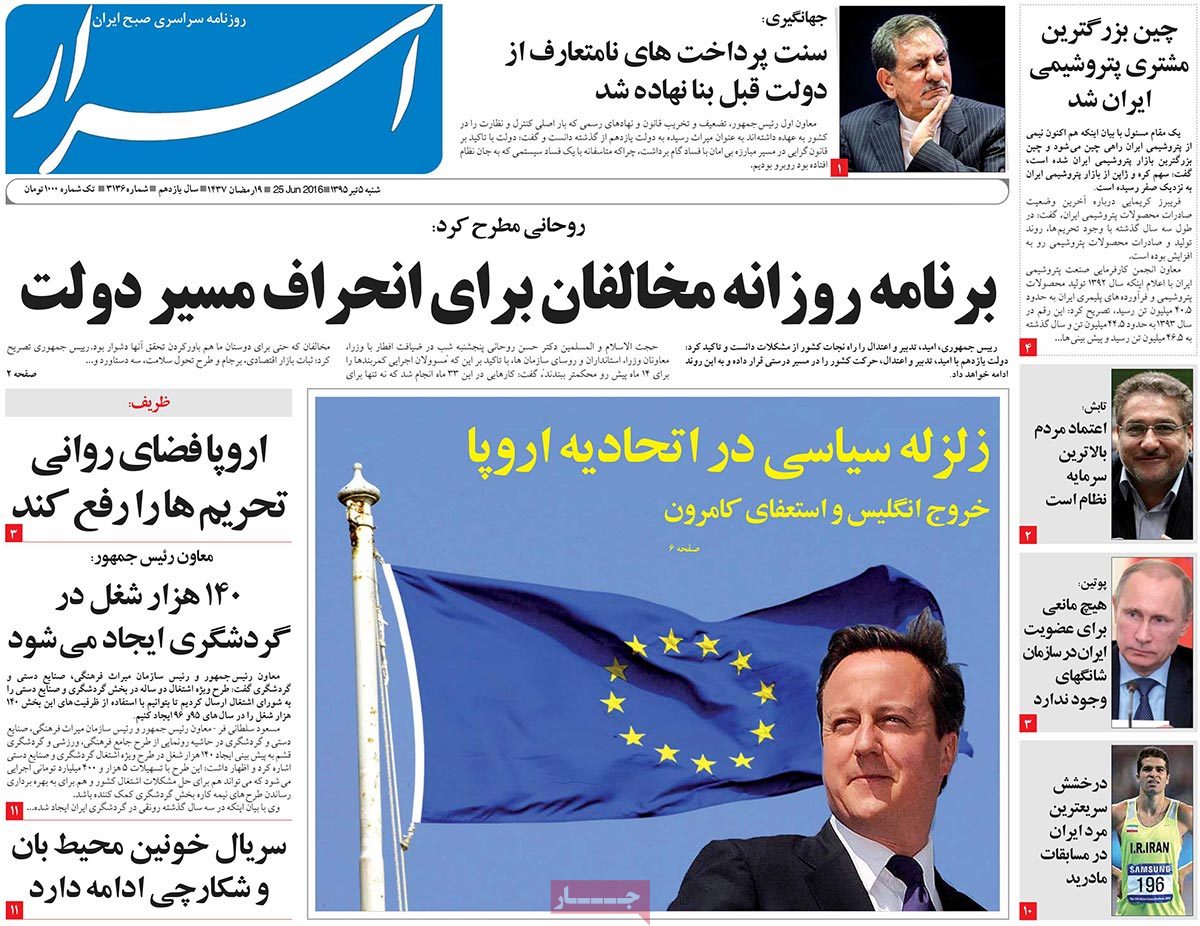 ---
Ebtekar:
1- "Astronomicals" [receivers of huge salaries] Will Be Fired: First VP
2- British Earthquake in Eurozone
3- Changing the Threat of Astronomical Salaries into an Opportunity: President's Advisor Calls for Formation of National Transparency Committee
4- General Soleimani and I Have No Conflict of Opinions on Syria: Zarif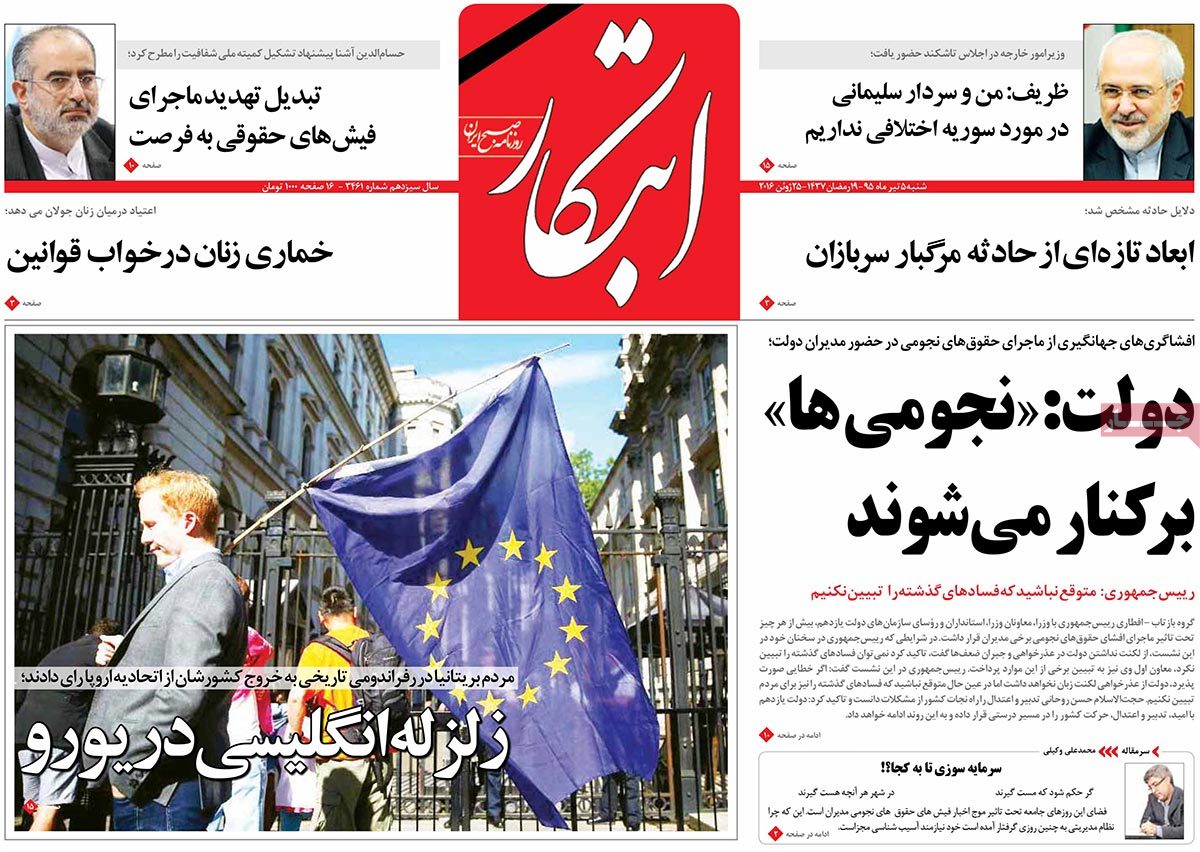 ---
Emtiaz:
1- New Details about Deadly Bus Crash; Health Ministry Spokesman: The Bus Was Smuggling People and Goods
2- Decrease in Level of Lake Urmia's Water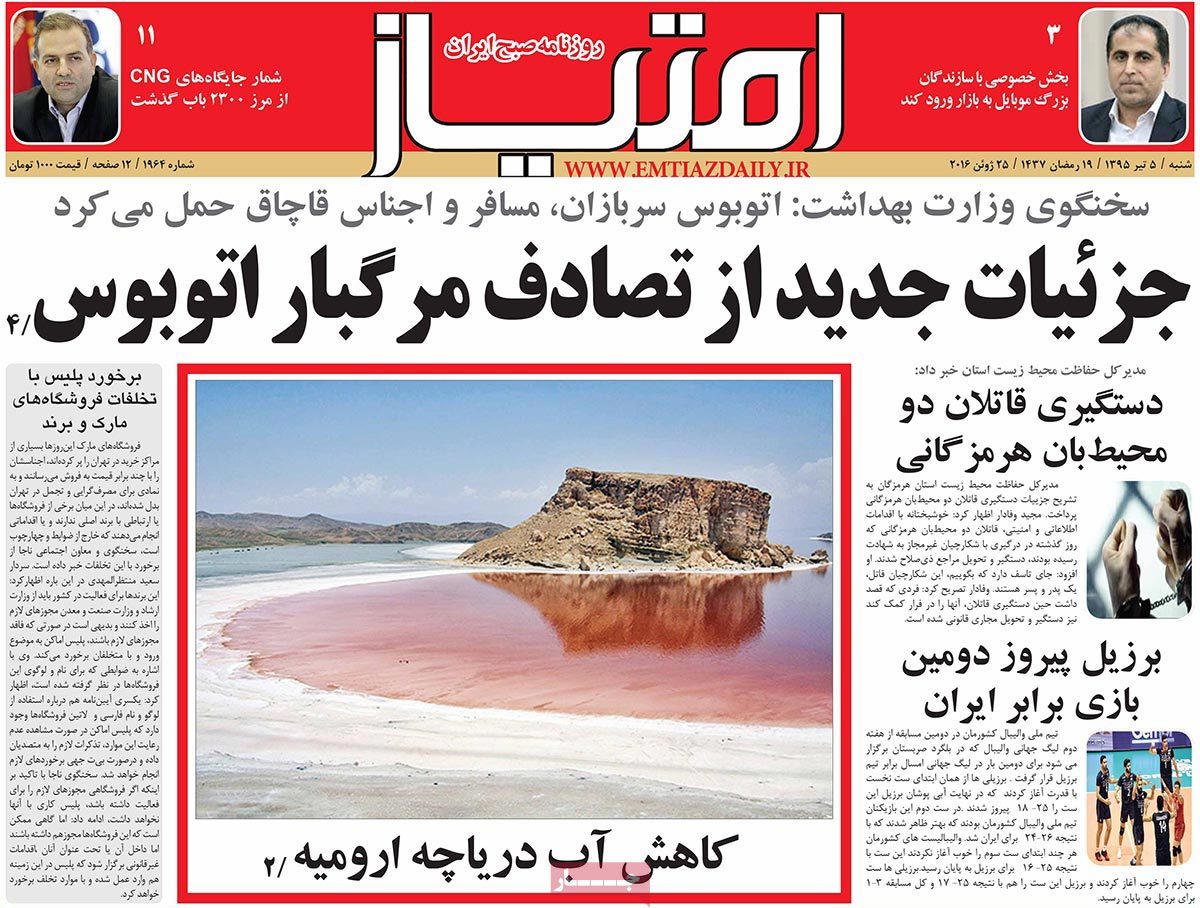 ---
Etemad:
1- I Hope [Iranian] People Won't Get Poorer: Imam Khomeini Relief Foundation Chief
2- Riot of the Elderly: 61% of the Elderly Vote for Brexit, While 75% of Young Britons Vote against It
3- A Bitter Divorce after a Marriage Out of Expediency [Editorial about Brexit]
---
Ettela'at:
1- Economic Stability, JCPOA, and Health Evolution Plan [RouhaniCare], 3 Major Achievements of Gov't in 3 Years: Rouhani
2- Ayatollah Sistani to Sheikh Qassim: Your Place Is in Our Heart
3- President Rouhani Gives Orders on Pursuing Conditions of Soldiers Wounded in Bus Crash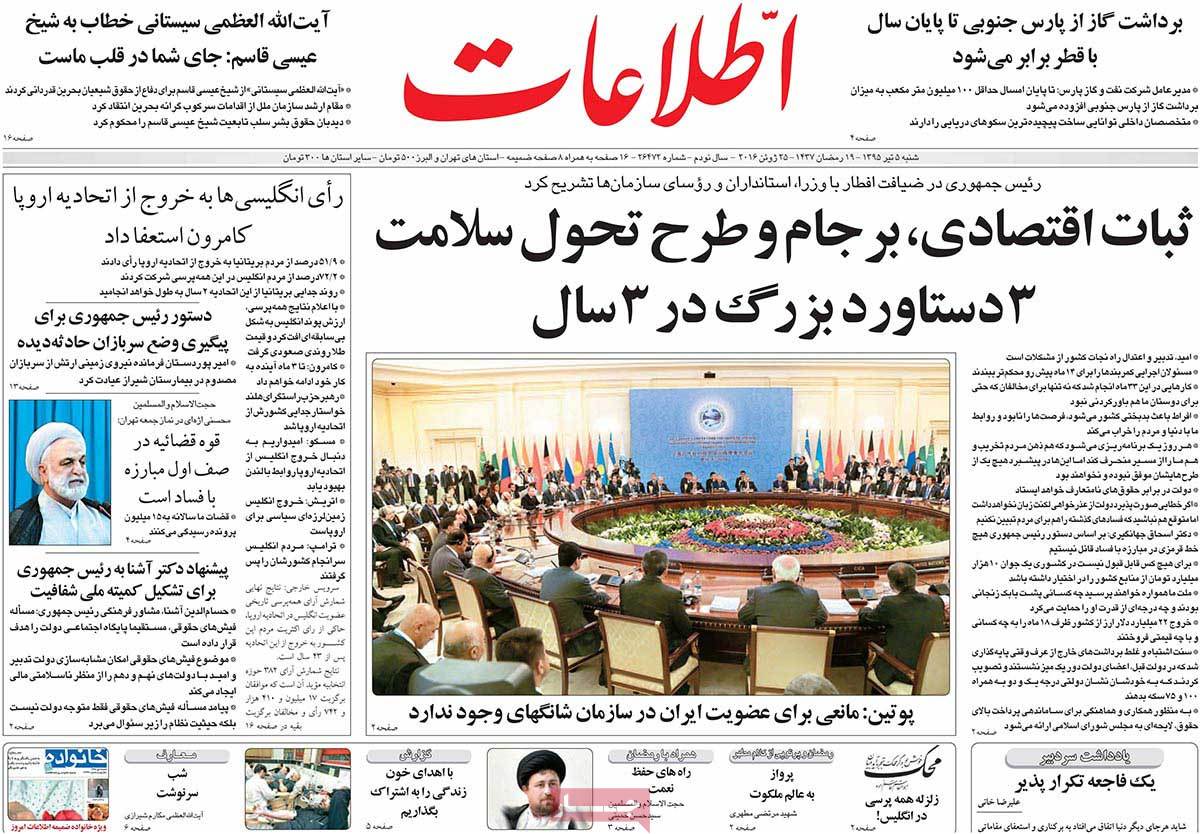 ---
Haft-e Sobh:
1- Separation in West, Wedding in East: Brexit Changes the Game in Favour of China and Russia
2- Gold Price Amazingly Sours after Brexit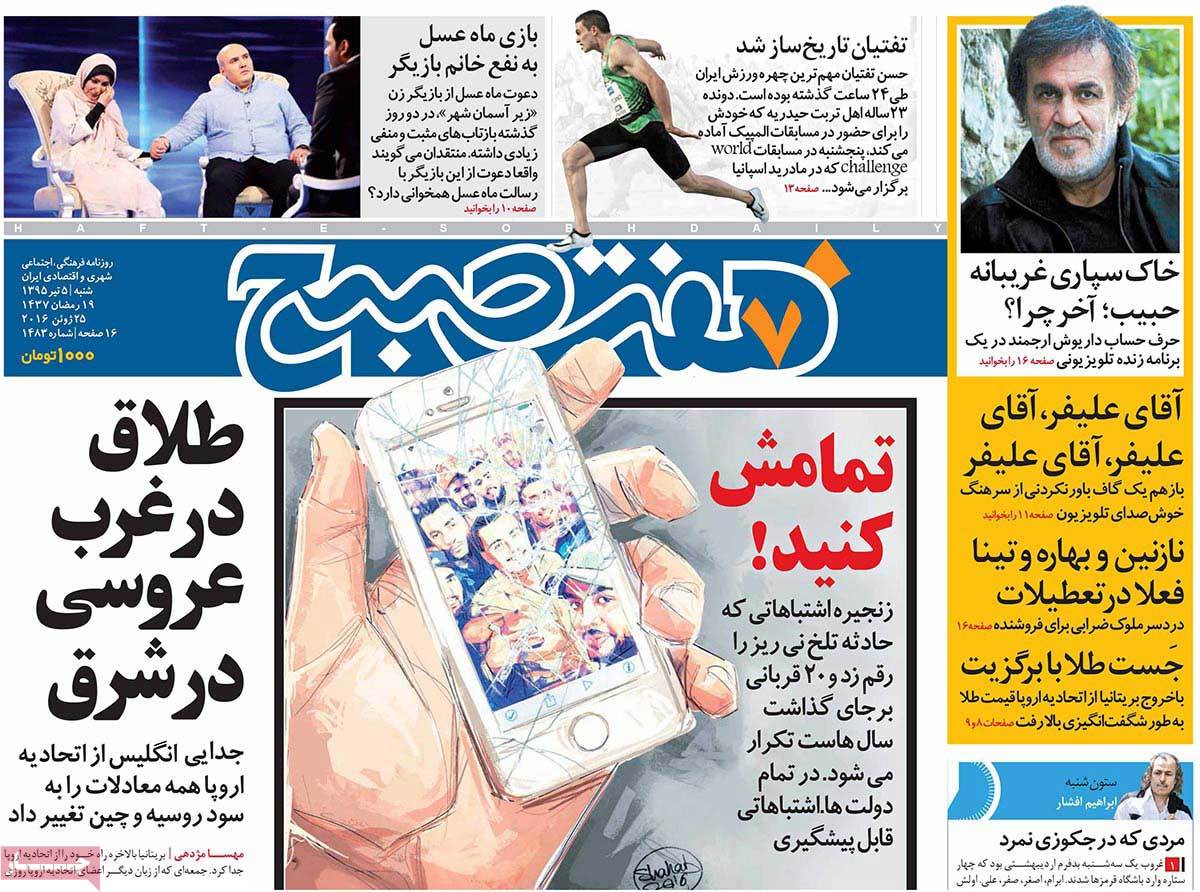 ---
Hamshahri:
1- Sunset of the Empire [on Brexit]
2- Behind the Scenes of Soldiers' Bus Crash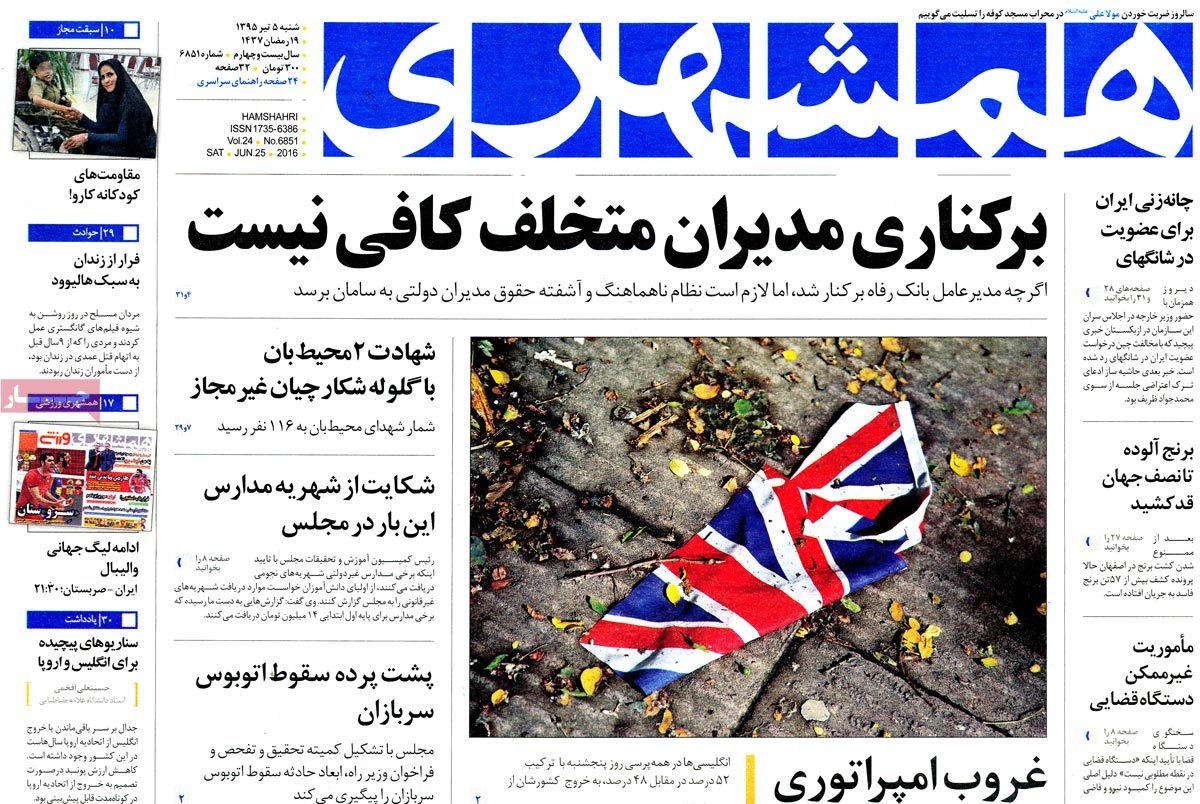 ---
Hemayat:
1- Judiciary Not Afraid of Domestic and International Pressures: Spokesman
2- Ansarullah Leader: We're Ready Both for Peace and Fight against Enemies
3- Fate of Iran's Ousted Shah Expected for Al Khalifa: Cleric
---
Iran:
1- We'll Stand against Unconventional Salaries: Rouhani
2- Ahmadinejad Gave More than $750m of Bonus to His Statesmen
3- Historic "No" in the Island: Political Storm in Europe; Cameron Will Resign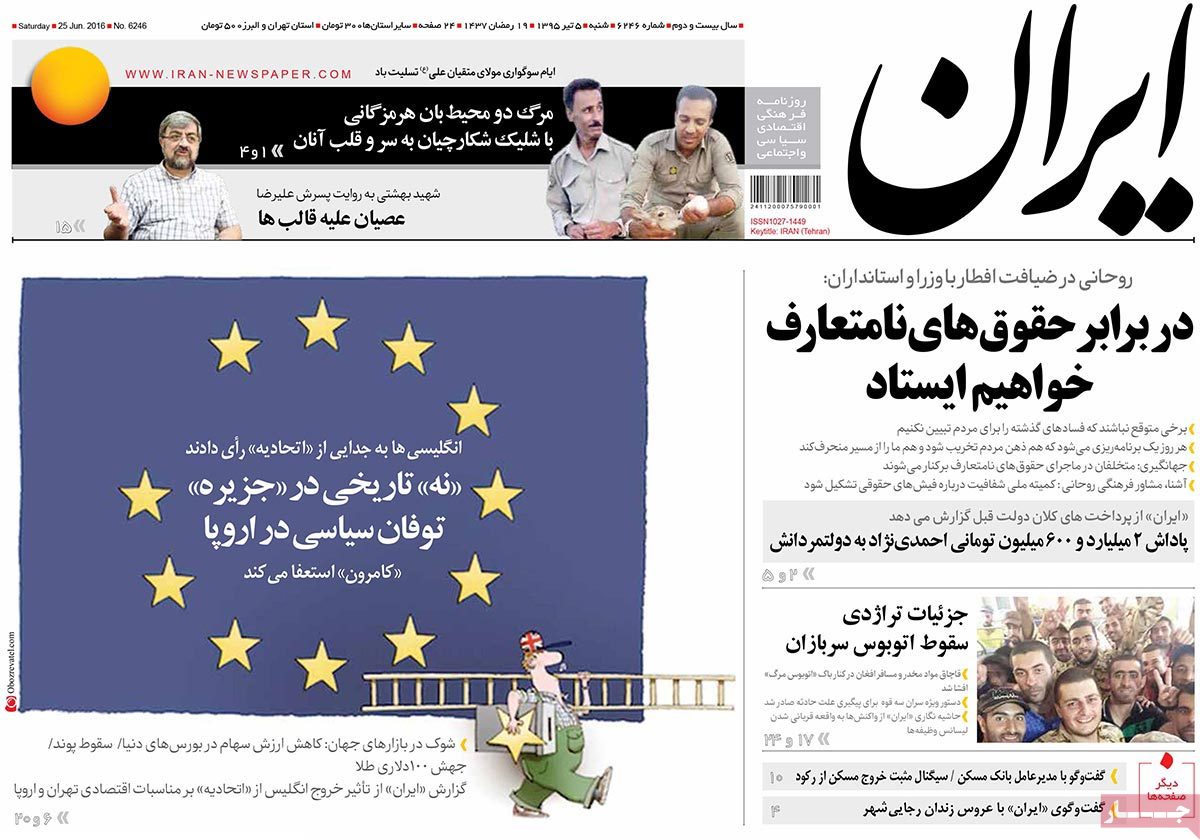 ---
Jame Jam:
1- British Shock to EU
2- A Report on Leader's Call for Self-Sufficiency in Petrol Supply
3- Return of Trojan Horse to the Island [Editorial on the exit of Britain from EU]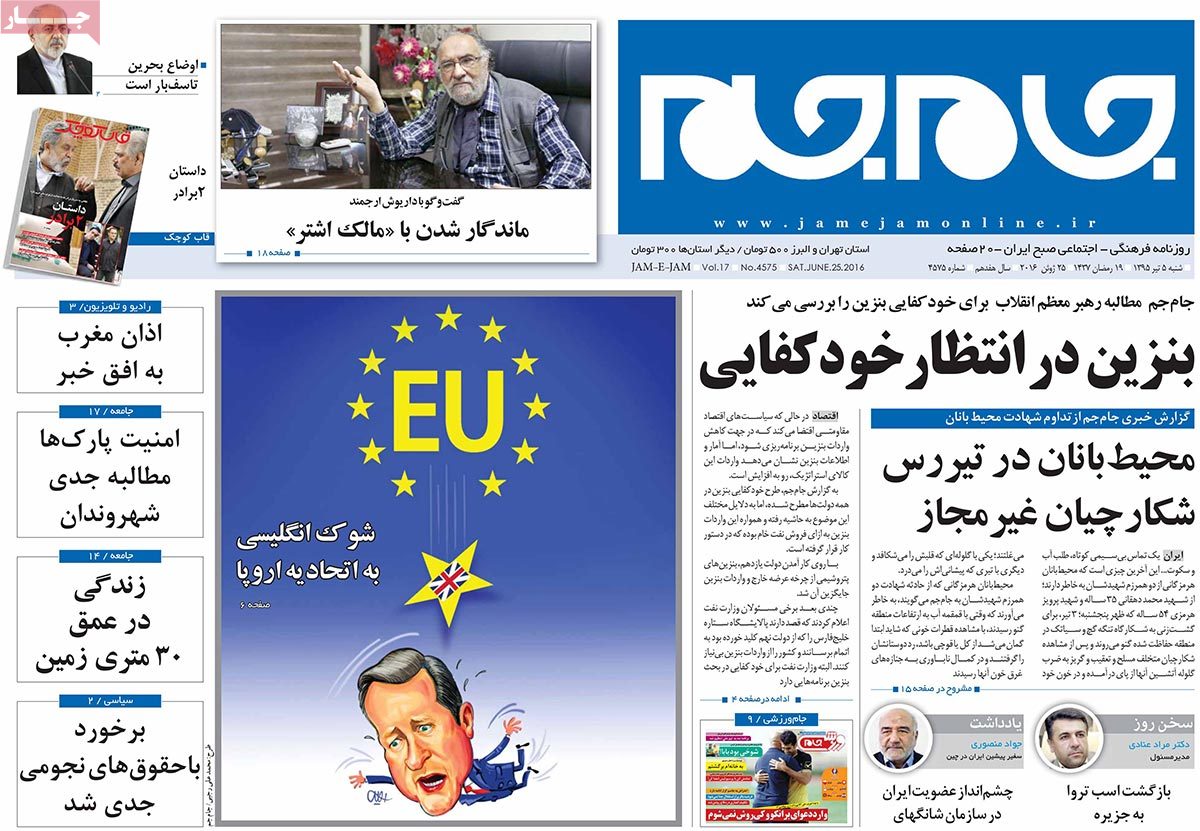 ---
Javan:
1- Earthquake of Disintegration in Britain, Domino of Exit from EU: Britain's Unity in Danger, Europe Becomes Shaky
2- Judiciary Spokesman: We Promise to Stand against All Corruptors
3- US Seeks to Use WTO to Facilitate Political Changes in Iran: Wall Street Journal
4- Beginning of Collapse of American Hegemony vs. Hegemony of Islamic Revolution [Editorial]
5- Brexit's Influence on Iran's Economy [Editorial]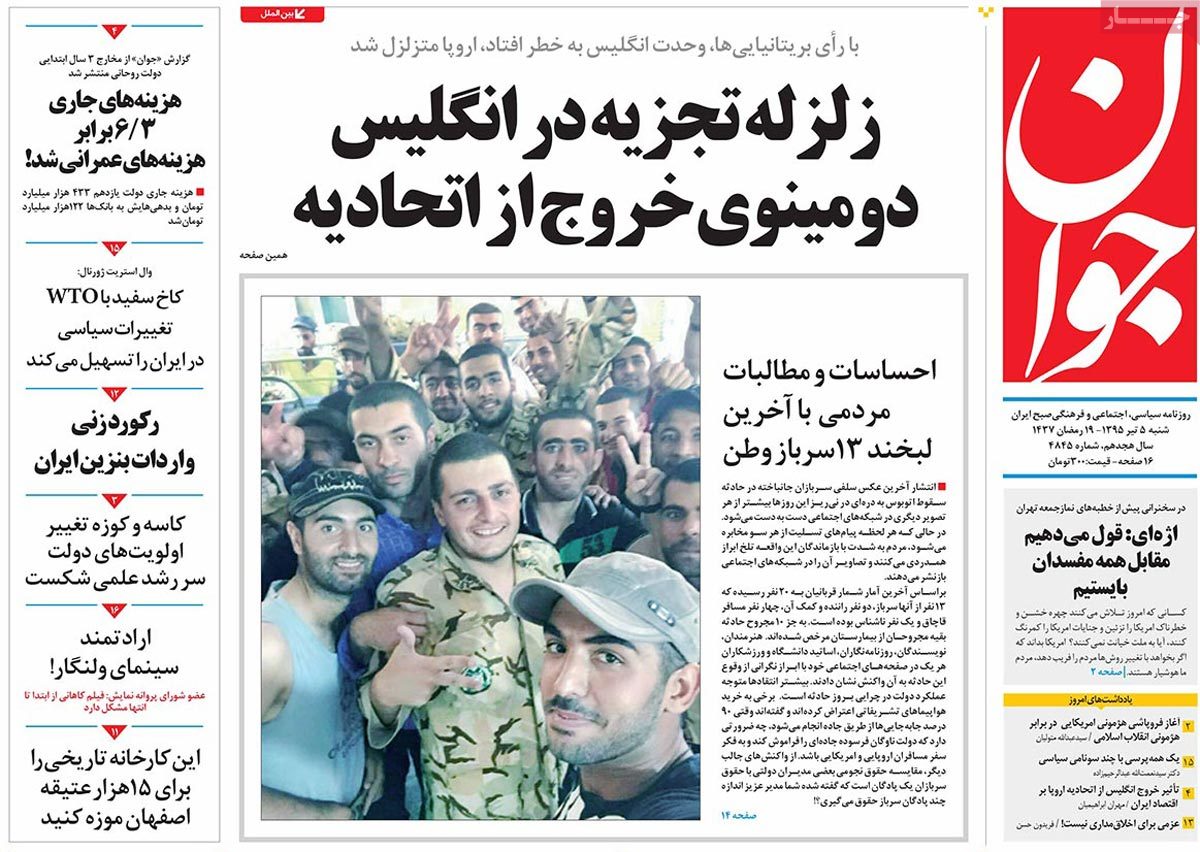 ---
Jomhouri Eslami:
1- Rouhani's Administration Seriously Countering Huge Salaries
2- New Details of Iran's Purchase of 109 Planes from Boeing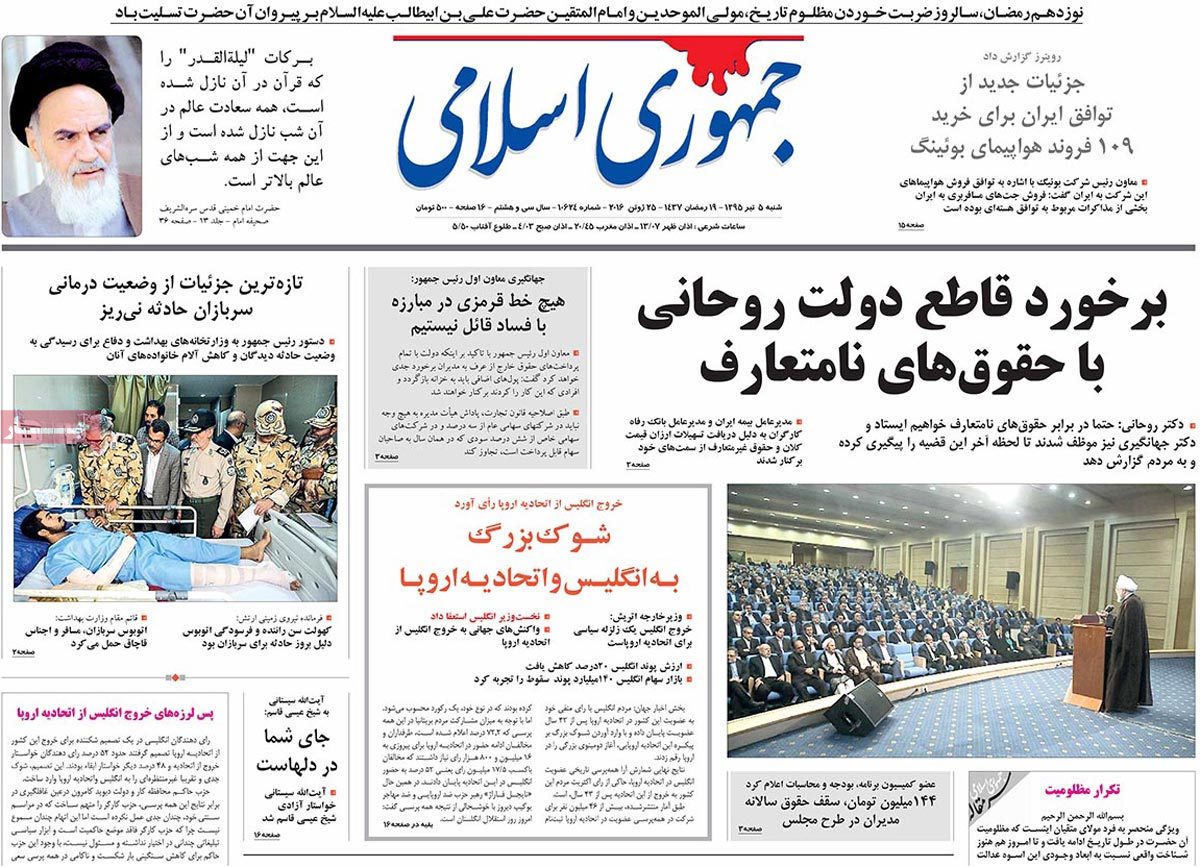 ---
Kayhan:
1- Political Earthquake in Britain, EU on Verge of Collapse
2- There'll Be Nationwide Rising If Al Khalifa Doesn't End Siege on Sheikh Qassim: Revolutionaries Warn
3- If US Wants, Deal with Iran Will Be Cancelled: Boeing Officials
4- 3 Steps by US to Maintain Secondary Anti-Sanctions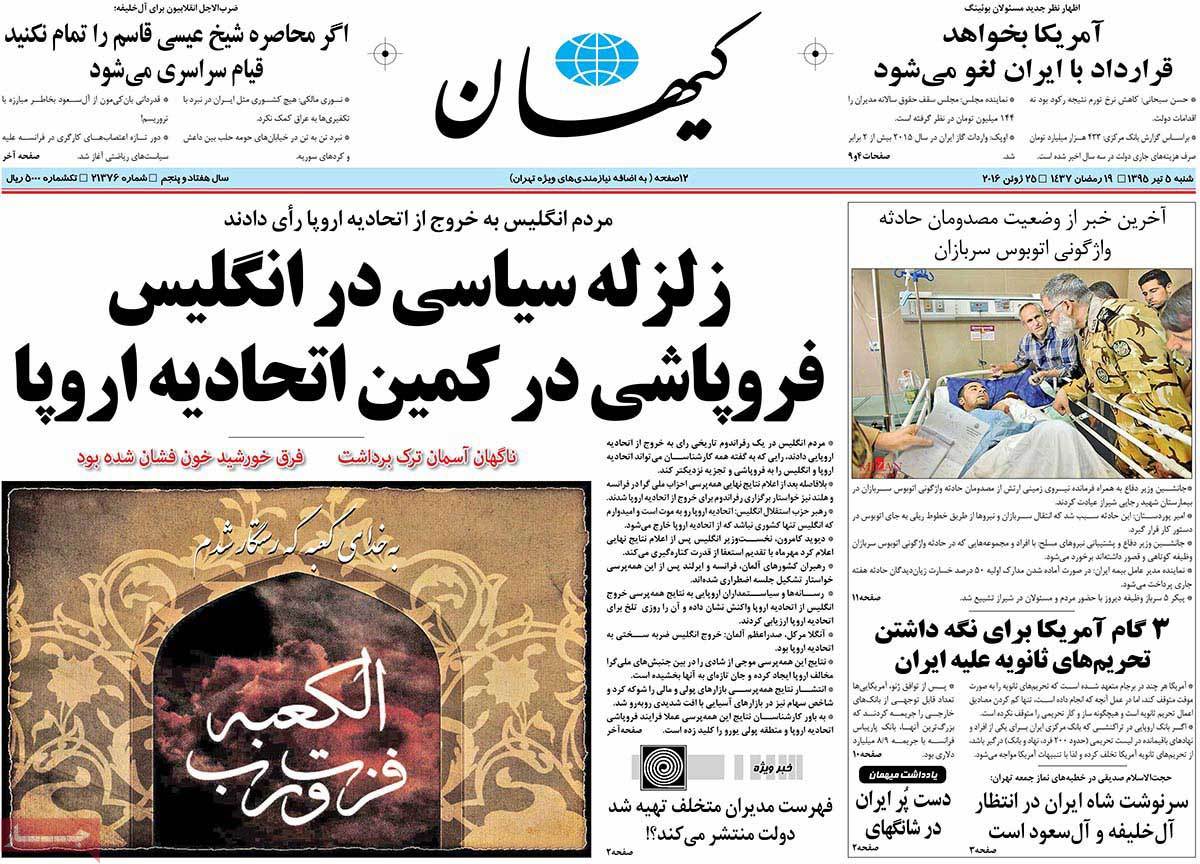 ---
Khorasan:
1- Fever of Exit from EU Rises in France, Ireland, and Scotland after Brexit
2- Zarif: Ways for Peaceful Protest Blocked for Bahraini People
3- Brexit, an Opportunity for "Second Europe" Strategy [Editorial]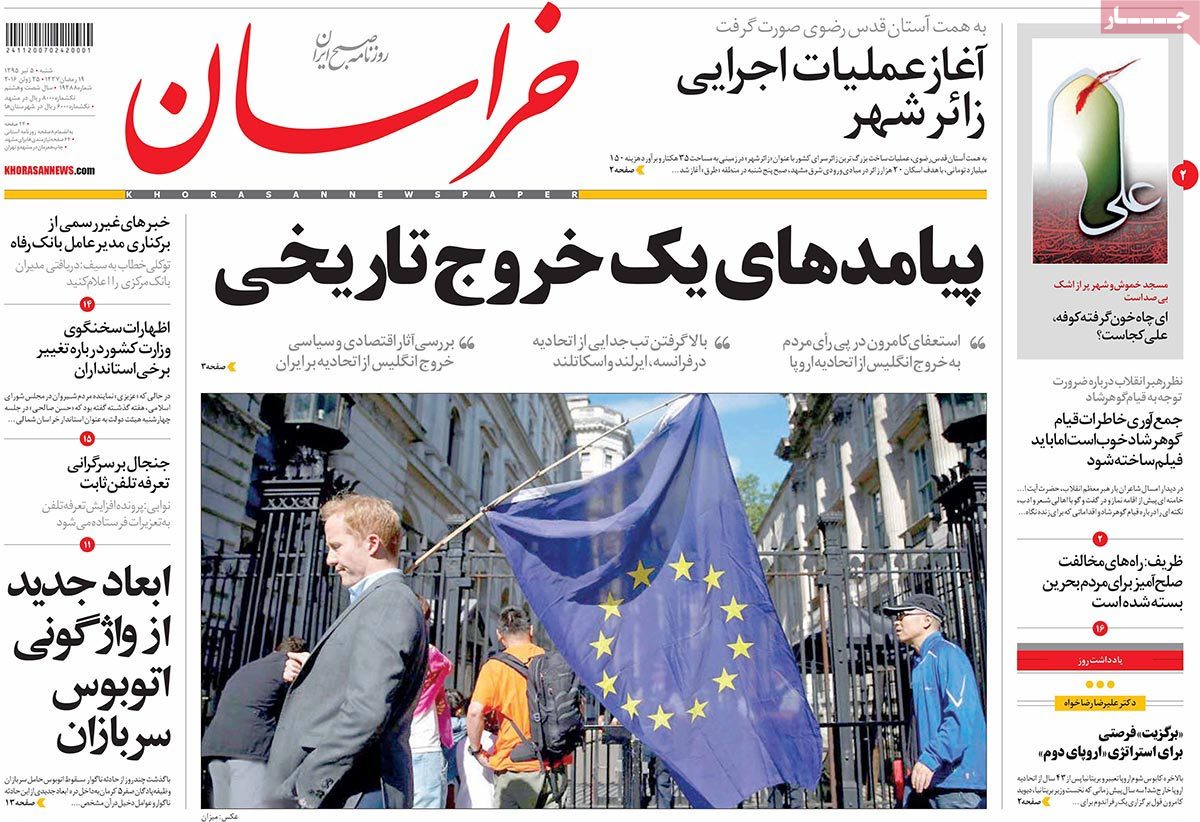 ---
Rah-e Mardom:
1- When a Mistake Is Made, Gov't Won't Stammer Out an Apology: Rouhani
2- Repetitive Warnings of Death in Iran's Roads
3- People's Power to Save Money Down by 30%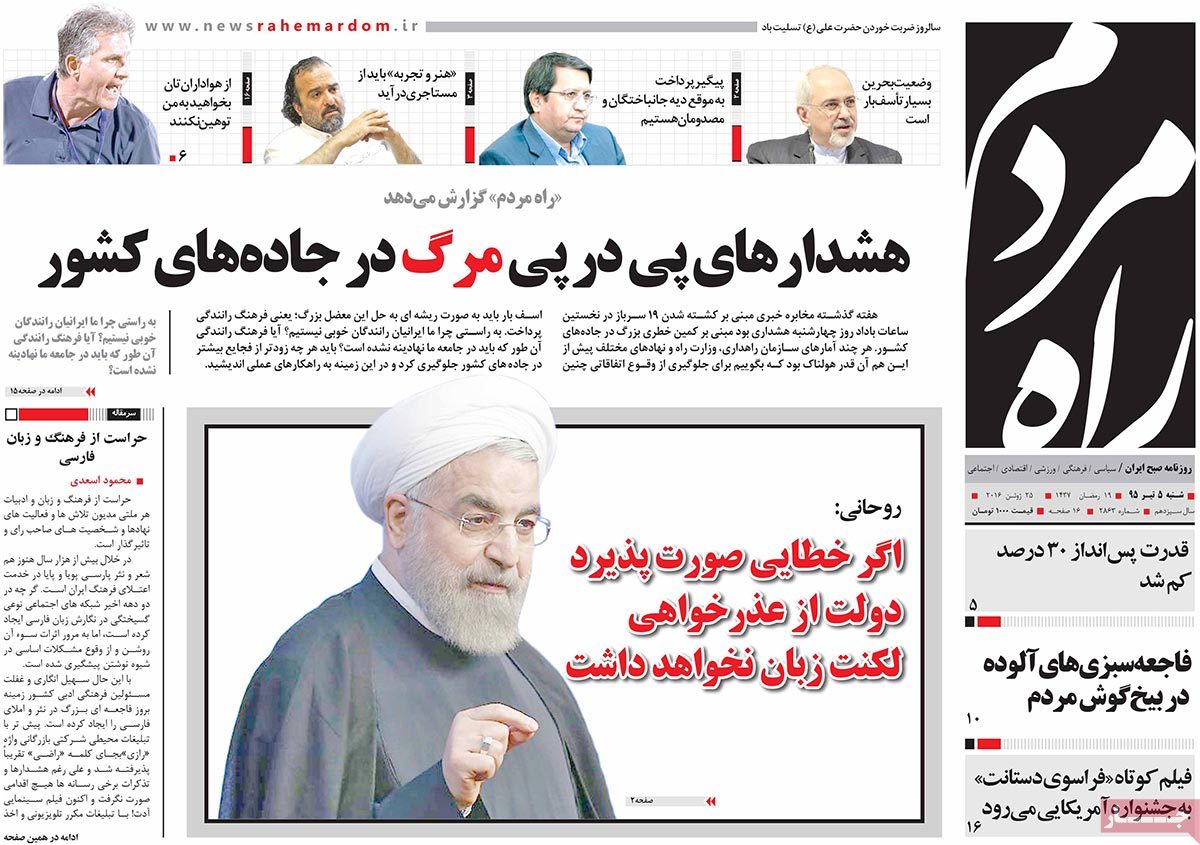 ---
Resalat:
1- We Should Be Accountable and Correct the Deficiencies: Rouhani
2- 50 Executives in One of Ministries Receive Salaries Higher than $11,500 per Month: Judiciary Spokesman
3- Return of Nationalism to Europe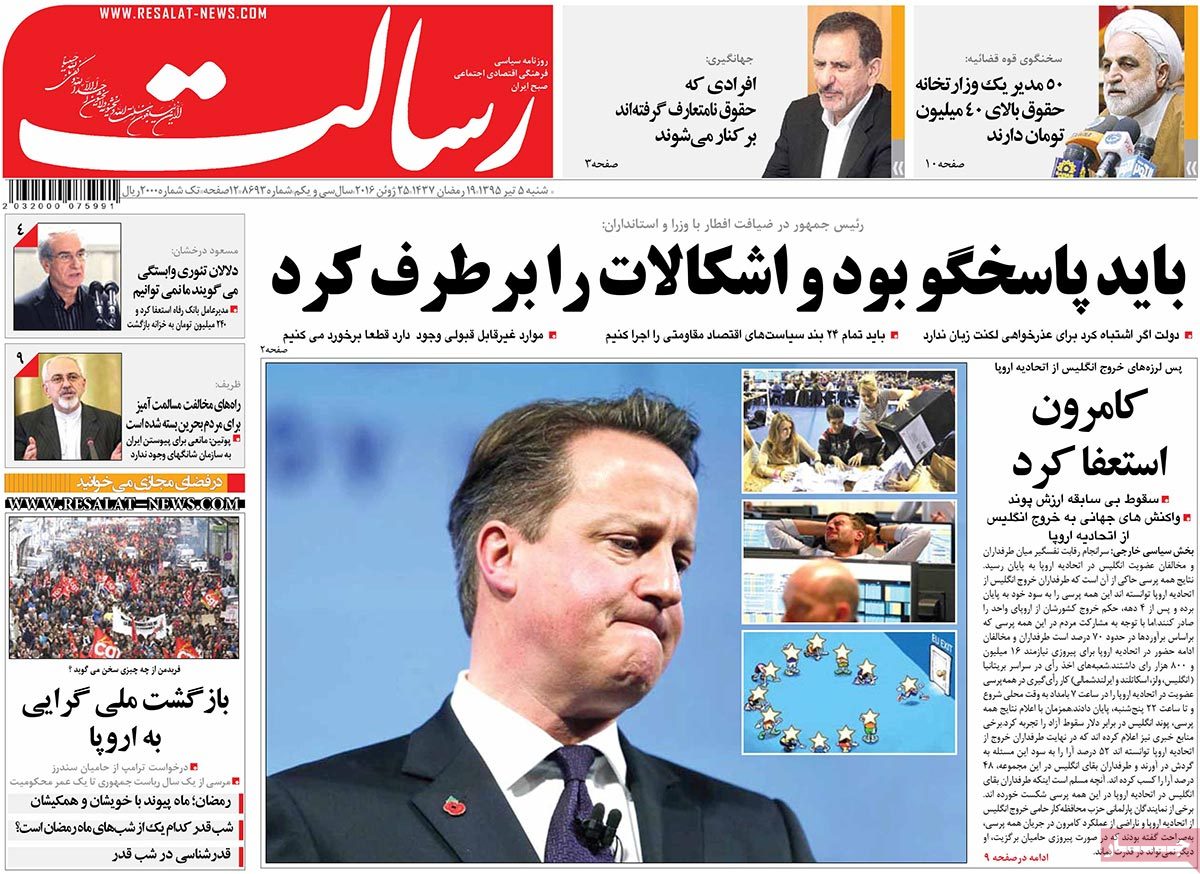 ---
Roozan:
1- Earthquake of British "Identity": Nationalists Made Britain Exit from EU
2- Big Elephant and Neo-Fascism in Europe: Trump's Role in Brexit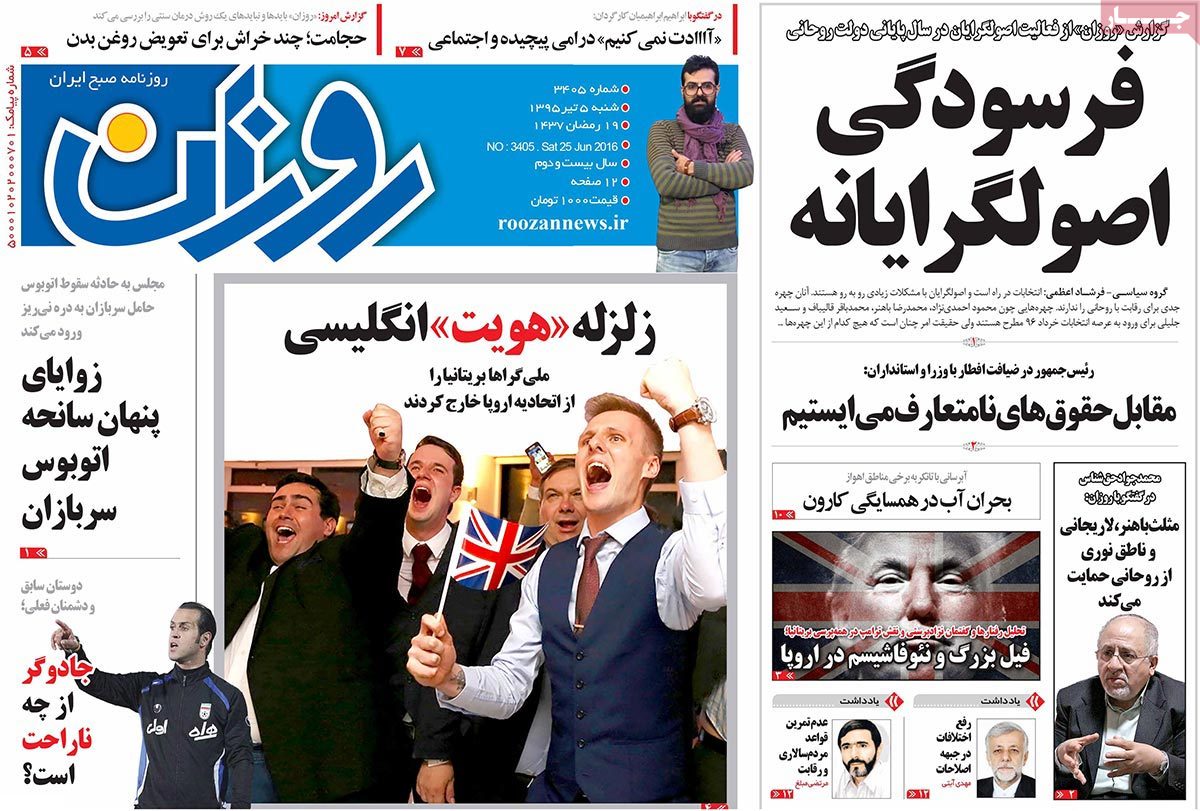 ---
Sepid:
1- Only One Foreign Cigarette Brand Claims Lives of 4,000 Iranians
2- Brexit May Influence Entire World
3- How Much Different Are Salaries Received by Doctors in Iran and Other Parts of the World? How Much Different Should They Be?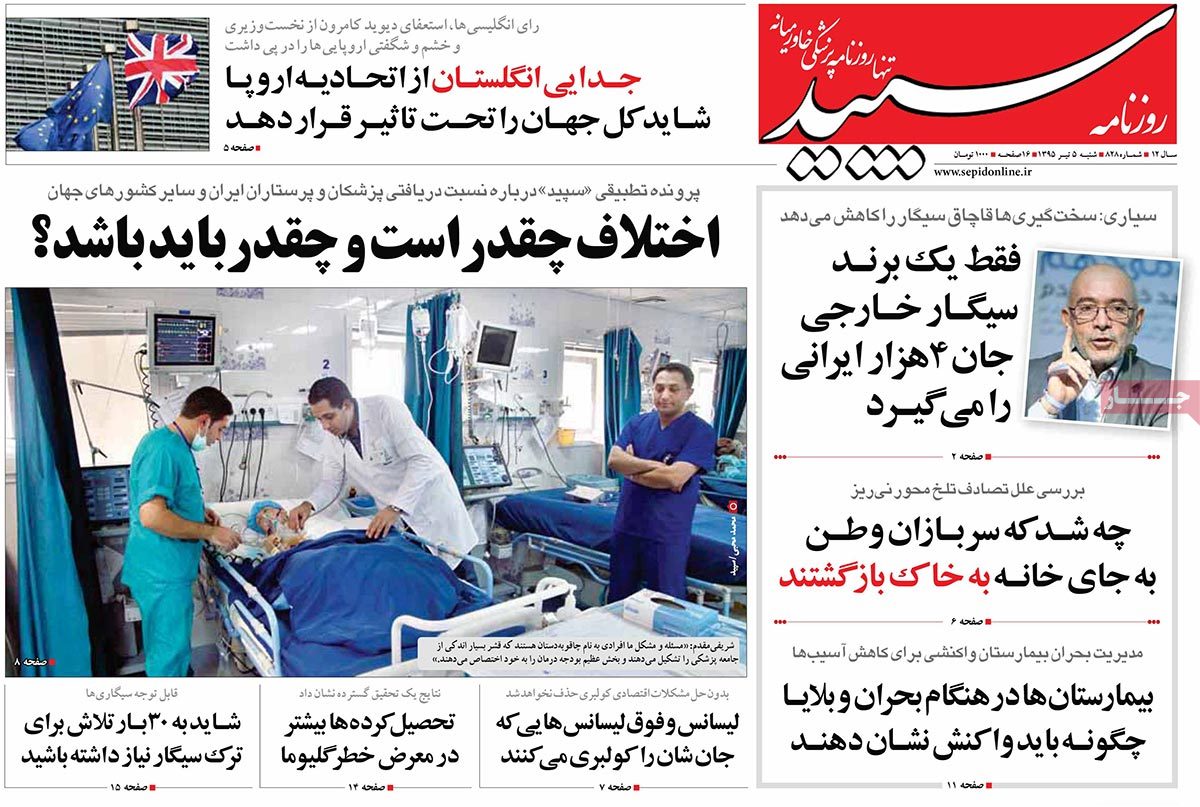 ---
Shahrvand:
1- Unfinished Mission: 2 Rangers in Southern Province of Hormozgan Were Killed by Hunters
2- London Becomes Lonely: Britain Votes for Brexit after 42 Years
3- $68,000 of Astronomical Salaries Returned to Treasury
4- Pet Dogs Seized in [Central Iranian City of] Shahinshahr, Left in Deserts
5- Parliament to Discuss a Plan to Limit Executives' Annual Salary to $42,000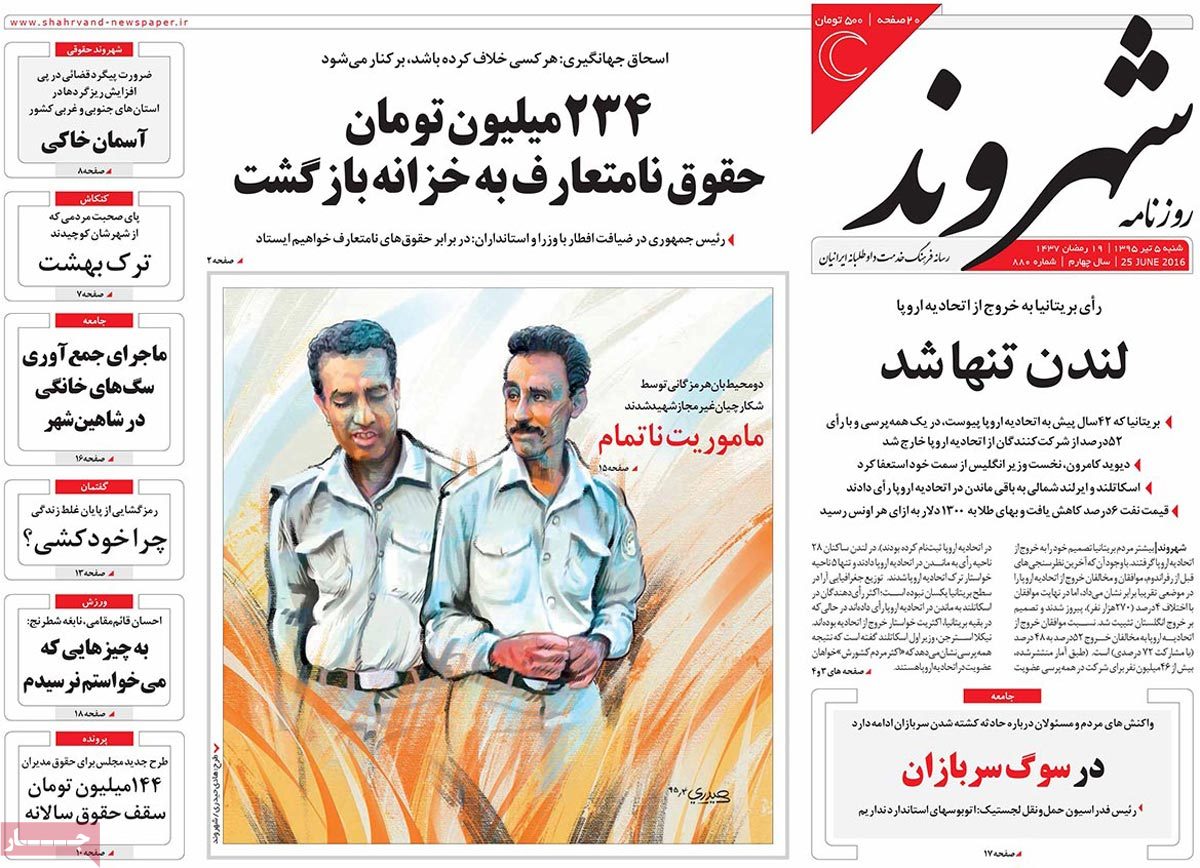 ---
Shargh:
1- Who Will Rouhani's Rival Be in Next Year's Presidential Votes
2- Hezbollah Receives Its Budget from Iran: Nasrallah
---
Sobh-e Now:
1- Fatemiyoun Brigade [Afghan volunteer forces] a Game-Changer in Syria Battle
2- Ex-FM of Lebanon in Interview with Sobh-e Now Discusses the Reason for Presidential Vacuum in Lebanon
3- Bubbles of United Europe Burst One by One: Britain's Self-Requested Exit from EU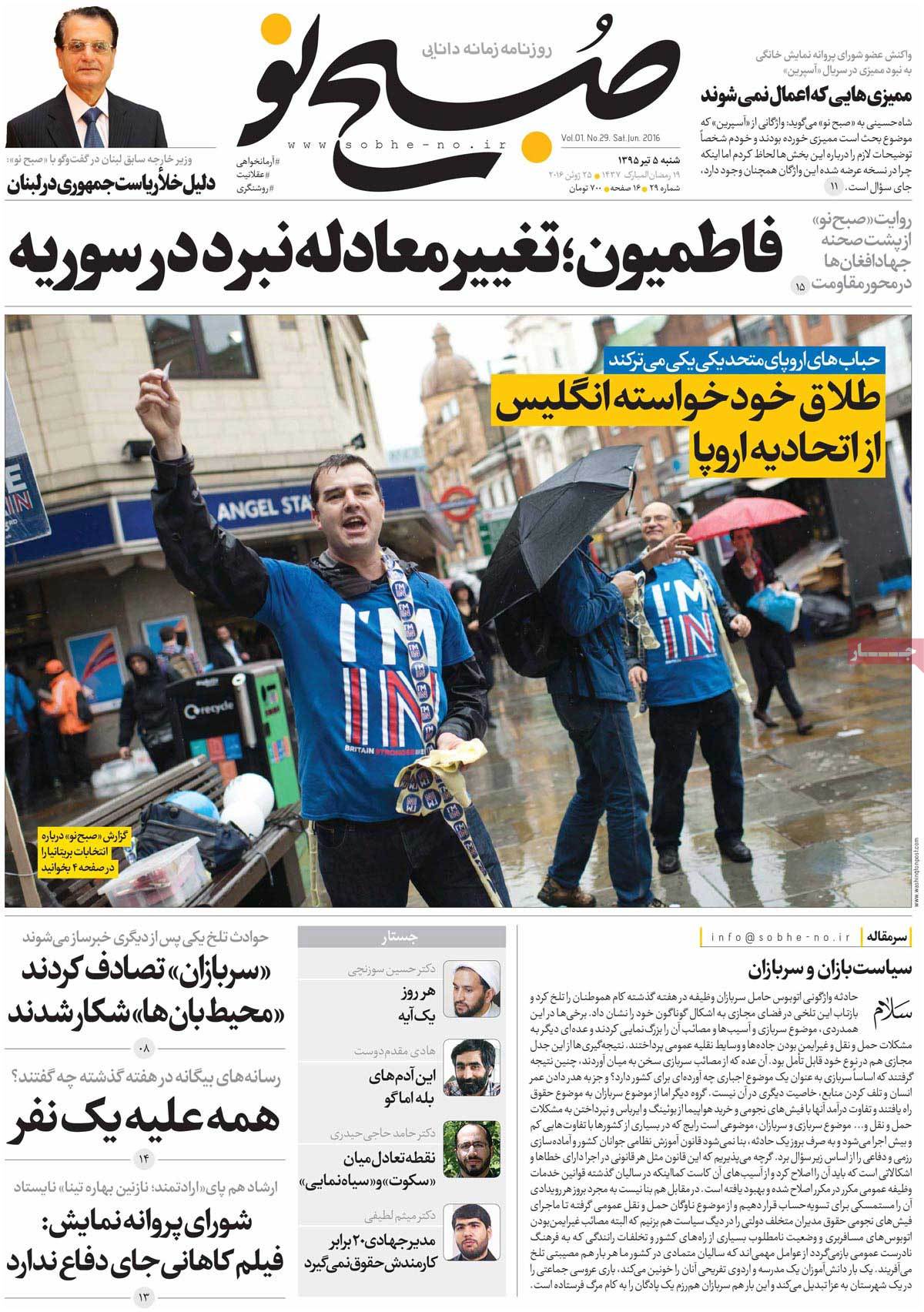 ---
Vaghaye Ettefaghieh:
1- Hasn't the Time Arrived for a Major Change in Military Service? Death of Soldiers Saddens Iran
2- General Soleimani's Move on Bahrain Was Very Important: Leader's Advisor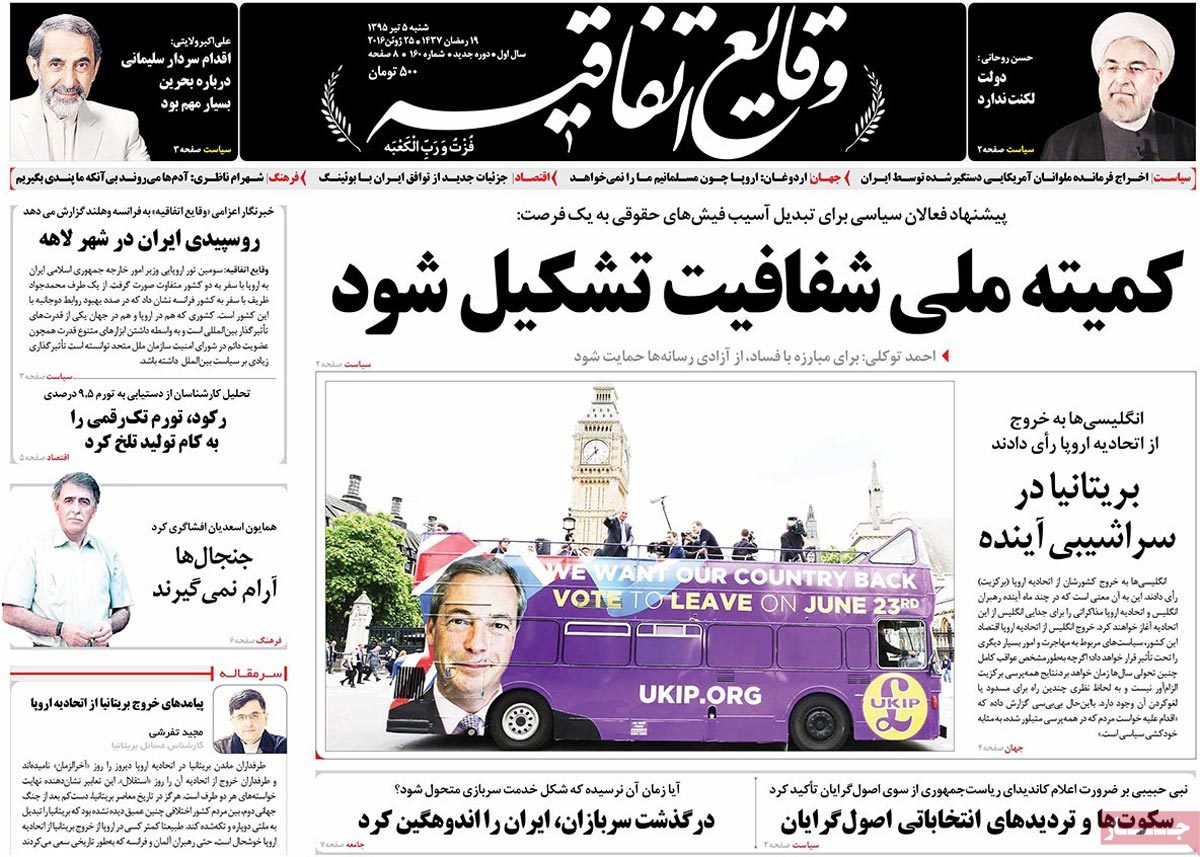 ---
Vatan-e Emrooz:
1- Riot of the Island: Historic "No" of Britons to All Major Parties
2- Government's Achievements Are Unbelievable: Rouhani
3- Stick to the US! Why Iran's Accession to SCO Was Denied in Spite of Removal of Sanctions?