Newspapers on Wednesday covered the remarks made by the Leader of the Islamic Revolution Ayatollah Seyyed Ali Khamenei in a meeting with a group of poets. The headline mostly used by papers today was about the Leader's call for poets to focus on US breaches of the JCPOA in their poems.
Another major story was the historic decrease of the headline inflation rate to a one-digit figure for the first time in more than 26 years.
The ongoing reactions to Foreign Minister Mohammad Javad Zarif's decision to replace his deputy, and also the issue of astronomical salaries both remain top stories.
Abrar:
1- US Department State Spokesman: IAEA Has Closed [Iran's] PMD Case
2- Zarif Leaves Tehran for Paris
3- Countering Iran Is One of America's Challenges in 2016: Carter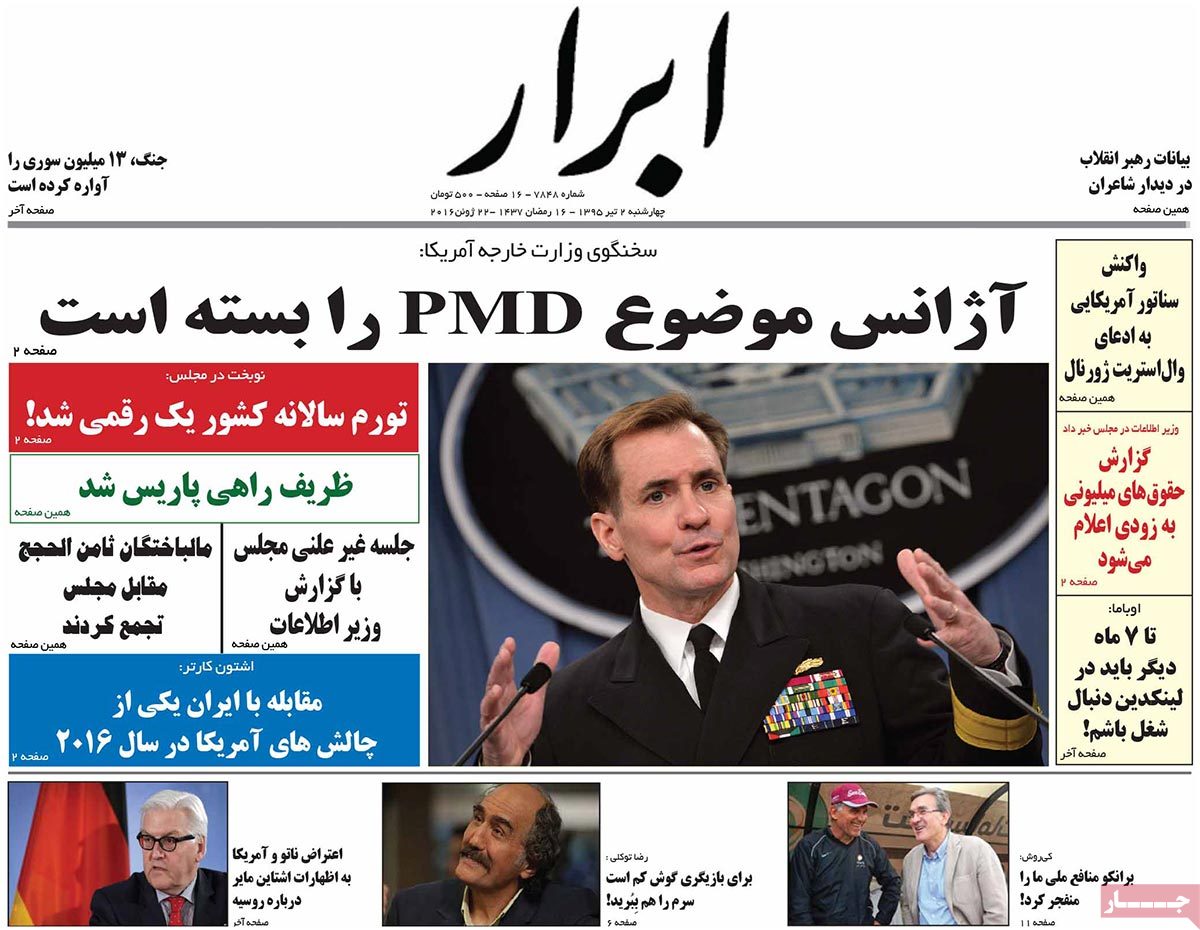 ---
Abrar-e Eqtesadi:
1- Boeing Signs Deal for Sale of 100 Planes to Iran
2- EU Imports from Iran Tripled
3- Iran and Egypt Resume Oil Trade
4- Iran's Natural Gas Scenario for Returning to Regional Market
5- Promotion of Tehran-Beijing Banking Ties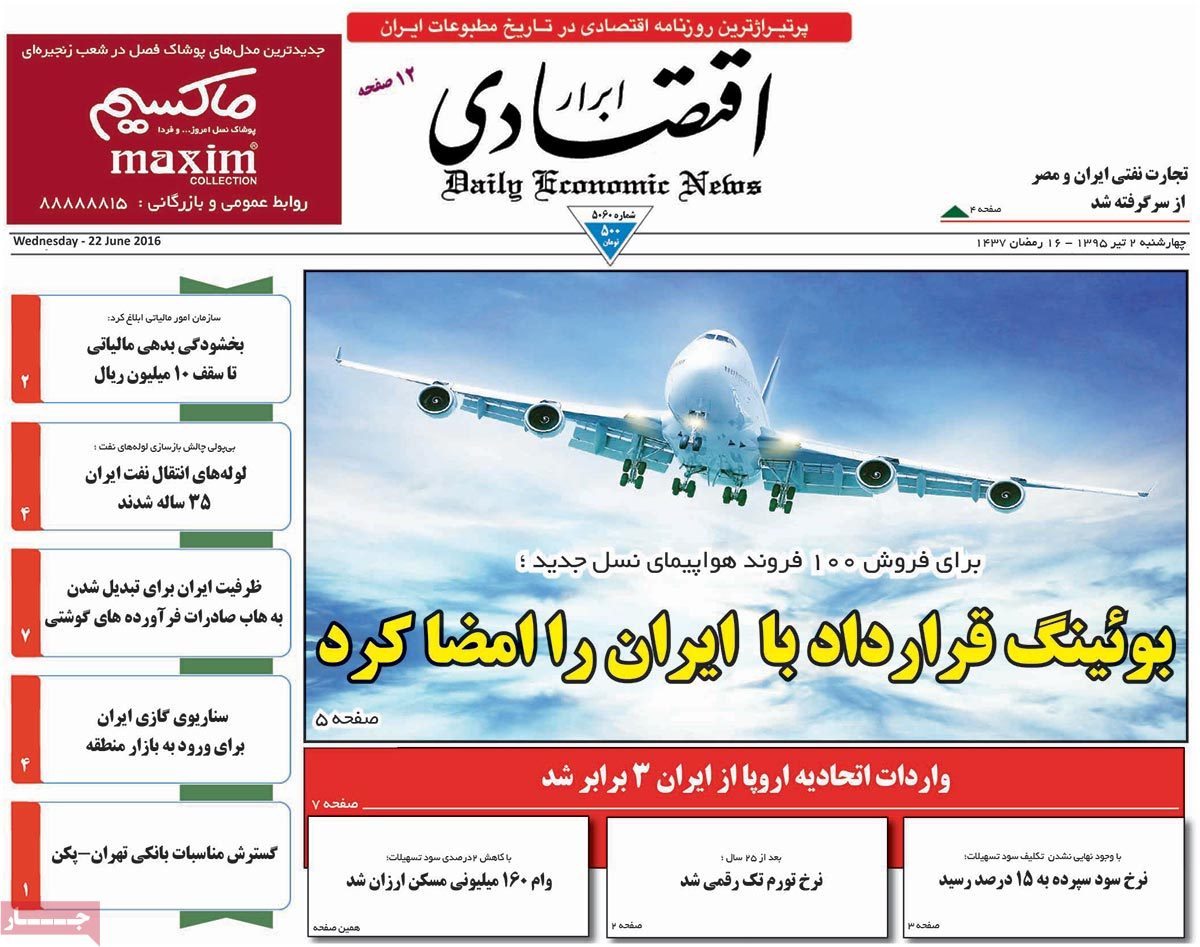 ---
Aftab-e Yazd:
1- Leader Calls on Poets to Speak Out on US JCPOA Breaches
2- One-Digit Inflation Rate after 25 Years: Rouhani's Administration Keeps Its Promise
3- Zarif: It's Insulting that They Claim Officials Are Replaced Based on Others' Requests
4- Senior MP: People Should Not Be Worried about Takfiris
5- Marriage in Prison: In a Rare Move, Young Girl Gets Married to a Man on Death Row
6- Anti-Gov't Think-Tank Run by Ex-Minister: MP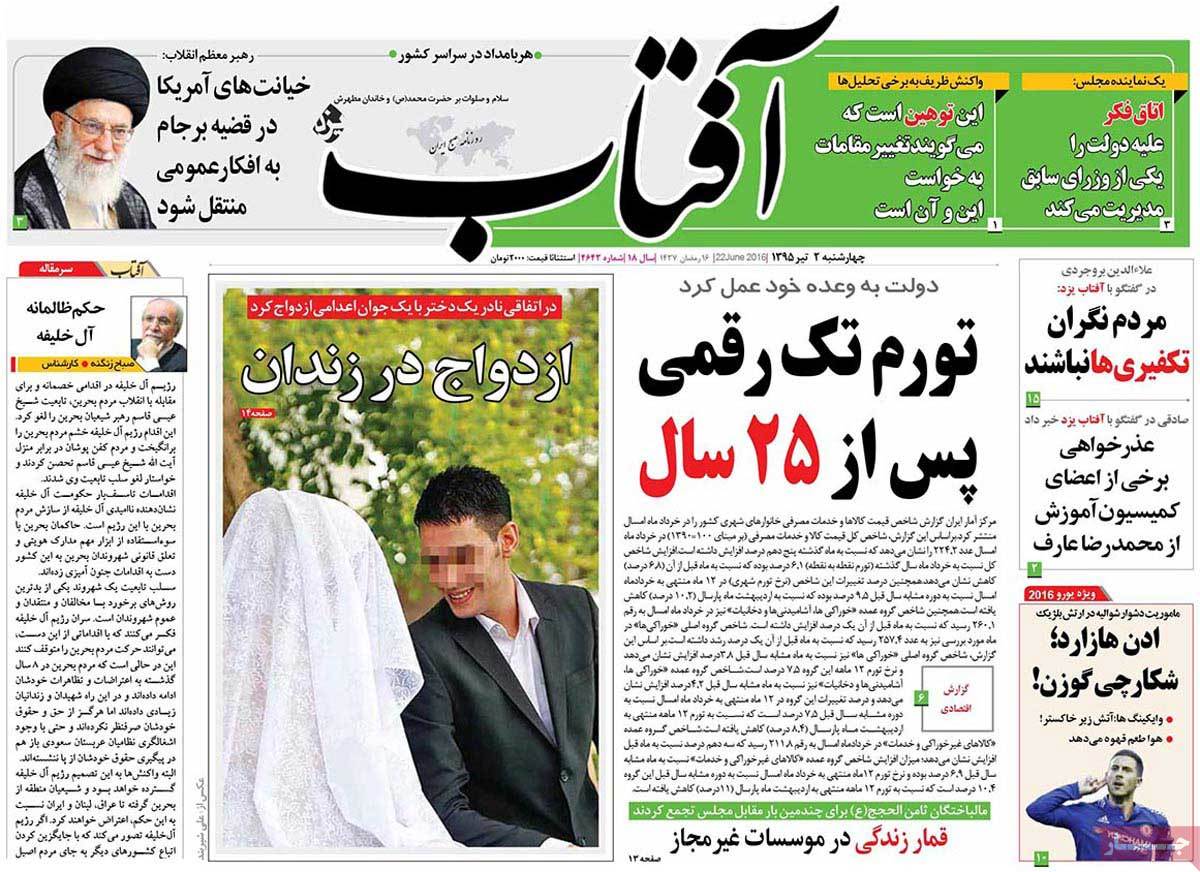 ---
Arman-e Emrooz:
1- Leader Urges Poets to Fulfil Their Responsibility in "Soft War"
2- $300,000 Bonus Paid to 1 Person in Bank Shahr [belonging to Tehran municipality]
3- Secrets behind Election of Parliament Speaker
4- Saffron Bulbs Smuggled to China: Purchase of Iranian Saffron from East Asians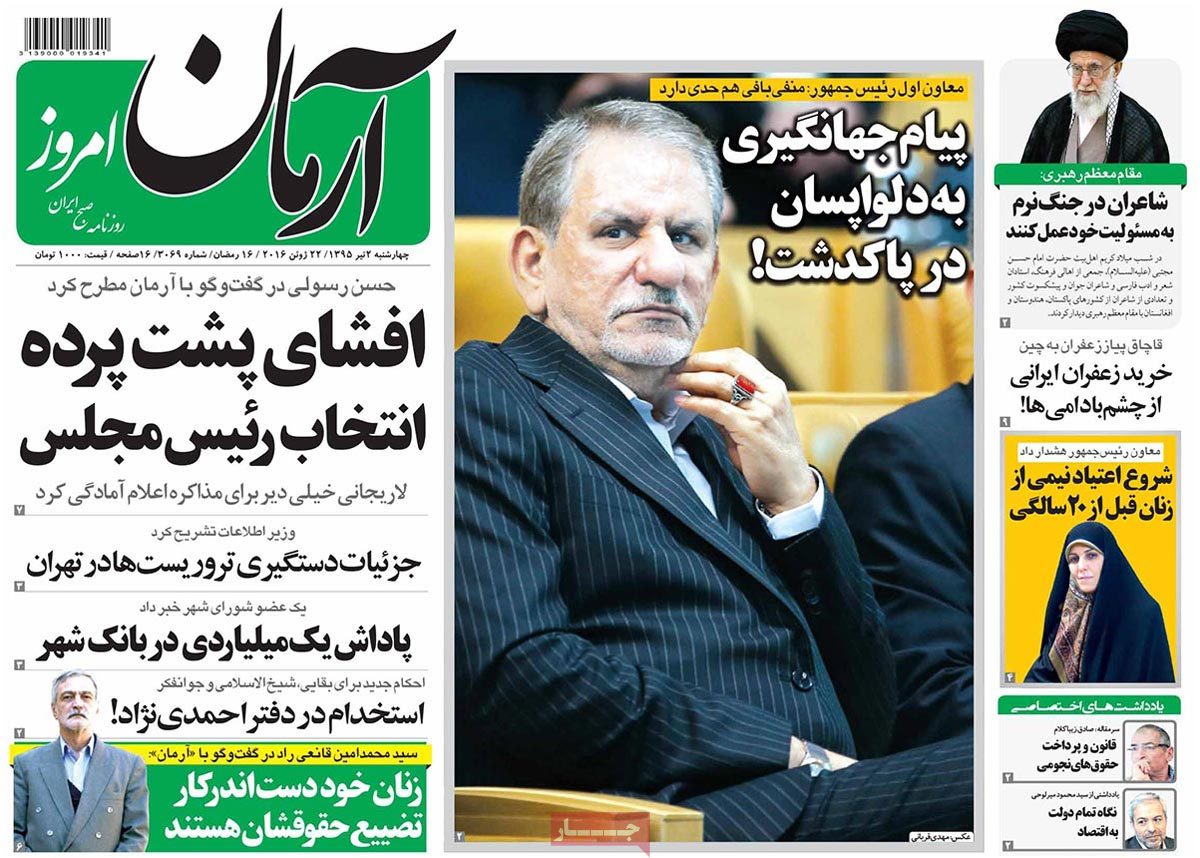 ---
Asia:
1- Soros Warns Britons against Exit from EU: Brexit Will Make You All Poorer
2- Major Tourist Destinations in Iran
3- Air Asia Resumes Flights to Iran
---
Asrar:
1- Conservatives Will Support Rouhani in Presidential Elections: Cleric
2- Selective Decisions Have Led to Worse Hijab Conditions: Deputy Judiciary Chief
3- Alarming Situation of Drug Addiction among Iranian Families
---
Bani Film:
1- Video-On-Demand to Attract Millions of Clicks in Favour of Iranian Cinema
2- Kiarostami, the Filmmaker Who Created an International Reputation for Iranian Cinema, Turns 76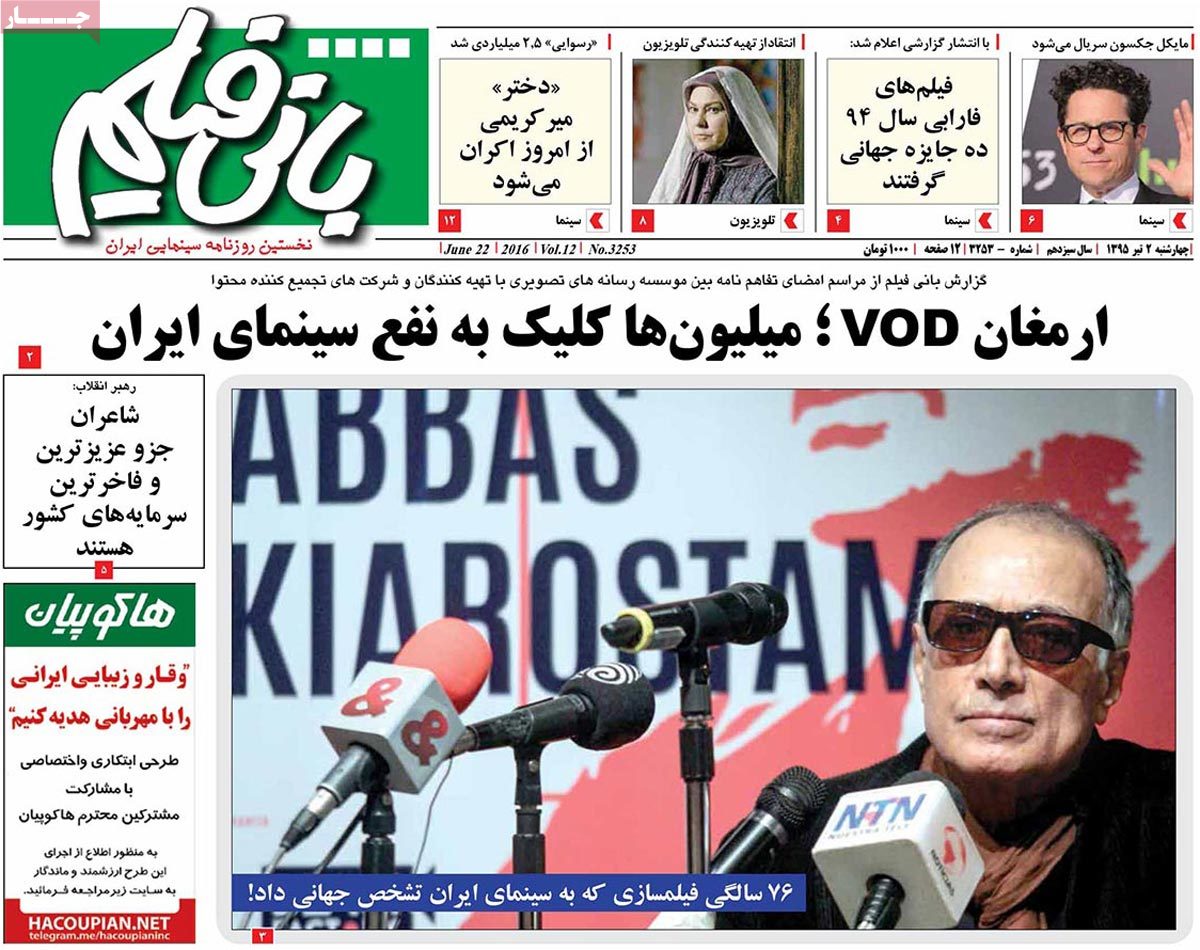 ---
Ebtekar:
1- Axis of Resistance Not Dependent on Certain People: Zarif [in reaction to criticisms of his decision to replace Deputy FM Amir Abdollahian]
2- Government Uninterested in Media War of Words
3- Russia to Deploy Forces to Syria
4- We're Not a Fan of the Death Penalty: Prosecutor-General
5- Escaping IRIB's Monopoly: Popular Hosts Running TV Shows Online
6- Terrorists Had Plans to Bomb 50 Targets: Intelligence Minister
7- Problems for the Final Year of Rouhani's First Term [Editorial about the unprecedented growth of attacks against the gov't in the year leading up to the next presidential elections]
---
Emtiaz:
1- Health Ministry Worried about Fresh Wave of Immigration: Vaccinations and Healthcare for Afghans Cost Billions
2- 40% of Criminals Returned to Prison
3- Drug-Contaminated Hookahs Served in Certain Restaurants
---
Etemad:
1- $3.4bn Foreign Investment Attracted in 5 Months: Gov't Spokesman
2- Rouhani Personally Unhappy with Astronomical Salaries: MP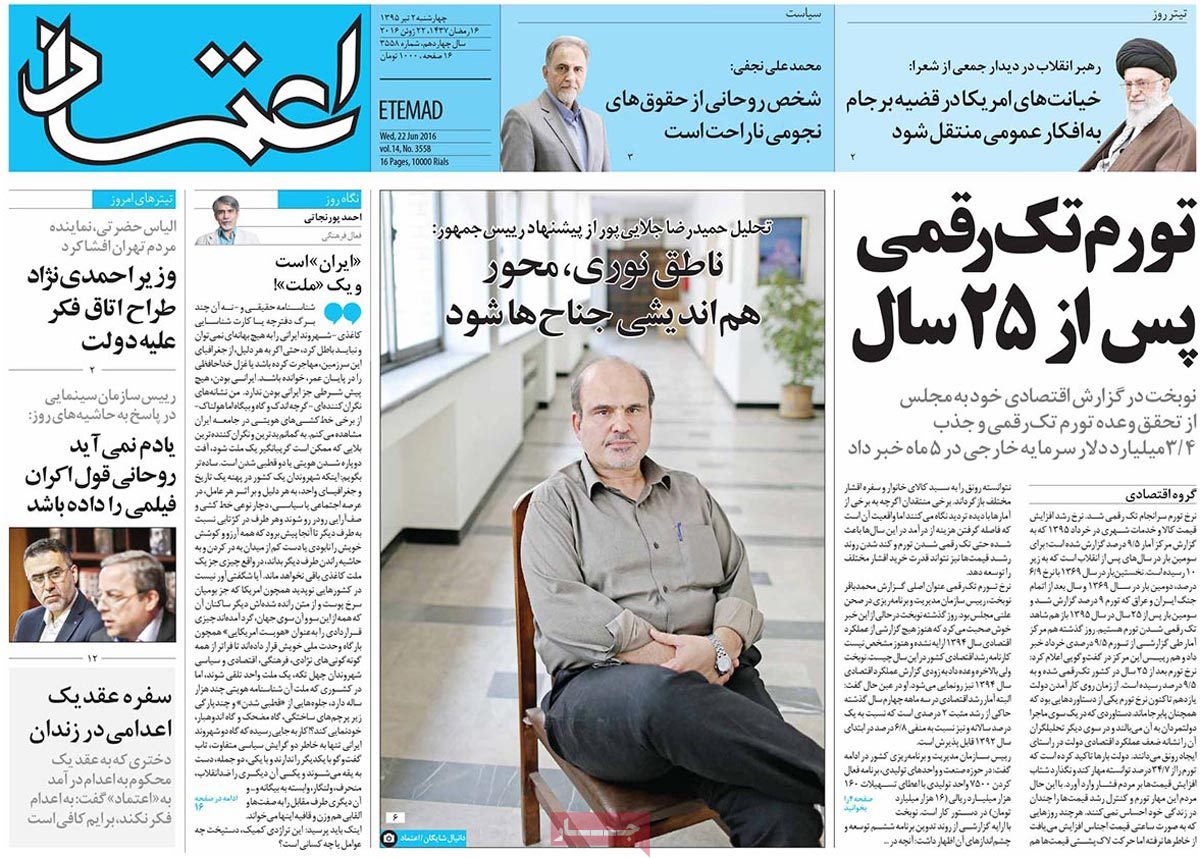 ---
Ettela'at:
1- We Won't Repeat Unsuccessful Experience of Iraq War in Syria: Washington
2- Shiite World and Western Countries Slam Bahrain's Revocation of Sheikh Qassim's Nationality
---
Haft-e Sobh:
1- Strange Fates of 3 Convicts: Public Opinion's Reactions to 3 Strange Events in 1 Day
2- Drug Addiction Becomes Iran's Top Priority
3- Terrific Wave of Game of Thrones
4- Ahmadinejad, 11 Years Later: How Popular Is the Ex-President's Doctrine?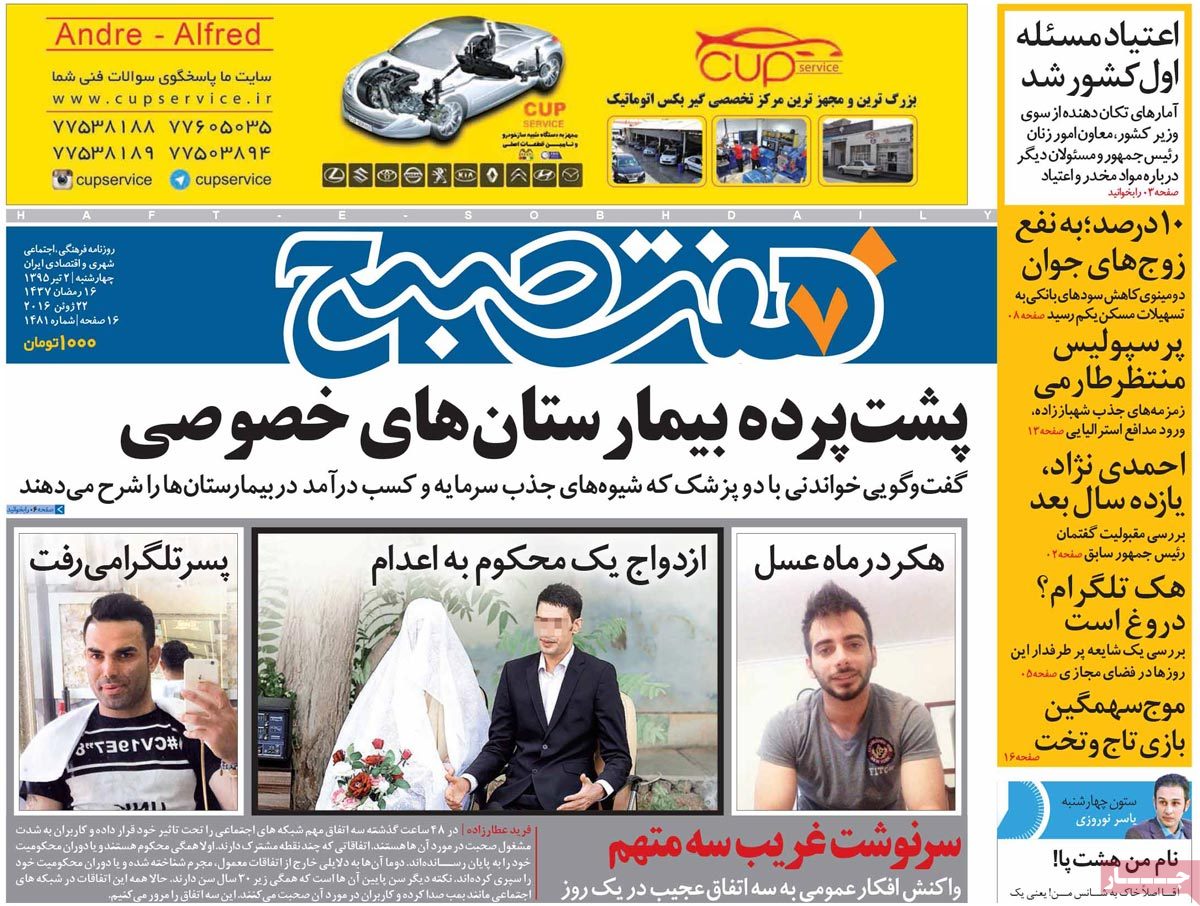 ---
Iran:
1- Universities and Their Students Should Not Be Viewed as Security Threats: Rouhani
2- Iran Air Signs Deal with Boeing for Plane Purchase
3- 9% of Male and 11% of Female University Students Addicted to Narcotics
4- Committee Formed to Investigate into Huge Salaries on First VP's Order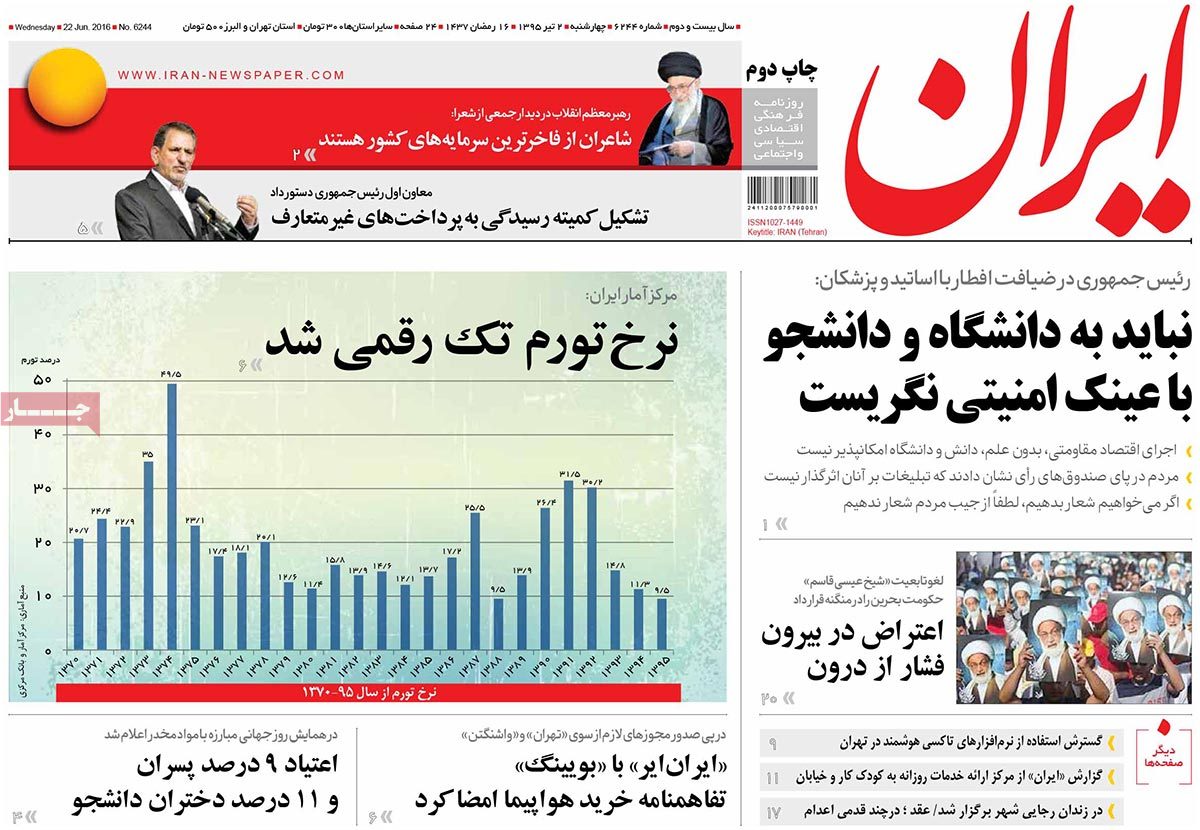 ---
Jame Jam:
1- Bahrain Caught in Political Whirlpool
2- Stripping Sheikh Qassim of Bahraini Nationality Condemned by Int'l Community
3- Decrease in Crime Rates in Iran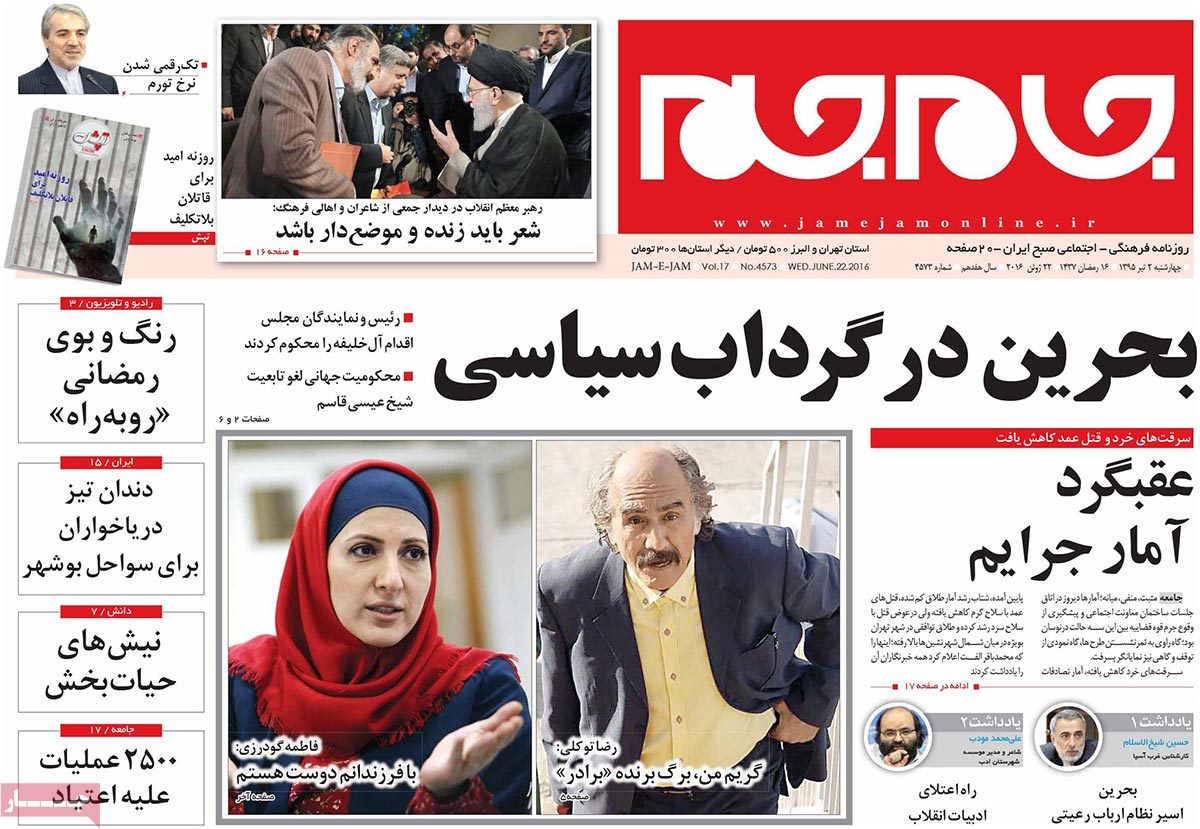 ---
Javan:
1- Al Khalifa Is about to Die: Hezbollah
2- Banks Holding Luxury Ceremonies with People's Money
3- 'Possible Military Dimensions' (PMD) Case to Return to IAEA's Agenda?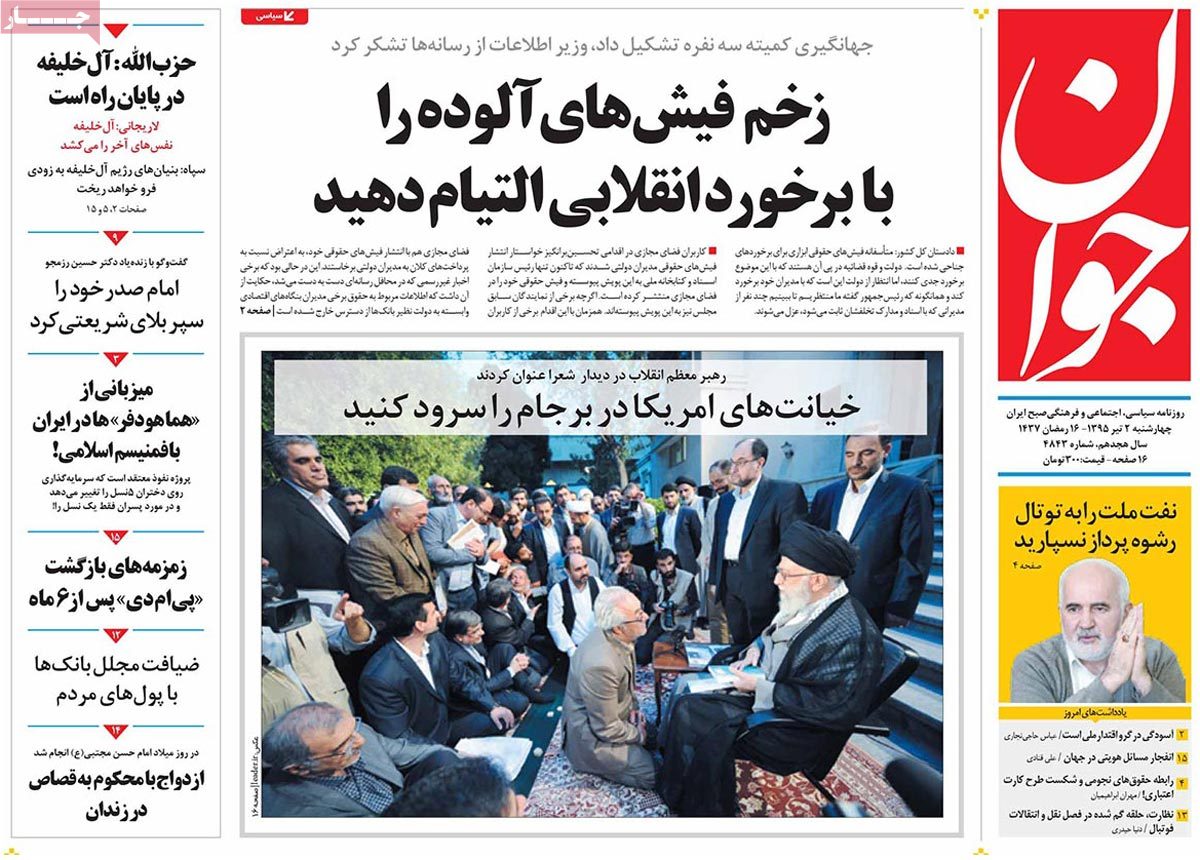 ---
Jomhouri Eslami:
1- Latest JCPOA Achievements: Increased Foreign Investment and Expansion of Banking Ties and Flights
2- Over Two-Fold Increase in Export of Iranian Medicine: Minister
3- Unprecedented Growth in Value of Iran's Exports to Europe
4- 120 Foreign Banks Establish Relations with Iran's Bank of Export Promotion
---
Kayhan:
1- Besides Politicians, Artists Should Also Work on US Betrayals in JCPOA: Leader
2- Omani Executives No Longer Receive Bonus to Help the Country's Economy
3- Bahrain and General Soleimani's Command for Being on Standby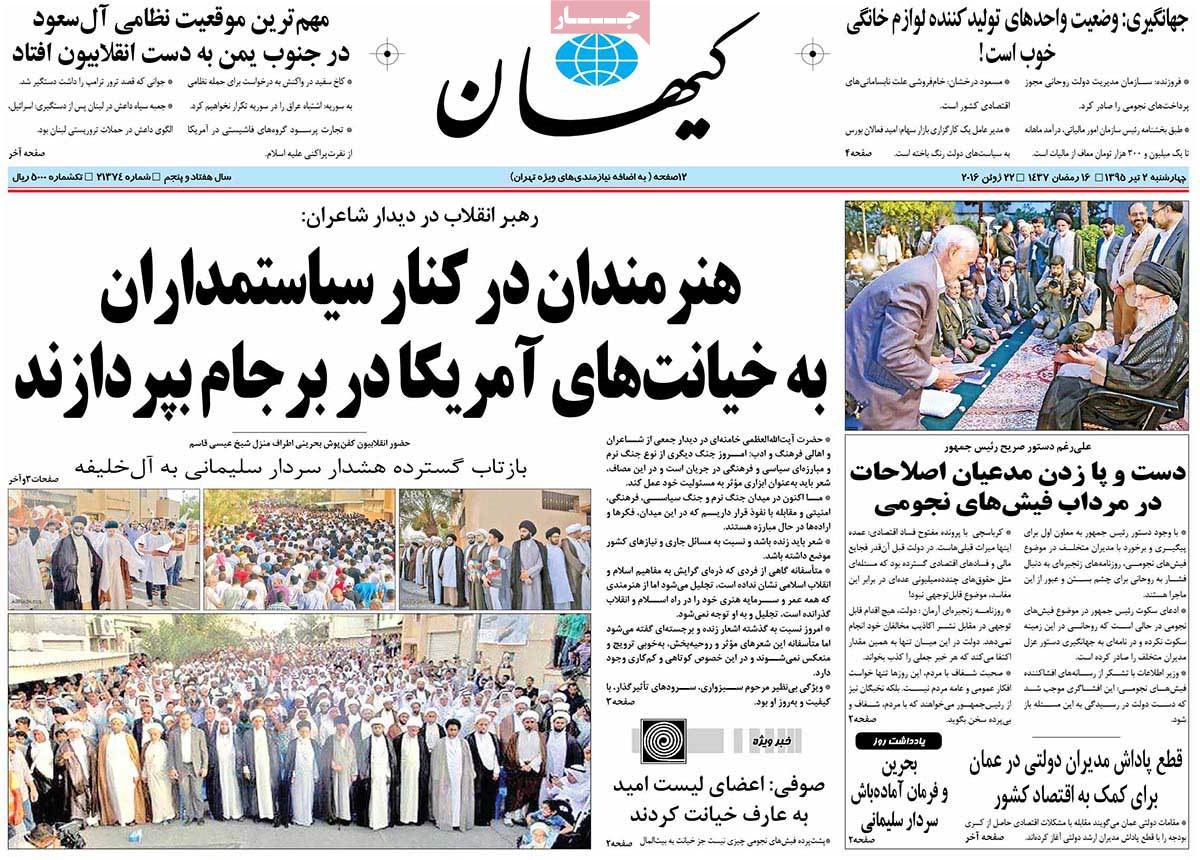 ---
Khorasan:
1- Sweet Decrease of Inflation Rate to Less than 10% in Bitter Days of Downturn
2- Intelligence Minister Appreciates Those Who Leaked Astronomical Paycheques
3- Dangerous Mistake of Al Khalifa in Bahrain [Editorial]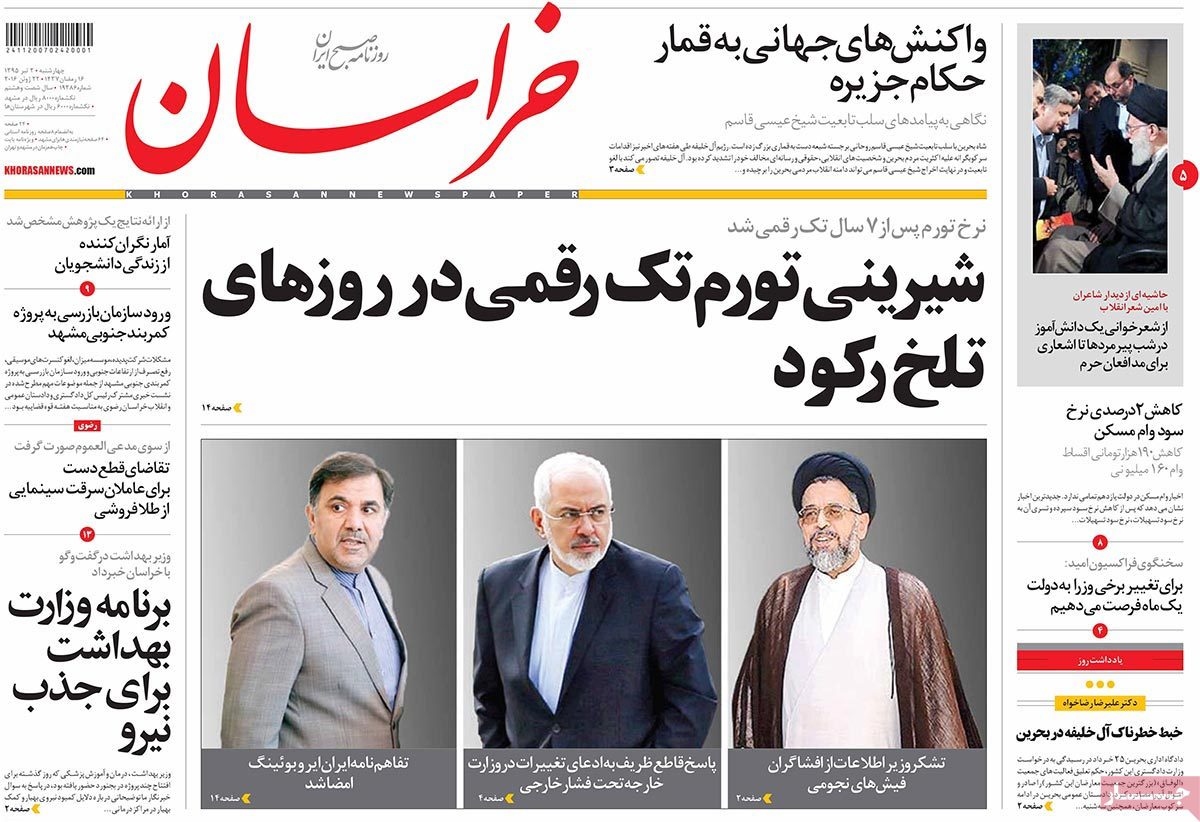 ---
Resalat:
1- Prosecutor-General: We're Waiting for Dismissal of Offending Gov't Executives Who Received Huge Salaries
2- Last Warnings by David Cameron
3- We Should Build Our Defensive Strongholds beyond Our Borders: Leader's Advisor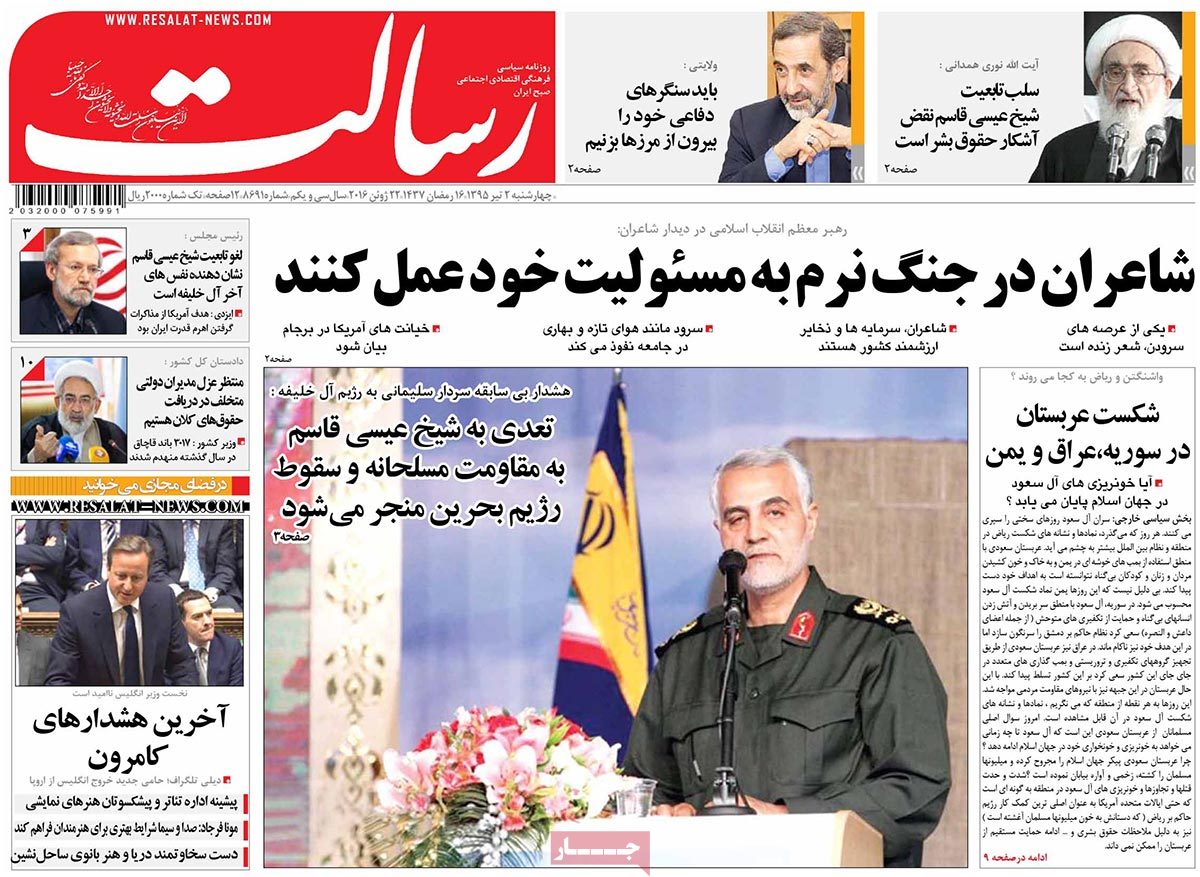 ---
Shahrvand:
1- 13 Governmental Bodies Working to Decrease Suicide Rate among Students
2- Marriage on Death Row [girl married to a prisoner]: Bride Is 27, Holds M.A., Wants to Get Her Ph.D.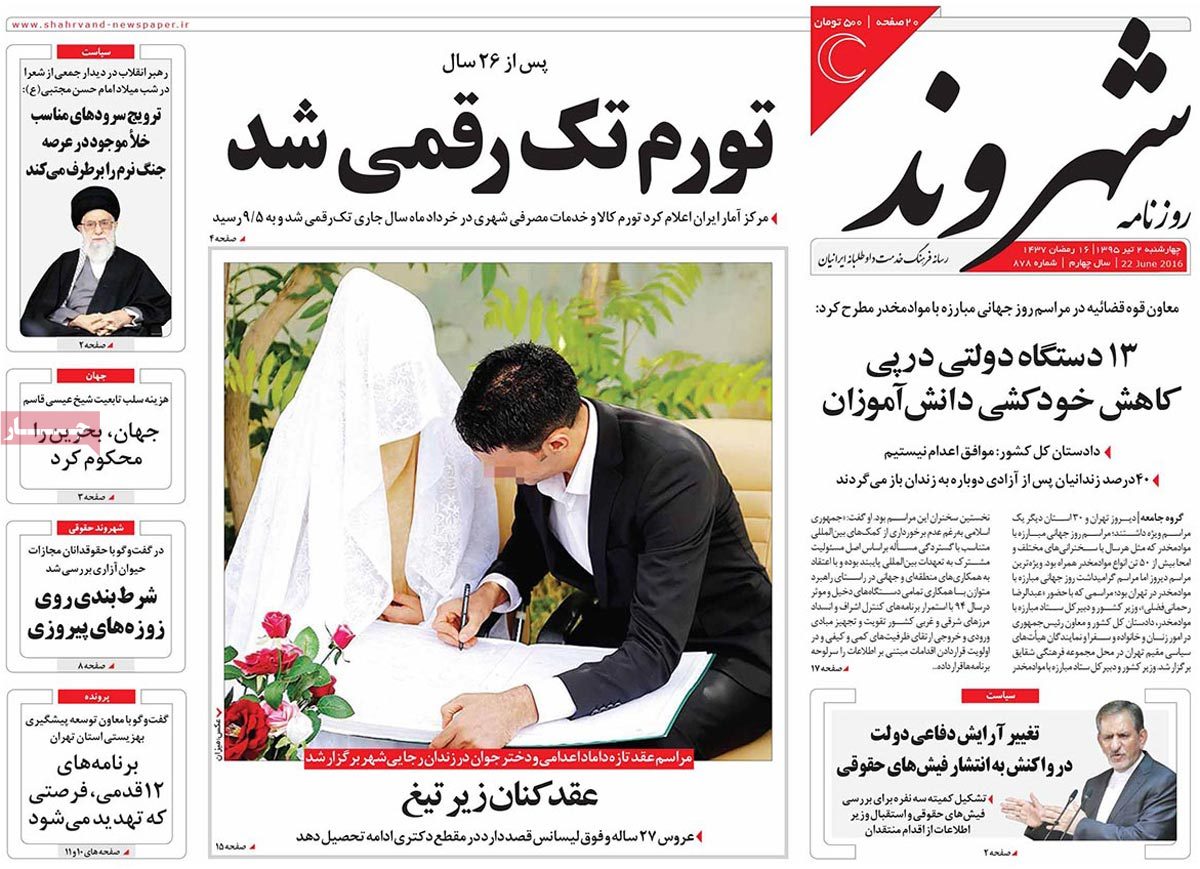 ---
Shargh:
1- Global Reactions to General Soleimani's Warning against Bahrain's Al Khalifa Regime
2- Head of Iran Insurance Company Dismissed by Economy Minister
3- American Giants over Iran's Sky [referring to the recently struck Boeing deal]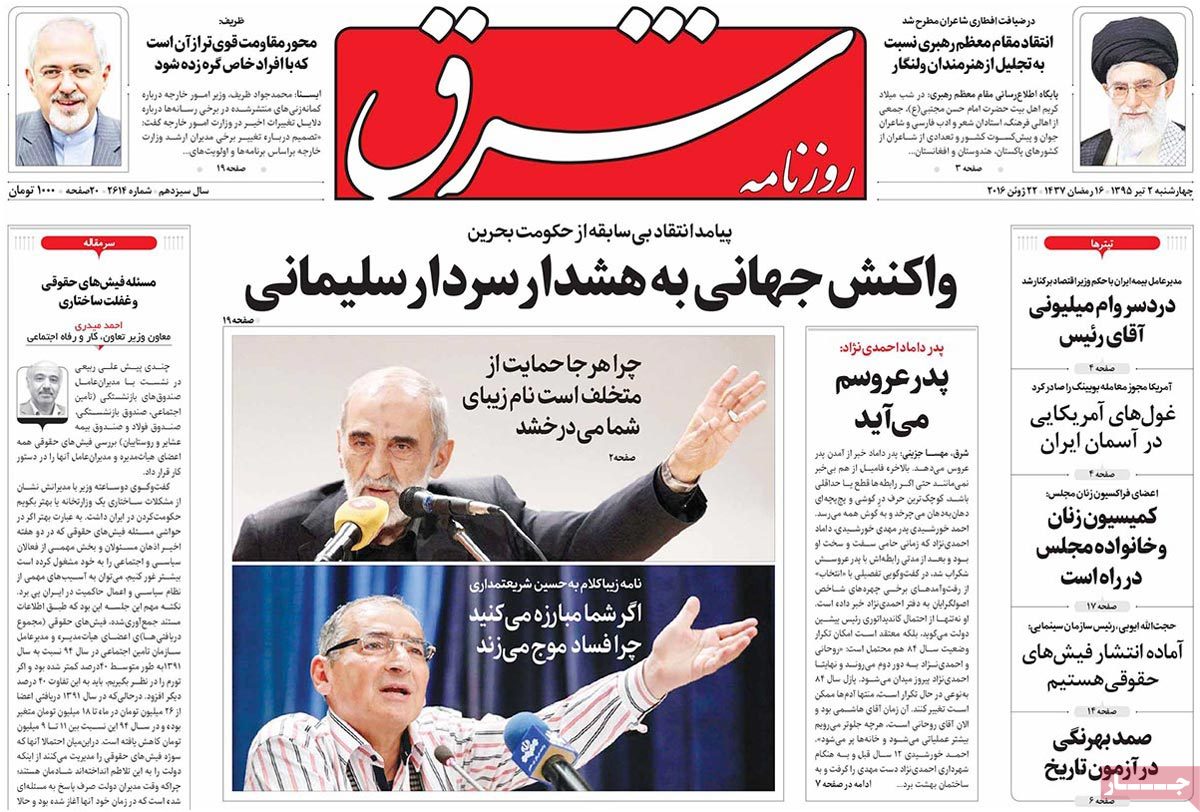 ---
Shorou:
1- Ayatollah Khamenei: Poets Should Support National Interests
2- Drug Addiction Code Red: 560 Tons of Narcotics Used in Iran Each Year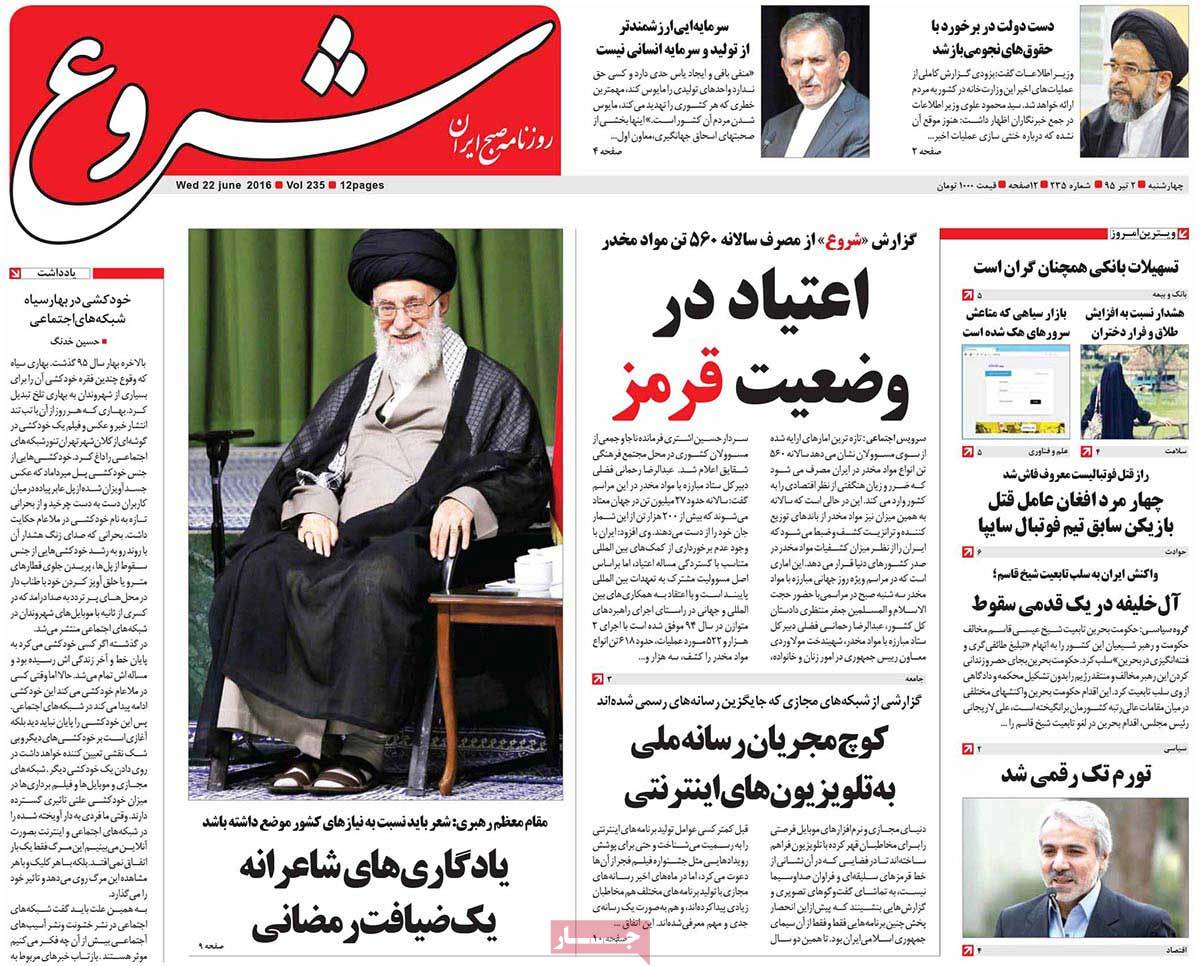 ---
Sobh-e Now:
1- The Night When Brands Were Disgraced: 4 Puma Shirts Torn, 1 Adidas Ball Burst in Only 90 Minutes
2- Sheikh Isa Qassim, a Truly Popular Leader
3- Bahrain Revolution Flaring Up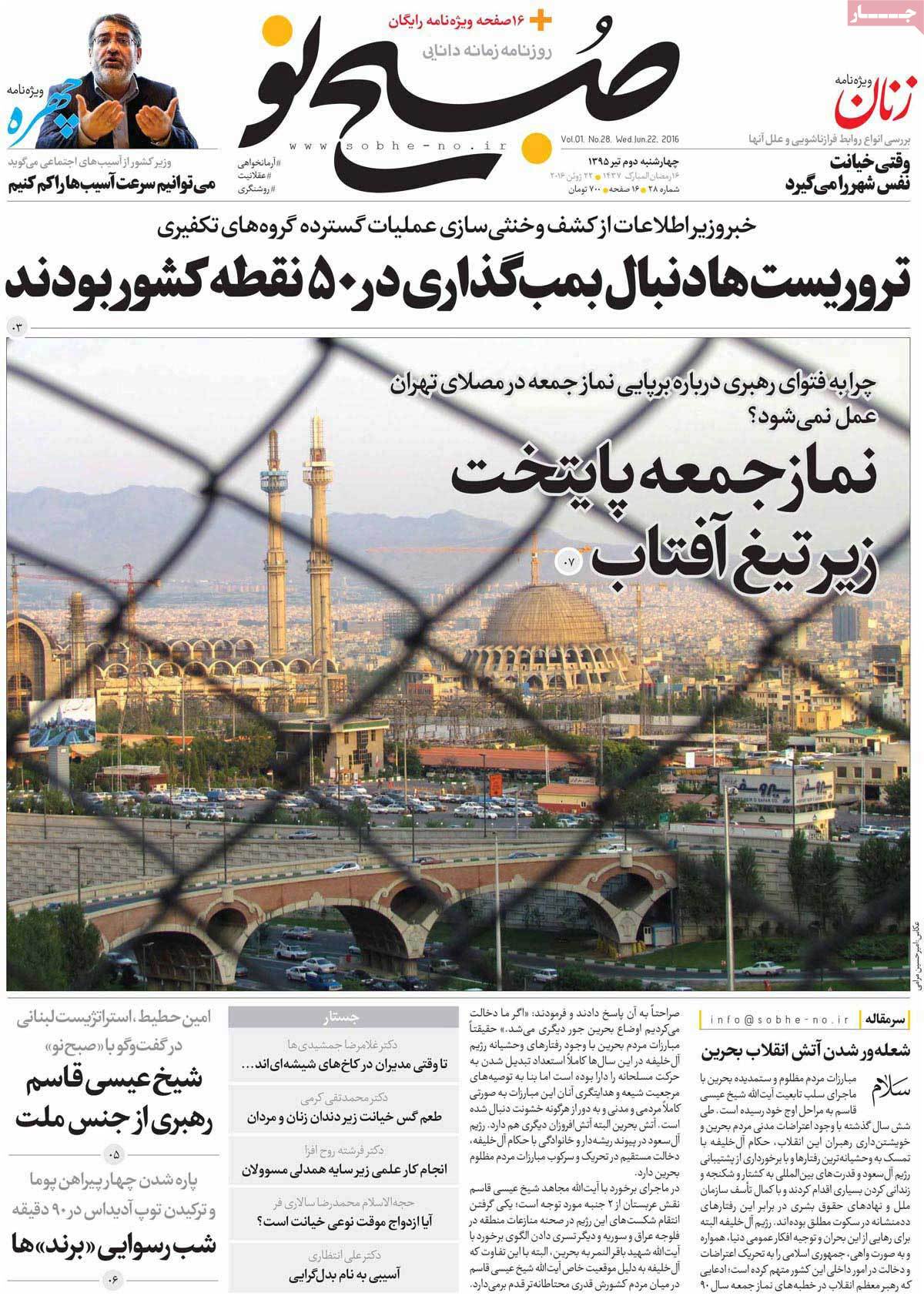 ---
Vaghaye Ettefaghieh:
1- Stammering Government Tribune: Analysis of Rouhani's Media Team Performance
2- Report on Huge Salaries to Be Released Soon: Intelligence Minister
3- Women's Drug Addiction and a 10-Year-Old Crisis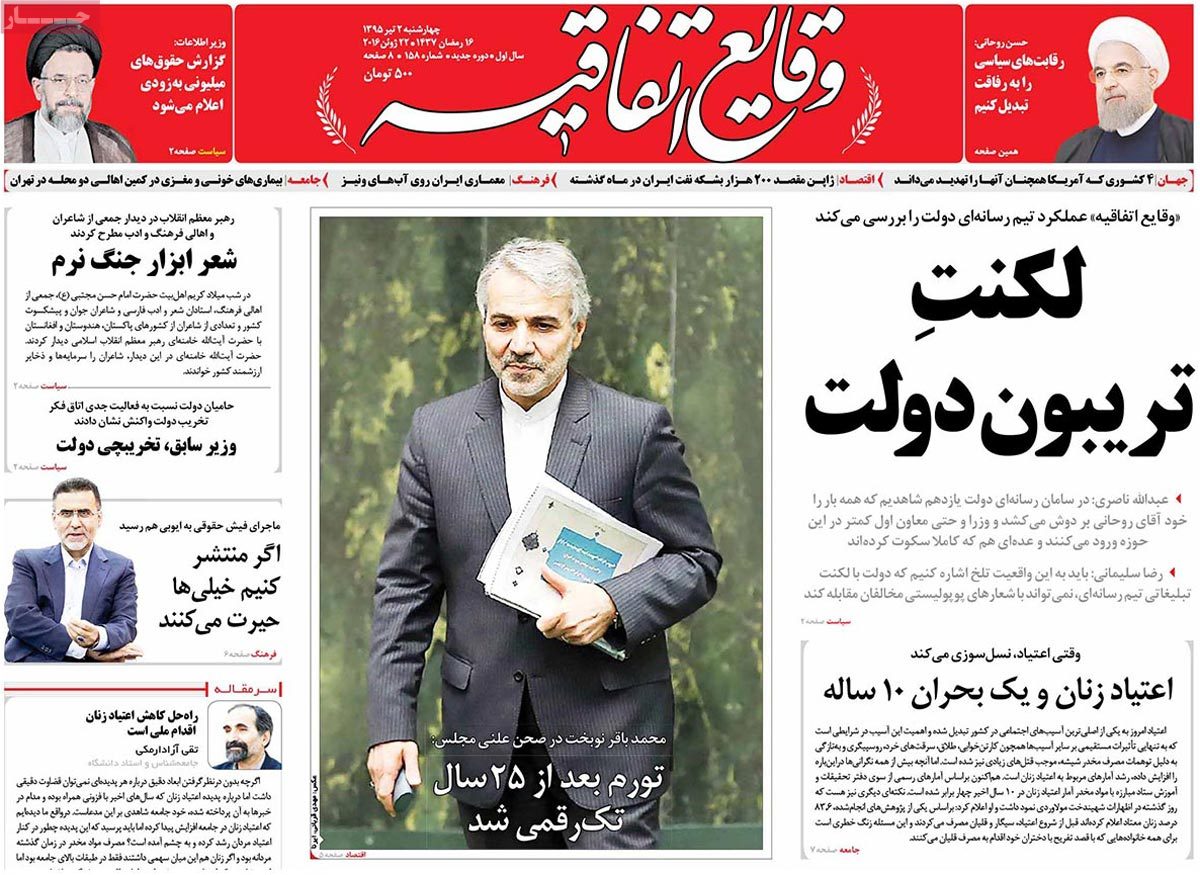 ---
Vatan-e Emrooz:
1- IRGC, Parliament, and Clerics Strongly Condemn Bahraini Regime's Move against Sheikh Qassim
2- Canada Seizes Iran's Cultural Building