The astronomical salaries given to certain executives, as well as their paycheques leaked by certain websites, have remained a top story in many newspapers on Sunday.
Leader of the Islamic Revolution, Ayatollah Seyyed Ali Khamenei, met a group of academics and students. During the meeting, the Leader underlined the need for accelerated scientific growth, which was reported by many outlets today.
The recent liberation of the Iraqi city of Fallujah, and the subsequent push to retake Mosul was also widely covered.
Abrar:
1- Fallujah Returned to Iraq: PM
2- Obama Confers with Saudi King's Son on Iran
3- Sale of 100 Passenger Planes to Iran Hinges on US Administration's Approval: Boeing to Congress
---
Abrar-e Eqtesadi:
1- 30% Decrease in Iranian Families' Power to Save Money
2- Details of New Water Agreement between Iran and Japan
3- Japan and Korea to Fund Iran's Petchem Projects
4- $2.5bn of Direct Foreign Investment Made in Iran
5- Tehran's Gas Network to Be Retrofitted by Japan
---
Aftab-e Yazd:
1- How Did Paycheques Leak to Anti-Gov't Media?
2- Ahmadinejad Should Look at Himself in the Mirror before Running for Presidency: MP
3- Merkel's Gov't Ready to Invite Rouhani to Visit Germany
4- Another Crisis Every Day: Increasing Pressure on Rouhani Administration
5- Dust of Iraq's Insecurity in the Eyes of Iranian People in Ilam Province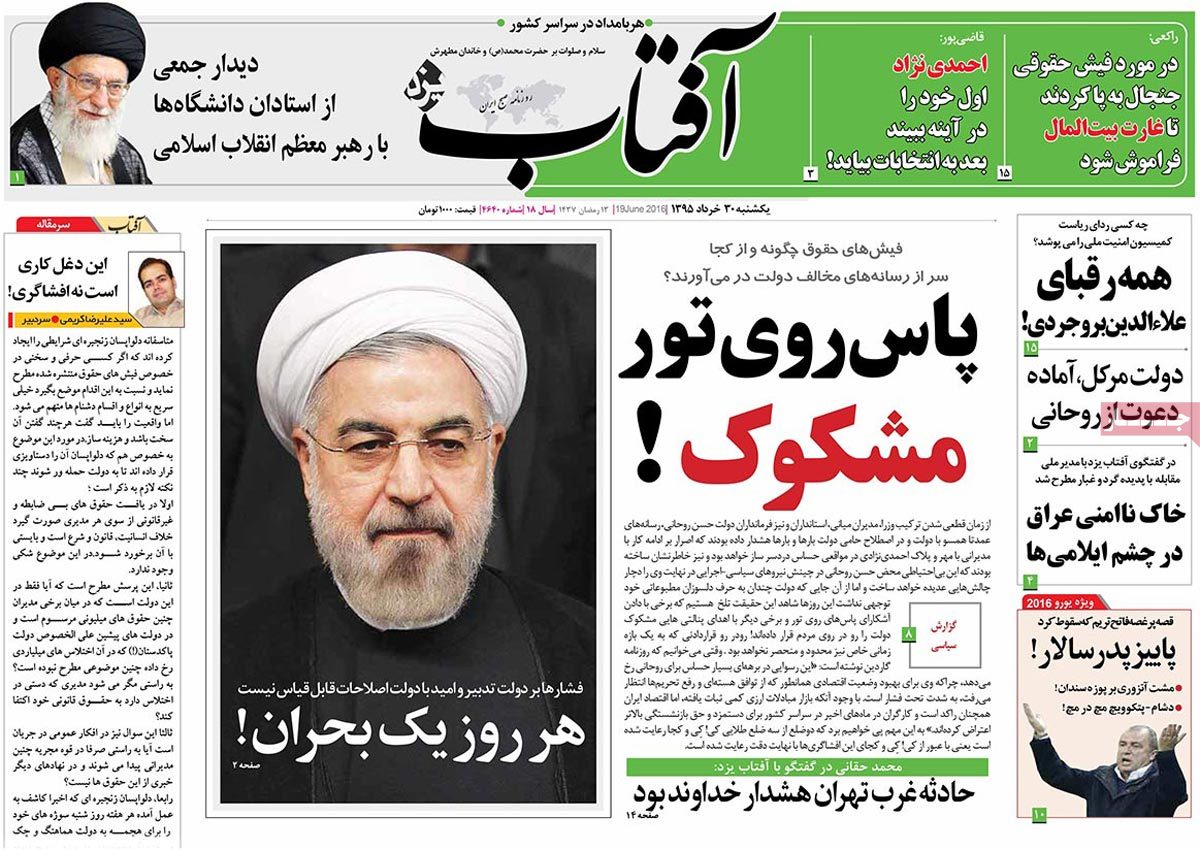 ---
Arman-e Emrooz:
1- Bahonar Will Be Rouhani's Rival in Next Year's Presidential Votes: Politician
2- Power Structure in US Wants Clinton: Analyst
3- Western Sources Claim: Beginning of Iran-US Compromise in Syria?
---
Asia:
1- $8bn Foreign Investment to Arrive in Iran
2- Iran and Russia Mulling Joint Manufacture of Su-100 Superjets
3- After Pressure of Economic Bodies: Merkel to Invite Rouhani to Visit Germany
4- Iran's Pace of Global Oil Market Return Surprised Everyone: Minister
5- Iran's Kerman and Ukraine's Kharkiv Sign Sisterhood Agreement
6- France and Italy to Build Universities in Iran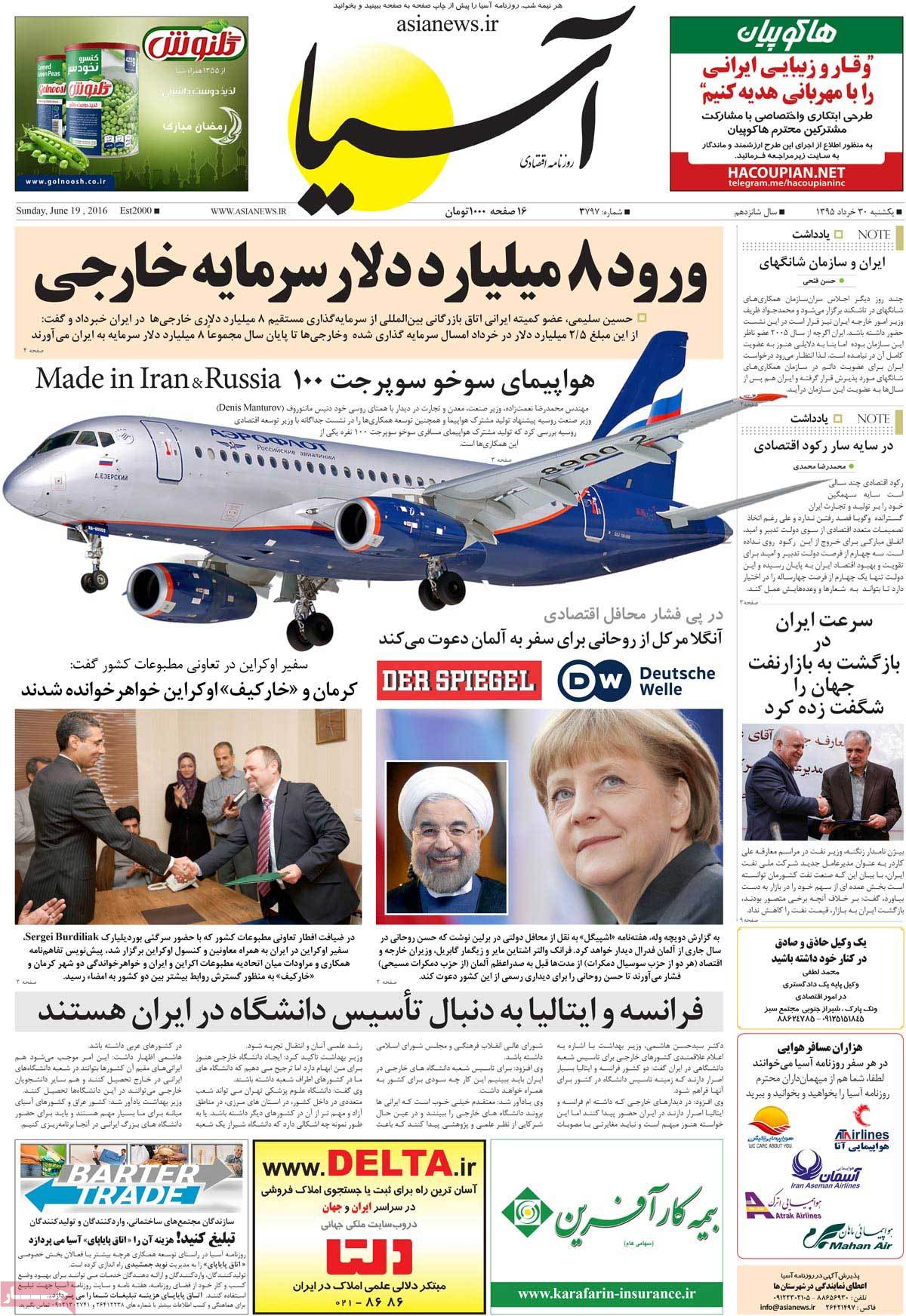 ---
Asrar:
1- Iran Won't Decrease Its Oil Output Even If Oil Price Falls to $20: Minister
2- Iran Has Been a Good Host to Refugees: Zarif
3- Iran's Oil Exports Doubled
4- Iraq Is Origin of Recent Dust Pollution: Ebtekar
5- Parliament's Plan to Prevent Payment of Huge Salaries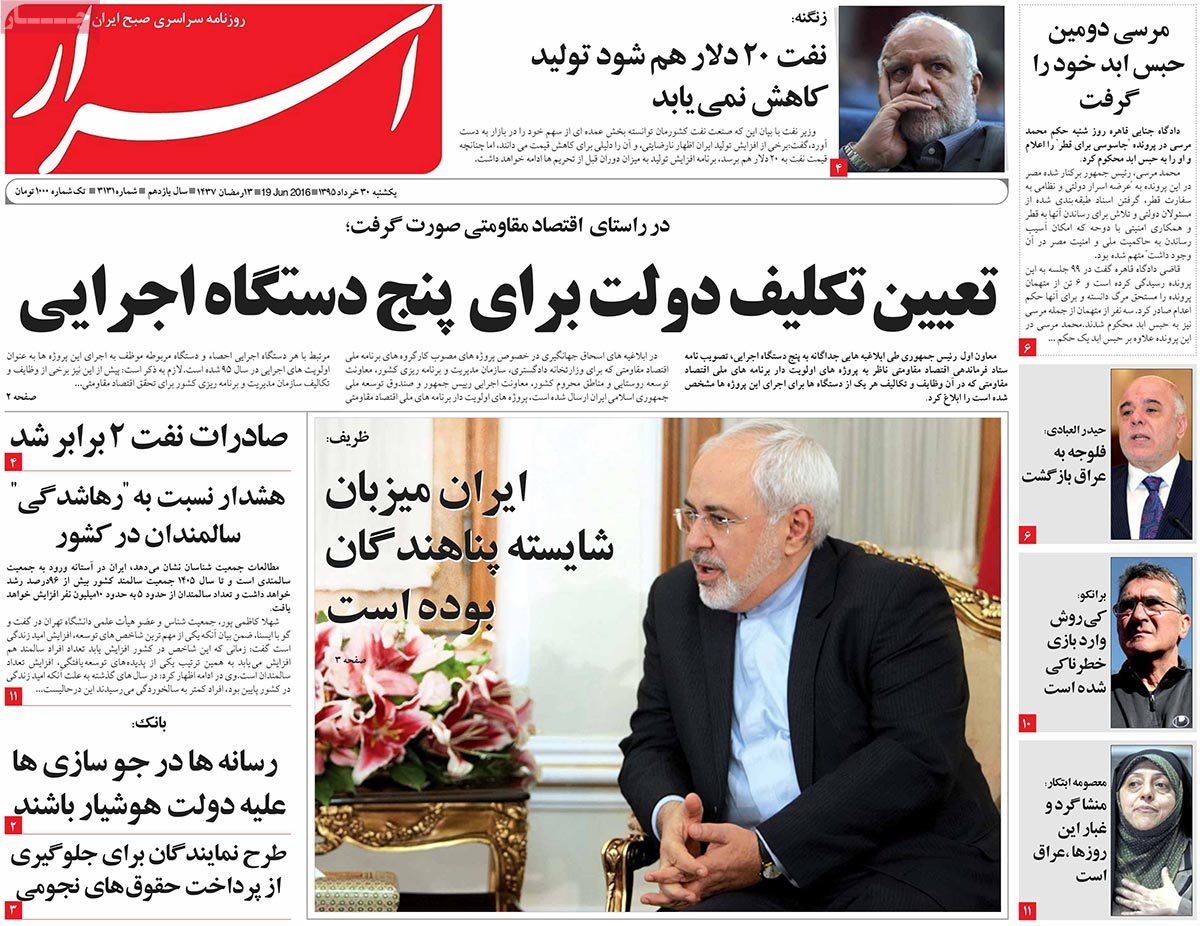 ---
Ebtekar:
1- Bombarding This Gov't Using Astronomical Paycheques Authorized by Past Ones
2- Zarif to Visit Tashkent
3- Competition [between reformists and conservatives] for Presidency: This Time in Specialized Parliamentary Commissions
4- "Crisis Management" in Capital City
---
Etemad:
1- Oil Minister's Message to Global Markets: Decrease in Oil Output, "Never Ever"
2- For Turkey, Kurds Are a More Serious Threat than ISIS: Diplomat
3- It's Impossible to Control Iraq's Dust: Environment Dept. Chief
---
Ettela'at:
1- We'll Compensate for Scientific Underdevelopment with Efforts of Talented Young People: Leader
2- US Deceived Russia by Claiming that Iran Was a Nuclear Threat: Putin
3- Parliament Develops Plan to Regulate Payment System [to avoid astronomical salaries]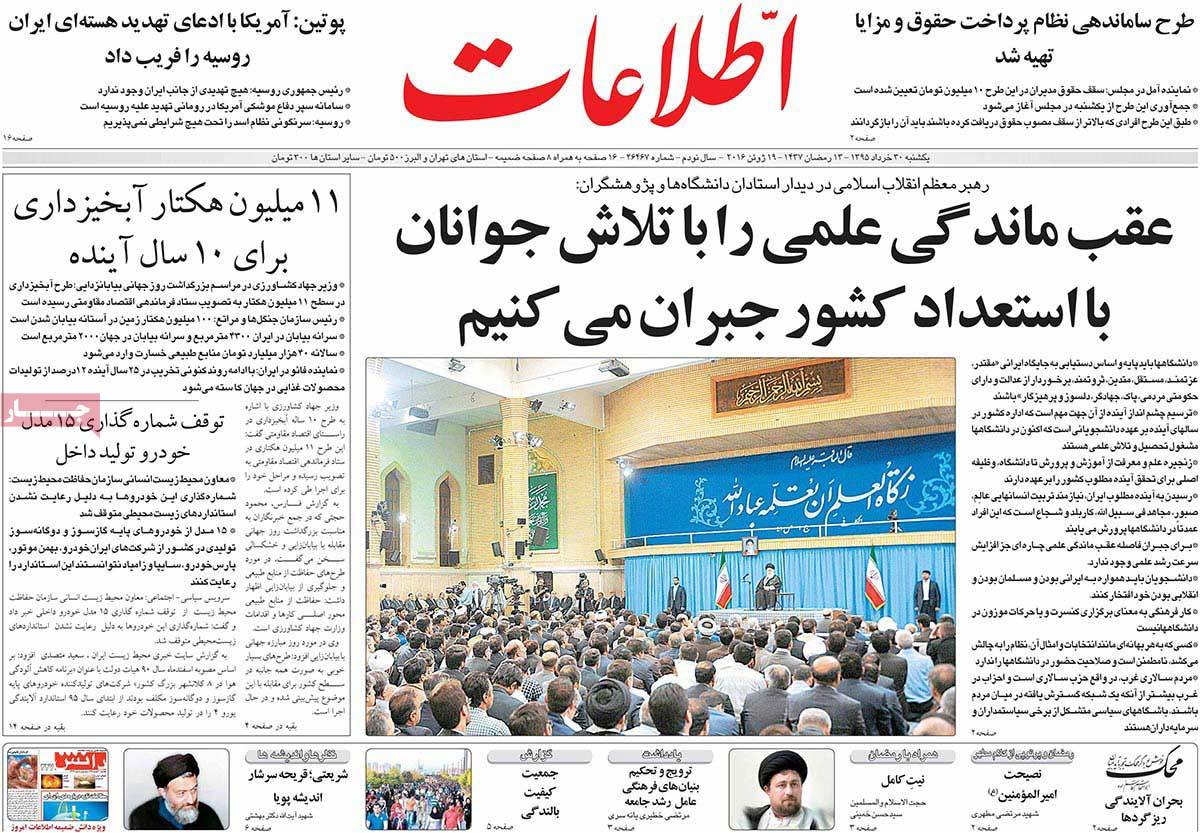 ---
Ghanoon:
1- We Need to Speed Up Scientific Growth Today: Leader
2- Water Transfer from Caspian Sea to Central Iranian Province of Semnan Won't Solve Its Problems
---
Haft-e Sobh:
1- $6bn Turnover in Home Appliances Market
---
Hamshahri:
1- No Change in Iran's Policy towards Syria: Zarif
2- Parliament to Discuss a Plan to Limit Salaries of Executives to $2,900
---
Jame Jam:
1- Astronomical Salaries to Be Returned to Public Funds
2- Fallujah Operation, a Successful Model
3- Failure of Anti-Iran Coalition in Region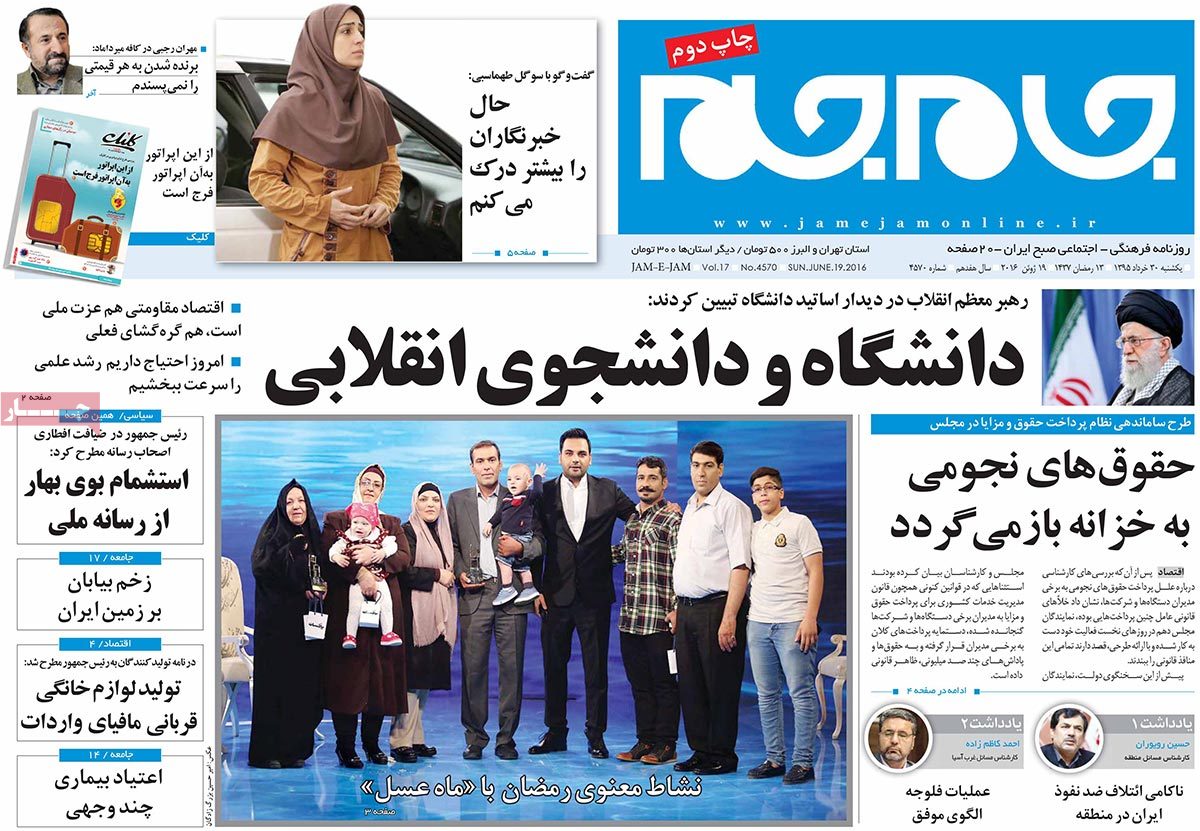 ---
Javan:
1- Bonus Scandal: Oil Executive Who Worked Only 1 Hour a Day Received a $17m Bonus
2- Int'l Bodies Acknowledge Iran's Abundant Aid to 3m Afghan Refugees
3- Putin: US Destroys 70-Year-Old Strategic Balance
---
Jomhouri Eslami:
1- Leader Calls for Acceleration of Iran's Scientific Growth
2- After Fallujah, It's Time to Liberate Mosul: Iraqi Leaders
3- Yemen Quagmire Deepens
4- Lion's Share of Iran's Quota Restored in Global Oil Market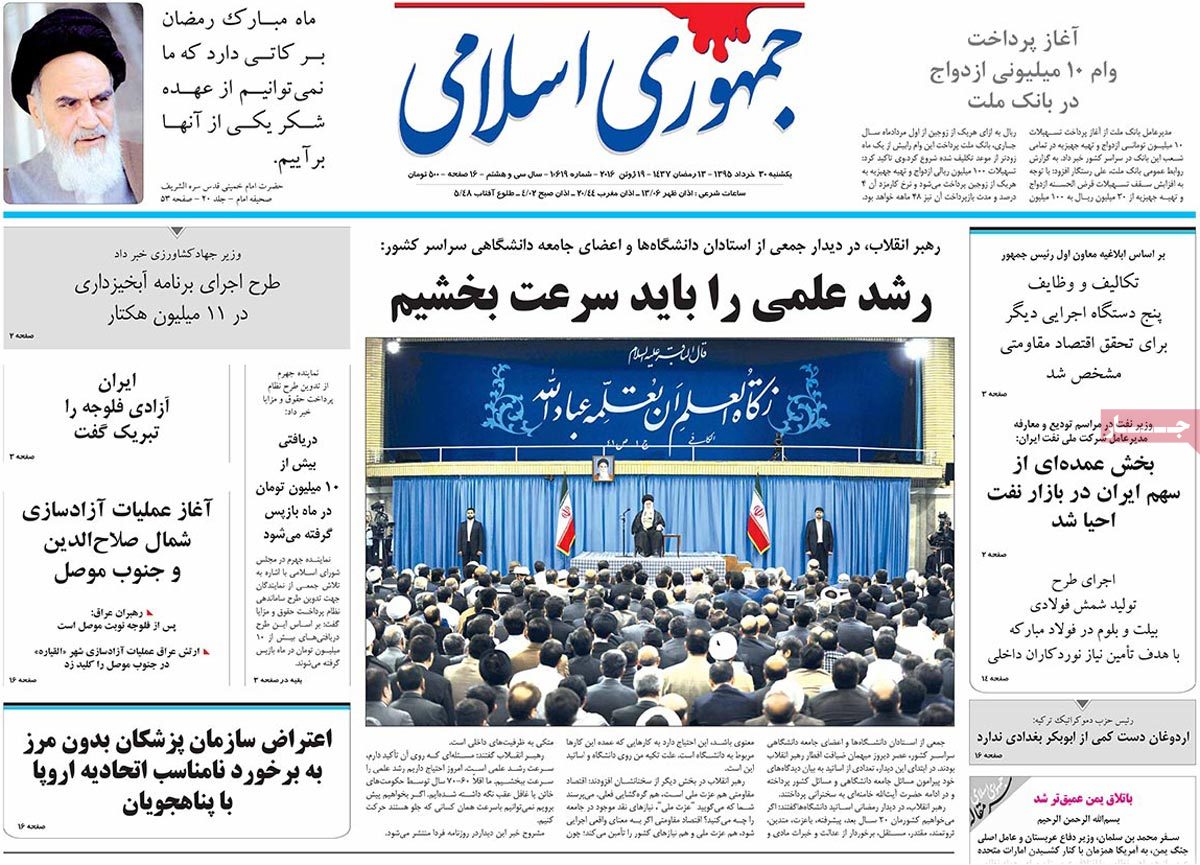 ---
Kayhan:
1- Iraqi Popular Forces: We Cut off the Viper's Head [by retaking Fallujah]
2- Iran Was Not a Nuclear Threat, America Deceived Us: Putin
3- Israel Has Apparently Joined Arab-Sunni Coalition!
4- Iran Joins Manufacturers of Laser-Guided Agricultural Machinery
---
Khorasan:
1- Leader Outlines the Way to Prevent Iranian Wall Street
2- Rafsanjani: I Don't Seek Leadership Council [rather than a single Leader]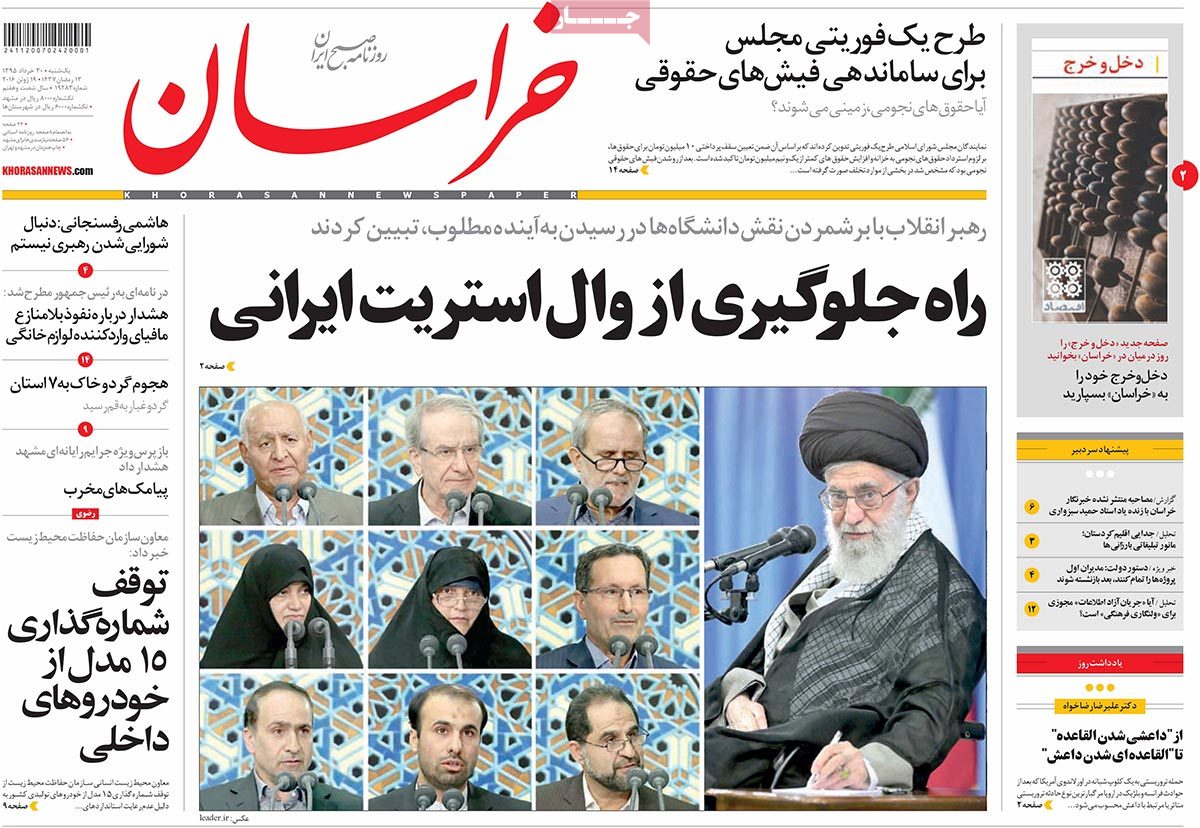 ---
Resalat:
1- Universities and Students Should Always Be Revolutionary: Leader
2- We've Prepared A Military Plan for Chasing Enemies Away
3- West and Al Saud Family Terrified of Seeing Takfiris' Destruction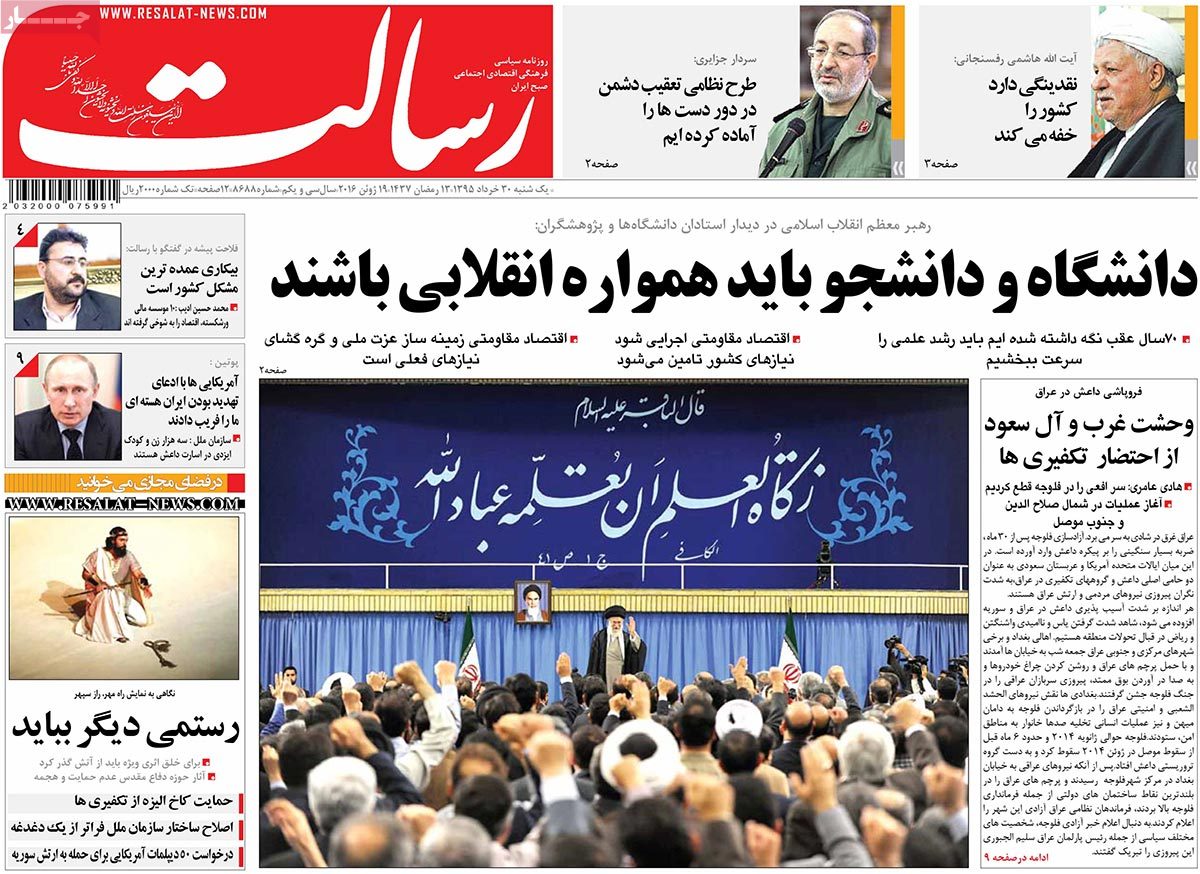 ---
Roozan:
1- Cultural Conflicts of Megamalls in Capital City
2- Cabinet Reshuffle: Hitting Several Targets with One Shot
---
Sepid:
1- Drinking Hot Tea Might Lead to Cancer
2- Obama's Last Days Should Be Spent on Strengthening and Stabilizing Post-JCPOA System: New York Times
3- Heavy Costs of Giving Health Services to 3m Afghan Refugees: Minister
---
Shahrvand:
1- Critics of Gov't Using Certain Astronomical Salaries as Pretext to Attack Rouhani Administration
2- 2-12 Months of Jail for Those Who Cause Forest Wildfires
3- Life Returns to Fallujah
4- Online Campaigns of Iranian Users Worked: Legal "No" to Animal Abuse
---
Shorou:
1- Astronomical Salaries, the Achilles' Heel of Rouhani Gov't
2- Why Arab Dust Arrived in Iran
3- Nightmare of Disaster in Capital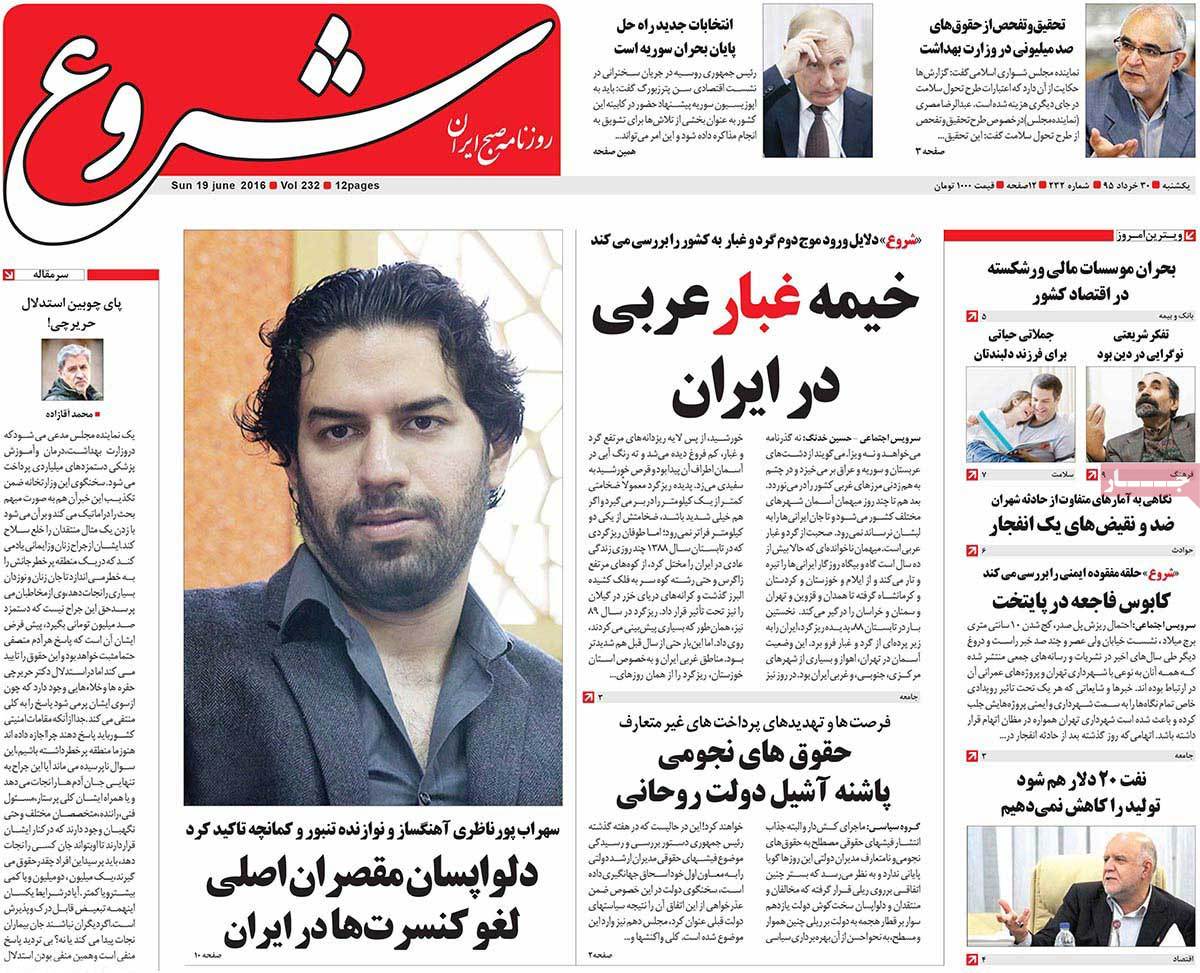 ---
Sobh-e Now:
1- Putin Says US Deceived Russia: Russian Pres. Again Stresses that Iran's Nuclear Threat Was Fabricated
2- What Does "Tehran Auction" Do? Gathering of Samsung and Porsche for the Visual Arts
3- Takfir in a British Accent: Repercussions of British MP's Killing by Radical Right-Wingers
---
Vaghaye Ettefaghieh:
1- Leader Outlines the Country's Requirements in Next 20 Years
2- Zarif Expresses Regret over Inadequate Int'l Help for Iran [on refugees]
3- Iran's Accession to Shanghai Cooperation Organization in Hands of China and Russia
4- Paycheques and Political Games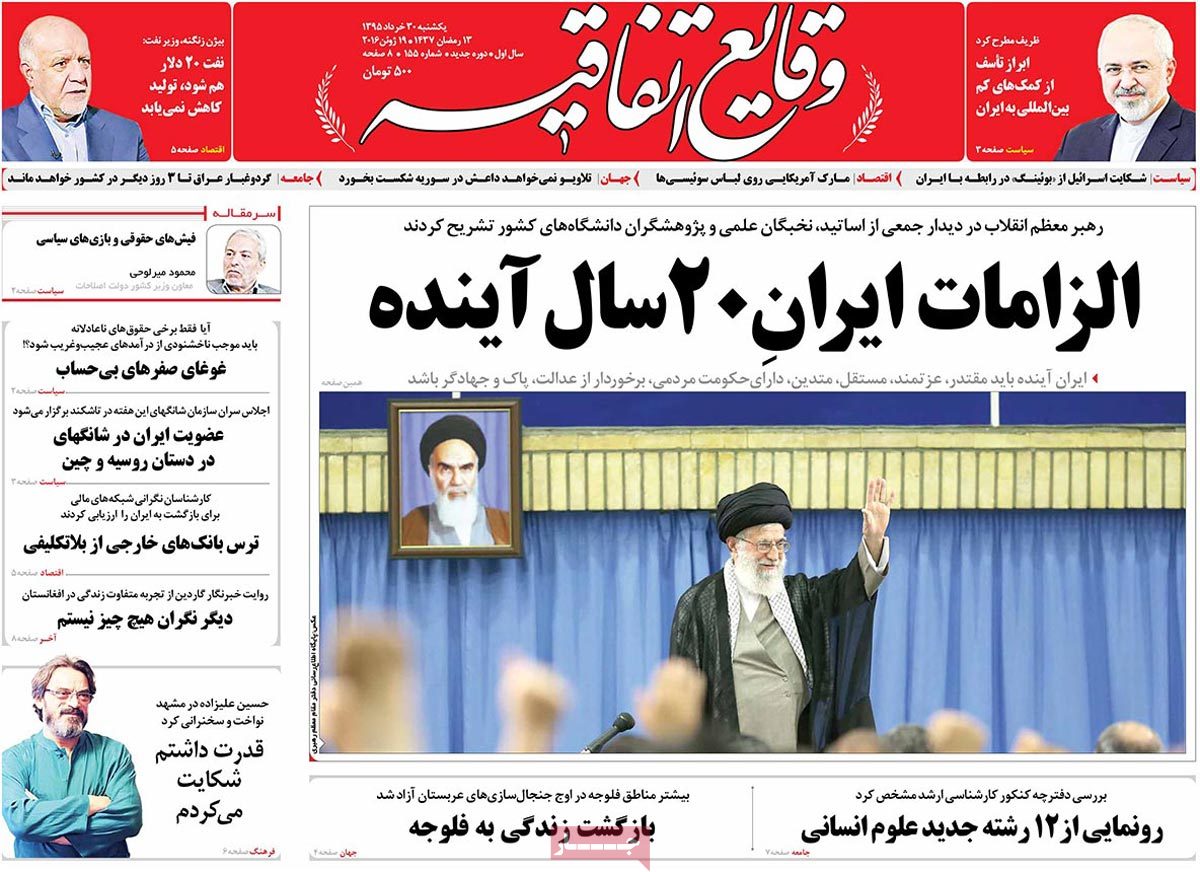 ---
Vatan-e Emrooz:
1- Leader Once Again Warns against Decrease of Scientific Growth
2- [Exorbitant] Salaries against Law and Sharia
3- Obama's Meeting with the Little Saddam [Mohammed bin Salman]: White House Ruins Its Credibility by Violating Its Own Statement
4- Either Prince Mohammed or ISIS: US Officials Seriously Concerned about Fall of Saudi Arabia
4- Prayers for Unity in Fallujah: Final Victory over ISIS Is Near