A huge explosion in early hours of Friday frightened many people in the Shahran district, west Tehran. The explosion, which was controlled in a few hours, created a 50m-deep hole in the ground, and caused serious damage to surrounding buildings and local infrastructure. The severing of power, water, gas, and communication lines was partly resolved hours after the explosion, which was widely covered by Iranian newspapers.
Another top story was the latest cases of astronomical salaries being leaked in Iranian media. This time, the salaries of doctors and staff at the National Development Fund were revealed, provoking serious criticism from almost all papers.
Newspapers also dedicated their front pages to the ongoing dust pollution in both west and east Iran, which is largely coming from Syrian and Iraqi deserts.
Abrar:
1- John Kerry's Remarks about US Commitments towards Iran
2- US Treasury Beefs Up Staff to Accelerate JCPOA Implementation
3- 20 Iranian Prisoners in Dubai and Sharjah Pardoned
4- Crises Created in Middle East Faster than They Can Be Solved: Larijani
5- Launch of Tehran-Baku and Tabriz-Baku Flights
6- 2 Terrorist Rings Destroyed, 12 Terrorists Killed in Northwest Iran
7- Iran Can Be an Important Partner for Germany in Middle East: Zarif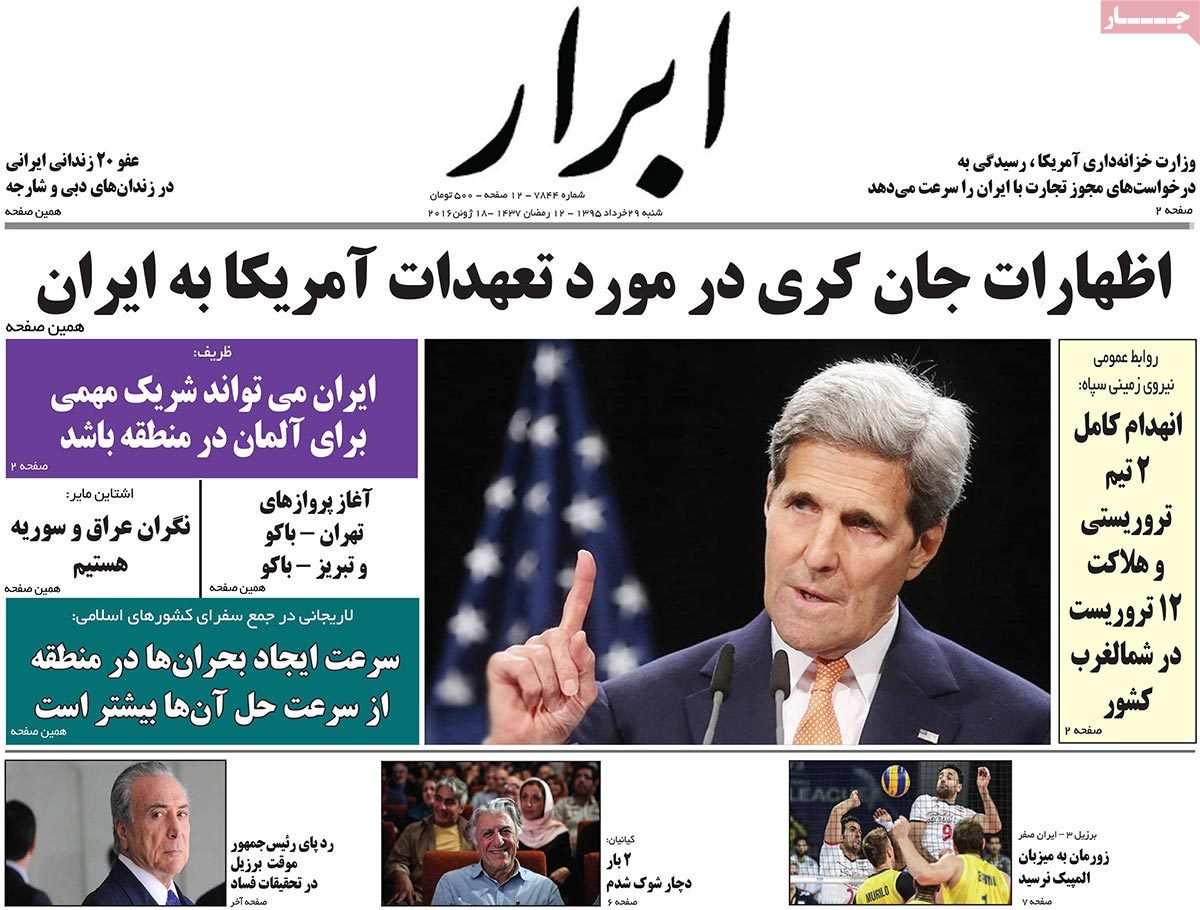 ---
Abrar-e Eqtesadi:
1- Special Salaries Mainly Caused by a Law Implemented by Ahmadinejad: Rouhani Administration Trying to Have Law Revised
2- Iran's Oil Income Down by $20bn on Previous Year
3- Economic Recession to Get Deeper
---
Aftab-e Yazd:
1- Media Outlets Play a Role in Growing Suicide Rate: Health Minister
2- If Conservatives Decide to Support Saeid Jalili, They'll Definitely Fail: Politician
3- Next US President Not to Tear up JCPOA: White House
---
Arman-e Emrooz:
1- Hardliners Invite People to Attend Anti-Government Gathering
2- Khavari's Multi-Million-Dollar Case: Khavari and Son Engaged in Legal Battle in Canada
3- Huge Explosion in Shahran [West of Tehran]: Conflicting Reports about Death Toll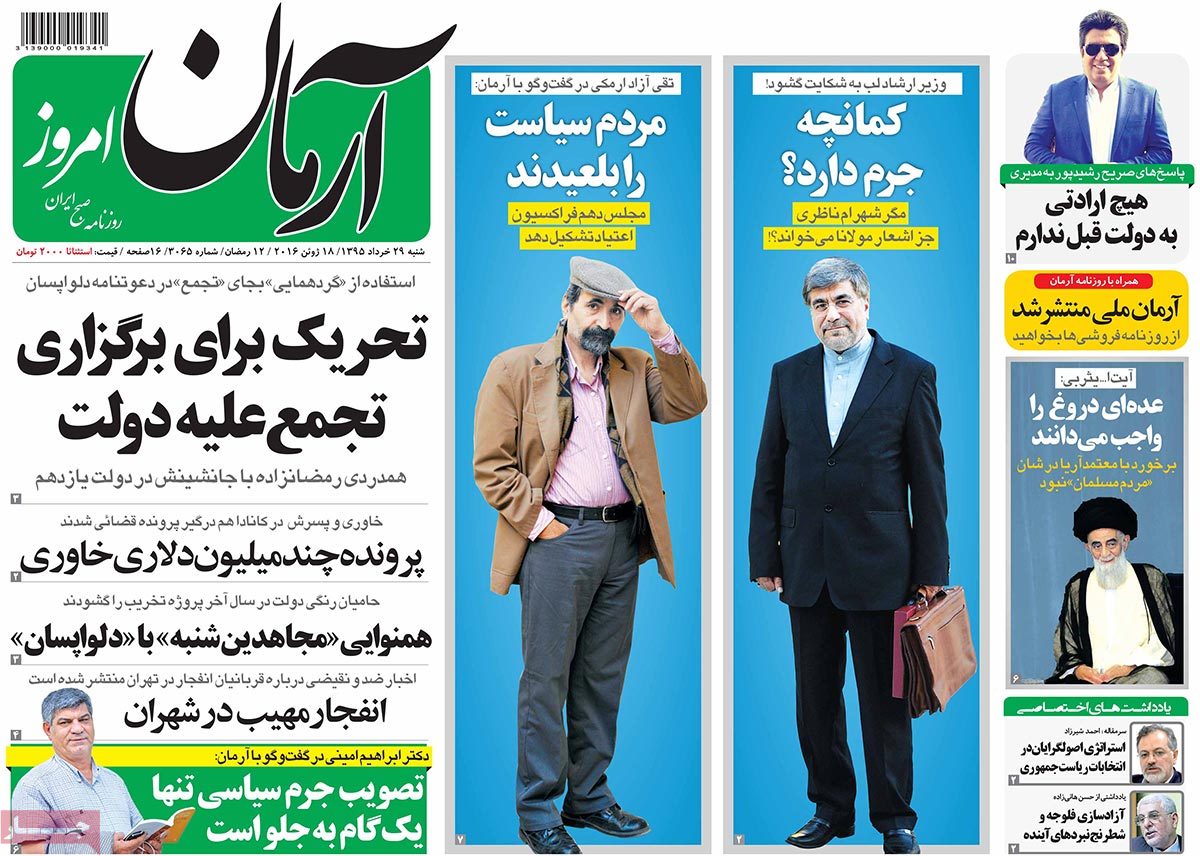 ---
Asia:
1- Increase in US Companies' Demands for Iran Cooperation: US Treasury Adds to Its Staff to Speed Up Affairs
2- Iranian Billionaires Grow in Number Each Year
3- Osteria Francescana in Modena Selected as World's Best Restaurant
4- 200 Foreign Banks Commence Ties with Iran
5- Flight of Iranian Planes over Europe's Sky Becomes Normal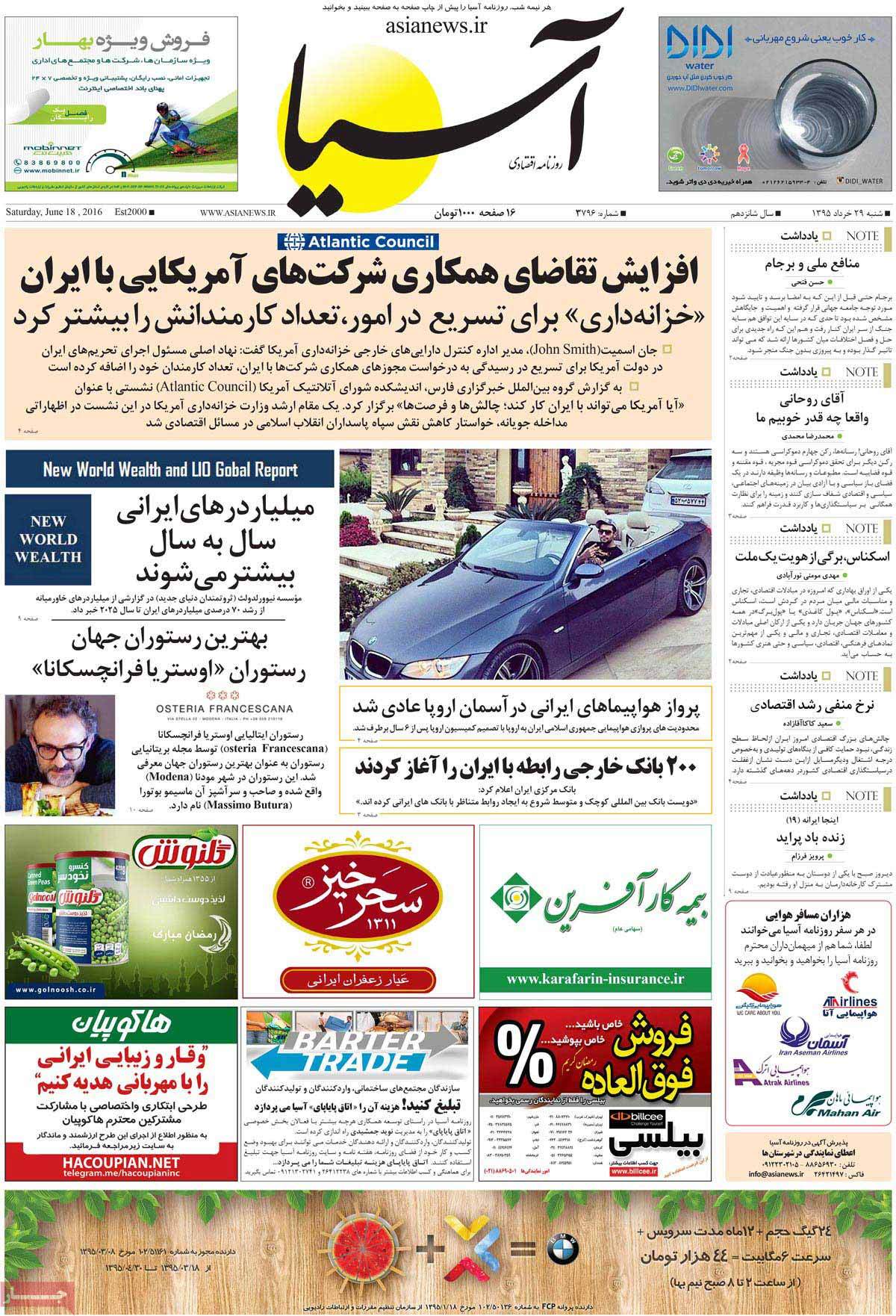 ---
Asrar:
1- We'll Pursue Issue of Iran's Assets Seized by US until Reclaiming Them: Rouhani
2- Sticking to the Law Is Only Way to Save the Country: Vice-Speaker Pezeshkian
3- Massive Explosion in Shahran and Destruction of Subway Tunnel: Without Integrated Civic Management, We'll Be Totally Vulnerable
4- Western Moves Help Increase Terrorist Movements: Larijani
5- Some Trying to Frustrate People in Iran: VP
6- We Should Do More to Show Our Goodwill to Iran: Kerry
7- We'll Sell Iran's Oil Only in Euros: Minister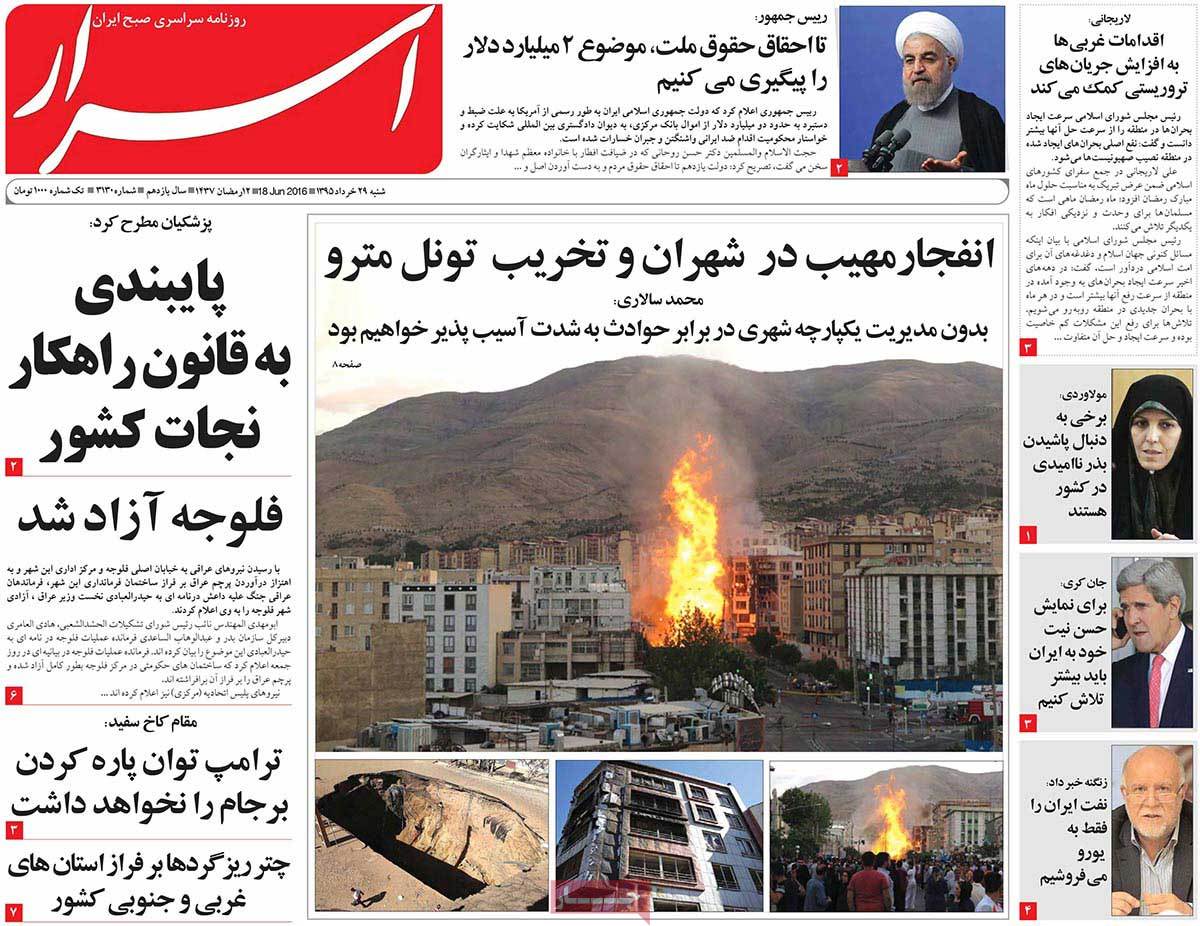 ---
Ebtekar:
1- Documents on Foreign Origins of Dust Pollution Sent to Foreign Ministry: Environment Chief
2- Huge Purchase from Boeing: Biggest Iran-US Contract to Be Signed in Aviation Industry
3- Two Ministers Walk on Berlin's Gravel: Zarif Met Steinmeier
4- Shahran on Fire: Explosion Awakens Tehran Citizens
---
Emtiaz:
1- Continued Dust Pollution in West and East Iran
2- Two-Fold Increase in Number of Iranian Pilgrims Visiting Holy Shrines of Iraq
3- Moscow Calls for Plans to Provide €40bn Fund for Iran Cooperation: Trade Minister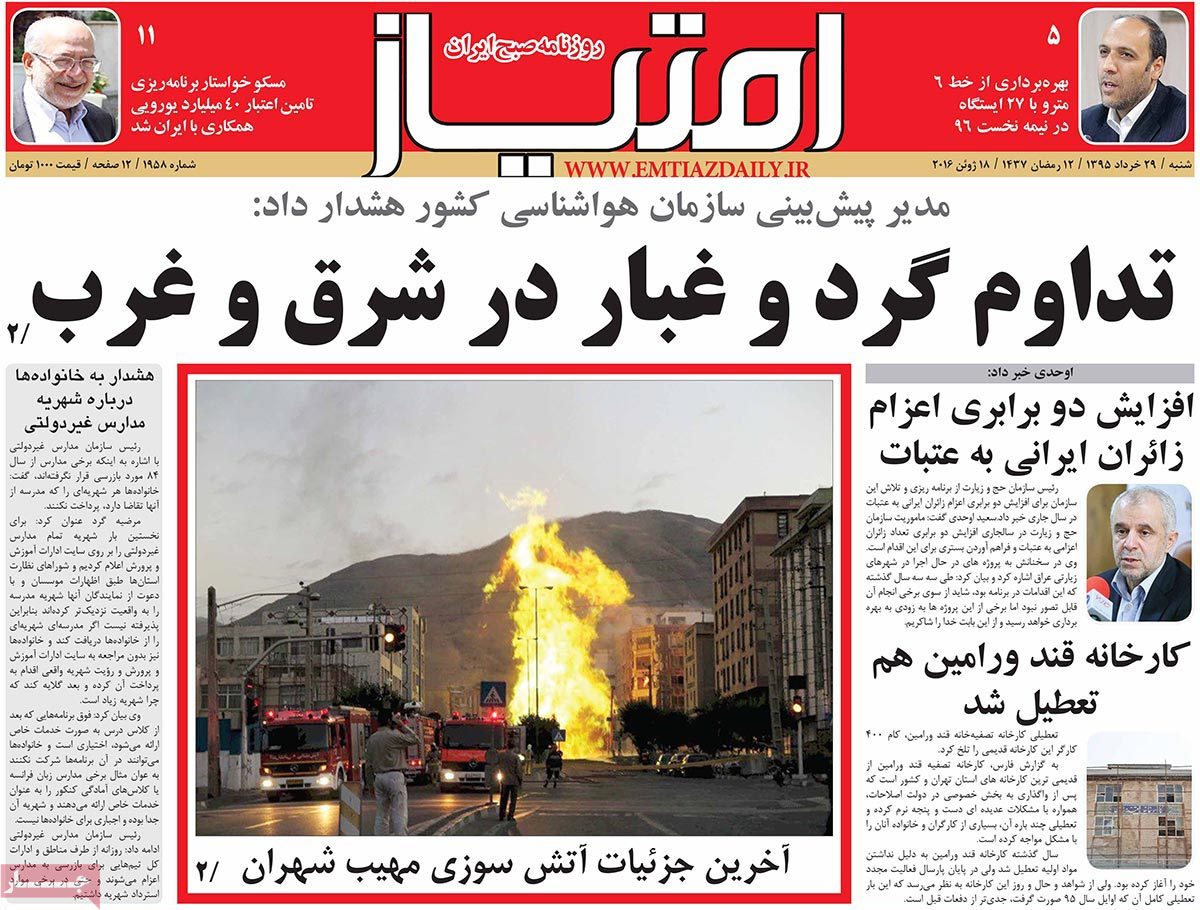 ---
Etemad:
1- Khavari's House-Building in Canada: Iranian Banker Who Fled Iran after Embezzlement, Has Made Investment in a Huge Construction Project in Canada
---
Ettela'at:
1- Fallujah Is Liberated: Iraqi PM Announces Full Liberation of Fallujah Last Night
2- Iran Files Lawsuit against the US at The Hague
3- Iran Air Removed from Blacklist of Flight over Europe
4- Putin Urges Iran to Cooperate in Economic Development of Eurasia
5- UAE Ends Its Military Cooperation with Saudi-Led Coalition in Yemen
6- Steinmeier's Iftar Ceremony in Honour of Zarif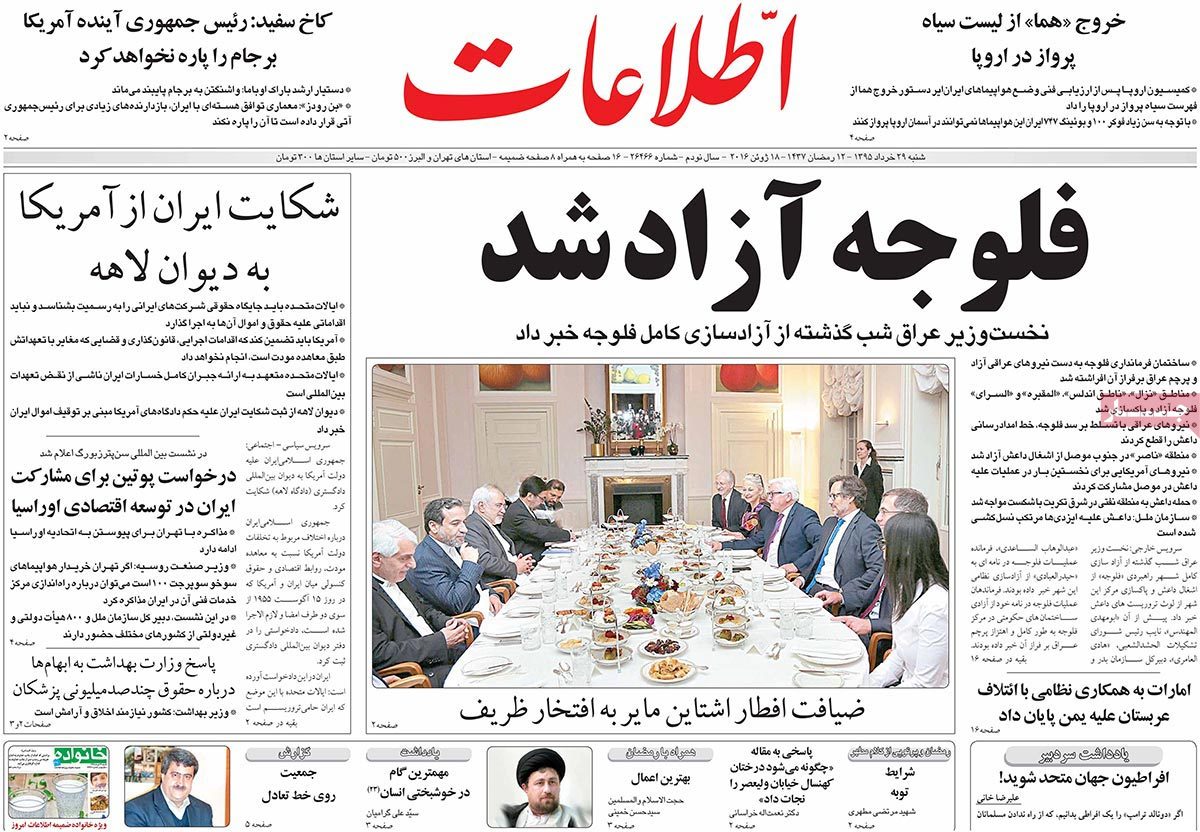 ---
Ghanoon:
1- Rouhani Has No Rival: Rafsanjani
2- #Challenge_of_Paycheques: Ghanoon Calls on Executives to Reveal Their Salaries
3- Who Killed "Helen"? Assassination of British MP before Brexit Referendum
4- Extremely Loose Wedding Dresses: Consequences of Little Girls' Marriage
5- Shahran Crisis an Earthquake Warning for Tehran: City's Low Preparedness for Fire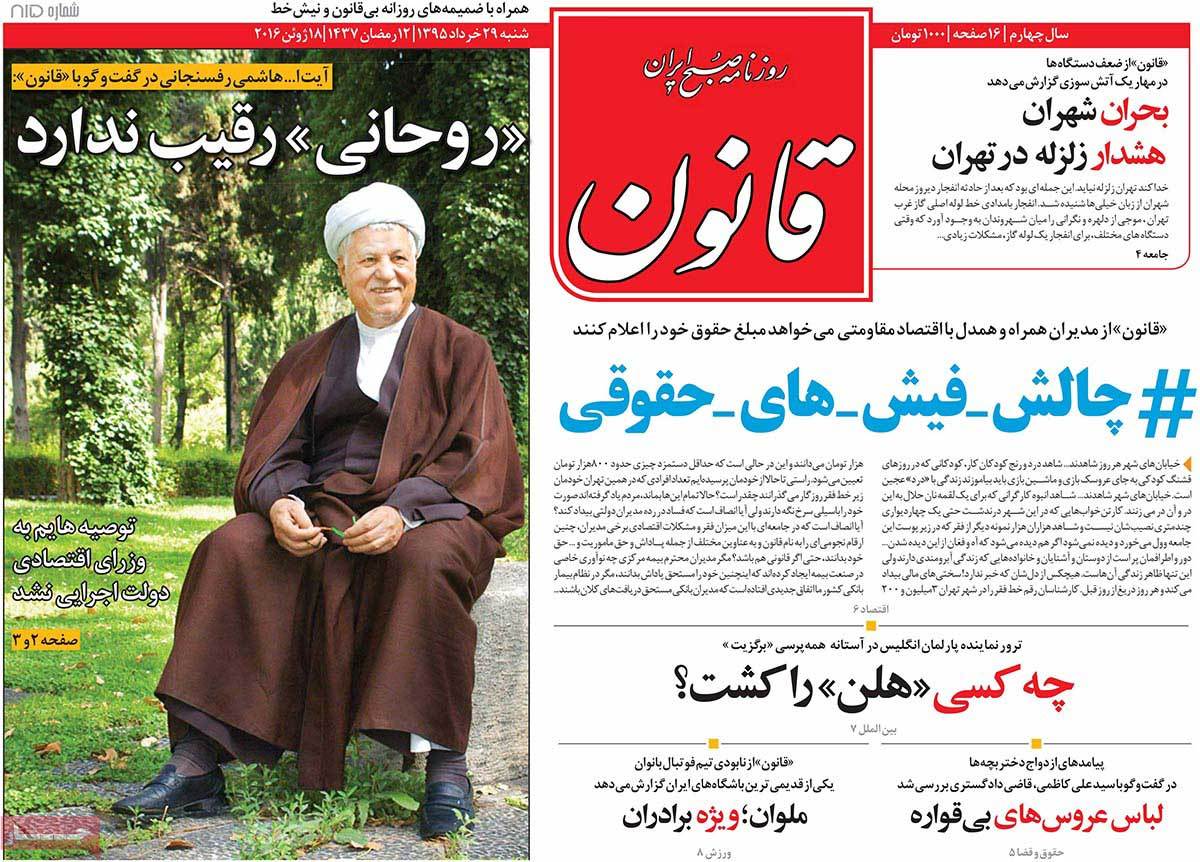 ---
Haft-e Sobh:
1- Khavari [Iranian fugitive banker] Not Going to Stop [his crimes even in Canada]: Huge Projects in Canada Reveals Khavari and His Son's Crimes
2- Fear in West Tehran: Report on Friday's Shahran Incident, Which Soon Became a Crisis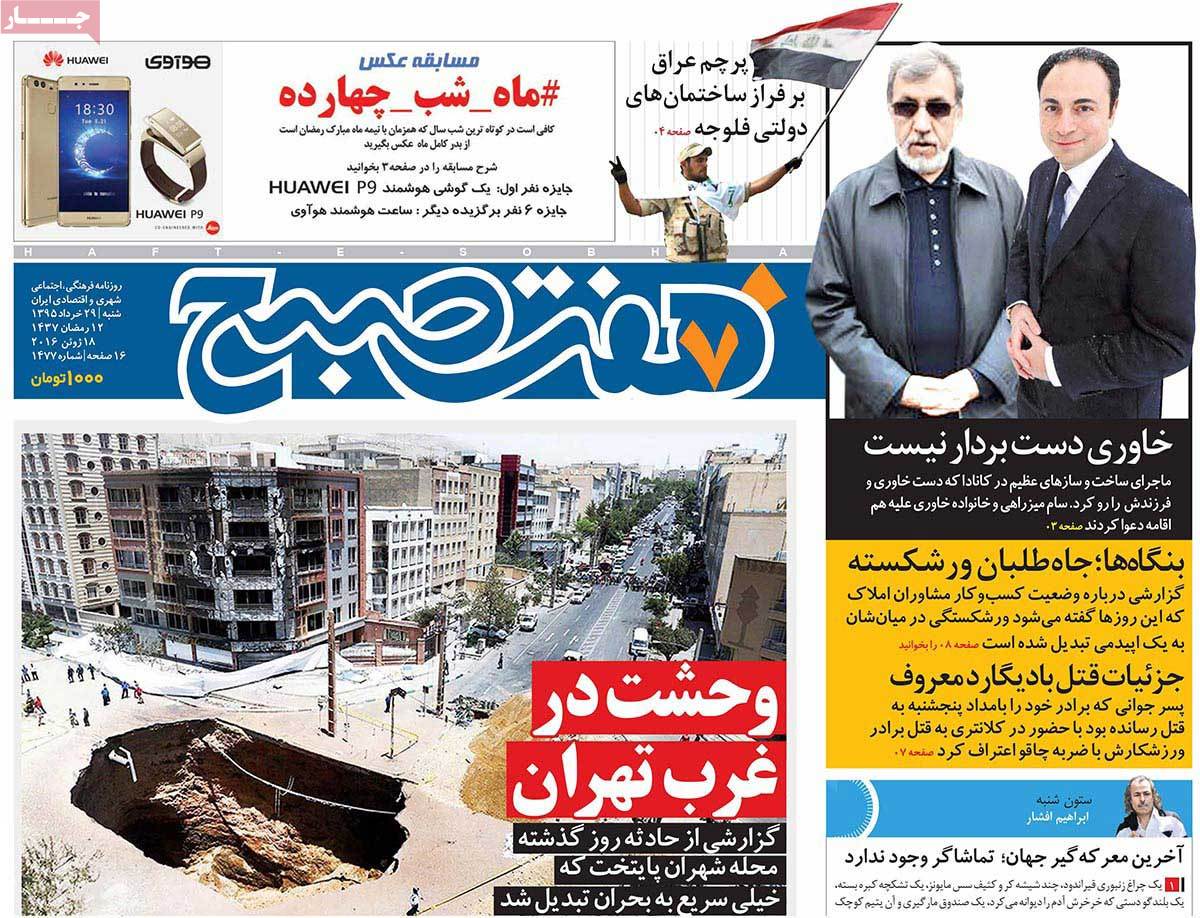 ---
Hamshahri:
1- Gas Explosion in Shahran: An Incident That Was Soon Controlled
2- Turkey and Afghanistan Plotting to Claim Rumi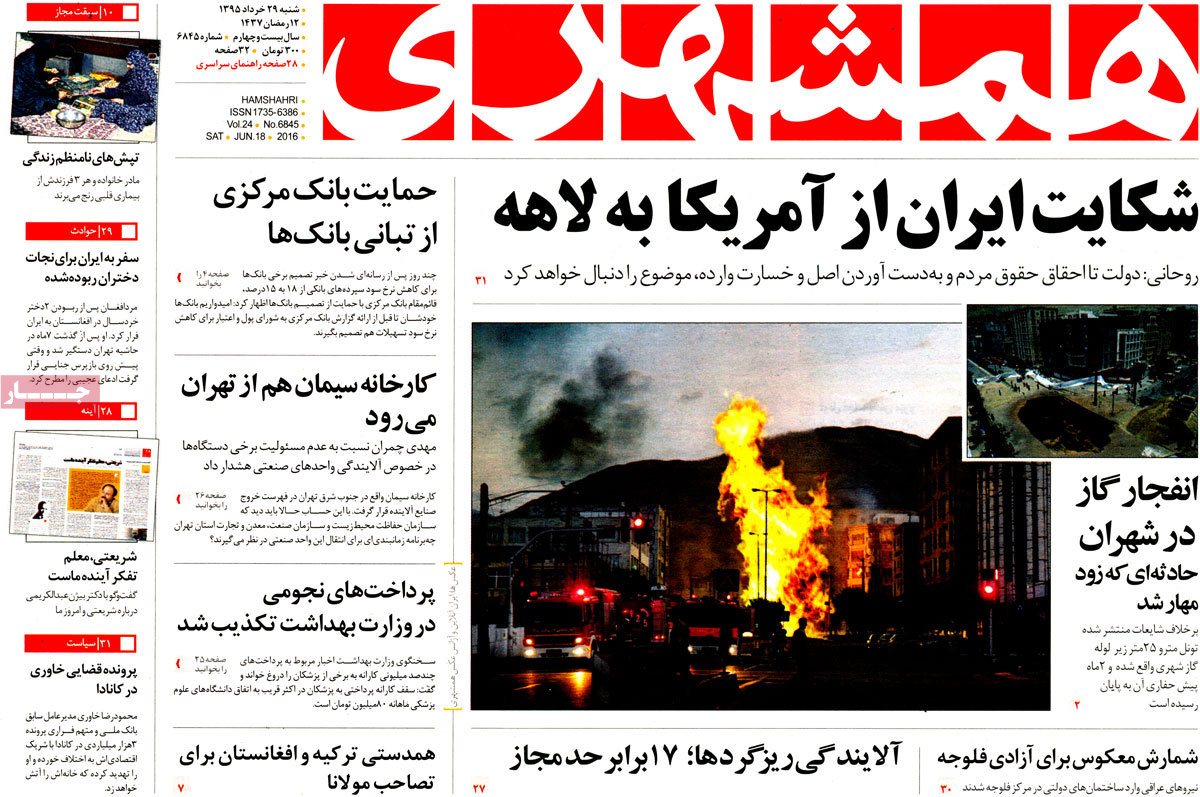 ---
Iran:
1- Dust Storms from Iraqi and Syrian Deserts Hit 7 Iranian Provinces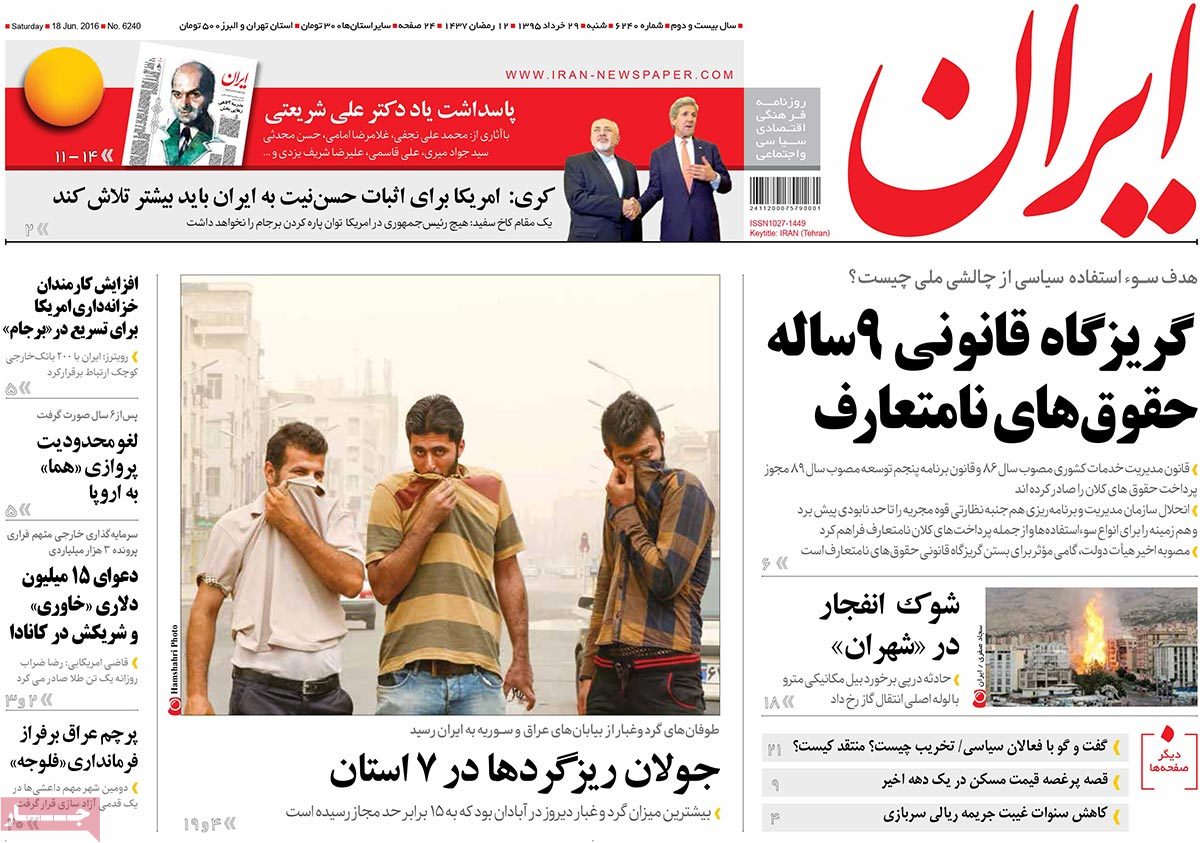 ---
Jame Jam:
1- Reverse Migration: A Report on the Need for Migration to Small Cities and Villages
2- ISIS Brought to Its Knees in Fallujah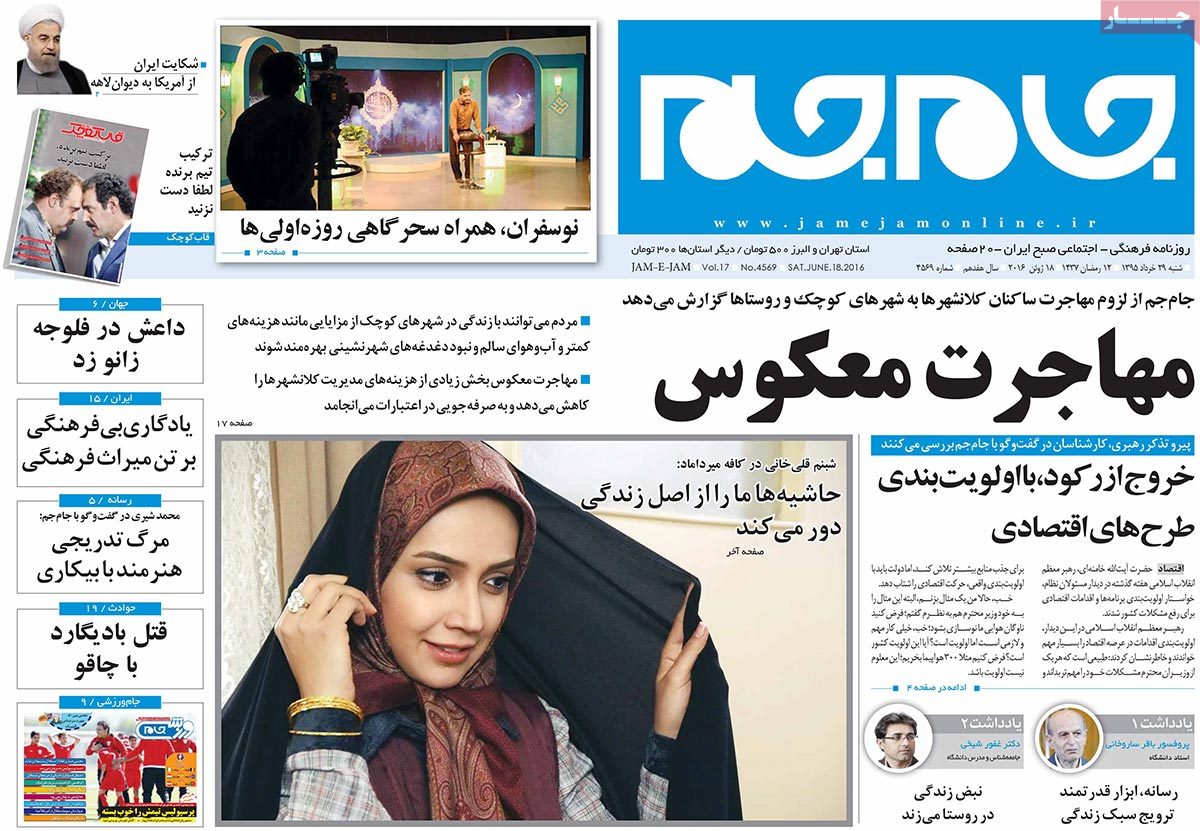 ---
Javan:
1- Iran Ready to Return to Pre-JCPOA Conditions: Nuclear Chief
2- Oil Ministry Giving Away Iran's Oil Reservoirs to Westerners
3- Iraqi Flag in Centre of Fallujah
4- Sponsors of Terrorism Preparing for Conflict: 50 US Diplomats Urge Obama to Start War on Assad
5- Syria's Fall Is Threat to Global Stability: Putin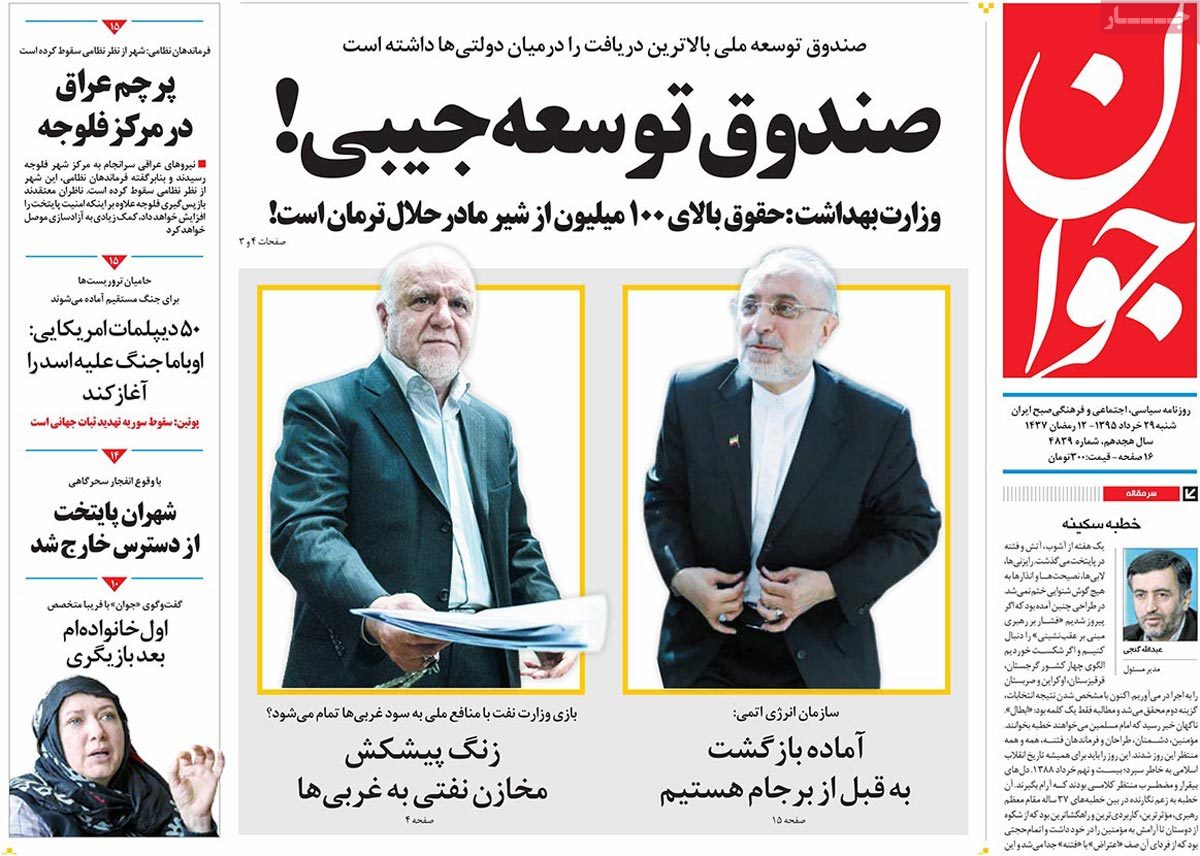 ---
Jomhouri Eslami:
1- No US President Able to Tear up JCPOA: US Backs Off after Ayatollah Khamenei's Threat
2- Value of Projects that Can Attract Foreign Investment Doubled in One Year
3- UN's Selective Behaviour towards ISIS War Crimes
4- Arabs' Peace-Seeking Approach Has Its Roots in Israel's Might: Ex-DM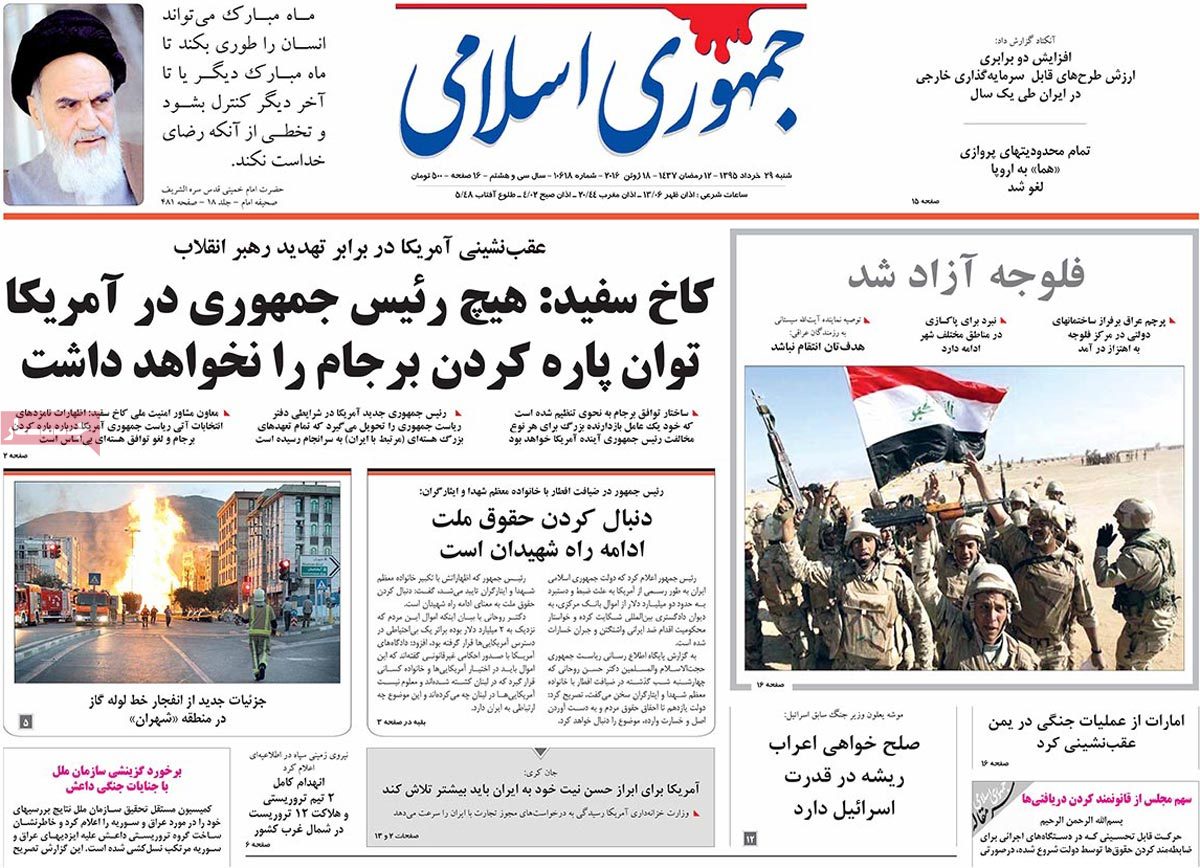 ---
Kayhan:
1- ISIS Should Not Be Defeated in Syria: Israel
2- Iraqi Army Progress into Heart of Fallujah: Fear in ISIS Supporters' Camp
3- Leader's Prediction about [Other Side's] Refusal to Remove Anti-Iran Sanctions Was Very Accurate: CBI Chief
4- Iran's Lawsuit against US on $2bn Robbery Arrives at The Hague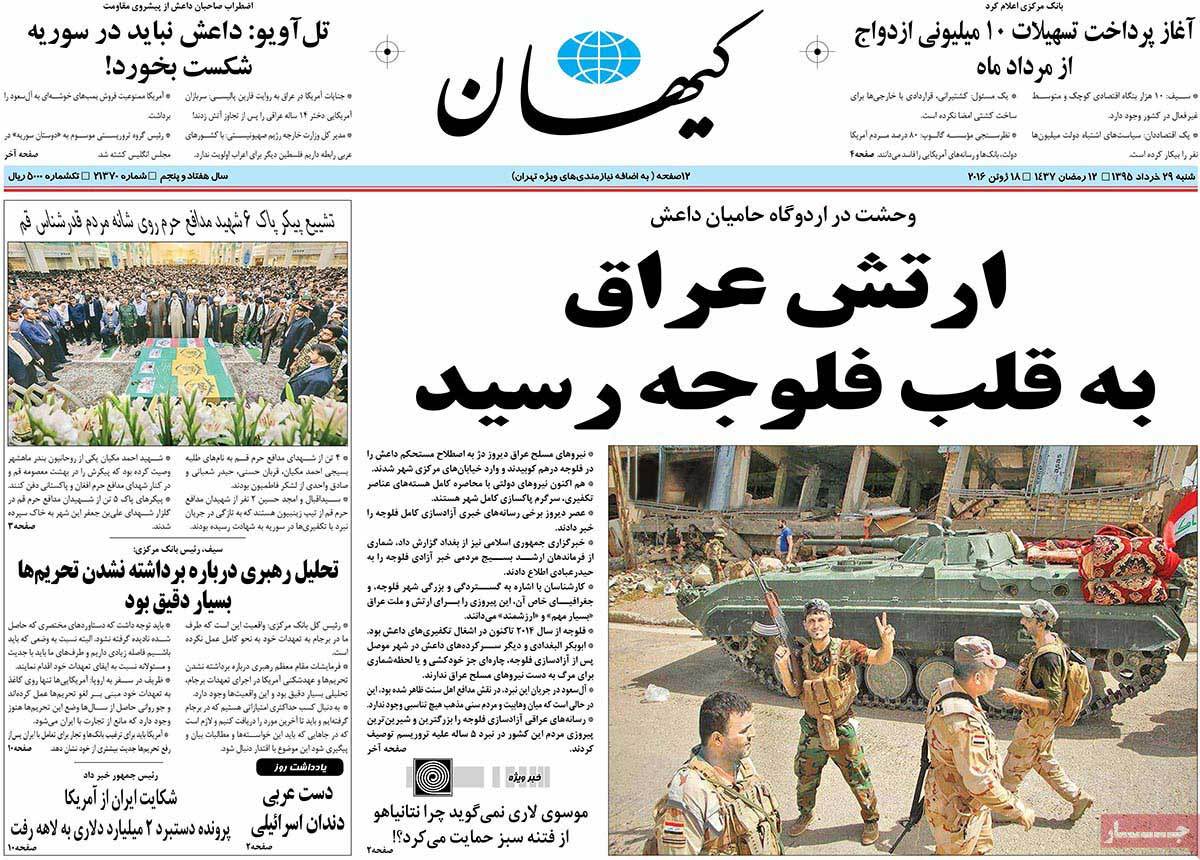 ---
Khorasan:
1- Possibility of Iran's Victory in The Hague [Lawsuit against US seizure of Iranian assets]
2- More Astronomical Payments Leaked, This Time in National Development Fund
3- Students' Use of Addictive Tablets before Their Tests
---
Payam-e Zaman:
1- Unemployment Rate in 21 Iranian Provinces Stands at 30%: 3 Provinces in Critical Condition
2- Saudi Arabia, US, and Israel: an Inauspicious anti-Islam Triangle: Cleric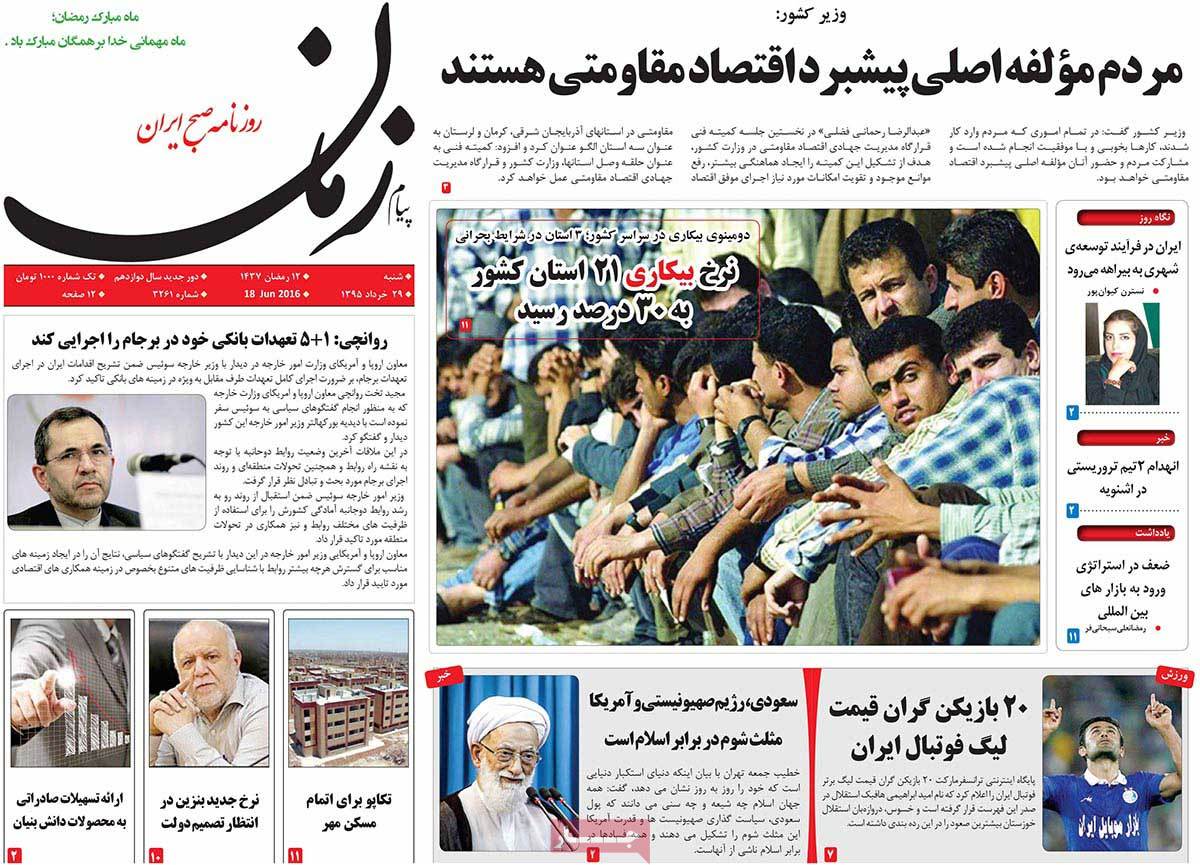 ---
Quds:
1- If I Could Go Back 3 Years, I'd Behave More Maturely: Iran's Nuclear Chief Salehi
[Quds: Ali Akbar Salehi's name reminds us of Iran's nuclear energy program. Even when he was a Foreign Minister in Ahmadinejad's administration, he was known more as a nuclear scientist than a diplomat. This might not be a true perception, but it exists and no one can deny it.]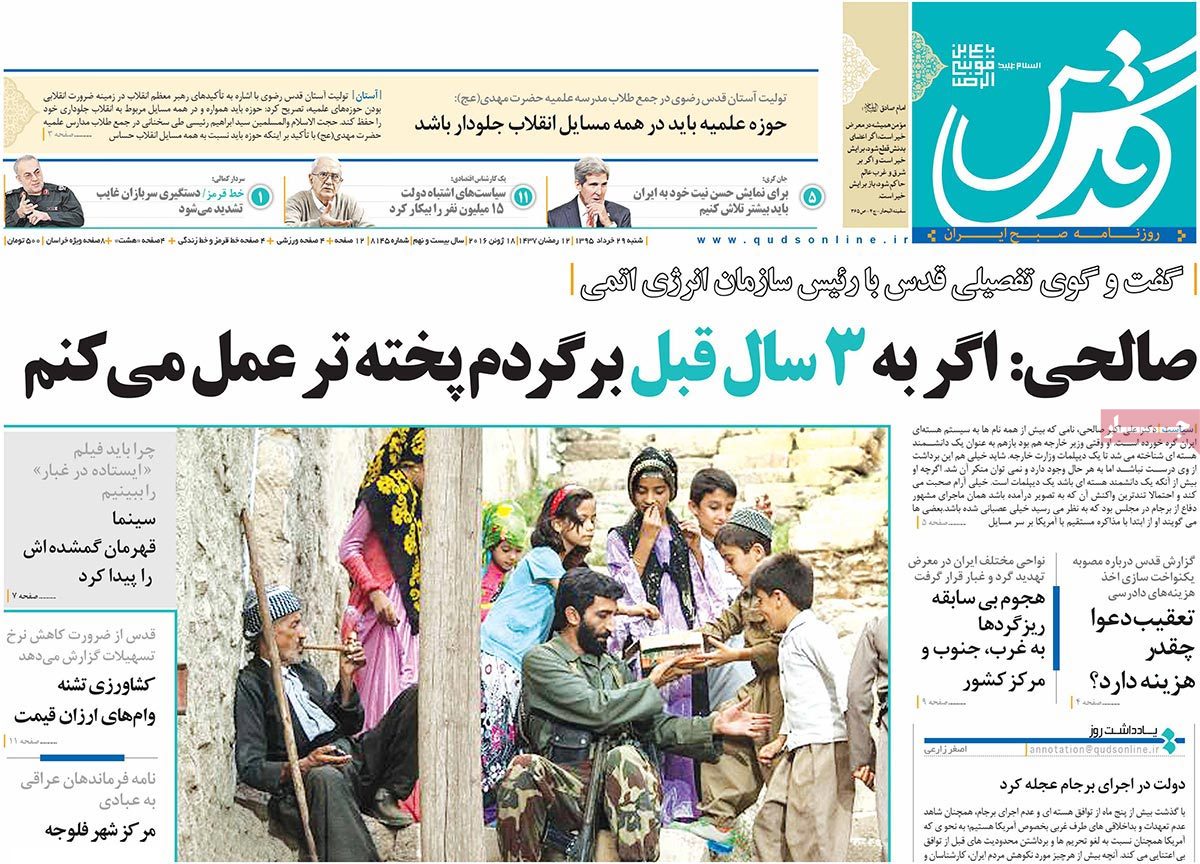 ---
Resalat:
1- What's Zarif's Response to Kerry's Lie? US Claims to Have Removed Anti-Iran Sanctions
2- Government's Incorrect Policies Have Left 15m Iranians Unemployed
3- Syrian Government More Powerful than Before: CIA Chief
---
Roozan:
1- Iran, Main Topic of St. Petersburg Summit: Putin Invites Iran to Cooperate in Economic Development of Eurasia
2- Empty Government Think-Tanks: Report on Rouhani Administration's Media Weakness in Dealing with Attacks from Critics
---
Sepid:
1- Tell Me How Much Salary You Receive! Whistle-Blowing, Political Fuss, or another Move to Dig Up Political Dirt, Using It against Opponents [in Ahmadinejad's style]?
---
Shahrvand:
1- Explosion in Shahran, Disruption in Tehran: Water, Power, Gas, and Communication Lines Cut for Hours
2- Driven Out of Iraq, Forsworn in Iran: 50 Families in Iranian Refugee Camp Dream of Having Identity Cards
3- IRIB's Live Broadcast of Euro 2016 Games Makes Up for Its Lack of TV Series during Ramadan
4- Taboos Broken in Esteghlal's Camp: Women Watch Pre-Season Training in Stadium
---
Shargh:
1- Curious Case of Khavari in Canada
2- A Major Problem with Iranian Cinema Is the Illiteracy of Certain Producers: Director
---
Shorou:
1- Gas Pipe Explosion in Shahran's Second Square: 2 Workers Might Be Missing
2- Need for Revision of Iran's Banking Laws
3- Police to Arrest Those Who Avoid Military Service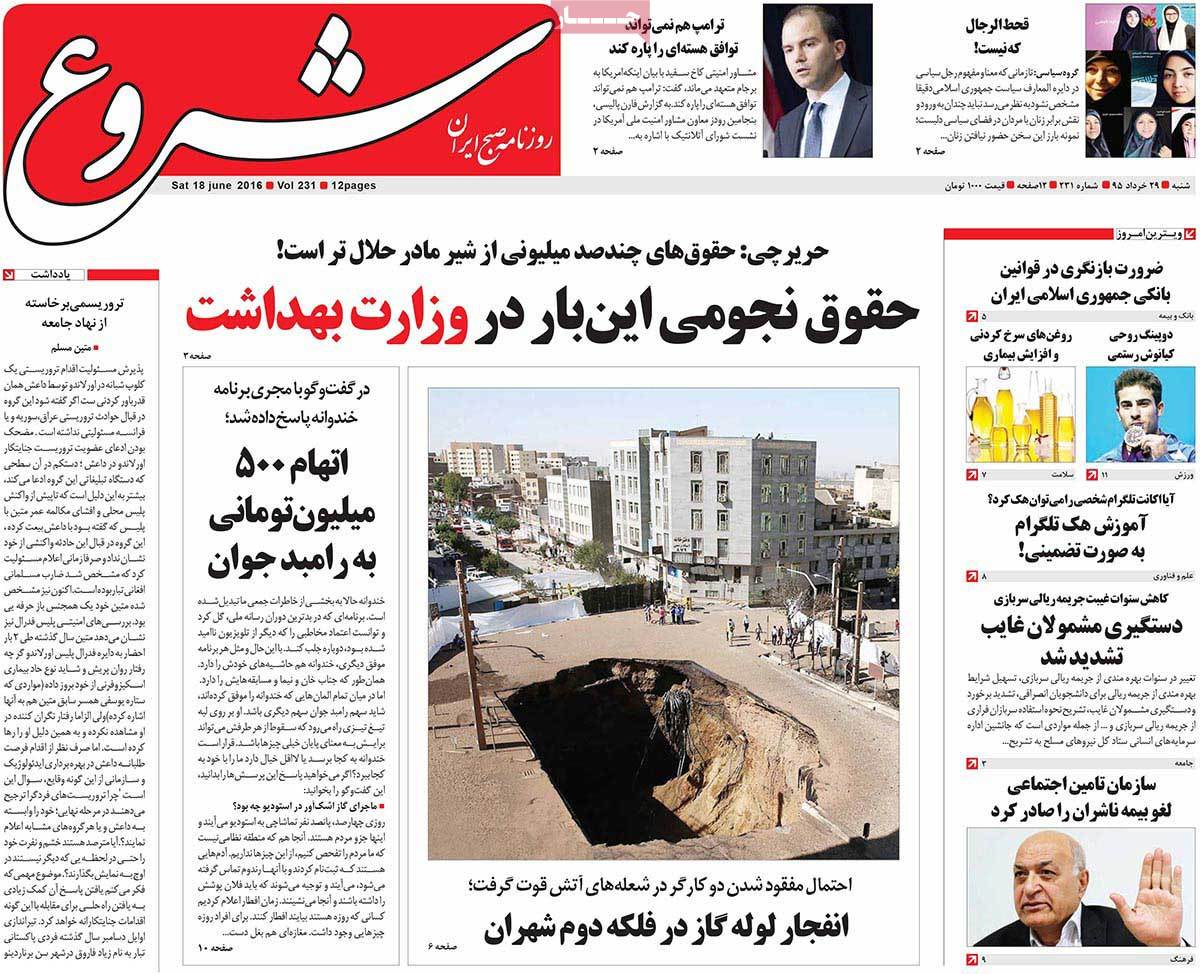 ---
Vaghaye Ettefaghieh:
1- Another "Saturday" for Government: Will Anti-Gov't Think-Tanks Convene Today?
2- Iran, One Step Ahead; US, One Step Back: Zarif Corners Kerry in Oslo Summit
3- Republicans Turning Their Back on Trump
---
Vatan-e Emrooz:
1- Further Sanctions Can't Make Iran Surrender: Ben Rhodes
2- Easy Job for Next Iranian President
3- Armed People Set Fire to 2 Iranian Trucks in Turkey