Newspapers on Thursday continued to discuss the ongoing issue of unemployment in Iran, citing the newly-released unemployment rate of 11.8%, which shows a slow increase compared with previous years.
A closed-door meeting between Iranian Foreign Minister Mohammad Javad Zarif and his US counterpart John Kerry was also widely covered by many newspapers.
They also focused on a landmark deal between Iran and the US giant plane-maker Boeing, based on which 100 passenger planes will be sold to Tehran after the US government's green light.
Abrar:
1- [Iranian Diplomats] Araqchi and Takht-Ravanchi Meet Stephen Mull
2- Heads of 3 Branches of Iranian Government Hold First Joint Meeting
3- Iran Should First Stop Its Destabilizing Activities to End the Negative Atmosphere Resulted from Sanctions: US Spokesman
---
Abrar-e Eqtesadi:
1- New Round of Iran's Competition in Oil Market
2- Iran Opposed to Hungary's Oil Offer
---
Aftab-e Yazd:
1- Protest Rallies for Bread: People Pour into Caracas Streets Because of Famine
2- If Nuclear Deal Was a Bad One, Netanyahu Would Have Supported It: Politician
3- Aref Ready to Be Elected as Head of Parliament's Education Commission: Source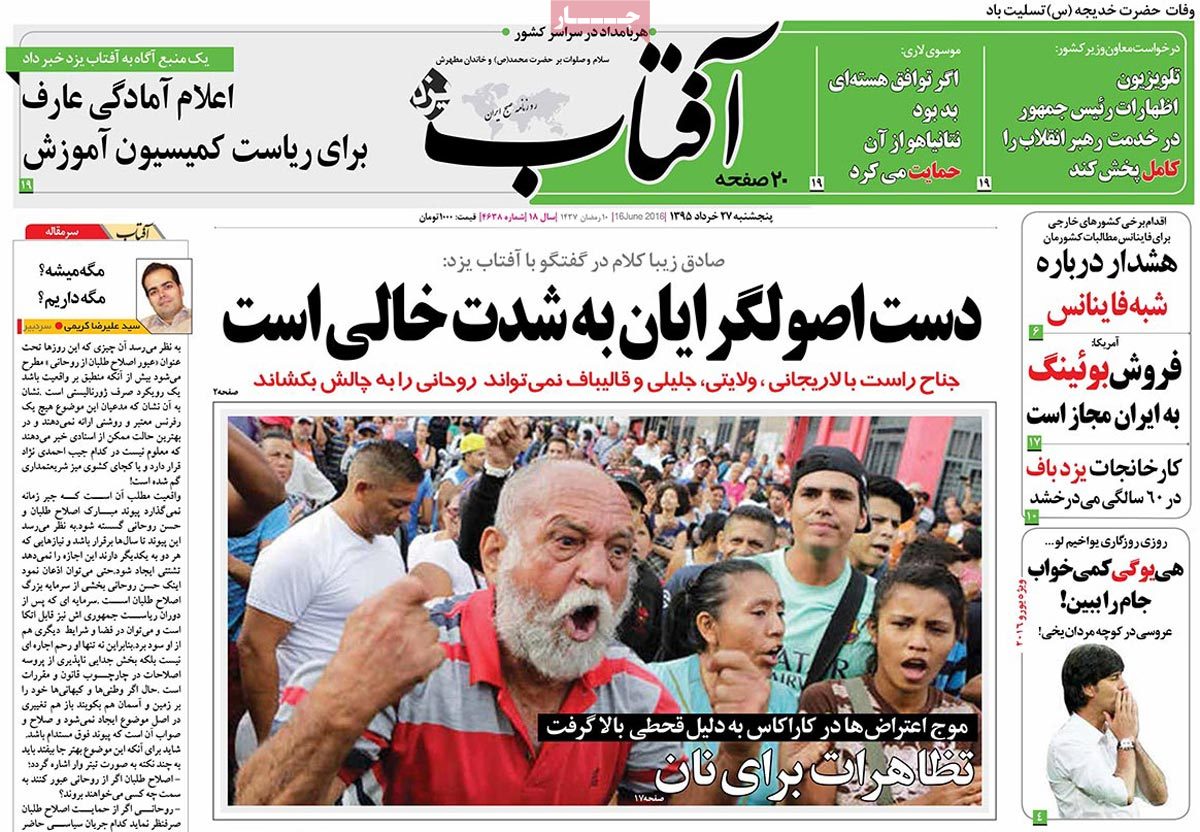 ---
Arman-e Emrooz:
1- Kerry and Zarif Greeting Once Again!
2- Beginning of Rouhaniphobia Project
3- Zibakalam: Opposition to Gov't Shows Rouhani's Success
4- Iran Officially Files Lawsuit against US: Rouhani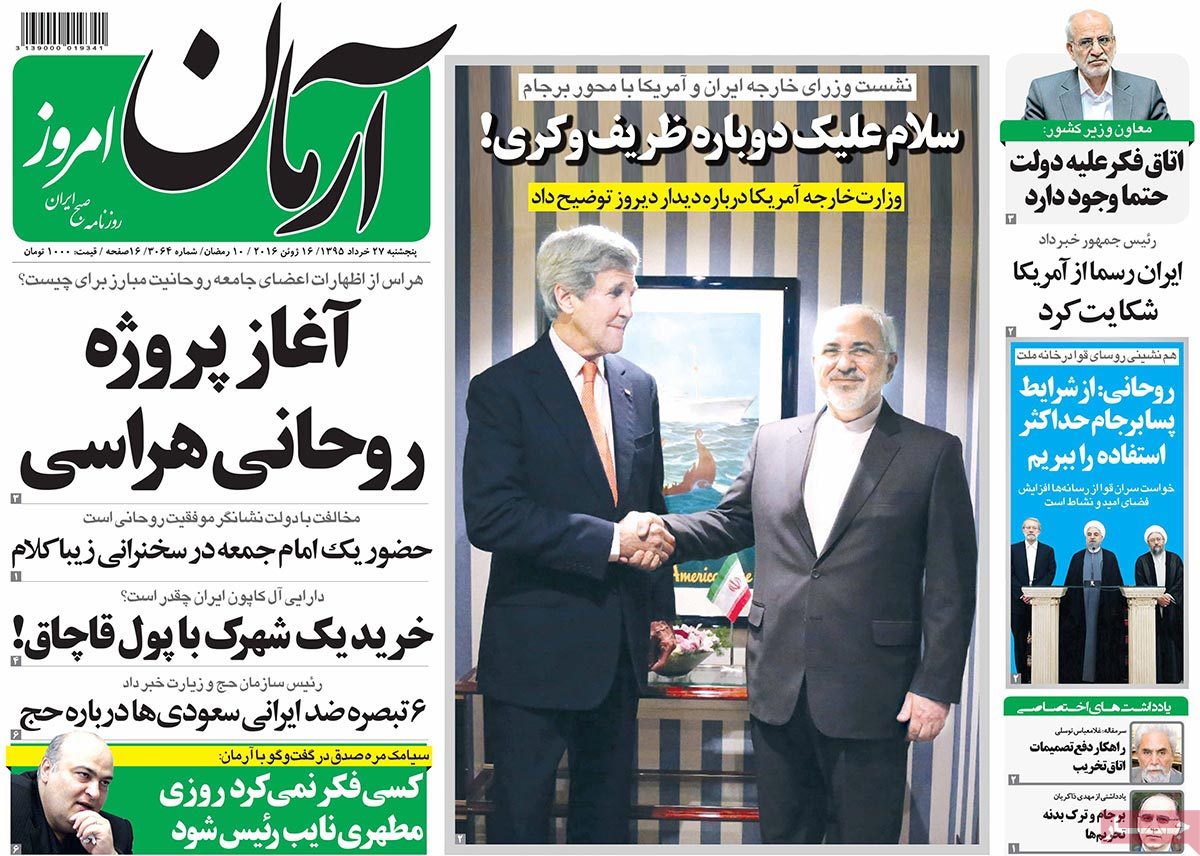 ---
Asrar:
1- West Would Be Surprised to See How Fast Iran Returns to Previous [Nuclear] State: AEOI Spokesman
2- Those Who Attacked Saudi Embassy in Tehran Will Be Tried on July 18
3- 100 Boeing Planes En Route to Iran
4- Iraqi Forces Arrive at Mosul Gates
5- Iran Volleyball Team to Compete with Brazil in First Leg of World League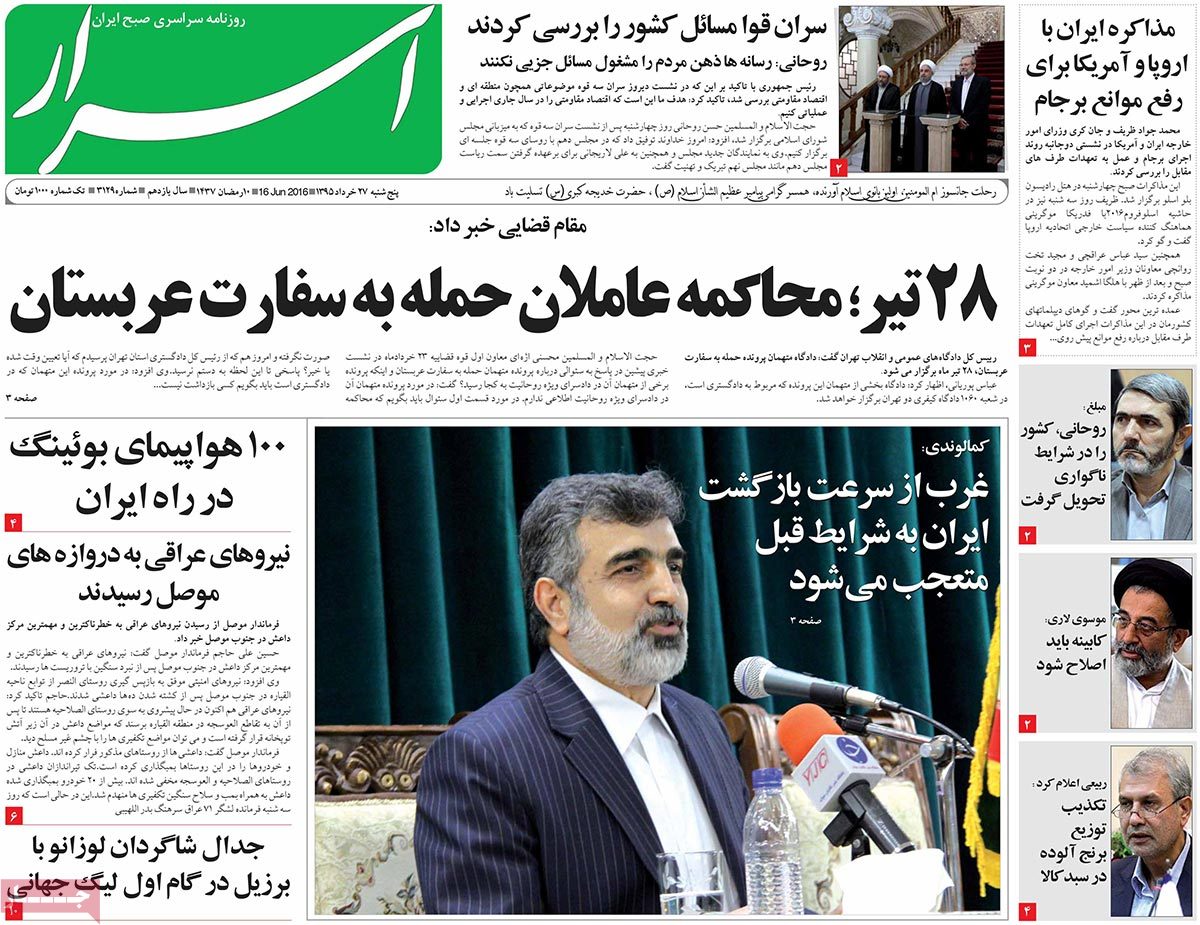 ---
Ebtekar:
1- Moscow Waiting for Ankara's Official Apology
2- Famine "Zombie" Waiting in Ambush for Iran
3- 70 Minutes behind Closed Doors: Zarif and Kerry Meet in Oslo
4- Inflation Rate to Become 1-Digit Next Month: CBI Chief
---
Etemad:
1- It's Time for a Cabinet Reshuffle: Politician
2- Don't Exaggerate about Small Deficiencies: Rouhani
3- Slow Increase in Unemployment Rate
---
Ettela'at:
1- Unemployment Rate Stands at 11.8%
2- Iraqi Army Takes Control of Fallujah Dam
3- Zarif and Kerry Hold Talks to Remove Barriers to JCPOA Implementation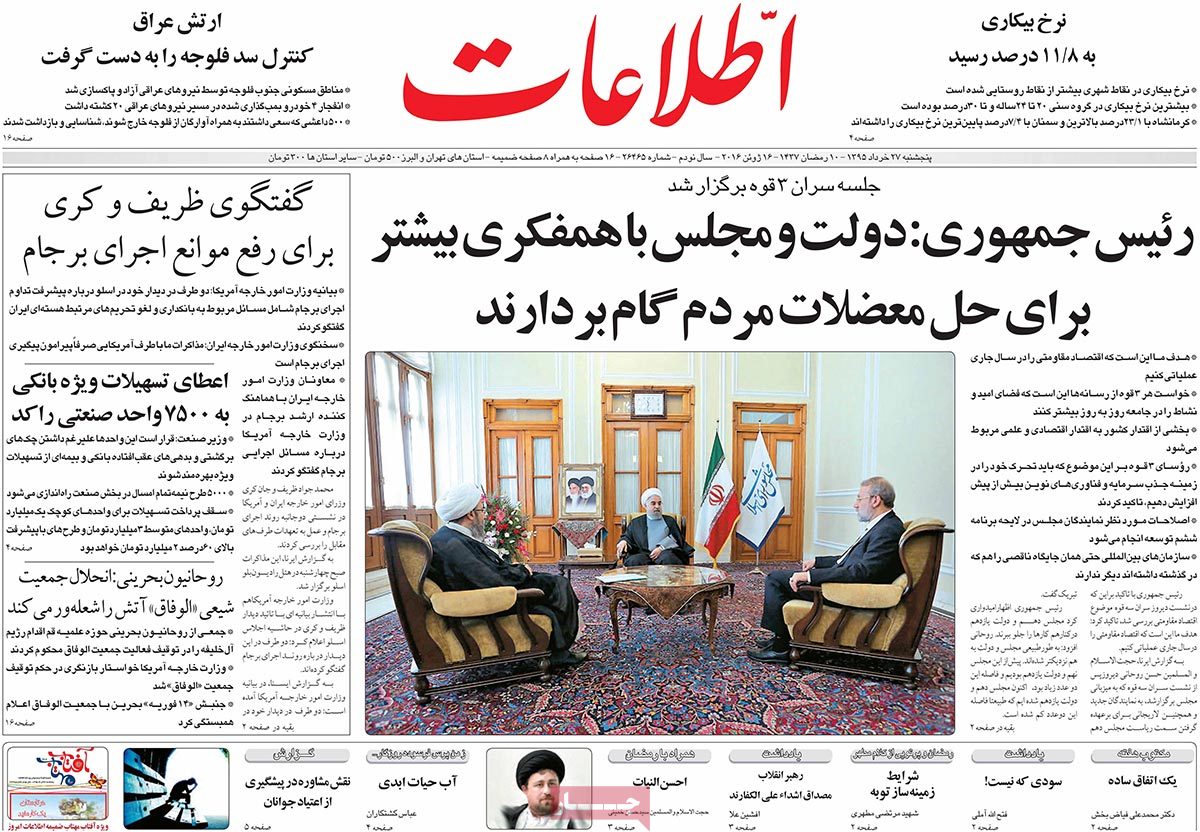 ---
Ghanoon:
1- Trial of Those Who Climbs the Walls [of Saudi Embassy]
2- Tsunami of Unemployed University Graduates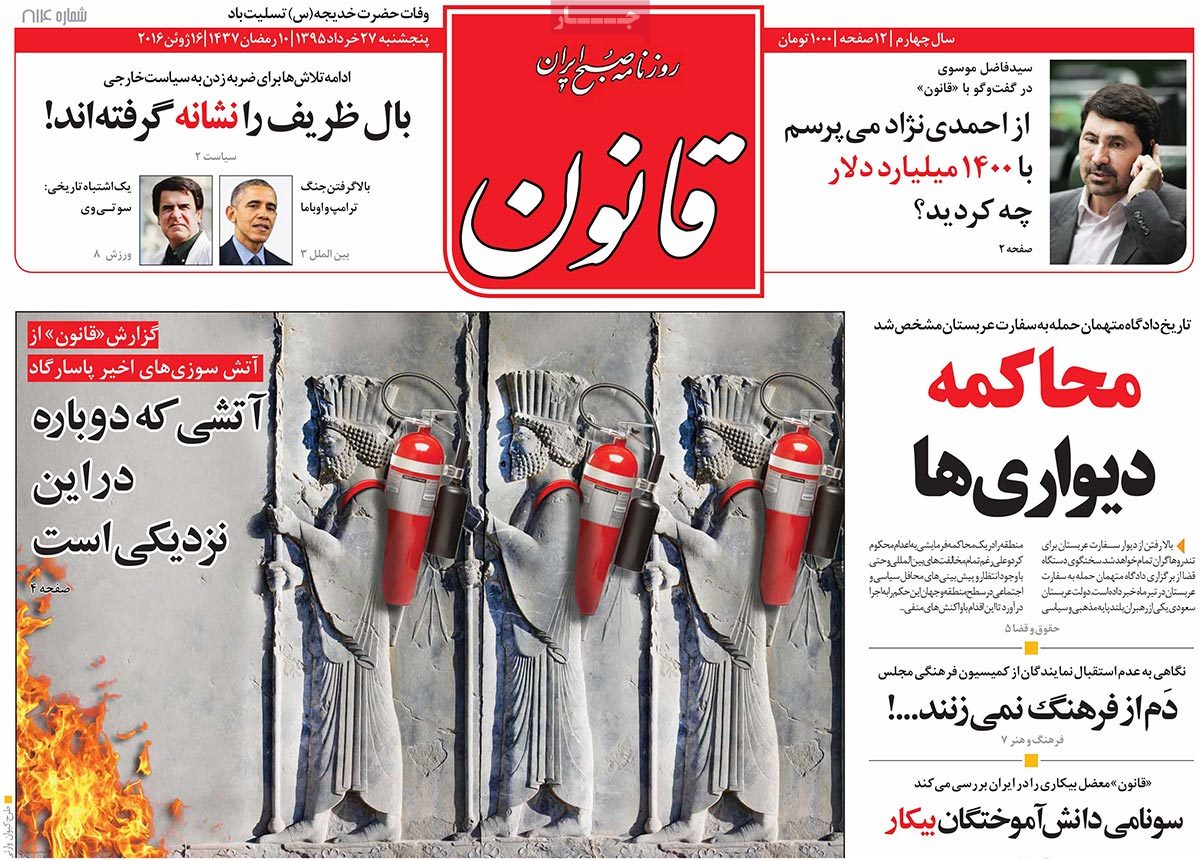 ---
Hemayat:
1- Iran Warns G5+1 against Violation of JCPOA
2- New Round of Crackdown in Bahrain
3- New Documents Revealed of US Role in ISIS Emergence
---
Iran:
1- Acceleration of JCPOA Implementation Discussed on Negotiating Table
2- Boeing's Return to Iran after 37 Years: White House Gives Permission to American Giant for Deal with Iran
3- A Hospital Dedicated to Helping Student Drug Addicts Stop Using
4- Post-JCPOA Era, an Opportunity for Economic Boom and Employment: President
---
Jame Jam:
1- Foreign Goods Dominating Iranian Market: Culture-Raising against Branding
---
Javan:
1- $17bn Boeing Lands on Runway of Resistance Economy: Iran to Buy 100 Boeing Planes
2- We'll Put Resistance Economy into Action This Year: Rouhani
3- Details of Arrest of Iranian-British Spy in Imam Khomeini Airport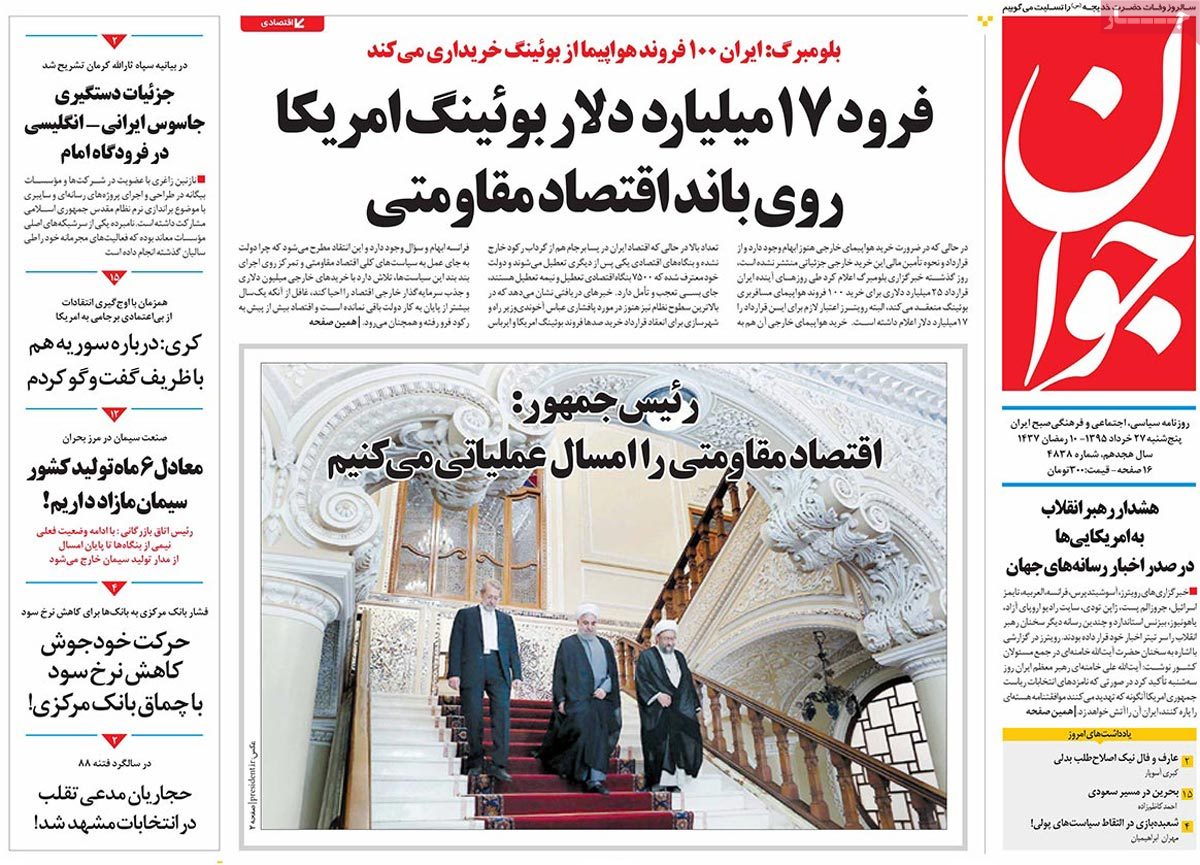 ---
Jomhouri Eslami:
1- [Top Iraqi Shiite Cleric] Ayatollah Sistani Once Again Invites Iraqi People to Unity
2- Warnings for France and Belgium: Terrorists Will Soon Start Their Attacks
3- US to Give Zionist Regime [Israel] Biggest Military Aid of History
4- UAE's Third Chopper in 2 Days Crashes in Southern Yemen
5- Don't Be Afraid of Saudi Bombardment of Yemen, Because They Don't Bombard UN: Yemeni Child Writes to UN Secretary-General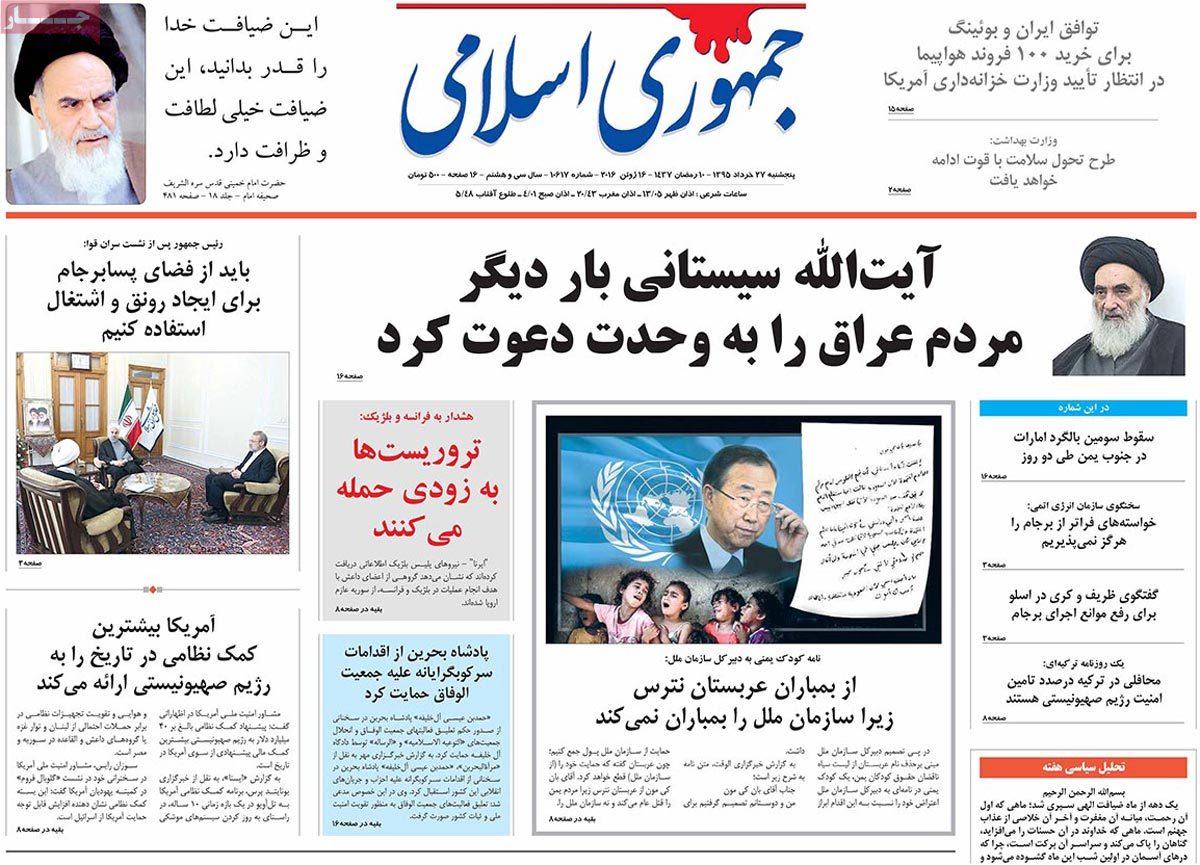 ---
Kayhan:
1- Apology before Cameras, Prosecution of Whistle-Blowers behind the Scenes [on astronomical salaries]
2- Iraqi FM Praises General Soleimani's Special Role in Fallujah Battle
3- Role of Aristocrats and Spies in Brazil's Coup
---
Khorasan:
1- New Aspects of USA's Demands beyond Scope of JCPOA
---
Resalat:
1- 80% of American People Consider Their Gov't a Corrupt One
2- Riyadh's Red Carpet for Tel Aviv: Saudi Arabia's Yes Vote to Presidency of Zionist Regime
---
Shargh:
1- 75 Years of Prison Awaiting Reza Zarrab
2- Clinton and Sanders Issue Statement to Unite Democrats
3- Why Iranians Are Fans of Sanders?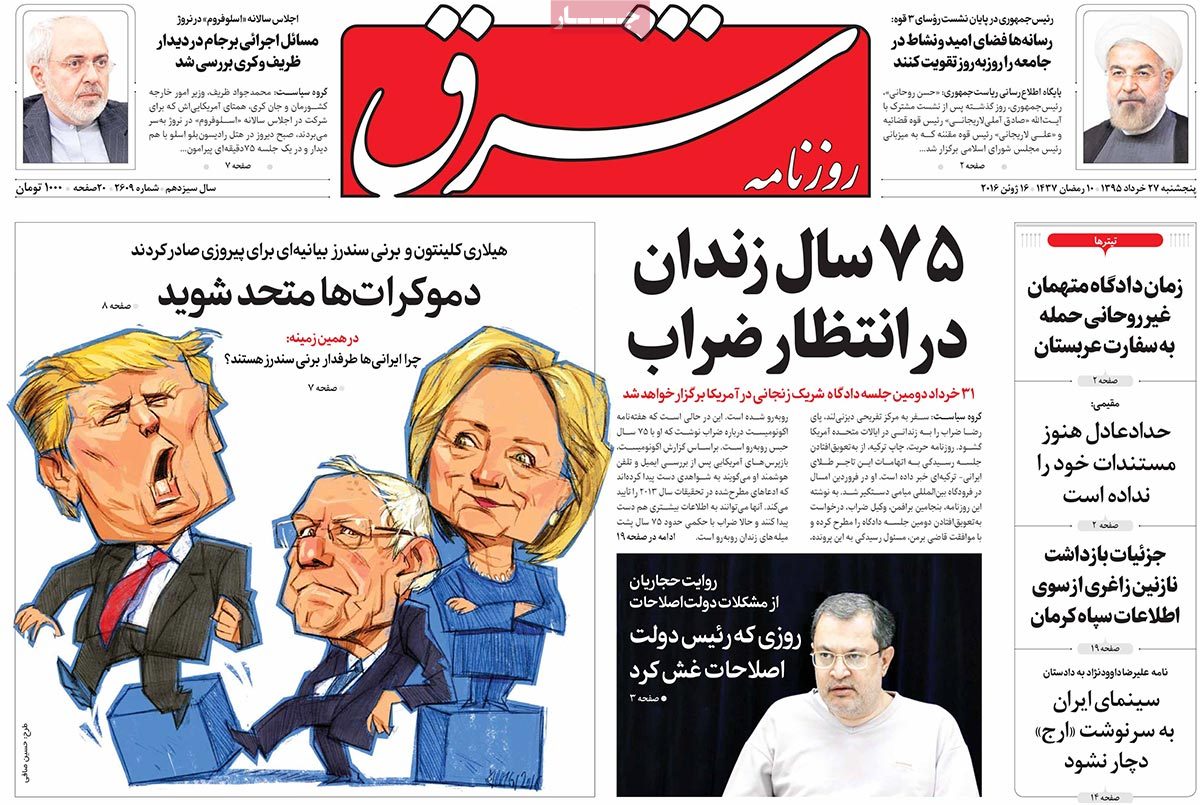 ---
Vaghaye Ettefaghieh:
1- Rouhani Urges Iranian Media to Spread Happiness among People
2- We're Undefeatable Because of Our Military and Spiritual Preparedness: Navy Commander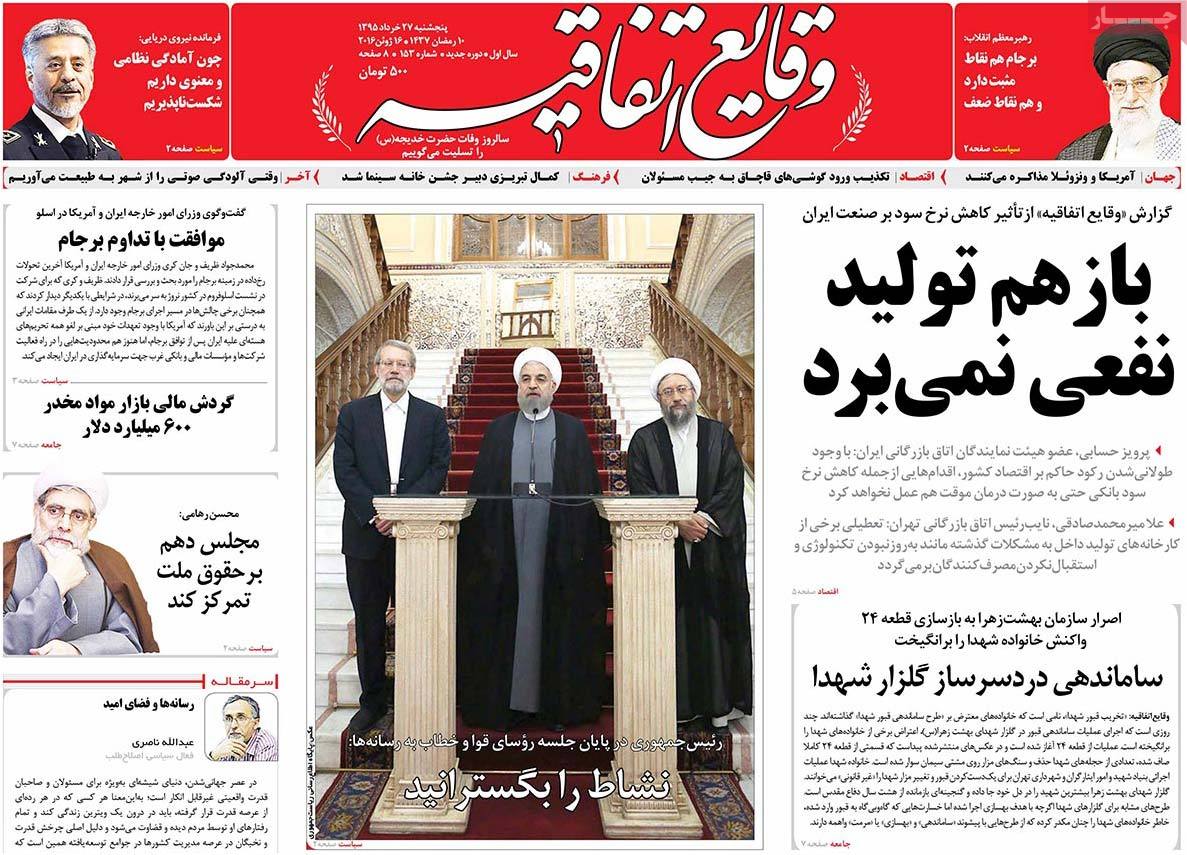 ---
Vatan-e Emrooz:
1- If Someone Earns Higher Salaries, We Shouldn't Make It a National Issue: Rouhani
2- Iran's Society Not Feeling Well: Sociologist
3- US to Implement Its JCPOA Commitments If Iran Stops Supporting Resistance Movement Hezbollah