Leader of the Islamic Revolution Ayatollah Seyyed Ali Khamenei met senior Iranian officials in Tehran on Tuesday night. During the meeting, the Leader emphasized that if the other parties to the JCPOA, the nuclear deal, tear it up, Iran would set it on fire. The sentence was repeatedly mentioned by almost all Iranian newspapers on Wednesday. To avoid repetition, IFP has avoided citing all of them, and focused on other remarks quoted by newspapers from the Leader's comments.
A meeting between Iran's Foreign Minister Mohammad Javad Zarif and US Secretary of State John Kerry in Oslo was also a top story in many papers.
Saudi Arabia's sponsorship of US election campaigns, as well as the huge increase of Iran's oil output and exports were also widely covered.
Abrar:
1- West Should Play a Far More Active Role in Removing Anti-Iran Sanctions: Zarif
2- I Issued Fatwa to Defend Iraq against Foreigners, Not Sunnis: Top Shiite Cleric Sistani
3- We Should Further Encourage Companies to Do Business with Iran: Mogherini
4- Zarif and Kerry Will Meet Today: Araqchi
5- Conflicting Reports of Death of ISIS Leader
6- Russia Can Attack Eastern Europe in Few Hours
7- Thirst, Hunger, Escape from ISIS: Humanitarian Catastrophe in Fallujah
---
Aftab-e Yazd:
1- Think-Tanks Are Formed to Taint Gov't
2- They Have Created an Unfair Atmosphere against Gov't: Minister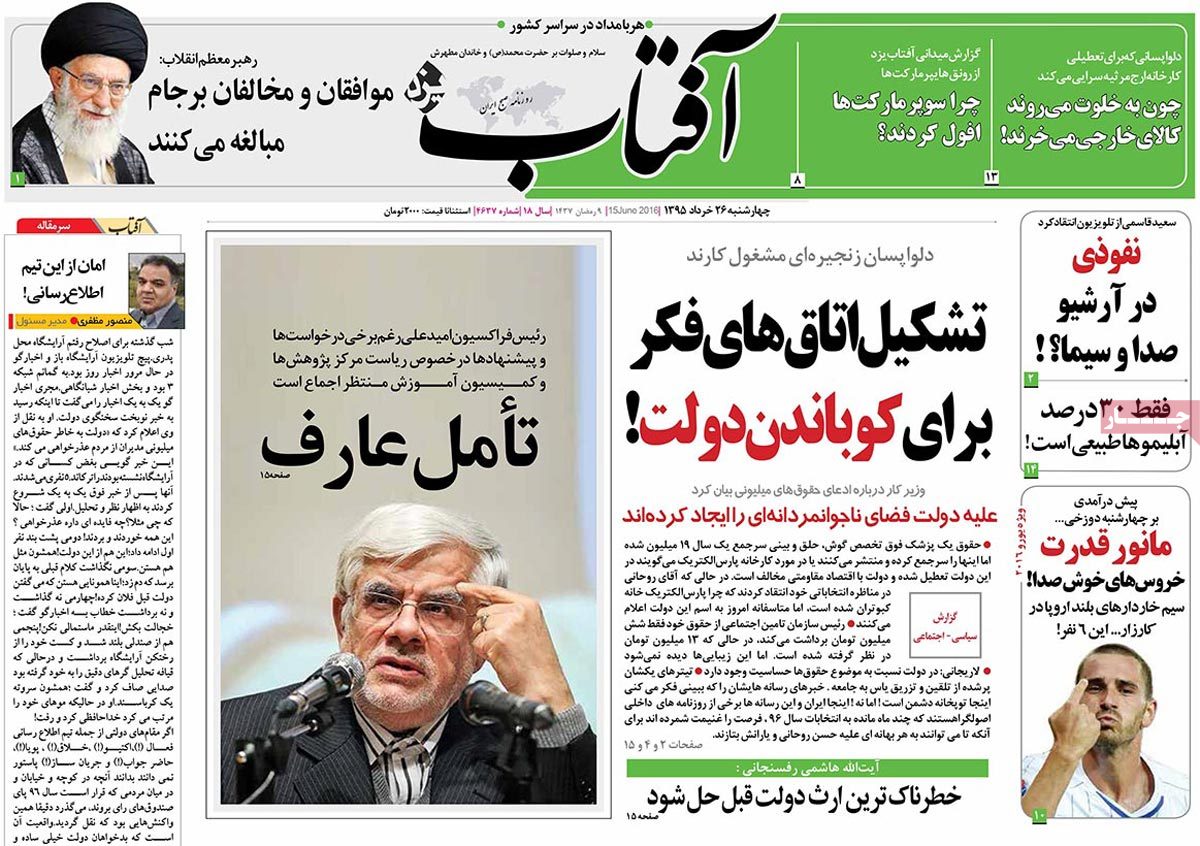 ---
Arman-e Emrooz:
1- Government Spokesman: Opponents of Gov't Hold Regular Meetings on Saturdays [to discuss what they are going to focus on during the week]
2- Both Opponents and Proponents of JCPOA Exaggerate: Leader
3- Impossible to Deceive People Anymore by Distorting the Facts: Rafsanjani
4- Kiarostami's Latest Film [Like Someone in Love] Selected as Third Best Film of Century
5- Ahmadinejad Is the Product of Limited Political Space
---
Asia:
1- US Treasury Becomes Guide to Investment in Iran
2- Iran-US Talks on Sidelines of Oslo Summit
---
Asrar:
1- Inflation, Downturn, and Unemployment Are Inheritance of Previous Gov't: Rafsanjani
2- Iran Reaches Agreement with Boeing: Minister
3- Alarming Rate of Child Marriage in Tehran
4- Bin Salman: 20% of Clinton's Campaign Budget Funded by Saudi Arabia
---
Bani Film:
1- Exclusive Interview with Cannes Film Festival's Director [Thierry Fremaux]: We Don't Give Recommendations to Juries for Any Movie
2- Ken Loach Ashamed of Making Ad for McDonald's
3- Downton Abbey's Creator to Make Film about Rolling Stones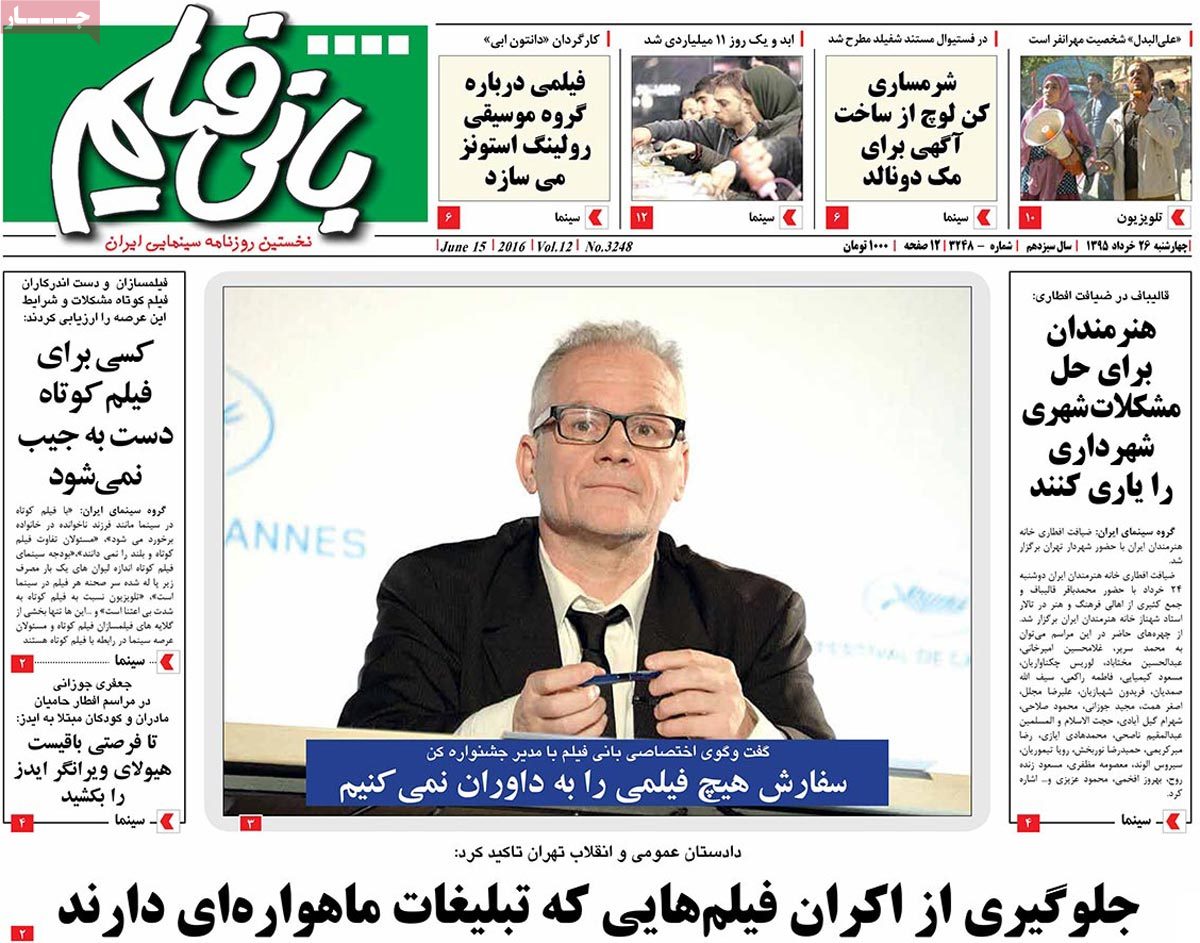 ---
Ebtekar:
1- 3.8-Fold Increase in Oil Output under Rouhani's Administration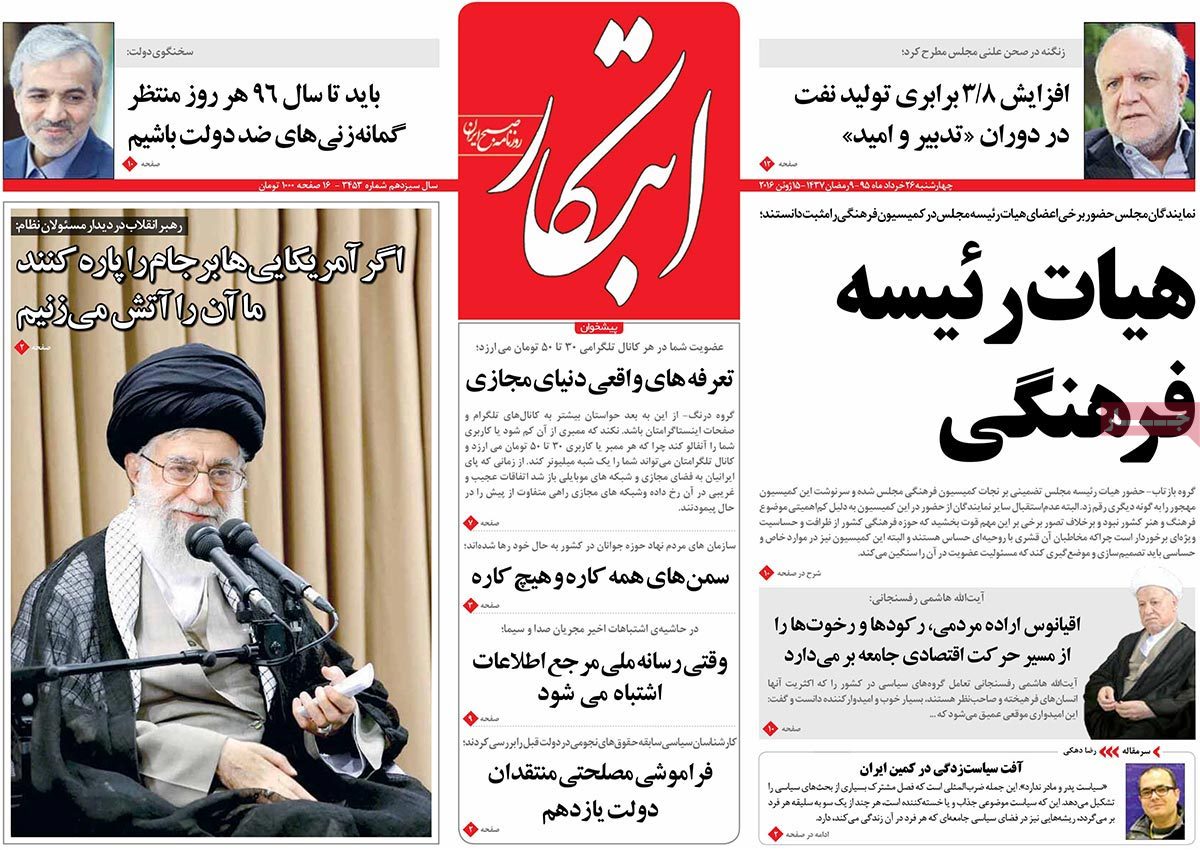 ---
Emtiaz:
1- Iranian Films Advertised on Satellite Channels to Be Banned from Public Screening: Prosecutor-General
2- 2.1m Iranians on Verge of Sudden Unemployment
3- Issuance of E-Visas for Foreign Tourists to Begin by Year End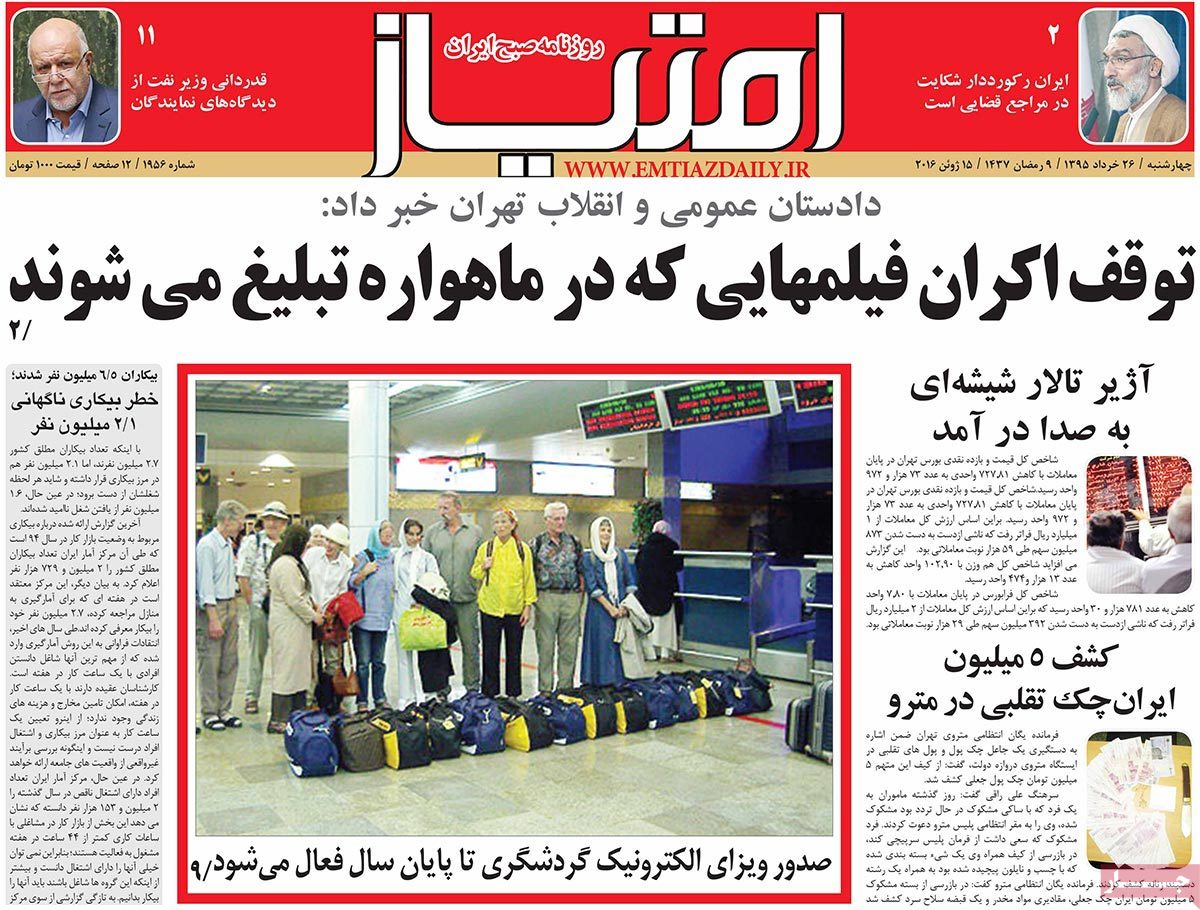 ---
Etemad:
1- In JCPOA, Other Party Has Failed to Fulfil Its Duty, Which Was Removing the Sanctions: Leader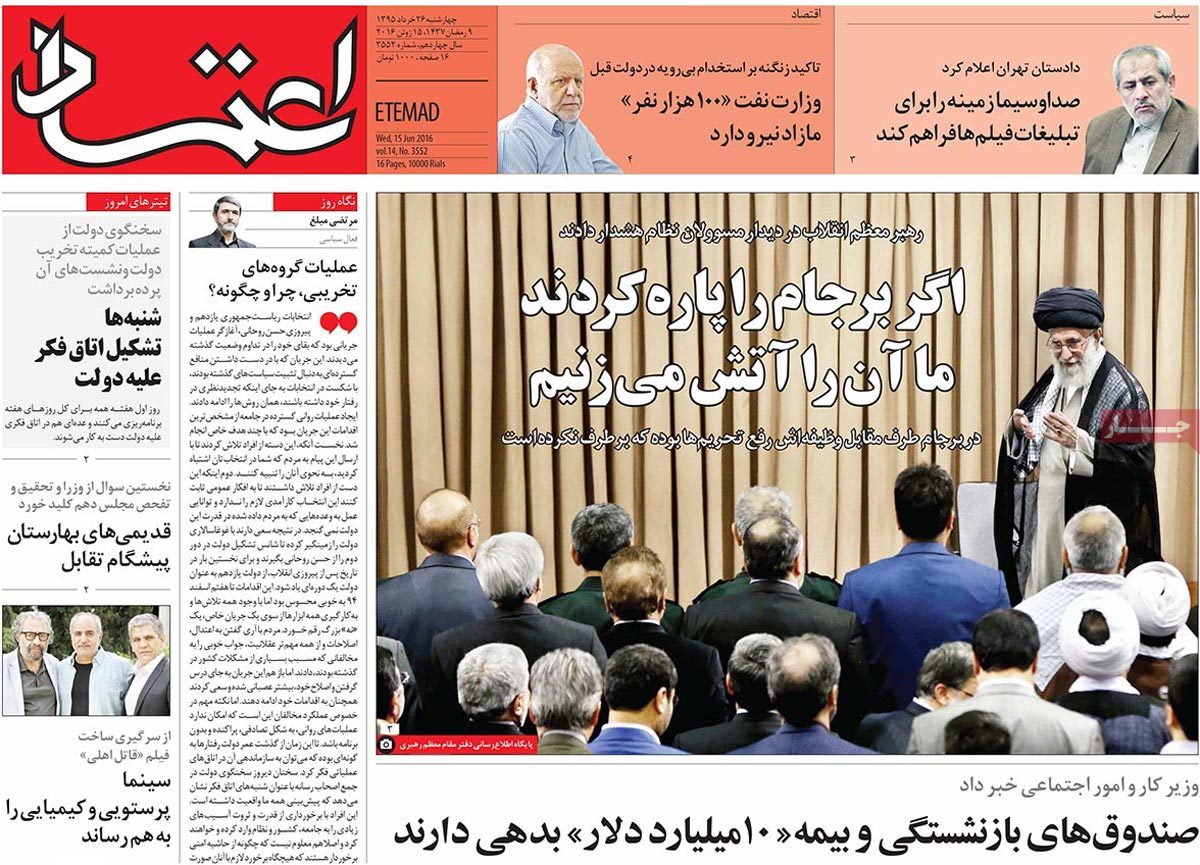 ---
Ettela'at:
1- Iran's Oil Export Amounts to 2m bpd: Minister
2- Women Are Problem-Solvers, Not Problems: President
3- Criticism of JCPOA Is Not at All Criticism of Our Dear Brothers, It's an Evaluation of Other Party's Performance: Leader
4- ISIS Paris Terror Attack Once Again Fills France with Fear
5- 23 German Mountaineers Surprised by Snow in Kelardasht Heights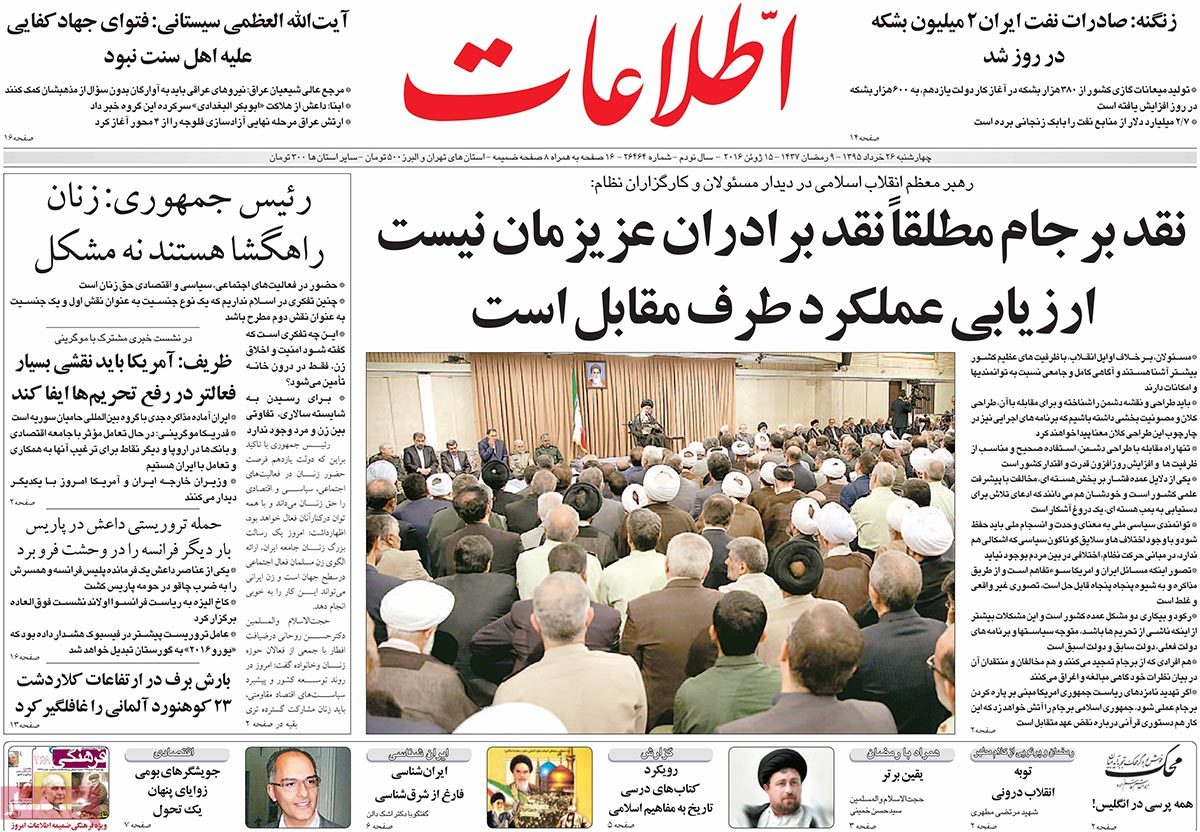 ---
Ghanoon:
1- JCPOA Has Both Positive and Negative Points: Leader
2- Resistance Economy Is Not Isolation from the World: Zarif's Important Speech in Oslo
---
Hamshahri:
1- Labour Minister Defends Payment of $68,000 Salary
2- Recession and Unemployment Are Caused More by Government's Policies and Plans than Sanctions: Leader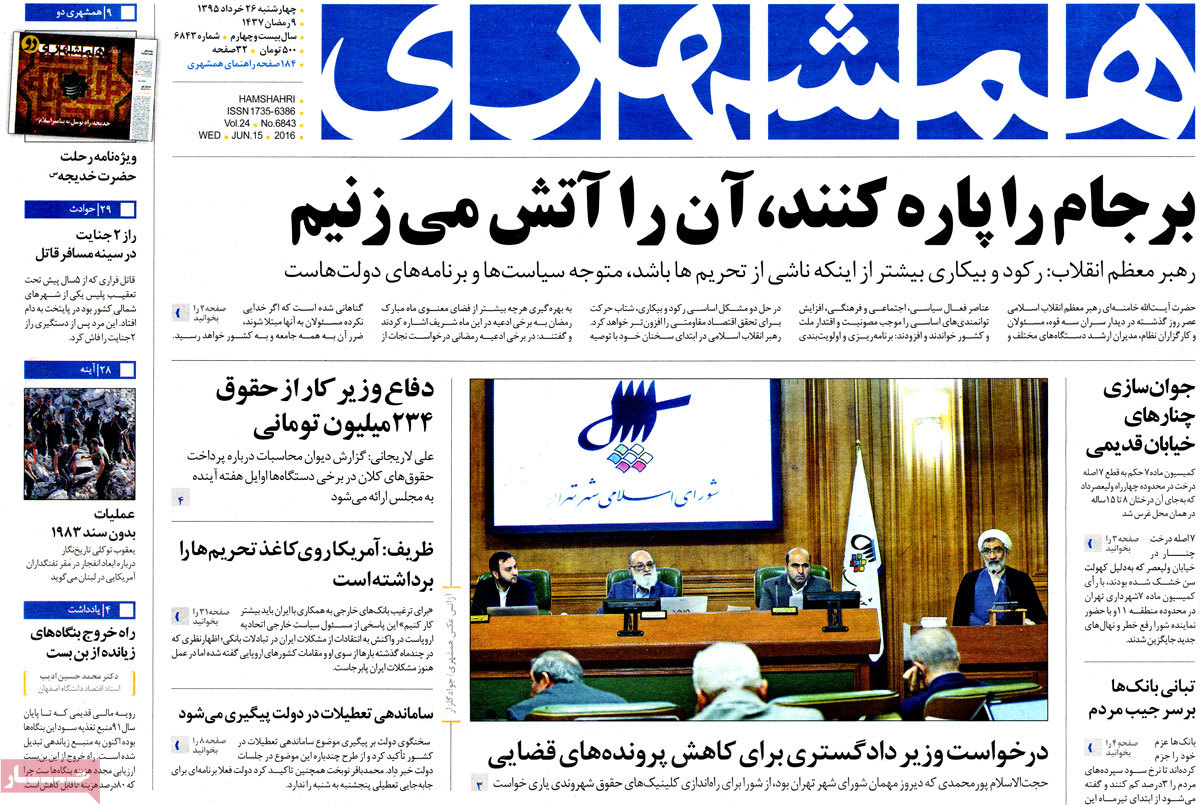 ---
Iran:
1- Parliament Speaker Praises Government's Action on Unconventional Salaries
2- Enemies Hatching Plots to Destroy Iran's Capabilities: Leader
3- Effective Consultation between Iran and Europe for Resolving JCPOA Problems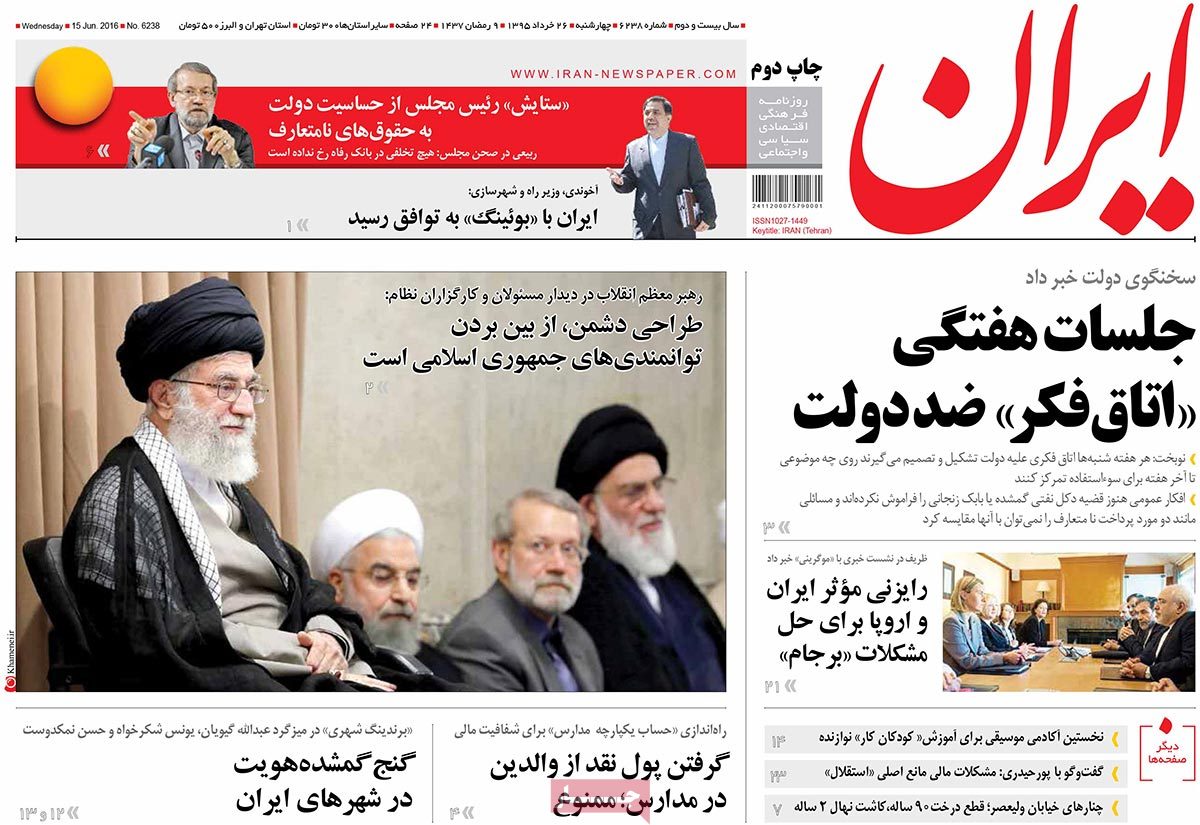 ---
Jame Jam:
1- Iran's Government, Judiciary, and Parliament Resolved to Prevent Payment of Astronomical Salaries
---
Javan:
1- We Cannot Rely on Illusion of "Coming to Terms with US": Leader
2- Telegram's Plan to Influence Iran's Presidential Elections
3- Zarif, Too, Joins Government "Almost Nothing" Campaign: US Has Just Removed Sanctions on Paper, FM Says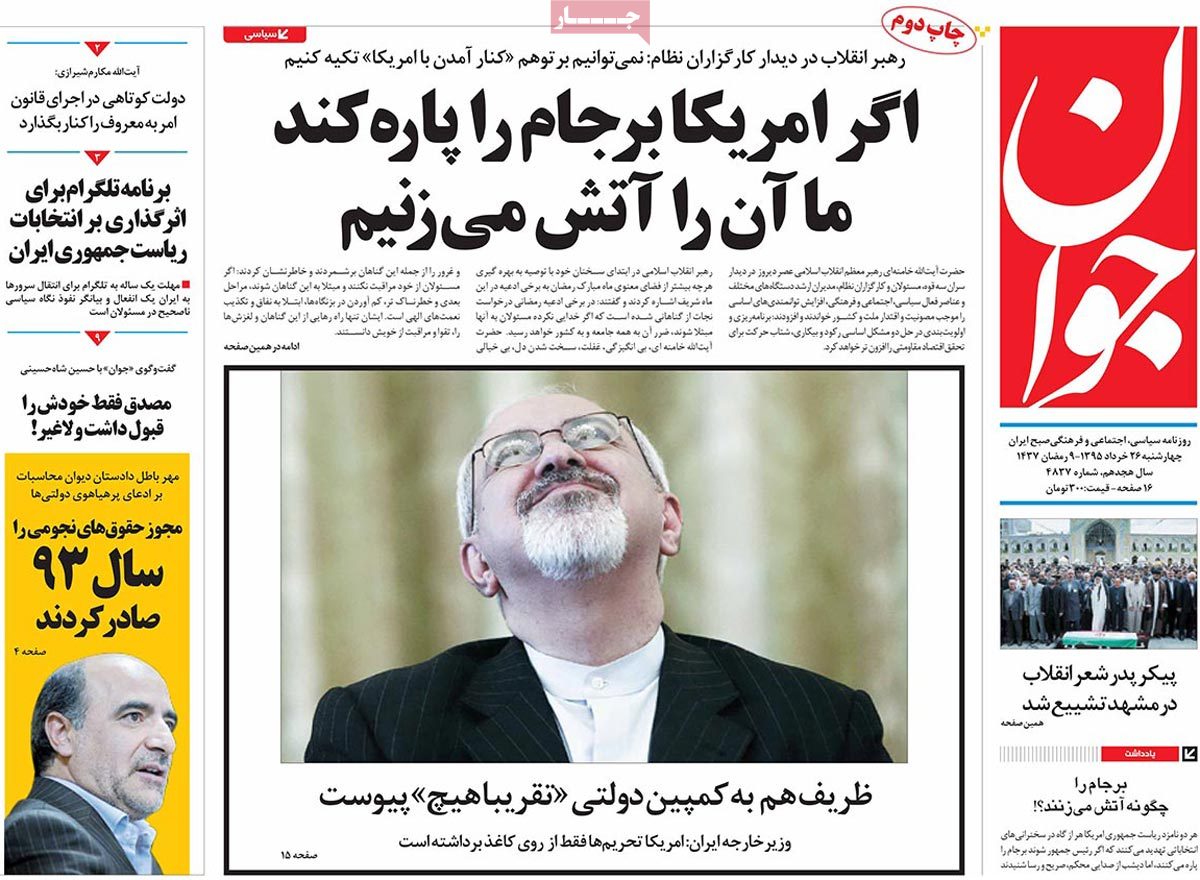 ---
Jomhouri Eslami:
1- We Should Boost the Country's Capabilities: Ayatollah Khamenei
2- We'll Not Violate JCPOA, But If They Tear It Up as US Republican Candidates Say, We'll Burn It: Leader
3- Clinton Accuses Saudi Arabia, Kuwait, and Qatar of Funding Terrorists
4- Chomsky: Europe Following Washington's Policies Blindly
5- Iran's Oil Exports to Europe Back to Pre-Sanctions Level
6- US Treasury Department Issues New Instructions to Clear Ambiguities about Trade with Iran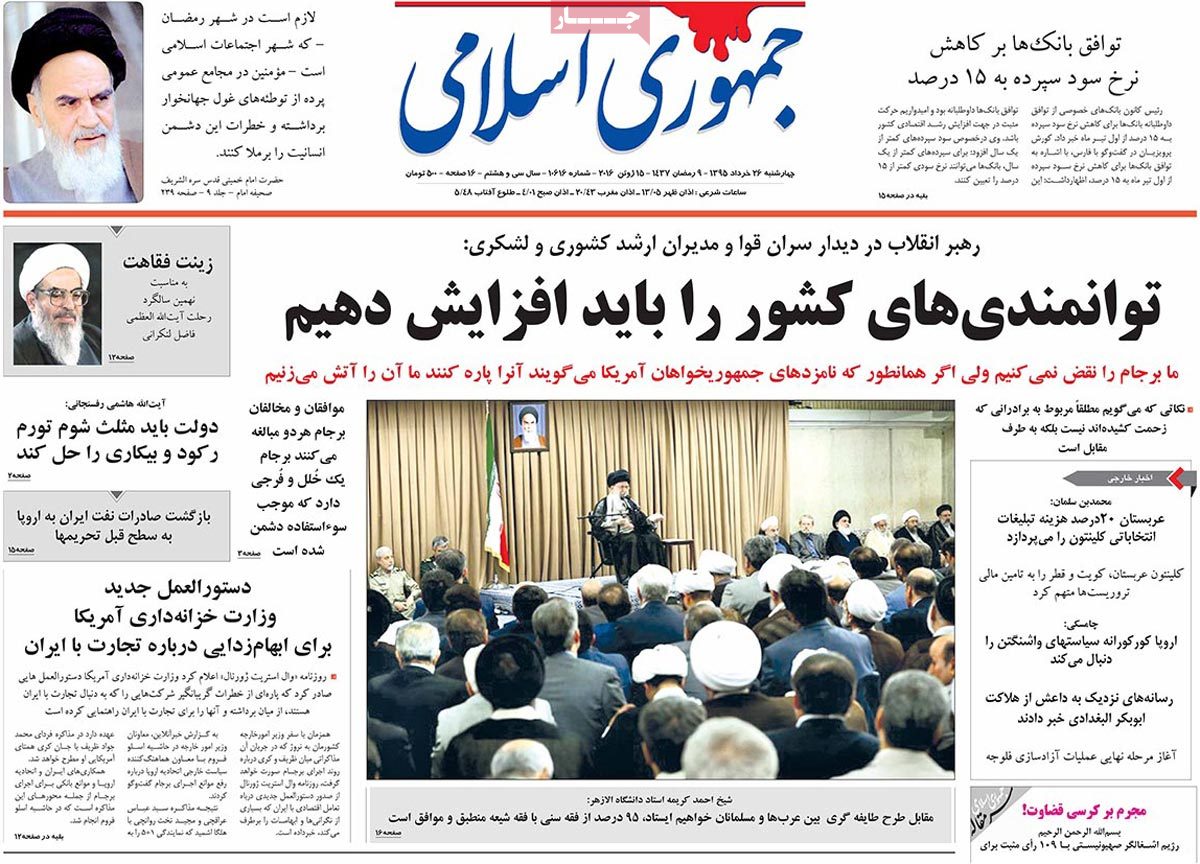 ---
Kayhan:
1- If Americans Tear UP the JCPOA, We'll Burn It: Leader
2- I Have Greatest Respect for Revolutionary and Religious Youth: Leader
3- Kayhan's Manager Summoned to Court Because of Government's New Complaints
4- Police Chasing Takfiris [terrorists] in European and American Streets
5- Israel Becomes Head of UN Counter-Terrorism Committee!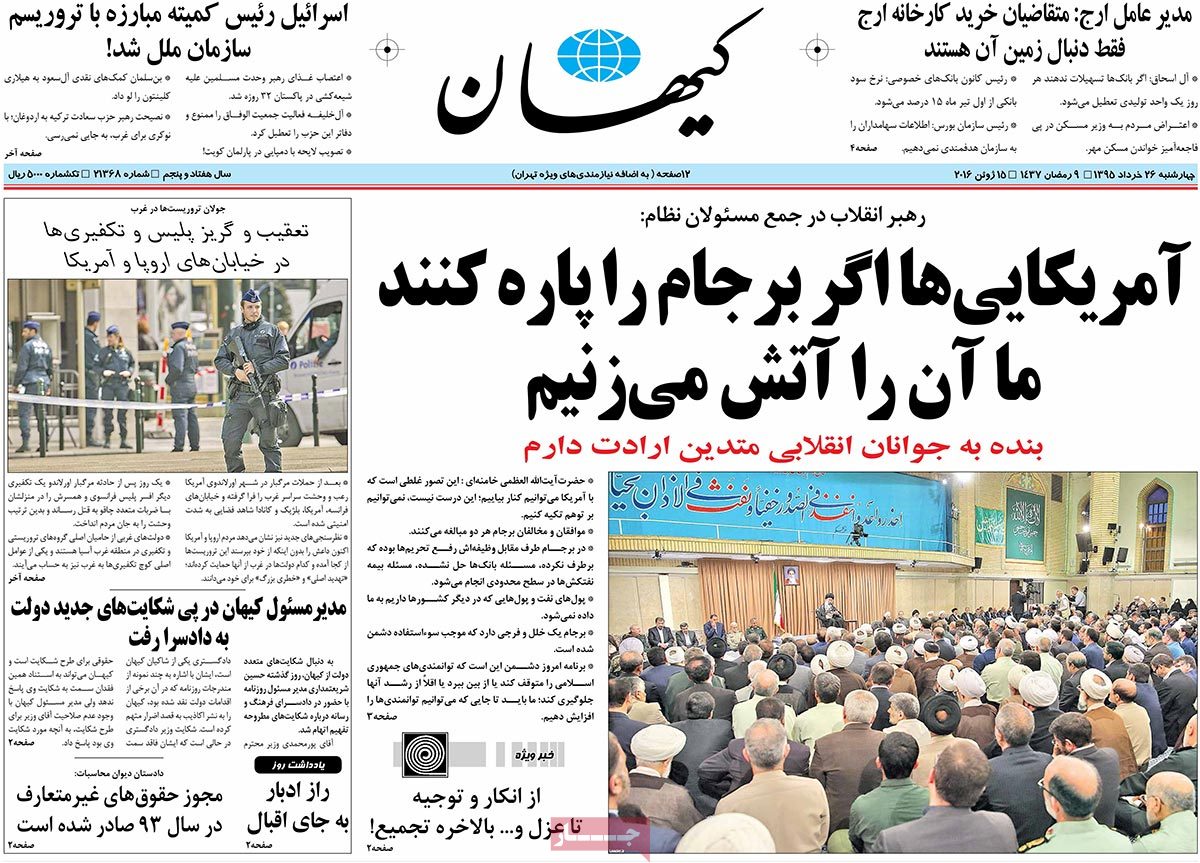 ---
Khorasan:
1- New Scandal for UN: Zionist Regime [Israel] Becomes Chair of UN Legal Committee!
2- Orlando Shooter Was a Member of Gay Club Himself: AP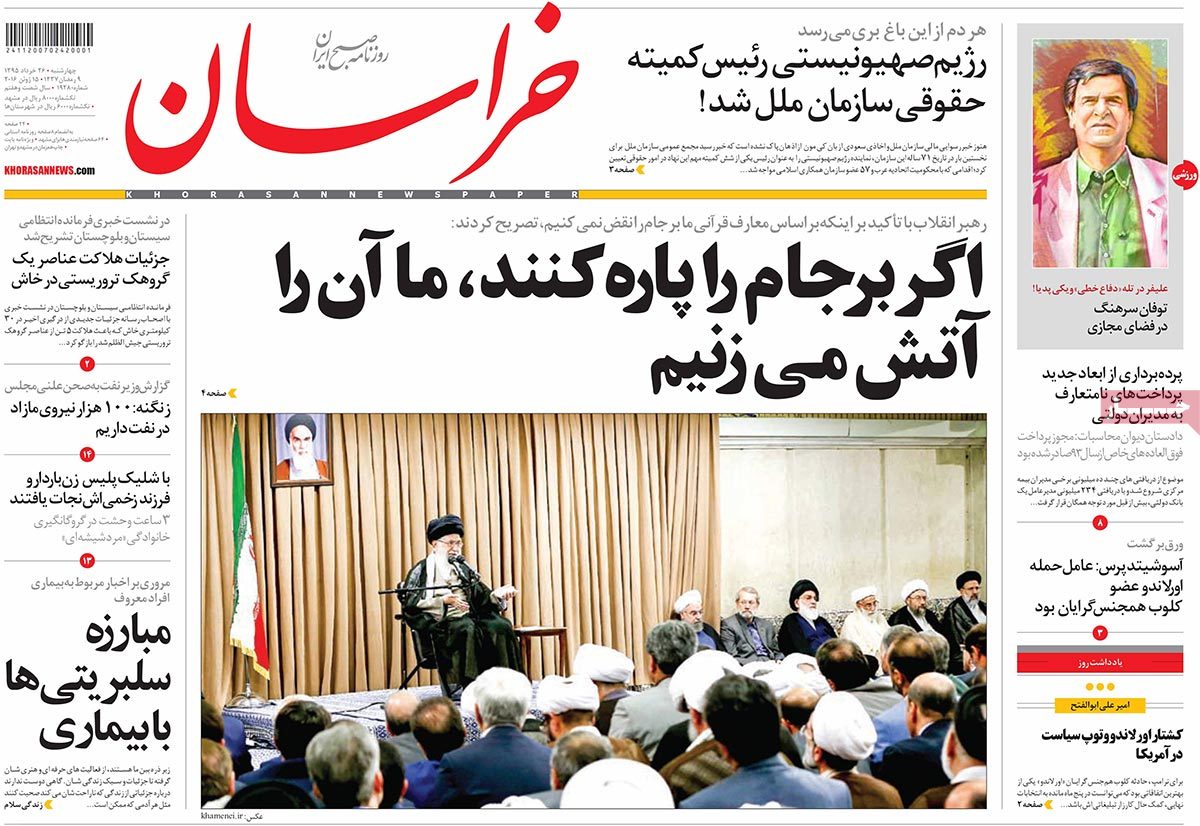 ---
Resalat:
1- Iran Has World's Highest Rate of Lawsuits Filed: Minister
2- Saudi Role in US Elections: US Polls Taste of Oil and Blood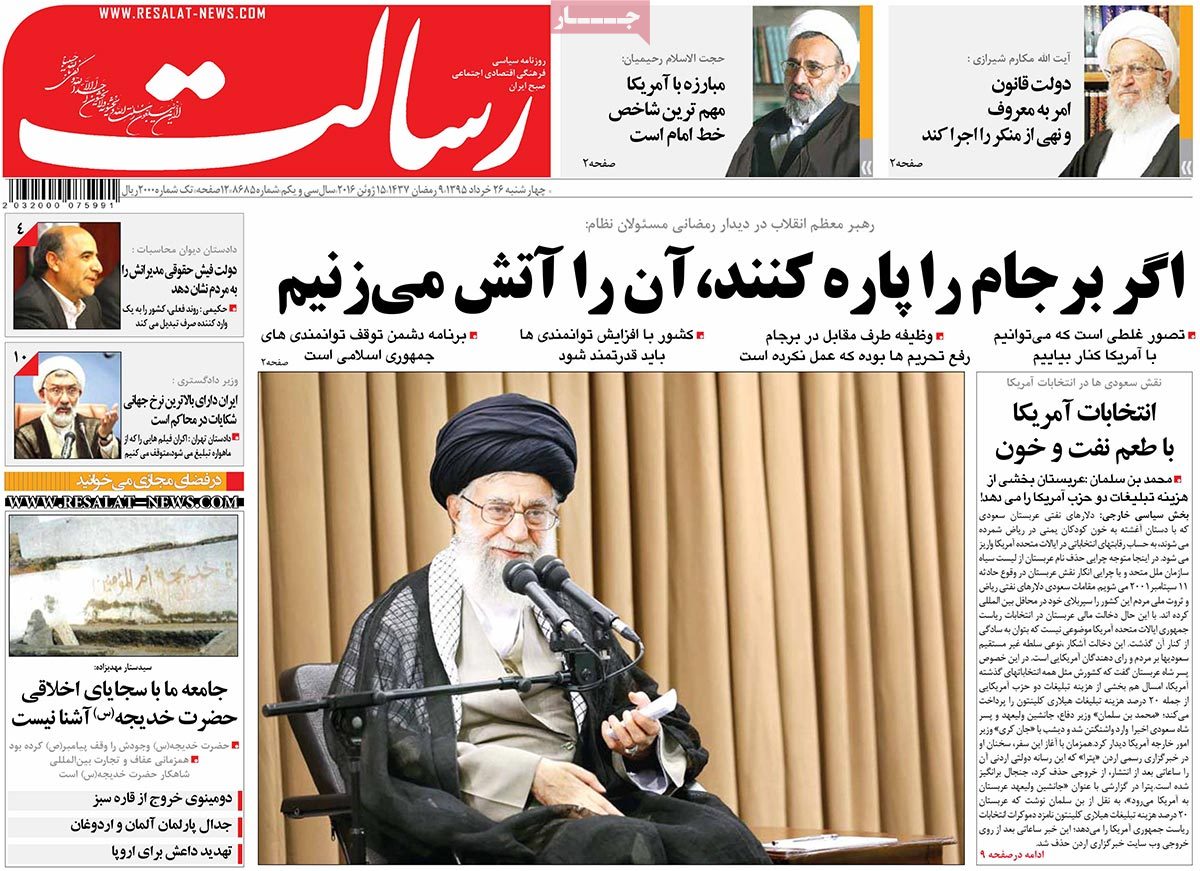 ---
Shahrvand:
1- Like Someone in Love: Kiarostami's Latest Work Chosen as Century's Third Best Film
2- Tehran Prosecutor-General Urges IRIB to Pave the Way for Advertisement of Iranian Films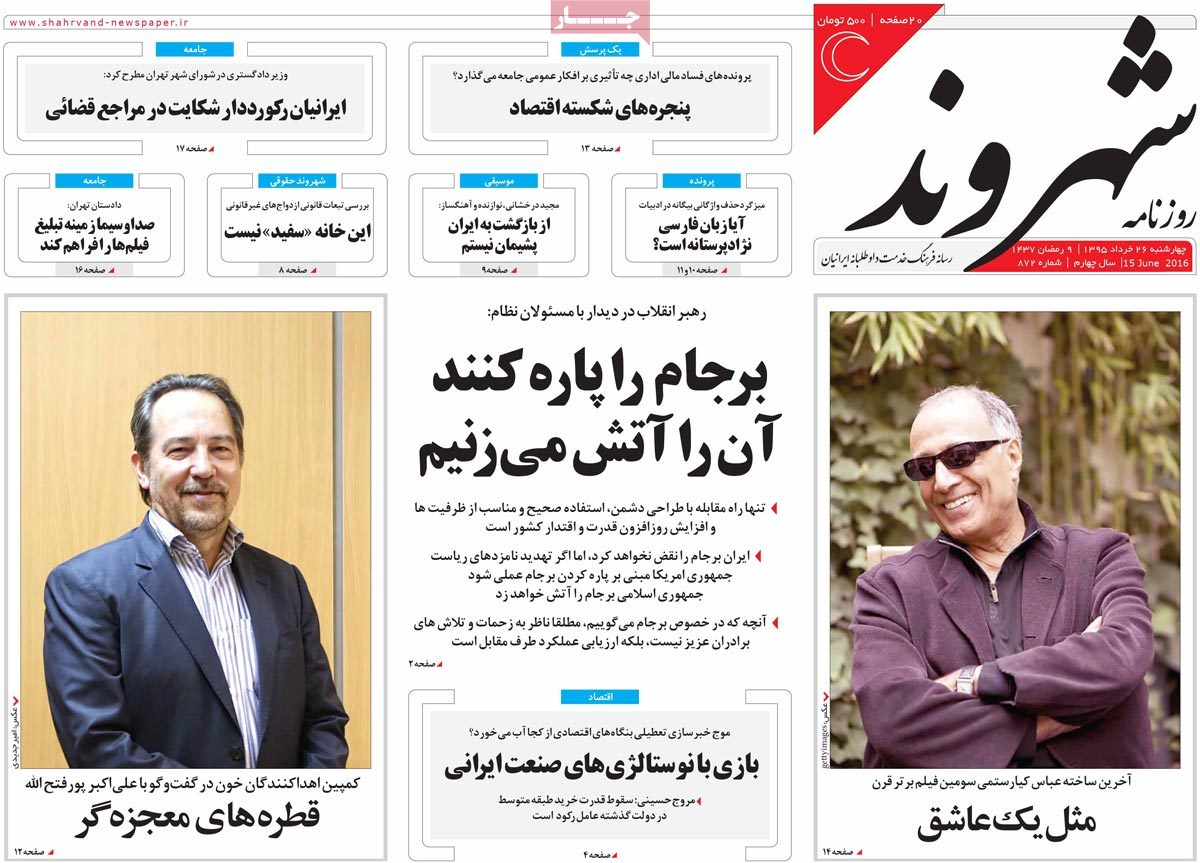 ---
Shargh:
1- Ominous Legacy of Former Gov't: Rafsanjani Underlines Need for Resolving Inflation, Recession, and Unemployment
2- Ahmadinejad Had Access to First-Degree Intelligence Ministry Cases: Former MP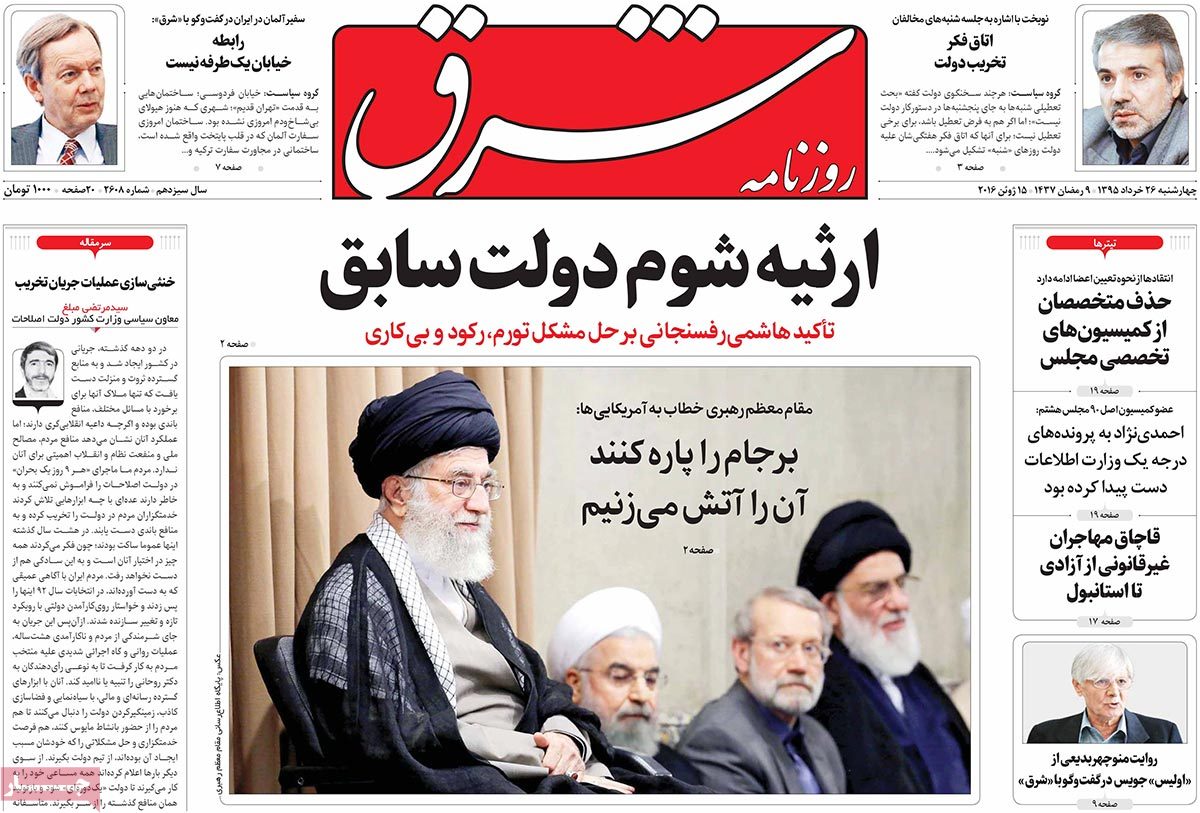 ---
Vaghaye Ettefaghieh:
1- Saudis Worried about Collapse of Regional Order and Emergence of Iran: Immediate Challenge in Middle East Is Resolution of Tehran-Riyadh Tension
2- Flight in Crisis: Airlines in Bad Financial Condition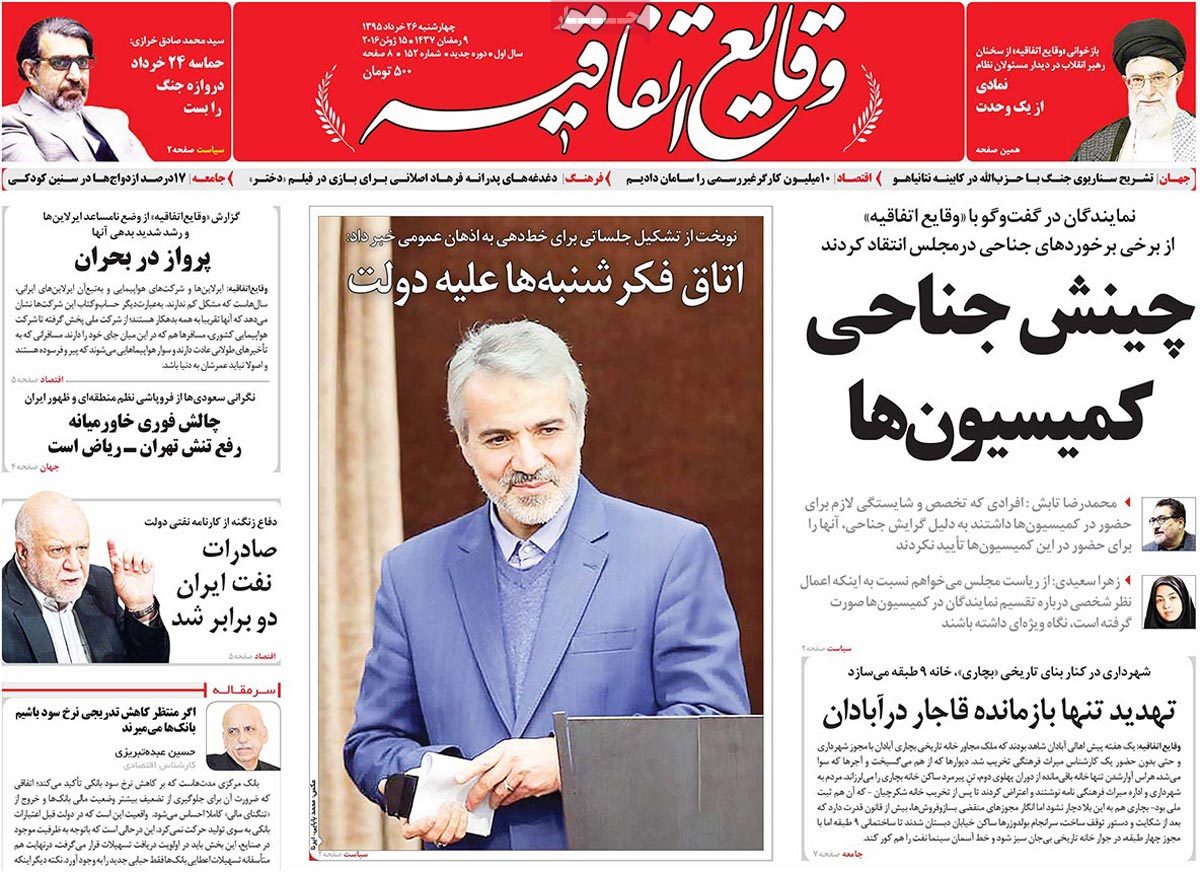 ---
Vatan-e Emrooz:
1- US Failed to Fulfil Lion's Share of Its Commitments: Leader
2- Italy Refuses to Return Iran's Satellite Mesbah
3- Bin Salman's Blow to Hillary: Saudis Buy US Presidential Candidates
4- New Aerospace Sanctions: Americans Arrest Iran Chamber of Commerce Member for Buying Plane Parts