Many Iranian papers covered IRIB's recent televised interview with the Spokesman for the Iranian Administration, Mohammad Baqer Nobakht, in which he discussed the astronomical salaries paid to certain executives and apologized for the unfair payment system. He vowed to have the mechanism corrected, working with Parliament.
Iran's freestyle wrestling team won their 5th consecutive (and 7th total) world championship in the US city of Los Angeles on June 12. In covering the championship, some headlines spotlighted Iran's victories over the US and Russia, as well as the tournament's location, boasting that Iran had defeated the two superpowers on American soil to become world champion.
Two separate operations by the Islamic Revolution Guards Corps (IRGC) and the Iranian Police in the west and east of the country also received great attention. 10 terrorists, including the regional commander of the PJAK terrorist group, were killed during the operations. One Police officer was also killed in the operations near the southeastern city of Khash.
Abrar:
1- I Appreciate Norway's Role in Uranium Exchange: Zarif
2- 5 PJAK Terrorists Killed in Clashes with Iran's Police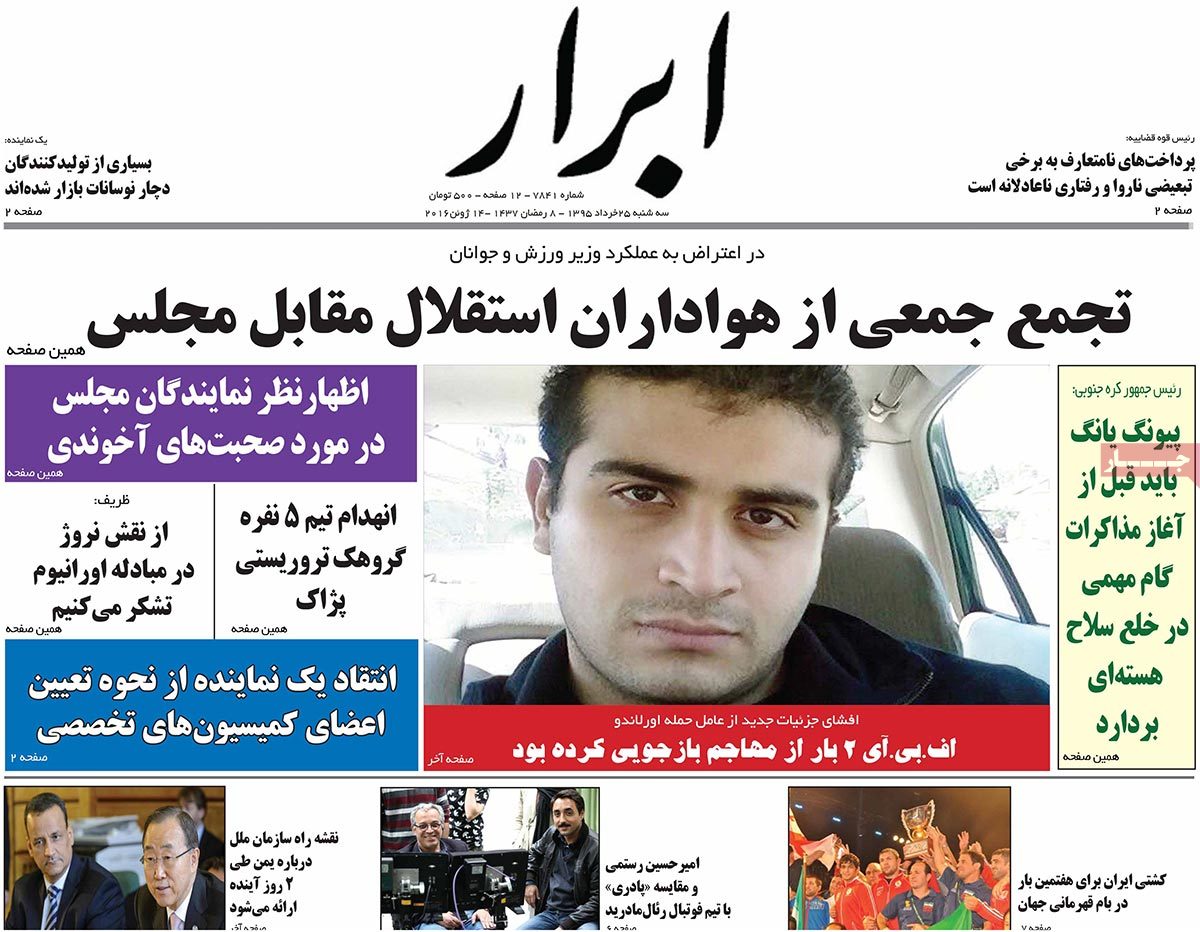 ---
Abrar-e Eqtesadi:
1- China Not Going to Leave Iran's Car Market Alone
2- Plans for Increase of Refining Capacity to over 3.2m bpd
---
Aftab-e Yazd:
1- New Political Makeup Being Formed: How Many Votes For Rouhani in 2017 Elections?
2- Why Conservatives Have No Candidate in Next Year's Presidential Votes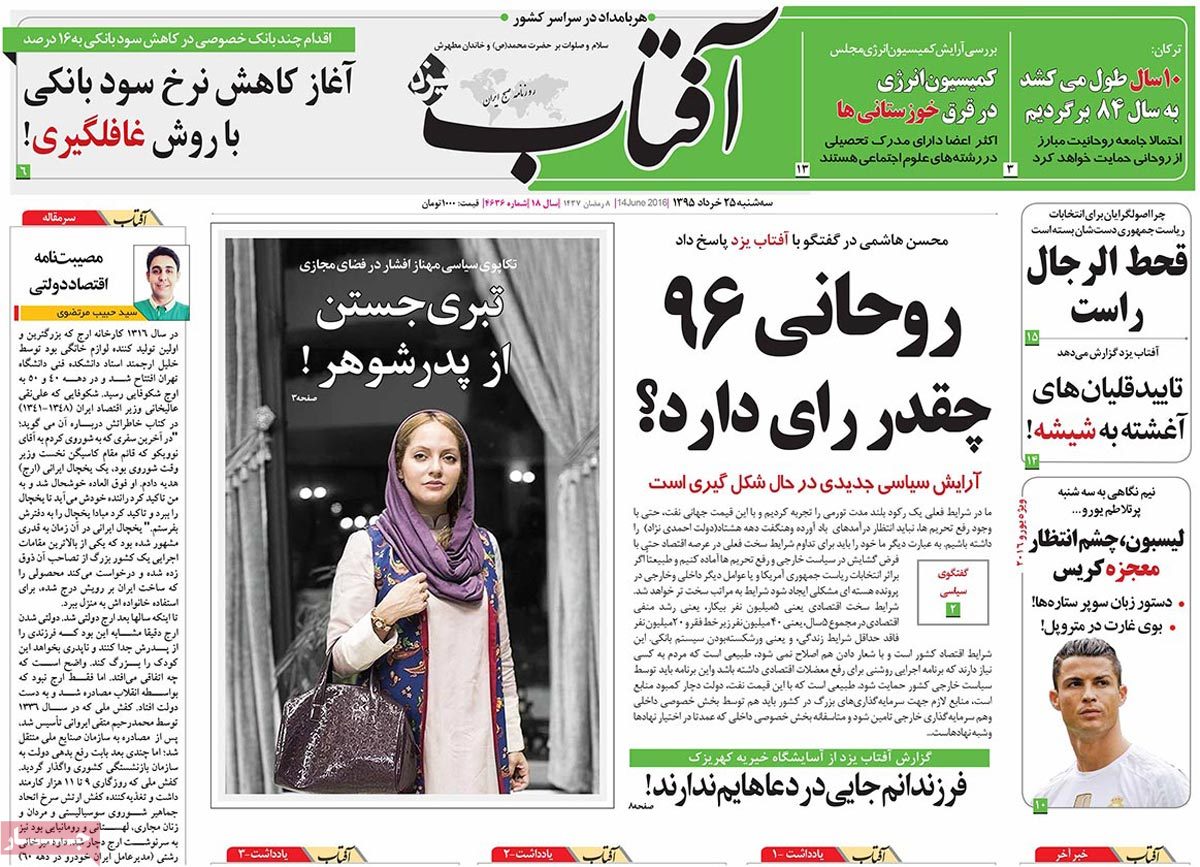 ---
Arman-e Emrooz:
1- Conservatives Leaning towards Rouhani
2- You Can't Prevent Dissemination of Information with Barbed Wire: Rafsanjani
3- Hookahs in Iran Contain Narcotics: Health Minister
4- Gov't Spokesman Apologizes for Payment of Astronomical Salaries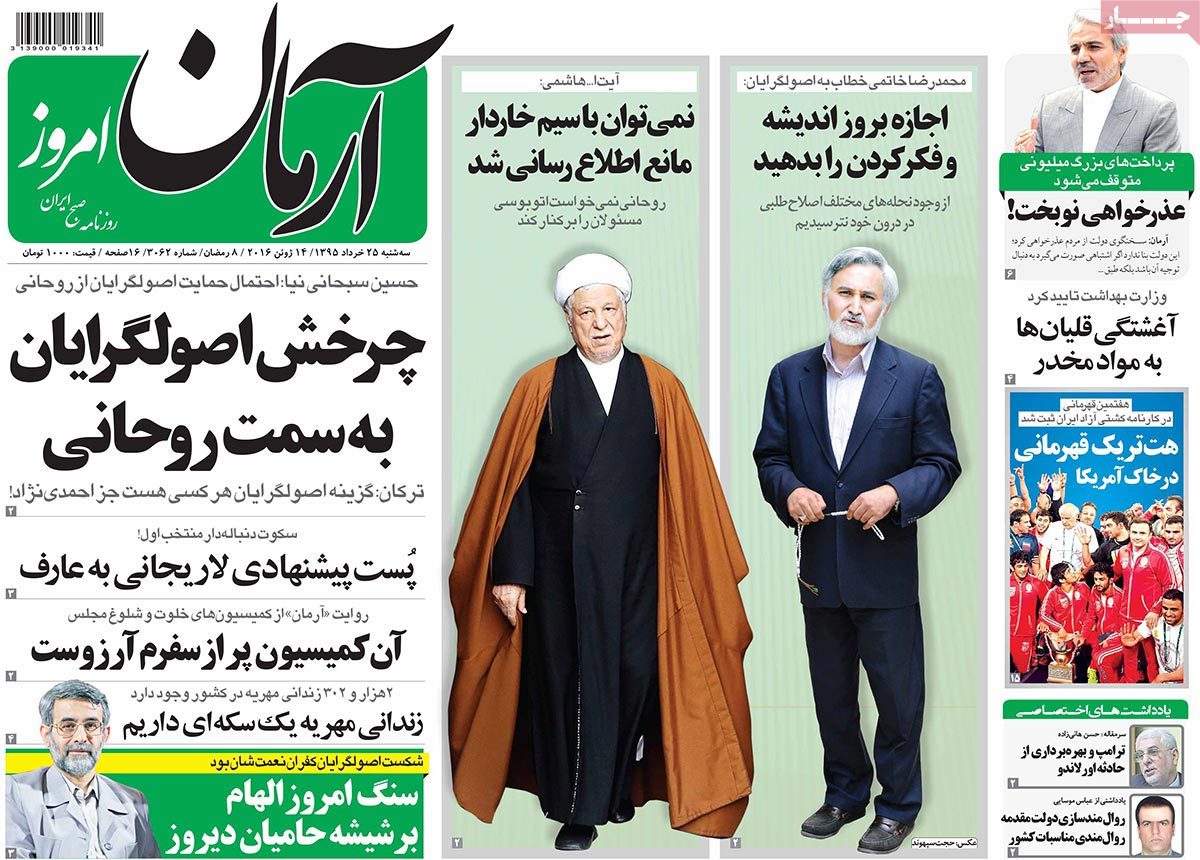 ---
Asia:
1- Nuclear Deal Has Been a Middle East Game-Changer: Gary Sick
2- Unclear Fate of Longstanding Iranian Brands Arj, Pars Electric, and Azmayesh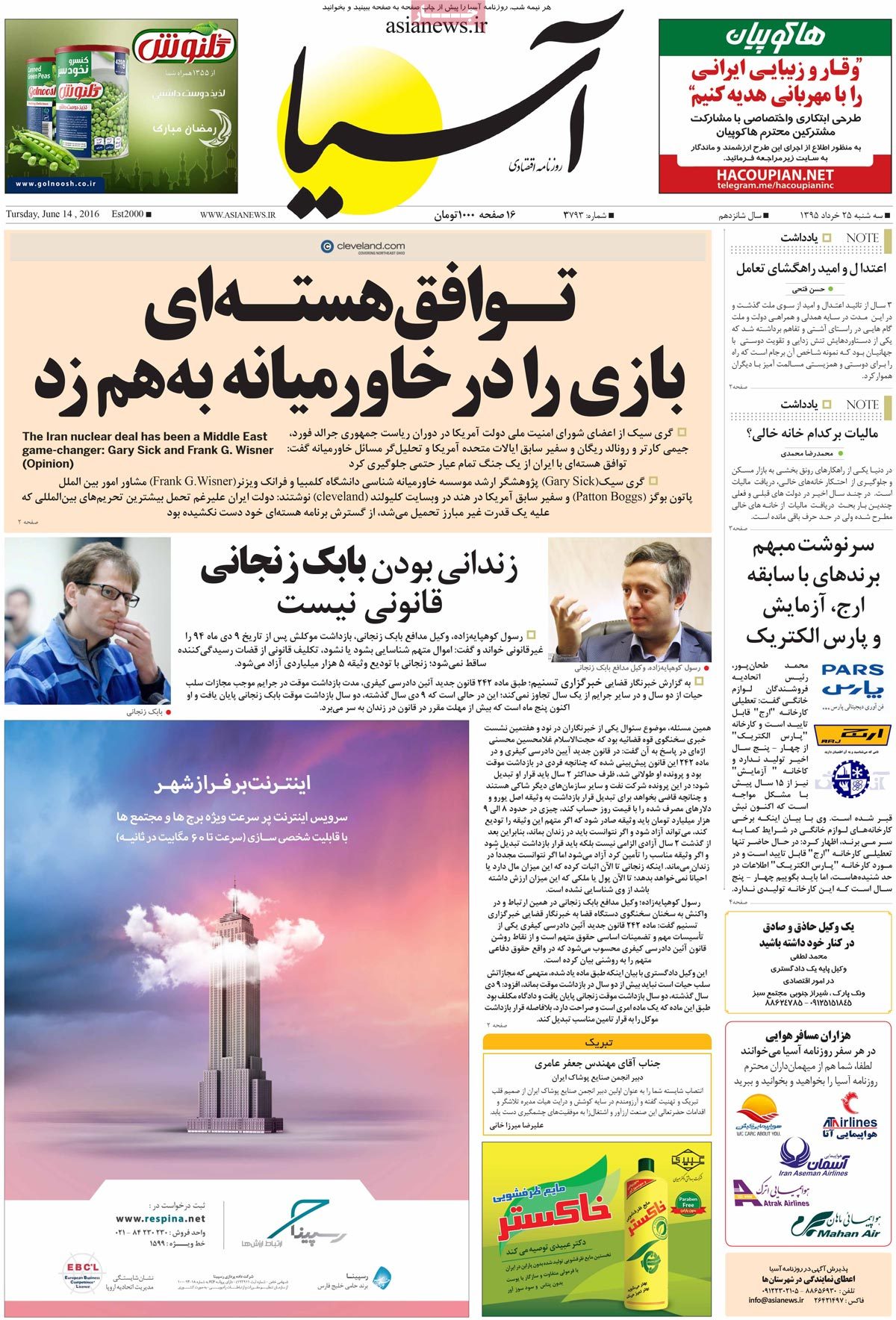 ---
Asrar:
1- Iran Condemns Orlando Shooting
2- Terrorists Destroyed in West and East of Iran
3- Over 10m Iranians Suffering from Social Ills
---
Ebtekar:
1- Gov't Apologizes for Unfair Payment System
2- I'll Talk to Kerry about USA's JCPOA Commitments: Zarif in Norway
---
Etemad:
1- Rouhani Government's Seventh Courageous Apology
2- We Need 500 New Airplanes: Minister
3- Despite Terrorist Attacks, Istanbul Is Still a Popular Destination for Iranians
---
Ettela'at:
1- Unemployment and Immigration Government's 2 Main Concerns: Rouhani
2- $14bn Investment for Increasing Iran's Crude Oil Refining Capacity
3- 34 Killed in Heavy Border Fight between Afghanistan and Pakistan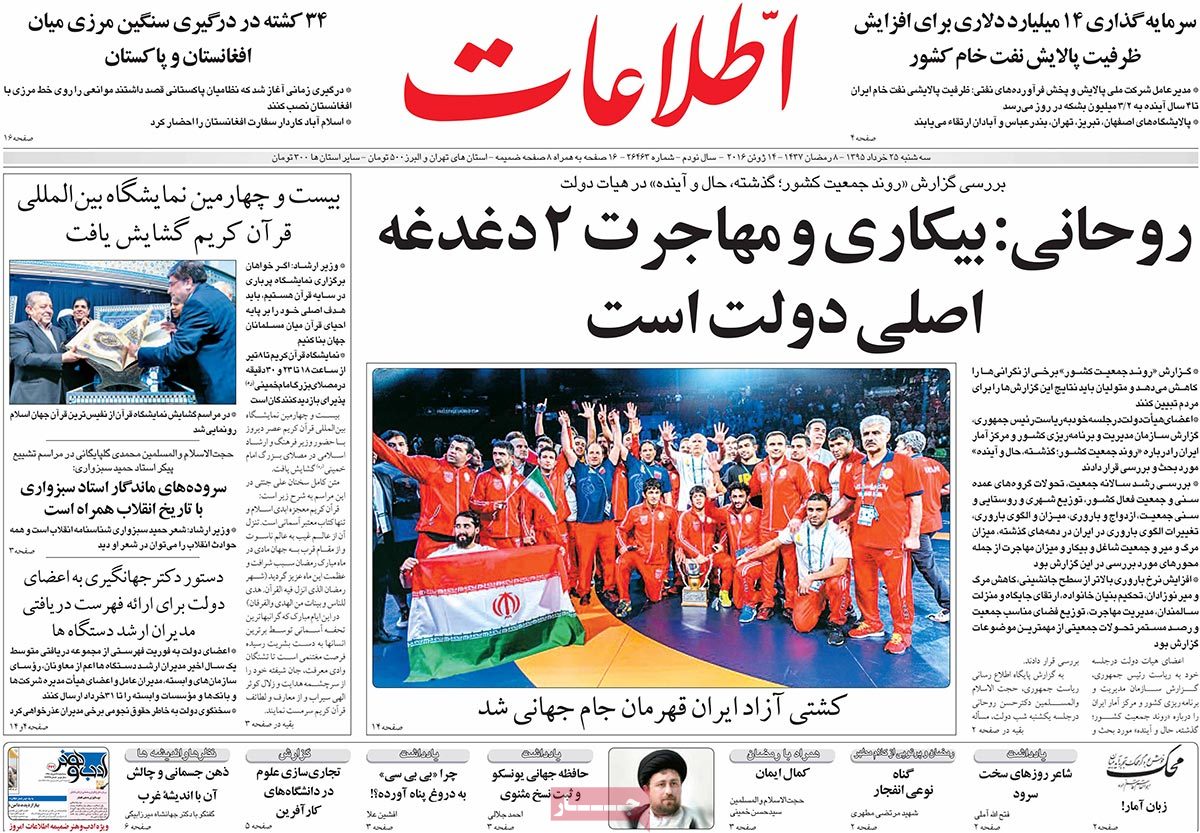 ---
Ghanoon:
1- Muhammad Ali Held Negotiations with Saddam Hussein and Had a Number of Iranian Prisoners of War Released: Politician
2- Swearing in Cyberspace, Pollution in Real Life: Ghanoon's Interview with Social Media Abusive Users
3- Apology as a Panacea [Nobakht's apology for huge salaries]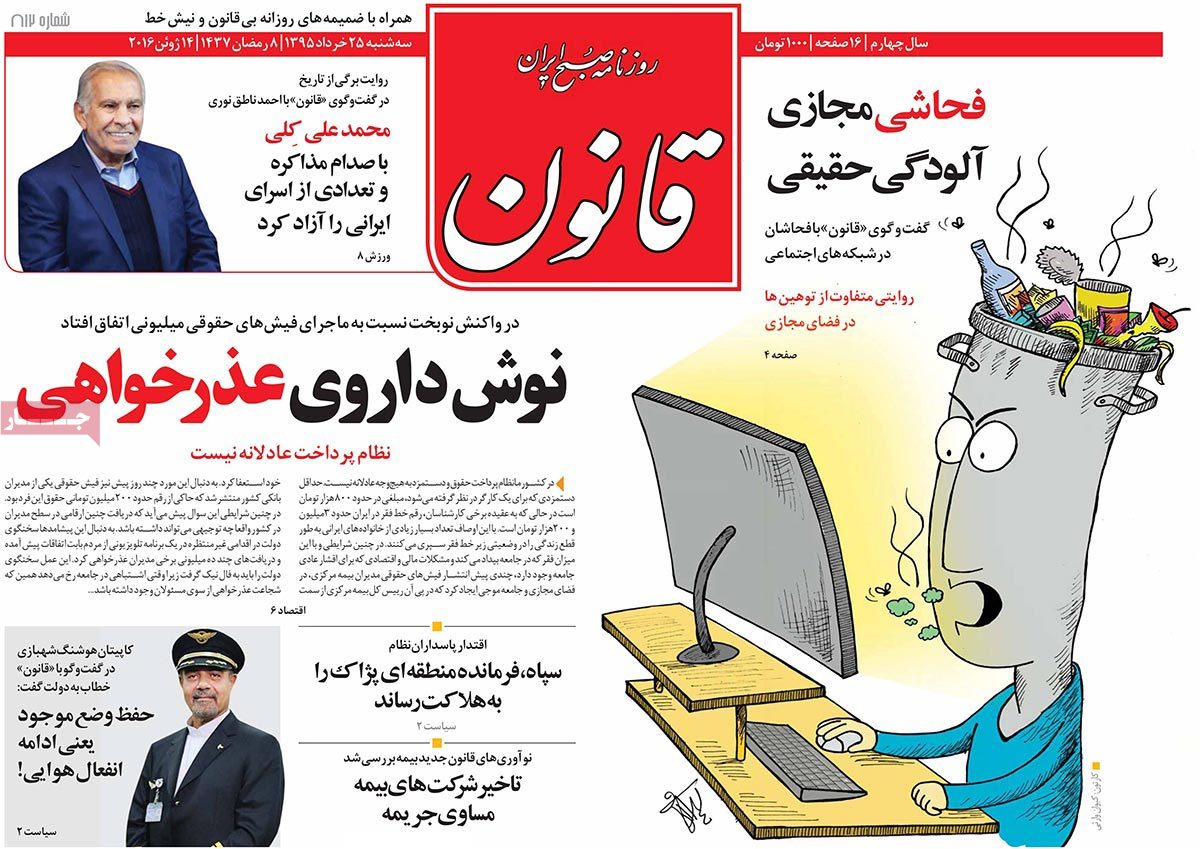 ---
Hamshahri:
1- Tehran-Northern Iran Highway Project Still Unfinished after 20 Years
2- Each Citizen of Tehran Has 15.8sqm Share of Green Space
---
Hemayat:
1- Prosecutor-General: Iran Seriously Pursuing Lawsuit against Saudi Arabia in Int'l Bodies
2- Iraqi DM Attacks ISIS Positions with F-16
---
Iran:
1- Gov't Doing Its Best to Implement Women's Rights: President
2- US Shocked, the World Amazed: Who's Omar Mateen, the Orlando Shooter?
---
Jame Jam:
1- Iran's [Wrestling] Championship in US Territory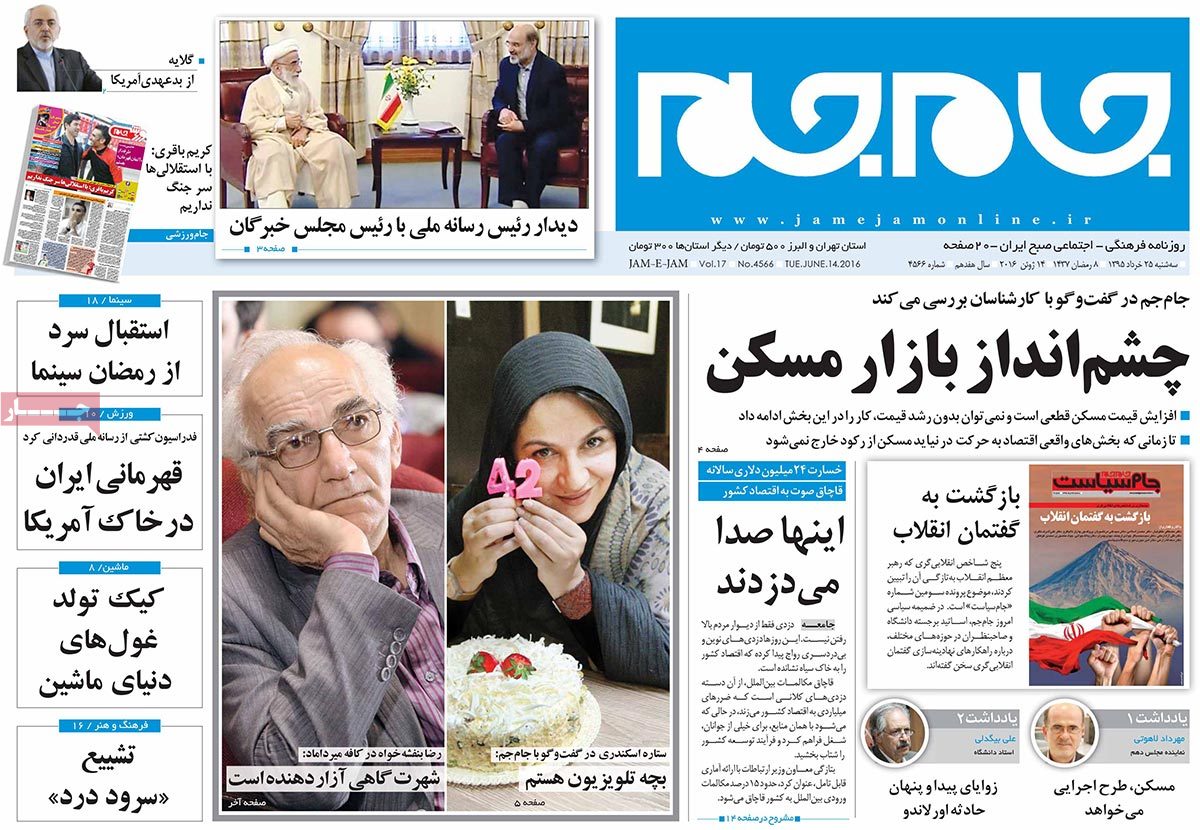 ---
Javan:
1- Zarif Still Looking for Kerry
2- Yemeni Children Give Their Allowance to UN
3- Hollywood May Portray a Homosexual Image of Rumi
4- Championship after Defeating US and Russia
---
Jomhouri Eslami:
1- World's Most Precious Quran Unveiled in Opening Ceremony of Tehran Int'l Quran Exhibition
2- Iran to Boost Gasoline Production Capacity by 70%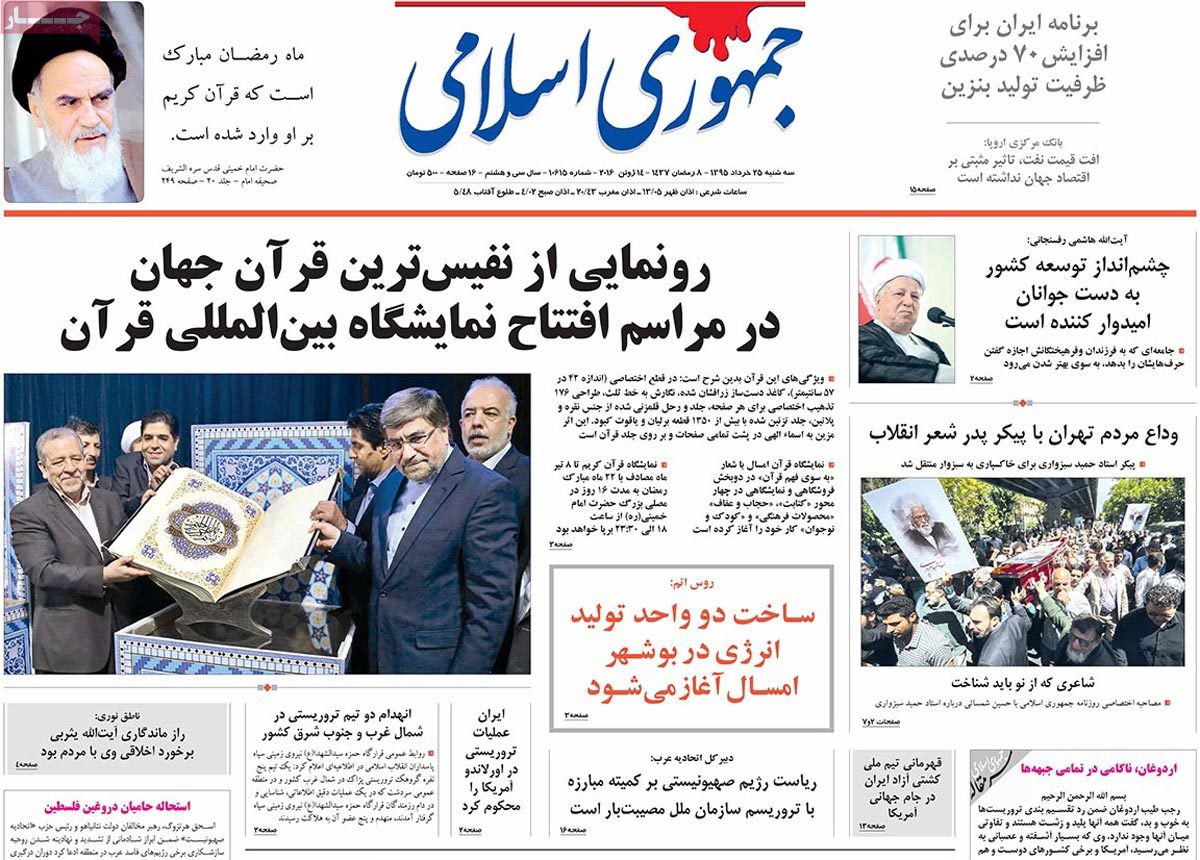 ---
Kayhan:
1- 3 Years Have Passed, Still No Solution to People's Livelihood Problems
2- Iranian Banks Still Can't Work with European Ones: Deputy Minister
3- Frustration with Optimism towards US
4- Yemeni Children Send Their Pocket Money to UN in Protest at Accepting Saudi Bribe
---
Khorasan:
1- PJAK's Regional Commander Killed by IRGC in Western Iran
2- Weak and Strong Points of Rouhani's 3-Year Performance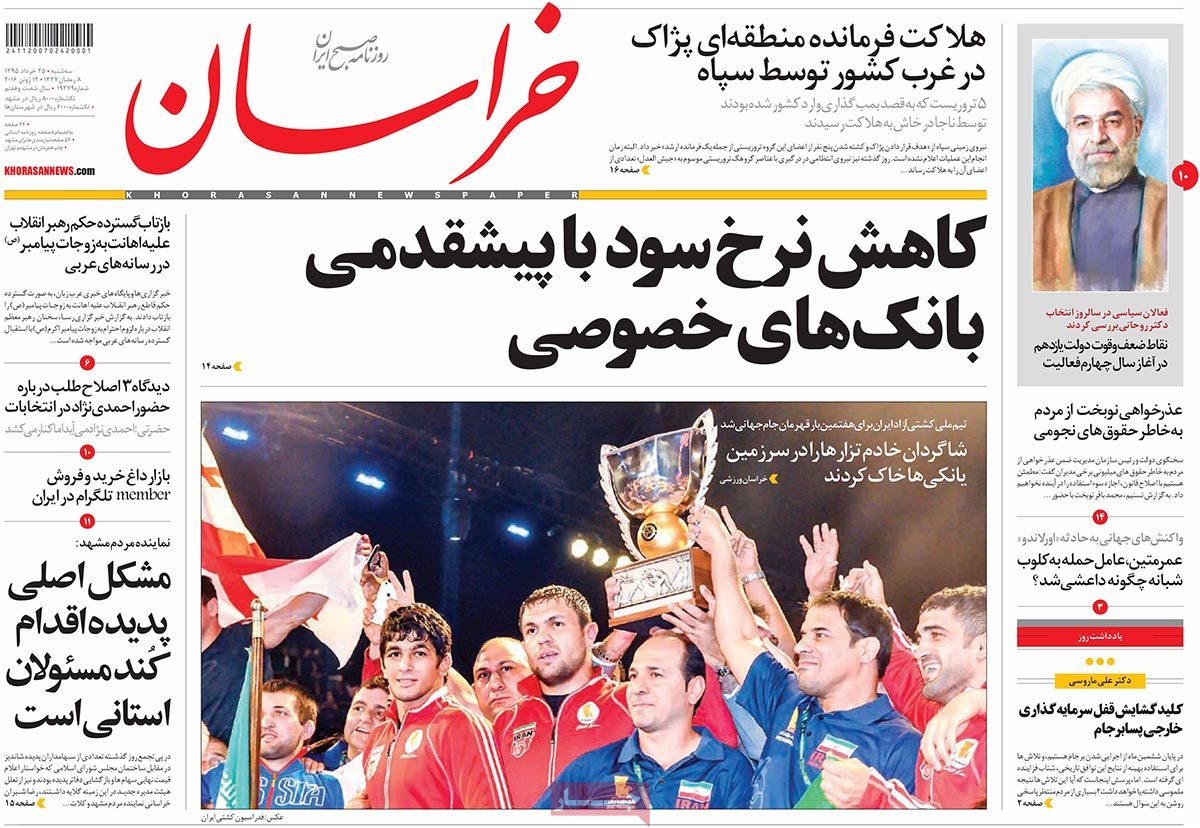 ---
Roozan:
1- Conservatives Taking Advantage of Florida Attack: Will Orlando Shooting Influence US Elections?
2- 17 Corruption Cases Missing: MP
3- Rouhani's Chance More than Others in Next Year's Presidential Elections: Reformist Politician
4- Rouhani's Last Step: President Should Make Important Decisions for Economy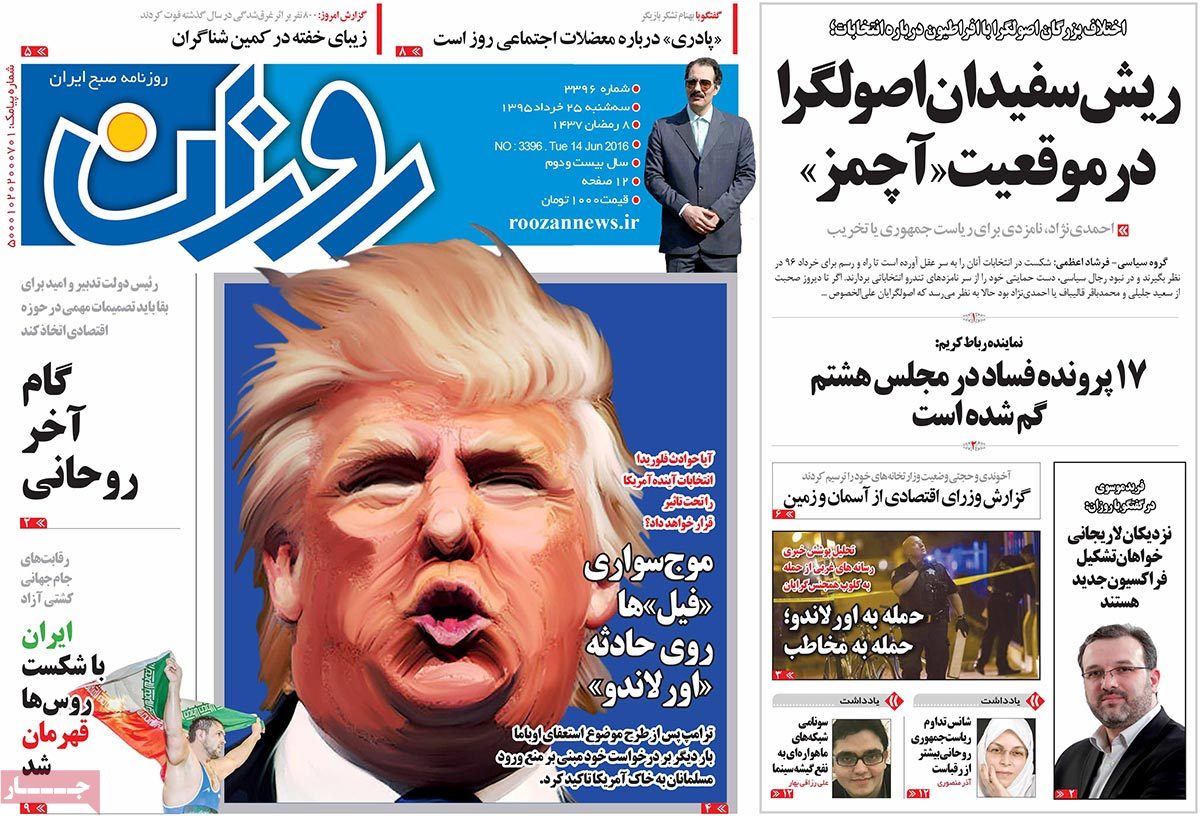 ---
Shahrvand:
1- Golrizan for Freedom: Tehran Citizens Attend Charitable Ceremony to Raise Money for Release of Prisoners with Unintentional Crimes
2- Iran, Undisputed King of World Wrestling
3- Executives Receiving 20 Times More than Employees
---
Shargh:
1- Gov't Spokesman Nobakht, Rather than Ahmadinejad, Apologizes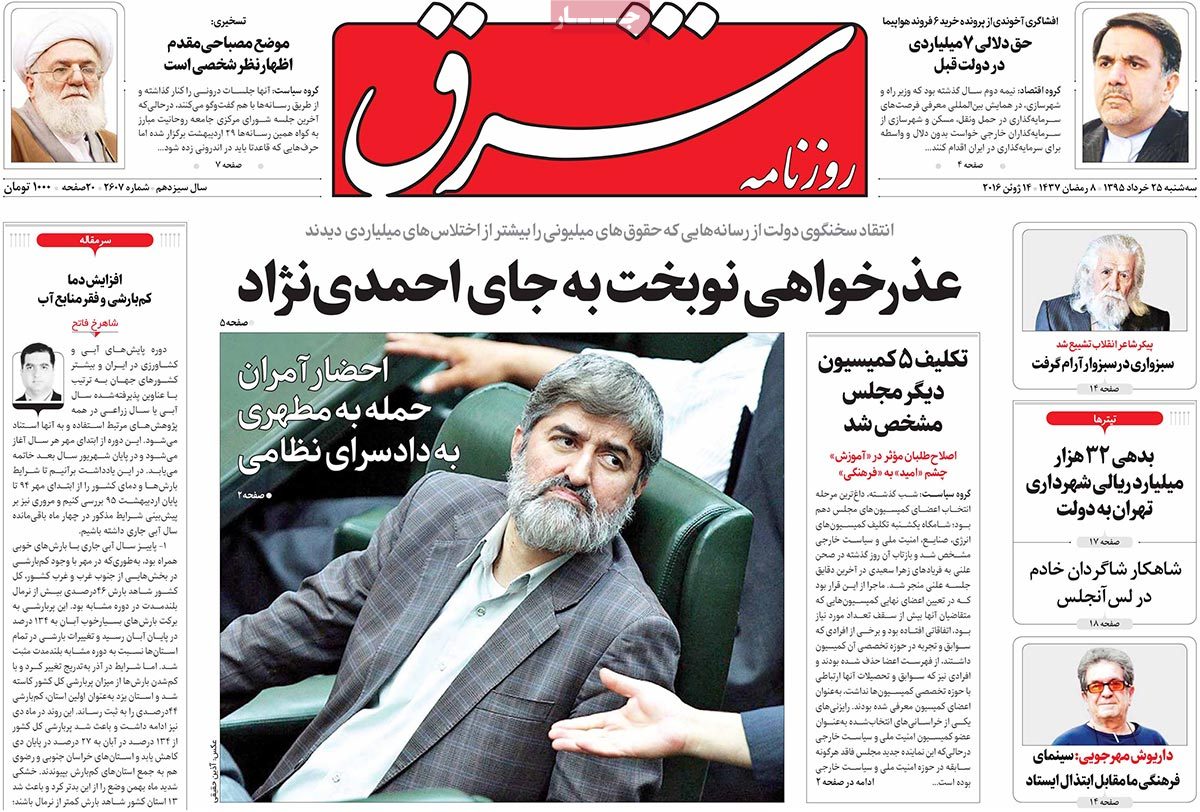 ---
Sobh-e Now:
1- Cleric Calls for Formation of "Marriage Ministry"
---
Vaghaye Ettefaghieh:
1- Reformists Are Committed to Their Allegiance with Rouhani
2- UN and Saudi Arabia Both Disgraced
3- US and China Contending in Far East
4- We Won't Let Them Disgrace Government: Spokesman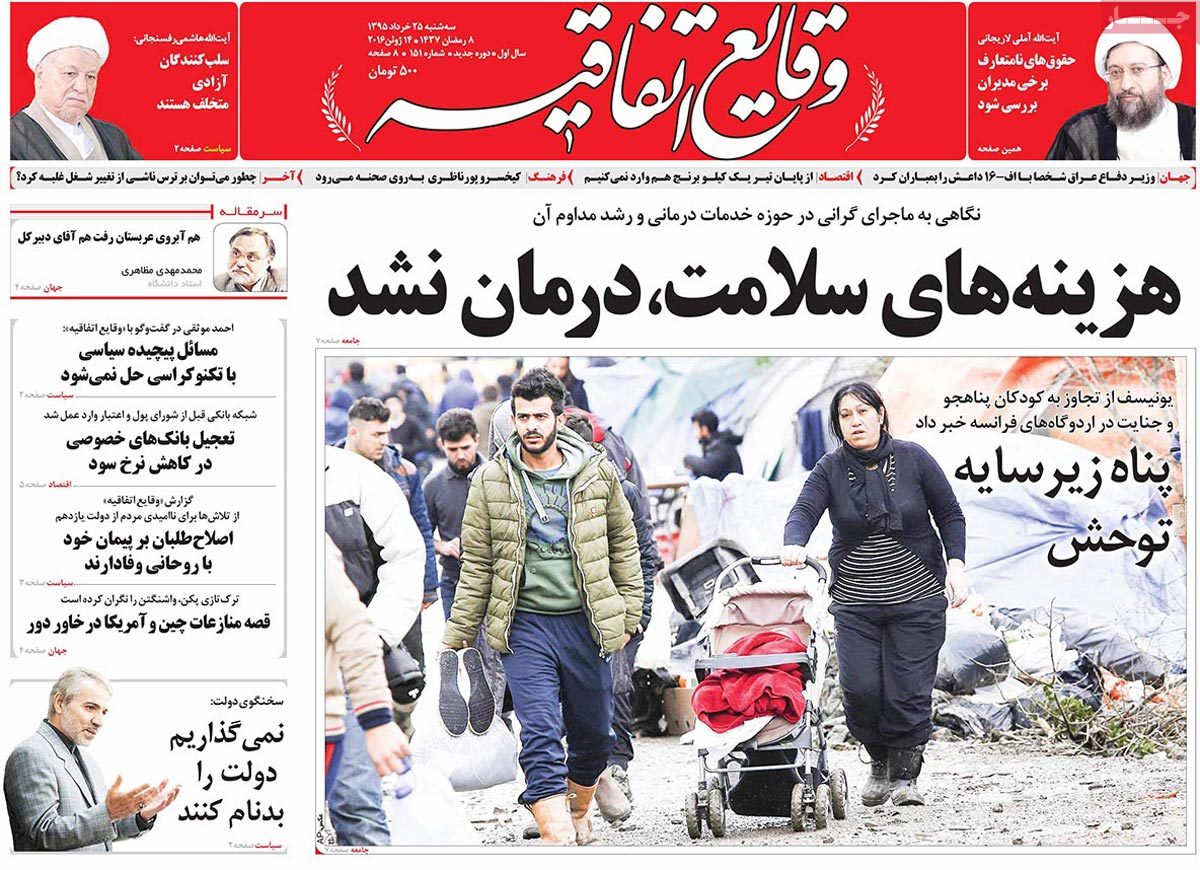 ---
Vatan-e Emroz:
1- Apology for Astronomical Salaries: Spokesman Explains Controversial Wages
2- We Extend Our Condolences to the UN: Amoli Larijani in Reaction to Ban's Confession
3- Yemeni Children's Gathering against UN