Many newspapers on Sunday covered a Canadian court's ruling ordering the seizure of Iranian non-diplomatic assets under the pretext of alleged roles in terrorist activities. The ruling came at the same time as the Canadian FM's remarks about resuming ties with Tehran, and this incongruence was also commented upon.
The UN's withdrawal from blacklisting Saudi Arabia for killing children in Yemen remained a top story today.
Hamid Sabzevari, the famous Iranian poet, passed away in Tehran on Saturday at the age of 91, and his photos were widely published, as newspapers commemorated the "Poet of the Revolution".
Abrar:
1- Second Round of Zarif's European Tour
2- Canadian FM: Beginning of Official Talks for Resumption of Iran-Canada Ties
3- US Concerned about Disintegration of Afghan Army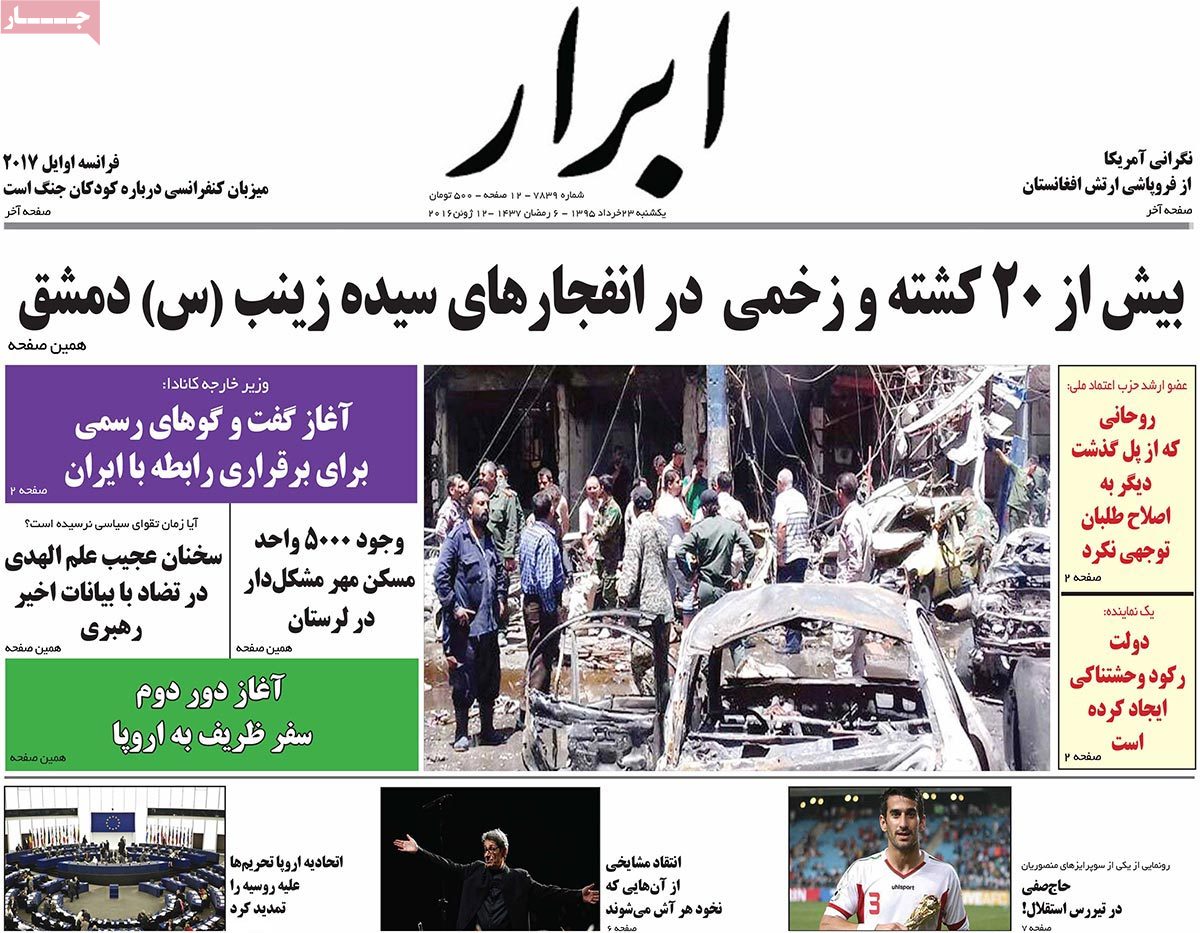 ---
Aftab-e Yazd:
1- Ahmadinejad Reportedly Attended Singer Habib Mohebian's Funeral: Instrumental Use of Habib?
2- Canadian Officials Confirm Beginning of Talks for Restoration of Ties with Tehran: Hopes Raised Again for Extradition of [Corrupt Banker] Khavari
3- 7 Tours with 16 Tourists Each Planned for US Tourist Trips to Iran: Special Instructions for Americans Visiting
4- After Reports of Saeid Jalili's Candidacy in Next Year's Presidential Elections: Conservatives Might Support Rouhani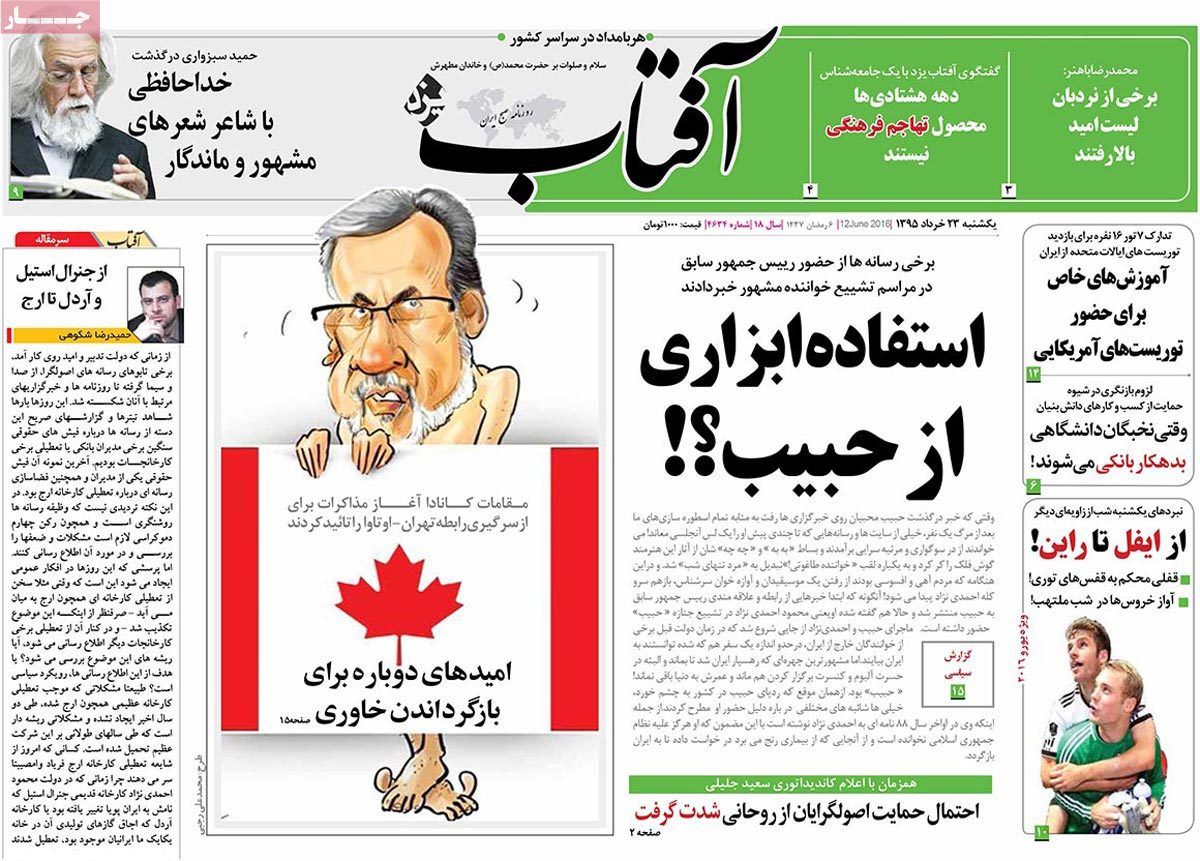 ---
Arman-e Emrooz:
1- Farewell to Poet of Revolution: Hamid Sabzevari Dies
2- I'll Fulfil All My Promises, President Rouhani Vows
3- Military Service Completion Certificate Not to Be Given to Illiterates
4- Trump Looking to Restore US Power: Analyst
5- Senior Cleric: We're Still Paying for Radical Moves
---
Asrar:
1- Iran to File Lawsuit against Saudi Arabia in Int'l Courts: Minister
2- Zarif and Kerry May Meet in Oslo
3- Contracts Signed for Export of Oil to 3 European States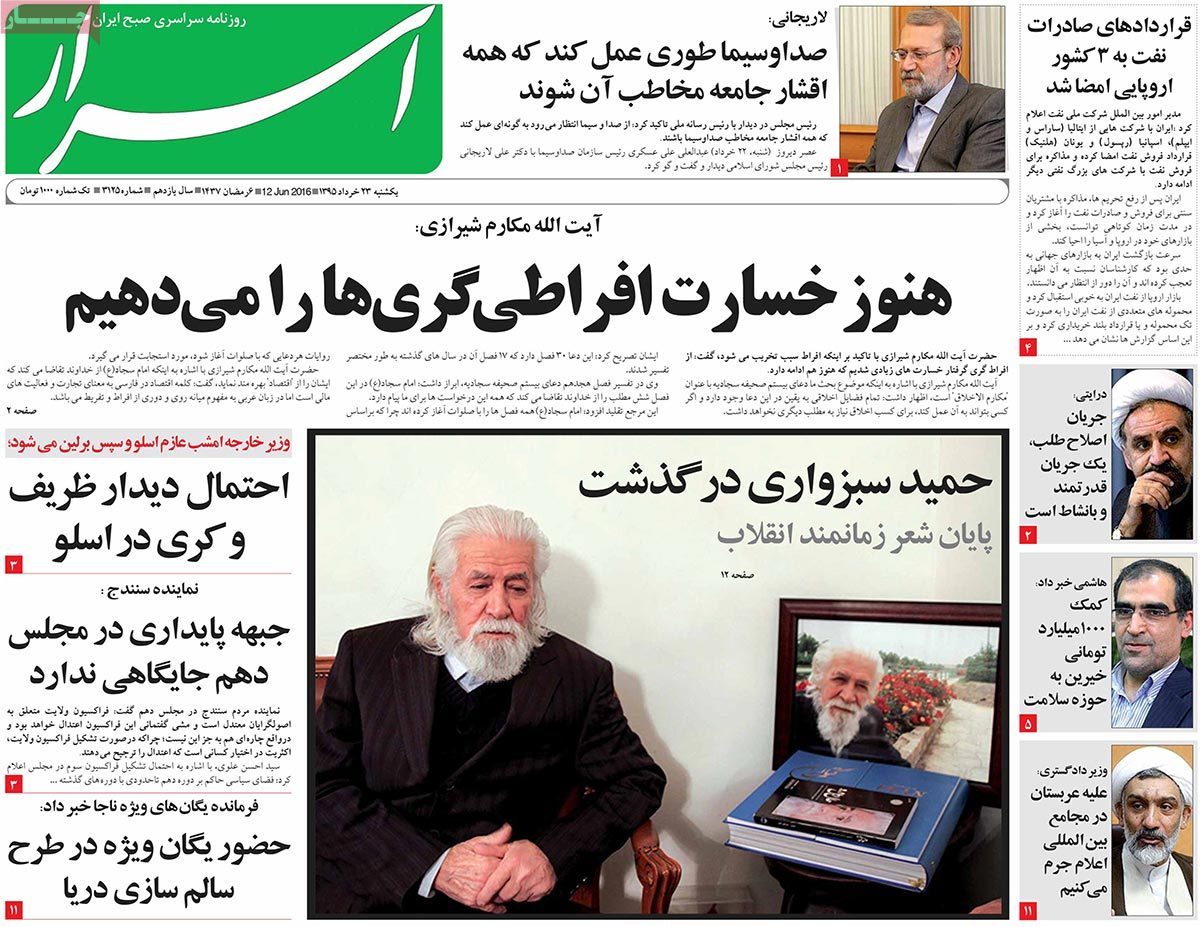 ---
Ebtekar:
1- Tehran, Open City: Will New Parliament Discuss Plan to Change the Capital?
2- [Resumption of] Tehran-Ottawa Ties Hindered by Domestic Conflicts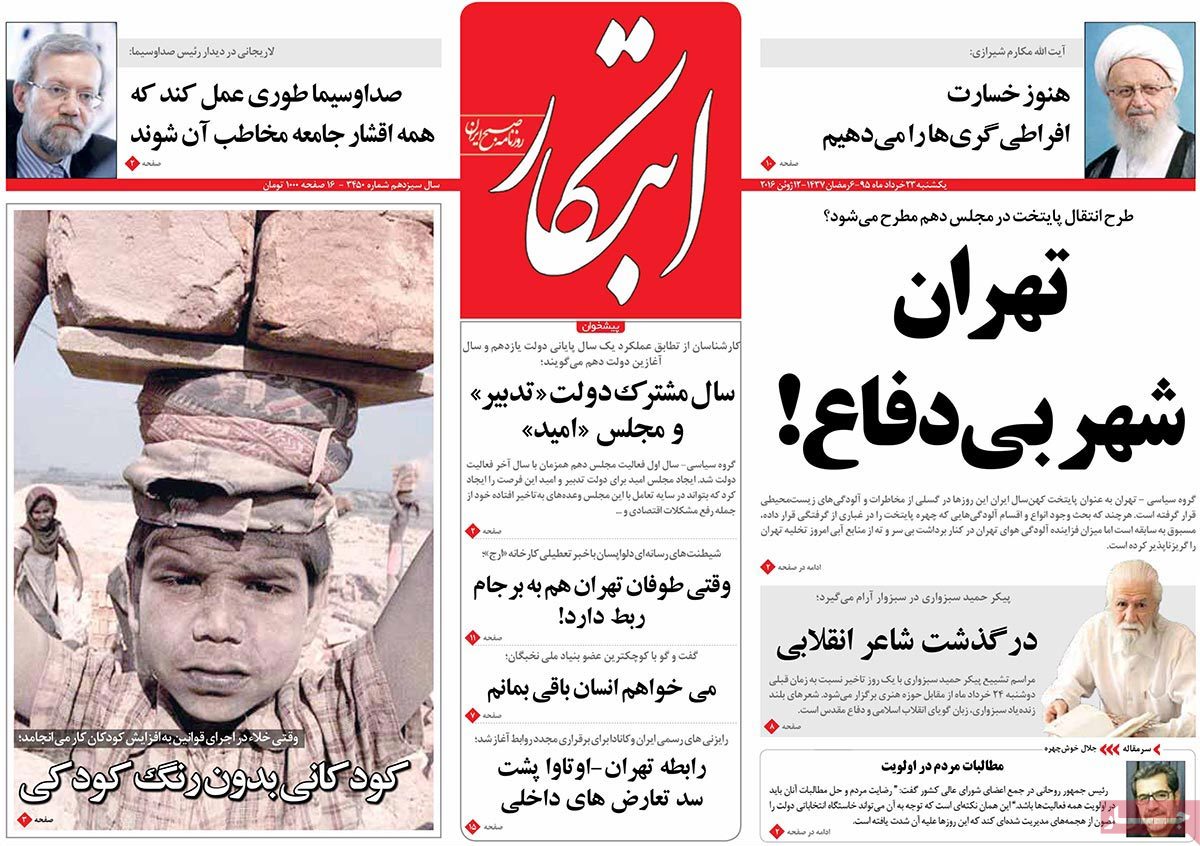 ---
Etemad:
1- Details of Nuclear Deal: Iran to Receive Money before Sending Heavy Water to US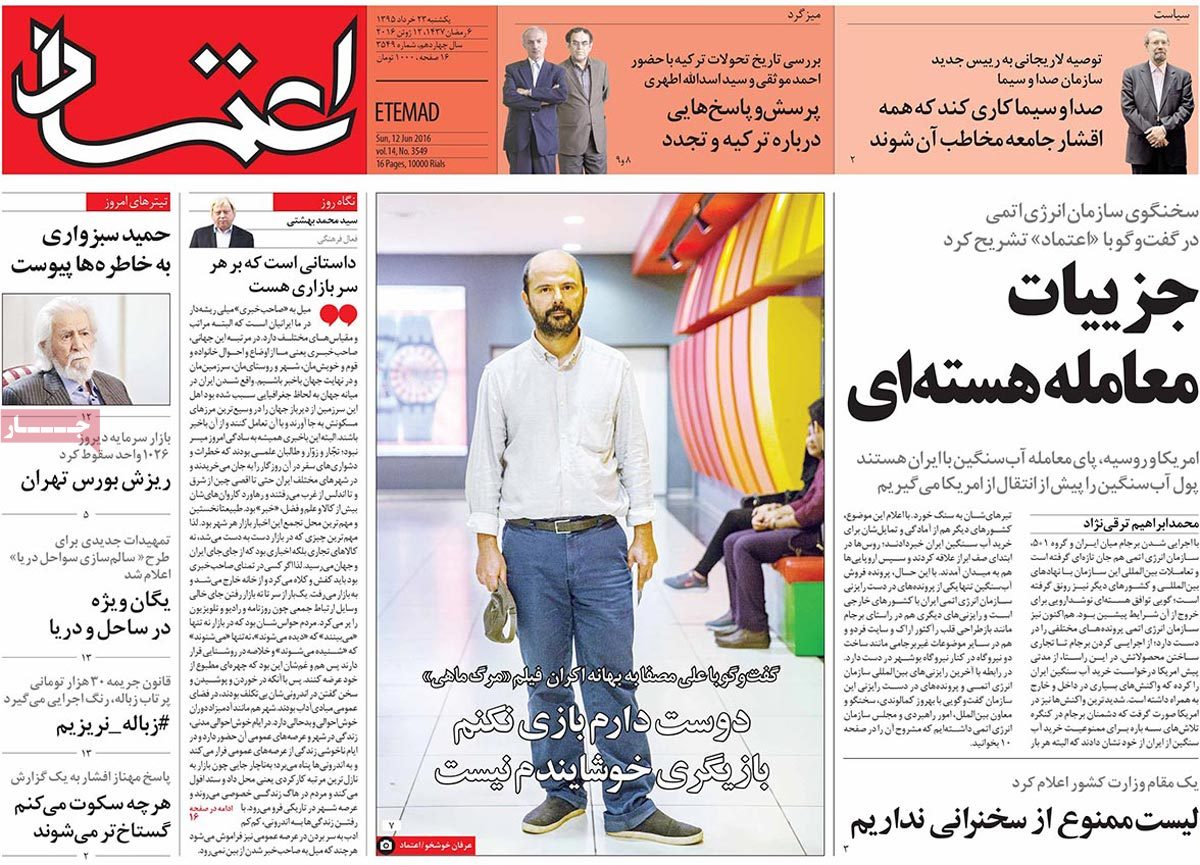 ---
Ettela'at:
1- Persian Gulf Arabs Provide Financial Support for Terrorists: US Treasury
2- Iran to Fully Control HIV by 2030: UN Envoy
3- Russia Explicitly Supports Iran's Permanent Membership in Shanghai Cooperation Organization
---
Haft-e Sobh:
1- Goodbye Lonely Man: Habib Mohebian Laid to Rest
---
Hamshahri:
1- Drivers Who Litter from Their Cars Will Be Fined
2- Workers Are Working, But without Money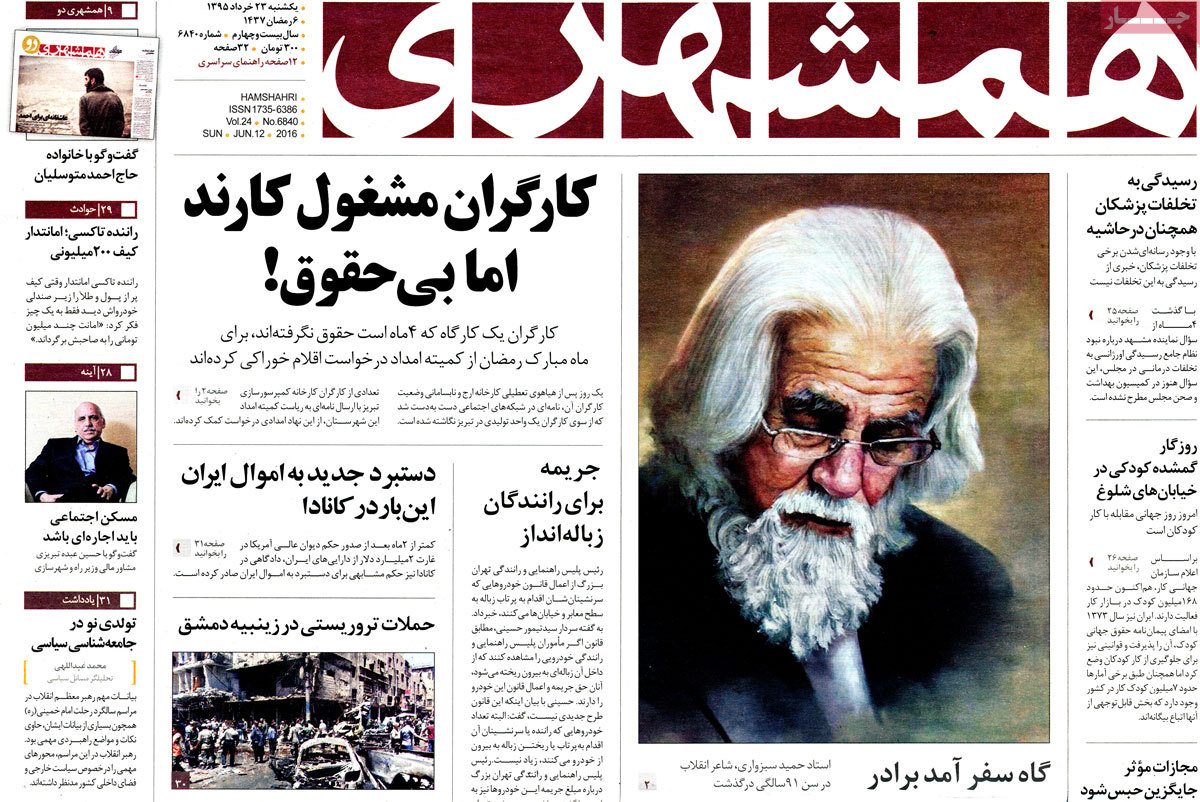 ---
Hemayat:
1- Canada Follows USA's Lead in International Robbery
2- UNSC Has Allowed Saudi Arabia to Extort UN: HRW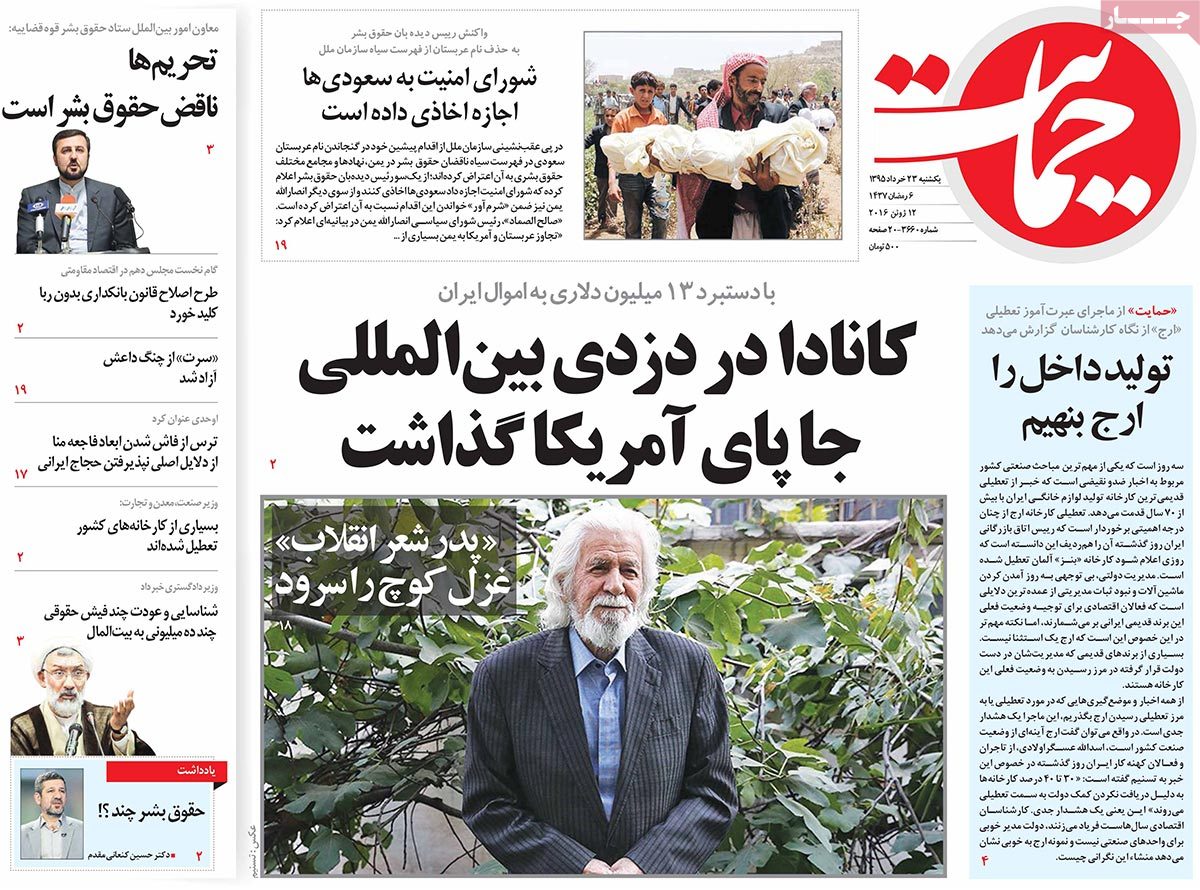 ---
Iran:
1- JCPOA Removes Barriers to Export of Oil to Europe: Details of 7 Contracts to Sell Oil to Europe
2- $6.7bn Decrease in Luxury Goods Imports to Iran Due to Increased Customs Duty
3- 40 Int'l Airlines Flying in Iran's Sky: Increase of Direct Flights to Iran in Post-Sanctions Era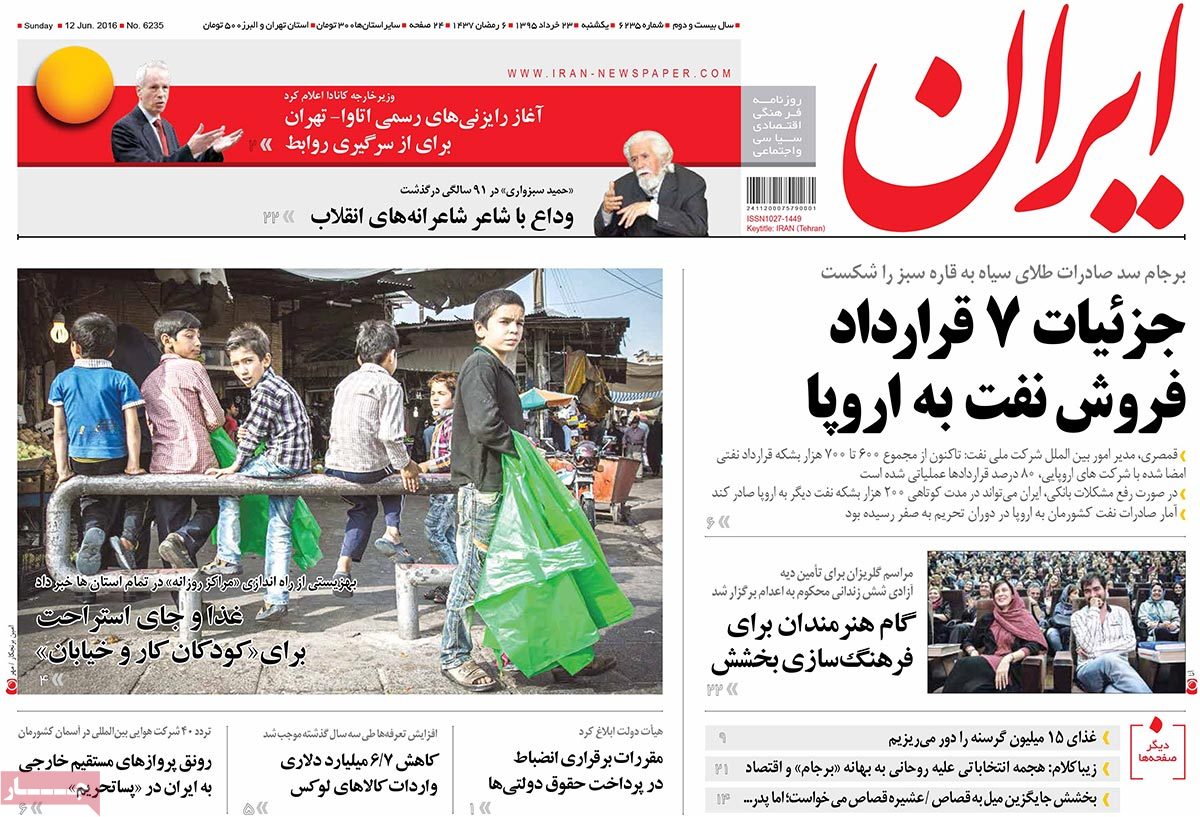 ---
Jame Jam:
1- Illegitimate Seizure: Canada Robs $13m of Iran's Assets
2- Role of US and Canada in Chaos of Int'l Laws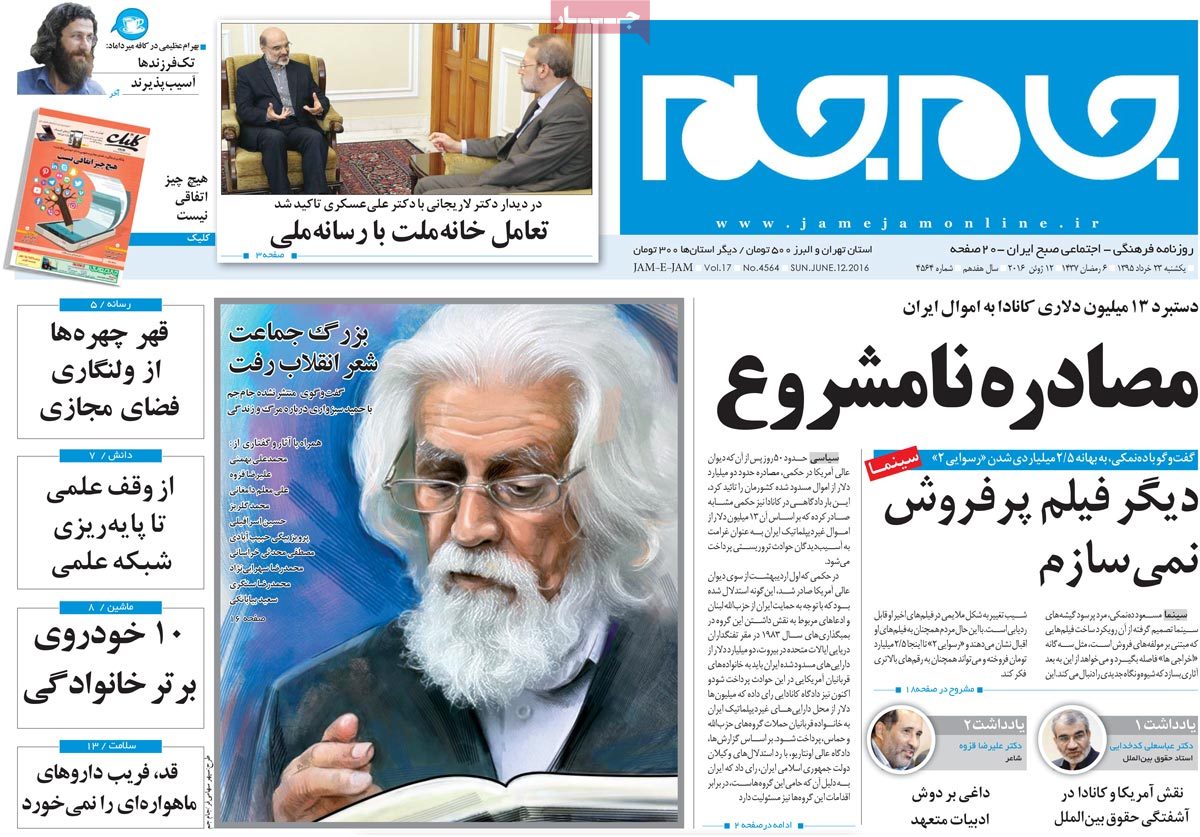 ---
Javan:
1- Canada, Too, Robs Iran Post-JCPOA
2- ISIS, Defeated in Raqqa, Launches Suicide Attack on Sayyidah Zaynab District
3- 76m Americans Gripped by Financial Problems: Federal Reserve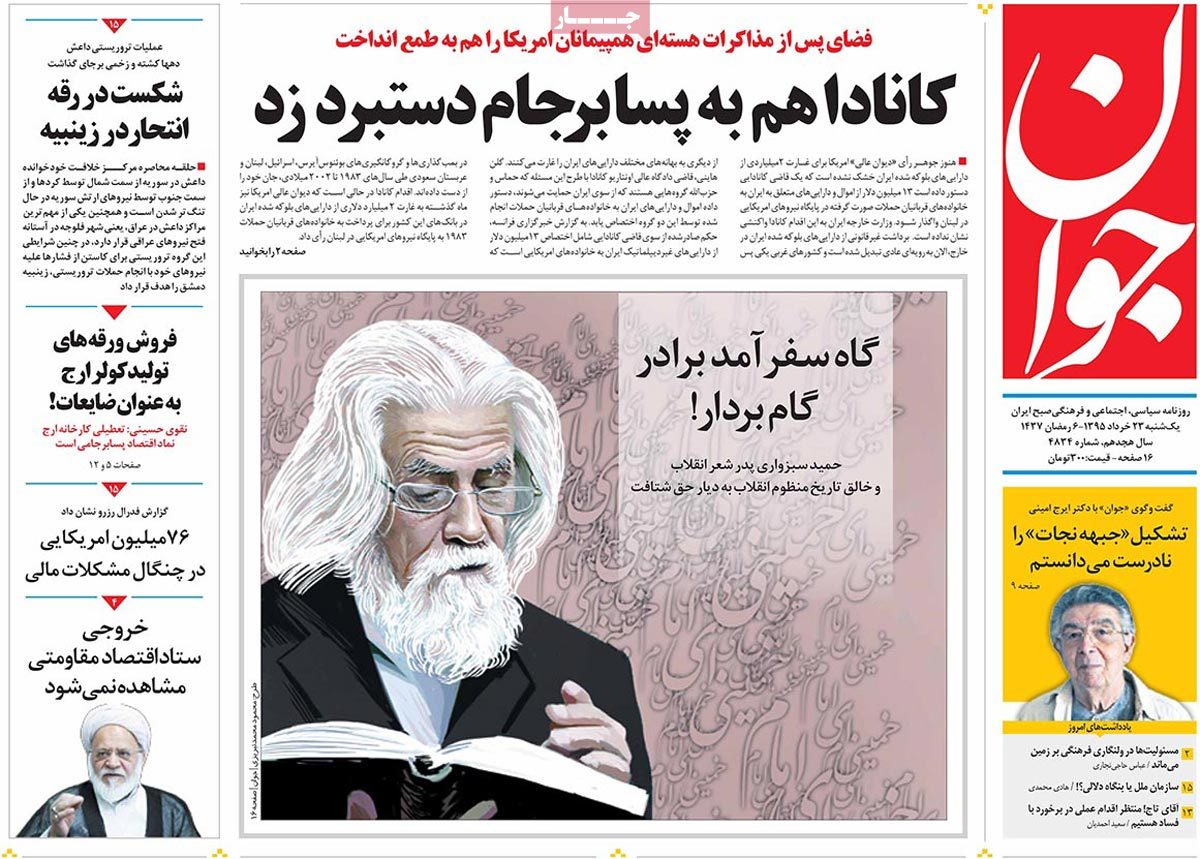 ---
Jomhouri Eslami:
1- Iran Voices Concern over Unprecedented Number of Attacks on Palestinian Civilians
2- Zarif to Visit Norway and Germany on 2nd Leg of European Tour
---
Kayhan:
1- Suspicious US and French Movements in Syria's Kurdish-Majority Regions
2- Continued Protests at UN's Embarrassing Withdrawal [from blacklisting Saudi Arabia]
---
Khorasan:
1- 80% of Contracts for Export of Oil to Europe Operationalized: Official
2- Reward for Child-Killer Saudis
3- Access to What Google Knows about US
---
Shahrvand:
1- Little Victims of Poverty: 2m Iranian Kids Are Labourers
2- 6m Iranians Addicted to Illicit Drugs: Minister
---
Shargh:
1- Warning to Insulters: Any Insult to Sanctity of Sunnis Is Security-Related Crime: President's Assistant
2- Plan to Change Weekend from Thu-Fri to Fri-Sat to Be Sent to Qom [for settlement of possible religious issues]
3- Canada's Hand in Iran's Pocket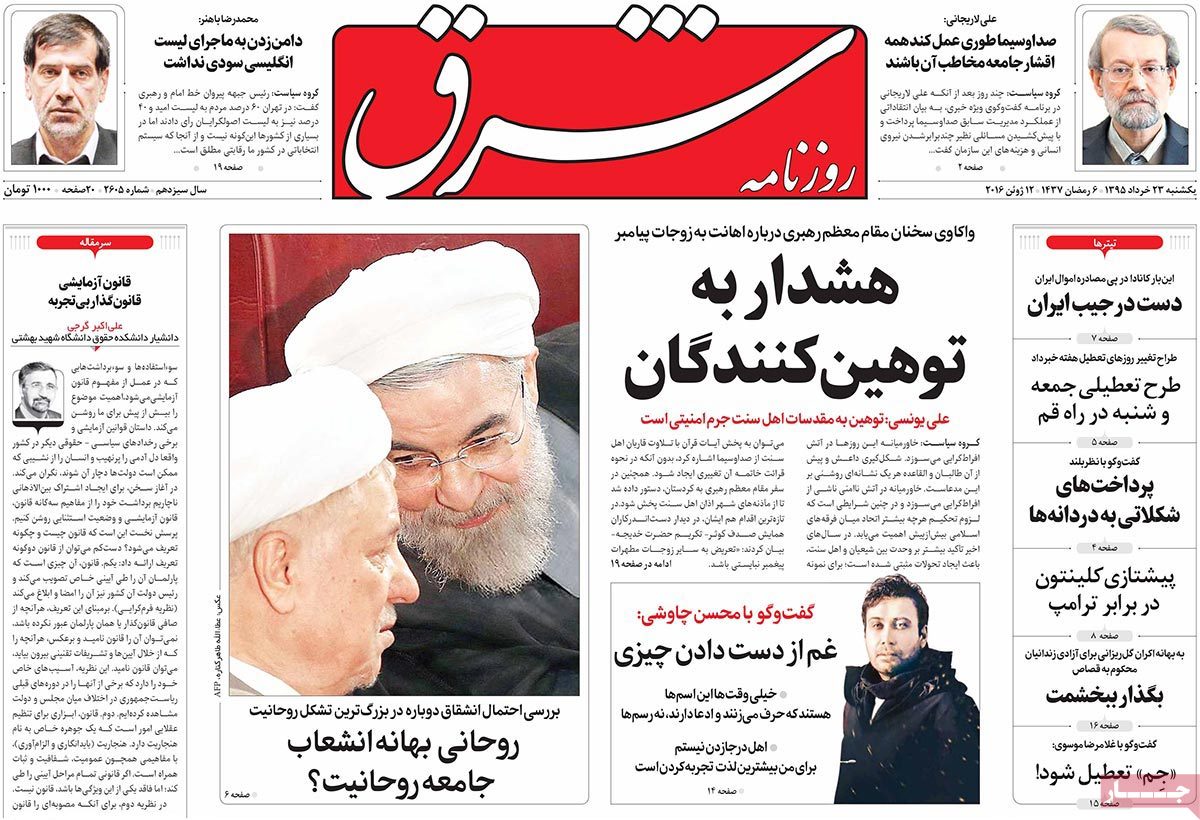 ---
Vaghaye Ettefaghieh:
1- Cabinet Reshuffle to Inspire People's Hope: Analyst
2- Israel and Saudi Arabia, Strange Bedfellows in the Contemporary Middle East