The top story in most newspapers on Saturday was the death of Habib Mohebian, the famous Iranian singer and composer. He was a Los Angeles-based artist for many years, but moved back to Iran a few years ago in the hope that he could resume legal performances in his homeland. However, he was never given the permission to release an album or hold a concert, mainly because of his work in America.
Iranian media also covered a recent statement by the United Nations' Secretary General Ban Ki-moon, in which he admitted that the UN had removed Saudi Arabia's name from a blacklist because of Riyadh's threat of cutting its aid.
Abrar:
1- French Gov't Worried about Return of Extremist ISIS Deserters
2- Kurdistan Freedom Falcons Claim Responsibility for Istanbul Blast
3- Obama Officially Supports Clinton in Presidential Elections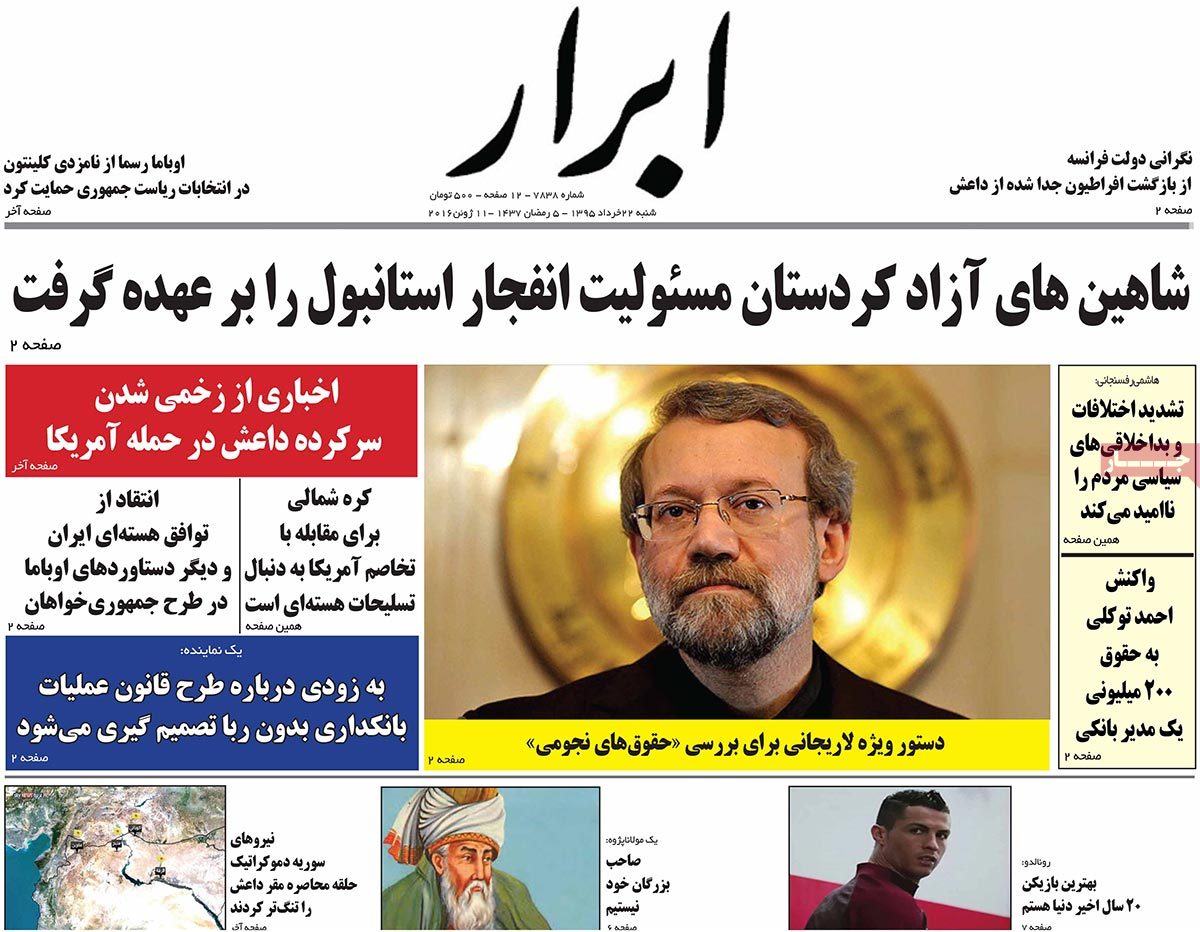 ---
Abrar-e Eqtesadi:
1- Iran and Italy Sign Oil MoU
2- Economic Growth without Employment
3- India to Settle the Rest of Its Oil Debts to Iran through German Banks
---
Aftab-e Yazd:
1- With Rouhani until 2021: Rouhani Will Run for 2017 Presidential Elections
2- Mansour Arzi, Who Used to Praise North Korea, Criticizes JCPOA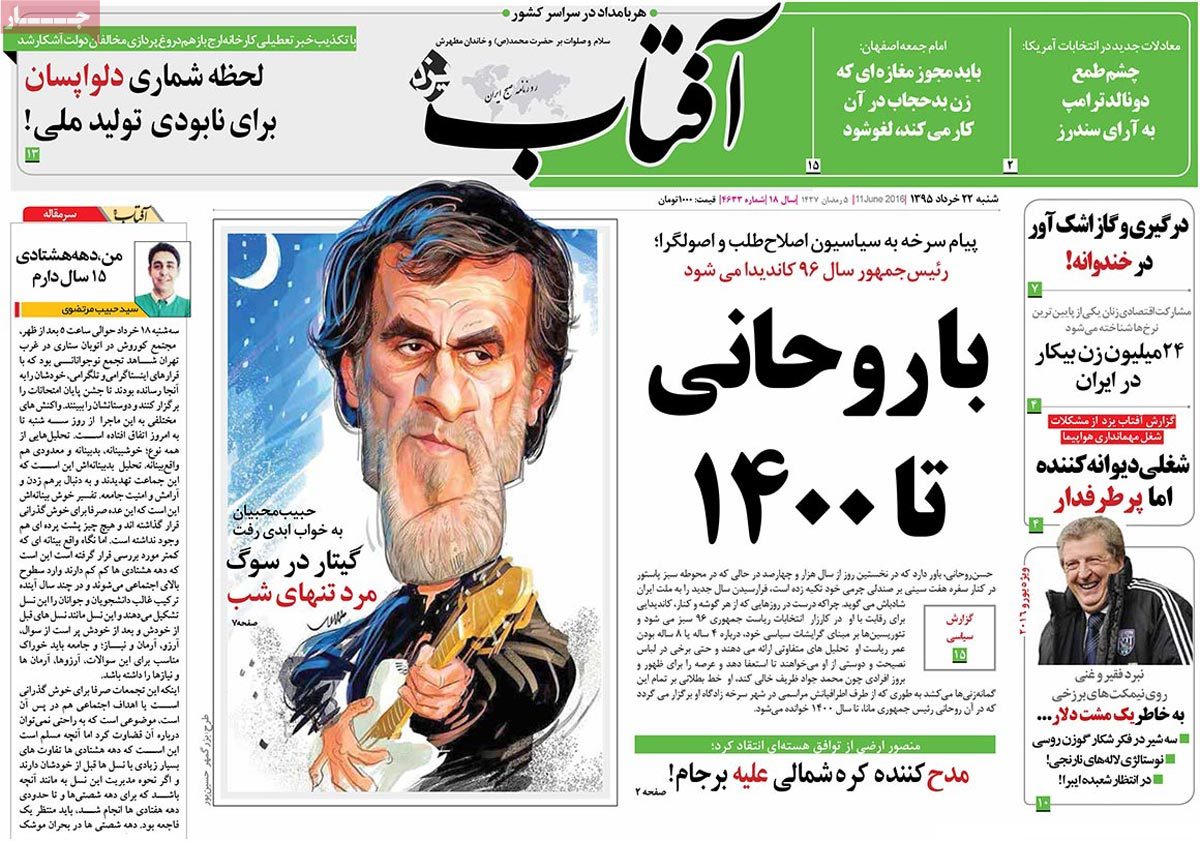 ---
Arman-e Emrooz:
1- "Lonely Man of the Night" Dies: [singer] Habib Mohebian Died in His Homeland, as He Wished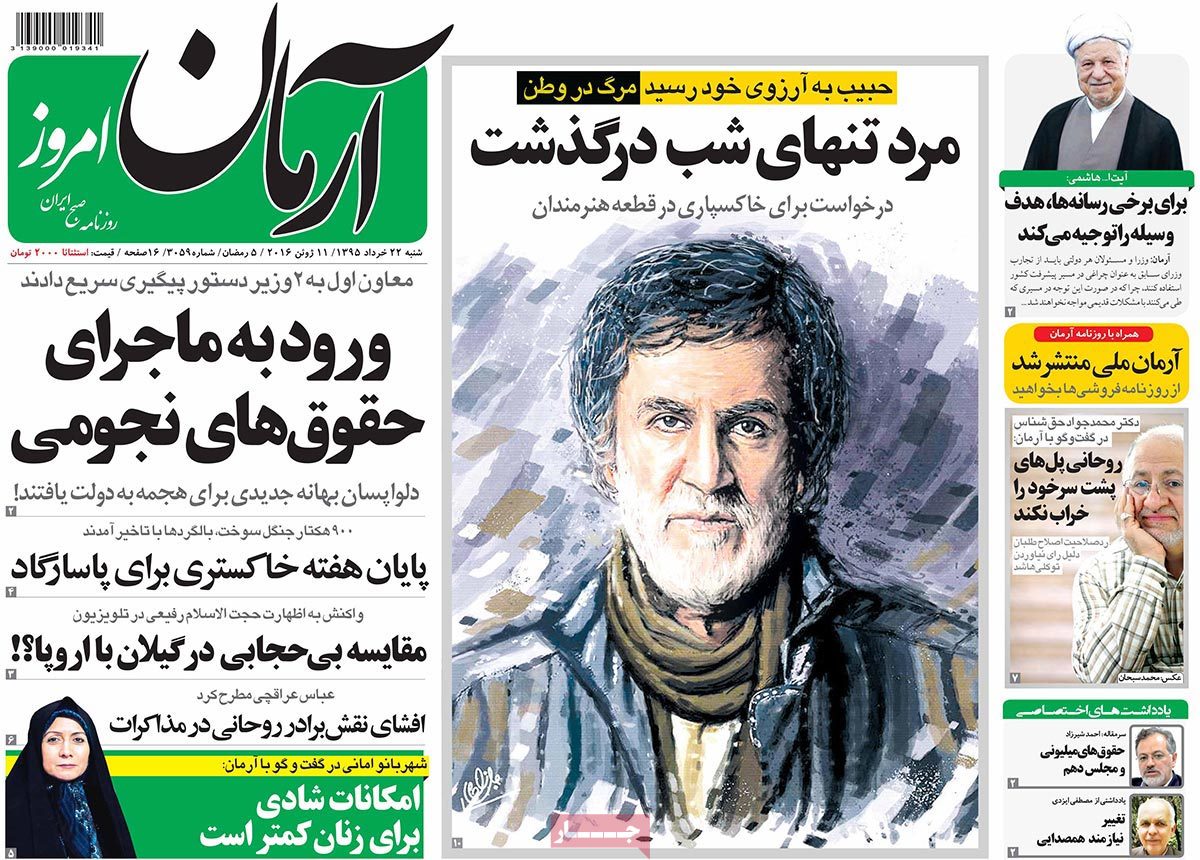 ---
Asia:
1- Americans Working in Non-American Companies Free to Deal with Iran: Department of Treasury
2- Euro 2016: Playing with Fear below the Surface
3- Arj, a Name You Might No Longer Know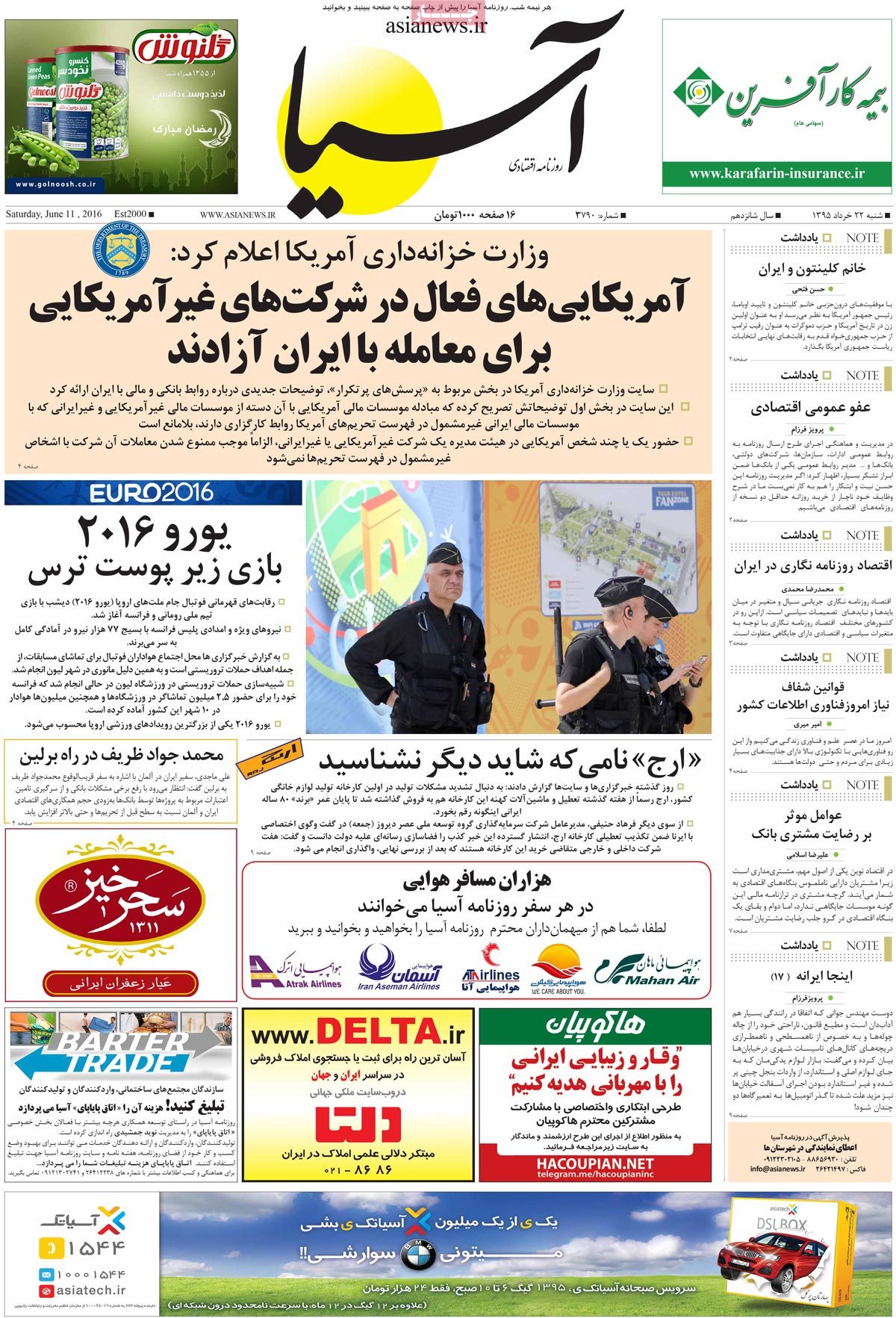 ---
Asrar:
1- Ban: Removing Saudi Arabia's Name from Blacklist Was Very Painful Decision
2- Senior Cleric: Saudi Arabia Knows No Limit in Shedding Muslim Blood
3- Boeing Gets Go-Ahead for Iran Talks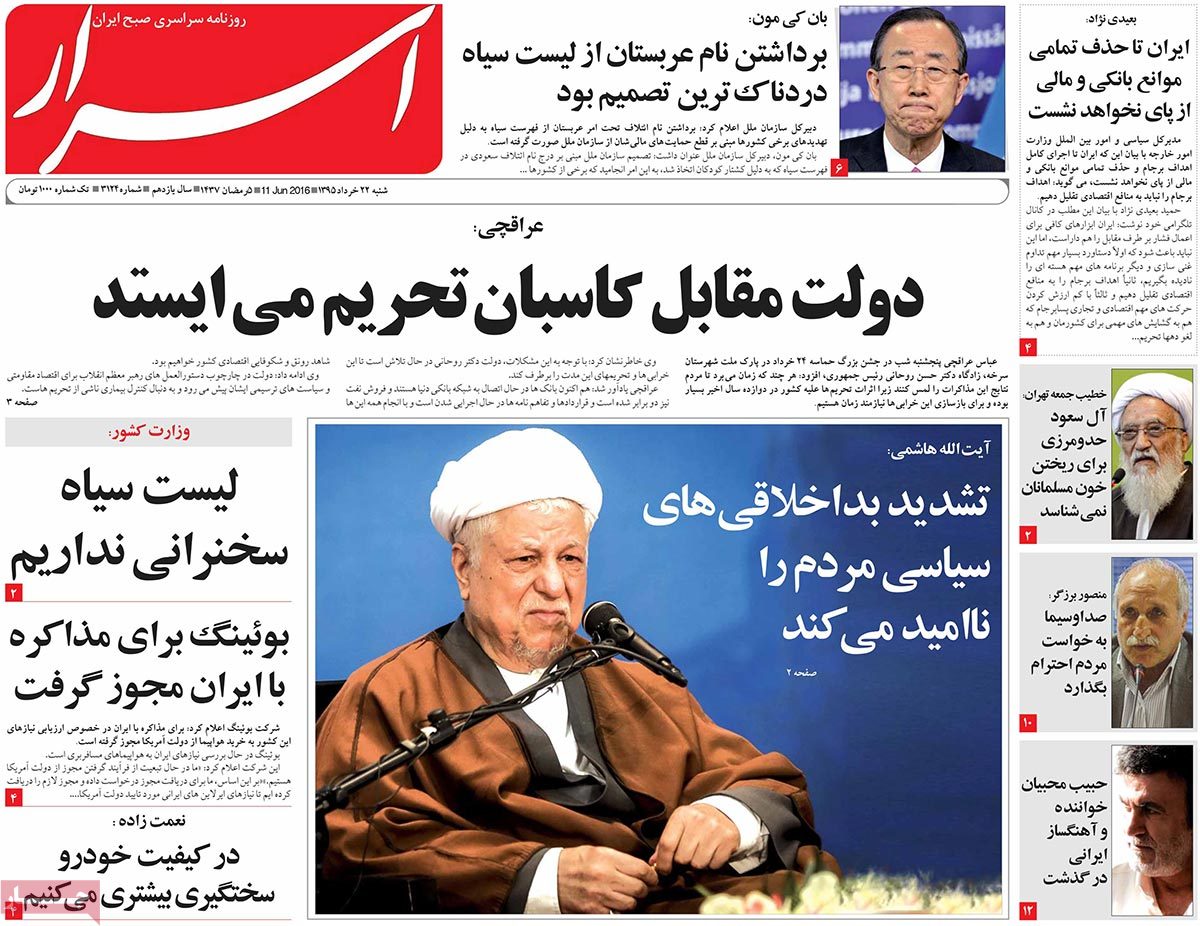 ---
Ebtekar:
1- Saudi Arabia Buys Human Rights
2- No One Should be Worried about ISIS's Defeat: Zarif to Saudi FM
3- Deputy FM: Rouhani Administration Will Stand against Sanctions Profiteers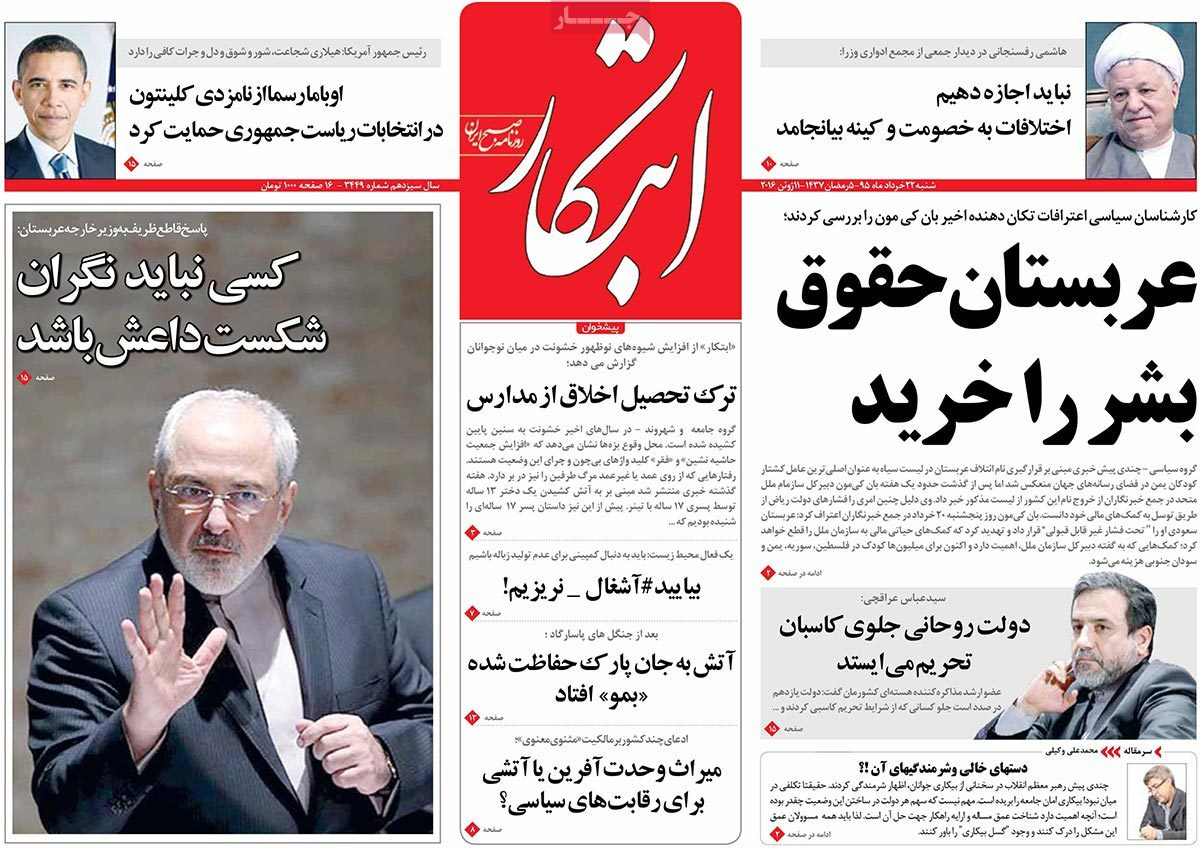 ---
Emtiaz:
1- Why FIFA Opposes Iranian Cheetah on National Team Shirts
2- Iran's Gas Output to Equal Qatar's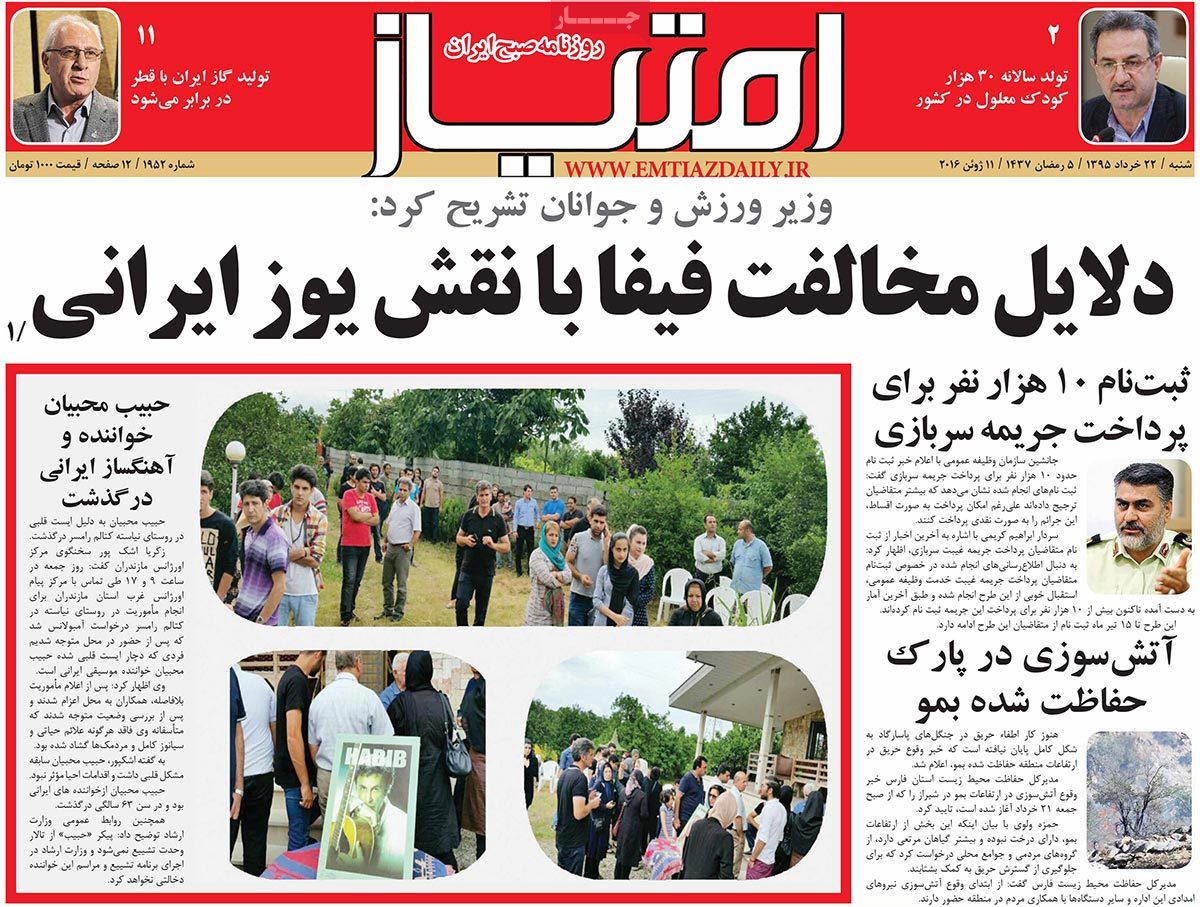 ---
Etemad:
1- Radical Rivals Are Good for Rouhani: President's Strategic Advisor
2- Combating Astronomical Salaries: First VP and Parliament Speaker Call for Investigations
---
Ettela'at:
1- Trilateral Tehran Meeting for Opposing Terrorism: Iranian, Russian, and Syrian DMs Underline Decisive anti-Terrorist Measures
2- Without Iran, Middle East Won't Have Lasting Peace: French Parliament Speaker
3- Iran's Economy Moving forward after JCPOA: Deputy FM Araqchi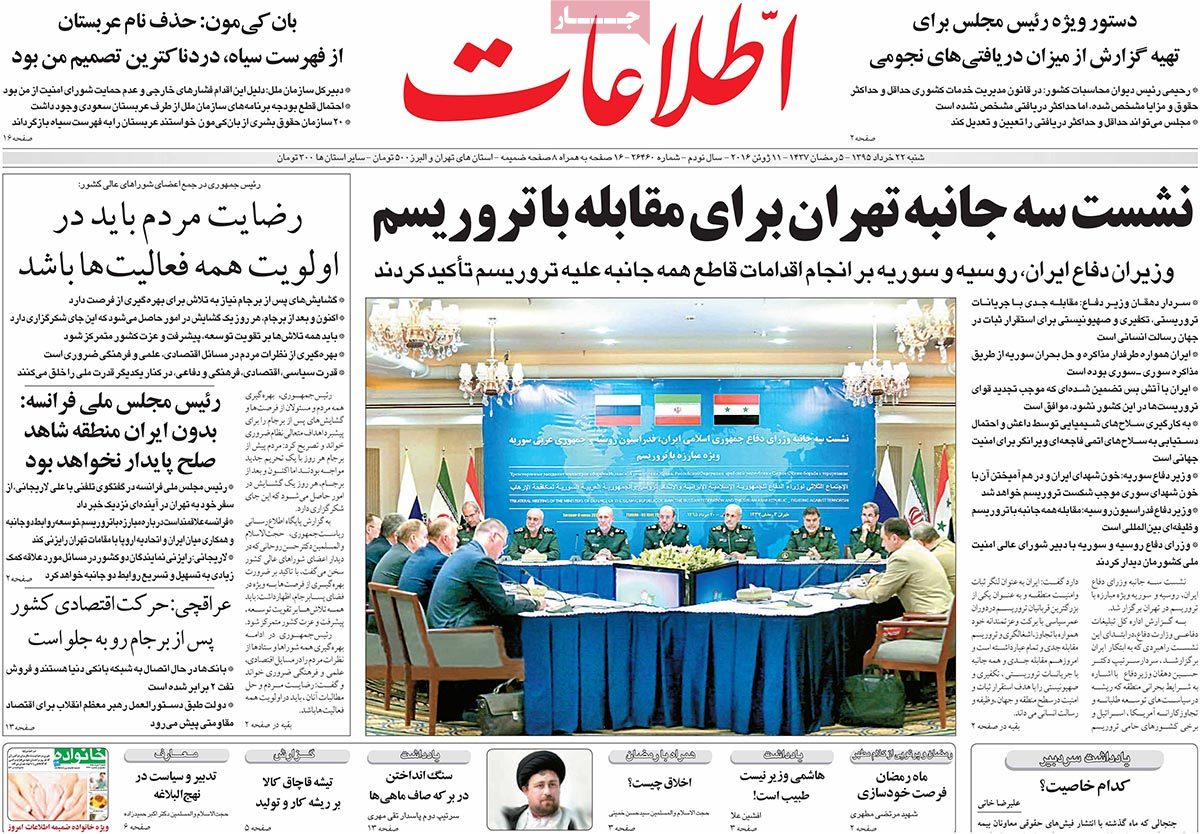 ---
Ghanoon:
1- "I'm Still Alive and That's a Thorn [in my enemy's eyes]": A Report on Habib's Life in Art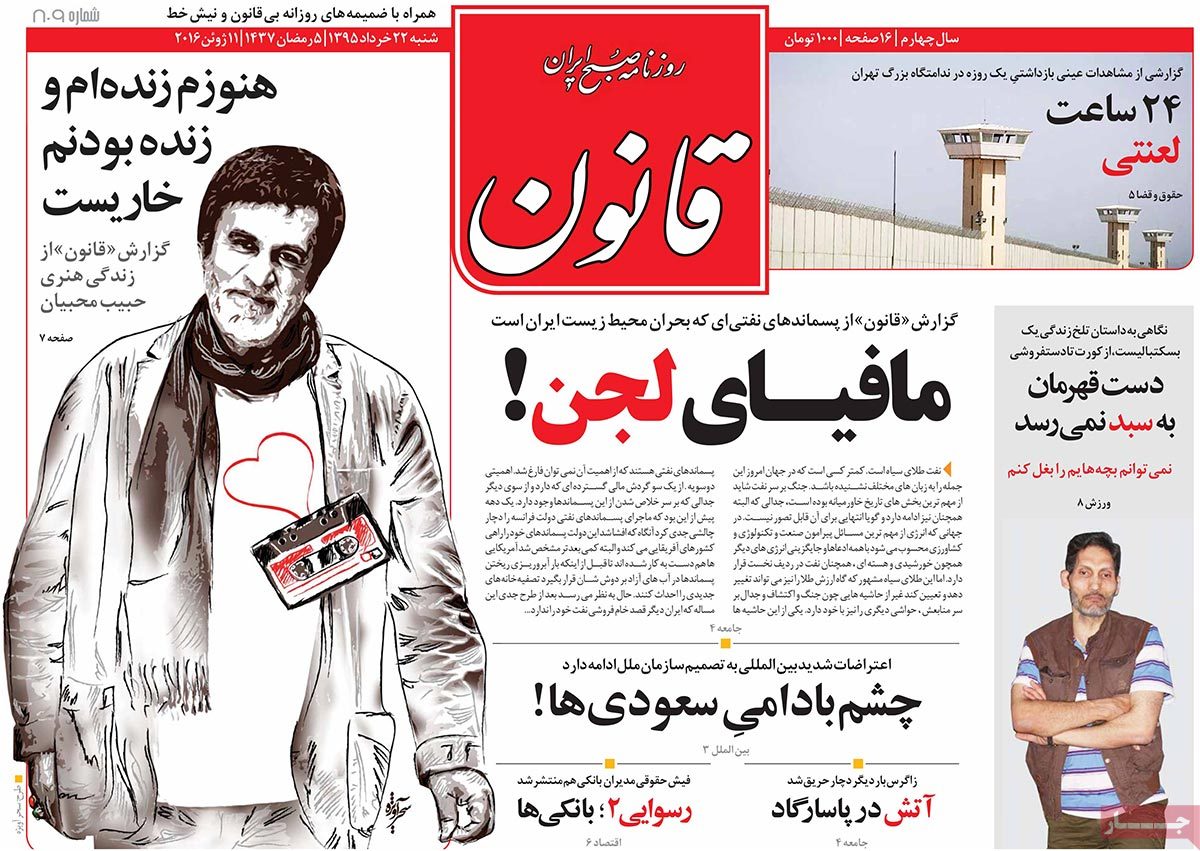 ---
Haft-e Sobh:
1- Private TV Legalized in Iran
2- Cars that Both Iranian and American Consumers Like
---
Iran:
1- Ban's Bitter Confession about Saudis: Riyadh's Threat of Cutting Aid Led to Removal of Its Name from Blacklist
2- Iran DM: We Accept a Ceasefire in Syria that Doesn't Embolden Terrorists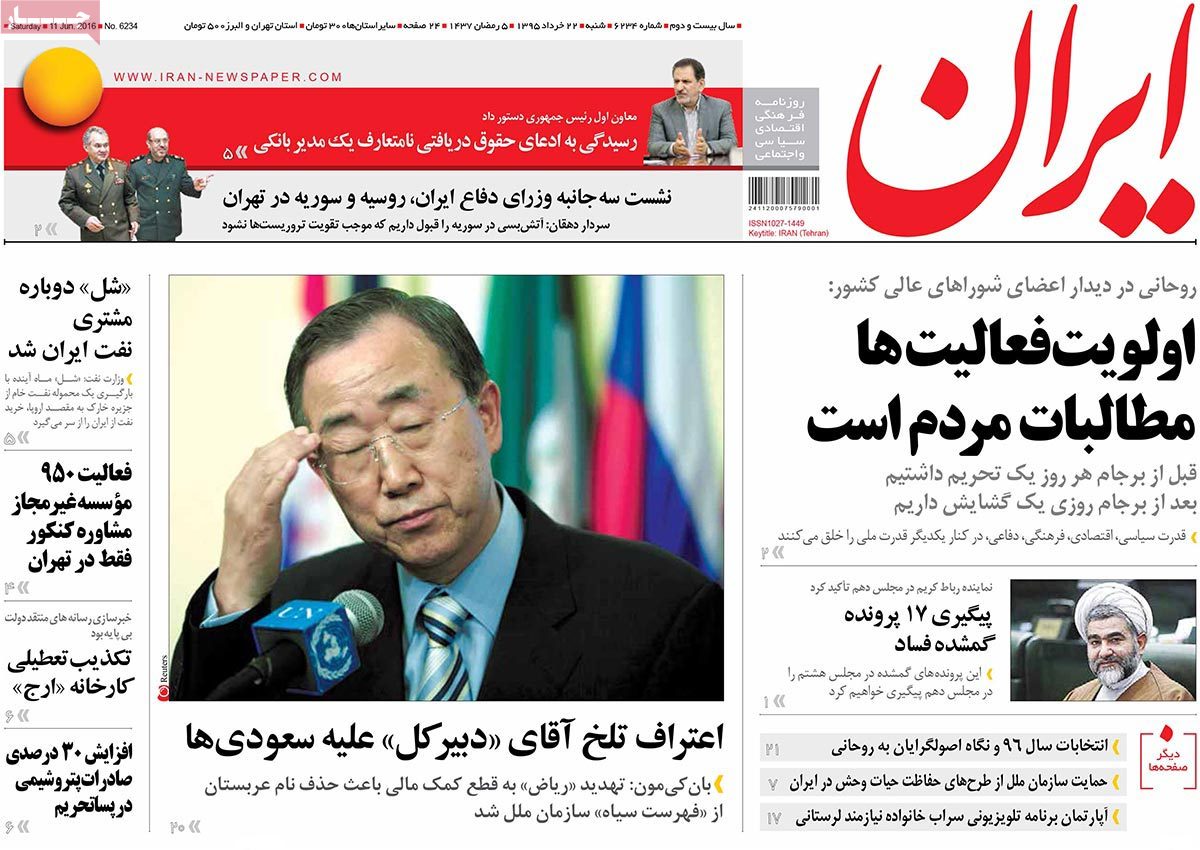 ---
Jame Jam:
1- UN Is Latest Victim of Saudi Arabia
2- Terror of United Nations [Editorial]
---
Javan:
1- Return Saudis to the "Blacklist": 20 Human Rights Groups to Ban Ki-Moon
2- "A Moment to Learn", Muhammad Ali's Last Victory
3- Cold Intifada Evolving into a Hot One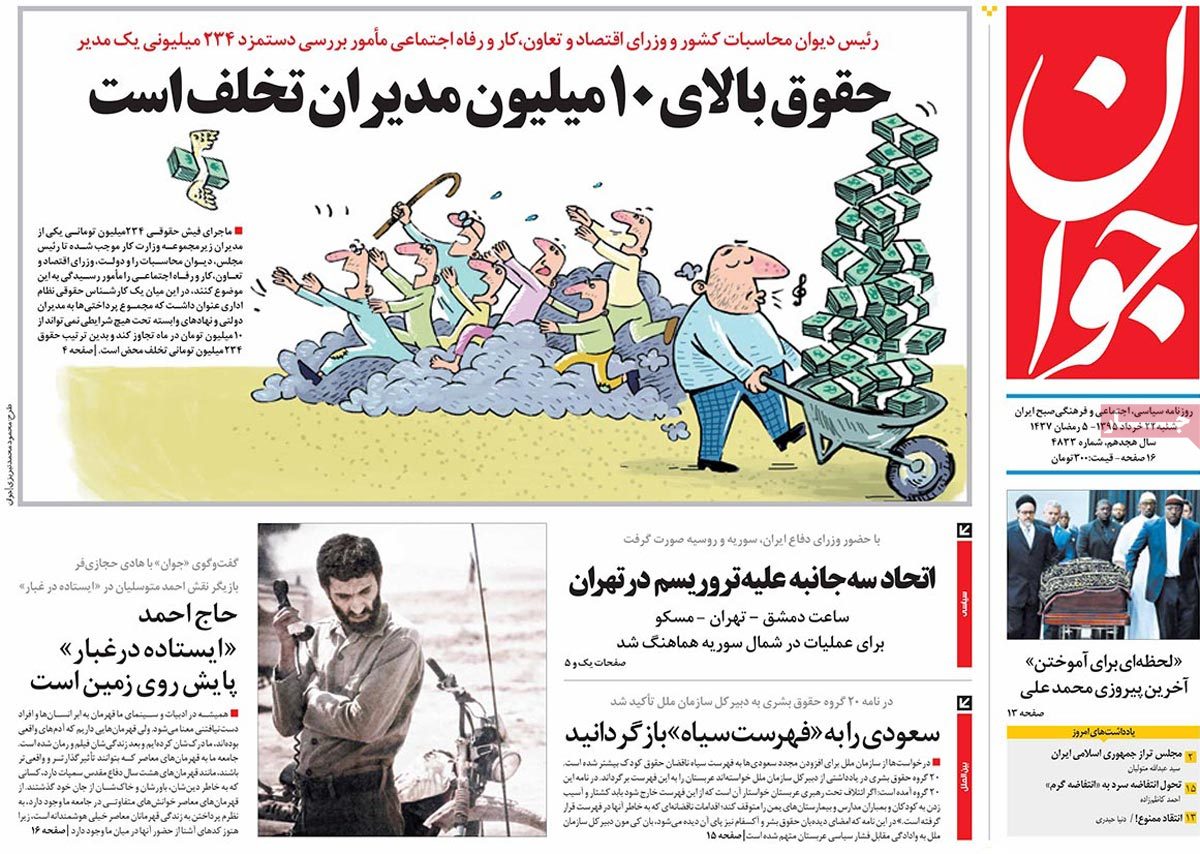 ---
Jomhouri Eslami:
1- New Round of Economic Ties between Iran and Germany with Zarif's Visit to Berlin
2- South of Fallujah Liberated
3- Zionist [Israeli] Regime in Critical Condition after Palestinian Suicide Attacks
---
Kayhan:
1- Arj, Iran's First Home Appliances Manufacturer, Shuts Down after 80 Years
2- For First Time, Ban Confesses United Nations Is for Hire
3- Huge Suicide Attack in Tel Aviv Kills 4 Zionists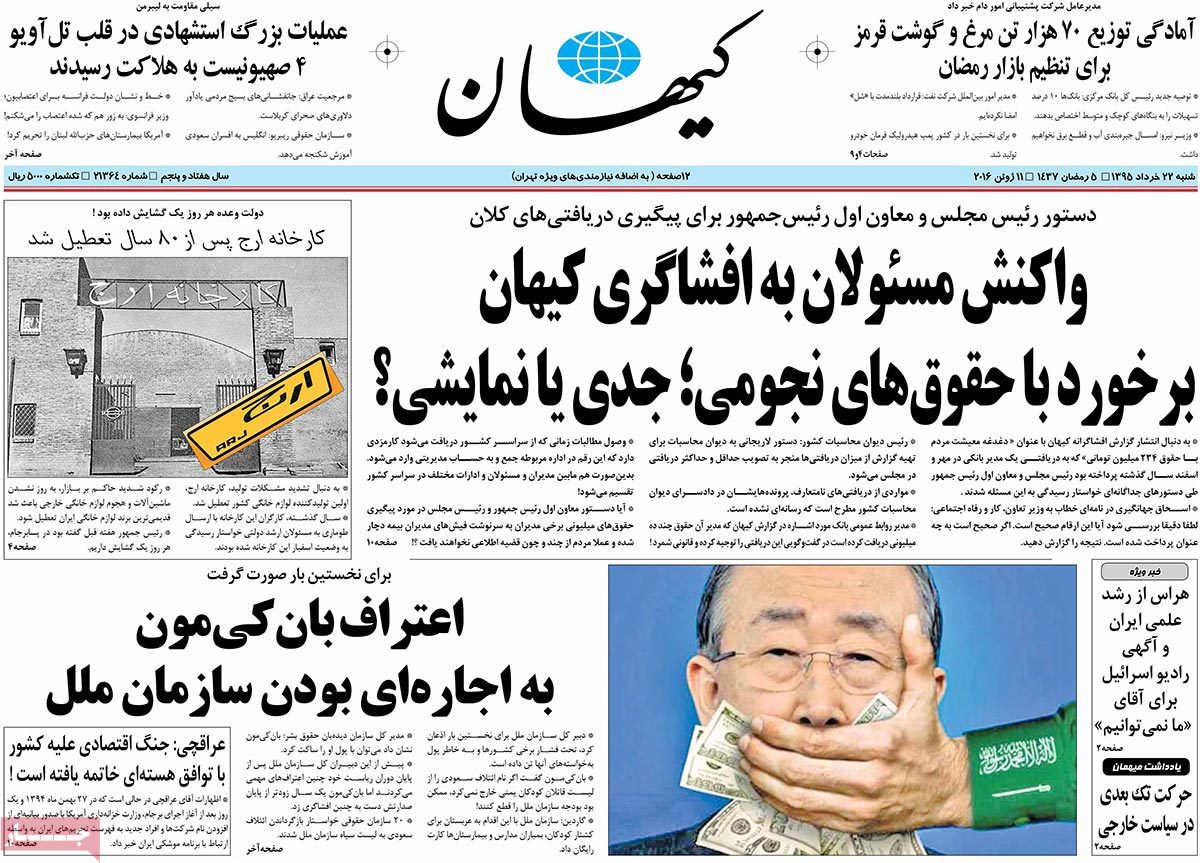 ---
Khorasan:
1- Ban's Historic Confession: We Had to Remove Saudi Arabia's Name [from blacklist] Due to Money
2- Europe's Second Oil Giant Starts Buying Iran's Crude Oil
3- Tehran Summit's Important Decision: Change Political and Military Tactics in Syria
4- Insult to Any of Prophet Muhammad's Wives Is Insult to the Prophet Himself: Leader Emphasized for First Time
5- Secret behind Arj Factory Shutdown [One of the oldest industrial plants in Iran]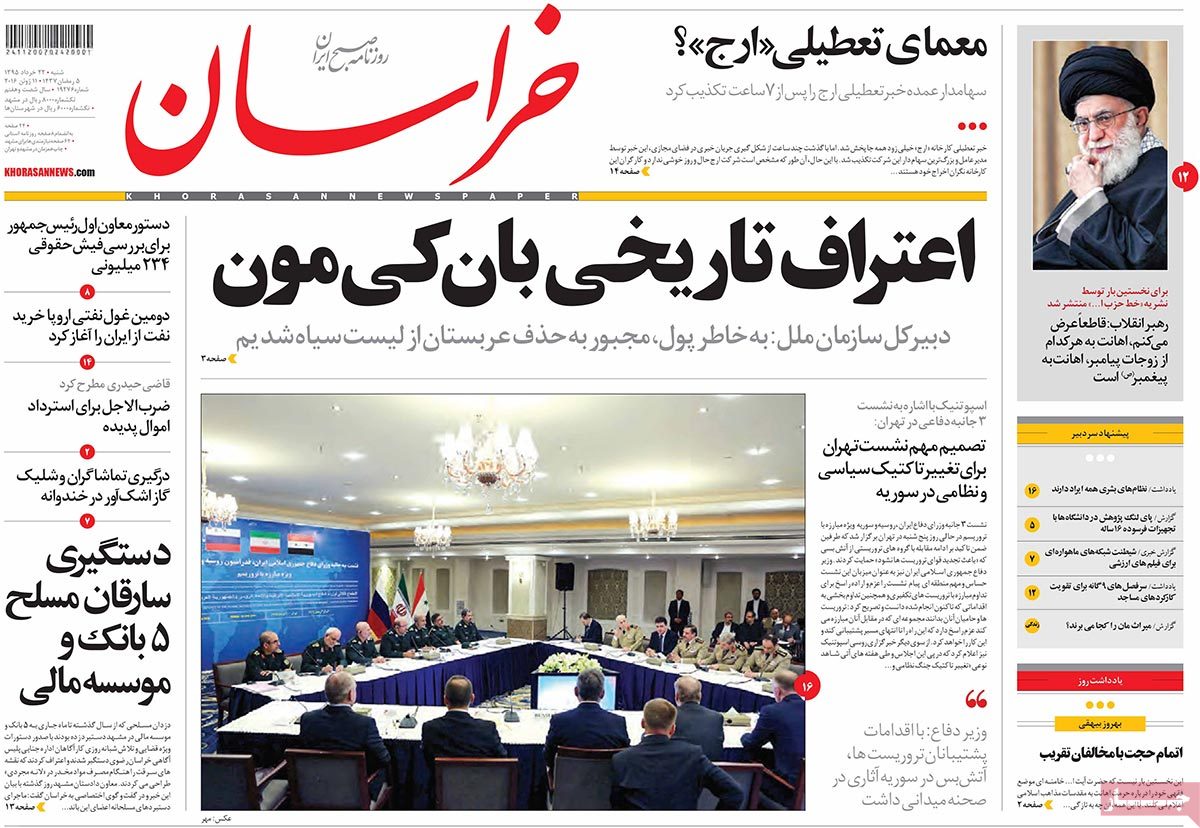 ---
Roozan:
1- UN Gives Saudi Arabia Carte Blanche to Slaughter Civilians
2- Iranian Singer and Musician Habib Mohebian Dies: "Habib" [meaning beloved] outside Iran, "Gharib" [meaning stranger] at Home
3- Clerics in Iranian Parliament Form Independent Faction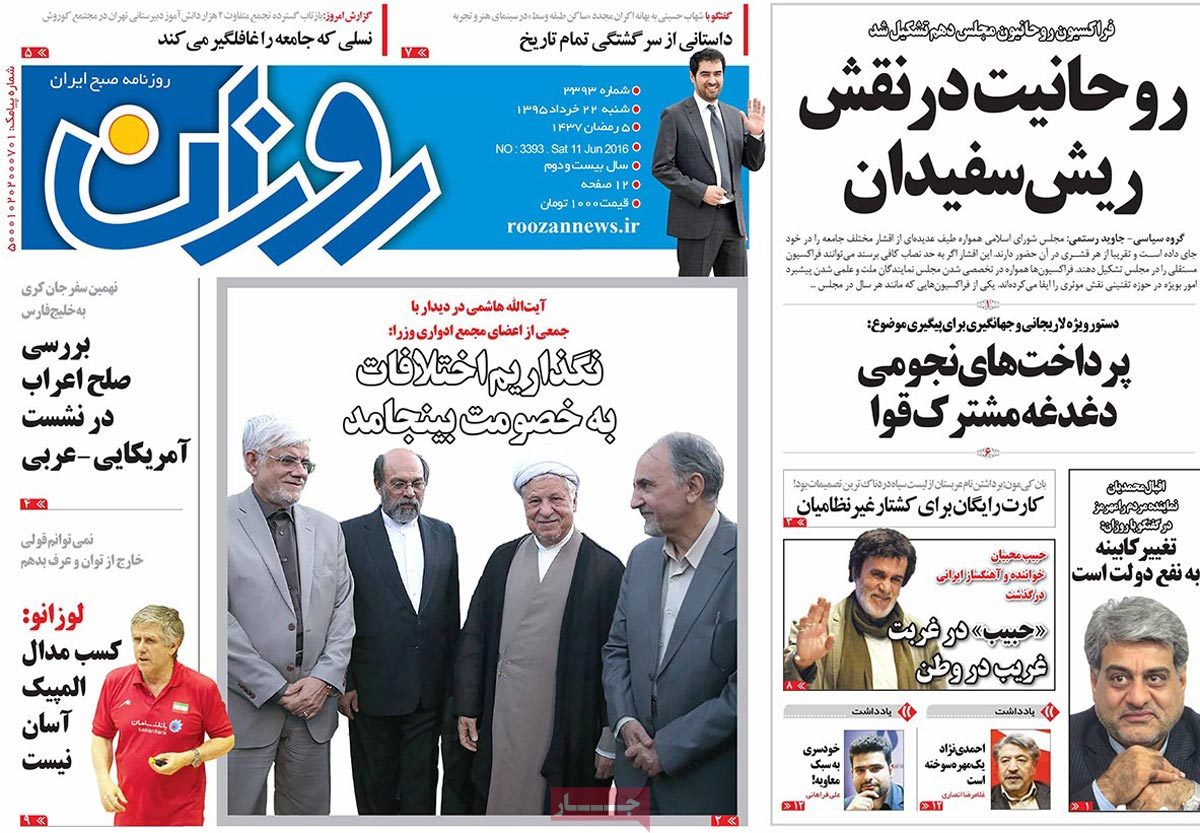 ---
Shahrvand:
1- Saudi Arabia's Money vs. Yemeni Children's Lives
2- Pasargadae Forests Burn for 50 Hours
3- 1700-Year-Old Iraqi Antiquities Discovered in Tehran Subway
---
Shargh:
1- Reza Zarrab, Zanjani's Partner, Earns $11bn per Month
2- Empire of Chinese Goods in Iran
---
Shorou:
1- Fires of Negligence Burn Down Iranian Forests
2- End of the Story for "Lonely Man of the Night"
3- Loose Hijab Cannot Be Corrected by Disciplinary Moves: Police Official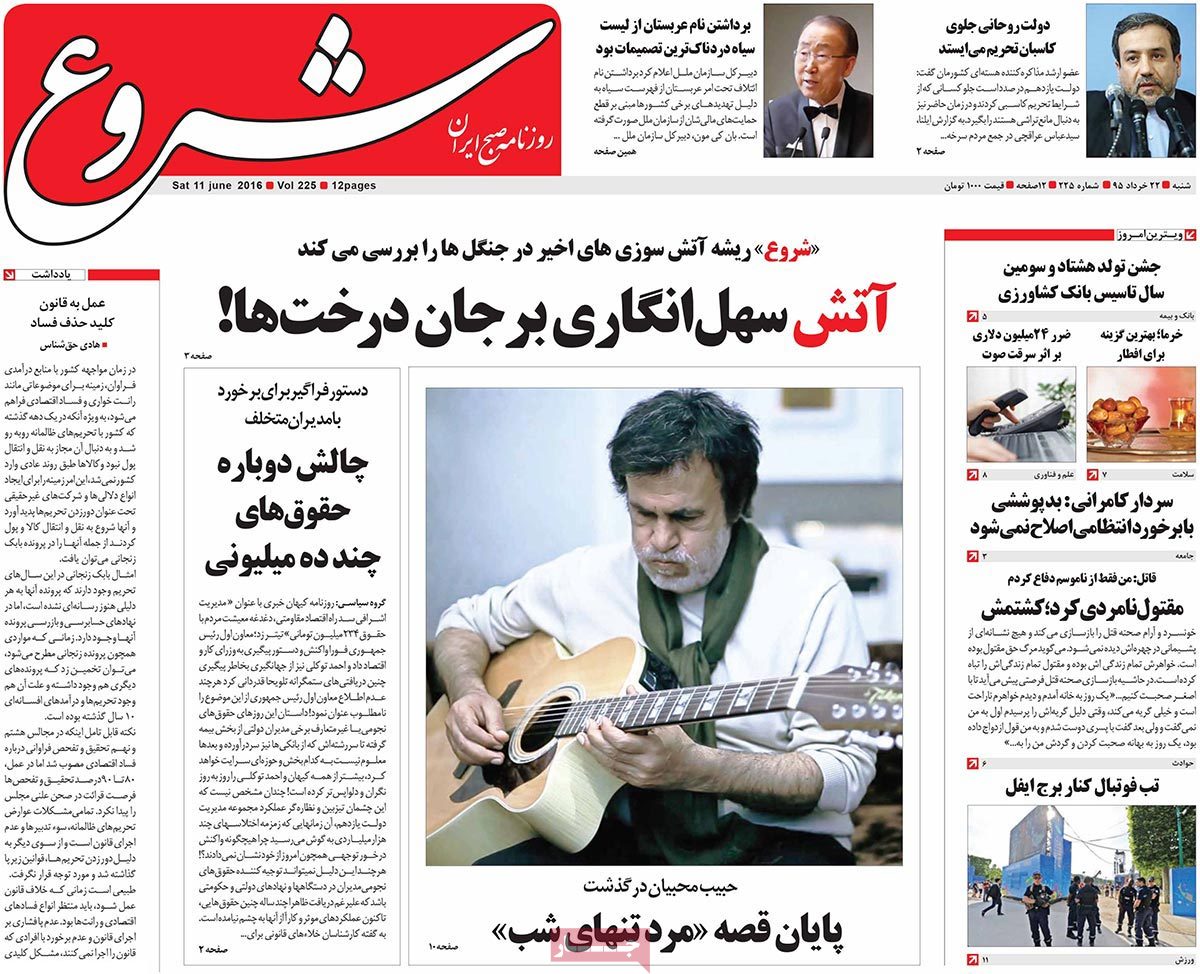 ---
Sobh-e Now:
1- Exclusive Report on Final 24 Hours of Jason Rezaian's Prisoner Swap
2- Hamas Official: Tel Aviv Operation Was a Response to Zionists
3- Suicide as Recreation: Are Teenagers Tired of Life?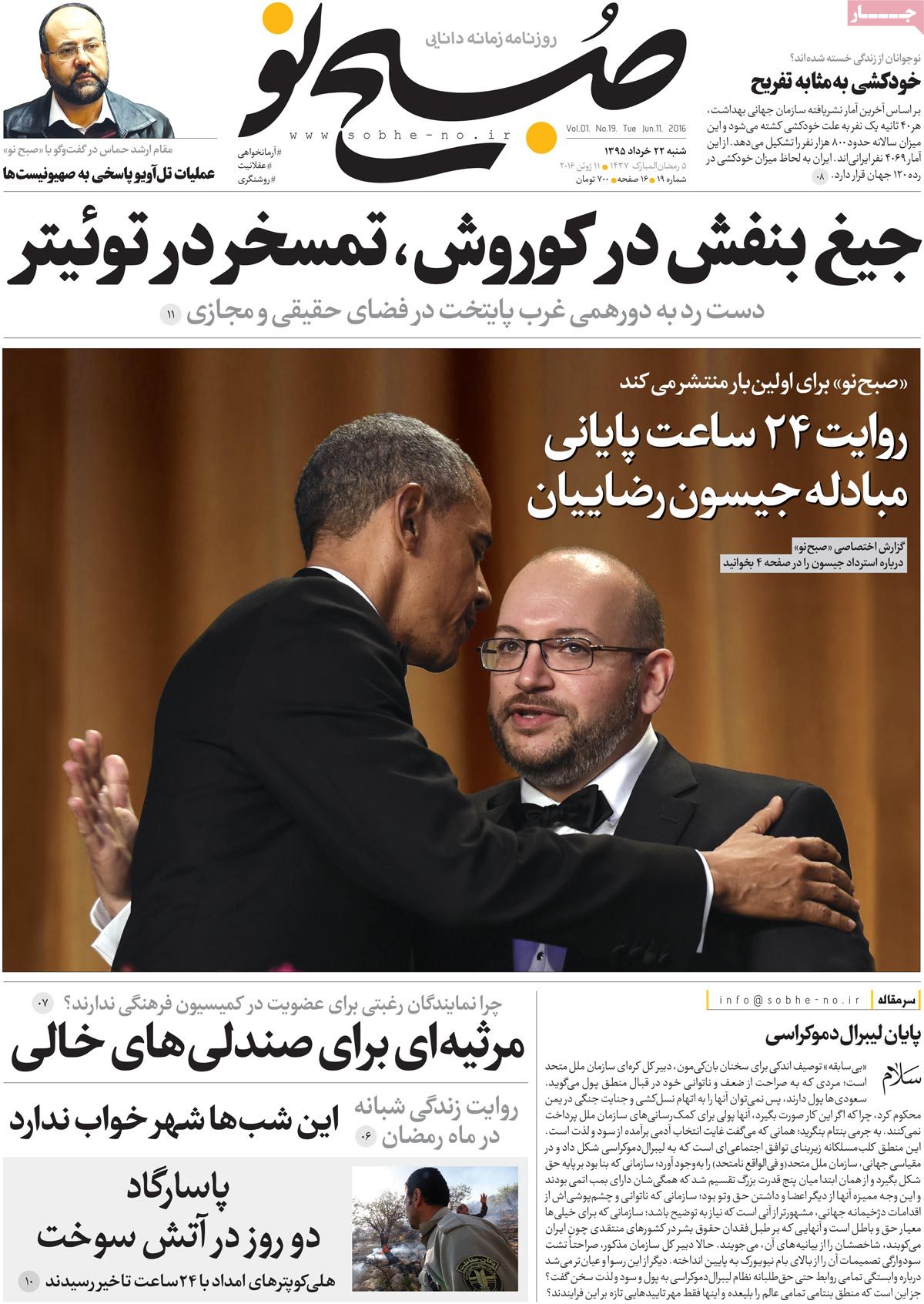 ---
Vaghaye Ettefaghieh:
1- Conservatives in 2017 Limbo: Will They Have No Choice But Rouhani?
2- Concerns of a Coalition: Iran, Syria, Russia Hold Meeting in Tehran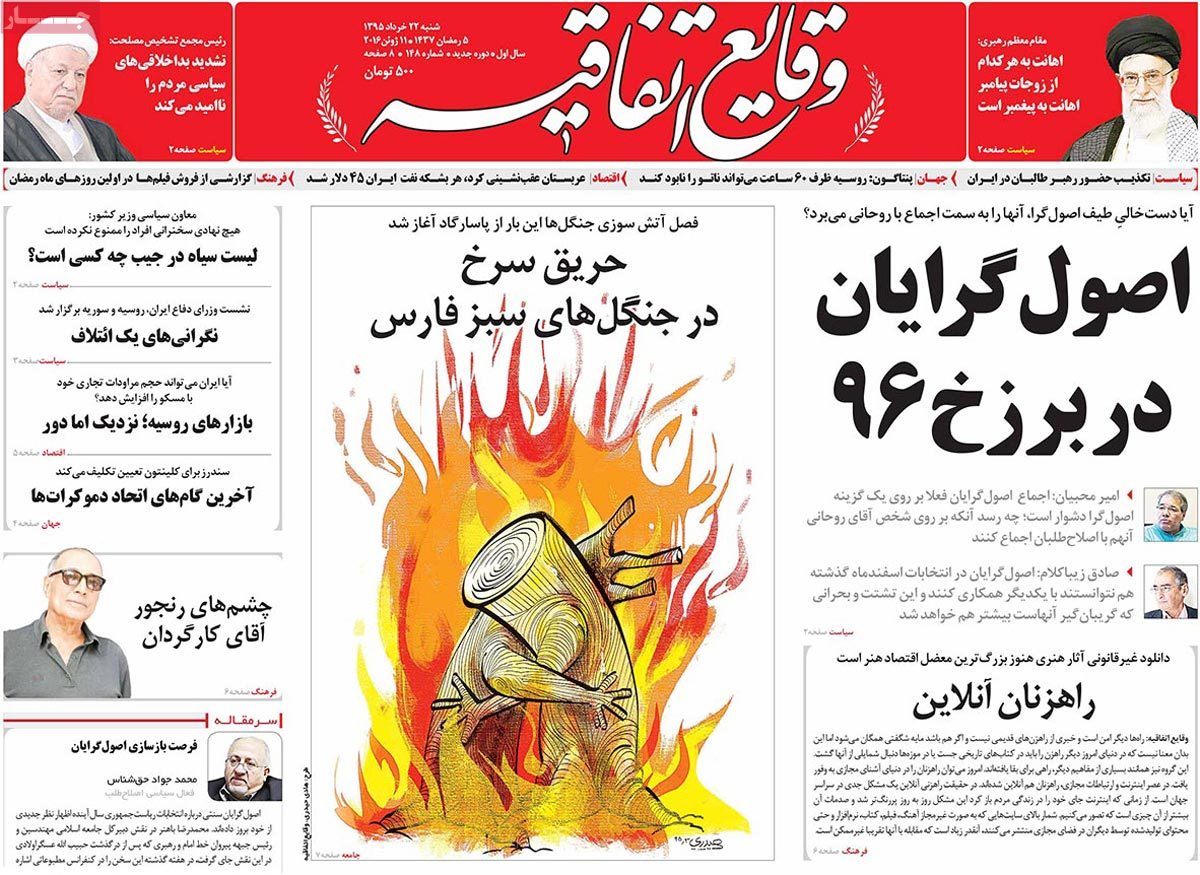 ---
Vatan-e Emrooz:
1- I'm Infamous! Ban's Confession Causes Scandal for UN