The twin terrorist attacks in Tehran, which claimed the lives of 17 and wounded at least 45 others on Wednesday, remained a top story today.
The Leader of Iran's Islamic Revolution Ayatollah Seyyed Ali Khamenei's message on the attacks, as well as the funeral held for the victims in Tehran and other cities on Friday also received great coverage.
Newspapers also covered the results of General Elections in the United Kingdom and the loss of Prime Minister Theresa May, whose party lost the majority of UK Parliament.
The above issues, as well as many more, are highlighted in the following headlines and top stories:
19 Dey:
1- Larijani: IRGC, Its Quds Force Are Red Lines of Iran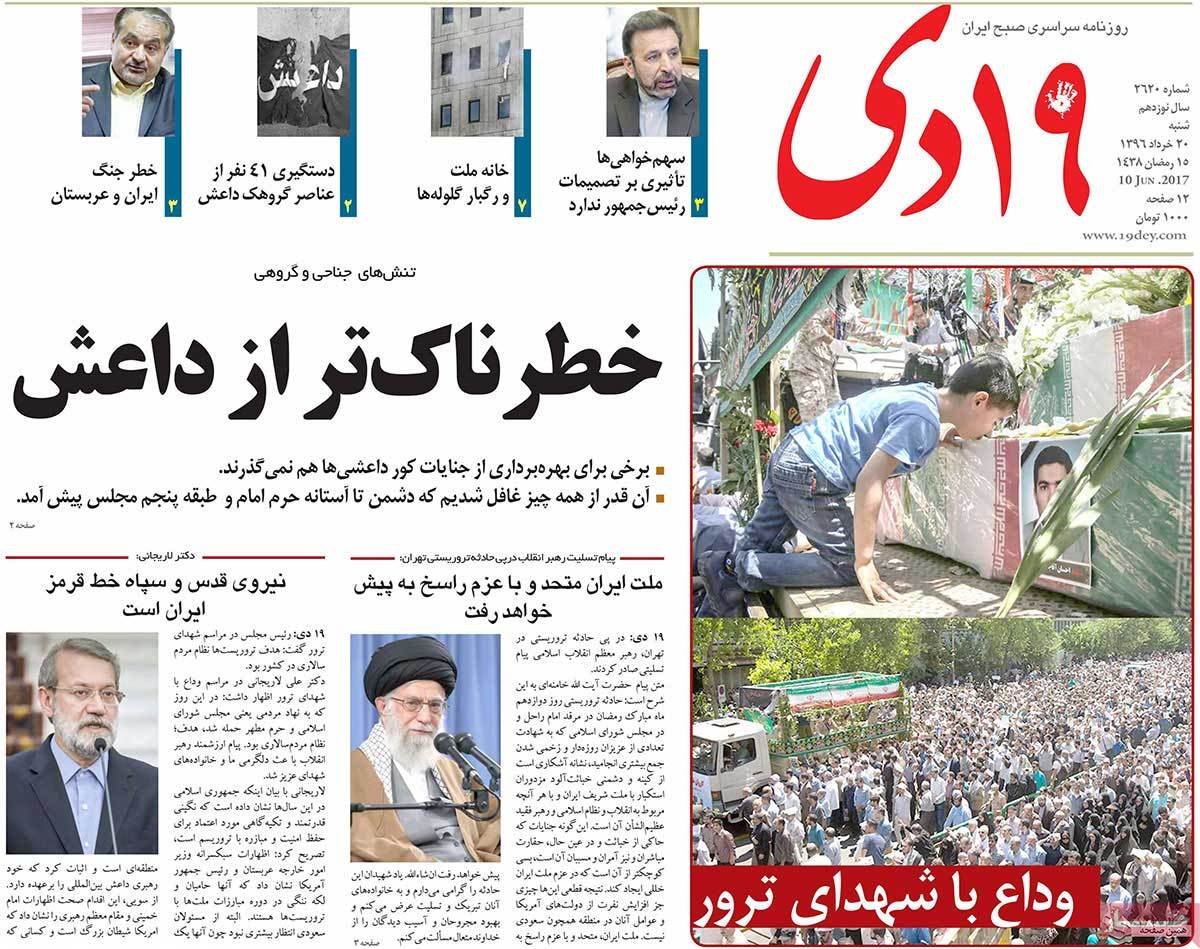 ---
Abrar:
1- US Claims American Troops in Syria Attacked by Iran-Made Drone
2- Secretary General: UN's Official Position Is Supporting JCPOA Spirit, Text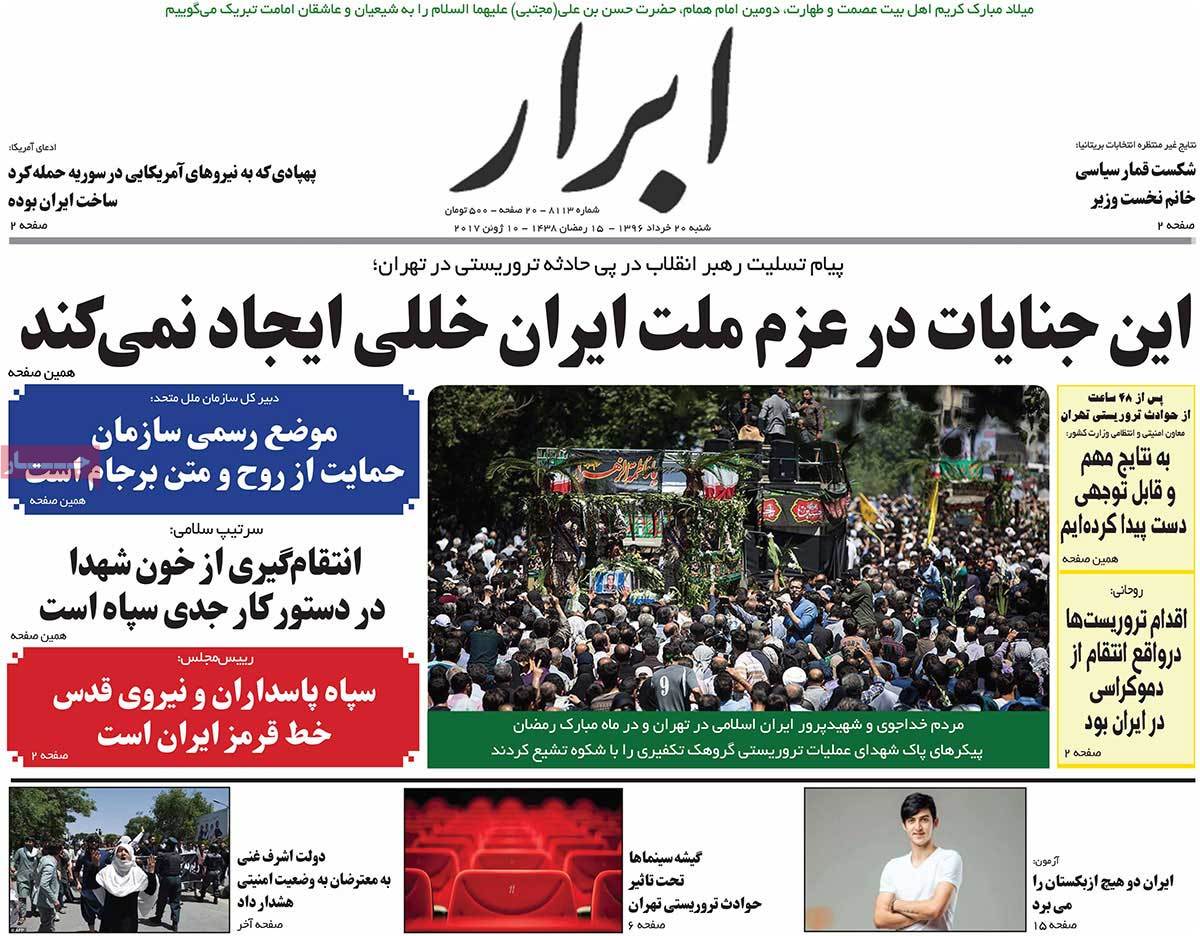 ---
Aftab-e Yazd:
1- Leader: Such Crimes as Tehran Attacks Won't Influence Iranian Nation's Resolve
2- Stories of Those Killed in Tehran Terrorist Attacks
3- Details of Operation by Iranian Security Forces in Tehran Attacks
4- MPs Were Terrorists' Target
5- How People Behaved during, after Wednesday Terror Incident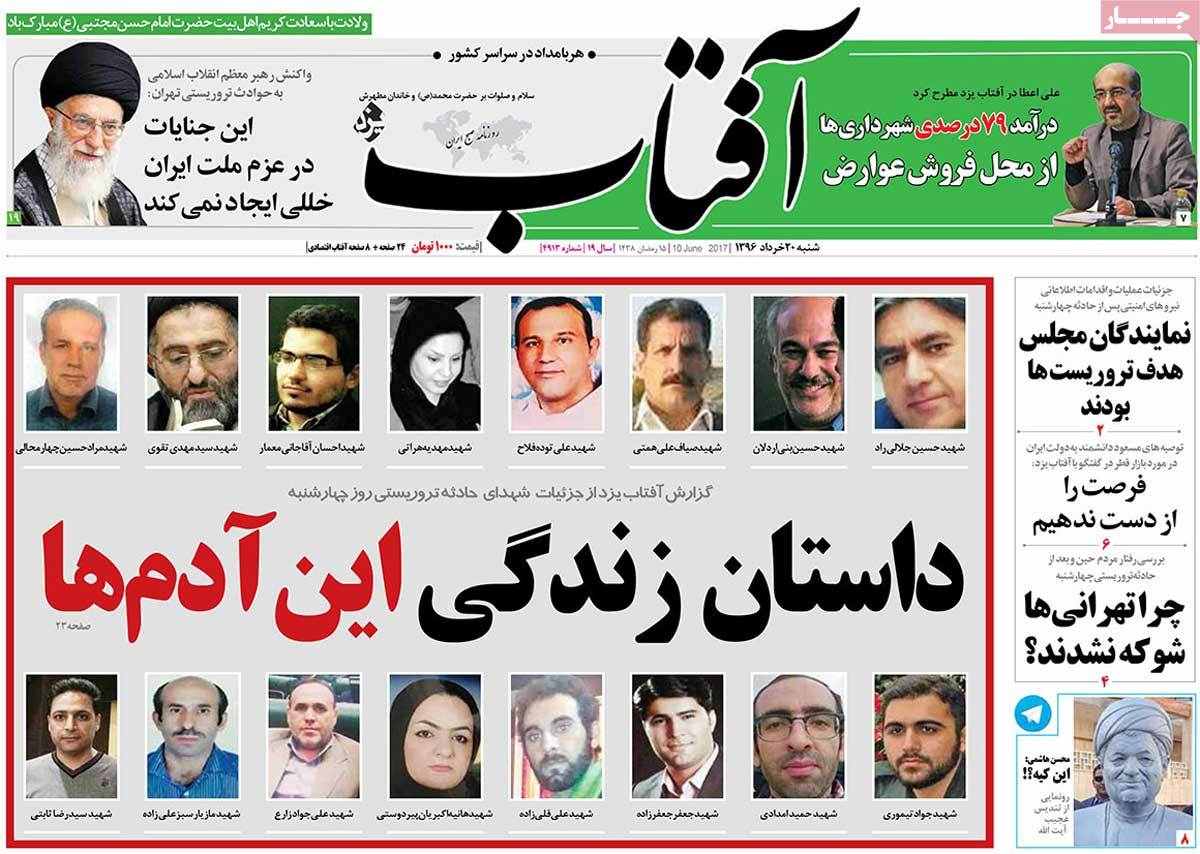 ---
Arman-e Emrooz:
1- Magnificent Farewell to Terror Victims
2- Rouhani: Tehran Attacks Revenge on Democracy
3- Theresa May Fails in UK General Elections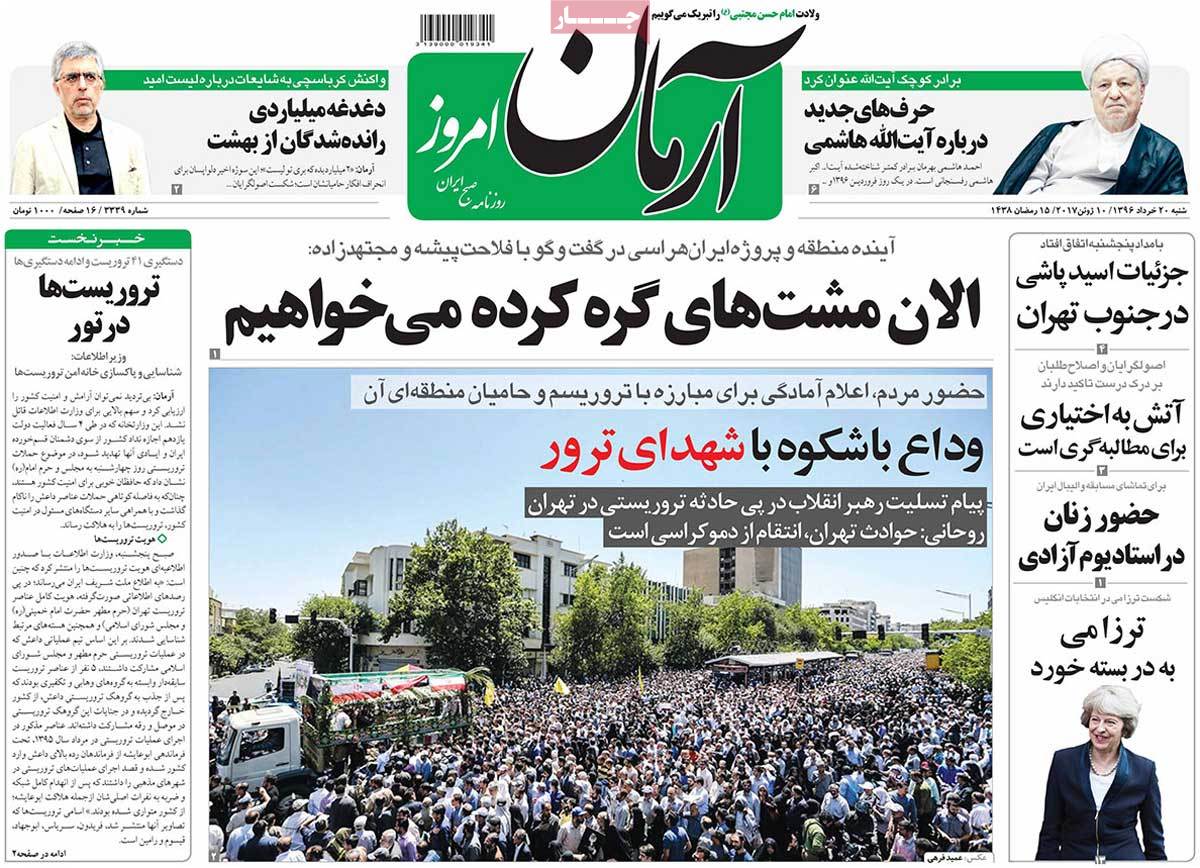 ---
Ebtekar:
1- Iranian Nation to Move Forward with Firm Resolve: Leader
2- Top Sunni Cleric: Elites Should Offer Solution to Prevent Terrorism
3- Sad Friday: Funeral Ceremony Held for Terror Victims in Tehran
4- World Voices Sympathy with Iran after Wednesday's Attacks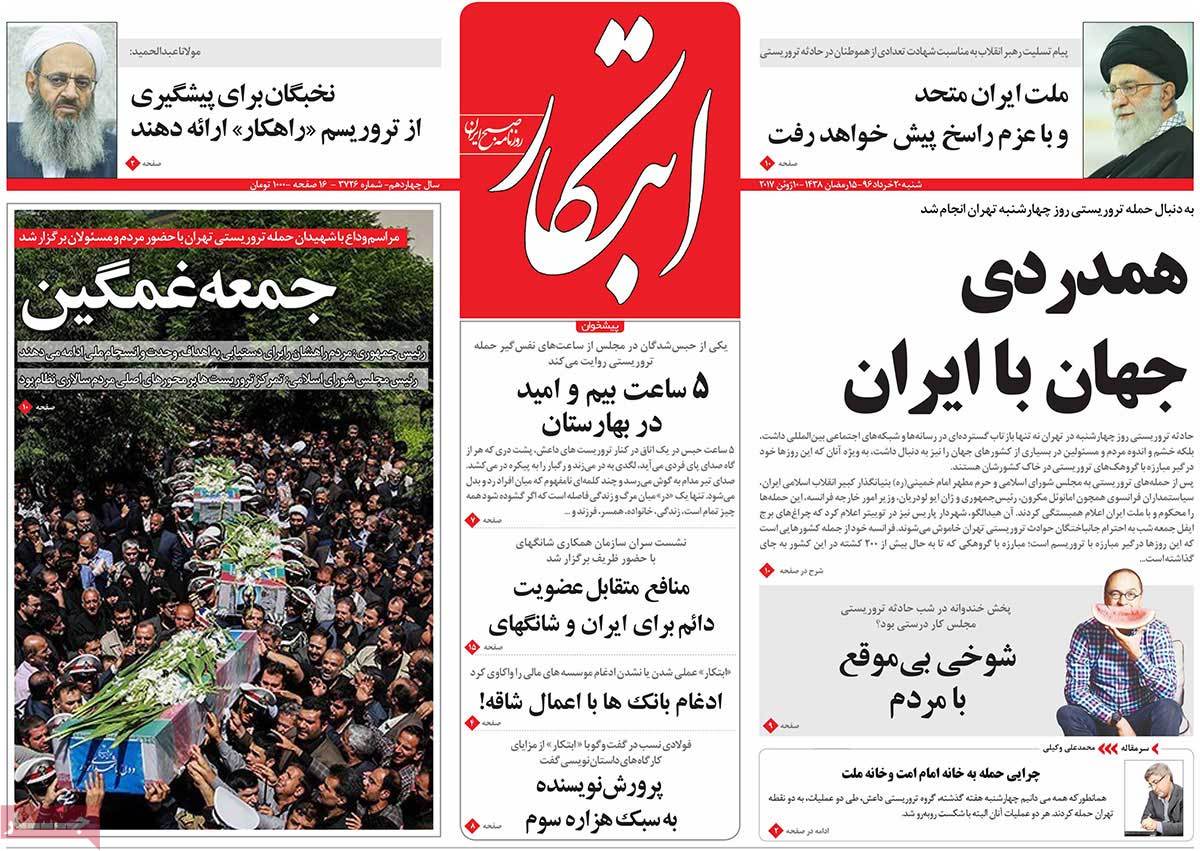 ---
Etemad:
1- Widespread Arrest of ISIS Elements after Tehran Attacks
2- SNSC Secretary: War Underway against Infiltrators
3- London's Political Chess More Complicated after Election Shock
Rise of Labour Party, Decline of Incumbent Administration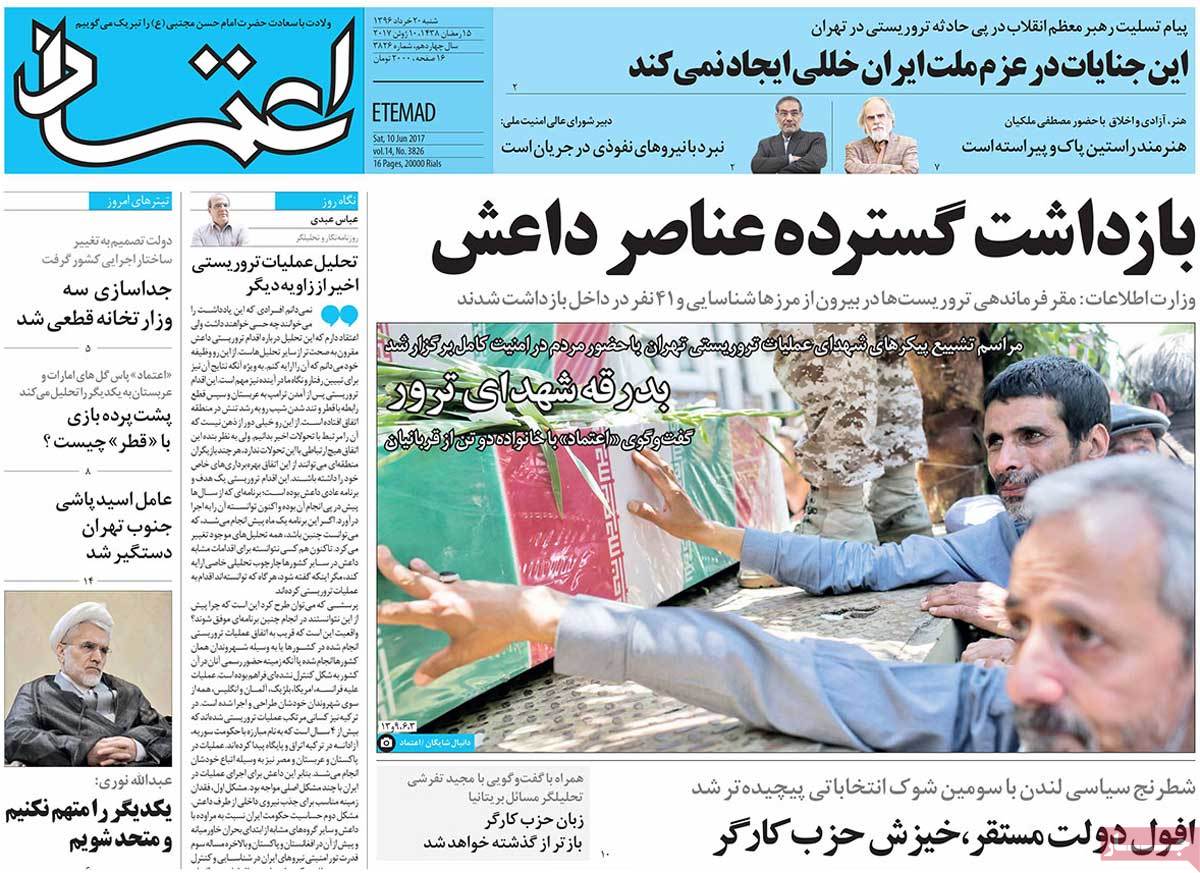 ---
Ettela'at:
1- Conservatives Lose Majority of UK Parliament
2- Erdogan Orders Deployment of 5,000 Turkish Troops in Qatar
3- Security Measures to Protect People against Possible Threats
4- Analyst: Pressure on Qatar Aimed at Isolating Iran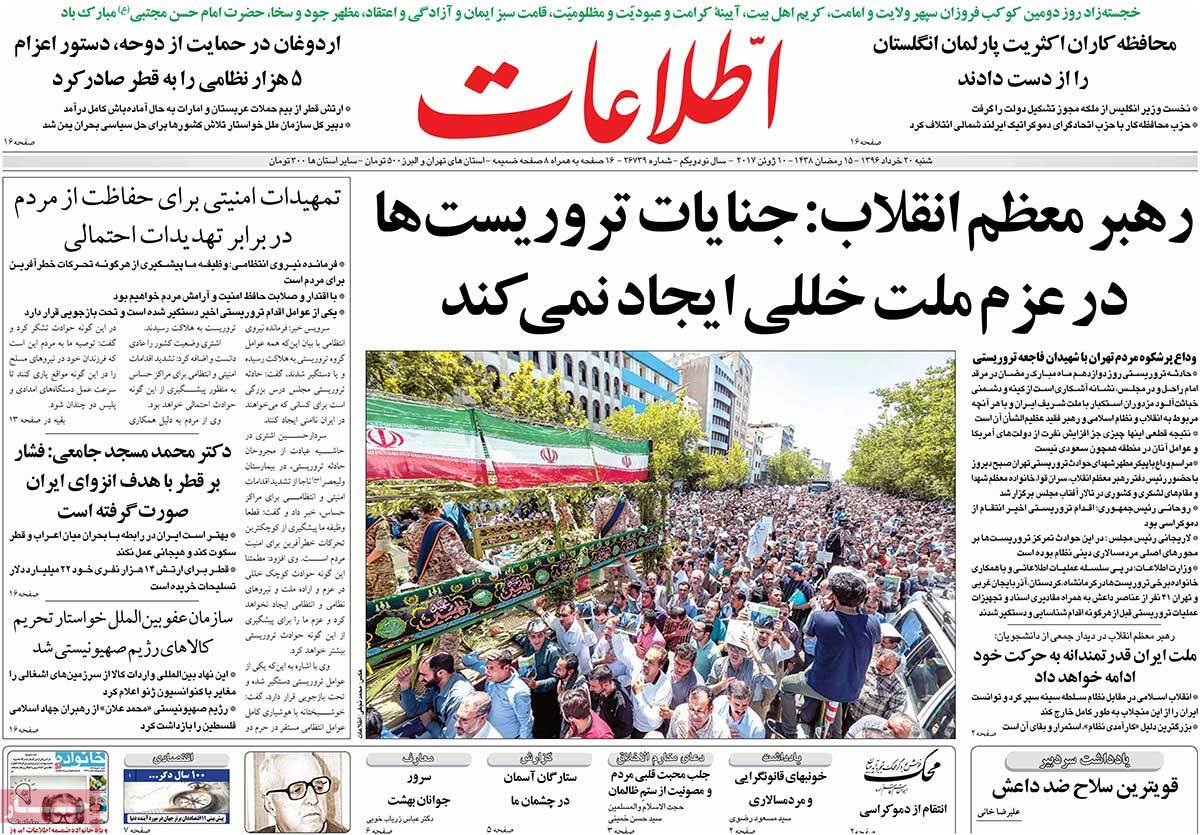 ---
Iran:
1- Iron Fist against Terrorists: 48 ISIS Elements Arrested in Five Provinces
2- Eiffel Tower's Lights Turned Off, Candles Lit in Streets in Solidarity with Iran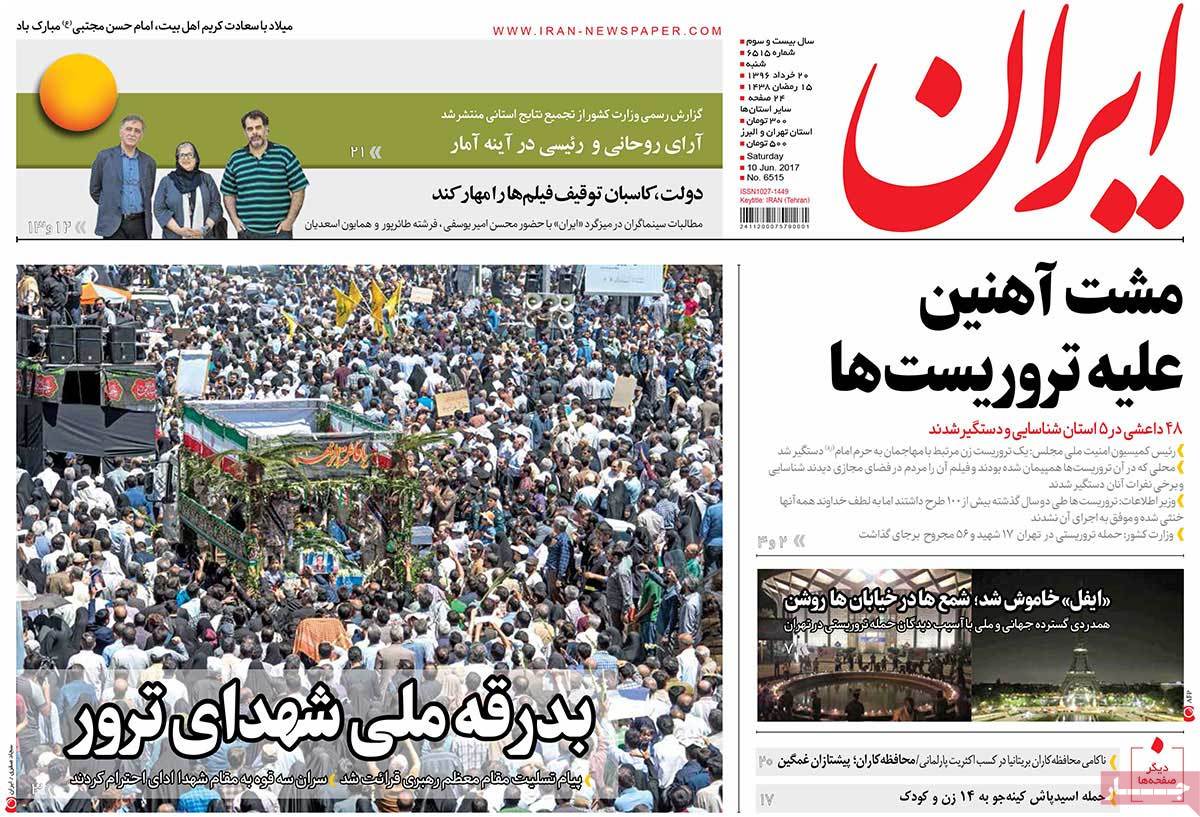 ---
Javan:
1- Iran Leader: Tehran Attacks Will Just Increase Hatred towards US, Saudi Governments
2- Elements Linked to Tehran Attacks Arrested: Intelligence Ministry
3- Rumours about Bringing Trump to Trial after Ex-FBI Chief's Remarks
4- Qatar: Sanctions Not to Make Us Give in to Saudi Arabia
---
Jomhouri Eslami:
1- Iran Air's ATR Plane Added to Air Fleet
2- Pope Francis Condemns Tehran Terrorist Attacks
3- Iraqi Government Opposed to Any Kurdish Bid for Independence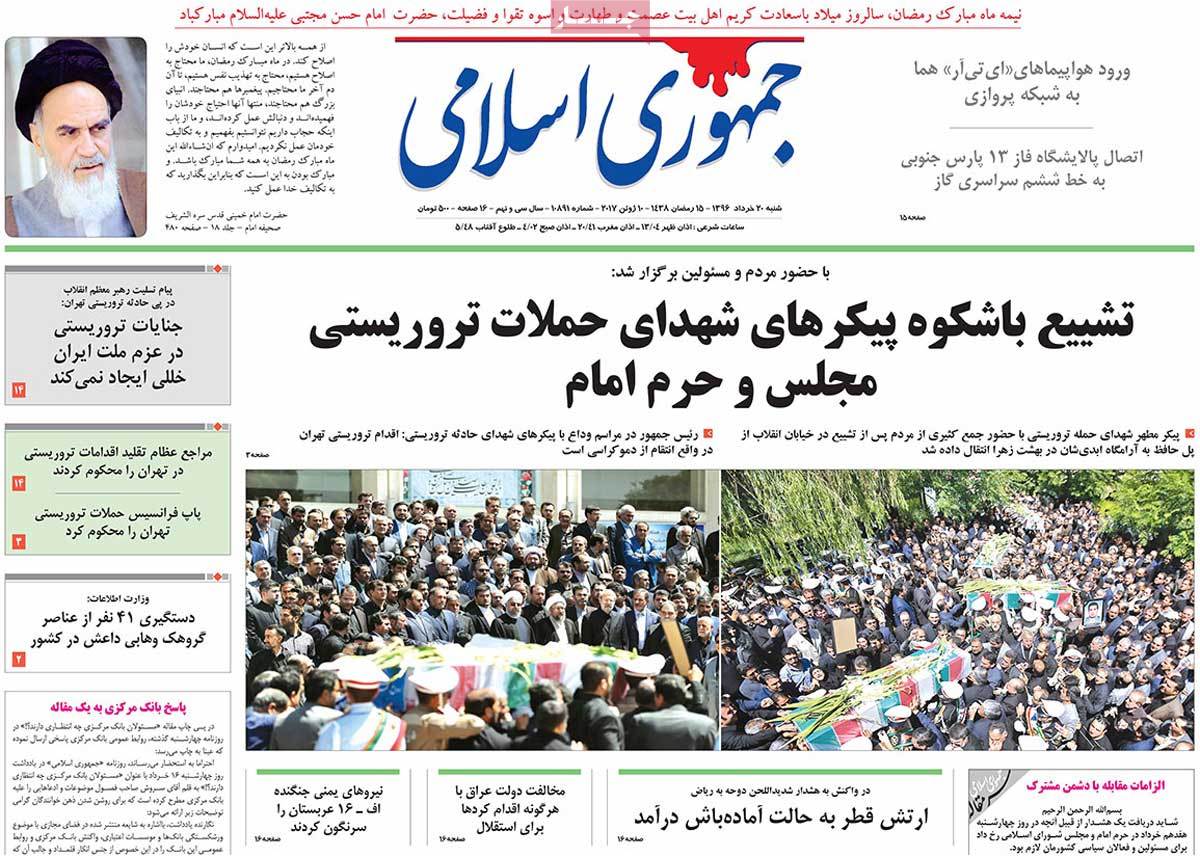 ---
Kayhan:
1- Iranians Humiliate US, Al Saud in Funeral Ceremony for Terror Victims
2- Syrian Drone Attacks US-Led Coalition Trucks in Iraqi Border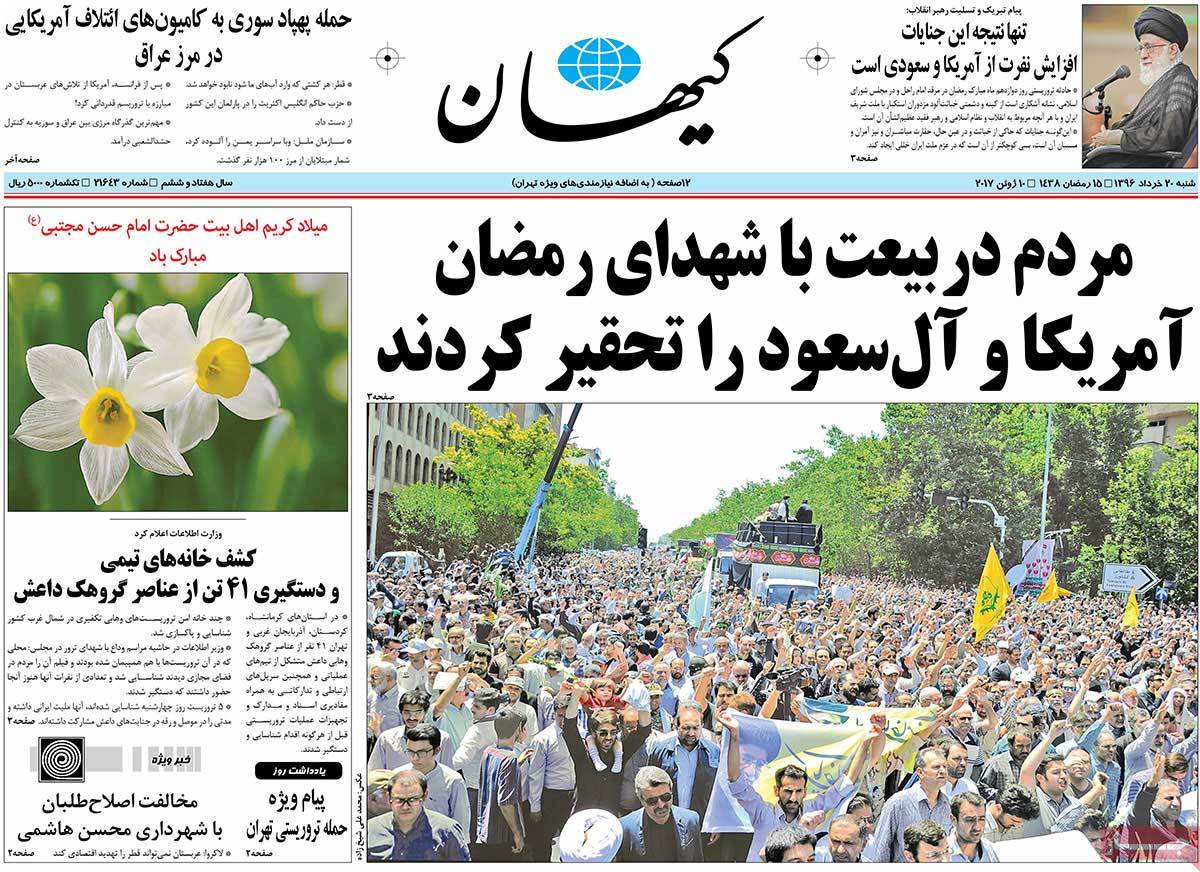 ---
Khorasan:
1- Trump May Be Impeached Soon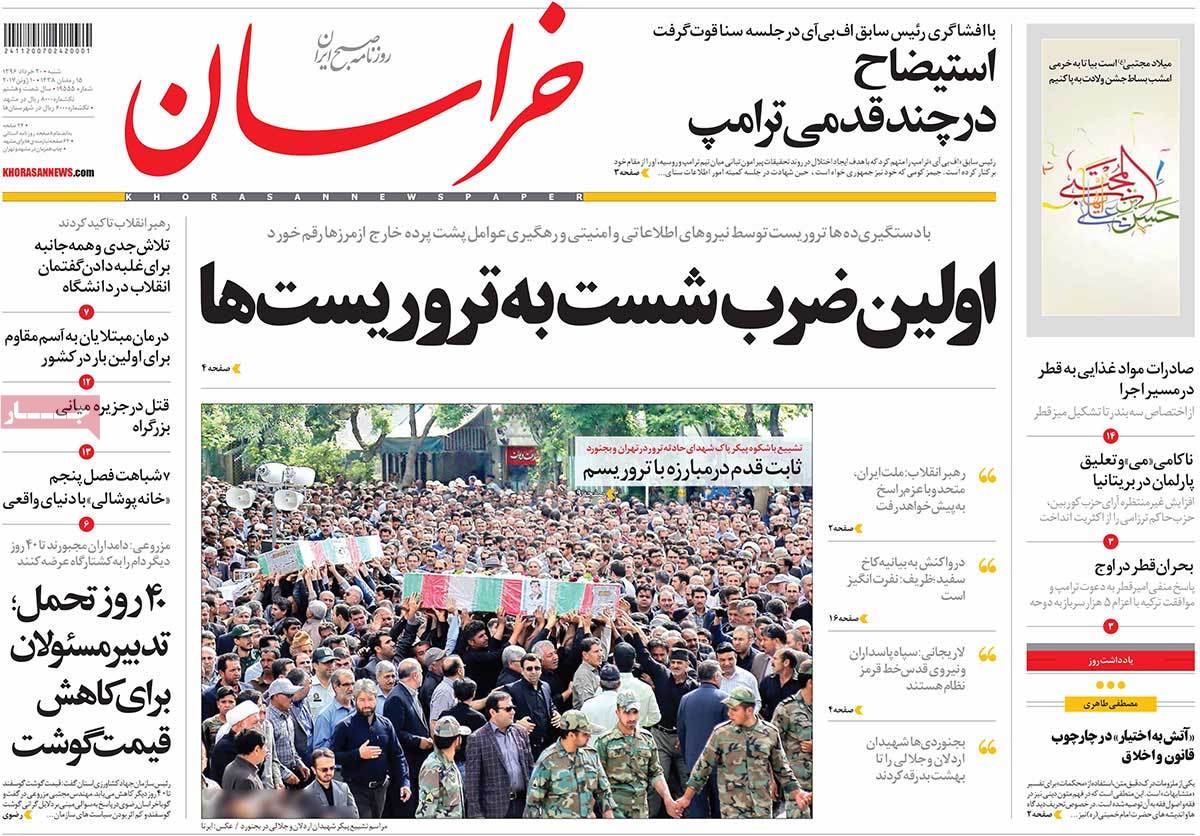 ---
Setareh Sobh:
1- Iranians Take Part in Funeral Held for Victims of Terror
---
Shahrvand:
1- Farewell to Martyrs of Terror: Report on Funeral, Interview with Families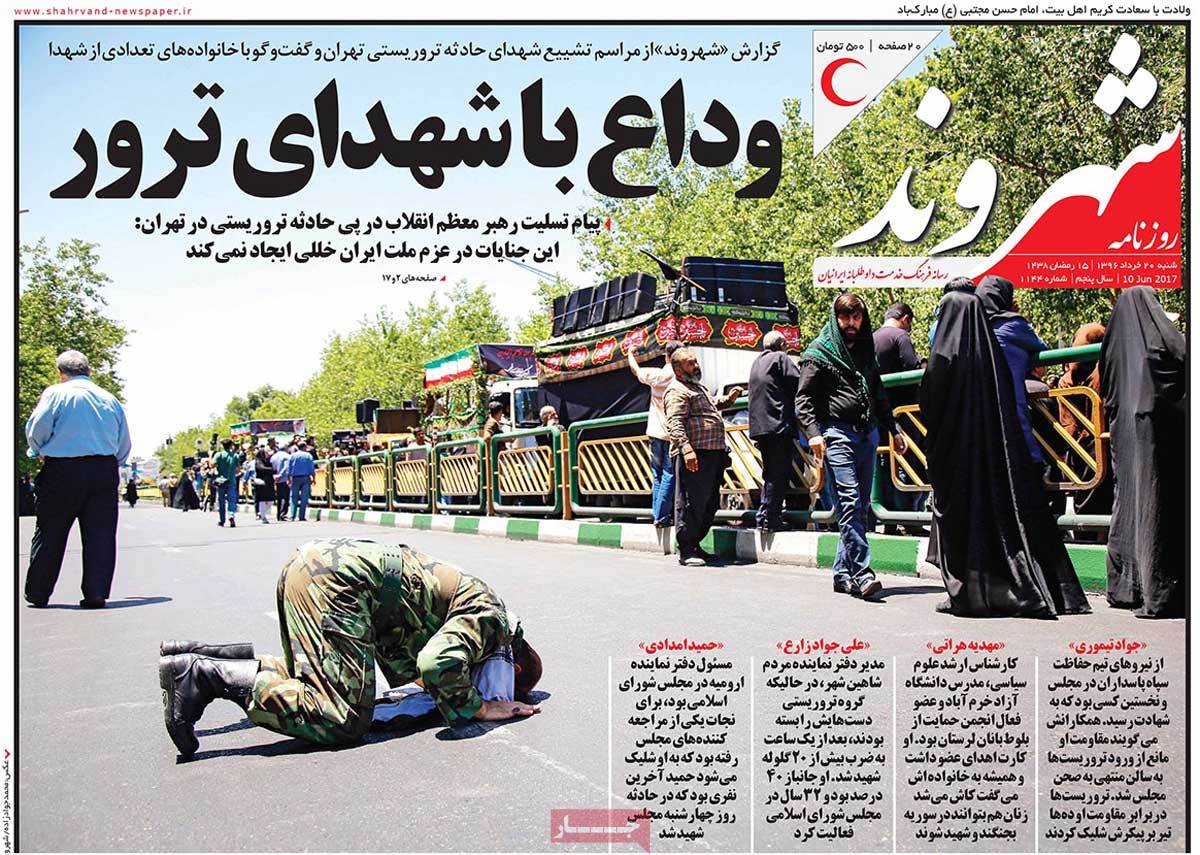 ---
Shargh:
1- On Iran's Shoulders: Martyrs of Terror Attacks Laid to Rest
2- Sunni Muslims against Terrorism
---
Tejarat:
1- May Loses Gamble of Politics
2- Glorious Farewell [to Terror Victims]