Newspapers on Sunday highlighted the remarks made by Imam Khomeini's grandson, Seyyed Ali Khomeini, about the reasons for disqualification of Seyyed Hassan Khomeini from running for Assembly of Experts elections. He warned of plots to separate the late Imam's family and the Leader of the Islamic Revolution Ayatollah Seyyed Ali Khamenei.
Another top story was the ongoing campaigns of ex-President Mahmoud Ahmadinejad for the next year's presidential polls. His remarks against Hassan Rouhani's incumbent government received great coverage in Iranian papers.
The above issues as well as many more are covered in the following headlines:
Abrar:
1- Al-Baghdadi's Affiliates Killed in Iraq
2- US-Made Planes Allowed to Fly to Iran
3- People in [Iranian southeastern province] Sistan and Baluchestan Grappling with Dust Pollution for 120 Days
4- Russia May Supply Iran with Satellite Components
5- CIA Chief Supports Nuclear Deal
6- IAEA Denies Role in Leakage of Iran's Nuclear Data
---
Aftab-e Yazd:
1- There Are Misconceptions about Wealth of Astan Quds Razavi [Custodianship of Imam Reza Holy Shrine in Mashhad]: Chief
2- Famous Actor Reza Kianian: I'll Vote for Rouhani Once Again [His remarks came after a conservative weekly insulted Iranian artists for the way their wives had appeared in an awards ceremony]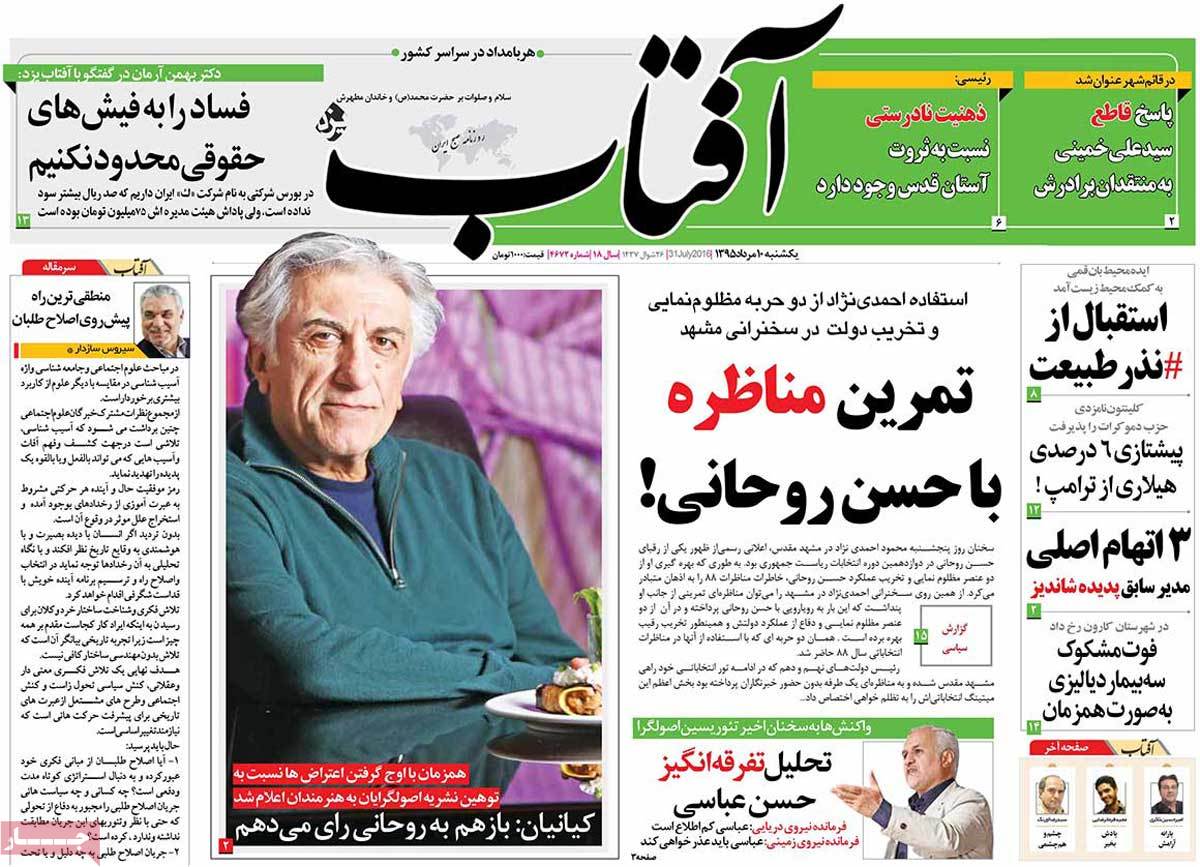 ---
Arman-e Emrooz:
1- Publishers to Do the Censorship Themselves: Culture Ministry's Book Official
2- Iran's Army to File Lawsuit against Controversial Speech: Navy Commander Strongly Protests at an Address by Hassan Abbasi, a So-Called Strategist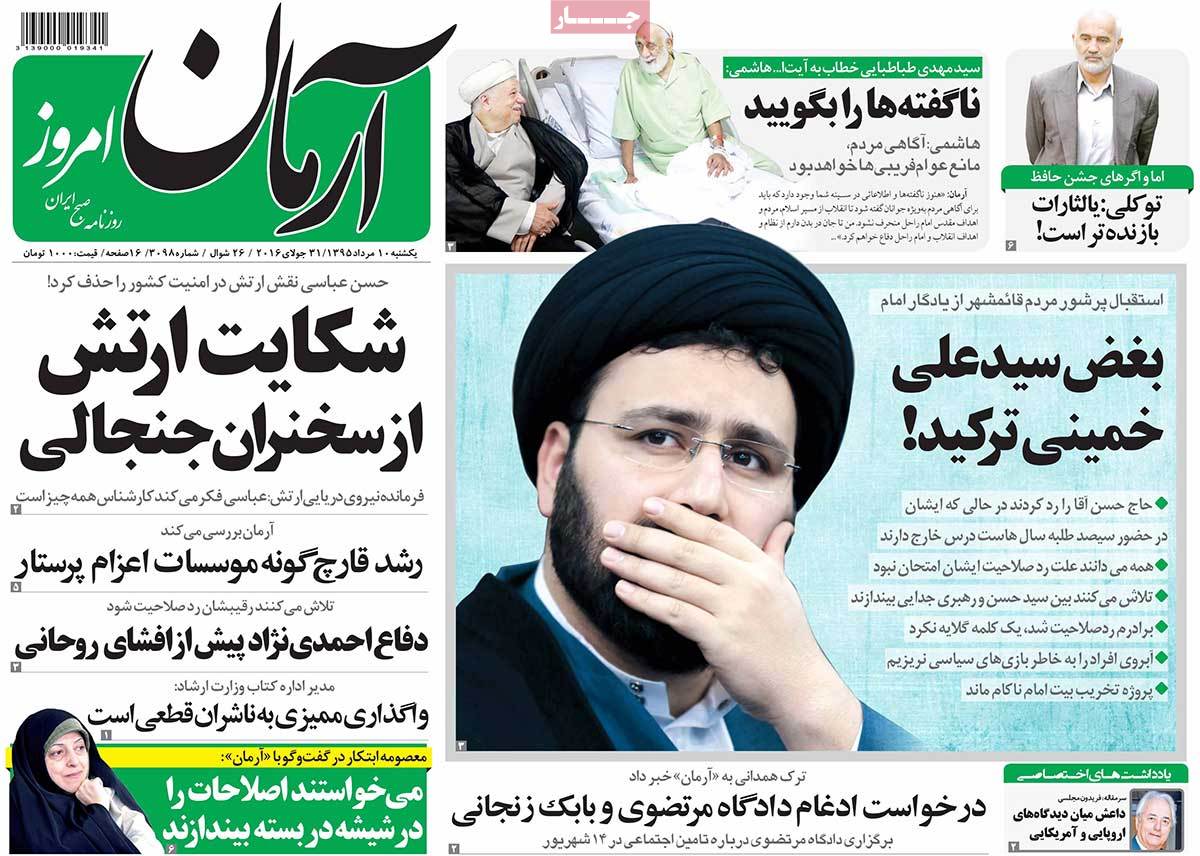 ---
Asrar:
1- World Bank: $30bn of Iran's Assets Released
2- Enemy Wants to Cause Rift between Imam Khomeini's Family and the Leader: Imam's Grandson; You'll Never Hear a Single Word from Sons of Imam Khomeini That Weakens Ayatollah Khamenei
3- Iranians Banks to Enter Free Foreign Currency Exchange Market: CBI Governor
---
Asr-e Rasaneh:
1- Sellers of Norm-Breaking Clothes Will Be Reprimanded: Official
2- Laws and Regulations Don't Support Businesses: Syndicate Official
3- It's Not an Honour to Have Billions of Dollars of Underground Capital [the oil and gas reserves] When People Are Poor: Oil Official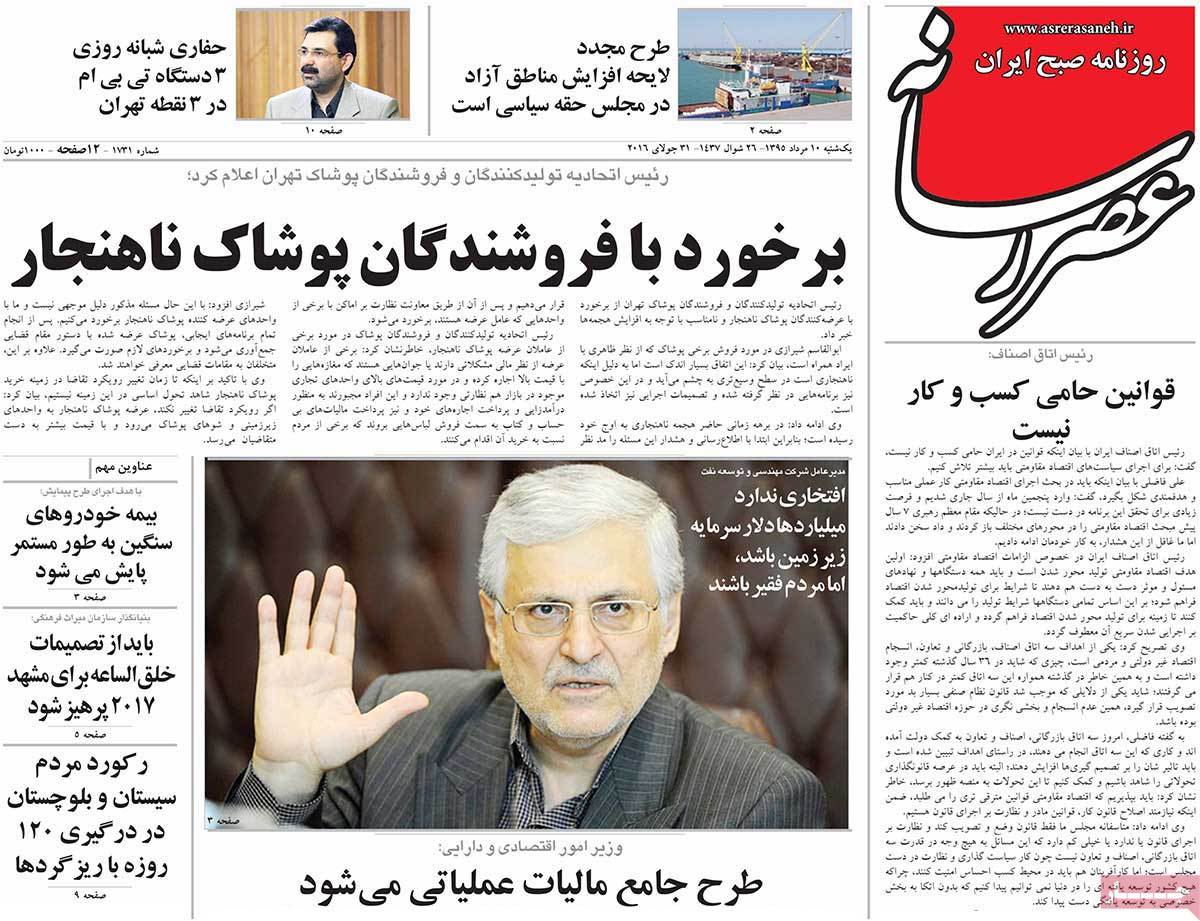 ---
Ebtekar:
1- Ex-President Finally Stops Being Sarcastic: Unveiling of Ahmadinejad's Campaign for 2017 Presidential Polls
2- Why Iranian People Consider Eating as Their Only Hobby? Sour, Sweet, and Even Sour-Sweet Leisure Activities
3- Gradual Death of Iranian Brands: From Carpet to Lighvan Cheese Are Giving Up Their Share in Global Markets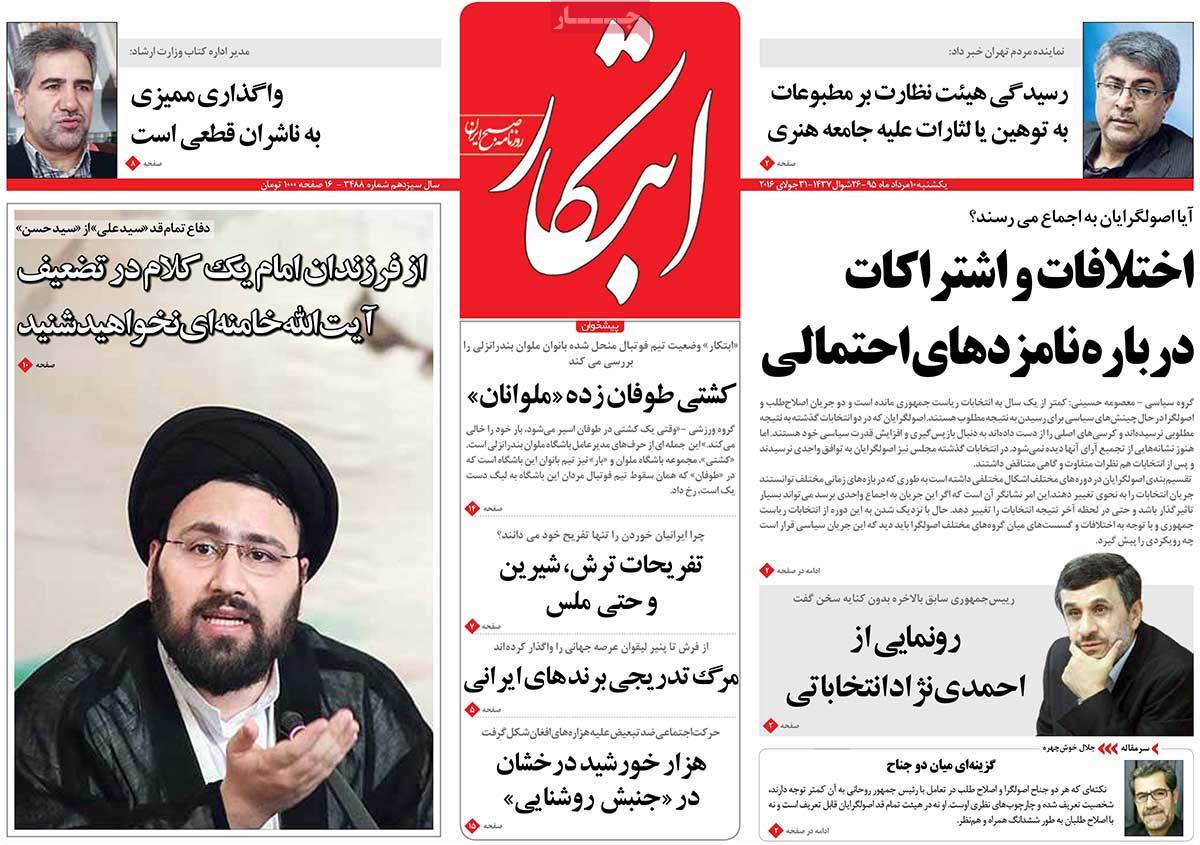 ---
Emtiaz:
1- 301 Cities Grappling with Water Tension: Warnings about Water Cut
2- First Sculpture Symposium for Iranian Poetry Celebrities
3- Environment Department Official Warns: Azolla Has Arrived in Tehran
4- Iran's Snooker Team Claims World Title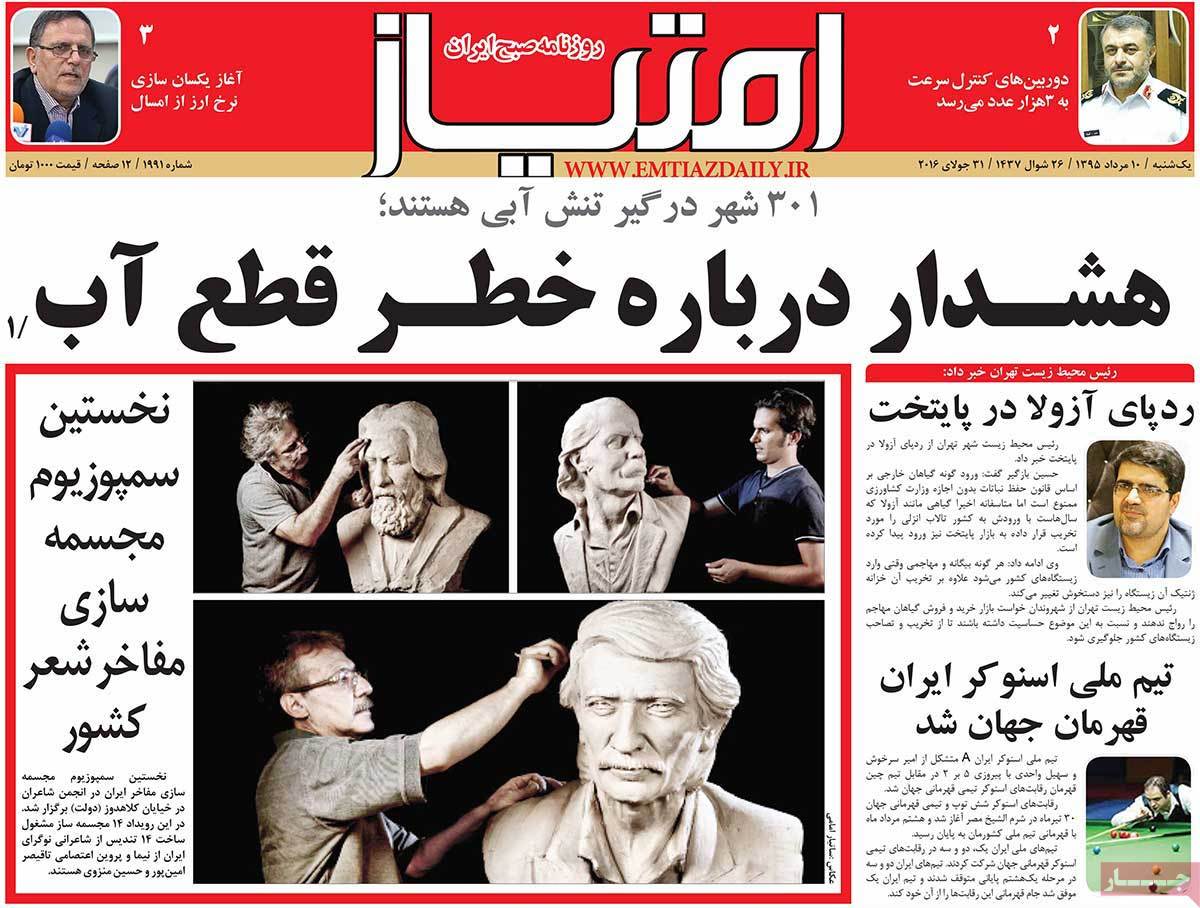 ---
Etemad:
1- Rouhani's Main Rival Is Himself, Not Ahmadinejad: Reformist Analyst
2- Sound of Ahmadinejad's Steps: A Report on People's Opinion about Mahmoud Ahmadinejad's Candidacy; Some People Said They Love Rouhani, But They're Waiting for Ahmadinejad!
---
Ettela'at:
1- President Rouhani to Address Iranian Nation on Tuesday
2- The Necessity for Change of Attitude towards Private Sector Investors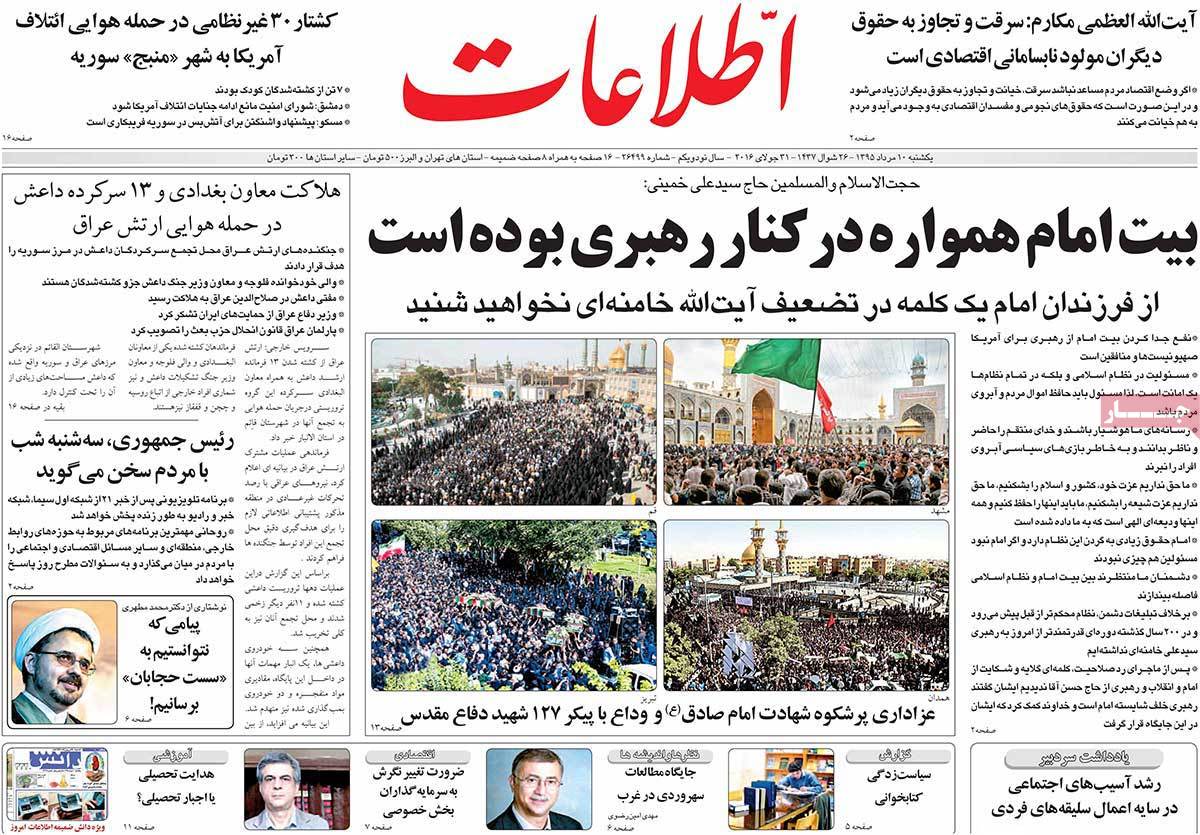 ---
Hosban:
1- More Than $1bn Is Annually Invested in Kish Island
2- Sports Ministry Had No Role in Designing the Clothes of Iran's Olympics Team
3- Bisotun Petchem Complex Has No Problem for Continuing Its Work: Deputy Oil Official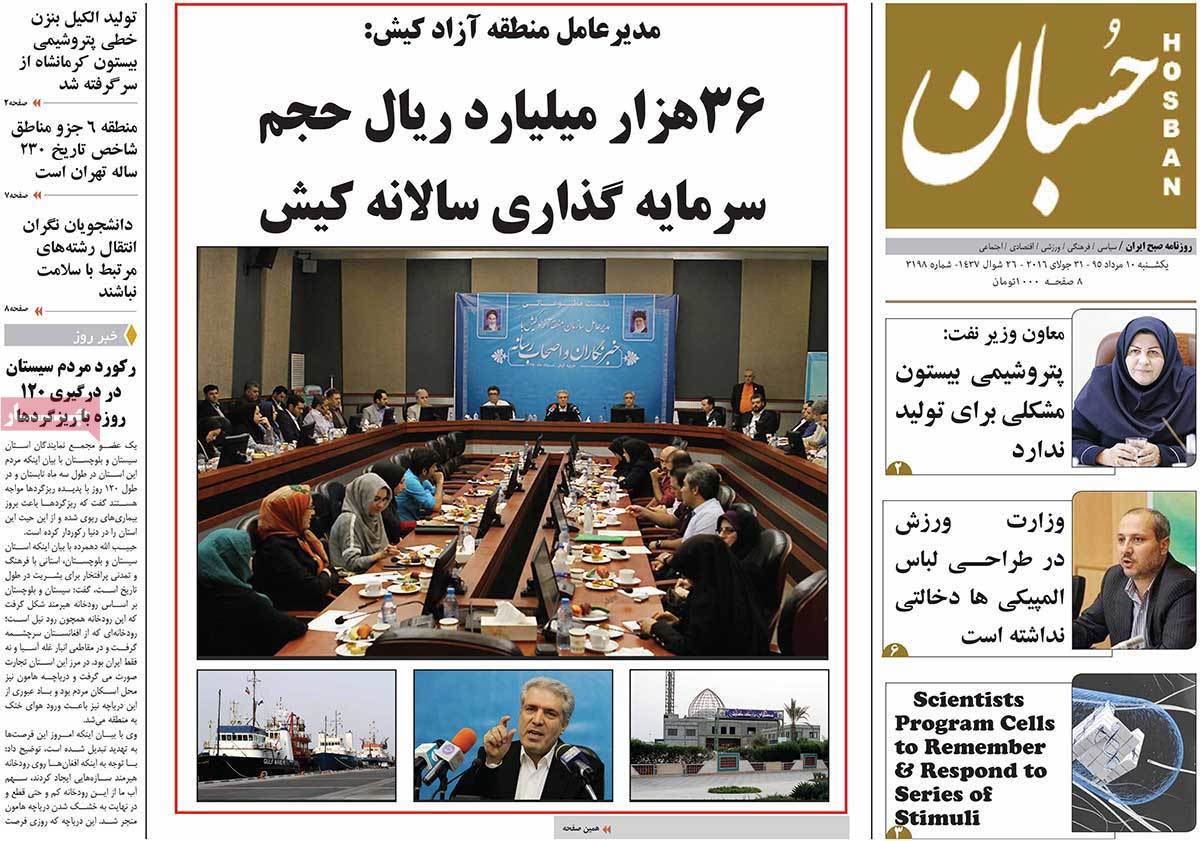 ---
Iran:
1- 2,700-Ton Platform Installed in Phase 21 of South Pars Gas Field with Aim of Extracting 1bn Cubic Feet of Gas
2- USA's Definition of Terrorism Is Changing: Analyst
3- Roots and Repercussions of Failed Coup in Interview with Turkey's Ambassador to Iran: Gulen Has an Anti-Iran Stance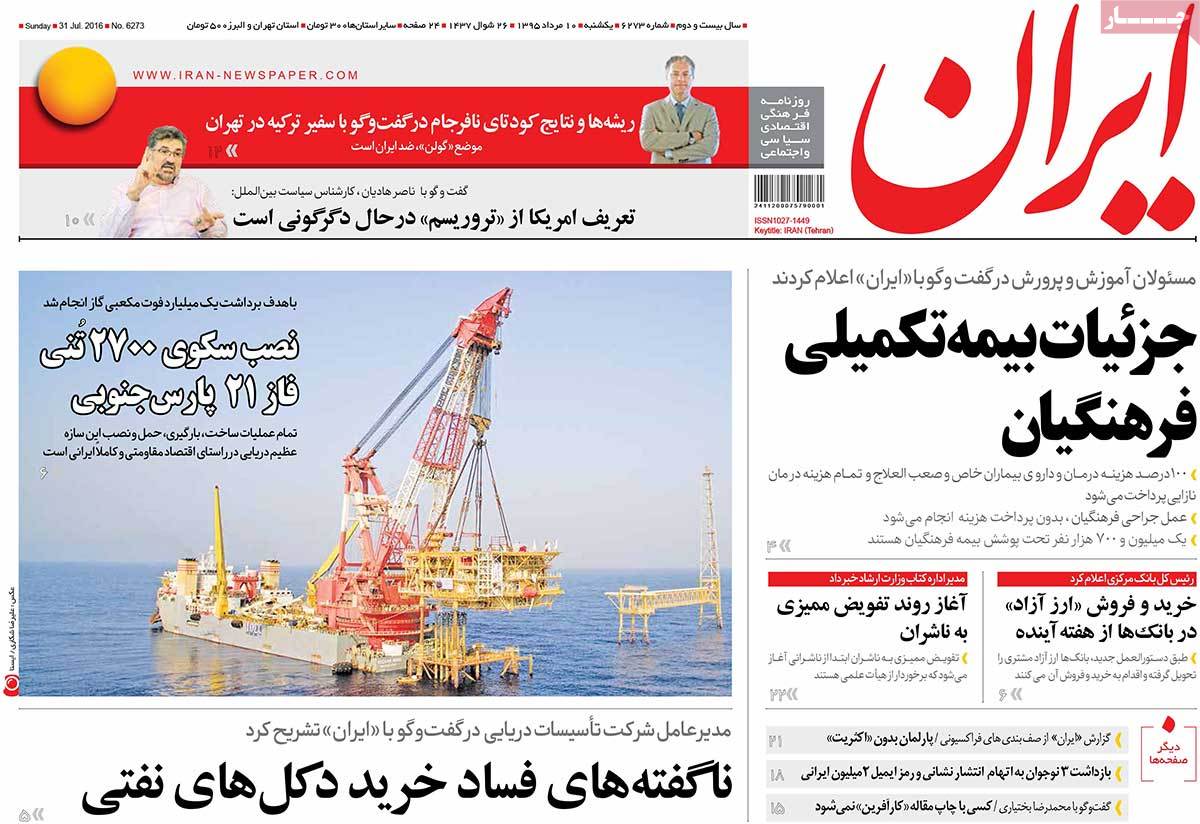 ---
Javan:
1- Nasrallah: You Crazy Jubeir! It's Way out of Your League to Divide the Shares!
2- Documents on UAE and Saudi Arabia's Interference in Turkey Coup
3- Foreign Tours Thrive Because of Expensive Domestic Tours: 21m Iranian Families Should Dream about Domestic Trips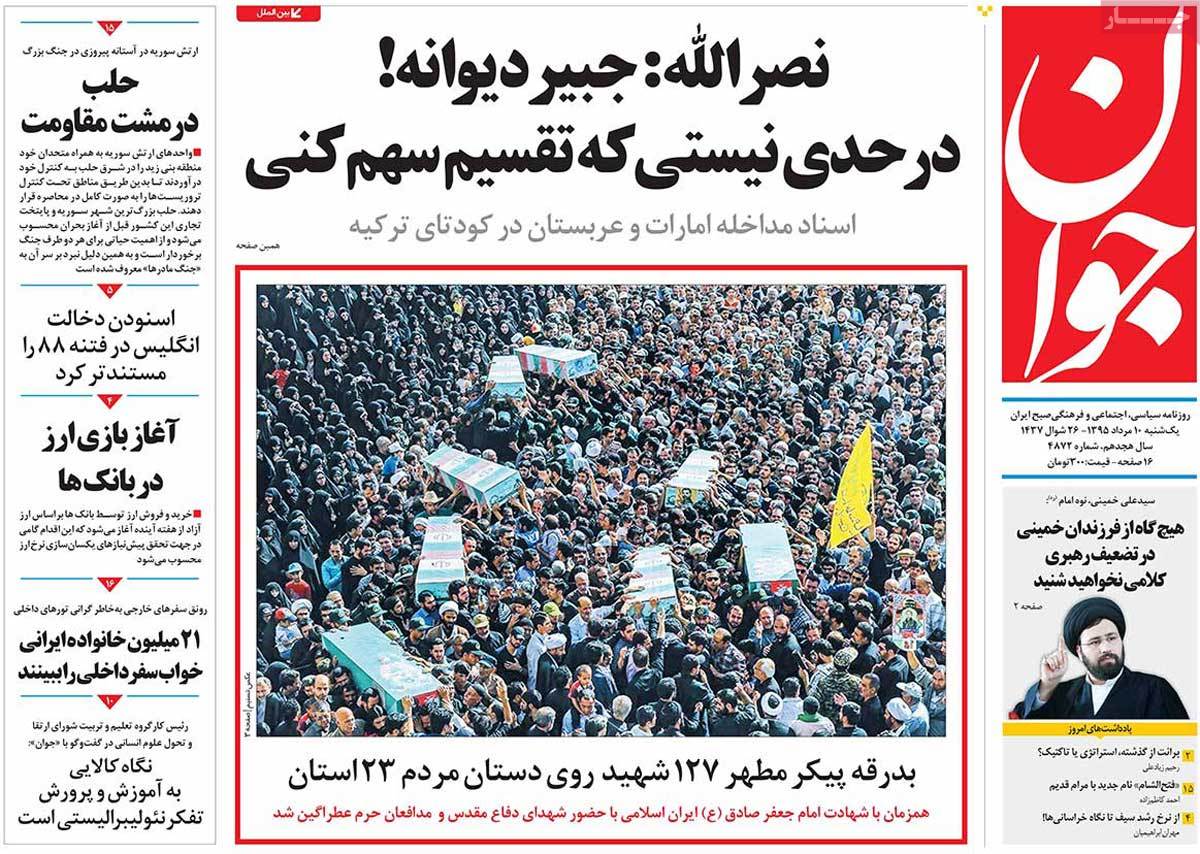 ---
Kar-o Kargar
1- Extremism Is the Common Pain of Muslim World
2- MP Warns against Increasing Death Rate among Workers: Workers' Safety Victim of Profit-Making
3- Ahmadinejad Claims the Wealth of His Cabinet Members Was Less than One-Hundredth of Only One of Rouhani's Cabinet Members!
4- CBI Chief: Paycheques of Bank Managers Have Nothing to Do with Central Bank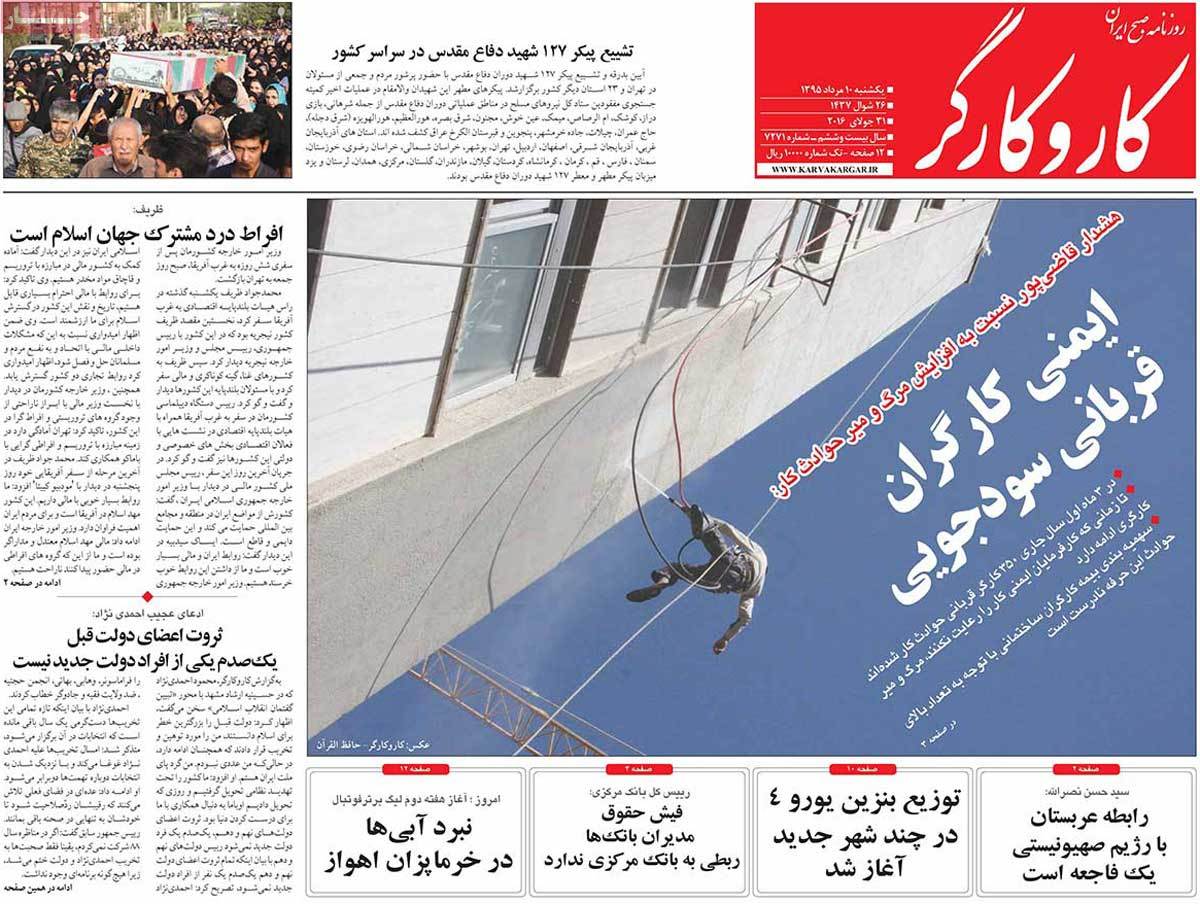 ---
Kayhan:
1- Snowden Reveals Latest Documents on Britain's Role in Management of Iran's 2009 Sedition [protests after presidential elections]
2- Receivers of Huge Salaries to Be Disqualified
3- After Syrian Army's Great Progress: US, Britain, France, and Israel Mobilised to Save Takfiris in Aleppo
---
Resalat:
1- Economy Minister: We Have Yet to See Results of JCPOA in Practice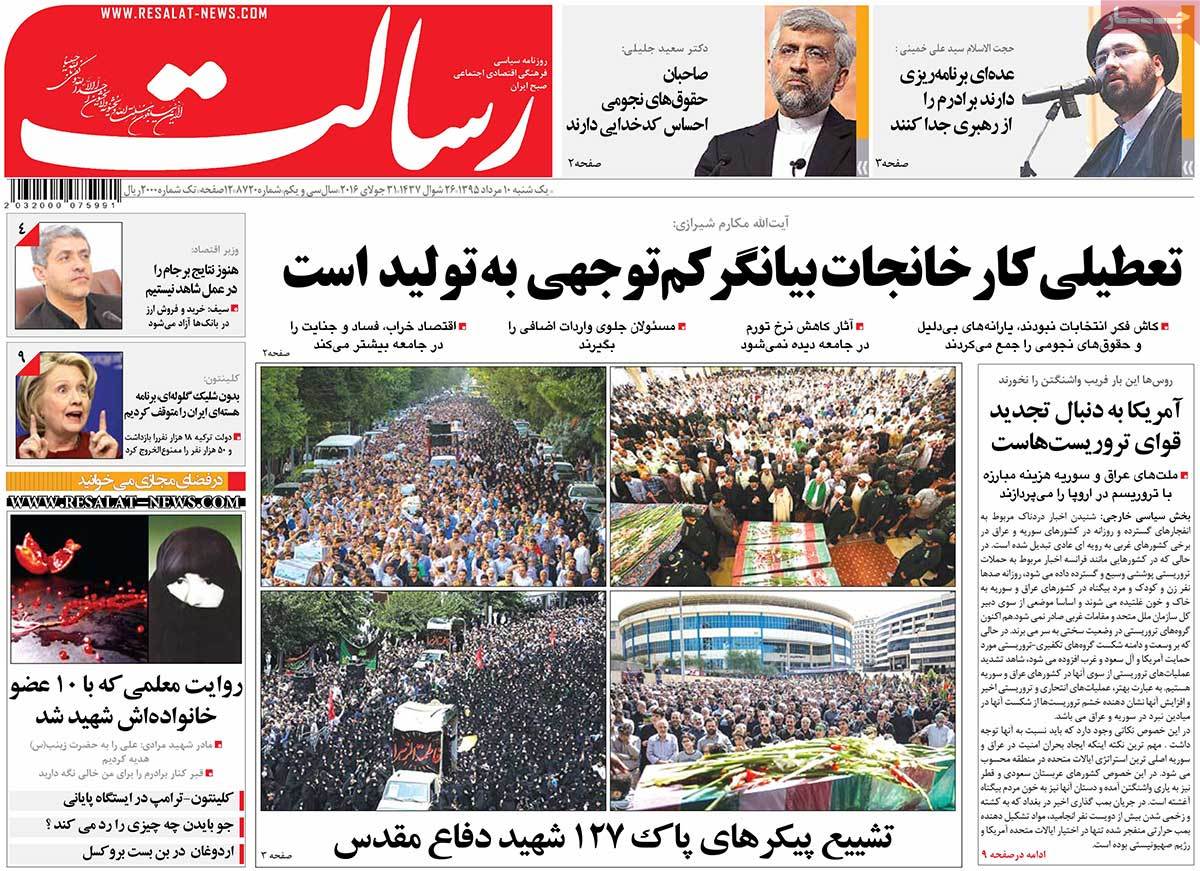 ---
Rooyesh-e Mellat:
1- Syrian Army on Verge of Liberating Aleppo
2- Iran's Condition to Resume Sending Pilgrims to Minor Hajj Pilgrimage
3- Iran's Karate to Become Technical Hub of Asia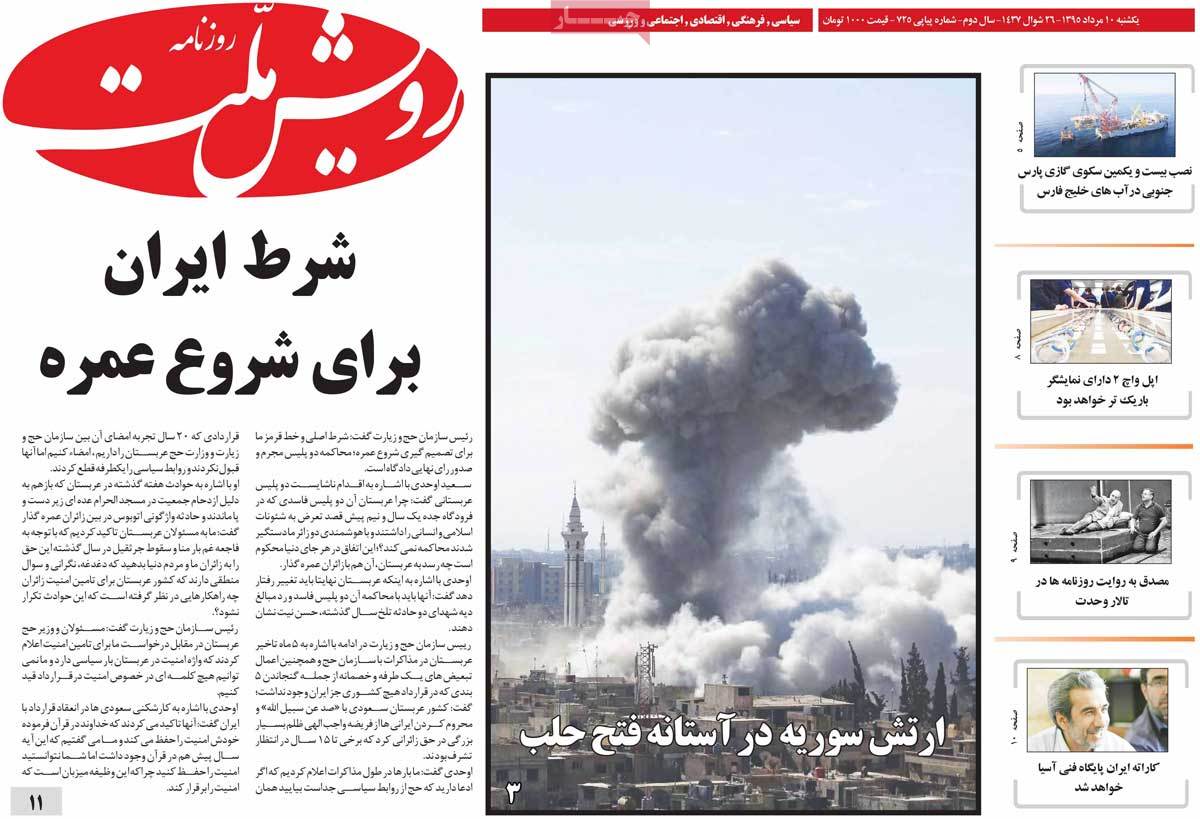 ---
Shahrvand:
1- Higher Education with Empty Chairs: Iran Has 5 Times More Universities than World's Advanced Countries; Iran Has 2,640 Universities, While China Has 2,481 and India 1,620
---
Shargh:
1- Untold Stories about Operation Mersad [in Iran-Iraq War] and the MKO Leader
2- Everyone Knows Why Seyyed Hassan Khomeini Was Disqualified from Running for Experts Assembly Elections: Brother
3- Ahmadinejad's Unprecedented Attack on Rouhani's Gov't: They Want to Disqualify Their Rivals