Newspapers on Tuesday continued covering the ongoing visit of Iranian Foreign Minister Mohammad Javad Zarif to Africa. The African tour first took him to Nigeria, where he met senior Nigerian officials and businessmen. He is now in Ghana and will then head to Guinea-Conakry.
Atomic Energy Organization of Iran (AEOI) also submitted a letter of protest to the International Atomic Energy Agency (IAEA) over the leakage of secret nuclear documents. The letter and its submission was also covered by many newspapers.
The above issues as well as many more are covered in the following headlines:
Abrar:
1- More than 60 Teenagers Arrested for Treason against Turkish Gov't
2- Turkish FM Threatens Washington to Reconsideration of Ties
---
Aftab-e Yazd:
1- Strong Lady of Germany: Will Recent Incidents Decrease Popularity of German Chancellor?
2- Cyber-Police Chief Asks Iranians Not to Use Telegram
---
Afkar:
1- Iran's Letter of Protest to Be Submitted to IAEA
2- Deadly Shooting in US Nightclub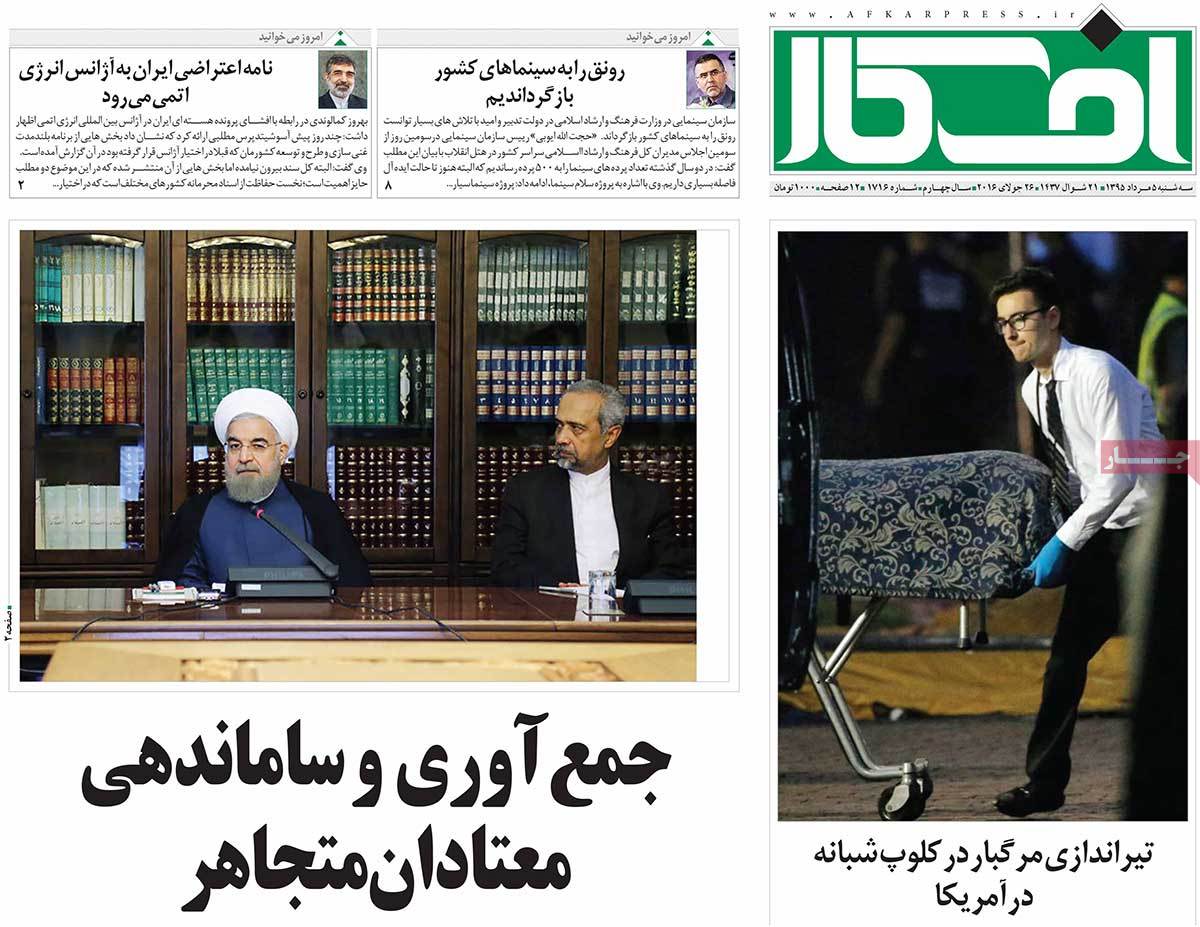 ---
Amin:
1- Iran Ready to Export 30bcm of Natural Gas to Europe Each Year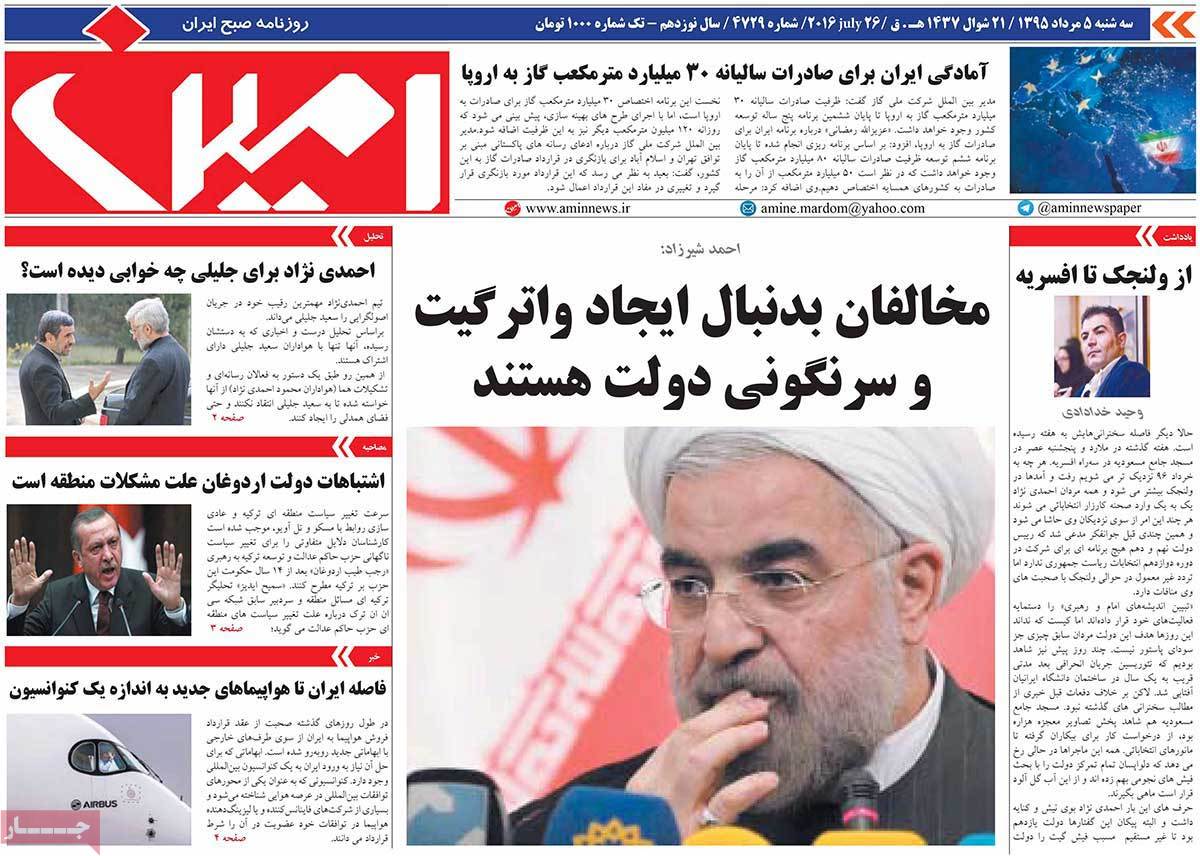 ---
Arman-e Emrooz:
1- Soon after Taking Their Seats in New Parliament, MPs Go on Holiday!
2- Senior Cleric Criticizes Imprisonment of Men for Their Inability to Pay Wives' Mahr
3- Iran's Isolation, Saudi Arabia's Illusion: Expert [Editorial]
---
Ebtekar:
1- No Country Can Influence Iran-Pakistan Ties: Shamkahni
2- Heart Attack, Primary Cause of Death among Citizens of Tehran
---
Etemad:
1- Critical Support for Rouhani: Why Reformists' Criticism of Rouhnai's Government Does Not Mean the End of Their Support for Him
2- UAE ahead, Iraq behind: Competition for Extraction of Oil from Joint Oilfields Has Changed Oil Ministry's Priority
3- Comprehensive Nuclear-Test-Ban Treaty (CTBT) Chief: I'm Ready to Visit Pyongyang for Nuclear Talks
4- 46 Journalists, Targets of Erdogan
---
Ettela'at:
1- Zarif's Meeting with High-Ranking Officials in Nigerian Capital
2- Methods to Fight Drug Addiction Should Be Revised
3- Beginning of 10th Year of Continued Drought in Iran's Central Plain
4- Lebanese PM: Hezbollah Is a Key Element in Lebanon's Ruling System
5- 5,800 LCs Opened So Far for Businessmen since Beginning of JCPOA: CBI Governor
---
Iran:
1- Iran Exports in Past 4 Months $4bn More than Its Imports: First VP
2- Illegal Wells Dug near Persepolis World Heritage List
3- Tehran and Islamabad Have Never Been Mutual Threats: Shamkhani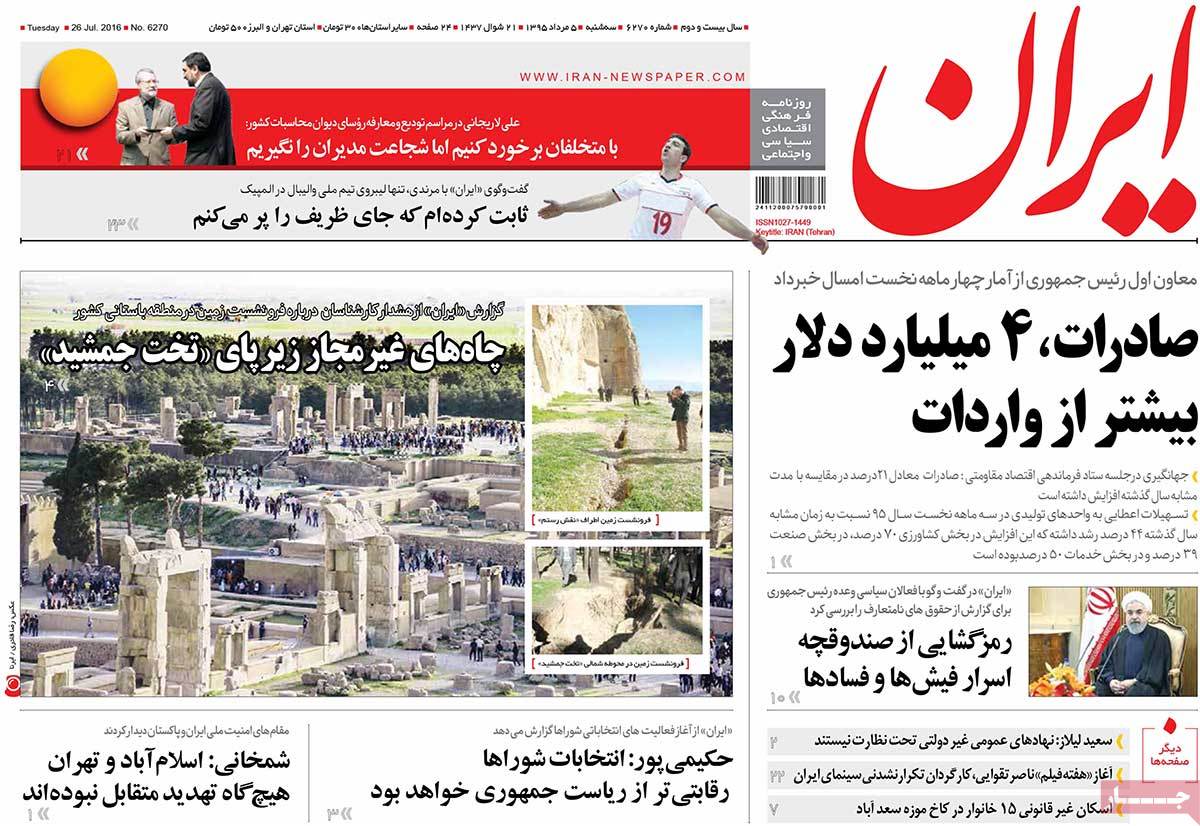 ---
Jame Jam:
1- Black Market for Hajj Pilgrimage Tickets: Dealers Still Active in Spite of Hajj Suspension
2- A Report on Noise Pollution in Metropolitan Areas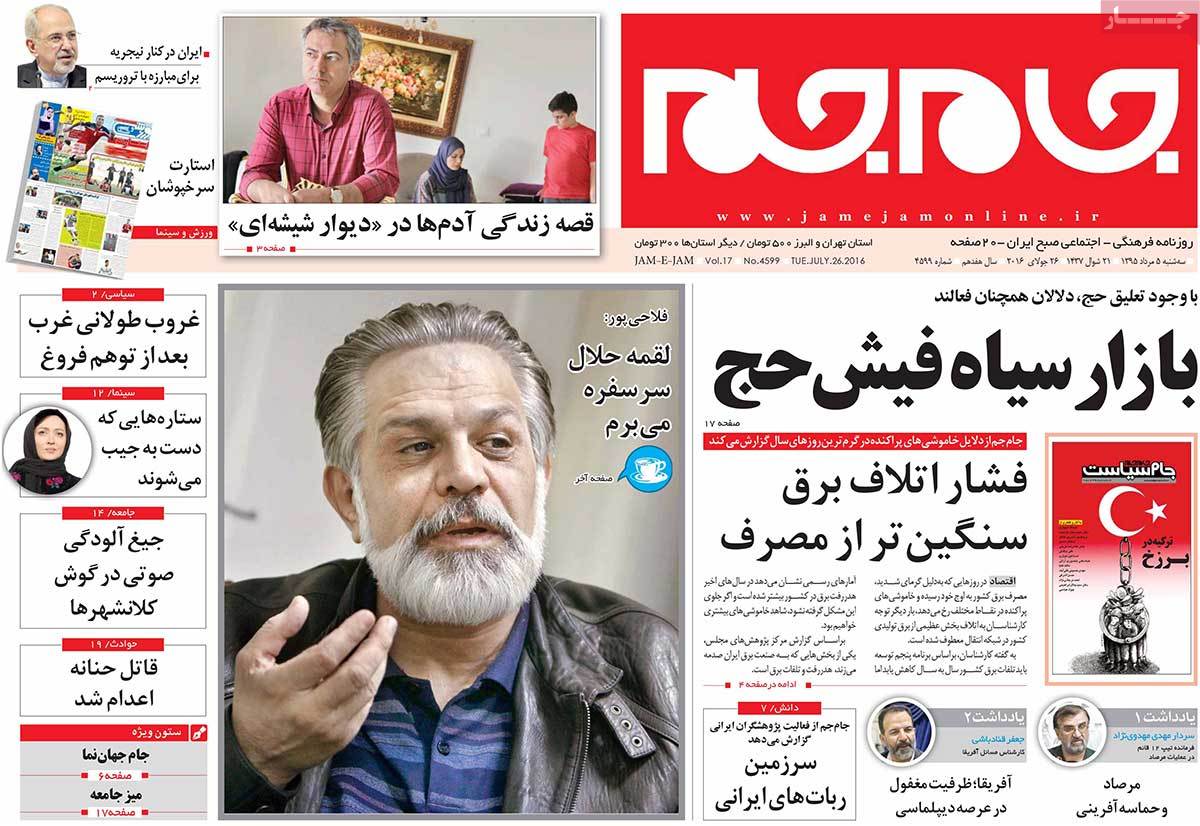 ---
Javan:
1- Nusra Front Apparently Gets Divorce from Al Qaeda after US-Russia Deal
---
Jomhouri Eslami:
1- 5 Important Bills for Acceleration of Fight against Illicit Drugs
2- Phases 20 and 21 of South Pars Gas Field Ready for Operation
---
Kayhan:
1- Terrible Traffic Jam in Britain-France Border: Extensive Inspections to Prevent Entry of Terrorists
2- WikiLeaks Releases Documents on Cooperation of Turkey, Qatar, and Iraqi Kurdistan with ISIS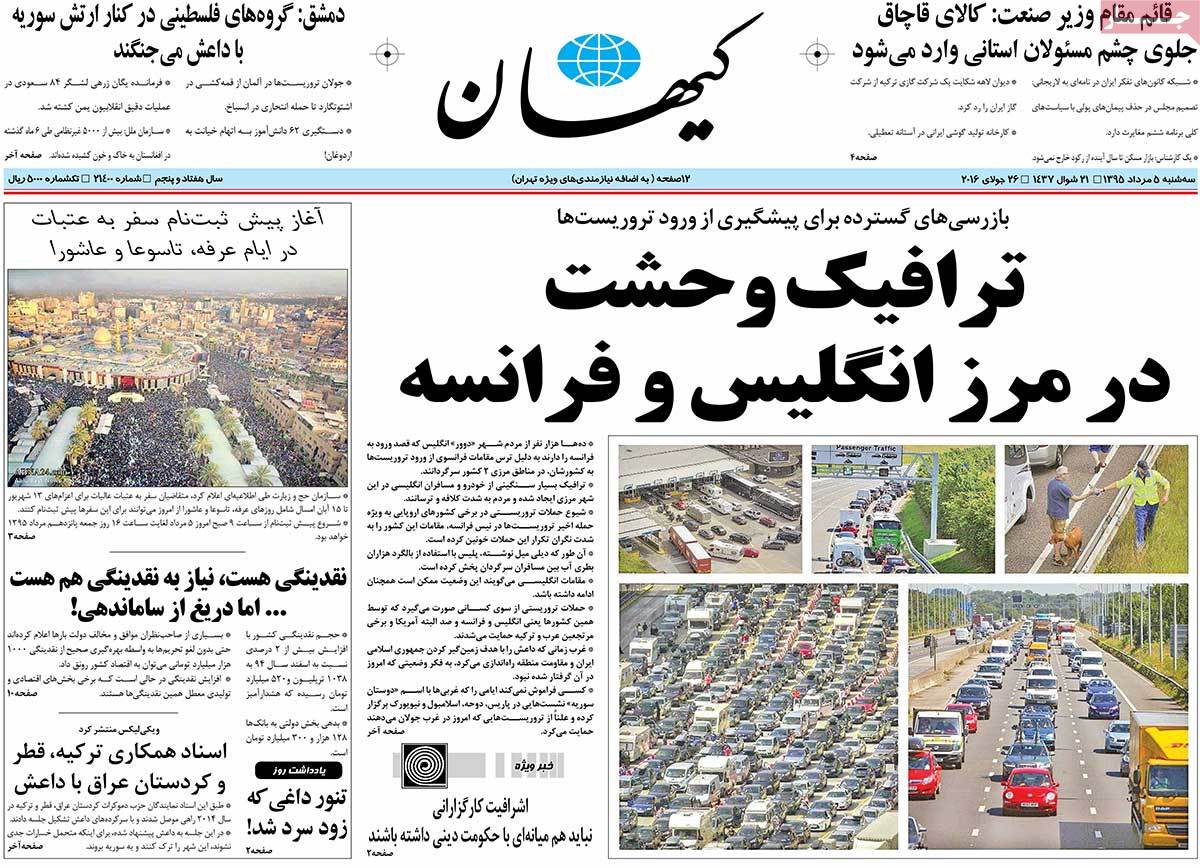 ---
Khorasan:
1- Trump Overtakes Clinton by 5 Points
---
Quds:
1- Fall of Arab League in Mauritania: Leaders of 13 Arab Countries Didn't Go to Africa
---
Resalat:
1- Saudi Arabia's Embassy: The Think-Tank of Terror in Iraq
2- Anti-Zionist Cartoonist Praised in a Ceremony
3- Putin: Russia Supports Establishment of the Country of Palestine with Al-Quds as Its Capital
---
Rouyesh-e Mellat:
1- Zarif Underlines Iran's Support for Fight against Al Qaeda and Boko Haram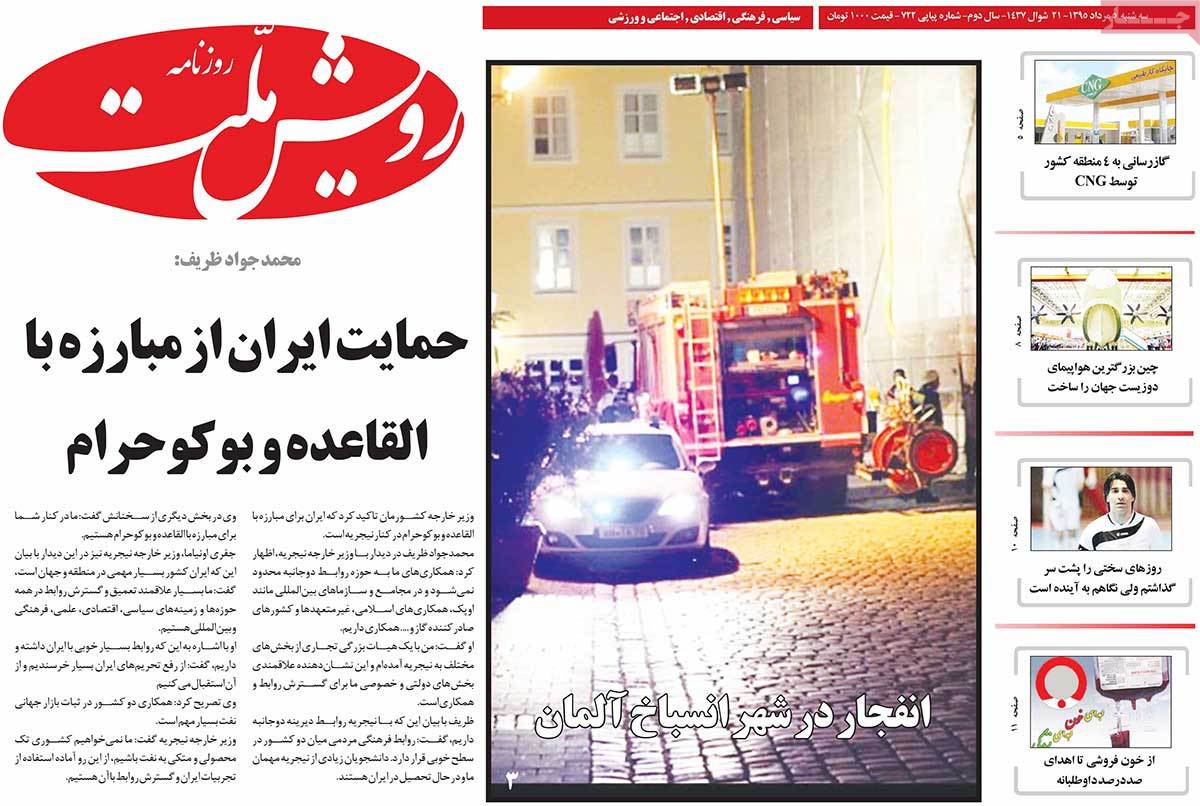 ---
Sayeh:
1- Zarif Highlights Iran's Extensive Cooperation with Nigeria in All Fields
2- Loris Tjeknavorian: Music Is Language of God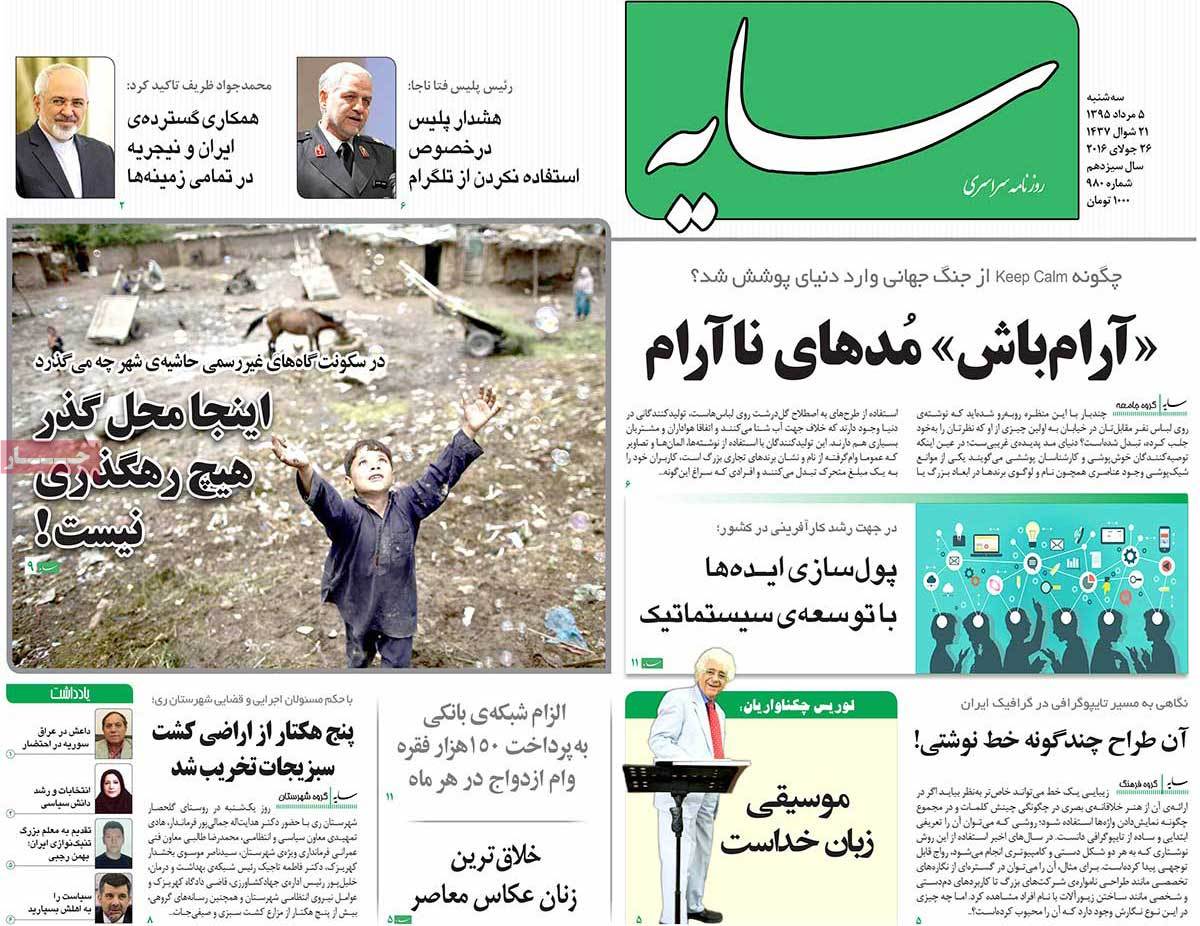 ---
Shahrvand:
1- As a Fresh Step to Remove Wealthy People from List of Those Who Receive Cash Subsidies, Government Cuts Subsidies of 50 MPs
2- Historical House of Former Iranian Shah's Wife Destructed in Tehran
3- Israel's Feet on Thirsty Throat of Palestine: Israel Restricts Palestinians' Control over Water Resources, Preparing Grounds for Its Domination over Water
---
Shargh:
1- Rouhani's Gov't in Defensive Position on JCPOA: Expert
2- Economic Diplomacy in Africa: Zarif Meets Nigerian Officials and Businesspeople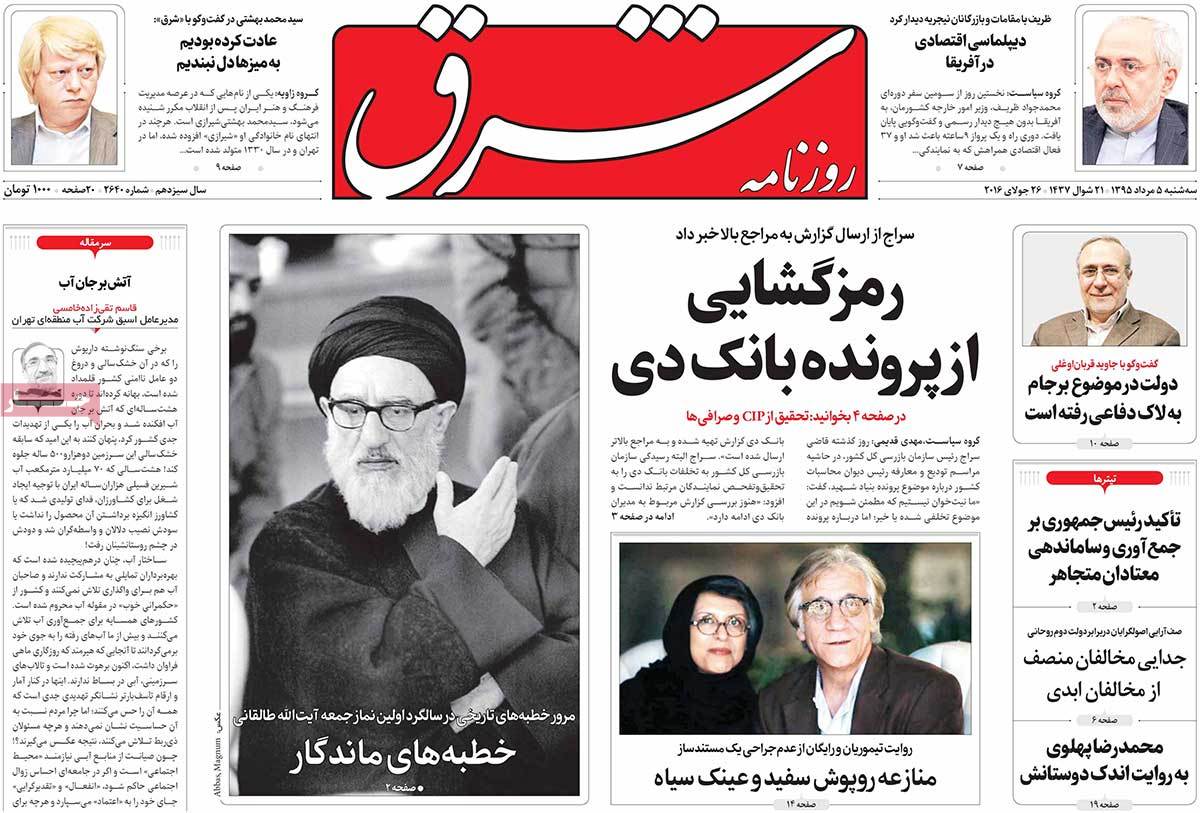 ---
Siasat-e Rooz:
1- Mutual Services of Ahmadinejad and Rouhani to Each Other
2- Cheap Internet, Maybe Some Other Time
3- What Happened to Securing the Rights of Mina Tragedy Victims and Lawsuit against Al Saud?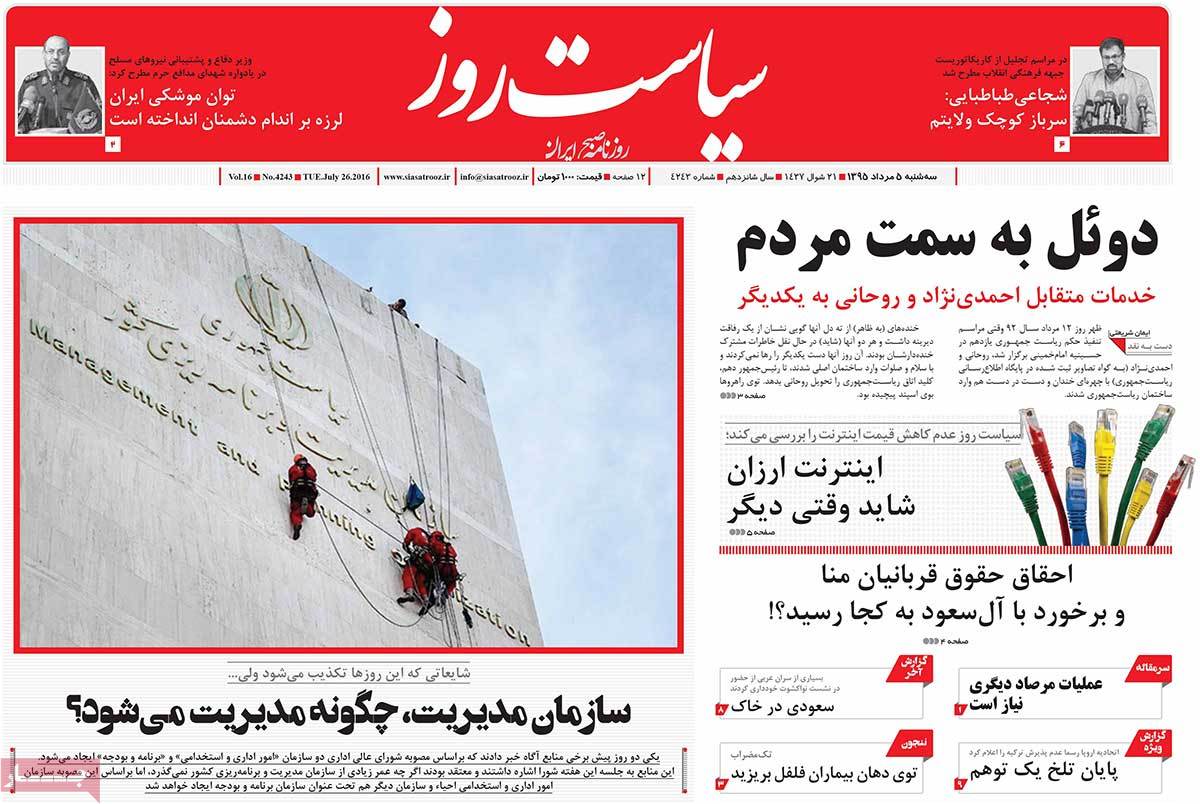 ---
Vatan-e Emrooz:
1- Concerns over More Important Documents: Iran's Official Protest at IAEA about Secret Information Leak
2- Lone Wolves Waiting in Ambush for Germans