Newspapers on Monday covered the ongoing visit of Foreign Minister Mohammad Javad Zarif to Africa. Aimed at tapping into the economic potentials of the continent, Zarif's tour began by visiting the Nigerian capital of Abuja.
The papers also covered a ceremony in which thousands of satellite dishes and equipment, which had been voluntarily delivered to IRGC's Basij forces, were destroyed. This came as Culture Minister Ali Jannati once again called for revision of laws regarding the use of satellite receivers and equipment, saying that the country should finally accept it like other new technologies.
The formation of an anti-Iran coalition by Arab and Israeli sides was also a top story in many newspapers.
The above issues as well as many more are covered in the following headlines:
Abrar:
1- Power Has Poisoned Erdogan: Gulen
2- Moderate Regional Countries Want to Form Anti-Iran League
3- Kashmir Can Never Be Part of Pakistan: India
4- We Won't Forget Humiliation of Our Soldiers in Iran: Trump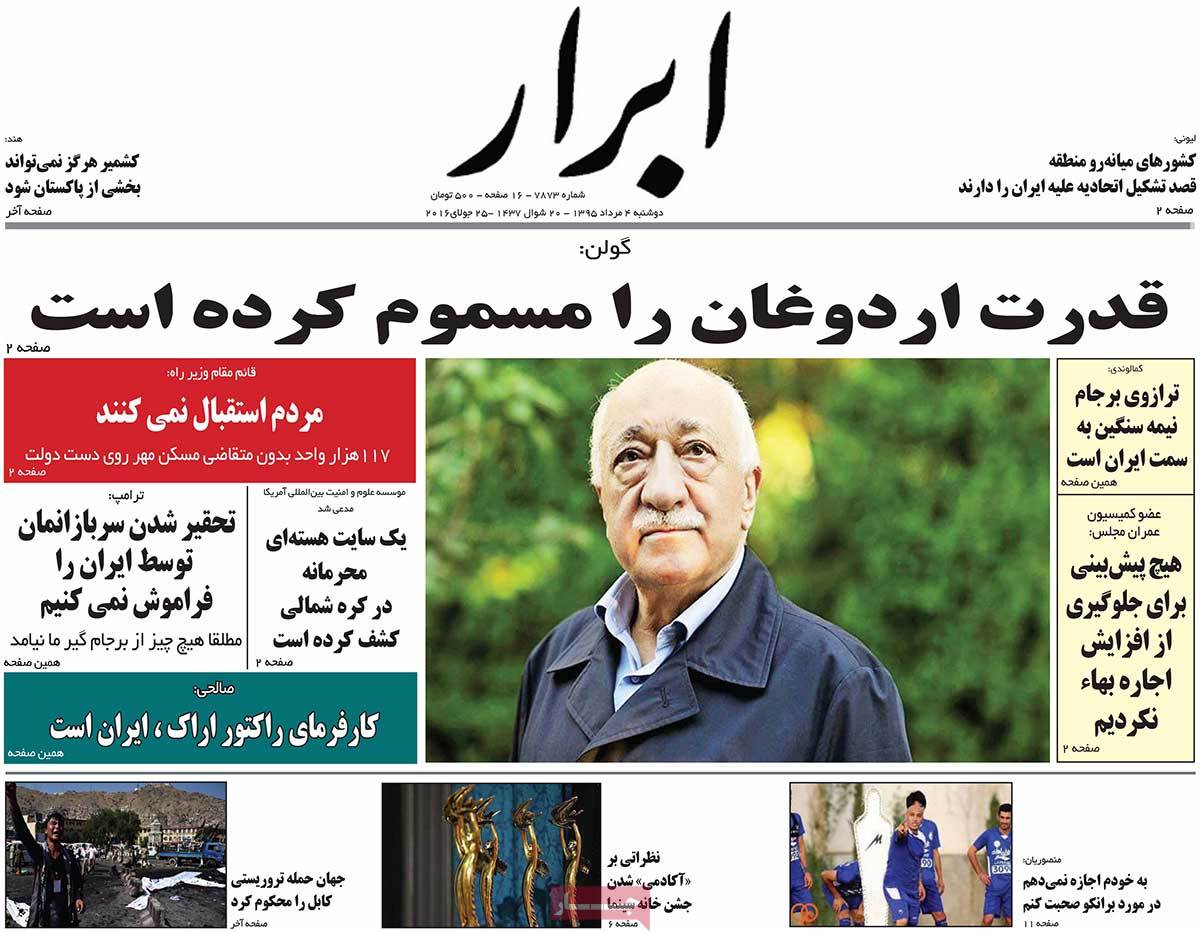 ---
Abrar-e Eqtesadi:
1- Iran's Foreign Debts Decreased to $7.5bn
2- Iran Starts Oil Talks with Sri Lanka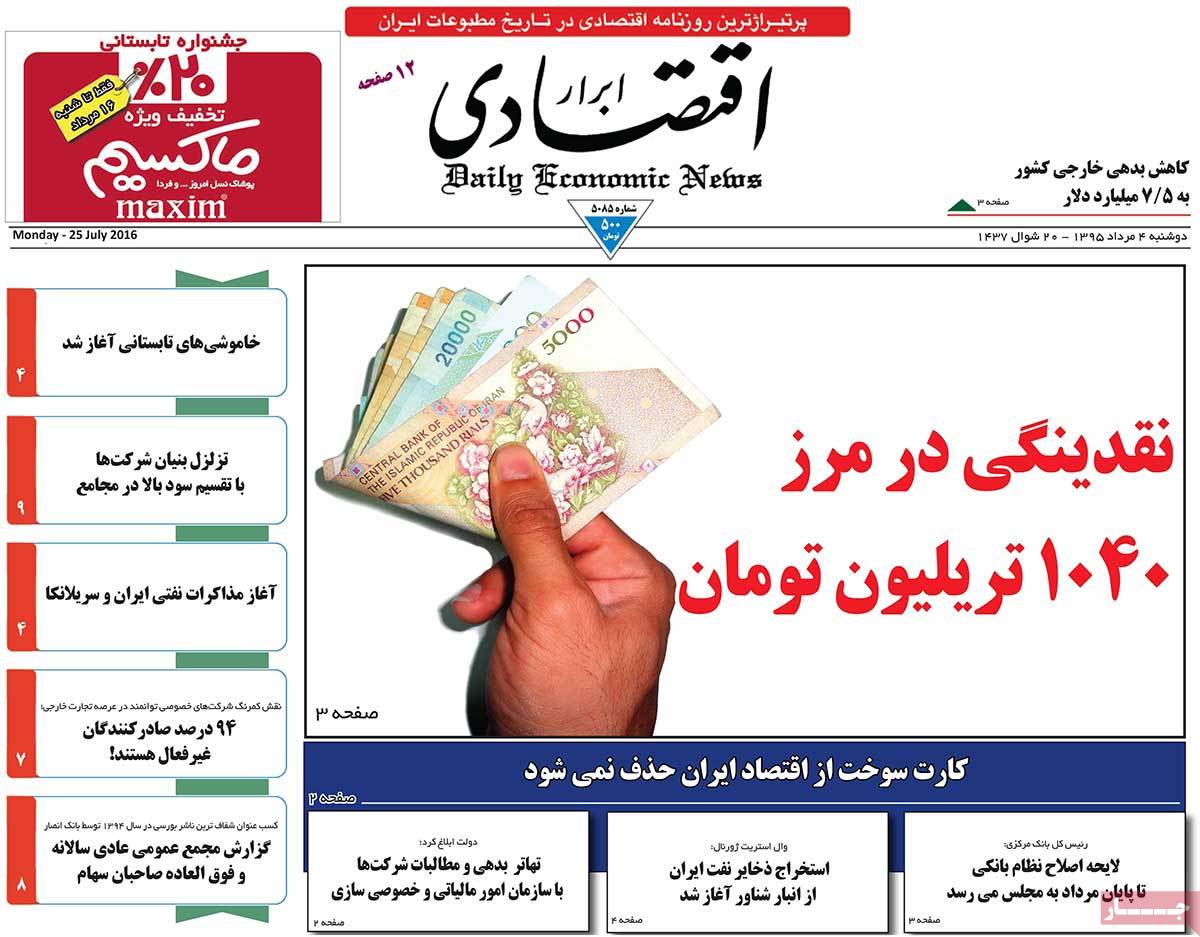 ---
Aftab-e Yazd:
1- Some Want to Hold Government Posts until They Die: Senior Conservative Bahonar
2- Rouhani Creates Jobs for Conservatives! An Advisor Close to Larijani Becomes Zarif's Aide
3- Export Disease: 94% of Iranian Exporters Are Inactive
4- Neither Will I Withdraw, Nor Will I Be Disqualified: Ahmadinejad
5- Pakistani Beggars in Iran's Lorestan Province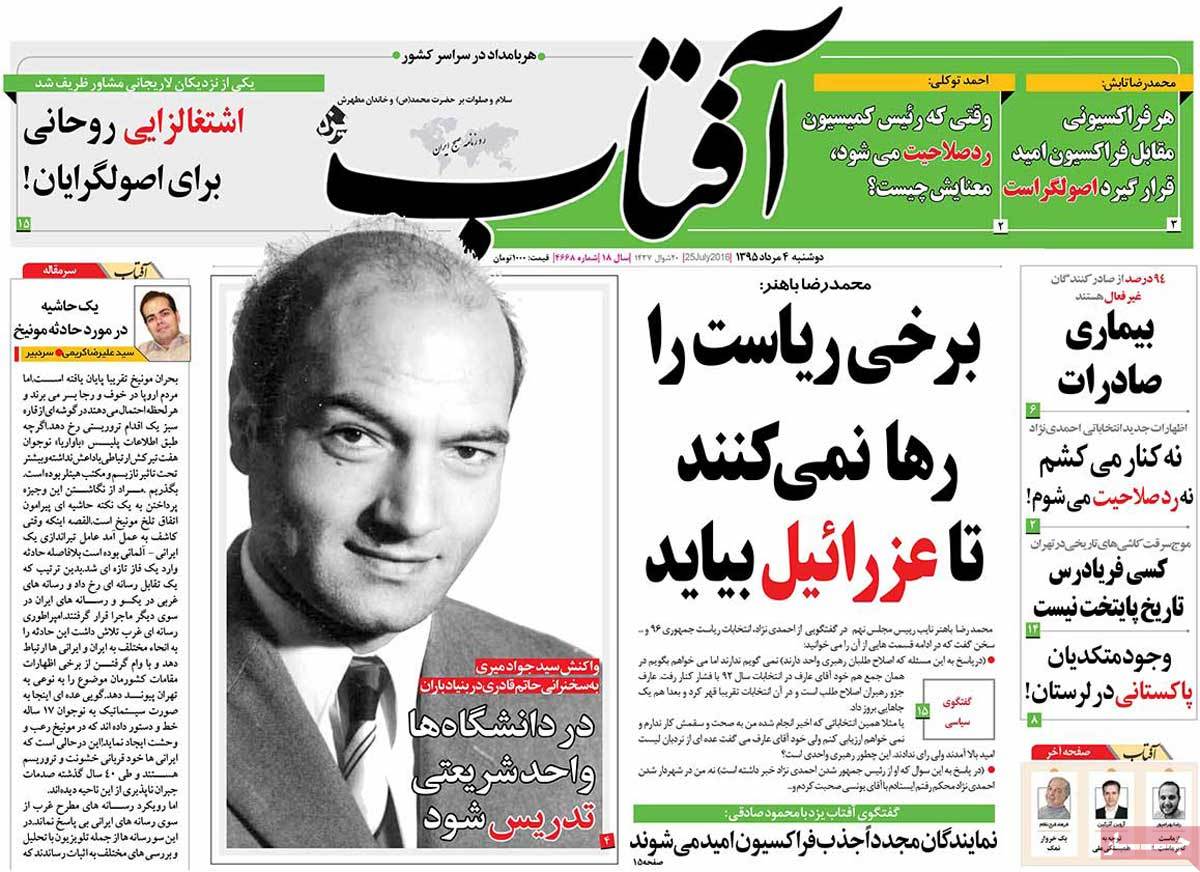 ---
Arman-e Emrooz:
1- JCPOA Dispelled an Evil from Iran: Interior Minister
2- Nuclear Fusion Project and Iran's Role
3- Friday Prayers Imams Should First Investigate about What They Hear: Culture Minister
---
Asrar:
1- Saudi Arabia Is Source of Global Terrorism: German Green Party Leader
2- We Are Ready for Proxy Wars: Army Ground Force Commander
3- Decrease in Iran's Foreign Debts: CBI Governor
4- Iran's Pro Football League (IPL) Begins Today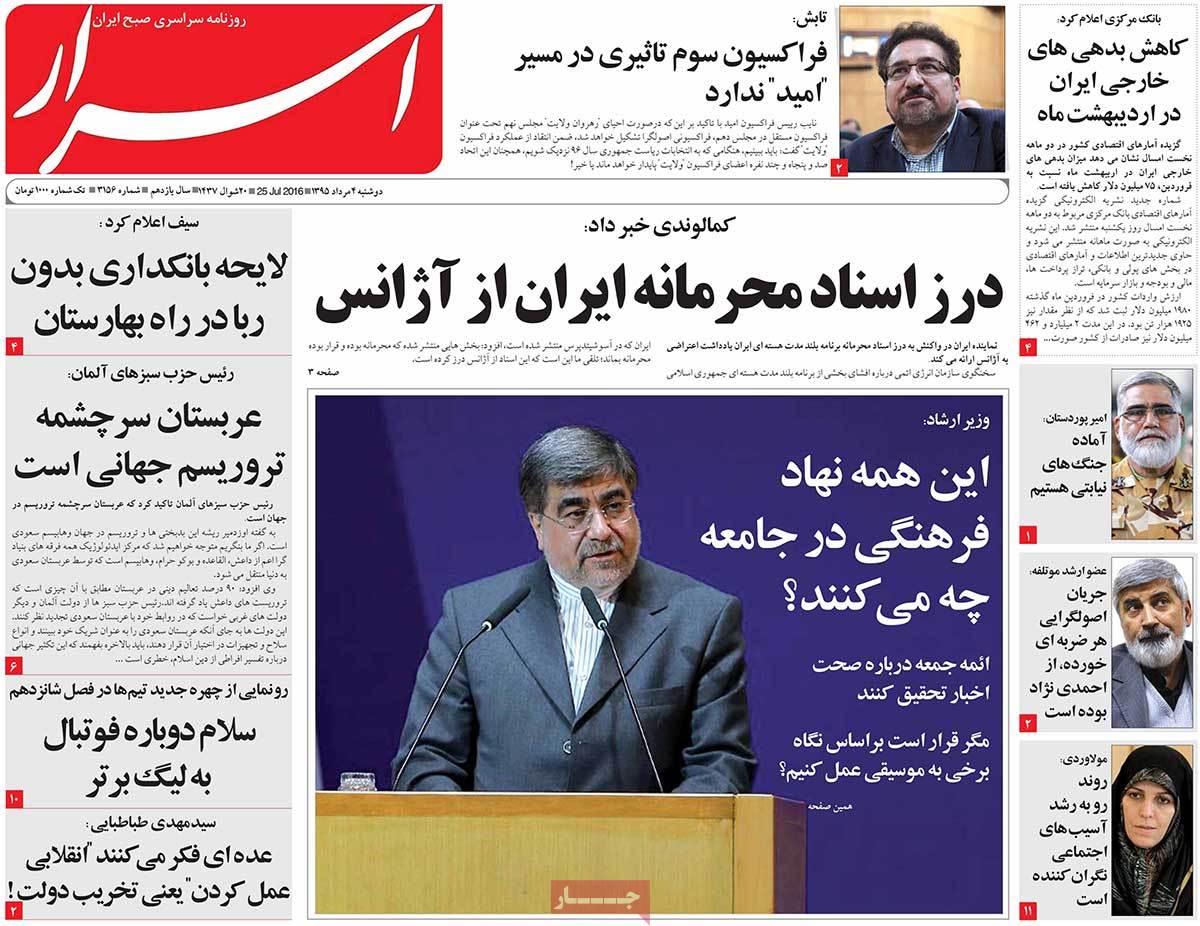 ---
Ebtekar:
1- Fire of Rift in Muslim World: Will Afghanistan Become New Centre for ISIS Activities?
2- We All Were Negligent [on the issue of astronomical salaries]: Judiciary Spokesman
3- Parliamentary Diplomacy Complements Official Diplomacy: Larijani
4- Zarif Urges Shiites and Sunnis to Unite against Extremists
5- Space Travel: From Dream to Reality
6- Iran Is the Owner, Employer, and Executive of Arak Reactor Project: Salehi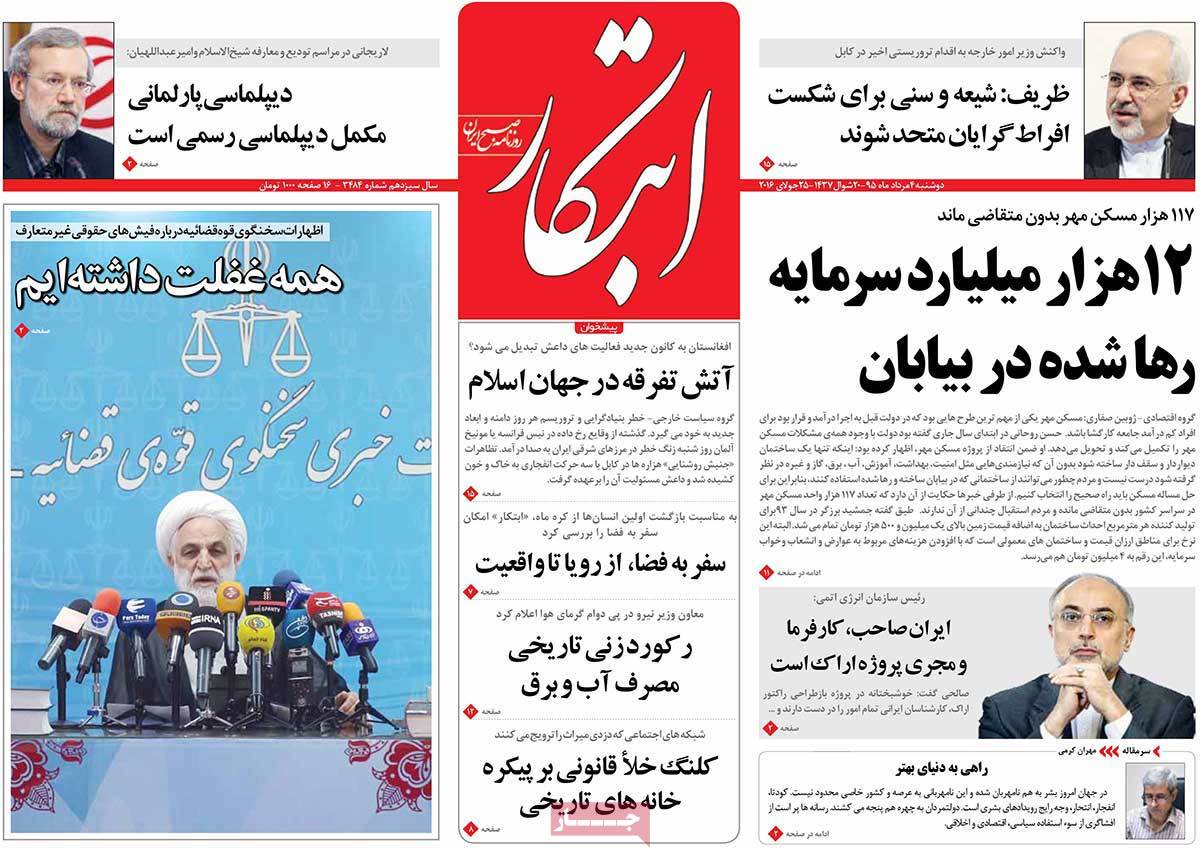 ---
Emtiaz:
1- Saudi Arabia Has No Right to Give Away Iran's Hajj Quota: Official
2- Iran Hopeful about Export of Its Oil to Sri Lanka
3- Iran Has 1.5m Drug Addicts
---
Etemad:
1- 100,000 Satellite Dishes Destroyed a Few Days after Culture Minister Said 70% of Iranian People Watch Satellite TV Channels
2- Beginning of Excitement in Iranian Stadiums: Professional Football League Starts on Monday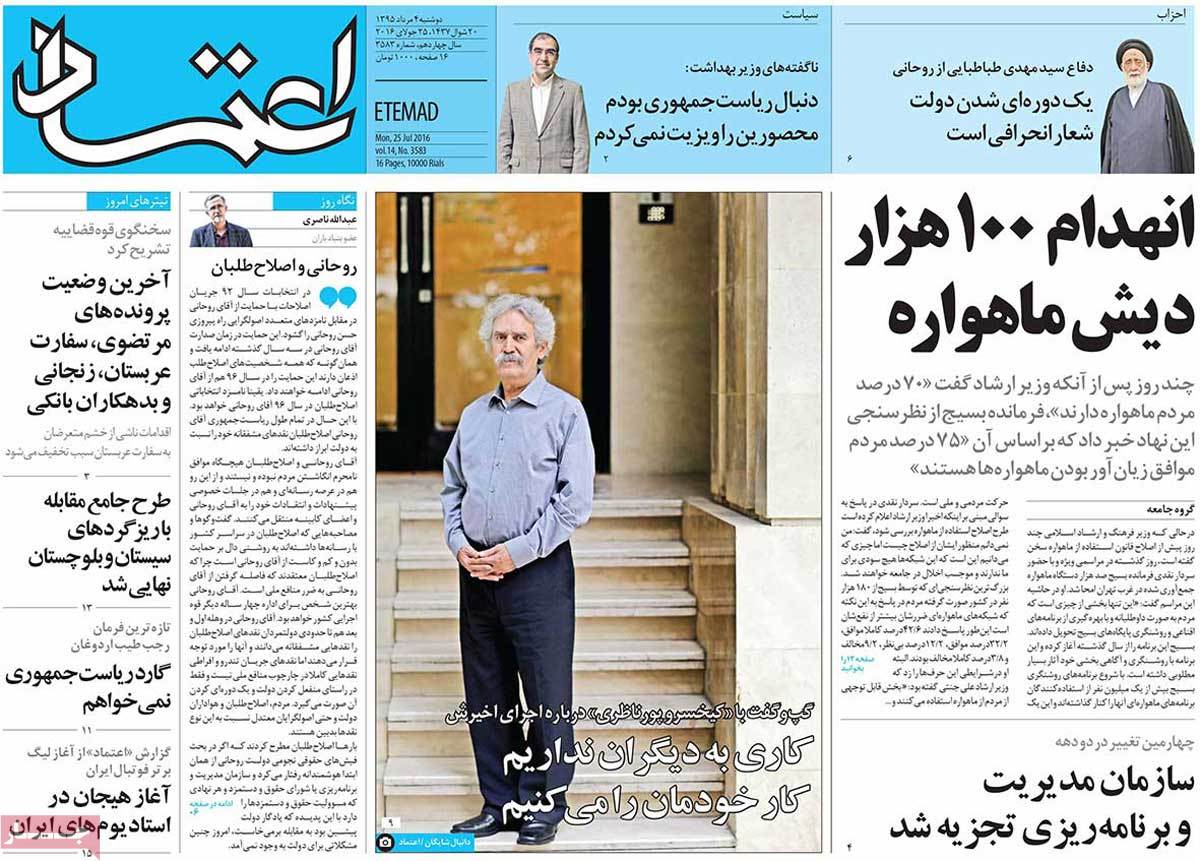 ---
Ettela'at:
1- ISIS's Terrorist Attack on Kadhimiya Kills 18
2- 23 Terrorists Killed in Iran's Northwest
3- Comprehensive Plan to Fight Dust Pollution in Sistan and Baluchestan Province [southeast of Iran]
---
Hamshahri:
1- Conflict between Iranian and Saudi Users in Twitter
2- No One Is Going to Apologize for Car Accidents
---
Hemayat:
1- Iran Breaks Monopoly of a Number of Countries in Chopper Simulator Production
2- Critical Conditions of Sheikh Zakzaky in Prison
3- We're Witnessing a Cultural Liberalism in Iran: Deputy Head of Judiciary
4- Saudi Arabia Is to Blame for Any Possible Terrorist Attack in Iran: Official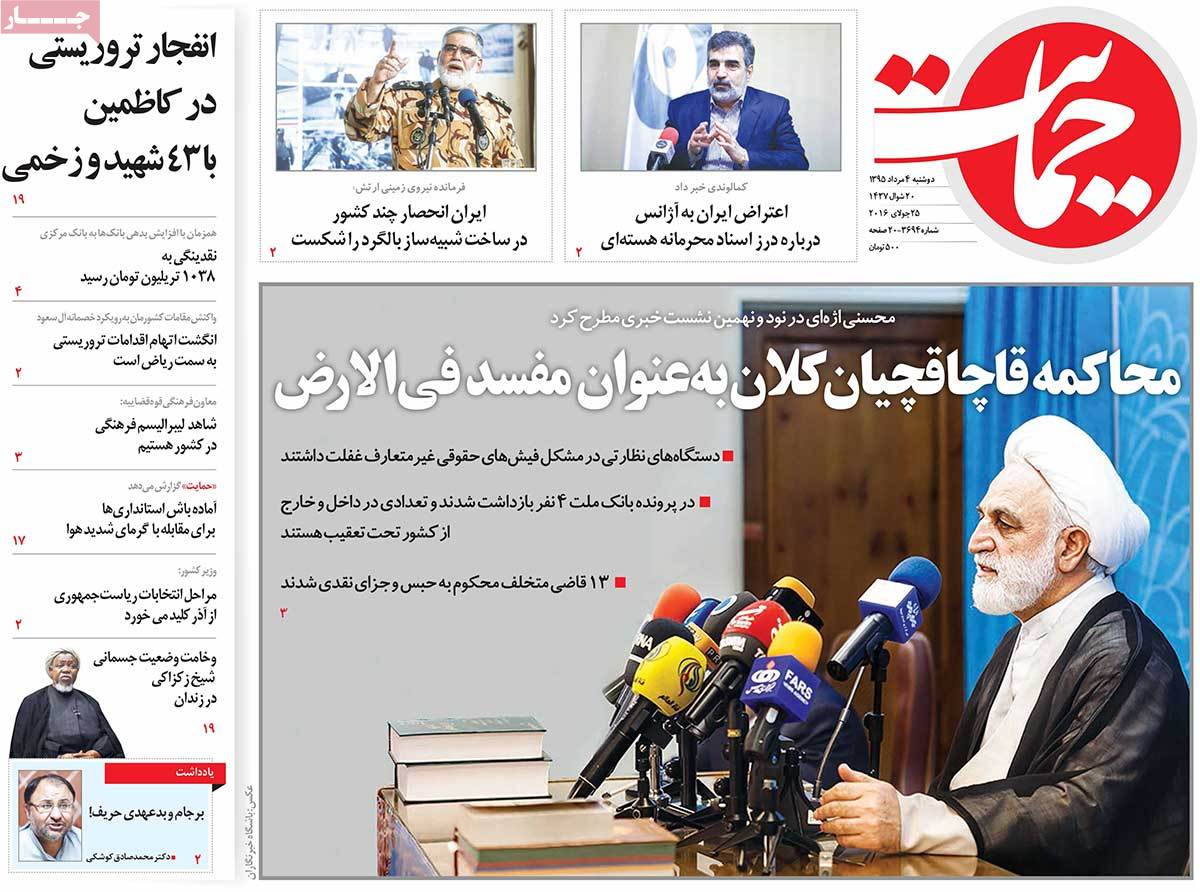 ---
Iran:
1- Satellite Use Should Be Accepted Like Other New Phenomena in the World: Culture Minister
2- When 70% of Iranians Become Criminals: A Report on Need for Revision of Satellite Law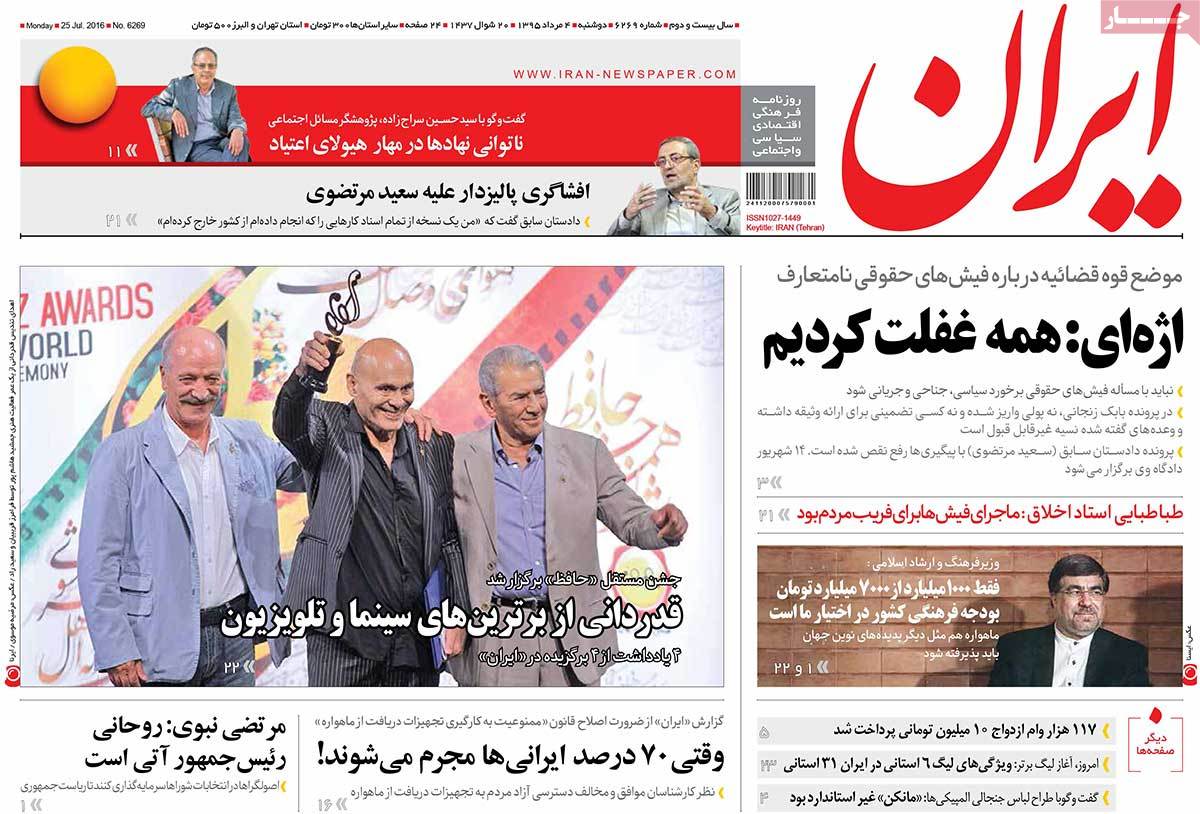 ---
Jame Jam:
1- Smuggled Fruits, Delivery at Your Place: Just a Phone Call for Receiving All Kinds of Foreign and Illegally-Imported Fruits
2- IAEA Has a Leak: Iran's Protest at Amano [over leakage of secret documents on Iran's nuclear energy program]
3- Iran's Upper Hand in Intelligence Wars: A Report on Defeat of US, Israeli, and Saudi Intelligence Networks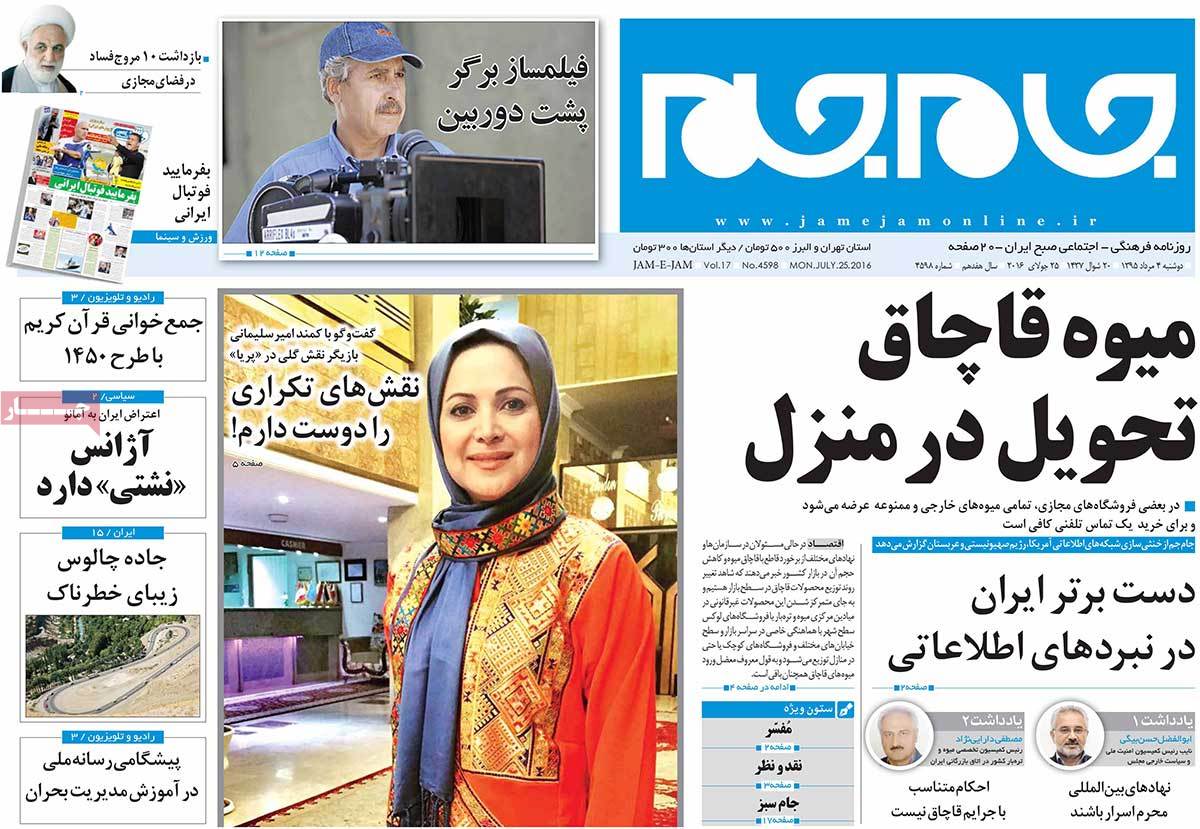 ---
Javan:
1- Gap in Riyadh's Arab Coalition against Iran: Saudi Official Has Met Israeli Authority Responsible for Assassinating Palestinian Leaders
2- Mosul to Be Liberated Using Popular Forces' Help: US Fails in Plan to Keep Popular Mobilization Forces Away from Mosul Operation
3- After Westerners, Now Saudis Are Insulting Iranians: Mr President! You Were Supposed to Prevent the World from Insulting Iranian Passport!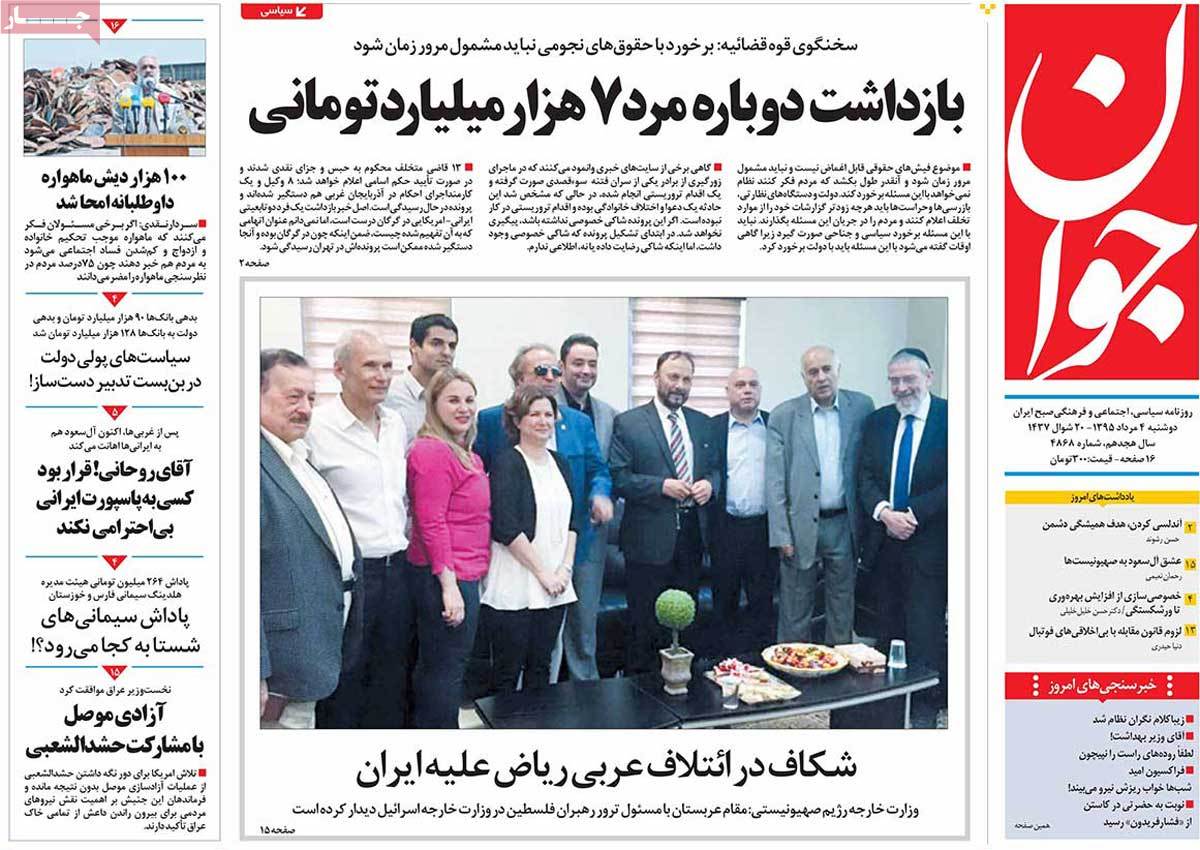 ---
Jomhouri Eslami:
1- Elites of Iranian Society Will Once Again Vote for Rouhani: Cleric
2- Iran and Egypt's Al-Azhar University Both Call for Shiite-Sunni Unity and Fight against Slaughter of Muslims
3- Some Arab Countries Trying to Form a Coalition with Israel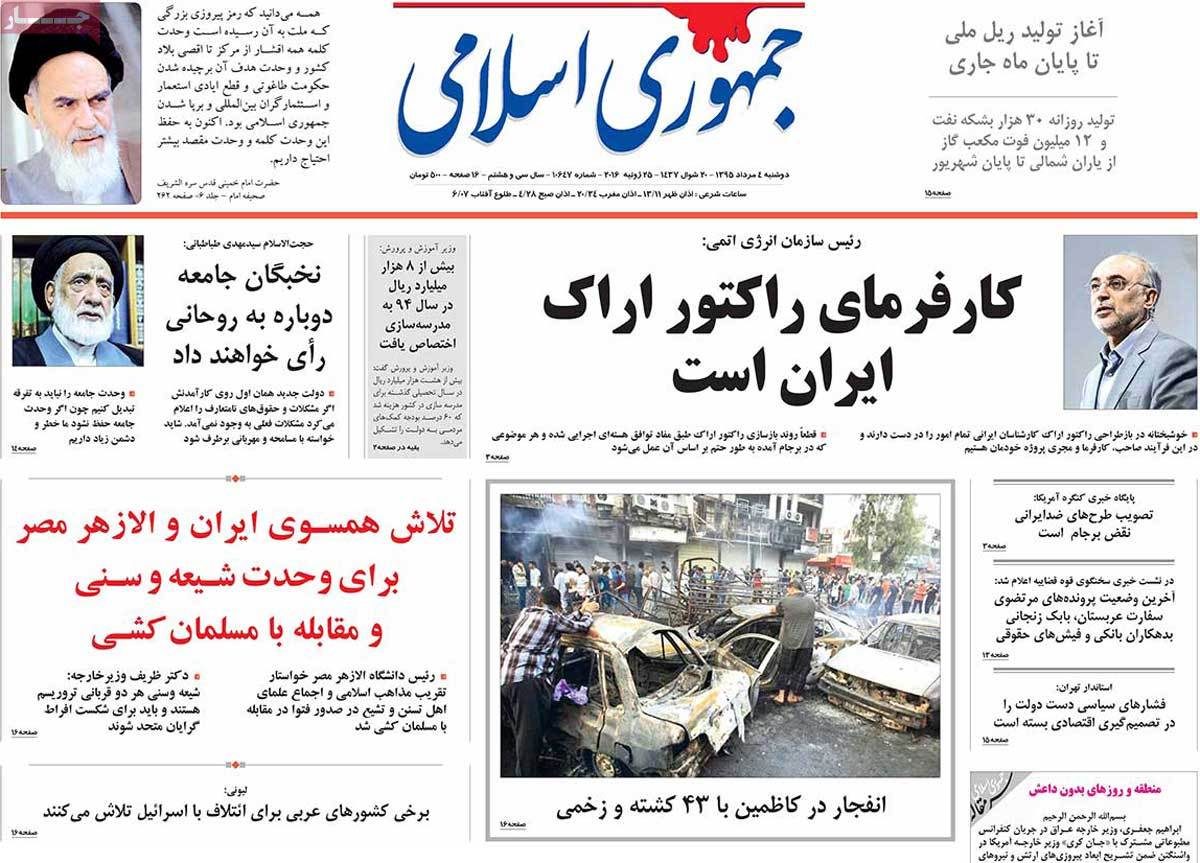 ---
Kayhan:
1- Arab Reactionaries Call on Israel to Form Arabic-Hebrew Coalition against Iran!
2- Saipa's Ambiguous Contract with Peugeot-Citroen
3- Europe on Verge of Economic Death: Missouri University Professor
4- Advisor to Netanyahu: Iran's Slogans in Support of the Poor Is Dangerous!
5- They Slaughter All of My Brothers and Sisters; Sheikh Zakzaky Is Blinded and Paralyzed: Child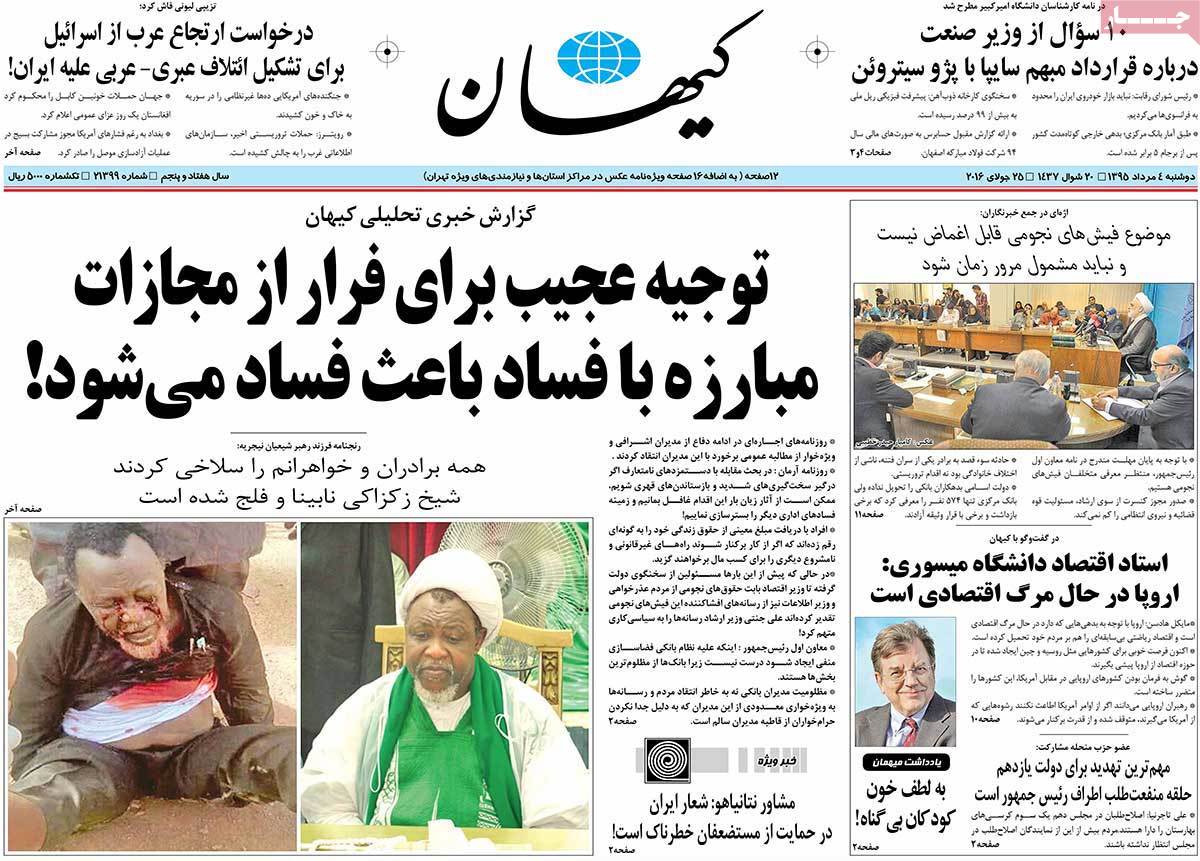 ---
Khorasan:
1- Saudi Dagger in Palestinian Cause: Project Kicked Off for Normalization of Riyadh-Tel Aviv Ties
2- 13 Offending Judges Receive Prison Terms
3- President Rouhani Issues Orders for "Mashhad 2017": Selection of Mashhad as Cultural Capital of Islam Should Pave the Way for Increased Services in the City
4- Arak Plant Will Be Re-Opened and Iran's Enrichment Will Be Increased to 100,000 SWU in 1.5 Years [if Iran wants to restore its nuclear energy program]: Spokesman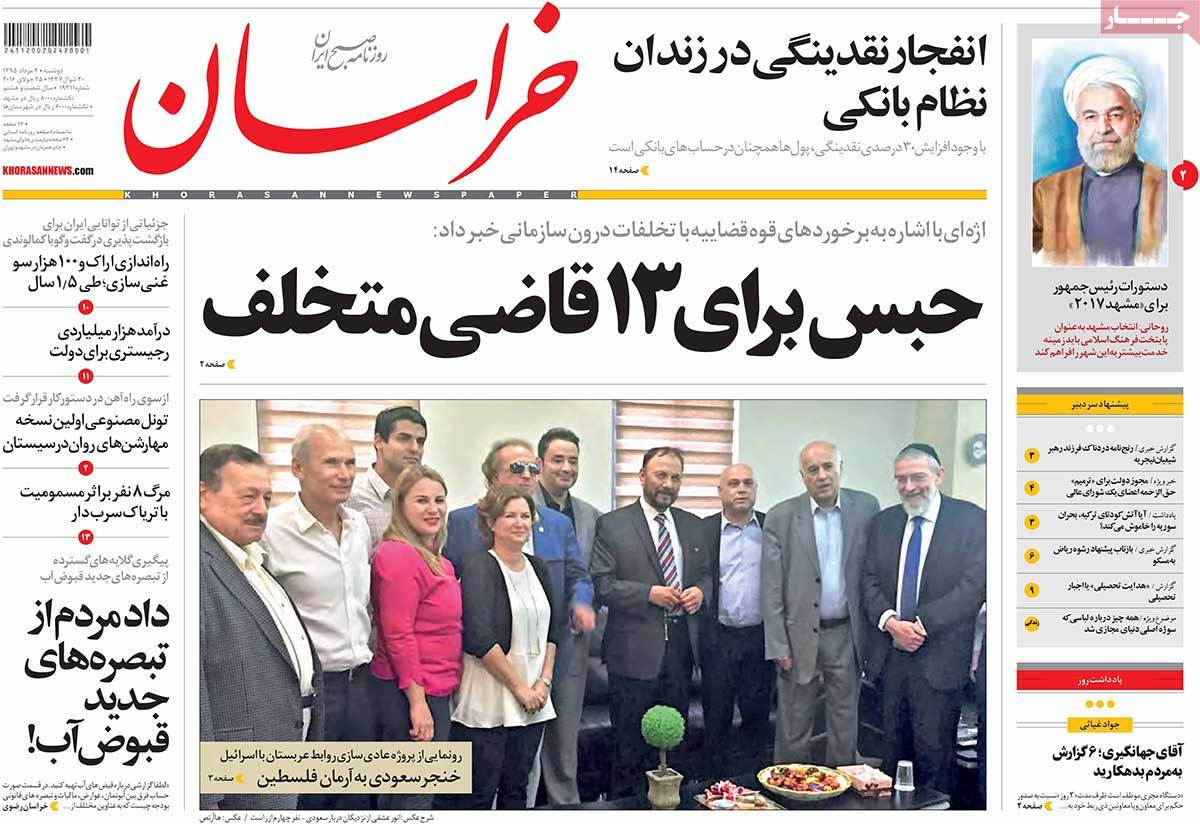 ---
Resalat:
1- One-Digit Inflation Rate Is Unreal: Conservative Politician
2- Aristocracy in Rouhani's Gov't Has Reached a Disastrous Level
3- Turkish Delegation to Travel to US for Extradition of Gulen: Erdogan
4- West's Double-Standard Approach towards Terrorism Exacerbates Security Crisis in the World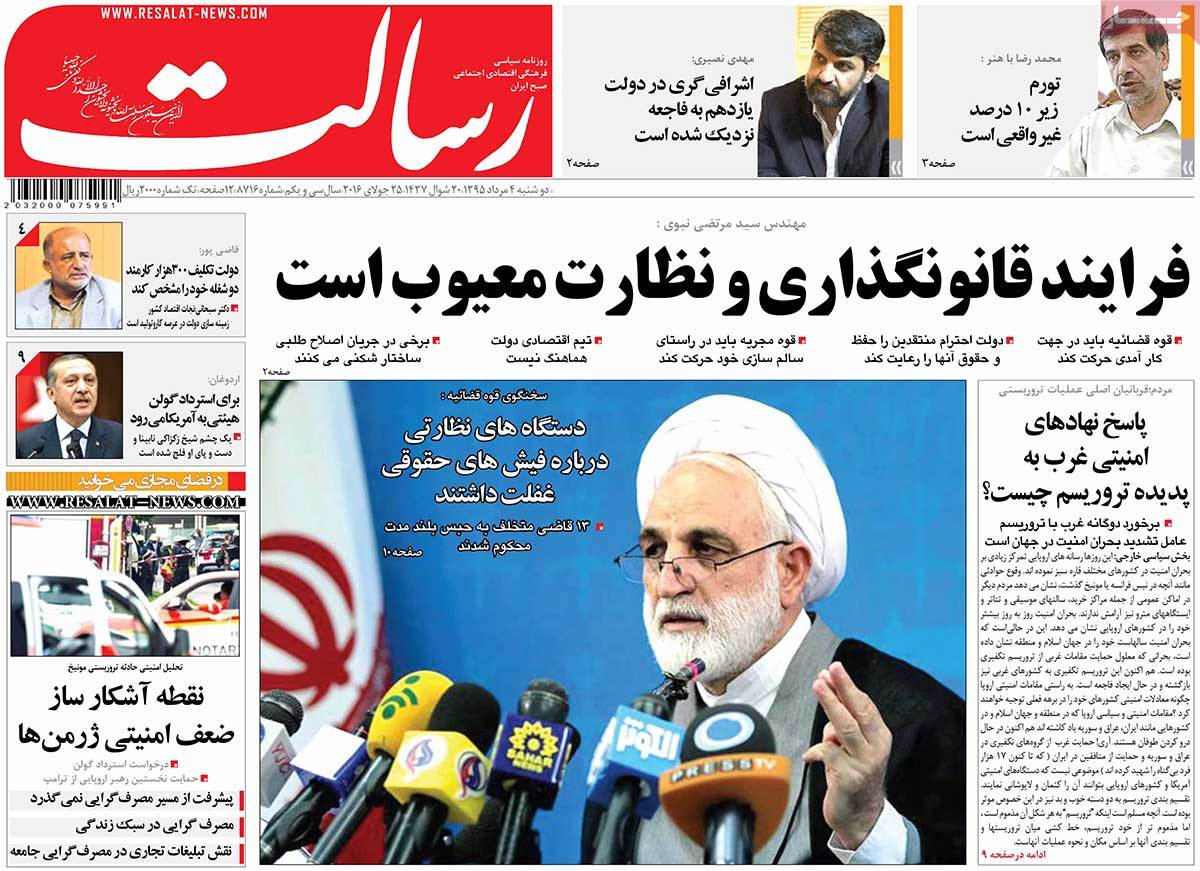 ---
Roozan:
1- Conservatives Getting Close to Rouhani for Next Year's Presidential Polls
2- How Much Does It Take to Develop Sistan and Baluchestan Province? MP Criticize Government's Negligence in Countering Dust Pollution in Deprived Province
3- Commutation for Some of Those Who Attacked Saudi Embassy in Tehran: Judiciary Spokesman
4- Iran Searching for What Its Economy Misses in Africa
---
Shahrvand:
1- Iran and Afghanistan to Fight Dust Pollution by Forming Working Group to Revive Hamoun Lake: Afghanistan's Herat Main Source of Dust in Iran's Sistan and Baluchestan
2- Erdogan Is Right about Being Afraid of Gulen: Iran's Ex-Attaché
3- Expensive Education in Iran: Iranian Families Pay $3bn Each Year for Their Children's Education
4- A Bill to Provide Security for Iranian Women
---
Shargh:
1- How Anti-Riot Police Was Formed in Iran, MP Explains
2- Rouhani Didn't Sleep during the Night of Turkish Coup: Turkish Ambassador to Tehran
3- 10 Iranian Ministries Mobilized against Dust Pollution
4- First 'Kiarostami' Prize Awarded to Shahram Mokri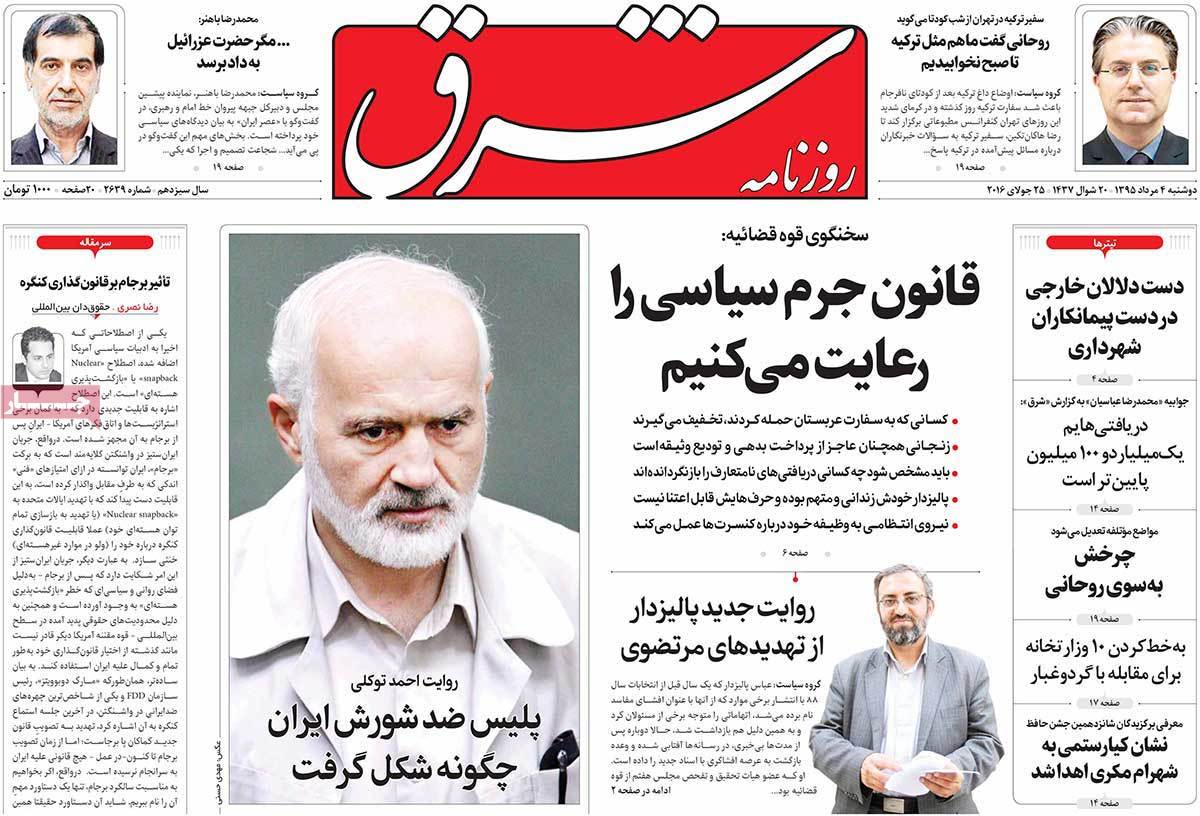 ---
Sobh-e Now:
1- Sheikh Zakzaky on Verge of Full Blindness
2- Saudi Arabia's Support for Armament of Opponents of Iran's Revolution: Analyst
3- Symbolic Farewell to Thousands of Satellite Equipment and Devices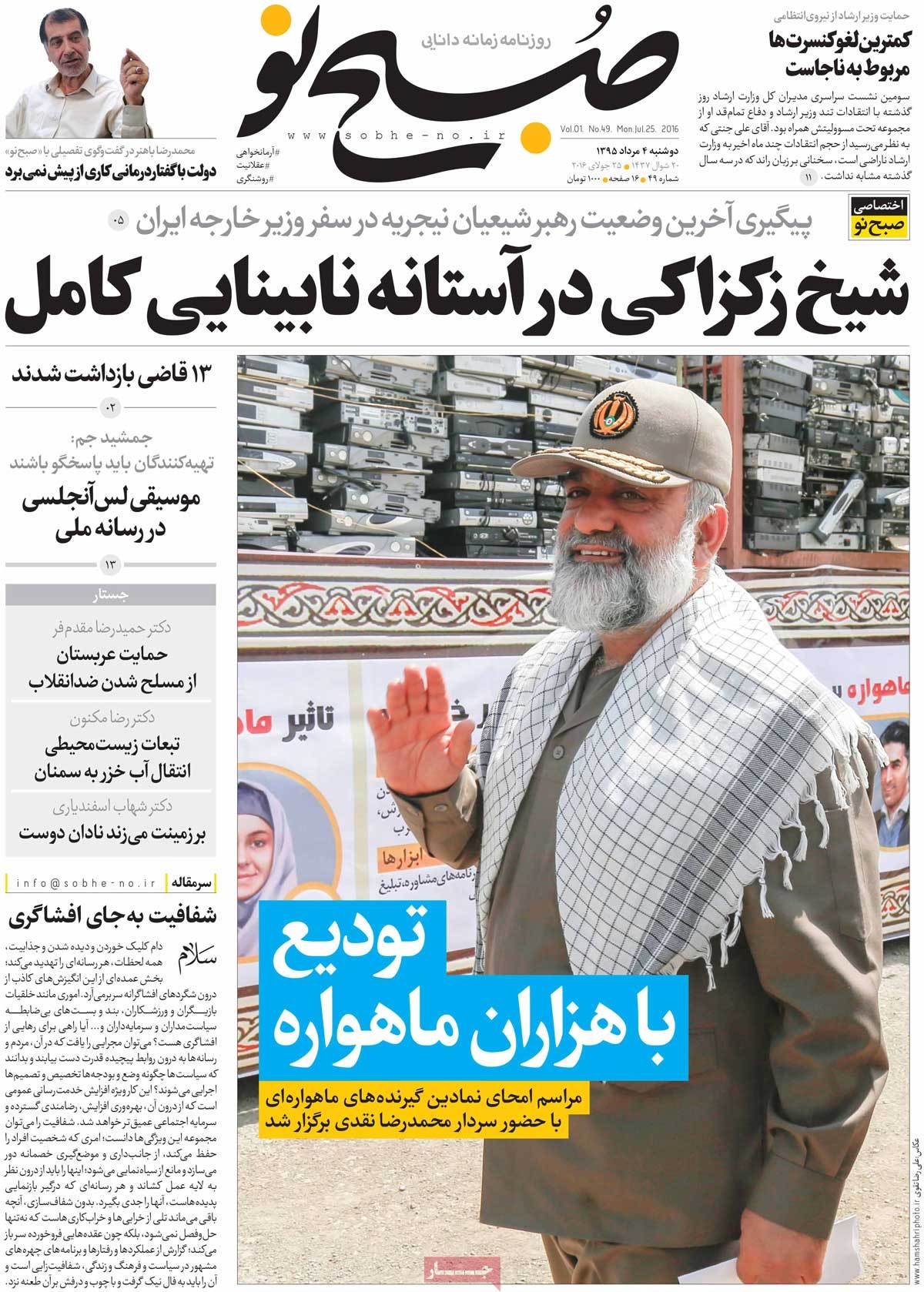 ---
Vatan-e Emrooz:
1- The Plot Is Disclosed! Iran's Atomic Energy Organization Protest at IAEA for Leakage of nrSecret Documents of a Deal between Amano and Salehi
2- Culture Minister: I Condemn the Disclosure of Astronomical Salaries!
3- Summer Blackouts Begin: Energy Ministry's Secrecy Leads to Power Cuts for All People Regardless of Amount of Power Consumption
4- New Details of Saudi Arabia's Sedition in Kordestan