Newspapers on Sunday covered the recent terrorist attacks in German city of Munich and Afghan capital of Kabul.
They also covered the beginning of Mahmoud Ahmadinejad's campaigns for next year's presidential elections. Ahmadinejad is said to have held secret talks with clerics in Qom to attract their support.
The ongoing war of words between Iran and Saudi Arabia as well as the issue of huge salaries also remained top stories in many papers.
The above issues as well as many more are covered in the following headlines:
Abrar:
1- Ahmadinejad's Minister: No Minister in Ahmadinejad's Gov't Received 100 Gold Coins as Incentive
2- Army Navy Commander: Damavand Destroyer Equipped with Chaff Anti-Missile System
3- UNSC Adopts Resolution to Implement Elimination of Libya's Chemical Weapons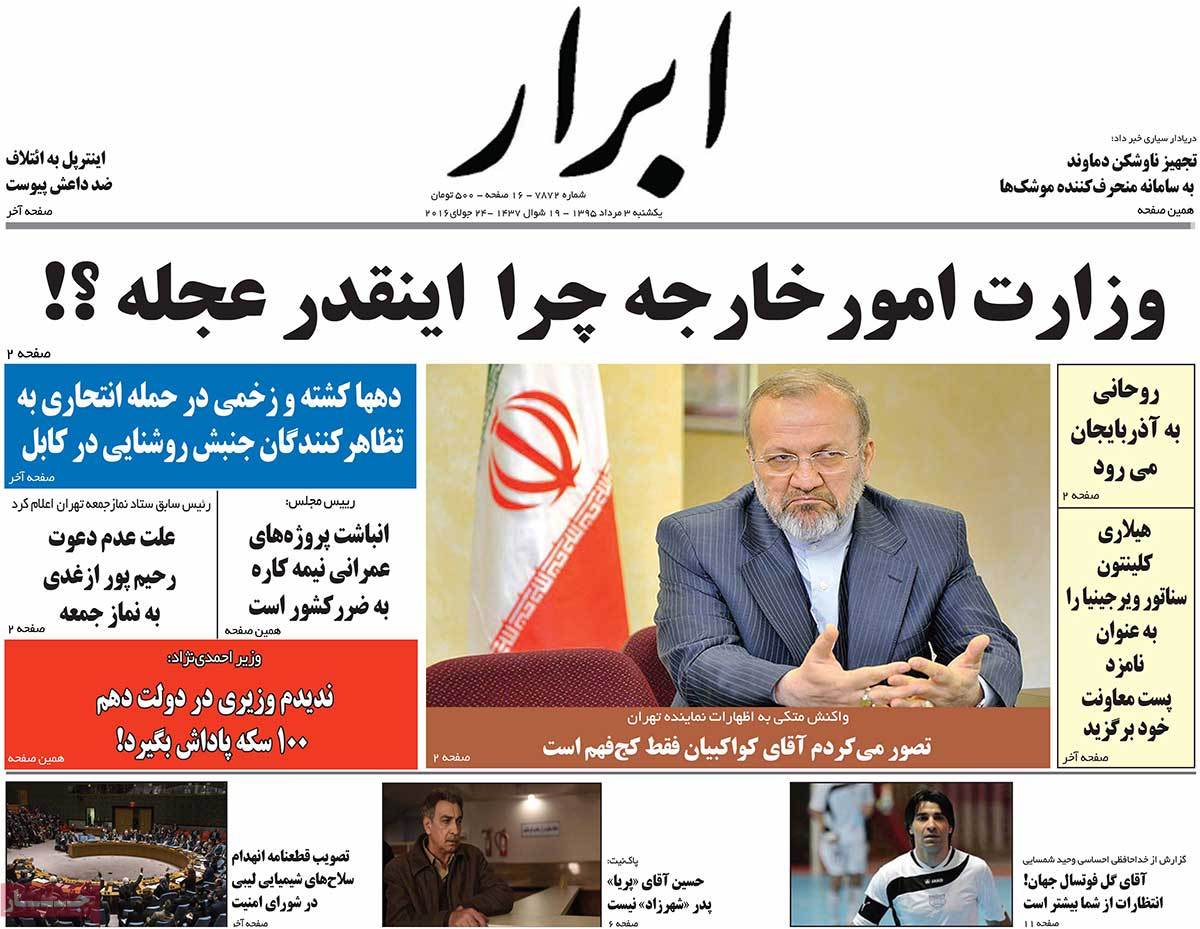 ---
Abrar-e Eqtesadi:
1- End of Russia's Cooperation with OPEC
2- 80% of Iranian University Graduates Prefer Administrative Jobs
3- Sri Lanka's Passenger Planes Loaned to Iran!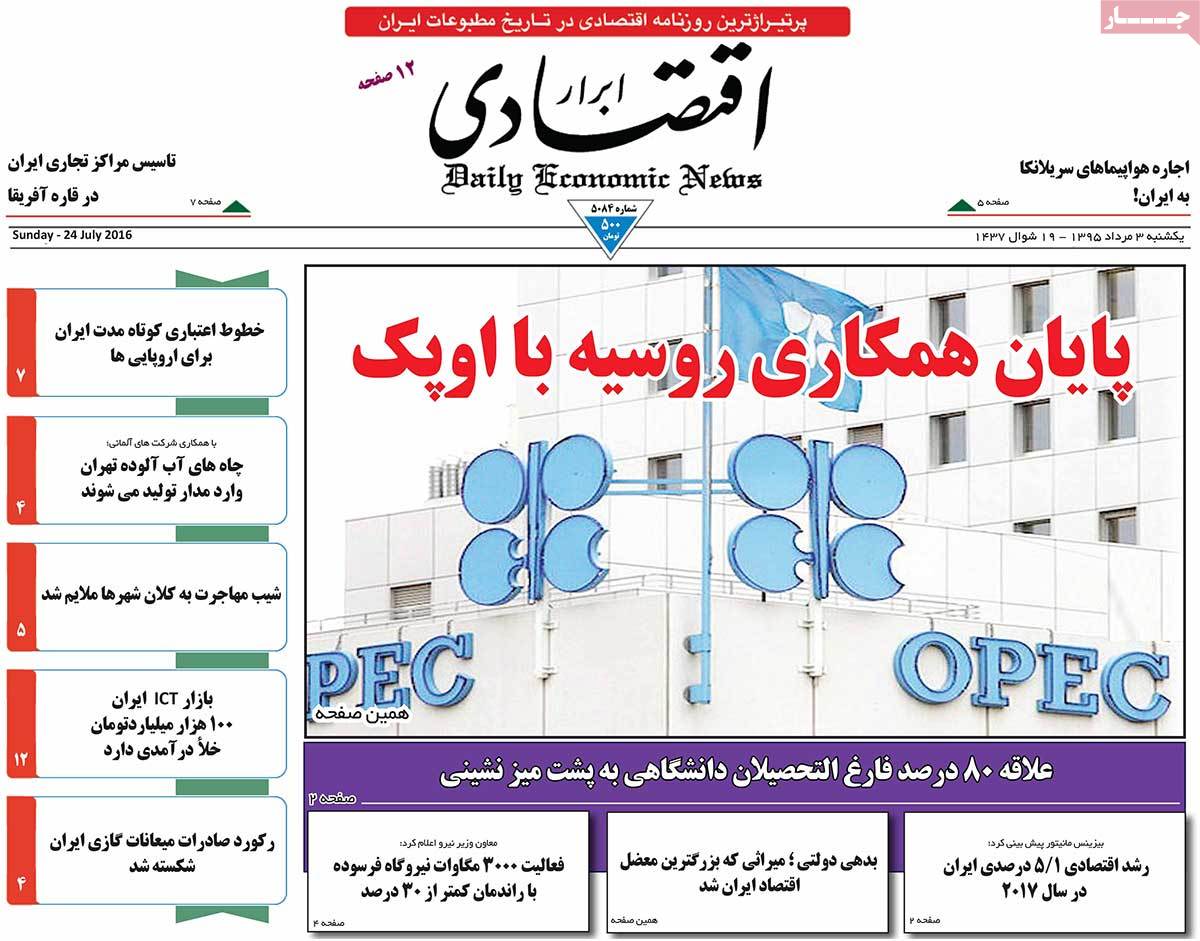 ---
Aftab-e Yazd:
1- Cleric: Anti-Government Think-Tanks Convene in Tehran, Qom, and Mashhad
2- Widespread Criticisms of Iran Olympic Team's Outfit
3- French Educational System in Iranian Teachers' View
---
Arman-e Emrooz:
1- Zibakalam: Rouhani Will Win Presidential Elections Even with Hands Tied
2- Ahmadinejad Holds Secret Electoral Meeting with Senior Clerics
3- 8 Medical Errors Occur Each Day in Iran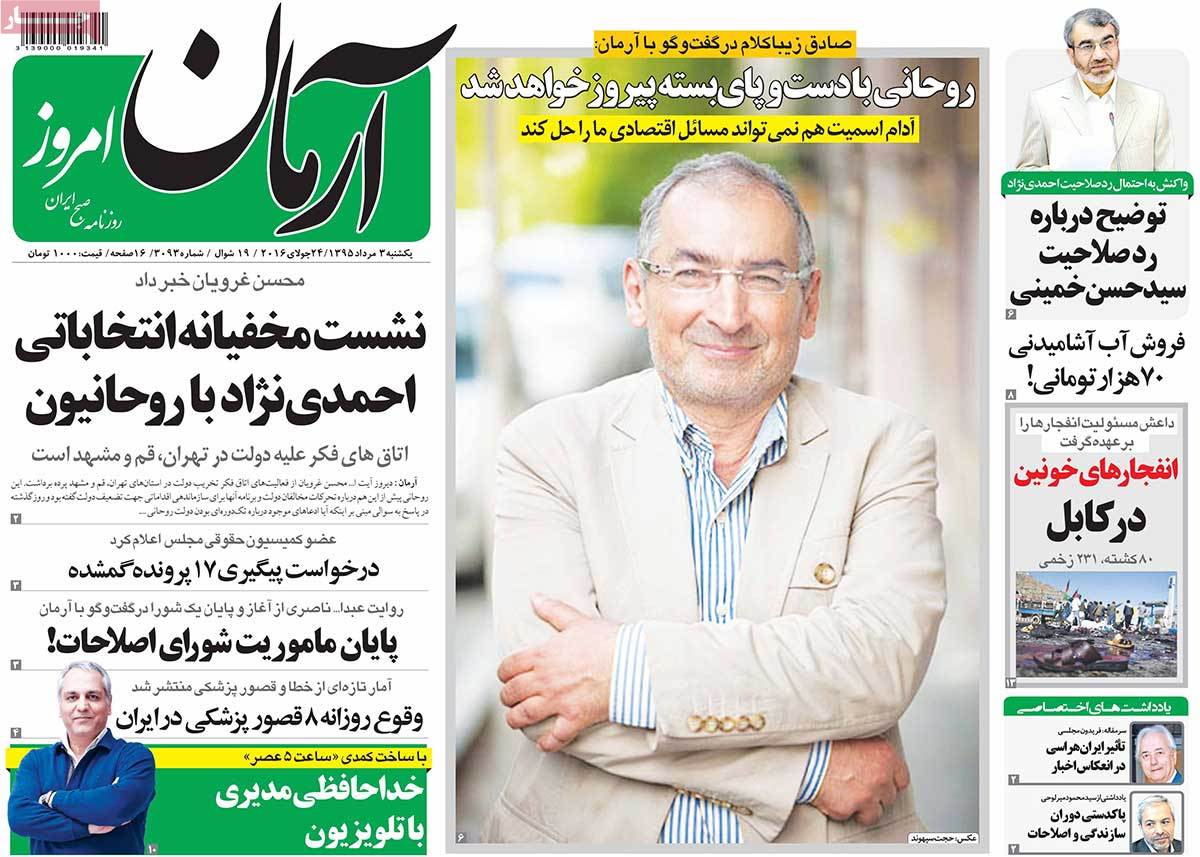 ---
Emtiaz:
1- Alcohol Tasting Like Death: Most Athletes Die of Using Alcohol
2- Extreme Heat Kills Iranian National in Ahvaz
3- Iranian Student Basketball Players Claim Asian Title, Qualify for World Competitions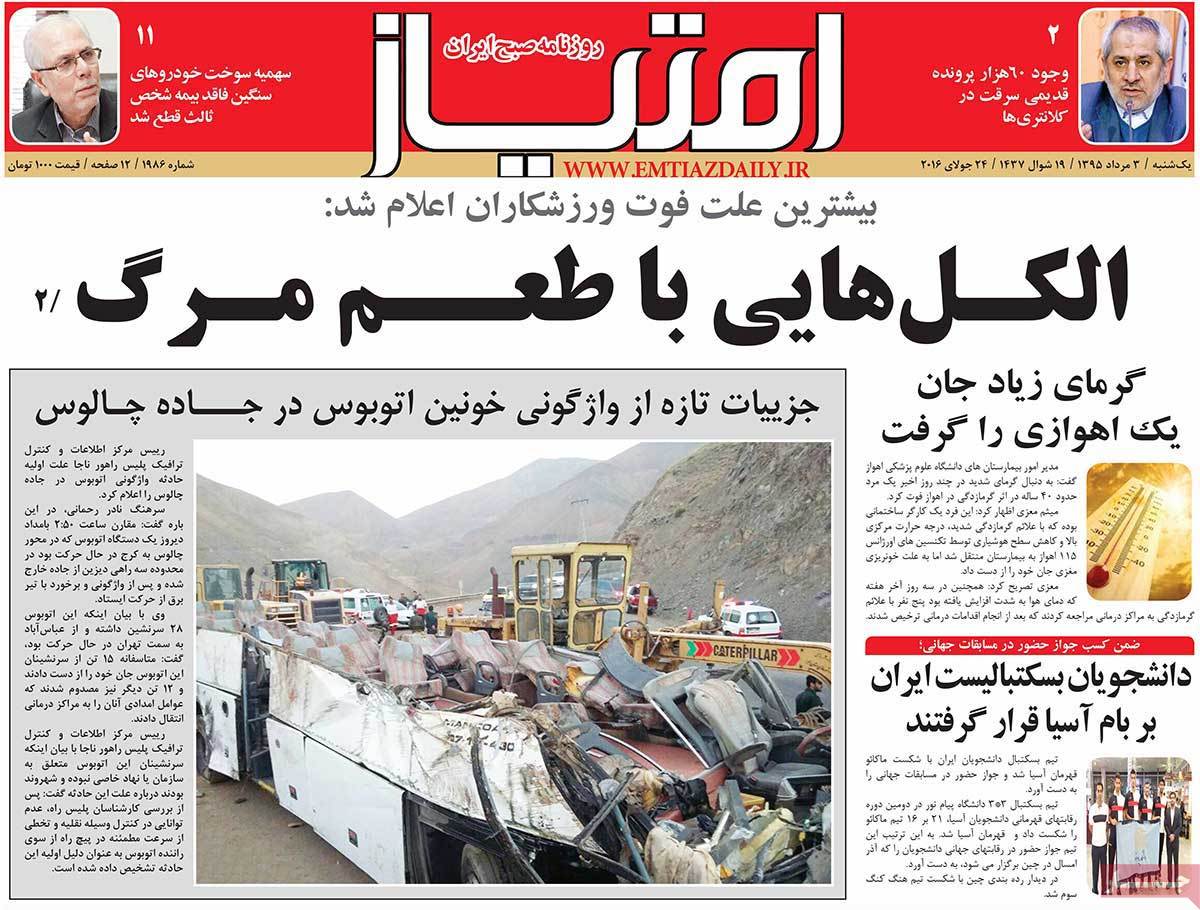 ---
Etemad:
1- Secrets behind Paycheques; Economy Minister: We Were Informed of Unconventional Salaries 1 Year Ago
2- Oil Minister: Retired Oil Personnel Should Go Home; More than 700 Oil Executives Are Estimated to Be Dismissed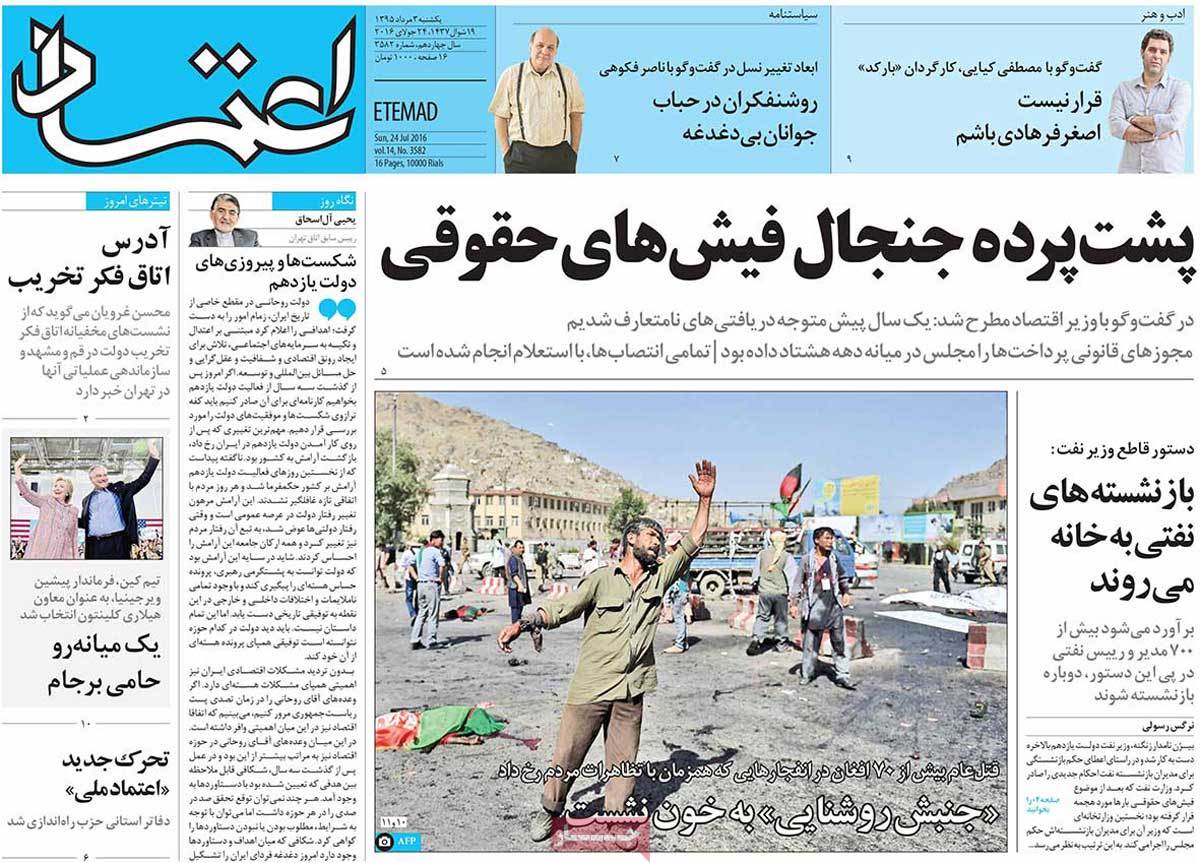 ---
Ettela'at:
1- 10,000 Beds Added to Iran's Hospital Capacity
2- Culture Minister: All Citizens Should Have Access to Information of All Organizations
3- EU Keen to Expand Economic Ties with Iran
4- Necessary Measures Predicted for Countering JCPOA Violation: AEOI Chief
5- Saudi Arabia Is Founding Father of Terrorism: Foreign Ministry Spokesman
---
Hamshahri:
1- Taliban Condemns Slaughter of Afghan Shiites
2- Iranian People Spend 5 to 9 Hours a Day in Social Media
3- Munich Shooting in Norwegian Style
4- People Can Keep Their Smuggled Mobile Phones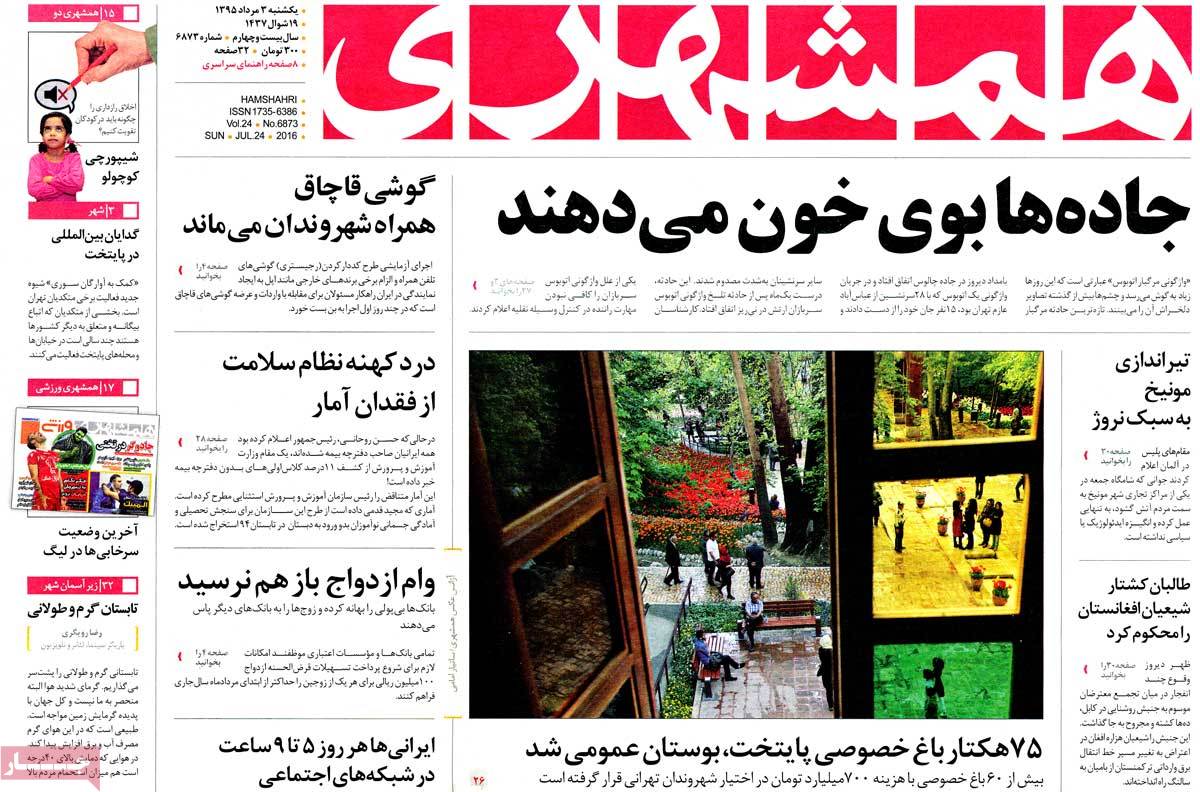 ---
Iran:
1- Kabul in Blood: 3 ISIS Suicide Attacks on Light Movement Rallies Kill 80 and Wound 231
2- Politician: Opponents of Government Have Media Empires
3- JCPOA a Model for Resolution of Iran's Complicated Issues: Analyst
4- Prosecutor General to Judges: Don't Consider Political Orientations in Your Judgement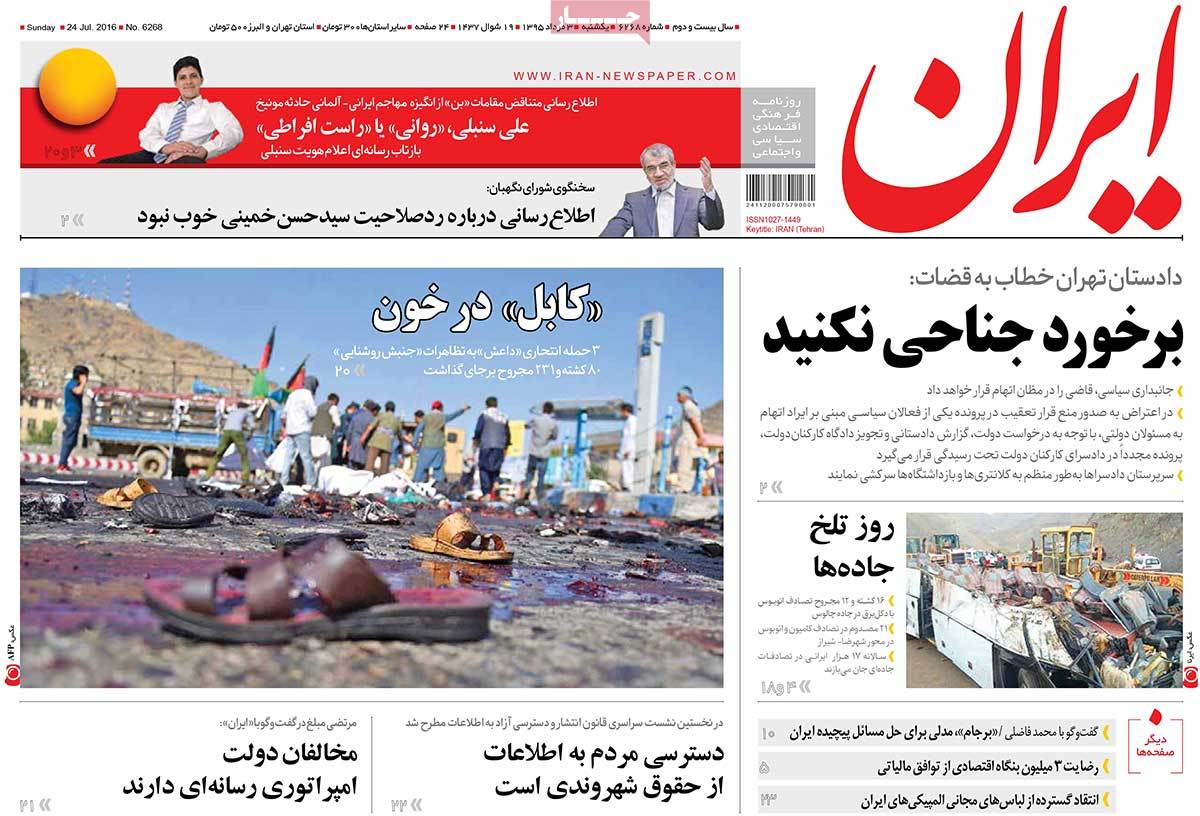 ---
Javan:
1- Iran Ready for "Condition Zero" in Nuclear Deal
2- If They Violate JCPOA, Iran Will Reach 100,000 SWUs in 45 Days: Atomic Chief
3- Optimism towards the US Bolstered Their Courage to Violate Their Commitments
4- ISIS Explodes in Kabul
5- Iranian Social Media Users Making Jokes about Iran Olympic Team's Attire
---
Jomhouri Eslami:
1- Health Minister: 11 Million Deprived Iranians Insured in Health Reform Plan
2- Iran to Join Global Nuclear Fusion Project Soon: Salehi
3- Another Lid on Secrets of Massacre of Shiites in Nigeria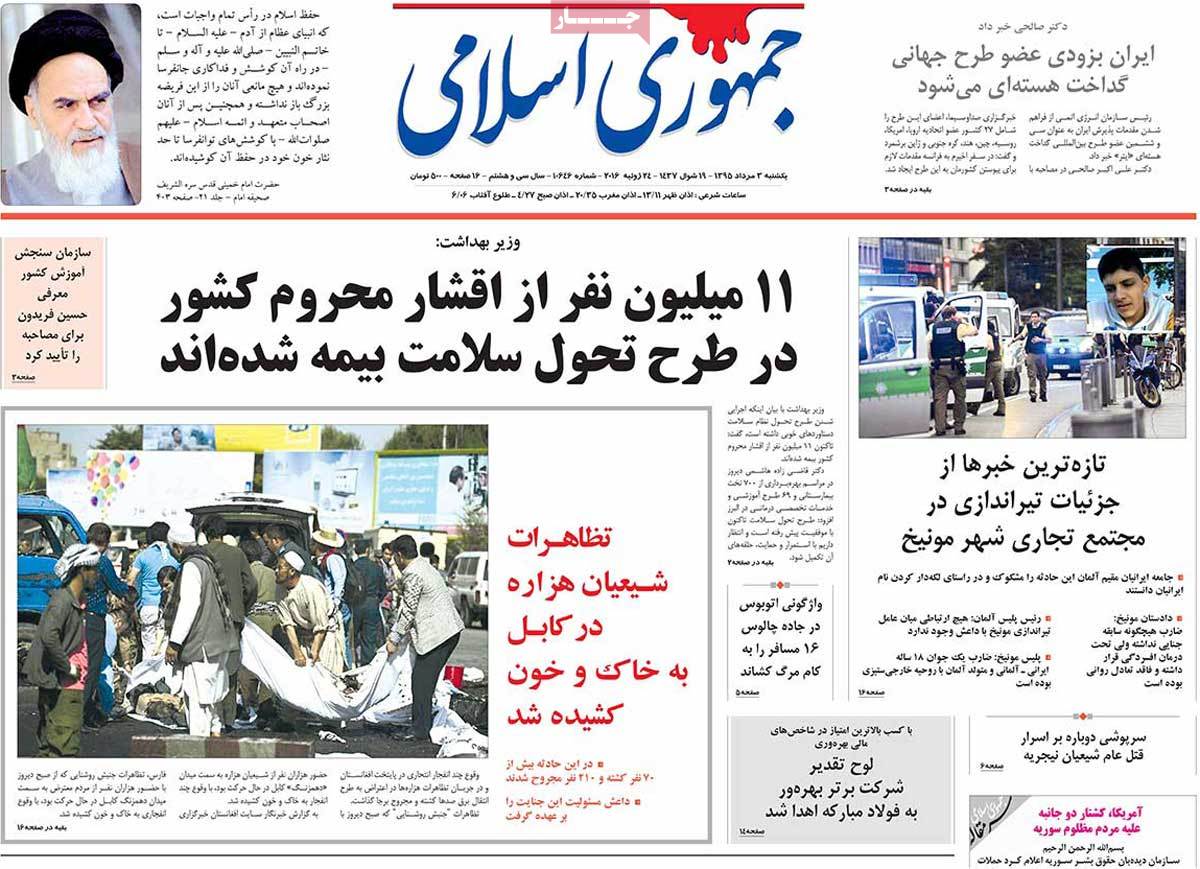 ---
Kayhan:
1- In Spite of Peugeot-Citroen's Black Record: The French Domination of Iranian Car Market
2- Gary Sick: JCPOA Was Not Enough for Controlling Iran. Iran's Regional Dominance Is a Matter of Concern
3- Bus Crash in Chalus Road [northern Iran] Kills 16, Wounds 13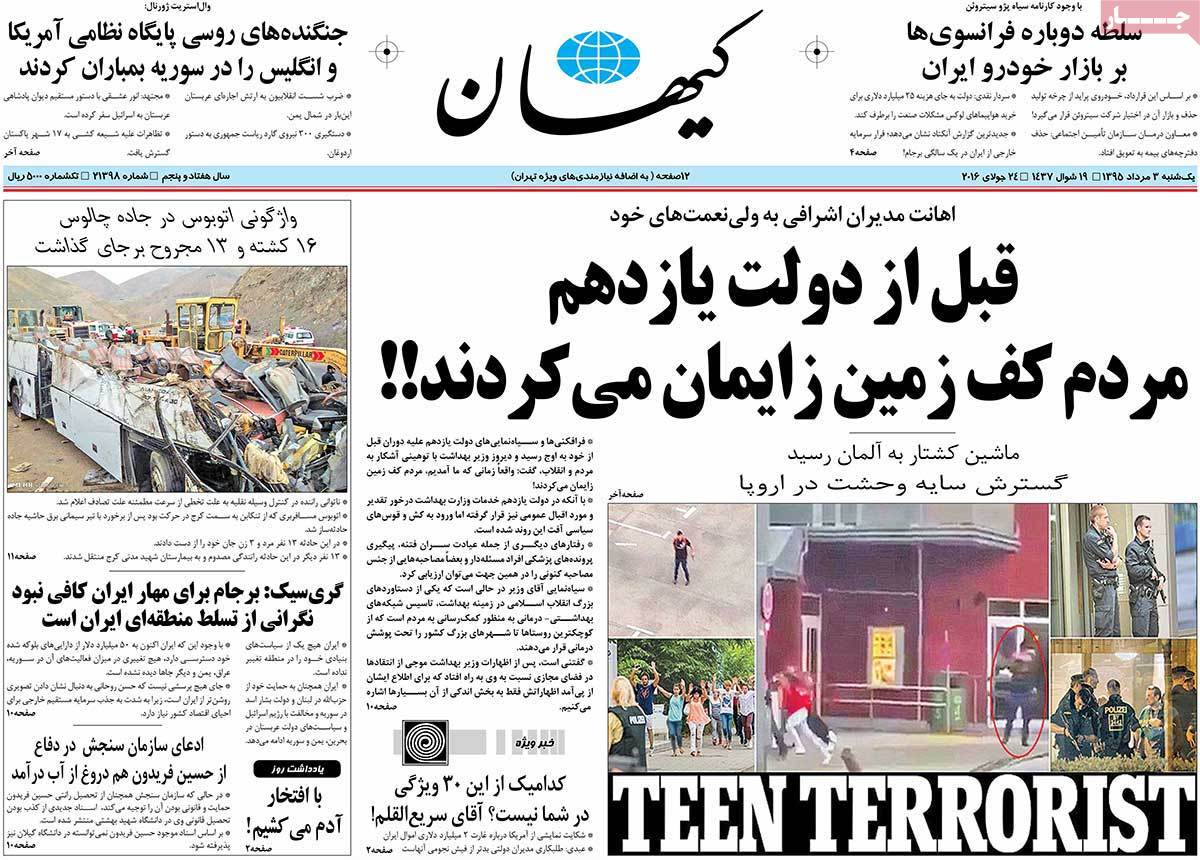 ---
Resalat:
1- Post-JCPOA Deals Are Being Made with Bankrupt Western Businesses: Senior MP
2- New Oil Contracts Are Disasters: Basij Commander
3- Economic Downturn and Unemployment Is Prevailing Situation in Iran: Larijani
4- Founding Father of ISIS Angry at Iran; Iranian Foreign Ministry: Jubeir Should Think Twice about Repercussions of His Remarks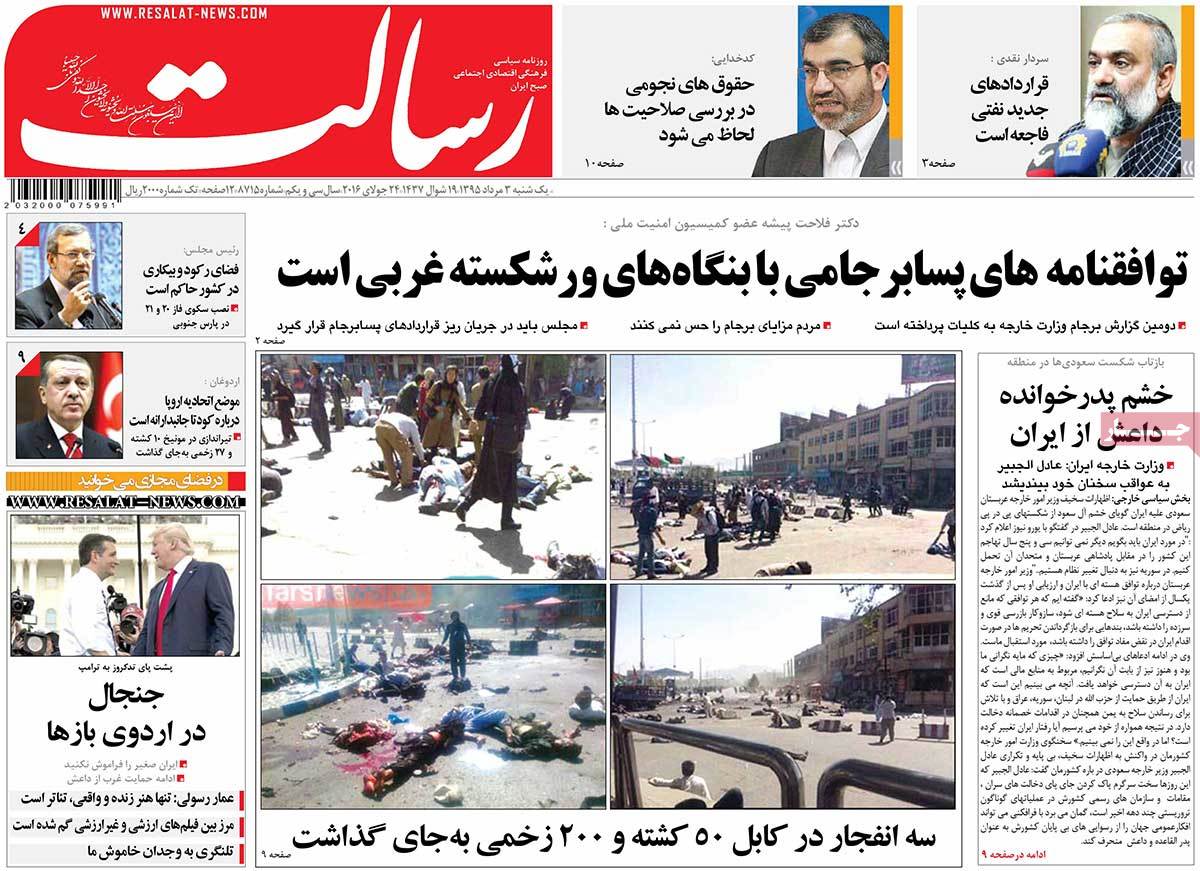 ---
Sepid:
1- Simultaneous Attacks on Boeing Deal in Iran and the US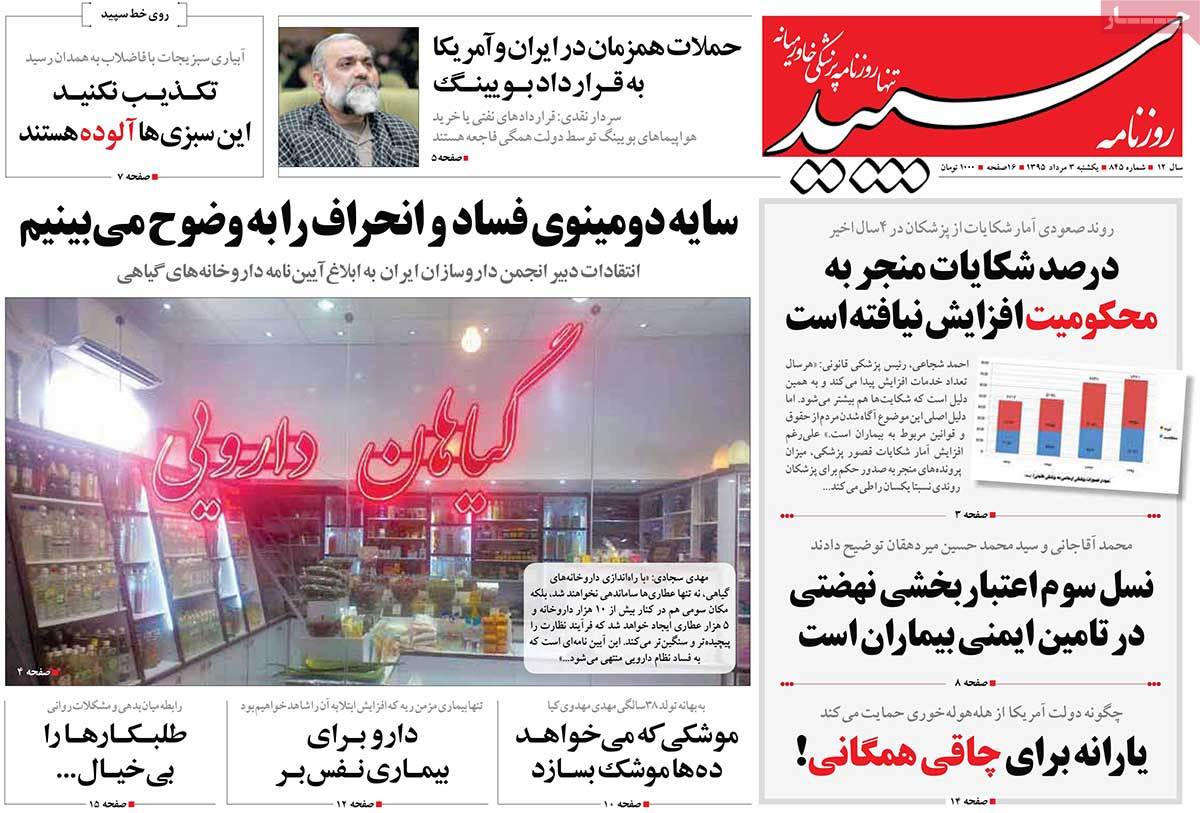 ---
Shahrvand:
1- Health Minister after Visiting 4 Prisons:
We Have Objections to Health Conditions in Prisons
Iranian Prisoners Are Not Covered by Insurance; Judiciary Lacks Enough Credit for Improving Their Conditions
Overpopulation of Prisons Has Led to Spread of Communicable Diseases
2- Residents Abandon 11 Villages near Qom Salt Lake Because of Drought
3- First Red Crescent School in Iran's Gonbad Kavus
4- Difficulties of Life in Yazd's Historical Town: Narrow Alleys with Kind Hearts; It Takes 10 Minutes for Ambulance to Get to the Scene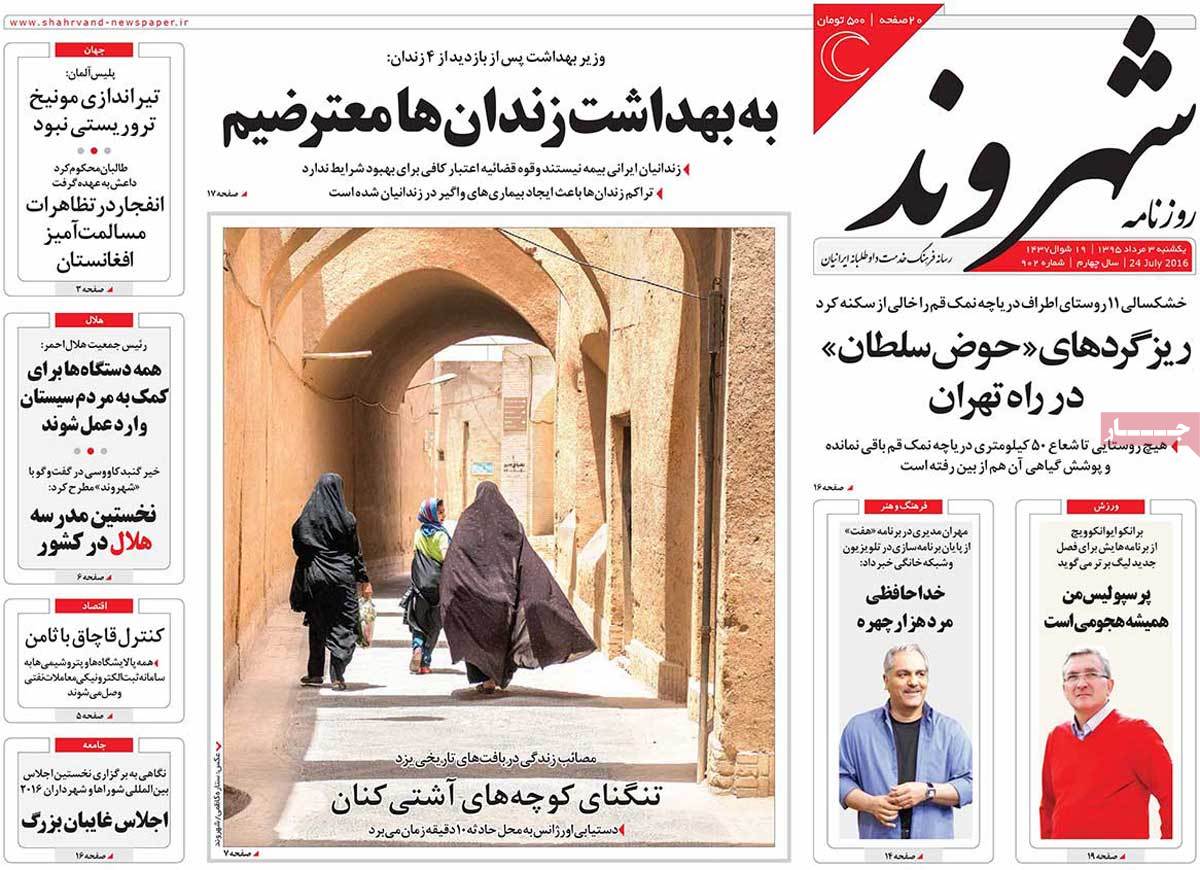 ---
Shargh:
1- Staunch Supporter of JCPOA Becomes Hillary Clinton's Vice-President
2- Black Market of Apple Products in Iran
3- Review of Developments in Most Important Iranian Student Movement from Beginning up to Now
---
Sobh-e Now:
1- Fire of Terrorism from Munich to Kabul
2- Paris Agreement, an Environmental JCPOA: Environment Department Chief
3- 34 Million Iranians in Cyberspace
---
Vaghaye Ettefaghieh:
1- Evin Prison Waiting for a Cultural Trade: Experts Say Tehran's Largest Prison Is Worth from $72m to $2.9bn
2- Salehi: Deal Signed for Sale of 40 Tons of Heavy Water to Russia
3- Guardian Council Spokesman: GC Welcomes Revision of Law of Elections