Newspapers on Saturday covered the International Quds Day rallies held on Friday in Iran and other parts of the world in support of Palestine and its cause.
The dismissal and resignation of four bank managers also received great coverage. The issue of astronomical salaries and the measures taken by the government against the offenses has been a top story in the past weeks.
President Hassan Rouhani also met a group of Iranian artists and culture professionals. During the meeting, he voiced his government's all-out support for Iranian artists, and lashed out at those who criticize filmmakers for attending international festivals.
These issues and many more are covered in the following headlines:
Abrar:
1- Iran to Comply with UNSC on Resolution against North Korea: Ambassador to Seoul
2- No One Can Lie to People Anymore: Rafsanjani in Praise of Cyberspace Expansion
3- Politically-Biased Maddahi [eulogy] Distancing People from Religious Mourning
4- London Can Lift Anti-Iran Sanctions after Brexit: Int'l Business Times
5- Any Turkish Interference in Mosul Will Lead to a Big War: Iraqi PM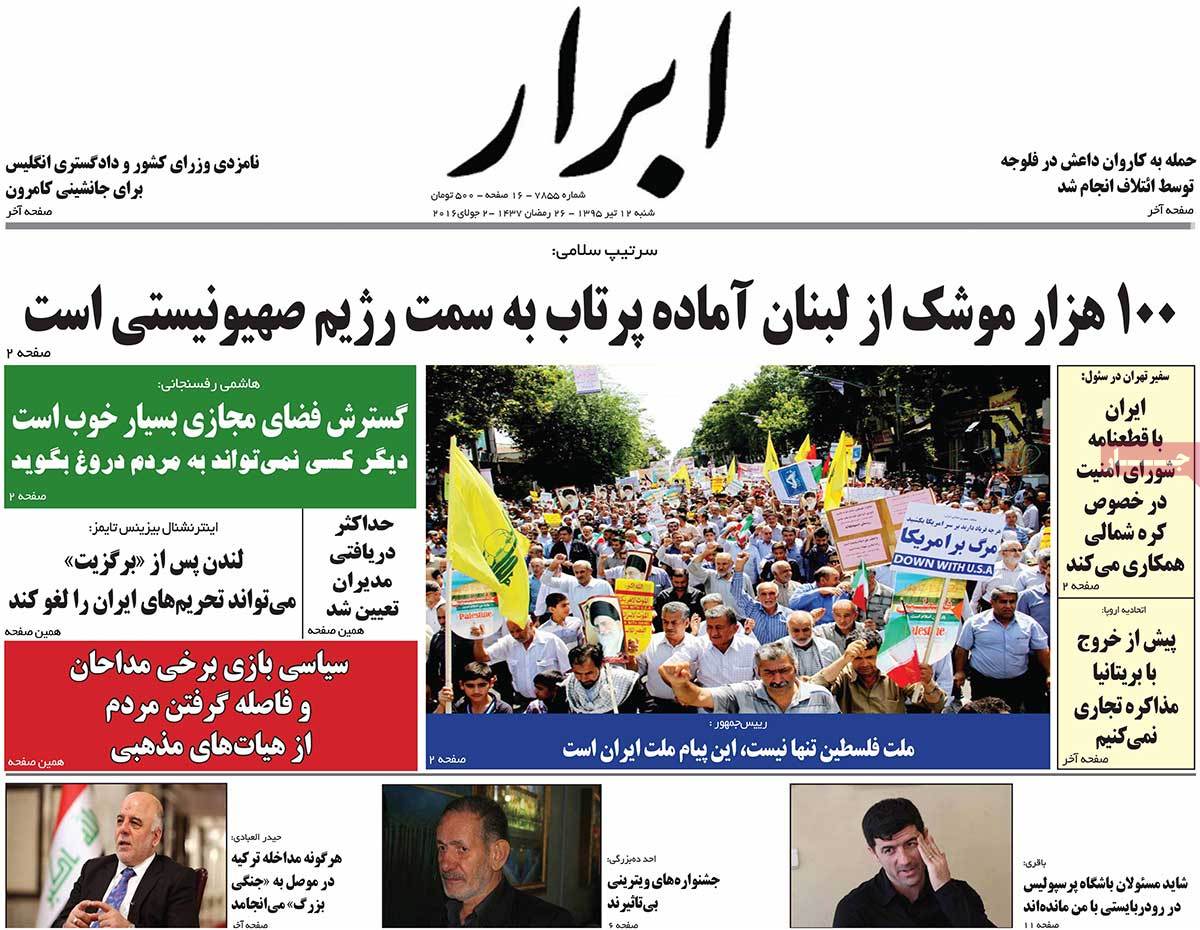 ---
Abrar-e Eqtesadi:
1- Iran's Oil Destined for Baltic Sea
2- Expansion of Tehran-London Ties
3- Iran Resumes Export of Petchem Products to Britain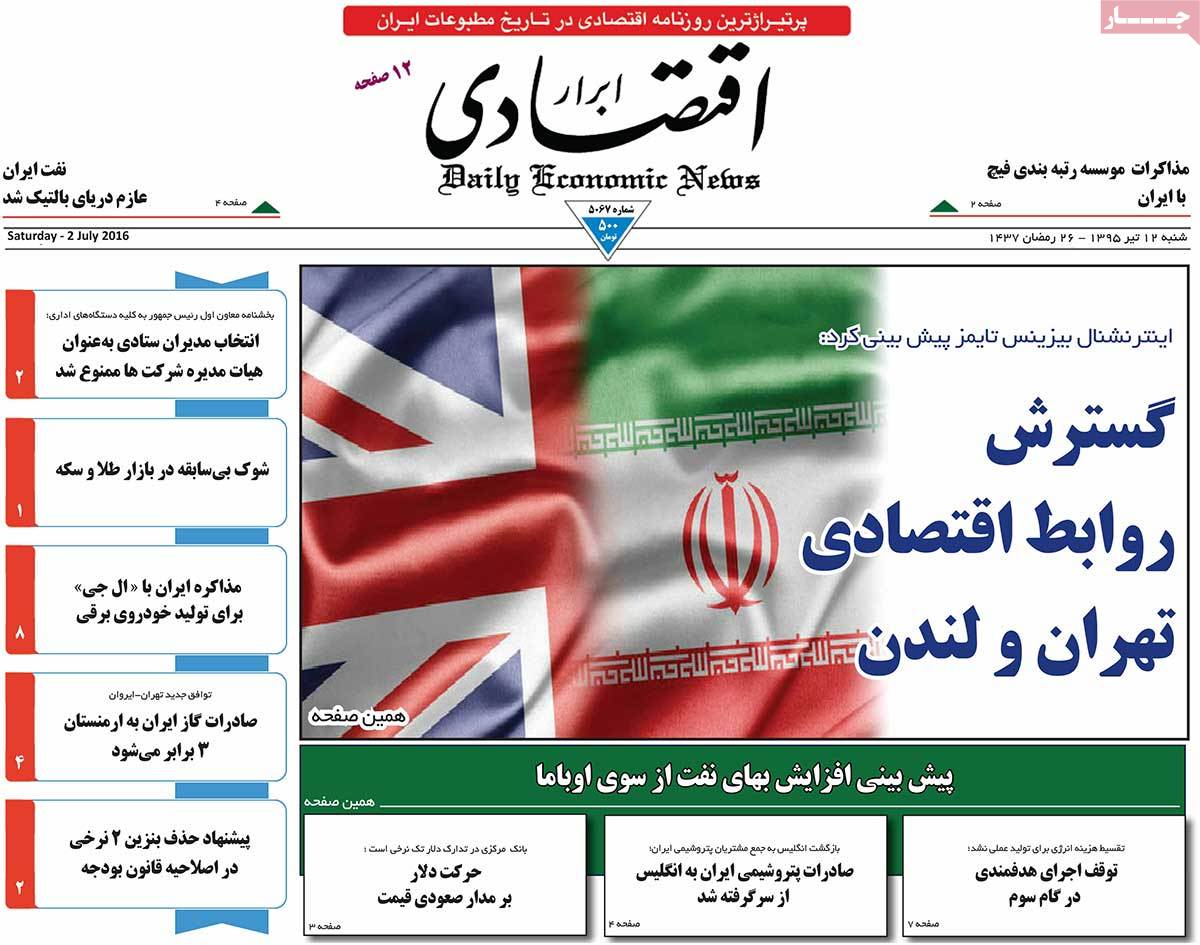 ---
Aftab-e Yazd:
1- Palestinian Nation Is Not Alone: Iranian People's Message on Quds Day
2- MP Urges People Not to Pay Huge Wages to Maddahs [eulogists]
3- Change of Larijani's View from East to West: Political Maturity of Parliament Speaker near Age of 60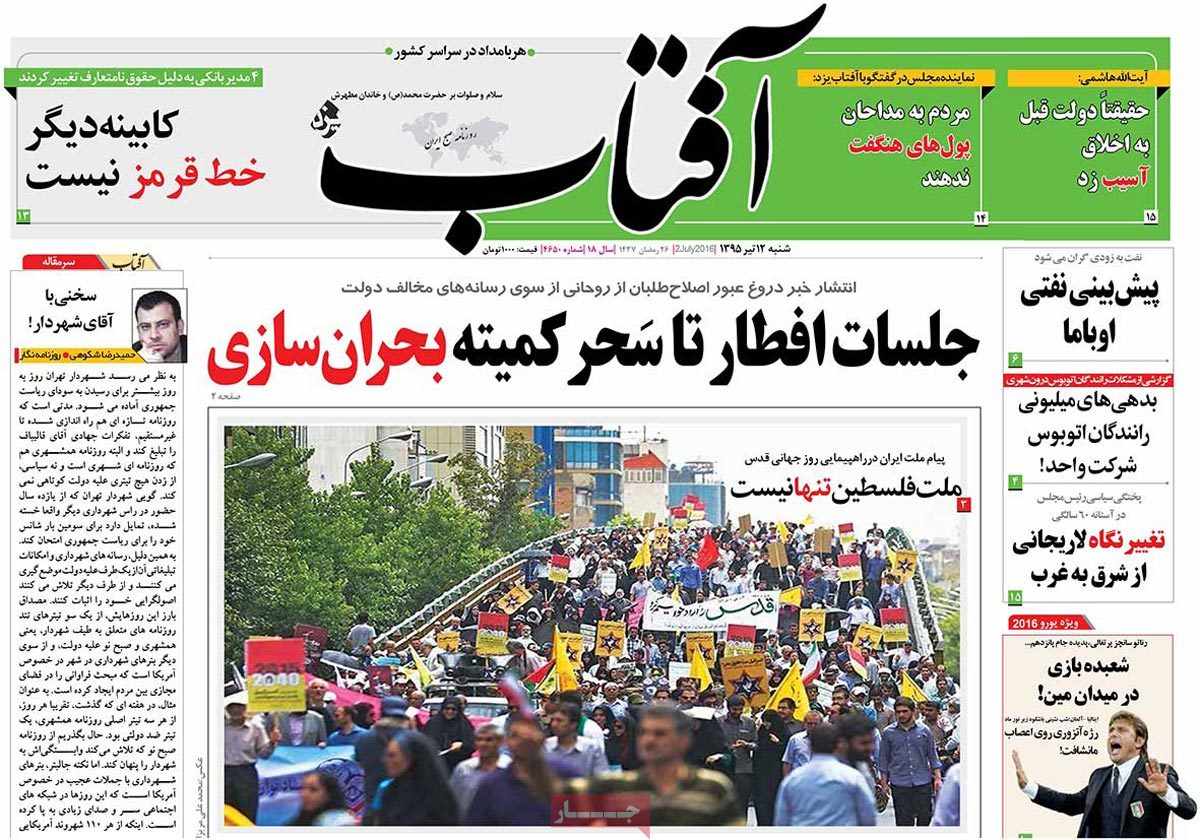 ---
Arman-e Emrooz:
1- Why Rafsanjani Didn't Run for Presidency of Assembly of Experts?
2- President Kept His Promise: 4 Bank Managers Fired Because of Receiving Huge Salaries; Now It's the Time for Resignation of Economy Minister!
3- 100,000 Missiles in Lebanon Ready to Target Israel: IRGC Lieutenant Commander
---
 Asia:
1- IMF: Global Trust in Iran's Economy to Be Restored
2- US Issues Permission for Sale of Airbus Planes to Iran
3- Alvin Toffler Dies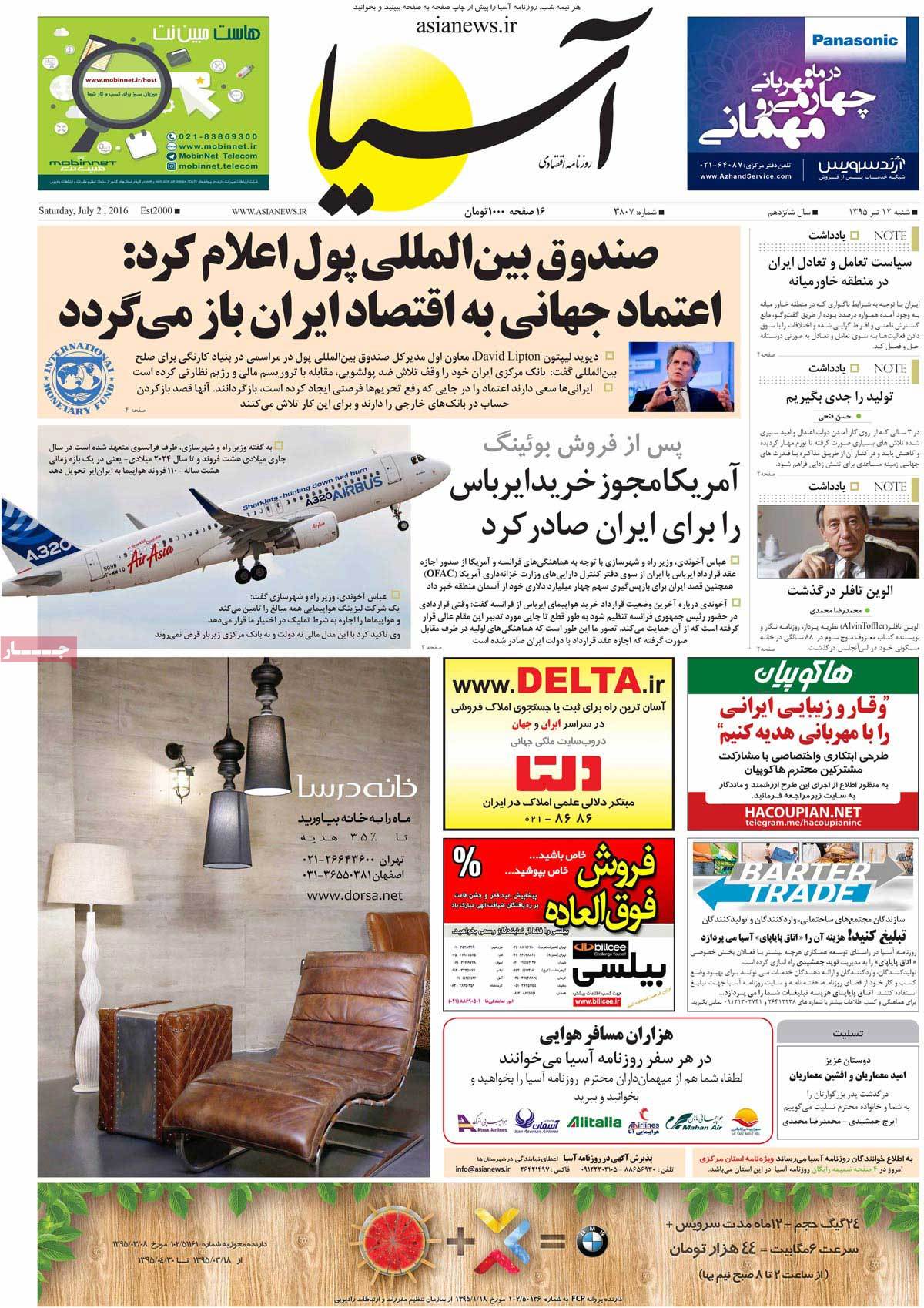 ---
Asrar:
1- Rouhani's Decisive Action against Offending Executives
2- Iranian Nation Roars in Defence of Palestine
3- Zionists and Takfiris Are 2 Major Dangers Threatening Muslim World: Zarif
4- Source of Anti-Iran Threats Will Be Devastated without Any Consideration: IRGC General
5- Being a Revolutionary Doesn't Mean Radicalism and Extremism: Justice Minister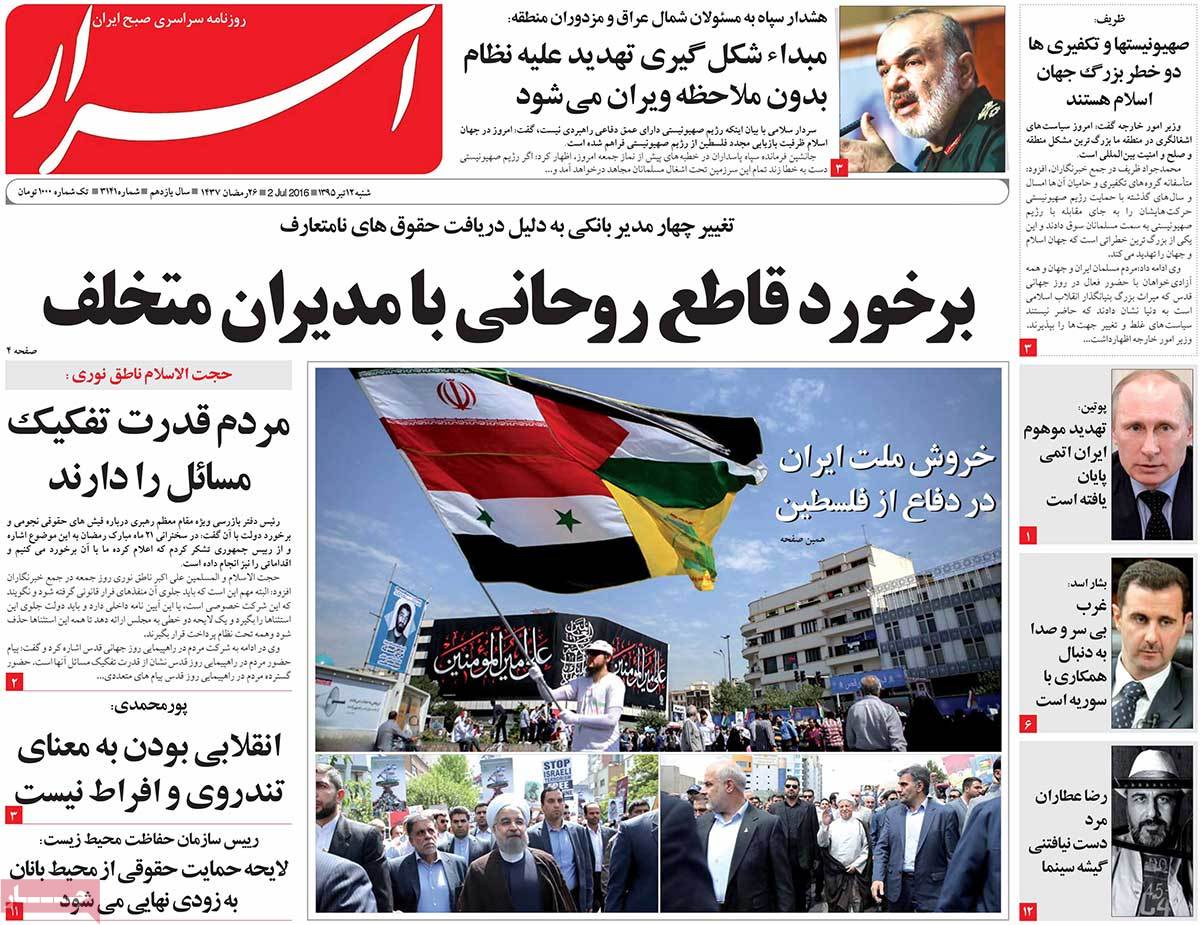 ---
Emtiaz:
1- Iran's Gas Exports to Armenia to Be Tripled
2- Brazilian Plane Used for Iran-Kazakhstan Direct Flight
3- Iran's IKCO and LG Sign Deal for Manufacturing Electric Cars
4- Presence of Foreign Investors in Iran's Tourism Industry Facilitated after JCPOA
---
Etemad:
1- Tsunami of Resignation in Iran's Banking System: Government Seriously Confronting Issue of Astronomical Salaries
2- Kiarostami Invited to Join Academy Awards Members
3- Iranian Cinema's Global Success Is a National Honour: Rouhani
4- Hundreds of Media and Culture Professionals Threatened through SMS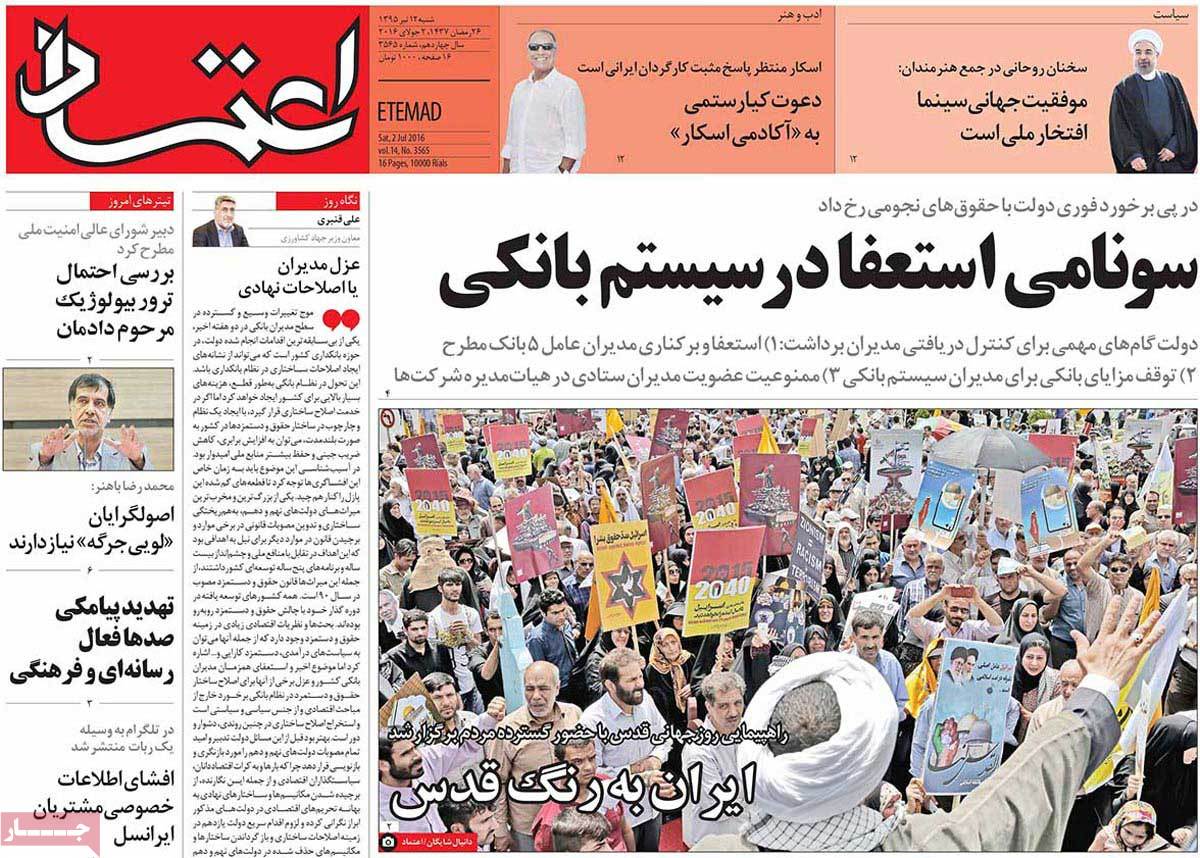 ---
 Ettela'at:
1- Muslim People in 80 Countries Shouted "Down with Israel" to Mark Int'l Quds Day
2- Some Regional Governments Are Serving as Accomplice to Occupying Regime of Israel: Nasrallah
3- 50 Killed in Kabul Suicide Attacks
---
Hamshahri:
1- Tourists Not Taking the Risk of Visiting Turkey
2- If Paycheques Weren't Leaked, What Would Have Happened about Astronomical Salaries?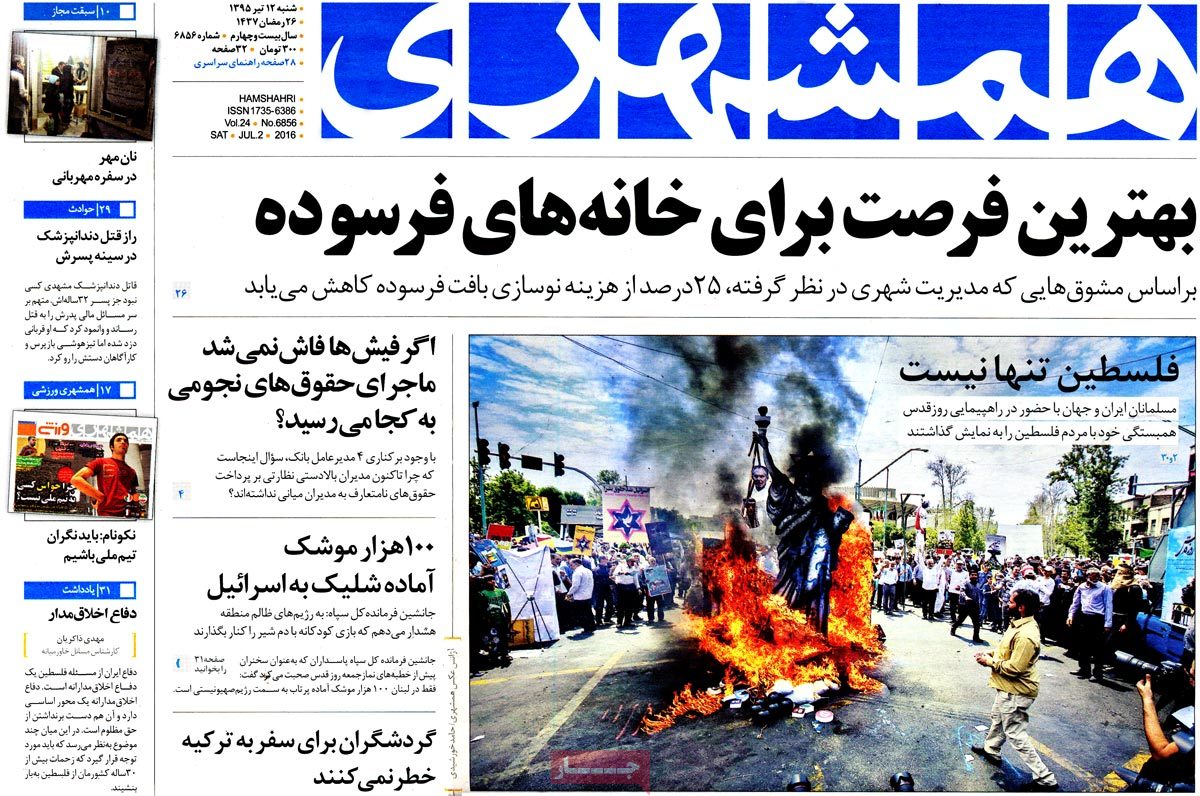 ---
Hemayat:
1- Those Who Love Fighting Israel: Millions of Iranians Pour into Streets on Int'l Quds Day
2- Business Is Best Means to Create Change in Iran: Kerry
3- 20% Decrease in Iran's Prison Input
4- Iran's Nuclear Threat Was a Legend: Putin
5- Takfiri [extremist] Groups and Their Creators Will Be Destroyed: Judiciary Chief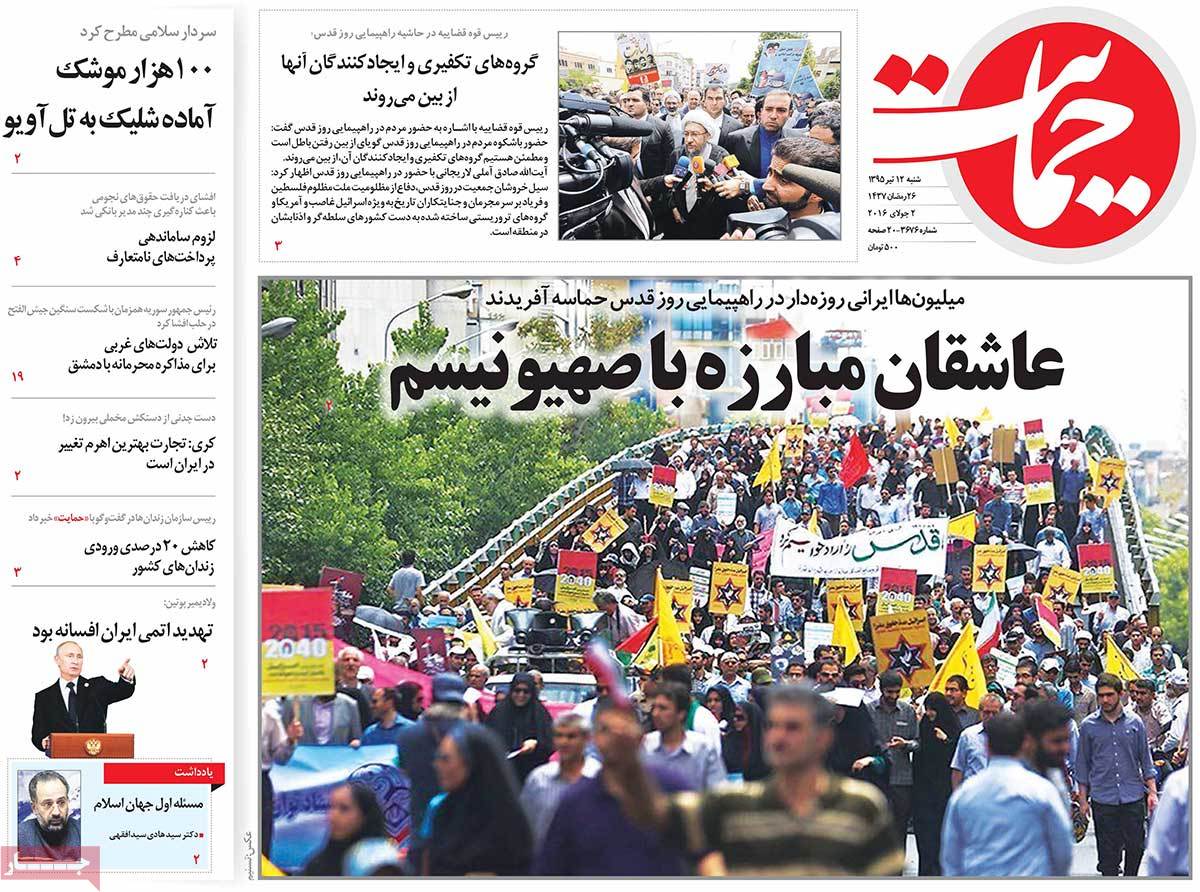 ---
Iran:
1- Government Starts Taking Practical Measures against Unconventional Salaries
2- Rouhani's Brother, Hossein Fereydoun, Denies Involvement in Appointment of Bank Refah Chief
3- Rouhani Highlights His Government's All-Out Support for Culture and Art Professionals
4- Iranians Annually Buy $4bn Tickets from Foreign Airlines: Minister
5- On Average, 1 Ranger Is Tasked with Protecting Natural Resources against 370 Hunter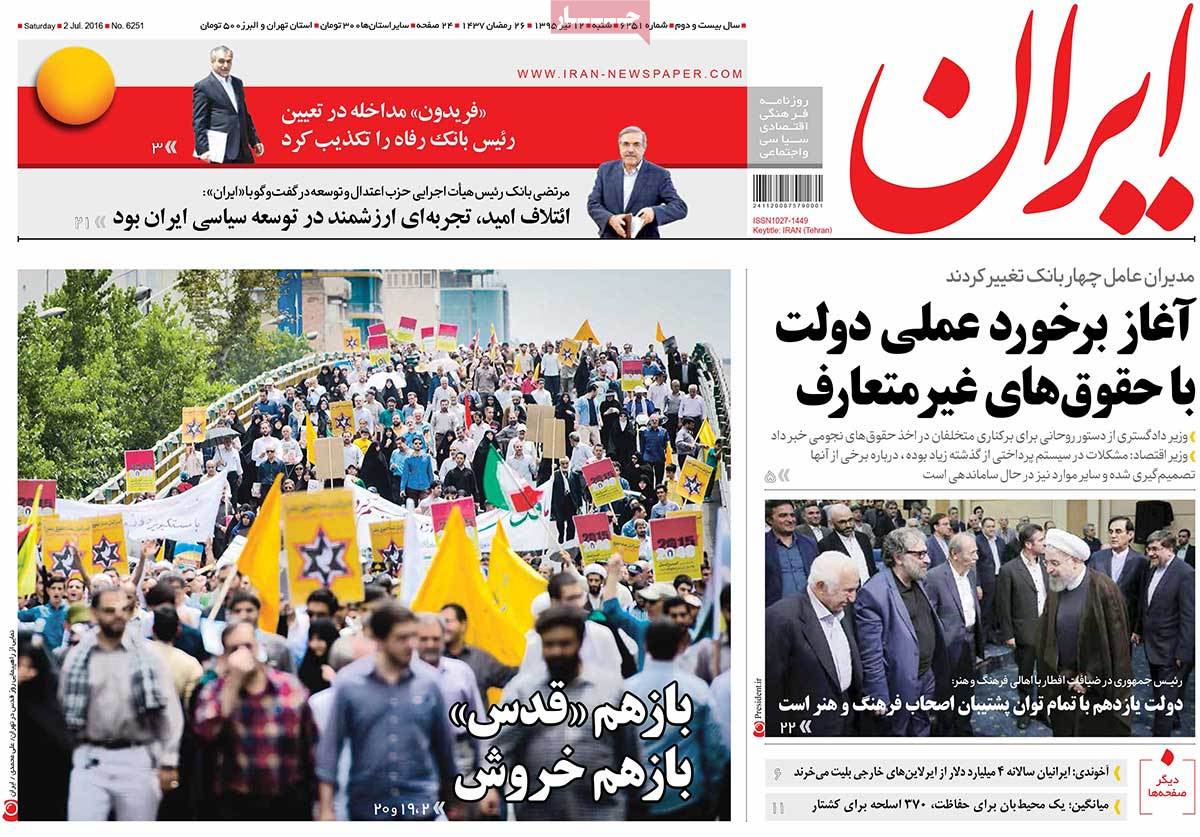 ---
Javan:
1- Government Starts Cleansing Iranian Banks of Executives Who Received Huge Salaries
2- US Seeks to Change Iran's Economic Structures
3- Rouhani Attacks Those Who Criticize Making Films for Int'l Festivals [films that are just produced to receive international awards and are not that much interesting to Iranian cinema-goers]
4- Behind the Scenes, West Looking for Interaction with Syria: Assad
---
Jomhouri Eslami:
1- Asian Partners' Purchase of Iran's Crude Oil Stands at Highest Level in Five Years
2- India Pays $500m of Its Oil Debts to Iran
3- Britain No Longer Obliged to Implement EU Sanctions against Iran
4- Ayatollah Sistani Calls for Continuation of Operations until Iraq Is Fully Cleansed of ISIS Terrorists
5- If Bahrain Regime Doesn't Make Reforms, It Will Be Ousted: American Senator
6- Despite Saudi and Israeli Obstruction, People in Muslim Countries Hold Rallies on Quds Day
---
Kayhan:
1- Nasrallah: Some Arab Leaders Have Become So Contemptible that They Attend Herzliya Summit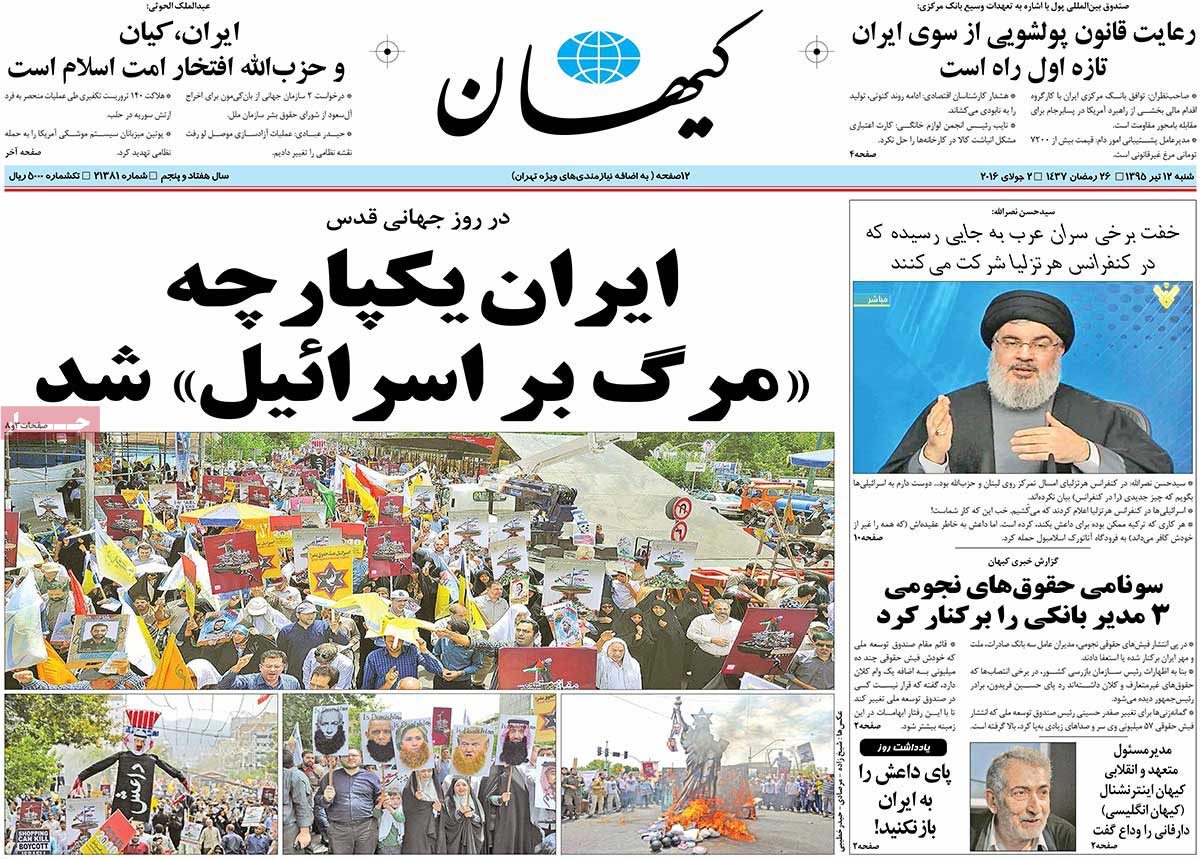 ---
Khorasan:
1- Personal Information 20m Iranian Mobile Users Hacked through a Telegram Bot
2- JCPOA to Be Terminated If They Seek to Impose New Sanctions under New Pretexts: Larijani
3- Cases of Bioterrorism to Be Investigated by Supreme National Security Council
4- American Reporter's Shocking Account of USS Vincennes' Shoot-Down of Iran Air Flight 655
5- "Little Boy" for Japan, "USS Vincennes" for Iran [Editorial]
6- Culture and Art Is a Major Part of Iran's Might: Rouhani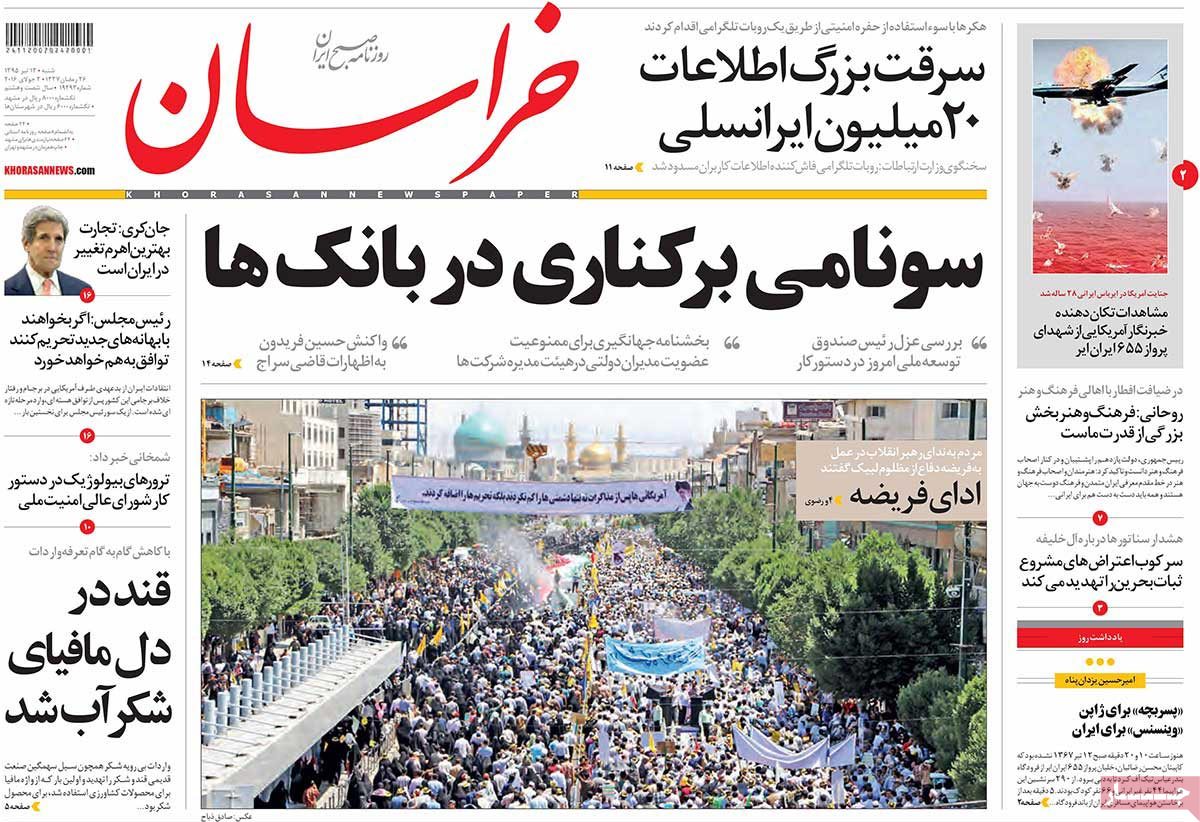 ---
Resalat:
1- Senior Cleric: US on the Front Line of Sponsors of State-Terrorism and Israel
2- Normalization of Ties with Israel Is Beginning of Forgetting [Palestinian Issue]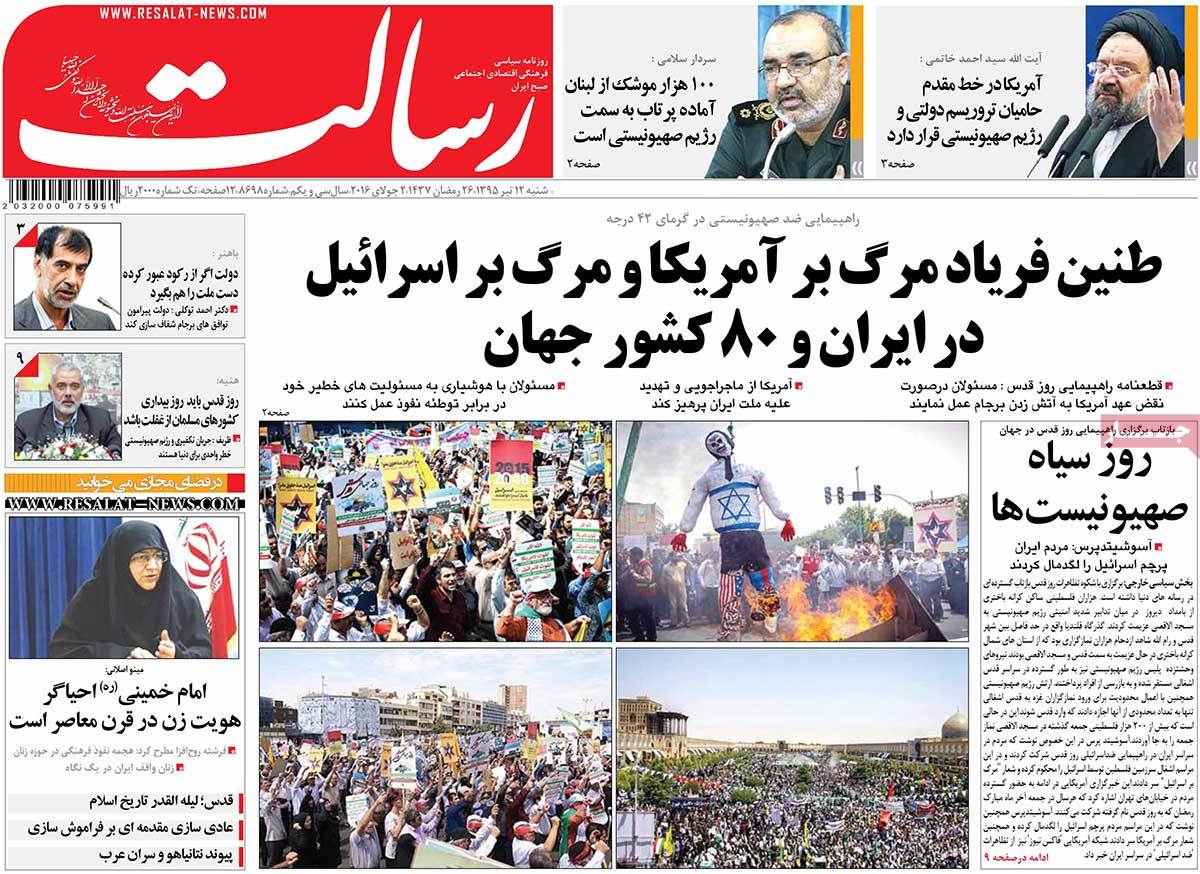 ---
Shahrvand:
1- Paycheques Cause an Earthquake in Iranian Banks
2- Special Environment Courts to Be Held in Iran
3- Iranian Social Media Users Offer Alternative Messages to Be Written on Anti-American Banners Installed by Municipality across Tehran
4- Russia and US Reach a Big Deal on Syria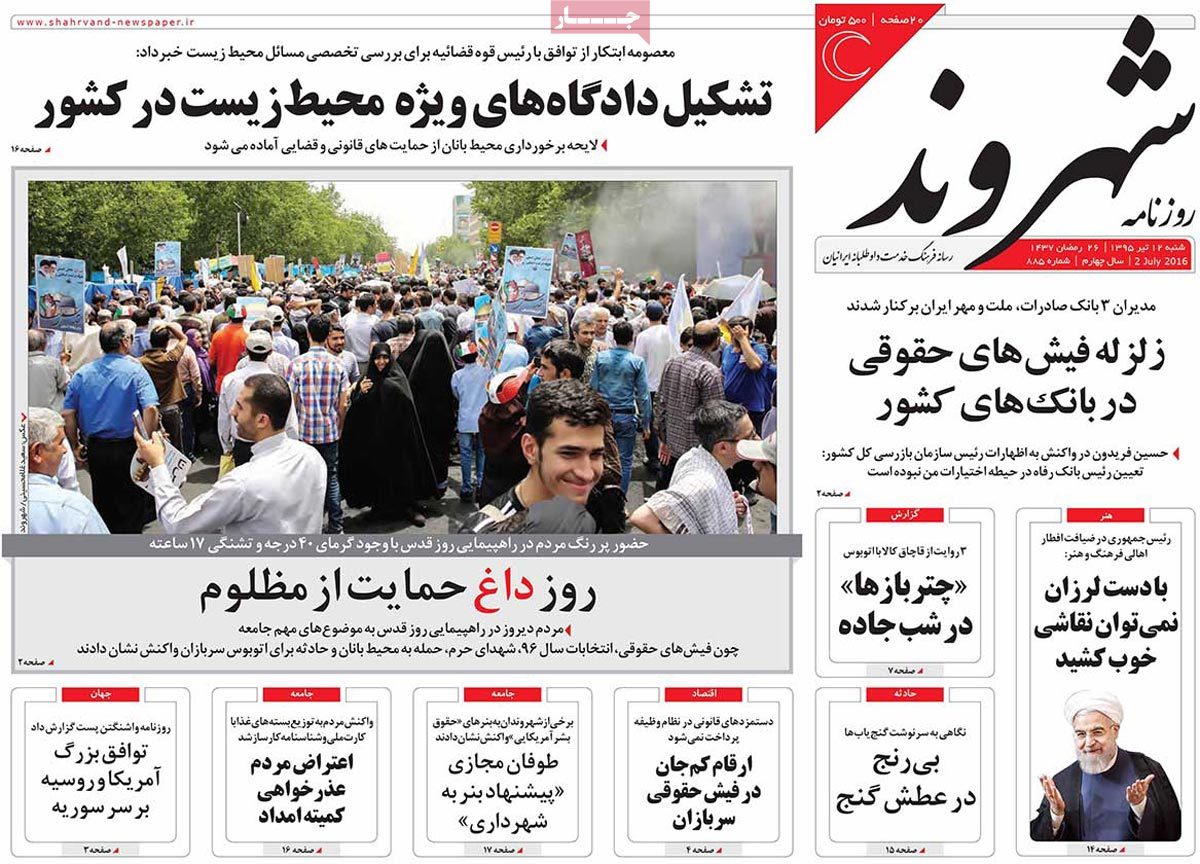 ---
Shargh:
1- Suicide Resignation of Bank Executives
2- Threatening Messages Sent to Certain Journalists
3- Kerry Has Become Iran's Senior Marketer: House Speaker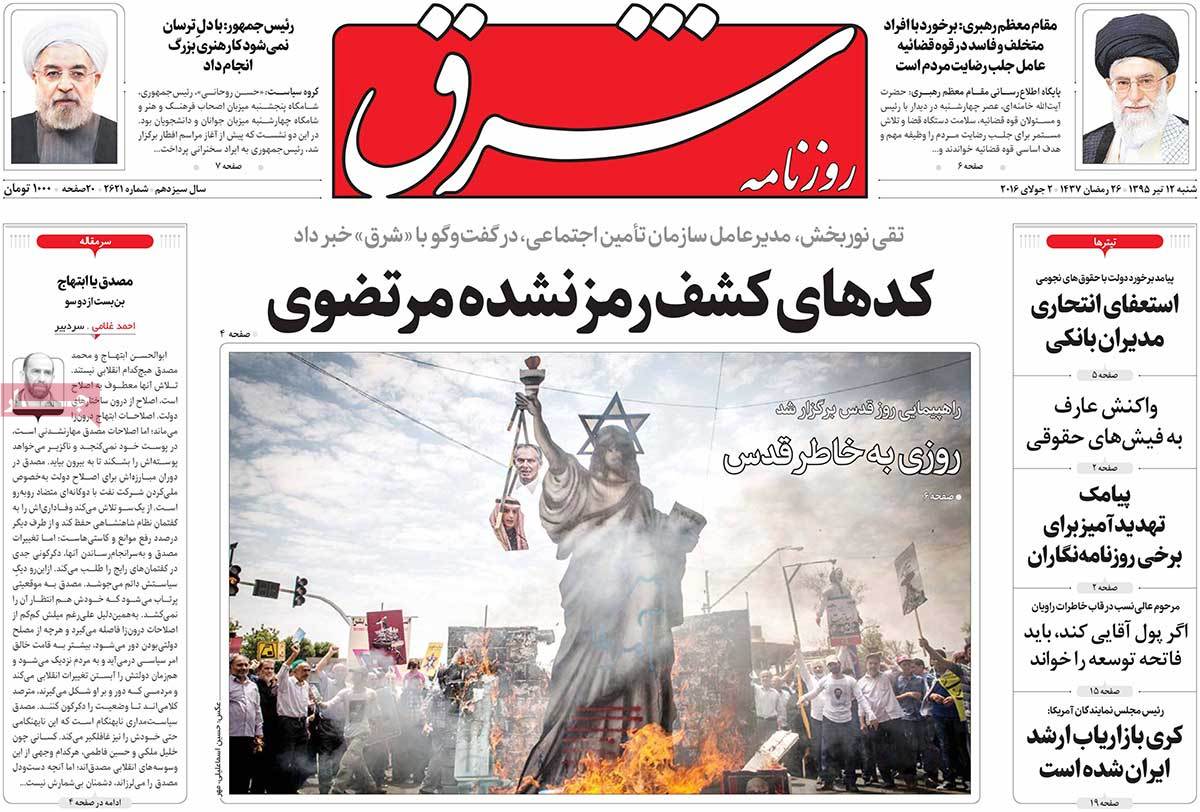 ---
Shorou:
1- Afghan Man Kills Iranian Woman Because of Her Loud TV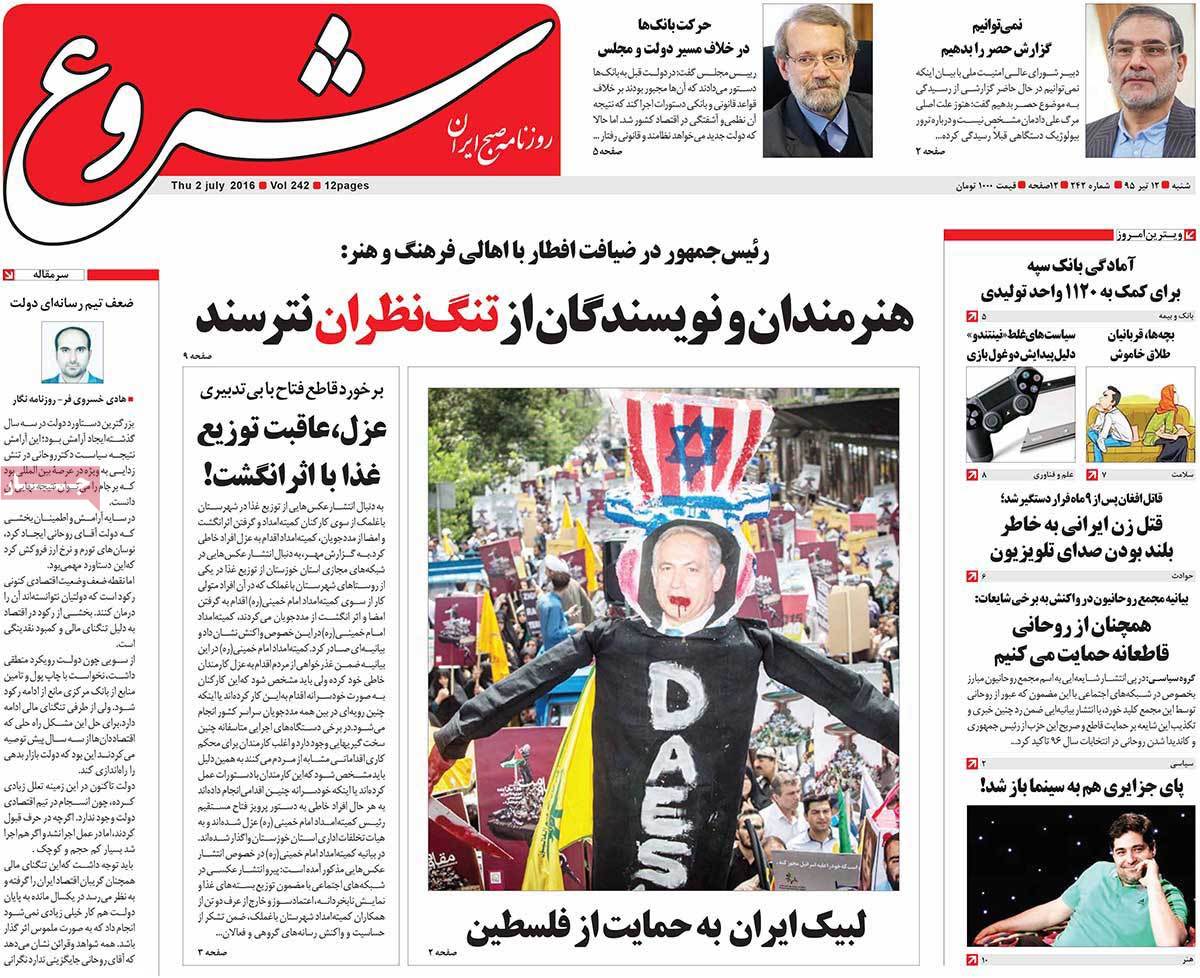 ---
Vaghaye Ettefaghieh:
1- Educated Women, Main Victims of Unemployment in Iran: Unemployment Rate among University Graduates Has Doubled in Past 10 Years
2- Palestine, the Beating Heart of Islam, and the Axis of Muslim Unity [Editorial]
3- This Text Message Is Last Security Warning: A Report on Threatening Message Sent to Reporters