The top stories today were the arrest of President Hassan Rouhani's brother and top aide Hossein Fereydoun as well as the 10-year prison term given to a Chinese-American researcher who, according to Iran's Judiciary Spokesman Gholam-Hossein Mohseni Eje'i, worked as a US spy.
Newspapers also widely covered the remarks made by Iranian Foreign Minister Mohammad Javad Zarif in a televised interview with CNN's Fareed Zakaria.
Iran's nuclear chief Ali Akbar Salehi also appeared on the front pages of Iranian newspapers today with his critical remarks about the opponents of the nuclear deal between Tehran and world powers.
The above issues, as well as many more, are highlighted in the following headlines and top stories:
19 Dey:
1- Larijani's Thought-Provoking Statistics of Iran's Economy
2- Salehi: US Suffering from Strategic Confusion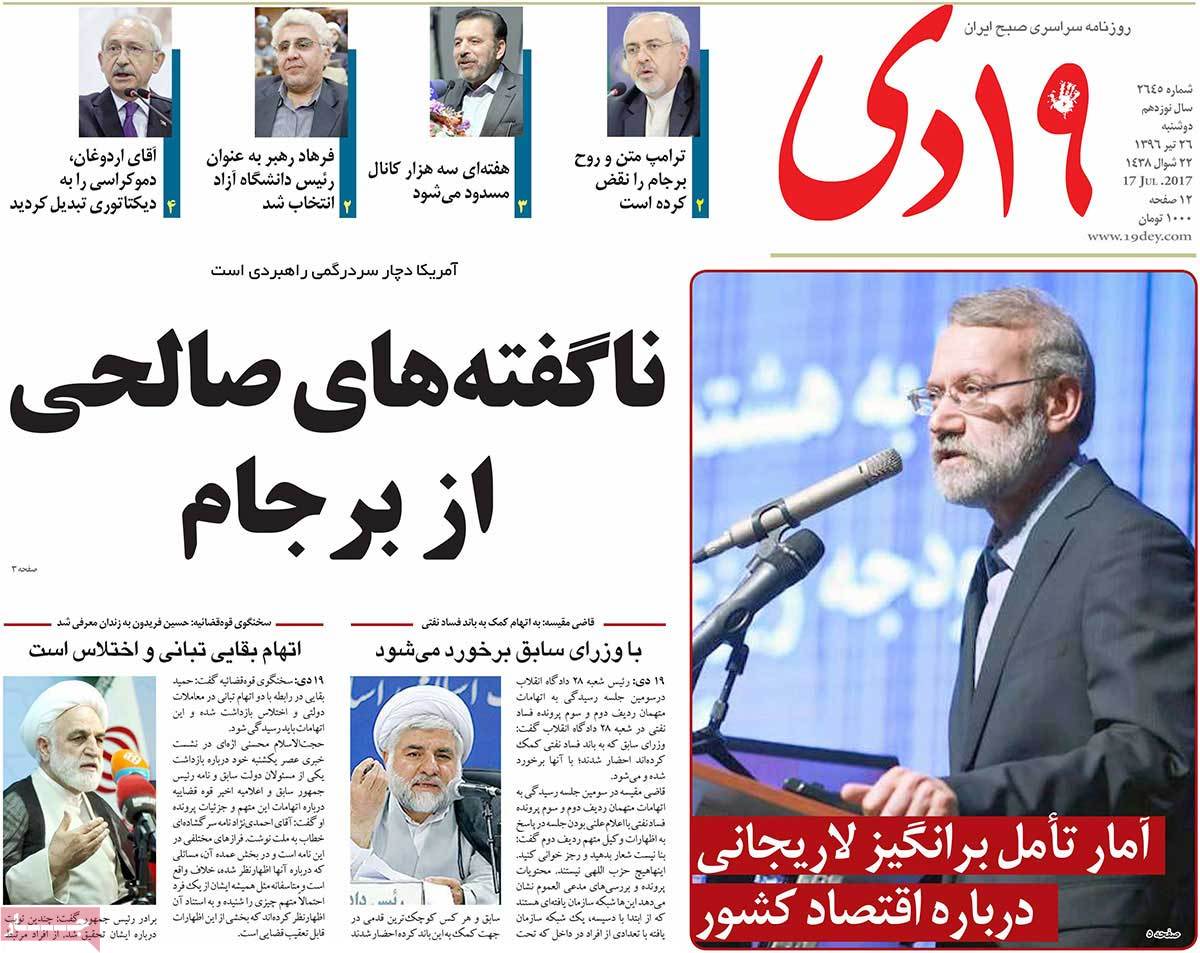 ---
Abrar:
1- Ahmadinejad Government's Officials Should Be Prosecuted
• Ahmadinejad's Economy Ministers Approve Zanjani's Transactions
2- British PM: JCPOA Best Option for Global Community
3- Increased Political, Social Protests in Russia
4- New York Times: Iran to Build Path from Tehran to Mediterranean Sea
---
Aftab-e Yazd:
1- Man of Not-So-Hard Days! Rahmani Fazli May Remain Interior Minister
2- Four Ministers Summoned to Court for Oil Corruption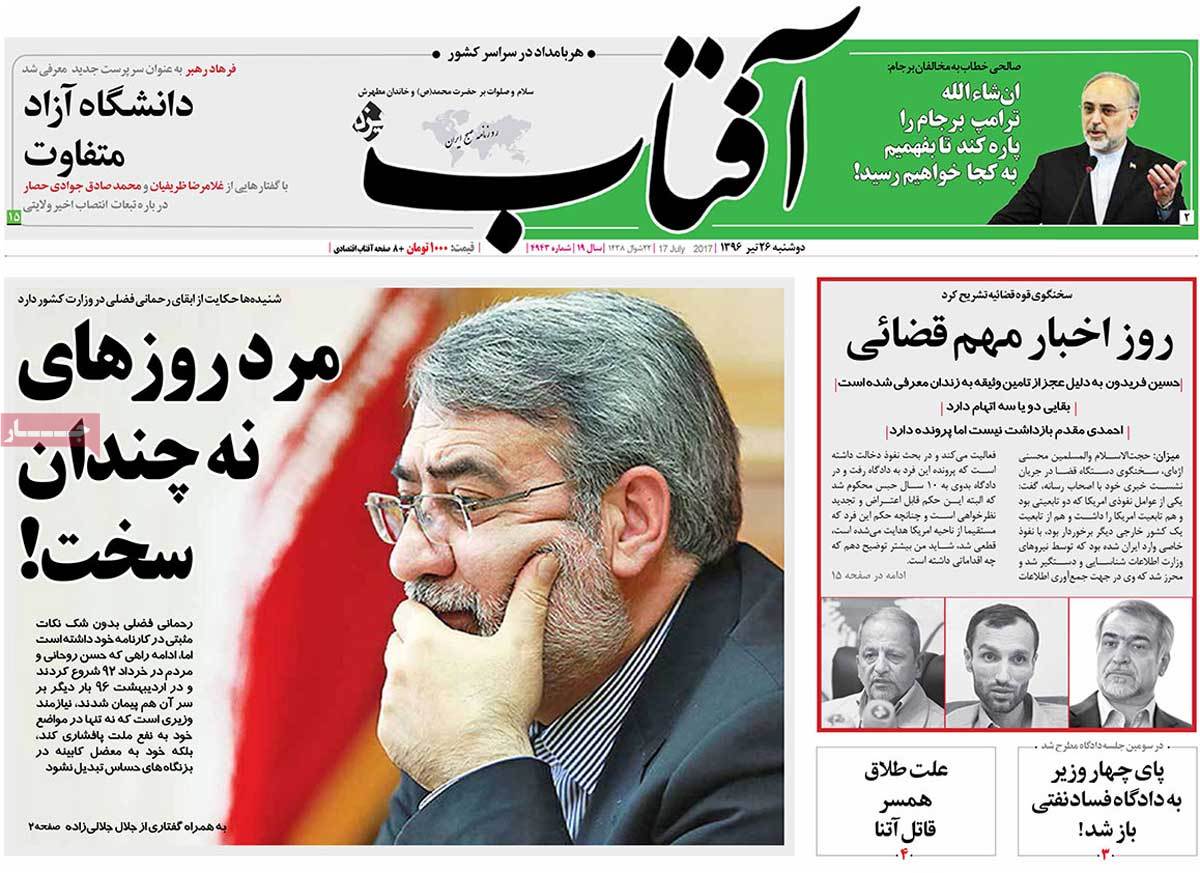 ---
Arman-e Emrooz:
1- President's Brother Arrested: Fereydoun Sent to Evin Prison
2- 16 Nurses Die of High Work Pressure: Official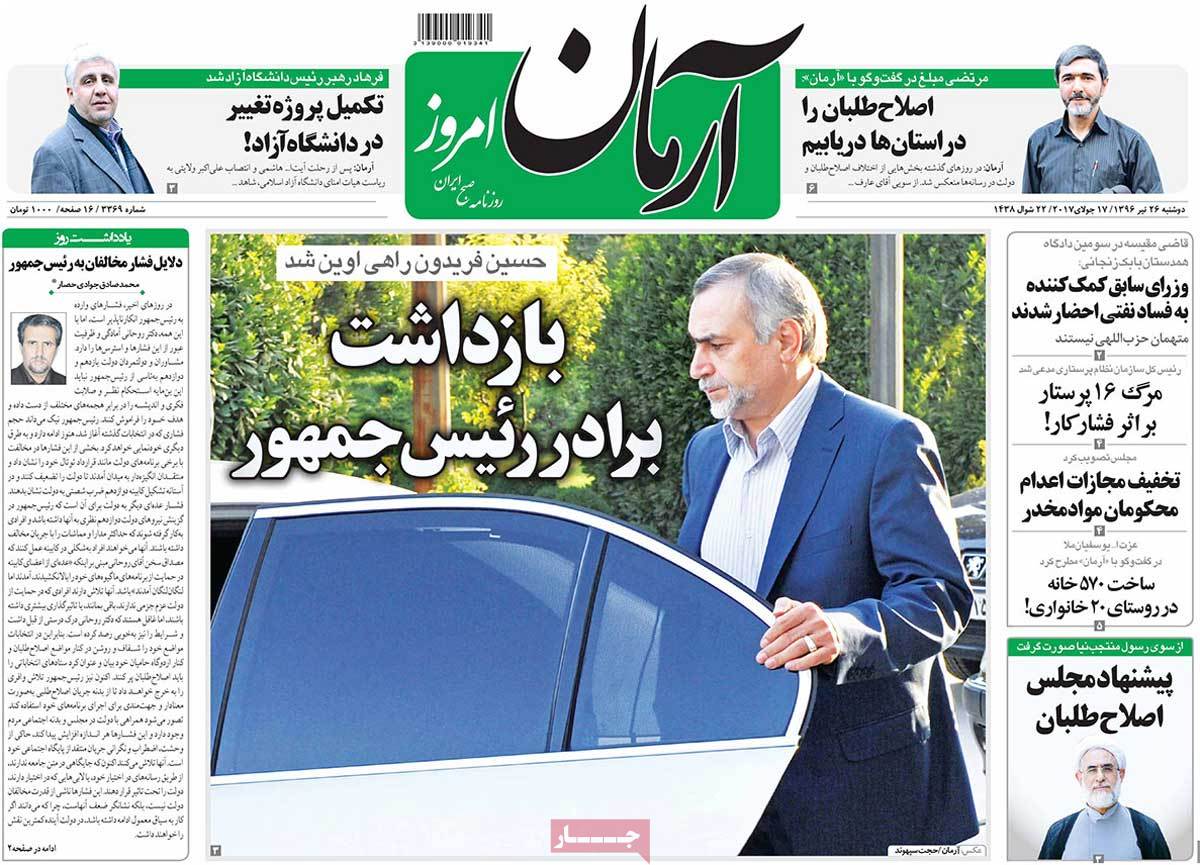 ---
Ebtekar:
1- Ahmadinejad's VP Kept in a Hotel-Like Prison: Judiciary Spokesman
2- Tehran's Trees Losing Leaves in Summer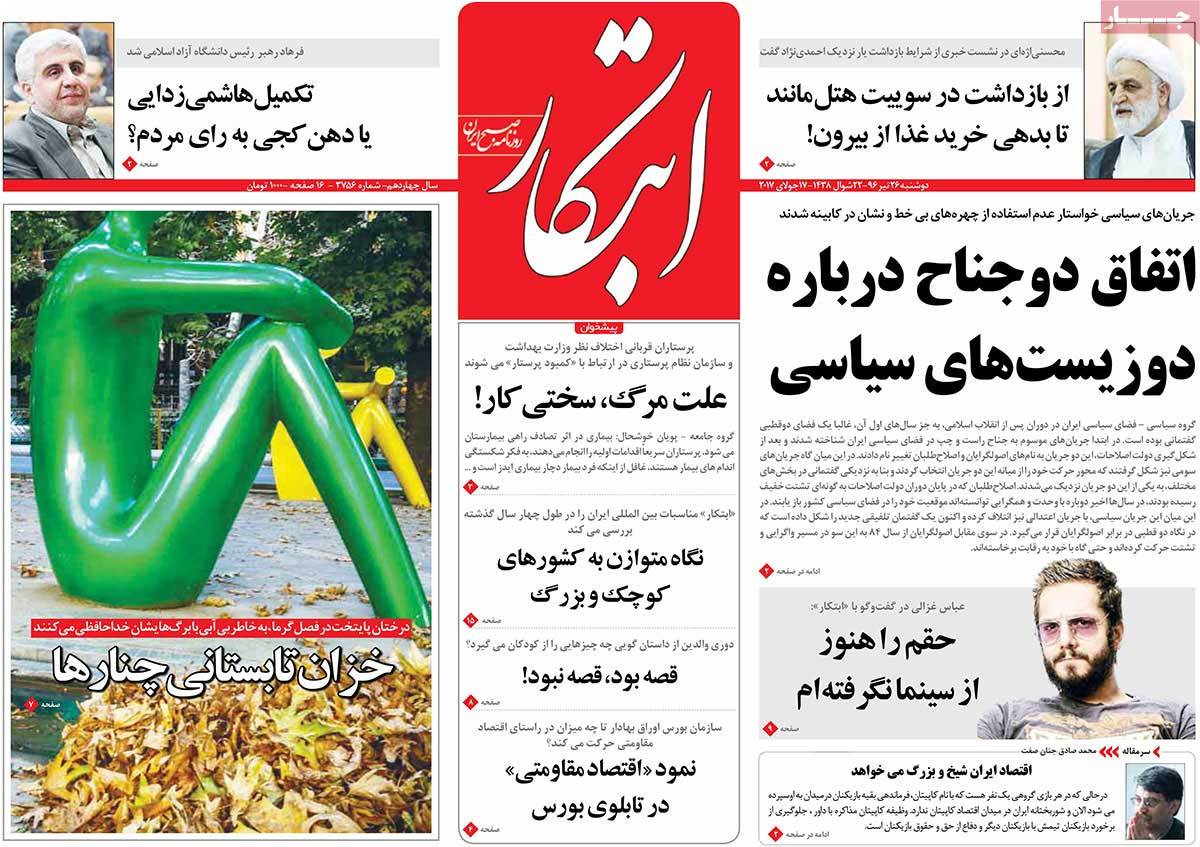 ---
Etemad:
1- Rouhani Not Indebted to Anyone: Analyst
2- Judiciary Spokesman: Ahmadinejad Can Be Prosecuted for Parts of His Open Letter
3- One Divorce for Every Two Marriages in Northern Tehran
---
Ettela'at:
1- Zarif: Trump Violates Both Letter, Spirit of JCPOA
2- Nuclear Chief: History to Be Proud of Iran Nation for Choosing JCPOA
3- CBS: Mirzakhani's Name Source of Embarrassment for Trump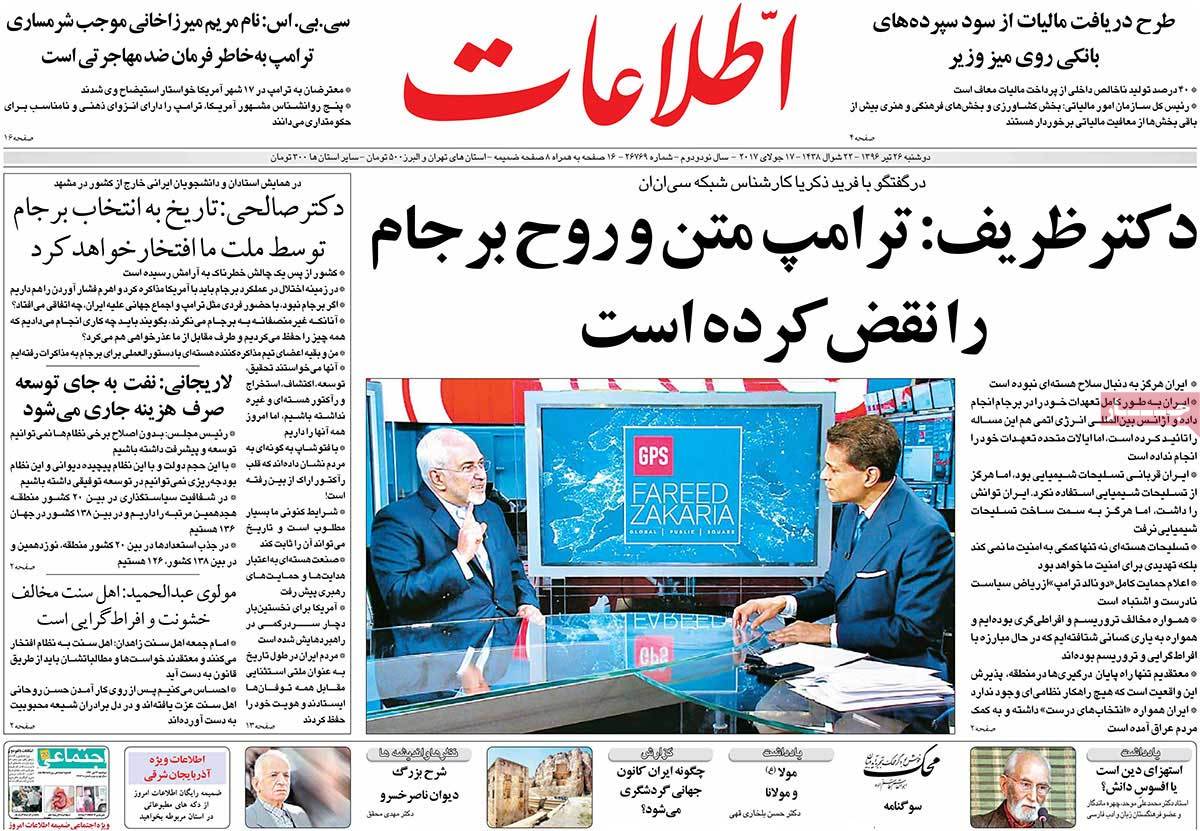 ---
Iran:
1- Iran Keeps 2,000 Centrifuges More than Minimum Set by Establishment
2- Hashemitaba: Conservatives Don't Believe in Path of Progress
3- Zarif: US Allies Supporters of Terrorists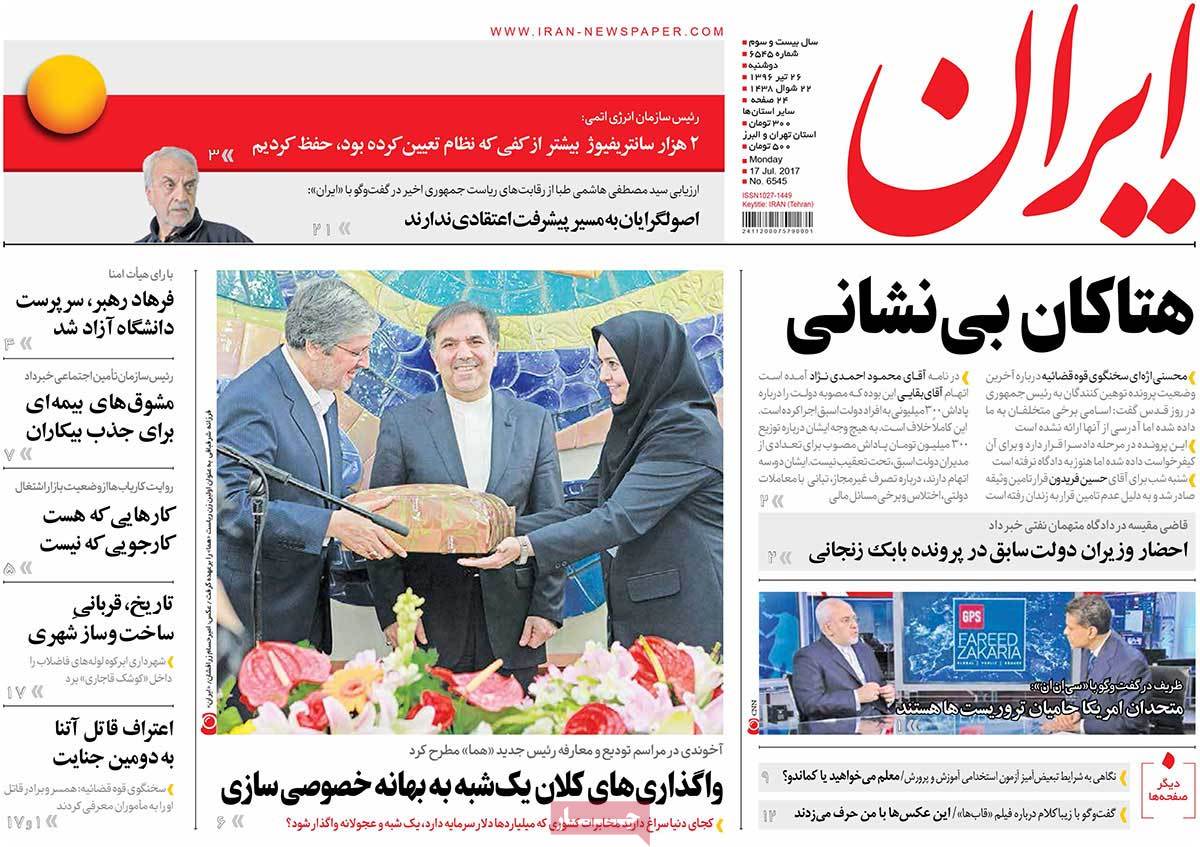 ---
Javan:
1- Zarif to CNN: US Has Violated Letter of JCPOA
2- US Spy Wang Sentenced to 10 Years in Prison: Judiciary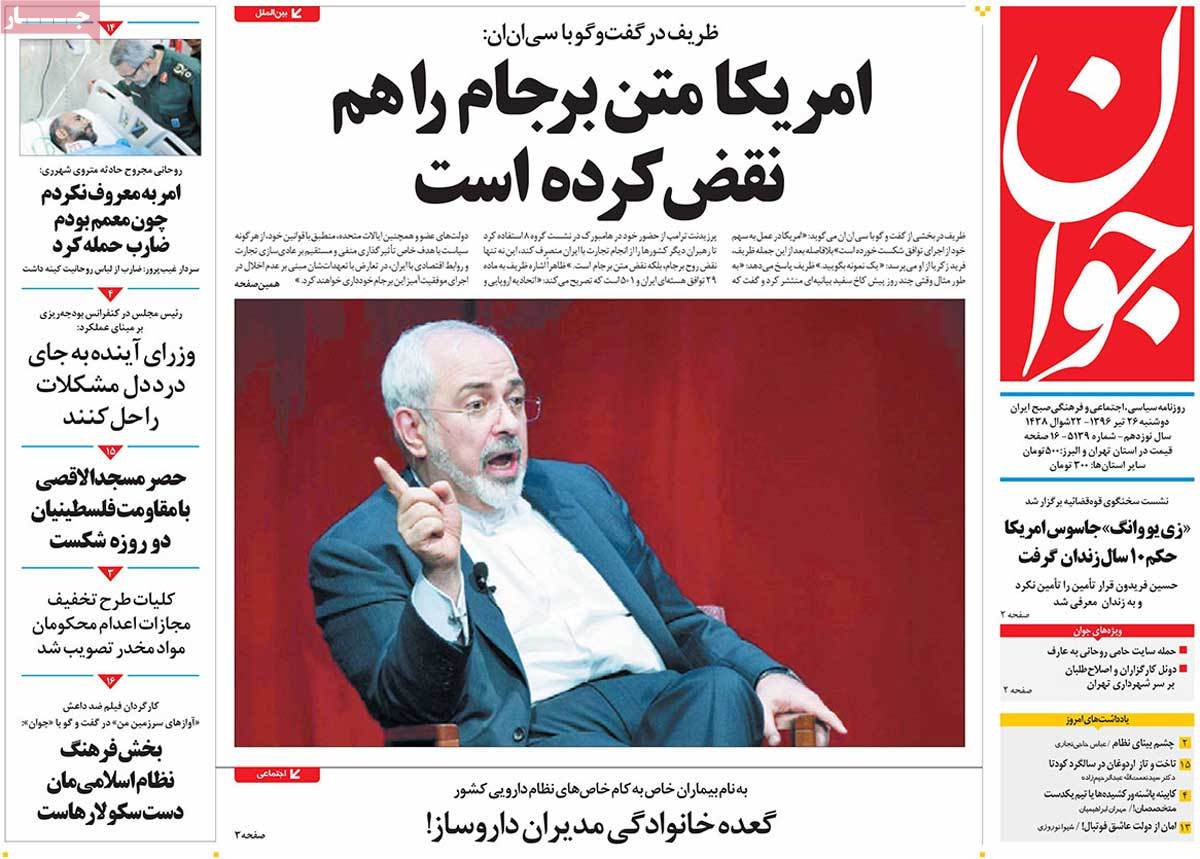 ---
Jomhouri Eslami:
1- Renowned US Psychologists Call for Trump's Impeachment
2- Protesters in 17 American Cities Call for Trump's Impeachment
---
Kayhan:
1- Yesterday, Kerry's Promise Was Proof; Today, Total's Confession to Bribery Is Not!
2- MAPNA Chief: We Can Supply Entire Middle East's Power
3- Baku's Surprising Move against Shiite Clerics: 3-Year Prison Term for Saying Prayers!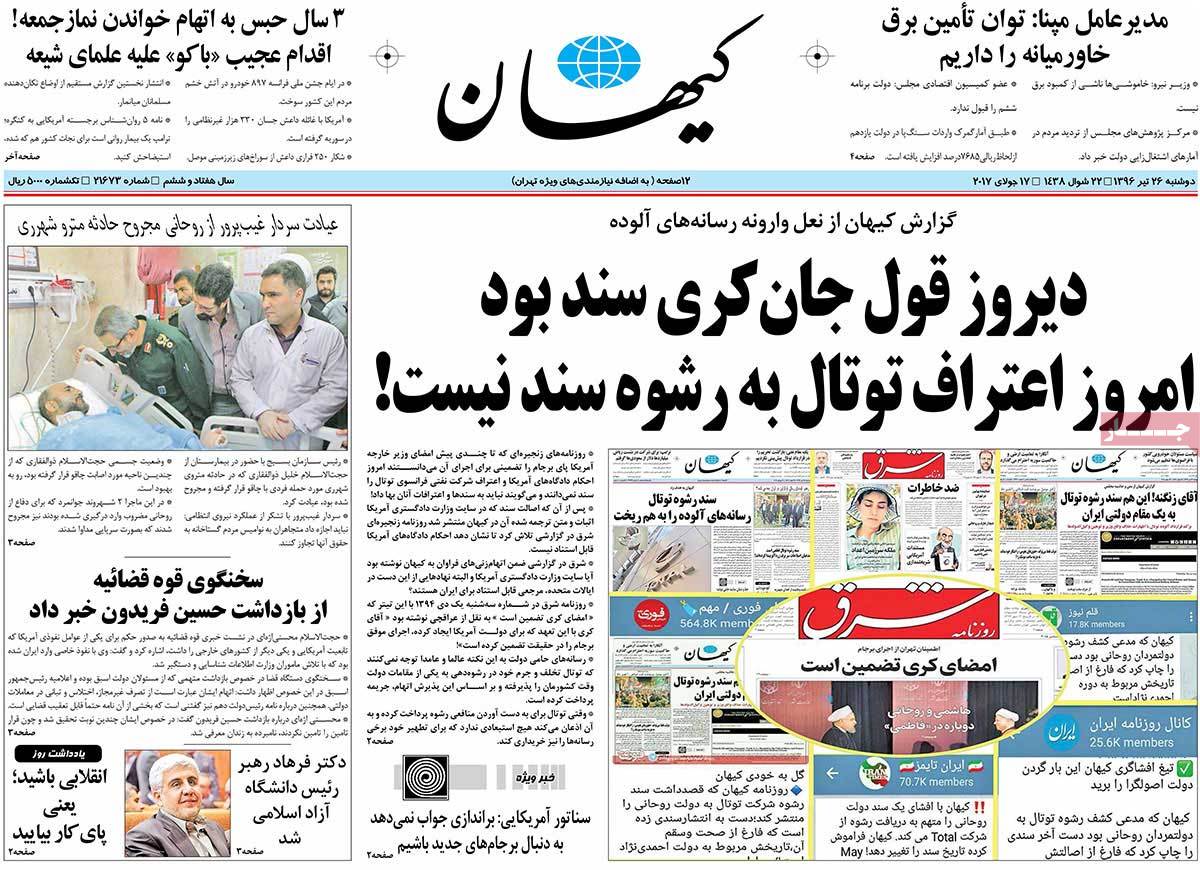 ---
Rooyesh-e Mellat:
1- The Vietnamese Welcome Iranian Pharmaceuticals
2- Senior Conservative: Which One of Sanctions Was Removed?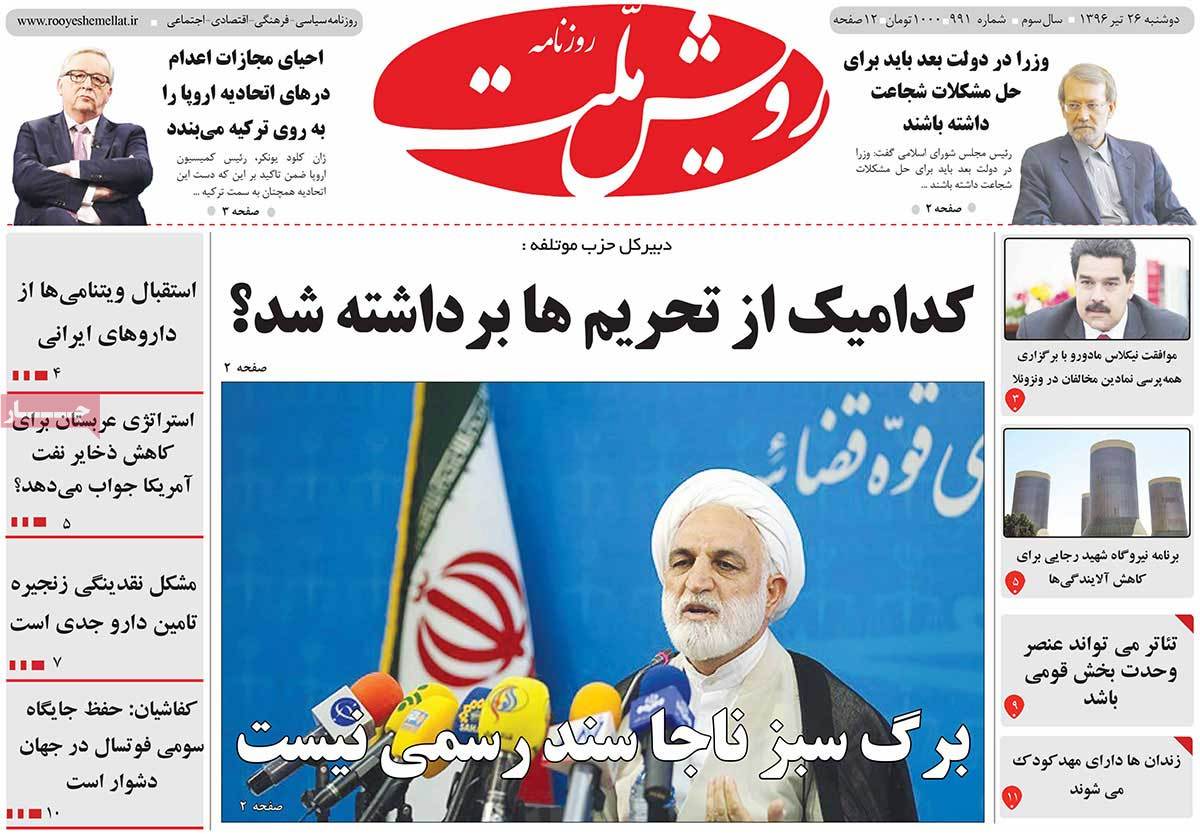 ---
Setareh Sobh:
1- Iran to Receive One Airbus Plane Free of Charge as Discount
2- Decline in Trump's Popularity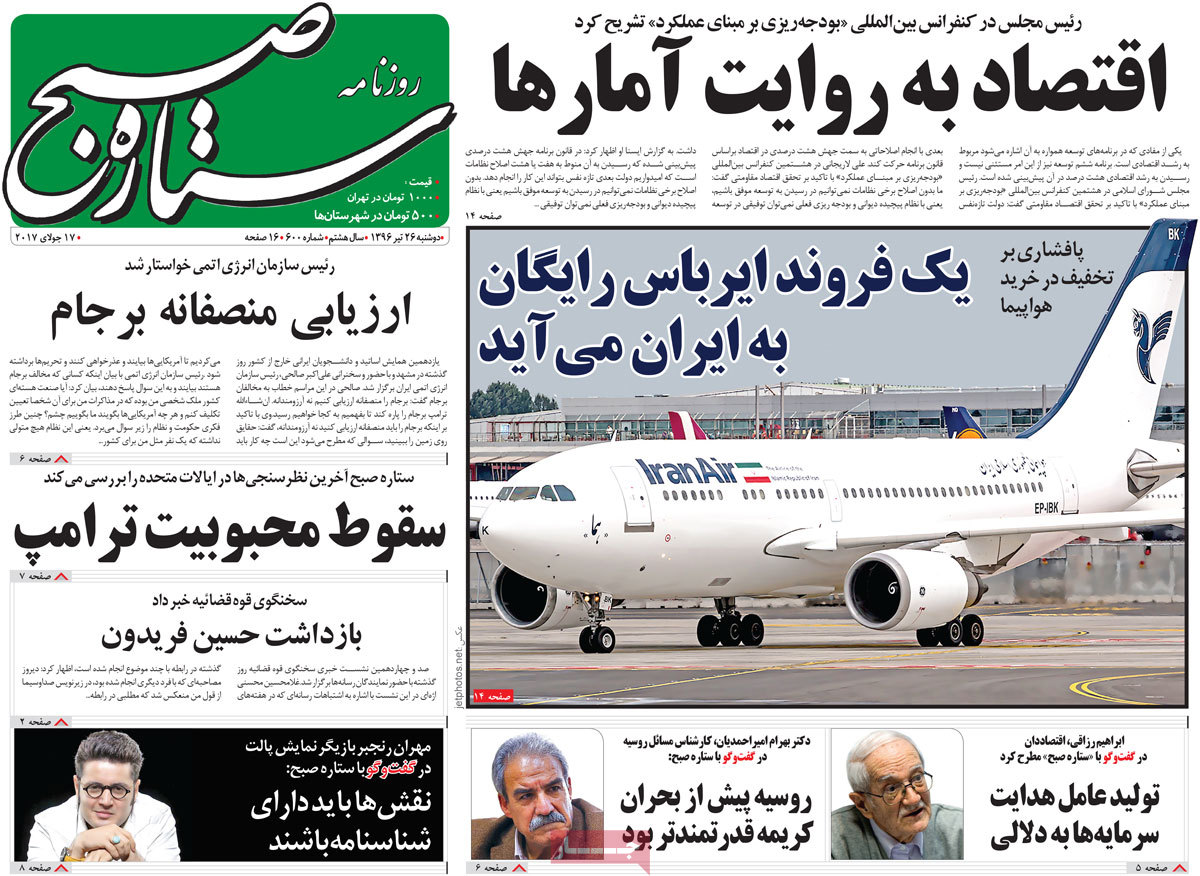 ---
Shahrvand:
1- Secrets of Aviation Sanctions Revealed by Outgoing Iran Air CEO
---
Shargh:
1- Larijani Provides Thought-Provoking Statistics
2- Salehi: I Wish Trump Would Scrap Iran Deal So We'd Know Where We're Going
3- Government's Achievements, Paradoxical Performances [Editorial]
---
Vaghaye Ettefaghieh:
1- 'No' to Execution of Drug Traffickers
2- Giving ID Cards to Prisoners, Decreasing Drug Crimes [Editorial]
3- Turkey Coup Leads to Thaw in Tehran-Ankara Relations