Newspapers on Thursday marked July 14, the first anniversary of the Joint Comprehensive Plan of Action or the nuclear deal between Tehran and world powers, by covering the remarks by President Hassan Rouhani, Ayatollah Akbar Hashemi Rafsanjani, and many other articles regarding the historic deal. Conservatives continued focusing on the deficiencies and violations of promises, and the moderates and reformists tried to highlight the positive aspects of the deal.
The remarks made by the Police Commander, Brigadier General Hossein Ashtari, about the morality police and the authority of the Law Enforcement over the organization of concerts also received great coverage. The government is trying to ease the regulations and assign the responsibilities to the Ministry of Culture, while the Police says it is acting based on the law.
A number of changes made by President Rouhani in his vices also was a top story in many papers. The reformist newspaper Aftab-e Yazd was the one with harshest criticisms against the cabinet reshuffle, which has allegedly replaced reformist figures with conservative ones. The changes have come after many calls by the reformist faction for a major cabinet reshuffle, particularly at the level of ministers.
The above issues as well as many more are highlighted below:
Abrar:
1- Iran Is Committed to Its Promise in JCPOA: Rouhani
2- 2 Bombing Suspects Arrested in Bahrain on Charge of Links with Iran
---
Abrar-e Eqtesadi:
1- Bright Future of Iran-Britain Ties
2- 20% Decrease in Mobile Data Rates
3- Ban on Sale of American Planes to Iran Not to Be Turned into a Law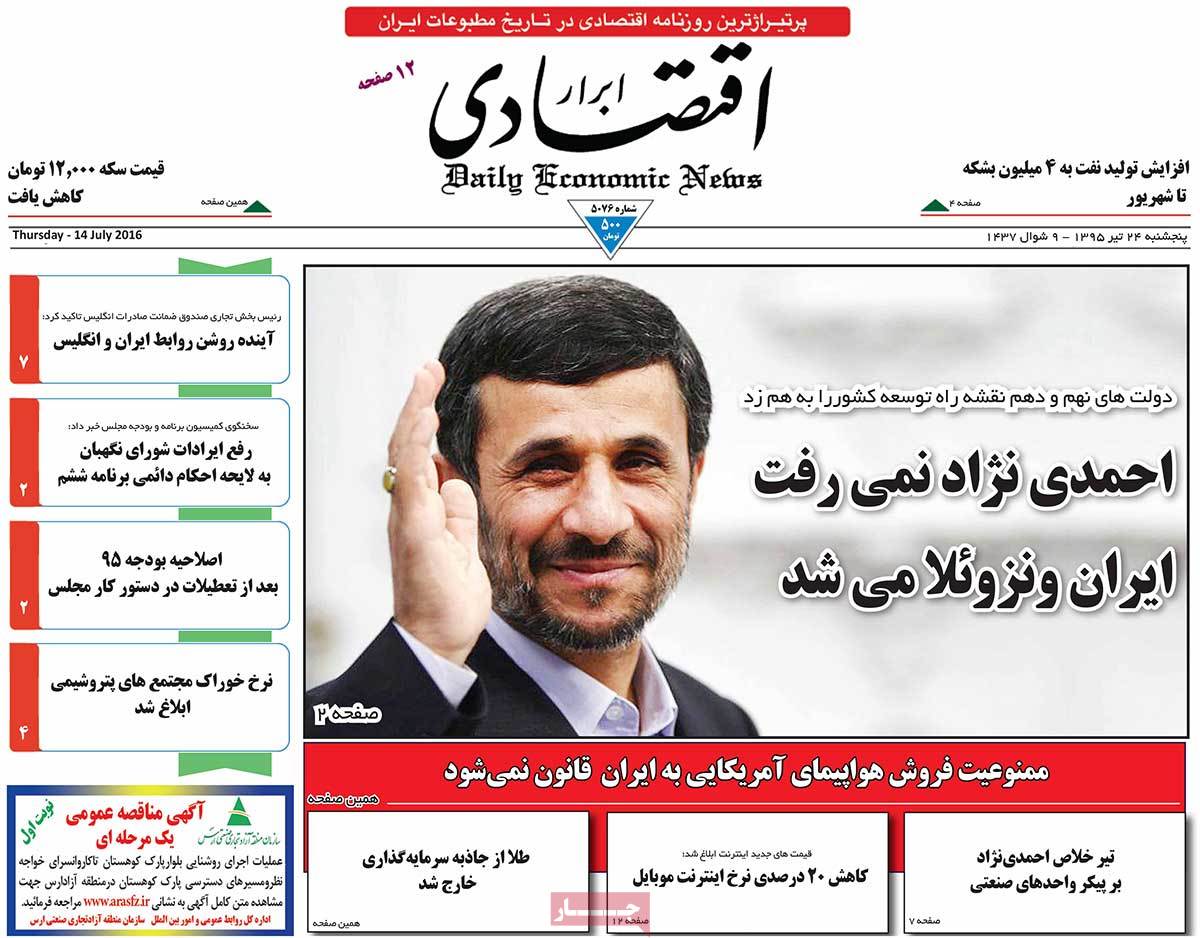 ---
Aftab-e Yazd:
1- Cabinet Reshuffle in Rouhani's Style [the article questions Rouhani's move to replace the reformist VP Majid Ansari with the conservative Hossein-Ali Amiri]
2- We Lost Kiarostami Too Easily: Mehrjui [his criticism of the simple medical error that allegedly led to Kiarostami's death]
3- Another Case of Medical Error: Surgeon's Blade Cuts Infant's Eyelid
4- JCPOA Separated Iran's Way from Venezuela's: If Previous Gov't Was in Office, We Would've Turned to Venezuela
---
Afkar:
1- Democrats Oppose 3 Anti-Iran Plans in US Congress
2- Iranian Film Week to Be Held in Sri Lanka
3- Changes Kicked Off in Government
---
Arman-e Emrooz:
1- Conservatives Not Sure Whether to Support Ahmadinejad or Rouhani: They Were Bluffing When They Said They Have 30 Candidates for Next Year's Presidential Elections
2- If It Wasn't for JCPOA, Iran's Oil Sale Could Have Been Zero: Rouhani
3- Theresa May Starts Work in PM Office: Cameron Bids Farewell after 6 Years
4- Iran's Biggest Int'l Drug Smuggler Arrested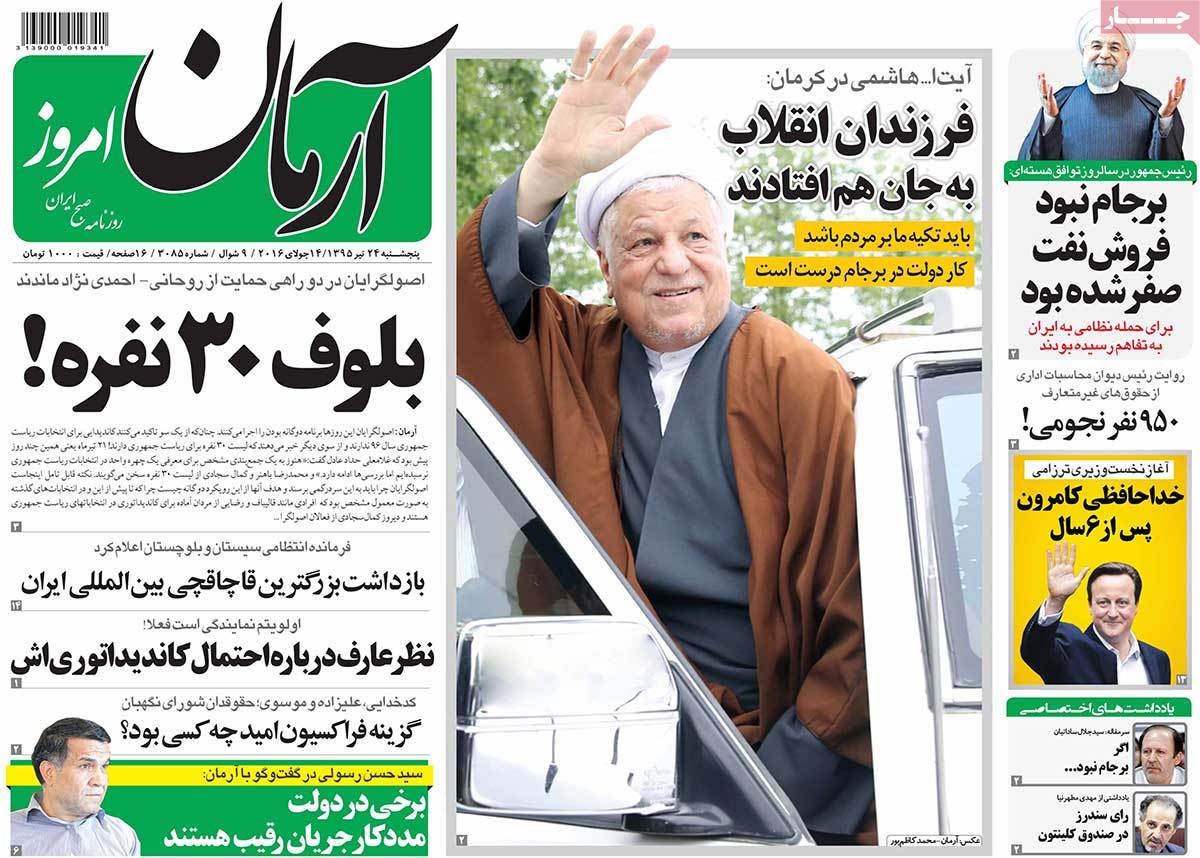 ---
Asr-e Rasaneh:
1- Iran Is the World's Seventh Country in Polluting the Earth: Energy Expert
2- Siemens Says Ready to Restart Cooperation with Iran
3- Internet Subscription Prices to Be Decreased as of Next Week
---
Ebtekar:
1- Solidarity inside the Country, Interaction with the World: Rouhani Underlines in First Anniversary of JCPOA
2- Female Face of Parliament: Women in Iran's Majlis Declare Their Plans for All-Out Support of Families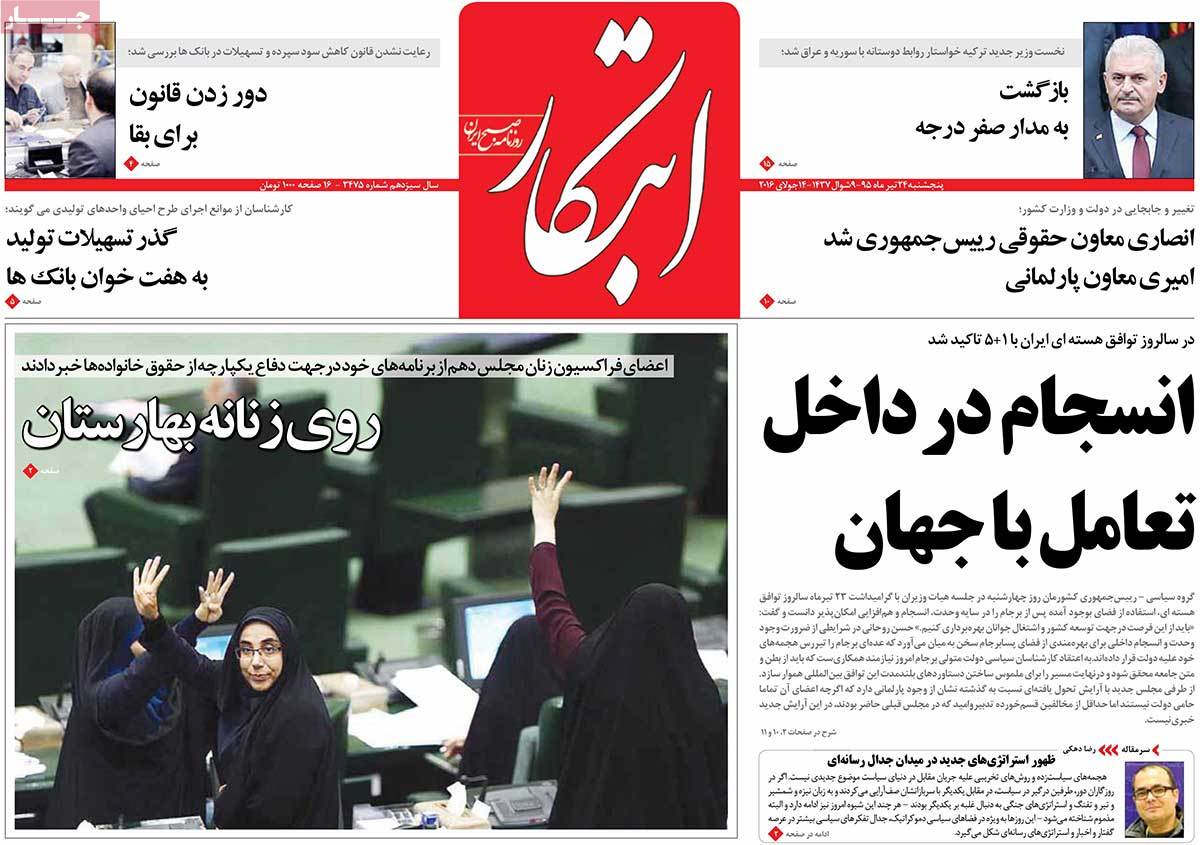 ---
Emtiaz:
1- Cancer to Go beyond Warning Level in 15 Years
2- Iran's Oil Output Increases to 4m bpd
3- Severe Water Tension in Iran
4- Largest Heroin Cargo Discovered in Iran
5- It Is against the Law to Remove "Morality Police": Commander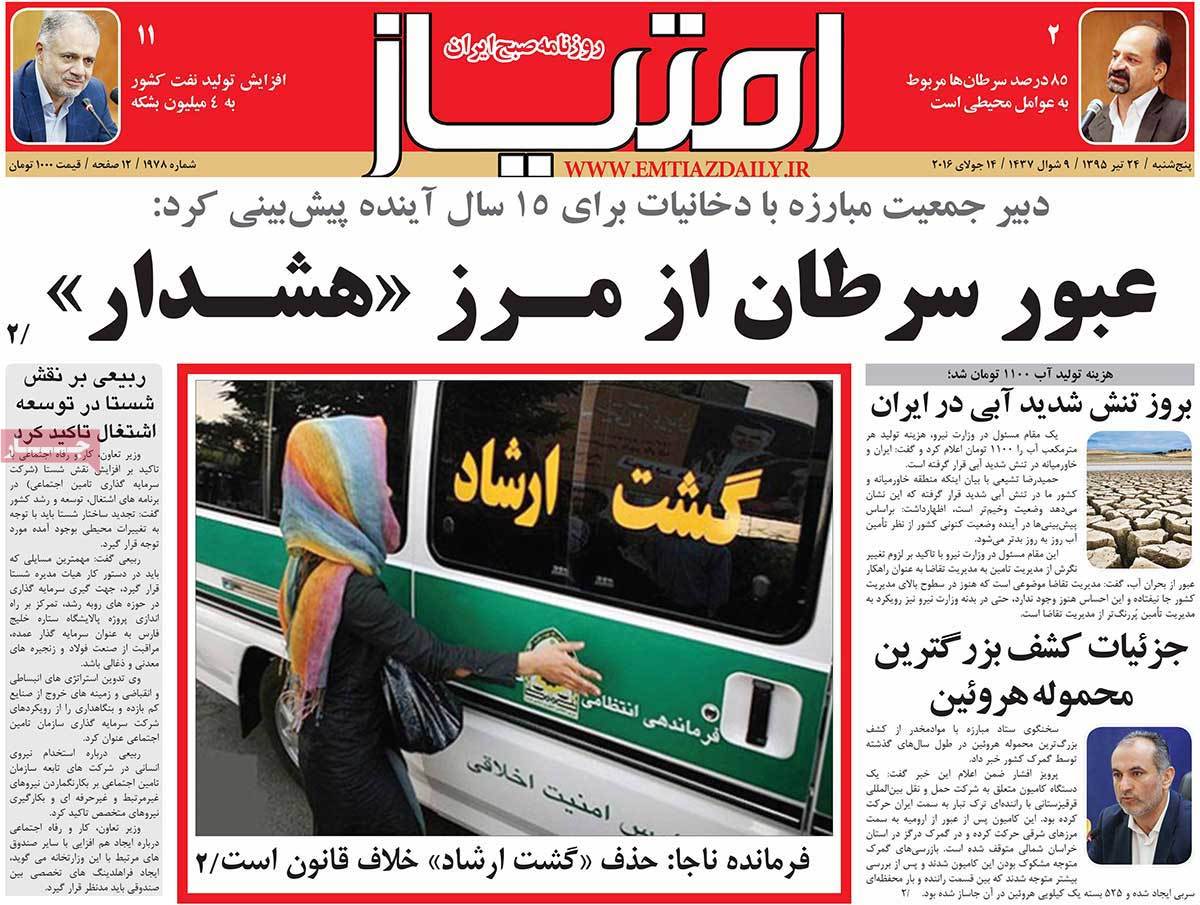 ---
Etemad:
1- Morality Police Is a Law and We Can't Act against It: Police Commander; Nothing Has Been Communicated on Removing Police's Authority over Concerts [government has recently approved a bill to assign the responsibility of concerts to Culture Ministry, and prevent the Police from cancelling music performances, but the Police commander says they have yet to receive any order in this regard and will carry out their duties]
2- Maximum Limit of Salary Payments Determined: Major Revision in Executives' Salaries
3- Details of 13-Year-Old Teenager's Suicide: Mother, Forgive Me!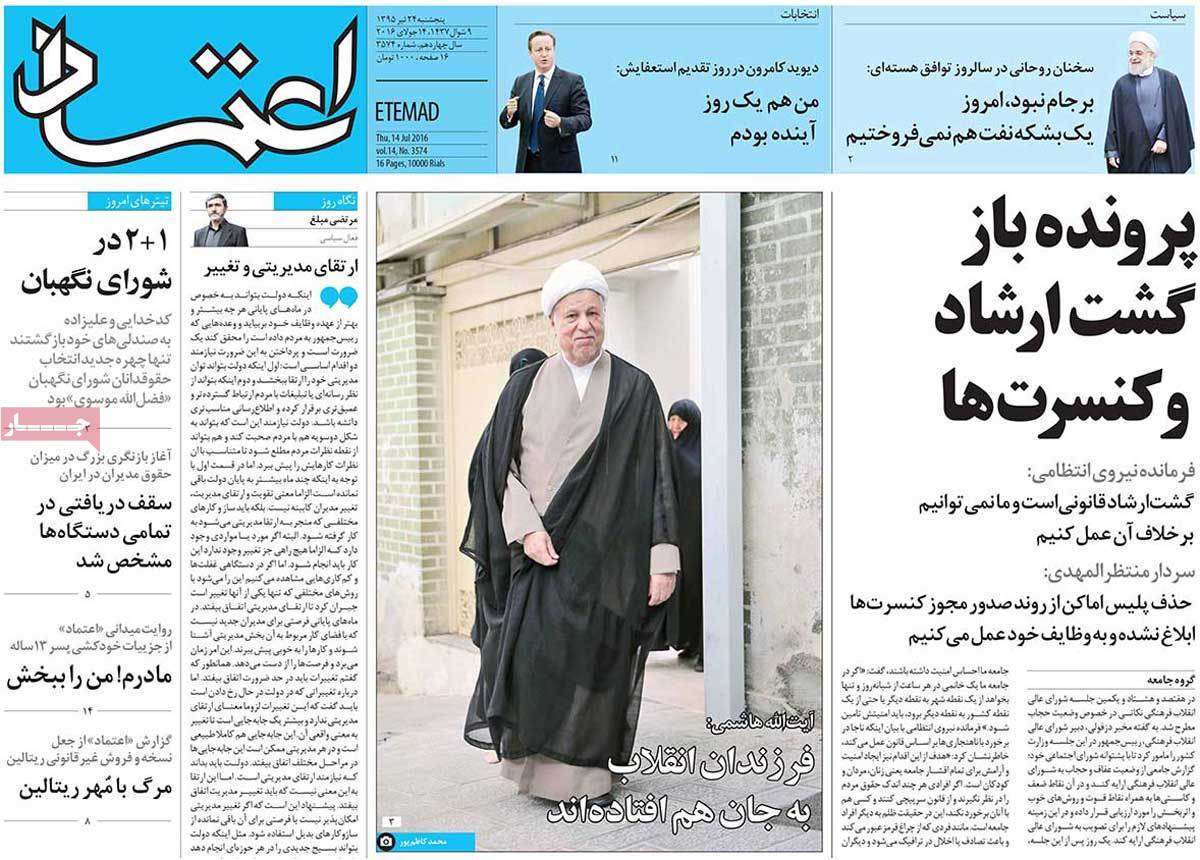 ---
Ettela'at:
1- Caspian Sea's Legal Regime Should Meet All Littoral States' Interests: Zarif
2- First Saudi Flight Lands in Tel Aviv Airport
3- Violation of JCPOA to Be Detrimental to All Parties: Rouhani
4- Human Activities and Environment Cause 85% of Cancers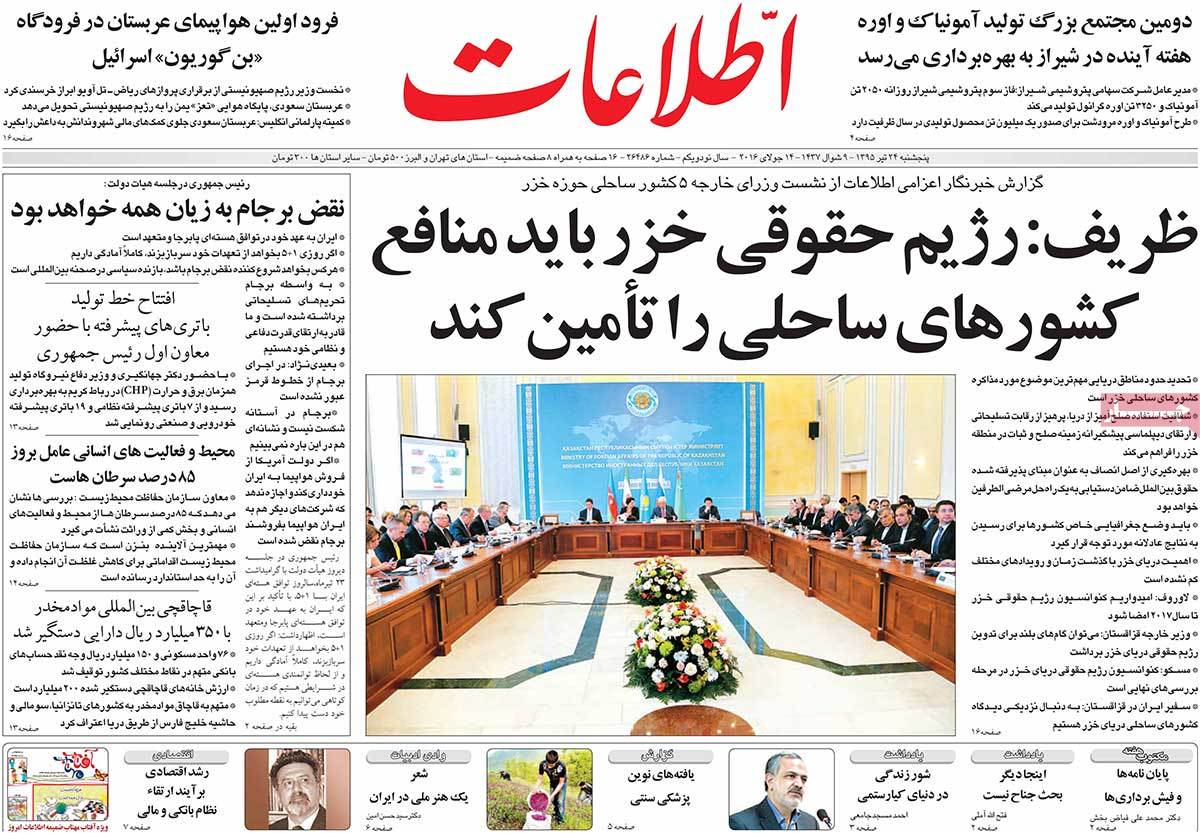 ---
Haft-e Sobh:
1- A Report on Attack of Iranian Social Media Users on Obama and His Daughter's Instagram Pages: 'You Were Supposed to find me a job!'
2- Iran's Football Industry Is Worth $500m
---
Hamshahri:
1- Will Military Service Become Easier? Armed Forces Planning to Improve Military Service
2- Decrease in Women's Working Hours Finalized in Parliament
3- Iranian El Chapo Arrested in a Village House
4- 3 Anti-Iran Plans by Republicans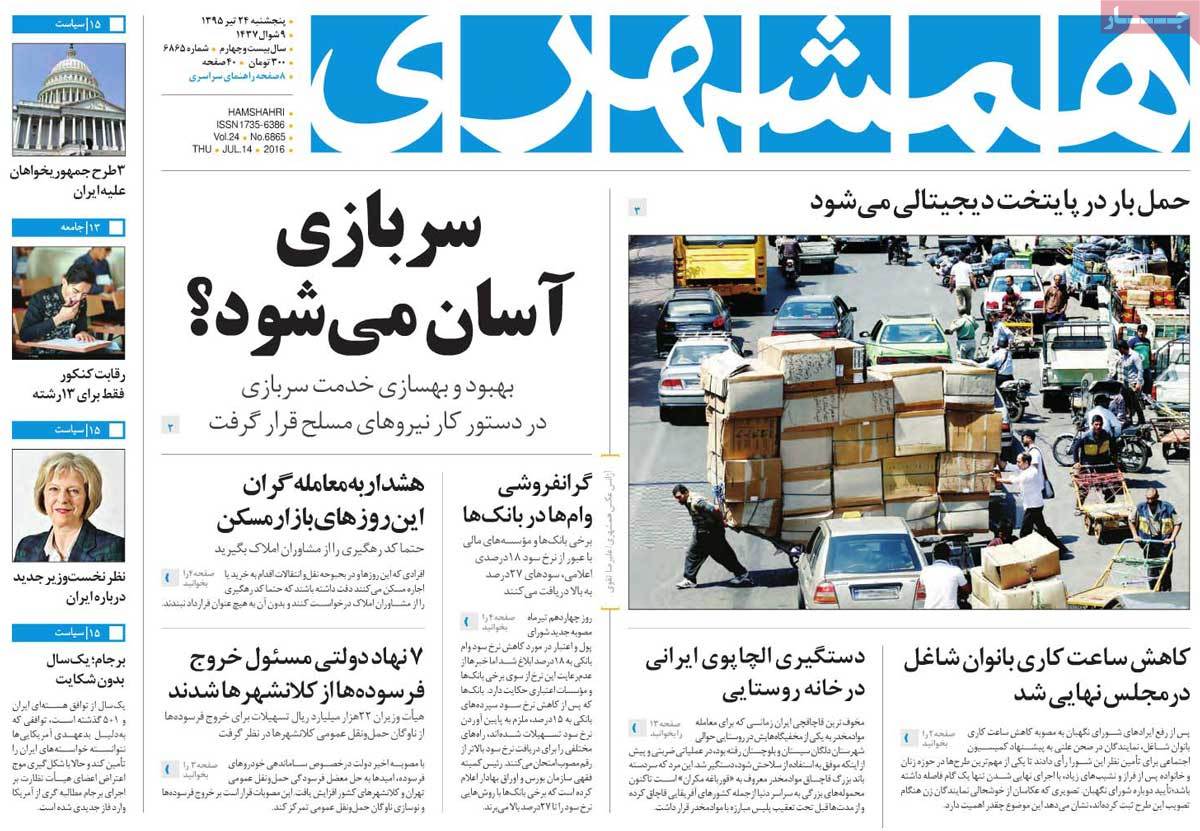 ---
Iran:
1- Using the Opportunity of JCPOA Needs Unity: President
2- Difficult Mission of Brexit for Theresa May
3- Disturbing Rumours about Health Conditions of Master Shajarian Are Baseless: Son
4- Campaign for Turning Hookahs into Flower Pots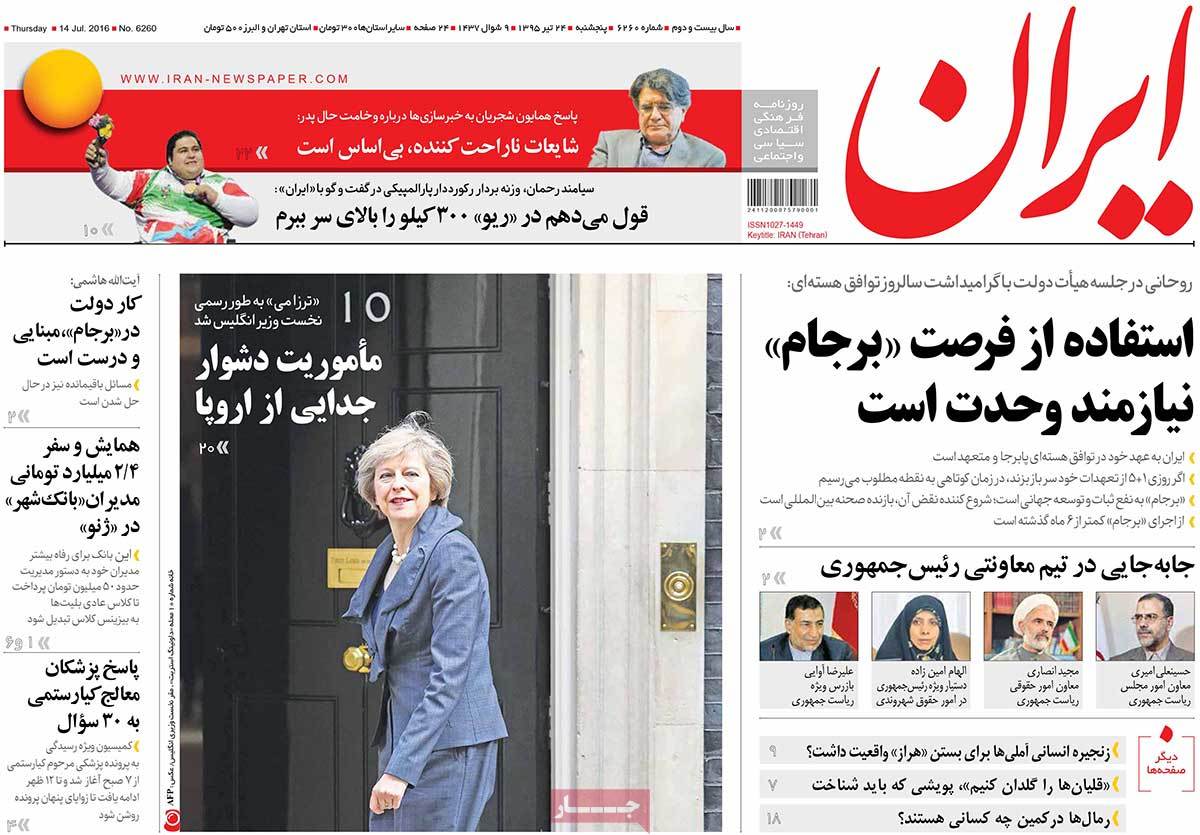 ---
Jame Jam:
1- Int'l Credit Cars to Enter Iran's Market
2- Increase of Anti-JCPOA Moves in the US
---
Javan:
1- Concerns over JCPOA's Fate in First Birthday!
2- Parliament's Majority Vote to 'Revolutionary' Jurists: 3 New Members of Guardian Council Elected by MPs
3- Deal with FATF to Cause Problems for Iran: Expert
4- 5 New Languages to Be Taught in Iranian Schools
5- Refusing to Change Oil Contracts by Cabinet Reshuffle!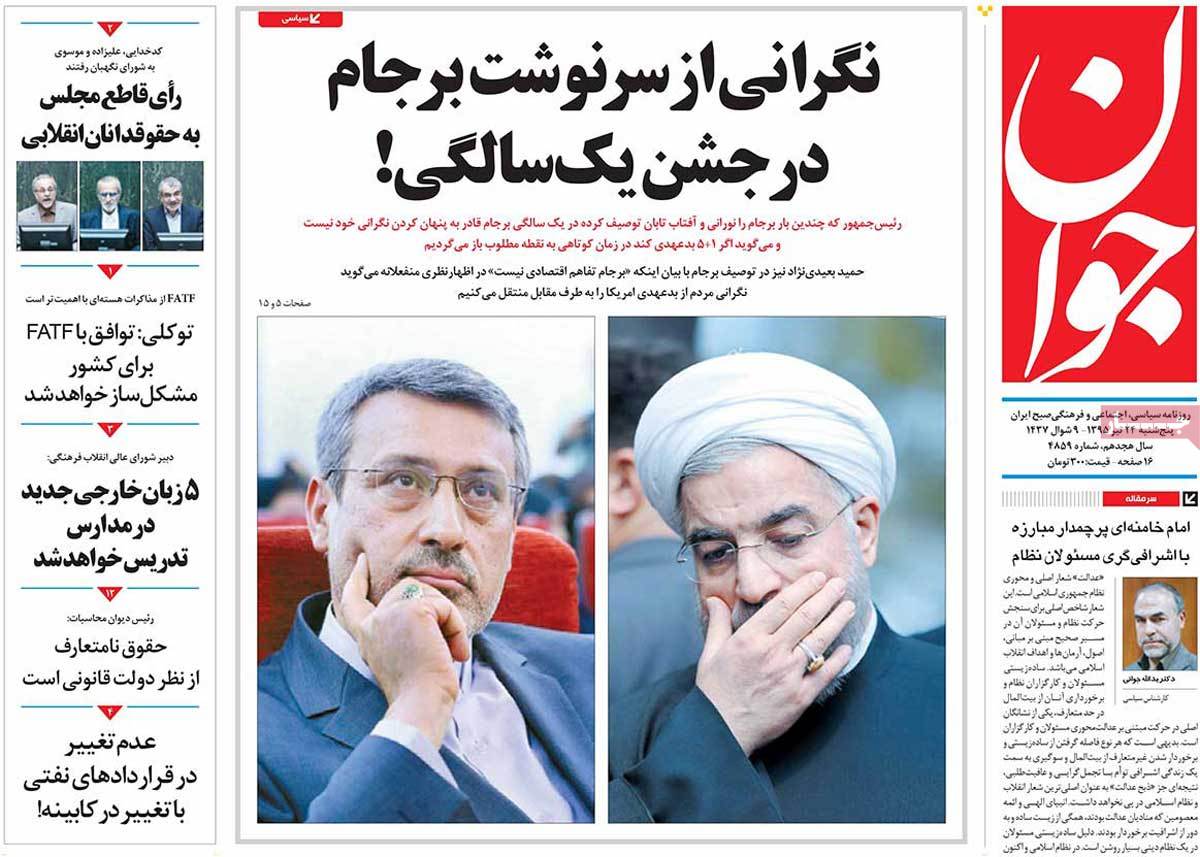 ---
Jomhouri Eslami:
1- Positive Evaluation of JCPOA Outcomes 6 Months after Implementation
2- Government Has Had a Fundamental and Proper Performance on JCPOA: Rafsanjani
3- Iran and Britain Sign Finance Agreement on Water and Power
4- Secret Coalition of Saudi Arabia and Israel
5- Washington Not to Prevent Trade Deals with Iran: Spokesman
6- JCPOA Has Not Been Violated up to Now: Negotiator
7- Bid from Outside Iran to Buy $1bn of Iranian Stocks
---
Kayhan:
1- Senior Nuclear Negotiator: Don't Have an Economic View of JCPOA!
2- US Has Started Plans to Overthrow Al Saud Regime: Jordanian Expert
3- US Extends Sanctions against 15 Iranian Individuals and Institutions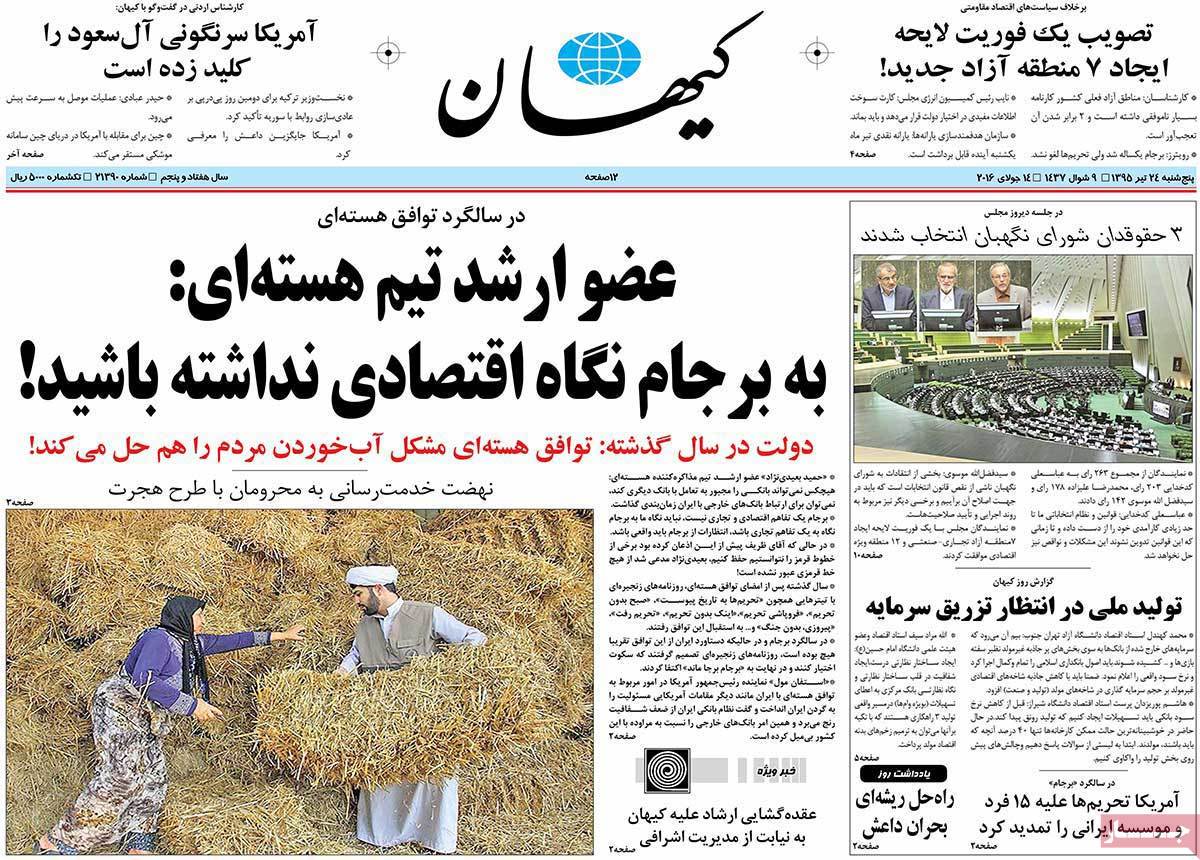 ---
Khorasan:
1- Aref's Silence: Senior Reformist MP Keeps Silent over Candidacy of Rouhani in Next Year's Presidential Elections
2- Ministerial Meeting of Caspian Sea Littoral States in Astana
3- Commander: Whoever Wants to Become President or MP Promises People to Remove Morality Police!
4- Dust Pollution Shuts down Offices in Sistan and Baluchestan
---
Resalat:
1- Rafsanjani: Americans Are Violating Their Promises
2- Growing Trend of Caesarean Section Procedure Stopped
3- Germany's Steinmeier Warns against New Cold War
4- We Remained Committed to Our Obligations, But Sanctions Remained in Place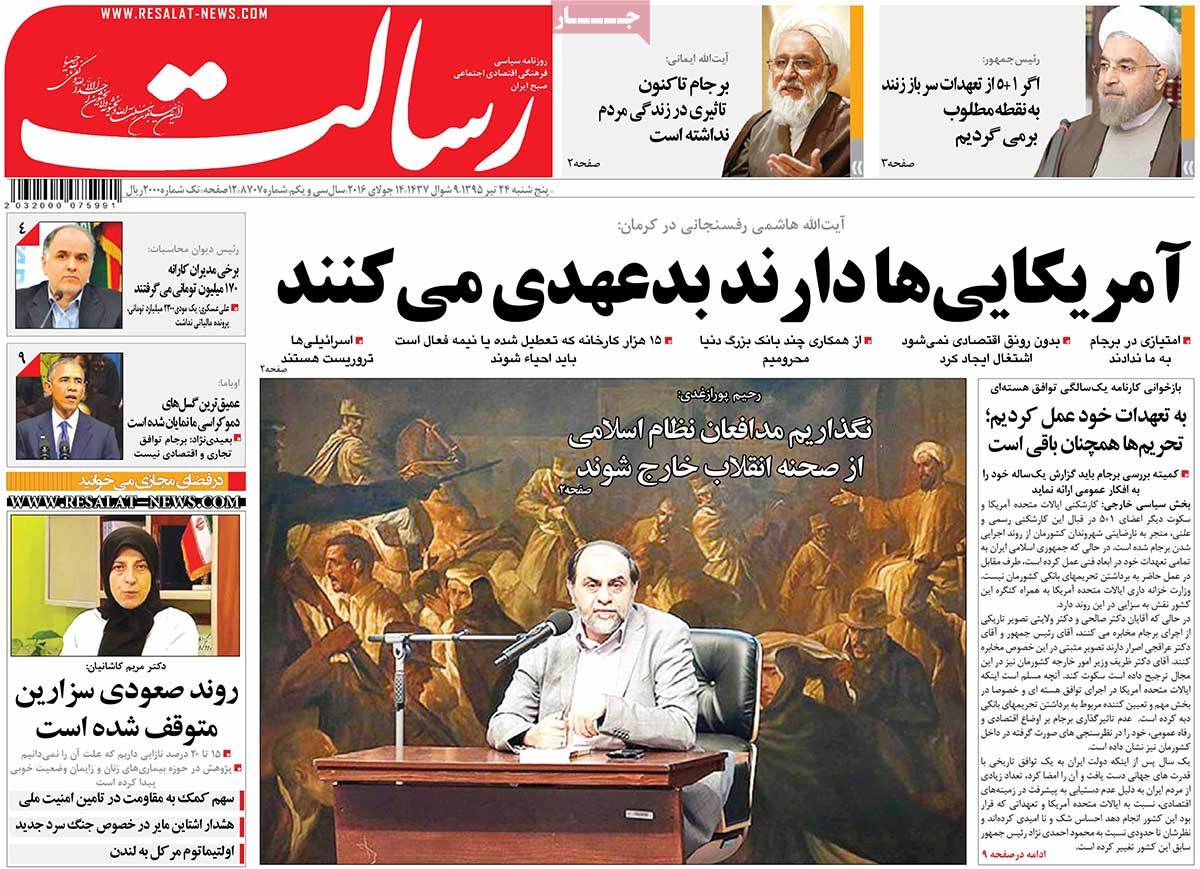 ---
Roozan:
1- Iran's Support for Terrorism Is a Joke: Rafsanjani
2- World's Newspapers Dominated by Thatcherism and US Police
3- Under Current Laws, Morality Police Can't Be Removed: Commander
4- Whoever Starts Violating JCPOA Will Be Final Loser: Rouhani
---
Sayeh:
1- Why Some Hotels Still Refuse to Receive Single Women?
2- Free Trade Zones Can Make an Evolution in Iran's Economy
---
Sepid:
1- Waiting for the French Team's Report on Kiarostami's Death
2- Iran, Second Country in the World in Controlling Non-Communicable Diseases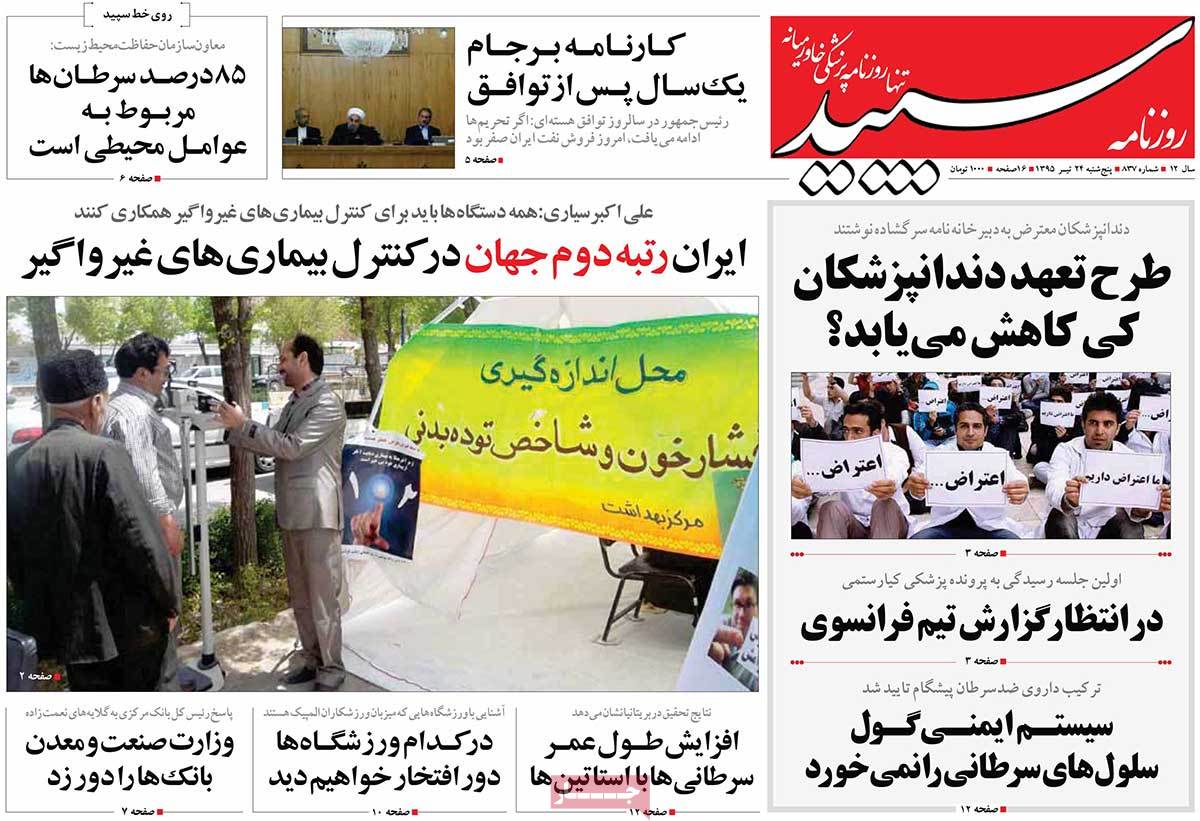 ---
Shahrvand:
1- Return to Hope: JCPOA Reclaimed Iran's Share from Global Oil Market
2- Dutch Woman Describes Iran as an Amazing Place to Visit
3- A Report on Increase of Violence among Iranians
4- JCPOA Removed the Pretexts for a Possible Attack on Iran: Rouhani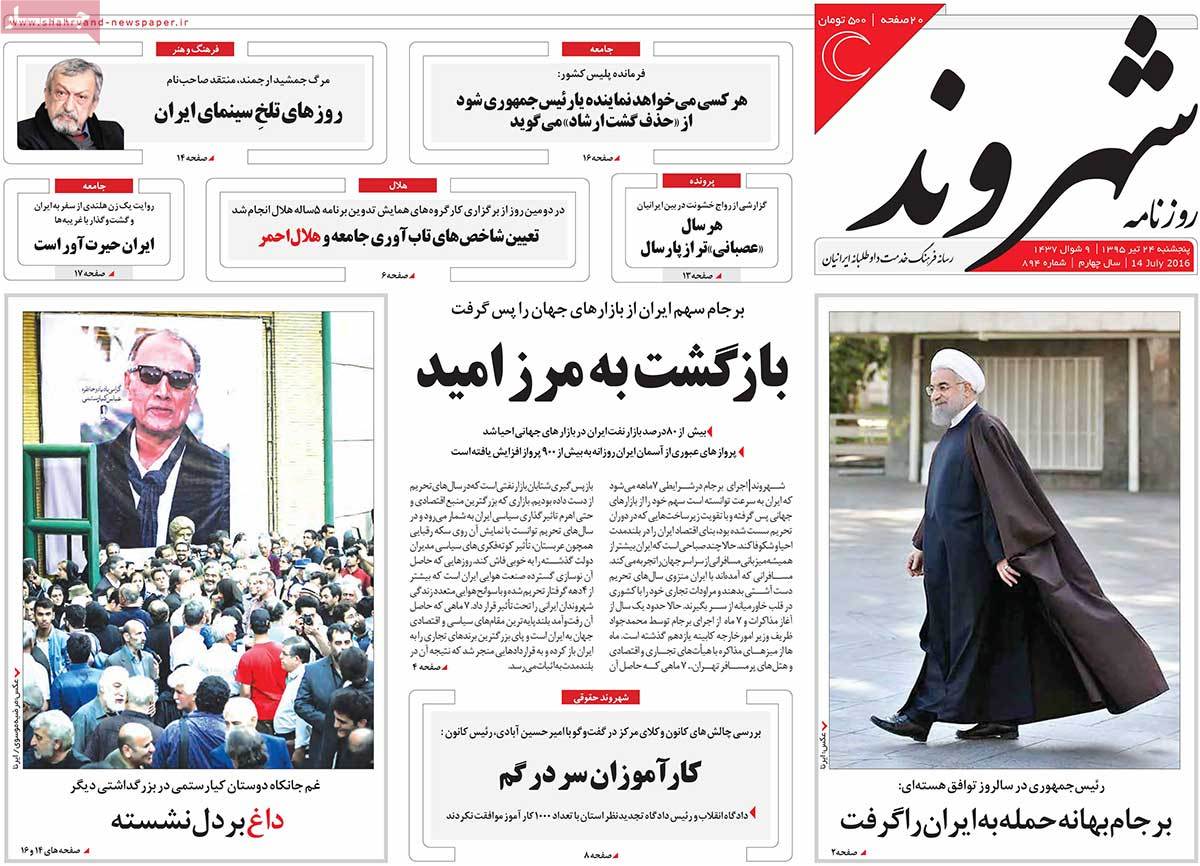 ---
Shorou:
1- Sexual HIV Transmission Doubled: New Wave of AIDS Outbreak in Iran
2- Ties with Foreign Banks Hinge on Implementing FATF Regulations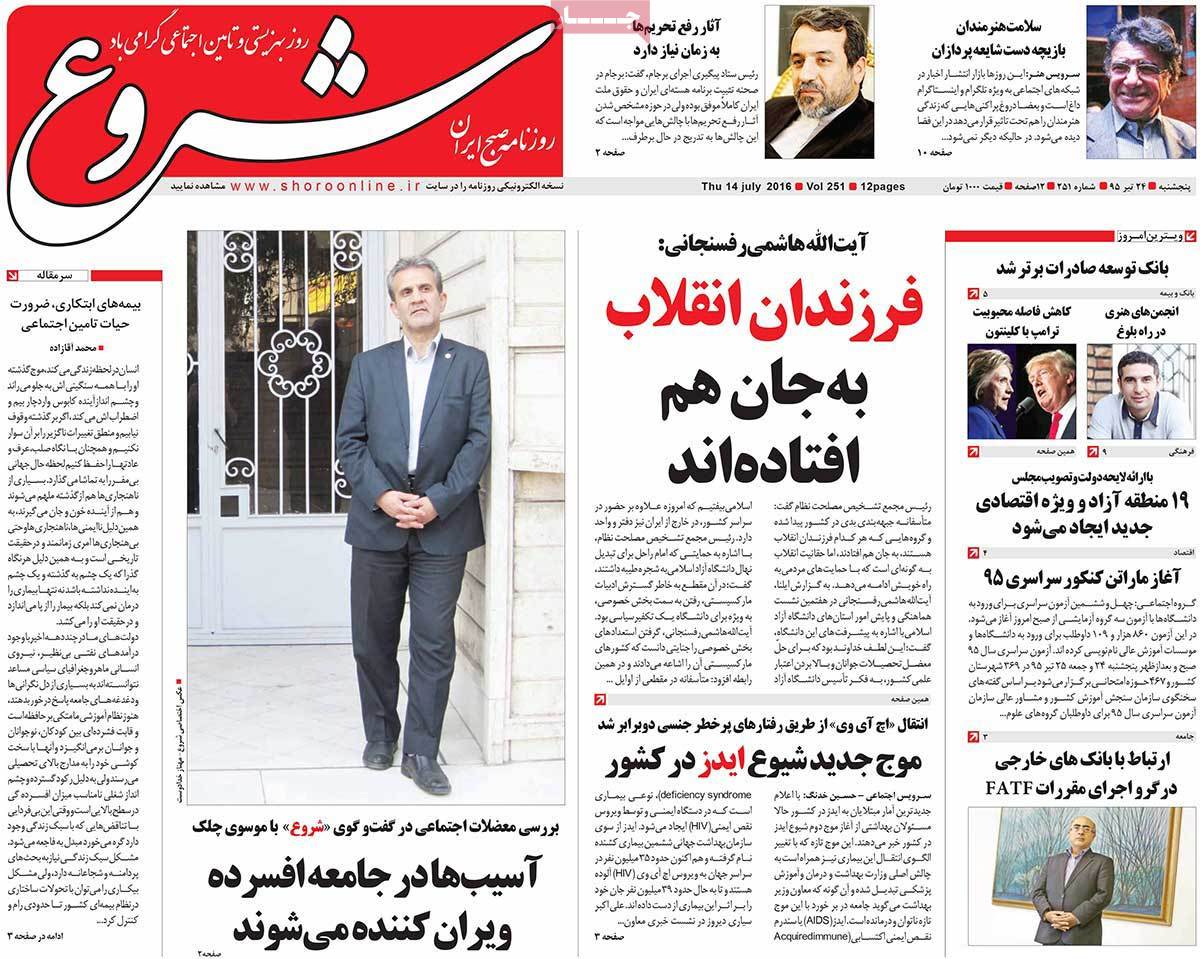 ---
Vaghaye Ettefaghieh:
1- Recent Paris Meeting Was Gathering of Political Bankrupts: Leader's Advisor on MKO Paris Meeting
2- We Defended People's Rights: Rouhani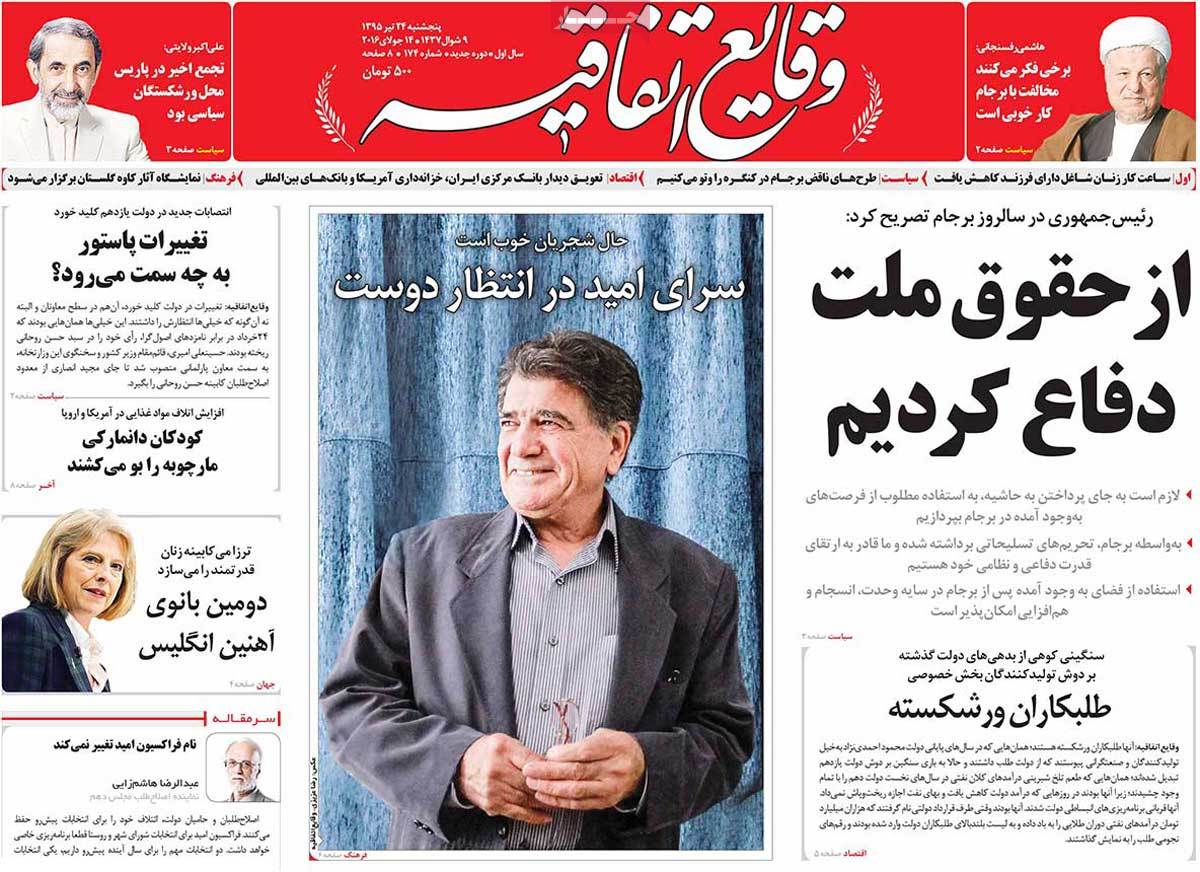 ---
Vatan-e Emrooz:
1- Rouhani: JCPOA Prevented a War from Happening! First Anniversary of a Deal that Was Supposed to Lift Sanctions and Improve People's Livelihood
2- Theresa May Is Rupert Murdoch's Candidate: Is Thatcher Emerging Once Again?
3- Canadian Gov't Continuing Ottawa's Previous Policies against Iran in UN: Efforts to Have Anti-Iran Resolutions Approved
4- Ankara: We Need Damascus! ISIS Is Back in Turkey