Newspapers on Wednesday highlighted the recent remarks by Iranian Minister of Culture and Islamic Guidance Ali Jannati, who underlined the need for a revision in the law on prohibition of using satellite equipment.
They also covered a letter sent by 75 US figures to President Barack Obama, asking him to strengthen Washington's ties with Tehran.
Another top story was the dismissal of 13 more executives who had received astronomical salaries. The issue has been a main part of Iranian front pages for the past weeks.
The first anniversary of the nuclear deal between Tehran and world powers was also covered in special issues in several newspapers. Many articles for and against the deal were published today.
The abovementioned issues as well as many more are highlighted in the following headlines:
Abrar:
1- Some Australian Universities Have Resume Their Ties with Iranian Universities: Ambassador
2- US Barriers Have Decreased Iran's Hope on JCPOA: AFP
---
Abrar-e Eqtesadi:
1- Economic Downturn to Be Exacerbated Given Government's Debts: CBI Governor
2- Iran's Exports to Russia Up by 70%
3- Iran-Britain Power Talks in London
4- Mitsubishi in Talks with Iran for Plane Sale
5- Iran's Oil Output at Highest Level in 5 Years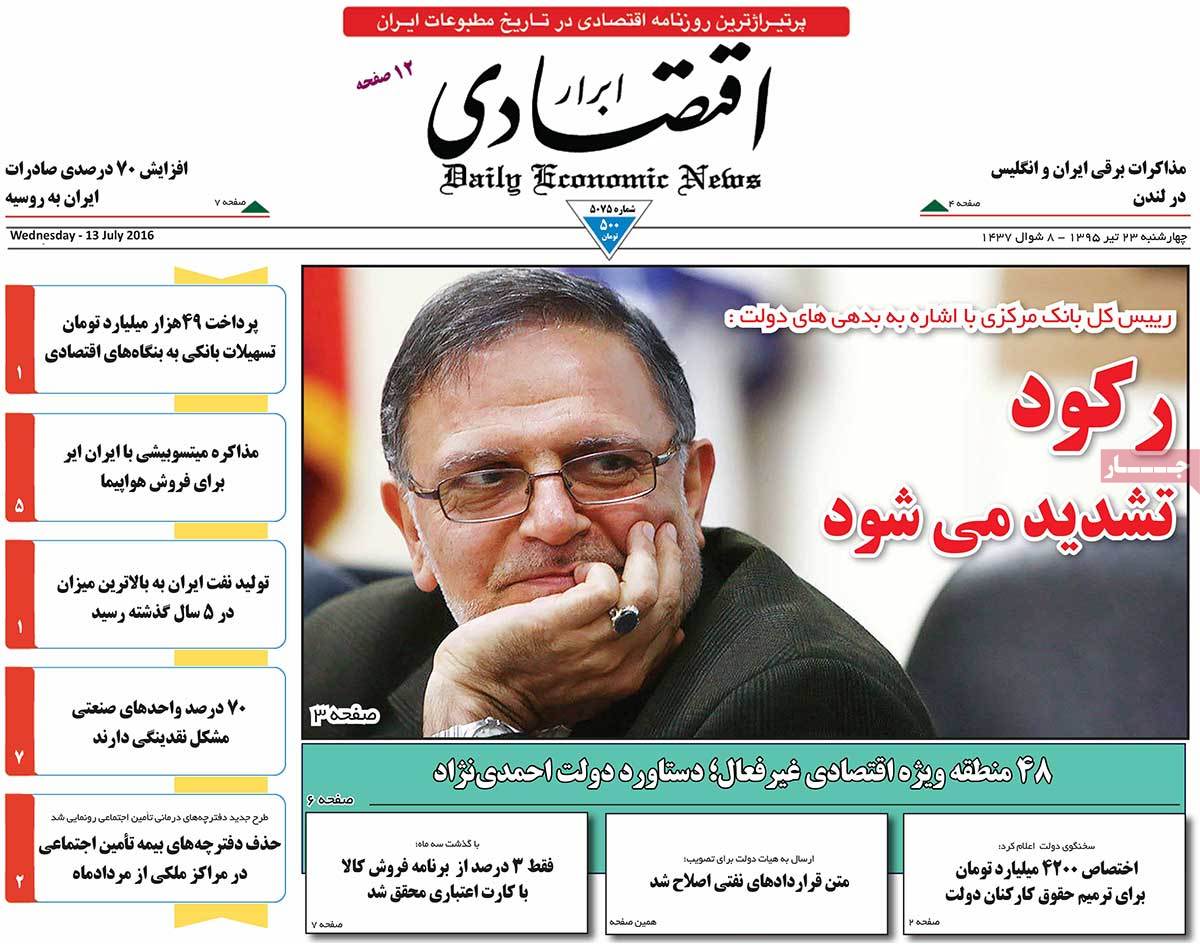 ---
Aftab-e Yazd:
1- Reforming the Law of Satellite Equipment in Parliament
2- Judiciary Official Praises Economy Minister's Performance on Issue of Astronomical Salaries: Rouhani's Gov't Is Fighting Corruption
3- Another Accident for Soldiers: This Time in Nowshahr [north of Iran]; Army Ground Force Commander: From Now on, Soldiers Will Be Transferred with Train
4- Rouhani Should Even Apologize for France's Defeat in Euro 2016! [Editorial]
5- The Poor's Share from Iran's Budget Is Just 1.5%: Imam Khomeini Relief Foundation Chief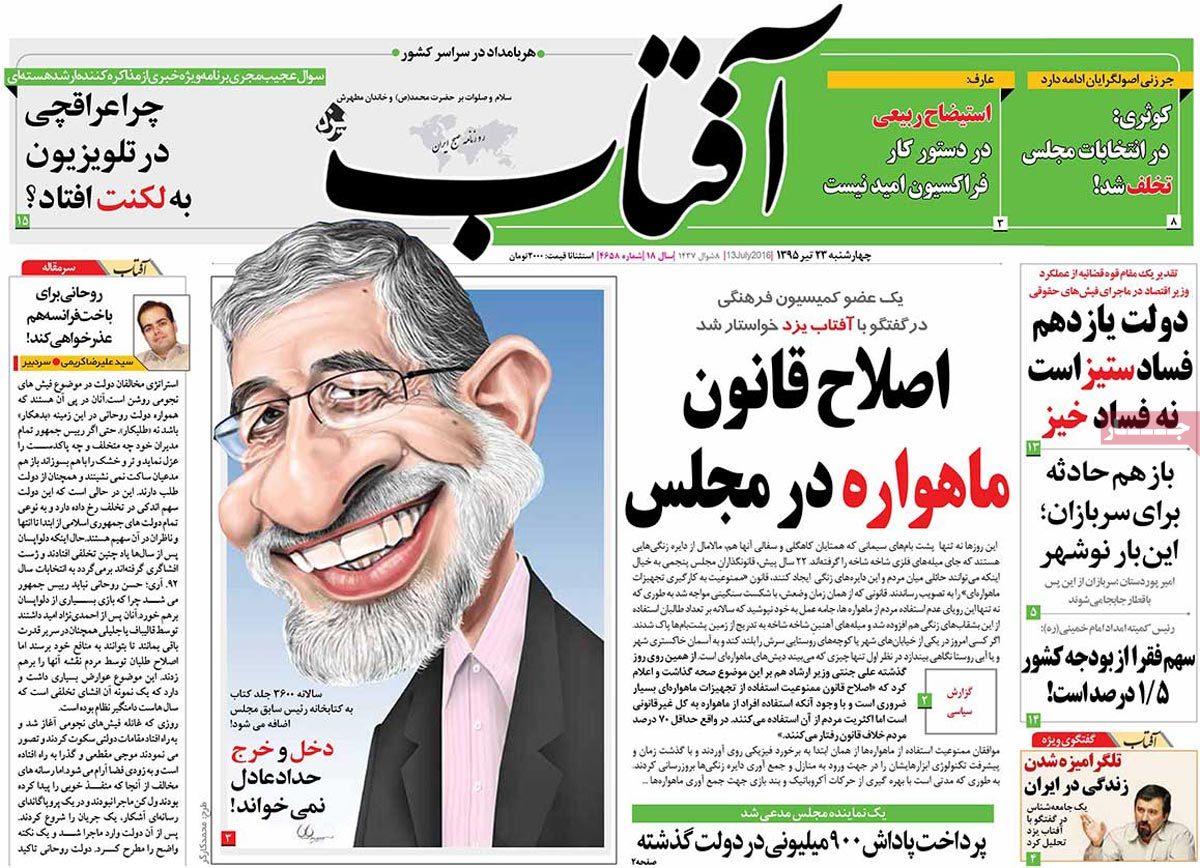 ---
Arman-e Emrooz:
1- Kiarostami's Personal Physician Summoned over His Death
2- Executives Are Falling Victim to a Systematic Corruption: Expert
3- 6 ISIS Affiliates Arrested in Iran: Intelligence Minister Reveals Discovery of Bomb-Making Sites
4- Sale of 33 Tons of Heavy Water to US: Araqchi
5- JCPOA Saved Iran's Economy
6- 75 US Figures Call for Improvement of Ties with Iran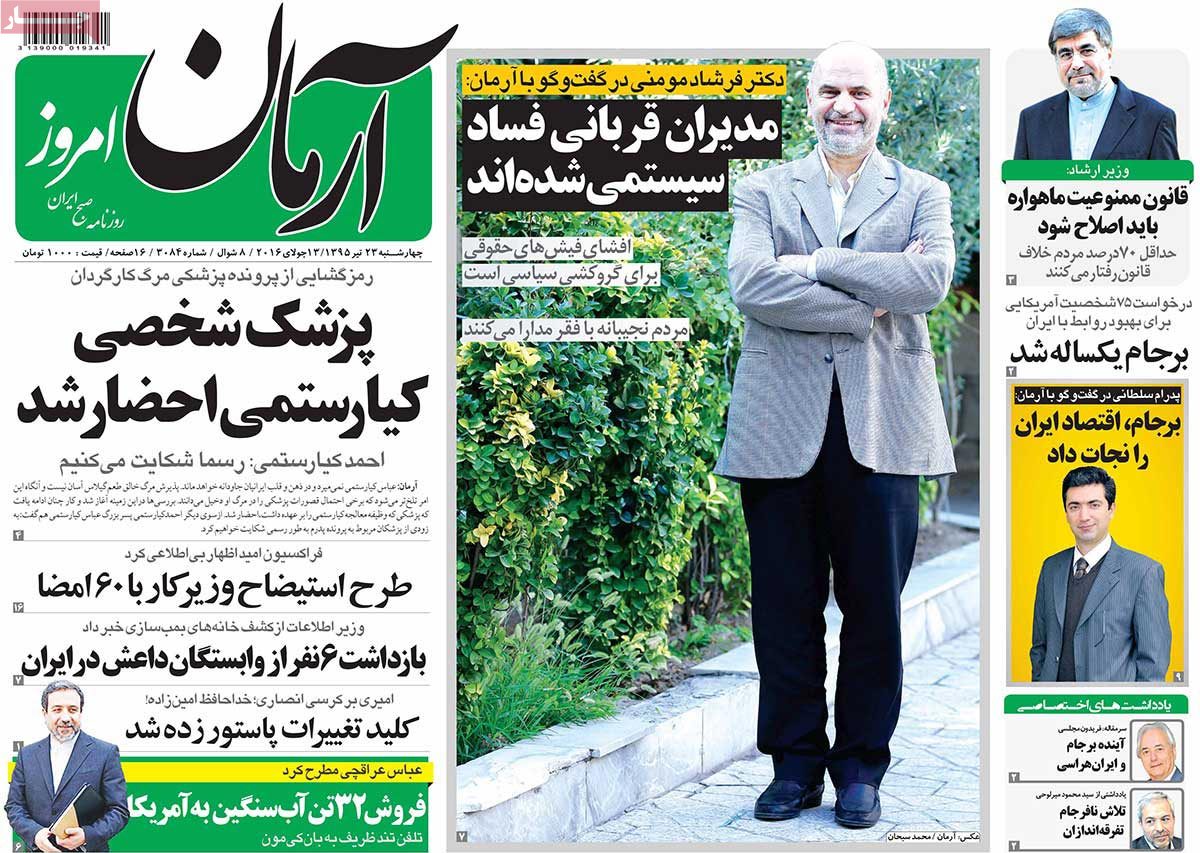 ---
Asia:
1- So Far, We Have Signed 215 Deals with Foreign Banks: Minister
2- We Sold 32 Tons of Heavy Water to US, and We Received the Money: Deputy FM
---
Besharat-e Now:
1- Gov't Goes beyond Verbal Apology: Dismissal and Resignation of 13 Top Executives
2- World's Power in Women's Hands: Will Democracy Smile at Women?
3- Ronaldo's Injury and Prejudice of Iranian Social Media Users! Some Iranian Users Bring another Shame for Iran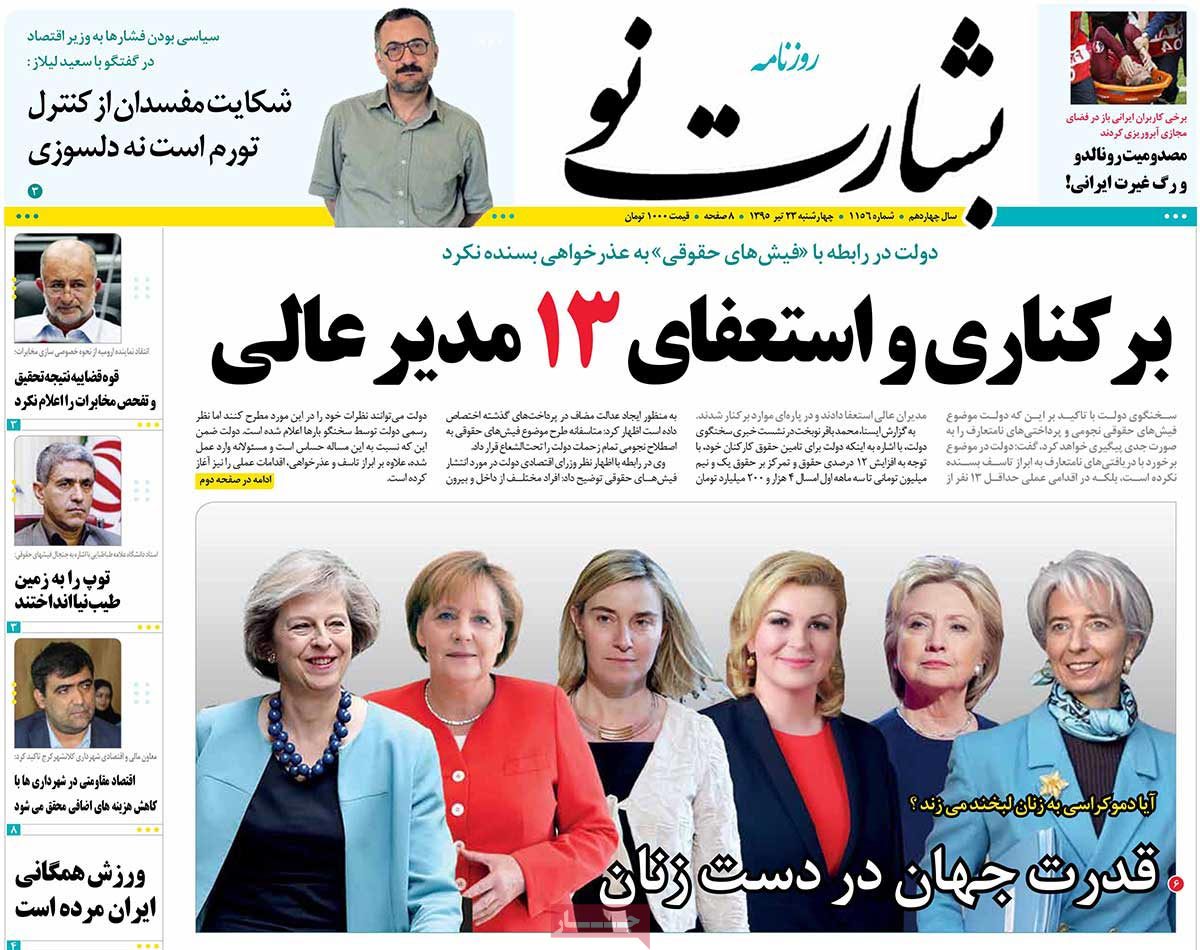 ---
Emtiaz:
1- Bam Earthquake May Occur in Tehran: Official Warning
2- Noise Pollution in Tehran beyond Global Standards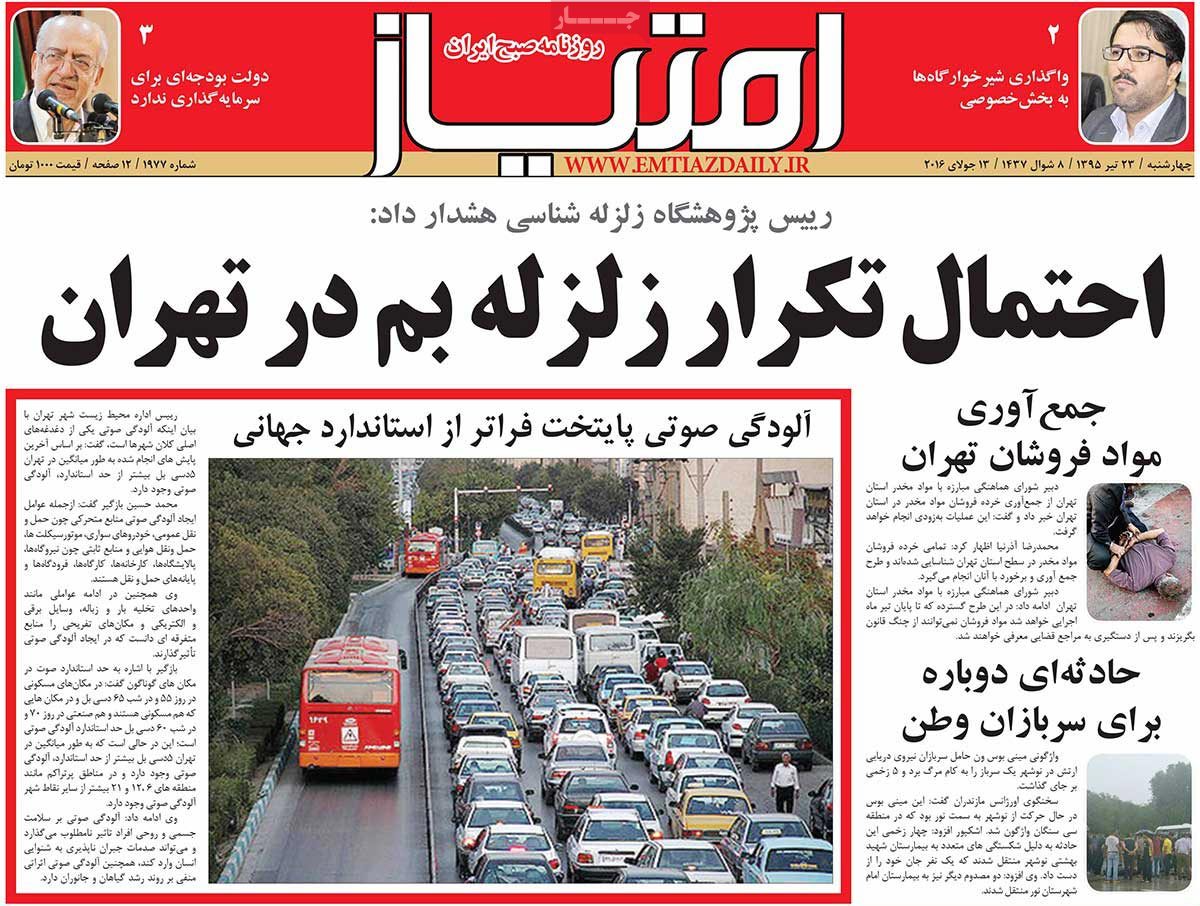 ---
Etemad:
1- 70% of People Are Acting against Law of Ban on Satellite Equipment: Minister; Satellite Law Should Be Revised
2- Changes Begin in Rouhani's Cabinet: Parliamentary and Legal VPs Will Be Replaced
3- Tehran's City Council to Veto Mayor's Financial Authority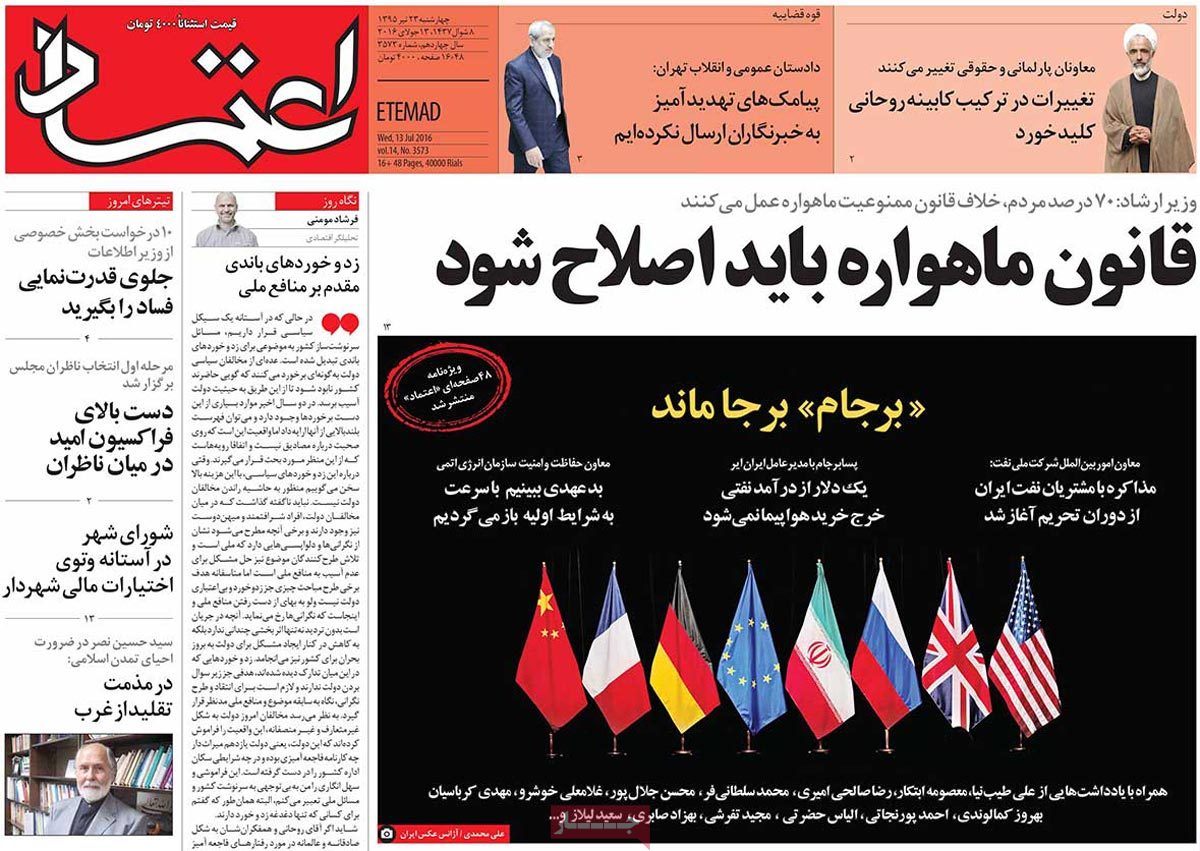 ---
Ettela'at:
1- Doosti [Friendship] Satellite to Be Launched This Year
2- Saudi Cabinet Approves Launch of Direct Flights between Riyadh and Tel Aviv
3- Racism Exists across the US: Biden
---
Haft-e Sobh:
1- Is [Culture Minister] Jannati Going to Remove the Ban on Use of Satellite? [Like what Ali Larijani, the then culture minister, did 24 years ago by allowing people to use VHS players]
2- Strong Online Rivals for State TV: A Report on Iranian Internet-Based Shows and Programs
---
Hamshahri:
1- We Apologize: Government Spokesman in Reaction to Delay in Release of State Contracts
2- New Era in Britain after David Cameron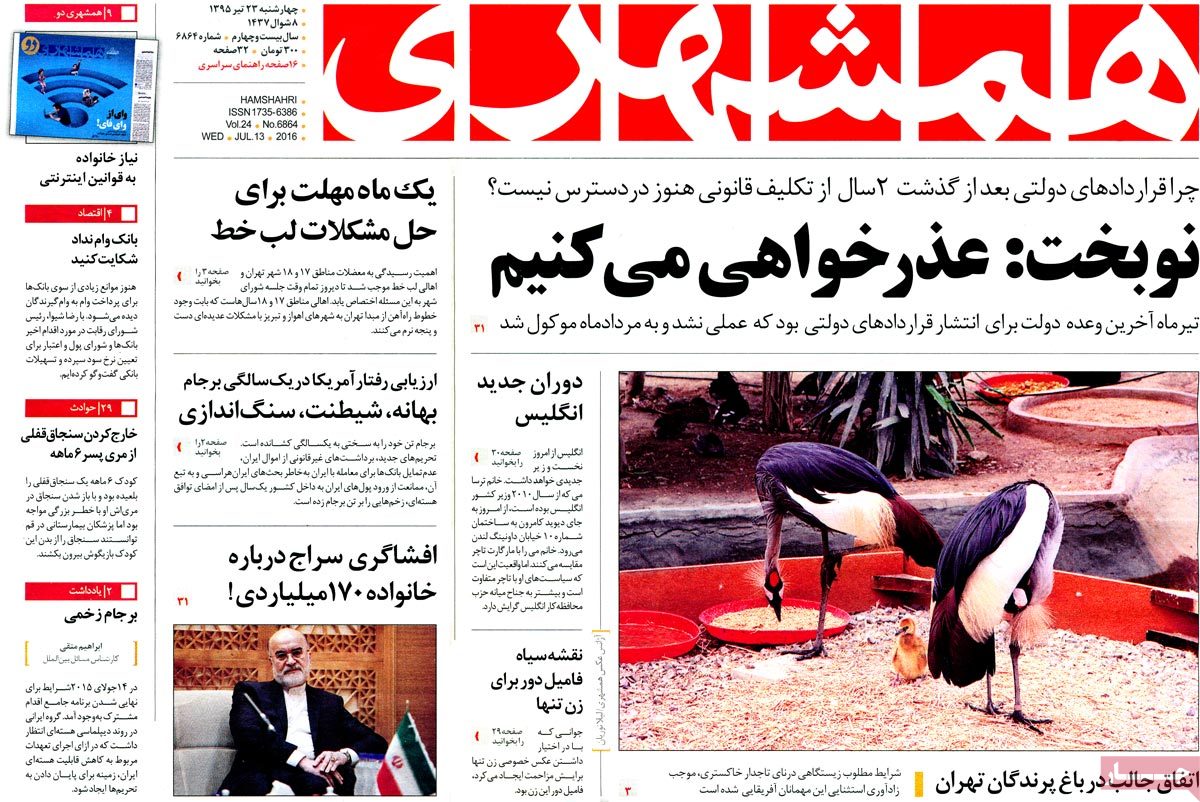 ---
Iran:
1- Post-JCPOA Era: First Anniversary of Nuclear Deal
2- Minister Highlights Need for Revision of Law on Prohibition of Using Satellite Equipment
3- 11 MoUs Signed with Top Oil Companies: Iranian Oil Company Chief
4- Special Schools to Be Established for Married Students
---
Jame Jam:
1- Fever of University Entrance Exam in 369 Cities: 1,014,000 Applicants to Compete on Thursday and Friday
2- Iraqis Say No to ISIS and the US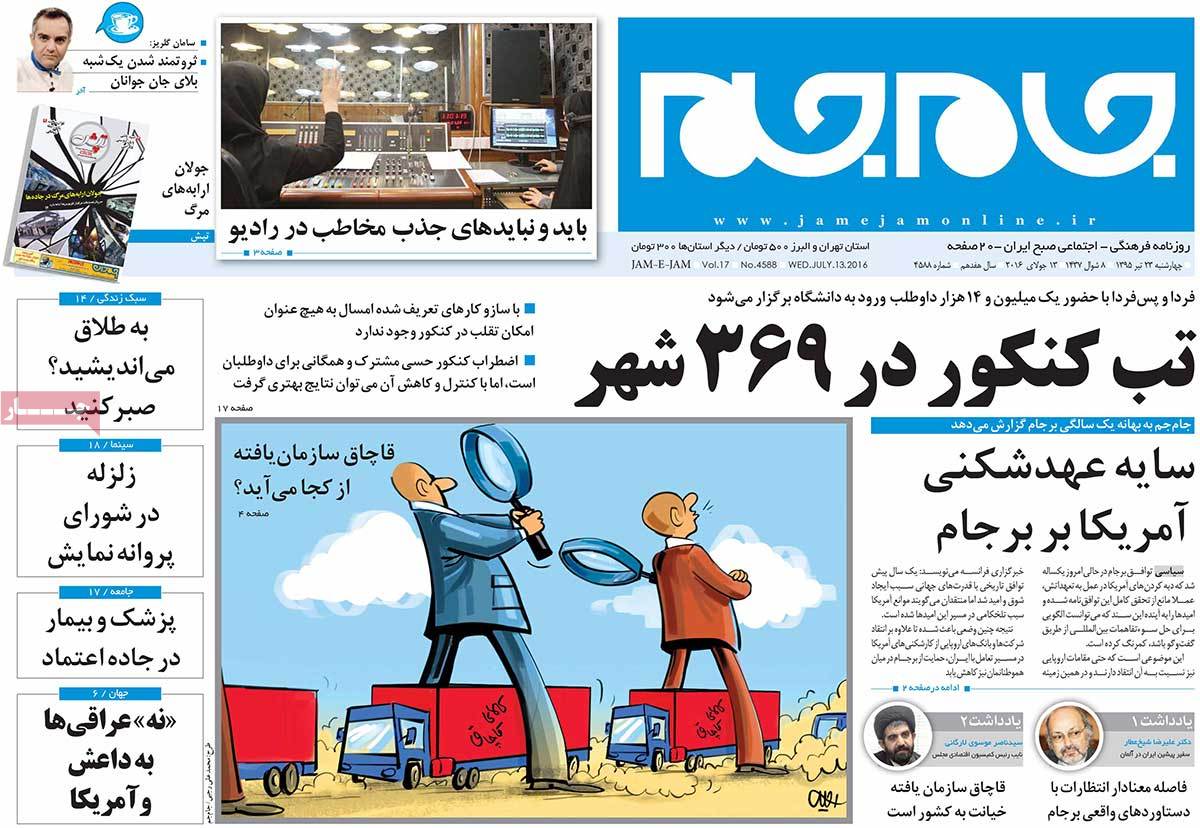 ---
Javan:
1- Araqchi: Not All Sanctions Were Supposed to Be Removed from the First Place!
2- JCPOA Didn't Change Our Economic Situation: 73% of Iranians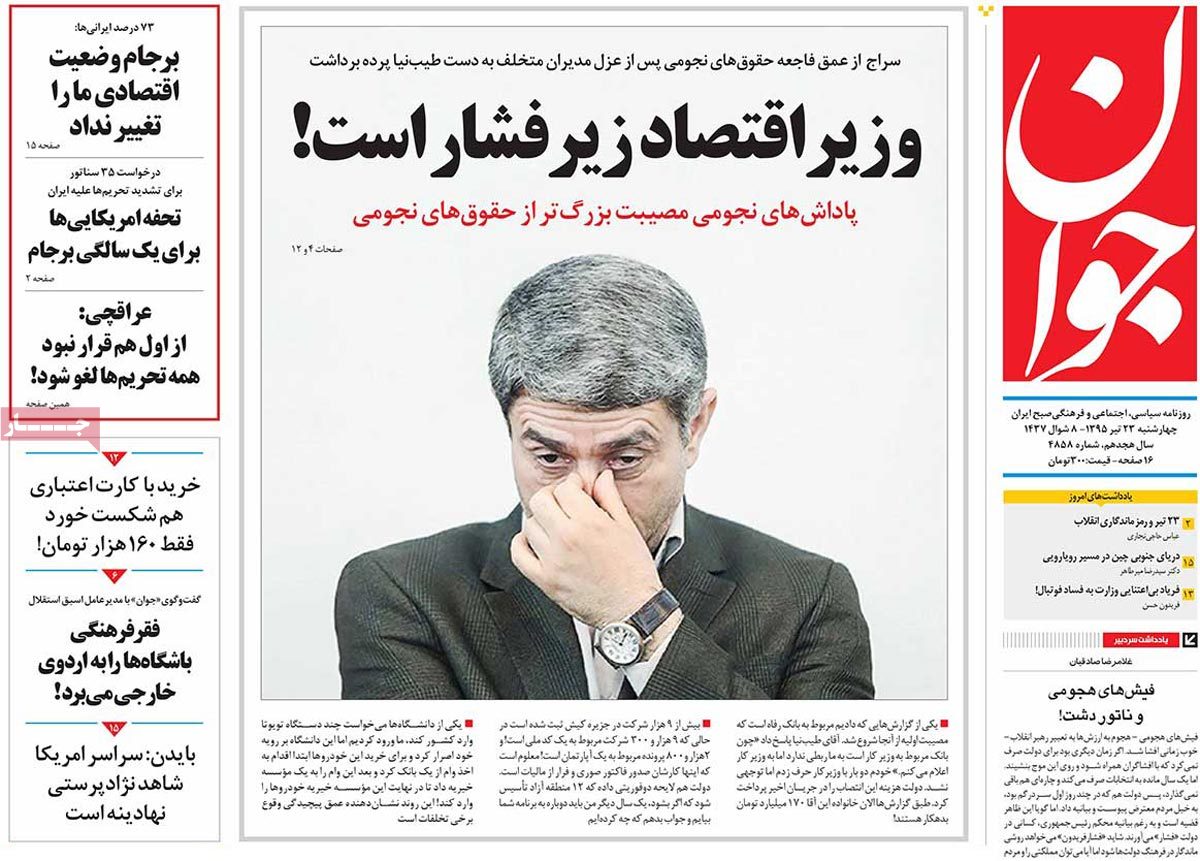 ---
Jomhouri Eslami:
1- More than 100 Foreign Investments Made after JCPOA: Trade Minister
2- US Leadership in the World Is Coming to an End: Brzezinski
3- $5bn Investment Attracted for Development of Iran's Trade Ports
4- Turki al-Faisal, Like Saddam, Has Tied Its Future to Terrorists: FM
5- Getting away from Iran Will Endanger US Interests: 75 Figures to Obama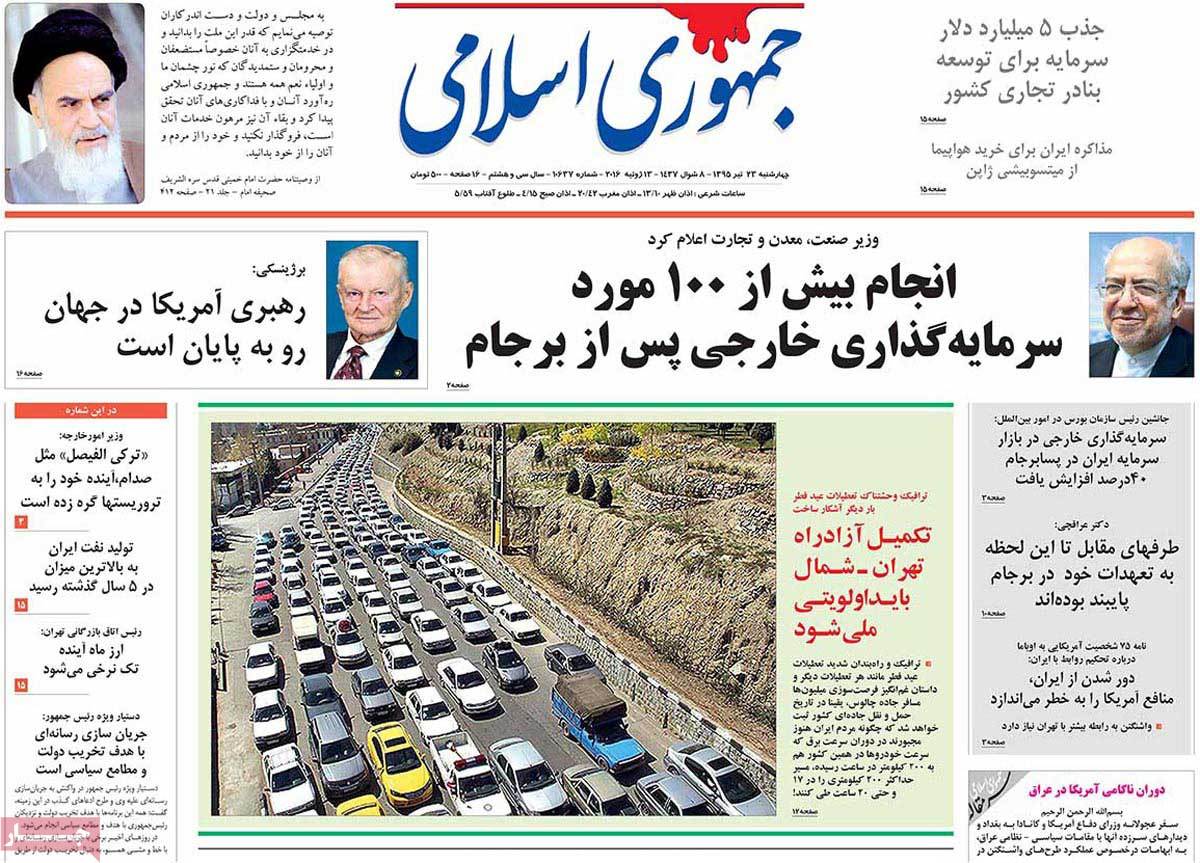 ---
Kayhan:
1- The "Almost Nothing" Becomes 1 Year Old: Nuclear Technology Is Gone, Sanctions Remain in Place
2- Questionable Speed of Imposing New Oil Contracts on Iran
3- Black People in Germany, Britain, and Canada Express Solidarity with US Protesters
4- Fuss about JCPOA in Oil after the Detrimental JCPOA in Nuclear Issue
---
Khorasan:
1- Iranian People's Scepticism towards the US Has Increased by 6%
2- Achievements and Concerns: First Anniversary of JCPOA
3- Turkey: We're Looking for Improvement of Ties with Syria and Iraq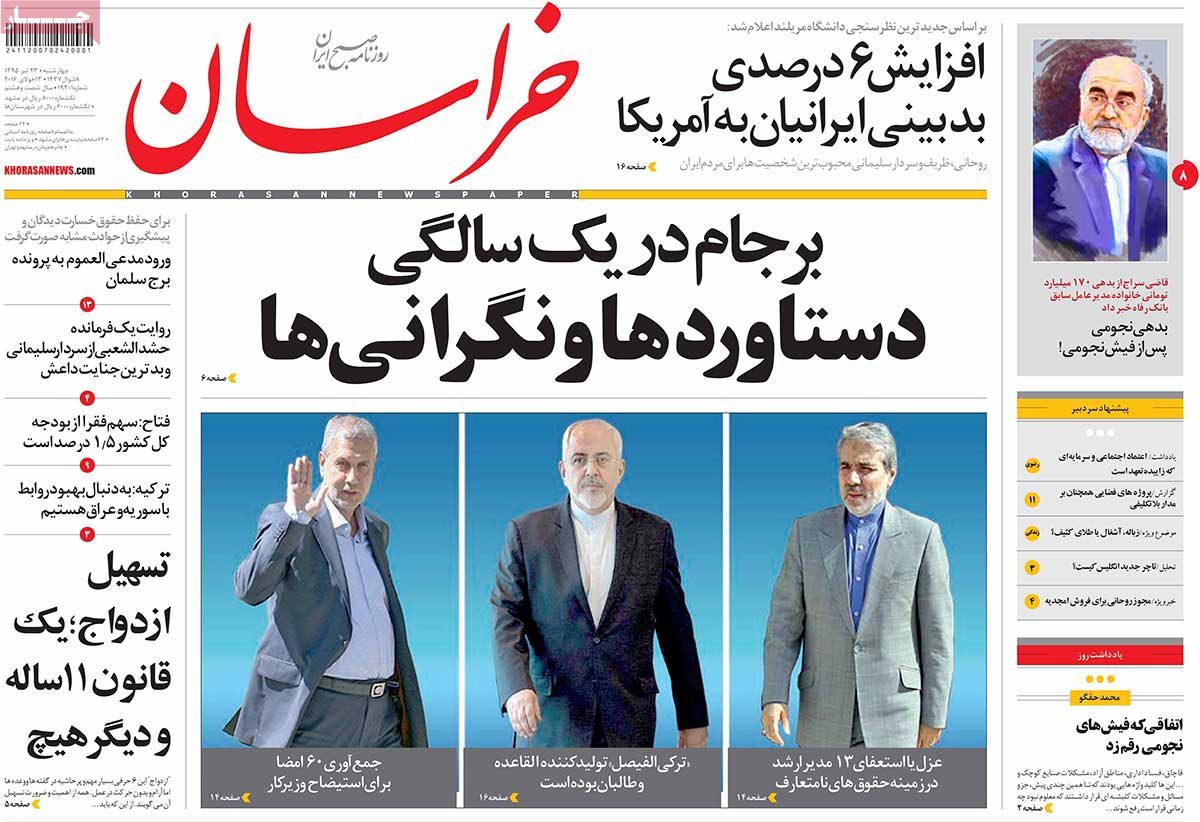 ---
Resalat:
1- President: People Are Paying the Price for US Mistakes
2- US Senate and House Jointly Attack JCPOA: 3 Anti-Iran Motions to Be Put to Vote in US House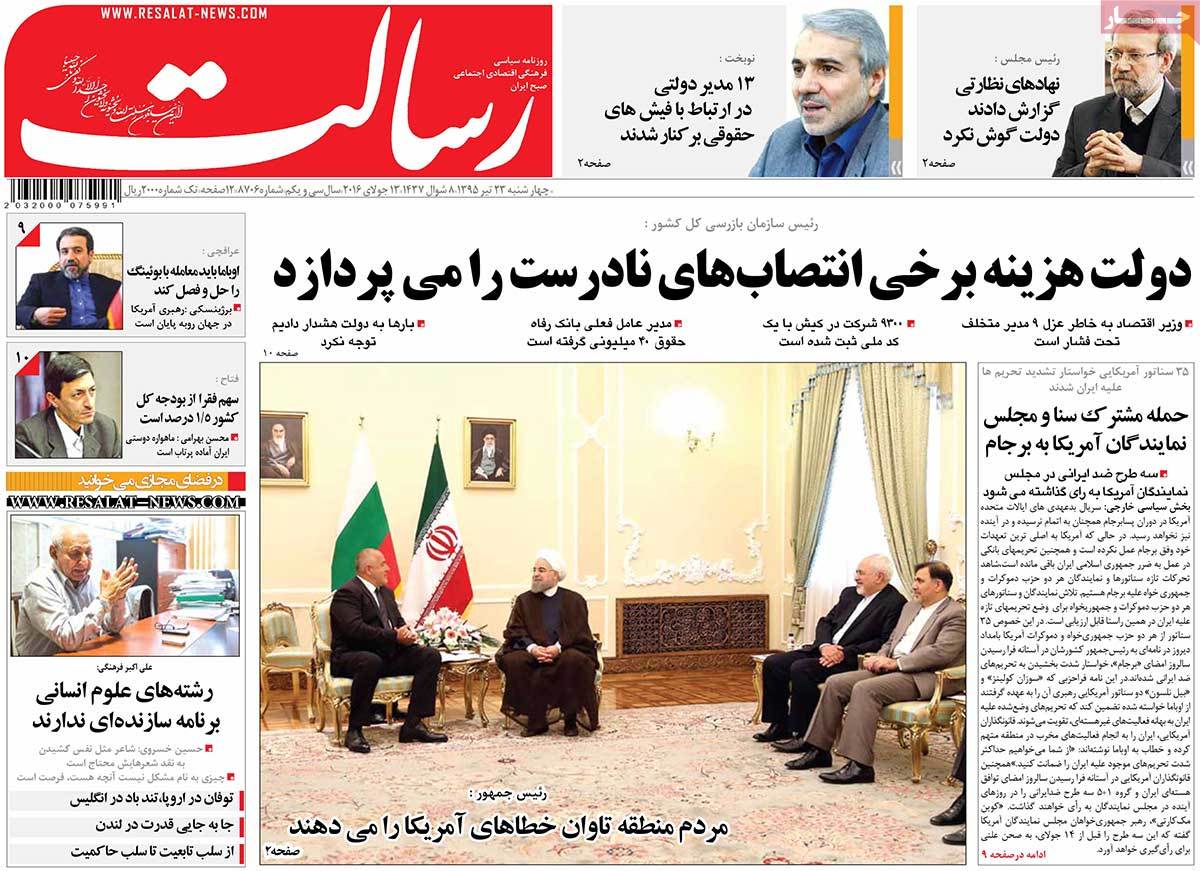 ---
Shargh:
1- Prosecutor General Dismisses Role of His Office in Sending Threatening Messages to Journalists
2- Strange Accusation against Rouhani's Brother: Hardline MP Accuses Fereydoun of Imitating Rouhani's Voice
3- Sanders and Clinton Join Hands to Defeat Trump
---
Vaghaye Ettefaghieh:
1- Those Who Attacked Iranian MP in Western Iran Were Foreigners
2- Growing Increase in Number of Critics of Medical Community
3- Parliament's Reformist Faction Is Opposed to Impeachment of Labour Minister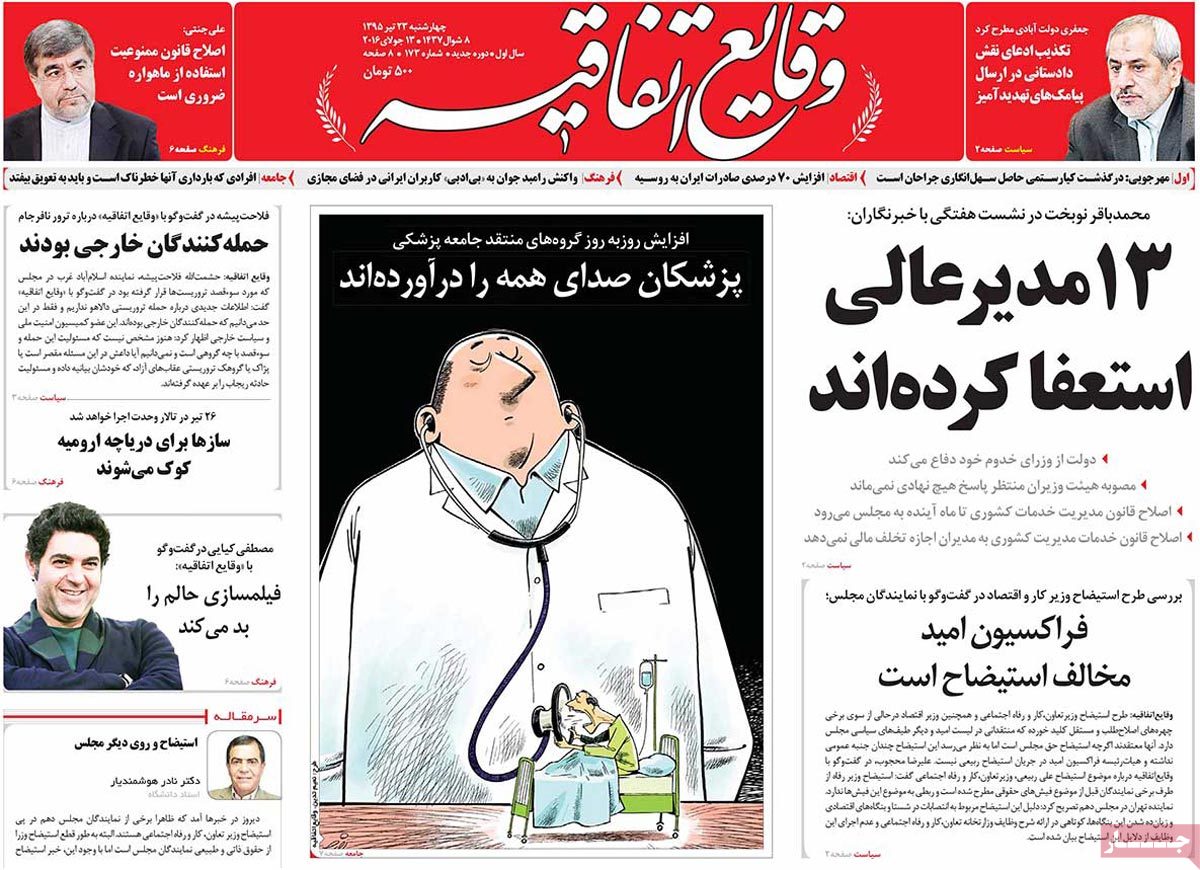 ---
Vatan-e Emrooz:
1- We Warned the Government against Huge Salaries, They Didn't Pay Attention: Official
2- US Congress to Impose 3 New Sanctions against Iran
3- Astronomical Salaries Didn't Need Such a Fuss: Minister