Newspapers on Tuesday covered the remarks by Judiciary Chief Ayatollah Sadeq Amoli Larijani, who criticized the US double-standard policies towards the issue of terrorism.
Ali Akbar Velayati, an advisor to the Leader of the Islamic Revolution, also slammed the West over the JCPOA implementation. The remarks were widely covered by Iran's papers.
Another top story was the election of Theresa May as the British Prime Minister. The female politician was compared with Margaret Thatcher in several front pages today.
The above issues and many more are covered in the following headlines:
Abrar:
1- Important Decision Made by Supreme Court: Alternative Punishments Instead of Incarceration
2- First VP Highlights Serious Will for Development of Iran-Bulgaria
3- Boeing Executive Warns US Congress against Sabotaging Deal with Iran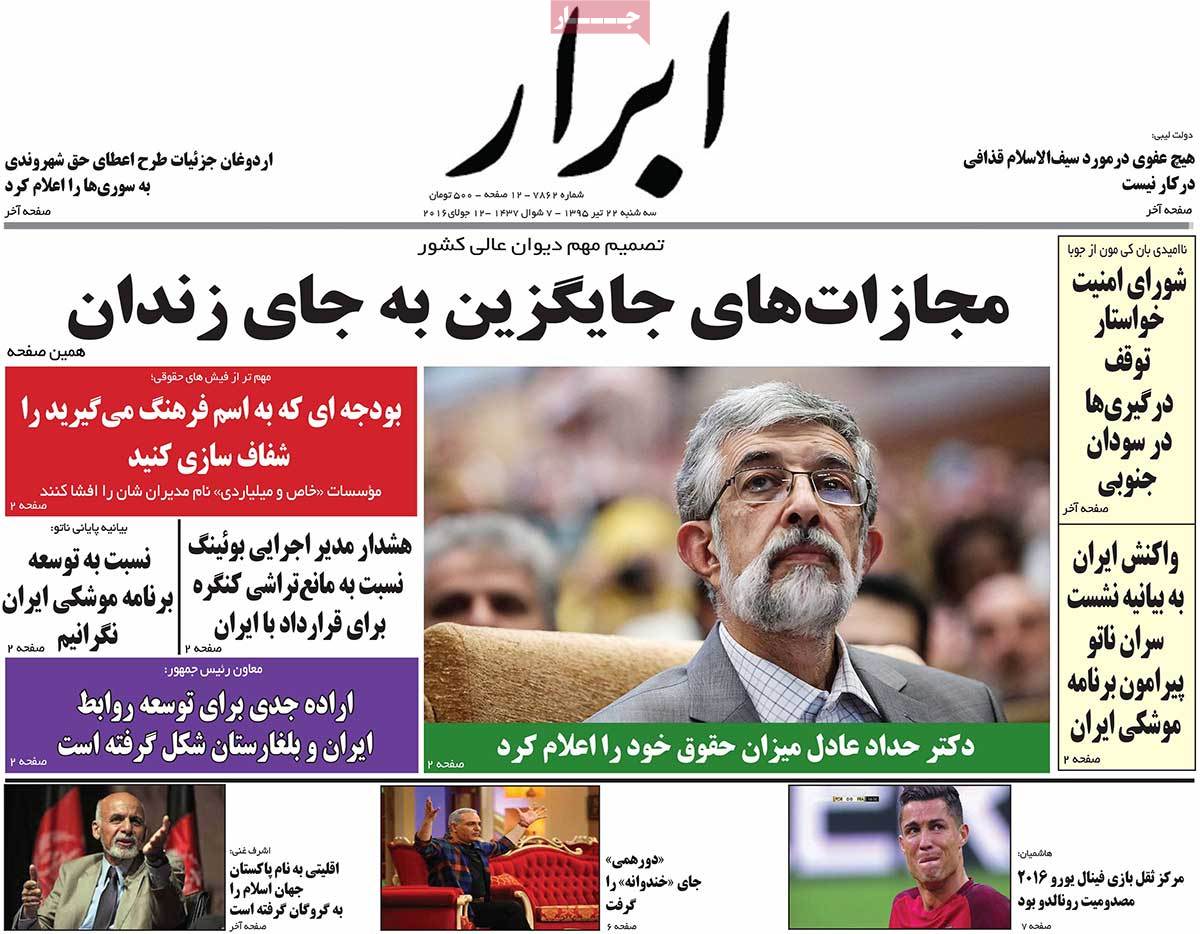 ---
Abrar-e Eqtesadi:
1- Iran and Bulgaria in Talks for Creating Gas Hub
2- Home Appliances Can Only Be Imported by Official Representatives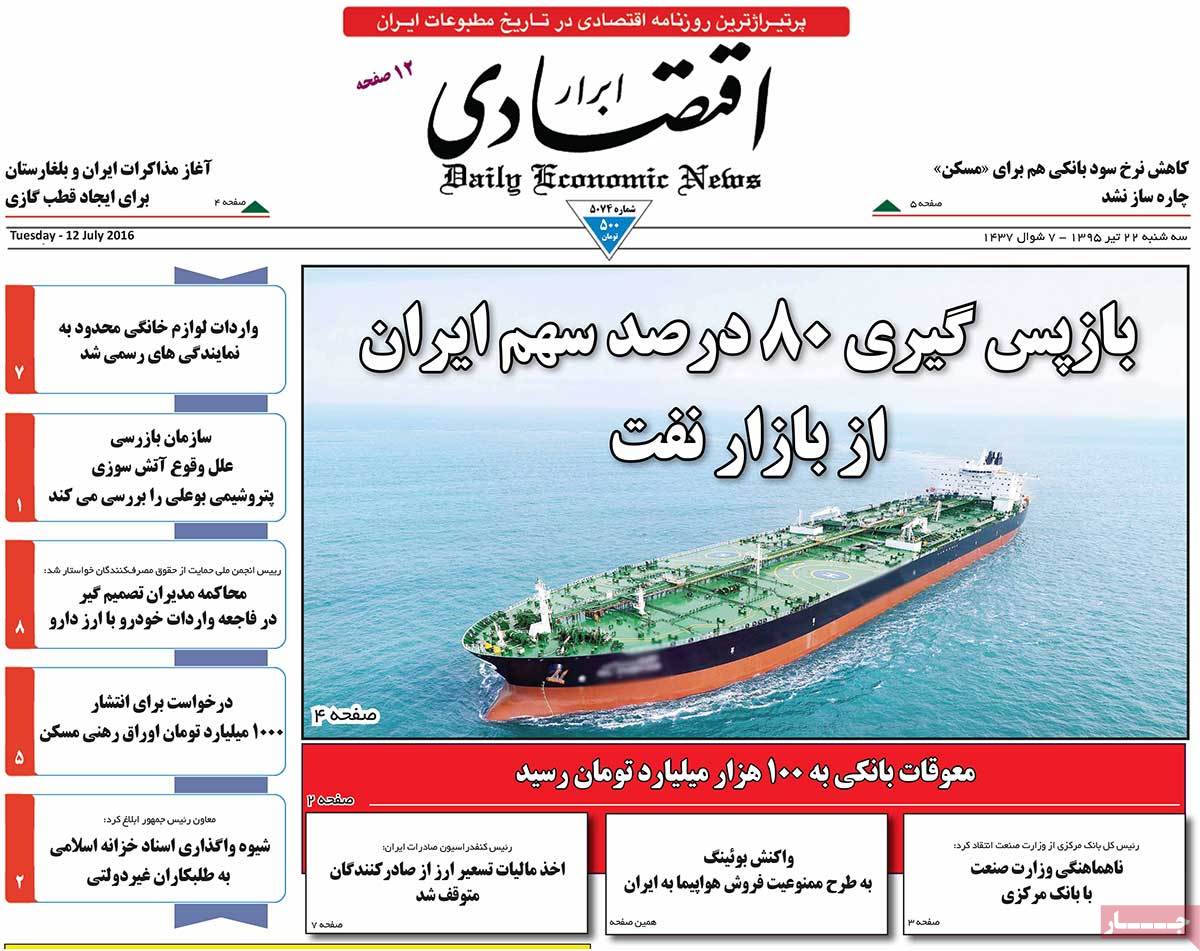 ---
Afkar:
1- Licence for Import of US-Made Chevrolet to Iran Revoked
2- First New Oil Contract to Be Signed in 3 Months: Deputy Minister
3- President Rouhani Underlines Need for Protecting Historical Manuscripts
4- First VP: We Should Support Legitimate Governments Engaged in Fight against Terrorism
---
Aftab-e Yazd:
1- 13-Year-Old Teenager Hangs Himself in Tehran
2- Venezuelan People Flee to Columbia to Buy Food
3- Leader's Advisor Velayati Harshly Criticizes the US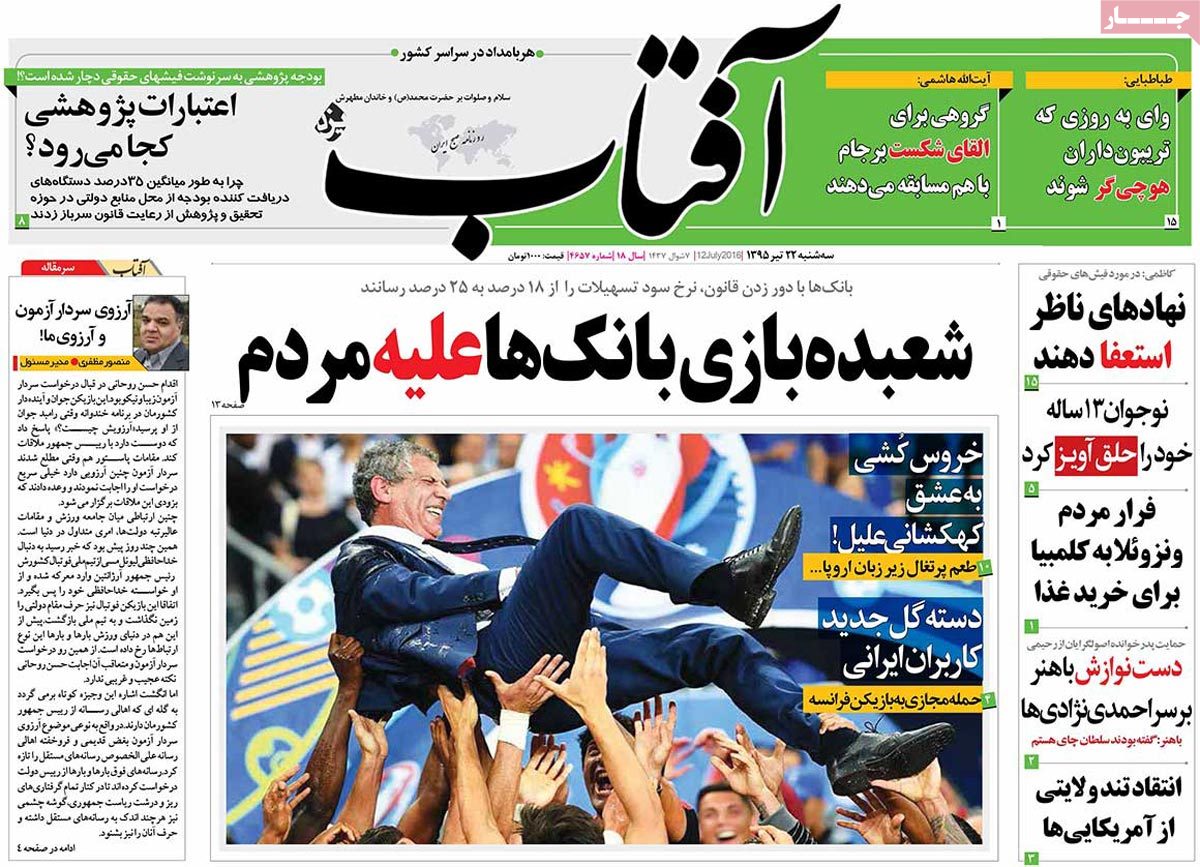 ---
Arman-e Emrooz:
1- Friday Prayers Imams Voice Their Support President Rouhani's Performance
2- Masoud Rajavi Had Been Killed Many Years Ago: President's Advisor
3- People Can File Lawsuit against Ahmadinejad
4- Cleric Urges Rouhani to Bravely Declare Names of Corrupt Officials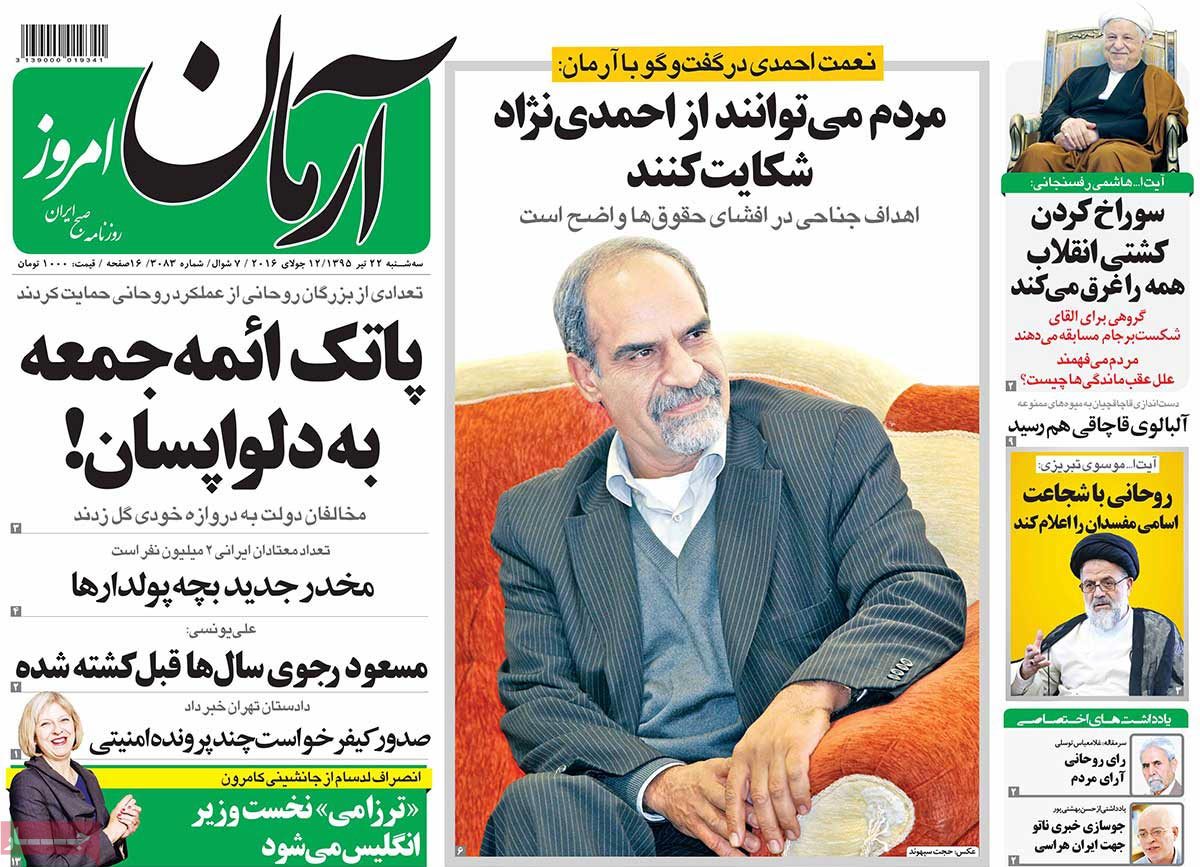 ---
Bani Film:
1- Netflix Buys Iranian TV Series "Aspirin"
2- Iranian Actor Behnam Tashakkor Rejects Qataris' Offer to Play in an Anti-Iran TV Series
---
Ebtekar:
1- Americans Show Double-Standard Behaviour towards Terrorism: Judiciary Chief
2- Weakening the Government Leads to Weakening the Establishment: Rafsanjani
3- Zarif Visiting Astana to Reclaim Iran's Lost Rights in Northern Waters [Caspian Sea]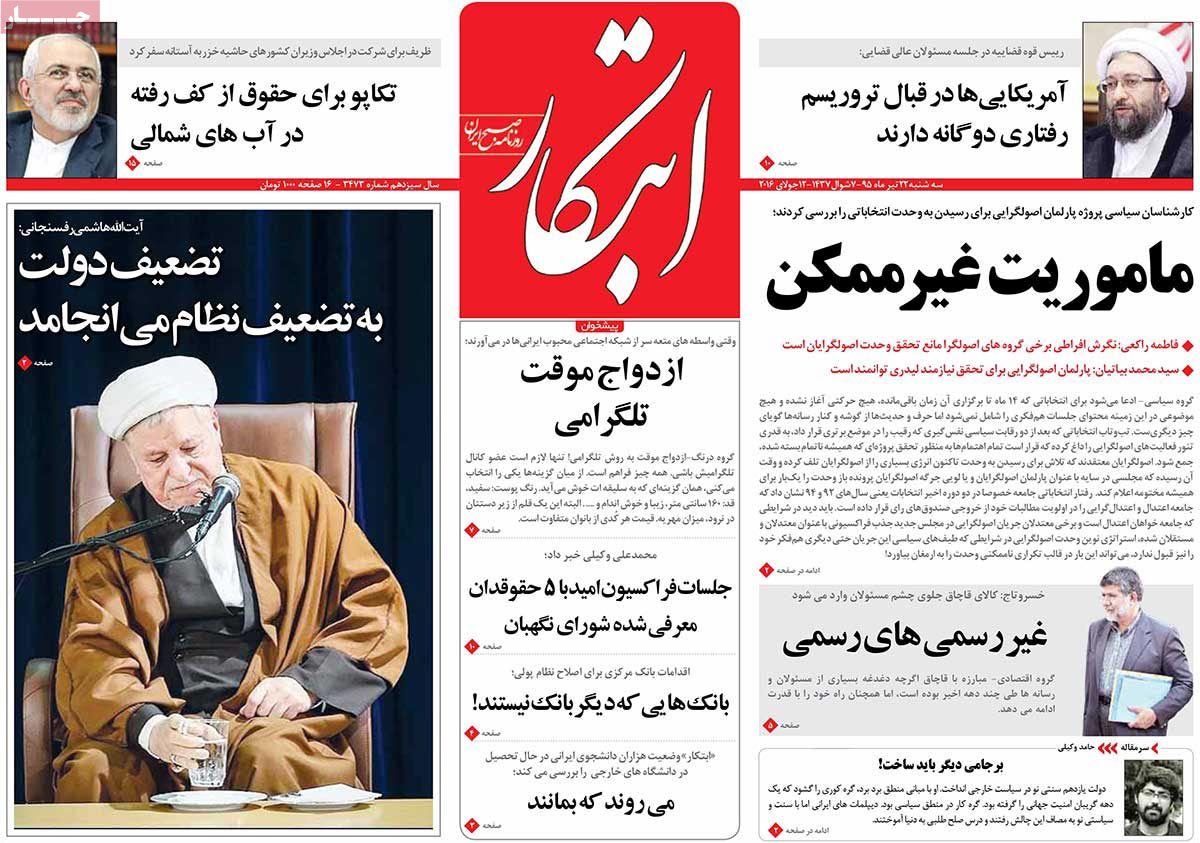 ---
Emtiaz:
1- Decrease in Marriage and Increase in Divorce in Iran
2- Tehran Prosecutor General Ready to Prosecute Those Who Received Astronomical Salaries
3- Extension in Time of Visas Issued in Airport
4- Shocking Warnings over Water Shortage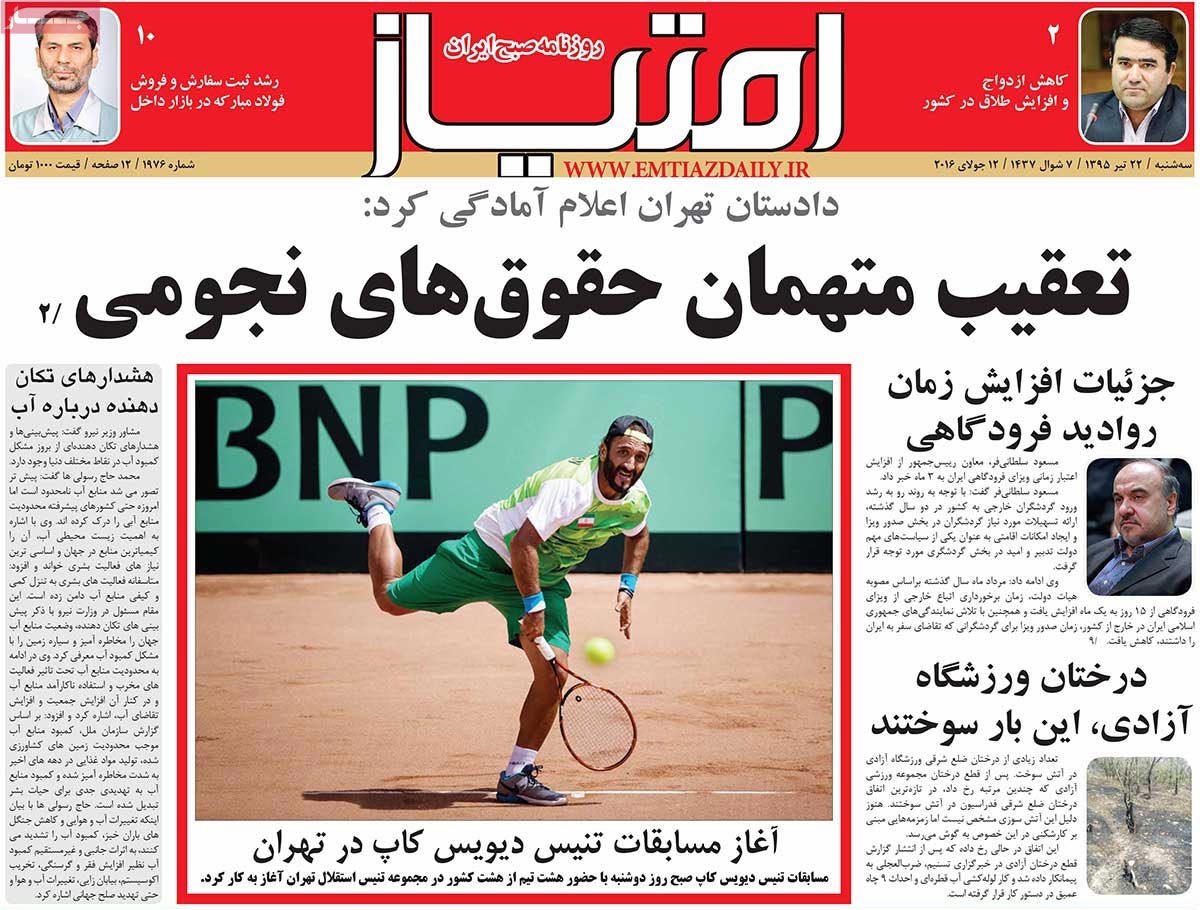 ---
Etemad:
1- Tenth Parliament to Impeach Labour Minister as Its First Impeachment
2- Senior Conservative Bahonar: We Have Conditions for Supporting Rouhani [in next year's presidential elections]
3- In Time of Sanctions, We Bought Plane Parts 200 Times More Expensive: Iran Air Chief
4- Repetition of Thatcher, This Time with Theresa May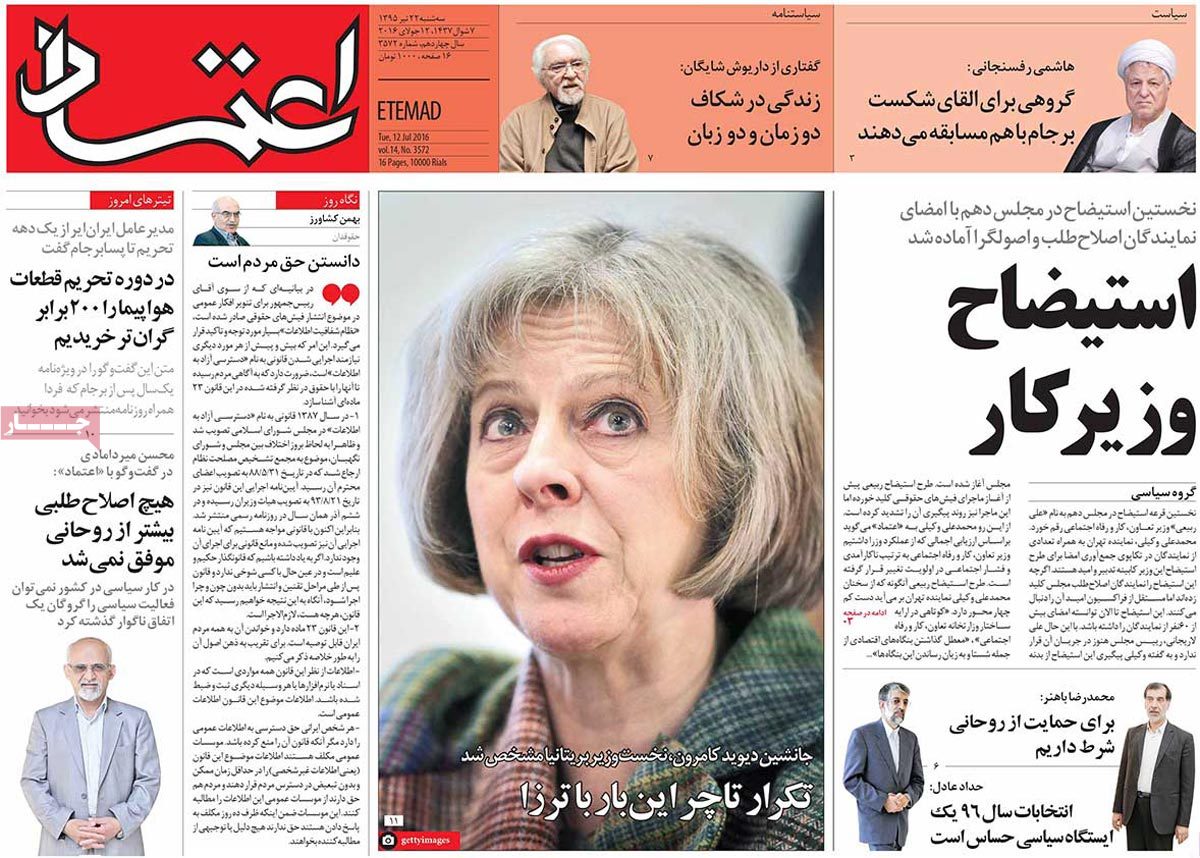 ---
Ettela'at:
1- Iran's Missile Program Has Nothing to Do with JCPOA and Nuclear Talks: Iran's Reaction to NATO Statement
2- Lebanon Officially Asks for Russia's Military Aid
3- Iran to Stand by Iraqi People and Gov't: Rouhani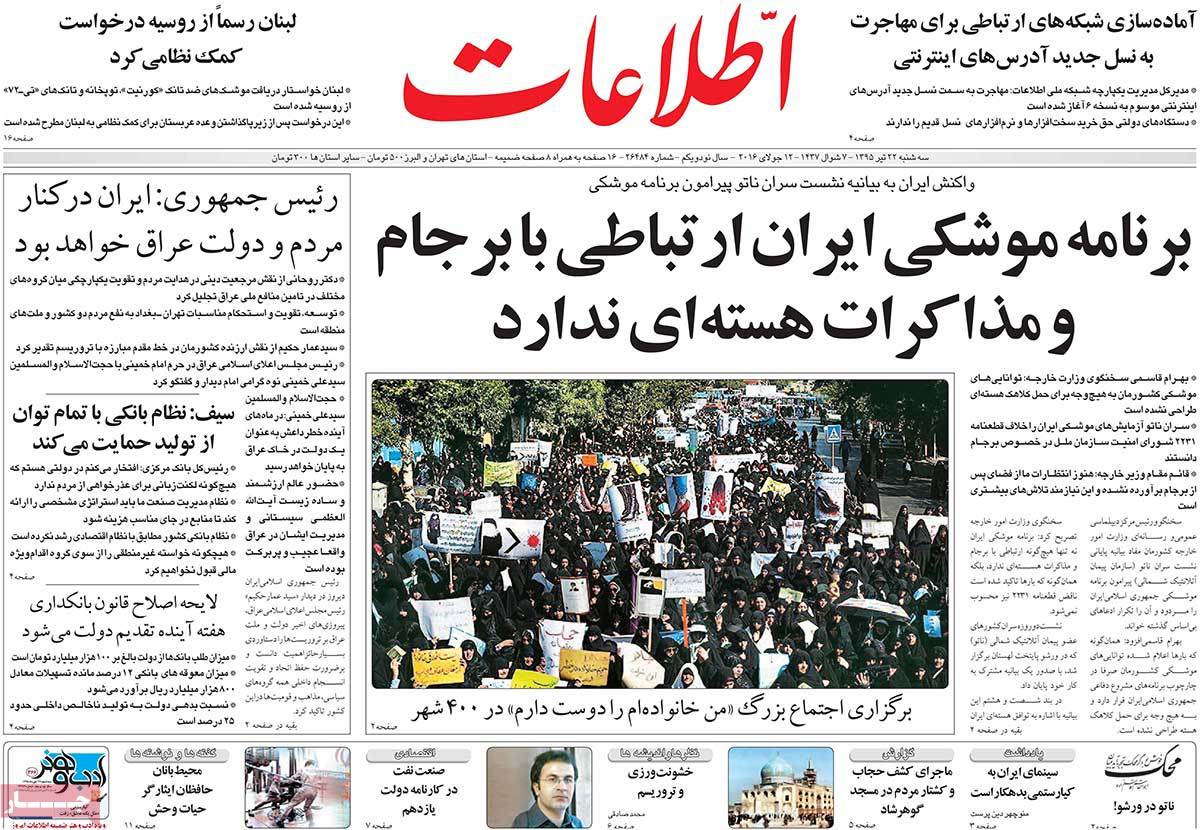 ---
Farhikhtegan:
1- MP Reveals US Message for Exchange of Iranian Diplomats Kidnapped in Lebanon
2- Does Rouhani Need the Support of Conservatives?
---
Haft-e Sobh:
1- How Much Fire! Several Fire Accidents in a Few Days: Tehran's Shahran, Mahshahr Petchem Complex, Residential Tower in Bandar Anzali, Salman Commercial Tower in Mashhad
2- Boeing Calls for Restricting Airbus from Deal with Iran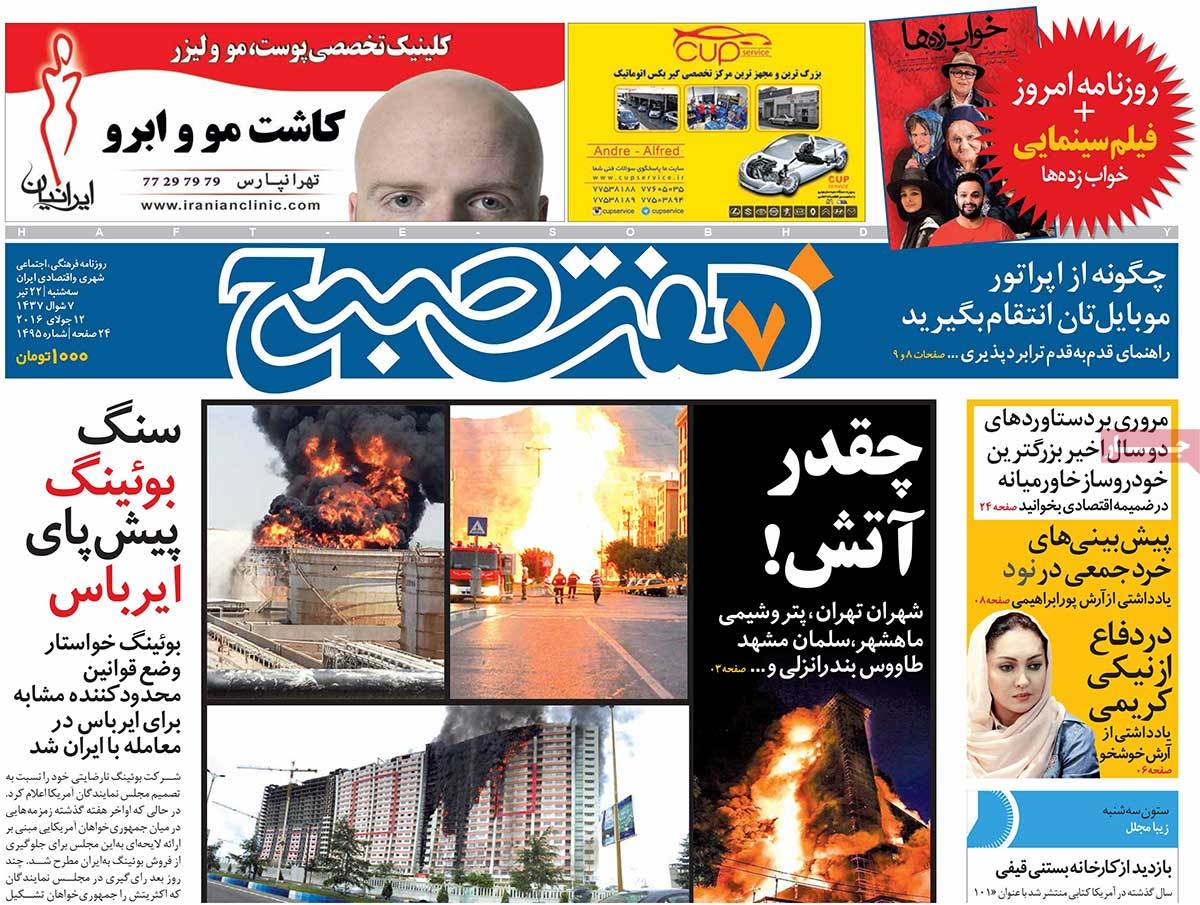 ---
Hamshahri:
1- Short-Term Incarceration Prohibited: Alternative Sentences Should Be Issued
2- Gathering of Iran's Enemies in Paris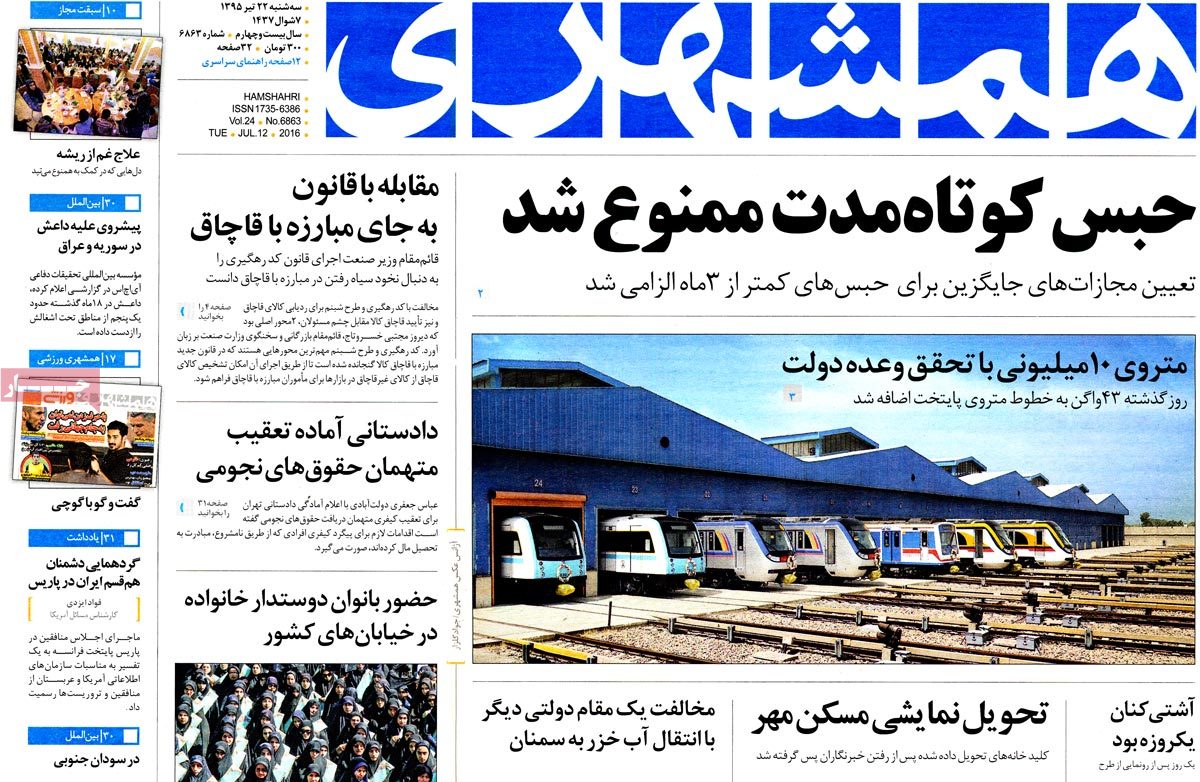 ---
Iran:
1- Iran Protests at Ban's Report
2- Iran Khodro Company's New International Collaborations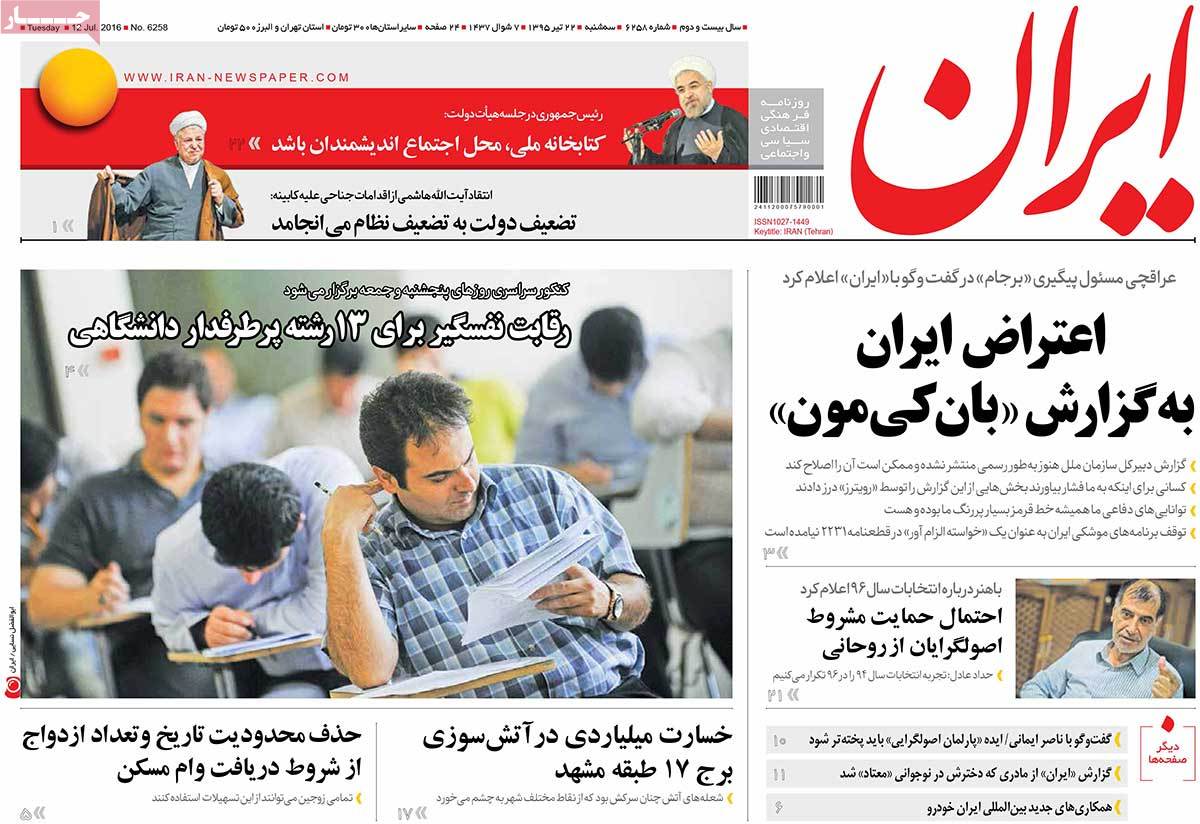 ---
Jame Jam:
1- US Community on Verge of Racial Bipolarization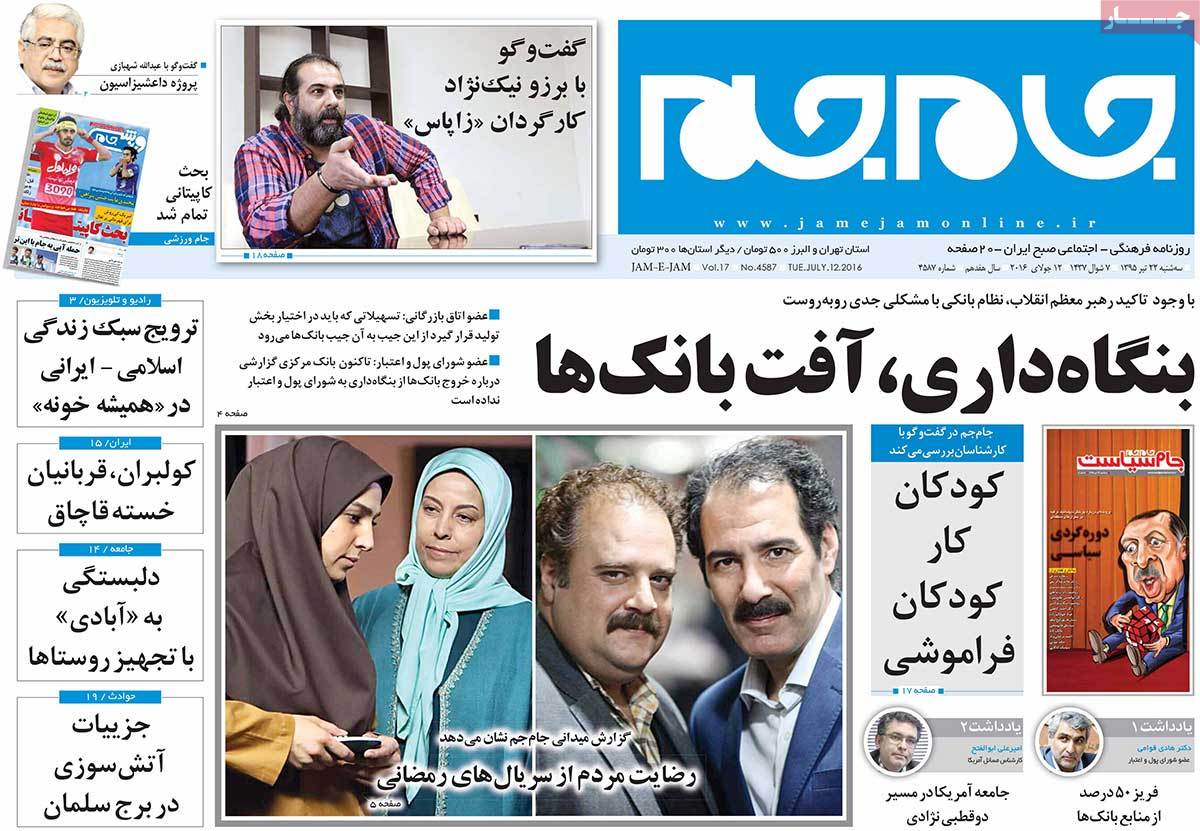 ---
Javan:
1- $2bn for "American Conquest" of Mosul: Carter, in Baghdad, Talks of American Advisors' Participation in Operation to Retake ISIS-Held City
2- Some Have Fanned Flames of War in Region While Chanting Slogans for Democracy: Rouhani
3- Israel's Mediation between Erdoğan and Sisi
---
Jomhouri Eslami:
1- Iran Restores 80% of Its Oil Market Share
2- Saudi Regime Has Stabbed Palestinian Resistance in the Back: Jihadi Palestinian Groups
3- Iran and Bulgaria Sign 3 MoUs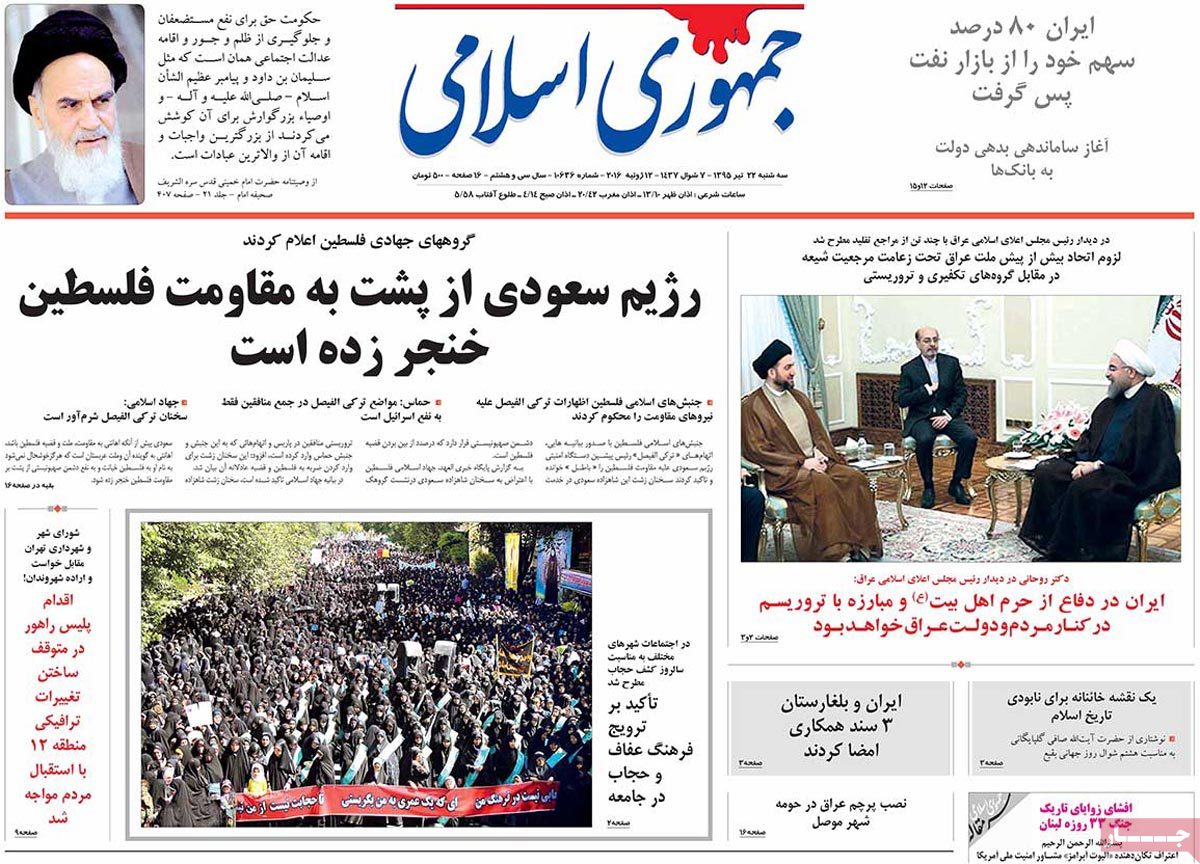 ---
Kayhan:
1- Severance of Ties with France and Expelling French Ambassador Is the Least Iran Should Do in Reaction to Paris's Support for Murderers of 17,000 Iranians [MKO]
2- After Being Defeated in Iraq and Syria, ISIS Is Ready to Enter European States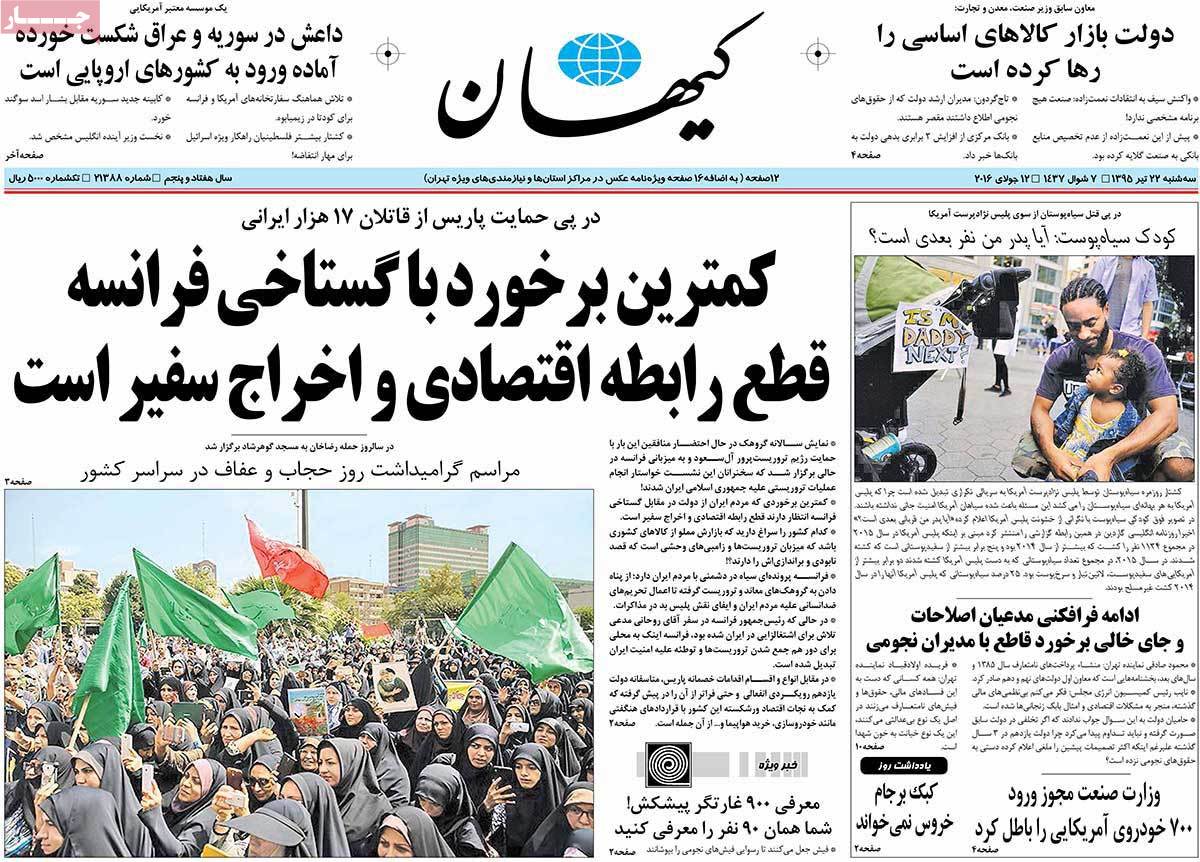 ---
Khorasan:
1- Velayati Strongly Slams Group 5+1 over JCPOA Implementation
2- Rallies and Demonstrations Held across Iran to Mark National Day of Hijab
3- It's Now Possible for Cell Phone Users to Change Their Operator without Changing Their Phone Number
4- Guardian Council and the Old Claim of Being Undemocratic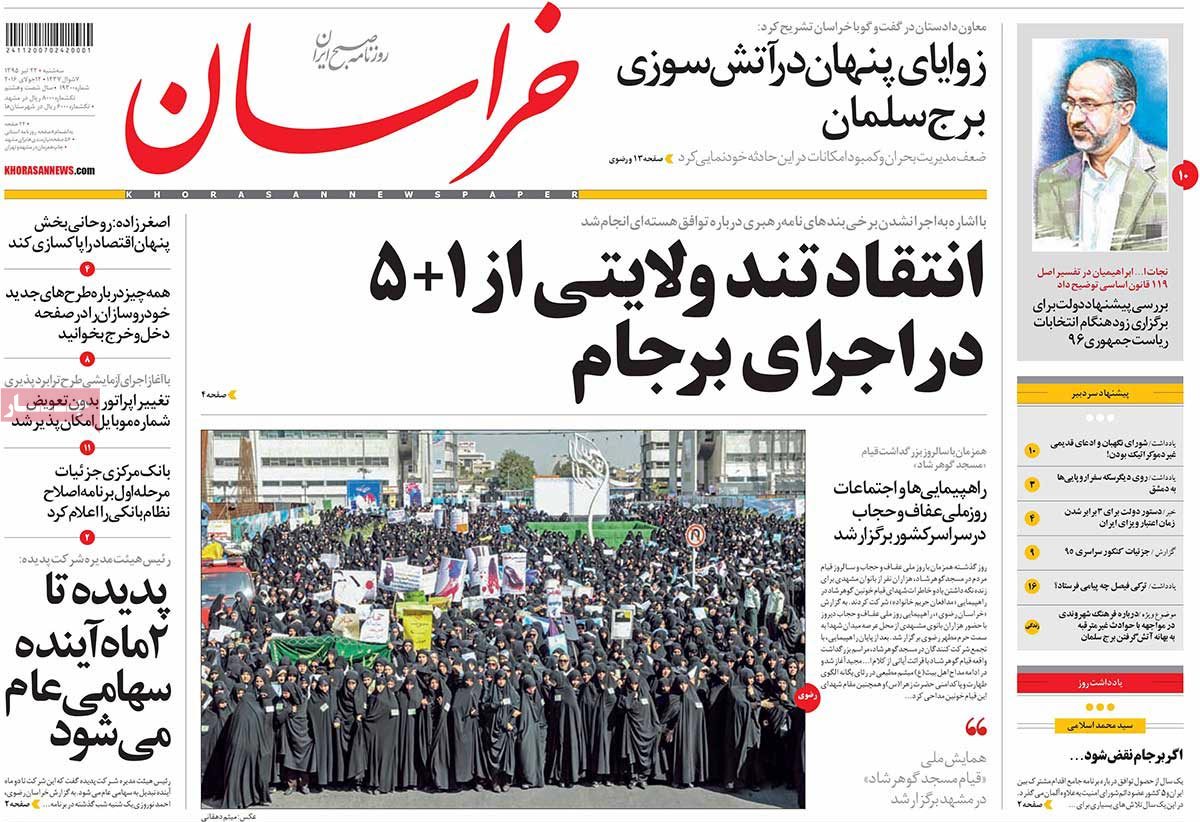 ---
Resalat:
1- Al Saud Should Be Expecting Consequences of Its Support for the MKO
2- Americans Have Never Been Our Friends: Judiciary Chief
3- There Are 2.5m Iranian Women Who Shoulder All Family Responsibilities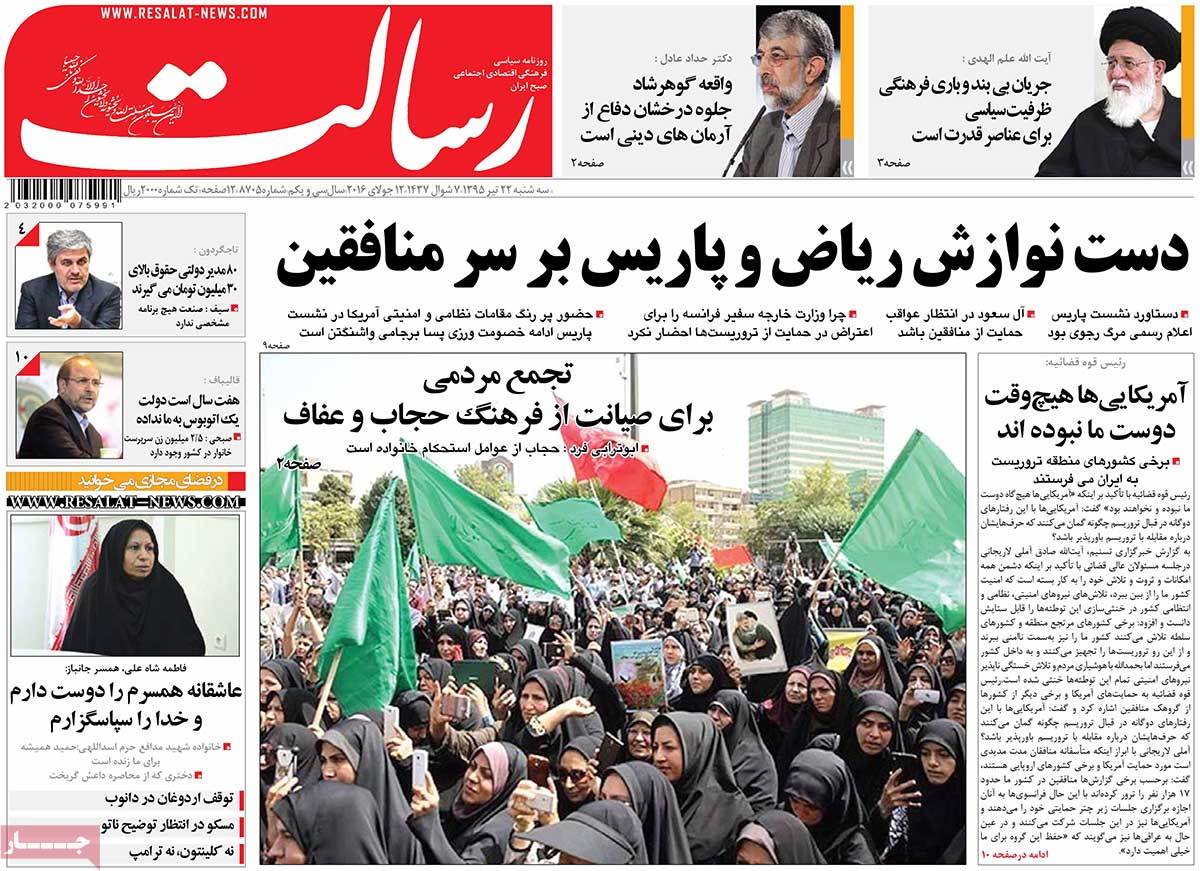 ---
Roozan:
1- Reformists Awaiting Results of Guardian Council Elections [in which a number of its legal experts are going to be replaced]
2- Iron Lady Number 2: Will Politics in Europe Become Female-Dominated?
3- Project to Transfer Caspian Sea's Water to Semnan Failed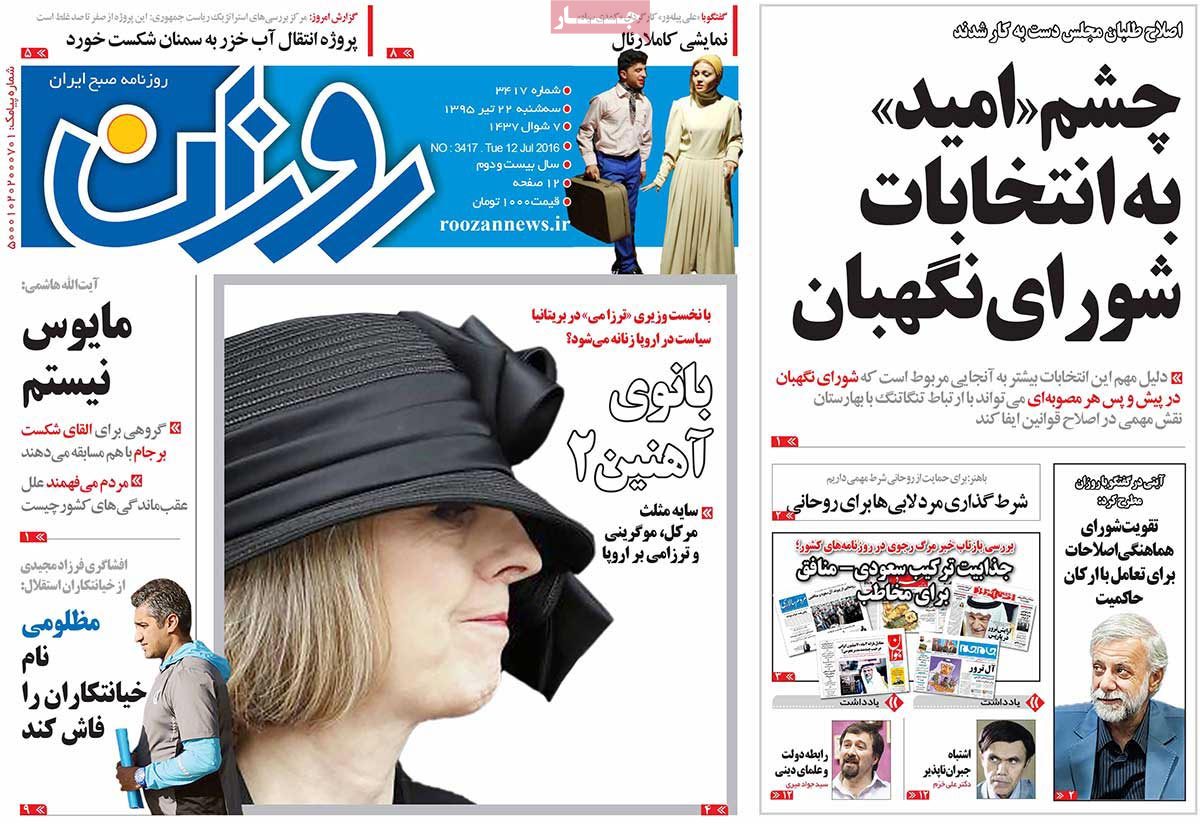 ---
Shahrvand:
1- Political Activists and Senior Clerics Acknowledge Honesty of Rouhani's Administration
2- Alternative Punishments Must Be Used for Prison Terms Less than 3 Months
3- Increasing Rate of Frustration among University Students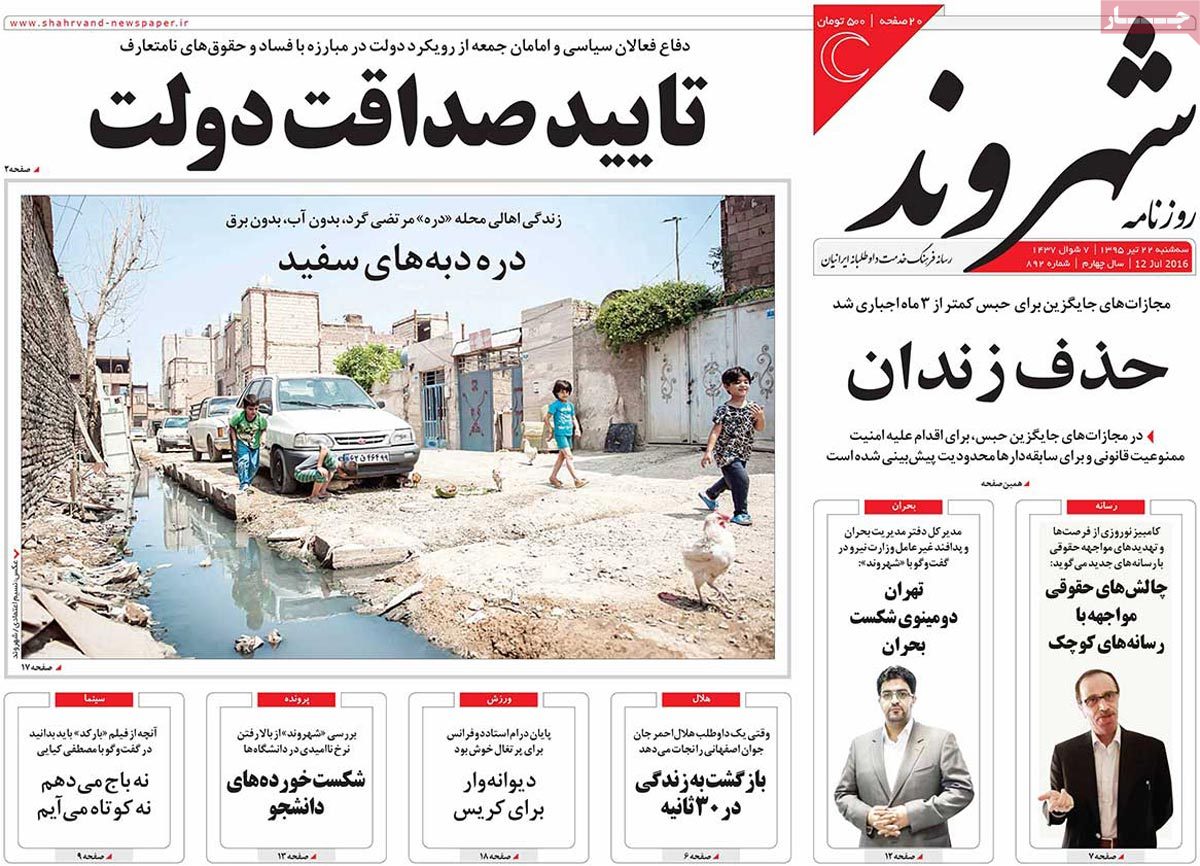 ---
Shargh:
1- Ayatollah Jannati's Colleagues: 3 Jurists of Guardian Council to Be Elected Today
2- Thatcher's Ghost in Number 10: May to Become 2nd Female PM of Britain
3- It's Politically Unethical to Say JCPOA Has Had No Benefit: Rafsanjani
4- Foreign Tourists Can Obtain 3-Month Visa in Airport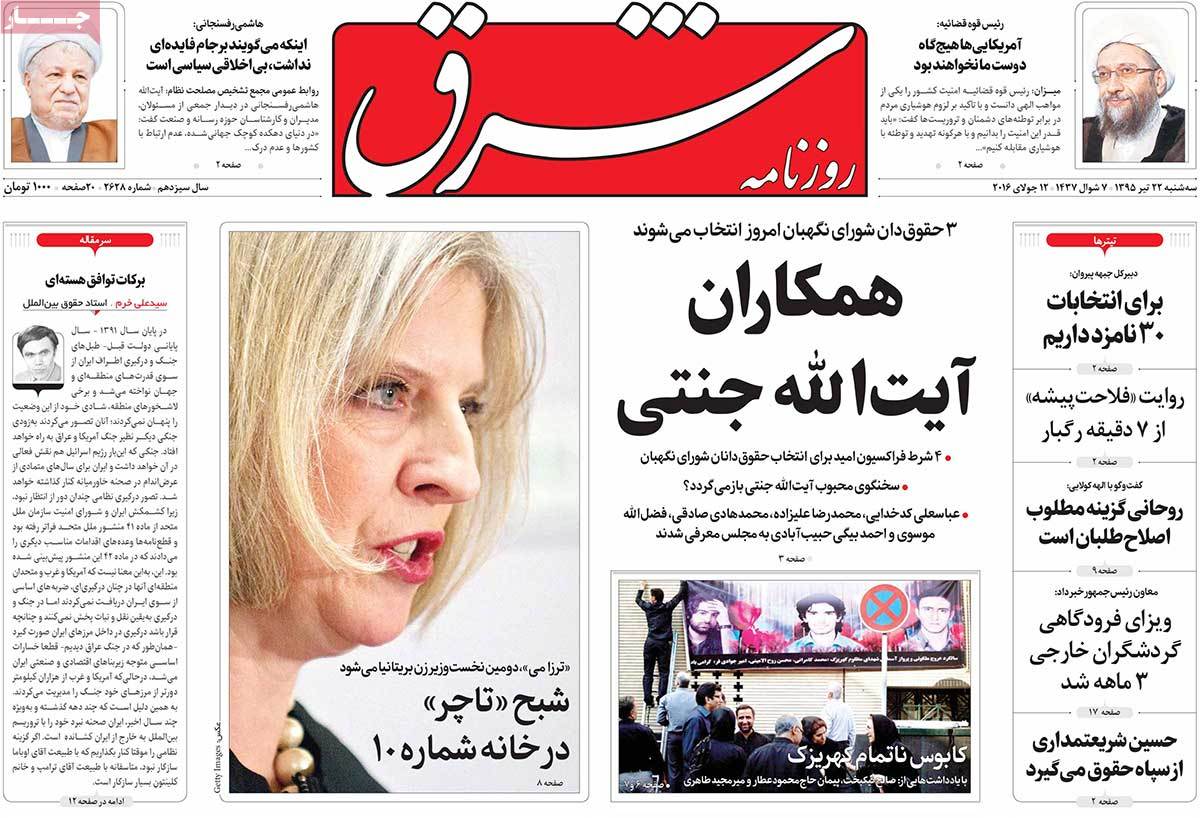 ---
Shorou:
1- Ketamine, the New Substance Emerging among Rich Kids in Iran
2- Major Steps to Reduce Energy Consumption during Summer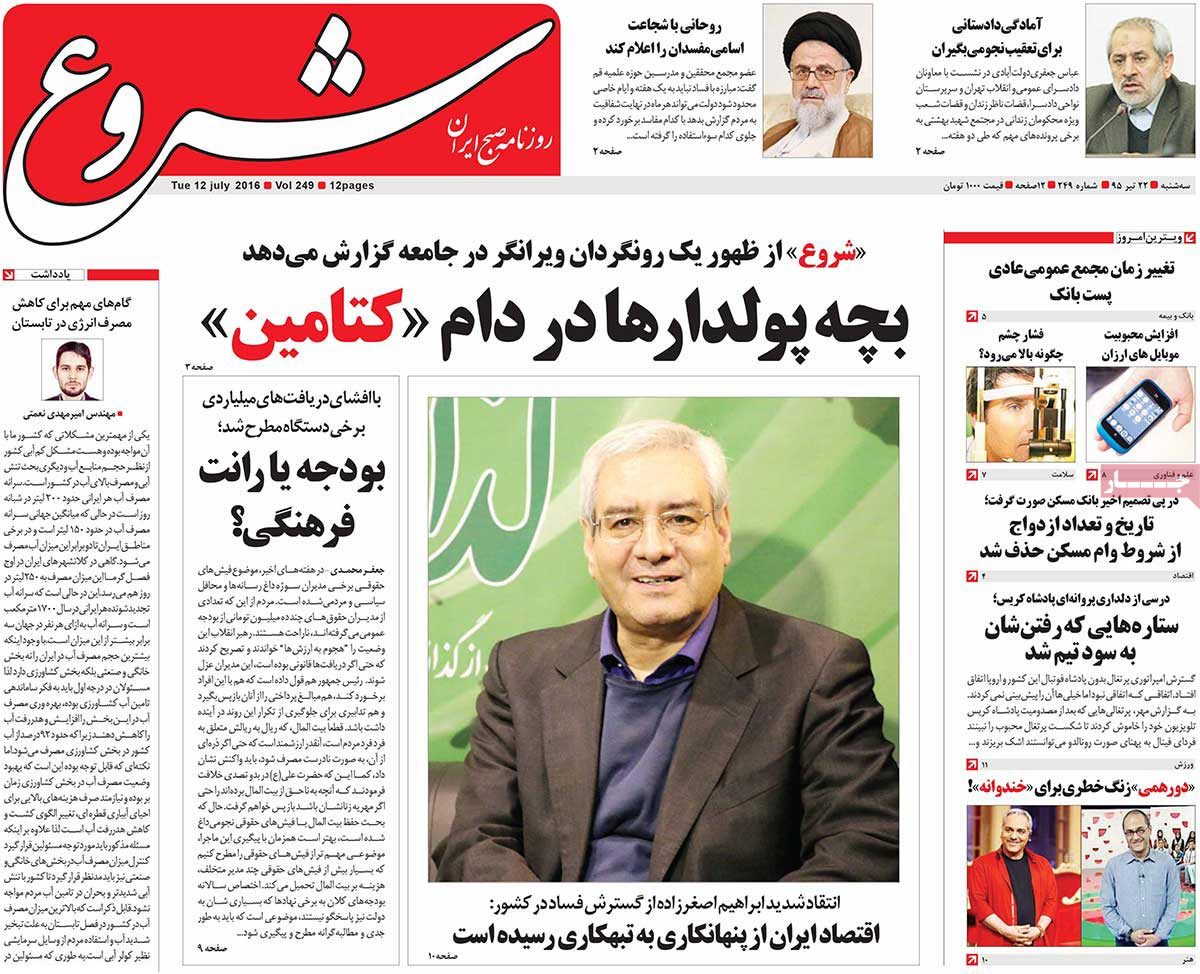 ---
Sobh-e Now:
1- Ayatollah Modarresi's Representative Arrested in Saudi Arabia
2- Egyptian FM Visits Tel Aviv after 9 Years: Arab Leaders' Dream of Compromise with Israel
---
Vaghaye Ettefaghieh:
1- Sunni Clerics Call for Declaration of ISIS as Apostates: Big Test for Al-Azhar
2- If We Get Angry, Nothing Would Remain from Saudi Arabia: General Rezaei
3- Competition for JCPOA Failure: Rafsanjani Criticizes Behaviours of Certain Groups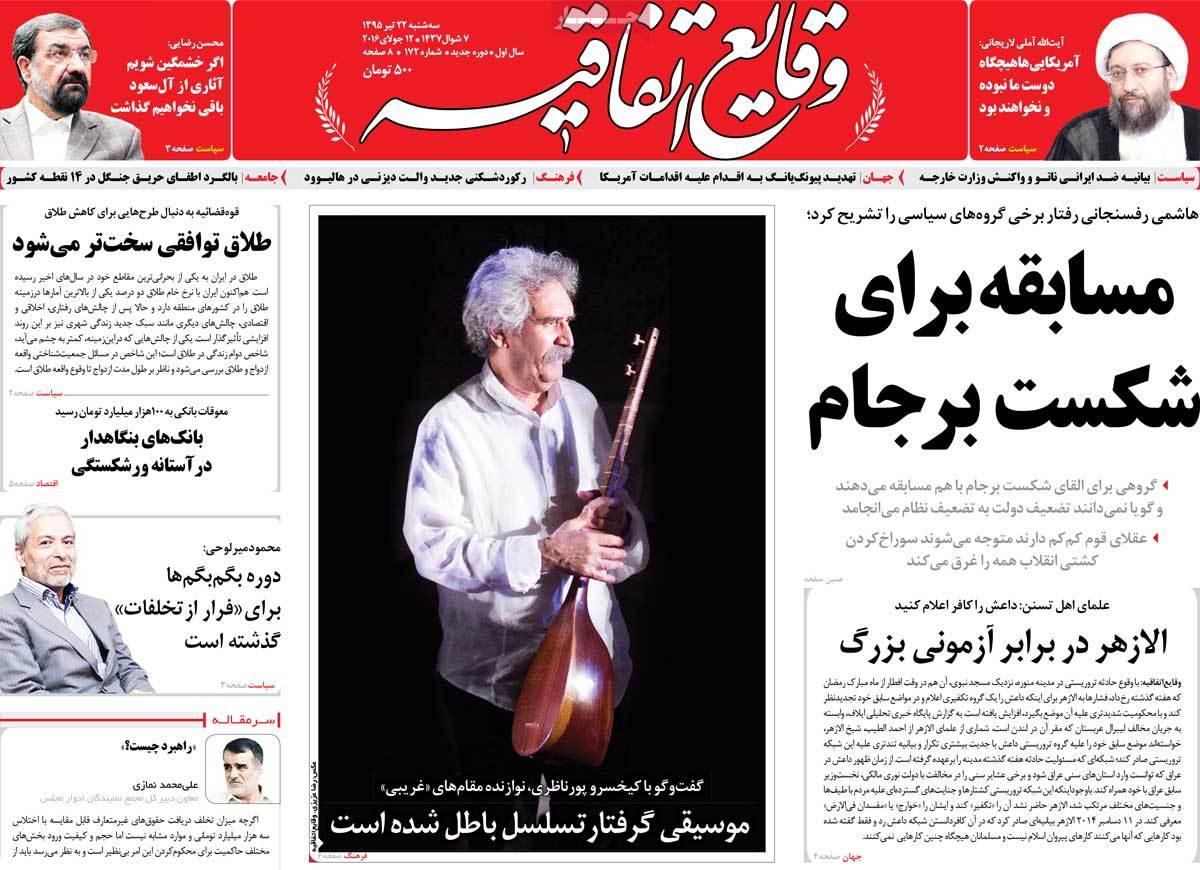 ---
Vatan-e Emrooz:
1- Saudi Arabian Officials Holding Secret Meetings with [Anti-Iran] Groups in Erbil: IRGC General Rezaei
2- Arab Reactionaries Want to Cause Insecurity in Iran: Judiciary Chief
3- Repercussions of FATF Are Very Dangerous: Ex-CBI Governor