Newspapers on Monday covered the glorious funeral ceremony held for the renowned filmmaker Abbas Kiarostami in Tehran.
Saudi Prince Turki al-Faisal's attendance and the speech he delivered in a meeting of MKO group in Paris also received great coverage. The reactions to his attendance and the criticisms against Saudi Arabia's support for such a terrorist group were highlighted in Iranian media.
The issue of astronomical salaries also remained a top story thanks to the recent apology of Economy Minister Ali Tayyebnia, and the promises for further transparency.
President Hassan Rouhani's communication of a law for reforming the country's banking system was also covered by newspapers.
The above issues as well as many more are highlighted in the following headlines:
Abrar:
1- Egyptian Army Kills ISIS Commander in Sinai
2- Gaza Siege Will End Soon Thanks to Efforts by Qatar and Turkey: Hamas
---
Aftab-e Yazd:
1- Leader Appreciates Selfless Fire-Fighters and Executives in Bou Ali Petchem Complex Case
2- Zarif Should Mediate between Salehi [nuclear chief] and President Rouhani: Zibakalam
3- Fourth Apology: Ministers of Economy and Judiciary Apologize for Issue of Astronomical Salaries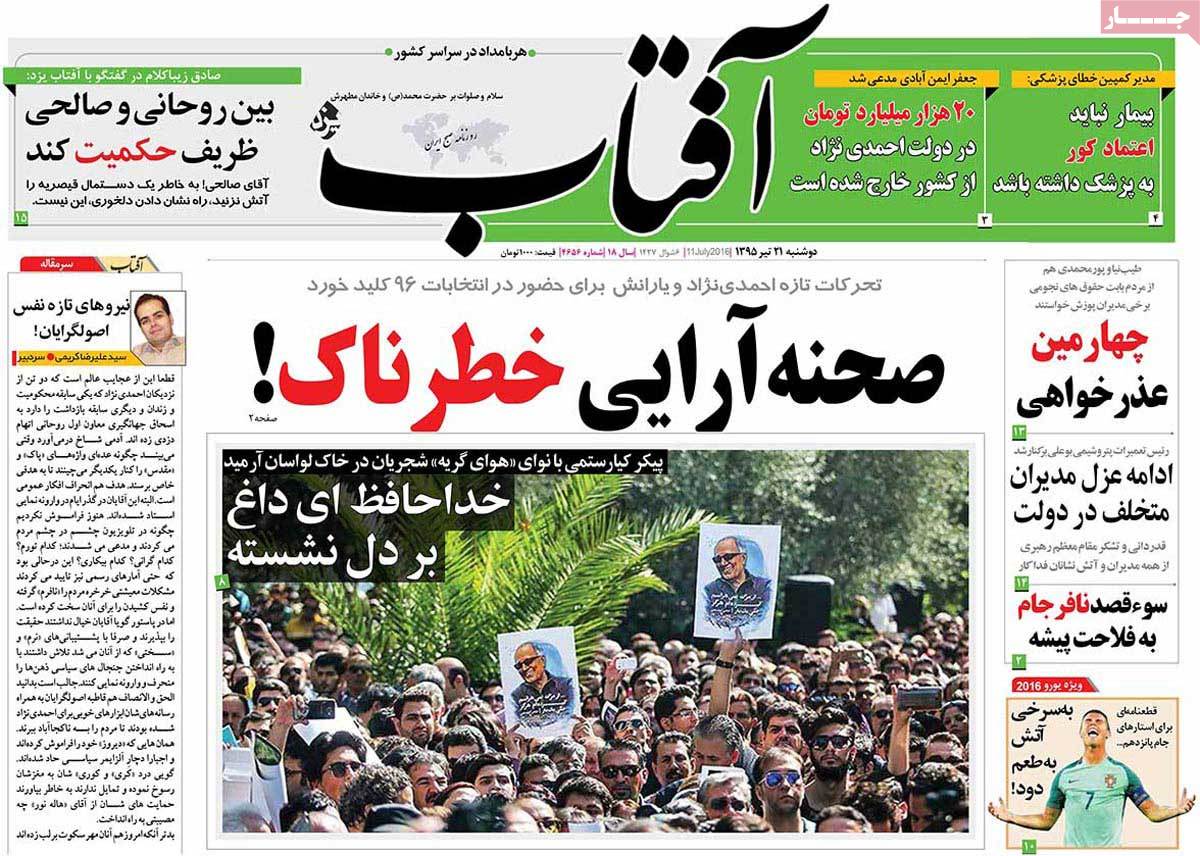 ---
Arman-e Emrooz:
1- Kiarostami Escorted to His 'Eternal Home': Glorious Funeral Ceremony for Acclaimed Filmmaker
2- Details of Terrorist Attack on Iranian MP: Falahatpisheh and Local Governor Were Wounded, 2 Others Were Killed
3- Saudi Prince Reveals Death of MKO Leader Rajavi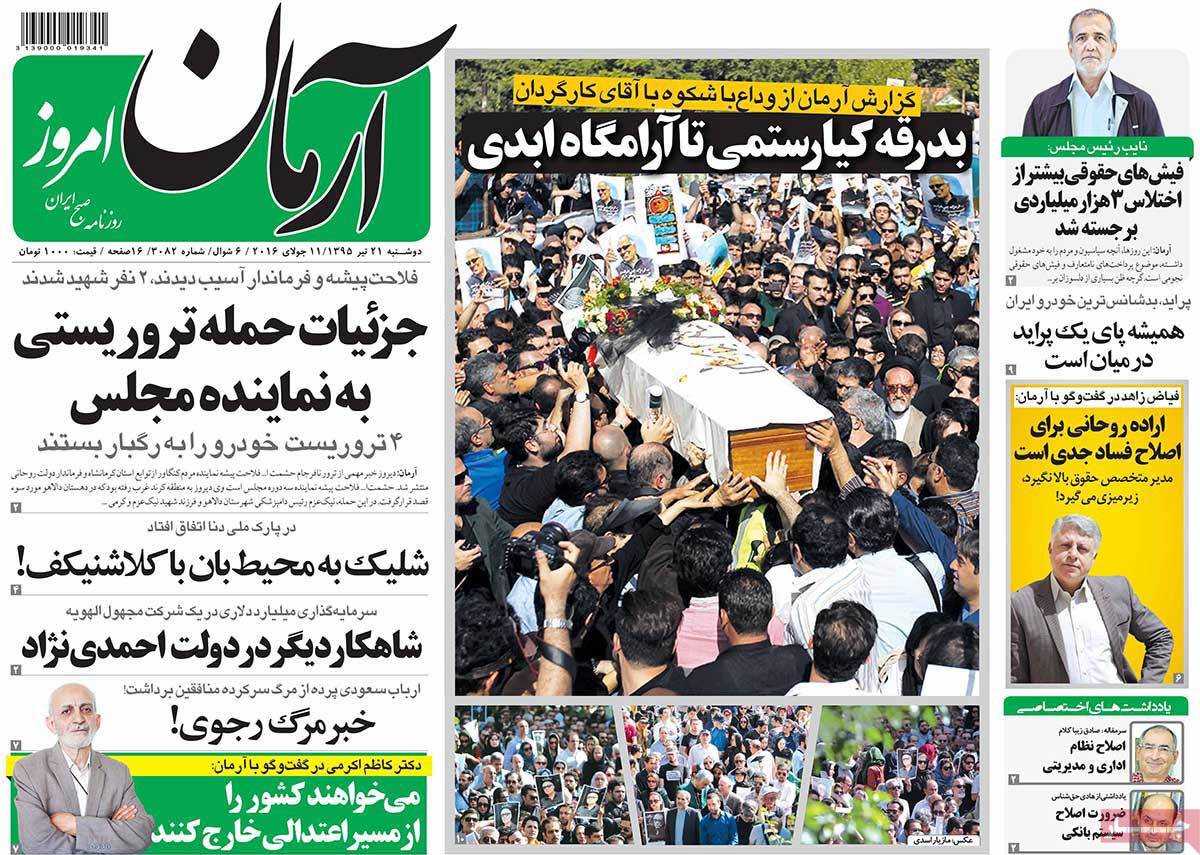 ---
Emtiaz:
1- Heart Attack Is the First Cause of Death among Iranians: Deputy Health Minister
2- A Few Steps Left to Int'l Registration of Iranian Aqueducts and Lut Desert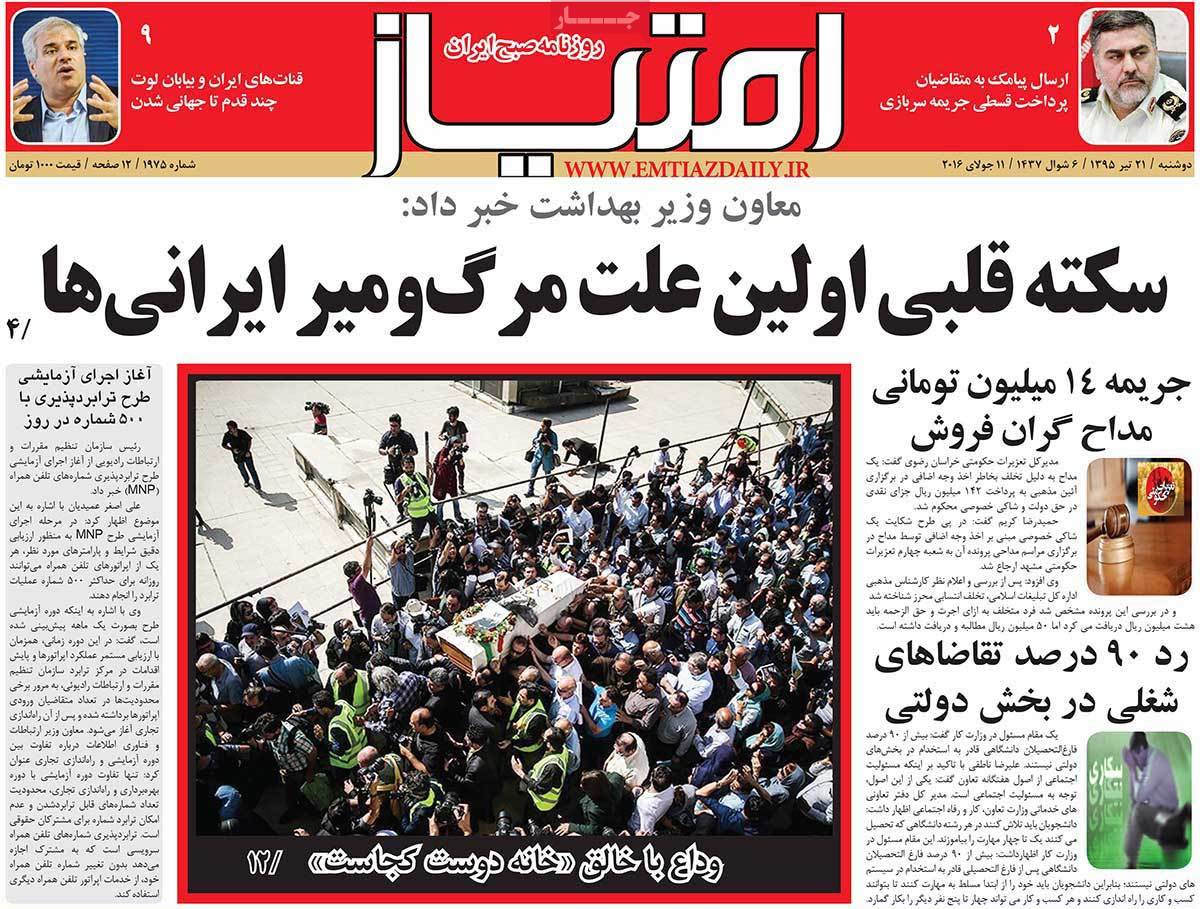 ---
Etemad:
1- 1 Trouble Every 4 Days! A Report on 80 Accidents and Troubles in Rouhani's Administration in Past 1 Year
2- People Were Disturbed [by issue of huge salaries], I Apologize: Economy Minister
3- There Is a Project to Make Iran Insecure, and We Should Take It Seriously [Editorial]
4- Huge Fire in a Commercial Tower in Mashhad
5- Fifth Ranger Shot by Hunters: Troubles of a Ranger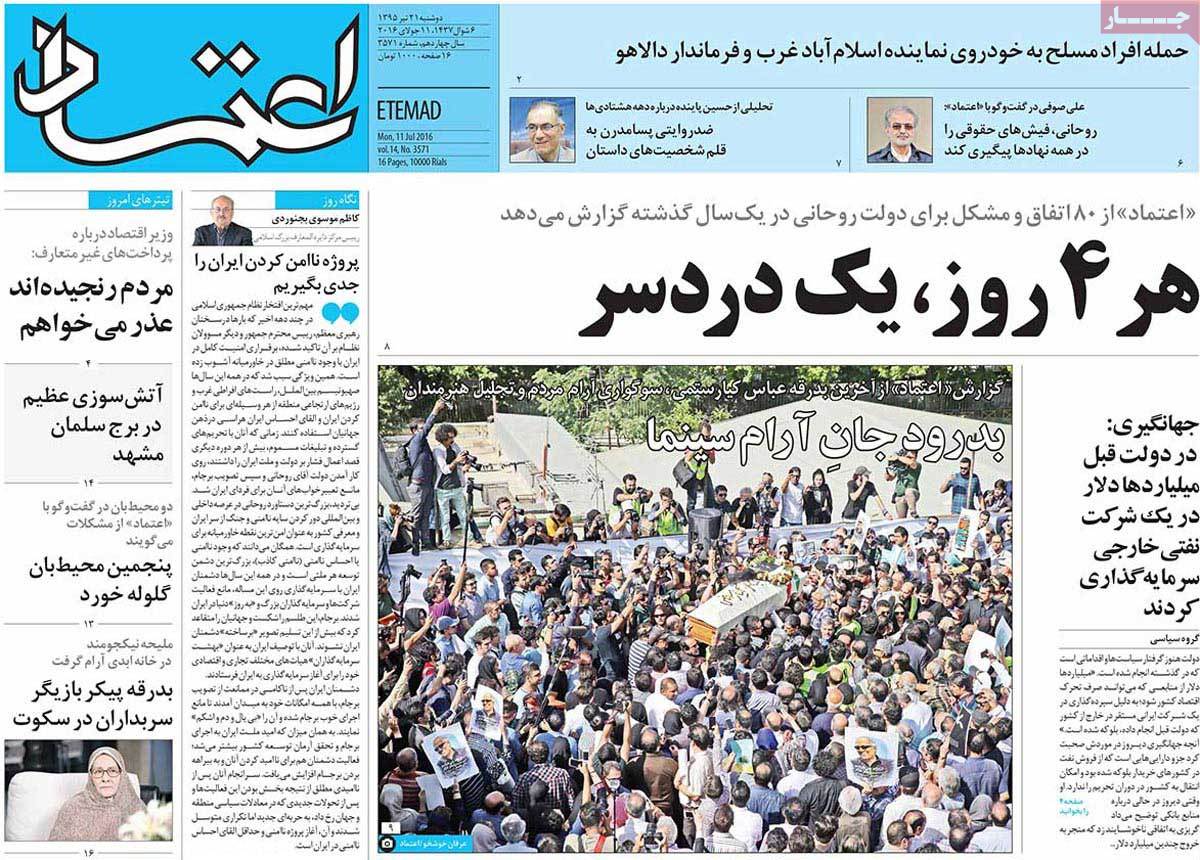 ---
Ettela'at:
1- Plan for Evolution of Banking System Is Beginning of Economic Mobility: President
2- ISIS Shoots Down Russian Chopper Using American Missiles
3- We'll Stand by Iraqi Nation and Gov't until Full Eradication of Terrorists: Zarif
4- President Rouhani Calls for Efforts to Protect Privacy of Cell Phone Users
5- 150 Killed in Armed Clashes in South Sudan
---
Farhikhtegan:
1- Glory of Grief: A Report on Abbas Kiarostami's Funeral Ceremony in Tehran
2- Traditional Conservatives Support President Rouhani [in next year's elections]
3- Rouhani's Manifest for Evolution of Banking System Unveiled in High Council of Economy
---
Iran:
1- Economic Boom Begins: Most Important Financial and Monetary Package Communicated by Rouhani
2- Parliament's Research Centre Studying New Models for Military Service
3- Why Iranian Social Media Are Not Popular
4- Less Than 3% of Unconventional Salaries Belong to Rouhani's Administration: Justice Minister
5- Multi-Billion-Dollar Offense of Previous Gov't in Foreign Deposits: First VP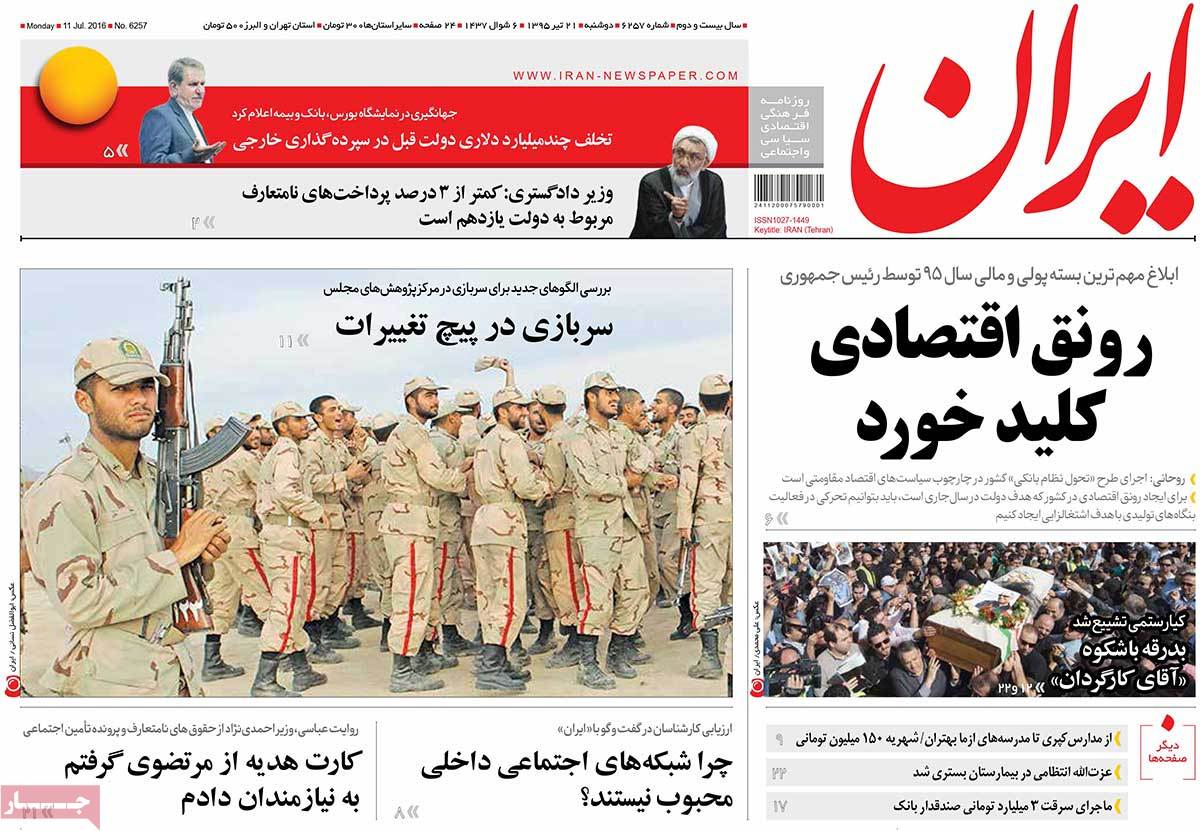 ---
Jame Jam:
1- Al Terror: Turki Faisal Starts New Phase of Support for Terrorism by Attending MKO Meeting
2- 33% Decrease in Crime Rate during Ramadan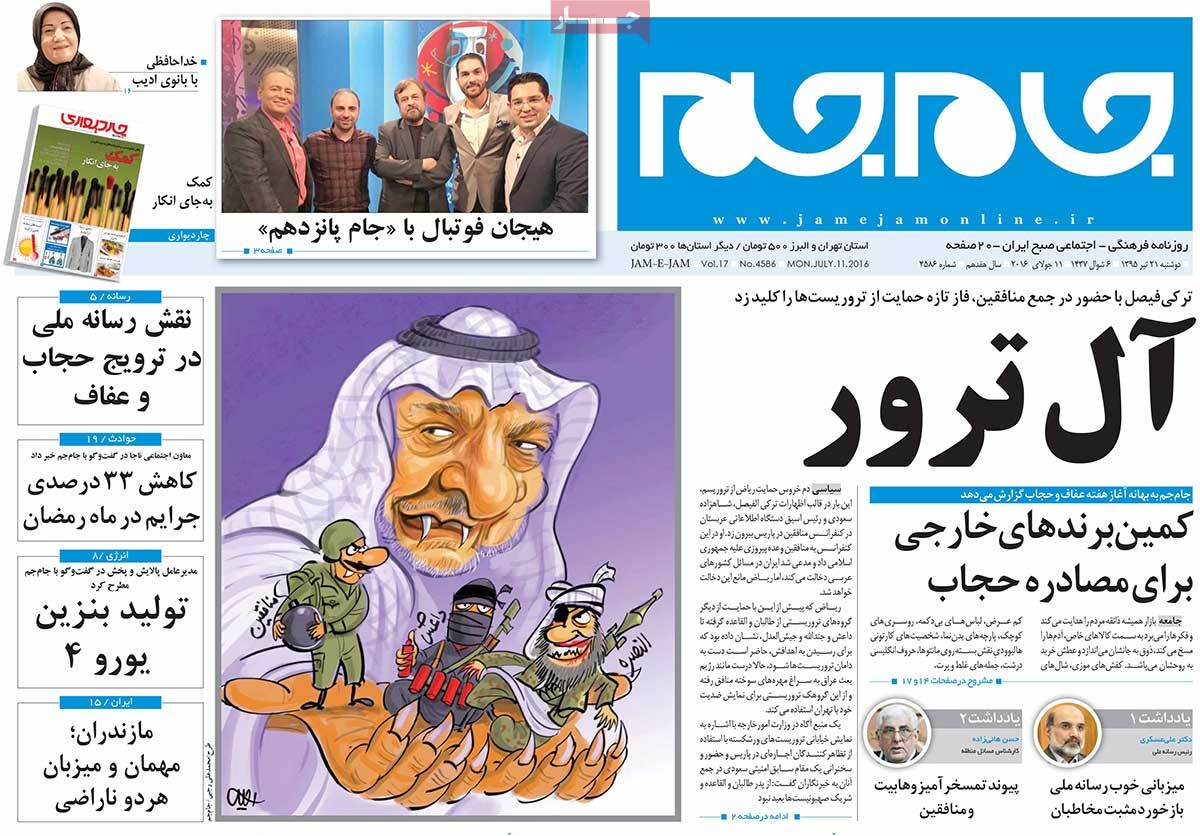 ---
Javan:
1- Saudi Arabia Walking on Saddam Hussein's Path: Saudis Seek to Create Iranian ISIS Using MKO's Leftover; A Secular ISIS after an Ideologue One
2- Cutting the Defence Budget or Offering JCPOA 2 to Westerners?
3- Lawsuit Should Be Filed against US Shoot-Down of Iran Air Flight 655
4- Iran's Advisory Aid to Iraq and Syria Will Continue: Shamkhani
---
Jomhouri Eslami:
1- President Starts Reforming Iran's Banking System
2- Iraqi MPs Praise Iran's Strategic Role in Maintaining Regional Stability
3- Iranian Expatriates in US, with $800bn of Capital, Are Keen to Return Home
4- MKO, a New Bait for Saudi Arabia [Editorial]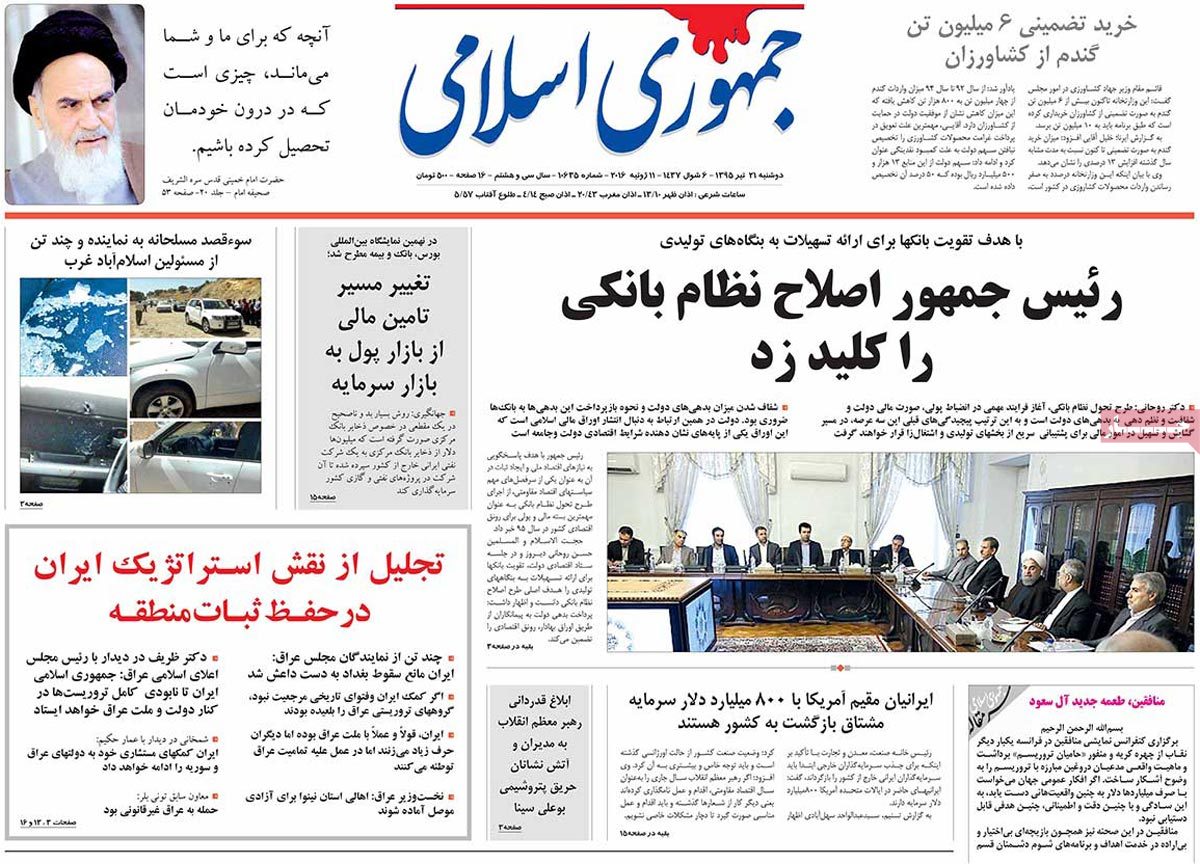 ---
Kayhan:
1- Bitter Fruit of Aristocrat Management: From [fugitive banker] Khavari and Zanjani to Astronomical Salaries
2- Assad Removed Erdogan from Regional Equations through His 5-Year Resistance
3- Deputy Oil Minister: We've Shared Information of Joint Oilfields with Foreigners!
4- US Police Arrests 100 Black Protesters: We Are Unique in Violence, Obama Says
5- We're Still Faced with Sanctions: First VP
---
Resalat:
1- President Rouhani Should Renounce His Brother: Cleric
2- End of American Black Community's Patience
3- US Violation of Its Commitments Is Consequence of 2009 Sedition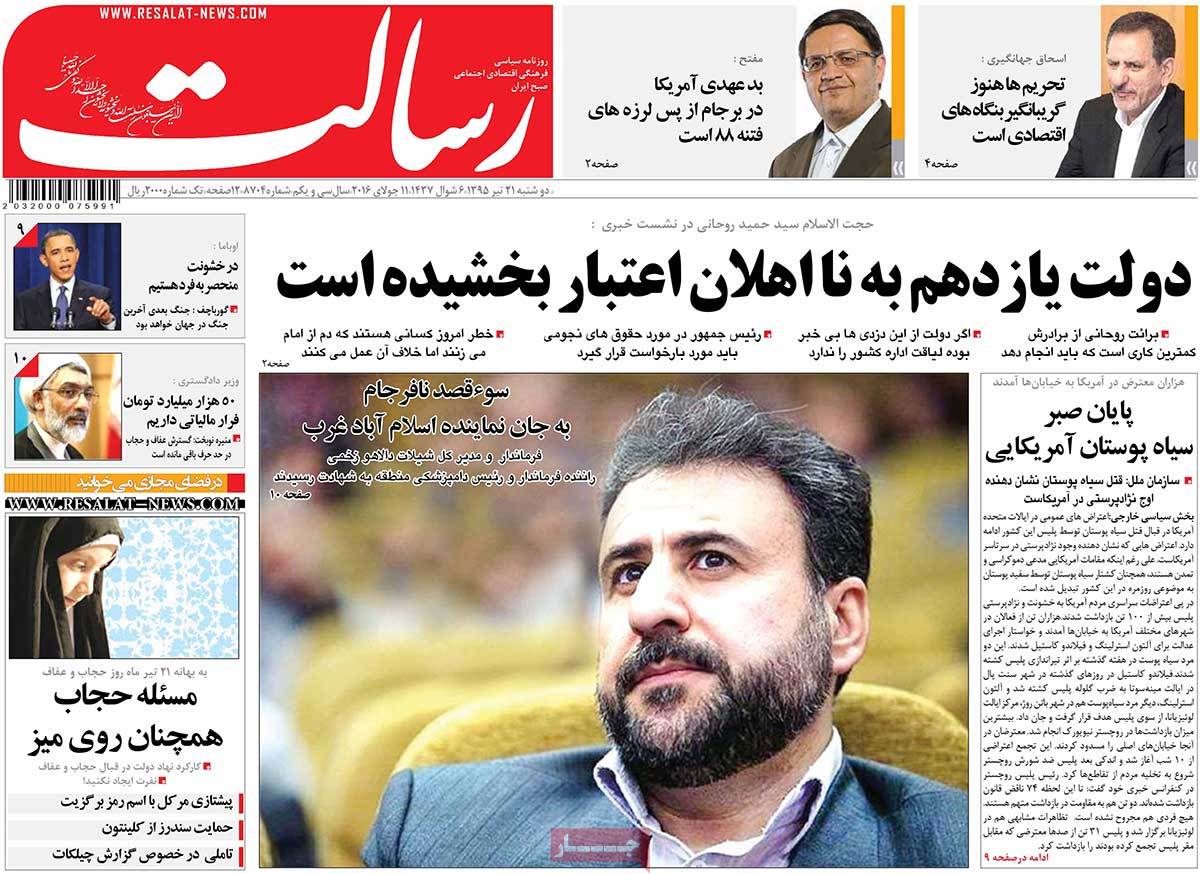 ---
Roozan:
1- The Astringent Taste of Farewell: Kiarostami Escorted on People's Shoulders to "Friend's House"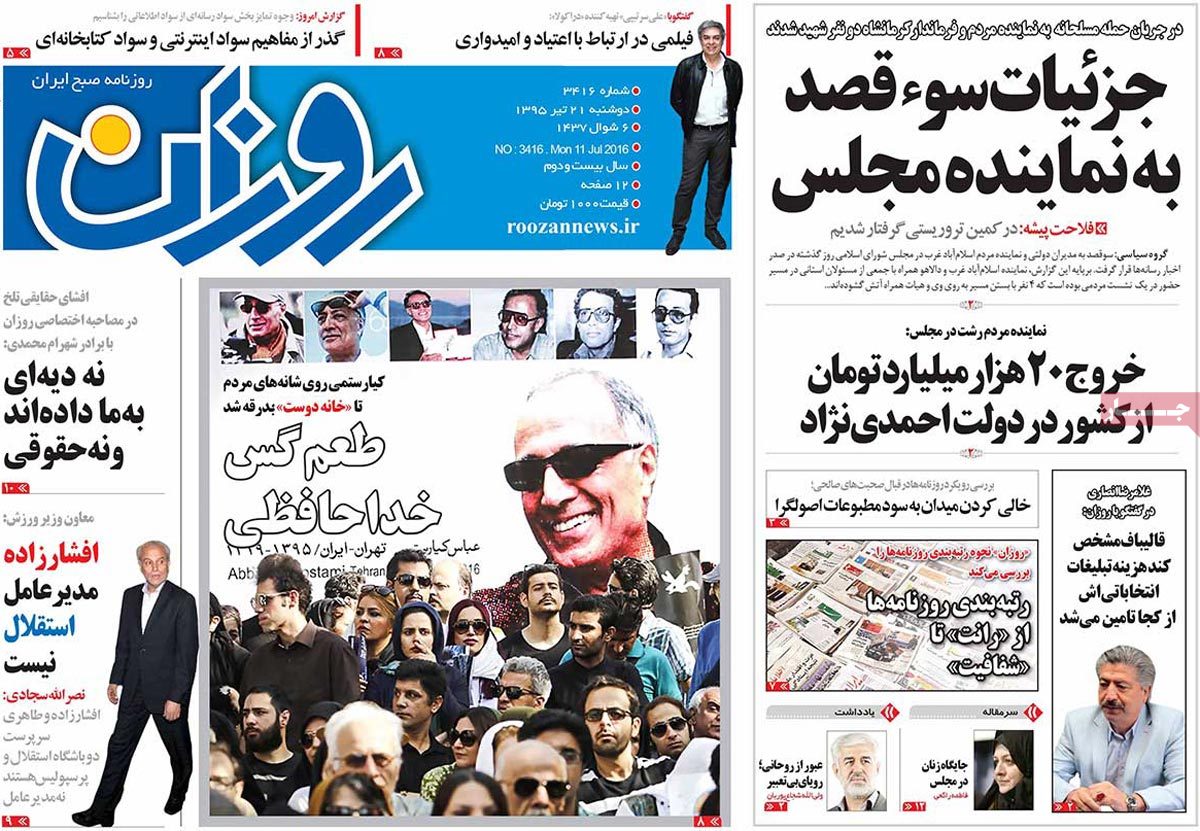 ---
Shahrvand:
1- Wedding Ceremonies for 7 to 11-Year-Old Girls in a Village: Forced Marriage Forces Girls to Leave the School
2- Repercussions of 8 Years of Administrative Chaos [under Ahmadinejad]
3- [Iranian footballer] Sardar Azmoun's Dream Comes True: President Rouhani Invites Him for a Meeting
4- We Were Trapped by Terrorists: MP Who Escaped Assassination
---
Shargh:
1- Who Caused $80bn Damage to Iran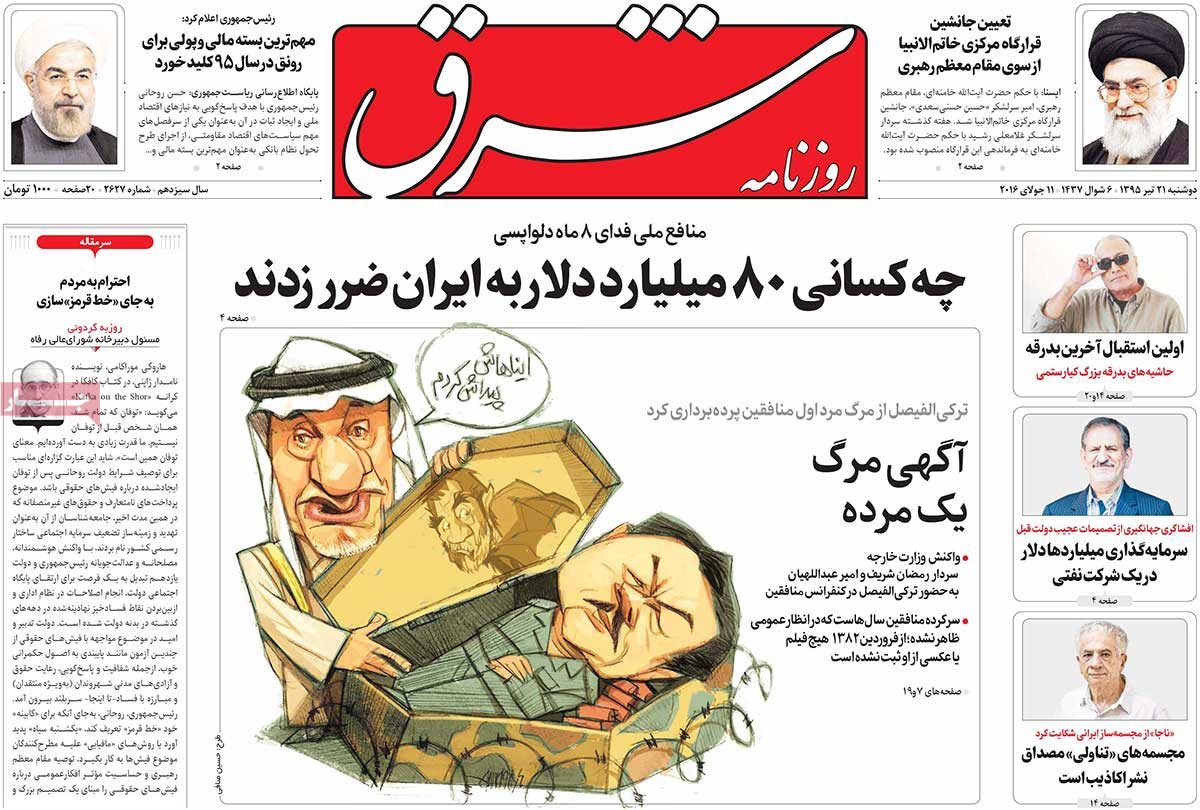 ---
Shorou:
1- Beyond Crisis: Fresh Wave of Dust Pollution Coming to Iran
2- Don't Eat in Front of TV or Computer
---
Vatan-e Emrooz:
1- Benefits of WTO Accession: 'Almost Nothing'!
2- Terror Make-Up in Paris: Saudi Arabia Shows Its Support for Terrorist Group MKO