Almost all newspapers today covered a decision by the Leader of Iran's Islamic Revolution Ayatollah Seyyed Ali Khamenei to allow the government to withdraw $4 billion from the National Development Fund. The money will be spent on tackling dust pollution in Khuzestan, boosting the country's defensive capabilities, promoting under pressure irrigation, among others.
Iranian President Hassan Rouhani's Monday interview with the state TV also remained a top story today in several newspapers.
Many papers also covered the remarks made by Secretary of Iran's Supreme National Security Council Ali Shamkhani about Tehran's opposition to any talks over its missile program.
The above issues, as well as many more, are highlighted in the following headlines and top stories:
Abrar:
1- Philippines President: Shoot Me If I Turned into Dictator
2- Iran Deputy FM: We'll Have More Serious Challenges in Next 4 Months
---
Afarinesh:
1- First VP: Iran Supports Belarusian Firms' Investment in Its Oil Industry
2- Health Ministry: Tehran's Air Pollution Cannot Be Resolved Using Masks
3- Government's Prediction of Oil Price ($50 per barrel) Comes True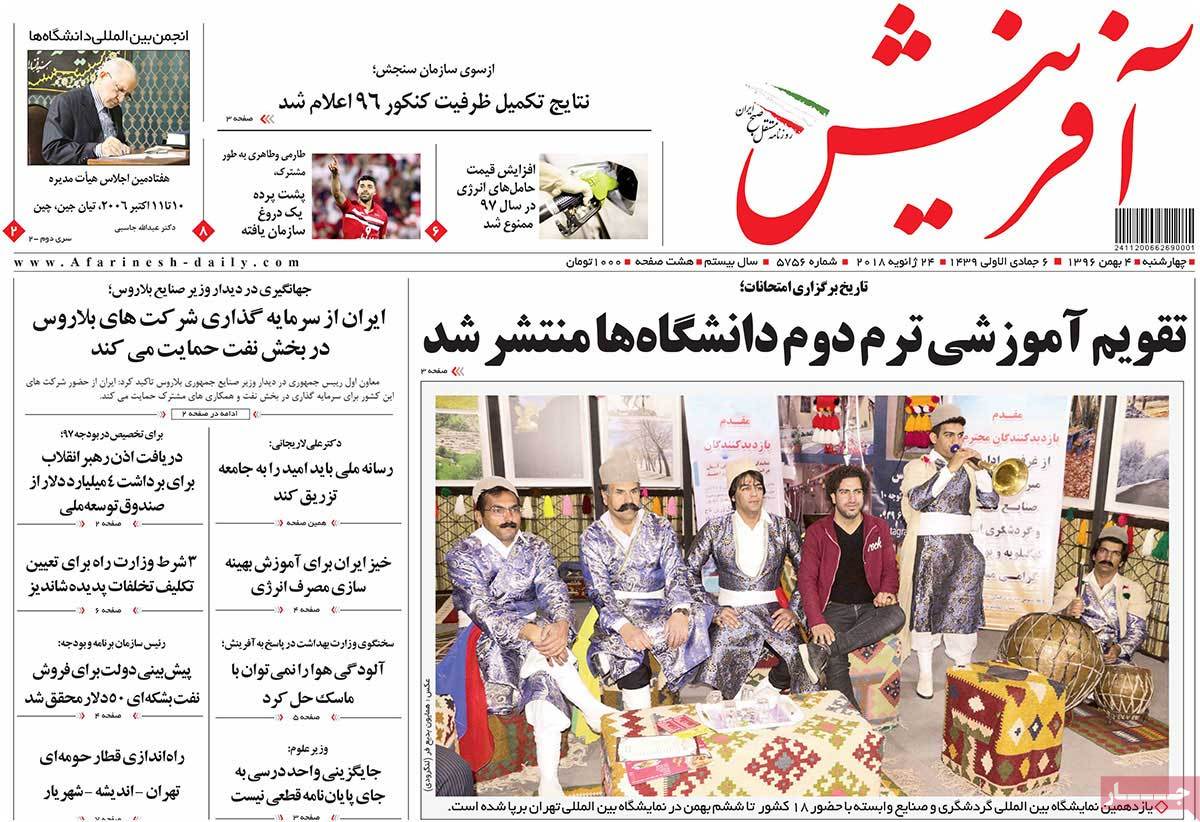 ---
Aftab-e Yazd:
1- Polls Show Rouhani's Interview Didn't Satisfy People
People Want the Rouhani They Used to See during Election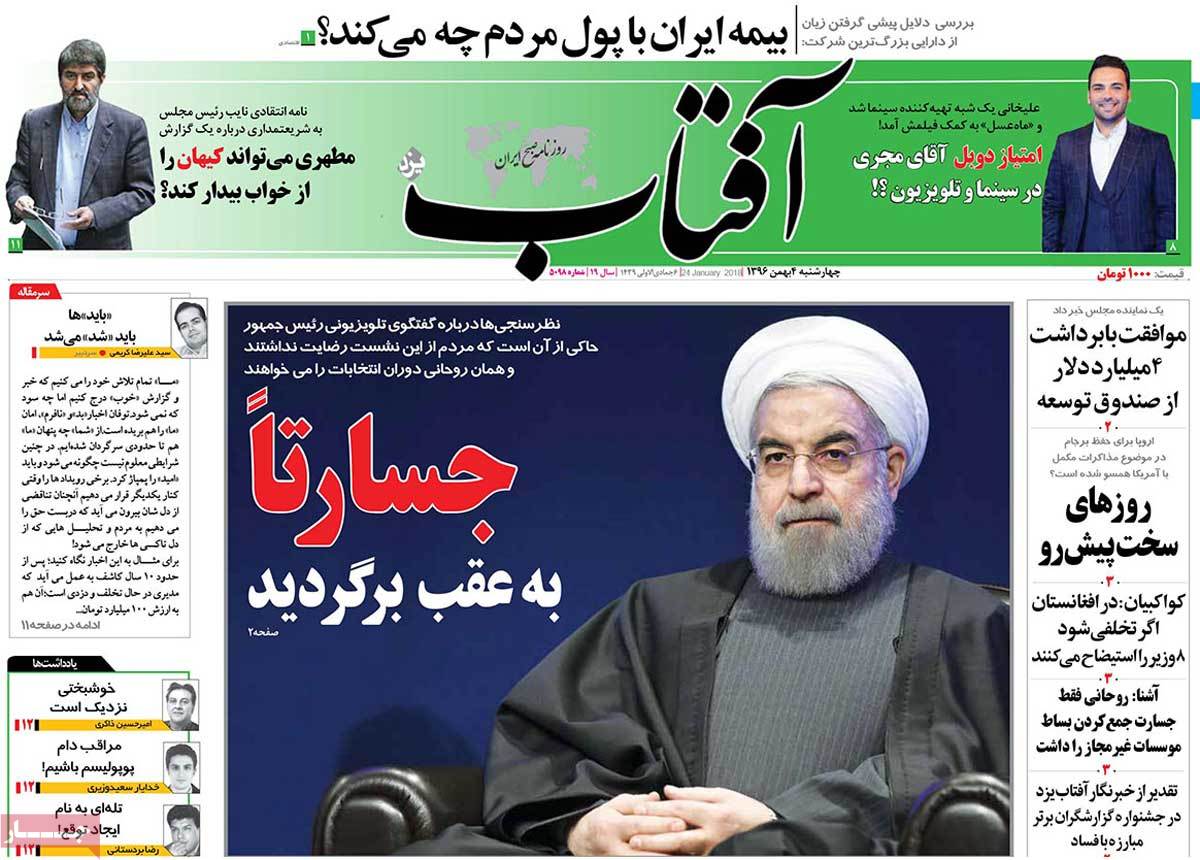 ---
Arman-e Emrooz:
1- Culture Minister Defends Free Access to Information
2- Educated Women's Unemployment 3 Times More than Men's: VP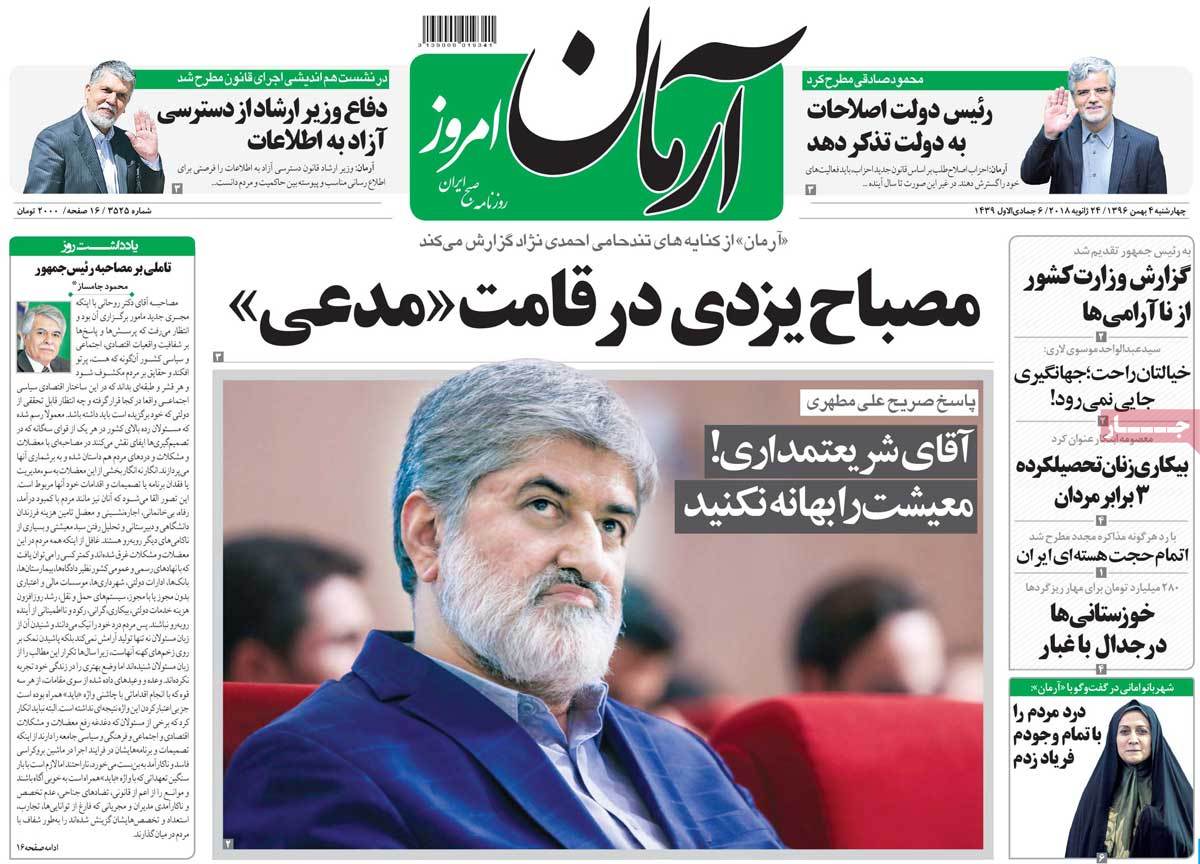 ---
Asrar:
1- Deputy FM: US after Disrupting Iran-Europe Ties
2- Spokesman: Gov't Shouldn't Be Blamed for Budget Transparency
---
Ebtekar:
1- Shamkhani: Renegotiation of Iran Nuclear Deal Not Possible Whatsoever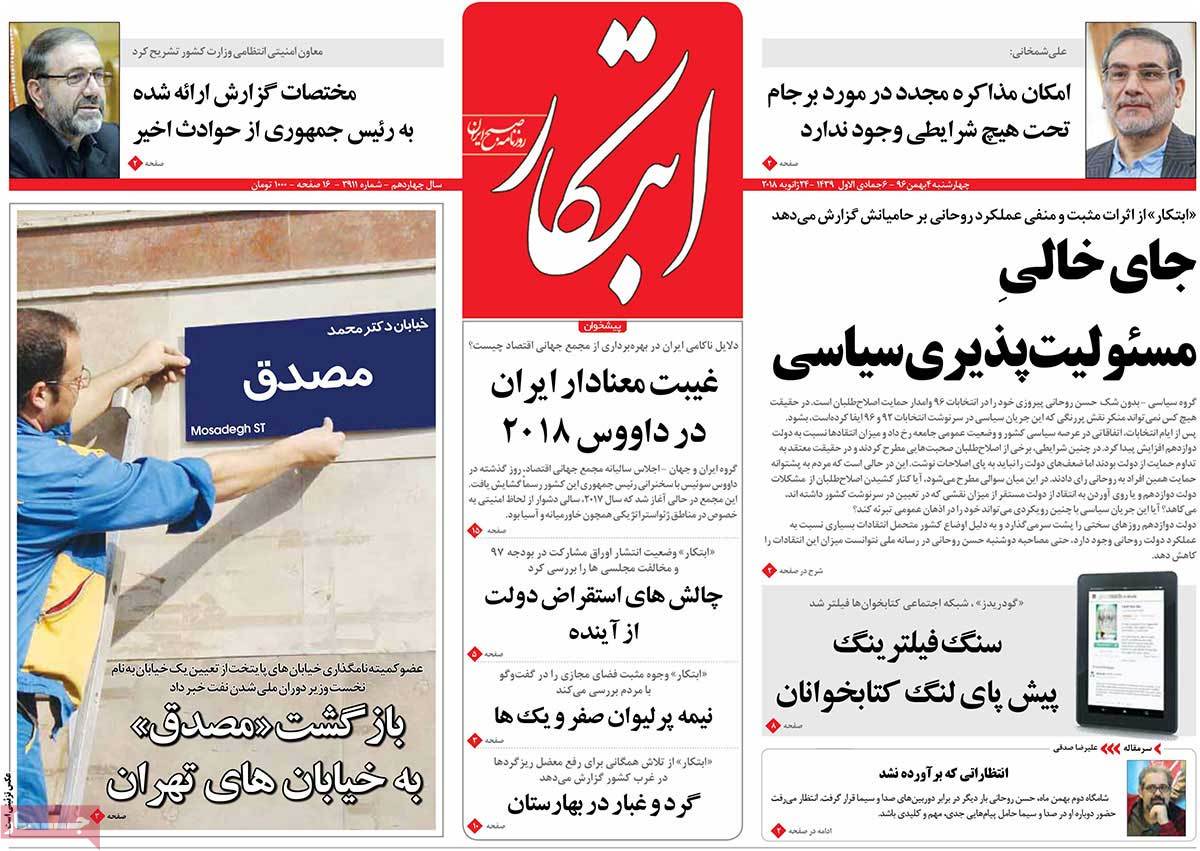 ---
Ettela'at:
1- Iran Successfully Test-Fires Qadir Cruise Missile during Army Drills
2- Larijani: Traces of Arab Treason Found in Zionist Regime's Occupation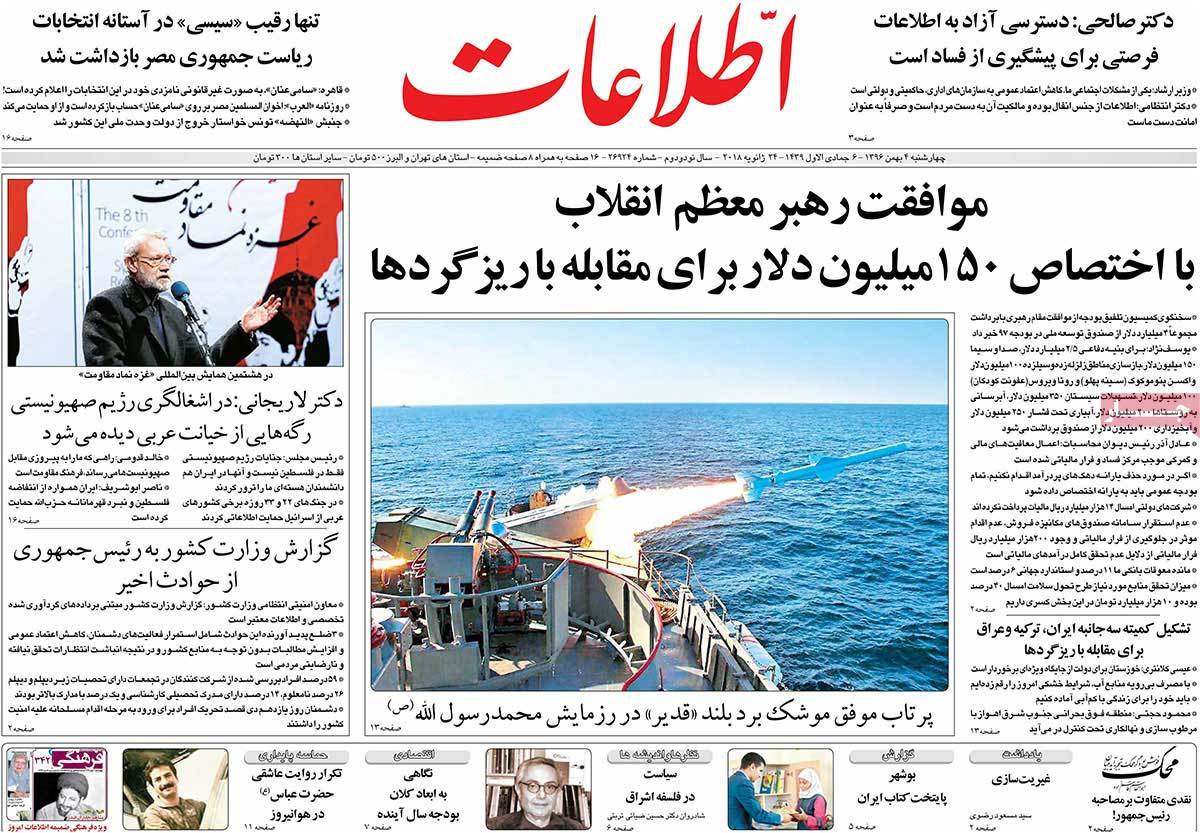 ---
Iran:
1- Iraqi Kurdistan's Envoy to Iran: Kurdish Referendum Should Be Forgotten
2- Gov't: Foreign Enemies, Popular Distrust, Dissatisfaction Root Causes of Unrest
---
Jame Jam:
1- Iran Leader Allows Gov't to Withdraw $150m from NDF to Tackle Dust Pollution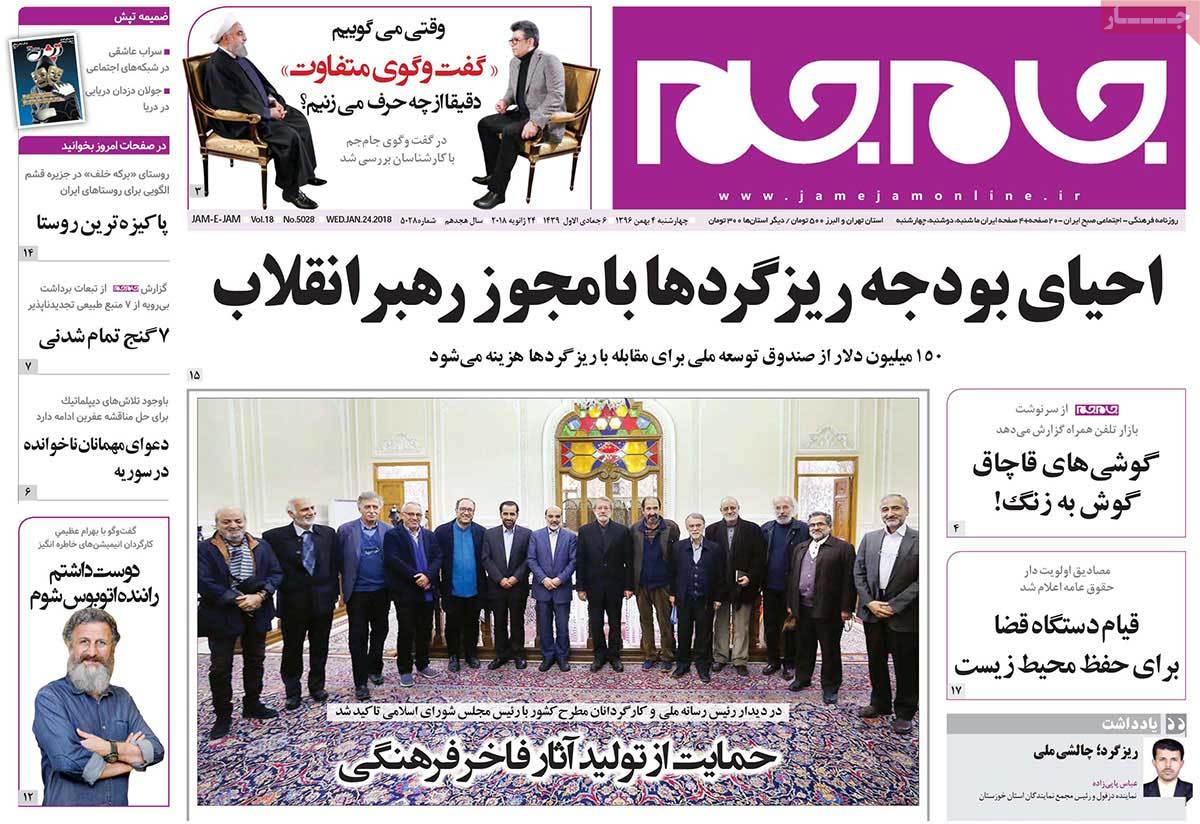 ---
Javan:
1- Iran Leader Orders Gov't to Withdraw $4 Billion from National Development Fund
Money to Be Spent on Dust Pollution, Vaccine, Irrigation, Defence
$150m for Tackling Dust Pollution, $650m for Water Projects
2- Europe Turns to "Change in JCPOA"
Tillerson: Europe, US Form Joint Working Group to Revise Iran Nuclear Deal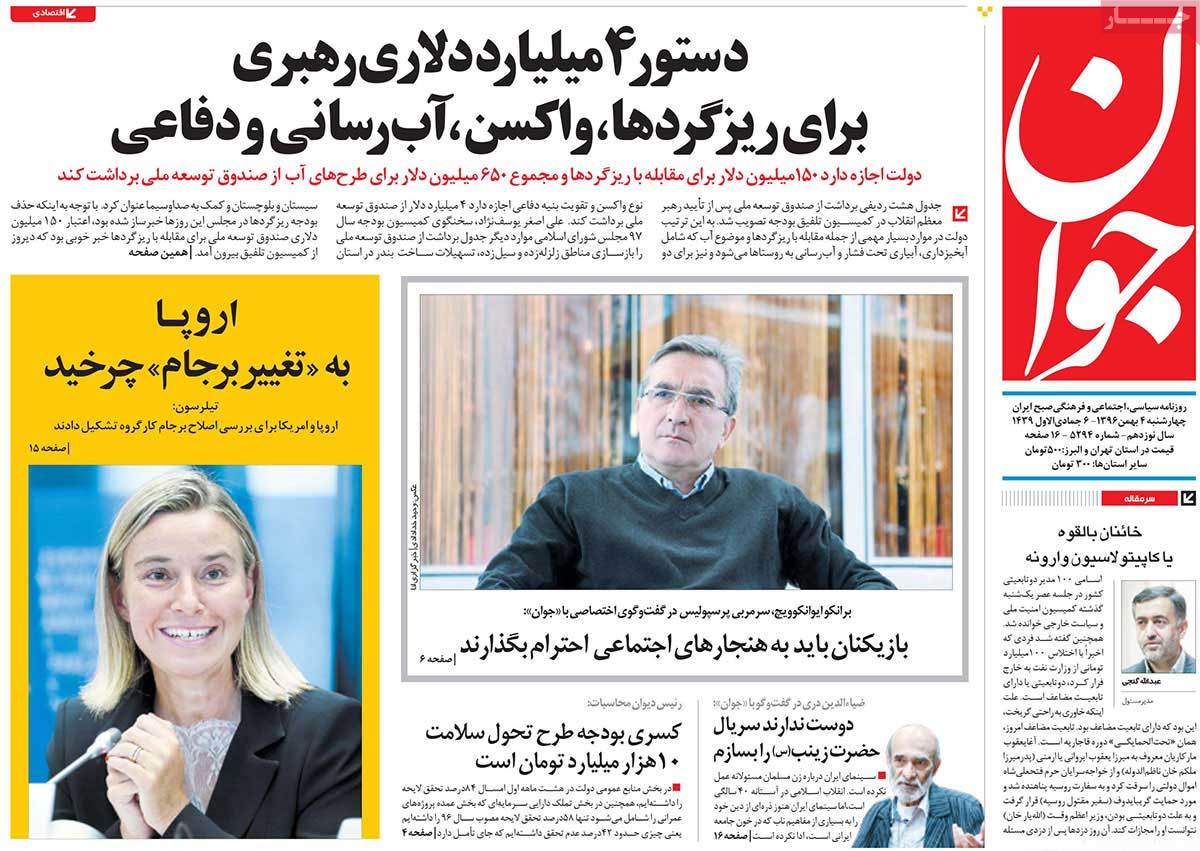 ---
Jomhouri Eslami:
1- Nationwide Strikes in in Palestine in Protest against US VP's Visit
2- Energy Minister: Adaptation to Water Shortage Must Replace Drought
3- Shamkhani: Talks of JCPOA Revision Just Trump's Illusion
4- Iran, Syria Call for Turkey's Withdrawal from Afrin
---
Kayhan:
1- Rouhani Didn't Talk about Unemployment, Economic Downturn, Inflation in Interview
2- Strategic Analyst: Tehran-Moscow-Beijing Triangle to Thwart All Western Plots
3- Western Sources: Europe to Accompany US in Putting Iran under Pressure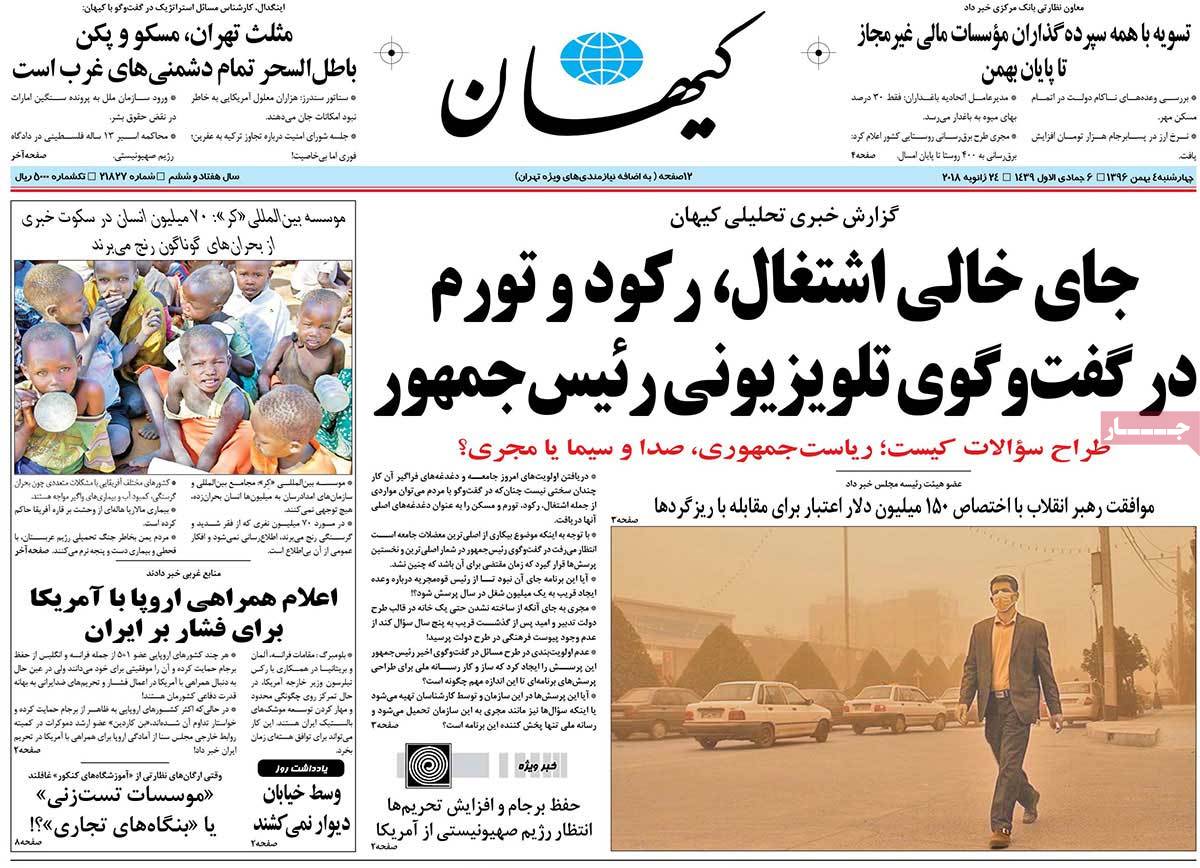 ---
Resalat:
1- Rouhani: Problem of Banking Sanctions Not Resolved
2- Iran: Israel Fears Growth of Resistance Thoughts in Muslim Communities
---
Saheb Qalam:
1- Pace of Creating Job Opportunities in Tourism 2.5 Times More than Other Sectors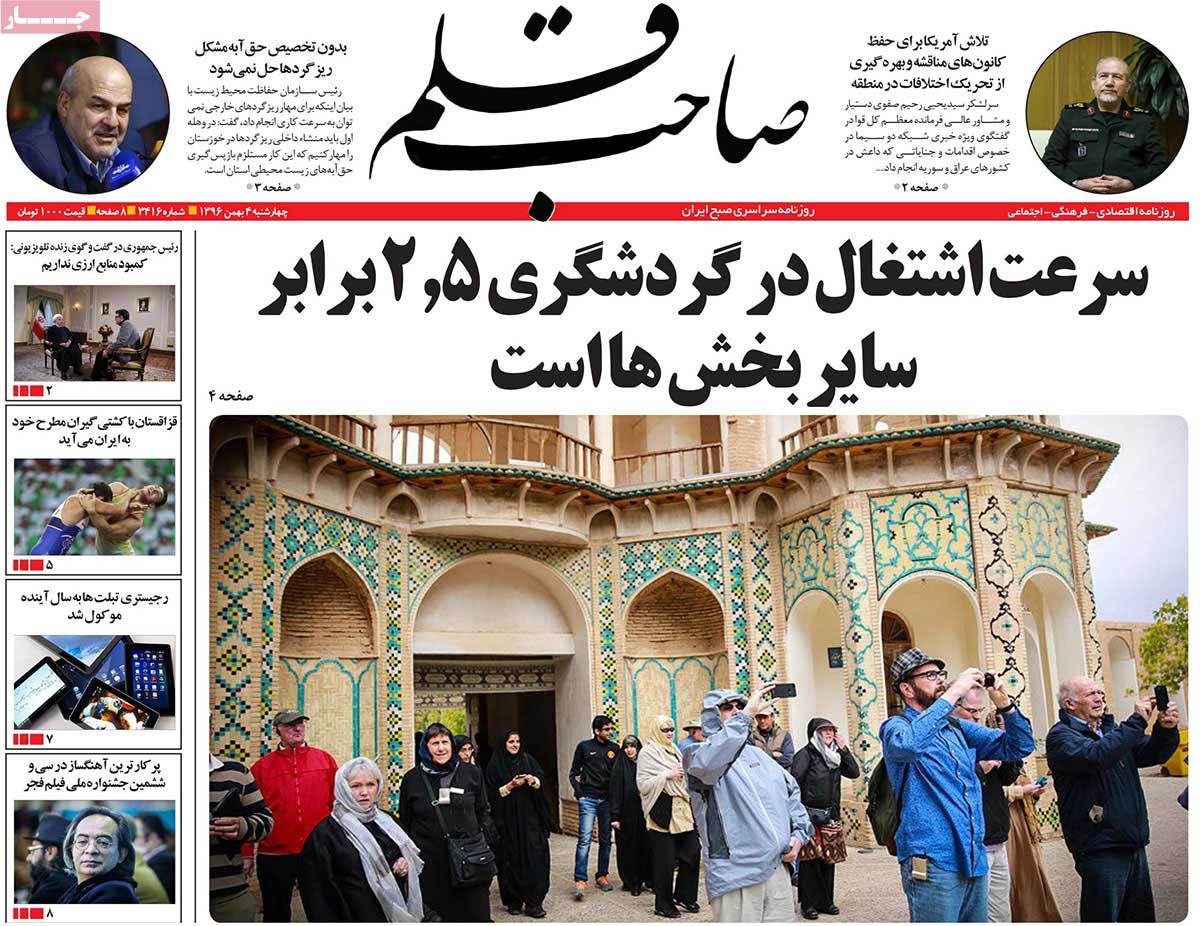 ---
Shargh:
1- Shamkhani: Iran Not to Hold Talks over Its Missile Program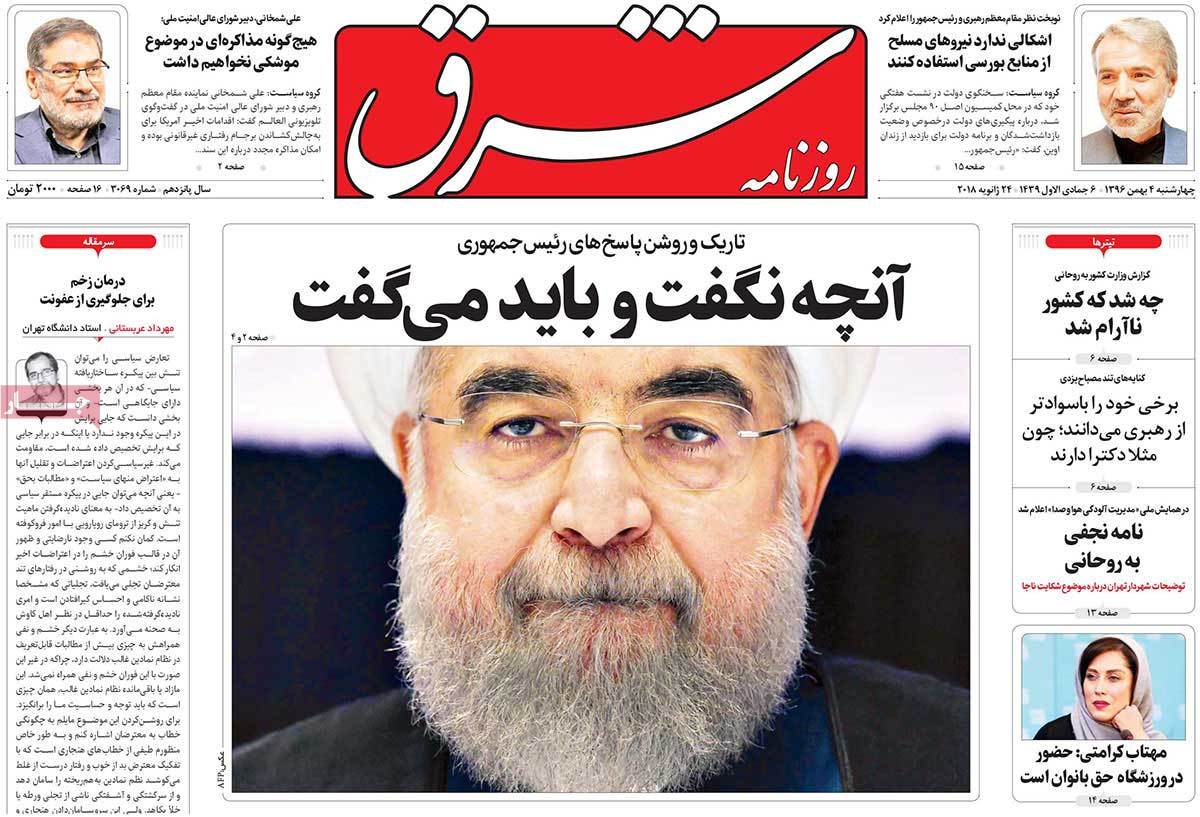 ---
Vaghaye Ettefaghieh:
1- Majority of Protesters below Age of 35: Iran Interior Ministry
2- Inderjeet Parmar: Trump First US President without Any Ties with Think-Tanks
Trump Works with Businessmen, Not Thinkers