Several newspapers today covered the Iranian foreign ministry's statement to blast the state TV's attacks on the Iran nuclear deal.
Also a top story was the visit of Iraqi Kurdistan's Prime Minister Nechirvan Barzani to Tehran, which is aimed at mending Erbil's ties with Tehran.
The US government's shutdown over the Congress' refusal to pass the proposed budget also received great coverage today.
The above issues, as well as many more, are highlighted in the following headlines and top stories:
19 Dey:
1- Iran Foreign Ministry Blasts State TV for Anti-JCPOA Program: Stop Deceiving People
2- Intelligence Minister: Fanning Flames of Domestic Conflicts among Causes of Recent Incidents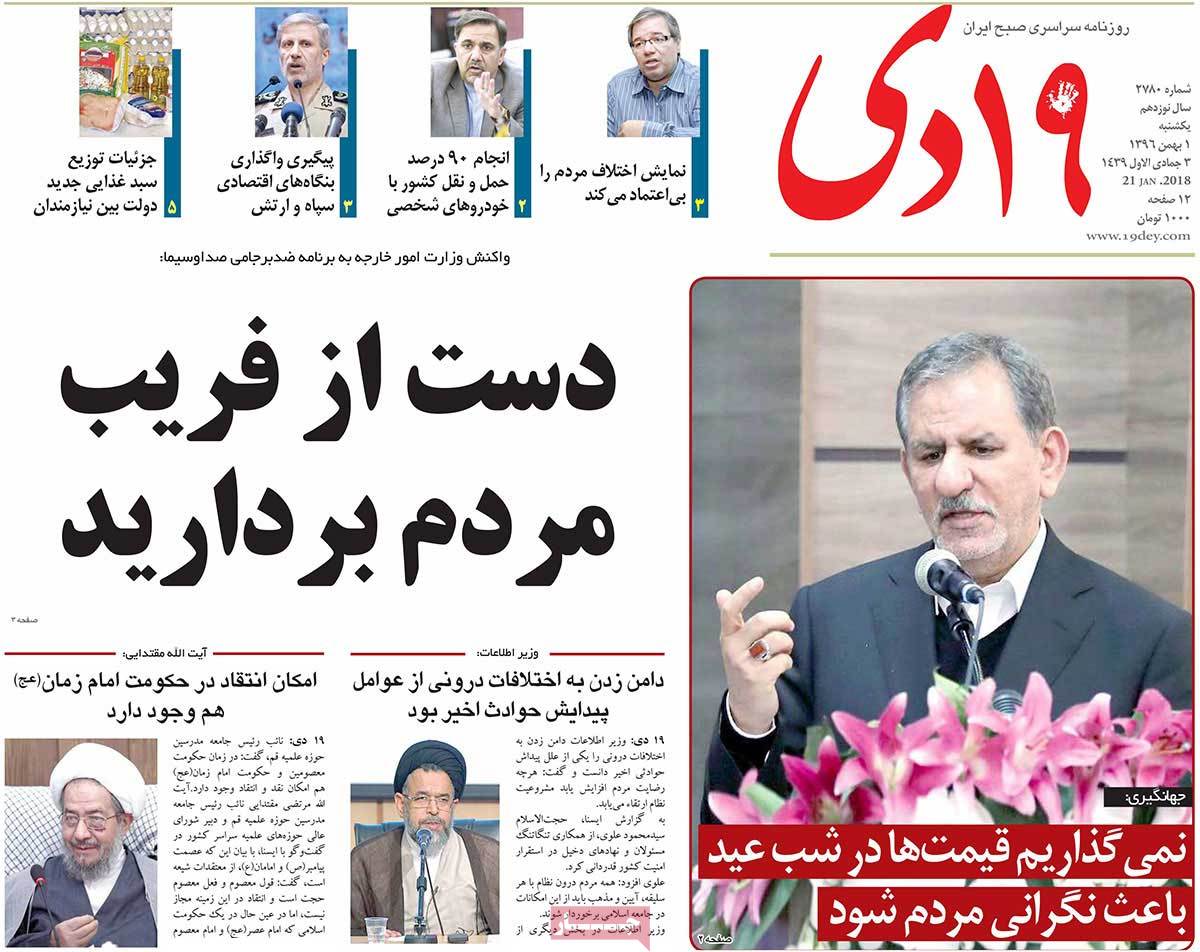 ---
Abrar:
1- Iraqi Kurdistan's PM Visits Iran
2- ISIS Commanders in Lebanon, May Conduct Terrorist Operation
3- UNICEF: 4 Million Iraqi Children Waiting for Help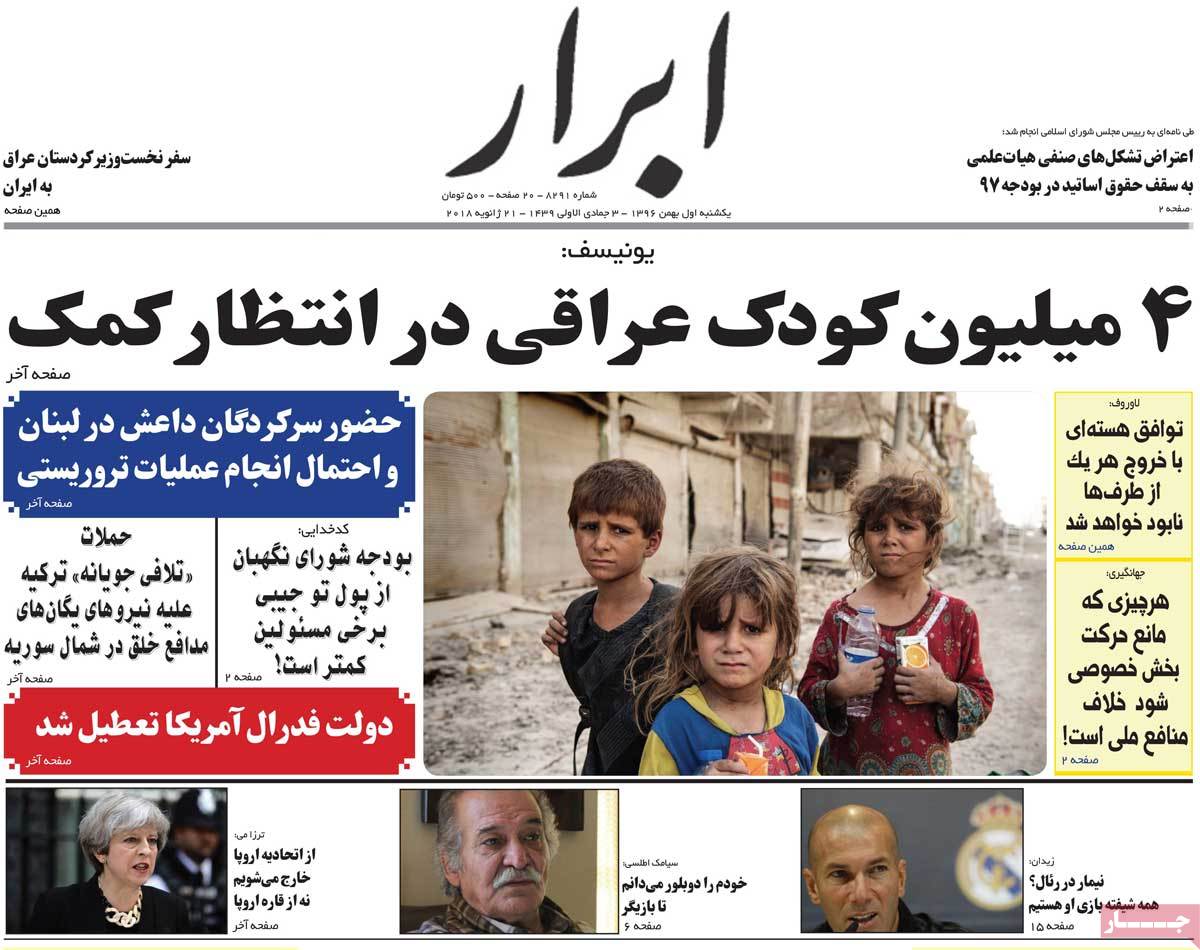 ---
Afkar:
1- Air Pollution Causing Respiratory Problems in Khuzestan These Days
People Reminded of Saddam Hussein's Chemical Attacks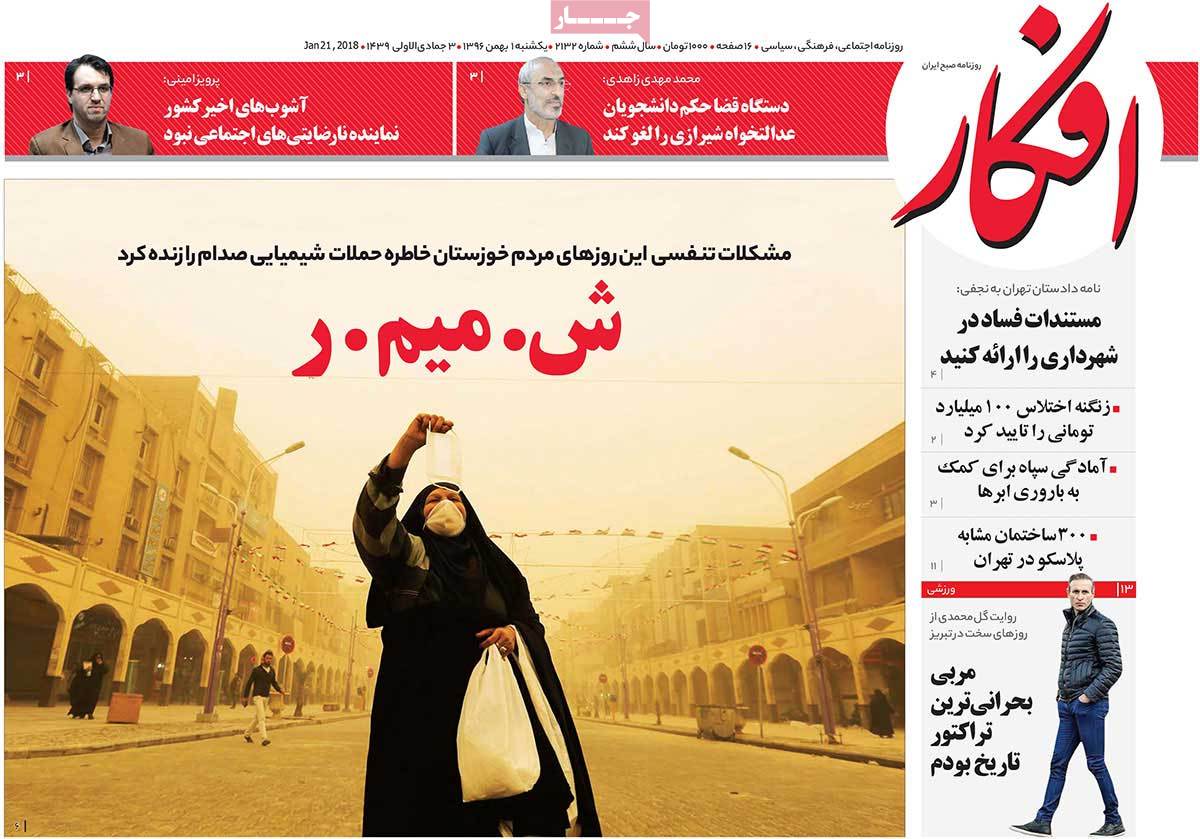 ---
Aftab-e Yazd:
1- IRGC Ready to Help in Cloud Seeding
2- State TV Helping US Kill Iran Nuclear Deal!
---
Arman-e Emrooz:
1- People in Khuzestan Can No Longer Tolerate Dust Pollution
---
Asrar:
1- Iran First VP: People Have Every Right to Yell at Officials
---
Ebtekar:
1- Government Shutdown, Gift to Trump on First Inauguration Anniversary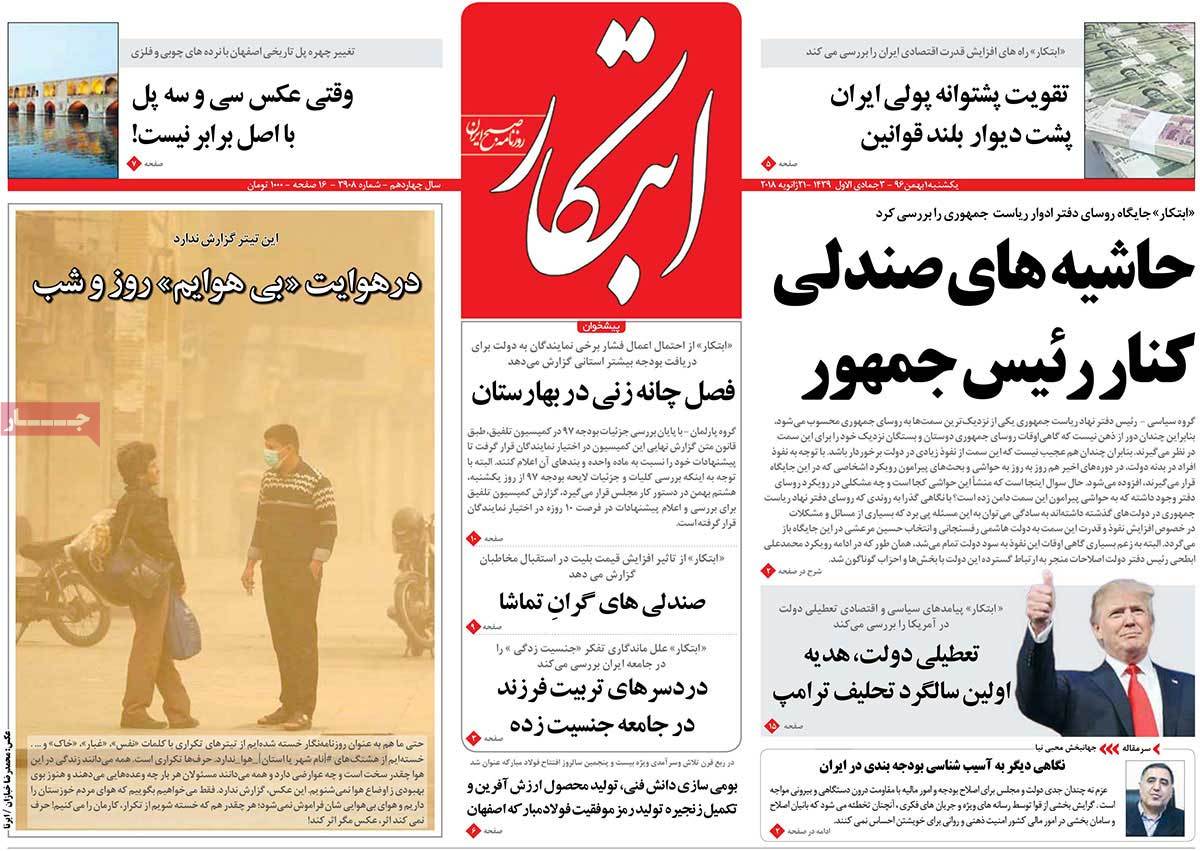 ---
Ettela'at:
1- White House vs Democrats: US Federal Gov't Shut Down
2- Health Minister: Iran Suffering from Social Harms
3- Jordan King Outraged by Saudi Crown Prince's $3 Billion Bribe Offer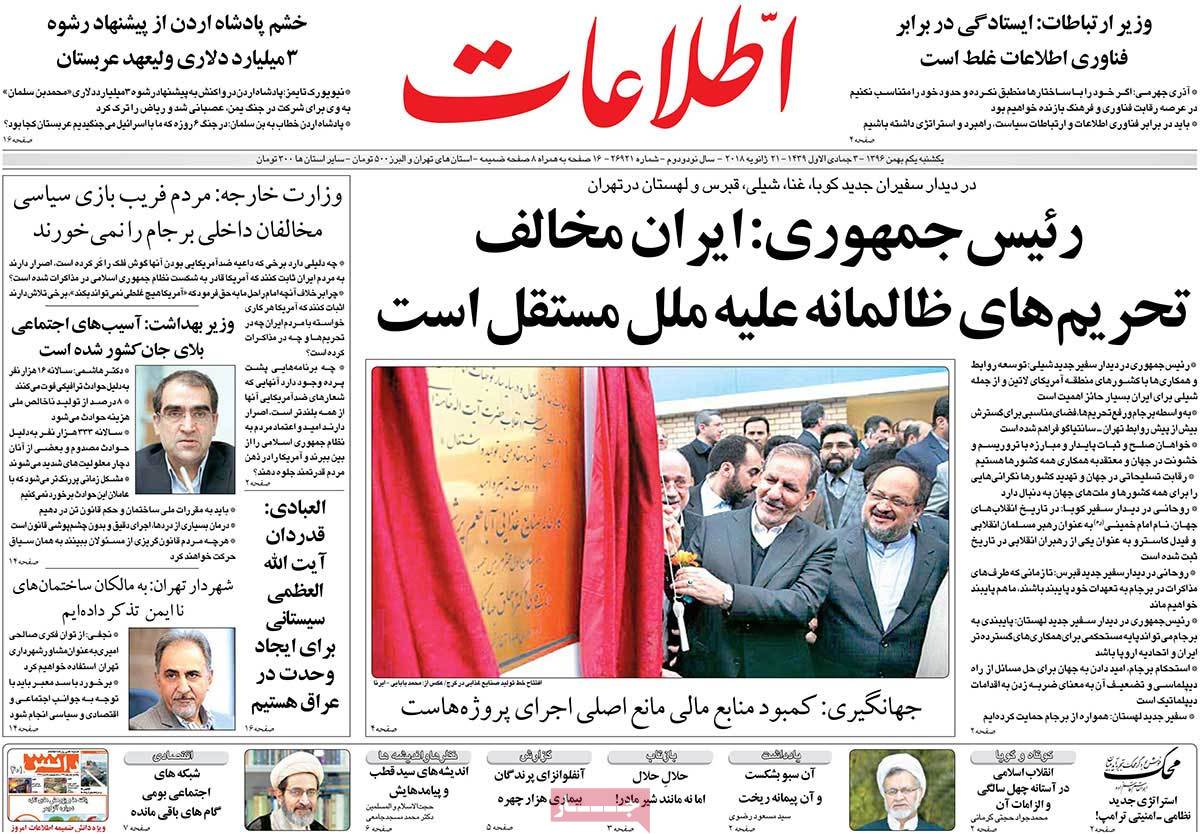 ---
Iran:
1- Dust Pollution, Snow, Rain in Iran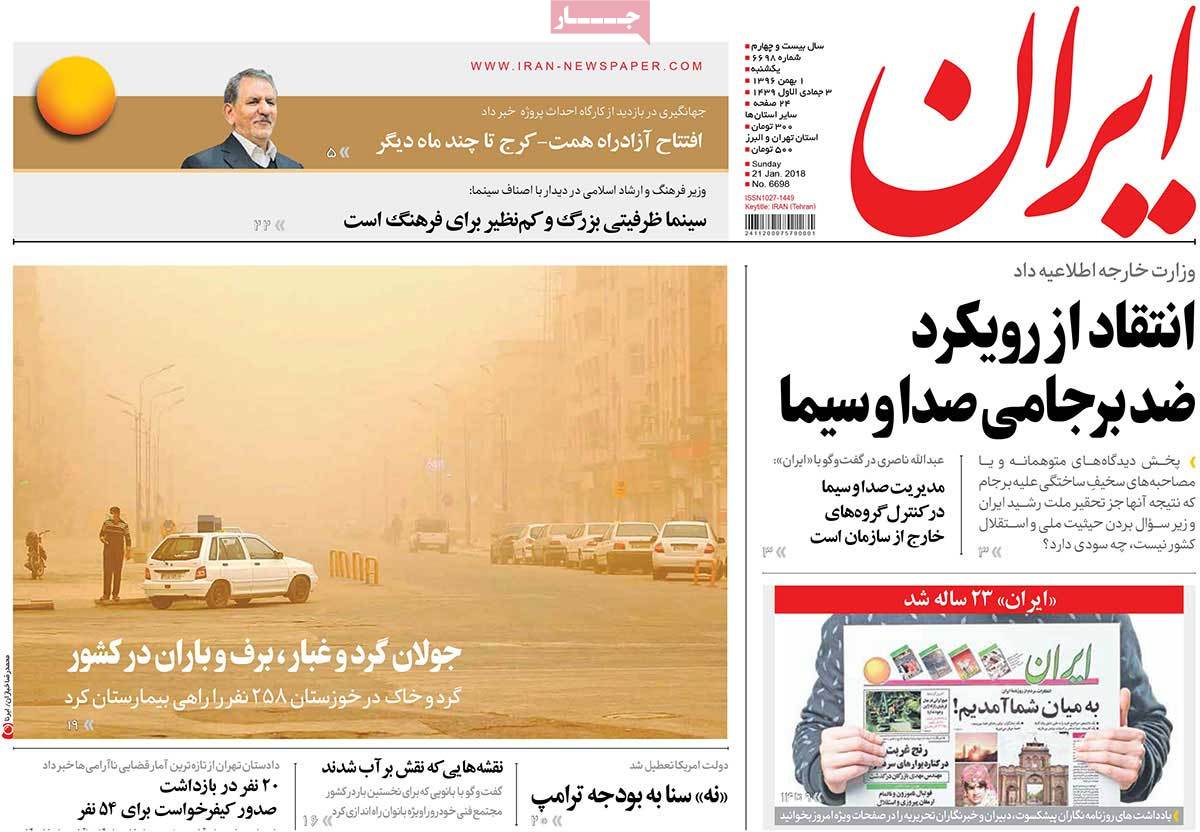 ---
Javan:
1- Lavrov: Iran Nuclear Deal to Collapse without US
2- Iran Foreign Ministry Calls for Prosecution of a Critic of JCPOA!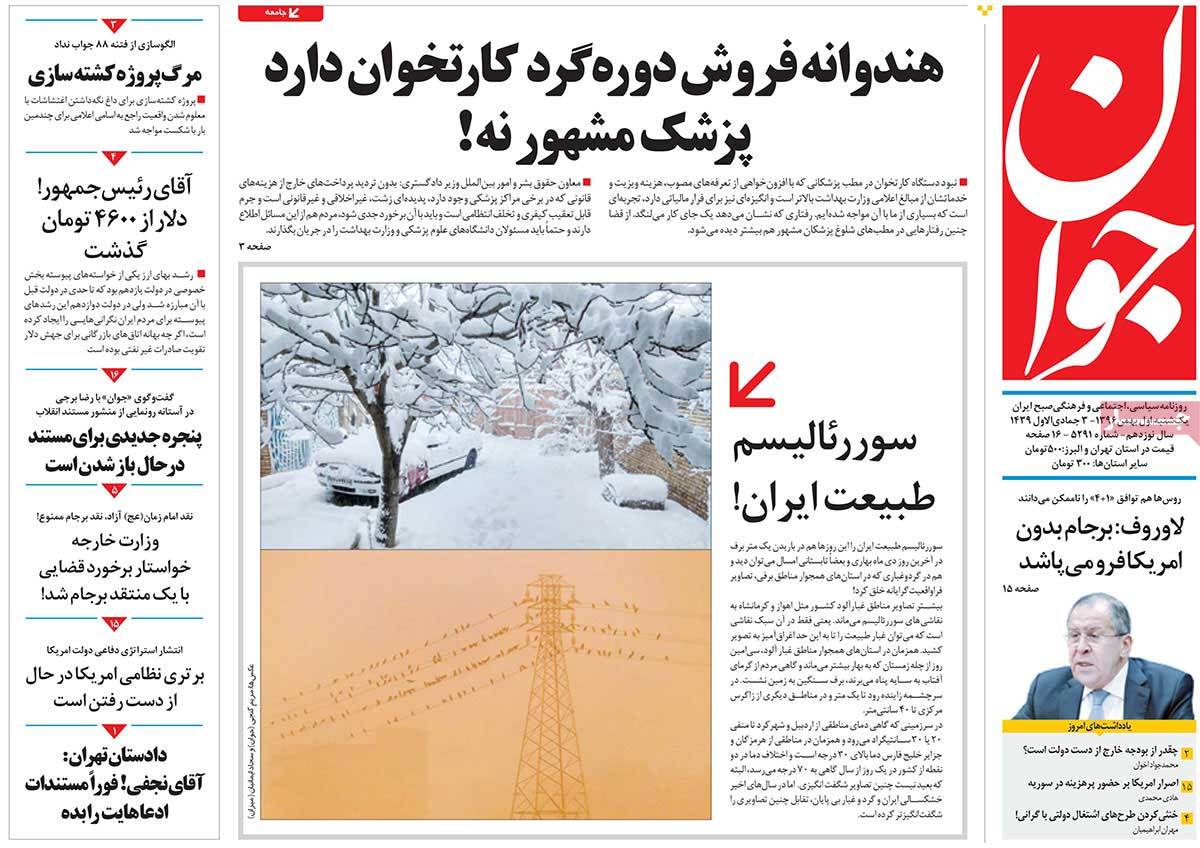 ---
Jomhouri Eslami:
1- Foreign Ministry Protests at State TV's Controversial Program against JCPOA
2- Rouhani: JCPOA Provides Strong Basis for Iran's Wider Cooperation with Europe
3- Israeli Journalist: Mossad Has Assassinated at Least 3,000 People So Far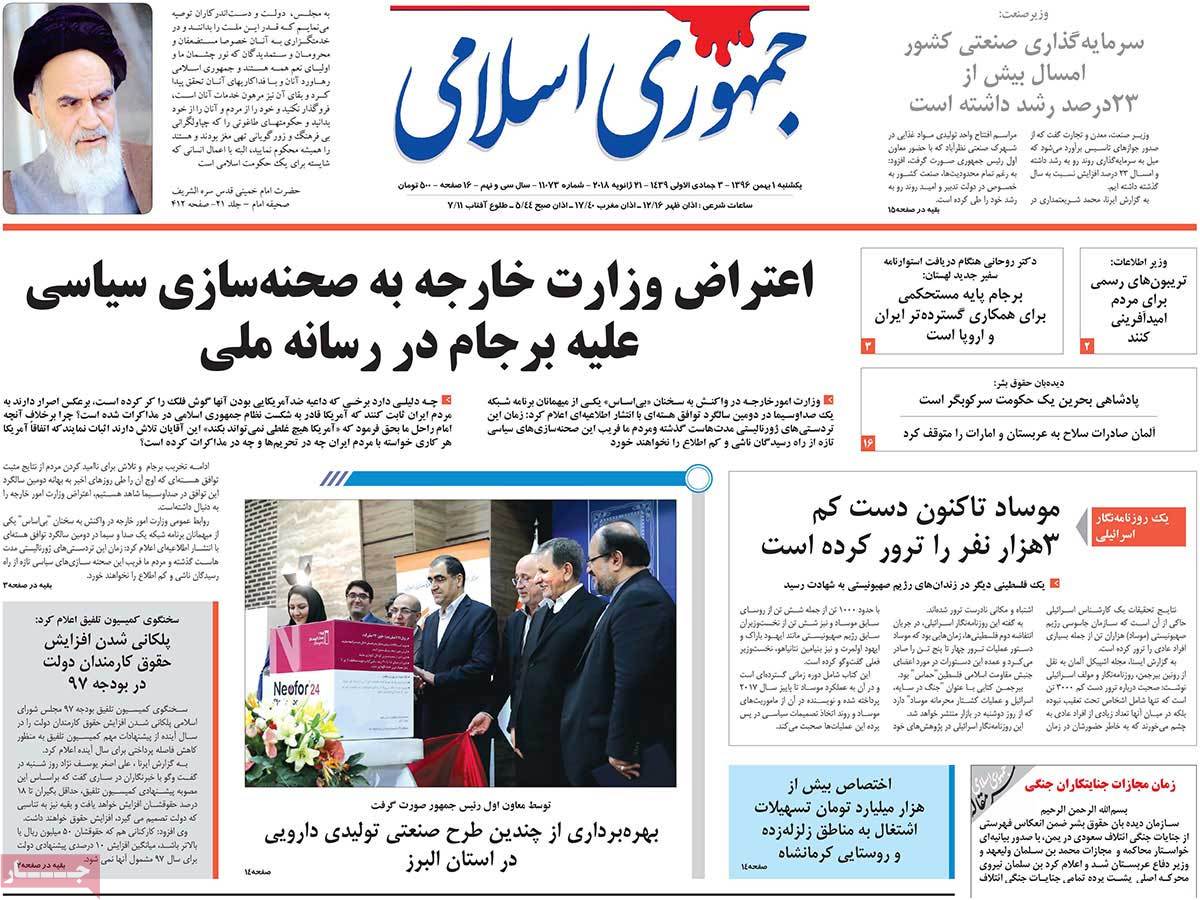 ---
Kayhan:
1- Advocates of Reformism Playing in Two Roles: Paralyzing Gov't, Accusing Establishment!
2- British Think Tank's Report on US' Financial Ties to Rioters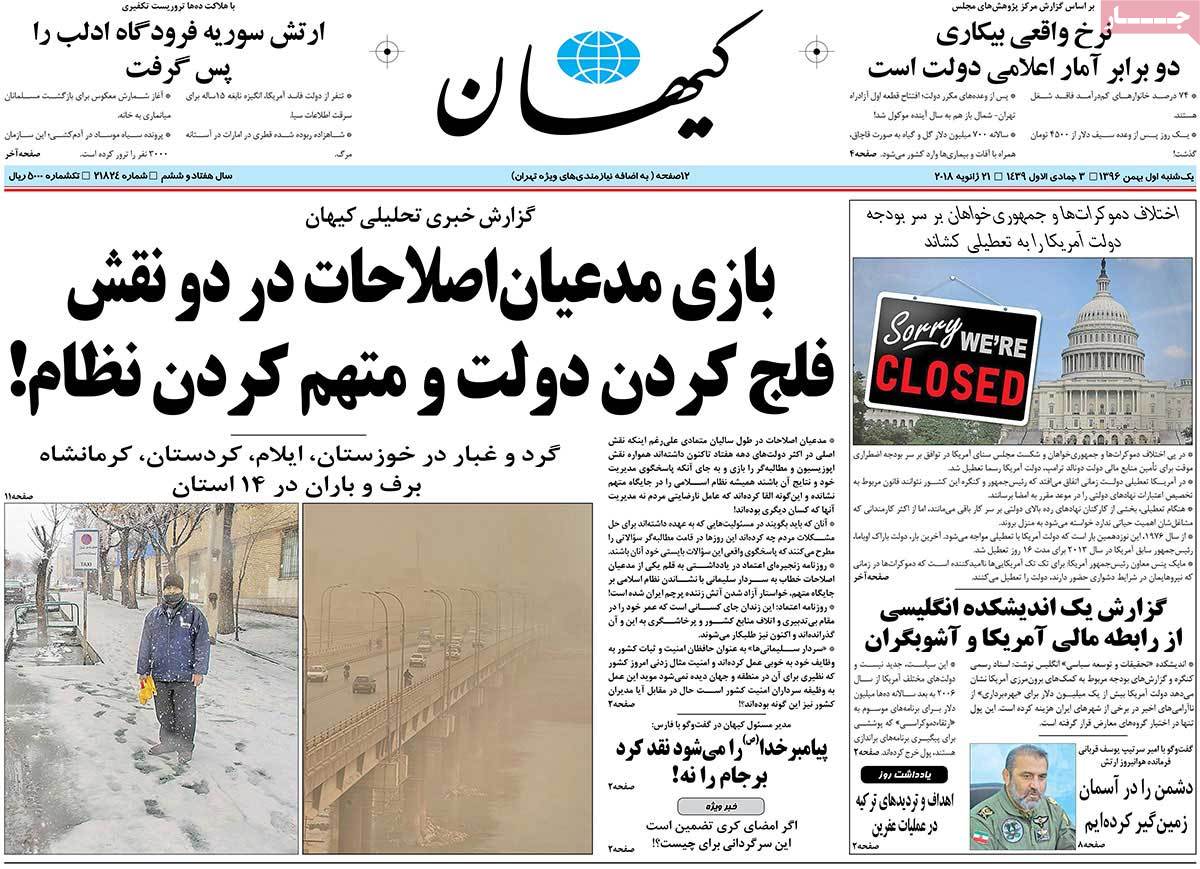 ---
Khorasan:
1- Europe's Staying in or Withdrawal from JCPOA
11 Analysts Discuss Whether Europe Will Accept Trump's Conditions
2- DM: Iran Leader Has Ordered IRGC, Army to Stop Economic Activities
---
Resalat:
1- Ayatollah Hashemi Shahroudi: US Has Waged Economic War on Iran
---
Shahrvand:
1- Half of Iran to Run out of Water
2- Iran First VP: We Must Rely on Young Minds instead of Oil
---
Shargh:
1- Tehran Prosecutor: Judicial Case Open for Sanchi Oil Tanker Incident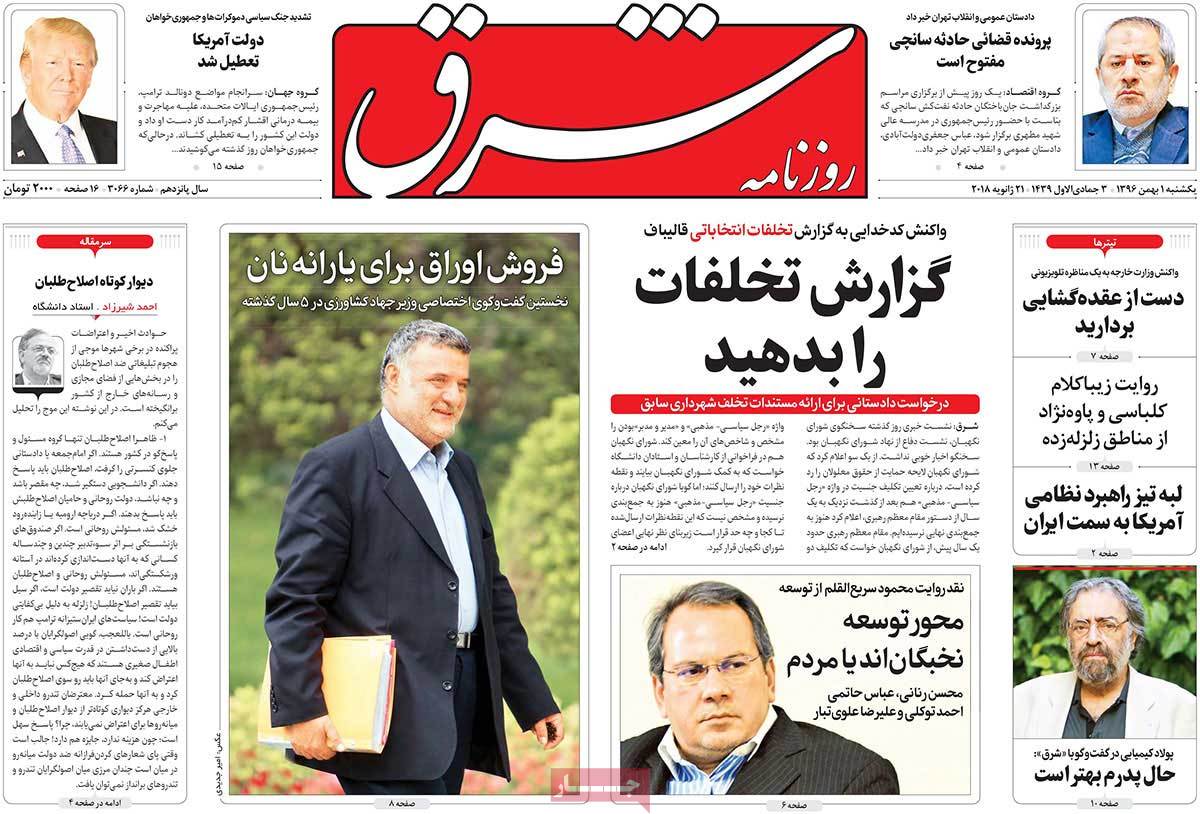 ---
Siasat-e Rooz:
1- Secret behind Durability of Imam Khomeini's Revolution
Why Movements in Iran Always Fail
---
Vatan-e Emrooz:
1- The US Shut Down