The top story in all Iranian papers today was the decision by US President Donald Trump to extend the Iran sanctions relief, while putting several other bodies and individuals on the Iran sanctions list.
Several newspapers also covered the European Union's strong support for the Iran nuclear deal ahead of Trump's announcement.
The latest efforts to save the missing Iranian sailors in the Chinese waters also received great coverage.
The above issues, as well as many more, are highlighted in the following headlines and top stories:
19 Dey:
1- Rouhani: Everyone Should Accept Responsibility for Problems
2- Zarif: Any Move that Undermines JCPOA Unacceptable
---
Abrar:
1- Mogherini: JCPOA Key to Europe Security
2- British Foreign Secretary: No Alternative to JCPOA
3- Zarif, Lavrov Discuss Syria Crisis in Phone Call
---
Aftab-e Yazd:
1- Waiting for Miracle: Families of Iranian Sailors Worried about Their Fates
2- N. Korean Leader: We Won't Have Any Problem Even If Sanctions Take 100 Years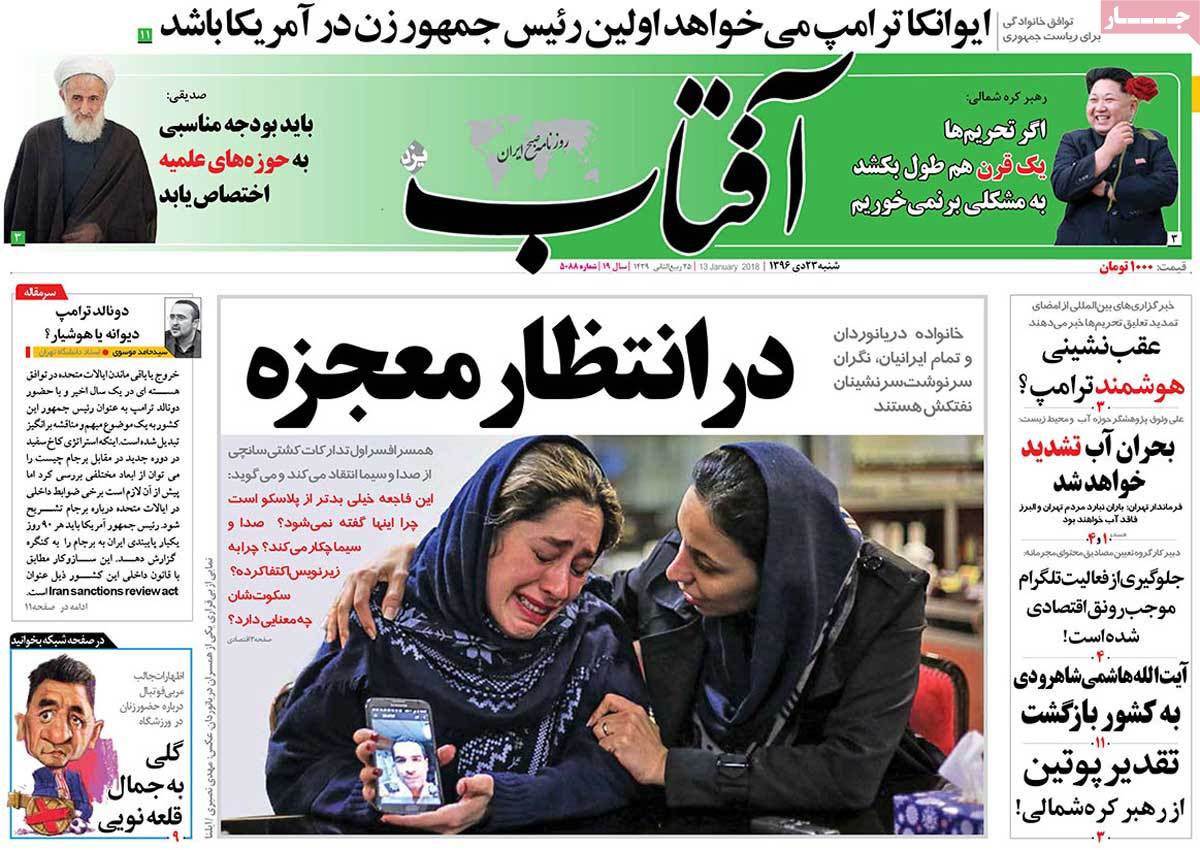 ---
Asrar:
1- First VP: Americans to Lose If They Scrap Iran Nuclear Deal
2- EU Supports Iran Nuclear Deal in Joint Meeting
3- Iran to Remain Committed to JCPOA If US Does So: Zarif
4- Ayatollah Hashemi Shahroudi Hospitalized in Germany against His Will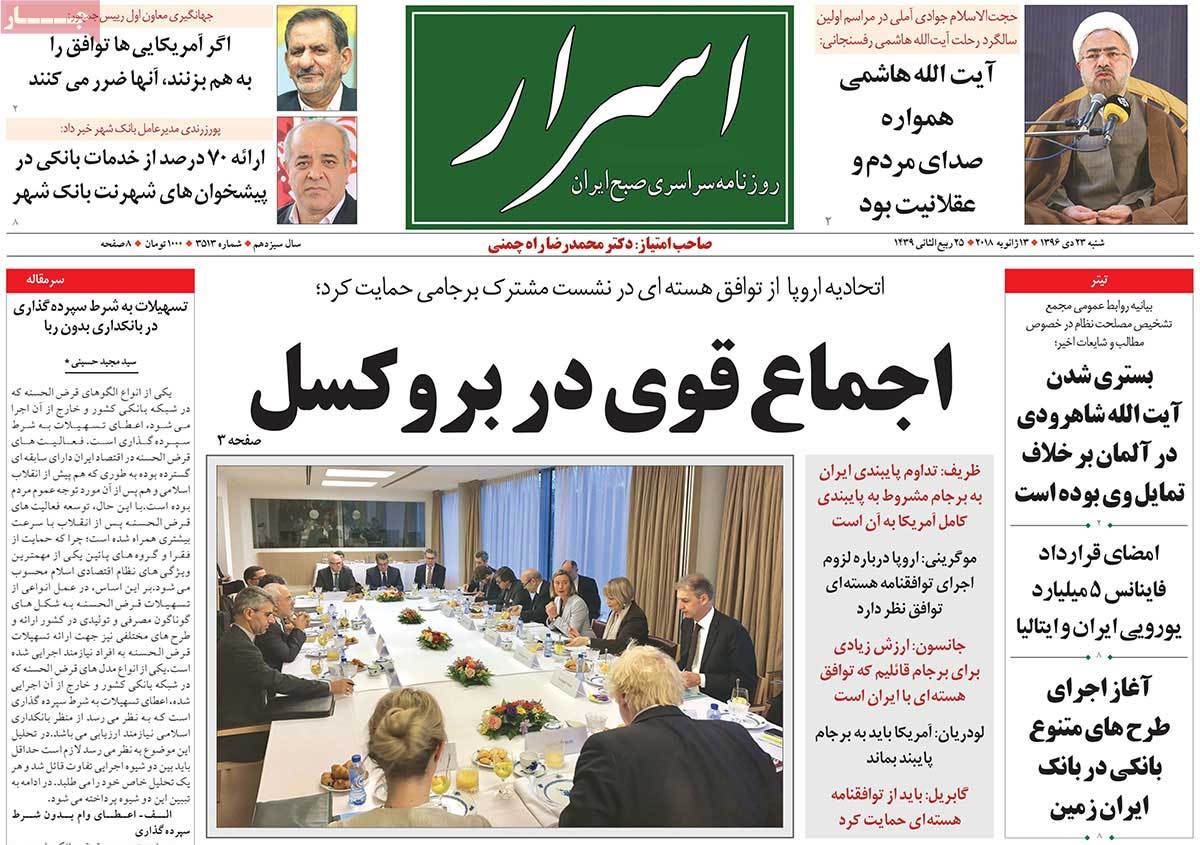 ---
Ettela'at:
1- EU: JCPOA Has No Replacement, Should Remain in Place
2- Mogherini: EU Committed to Supporting Iran Nuclear Deal, Urges All Sides to Do So
3- Hariri: We Want to Have Best Relations with Iran, Hezbollah
4- Iran, Italy Sign €5 Billion Finance Deal
5- Railways of Iran, Azerbaijan Republic to Be Linked This Week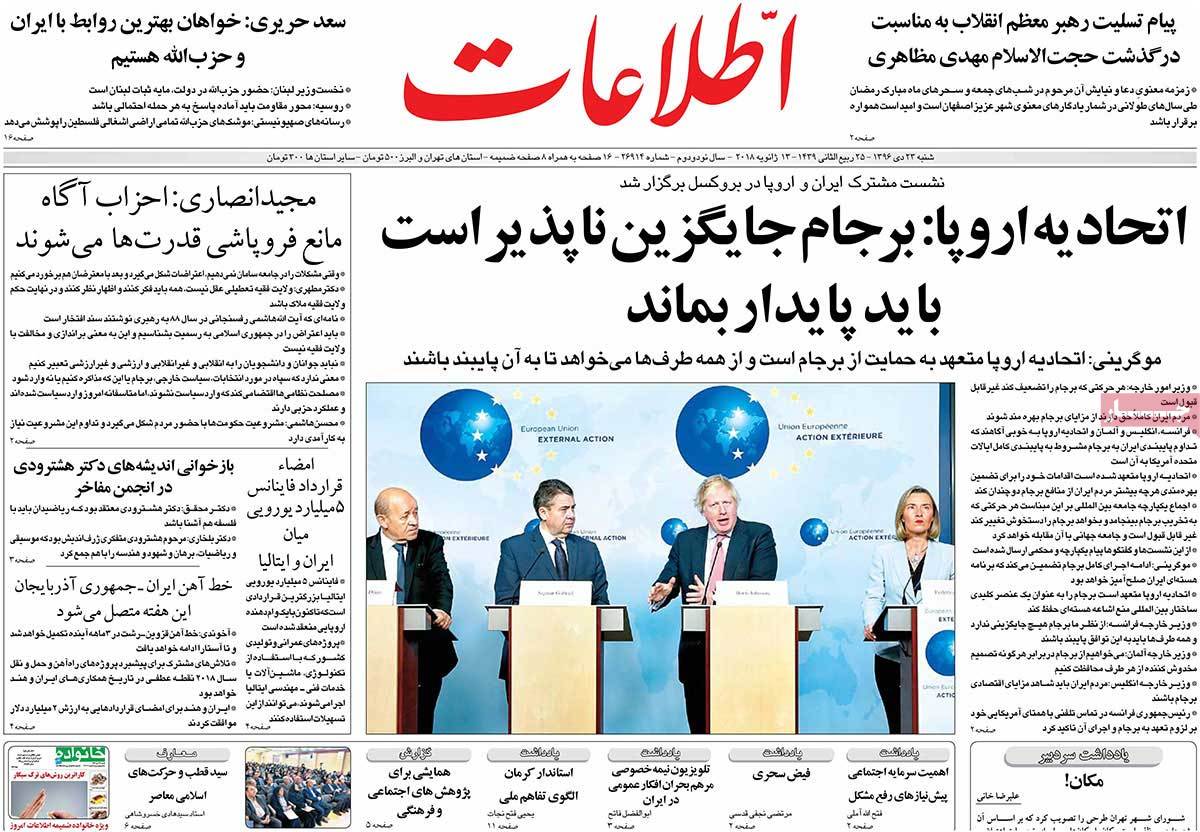 ---
Iran:
1- JCPOA Very Significant, EU Will Fully Support It: Mogherini
2- Iran, Europe to Open Biggest LC
---
Jame Jam:
1- Mogherini's Aide: New US Sanctions Violate Spirit of JCPOA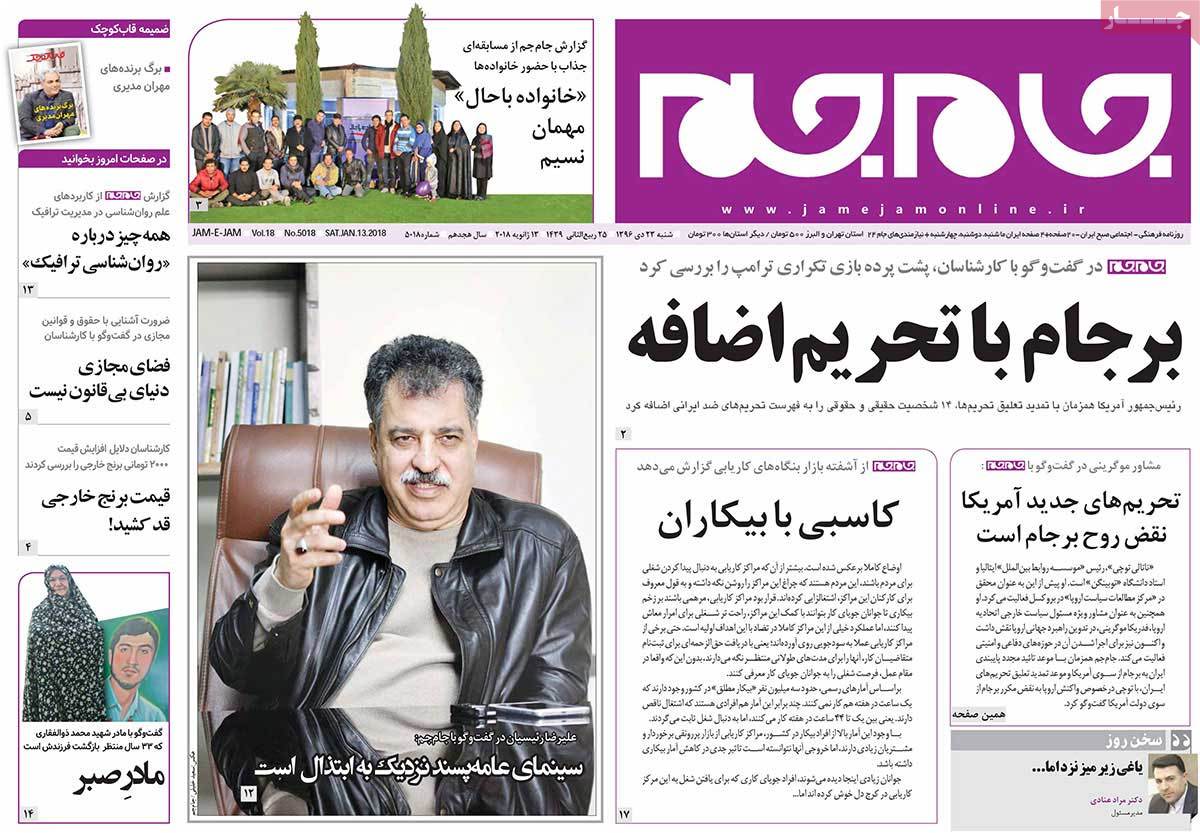 ---
Javan:
1- Extending Iran Nuclear Deal with New Sanctions, Threats
American Officials Say Trump Wants to Keep JCPOA
2- Mogherini's Aide: Int'l Coverage of Iran Protests Misleading
3- Films Focused on Resistance Break Records at This Year's Fajr Festival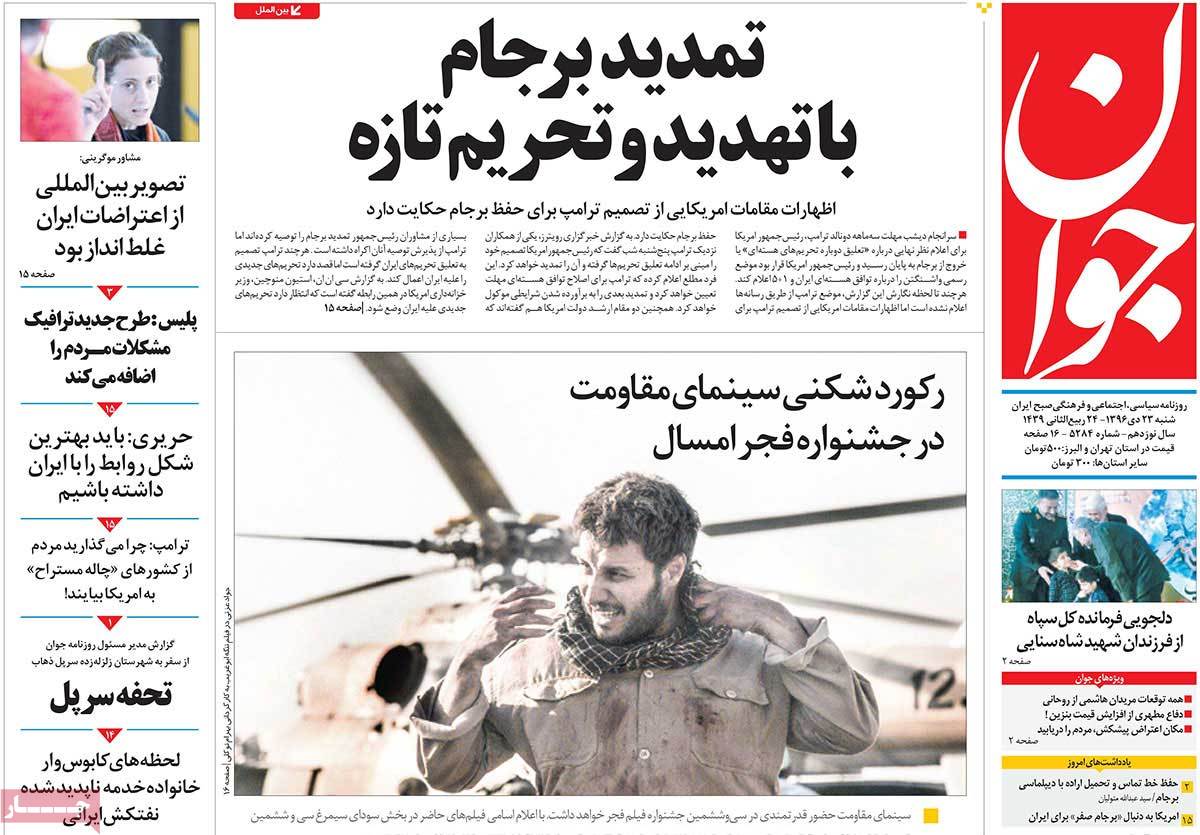 ---
Jomhouri Eslami:
1- People, Officials Attend First Anniversary of Ayatollah Hashemi Rafsanjani's Death
2- Top Clerics Emphasize Promotion of Armed Forces' Defensive Capabilities
---
Kayhan:
1- US Playing with Dead Body of JCPOA
Don't Link Economic Woes to Trump's Madness!
2- Efforts to Take Revenge from Iran Failed: Sun Daily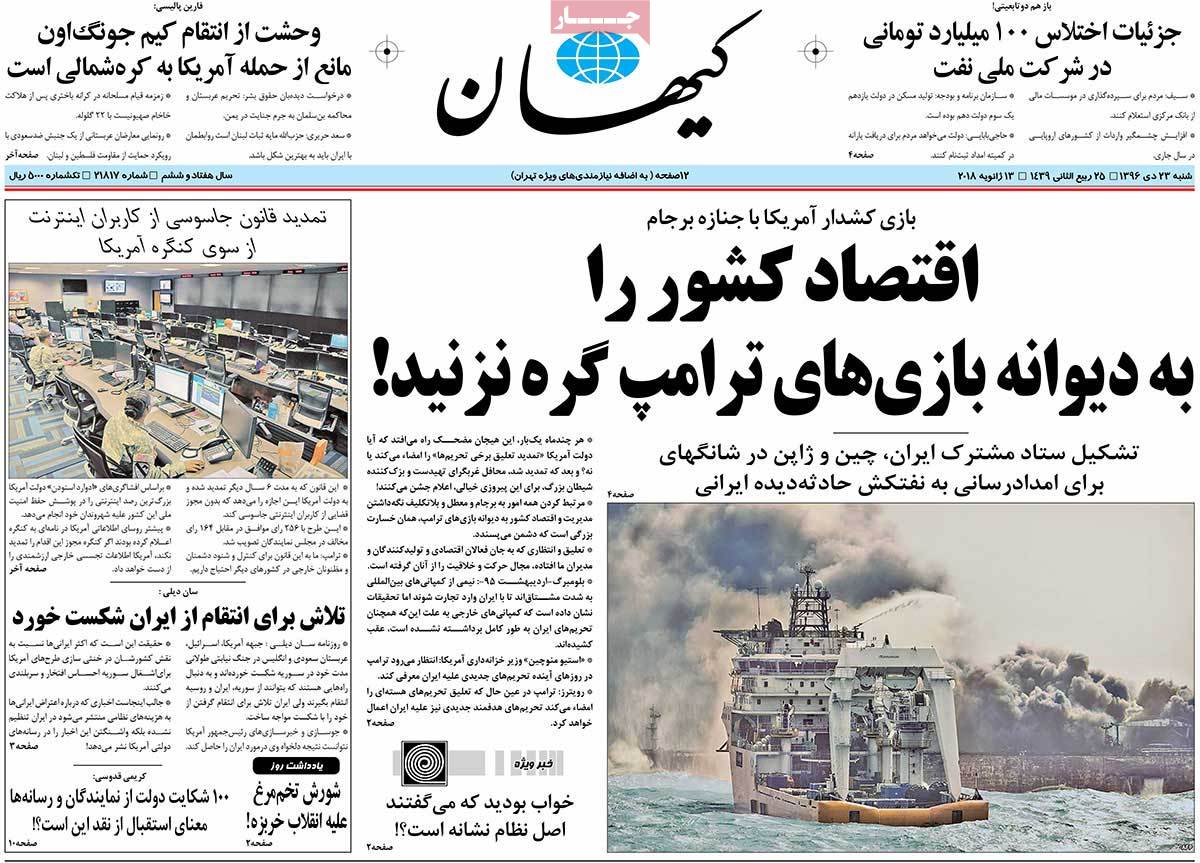 ---
Resalat:
1- DM: Iran's Defence Industry Has Progressed despite Sanctions
2- Assad: Enemy Plots to Disintegrate Syria Failed
3- Ayatollah Javadi Amoli: Armed Forces Honour of Islamic Iran
---
Shargh:
1- JCPOA Passes Dangerous Turn: Trump Extends Waiver of Iran Nuclear Sanctions
2- US Puts 14 Bodies, Individuals on Iran Sanctions List
3- Parliament Vice-Speaker: Astan Quds Razavi Shouldn't Be Exempt from Paying Tax
4- Labour Minister: We're Waiting for Permission to Meet Chinese Ship's Crew Members
---
Sobh-e Now:
1- Hariri Turns to Resistance Movement: Lebanese PM Calls for Better Ties with Iran
2- 12 Iranian Commandos Dispatched to Shanghai to Save Iranian Seafarers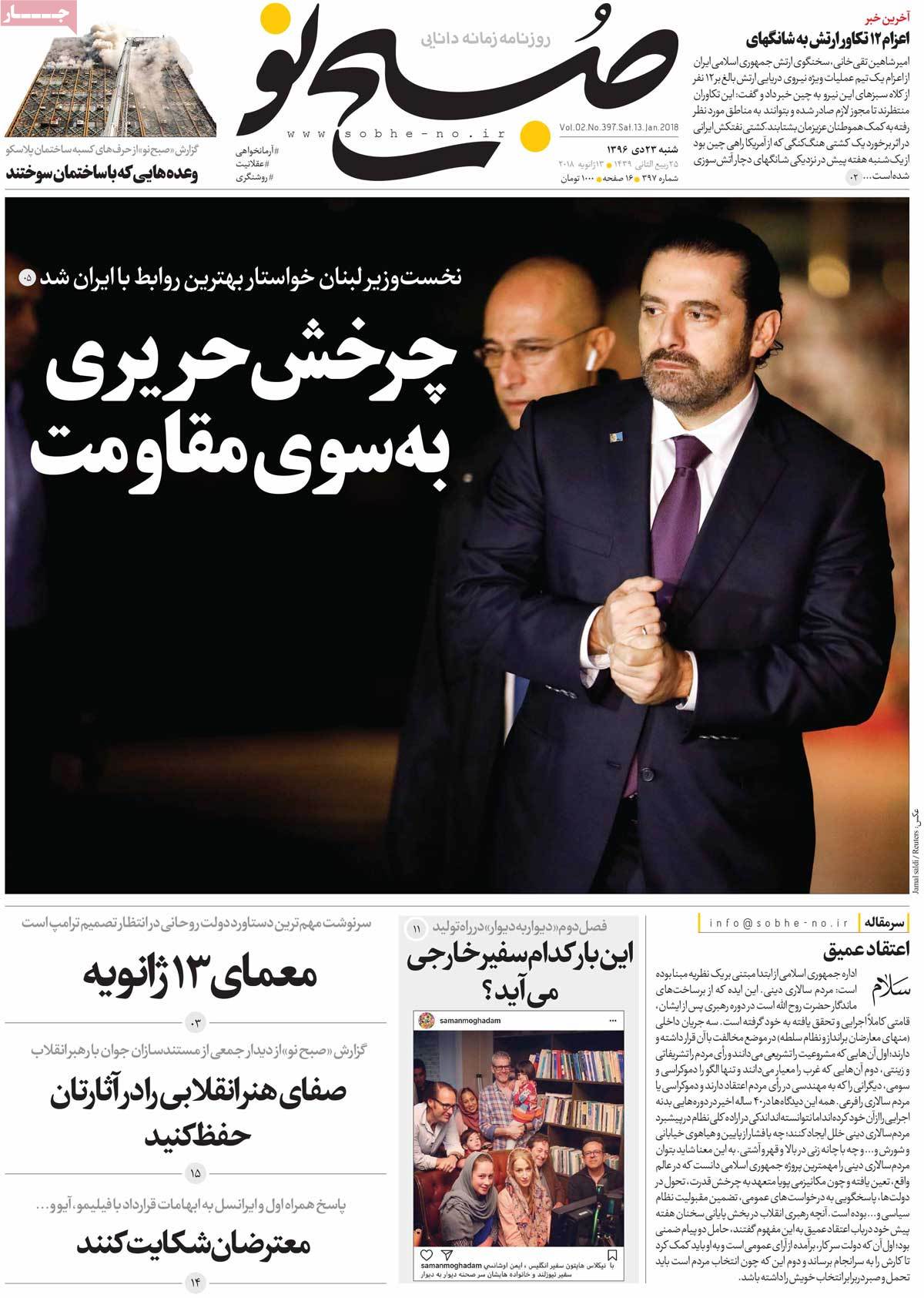 ---
Vaghaye Ettefaghieh:
1- IRGC Spokesman: Role of Saddam's Family in Recent Unrest
What Role Did Saddam's Brother-in-Law Play in Recent Events?
2- Girls Deprived of Education: Married Students Not Allowed to Study in Ordinary Schools