The top story in all Iranian newspapers today was the remarks made by Ayatollah Seyyed Ali Khamenei, the Leader of Iran's Islamic Revolution, about the recent unrest in Iran and the role played by the US, Israel, Saudi Arabia, and the MKO terrorists during the riots.
A ceremony to commemorate the first anniversary of Ayatollah Akbar Hashemi Rafsanjani's demise also received great coverage. Several papers particularly covered the remarks by Imam Khomeini's grandson Seyyed Hassan, as well as First Vice-President Es'haq Jahangiri, in praise of Ayatollah Rafsanjani.
The above issues, as well as many more, are highlighted in the following headlines and top stories:
19 Dey:
1- Iran Leader Urges Officials Not to Weaken Each Other
2- Imam Khomeini's Grandson: Recent Events Result of Making People Frustrated
3- Gov't Spokesman: Over 1m Jobs to Created in Next Iranian Calendar Year
---
Abrar:
1- The Guardian: Trump Plans to Re-Impose Sanctions against IRIB
2- Iran Leader: Triangle of US-Zionism, Filthy Rich Arab State, MKO behind Recent Riots
3- Imam Khomeini's Grandson: Ayatollah Rafsanjani Believed in Collective Wisdom
4- EU: Mogherini to Discuss JCPOA with Iranian, German, French, British FMs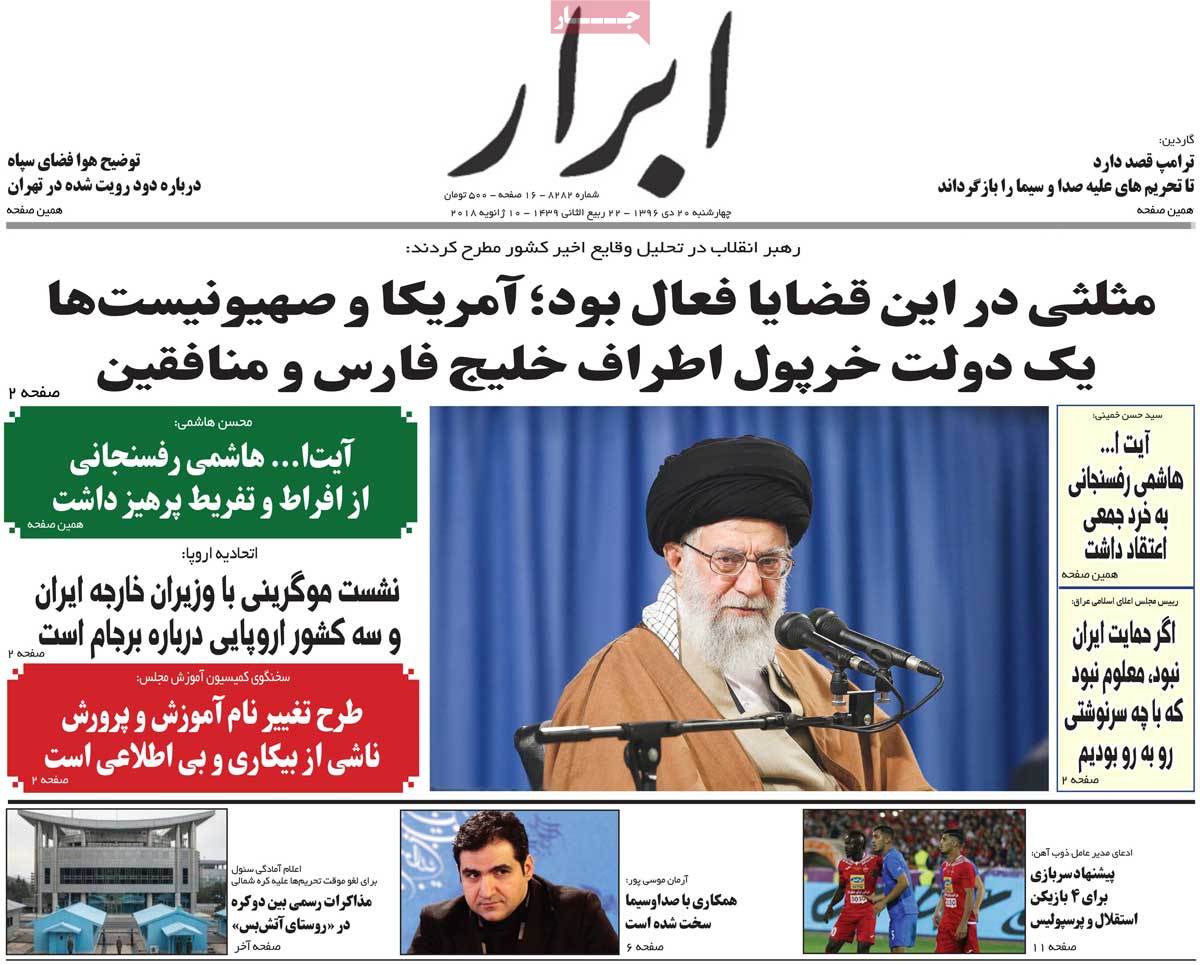 ---
Aftab-e Yazd:
1- Iran Leader: We Should Separate People's Legitimate Demands from Brutal Actions
2- Municipality: Gov't Not Allowed to Interfere!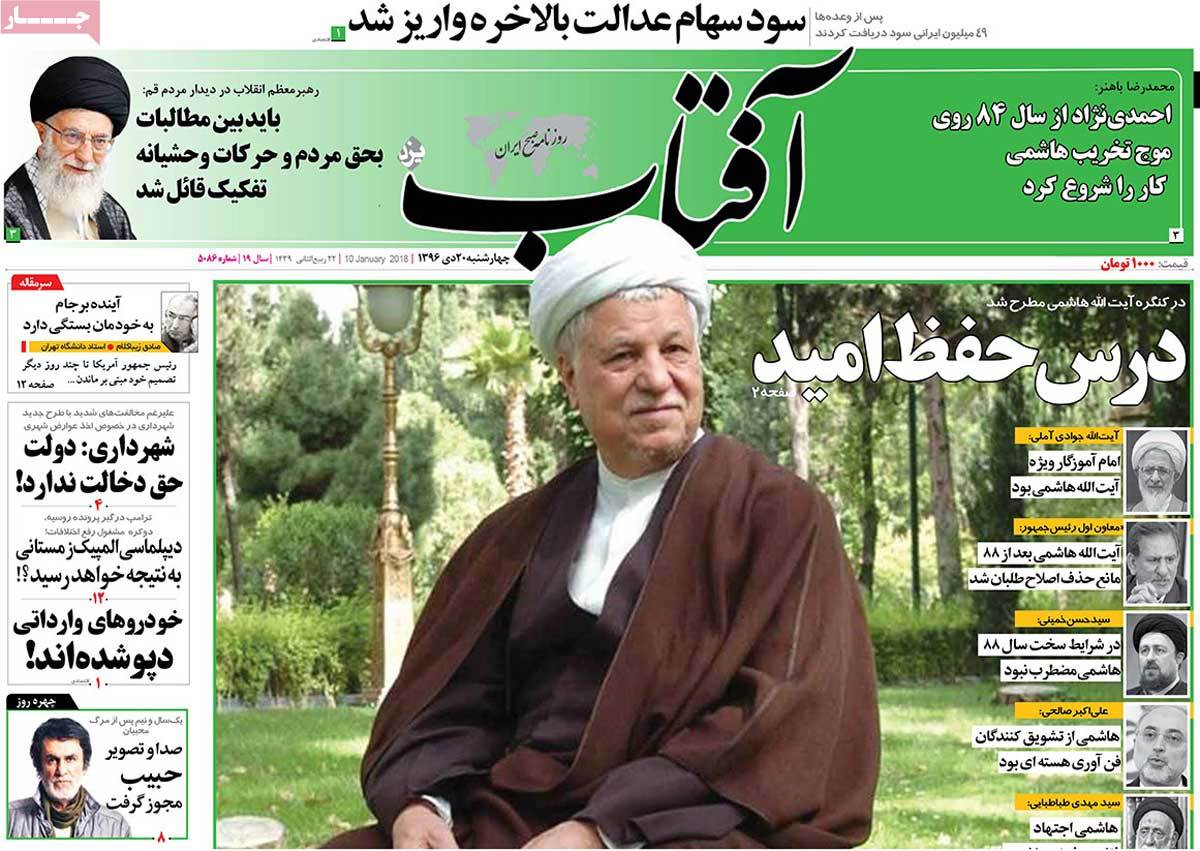 ---
Arman-e Emrooz:
1- A Report on First Anniversary of Ayatollah Rafsanjani's Demise
Lump in Throat of Imam Khomeini's Grandson, Rouhani's Absence
2- Trump under Pressure to Accept Iran Nuclear Deal
3- Judiciary Chief Urges Judges across Iran to Stop Execution of Drug Criminals
4- Iran Leader: People's Words Must Be Heard, Responded to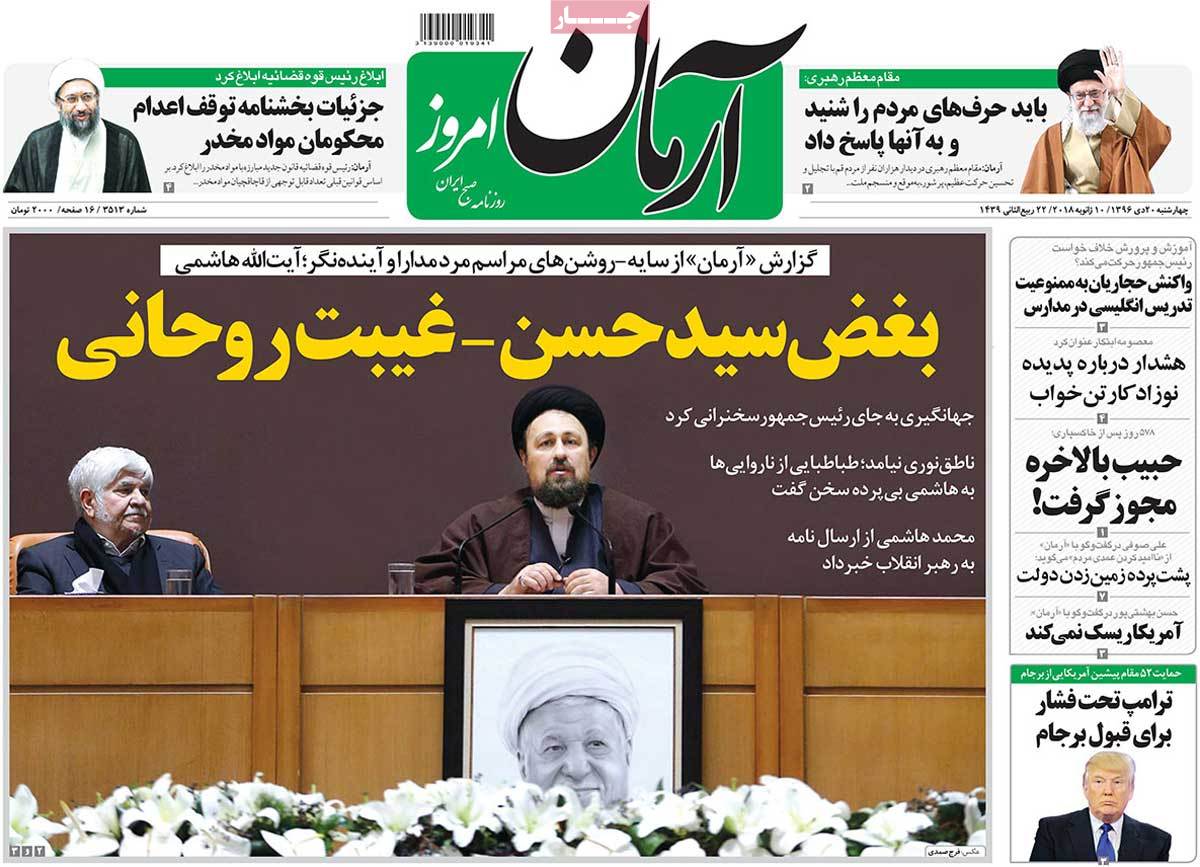 ---
Ebtekar:
1- Government Files Lawsuit against Iran's State TV
2- Trump's Approach to Iran Nuclear Deal: Confrontation or Withdrawal?
3- Iran Leader: I'm Very Hopeful about Future of Our Country
4- Iran Starts Investigation into Death of Prisoner
---
Etemad:
1- Iran Leader: Nothing Unsolvable in Iran
2- Iran First VP: Ayatollah Rafsanjani's Prudence Resulted in [Rouhani's] Presidency
---
Ettela'at:
1- Iran Leader: We Should Make Distinction between People's Honest Demands, Vandalism
2- Rouhani Orders Acceleration of Efforts to Rescue Iranian Sailors in China
3- Yemen's Ansarullah: If Saudi Arabia Continues Airstrikes, We'll Cut Red Sea Shipping Line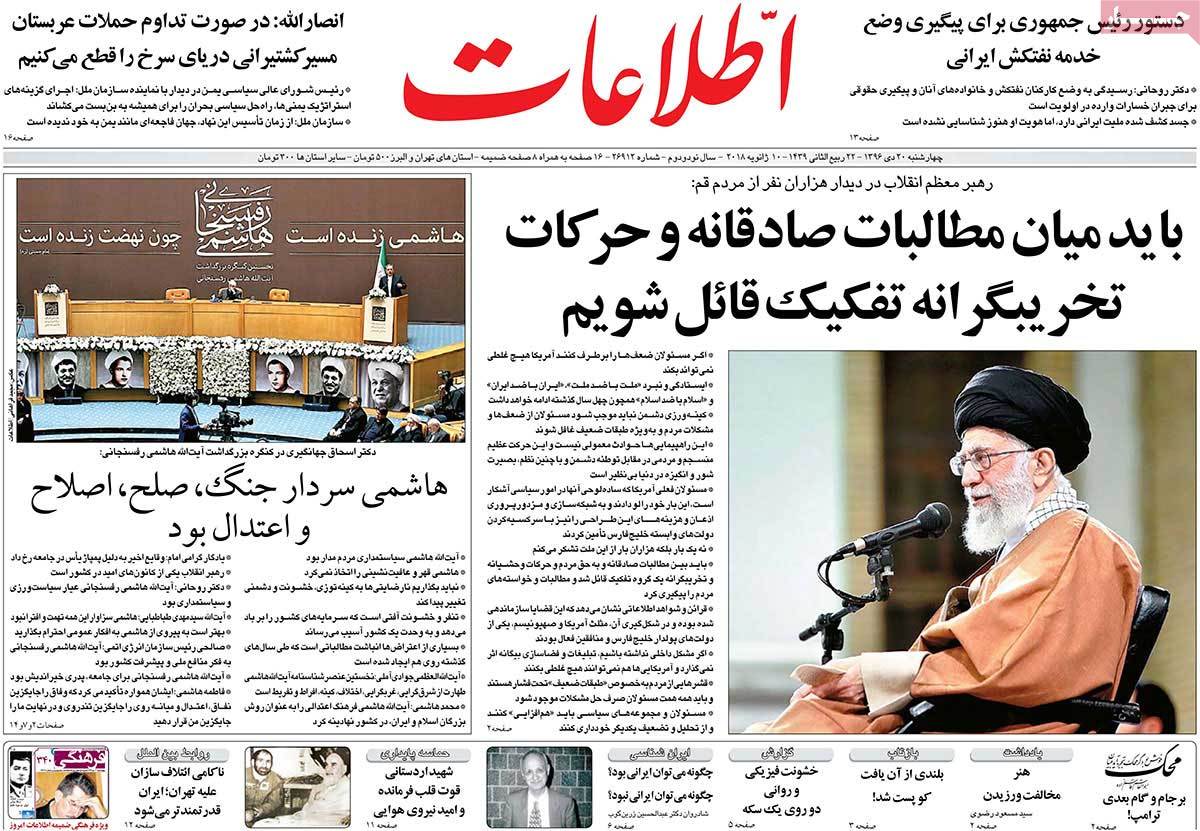 ---
Iran:
1- Iran Leader: We Should Heal Wound of Our Country's Problems
2- Rouhani: Ayatollah Hashemi Criterion for Politics
3- Jahangiri: Many of Recent Protests Caused by Past Problems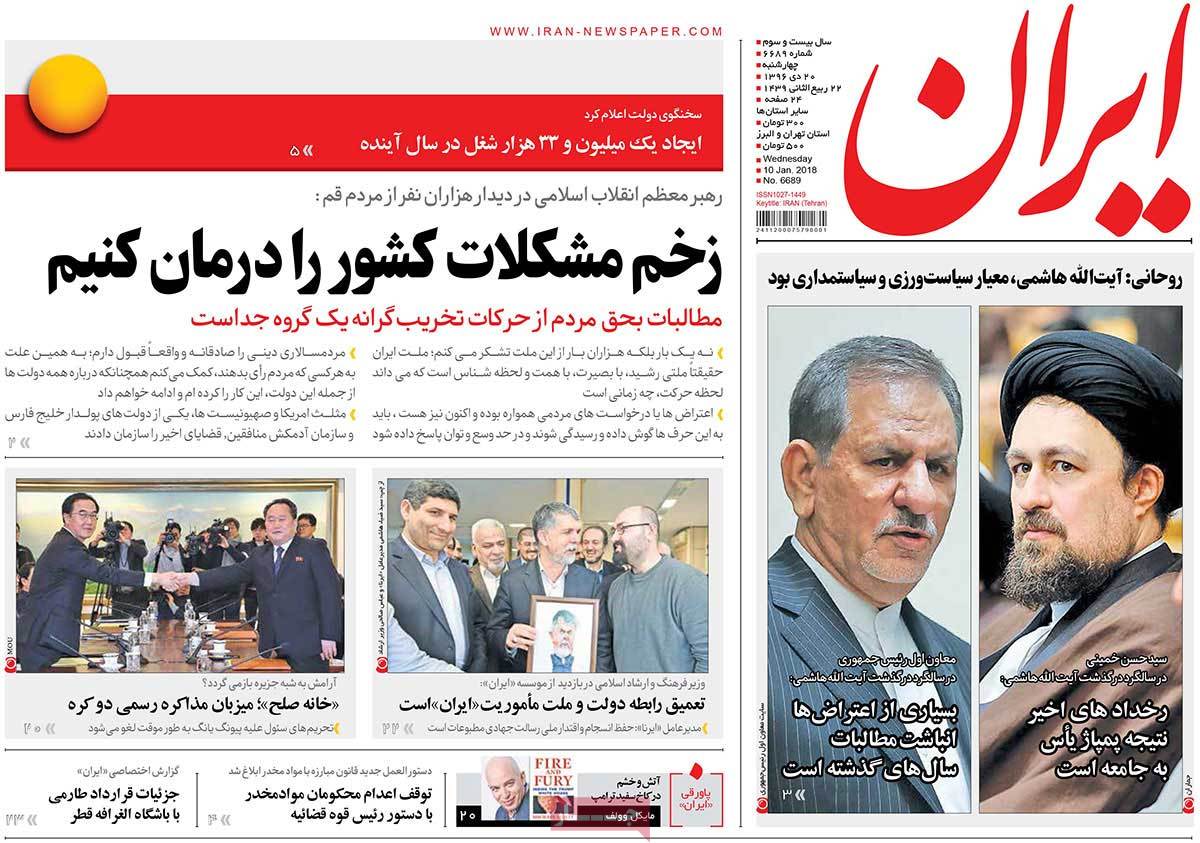 ---
Jame Jam:
1- Leader Praises Iranian People for Their Insight, Understanding in Recent Events
2- US Breaks Record of Killing Protesters: US Police Kills 987 People in 2017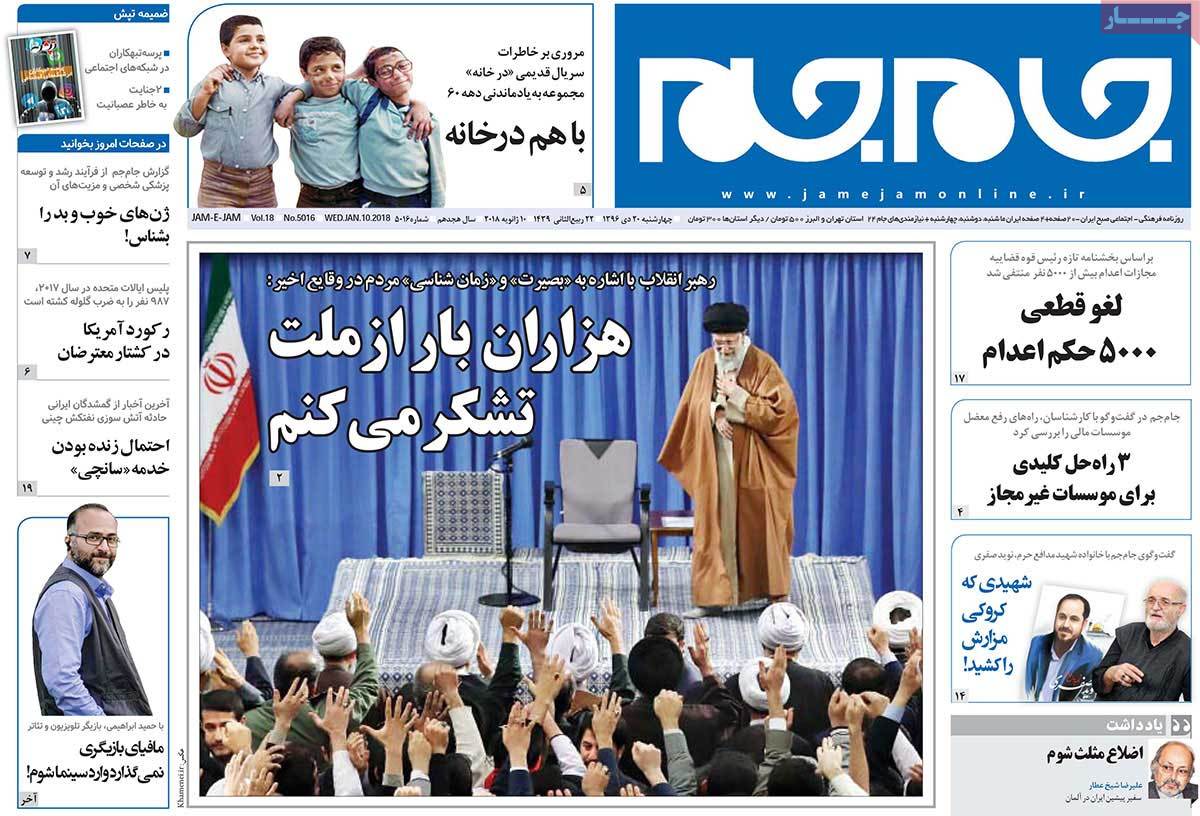 ---
Javan:
1- We All Should Be Responsive to People's Protests: Iran Leader
2- US Fuelled Recent Riots in Iran from Offices in Herat, Erbil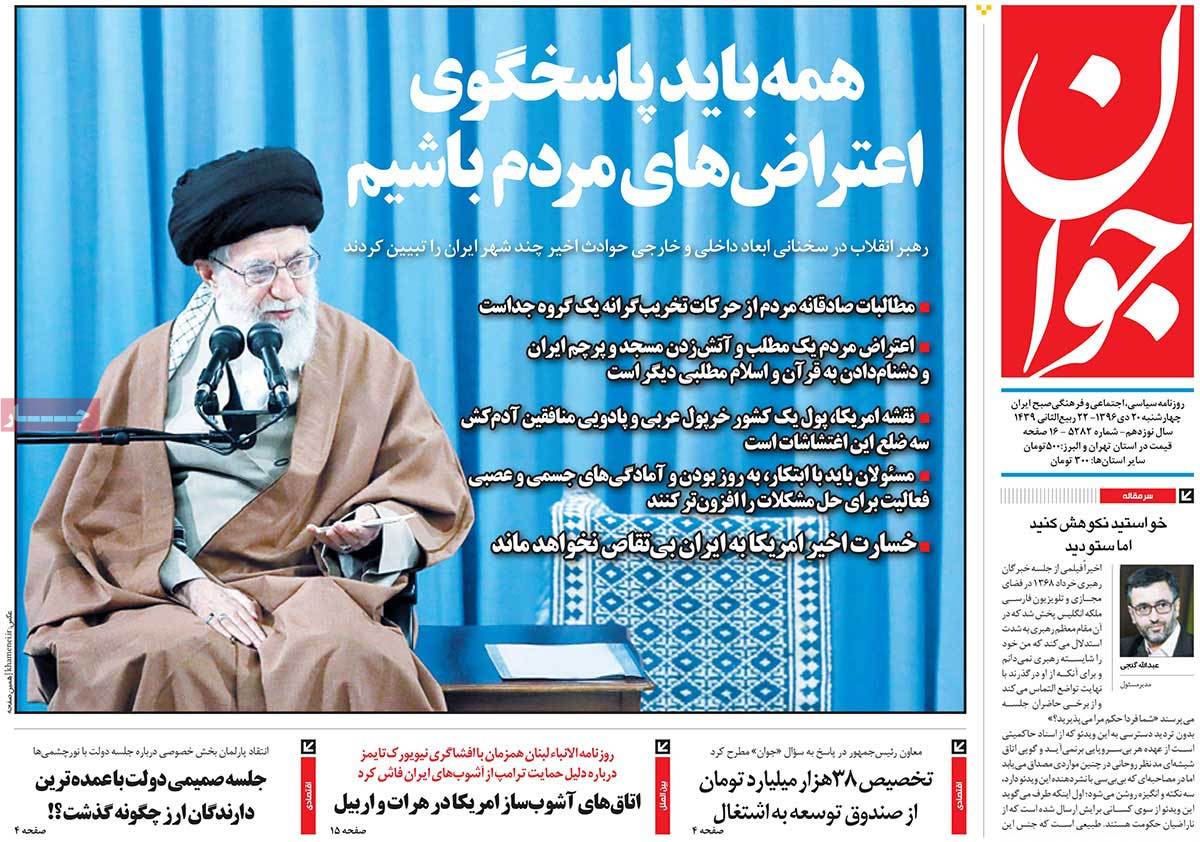 ---
Jomhouri Eslami:
1- 52 Former American Officials Express Support for Iran Nuclear Deal in Letter to Trump
2- Gov't Spokesman: 1,033,000 Jobs to Be Created Next Year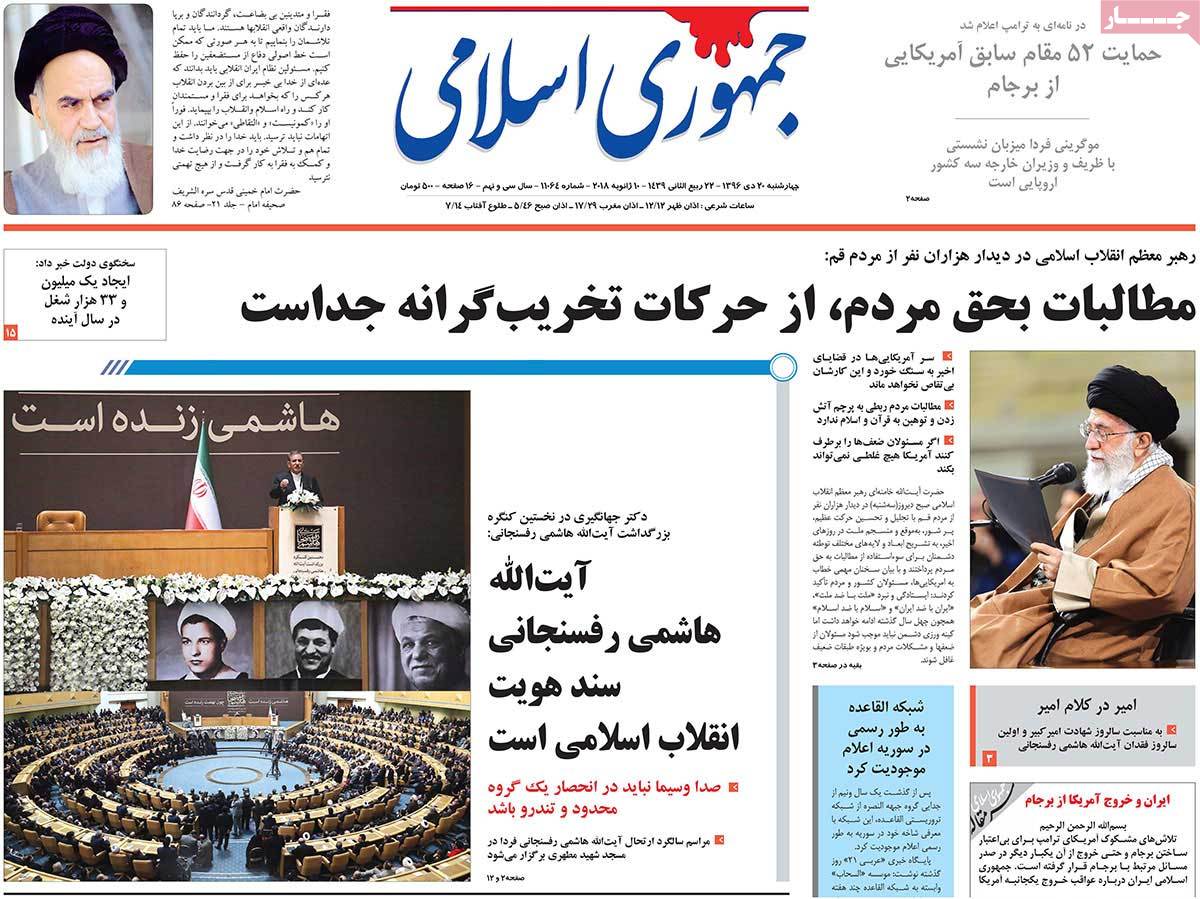 ---
Kayhan:
1- Yemen's Ansarullah: We'll Attack Oil Tankers in Red Sea, Bab el-Mandeb
2- No Private Sector Representative Present at Rouhani's Meeting with Exporters!
3- Zionist Regime Admits Defeat: Mossad Chief Says Iran Won't Be Destabilized through Such Riots
4- Macron: Social Media Must Be Restricted to Maintain France's Stability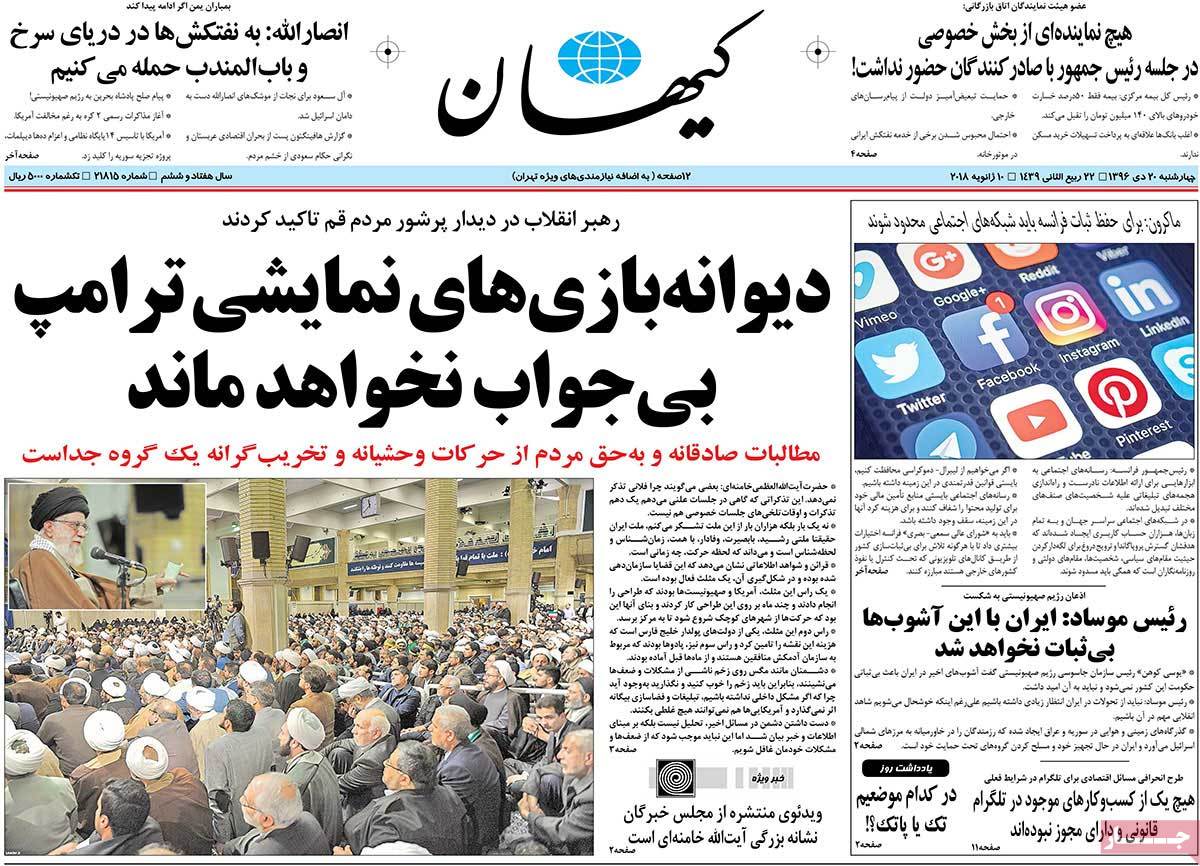 ---
Khorasan:
1- Iran Leader Warns Enemies, Demands Officials to Resolve Problems, Thanks People
2- Egg Prices Decrease
---
Resalat:
1- Leader: Trump's Plots against Iran Not to Remain Unanswered
2- Velayati: Iran Has Many Options to Counter US Withdrawal from JCPOA
3- Imam Khomeini's Grandson: Ayatollah Khamenei Best Source of Hope for Society
---
Vatan-e Emrooz:
1- Middle East's Sky Insecure for Western Jet Fighters
2- Fuel Prices Not to Be Increased: Parliament's Budget Commission