The top story in all Iranian newspapers was the nationwide protest rallies held by Iranian people on Friday to condemn the US recognition of al-Quds as the Israeli regime's capital and its decision to relocate its embassy to the city.
Several papers also covered the widespread reactions to the decision made by US President Donald Trump.
UK Foreign Secretary Boris Johnson's Saturday visit to Tehran was also a top story in some newspapers today.
The above issues, as well as many more, are highlighted in the following headlines and top stories:
19 Dey:
1- Rise of Muslims on Day of Rage
US Isolated, Muslim World United after Trump Decision
2- Ayatollah Sistani: Islamic Ummah Should Be United to Return Quds to Palestinians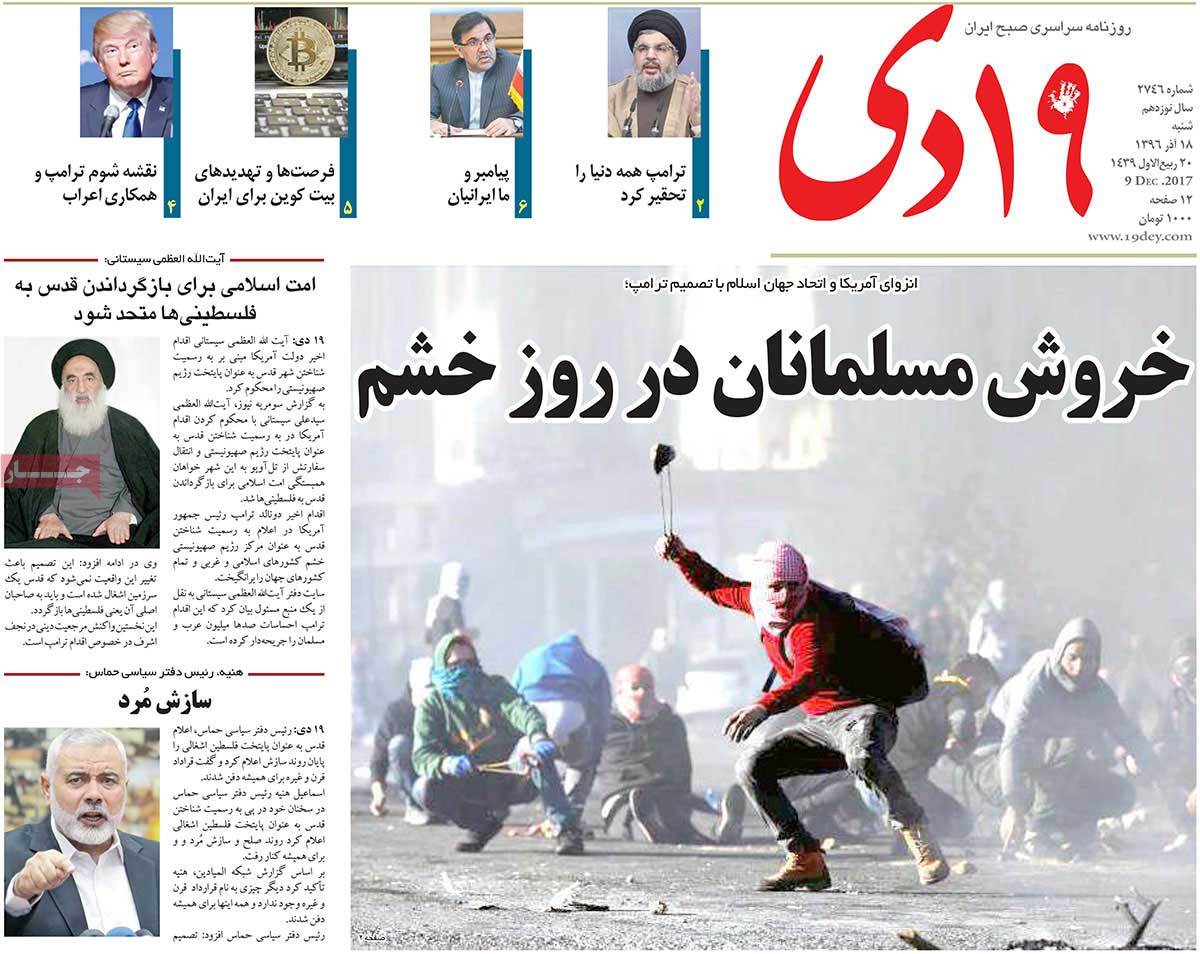 ---
Abrar:
1- Tehran Worshippers Hold Protest Rally against Relocation of US Embassy to al-Quds
2- Iran Top Commander: Annihilation of Zionist Regime Closer
3- Tehran, Ankara Agree on Holding OIC Leader's Summit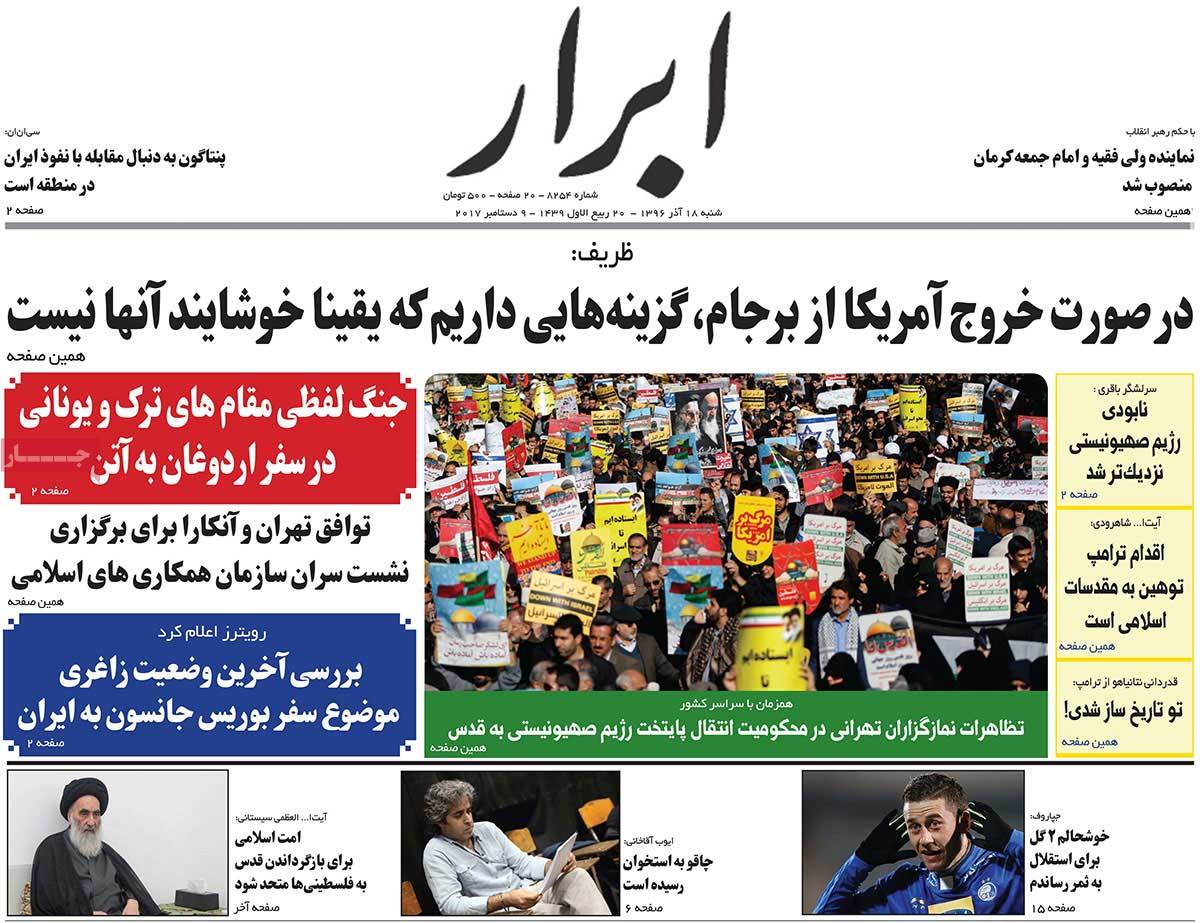 ---
Aftab-e Yazd:
1- World Bank: Prices of Consumer Goods in Iran Five Times More than World Average
2- Raisi: Imam Khomeini Said Astan Quds Razavi Exempt of Paying Taxes
3- Trump's Goof in Favour of Tehran
US Decision on Quds Brings Regional, Arab Gov'ts Closer to Iran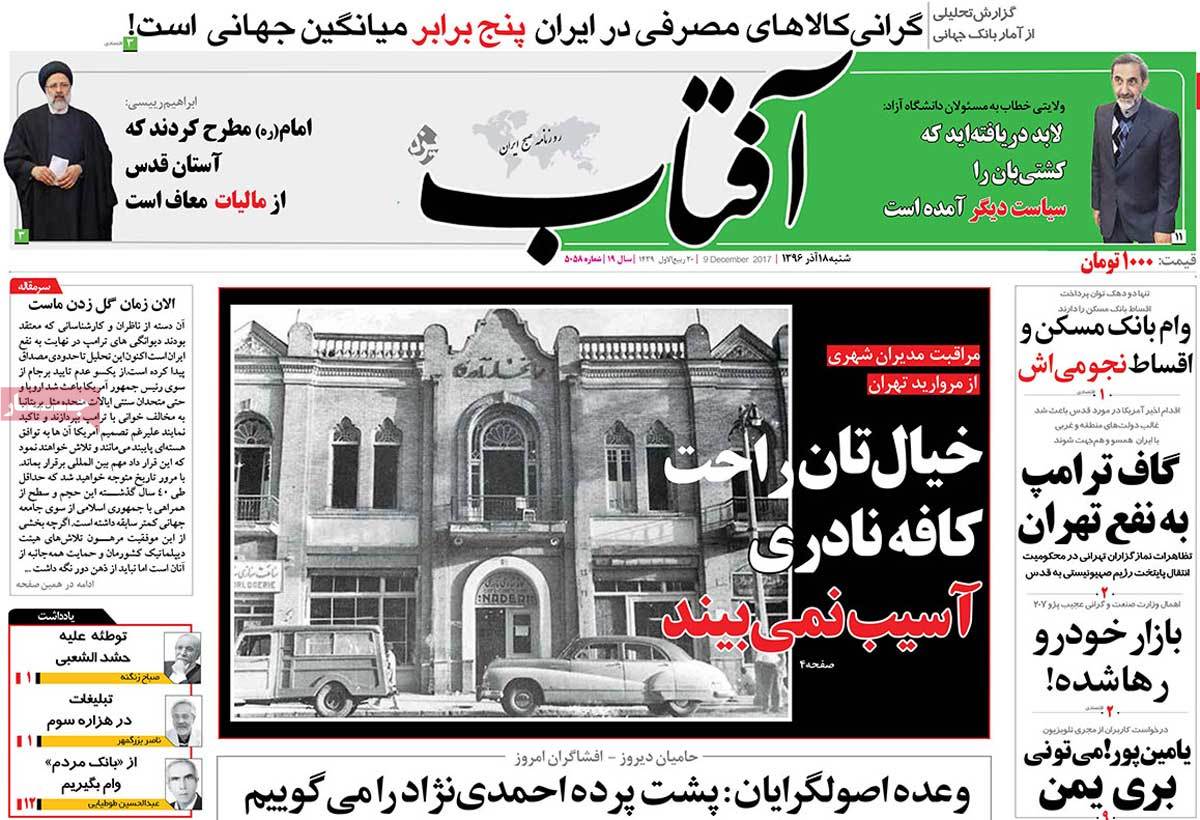 ---
Amin:
1- Al-Quds Stolen in Broad Daylight: Secrets behind Trump's Collusion with Arabs on Al-Quds
2- Velayati: Al-Quds to Remain Muslims' First Kiblah
3- UK Foreign Secretary to Visit Tehran Saturday
---
Arman-e Emrooz:
1- Iranian Worshippers Hold Nationwide Protest Rallies against Trump Decision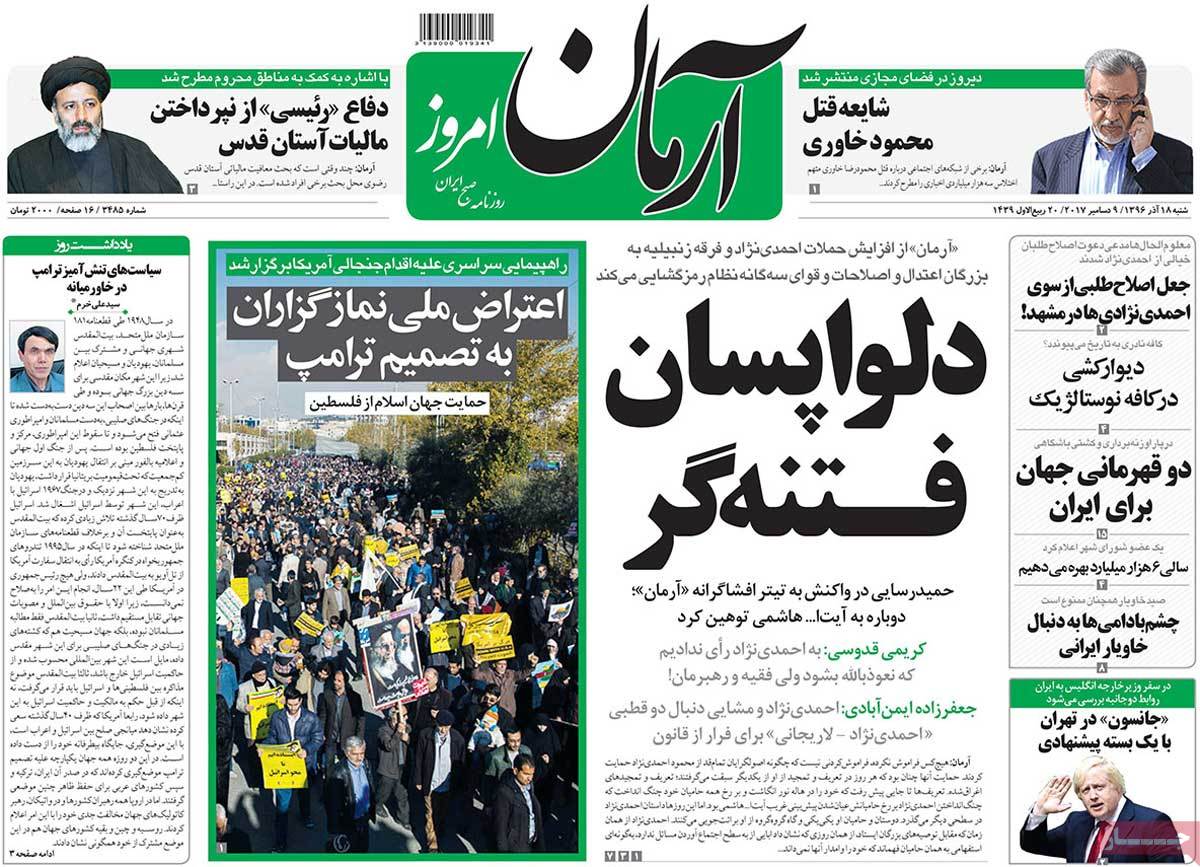 ---
Asrar:
1- Velayati: Trump's Move Last Blow to US' Political Life in Muslim World
2- Iran Defeats US to Claim Title in World Wrestling Clubs Cup
---
Ebtekar:
1- Interior Minister: Trump Made Big Strategic Mistake
2- Zarif's Message to US on JCPOA Withdrawal: Iran's Options Not Pleasant to US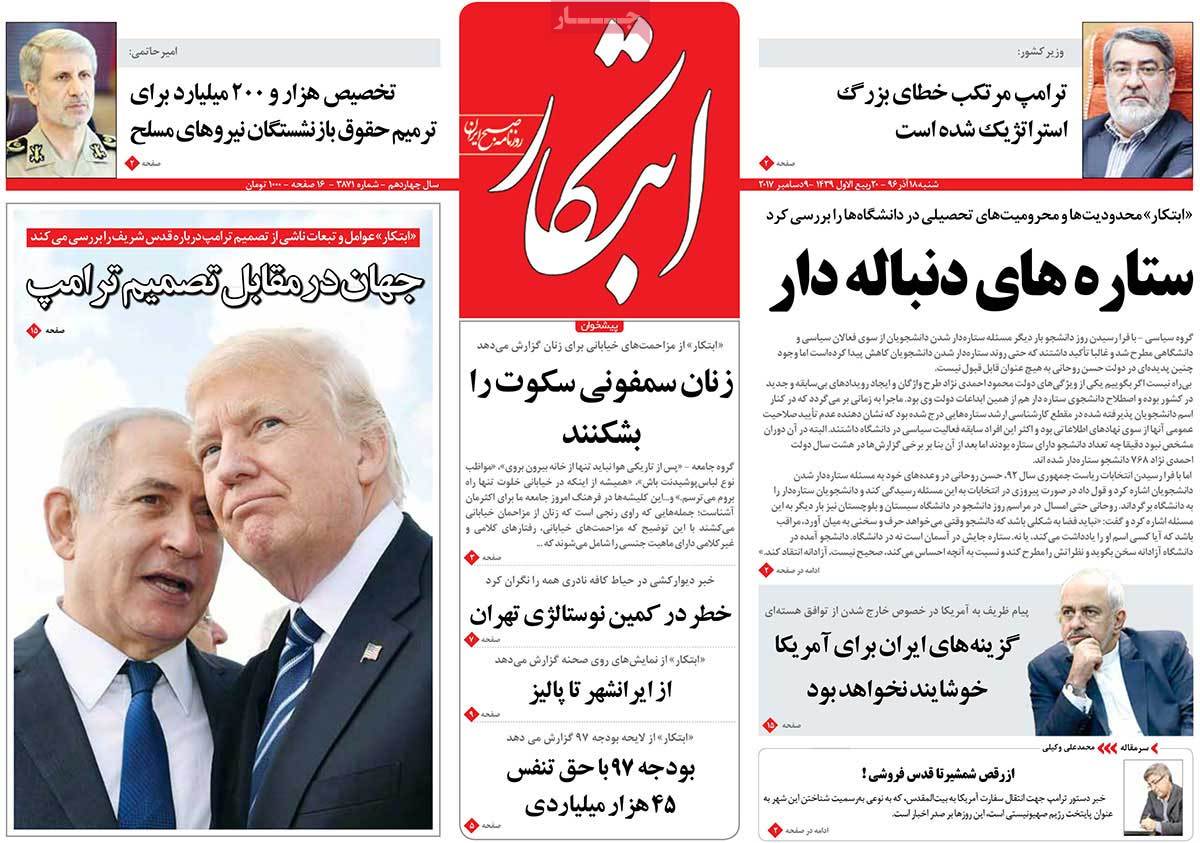 ---
Ettela'at:
1- Iran Leader Underlines Responsibility of Muslims to Help Save Palestine
2- Rouhani: Liberation of al-Quds Ultimate Goal of Muslims
3- Islamabad: We'll Target US Drones in Pakistan Sky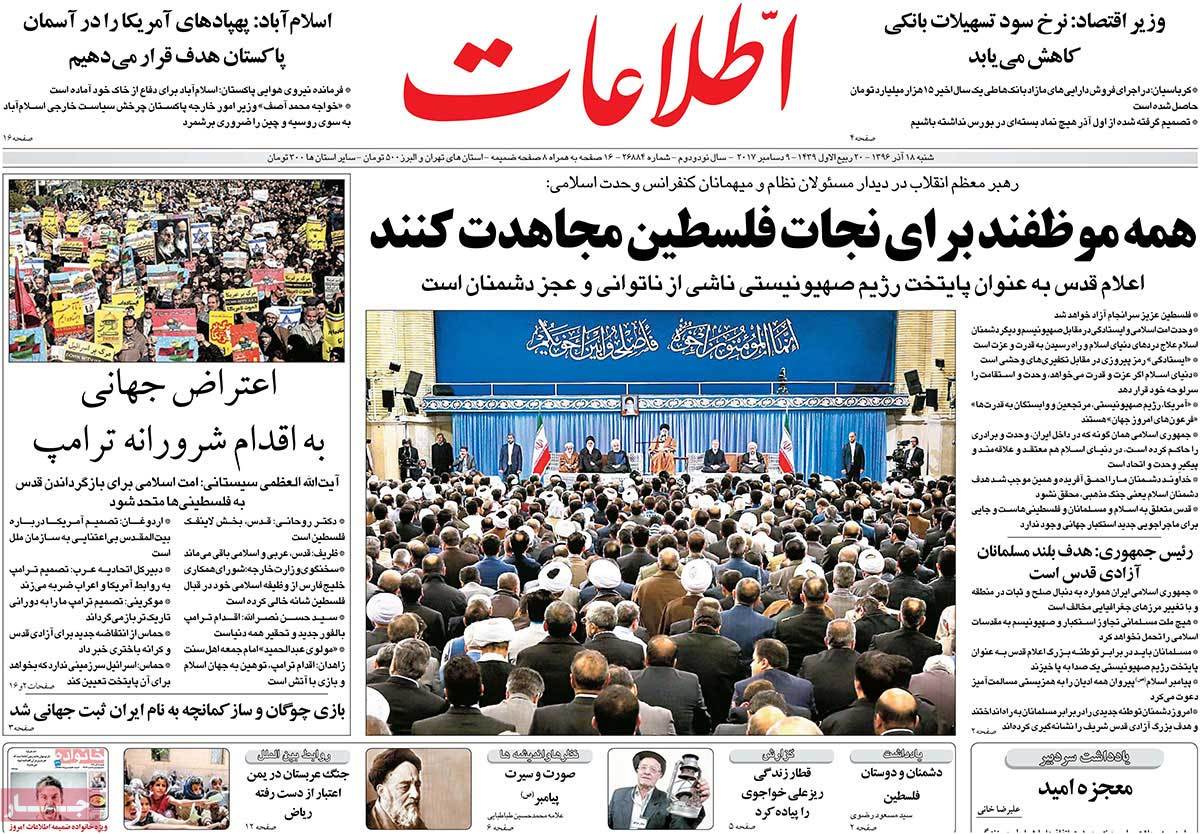 ---
Iran:
1- Global Outrage against Trump's Show
Echoing Voice of Muslims, Politicians Also Object to Trump's Decision
2- $28.5 Billion in Foreign Investment Realized after Iran Nuclear Deal
---
Javan:
1- Int'l Flames of Intifada
World Nations, from US to Mideast, East Asia, Outraged by Insult to Muslims' First Kiblah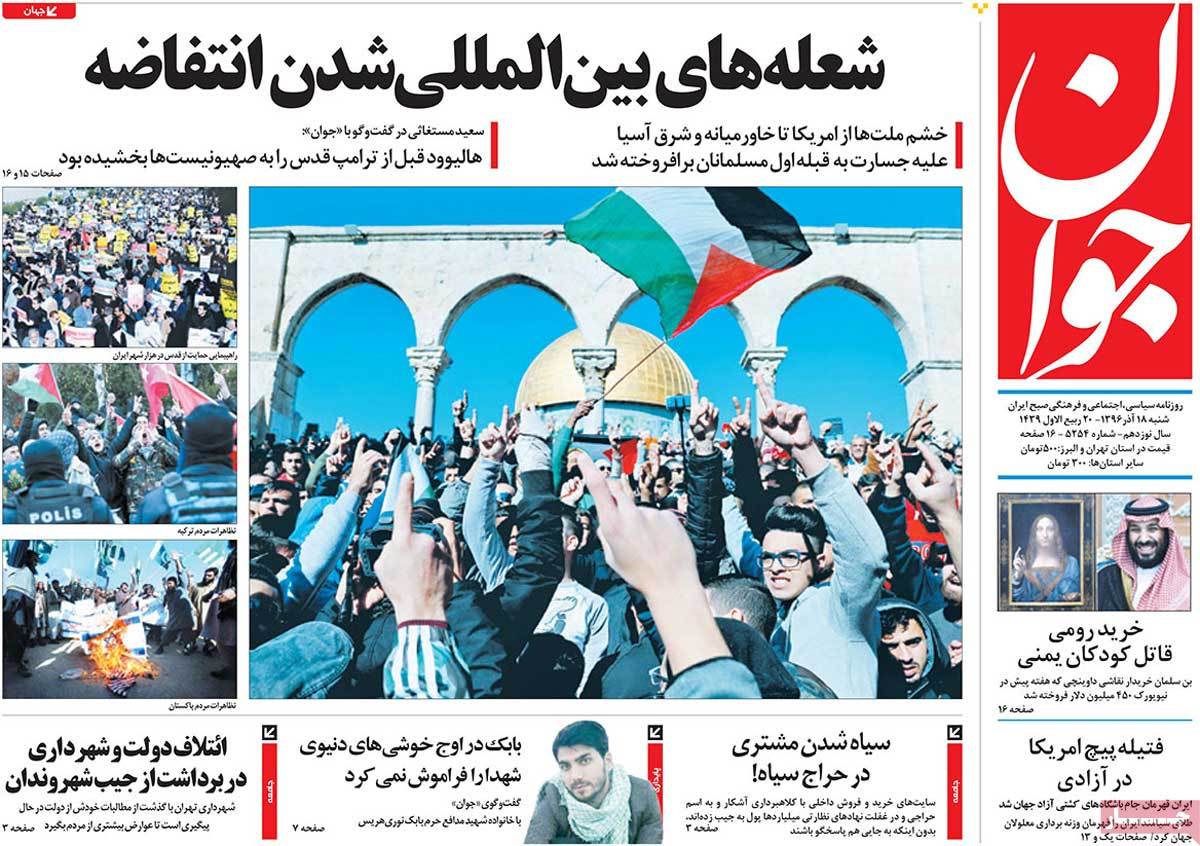 ---
Jomhouri Eslami:
1- Iran Leader: Declaring Al-Quds as Capital of Israeli Regime Shows US Desperation
Palestine Will Definitely Be Liberated
2- Rouhani: Iran Won't Tolerate Aggression on Islamic Sanctities
3- Nasrallah: Muslims Should Turn Trump's Recent Move into Opportunity
---
Kayhan:
1- Trump Brings Forward Death of Israel: Palestine Once Again Focus of Muslim World
2- Commander of Syria's Kurdish Fighters Reveal How US Gifted Raqqa to ISIS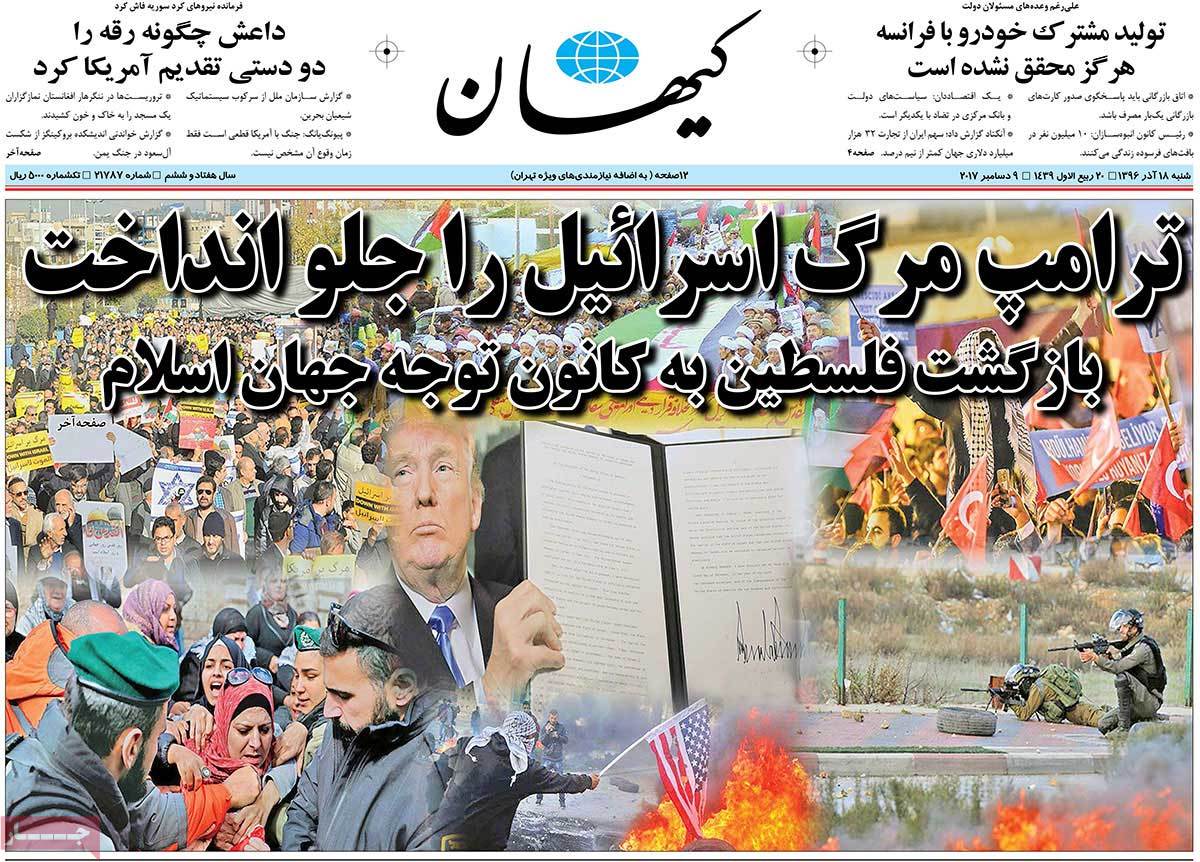 ---
Resalat:
1- Iranian Nation Roars against US Plot
2- Protesters: Al-Quds to Remain Capital of Palestine Forever
3- Iran Leader: Muslim World to Resist, Palestine to Be Liberated
4- Rouhani: Global Arrogance, Zionism Looking for New Plots in Region
---
Rooyesh-e Mellat:
1- Trump Totally Ended Palestine Peace Talks
2- IRGC General Rezaei: Saudi Arabia, UAE Should First Prove They're Muslims