IFP has taken a look at the front pages of Iranian newspapers on Saturday, December 2, and picked headlines from 14 of them. IFP has simply translated the headlines and does not vouch for their accuracy.
The top story today was the FIFA World Cup 2018 draws, in which Iran was drawn with Morocco and European powerhouses Portugal and Spain.
The remarks by EU Foreign Policy Chief Federica Mogherini about the Iran nuclear deal and her strong support for its implementation also received great coverage.
Among other top stories were the 6.1-magnitude earthquake that hit Iran's southeastern province of Kerman, and the comments made by Iran's First Vice-President Es'haq Jahangiri in the Shanghai Cooperation Organization (SCO) summit in Sochi.
The above issues, as well as many more, are highlighted in the following headlines and top stories:
Abrar:
1- Iran Top Officer: All Terrorist Attacks in Arba'een Thwarted
2- Arab League Sec-Gen: We're Ready for Cooperation If Iran Changes Behaviours
3- British PM Stresses Support for Iran Nuclear Deal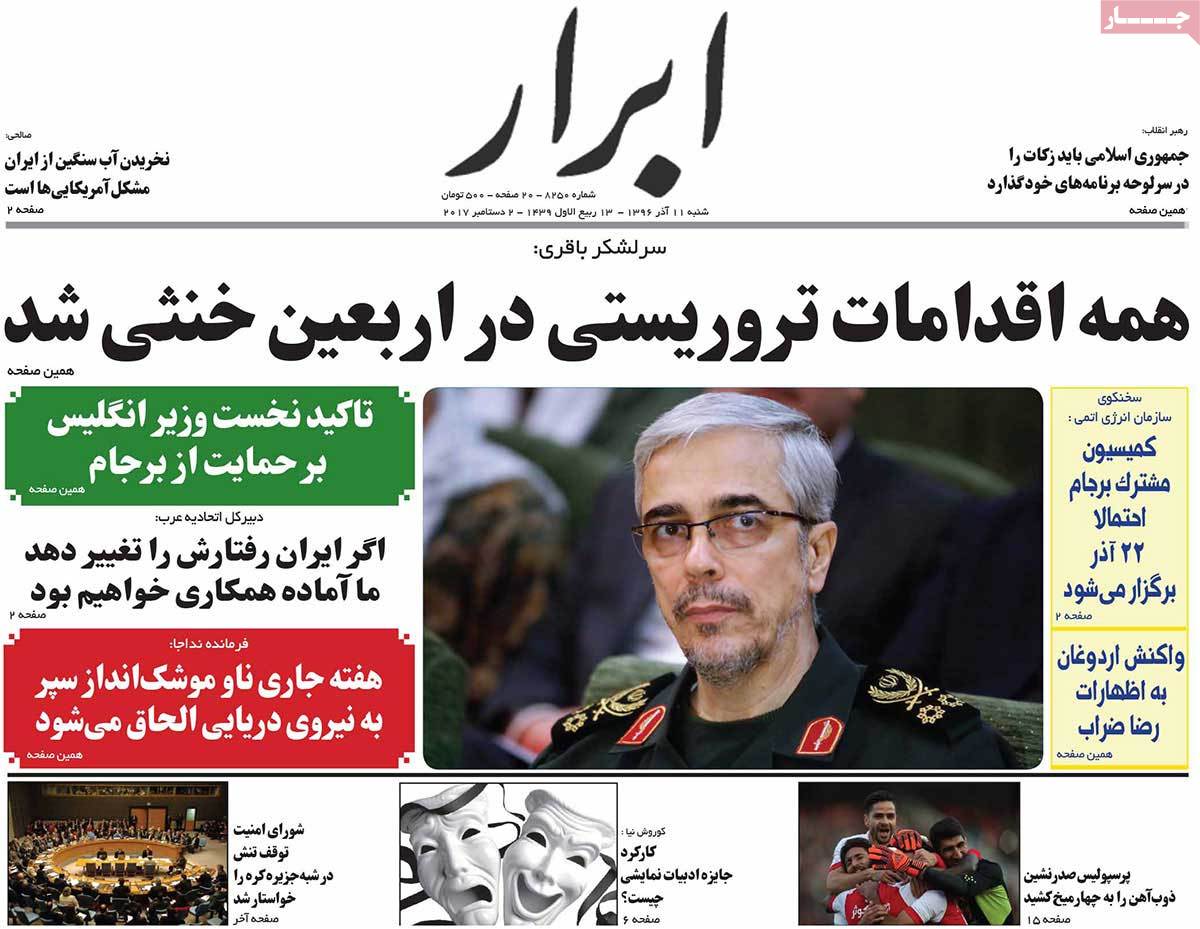 ---
Aftab-e Yazd:
1- Early Death? Difficult World Cup Draw for Iran Football Team
2- Corpse Bride: World Media Cover Strange Face of Iranian Girl after 50 Surgeries
3- Zarif: Europe Has Been Decisive in Declaring Its JCPOA Stances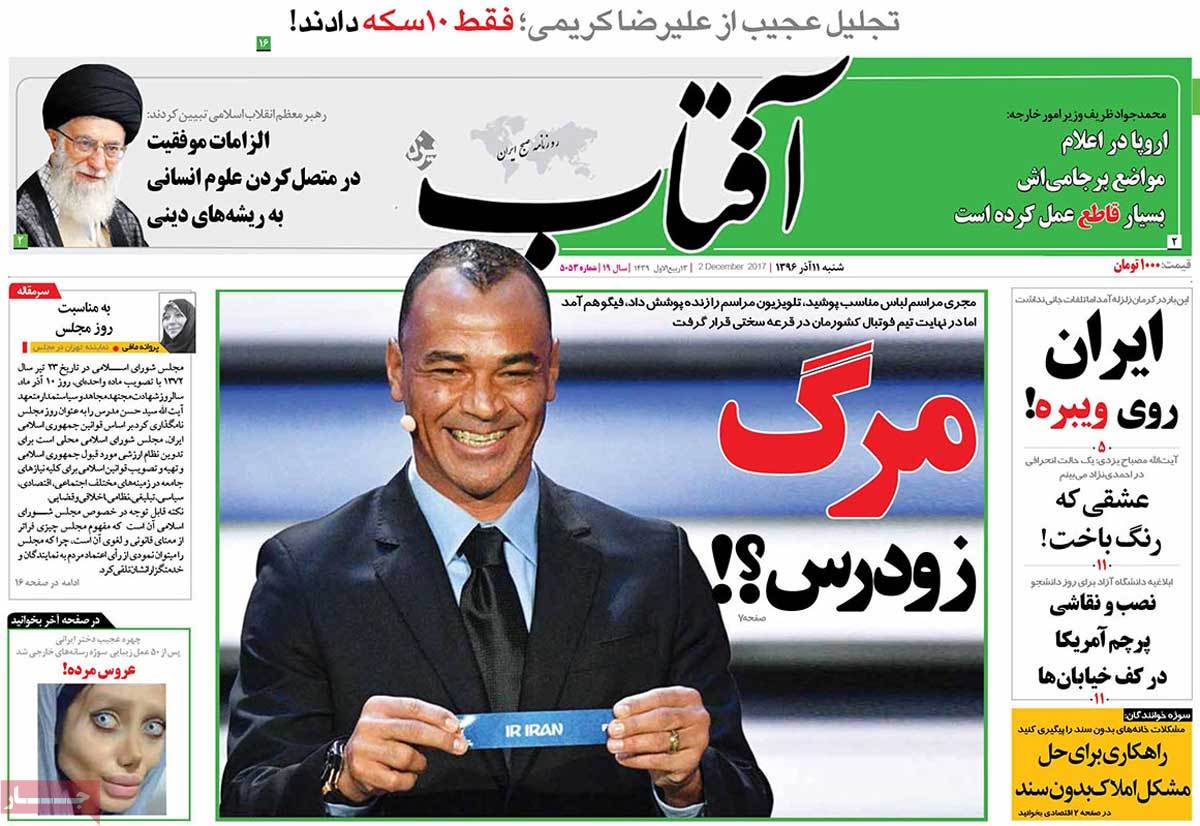 ---
Asrar:
1- Iran First VP: JCPOA Creates New Opportunity for Regional Cooperation
2- Oil Minister: US Sanctions Not Important to Iran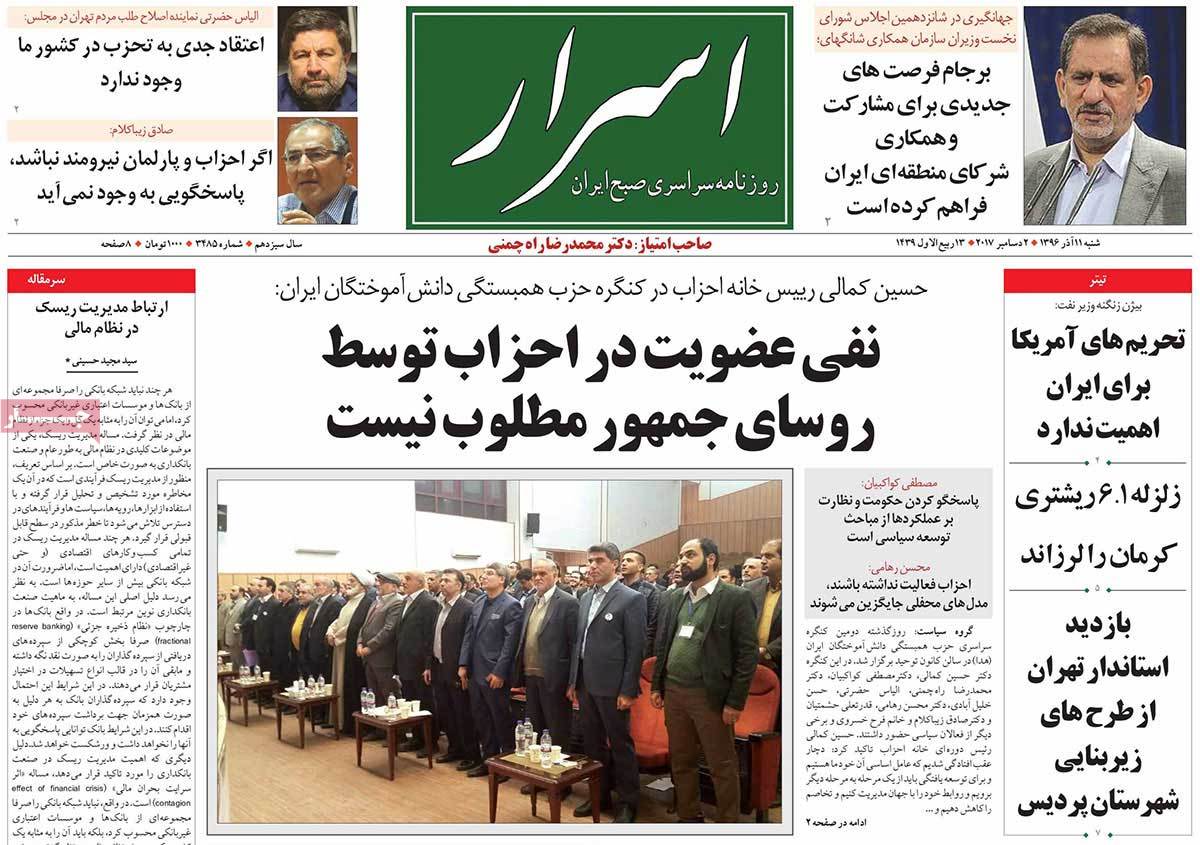 ---
Bahar:
1- Zarif in Rome: JCPOA Best Possible Deal for All Parties
2- Iran First VP: Sanctions Not Completely Removed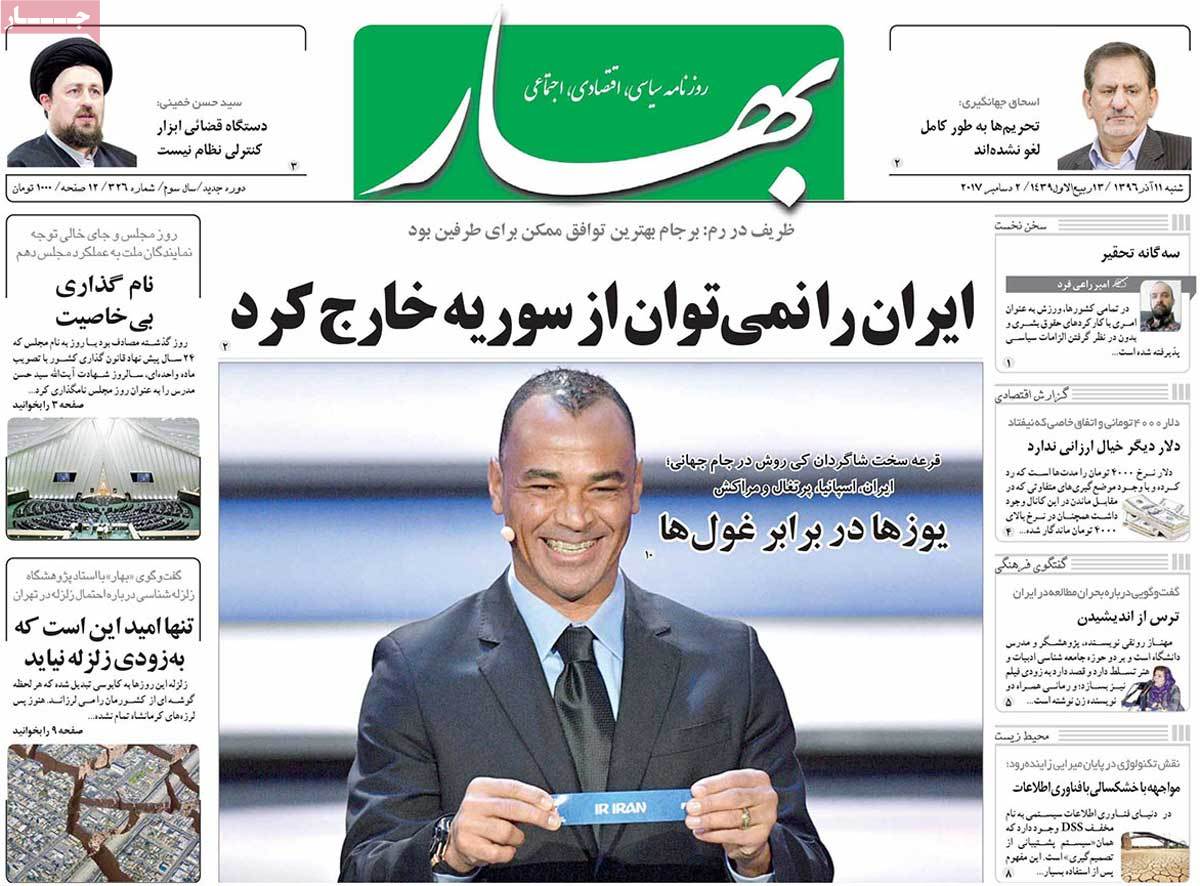 ---
Ettela'at:
1- Iran First VP: Project to Create New Middle East Has Failed
2- European Parliament Votes against Selling Weapons to Saudi Arabia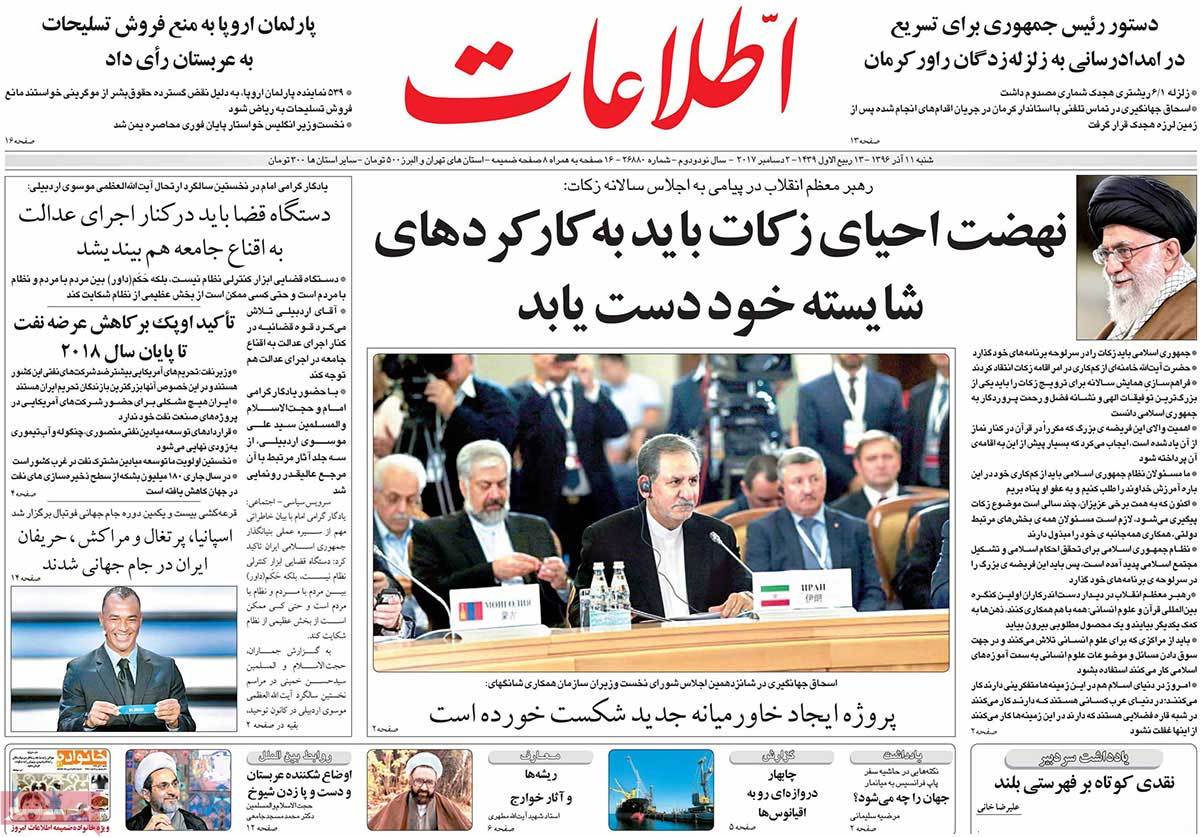 ---
Hambastegi:
1- Zarif: Europe Should Give Practical Guarantee on JCPOA
2- Queiroz: Iran Has a Wonderful, Committed Team
3- Polish Diplomat: Teaching Polish Language in Iran Very Important to Us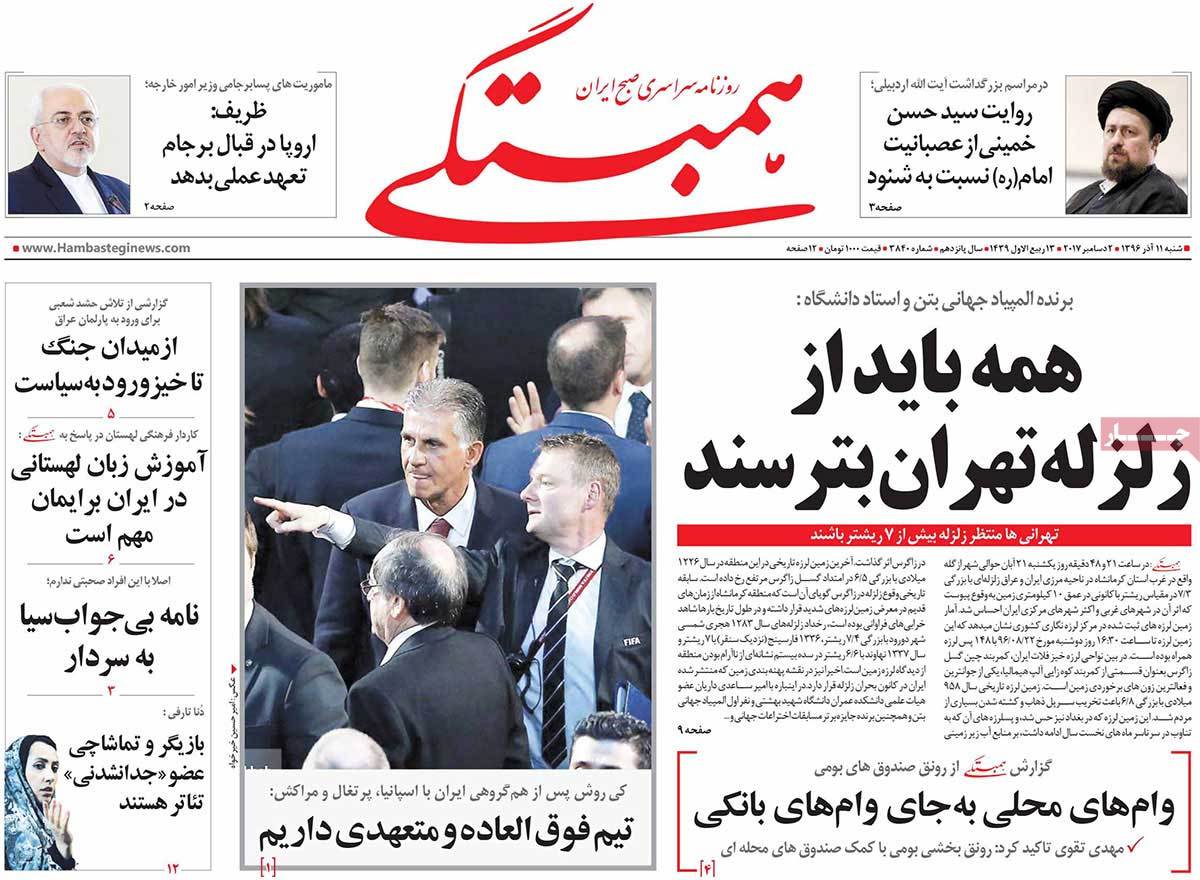 ---
Iran:
1- Iran Leader: Humanities Rooted in Religion
2- Difficult Campaign of Iranian Cheetahs
Queiroz: We'll Fight for Happiness, Honour of Iranians in Every Match
3- Mogherini Strongly Supports Iran Nuclear Deal
We Told Trump JCPOA Implementation Is Security Priority for EU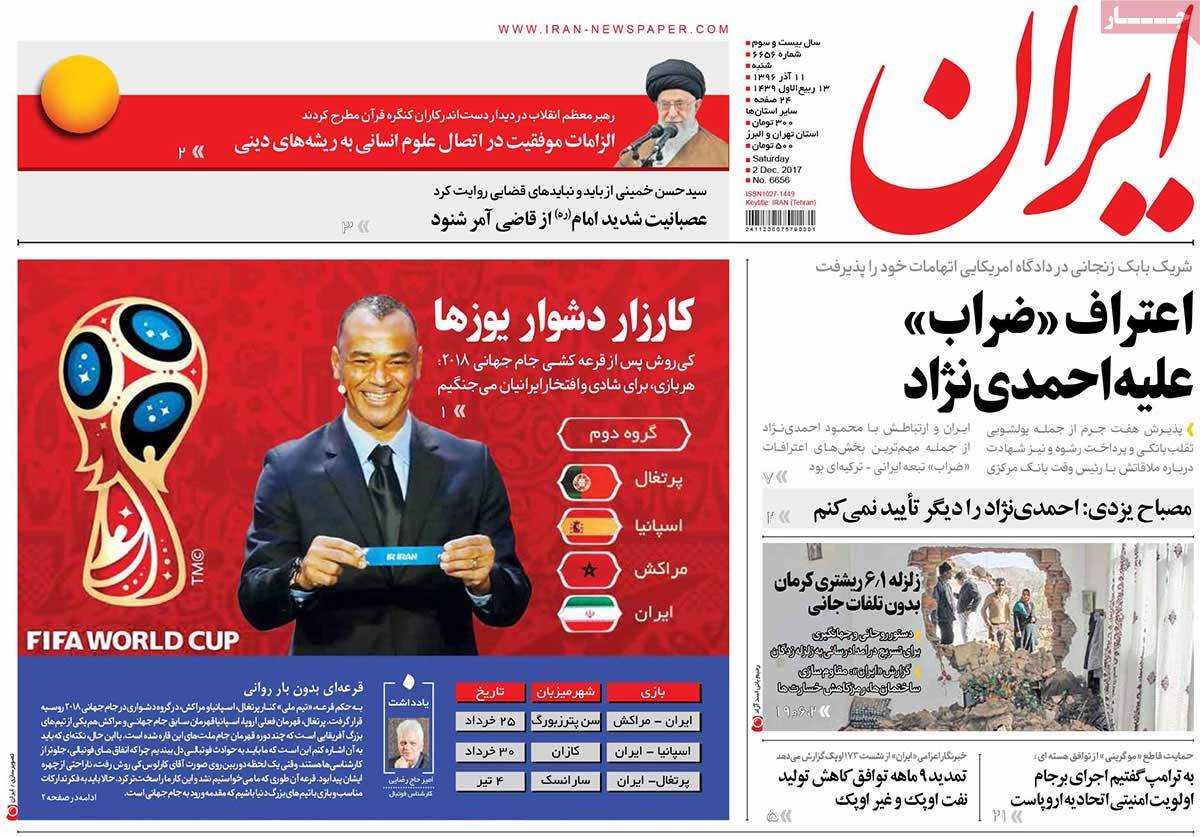 ---
Jame'eh Farda:
1- EU: Respect Iran Nuclear Deal
Mogherini: Not Even a Single Paragraph of JCPOA Renegotiable
Europe to Stand against Pressures of US, Saudi Arabia, Israel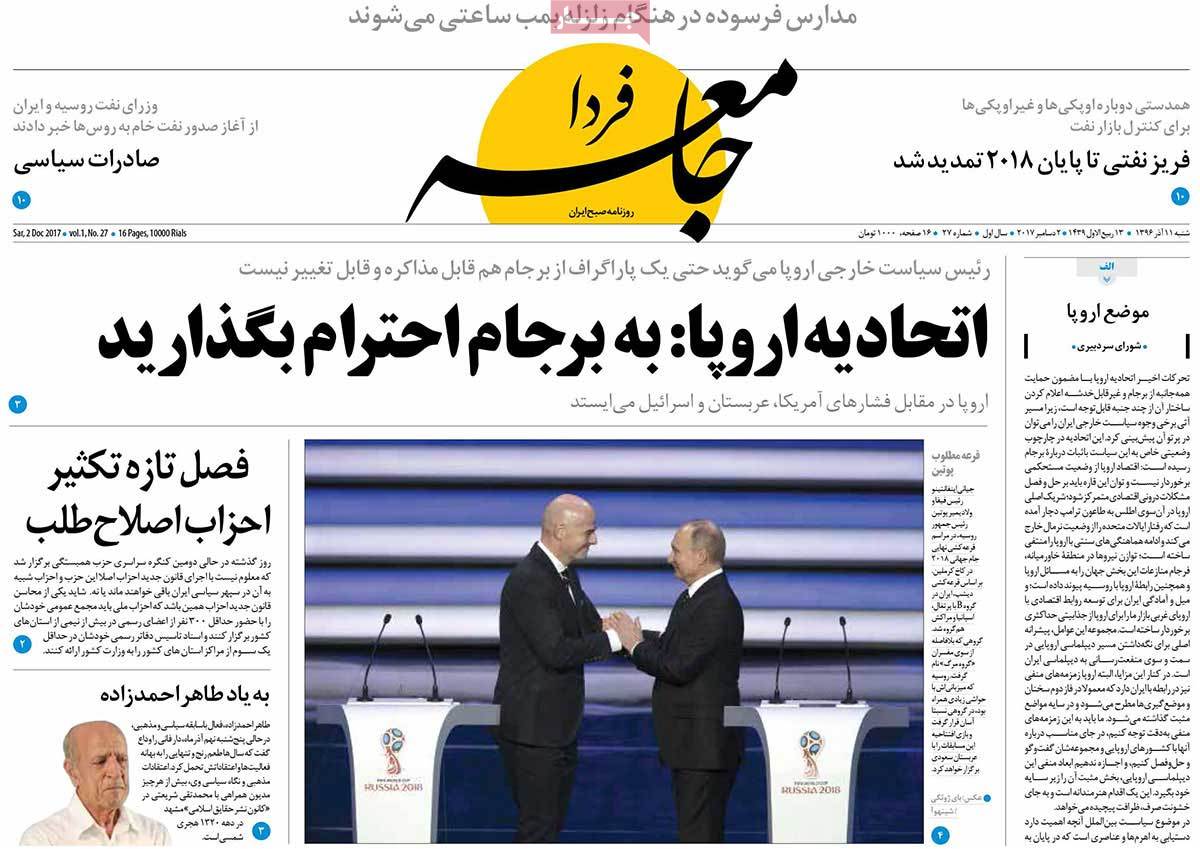 ---
Javan:
1- Fear and Excitement in Iran Group: No Luck for Iranians
Iran Drawn with Portugal, Spain, Morocco in FIFA World Cup 2018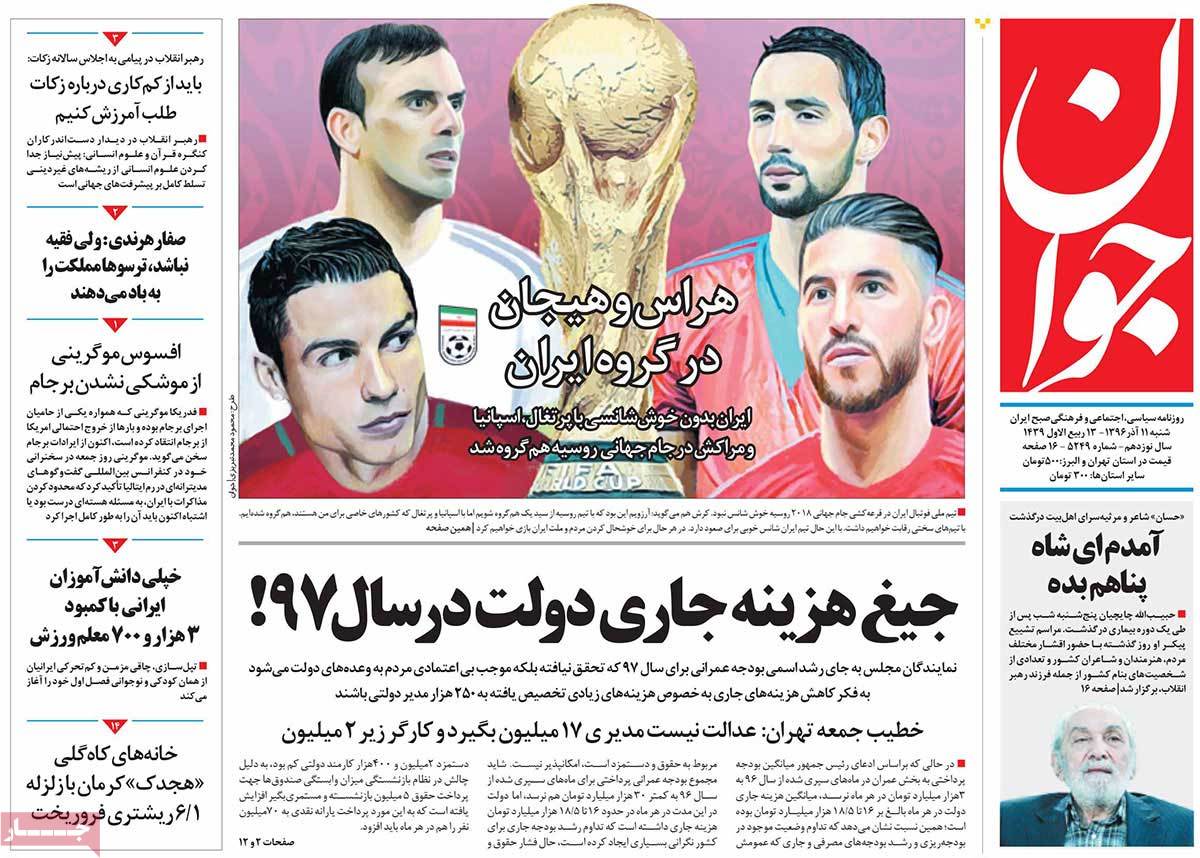 ---
Jomhouri Eslami:
1- 6.1-Magnitude Quake, This Time in Kerman: Houses Collapse in Villages
2- OPEC Member States Agree on Extension of Oil Freeze
3- Iran-Europe 9-Month Trade Value Stands at $14.8 Billion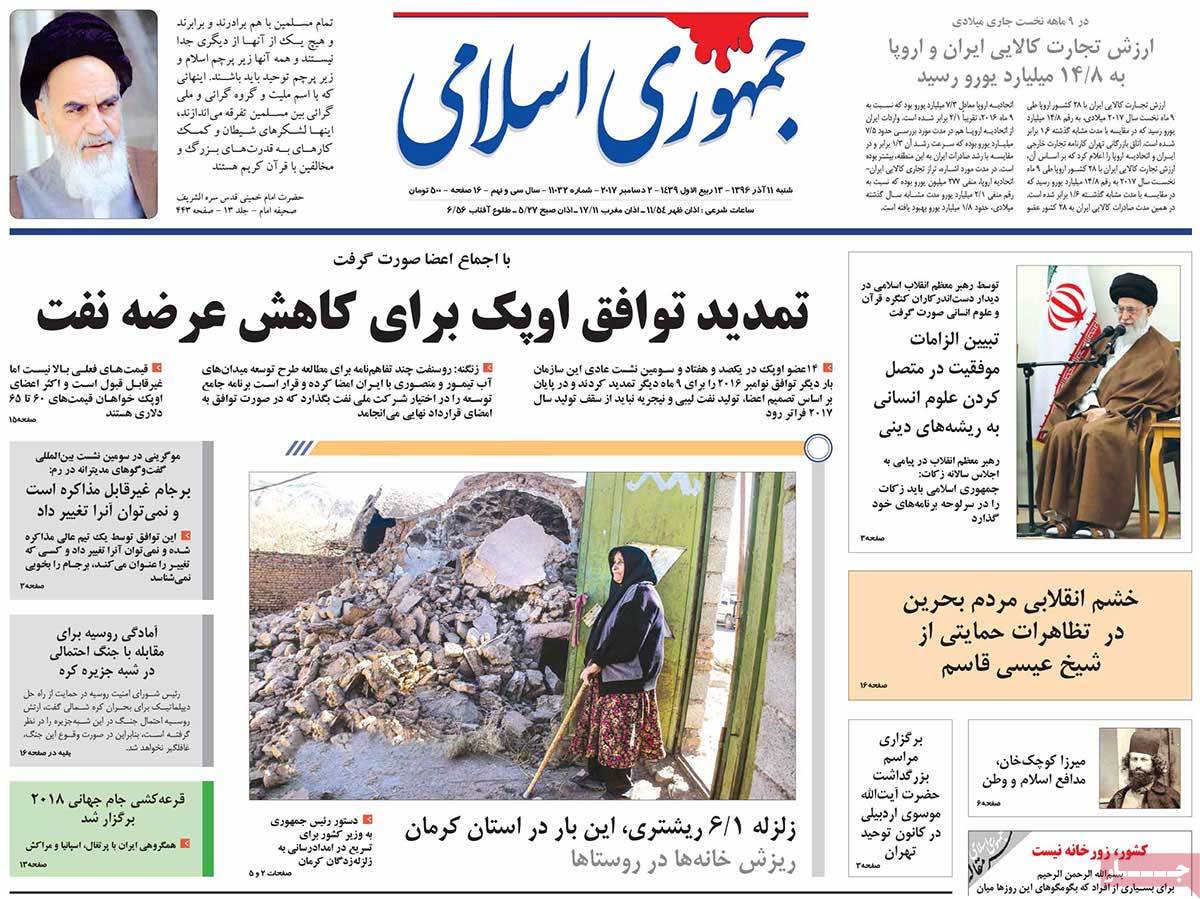 ---
Kayhan:
1- Trump after Signing Multi-Billion-Dollar Deal
Bahrainis Are Wonderful, They Bought Weapons from Us
2- Reformists Advise Jahangiri to Resign If He Wants to Become Next President
Rouhani's Administration Had Weak Performance
---
Payam-e Zaman:
1- No Fatalities in Kerman Earthquake
Serious Damage to Historic Structure of Kerman
2- One in Every 10 Deaths in Iran Caused by Air Pollution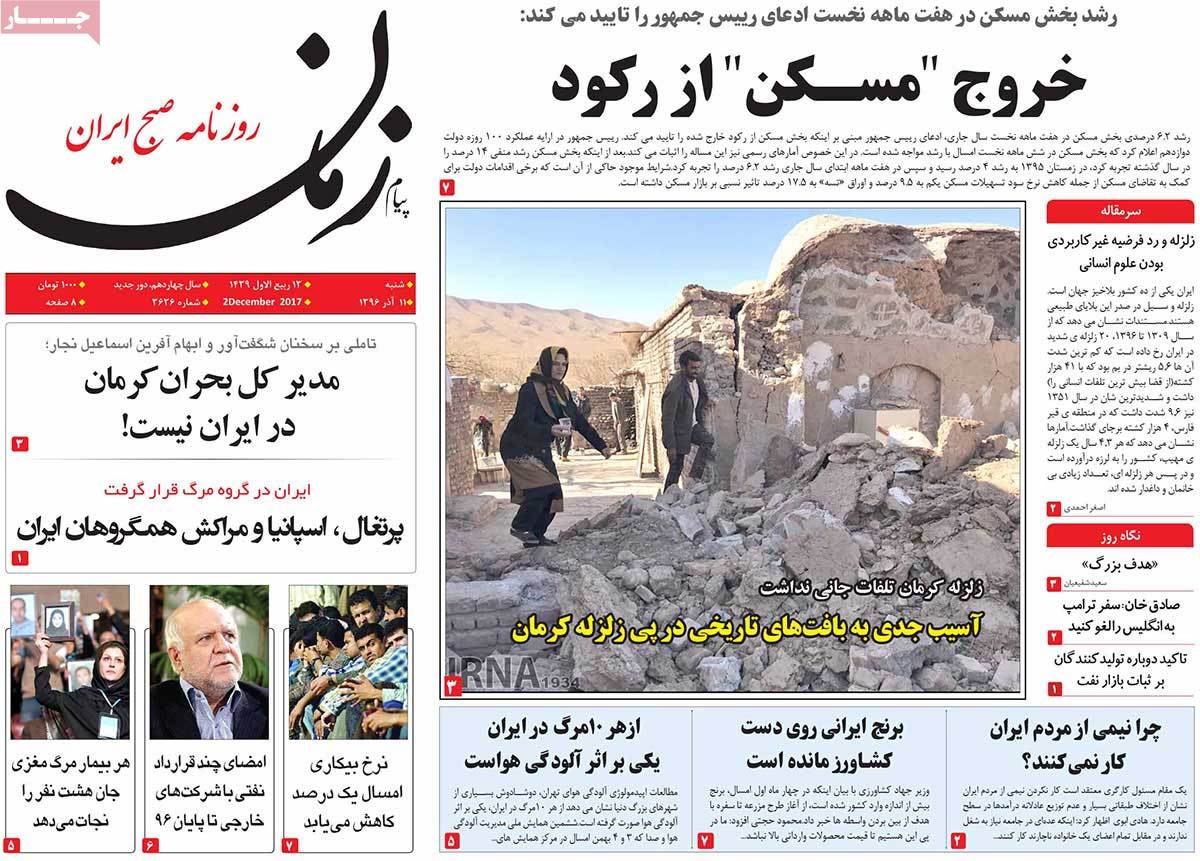 ---
Resalat:
1- 5,000 Elite Orphans Supported by Imam Khomeini Relief Foundation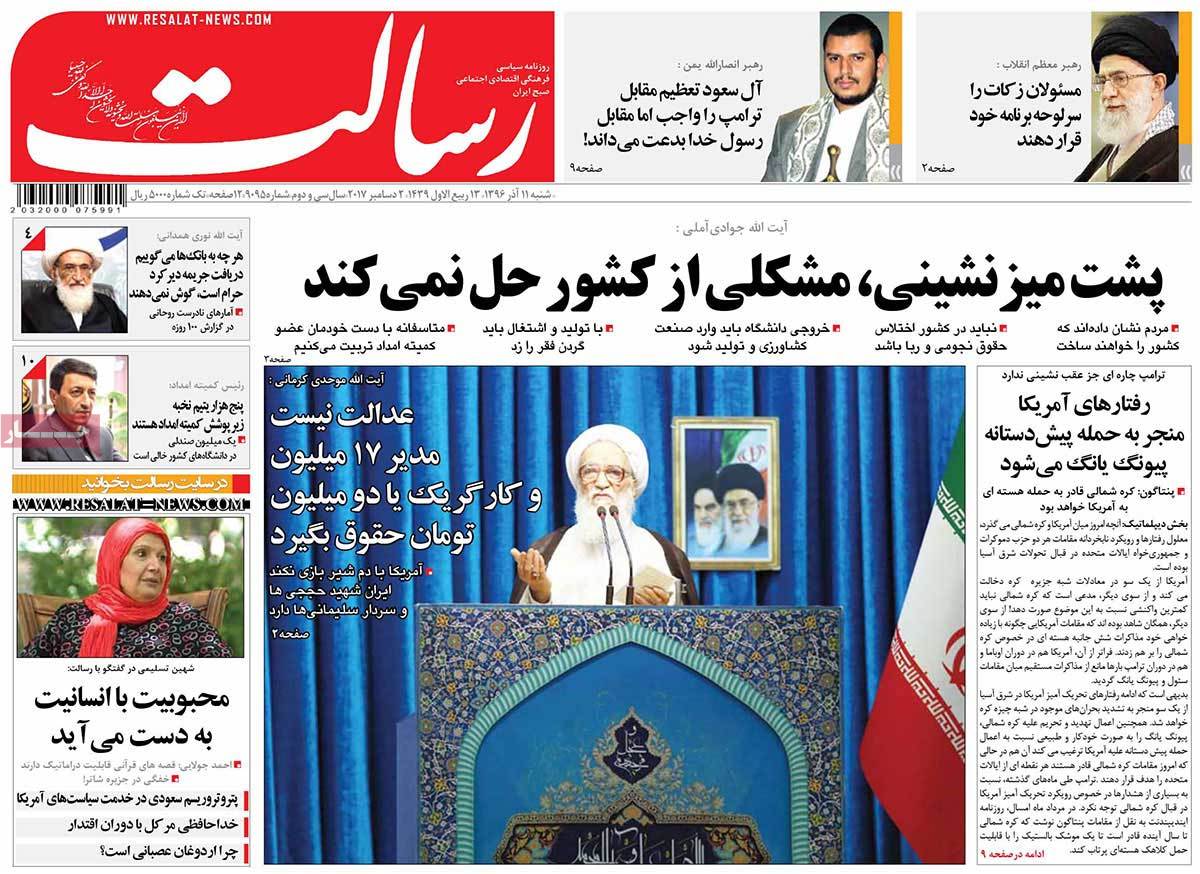 ---
Shahrvand:
1- 30 Years of Regret
Stories of Those Affected by Infected Bloods 3 Decades Ago
Survivors Deprived of Marriage, Having Babies, Having a Job Due to HIV, Hepatitis
2- Red Cross Official after Visiting Quake-Hit Areas: Iran Red Crescent Didn't Leave Anyone Behind