Among the top headlines today were continued reactions to the US accusations against Iran about supply of ballistic missiles to Yemen.
Several papers published opinion pieces and articles about the future of Iran-US relations and the regional rivalry between Iran and Saudi Arabia.
Also a top story was a wave of criticisms against Iranian President Hassan Rouhani, which has sparked controversy among social media users and politicians.
The above issues, as well as many more, are highlighted in the following headlines and top stories:
19 Dey:
1- Zarif: US Source of Middle East's Weapons
2- Shamkhani: We Should Take Decrease in People's Trust Seriously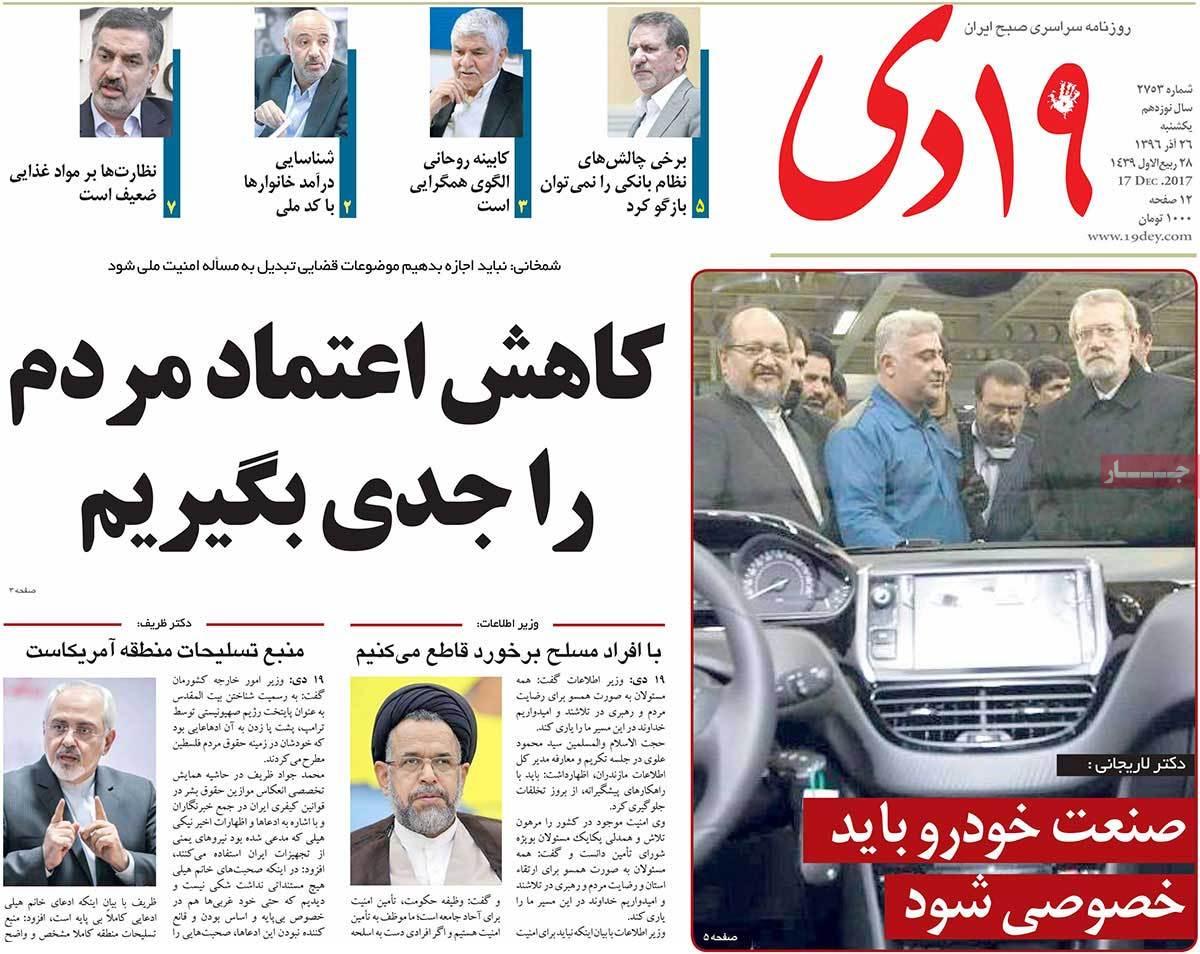 ---
Abrar:
1- Saudi Arabia: Trump's Decision on al-Quds Wrong
2- France Did Not Confirm US Evidence against Iran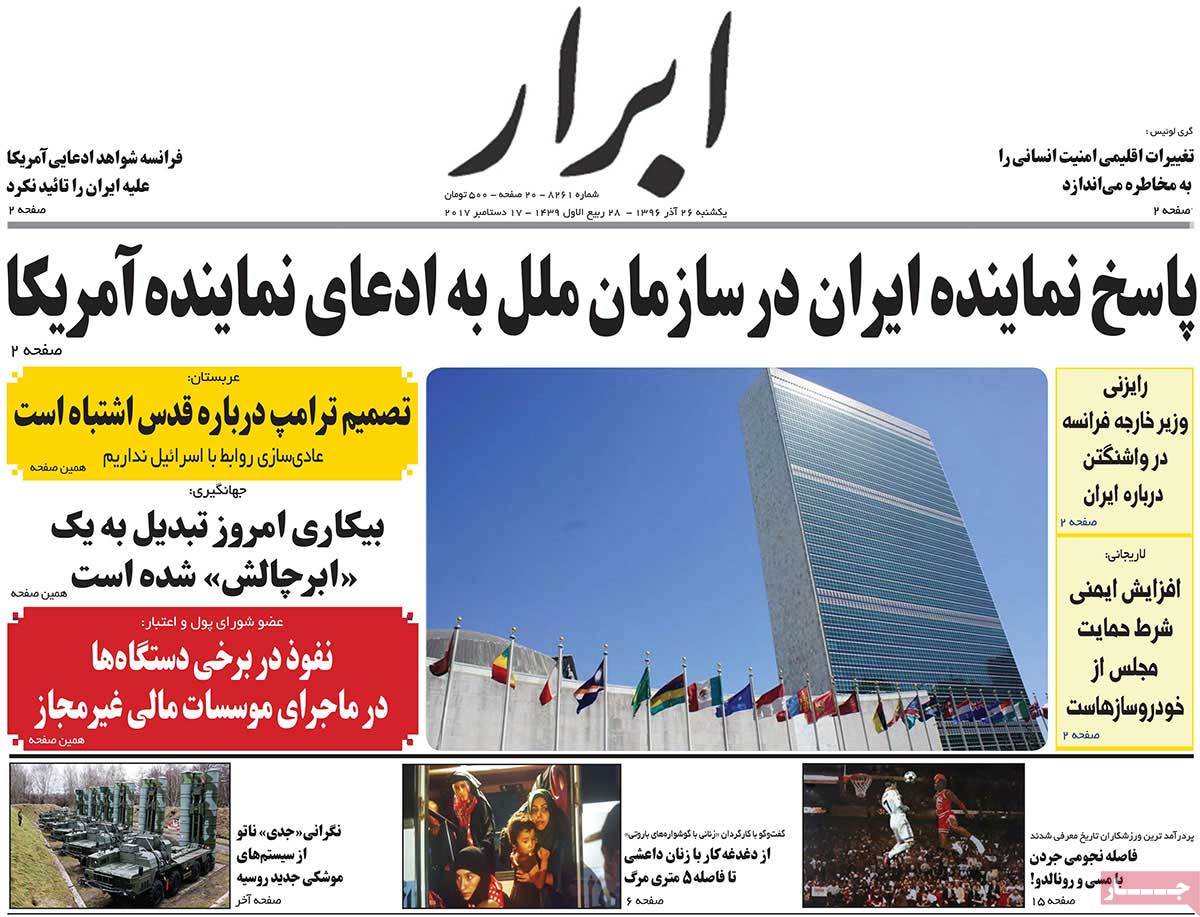 ---
Aftab-e Yazd:
1- Russian Attack on Zarif: Lavrov's Remarks Cited for Attacking Iran FM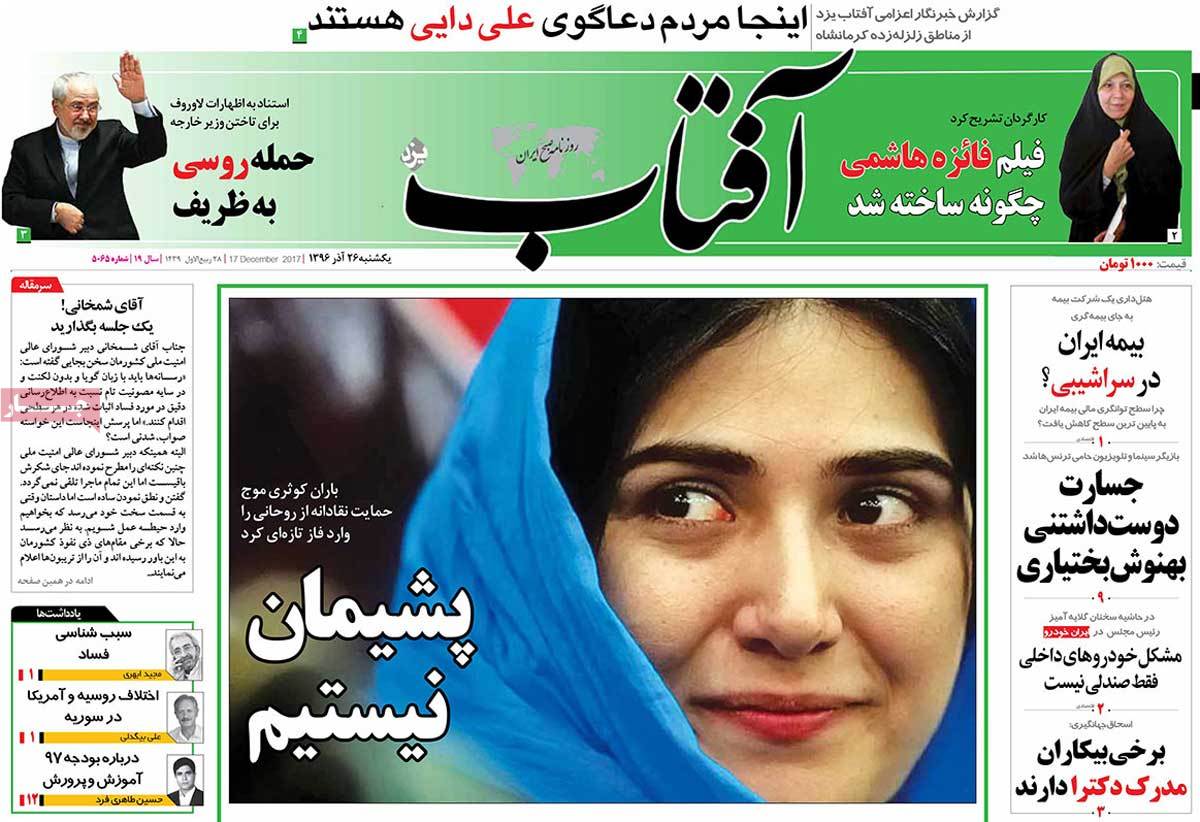 ---
Arman-e Emrooz:
1- Analyst: Saudi-Israel Axis Hatching Plots against Iran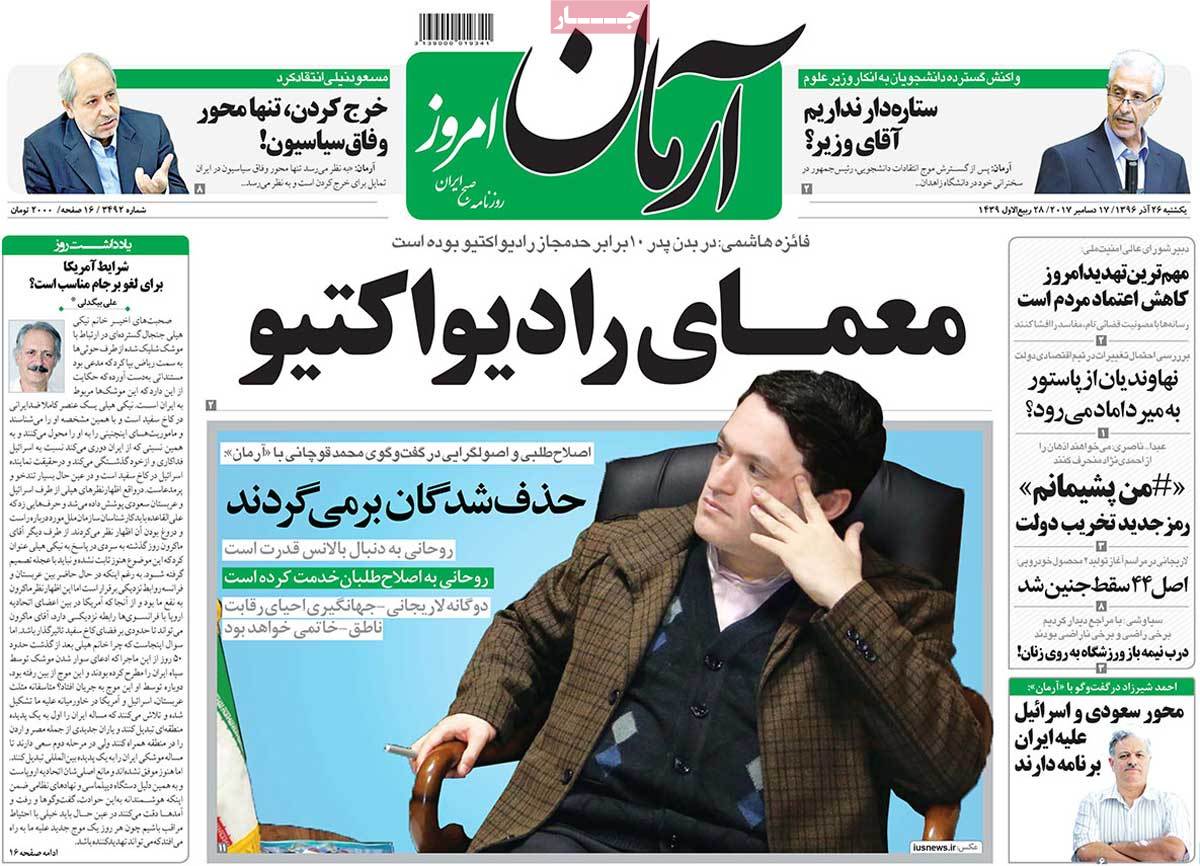 ---
Ebtekar:
1- Washington's Conflicting Behaviours towards Iran
2- Shamkhani Urges Media to Disclose Corruption While Enjoying Judicial Immunity
3- Zarif: Trump's Sneeze Scares Them to Death, His Smile Makes Them Happy!
---
Etemad:
1- Difficult Path of Democracy
A Report on Rouhani's Problems in Facing Supporters, Critics
---
Ettela'at:
1- Iran First VP: People's Welfare Weakened; Policies Cannot Be Revised without Convergence
2- Over 51 Yemeni Civilians Killed in New Wave of Saudis' Brutal Airstrikes
---
Iran:
1- Zarif: Iran's Existence Hinges on Observing Human Rights
2- Reformist Politician: Reformists Not at All Regret Voting for Rouhani
3- Bitcoin Market Silently Growing: A Report on Online Trade of Bitcoin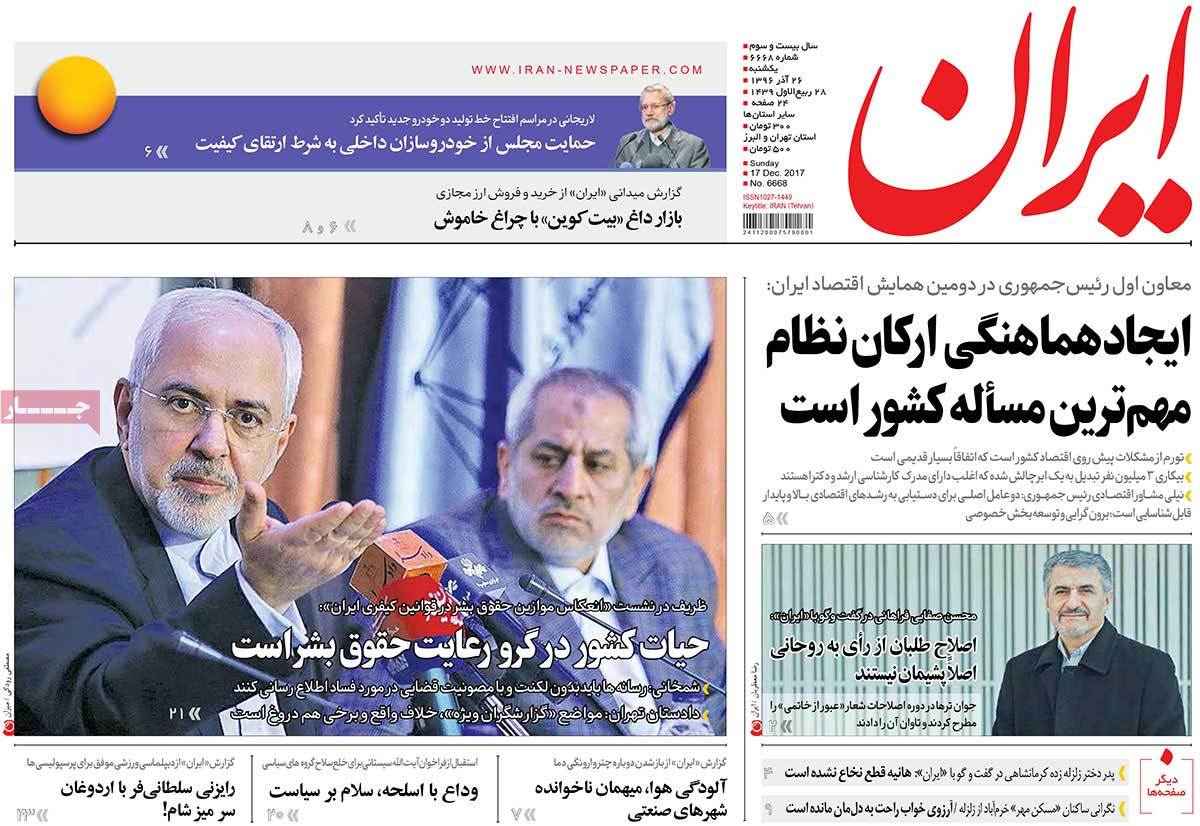 ---
Jame'eh Farda:
1- Human Rights Rules Covered in Iran's Criminal Laws
2- Terrorism of Air Pollution Coming to Iran's Big Cities
A Look at Air Pollution Management Process in Tehran, Megacities
3- Impact of ISIS Attack on Iran Parliament Library
A Report on Damages to Heritage of Significant Research Centre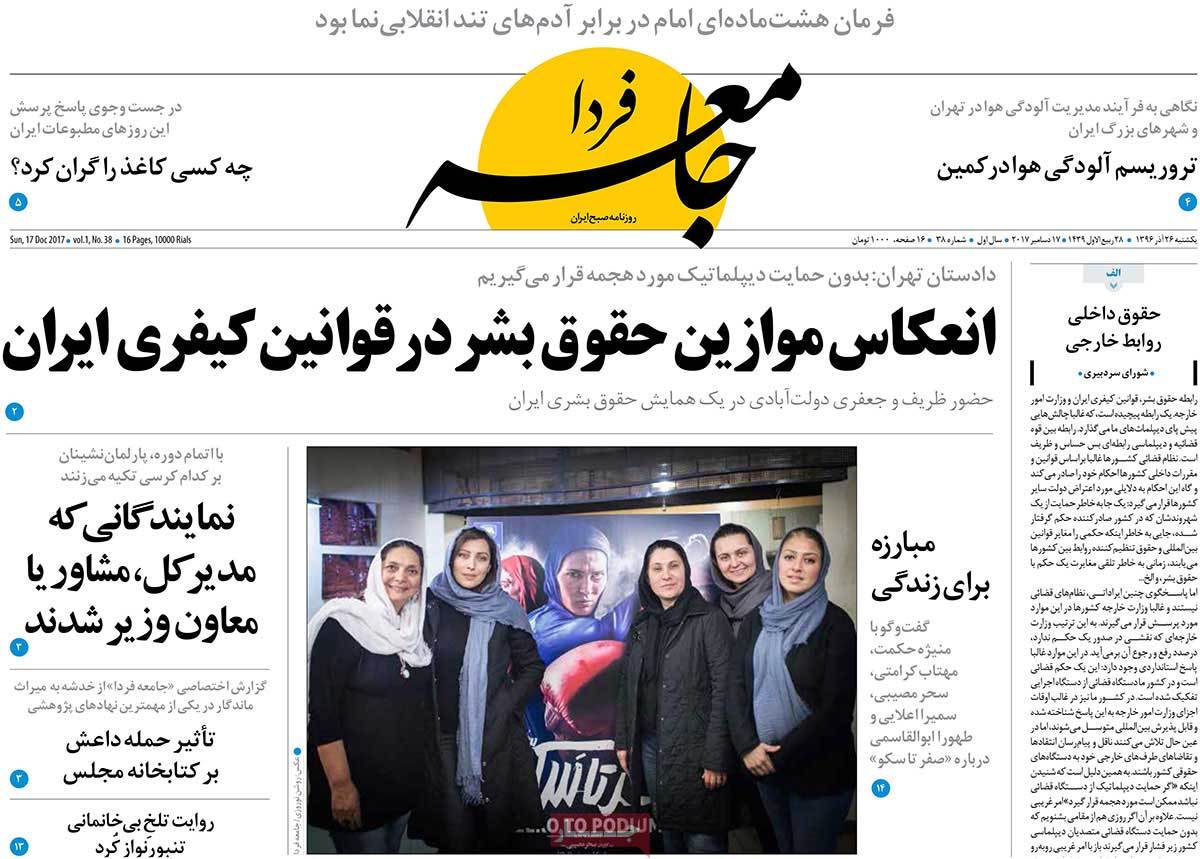 ---
Javan:
1- Yemen's Ballistic Missile Hits Saudi Command Centre
At Same Time, UN Works on Plan to Disarm Ansarullah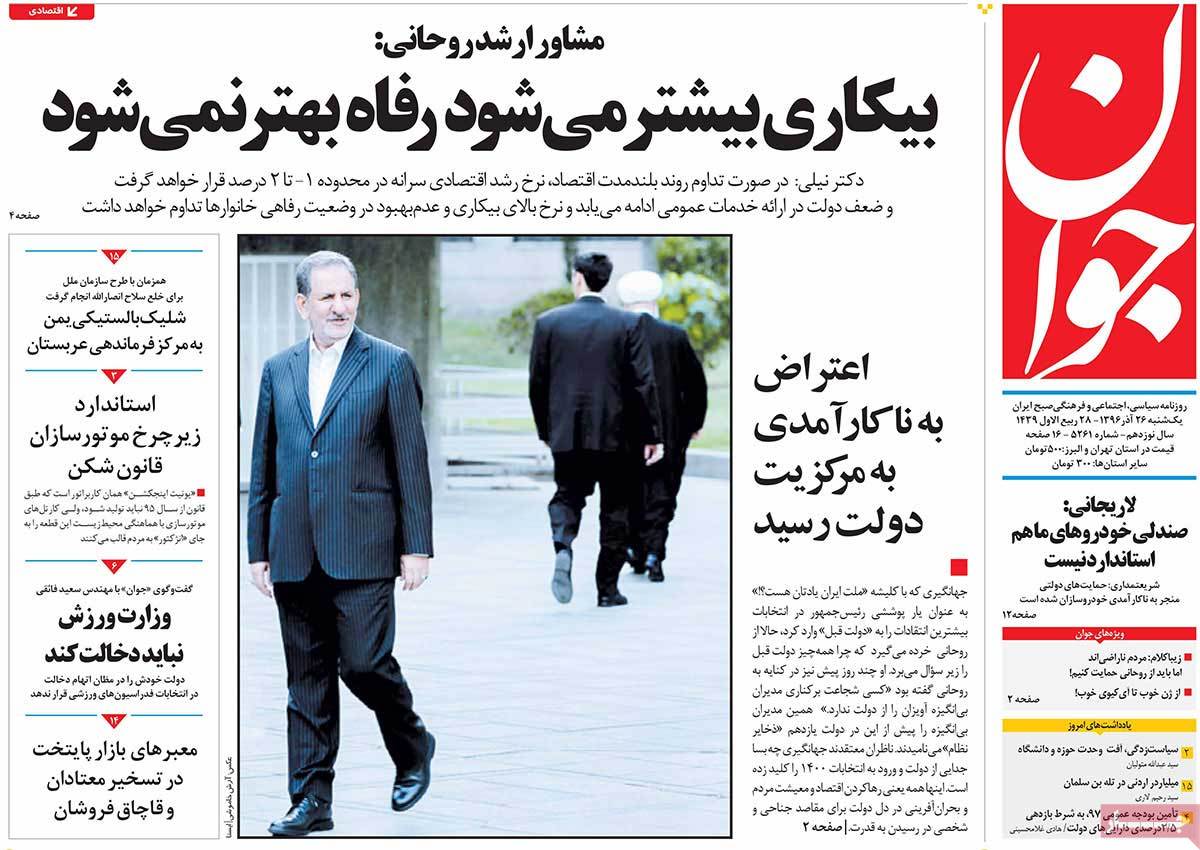 ---
Jomhouri Eslami:
1- Zarif's Reaction to Haley's Accusations: US Trying to Whitewash Its War Crimes in Yemen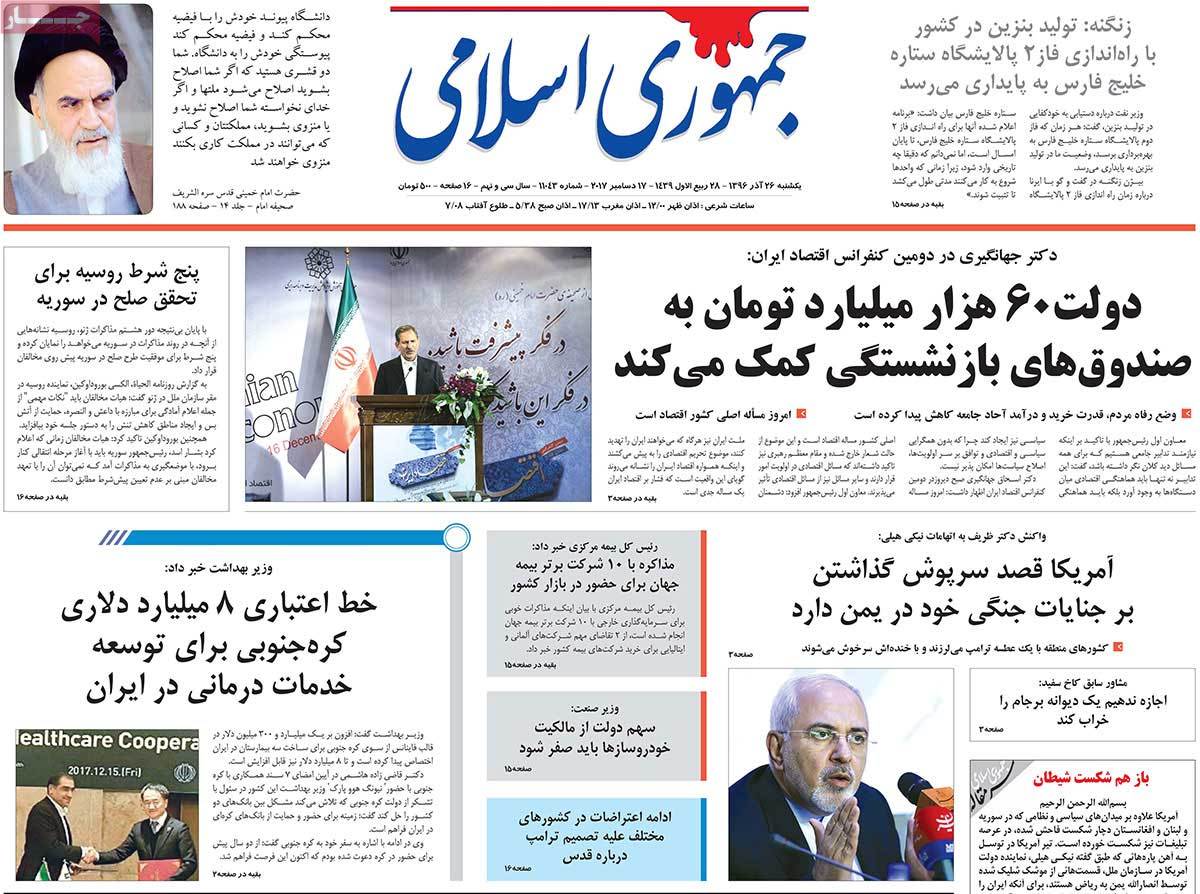 ---
Kayhan:
1- Iran First VP: People's Purchasing Power Decreased, Economic Growth Rate Not Suitable!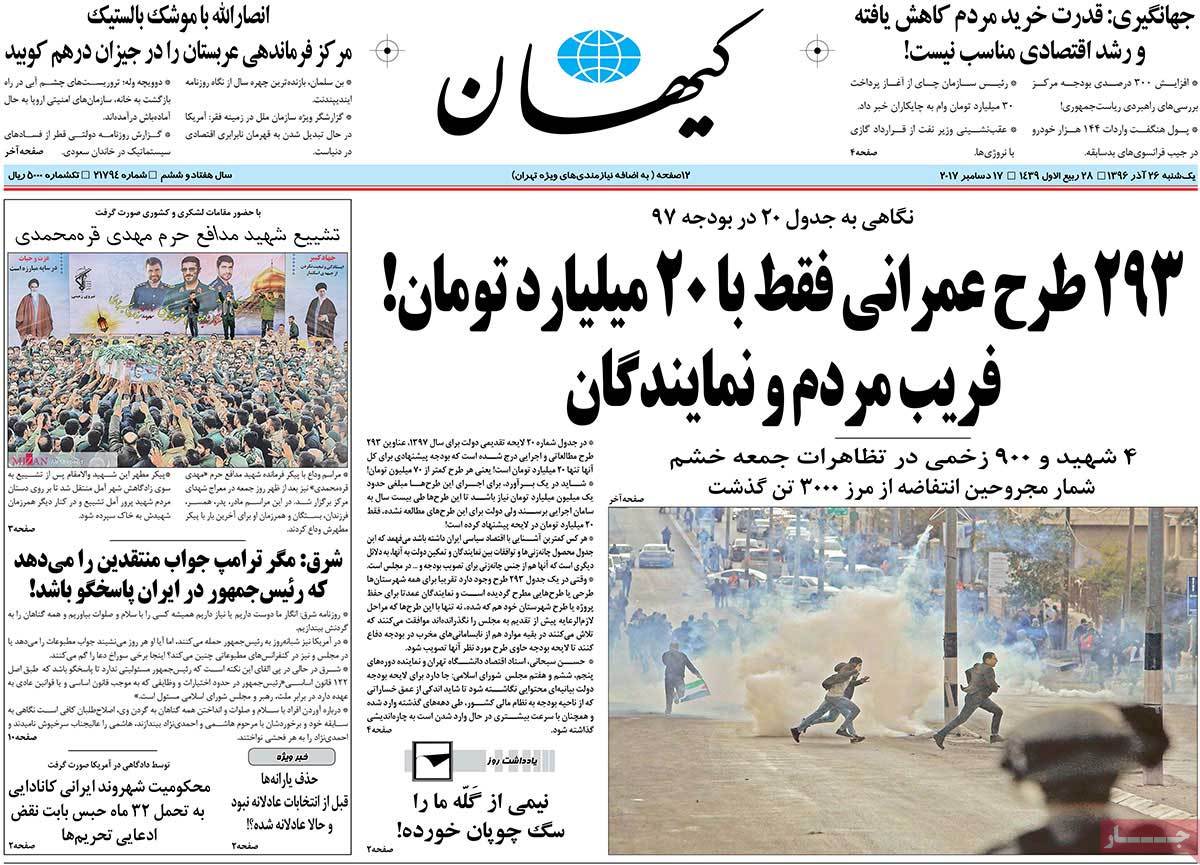 ---
Shahrvand:
1- Iran's Pistachio with Afghan Logo
Afghanistan Buying Iranian Pistachio, Exporting Them to Russia World Cup Fans
---
Shargh:
1- Gov't to Give Cash Subsidies Only to Poor People
---
Vatan-e Emrooz:
1- US Defence Secretary: US after Diplomatic Coalition against Iran, Not Military Response
2- Chain Failures of Bin Salman's Regional Policies: Saudis' Money Diplomacy No Longer Works