Thursday newspapers mainly focused on a rare suggestion by Iranian Judiciary Chief Ayatollah Sadeq Amoli Larijani to start human rights talks with Europe under certain conditions.
The remarks made by President Hassan Rouhani in his live televised interview on Tuesday night also remained a top story today.
Papers also covered the claim by Wall Street Journal about the USA's payment of $400m to Iran in exchange for the release of its prisoners.
An Islamic human rights prize was also given to Sheikh Issa Qassim, the prominent Bahraini cleric, in a ceremony held in Tehran.
The above issues as well as many more are highlighted in the following headlines:
Abrar:
1- US Has Paid $400m to Iran for Releasing American Prisoners: WSJ Claims
2- Rouhani's Message to Critics: I'm Not Angry
3- Venezuela's New Interior Minister Is Accused of Drug Crimes in US
4- Tehran's Beggars to Be Confronted as of Saturday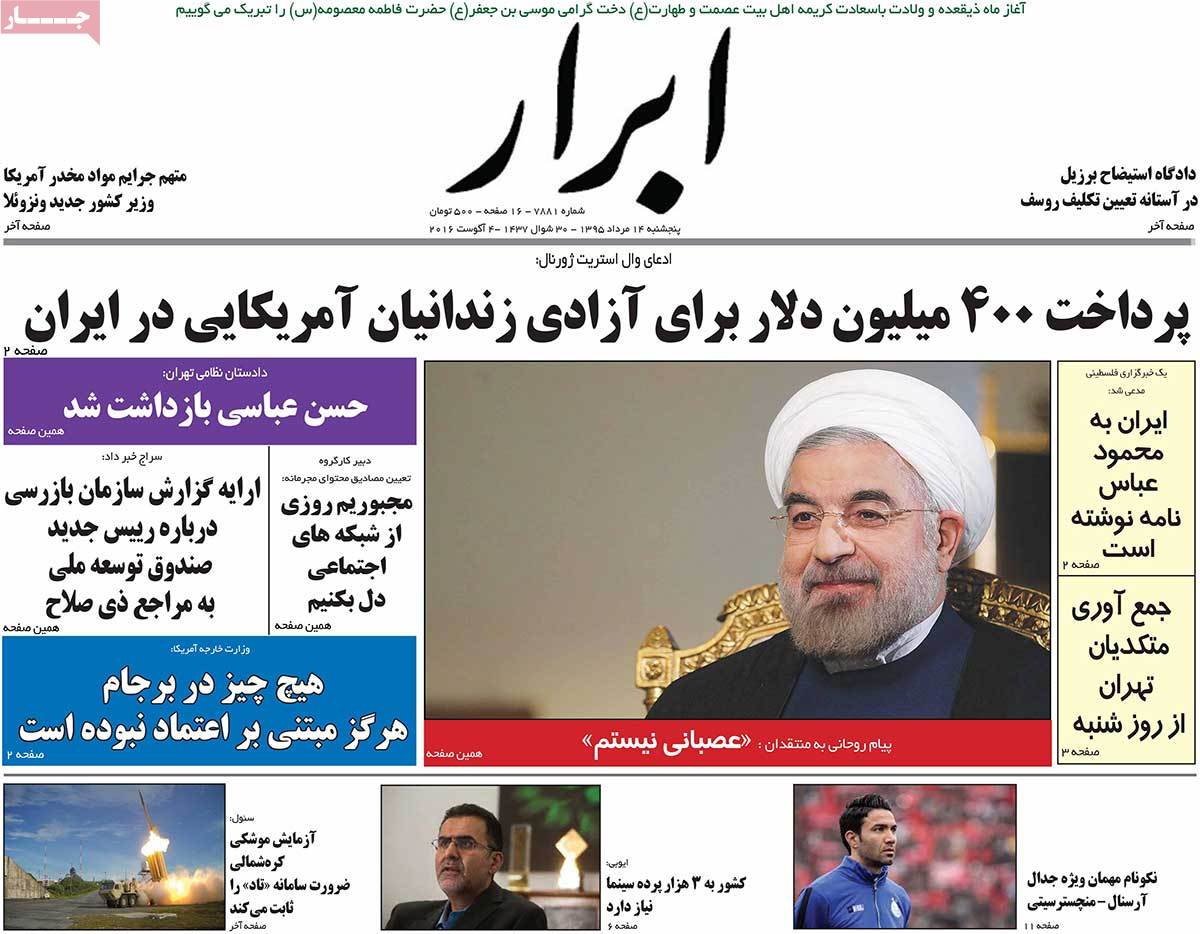 ---
Afkar:
1- Syrian Army Repels Jaish al-Fatah's Attack in Southern Aleppo
2- Issue of Cancer Is Serious: Health Minister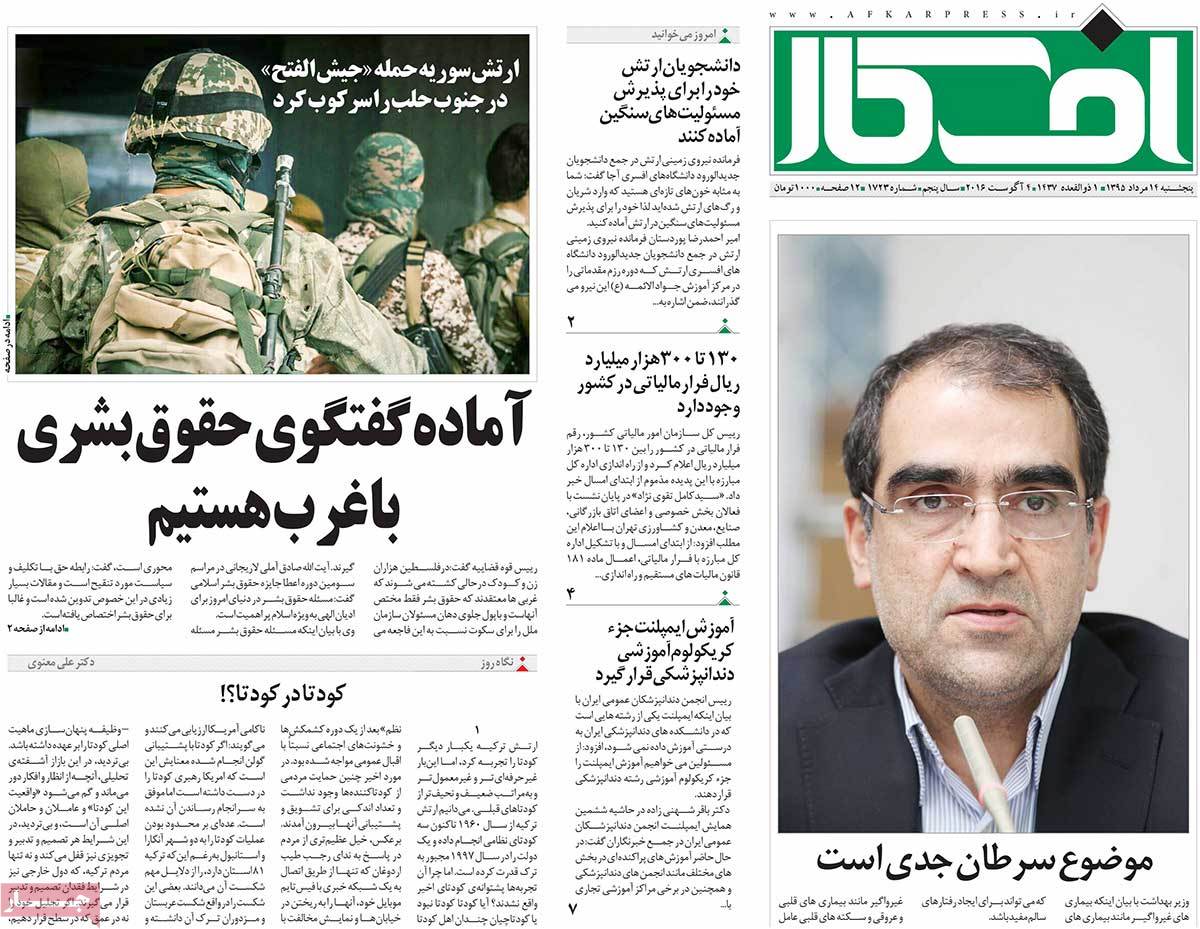 ---
Aftab-e Yazd
1- Tours to Turkey Still in Place in Spite of Government's Ban
2- Illusion of Rouhani's Disqualification [some opponents are predicting that the Guardian Council would disqualify President Hassan Rouhani from running for next year's presidential elections]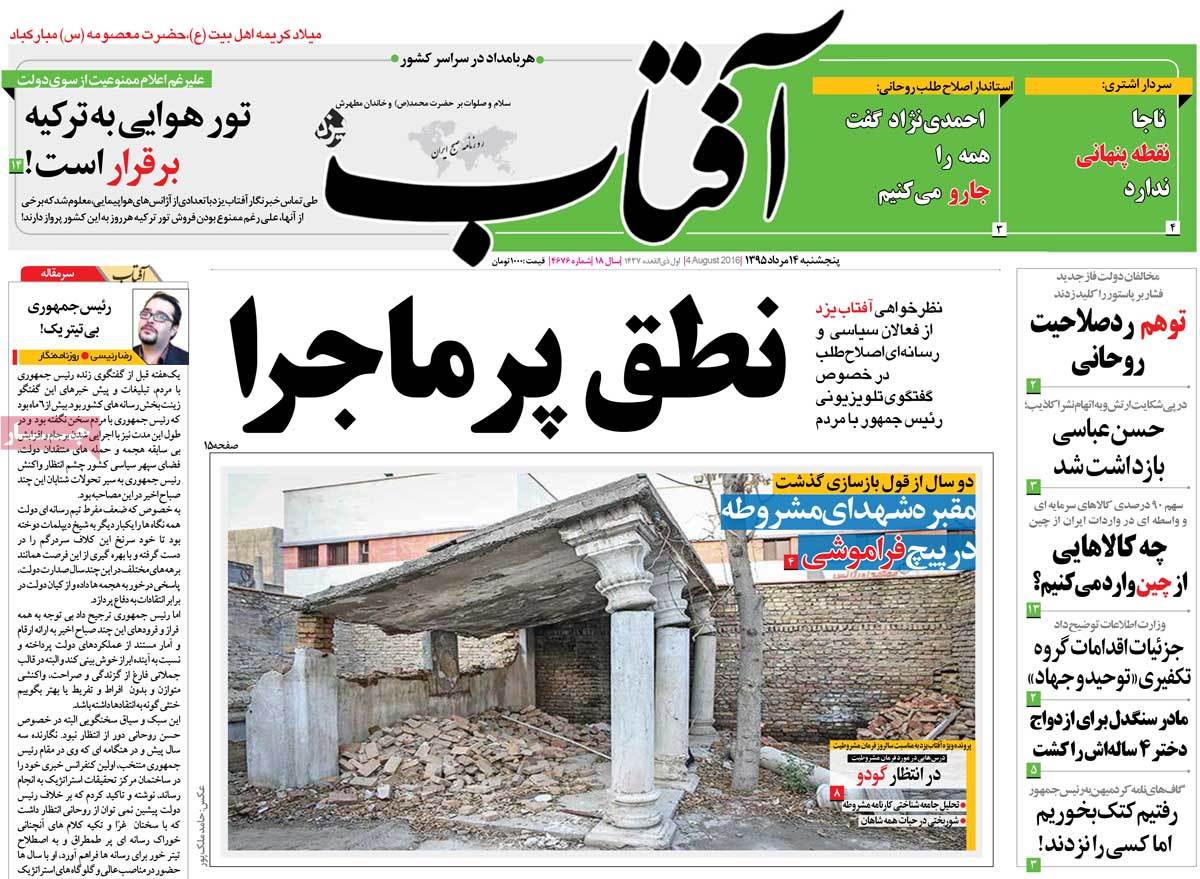 ---
Arman-e Emrooz:
1- Judiciary Chief Calls for Human Rights Talks with Europe
2- Rouhani Gripped with Disloyal Friends: Politician
3- 22,000 Children Die in Iran Each Year
4- Doctors Brainwashed to Encourage Parents to Feed Their Children with Powdered Milk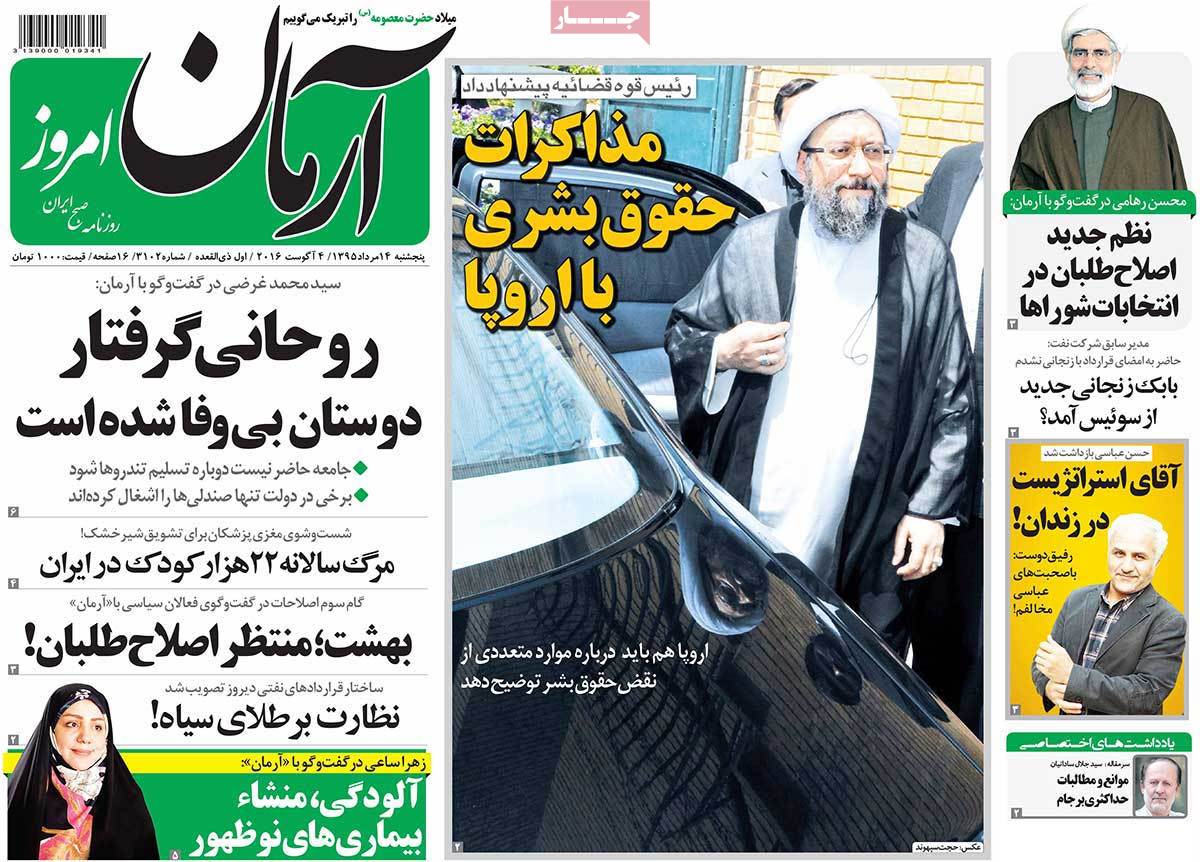 ---
Ebtekar:
1- Mahmoud Abbas Playing in Favour of Saudi Arabia and Zionist Regime [Israel]
2- Iran's Constitutional Revolution Becomes 110 Years Old
3- Decline of Economy Stopped [Editorial on the fact that the economic growth was minus 6% when Rouhani was sworn in]
---
Emtiaz:
1- Adverse Conditions of Only Iranian Island in Caspian Sea
2- We Have No Choice But to Abandon Telegram: Censorship Official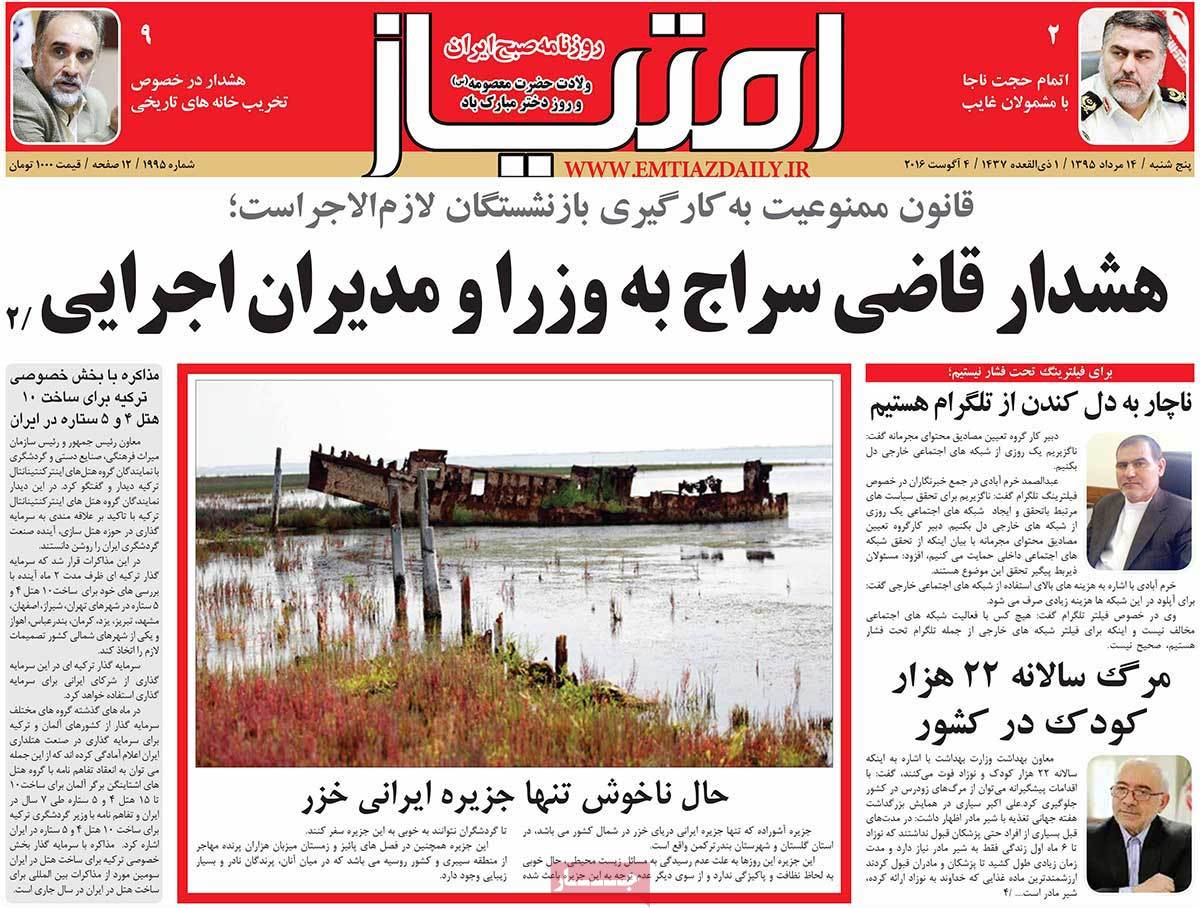 ---
Etemad:
1- Unprecedented Plan by Judiciary Chief: Human Rights Negotiations with Europe
2- Ayatollah Amoli Larijani: Main Condition for the Talks Is Its Bilateral Nature; Iran Should Not Be the Only Side to Be Questioned: It Should Be Bilateral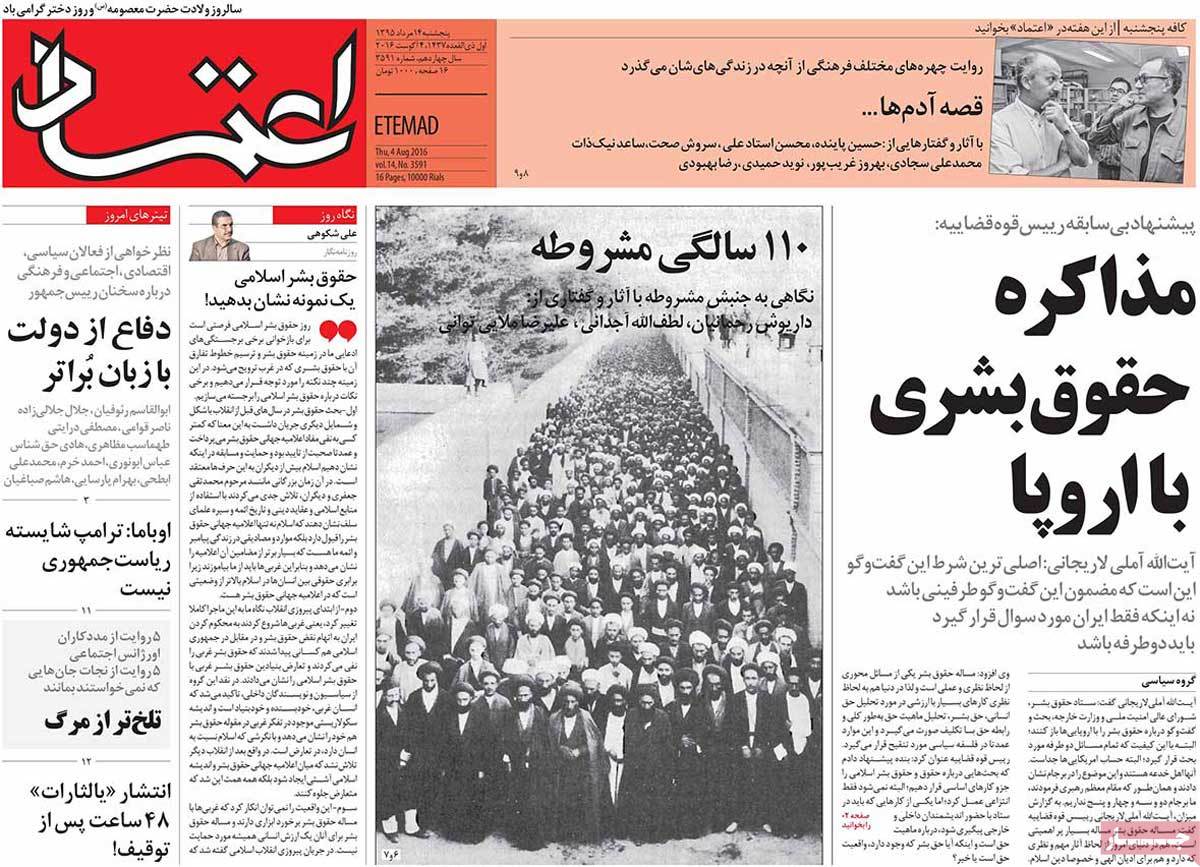 ---
Ettela'at:
1- Government Resolved to Increase Transparency and Fight Corruption and Smuggling: President in Live Televised Interview
2- Islamic Human Rights Prize Given to Sheikh Qassim
3- Ayatollah Sistani's Donation to Sunni Displaced People of Iraq's Salahuddin
4- Trilateral Meeting to Be Held Next Week between Rouhani, Putin, and Aliyev in Baku
5- Tax Evasion in Iran Stands at $8.7bn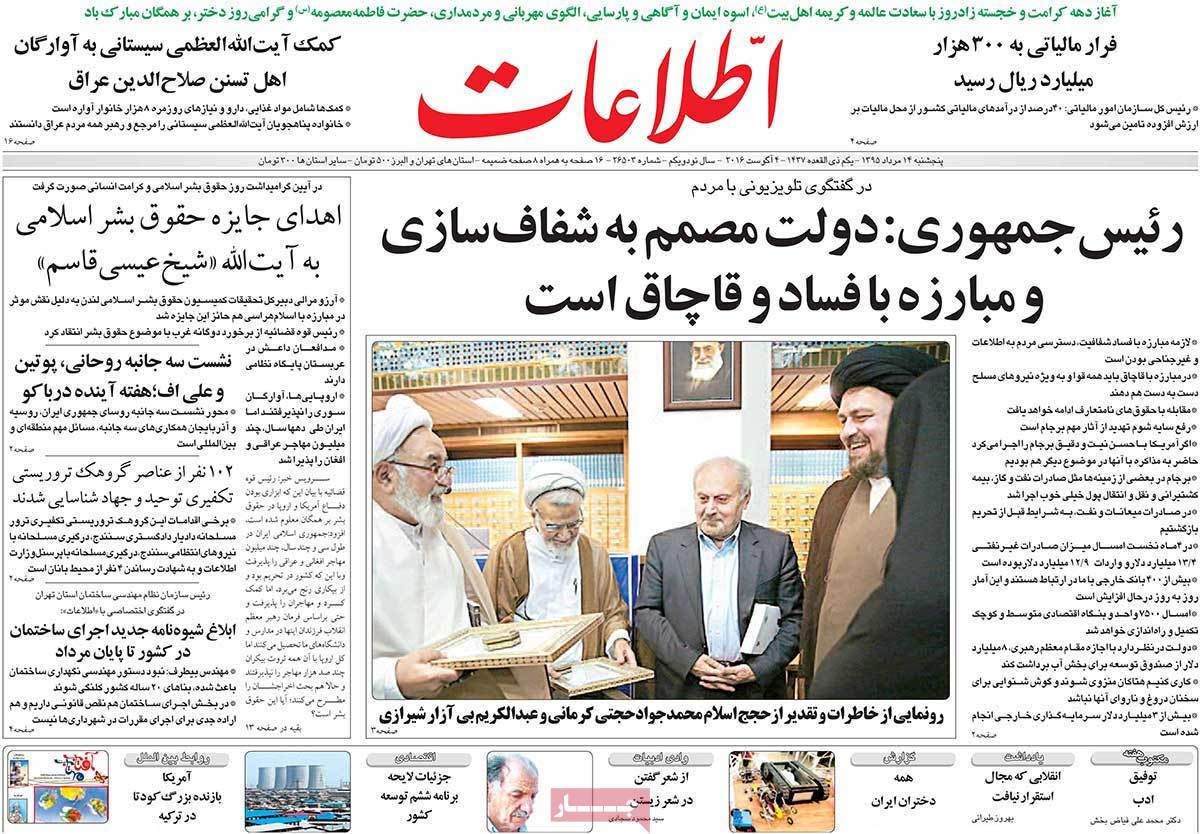 ---
Hemayat:
1- Judiciary Chief: We're Ready for Human Rights Negotiations with Europe in Equal Conditions
2- Obama Admits Growth of ISIS in Libya as a Result of US Policies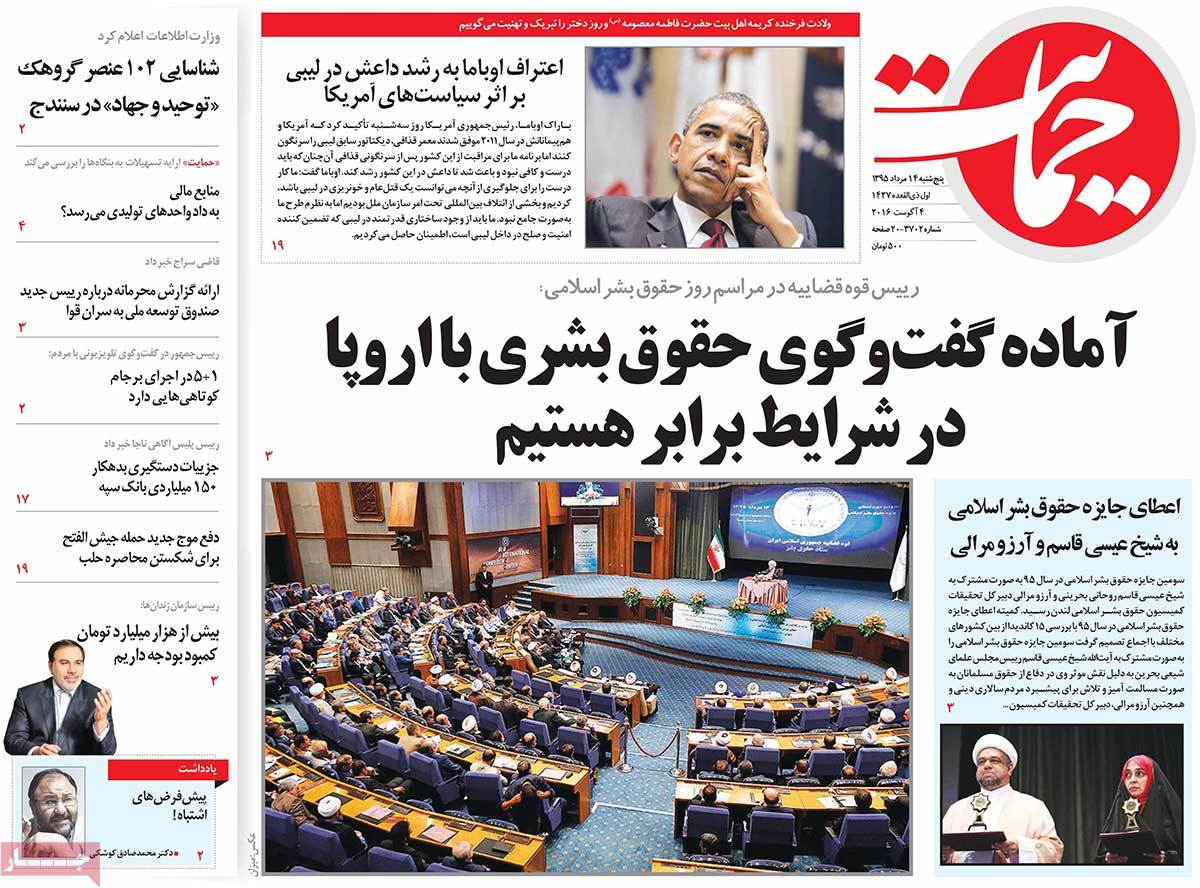 ---
Iran:
1- Heat in Khuzestan: People Take Shelters in Their Homes, Business Are Closed
2- Rio, a Host Grappling with Protests and Chaos: 31st Olympics Dealing with Zika, Terrorism, Political Protests, and Critics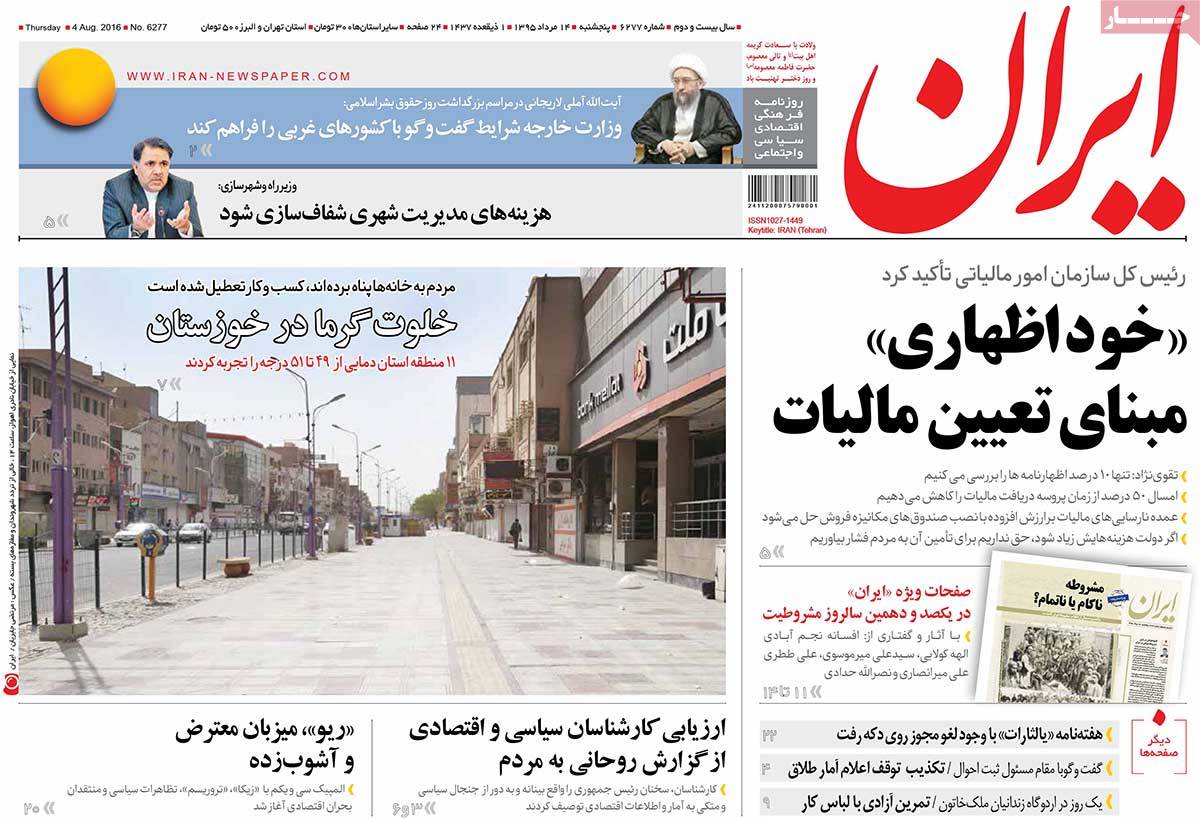 ---
Javan:
1- Rouhani's Remarks about US Disloyalty Are Welcomed
2- Details of Crimes Committed by Takfiri [Extremist] Terrorist Group Tawhid and Jihad
3- Dried Milk Producers Giving Bribes to Doctors
---
Jomhouri Eslami:
1- Sheikh Qassim Wins Islamic Human Rights Prize
2- Successful Installation of B-18 Platform on South Pars Gas Field by Iranian Experts
3- Rouhani: In Spite of US Violation of Its Commitments, Good Atmosphere Is Created for Iran's Economy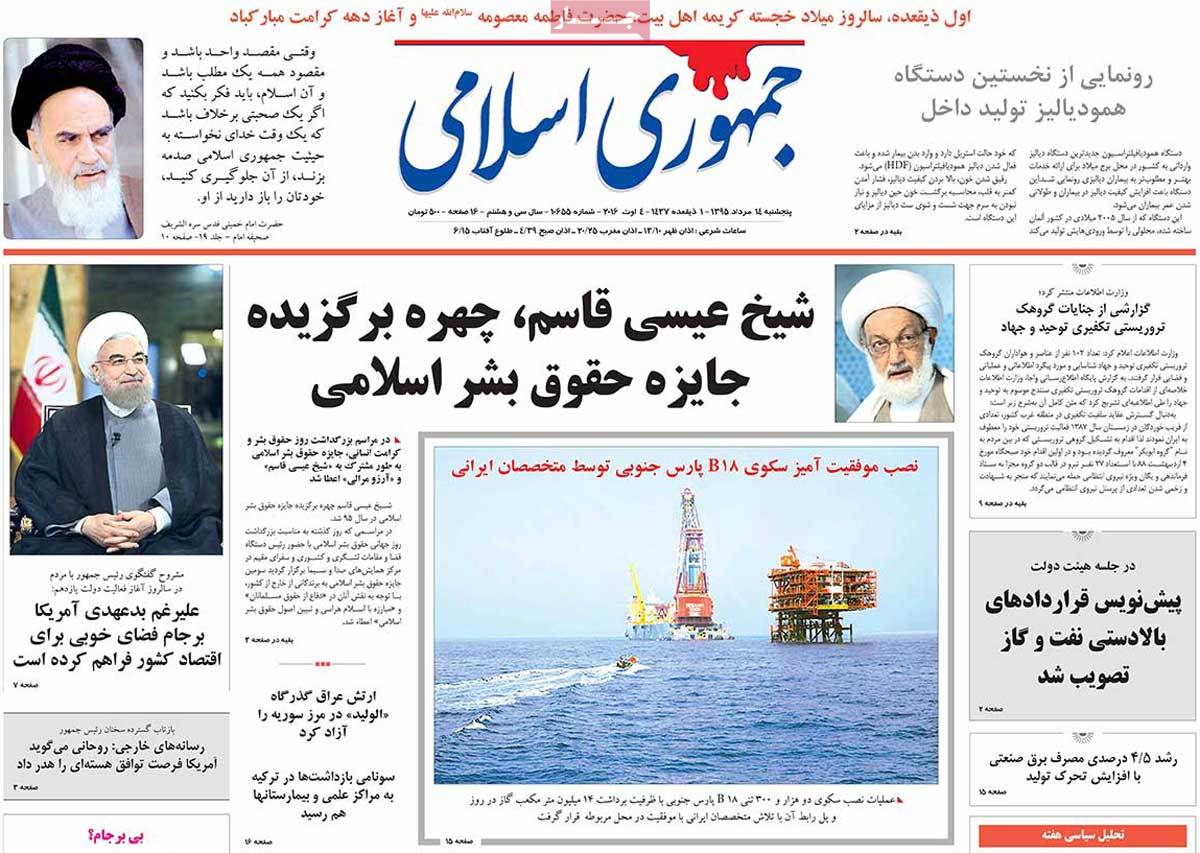 ---
Kayhan:
1- People's Questions Not Answered in President's Live Televised Interview
2- Families of Saudi Soldiers Call for Return of Their Children from Yemen War
3- Ayatollah al-Sistani Helps 8,000 Sunni Displaced Residents of Salahuddin Province
4- New York Times Worried about Mobilization of Iranian Elites in Protest at JCPOA
5- Famous Islam Expert in Interview with Kayhan: All Terrorist Groups Are Somehow Serving US Interests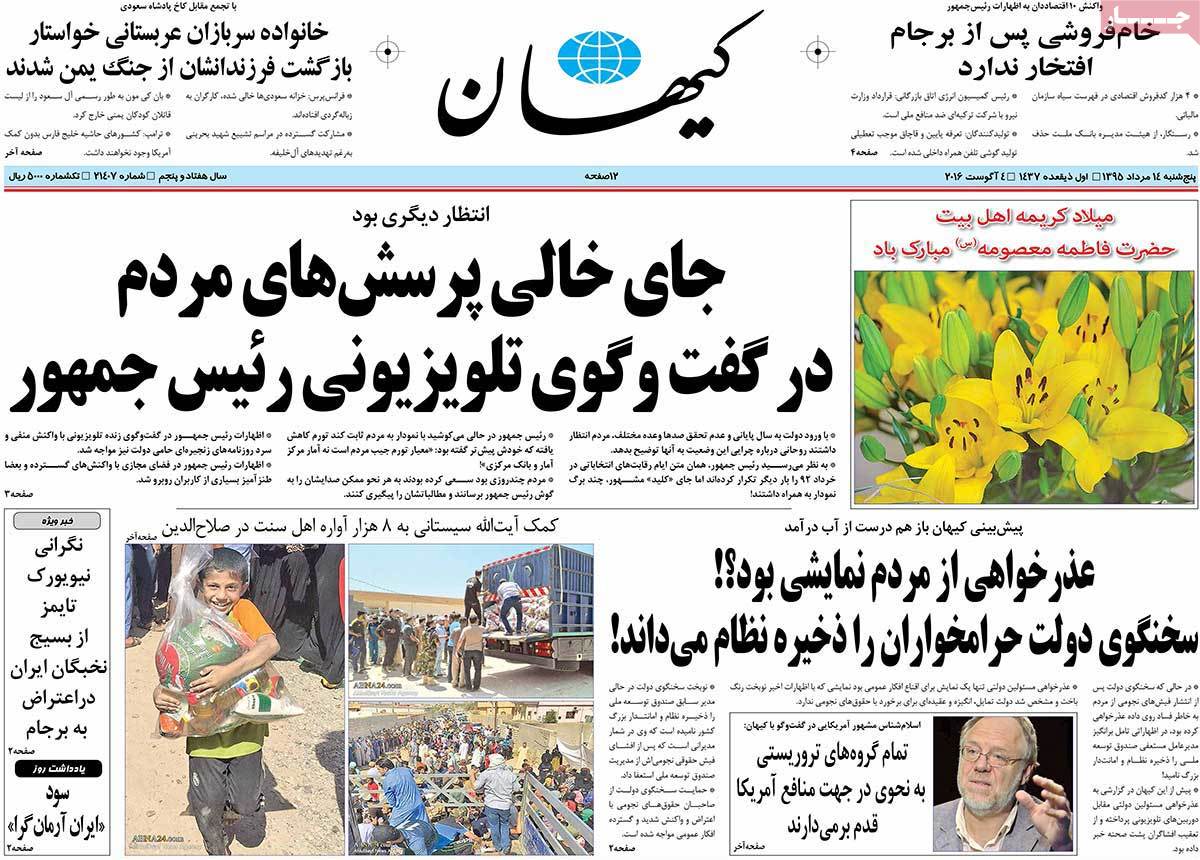 ---
Khorasan:
1- Buying a President: A Report on Electoral Expenditures of US Presidential Candidates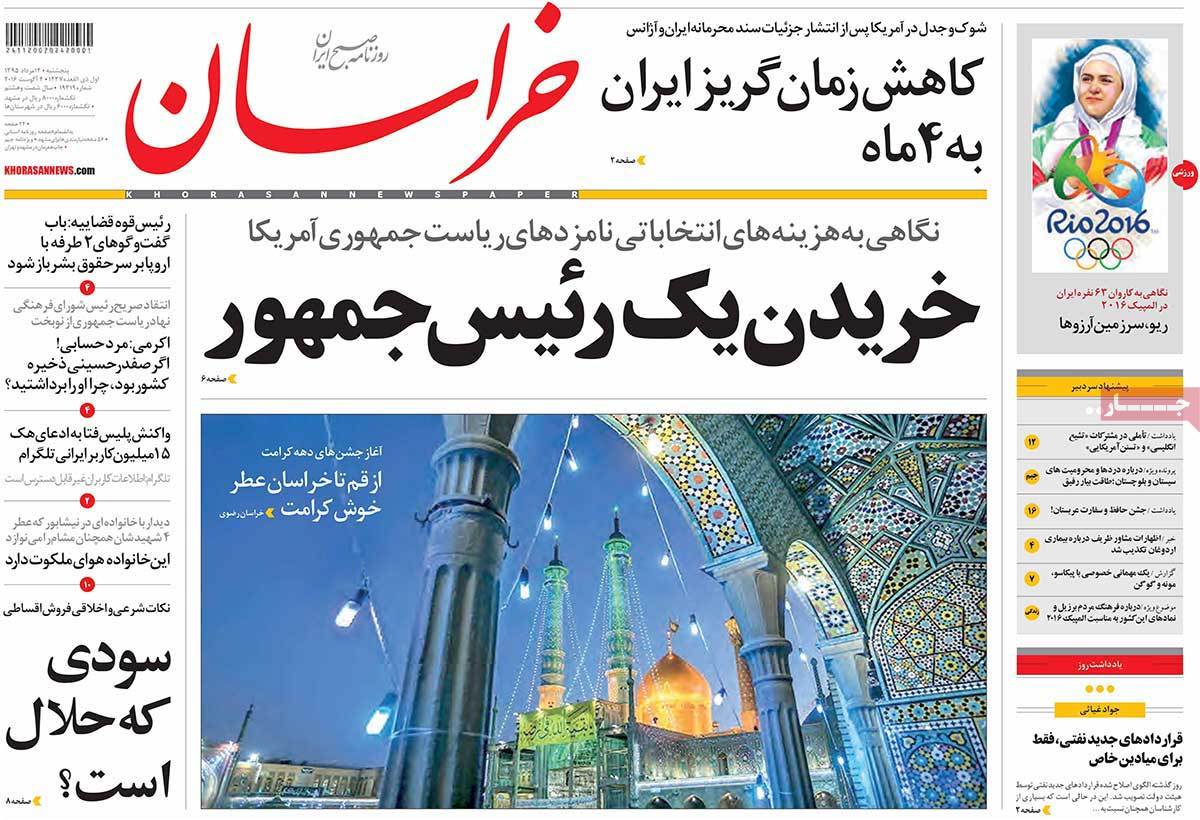 ---
Resalat:
1- US Didn't Fulfil Its Commitments: Rouhani
2- What UN Secretary-General Will Do: Resignation or Power?
3- Before Lifting the Sanctions, US Is Sending the Bill: Analyst
---
Shargh:
1- Iranian Constitution: Heroes in Iran's Anti-Tyranny Movement
2- Hassan Abbasi Arrested after Army Filed a Lawsuit in Military Court
---
Vaghaye Ettefaghieh:
1- Saudi Arabia's Decline to Begin on August 28, 2018
2- Ambitious Plans and Severe Economic Crisis to Destroy Riyadh
3- Yalasarat Weekly [whose licence was revoked by the government because of insulting Iranian artists] Is Once Again Published and Released
4- Foreign Ministry Spokesman Rejects as "Sheer Lies" the Claims about Iran's Sending Arms to Yemen