The recent allegations about a scandal in Tehran Municipality remained a top story in many newspapers on Wednesday.
The deployment of S-300 missile defence system and the reactions to the move were also covered by Iranian media today.
The Turkish military invasion of Syrian territories as well as the operations to retake different cities and towns in Yemen, Iraq, and Syria also received good coverage.
Newspapers also covered the premiere of Asghar Farhadi's latest film, the Salesman, in Iranian cinemas, which started on Wednesday morning and the tickets of the first three days were all sold out.
The above issues, as well as many more, are highlighted in the following headlines:
Abrar:
1- [Former Portuguese Prime Minister António] Guterres Leads Race to Be Next UN Secretary-General
2- Health Conditions of [Uzbek President] Islam Karimov and Questions about His Possible Successor
3- US Worried about Deployment of S-300 in Iran
4- Ben Rhodes: Transfer of S-300 to Iran Not a Violation of UNSC Resolution
5- Iranian Filmmakers in Venice Film Festival
6- We Have 50,000 to 150,000 Children without ID Cards: Minister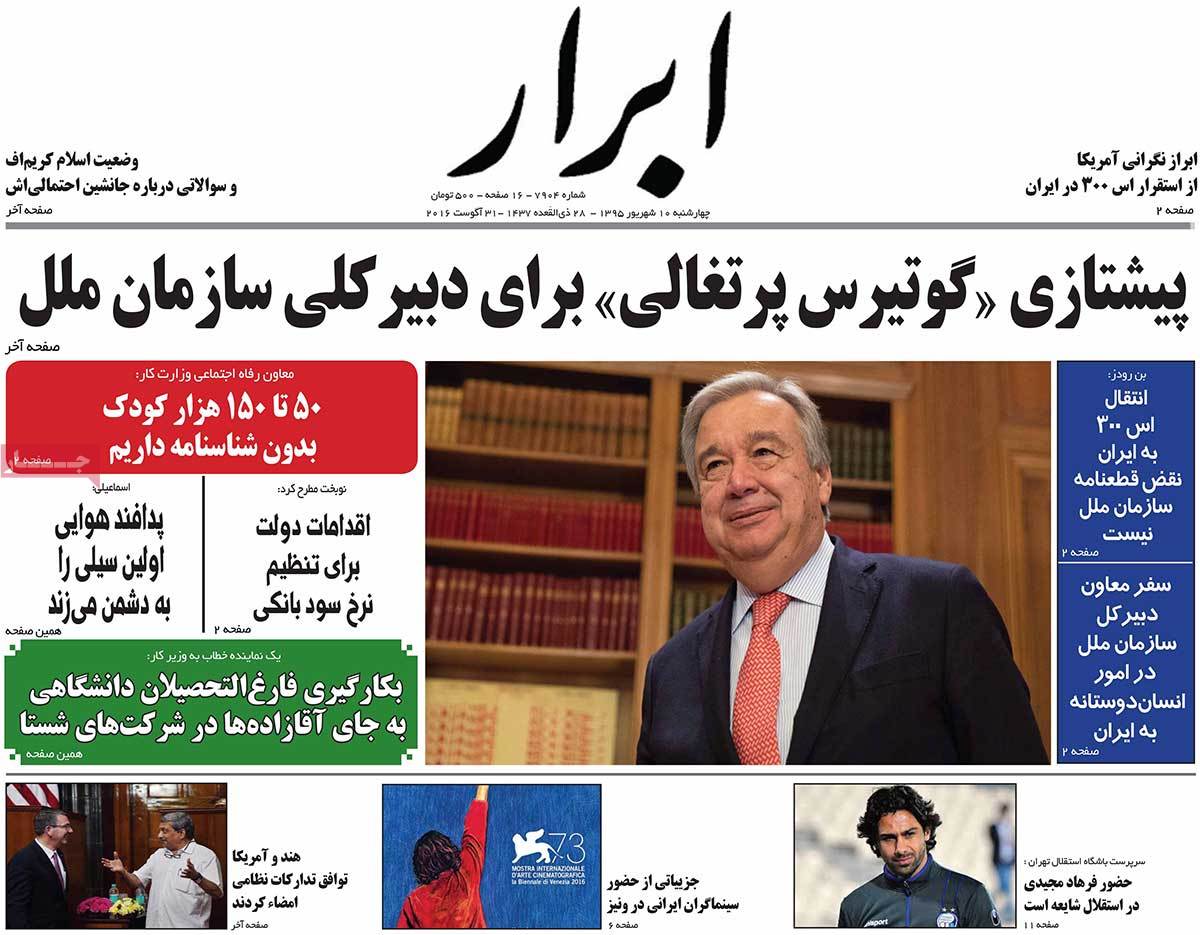 ---
Abrar-e Eqtesadi:
1- Iran Breaks Oil Export Record: 9m Barrels of Oil Sold in One Day
2- Switzerland to Guarantee Payment of Iran's Oil Export to China
---
Aftab-e Yazd:
1- It Was a Wrong Decision to Receive Loan from Russia: Analyst
2- VP: Lawsuit Filed against Those Who Insulted President Rouhani
3- MP Who Punched Journalist in the Face Refused to Apologize
4- Efforts Underway to Topple Outspoken Vice-Speaker Ali Motahari
---
Arman-e Emrooz:
1- Saeid Jalili Starting His Campaign in Qom for Next Year's Presidential Elections
2- Previous Gov't Transferred $23bn to Dubai and Istanbul: First VP
3- City Councillor: People Want Graves in Exchange for Their Houses!
4- 300 Concerts Were Held in Mashhad When I Was in Charge: Former Head of Music Office
---
Asrar:
1- A Nuclear Spy Would Never Be Released on Bail: Gov't Spokesman
2- Air Defence Commander: Our Hands Are on the Triggers
3- Evading the Law Was Institutionalized in Previous Gov't: VP
4- Iran's Volleyball, 7th Best Team in World Ranking: Historic Climb
5- Foreign Ministry Spokesman Urges Arab League Secretary General to Study History and Geography
6- Government to Pay for over 85% of Infertility Treatment Expenses
---
Ebtekar:
1- Efforts to Make the Follow-Up of a Scandal [in municipality] Seem a Politically-Motivated Campaign
2- Joking in Ghazipour's Style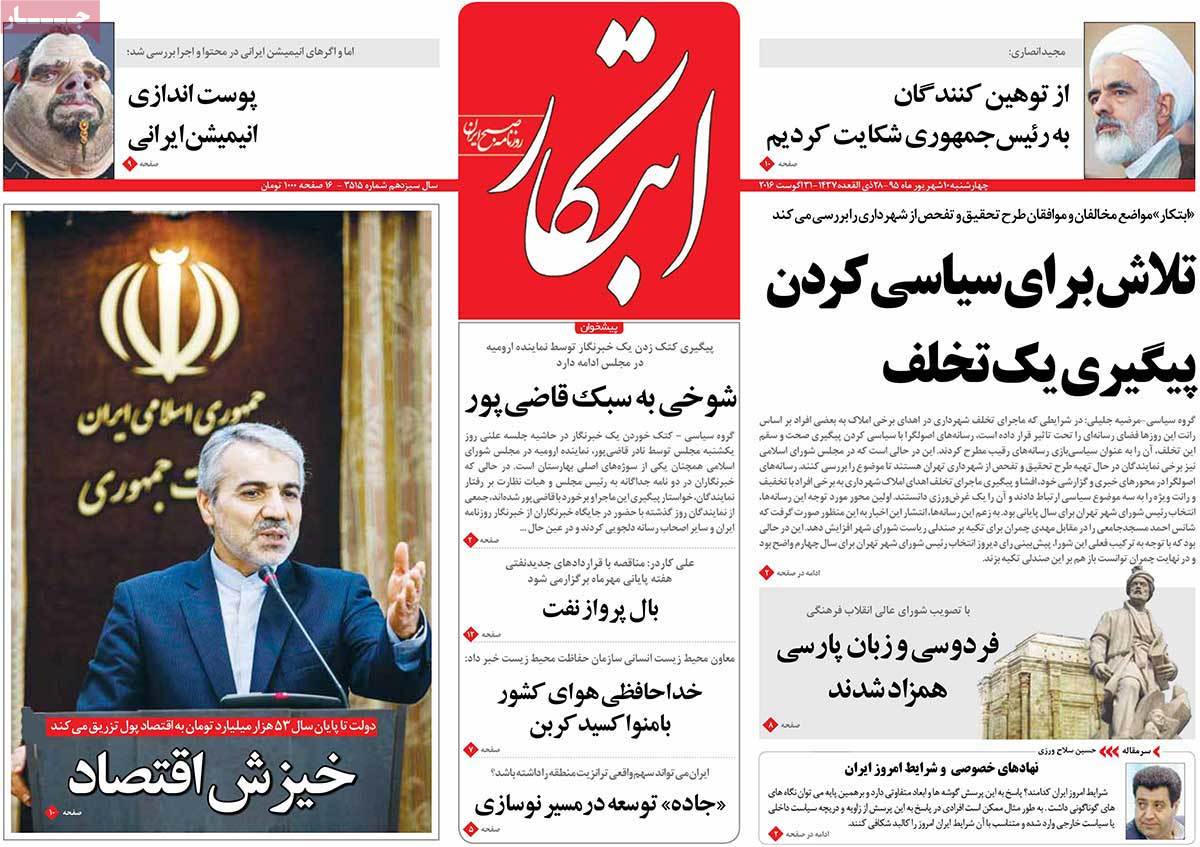 ---
Etemad:
1- Municipality under the Blade of Investigation
2- MP Urges Parliament's Board of Governors to Apologize for Attack on Journalist
3- We Seek to Have Ties with All Latin American Countries, Not Just the Leftists: Official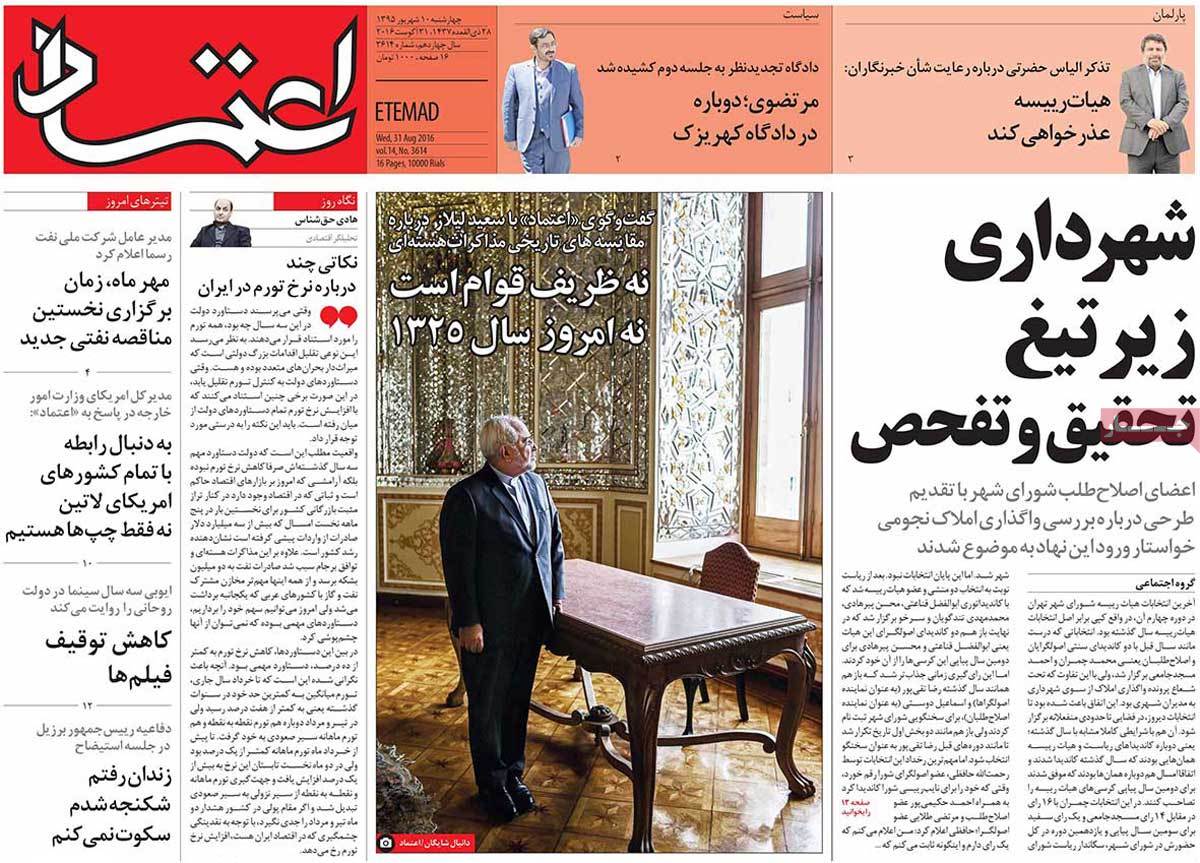 ---
Ettela'at:
1- Rouhani's Gov't Started Its Work with Almost $11bn Debts: Spokesman
2- Sense of Inequality, Unemployment, and Immigration Prepared Grounds for Social Ills: Officia
3- Carbone Monoxide Level in Iran's Air 20 Times Less than 5 Years Ago
4- Yemeni Forces Launch Missile Attacks on Southern Saudi Arabia
---
Haft-e Sobh:
1- Second Village Queen of Import: A Naïve Village Woman's Commercial Card Abused for $115m Import
2- Accommodation Prices in Five Famous Iranian Hotels
---
Hamshahri:
1- 10,000 Iranians Stabbed to Death in Past Decade
2- MPs to Criminalize Carrying Cold Weapons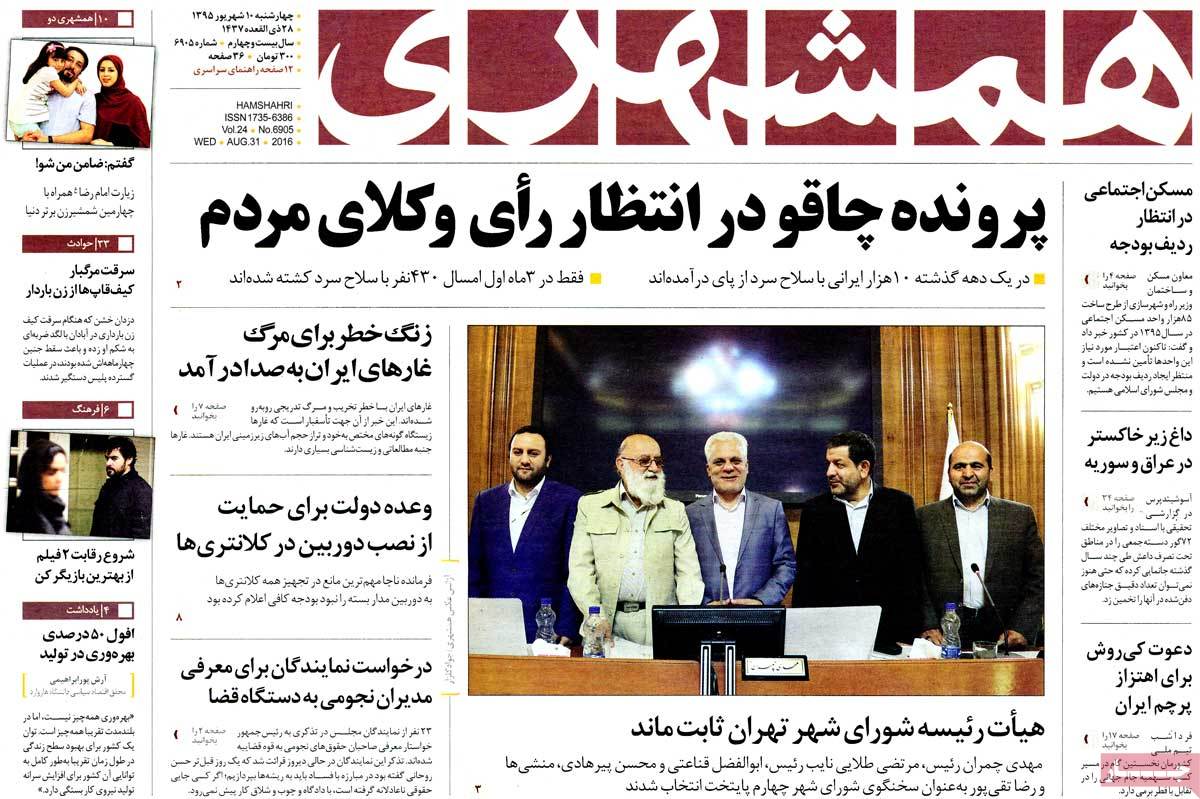 ---
Hemayat:
1- Ahmed Shaheed Not in a Position to Comment on Iran's Criminal Law: Official
2- West's Enmity towards Iran Is Because of Our Scientific Progress: Javad Larijani
3- Al Khalifa's Move against Sheikh Qassim Is Violation of Human Rights: Iranian MPs in Statement
---
Iran:
1- Thriving Tourism Industry Can Enhance Regional Stability: First VP
2- Government Will Not Support Any Offending Individual: Spokesman
3- MPs Apologize Journalists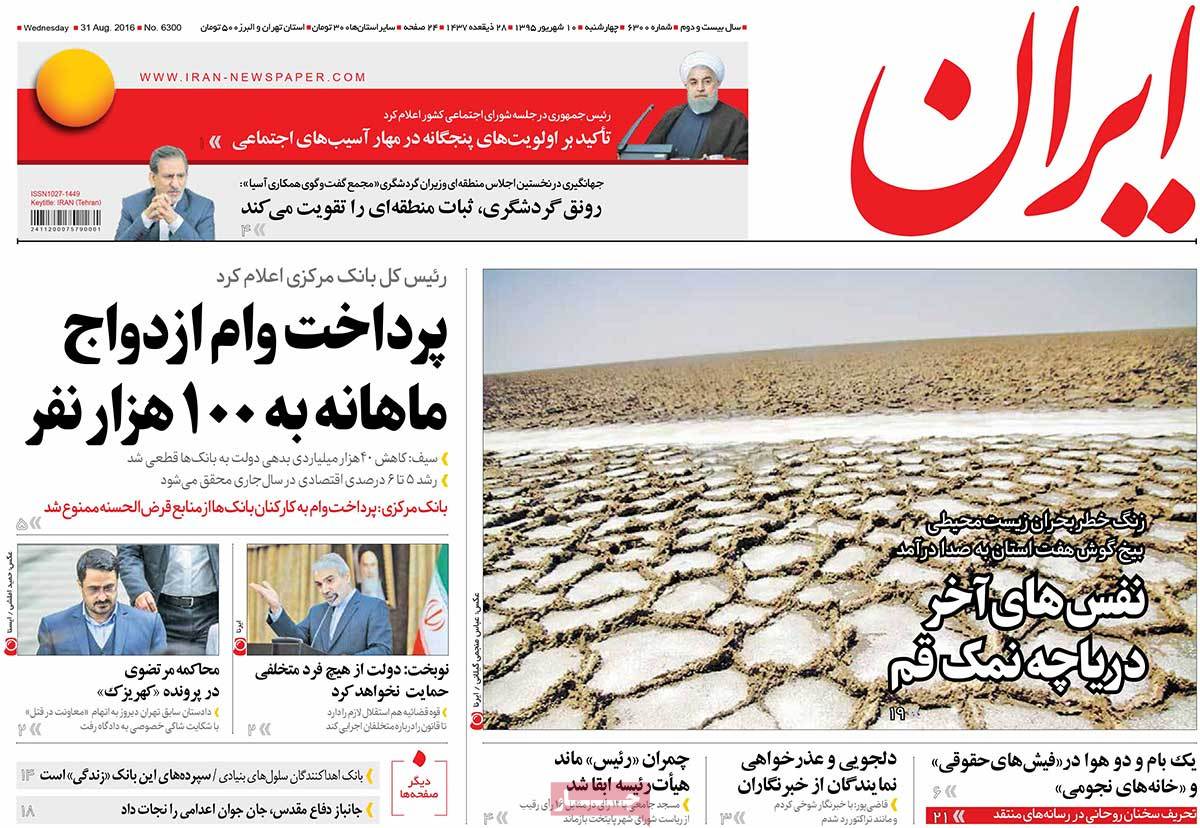 ---
Javan:
1- Washington Worried about Change in Aerial Balance of West Asia: While Israel Is Silent, US Spokesman Shows Reaction against S-300
2- 2 Million Infertile Iranian Couples Can Receive 85% of Their Treatment Expenses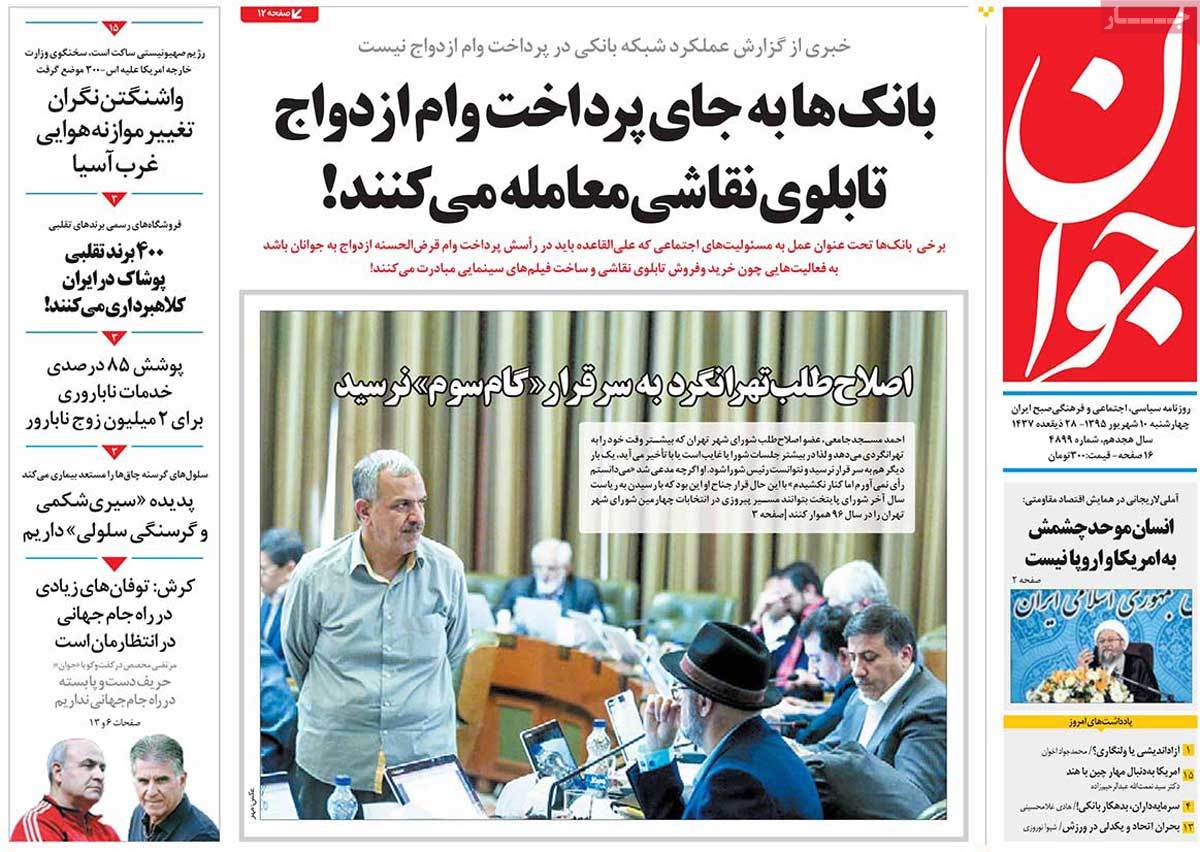 ---
Jomhouri Eslami:
1- Increased Protests at Turkish Invasion of Syrian Territory
2- Iran's Exports Expected to See $10bn Increase This Year
3- Erdogan, Opportunism in Favour of Terrorists [Editorial]
4- 203 Iranian MPs Voice Support for Bahraini People
---
Kayhan:
1- Gov't Spokesman: Espionage of Member of Iran's Nuclear Negotiating Team Is Not Worrying!
2- Operation to Liberate Ta'iz in Yemen Begins
3- Why Riyadh Revealed Its Long-Time Ties with Tel Aviv?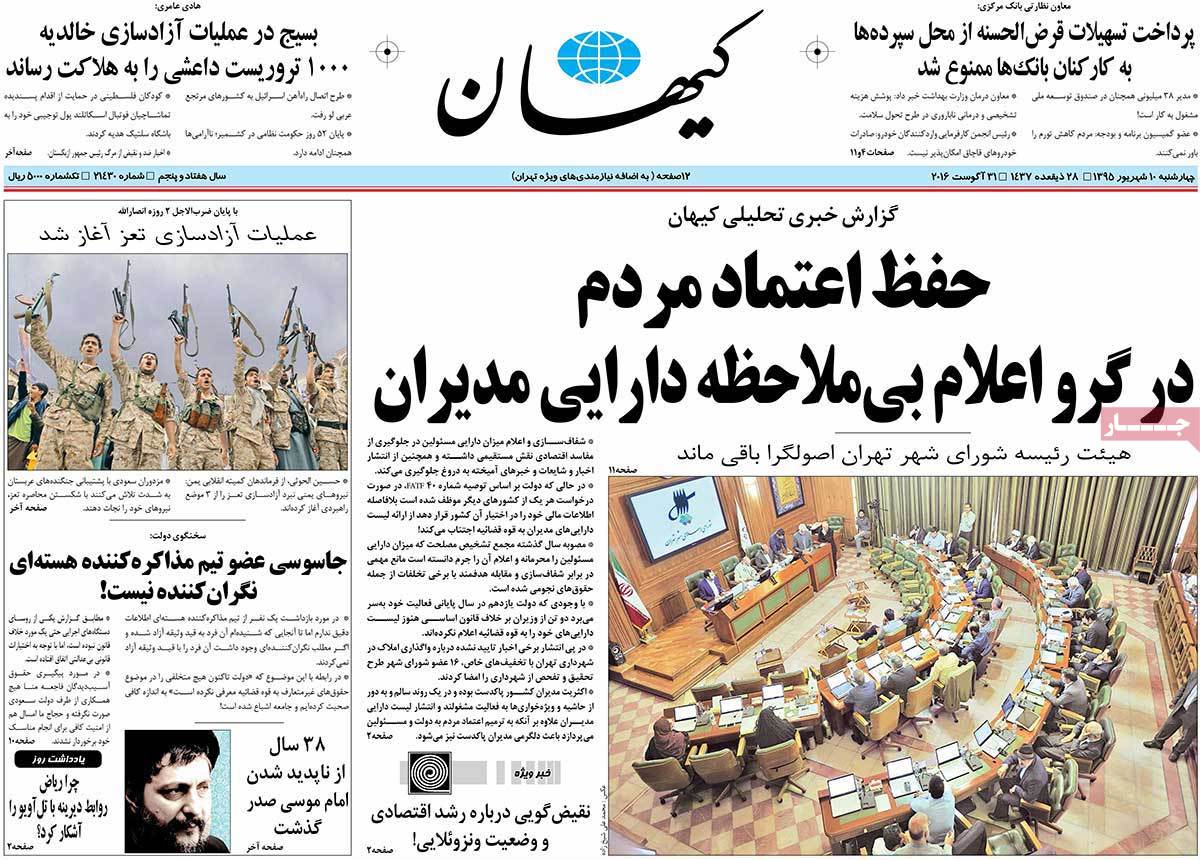 ---
Khorasan:
1- Saudi Arabia's Anger at Sunnis' Important Decision: International Conference of Sunnis Didn't Recognize Wahhabism and Salafism
2- Parliament's Important Move to Criminalize Carrying Cold Weapons
3- Iran's Sardar Azmoun among Nominees for Best Asian Young Player Award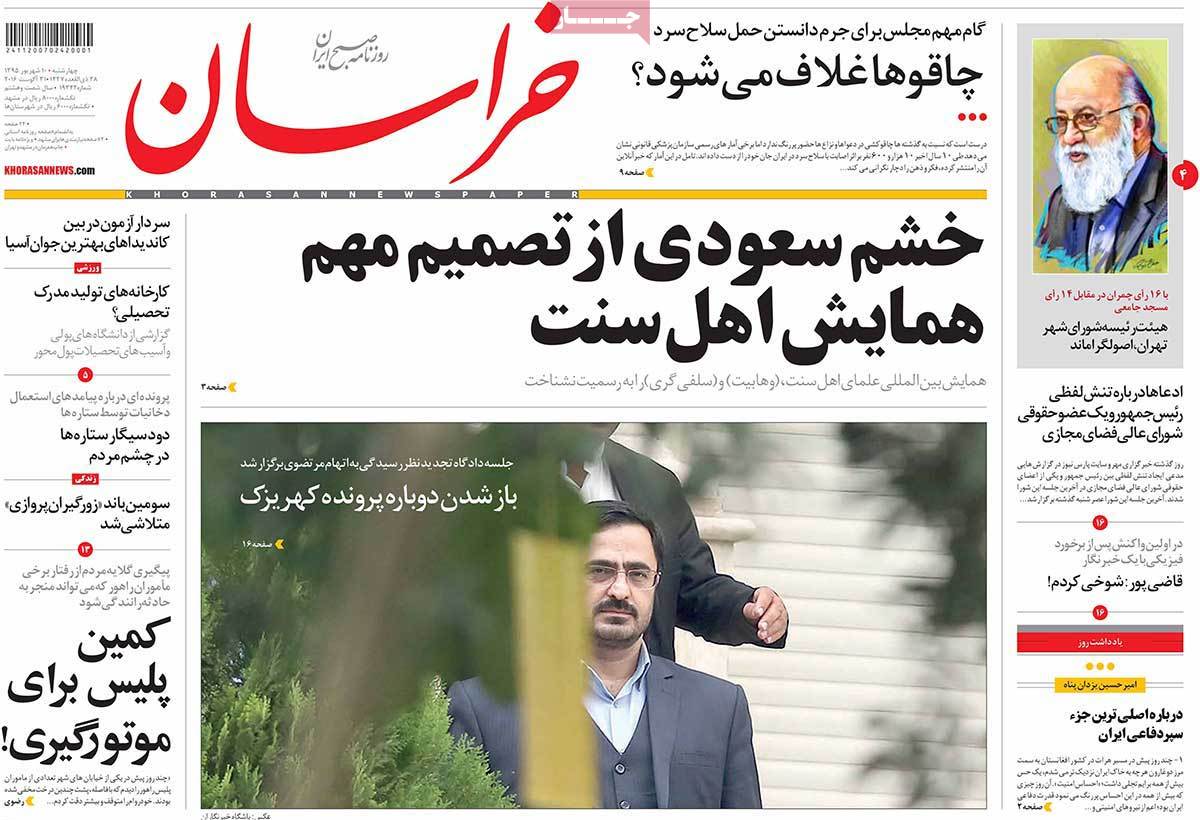 ---
Resalat:
1- One of the Sedition [2009 post-election protests] Leaders behind Anti-Municipality Smears: Councillor
2- Who Should Be Held Accountable for Kashmir Crimes? What Are Int'l Bodies Doing?
3- Some Supported Secularism during Reformist Era
4- Regional Issues Can't Be Resolved unless Israel Is Annihilated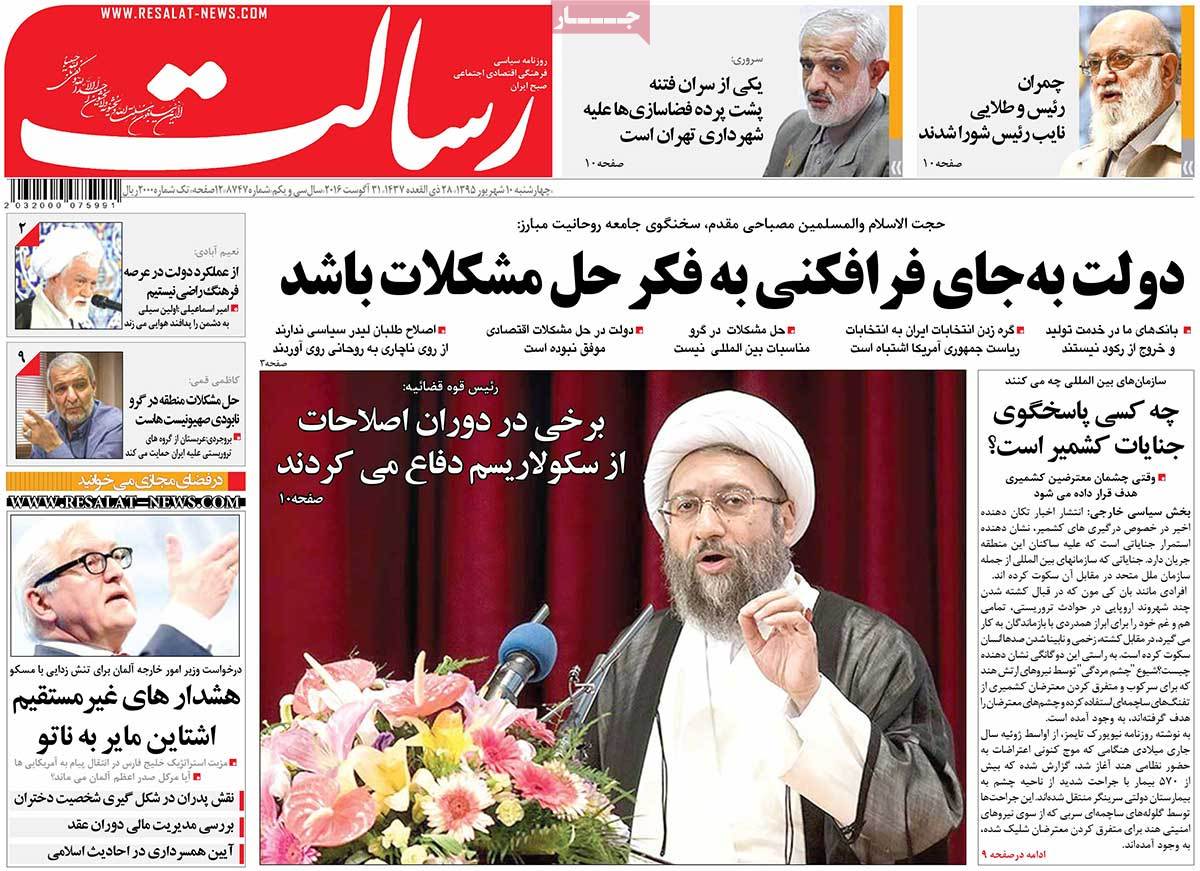 ---
Shahrvand:
1- 150,000 Iranian Children Suffer from Malnutrition
2- A Mother and a Father for 12 Boys
3- Prosecutor-General vs. Earthquake: Italian Judiciary to Sue Perpetrators behind Collapse of Buildings
---
Shargh:
1- Asghar Farhadi Writes Letter to Iran's Music Maestro Shajarian
2- Fire in South Pars Gas Field
3- Judiciary Chief: Does a Person Who Believes in God Fear from Sanctions?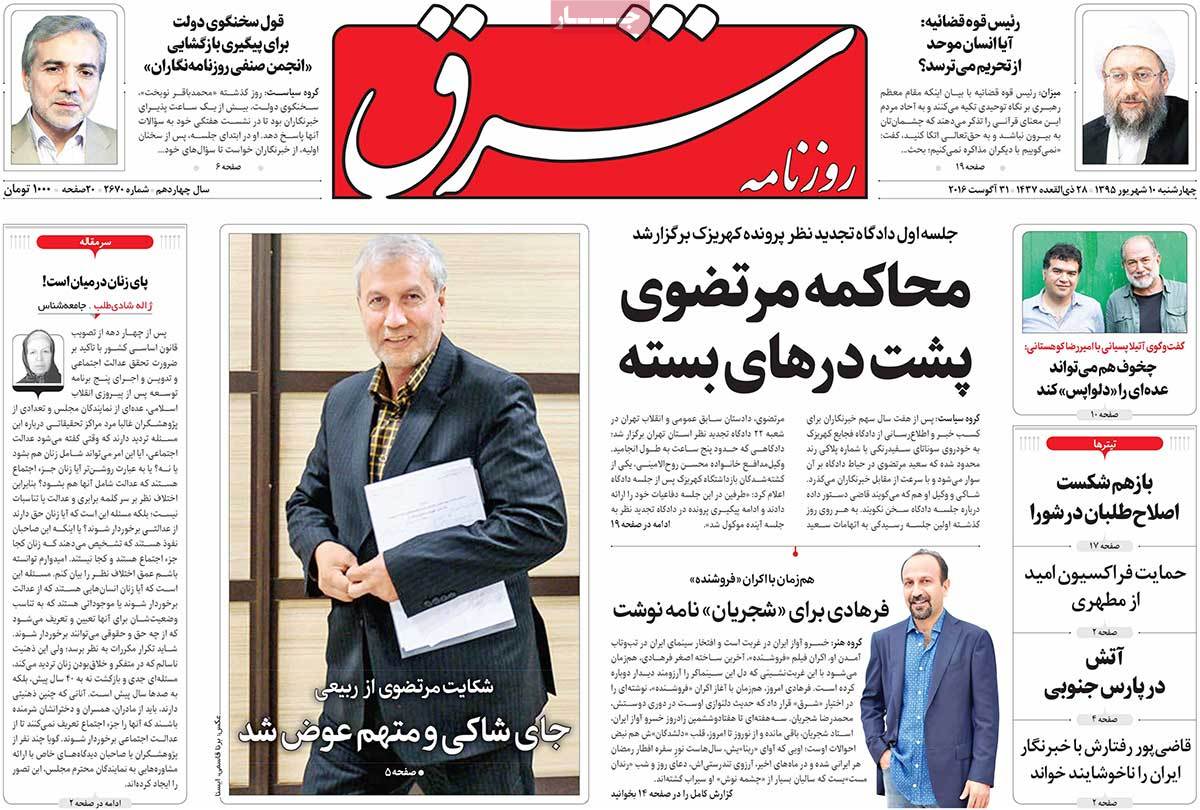 ---
Sobh-e Now:
1- JCPOA in Banking: Supreme National Security Council to Discuss FATF Deal
2- Massacre of Palestinians in Native American Style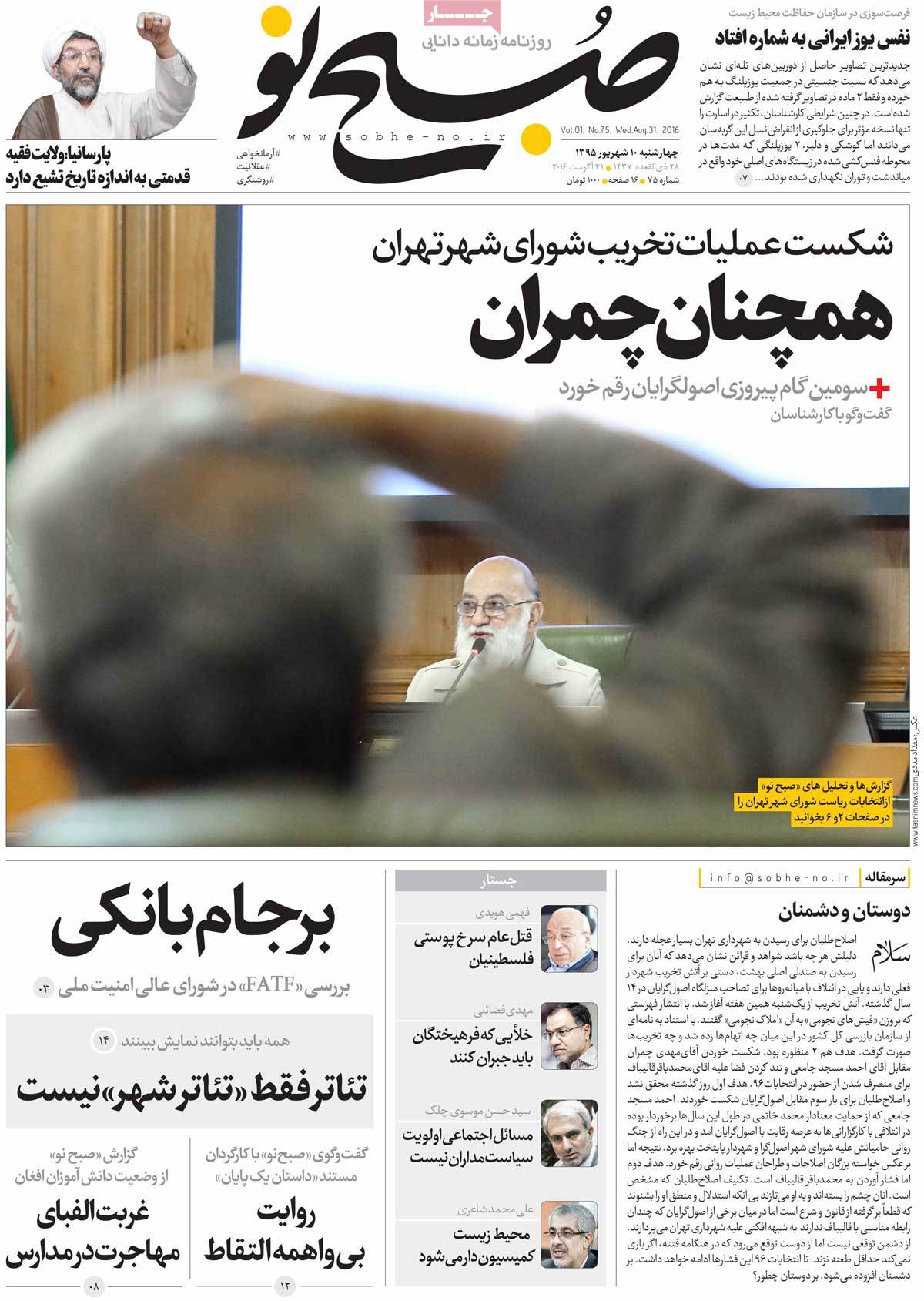 ---
Vaghaye Ettefaghieh:
1- Cheetahs that Ran with Me: Life of a Ranger Traveling across Iran's Deserts to Protect Asiatic Cheetah
2- Asghar Farhadi's 'Salesman' Premiered in Iran: Beginning of Road to Academy Awards
3- JCPOA Brought $1.6bn Foreign Investment to Iran: Minister
---
Vatan-e Emrooz:
1- American Plot for Social Engineering [Editorial]
2- Government Incapable of Restoring Rights of Mina Tragedy Victims: Spokesman
3- Conservative Chairman and Board Members of Tehran City Council Re-Elected
4- Crescent Convicts to Organize Oil Tenders!