The main focus of newspapers on Tuesday was the recent scandal in Tehran municipality and the reactions to the sales of various houses with great discounts. In addition to reformist and moderate newspapers, which were the ones to begin the media movement, even Kayhan condemned such abuses and urged the Judiciary to prosecute the perpetrators
Newspapers also covered the remarks made by Iranian Foreign Minister Mohammad Javad Zarif about the US Treasury Department's Letters of Comfort issued for banks that want to work with Iran.
The recent deployment of S-300 missile defence system near Fordow nuclear site also received good coverage.
The above issues as well as many more are highlighted in the following headlines:
Abrar:
1- Larijani: MKO Is Most Bloodthirsty Terrorist Group in the World
2- Zarif Welcomes US Treasury's Letters of Comfort
3- Success of Our Diplomats in Removing Sanctions Is Enough for Iran's History: Rouhani
4- Omid Kokabi [Iranian nuclear scientist] Conditionally Released from Prison
5- S-300 Missile Defence System Installed in Fordow Nuclear Site's Air Defence Centre
6- Parliament Urged to Probe into Municipality's Illegal House Sales: Properties Should Be Returned
7- Majority of Japanese People Want PM Abe to Remain in Power until 2020 Olympics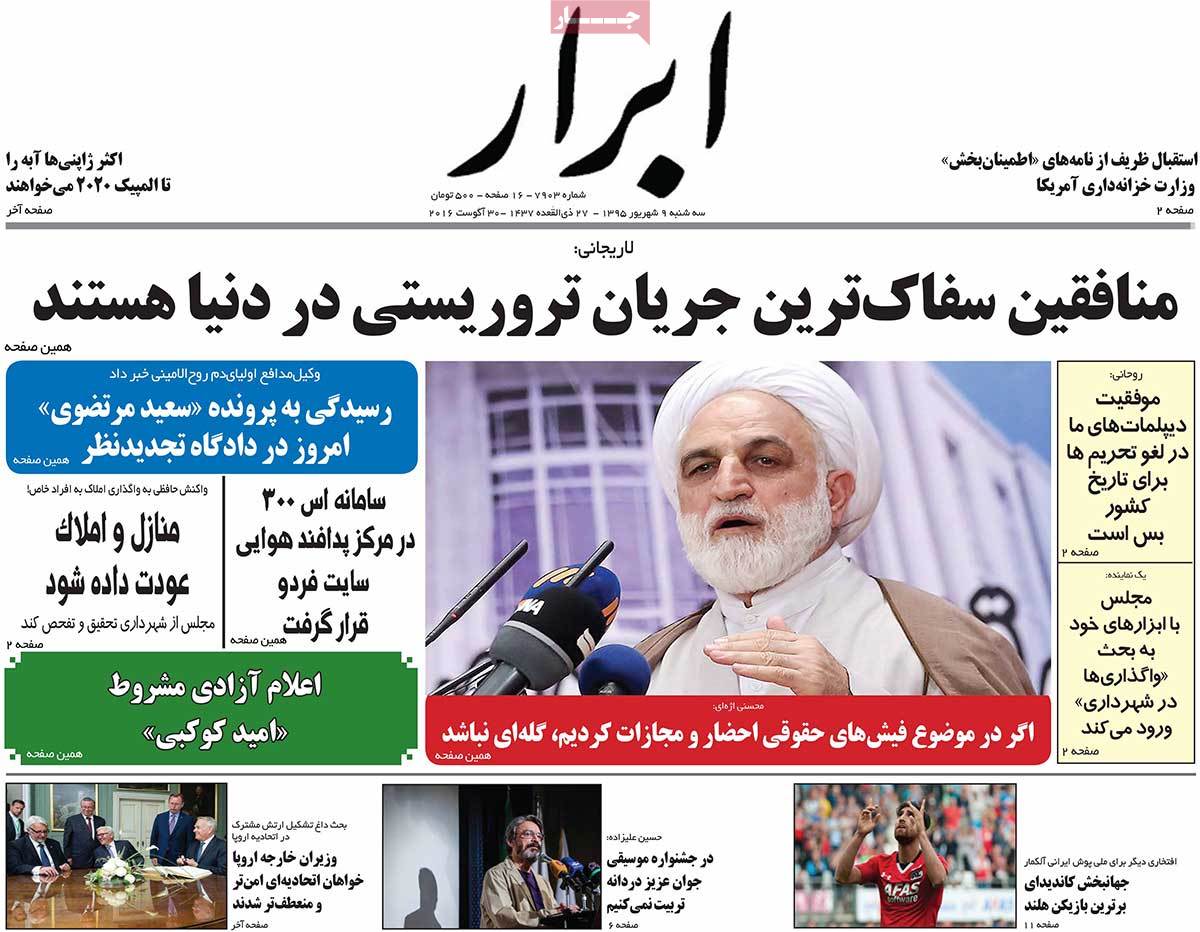 ---
Abrar-e Eqtesadi:
1- Iran and Lebanon to Restore Banking Ties
2- UAE Once Again Becomes Iran's Gas Customer
3- Deals with Total and Linde for Investment in Iran's Petchem Industry
4- $70bn Deals Signed for Foreign Finance: Economy Minister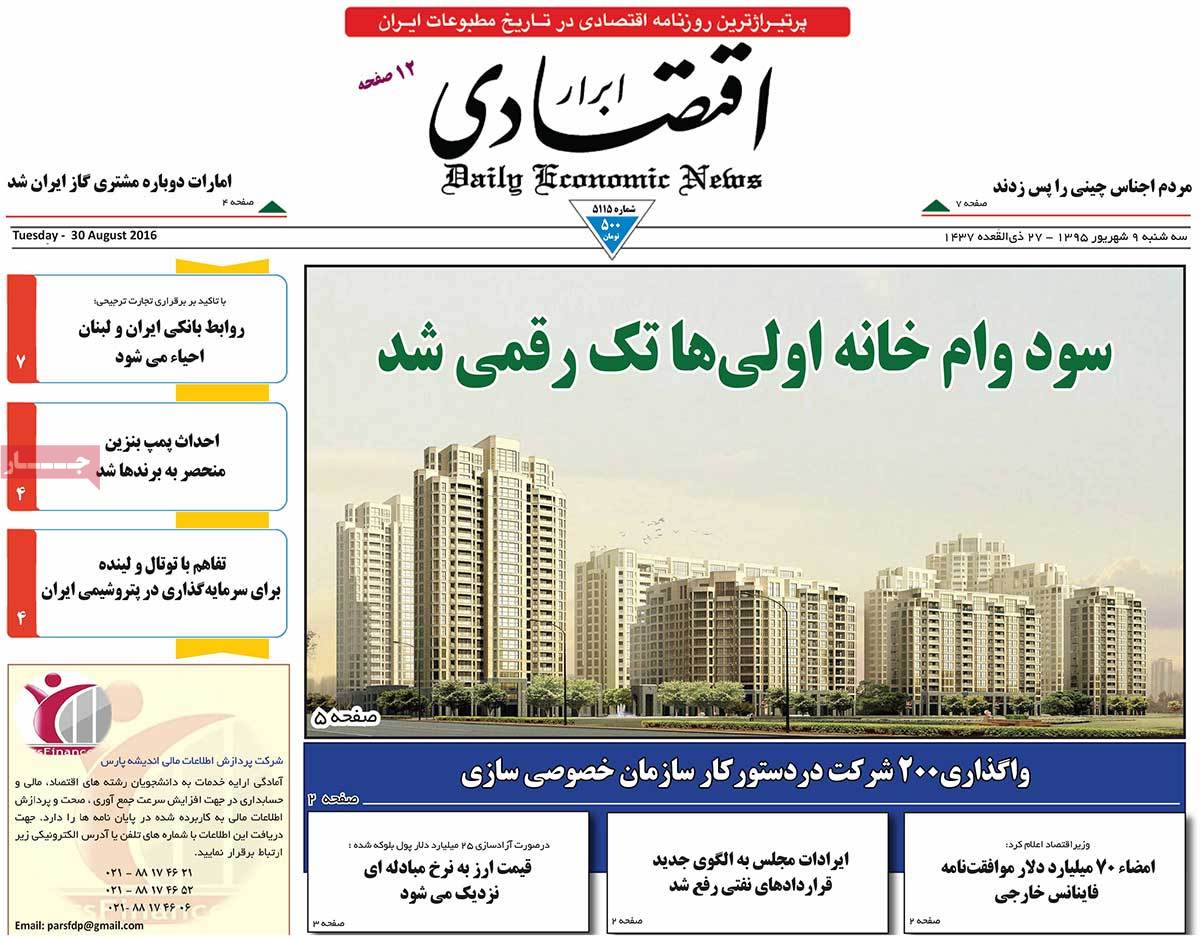 ---
Aftab-e Yazd:
1- End of Rouhani's Doubts: He Had Certain Doubts about Running for Next Year's Presidential Elections
2- Rouhani: They [opponents of gov't] Are Using People's Money to Frustrate Them
3- Asking Is Our [Journalists'] Right and Answering Is Your [Authorities'] Duty [Editorial]
4- Subway [Municipality] Declared as Culprit behind June Explosion in Tehran's Shahran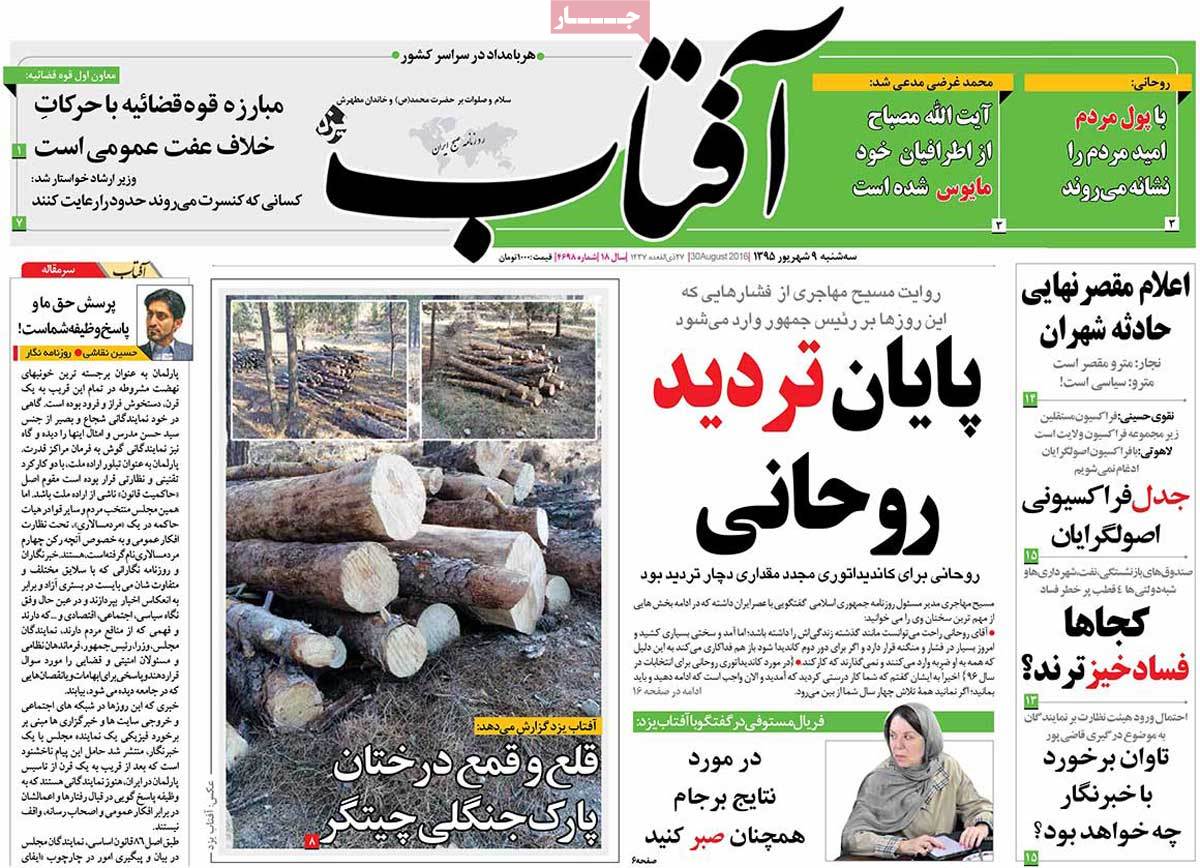 ---
Arman-e Emrooz:
1- Two Ayatollahs Meet in Damavand: World Counts on You, Ayatollah Javadi Amoli Told Ayatollah Hashemi Rafsanjani
2- MKO Terrorists Killed Their Own Leader Massoud Rajavi
3- Zarif's Letter of Comfort for Those Who Are Worried!
4- Russia and Iran: Coalition or Independence [Editorial]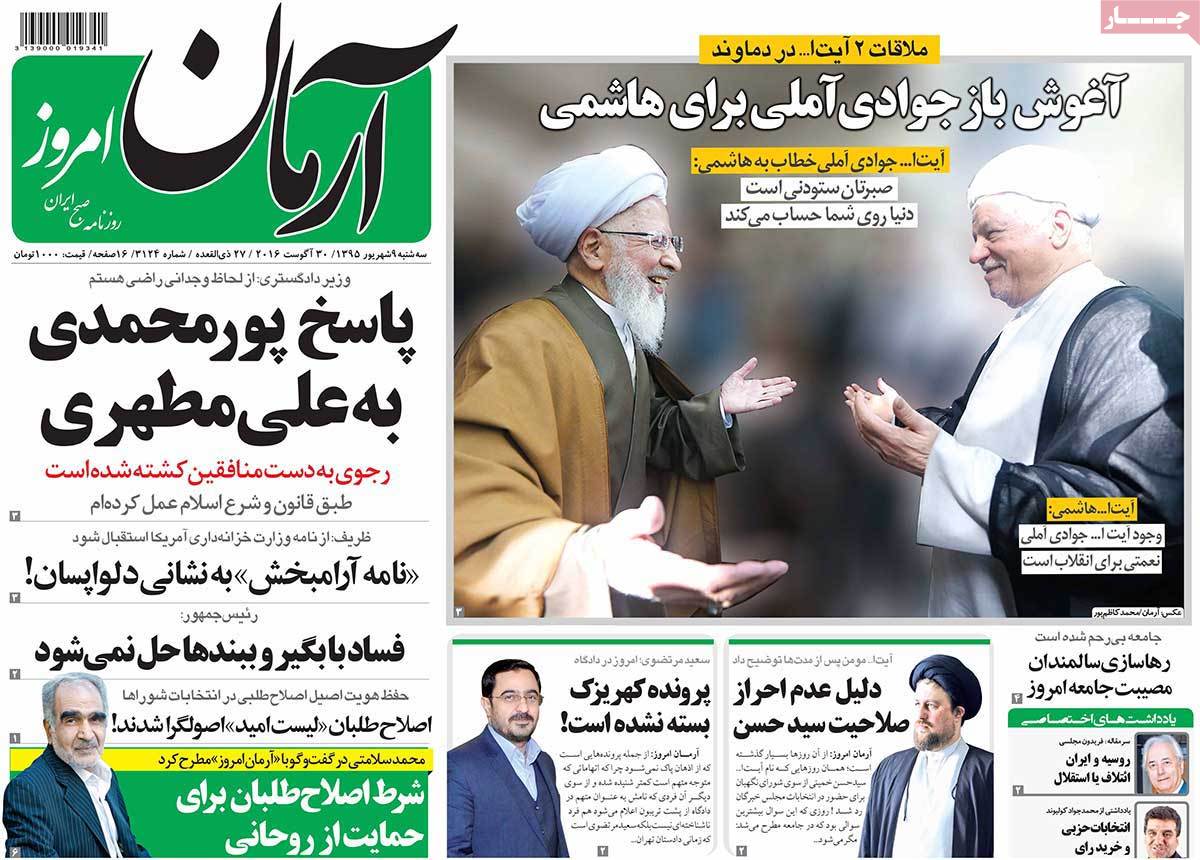 ---
Asrar:
1- Rouhani's Gov't Realized Its Promises One Year Earlier: VP
2- Army Air Defence Warns Off US Drone
3- Ayatollah Rafsanjani Should Return to Tehran Friday Prayers: Cleric
4- Lebanese Hezbollah: Saudi Arabia's Dream Buried in Darayya
5- $5 Increase in Iran's Oil Price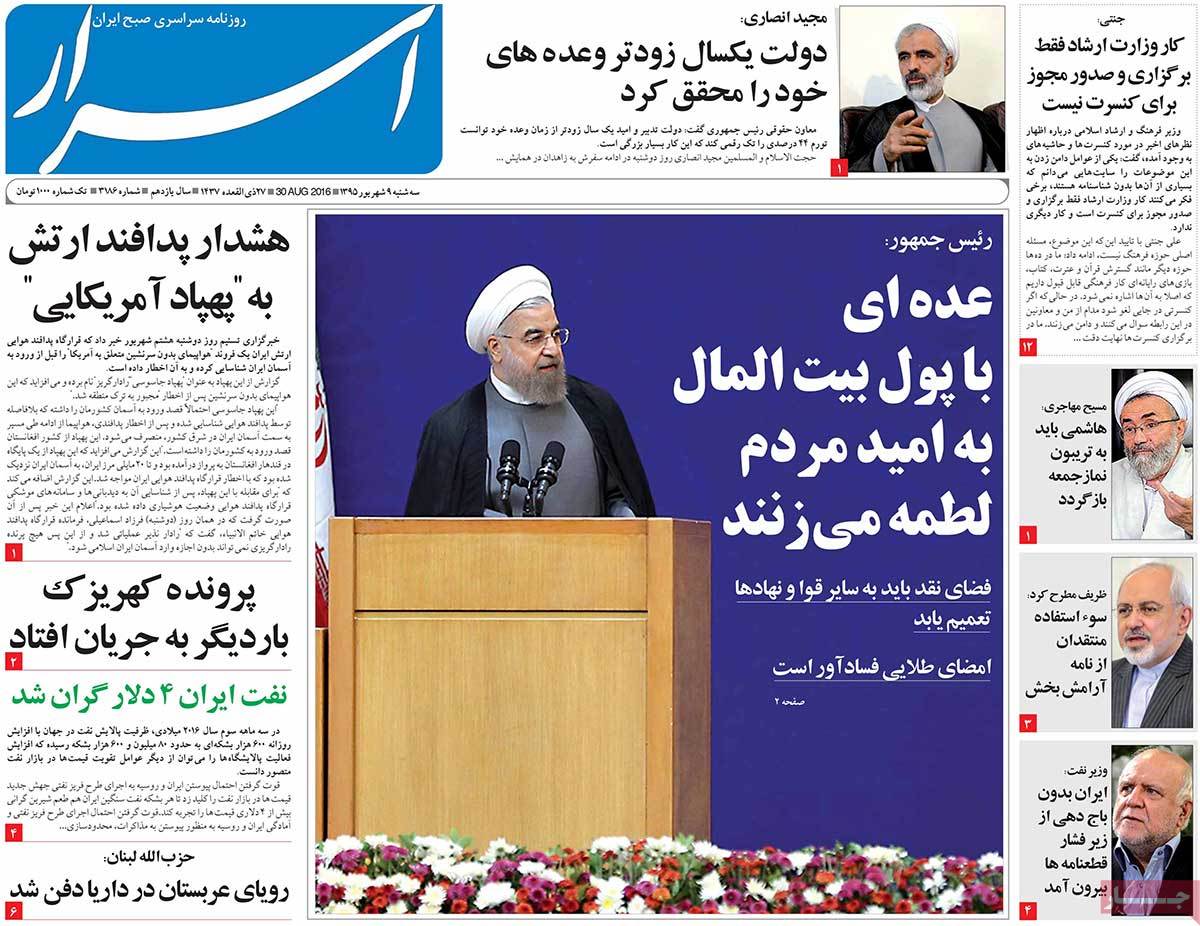 ---
Ebtekar:
1- Conservatives May Support Rouhani in Return for Favours
2- Those Who Claim to Be Advocates of Turning Mashhad into Iran's Vatican City Are Moving towards Secularization: MP
3- We Should Elevate Iran to the Position It Deserves: Rafsanjani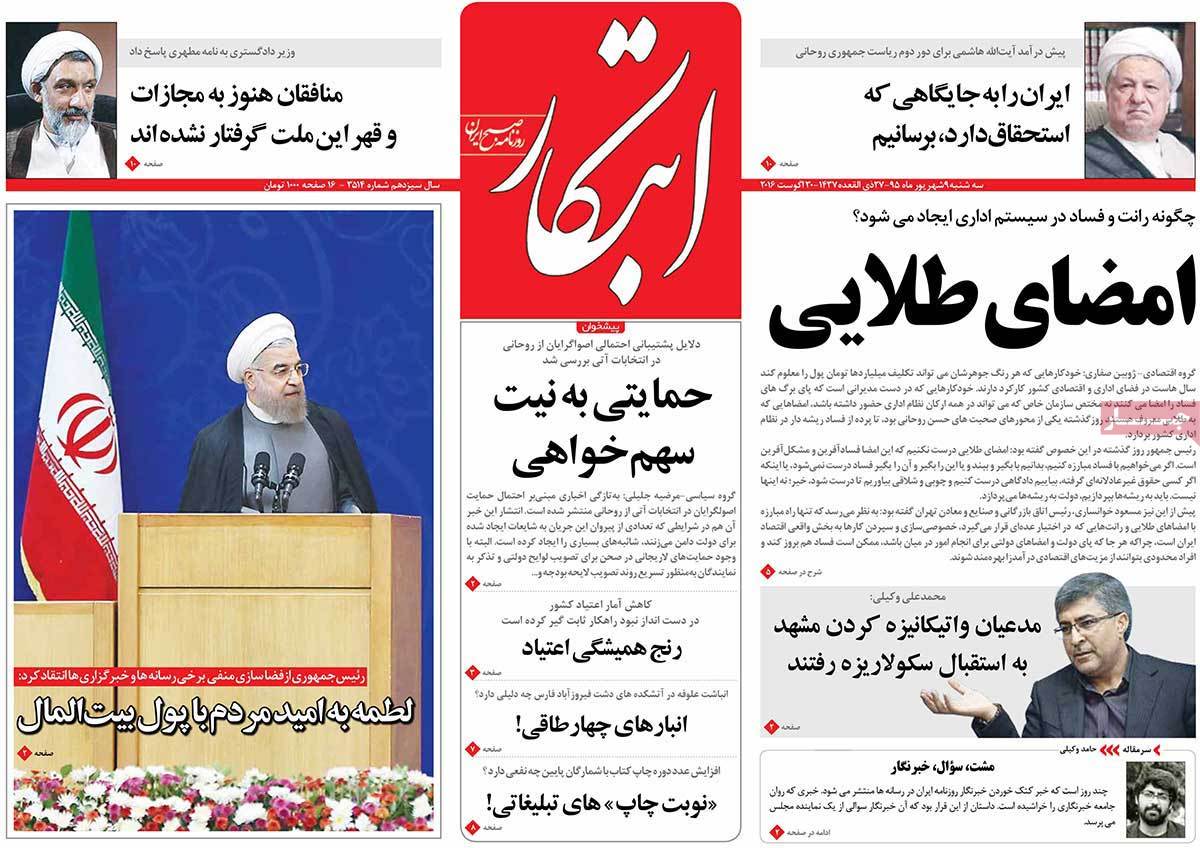 ---
Emtiaz:
1- Iran National Football Team's Bus Officially Unveiled
2- Int'l Cartel Importing Drug Precursor Chemicals Busted
3- Robbery, the Most Prevalent Crime in Tehran
---
Etemad:
1- Female Officials Are Targets of Attackers: Ebtekar
2- Rouhani Had Doubts for Running for Presidency Once Again, but He Was Finally Convinced: Cleric
3- China's Five-Year Plan for Returning to Iran's Market
4- Terrorist Blast in Southern Yemen Claims 54 Lives
5- Only 2 Female Asiatic Cheetahs Left until Their Extinction
---
Ettela'at:
1- Government's Approach Is to Take Wise Decisions Based on National Interests: Rouhani
2- $4bn Investment Attracted in Non-Oil Sectors
3- ISIS' Attack on a Wedding Ceremony in Iraq's Karbala Leaves 23 Dead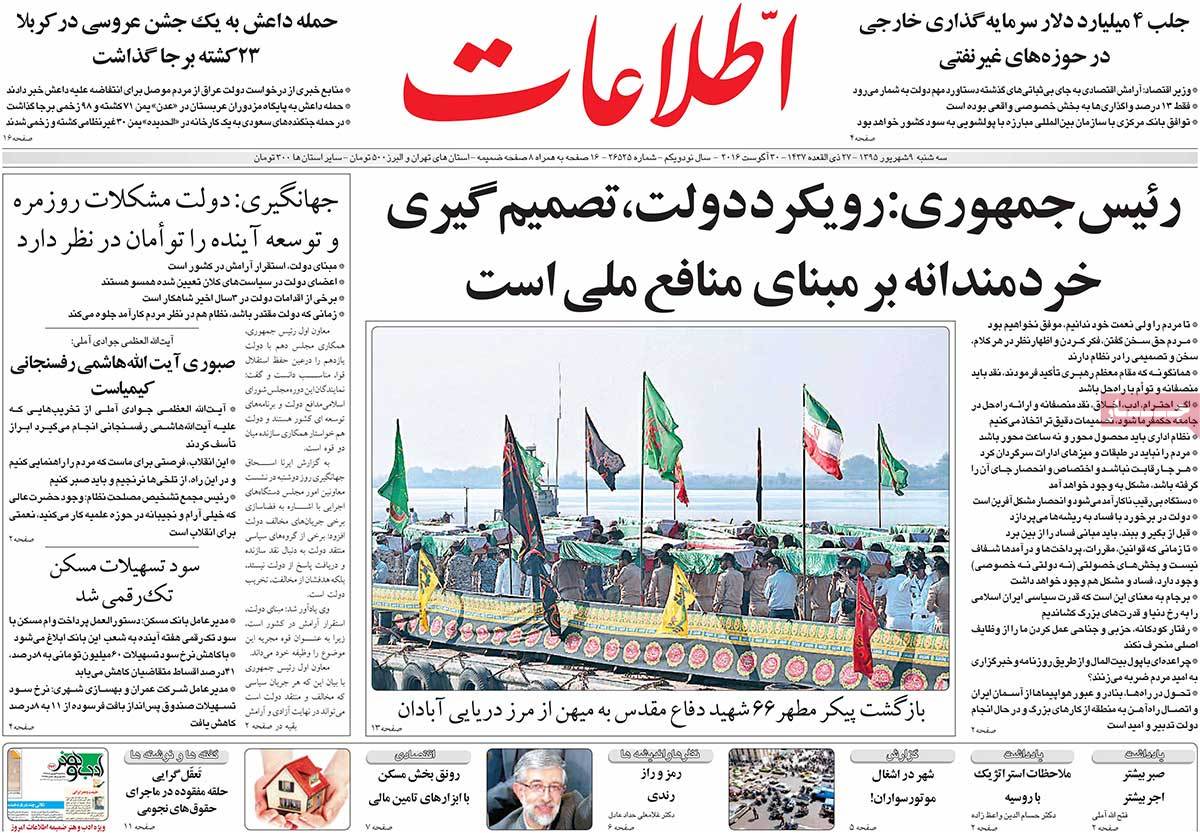 ---
Haft-e Sobh:
1- French Visit of Lake Urmia
2- Astronomical Houses or Astronomical Salaries? Media War between Reformists and Conservatives
3- Unusual Excitement at Asghar Farhadi's New Film ahead of Wednesday Premiere in Iran: All Tickets Sold Out
4- China or Chile? Which One's Economy Should We Learn from?
5- Cinderella in [Iran's southwestern city of] Ahvaz: Dream of 8-Year-Old Girl Suffering from Cancer Came True
---
Iran:
1- President Rouhani and Iranian Nation Support Carlos Queiroz: First VP
2- Asiatic Cheetah to Become Extinct by 2021
3- Post-JCPOA Diplomacy's Mission Is to Reinforce National Economy: Zarif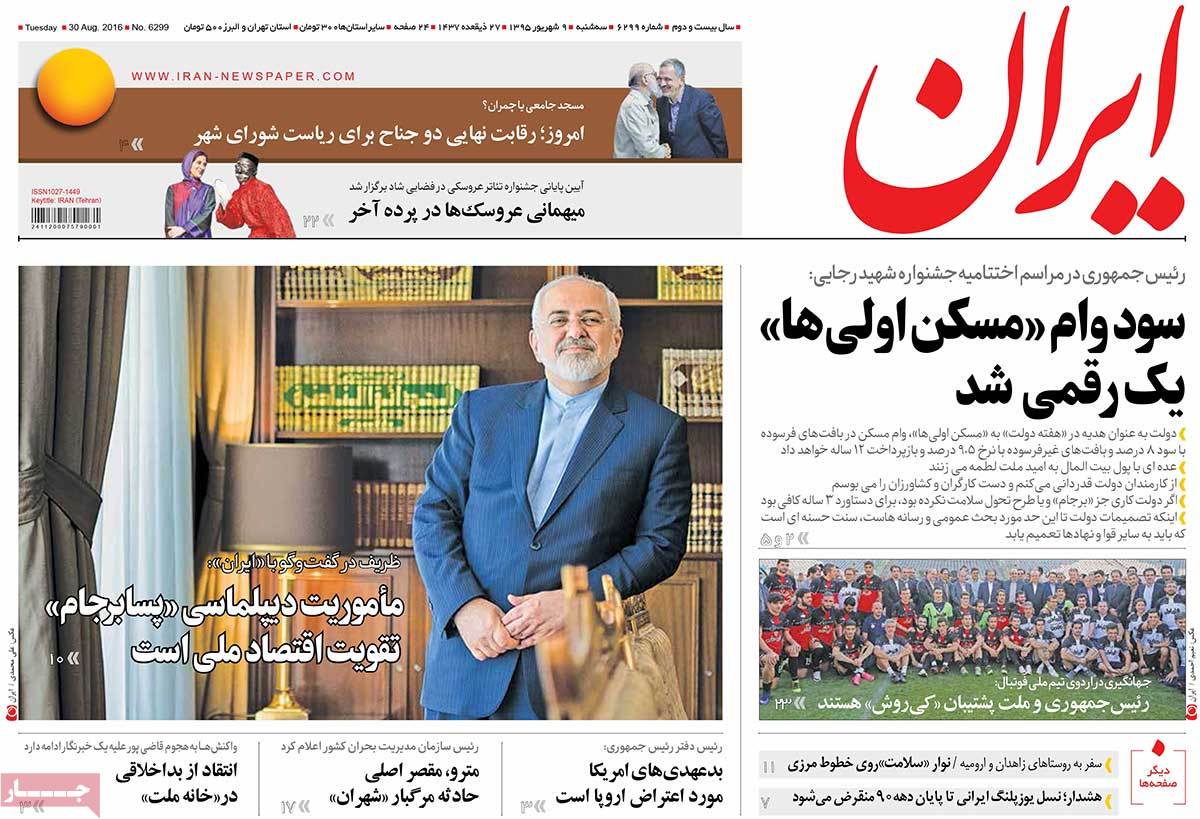 ---
Javan:
1- Optional Convention on Child Rights (UNCRC), a Trap for New Sanctions: After Student Basij [Voluntary Forces], Iranian Families and Hijab to Be Targeted by UNCRC
2- Iran Oil Contracts Revised in Government's Session 'behind Closed Doors'!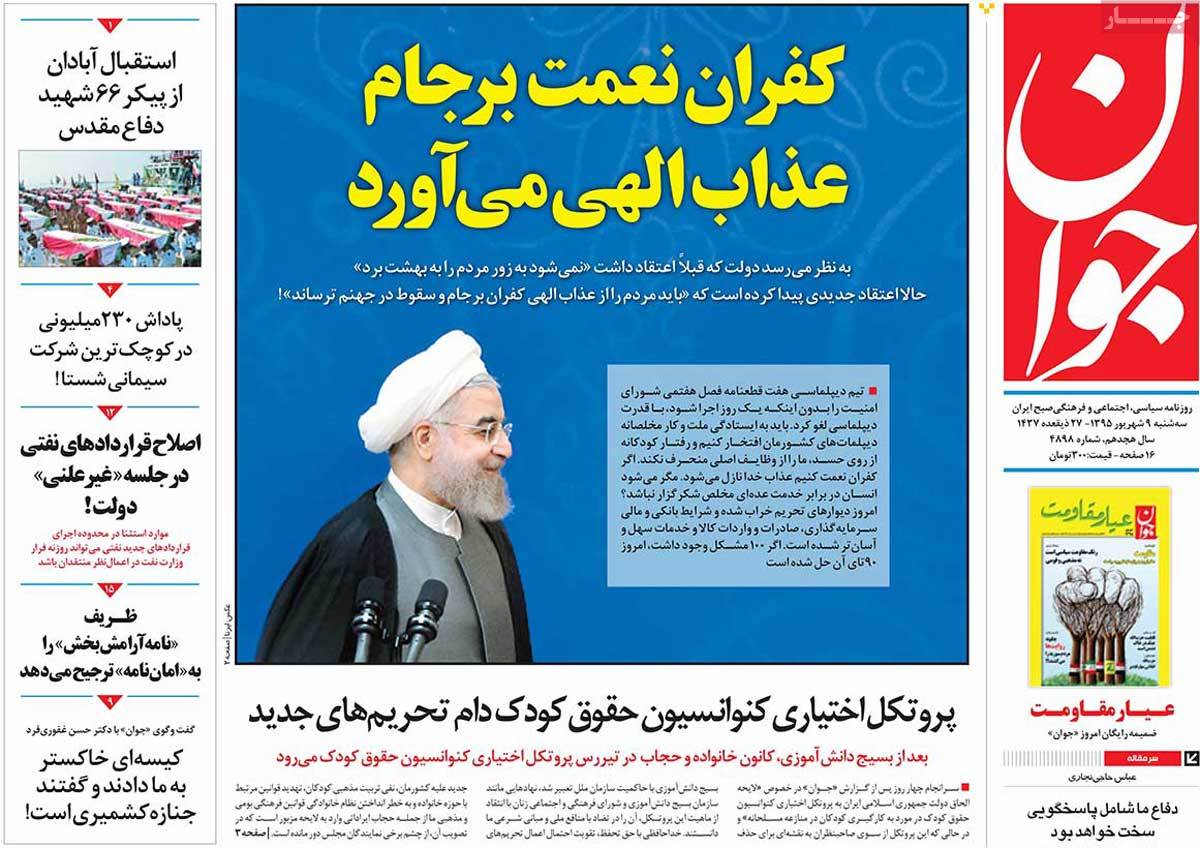 ---
Kayhan:
1- President Says Government Opposed to Prosecution of Those Who Received Astronomical Salaries!
2- Illegal Use of Public Properties Is Treason, Whether in Municipality or in Government: Judiciary Should Investigate Astronomical Abuse in Tehran Municipality
3- Eyes Blinded in Kashmir by Indian Army
---
Khorasan:
1- Jaish-ul-Islam Spokesman: Peace with Israel Is Possible!
2- 700 Porsche, Benz, and Hyundai Azera Cars Confiscated: They All Belong to a "Poor" Woman from Iran's Northern City of Nowshahr!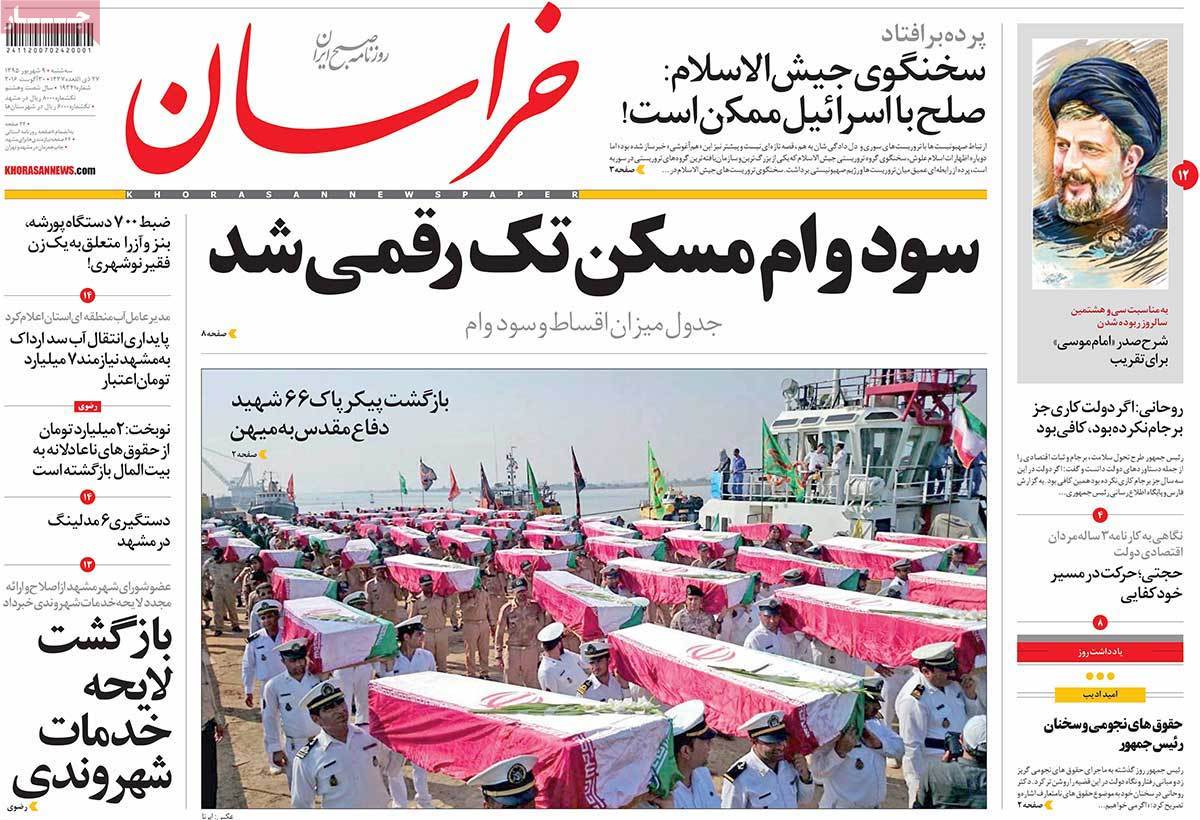 ---
Resalat:
1- Iran Prevented Baghdad from Falling into ISIS' Hands: Amir Abdollahian
2- West Will Be Gripped by MKO Terrorist Group in Future: Larijani
3- Islamic Republic Will Stand by Resistance Movement: Ayatollah Jannati
4- Mina Tragedy Will Never Be Forgotten: A Global Demand from Saudi Arabia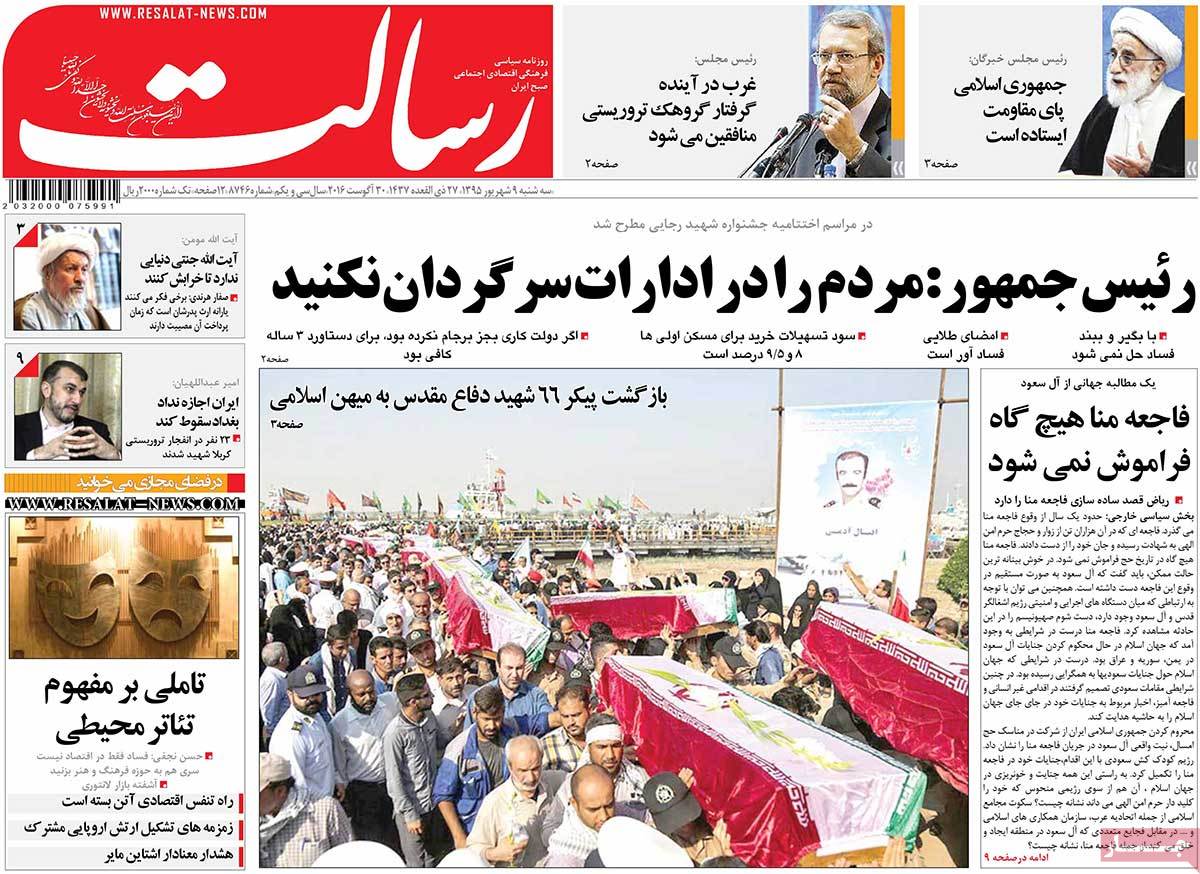 ---
Shahrvand:
1- 229 Iranian Scientists on List of World's Top 1%
2- ISIS and Saudi Arabia, Two Tips of a Blade in Yemen: ISIS' Suicide Attack Kills 60 in Yemen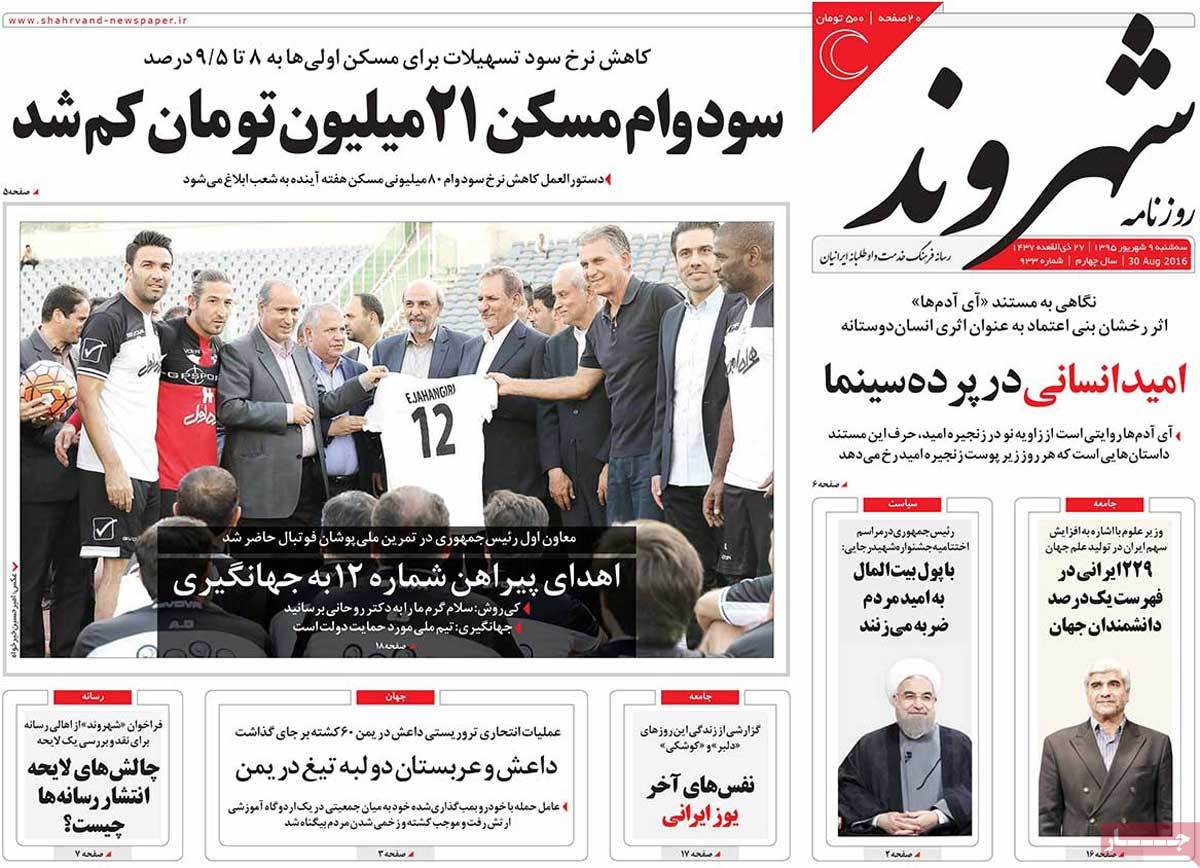 ---
Shargh:
1- Iran's Economy Had Become Similar to that of Venezuela in 2015, But Tehran Didn't Become Caracas: President's Advisor
2- Fordow, under S-300 Umbrella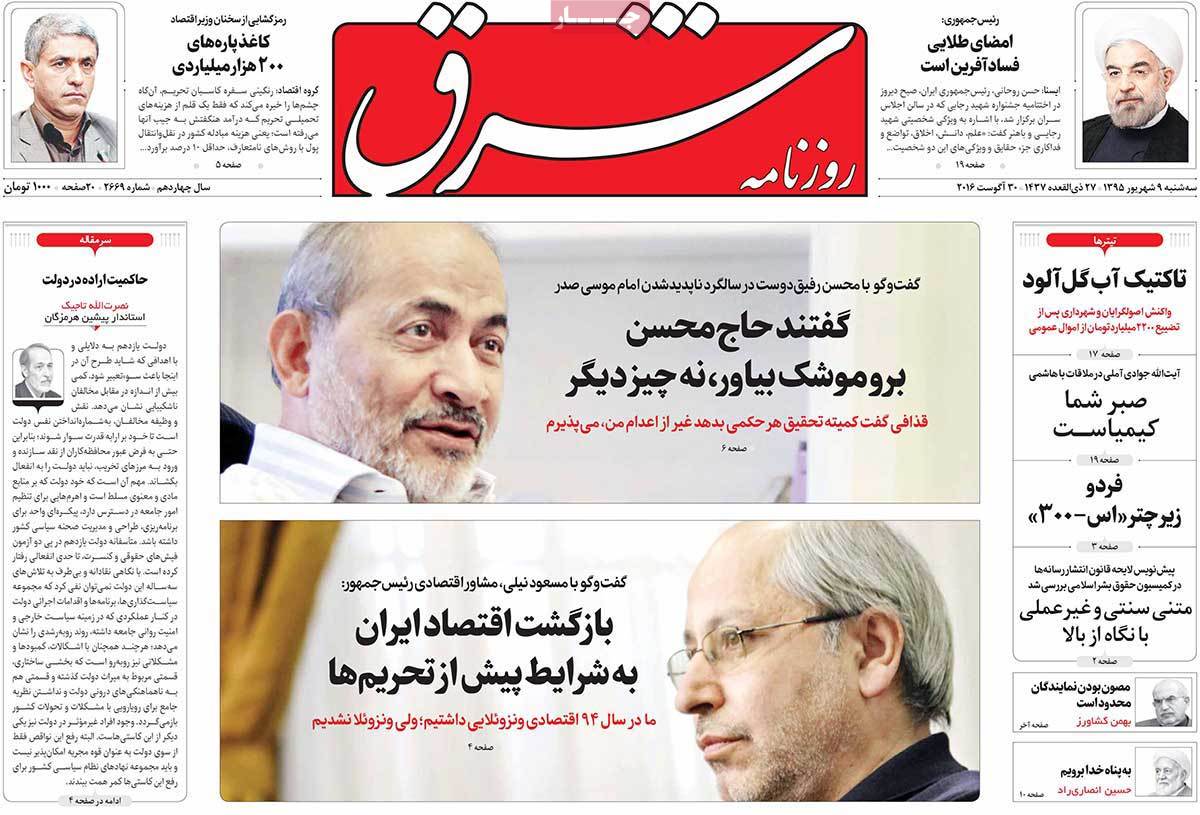 ---
Sobh-e Now:
1- Number of Smart Phones Doubled in Iran: 40m Smart Phone Users
2- Erdogan's Sharp Dagger against Turkish Media: Purges Continue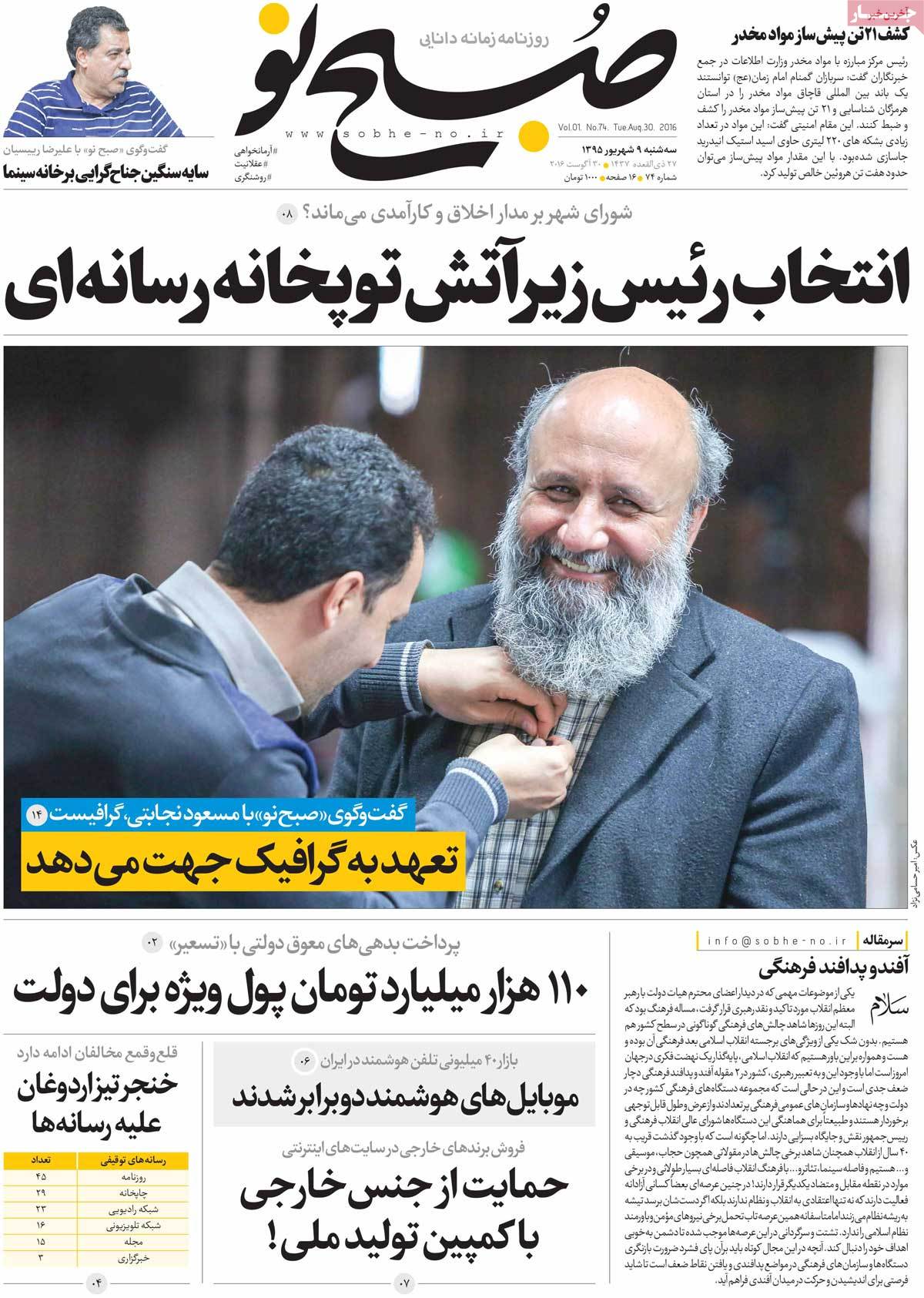 ---
Vaghaye Ettefaghieh:
1- The Man Who Has Power: Reactions to MP's Punch on Journalist's Face
2- Foreign Nationals Banned from Studying Certain Technical Majors in Iranian Universities: Keeping Job Opportunities or Manipulating Labour Market?
3- US Wants to Make Iran Involved in Different Regions: Analyst