Newspapers on Monday covered the remarks by the Leader of the Islamic Revolution Ayatollah Seyyed Ali Khamenei in a gathering of prayer leaders and clerics.
They also highlighted the visit of Iranian Foreign Minister to six Latin American countries. His tour started on Sunday by visiting the Cuban capital of Havana.
A recent deadly attack on a wedding ceremony in Turkey also received great coverage:
The above issues as well as many more are highlighted in the following headlines:
Abrar-e Eqtesadi
1- Ifs and Buts in Delivery of MasterCard to Iranian Users
2- OFEC Will Soon Issue Licence for Sale of Airbus to Iran
3- Iran to Inaugurate Middle East's Biggest Petchem Complex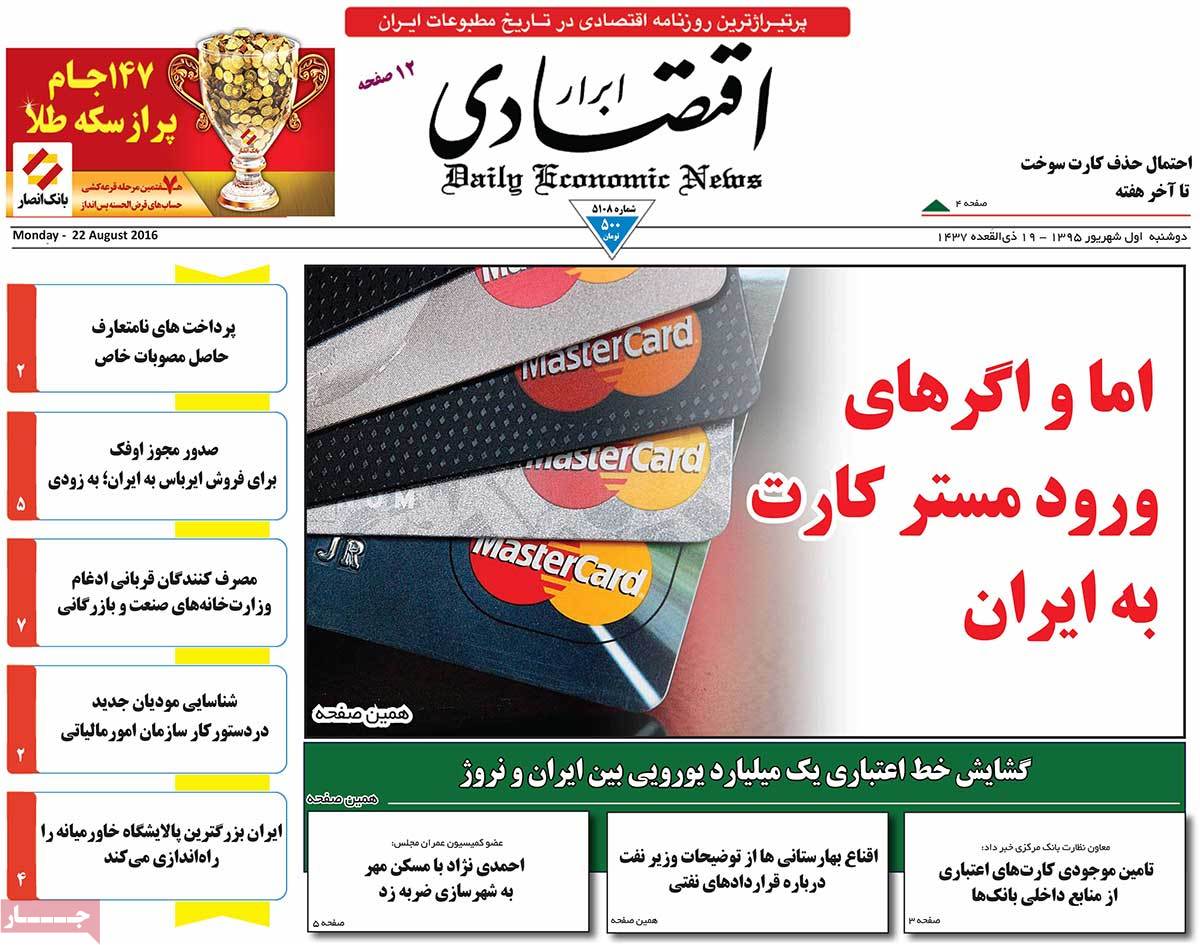 ---
Aftab-e Yazd:
1- Ifs and Buts of Returning Achaemenid Tablets from US
---
Amin:
1- Mosques Are Centres of Cultural Resistance and Bases for Social Activities: Leader
2- Delivery of S-300 to Iran Is a Codename for the World: Rouhani
---
Arman-e Emrooz:
1- Everything Will Be Lost without Cultural Barriers: Leader
2- Parliament Gives Green Light to Oil Minister
3- Ayatollah Rafsanjani Alluding to Saudi Officials: How Can the Rulers of an Islamic Country Have Secret Ties with Israel?
4- Zarif Starts Talks with 6 Latin American Countries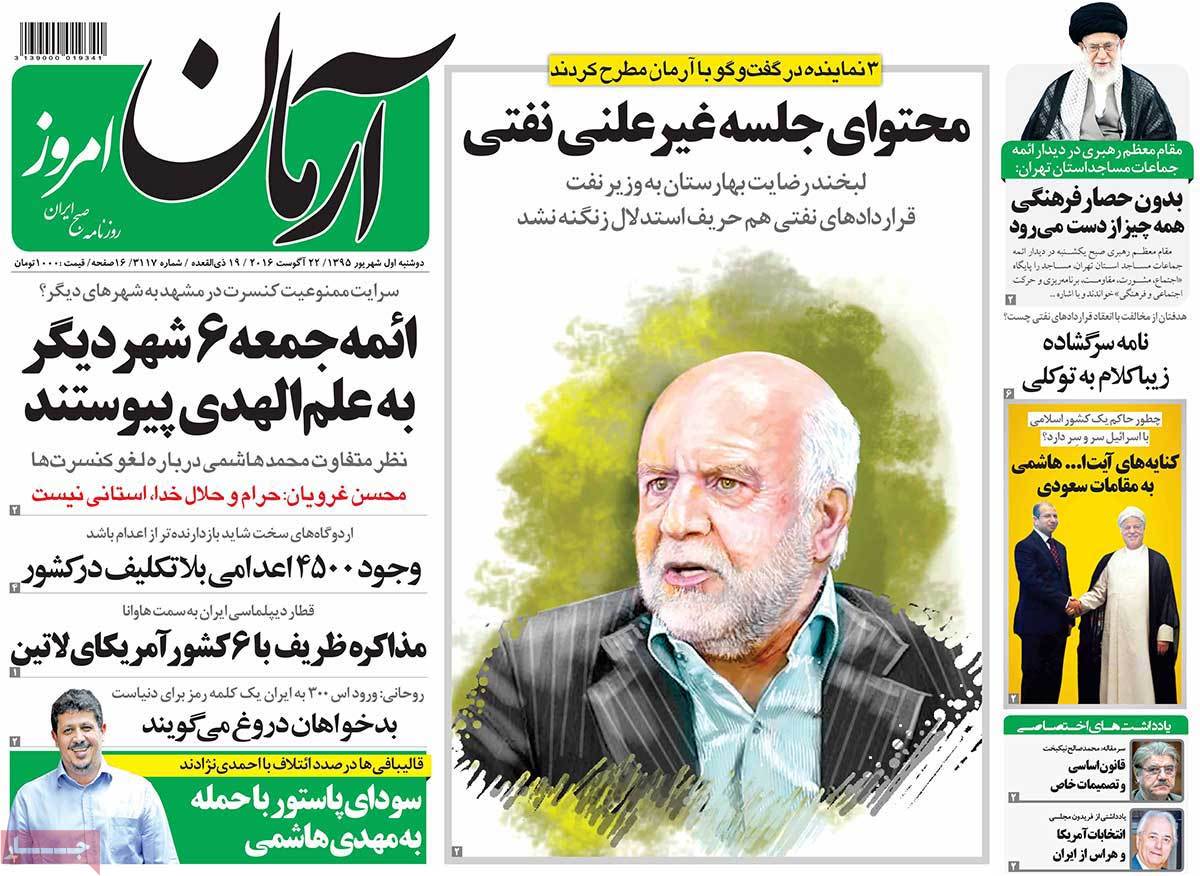 ---
Asrar:
1- 50 Killed in Deadly Night in Turkey
2- Aref: Establishing Ethics and Rationality Is the Strategy Followed by Reformists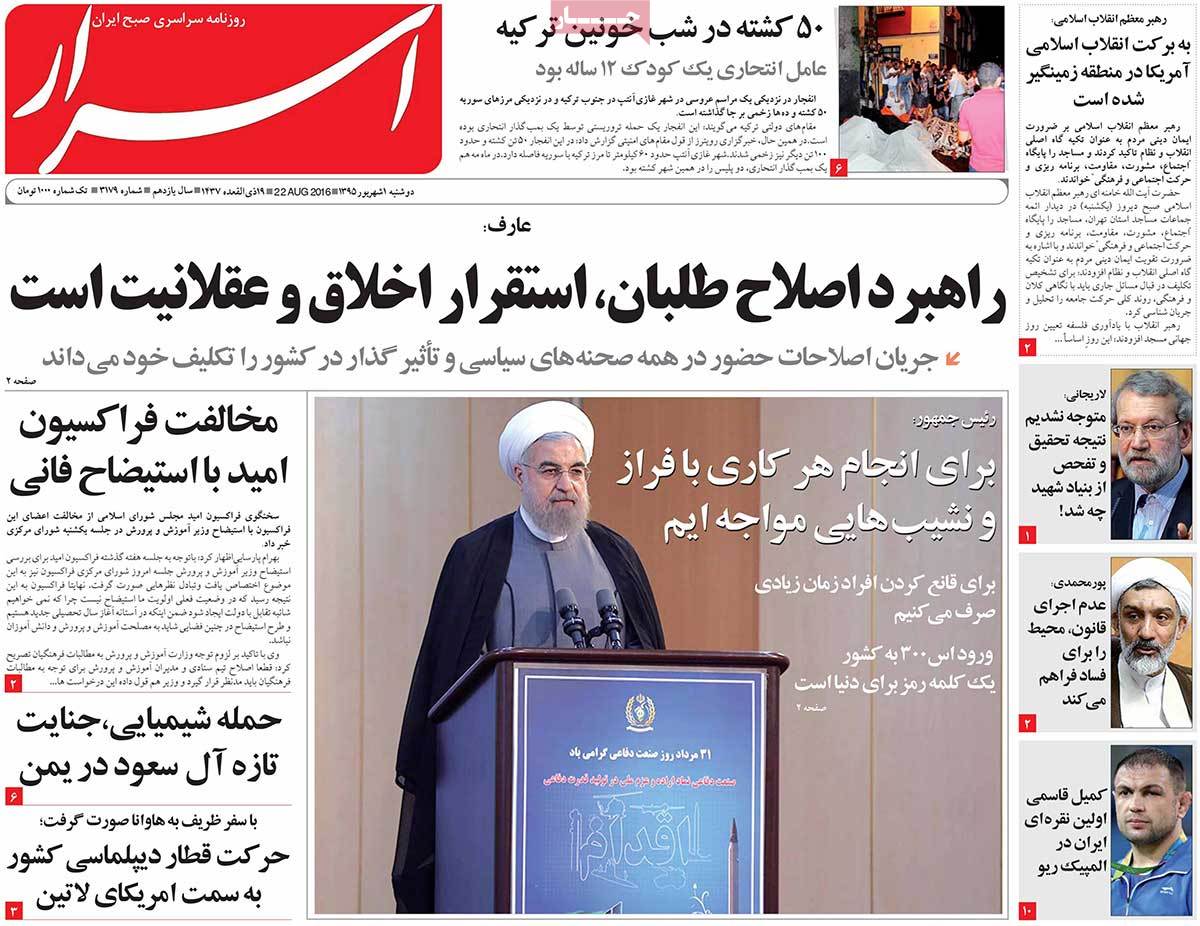 ---
Ebtekar:
1- Leader: Global Bullies Have Failed in Ruling the Region
2- Rouhani: Resolution of PMD Case Was a Moral Victory for Iran
3- All the Fuss Made by Smugglers: Free Trade Zones Prepare Grounds for Foreign Investment or Smuggling?
---
Emtiaz:
1- Housewives, Most Active Members of Social Media [in Iran]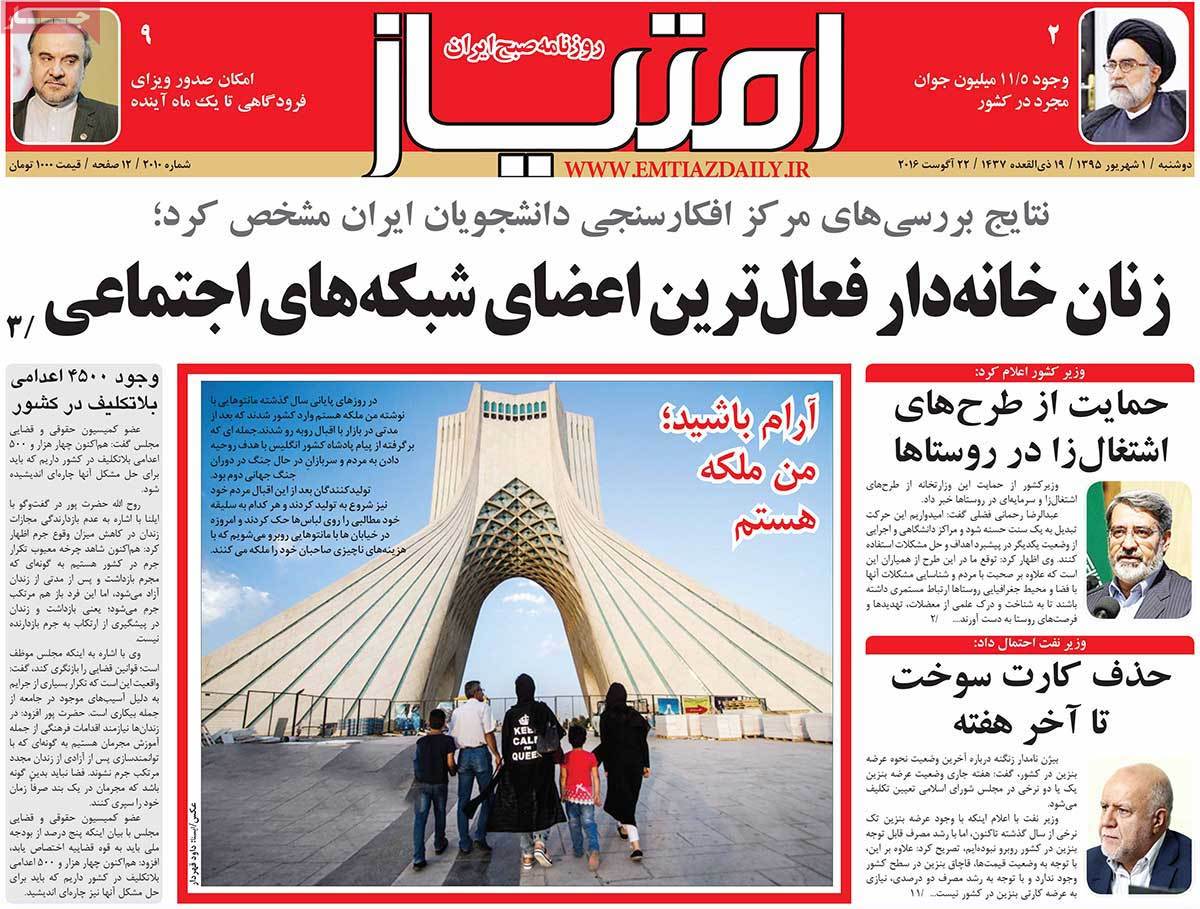 ---
Etemad:
1- Iran's Defence Budget Has Been Doubled: Rouhani
---
Ettela'at:
1- US Paralyzed in West Asia: Leader
2- 19 ISIS Commanders Killed in Iraqi Army's Airstrike on Mosul
3- 3,402 Water and Power Projects to Be Inaugurated in Coming Days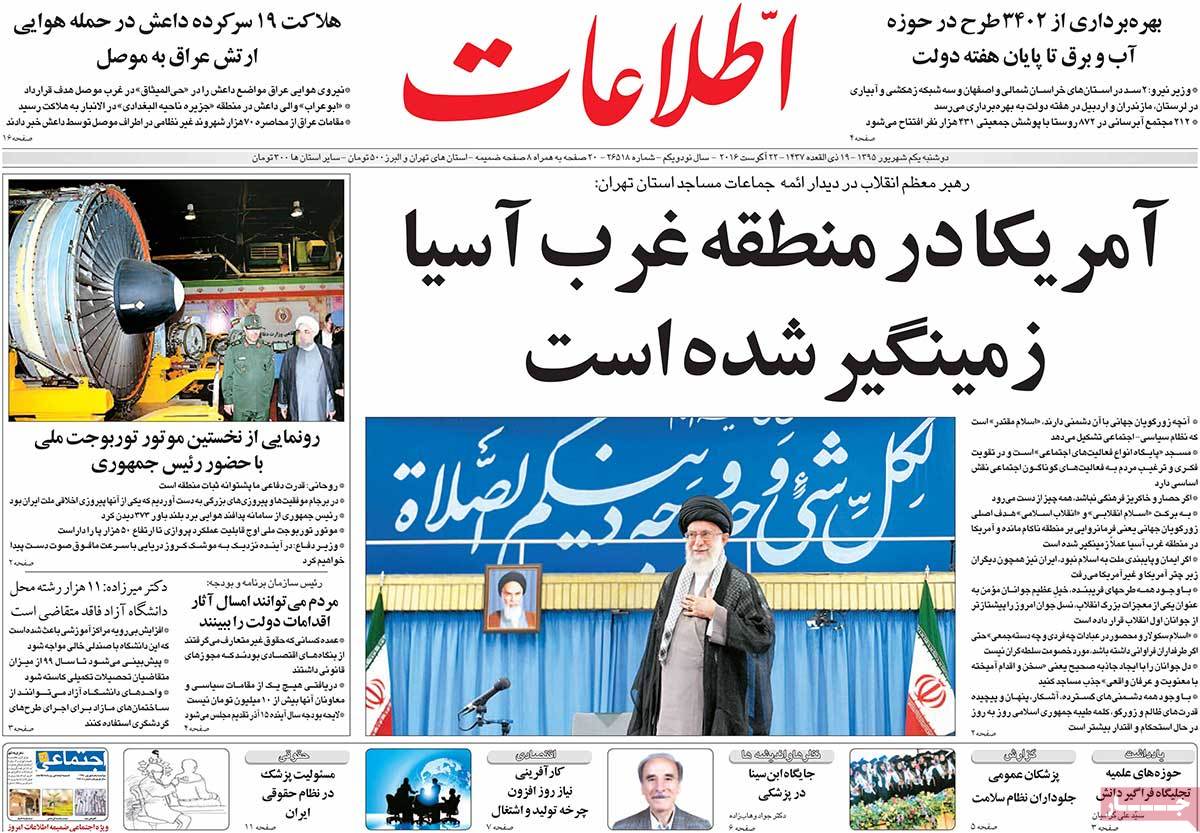 ---
Iran:
1- Our Defence Power Is the Backing for Regional Stability: Rouhani
2- Faghani's Golden Whistle in Most Historic Game Officiated by an Iranian
---
Jame Jam:
1- Iran Unveils First Homegrown Turbojet Engine
2- Bloody Wedding Ceremony in Turkey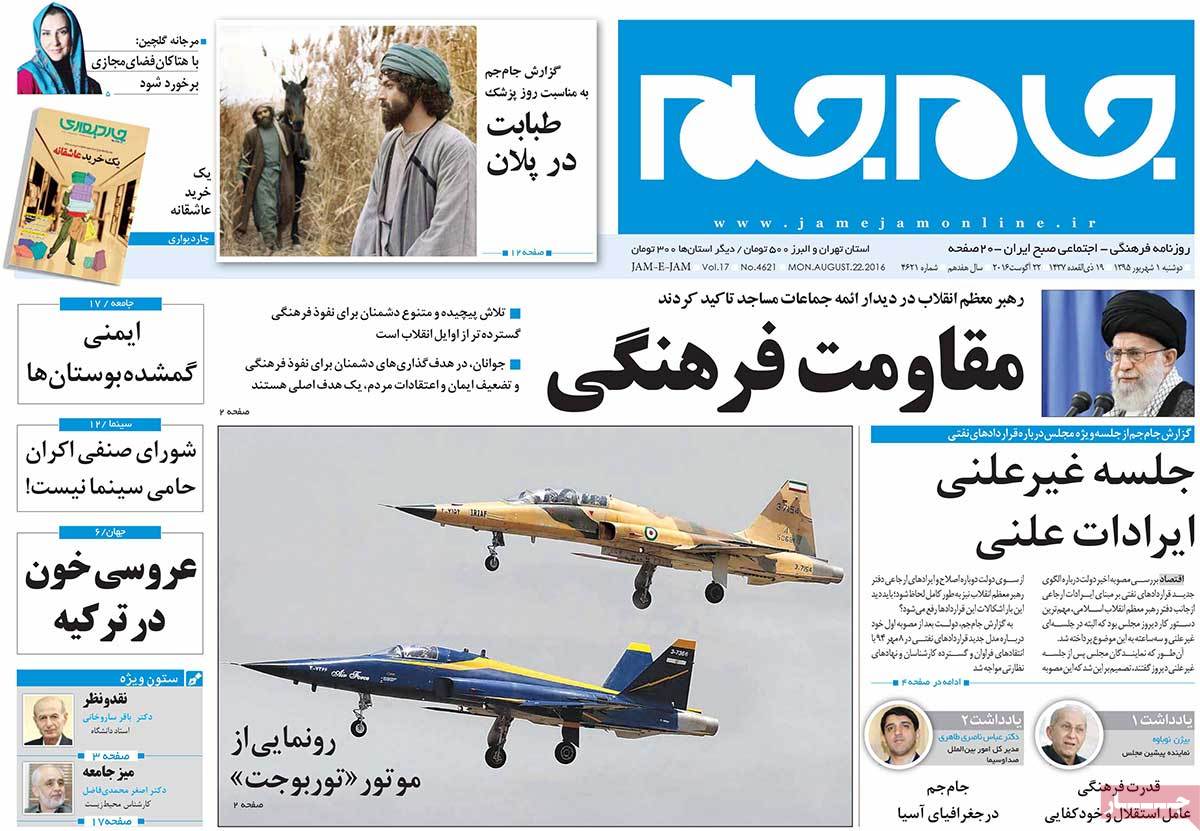 ---
Javan:
1- Leaders of Sedition [opposition leaders] Could Not Understand What They Do Was Being Led by Aliens: Ayatollah Khamenei
2- Rouhani: JCPOA Has Hundreds of Benefits
3- Parliament Suspends Oil Contracts until 16 Problems Are Settled
4- ISIS' Suicide Attacks against Turkey's Tourism
5- Fly of a Witch on a Broom over Heads of Teenagers: Publisher Lavishly Releases Free e-Book of New Harry Potter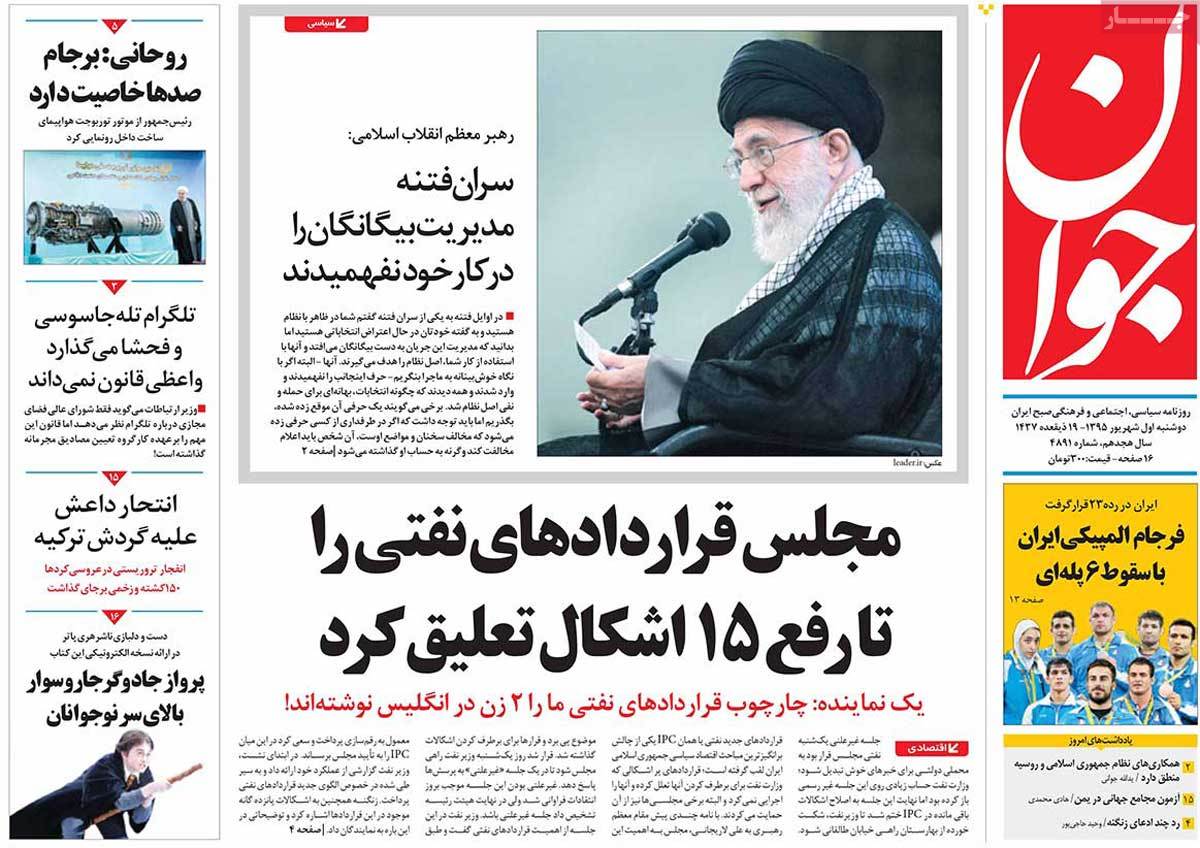 ---
Jomhouri Eslami:
1- Real Counter-Terrorism Coalition Reinforced with Attendance of China, Russia, Iran, Syria, and Lebanese Hezbollah
2- Zionist Regime [Israel] Turns al-Quds into Military Barrack on Anniversary of Setting Al-Aqsa Mosque on Fire
3- Oil Minister Convinces MPs on Oil Contracts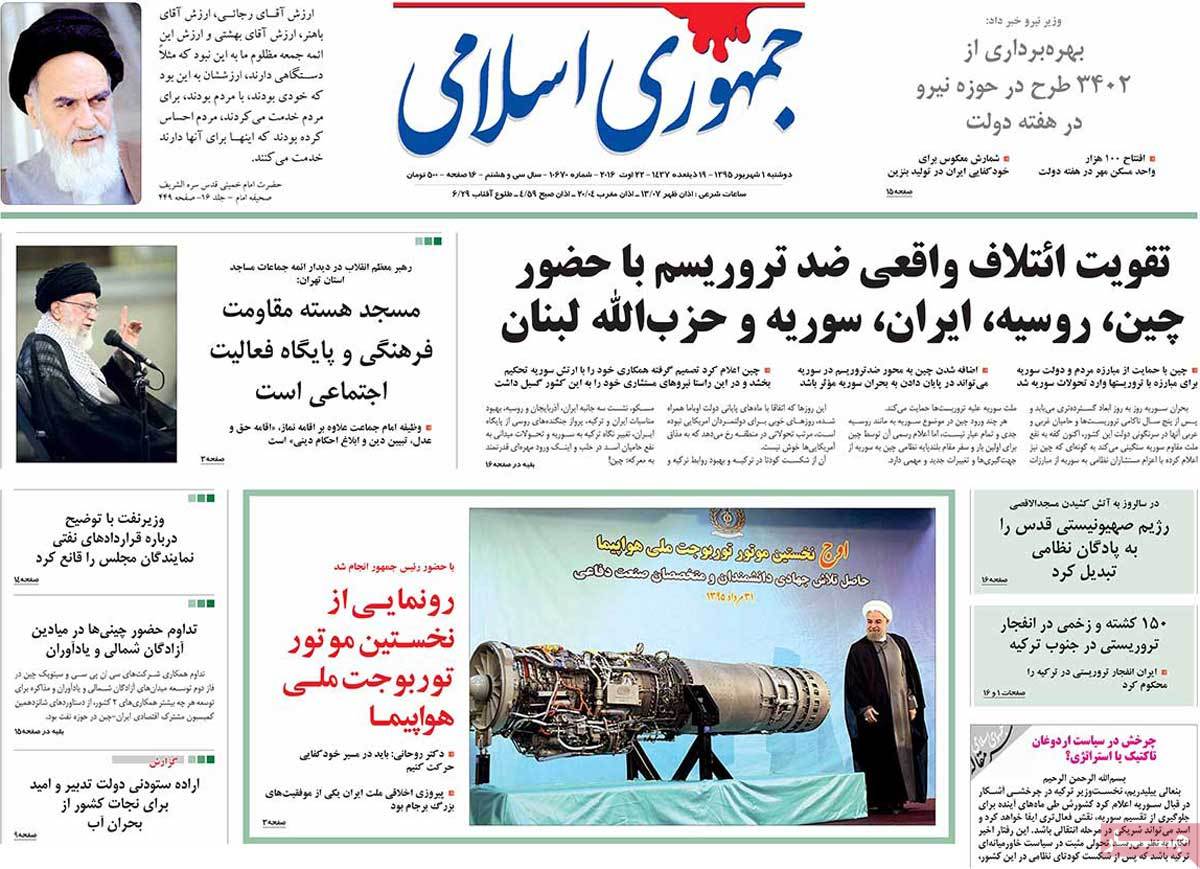 ---
Kayhan:
1- Massive Rallies of Muslim Youth, a Big Miracle of Revolution
2- Ankara: Moscow Can Use Incirlik Airbase 'If Necessary'
---
Khorasan:
1- Parliament Bounces Back the Oil Contracts
2- With "Owj", Iran Becomes One of 8 Countries in World that Produces Turbojet Engines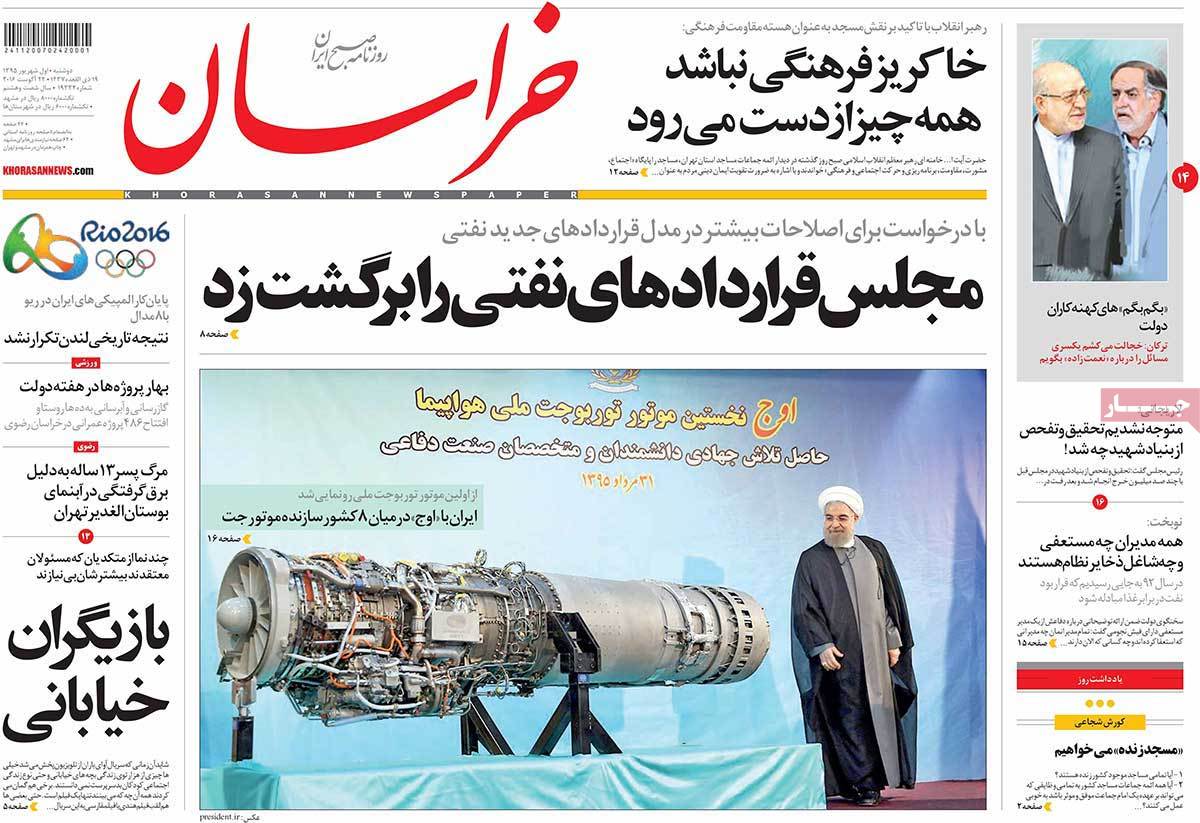 ---
Resalat:
1- US Should Know We Won't Leave Resistance [movement] at Any Price: Ayatollah Jannati
2- United Europe on Verge of another Crisis: Brussels and Ankara Make a Deal on Verge of Collapse
3- Human Rights in Danger in Paris: Increased Restrictions against French Muslim Women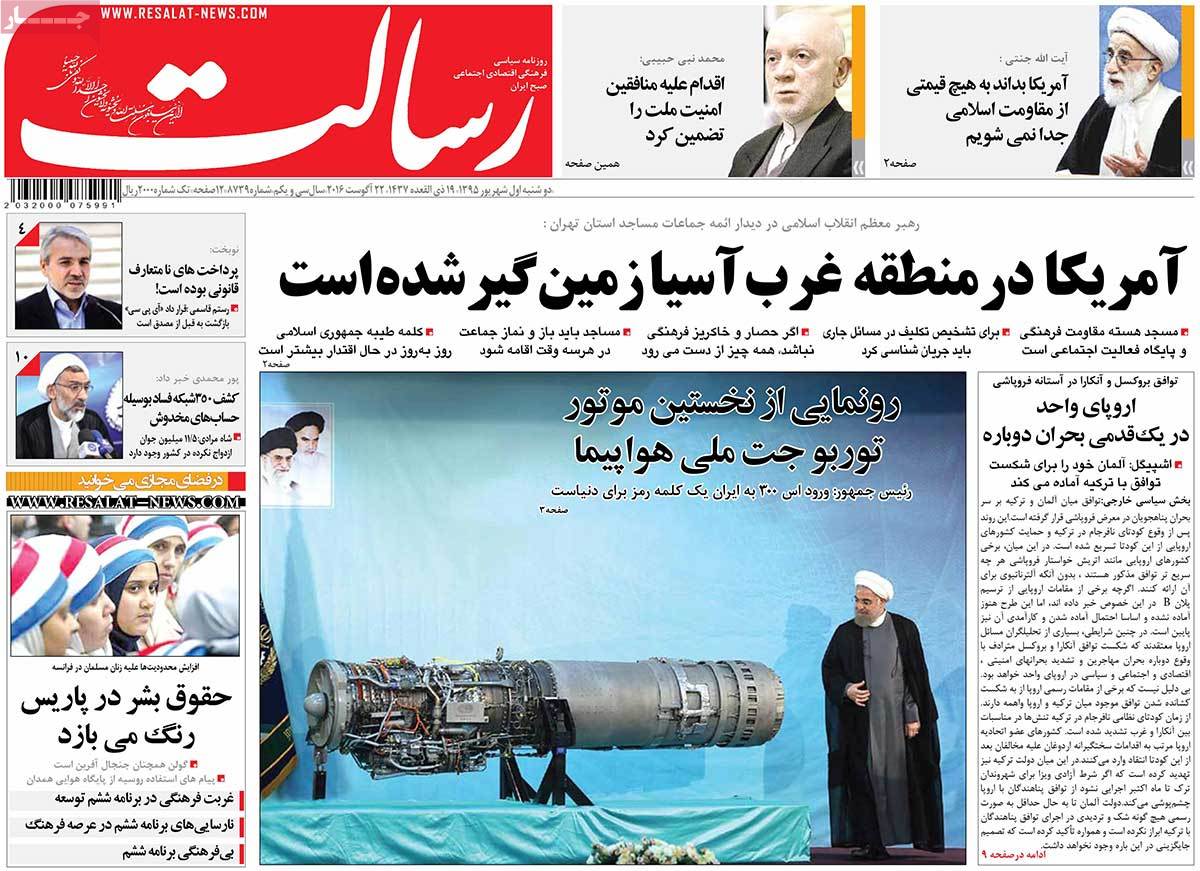 ---
Shargh:
1- Leader: Powerful Islam Is What Global Bullies Are Hostile to
2- We Are Not a Hypocritical Nation with Two Faces: Rouhani
3- Oil Minister Persuades Opponents of Oil Contracts in a Closed Session