Newspapers on Sunday continued covering the medals won by Iranian athletes in Olympic games, particularly the Gold one bagged by Hassan Yazdani in freestyle wrestling.
They also covered the ongoing debates and remarks about Russia's use of Iranian airbase, and the reaction of Iranian Defence Minister Brigadier General Hossein Dehqan.
The controversy over the Iranian Oil Ministry's contracts has also taken the Minister Bijan Namdar Zanganeh to the Parliament, where they should discuss the contracts and revise them if necessary.
The above issues as well as many more are covered in the following headlines:
Abrar:
1- Iraqi Parliament Speaker Meets Iran's FM Zarif
2- Iran's Defence Might and Missile Power Demonstrate Progressive Nature of the Country's Defence Industries: IRGC
3- UN Secretary General: 130m People in the World Need Help for Survival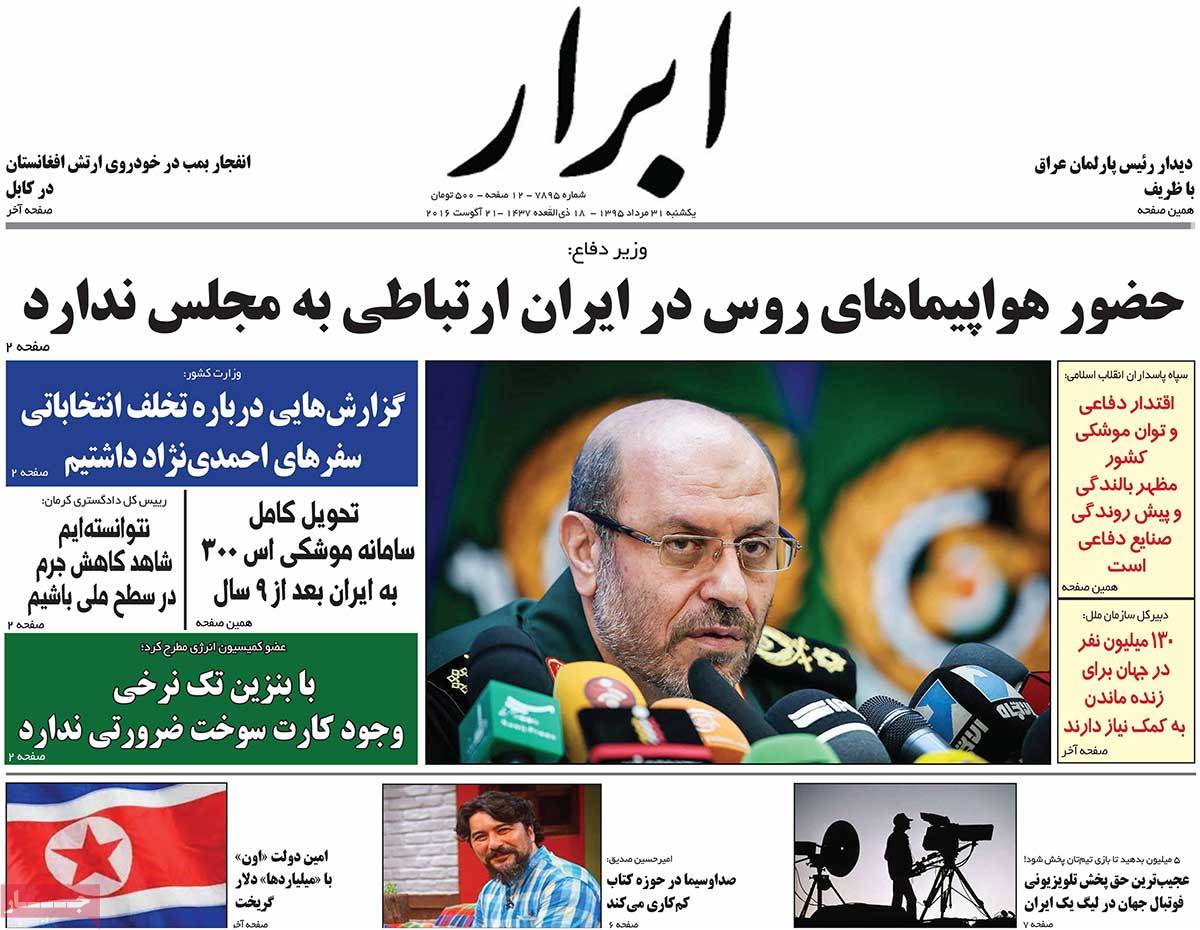 ---
Afkar:
1- 108,000 Environmental Schools to Be Established: Department of Environment Chief
2- Transfer of S-400 Missile Defence System to Iran Is Not True: DM
3- Water Crisis to Become More Severe
4- Iraq's Territorial Integrity Is a Major Principle for Regional Stability: Larijani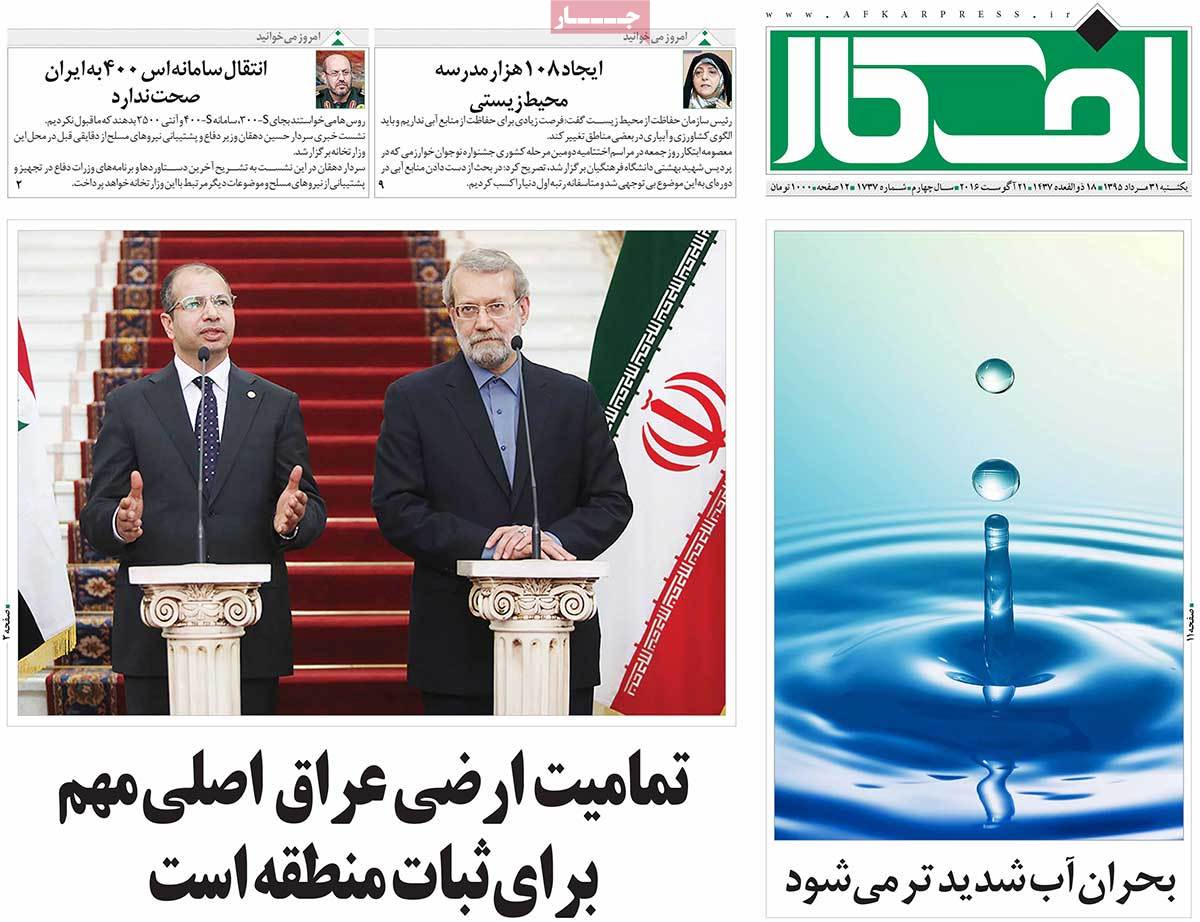 ---
Aftab-e Yazd:
1- Iran-Russia Relation Is Not Anymore Like that of Wolf and Sheep
2- Iran Will Sue Russia Once Again If They Fail to Fully Implement S-300 Deal: DM
3- Online Trade of Special Animals: $112 for an Owlet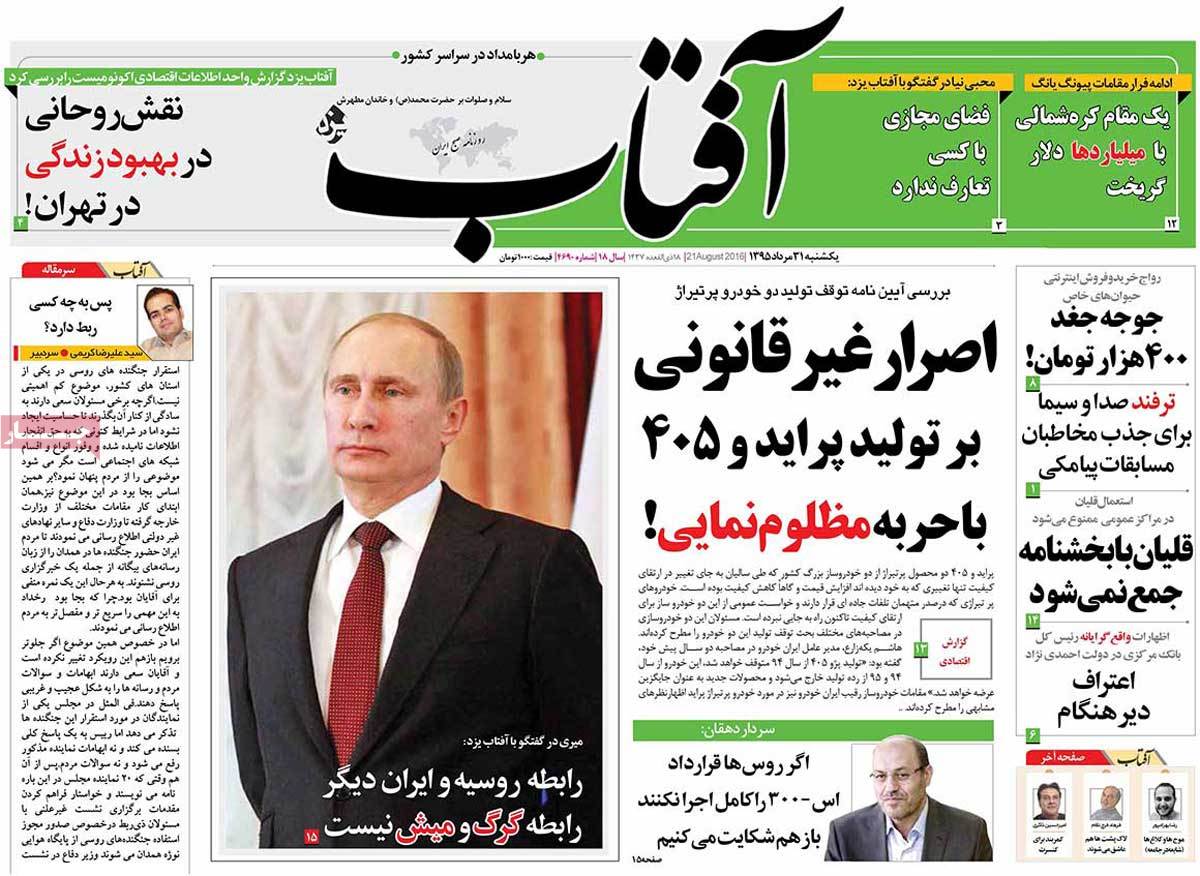 ---
Arman-e Emrooz:
1- Presence of Russian Planes [in Iran] Is None of Parliament's Business: DM
2- Russia's Use of Iranian Airbase Is a Based on a Decision Made by the Establishment: DM
3- Defence Minister Says Iran Has Received S-300 Missile Defence System
4- US: It Was Iran's Own Money We Returned
5- Iran to Receive $1.3bn More from US
6- General Offices for Women Affairs to Be Established in Iranian Ministries
7- They Give Muslims Infertility Injections: Cleric
---
Asr-e Rasaneh:
1- Human Error, Cause of Recent Fires in Iranian Petchem Complexes
2- Mashhad, the Destination of 50% of Foreign Tourists Coming to Iran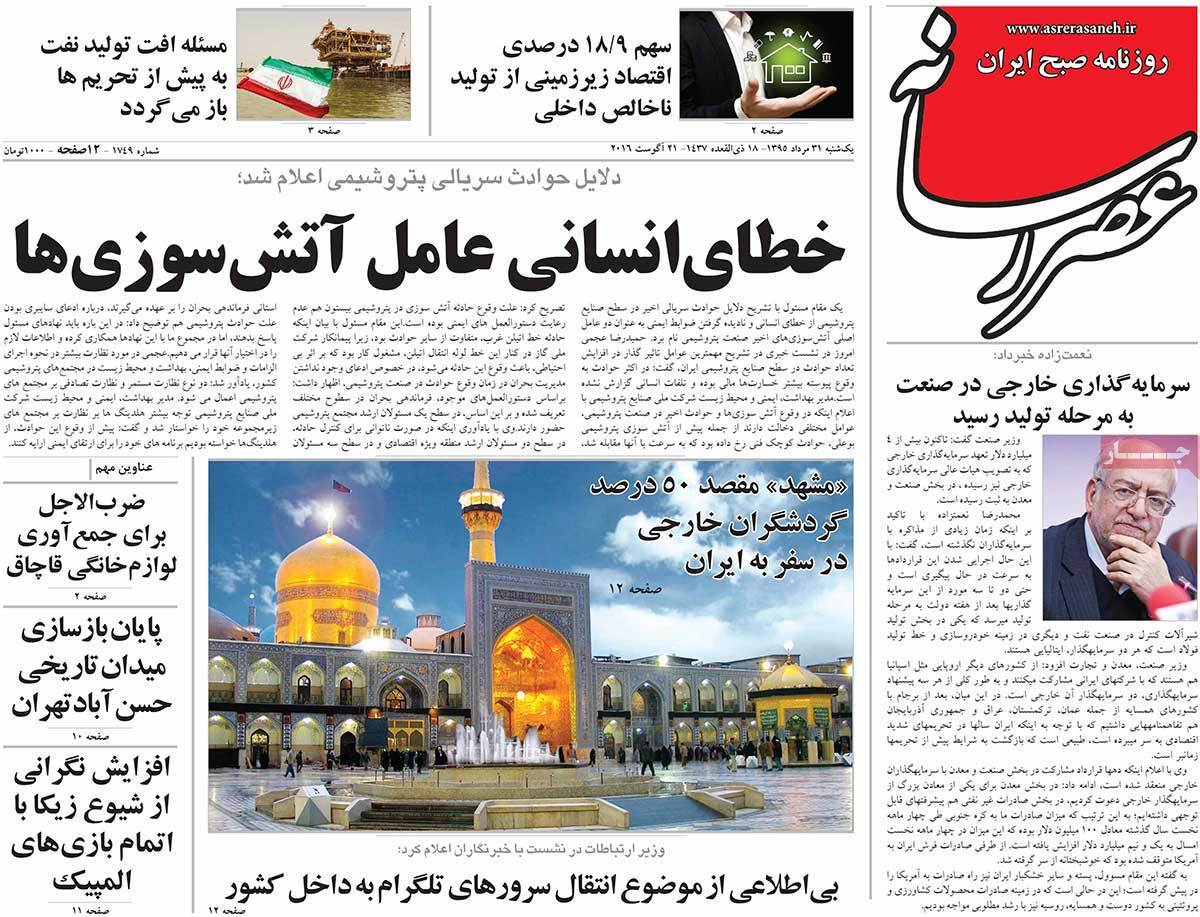 ---
Asrar:
1- Iran Not Looking for Conflict in Middle East: Zarif
2- Social Media Won't Be Filtered: Cyberspace Official
3- DM: [Homegrown] Bavar-373 Missile Defence System to Be Put into Service This Year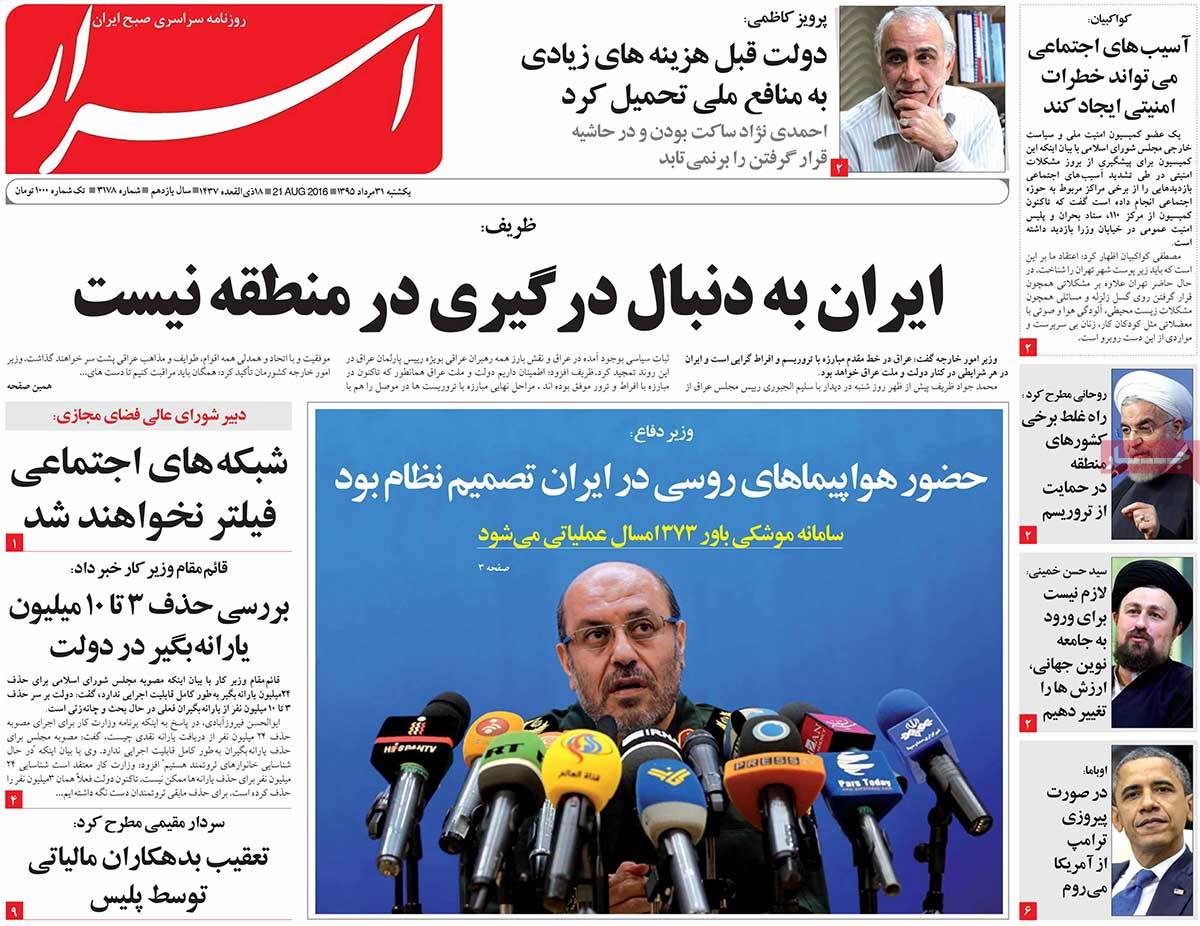 ---
Ebtekar:
1- Betraying the Water: Need for a Change in Cultivation Patterns Underlined by Ebtekar
2- Iranian Wrestler Yazdani Hunts Gold out of Blood
3- We Don't Need to Revise Our Values for Joining Modern Int'l Community: Imam Khomeini's Grandson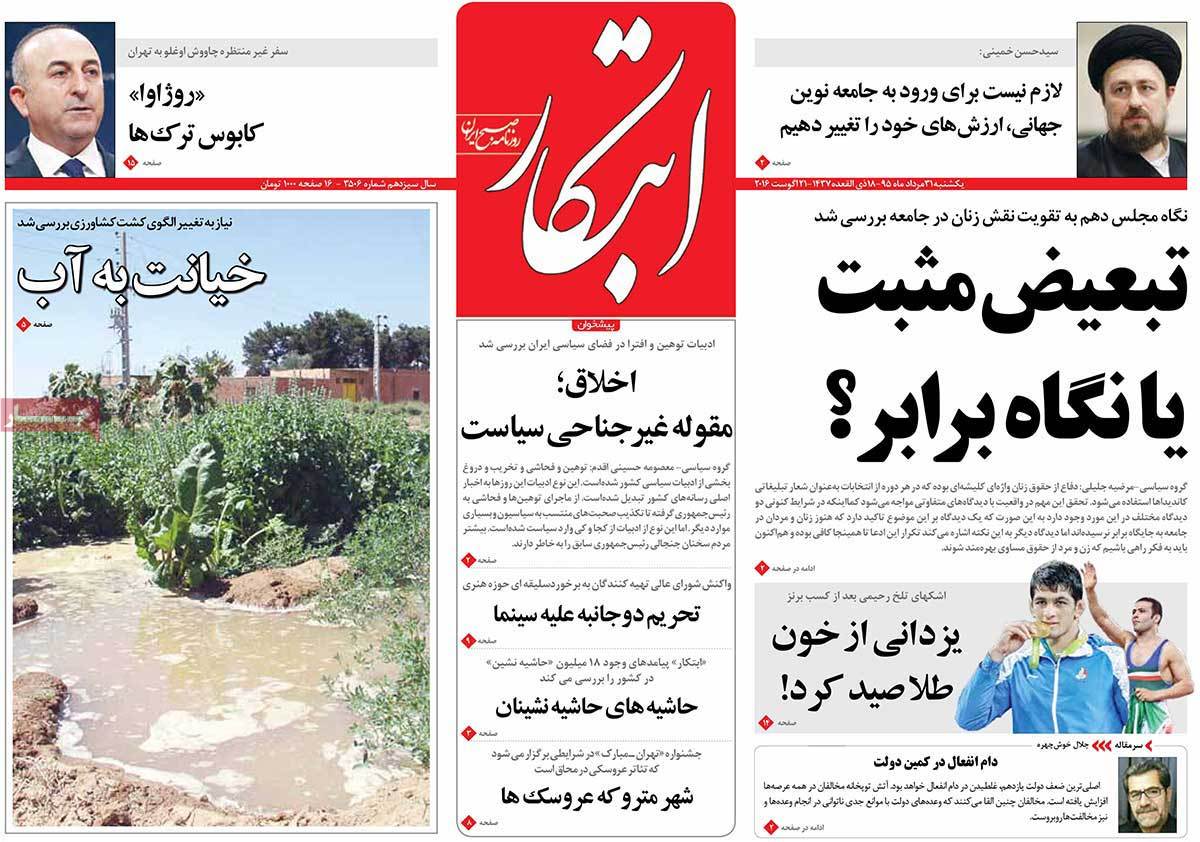 ---
Emtiaz:
1- $2.8bn Cigarettes Smoked in Iran Each Year
2- Police Starts Prosecution of Tax Evaders
3- 10% Increase in Number of Tourists Arriving in Iran: Official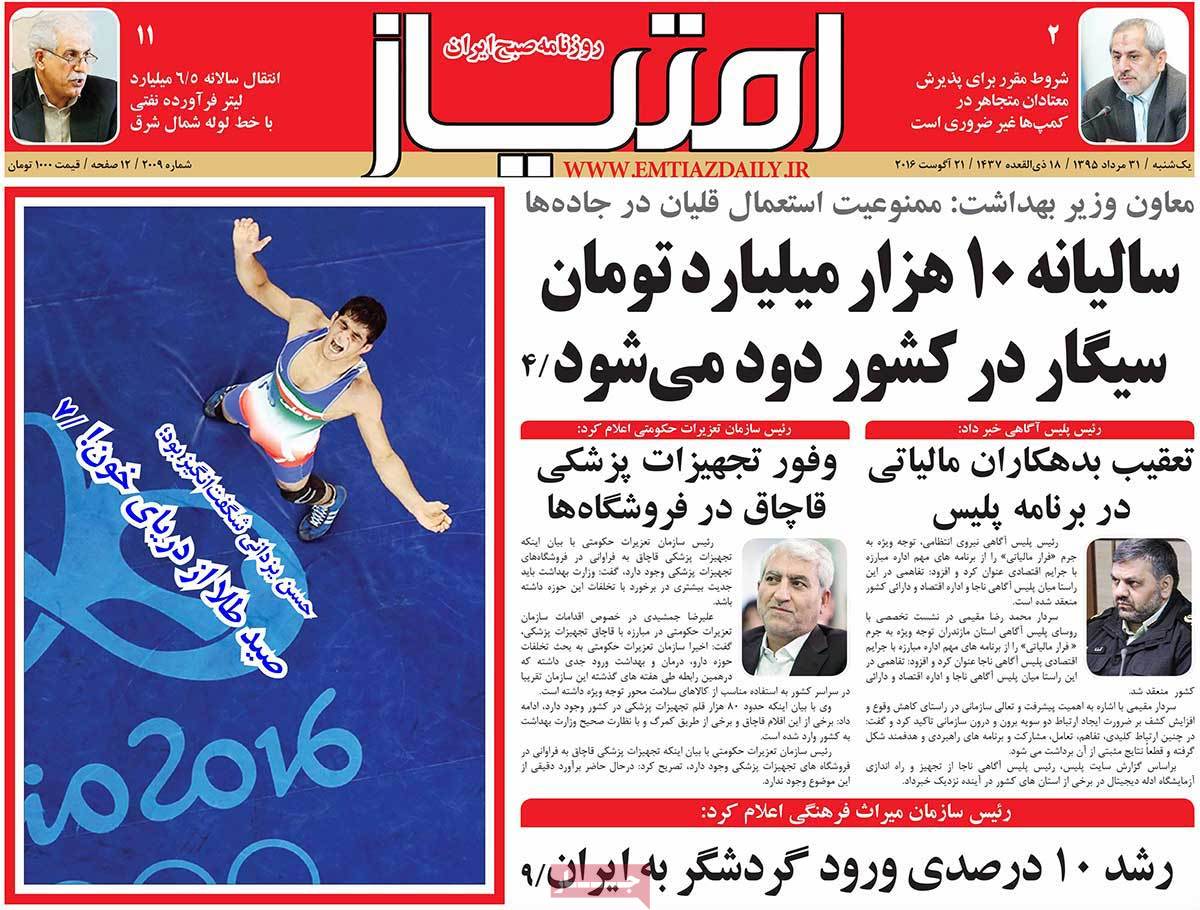 ---
Etemad:
1- Oil Day of Parliament: Oil Minister to Attend Parliament to Defend 4th Version of Iran Oil Contracts
2- Rouhani Will Be Re-Elected with More Votes than Previous Elections: Special Aide Younesi
3- Iran and Cuba's Chambers of Commerce Sign Agreement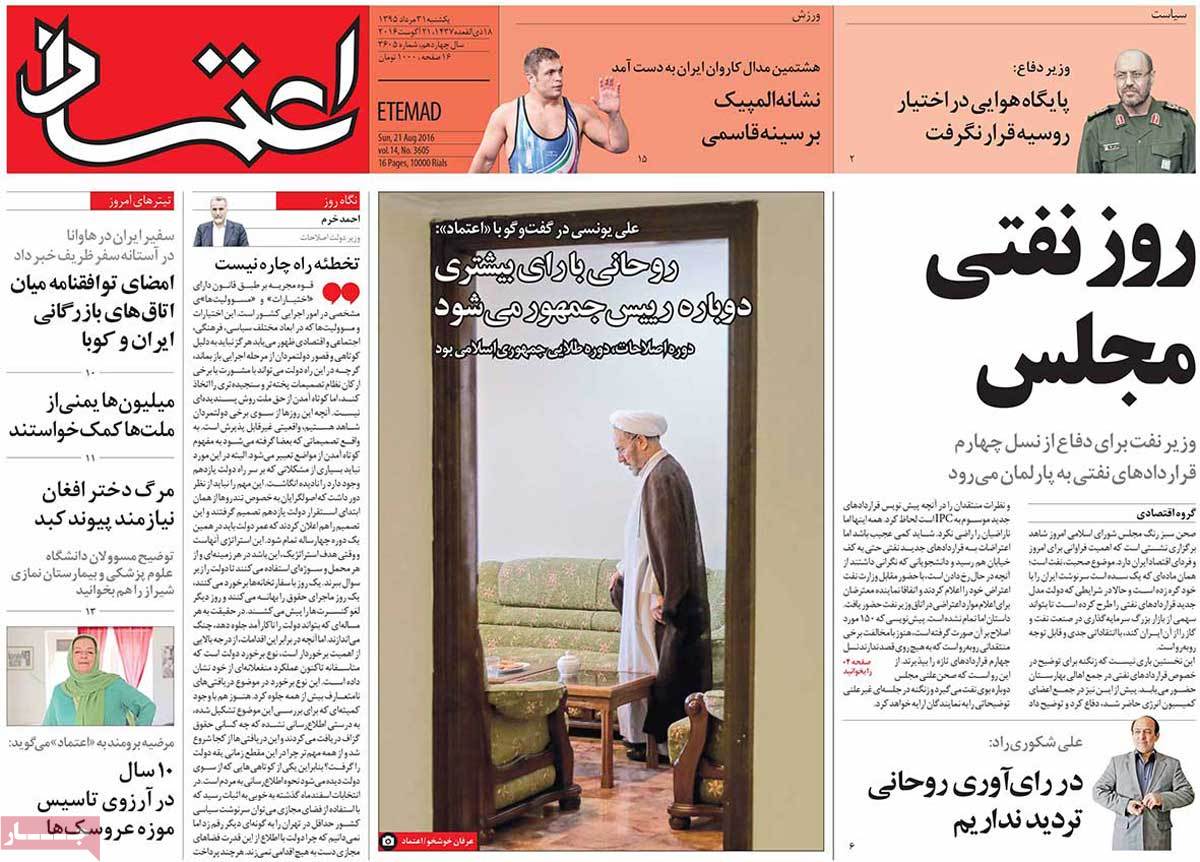 ---
Ettela'at:
1- Iran Will Stand by Iraq in Fight against Terrorism: Rouhani in Meeting with Iraqi Parliament Speaker
2- Iran's First Homegrown Turbojet Engine to Be Unveiled Today
3- Pentagon: We've Not Given Saudi Arabia a Blank Check for Killing People in Yemen
4- Nasrallah: Resistance Front to Win Possible War with Zionist Regime [Israel]
---
Haft-e Sobh:
1- Economic Revolution Using Credit Cards: Government's Last Attempt to End Economic Downturn
---
Iran:
1- $4.1bn Foreign Investment Attracted in Industry: Ministry
2- Unity among Ethnicities and Religions to Eradicate Terrorism in Iraq: Rouhani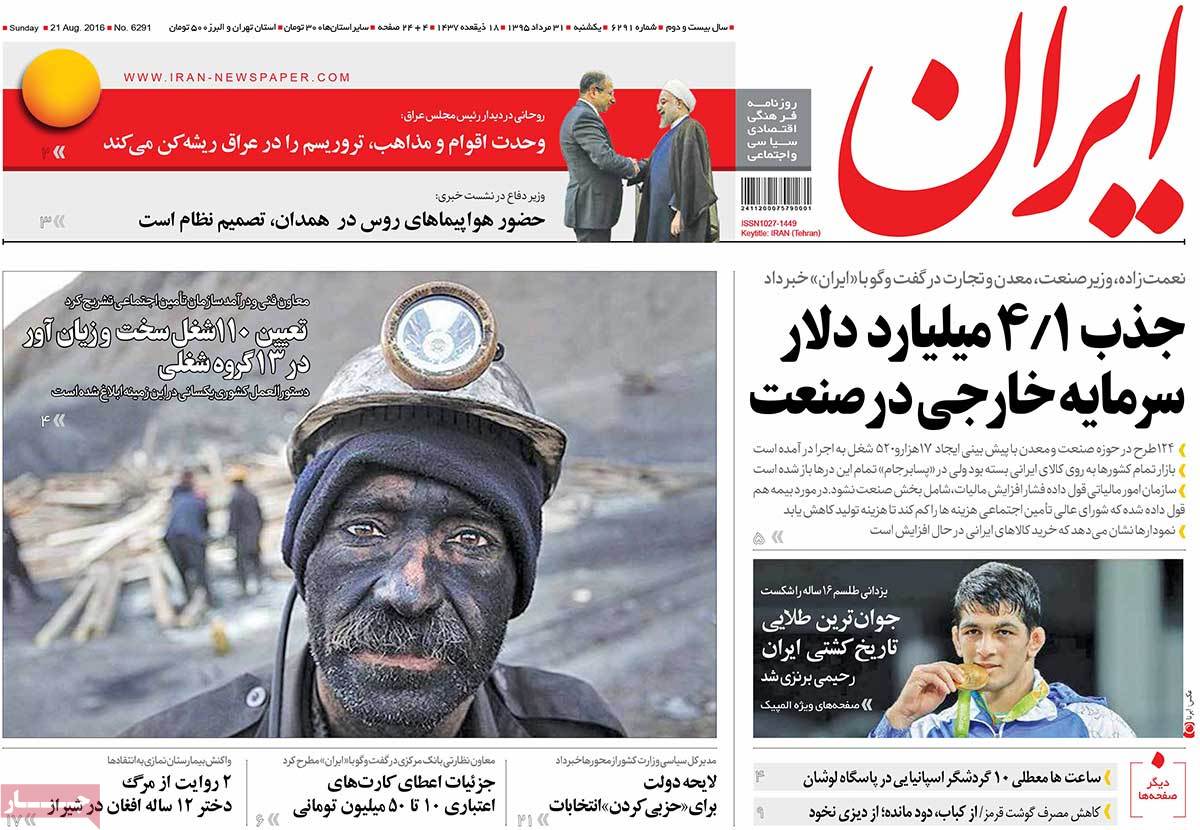 ---
Javan:
1- President Rouhani Politically Threatened at His Home! Reformist Figures Visit Rouhani's Home and Threaten to Cut Their Support
2- Millions of Yemenis Approve National Unity Government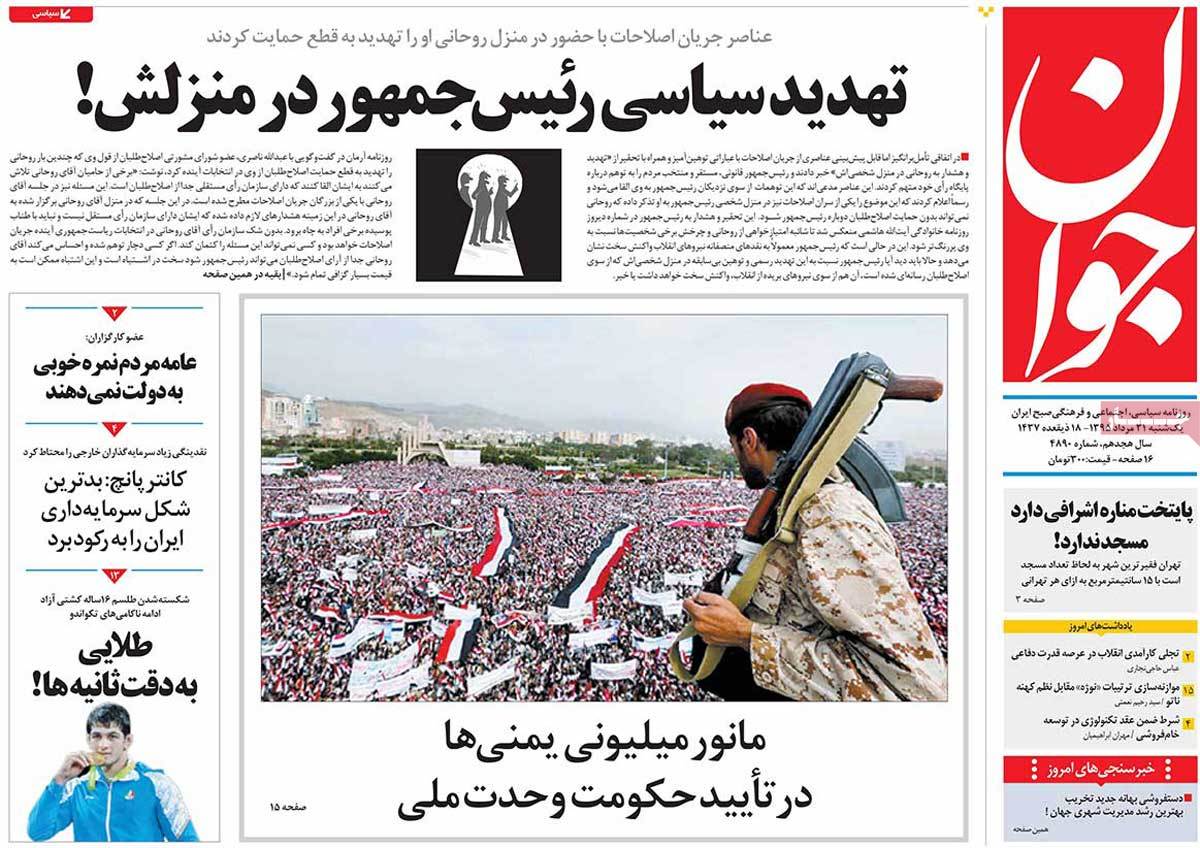 ---
Jomhouri Eslami:
1- Iran's Daily Oil Exports Hit 2m Barrels
2- Millions of Yemenis Hold Demonstration Rally in Support of High Political Council
---
Kayhan:
1- Historic Day of Oil Industry: Take the Experts' Warnings Seriously
2- Iranian Wrestler Yazdani Gifts His Olympic Gold Medal to Imam Reza Shrine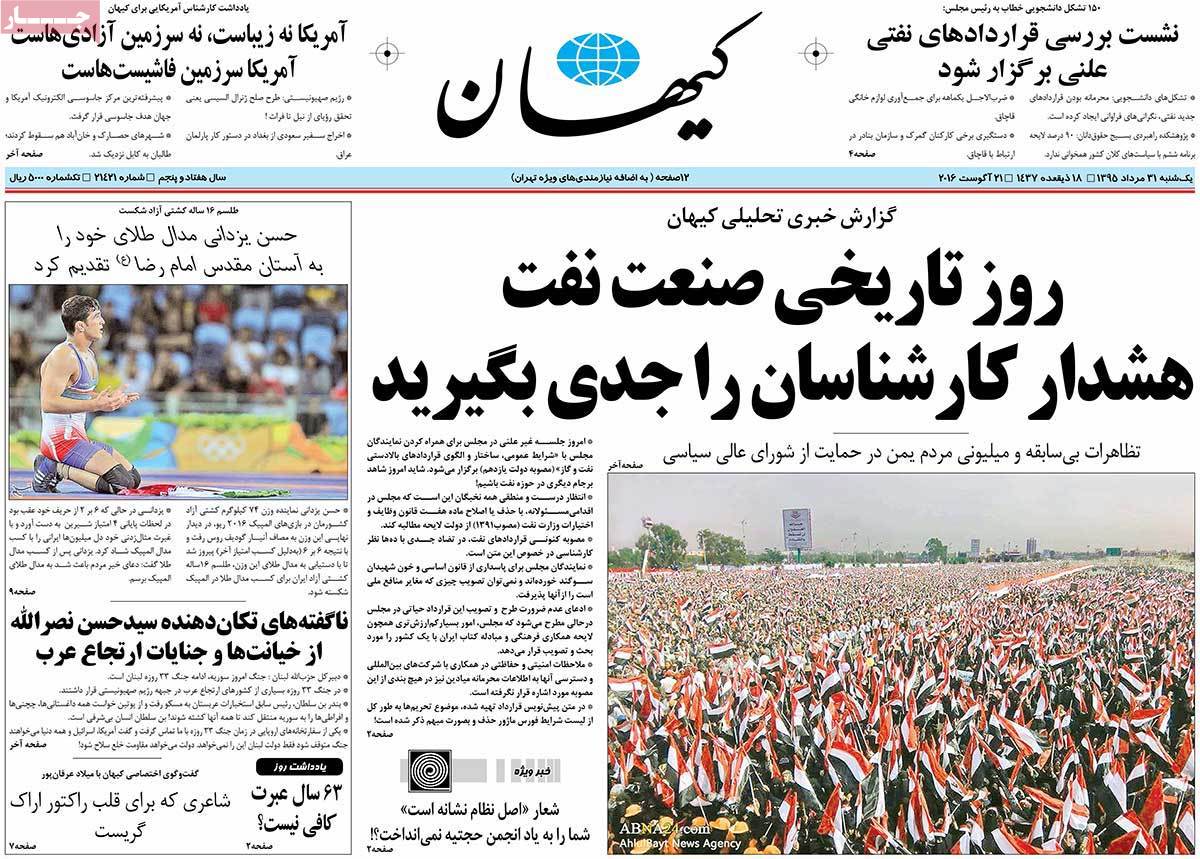 ---
Khorasan:
1- New Aspects of Iran-Russia Military Deal: DM in Reference to Russian Planes' Presence in Hamadan Airbase
2- Millions of Yemeni People Roar under Saudi Storm: Nearby Area Bombed by Saudi Coalition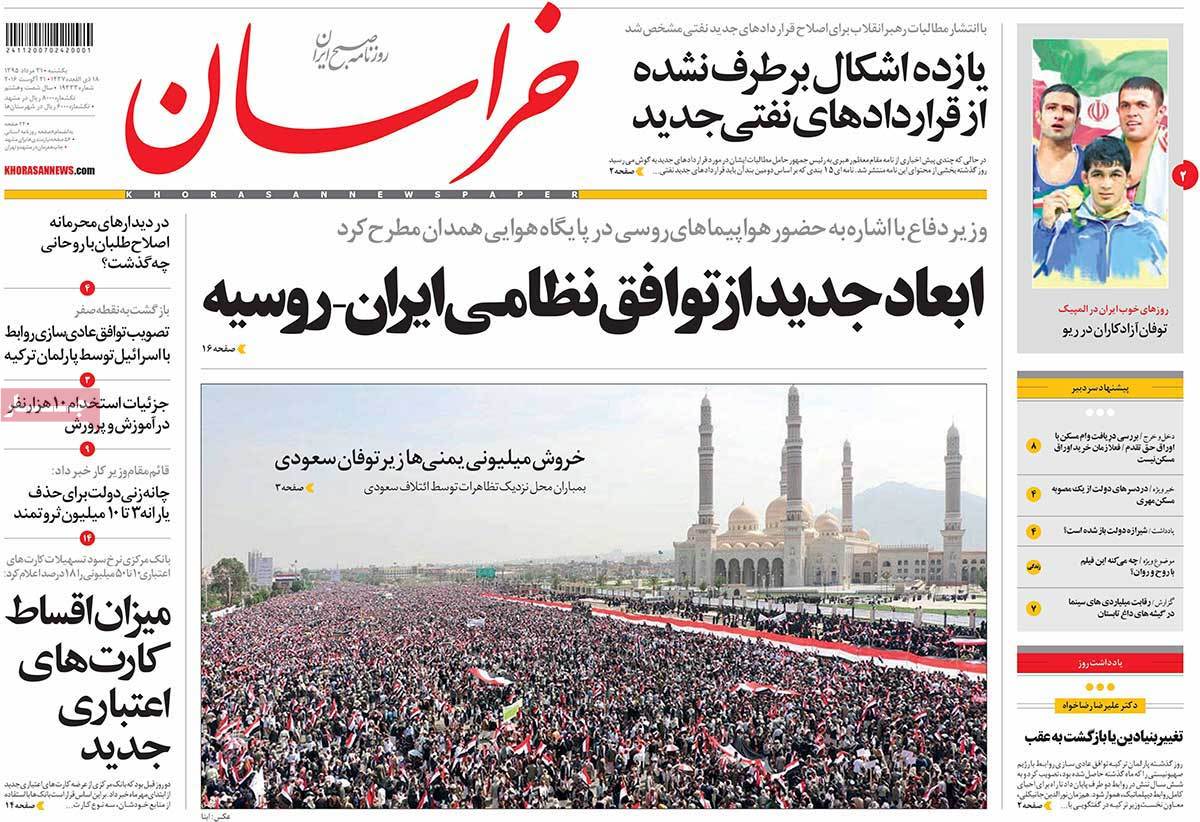 ---
Mardom Salari:
1- Westerners Introduce ISIS as True Islam: Islamic Human Rights Commission Chief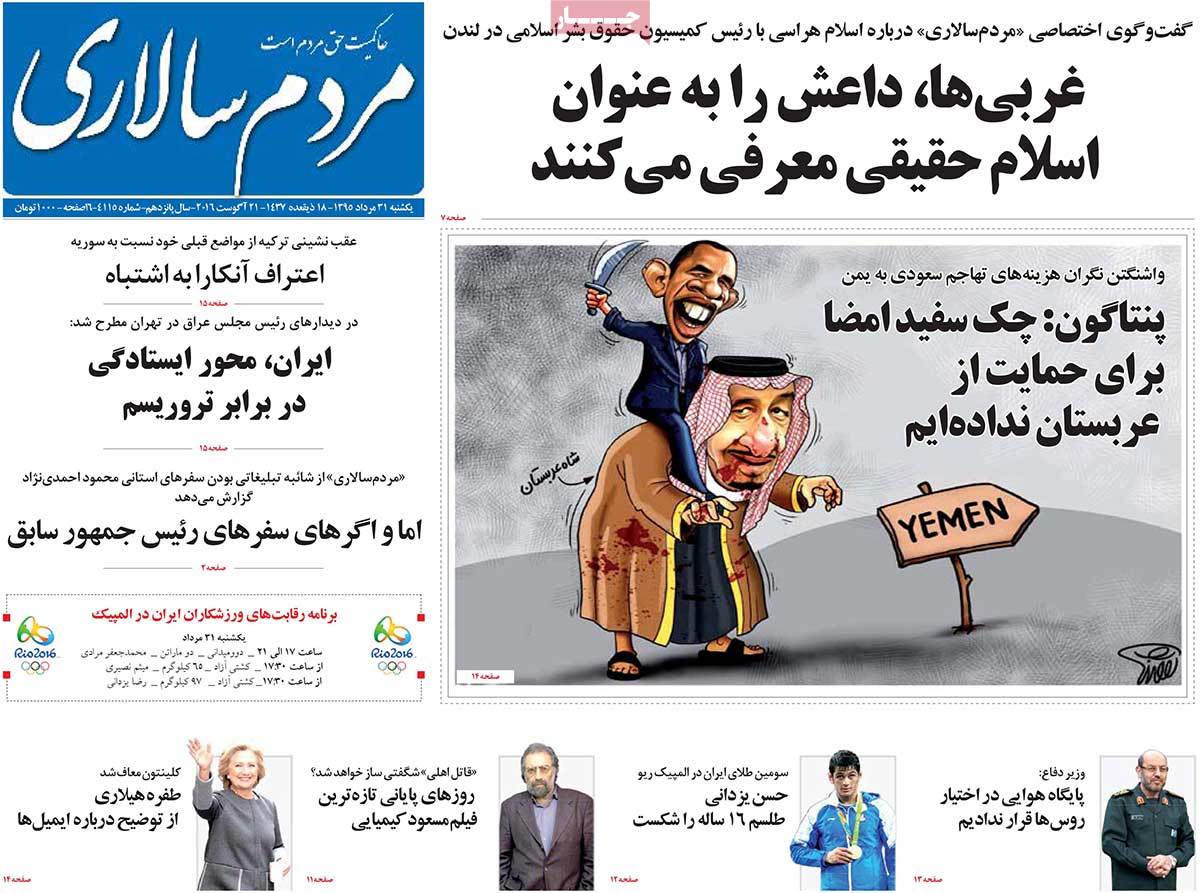 ---
Resalat:
1- We Won't Let Oil Industry Be Given to Aliens: MP
2- DM: Russia Has Offered Sale of S-400 Missile Defence System
3- Yazdani Wins Gold for Iran's Freestyle Wrestling after 16 Years
---
Roozan:
1- Qalibaf, Current Mayor of Tehran, a Serious Option for Conservatives: The 5-Star Man of Cons
2- New Phase of Foreign Investment in Post-JCPOA Era: Foreign Companies Working in Iran Enter Production Phase
3- Change in Middle East Equations after China's Arrival: What's Beijing Looking for in Syria?
4- Leader's Remarks Are Boycotted by Global Media Empire: Cleric
---
Shahrvand:
1- Reverse Immigration of Elites: VP Says 1 Elite Is Returning to Iran Each Day
2- Children without Homeland: Lives of 100,000 Children in Aleppo in Danger