Newspapers on Saturday highlighted the Bronze medal won by Iranian female taekwondo player, Kimia Alizadeh, as the first-ever medal for Iranian women.
They also covered the surprise visit to Tehran by the Turkish Foreign Minister Mevlüt Çavuşoğlu and his 5-hour talks with his Iranian counterpart Mohammad Javad Zarif.
The developments of Syria, particularly the recent photo of the astonished Syrian boy 'Omran' also received good coverage.
Russia's use of Iran's airbase for attacks on ISIS positions in Syria and the reactions also remained a top story in many newspapers.
The above issues as well as many more are covered in the following headlines:
Abrar:
1- DM: Iran's Defence Industries Supply Majority of Resistance Forces' Needs
2- Iranian Law Enforcement's Snipers Kill Takfiri [extremist] Elements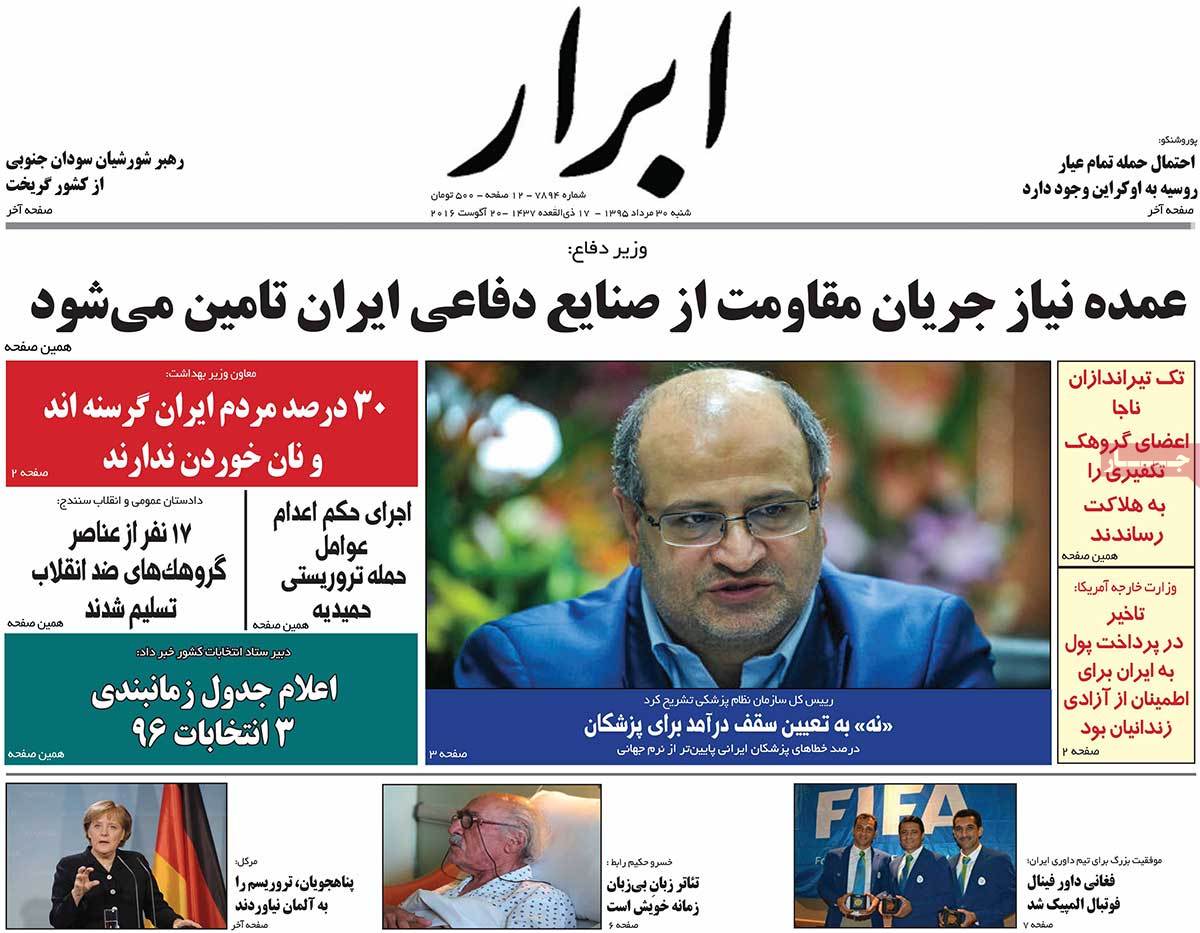 ---
Afkar:
1- Region and the World Grappling with US Occupation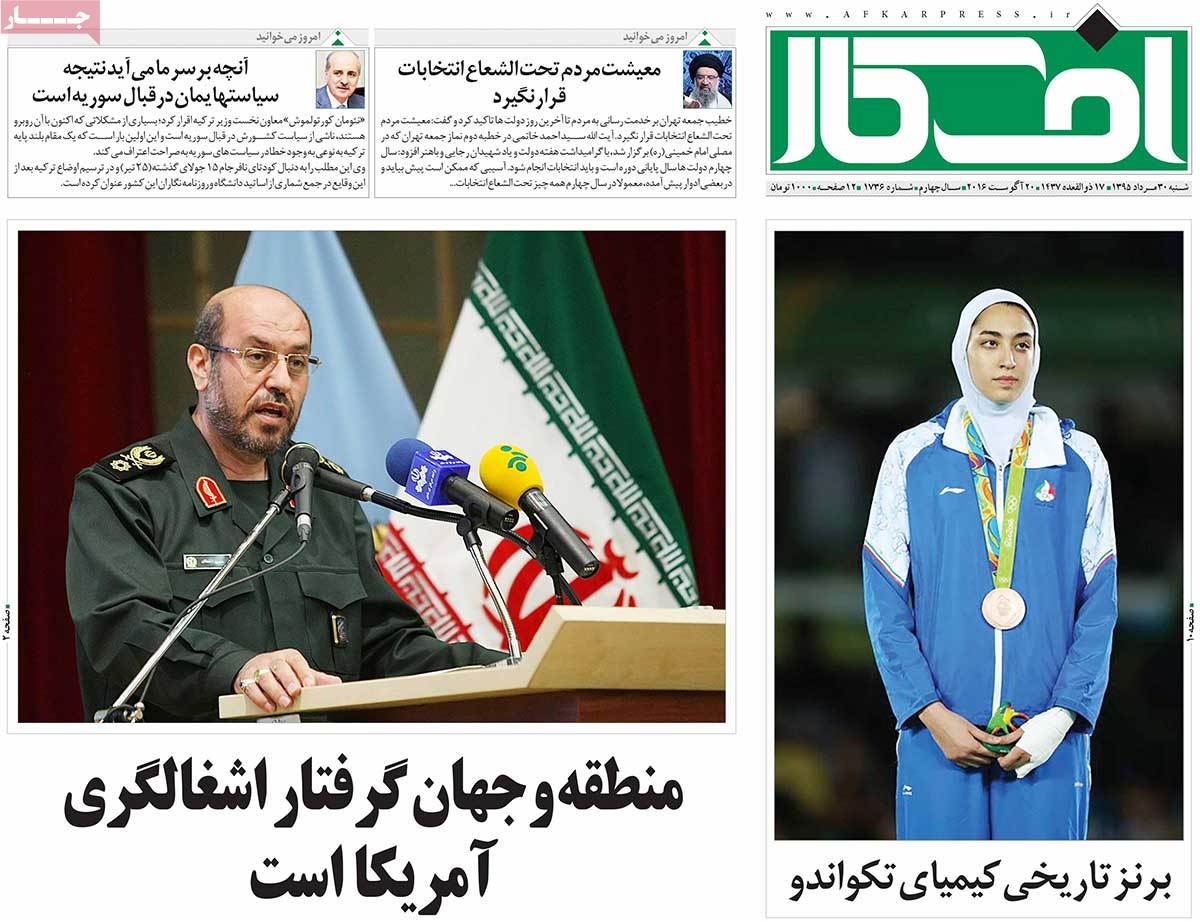 ---
Arman-e Emrooz:
1- Vice-Speaker Motahari: Ties with US Isn't a Taboo
2- Turkish FM's Surprise Visit to Iran: Cavusoglu's 5-Hour Talks with Zarif
3- World in Salute to Iran's Hamadan: 20 MPs Ask for Explanation about Deployment of Russian Jet Fighters in Nojeh Airbase
---
Asr-e Iran:
1- Possible Increase in Iran's Gas Exports to Turkey
2- Economic Growth in Spring Was a Result of Oil Doping: Business Professional
3- Over $4bn Foreign Investment Approved: Minister
4- Iran's Gas Exports Record Broken
5- Iran Ready for China's Investment in Non-Oil Sectors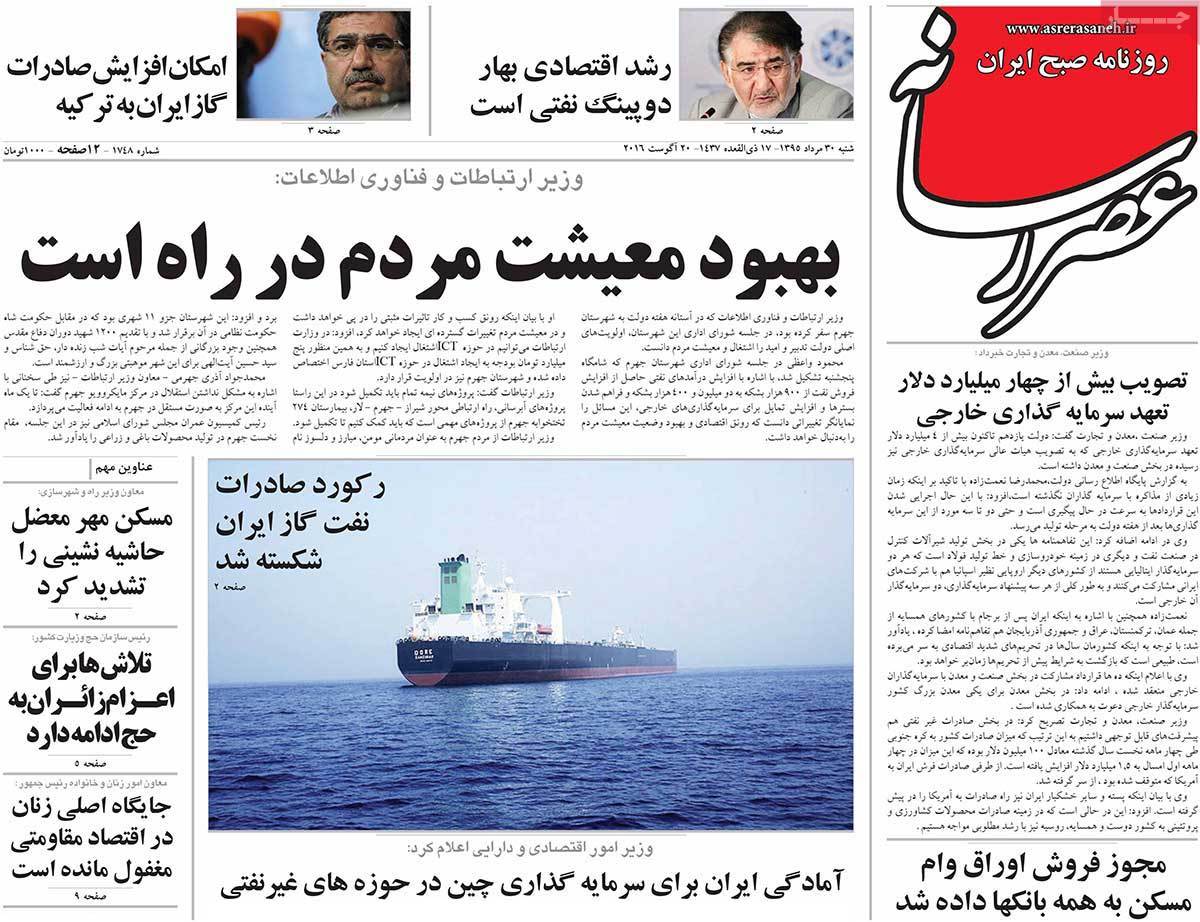 ---
Asrar:
1- People's Welfare to Be Improved in Near Future: ICT Minister
2- Iran's Kimia Makes History [Kimia Alizadeh, Iranian female taekwondo players, become first Iranian woman to win an Olympic medal]
3- 7 Begging Rings Identified in Tehran
4- Iran's Faghani to Officiate Olympic Football Finale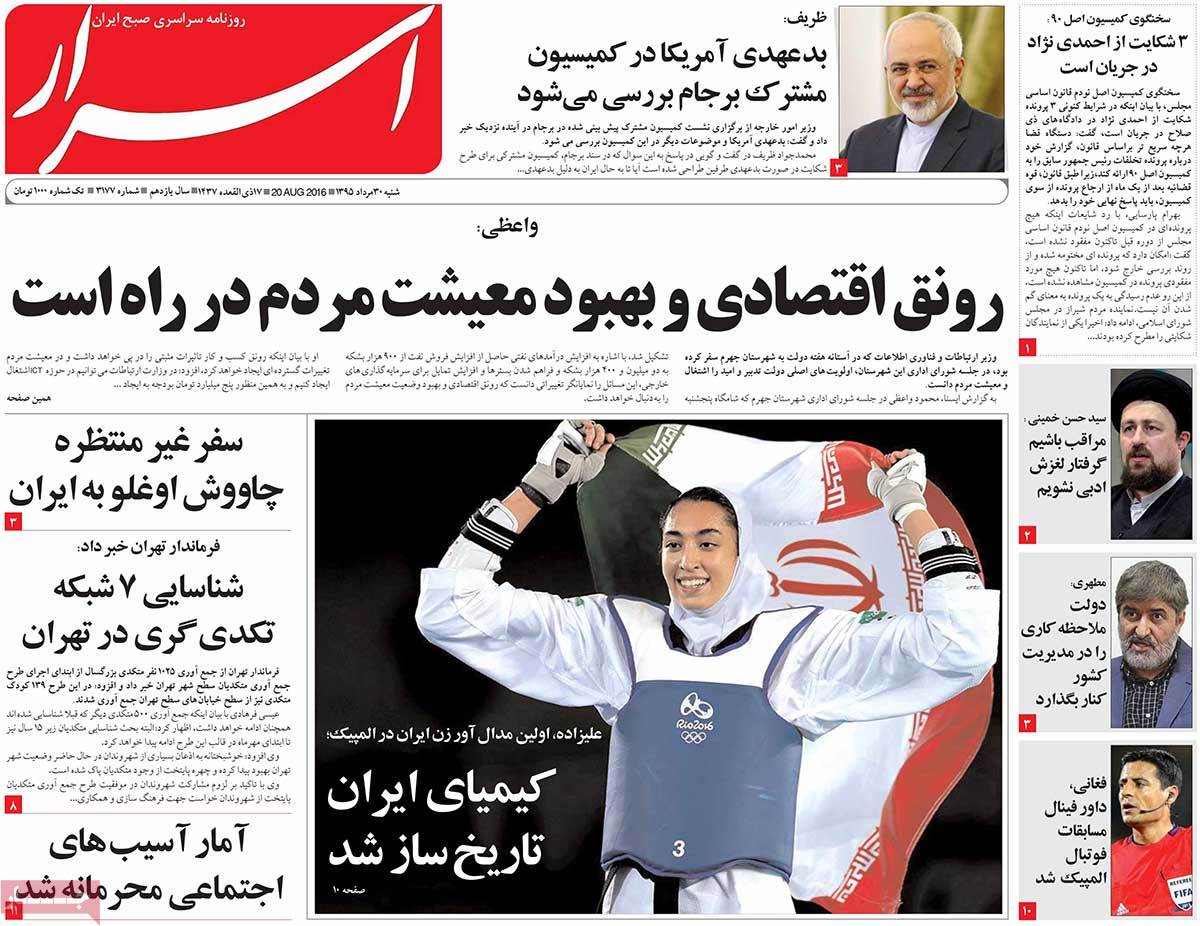 ---
Ebtekar:
1- Zarif: US Violation of Its Commitments to Be Discussed in Next JCPOA Joint Commission
2- Iran, Safest Country in Middle East for Investment: Economy Minister
3- Division of Moderation and Reformism Is to Rouhani's Disadvantage: Analyst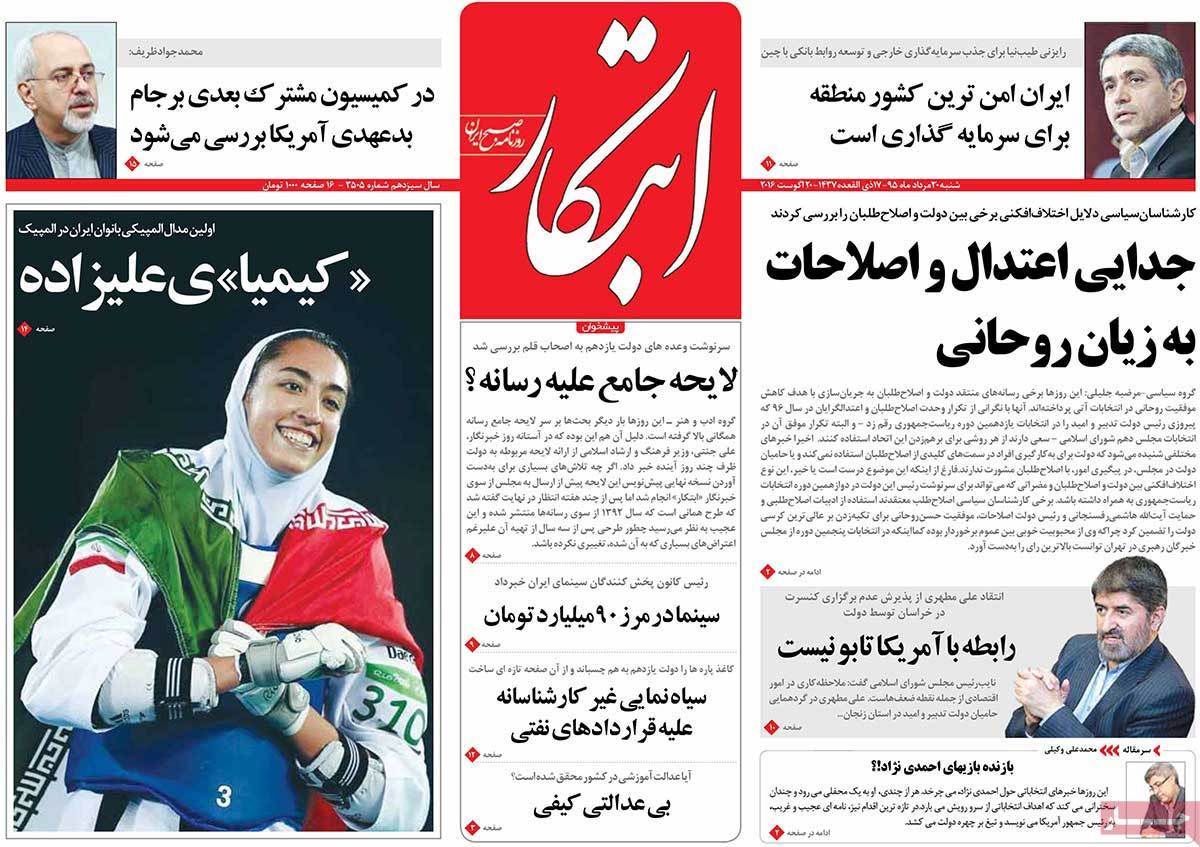 ---
Etemad:
1- The Astonished Omran: 5-Year-Old Syrian Boy's Look Makes the World Pay Attention to Syrian Crisis Once Again
2- 7 Ministers Have to Go to Parliament This Week to Answer Questions of Conservative MPs
---
Ettela'at:
1- Iran's Defence Power Has Insured Iranian People: DM
2- Yemeni Forces Approaching Saudi Arabia's Najran through 3 Routes
---
Haft-e Sobh:
1- I'm Kimia, 18 Years Old: Iran's Taekwondo Player Becomes Iran's First Female Medallist in Olympic Games
2- Italian Woman's Wealth Inherited to Poor 19-Year-Old Iranian Girl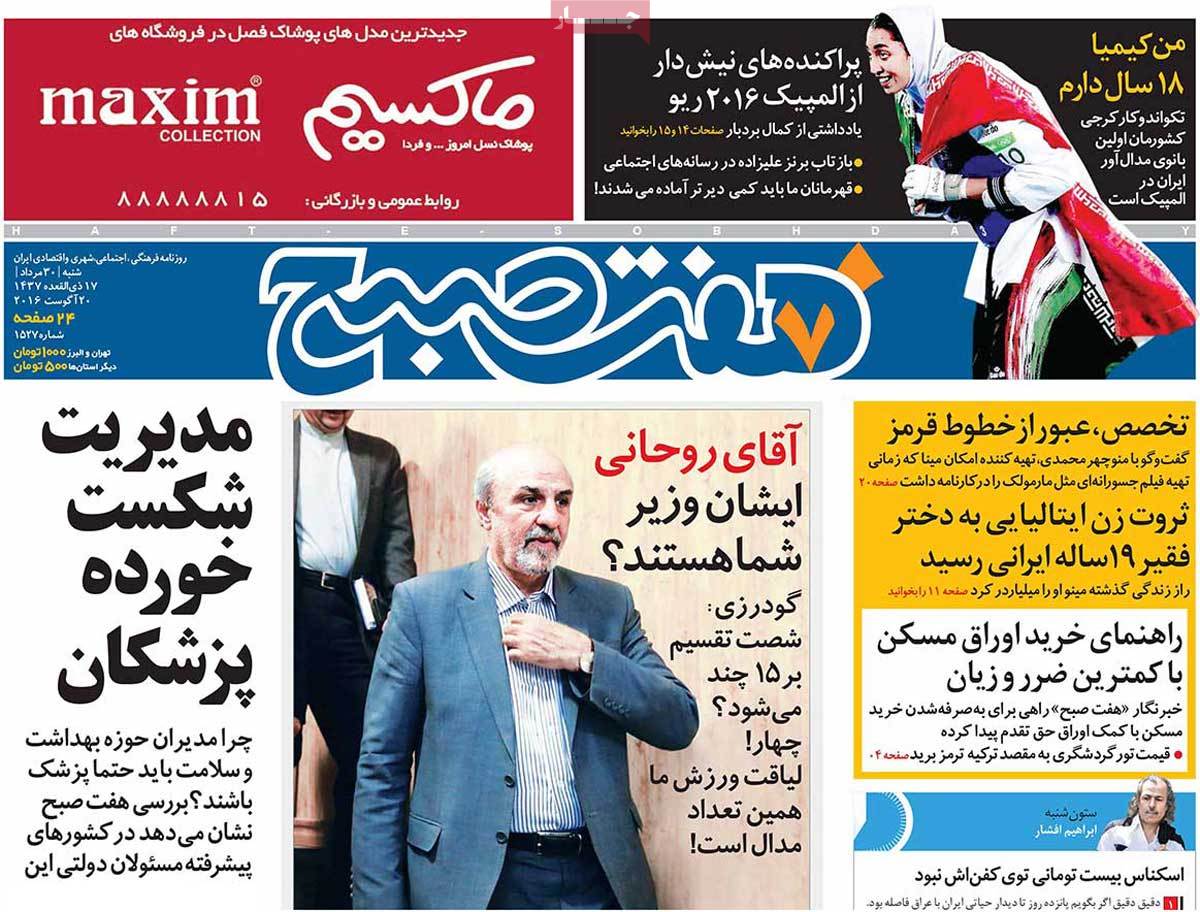 ---
Hemayat:
1- Series of Terrorist Blasts Kill and Wound More than 300 in Eastern Turkey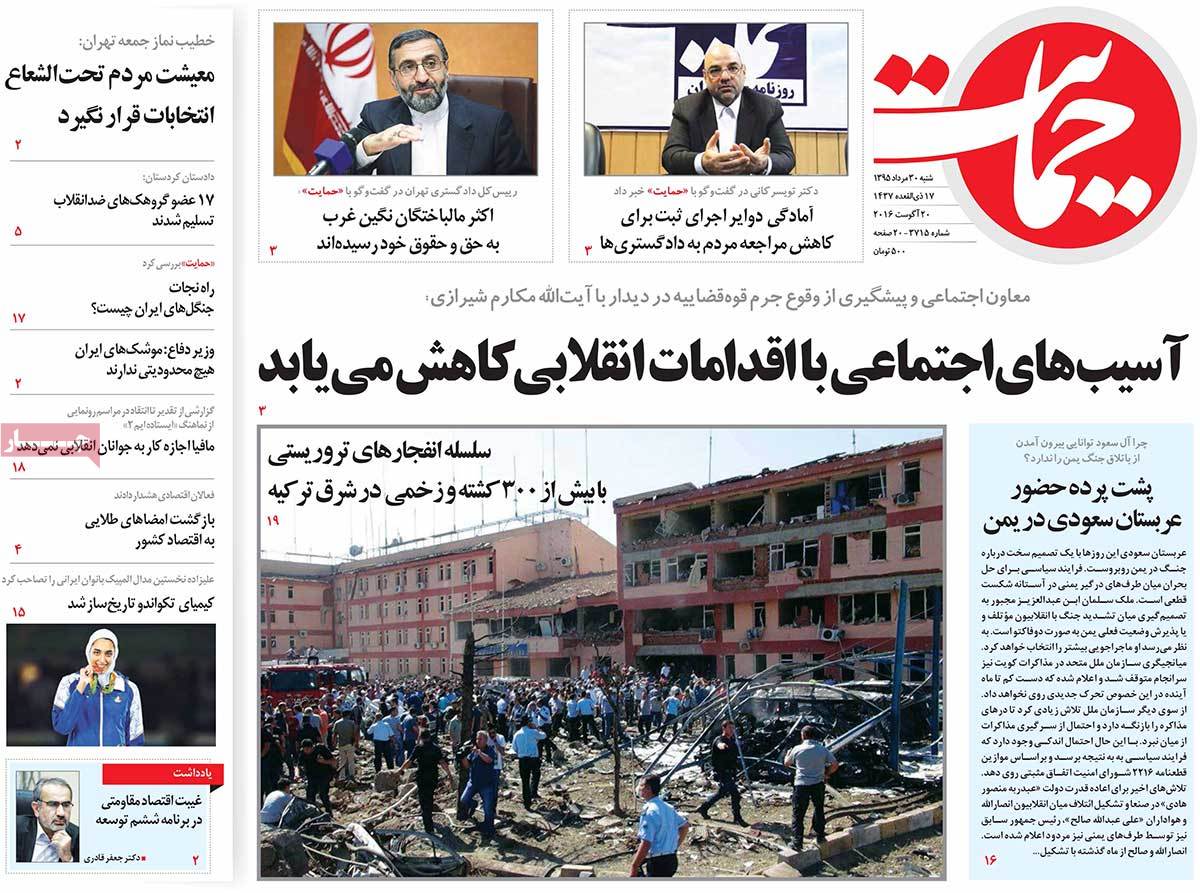 ---
Iran:
1- Cavusoglu, Suddenly in Tehran
2- Credit Cards to Be Introduced in Iran: From $2,800 to $14,000
3- Rouhani Sends Congratulatory Message to Successful Olympians
---
Jame Jam:
1- Inauspicious Triangle's [US-Israel-KSA] Dream Doomed to Failure: Turkey and Kuwait's Stances Get Closer to Eastern Coalition
2- Kimia [meaning alchemy] Is a True Alchemist!
3- Academy Awards, an Opportunity for Introduction of a Legend [about the film 'Standing in the Dust', which is a biographical film about Ahmad Motevasselian, Iranian war commander believed to be kept in Israeli prisoners since the 1980s]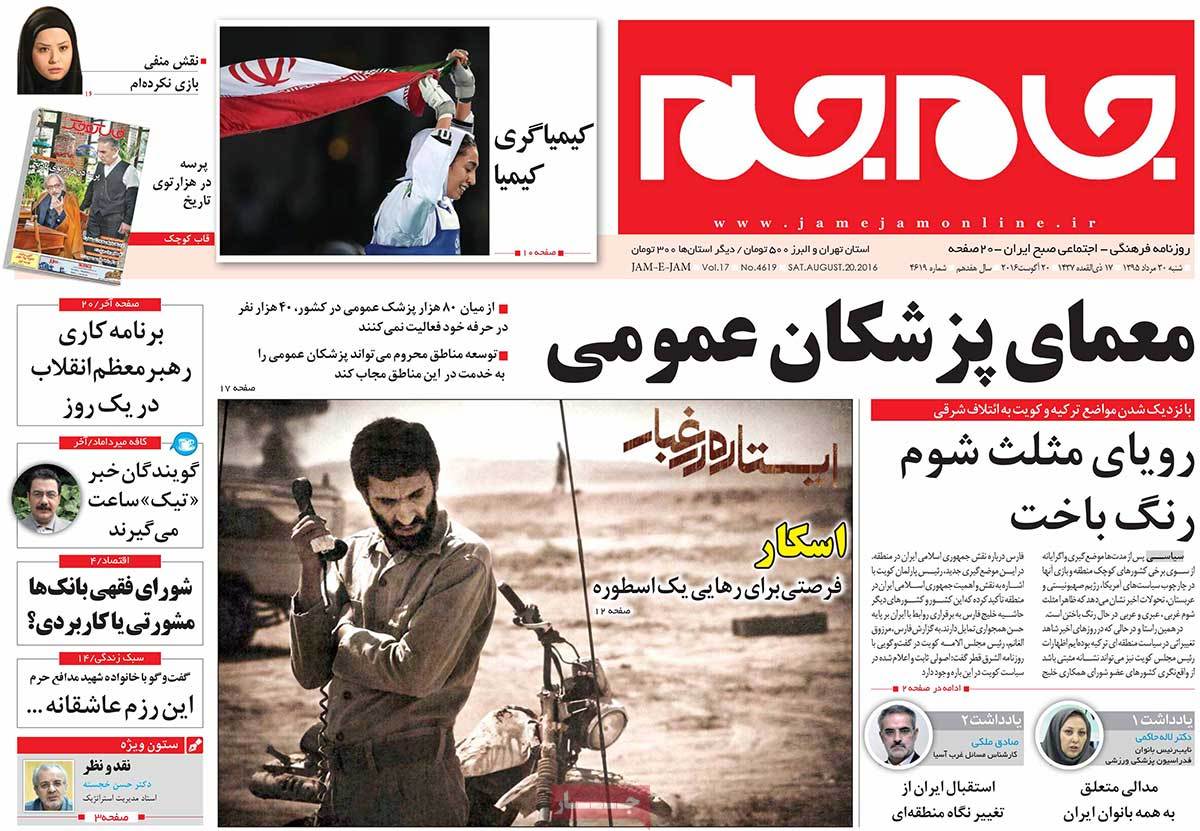 ---
Javan:
1- Make the Tomorrow's Parliamentary Session Open: Observers Warn about the Session Where Oil Minister Is Going to Explain about Oil Contracts
2- Hegemonic Powers' Media Fail to See Yemeni Children beside Syrian Kid!
3- Government Should Not Spend 4th Year of Its Term on Electoral Activities: Cleric
---
Jomhouri Eslami:
1- Turkey Struggling to Survive Syrian Crisis
2- Iran Joins Exporters of Oil Products
3- Yemeni Fighters Pound Saudi Military Positions in Najran Using Tens of Missiles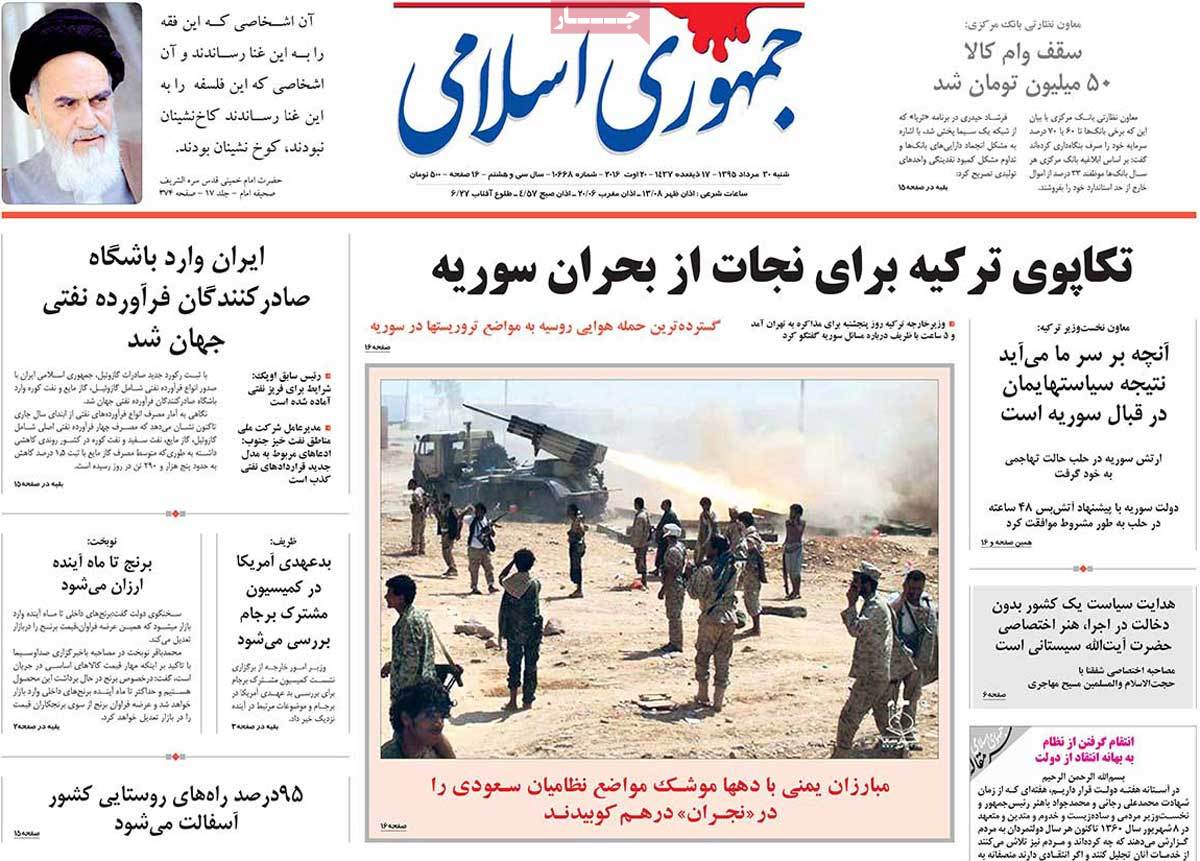 ---
Kayhan:
1- Oil Is a National Asset: Oil Contracts Should Be Discussed in Open Session
2- Takfiris' Think-Tank in Iraq-Syria Border Bombed: 80 ISIS Leaders Killed
3- Rouhani's Government of 'Hope and Prudence' Uses Foreign Chefs for Iranian Trains!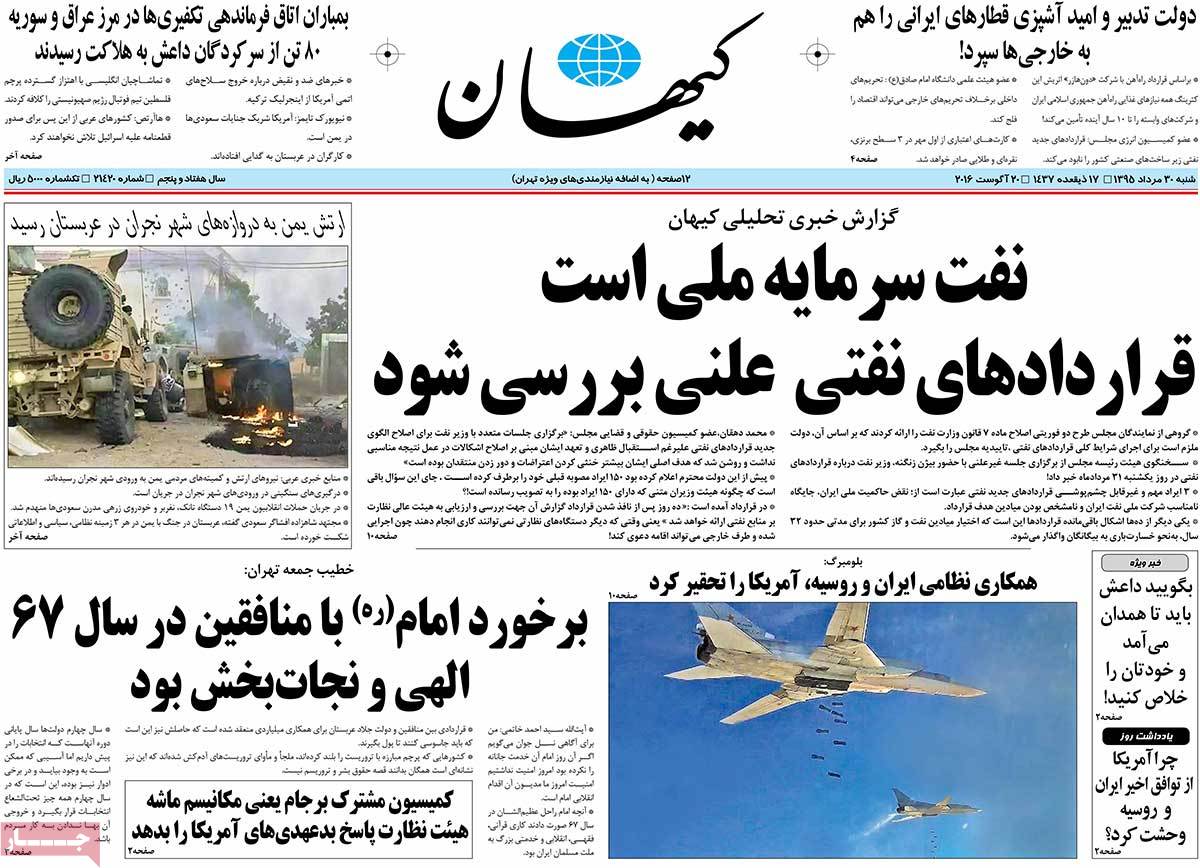 ---
Khorasan:
1- 139,000 Students Admitted to Universities Free of Charge; 620,000 Should Pay Tuition Fees
2- History to Remember Iranian Female Medallist Kimia Alizadeh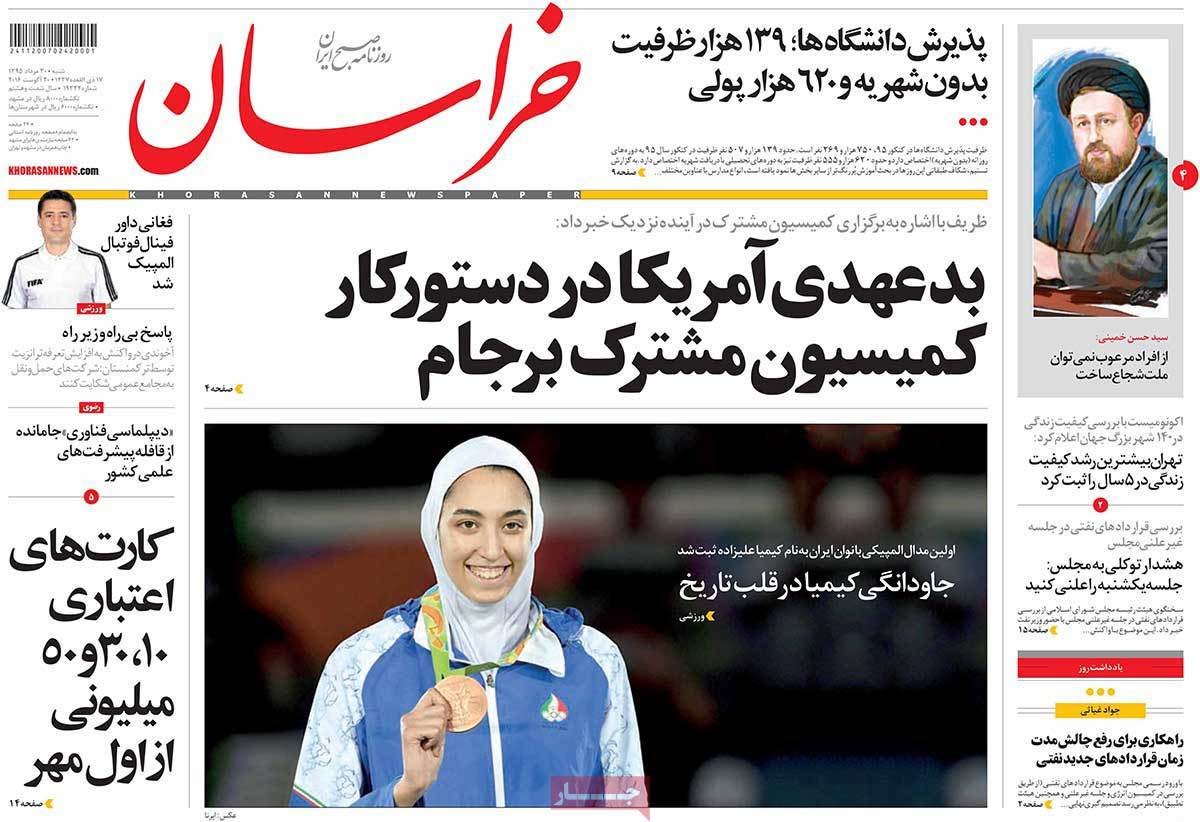 ---
Resalat:
1- US Has Problem with Iran's Islamic Nature: Cleric
2- Mosaddeq Wouldn't Believe US Treason
3- Defence Minister: No Limit to Range and Accuracy of Iranian Missiles
4- Erdogan to West: Do Your Own Business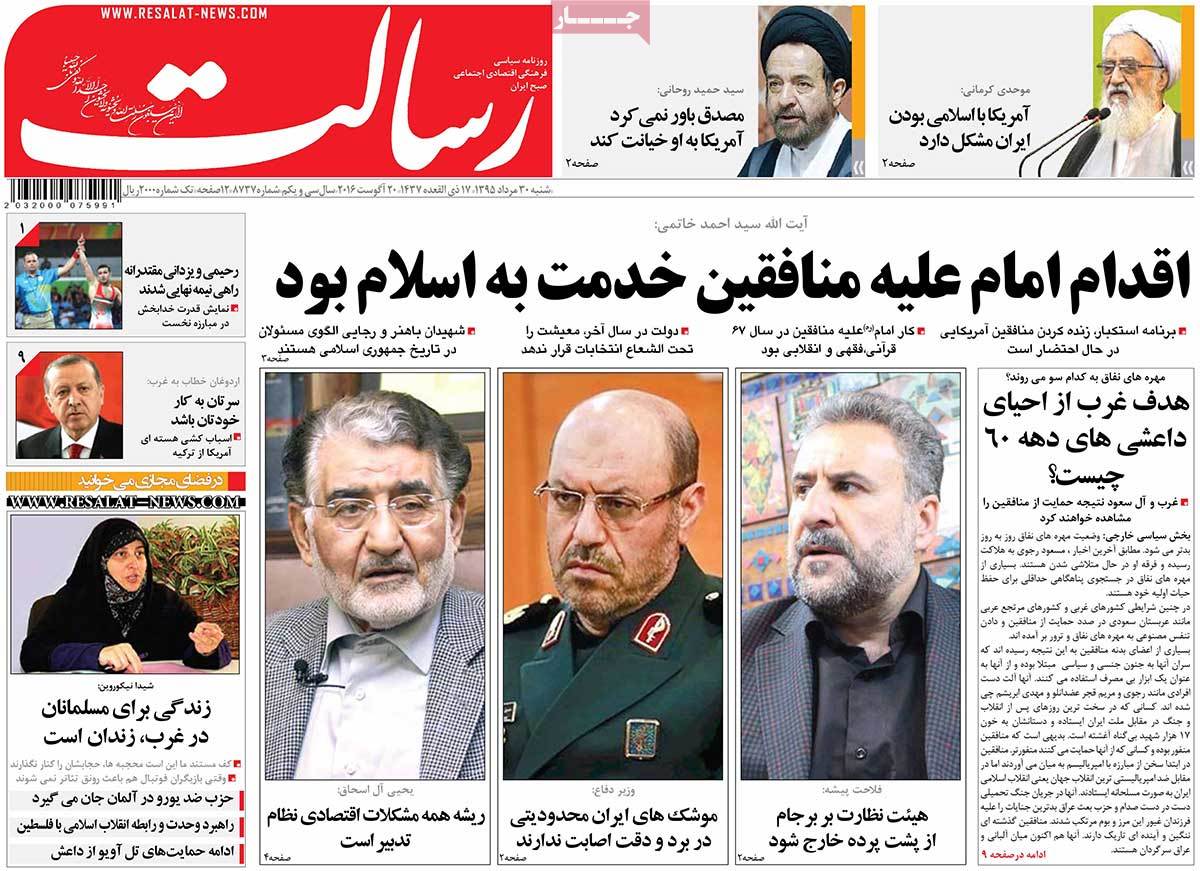 ---
Rooyesh-e Mellat:
1- Iran to Export LNG to Europe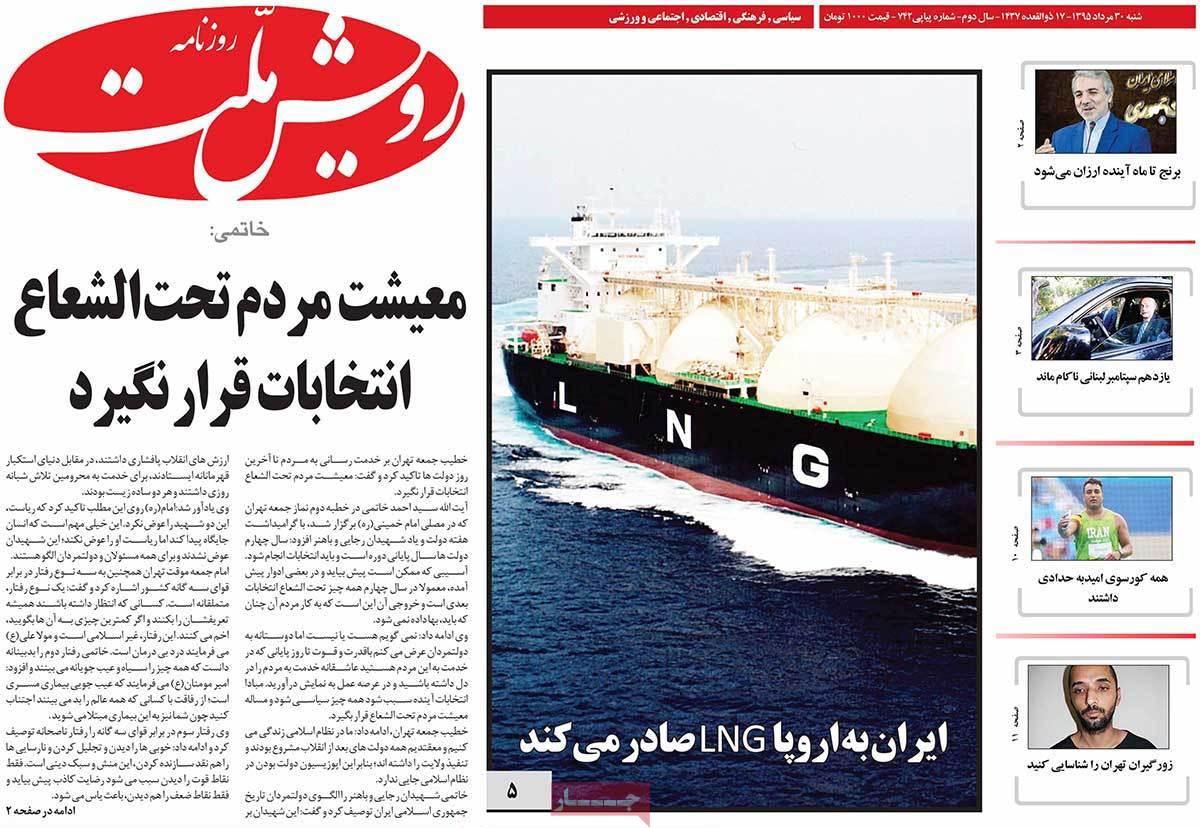 ---
Shargh:
1- Leader's To-Do-List in One Day Published by His Office
2- They Have Tied Government's Hands: Motahari Criticizes Interventions in Executive Affairs
3- 2-Day Ceasefire in Aleppo after Release of Syrian Kid's Photograph
4- Iranian-Born Alchemist [Kimia Alizadeh]
5- Breakfast Tasting Like Gold: Hassan Yazdani Wins Iran's First Freestyle Wrestling Gold Medal after 16 Years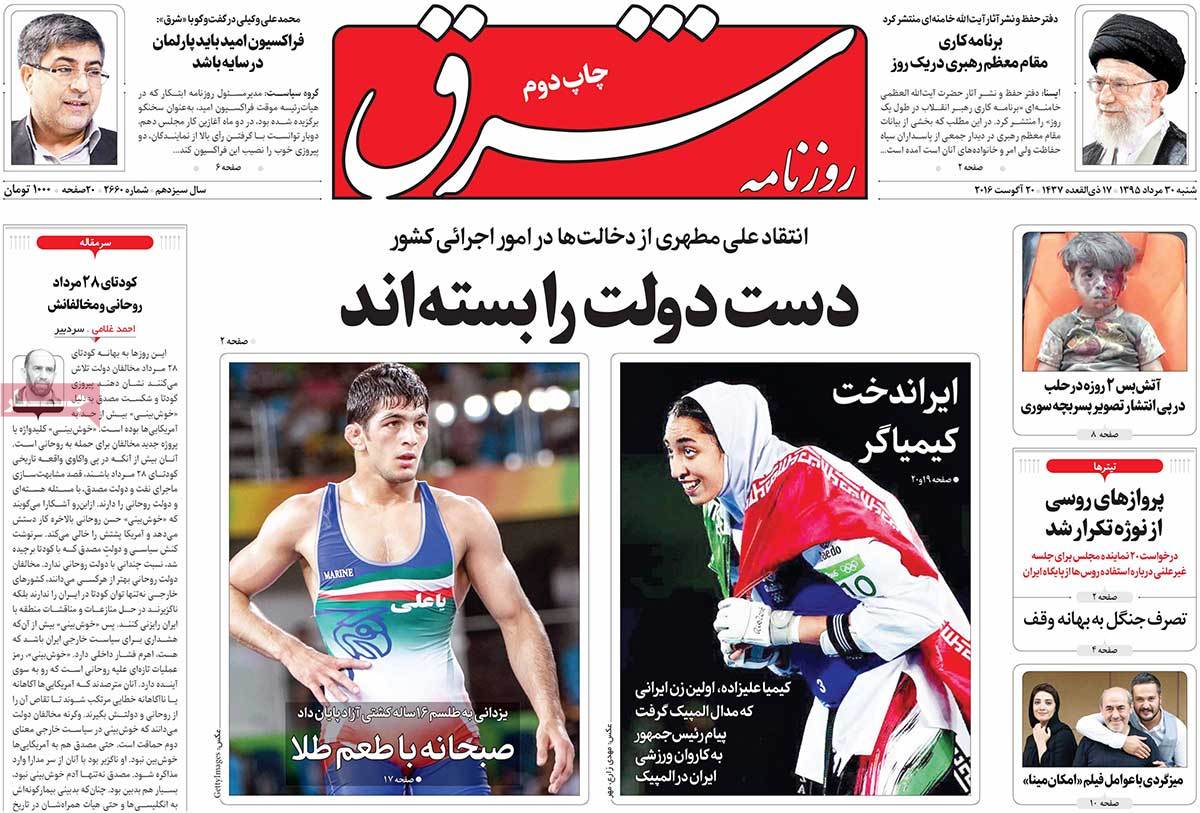 ---
Sobh-e Now:
1- Kimia Alizadeh 5-0 Iranian Sports Minister
2- Rio, an Opportunity Muslim Women's Success
---
Vaghaye Ettefaghieh:
1- Amid Serious Water Crisis, Iran Spending Huge amount of Water for Growing and Exporting Non-Strategic Watermelon
2- Iran Happy with a Feminine Victory: Kimia Writes the History
3- Street Vending Is a Job, Officially Recognize It: 10 Economists Write to City Council Chief and Mayor of Tehran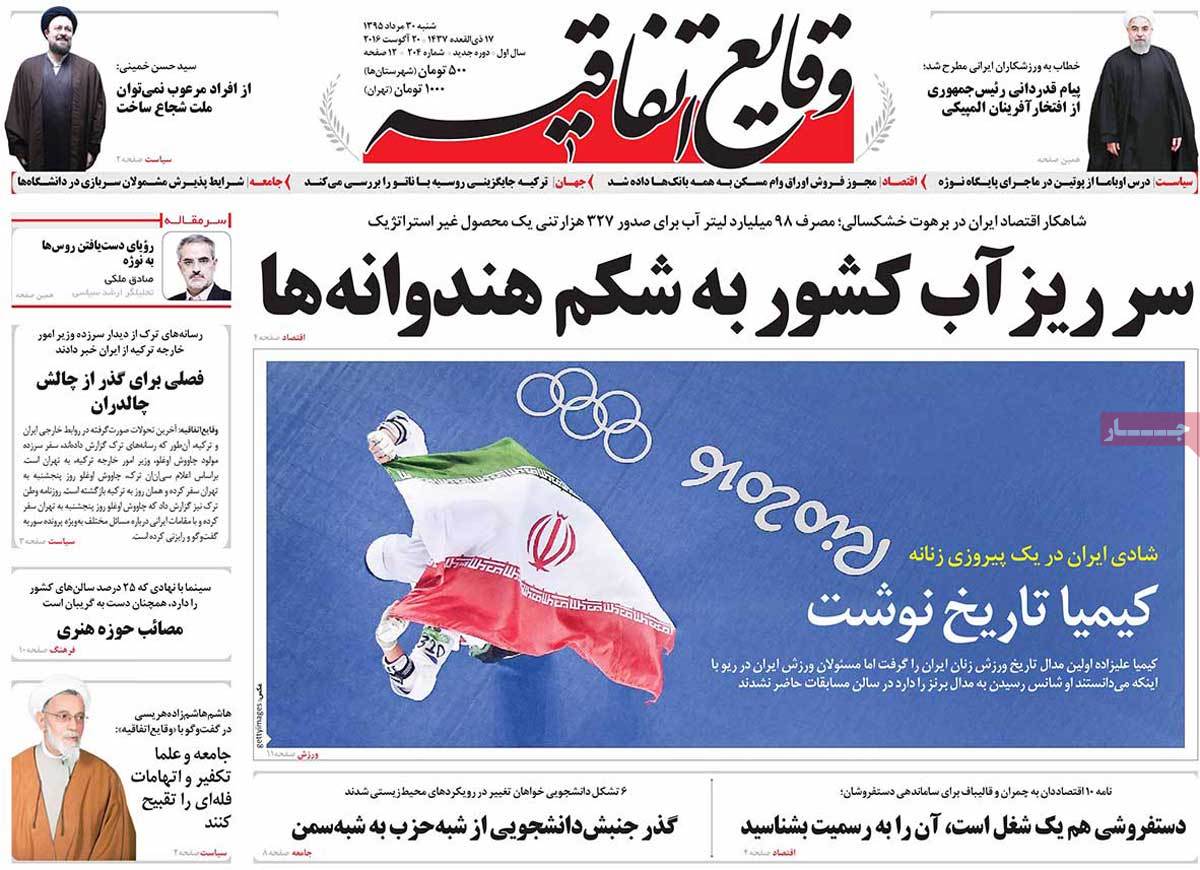 ---
Vatan-e Emrooz:
1- Iran Can't Receive More than 4 Medals: Strange Remarks by Sports Minister before End of Olympics
2- Kimia's Bronze Is [as valuable as] Gold